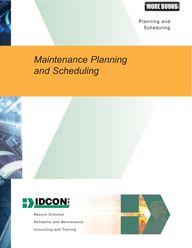 Return to flip book view
Planning & Scheduling
Page 1
Page 2
Please take a moment to provide us with some information about you. Welcome Torbjorn Idhammar
President
Thank you for taking the time to view this book.
IDCON INC is a management consulting company specializing in reliability and maintenance for the manufacturing and processing industries maximize profits through the improvement of reliability and maintenance practices.
Click this link for our latest maintenance and reliability articles and tips or to join our newsletter group.
Maintenance Planning and Scheduling is "the hub" for manage maintenance work and coordinate maintenance jobs with the production plan. This book provides practical, tested techniques and processes by which you can build, run and manage planning and scheduling in your plant/ mine/ mill.

This preview includes the first three chapters of the book. To purchase the book click the shopping cart below.
If you have questions about implementing effective planning and scheduling at your organization, contact us by filling out the information form, emailing or calling.
Page 3
Page 4
Please do not copy or reproduce this copyrighted material. To purchase the complete volume, please click the shopping cart below or visit www.idcon.com
Page 5
Page 6
Page 7
Page 8
Page 9
Page 10
Page 11
Page 12
Page 13
Page 14
Page 15
Page 16
Page 17
Page 18
Page 19
Page 20
Page 21
Page 22
Page 23
Page 24
Page 25
Page 26
Page 27
Page 28
Page 29
Page 30
Page 31
Page 32
Page 33
Page 34
Page 35
Page 36
Page 37
Page 38
Thank you for previewing Maintenance Planning and Scheduling. If you would like to purchase the volume please click the shopping cart at the bottom of the page. For more information about IDCON INC, you can view our 3 minute video, visit our website, call us, email us or click any of the categories below. IDCON Consulting Services IDCON Training Courses Reliability Articles and Tips Reliability Maintenance Surveys Newsletter Sign UP IDCON Reliability Books
Christer Idhammar
Founder and Executive Vice President
919-723-2682
Christer is the founder of IDCON INC, the inventor of our Results Oriented Reliability and Maintenance management (RORM) philosophy, world renowned speaker and reliability guru.
He started his career as a mechanic on board ships in the Swedish merchant marines. The foundation he built in 1972 in Sweden later became IDCON INC in the USA in 1985. Christer is IDCON INC's Executive Vice President in charge of Sales and Marketing.
Christer possesses a BS in Mechanical Engineering.
Tor Idhammar
President
919-723-2680
Tor has worked with IDCON INC since 1997. He has reliability and maintenance experience from many different industry segments world-wide. He is author of several books, white papers and articles. Tor became President of IDCON INC in 2009 and oversees the day to day operations of IDCON.
Tor possesses a BS in Industrial Engineering from NC State University and a MS in Mechanical Engineering from Lund University in Sweden.