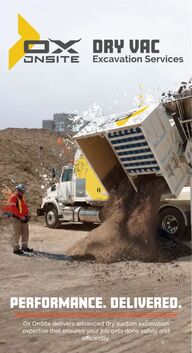 Return to flip book view
Ox OnSite
Page 1
PERFORMANCE. DELIVERED.Ox OnSite delivers advanced dry suction excavation expertise that ensures your job gets done safely and efficiently.EXCAVATION SERVICESDRY VAC
Page 2
OUR TEAMOur operators are focused on delivering the very best dry vacuum excavation performance on your site. That means uncompromising safety and unparalleled productivity, while reducing our environmental impact and protecting our valuable shared resources.
Page 3
Page 4
OUR TECHExclusive use of the innovative MTS Dino Series Suction Excavator (from Ox Equipment) allows us to be better than traditional "old" hydrovac technology. With America's #1 dry vac there's no need for water, no production or disposal of wet slurry, no downtime for haulage during large excavations, we stay on site until the job is done.
Page 5
NO WASTED MATERIALSNO WET SPOILS OR SLURRYNO DISPOSAL CHARGESIndustries we serve:• Pipeline• Electrical distribution• Utility distribution• Substations• Roadworks• Environmental• Compressor stations• Industrial Plants• Solar Farms• And many moreWE CAN DELIVER SAVINGSON YOUR NEXT PROJECT!(877) 534-4379 info@ox-onsite.com
Page 6
Serving Southeastern USA.877 5-DIGDRYOur people make our company great. and we're always hiring more!Call careers at (877) 517-4474 or visitwww.ox-onsite.com/careers• Work with industry leading technology• Competitive wages• Health and dental benefitsWe can deliver advanced dry vac excavation across North Americawith our network of service providers - if you need dry, we'll get it OnSite!