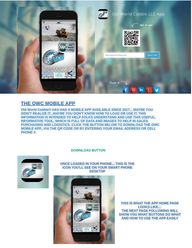 Return to flip book view
OWC Mobile App Info 2020
Page 1
THE OWC MOBILE APP
Old World Cobble® HAS HAD A MOBILE APP AVAILABLE SINCE 2017... MAYBE YOU DIDN'T REALIZE IT...MAYBE YOU DON'T KNOW HOW TO LOAD OR USE IT. THIS INFORMATION IS INTENDED TO HELP FOLKS UNDERSTAND AND USE THIS USEFUL, INFORMATIVE TOOL, WHICH IS FULL OF DATA AND IMAGES TO HELP IN SALES, PURCHASING AND LOGISTICS. CLICK THE BUTTON BELOW TO DOWNLOAD THE OWC MOBILE APP...VIA THE QR CODE OR BY ENTERING YOUR EMAIL ADDRESS OR CELL PHONE #.
ONCE LOADED IN YOUR PHONE... THIS IS THE ICON YOU'LL SEE ON YOUR SMART PHONE DESKTOP
DOWNLOAD BUTTON
THIS IS WHAT THE APP HOME PAGE LOOKS LIKE...
THE NEXT PAGE FOLLOWING WILL SHOW YOU WHAT BUTTONS DO WHAT AND HOW TO USE THE APP EASILY
Page 2
YOU CAN VIEW DATA REGARDING MATERIAL, AND IMAGES TO SEE WHAT THE MATERIAL WILL LOOK LIKE, FOR YOUR OWN EDIFICATION OR TO SHOW CUSTOMERS... YOU CAN ORDER USING EMAIL OR TEXTING LINKS ON THE PAGES DIRECTLY FROM THE APP...OR CLICK THE "CALL" BUTTONS TO EASILY CONTACT OWC DIRECTLY...
ABOVE SHOWS THE "HOT" BUTTONS FOR QUICK TASK FUNCTION RIGHT FROM THE "HOME PAGE" OF THE OWC MOBILE APP.
THE BUTTON ON THE TOP LEFT HAND CORNER DROPS DOWN A MENU...CLICK ANY OF THE ICONS TO IMMEDIATELY SEE THE INFORMATION YOU DESIRE