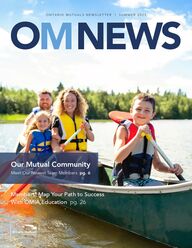 Return to flip book view
OM News Summer 2023
Page 1
OOMM NEWS NEWSONTARIO MUTUALS NEWSLETTER | SUMMER 2023Our Mutual CommunityMeet Our Newest Team Members pg. 6Members! Map Your Path to Success With OMIA Education pg. 26
Page 2
John Taylor, PresidentOntario Mutual Insurance AssociationOur Mission: To serve and strengthen our mutual insurance community.Our Vision: Grassroots insurance at the core of thriving communities.Summer: Here for a Good Time, Not a Long Time The summer months bring a collective exhale, as we settle into a slowed-down pace during vacations to cottages, camp grounds, far off places, and our own backyards. It's a great time to regroup, revisit our strategies, and plan for the exciting projects and events taking place in the fall. It's also a time when our member companies shine in their communities, with support for charity golf tournaments, parades, sports events, and BBQs.Sometimes it feels like the pace never quite slows down as much as we'd like, but it's always nice to know that being busy means we're doing what's best for our communities. You can see that clearly in the following pages of sponsorships, charitable giving, milestone anniversaries, and more.Here's to many more weeks of sunshine and warmth. OM News is produced by the Ontario Mutual Insurance Association on behalf of our member and associate member companies.
Page 3
Our Mission: To serve and strengthen our mutual insurance community.Our Vision: Grassroots insurance at the core of thriving communities.OM News is produced by the Ontario Mutual Insurance Association on behalf of our member and associate member companies.A Message from OMIA's ChairNeil Shay, CTM InsuranceUpcoming EventsFall Event ScheduleNew Team MembersWelcoming New Faces to the Mutual SystemMutuals Give BackThis is How We Support Our CommunitiesEducation CalendarOMIA Education at-a-glanceAppointments & Position ChangesTransforming the Mutuals MilestonesRecognizing Signicant AnniversariesAccomplishments Congratulating Mutual Members on Their Professional DevelopmentOther News & EventsMore Mutual NewsRetirementsCelebrating Those Who Helped Us ThriveIn Memoriam Remembering Our Mutual Family Members27263132404230OMIn this issue >>Summer 202345615Next Generation of Mutual Professionals pg.38CEO Conference Summarypg. 38
Page 4
pg. 4A Message from OMIA ChairNeil Shay, CTM InsuranceWe're a good way through 2023, and what's happened so far?Our nance teams built on their extensive preparation to persevere through the launch of IFRS-17, the largest change in insurance accounting standards in decades. They are hammering away at the remaining uncertainties to get us in good shape for the rst audited IFRS-17 statements in a few months. And our Board members and management are becoming conversant with the terminology and measurements.Weather continues to happen, doesn't it? Our resiliency is vital for our members, who depend on us to be there for them on their worst days. Building and solidifying our prudential nancial future will always near the top of our agenda. As will exemplary market conduct…doing the right things for our interested parties, and treating consumers fairly. That should come pretty naturally for a mutual insurer.Our regulator continues to be vigilant, as they should be! If you're not conversant with RBSF-I at a level appropriate to your role as a director, management, risk manager, underwriter, claims adjuster, or whatever other role you're in, you'll want to consider reading up.The calendar for the Chair has been called a whirlwind, and sometimes that's not far off. Taking on the role of Chair of the OMIA Board provides many opportunities to listen and learn from your stories, see what you're building, and represent mutual insurance values and priorities. This spring the whirlwind touched down at the CAMIC Spring Conference in Ottawa, the NAMIC Farm Mutual Forum in Louisville, the great organization and unmatched hospitality of the MAMIC Annual Conference in beautiful Antigonish, the NAMIC Management Conference in Canada's own Québec City, and the annual Group E meeting in Kemptville, with its spirited facilitated discussion groups on today's issues.I was also invited to be a guest at the Farm Mutual Re summer board meeting, where we heard the perspectives of the international reinsurers, their encouraging views of the steps the mutual community is taking to address CAT exposure, and some frank discussion on the steps we still have to build.Thank you to the amazing OMIA staff, for the visible stuff, sure…but also for the deep, unrecounted work and research they are doing every day to help us build a relevant future for Mutual Insurance.Respectfully, Neil Shay
Page 5
pg. 5OMIA is pleased to represent the Ontario Mutuals brand, and provide an avenue for member participation, at signicant community and industry events. Please see below for the details.Please write to marketing@omia.com if you have any questions about our upcoming events.Upcoming EventsCANADA'S OUTDOOR FARM SHOW www.outdoorfarmshow.comFor over 25 years, farmers have attended Canada's Outdoor Farm Show to learn about the newest and most innovative products and technology in agriculture.The full-scale outdoor farm show returns September 12th to 14th, 2023in Woodstock, Ontario.IBAO CONVENTION www.ibao.orgThis Convention is a highly anticipated educational and networking event for Ontario brokers and industry partners. We will have a presence at the tradeshow and hospitality night.Sheraton Centre HotelOctober 18th and 19th, 2023Toronto, Ontario.THE INTERNATIONAL PLOWING MATCH www.plowingmatch.orgThe IPM is a celebration of agriculture and rural living. There are a range of activities for people of all ages, numerous opportunities to learn about agriculture, and near-constant live entertainment.Ontario Mutuals is a proud Presenting Partner! September 19th to 23rd, 2023Bowling Green, OntarioPRESIDENTS & MANAGERS MEETING www.omia.comMembers will hear updates from OMIA, Farm Mutual Re, and The Fire Mutuals Guarantee Fund, and will take part in a variety of important education and networking sessions.RBC Place & Doubletree Hotel October 22nd to 24th, 2023London, Ontario
Page 6
pg. 6Kayle Stone joined our Personal Lines Underwriting department in May 2023. Kayle is a recent graduate of the Insurance program at Fanshawe College, earning the Insurance Institute award for top student. We're thrilled that Kayle is starting her insurance career with us at Axiom Mutual. Welcome, Kayle!Axiom MutualJunior Guzman became part of our Commercial Lines Underwriting department in May 2023. Junior has a Bachelor's Degree in International Business and has also completed the Graduate Insurance Program from Fanshawe. Junior is no stranger to the insurance world, as he brings 10 years' experience as a Reinsurance Technician. We're excited to be able to add Junior's strong talent to our team. Welcome, Junior!Cam Shipley started with Axiom in June 2023 as our Director, Member Experience. Cam brings a variety of insurance experience with him to this new position, ranging from Underwriting, Business Development, Claims, and Restoration. We look forward to what he will contribute to our organization and his team. Cam oversees our Agent Team, Broker partners and internal Marketing department. Welcome, Cam! West Wawanosh MutualWe recently welcomed Rachel Van Diepen to our Accounting Department as an Accounts Receivable Clerk. Rachael was born and raised in Huron County and is happy to be working in the beautiful Town of Goderich with the West Wawanosh team. She has a background in ofce administration and accounts receivable work and is excited to delve into the world of mutual insurance to help serve the members of the community. Outside of work, Rachael enjoys sewing, crocheting, playing with her dogs, weight training, and training Brazilian Jiu-Jitsu.Usborne and Hibbert MutualWelcome to Josh McDonnell who joined our team as a Claims Adjuster. Josh has a background in law and security and has been working for Crawford & Company for the past ve years as a Client Service Representative. He is a graduate of Westervelt College and will shortly have his CIP designation. We're very pleased to have Josh on the team!OMIAOMIA welcomed Niveditha Nair to the Statistics Services Department as a BI Analyst. Niveditha has over 10 years of direct experience developing BI Tools Qlikview and Qlik Sense, and has recently become certied with Qlik Sense Data Architect. We're excited to have Niveditha join our team and enhance our services to our member companies.New Team MembersWelcoming New Faces to the Mutual System
Page 7
pg. 7Salus MutualMiddlesex MutualWe're pleased to announce that Anna Micka has accepted the role of Human Resources Manager after working with us on a part-time basis since June 2022. Outside of work, Anna is a Professor at Conestoga College, where she teaches courses to post-graduate students in the Human Resources Management program. We're looking forward to Anna's continued success. Congratulations, Anna!Middlesex Mutual is pleased to introduce Macklyn Edwards as Underwriter Trainee. Macklyn is a recent graduate of the Business Insurance program at Fanshawe College. Please join us in welcoming her to our team and the mutual insurance community.Jeff Derksen has accepted the role of Sales Agent with Salus Mutual. Jeff has been working in the insurance industry for the past 14 years and comes to us with experience in insurance and nancial services. We're looking forward to having you on the Salus Mutual team. Welcome, Jeff! Gabriella Perry joined Salus on June 12th in the role of Underwriting Assistant. Gabriella comes to us with three years of experience in a similar role within insurance industry. We're looking forward to Gabriella's continued success with our team. Welcome, Gabriella! Alex Brooks has accepted the permanent full-time role of Ofce Clerk with Salus Mutual. Alex is a true success story, having just nished his two-year business degree at Fanshawe College after working two co-op terms with the former West Elgin Mutual and working part-time with us for a short time. Congratulations, Alex!Send your career postings to marketing@omia.comfor inclusion on omia.com and ontariomutuals.caMembers,Jeremy Brown joins us in the role of Multi-Lines Adjuster. He comes to us with over 18 years' experience as an Investigator and Regional Manager with Xpera Risk Mitigation & Investigations and seven years as an Adjuster with ClaimsPro. Welcome! We wish to welcome Stefan Polychuk to the team as Sales Agent. Stefan comes to us with well over 10 years of experience in the insurance industry and we're looking forward to see his strengths shine with our team. Welcome, Stefan! Sarah Davidson joins us in the role of Accident Benets Claims Adjuster. She has over 16 years of experience as an Accident Benet Claims Adjuster, 10 of which were spent with another mutual insurer. Welcome to the Salus team, Sarah!
Page 8
pg. 8Esther Dennis is a student from Fanshawe College studying Insurance and Risk Management and has sat for and passed three CIP courses (Loss Adjusting, Underwriting and Insurance against Liability I). She resides in London and is excited to have the opportunity to work in the industry. We're very pleased to have welcomed ve amazing summer students in the role of Data Entry Clerk with Salus. Kate Scott is a Business student at Fanshawe College. She resides in the rural Highgate area with her family. Previously Kate was a swim instructor and lifeguard supervisor at Rodney pool. Chris Siertsema recently completed his third year at Western University studying Psychology and plans to continue his education with a Master's Degree in Education. He currently resides in Rodney with his family. Jaylen Bos recently completed her rst year at Toronto Metropolitan University studying Retail Management. She resides in Glencoe with her family and has a passion for mental and physical health. Paige Balogh currently resides in Southwold and is a Grade 11 student at Parkside Collegiate Institute. She is the founder and head of the Parkside Debate Team and a representative on student council.Maple MutualAaron Straus has joined us in the role of Senior Claims Adjuster. Aaron has close to 14 years of experience as an Independent Adjuster, with expertise in handling property claims. He has handled claims for Maple Mutual and many other mutual companies over the years. Welcome to the team, Aaron!We're pleased to welcome Jess Conrod to our accounts department. Jess joins us while attending school at the University of Windsor. She has three years of experience in accounting with Waveline Recreation Inc. and Building Better Businesses.Welcome to the team, Jess!Salus Mutual Summer Students
Page 9
pg. 9Specializing in Subrogation focusMaximizeyour subrogation recoveries and free time for your sta to on more critical adjusting work.We oer aordable contingency & flat fee options. Please contact us to discuss your subrogation needs. Suite 216 - 762 Upper James St., Hamilton, ON 905-389-4522 | christine@sageclaims.ca | sageclaims.caDufferin MutualWe're pleased to welcome Charlie Armstrong as our summer student working along side our staff. Charlie has been a great help with day to day tasks while learning the insurance industry along the way. Welcome, Charlie!We're also thrilled to welcome Bev Duncan to our underwriting team! Bev has over 27 years of experience in the mutual insurance industry. She comes to us with a background in personal lines and is eager to grow here at Dufferin. We're excited to have her on the team. Welcome, Bev!We're pleased to welcome some new faces to our team!Krista Keith Underwriting AssistantMarc Comeau Project ManagerLisa Rath Claims AdjusterFulei Tang Systems AdministratorPatrick Danis Manager, UnderwritingGrenville MutualLambton MutualWe are pleased to announce we have welcomed Tyler Mazerolle to our claims department as an Intermediate Adjuster. Prior to joining Lambton Mutual, Tyler was the owner and operator of Tyway Home Services in Plympton-Wyoming. He brings a skillset that includes project planning, home building, construction, project estimating, bidding processes and customer relations.Welcome to the mutual team, Tyler! Not Pictured: Asma Ahmed, Systems and Data Analyst, Kim Westervelt, Staff Accountant, and Yang Tang, Staff Accountant.
Page 10
pg. 10Kent & Essex MutualAlyssa Comber, Residential Underwriter, joined K&E with over 10 years' experience in the insurance industry. Sandra Connors has been hired in the role of Physical Damage Claims Adjuster. Sandra has over 10 years' insurance experience. Chelsey Siddall, Broker Support Specialist, has several years' insurance experience while previously working as a broker. Katie Welker has joined the K&E claims team in the role of Property Claims Adjuster. Katie comes to us with over 12 years' adjusting experience. Carly Hendricks, Claims Administrative Support, comes to K&E with many years of administrative experience.Maria Sparks, has joined the K&E claims team in the role of Claims Administrative Support. Maria's career has been in administrative and customer service roles. DISCRETIONARYWEALTHMANAGEMENTALL OF OUR FARM MUTUAL CLIENTS' PORTFOLIOSARE SEPARATELY HELD AND MANAGEDACCORDINGLY TO THEIR SPECIFIC GOALS.WE UNDERSTAND THE NEEDS OFMUTUAL INSURANCE COMPANIES - WE CAN HELP!FOR MORE INFORMATION PLEASE CONTACT:Brendan T. N. Caldwell150 King Street West, Suite 1710, P.O. Box 47Toronto, ON M5H 1J91-800-387-0859 • 416-862-7755bcaldwell@caldwellsecurities.comwww.caldwellsecurities.comCaldwell Securities Ltd.
Page 11
pg. 11Heartland MutualFarm Mutual ReDaniel Melo joined our IT department as a Software Developer. He holds a Bachelor's degree in Information Systems and has post-graduate diplomas in Digital Marketing and Distributed Systems Architecture. Daniel brings previous experience as a Senior Software Engineer to his role.Karen Ilett joined our Business Operations department as a Front Ofce Ambassador on a 12-month contract. With previous experience as a Secretary and a Diploma in Travel and Tourism from Sir Sanford Fleming College, Karen brings valuable skills to the role.Dylan St. Arneault joined our Business Operations department as a Business Solutions Specialist in June. Dylan holds a Network Engineering diploma and has previous experience in IT Support.Bassem Abdelrahman returned to our IT department in June as a Senior Software Developer. Bassem holds a Bachelor of Computer Science from Middlesex University, MSA and brings over 17 years of software development experience to the team.Not pictured: April Bibat joined our IT department in May as an IT Technical Support Co-op. April is currently a second-year student at Mohawk College, pursuing the Computer Systems Technician - Networking program.Sarah Klatt Finance RepresentativePaul ByrneSolution LeadSasha SerwaczekDocument AssistantTara DharmarajanSenior AB Claims RepresentativeNick PearlSenior Field Claims RepresentativeChantelle WatsonClaims Representative IIAlbert MacActuarial AnalystKrazinkumar NavadiyaFarm UnderwriterKrystal McClureCommercial Property UnderwriterHarreet KaurRepresentative Scott UnderwoodDirect Sales RepresentativeNot prictured:Skylar SousaDirect Sales Representative
Page 12
pg. 12Halwell MutualA warm welcome to Kay Stinson, our HR Coordinator. Kay has an extensive background in the hospitality and tourism industry, having managed several hotels of various sizes across Ontario and Manitoba. They are used to wearing multiple hats and supporting teams both big and small. Kay is looking forward to working with a purpose-driven organization, learning a new industry, and building relationships across their time supporting the HR Function. Welcome to the mutual family, Kay!Please join us in welcoming Angela Clayeld, our newest Accounting Assistant. Angela is no stranger to the mutuals, having previously worked at Heartland Mutual for over ve years in both Finance and Operational roles. Angela is a student in her off hours and is currently studying medical ofce administration. Welcome to the Halwell team, Angela!We're pleased to announce our newest Intermediate Farm Underwriter, Cindy Conn. Cindy is joining us from Co-operators, and we are looking forward to all the great things she will be doing for our Policyholders, Brokers, and us in her new role. Cindy started her insurance career after moving to Alberta in 2012, although she was born and raised on a Dairy/Clydesdale horse farm in Elmvale, Ontario. We're so happy you're on our team, Cindy!We're excited to introduce Naveed Janwari, our IT Systems Administrator. Naveed has a Bachelor's degree in Management Information Systems, and he loves learning about the intricacies of technology and working to optimize systems. Naveed moved to Ontario from California in 2019, and he is a proud father to three girls, including a pair of twins! We look forward to working with you, Naveed!Welcome back to Simon Laughlin, our Operations Assistant. Simon originally joined the Halwell team back in 2019 as an Underwriting Assistant, before leaving to pursue law school. Now, Simon will be supporting the Underwriting, Claims, and Business Innovation teams. We're happy to have you back, Simon! Please join us in welcoming Srini Balaiah, our newest Business Analyst. Srini completed his post-graduation in Sales and Marketing from Centennial College. He also completed the CIP, Risk Management course from the Insurance Institute of Canada. Srini has been in the insurance industry for over 8 years and has had a variety of scope in his roles as Broker, Underwriter, and Analyst. Srini is currently living in Winnipeg, Manitoba with plans to move to Ontario soon. Welcome to the mutual family, Srini!Not pictured: We're also pleased to announce our newest Junior Adjuster, Amrit Singh. Amrit recently moved to Guelph with his wife Leah. Amrit started off as an Independent Adjuster with Crawford & Company and then moved to Travelers and ClaimsPro before nding his way to Halwell. Welcome to the Halwell team, Amrit!
Page 13
pg. 13Innovating with Ontario's mutuals for the next 100+ years!STRATEGY | STRUCTURE | PEOPLEwww.engagehr.com | Toll Free: 877-347-7411• Strategic Planning• Succession Planning• Performance Management• Organizational Culture• Employee Engagement• Training and DevelopmentCaradoc Townsend MutualMeet our newest Insurance Agent, Jen Van De Kamer, or Jen VDK, as she is called around the ofce. Jen lives in Lowbanks, by Lake Erie and joined CTM this spring and has been anxiously looking forward to meeting her new clients. Jen was born and raised in Kitchener and has also lived in a few other places before landing in the "Banks." Jen is a big-time people person and enjoys getting the opportunity to meet with her clients and taking the time to get to know them. Dumfries MutualWe're excited to announce the newest edition to our claims department, Jason Meyer, who joined our team in April. Not only does Jason bring several years' experience in customer service, he has been a DJ for over 20 years and in his spare time enjoys producing music and editing short videos to accompany them. Jason and his wife Ana have recently become new parents to Soa in June! We are happy to have you on the team, Jason! We are pleased to announce that Kristen Simoes joined the team in May as a Property Underwriter. For over 10 years, Kristen worked in the nursing sector, but began to explore opportunities in the insurance industry and started to work towards her CIP designation while on maternity leave. We're looking forward to having her on our team. Welcome, Kristen! Pat Lutz is the newest addition to our team, who joined us in June as a Property Underwriter. He will soon complete his undergraduate degree in Commerce at the University of Guelph, majoring in Economics and Finance. While attending the University of Guelph, he completed two co-op opportunities in the cut ower and grain merchandising industries. With the combination of these experiences alongside his time growing up on a local farm, Pat will add plenty of value to our team! Welcome to the team, Pat!
Page 14
pg. 14Ayr Farmers MutualWe're excited to announce that Katharina Strubel has joined AFM in the role of Marketing & Brand Manager. Katharina ("Kat") is a graduate of Fanshawe College with an Advanced Diploma in Business Administration Marketing. Her background, with a specialty in Digital Marketing makes her a valuable asset to our team.Abby Meiering joined AFM this summer for the role of Ofce Administrator (Summer). Abby is completing her 2nd year at McMaster University in the Honours Bachelor of Integrated Business and Humanities Program, while actively involved in mentoring and leadership opportunities. Abby grew up in Stratford with her family with exposure to the insurance industry.Chelsea Ford has joined AFM as Receptionist (Contract). She recently obtained her Ofce Administration certicate through Loyalist College in hopes of starting a new career path. Her background as a Community Care Personal Support Worker for over 10 years, makes her an asset to our team as she is caring and focuses on providing great customer service. Michelle DaSilva has accepted the position of Ofce Assistant (Contract). Michelle has over eight years' experience working administratively in the real estate industry, where she was kept busy during the housing market boom of the past few years. Her administrative and event planning experience, along with her customer service skills will be an asset to the team. Arabella Alton has joined AFM in the role of Farm Underwriter. Arabella is a graduate from the University of Guelph Bachelor of Science in Agriculture - Animal Health Science program. Most recently, Arabella was a Manager in Training for an egg production company responsible for maintaining animal safety, welfare, and biosecurity. Her agribusiness background and experience will be a valuable asset to our team.Erie MutualErie Mutual is pleased to announce that Brent Viles has joined our team as an Insurance Agent. Brent has previous experience as an insurance broker and is a graduate of the Mohawk College Insurance Program. He will be assisting our new and existing members with all of their insurance needs. Welcome to Team Erie, Brent!Erie Mutual is pleased to announce that Kaleigh Hennigar has joined our team as an Insurance Agent. Kaleigh will be assisting our new and existing members with all their insurance needs. Welcome to Team Erie, Kaleigh!
Page 15
pg. 15Mutuals Give BackThis is How We Support Our CommunitiesSalus MutualWe were pleased to take part in our very own "Canstructure" contest, led by Salus' Andrew McTaggart. All the ofces were happy to participate and were very creative with their building skills. Congratulations go to the Aylmer ofce for 1st place, followed by Ridgetown with 2nd, and the Claims Wing in Dutton coming in at 3rd place. All items were donated to the local foodbanks in each community.Howick MutualHowick Mutual, along with our partners at Orr Insurance, hosted a booth at the recent Farm & Food Care Breakfast on the Farm. This event runs three times annually throughout Ontario and provides a unique opportunity for visitors to have a conversation about food and farming. It gives all a chance to attend a real working farm and take the opportunity to talk to farming folk!
Page 16
pg. 16We have been busier than ever making donations to charitable organizations and fundraisers that matter to our communities. Some of the larger donations are pictured below and include donations shared with some of our Agents as well as our Broker partners. We have also awarded 10 scholarships to 10 local high school graduates who are pursuing trades or post-secondary education. A total of $5,000 has been given to these local youth who share some of the same values as our company, including being active members of their communities!Trillium MutualTrillium's ROOTS Community Fund contributed $10,000 to the Owen Sound Hunger & Relief (OSHaRE) towards building a new location for the hub. "In 2022, over 200,000 lbs of food was diverted from the landll and used to help feed individuals and families. Your gift will help us grow to meet this need," said Colleen Trask, Executive Director. OSHaRE is a central location for grocery stores, businesses, farmers and more to take, sort and share food with local nonprots and charities across Grey-Bruce. Many people experience complicated or unresolved feelings surrounding loss and grief. The ROOTS Fund donation of $5,000 will help the Huron Hospice facilitate grief groups. Each group has an eight-week framework, and this support will help remove the nancial burden of attendance for many. The North Perth Fire Department has received $5,000 in funding to support the purchase of new rescue mannequins. These will be used to help train their reghters through various emergency scenarios. "The mannequins will allow NPFD personnel to practice more realistic medical scenarios and have a very real impact on the training provided to NPFD reghters, benetting the community we serve," said Janny Pape, Manager of Development and Protective Services/Fire Chief. Our ROOTS Community Fund has donated $5,000 to the Milverton All Wheels Park Project. The park will be a safe and accessible place for youth to support their mental and physical well being. The park opens this summer.Axiom Mutual
Page 17
pg. 17You want peace of mind for your policyholders. We want the same for you.Together, we'll find opportunities to optimize your finances and operations, so you can focus on delivering quality coverage and recovery to your clients.Jas Chahal, CPA, CA289.293.2371 | jas.chahal@mnp.caMNP.caYour business is our businessCoverage is a two-way streetJoy Bakery Café is a family-owned café at the edge of downtown Simcoe. They offer a variety of direct trade teas and coffees and freshly baked family recipes. They are passionate about the environment and do everything they can to be sustainable and environmentally conscious. Each year they plant saplings to help offset their unavoidable carbon footprint. This year, they were able to plant 567 trees. With a goal of planting a tree for each day that they're open, this brings their grand total to 2,319 trees!We were happy to showcase this story through a highlight video posted to our social media, and a donation to their next tree plant. Nova MutualMaple MutualMaple Mutual donated $1,000 to FreeHelpCK, a charitable organization with a vision to give gifts, food, coats and blankets to local people in need. Their goal is simple: to remain judgment free and provide for the community.President & CEO Dean Muharrem presents a cheque to Tim Haskell, board member of FreeHelpCK.
Page 18
pg. 18Roadside Cleanup - Recently, a group of our staff and their families participated in a roadside cleanup along Bruce Road. It's great to see community members working to make their homes a better place!It Takes a Village - Kelly jumped right in to assist folks in getting food, basic items, feminine hygiene items, etc. at It Takes a Village. Kelly expressed a deep understanding about the importance of dignity for these everyday people trying to get by. Tracey Long also chose to volunteer at The Village and explained that the number of community members that both use and donate items is astounding.Trees for Woolwich - Our staff member, Karen, and Pat, a volunteer, helped plant 50 trees along Wittock Road in Elmira with Trees for Woolwich. The goal of the initiative is to increase the tree cover to enhance the rural and agricultural nature of the township. As part of Trillium's commitment to the community every staff member is provided a day each year to volunteer with an organization that has meaning to them. These organizations vary greatly, but are all organizations that support the communities that our staff work and live in.Trillium MutualKent & Essex MutualTogether with our broker partner HUB, we co-sponsored the annual Hogs for Hospice event to benet Erie Shores Health Foundation in the amount of $20,000. ESHF raises money for the purchase of medical equipment and to support the programs and services of Erie Shores Hospice. We also partnered with The Essex County Federation of Agriculture, sponsoring their "Fields to Forks" Spring Road Safety Campaign program. West Wawanosh MutualWe donated $2,500 to the Lake Huron Coastal Centre's biennial "Is the Coast Clear?" Conference where experts from the Great Lakes region spoke about coastal topics, local actions, and solutions to environmental challenges. The conference provides a forum for environmental professionals, government ofcials, and the public to learn about issues affecting Lake Huron's coastal environment.
Page 19
pg. 19Grenville MutualWe're proud to have supported Algonquin College's Business-Agriculture Program for the third year. The program prepares budding farm and agribusiness entrepreneurs entering the sector as employees or launching farm enterprises. This year's winner of the "Grenville Mutual Leadership in Agriculture Award" is Emma Martin, from Thorndale, Ontario. Emma is pictured at the June 7th convocation in Perth with Dave McLaughlin, our Risk Assessment Specialist, who presented the award on behalf of Grenville Mutual. Congratulations and good luck, Emma!June 9th marked the beginning of our active involvement in the build of a new 15-unit community for Habitat for Humanity Greater Ottawa-Thousand Islands in Kemptville. Staff members and Directors were on hand to raise hammers and drive nails for a great cause. We take immense pride in contributing to such a signicant project in this community. The team on June 9th included, staff members Julie Vaux, Lisa Rath, Fulei Tang, and Kim Westervelt, along with Board Chair, Steve Wilson and Executive Director, Greg Beach. Ontario MutualsA Message from CAMHS: CAMHS is incredibly appreciative of the extremely generous donation. A very special thank you to Steve for his commitment and perseverance on behalf of mental health and addictions. CAMHS, and most importantly our clients, will benet tremendously from this heart felt effort and generosity.OMIA Past Chair, Steve Quinn donated his (COVID) locks at the 2023 AGM to encourage donations towards mental wellness and addictions support at CAMHS. The generosity of our mutual community was astounding, resulting in a $37,000 donation! Pictured (left to right): Neil Shay, OMIA Chair, Jean Montgomery, CAMHS Chair, Bill Helmeczi, CEO of CAMHS, Steve Quinn CEO of Cayuga Mutual, Jeff Potter, Cayuga Mutual Chair.
Page 20
pg. 20Heartland MutualWe have recently launched the "Heartland Mutual Insurance Award", an inspiring scholarship program in collaboration with eight esteemed educational institutions. This initiative not only reects Heartland Mutual's dedication to empowering individuals, but also showcases our commitment to investing in exceptional talent in the insurance industry. With this initiative, we aim to identify and support students who exhibit a passion for insurance. Through partnership with Conestoga College, Mohawk College, Fanshawe College, Wilfrid Laurier University, Waterloo University, Acadia University and Saint Mary's University, we offer scholarships to deserving students pursuing relevant disciplines. By providing nancial support and mentorship opportunities, we endeavour to equip aspiring professionals with the tools they need to excel in their academic journey and beyond.The Heartland programs also serve as a platform for students to gain exposure to the insurance industry. We also offer co-op opportunities and insurance-related case studies providing students rsthand experience in a dynamic corporate setting. This combination of nancial assistance and practical training positions students for success well beyond graduation.After the devastating Nova Scotia wildres that impacted Upper Tantallon, Hammonds Plains, and Shelburne County, Heartland and The Kings Mutual Insurance have donated $10,000 to aid in recovery efforts. The contributions: $5,000 to the United Way Halifax Wildre Recovery Appeal and $5,000 to the Canadian Red Cross Nova Scotia and Atlantic Canada Fire Appeal, demonstrate our commitment to the local communities we serve. The wildres in Nova Scotia displaced numerous residents and destroyed several homes. We are honoured to support the affected individuals and families throughout their recovery journey.Our 2023 iHeart Community Fund has begun, as our brokers, agents, and staff members have submitted their applications to nominate charities and initiatives near and dear to their hearts for support and to raise awareness. We're grateful for these requests as they are an integral part of our iHeart Community Fund and allow us to directly give back to our Heartland communities.Our committee will now work together to fund and support these amazing initiatives and community-based projects for fall 2023 through in-person visits and cheque deliveries.We're eagerly anticipating the next phase of the 2023 iHeart Campaign and look forward to increasing our impact!
Page 21
pg. 21Caradoc Townsend MutualCTM, like the rest of the mutual community, is dedicated to making a positive impact on the community through its ongoing community support initiative called CTM Care. With a focus on various pillars of support, including food banks, mental health initiatives, healthcare providers, and support for seniors, vulnerable persons, and youth, CTM Care strives to create a stronger and more compassionate society. As part of the CTM Care Committee's commitment to supporting healthcare initiatives, CTM proudly served as a regional sponsor of the Walk for Alzheimer's. This event raises awareness and funds for Alzheimer's research, helping to improve the lives of those affected by this debilitating disease.We continued our commitment to local healthcare providers by supporting the West Haldimand General Hospital and Norfolk General Hospital Foundation's Golf Tournaments. These events play a vital role in raising funds for essential medical equipment, facility upgrades, and patient care enhancements.The CTM Care Committee extended its support to the Crossing All Bridges Golf Tournament, a fundraising event that benets individuals with developmental disabilities. By providing funds and donations, CTM actively contributes to creating opportunities for inclusivity and empowerment for these individuals.We recognize the importance of nurturing creativity and supporting the youth in our community. As the primary sponsor of Art with Heart's youth event, Flair Fest, we provided essential funding to promote artistic expression and encourage young talent to thrive.We also expanded our youth support by creating six additional bursaries for high school graduates committed to academic excellence and community service. These bursaries aim to empower and encourage the next generation of leaders.We also proudly served as one of the principal sponsors of the Invasion of the Dragon's Dragon Boat Race. This exciting event, held in Waterford, raised funds for the Rotary Club of Norfolk Sunrise and the Cancer Support & Resource Program of Norfolk County, demonstrating CTM's dedication to supporting community organizations and health-related causes.Bay of Quinte MutualWe hosted our 28th annual charity golf tournament on June 7th at Timber Ridge Golf Course in Brighton, Ontario. 119 people, made up of Bay of Quinte Mutual's directors, staff, mutual friends, brokers and business partners, participated in fund raising activities and generously gave money to this year's charity.The proceeds from the tournament were donated to Kingston 4 Paws Service Dogs. Kingston 4 Paws provide trained service dogs to physically and emotionally challenged individuals to assist them in becoming more independent. One of the founders of Kingston 4 Paws, Elizabeth Bailey was thrilled to accept a cheque in the amount of $12,500. In thanking the participants, Elizabeth expressed her sincere gratitude and surprise for the signicant donation, as the organization does not receive government funding and relies solely on donations.
Page 22
pg. 22For the second year in a row, we are proud to support the University of Guelph's Ontario Agriculture College through a $40,000 ve-year funding agreement. Two graduating students received an award of $2,500. This year, we funded three bursary awards of $1,000, which will be provided annually for ve years. These prizes will support 25 students at the Ontario Agriculture College and will support agriculture careers and development in the years to come. Take a look at the handwritten notes from the recipients of this year's scholarship!Halwell MutualOur Accounting Team recently used their volunteer day to make a signicant impact on children in the Guelph-Wellington region. They partnered with Food4Kids Guelph, a remarkable organization dedicated to combating food insecurity for children with limited or no access to food on the weekends and during summer months. Our Accounting Team spent a day assembling food packages for children to be delivered in the local area. Way to go, Accounting team! We look forward to seeing how the rest of the Halwell team choose to spend their volunteer days in 2023. We're very proud to support the Guelph 2nd Annual Yoga Fest once again! This event is hosted by Dr. Kristie Grifths, a Canadian chiropractor, yoga teacher, and best-selling author practicing in Guelph. Kristie is no stranger to Halwell, having provided many wellness workshops to our team over the past few years. Kristie created Guelph Yoga Fast in 2022 to bring the community together following a period of disconnection and isolation that we collectively experienced because of the pandemic. 100% of proceeds from ticket sales and charity rafes are donated to Hospice Wellington to support individuals and families with compassionate palliative care and support. In 2024, the Advanced Agricultural Leadership Program (AALP) is celebrating 40 years of advancing agriculture in rural Ontario. Join us as we celebrate this milestone by taking part in ROI's 40 for 40 giving campaign. Donate $40 a month for 12 months and help support the Ag sector leaders of tomorrow for another 40 years!
Page 23
pg. 23We were also an ofcial sponsor of the FORE-ever 90's Charity Golf Tournament at The Badlands Golf Course in Waterloo in support of Women's Crisis Services of Waterloo Region. The tournament raised $7,000. Thank you to Melissa Melnychuk for organizing this amazing event in celebration of her 40th birthday! Women's Crisis Services of Waterloo Region empowers and supports women, including transgender and gender-diverse individuals, and children to move beyond violence and abuse through the provision of safe shelter, education, and outreach services. They operate two emergency shelters, Anselma House in Kitchener and Haven House in Cambridge. The team at Dumfries Mutual is so grateful to all who played a huge part in our 9th Annual Charity Golf Tournament in support of Porchlight Counselling & Addictions Services. Dumfries is humbled to support their vision of a community where emotional and mental health and well-being are prioritized and destigmatized. The total raised amounted to $22,505! Over our nine years of running the tournament with vendors, broker partners, network friends and staff, we have raised and donated almost $175,000 with 100% of the proceeds being donated to local charities. Dumfries MutualBCM InsuranceThe BCM annual community grant program is designed to support local organizations and initiatives that make a positive impact in the community. The grant recipients are carefully selected based on their mission, the impact they have on the community, and the sustainability of their project. The organizations and initiatives that receive funding through this program play a vital role in making our community a better place for everyone.
Page 24
pg. 24Our Green Committee recently planted a raised vegetable garden and we plan to donate the vegetables to the Christian Gleaners. Staff will also be welcome to take home some of the vegetables and herbs for personal use. We planted carrots, beefsteak tomatoes, cherry tomatoes, two varieties of cabbage, bell peppers, hot peppers, mint, basil, parsley, cilantro, oregano, and lettuce. Ayr Farmers MutualOur Board of Directors hosted our annual Volunteer Appreciation and Donation Night on April 19th. We spent the evening showing our appreciation to the volunteers and serving organizations within our community. We truly value the time, hard work, and dedication of all of our volunteers. Board Chair, Jason Vernooy, presented each of the 34 organizations with a donation cheque, amounting to a total of $29,750. Each representative took a moment to share with organization's impacts on the community, and which programs the donation will support. It was truly impressive to hear. In late March, our CEO and President, Jeff Whiting and Business Development Coach, Bobbi Chapman presented the Cambridge Memorial Hospital Foundation with a donation of $5,100, with a cumulative contribution of $25,000. This donation will go towards the purchase of a new MRI machine. We are so honored to have the opportunity to support the CMH Foundation so that they can continue to provide life-saving medical treatment.
Page 25
pg. 25Several AFM employees volunteered their time at the Christian Gleaners this June. As a team, we completed 54 volunteer hours! The Christian Gleaners is primarily volunteer based and produces millions of servings of dried vegetable mix and other nutritious dried products each year using donated surplus produce to help feed those in need in developing countries around the world. For several years, AFM has donated to the Christian Gleaners at our annual Volunteer Appreciation Night. It was great to be able to volunteer our time trimming vegetables and packaging bags of dried vegetable mix. It's a very humbling experience and makes us truly appreciate living in such a privileged country.Internal Volunteer Hours "Competition" At AFM, we believe in being good neighbours and giving back to the communities we call home. We've encouraged staff to get involved in volunteer initiatives and support causes that are important to them. Our goal for 2023, is to achieve a combined total of 525 hours of volunteer time! So far, we have volunteered 272 hours this year!In early June, the AFM family gathered to host Cookout for A Cause – a fundraiser to support a coworker battling breast cancer. Through our efforts we raised a total of $4,500 which will go towards helping our coworker during this difcult time. Staff volunteered their time to help set up, clean, BBQ, and bake desserts. It was really beautiful to see everything come together in a show of support. .com1-888-576-3010 Your Outsourced Investment Governance Expert Inquire about our proven expertise in: ➢ Governance documents ➢ Portfolio assessments ➢ Money Manager assessments ➢ Complete Quarterly Monitoring Services Contact Jeffrey Hand at 905-336-1879 or info@bonnycastle.ca
Page 26
pg. 26Upcoming Sessions (subject to change). Members, please refer to www.omia.com to review a current calendar of courses offered by OMIA. Click on "Education" and then "Education Calendar." Remember to check out our On Demand eLearning courses at www.omiaelearning.com!Course Date & NameSeptember 11, 18, & 25 - Vitality at WorkSeptember 12 - Finance 101 for Directors - In PersonSeptember 13 - Farm Discovery Day - In PersonSeptember 13 & 14 - OMLPL Roundtable - In PersonSeptember 15 - Customer Experience SellingSeptember 19 & 20 - Commercial Lines Auto ProgramSeptember 20 - Claims Managers & Adjusters Roundtable - HybridSeptember 21 - Personality Dimensions - In PersonSeptember 21 - Underwriting Managers Roundtable - HybridSeptember 25 - Accountants Roundtable - HybridSeptember 26 - Automobile Underwriting RoundtableSeptember 26 - Claims Catastrophic Preparedness Workshop - HybridSeptember 27 & 28 - Personal Lines Auto ProgramSeptember 28 - Commercial & Farm Underwriting Roundtable - HybridOctober 2 - Finance 101 for DirectorsOctober 3 - Residential Underwriting RoundtableOctober 4 & 5 - Commercial Property Coverage ReviewCourse Date & NameOctober 5 - Promoting Insurance to Value - Commercial InsuranceOctober 6, 13, 20 - Discover Your StrengthsOctober 10 - Sales, Business Development & Marketing Managers RoundtableOctober 11 & 12 - Farm Property Coverage ReviewOctober 16 - Basic Governance for New DirectorsOctober 17 - Contractors Property Coverage ReviewOctober 17 & 18 - Residential Property Coverage ReviewOctober 18 & 19 - Accident Benets Claims Handling Workshop - HybridOctober 19 - Underwriting Managers RoundtableOctober 25 - Accountants Roundtable - HybridOctober 26 - Claims Catastrophic Preparedness Workshop - HybridNovember 1 & 2 - Commercial Liability Coverage ReviewNovember 2 - Human Resources Roundtable - In PersonNovember 6 - Strategic Planning for DirectorsNovember 7 - Loss of Income Coverage Review - HybridNovember 7 & 8 - Farm Liability Coverage ReviewMap Your Path to SuccessEducation at OMIA*Special Note - Optional Loss or Damage and Optional Accident Benets* OMIA Roadshow planned for October - November 2023. Check the OMIA online calendar for dates and locations.
Page 27
pg. 27Appointments & Positions ChangesTransforming the MutualsTrillium MutualHeather Hanson has accepted position as Multi-Line Underwriting Support as of June 12th, 2023. Heather has been with Trillium since 2021 on a contract basis and been instrumental in helping both the Farm and Commercial teams. She will continue to work closely with our broker partners with implementing risk inspections, recommendations, and a multitude of other tasks. Lastly, Robin Kellow will be taking over as the Risk & Compliance Analyst for Trillium. In addition to all aspects of risk and compliance, Robin will have accountability for Privacy and Ombuds at Trillium. Robin has been with Trillium since 2011 working within the claims department and has gained his CIP & FCIP designations. Brent Berfelz will also be making a shift within Trillium. After 11 years of working as a Personal Lines Underwriter, Brent will be joining the Ag Team. Throughout his time with Trillium, Brent has increased his underwriting knowledge and relationships with his brokers. We're looking forward to Brent working in his new role as Ag Underwriter.Heartland MutualHeartland Mutual Insurance is pleased to announce the appointment of Vice President, IT & Chief Information Ofcer, David Service. David joined Heartland on July 31st. In this role, David will provide leadership in supporting the technology needs of Heartland by heading up all aspects of our IT and IS teams. David comes to Heartland with a wealth of experience as an IT leader who has expertise in nancial services and the tech sector. David brings a focus on innovation, digital transformation, mobile services, and cost optimizations to Heartland. David holds a bachelor's degree in economics and a diploma in computer science. Most recently he was the acting CIO at 407 ETR. Please join Heartland Mutual Insurance in welcoming David Service to the Mutual community! Heartland would also like to take the opportunity to thank Mike Somerville, Acting VP, IT & CIO. Mike's leadership has been crucial over the past months.
Page 28
pg. 28Jenn Blanchard has accepted the position of Physical Damage Claims Adjuster within the Claims department. Since Jenn started with West Elgin Mutual (now Salus Mutual) as Claims Assistant in August 2021, she has learned a lot about the claims process and has completed four courses towards her CIP designation. Congratulations, Jenn! Halwell MutualWe are thrilled to announce that Tom Seaman has been appointed as President & CEO of Halwell Mutual. With 15 years of unwavering dedication to our organization, Tom's promotion marks a signicant milestone in his impressive career. Having served as the Vice President of Operations since January 2019, Tom oversaw key functions of our business including Underwriting, Claims, Loss Prevention, and Strategic Initiatives. Tom's alignment with the mutual insurance system's collaborative and cooperative approach has been exceptional, reecting his own personal values. With deep foundational knowledge of Halwell and the mutual insurance system, as well as a pragmatic leadership style, Tom brings the continuity and stability needed to navigate the challenges of our ever-changing world. Please join us in congratulating Tom on this well-deserved promotion. Tom, we look forward to your exceptional leadership propelling us to new heights!Salus MutualAshley Spurr will be transferring to the Claims team in the role of Claims Assistant. Ashley started with Howard Mutual (now Salus Mutual) in June 2022 in the role of Customer Service Representative. We're excited to have Ashley continue using her strengths with our team. Congratulations, Ashley!Jeremy Derksen has been promoted to the role of Chief Compliance Ofcer (CCO) with Salus Mutual. Jeremy had been an Agent with Howard Mutual (now Salus Mutual) since February 2021 and is a valued member of our team. Prior to becoming an Agent, Jeremy was a Sales Manager for the Chatham Hyundai Dealership. We believe Jeremy's education in Law & Criminology from Niagara College and the University of Windsor will be an asset in this new role. Congratulations, Jeremy! South Easthope MutualWe are pleased and excited to announce the appointment of Jennifer Kearsey as South Easthope Mutual's new President & CEO.Jenn is a well-respected mutual insurance professional, working in the mutual industry for almost 22 years. Prior to her promotion, Jenn joined South Easthope in the role of Assistant Vice President, Insurance Operations in 2021. She also worked at Farm Mutual Re in Cambridge for over 12 years.Jenn holds the Chartered Insurance Professional (CIP) designation. She values continuous education and personal growth, taking various leadership and management courses throughout her career.Please join us in congratulating Jenn on her new role. We look forward to her enthusiasm as she takes the reins of South Easthope Mutual, leading us forward.
Page 29
pg. 29Erie MutualPlease join us in congratulating George Nikolaidis on his recent promotion to Chief Operating Ofce at Erie Mutual. George started at Erie in November 2016 and has 27 years of insurance experience. He has worked as a producer for Tripemco Brokerage, then Loyalist Insurance Brokers for 6 years, Co-operators General for 4 years as a Commercial Supervisor and Aviva for 10 years as a Commercial Lines Construction Specialist and Senior Underwriter. George also has both his CIP designation and a CRM designation. Congratulations, George!Farm Mutual ReCongratulations to Frank Doyle on his promotion to the role of Team Leader, Finance. In this new position, Frank will take on expanded responsibilities in accounting, regulatory reporting and compliance reporting, corporate reporting and analysis, strategic projects, and enterprise risk management. Congratulations to Tyler Tinney on his promotion to the role of Senior Business Solutions Specialist within the Business Operations team. This well-deserved promotion is a recognition of Tyler's extensive knowledge and experience in supporting users of business solutions for day-to-day operations and essential business processes. We are pleased to announce that Jacob Costantino has accepted a full-time position as a Claims Coordinator within the Business Operations team. Jacob has been instrumental in providing tremendous assistance to the Claims team, supporting various critical business processes. We are excited to have Jacob on board in his new role.Jackson Smith has accepted the position of Innovation Associate. Prior to this role, Jackson served as a Product Services Coordinator in the Business Operations department. His dedication to driving change for Farm Mutual Re and the mutual community, along with his strong interest in data and analytics and commitment to ongoing education, make him an ideal candidate for this position.Congratulations to Krista Seiling on accepting the position of Manager, Member Relations. In her new role, Krista will focus on reconnecting with our valued members and will play a crucial role in the implementation of our Customer Relationship Management (CRM) system. Congratulations to Laura Better-Castillo on her new role as Business Operations Associate within the Business Operations team. In this position, Laura will leverage her existing knowledge and skills to address key person risks and enhance resource deployment within the team. Trillium MutualCongratulations to Julie Garner who is our incoming Chair, elected by her peers following our AGM. Julie will be replacing Ben Rier who has provided incredible leadership and direction to our organization. Outside of her role with Trillium, Julie is a leading government relations consultant with NorthGuide. Prior to consulting, Julie served in senior political roles in Agriculture Food and Rural Affairs, Infrastructure, Intergovernmental Affairs and Labour with the Government of Ontario. She has a masters in Political Science from Wilfrid Laurier University and is an active member of her community. We look forward to having Julie bring her unique background to this position!
Page 30
pg. 30Congratulations to Sharon Leitch who celebrated her 35-year anniversary with Halwell Mutual on May 24th. Sharon joined the Halwell team in 1988 and she has celebrated many milestones throughout the past 35 years (and counting!) Sharon continues to be an integral part of our accounting team and Halwell is so thankful for her dedication and commitment. Sharon, congratulations! We wouldn't be the same without you!Recognizing Mutual Members' Signicant AnniversariesHalwell MutualMilestonesHeartland MutualJoin us in congratulating Brad Coventry, Risk Assessment Specialist, on celebrating 15 years with Heartland Mutual.Thank you for your dedication to the team, Brad!Cheers to 10 years! One of our amazing Auto & Specialty Lines Underwriters, Hilary, celebrated her tin anniversary with Dumfries Mutual! Our team is so lucky to be working alongside such a wonderful and knowledgeable individual. We are very grateful for Hilary and her many contributions. Congratulations, Hilary! Dumfries MutualWest Wawanosh MutualMaple MutualWWMIC would like to congratulate Lisa Geddes on 35 years with the company. As a Farm/Property Underwriter, Lisa has been a true asset and an integral part of our underwriting team. West Wawanosh Mutual is very thankful to Lisa for her dedication and hard work over the past 35 years.Congratulations to Brian Ennett who celebrated 25 years as an Agent in May 2023. What a great accomplishment!
Page 31
pg. 31AccomplishmentsCongratulating Mutual Members on Their Professional DevelopmentNova MutualOne of our Agents, Holly Vallee, is now serving her members from her very own ofce space right in the downtown core of Tillsonburg. With the help of our brand team, she has a cohesive space that aligns with her branding, as well as supporting materials to launch the new location and create community awareness. Congratulations, Holly! We wish you much success in your beautiful new ofce. Maple MutualCongratulations to Director, Judy Cibulka on receiving her OMIA Director Certication. Judy was presented with her certicate at the OMIA Annual Convention in Toronto in March. Congratulations to Kari Maure for passing the OTL Agent License exam. Well done!Lambton MutualWe are excited to announce that Ravell Insurance Inc. has opened a second ofce, located in Brights Grove. Agents Chris and Kristy Ravell have been servicing Lambton Mutual clients in the Forest area for eight years. For their grand opening, they hosted a charity BBQ, for the Huron House Boys' Home which provides a safe, structured, live-in treatment environment for adolescent boys with complex needs.
Page 32
pg. 32Ayr Farmers MutualHTM InsuranceWe held an all staff team building event on June 20th. The team was split up into groups and each were given an envelope with car rally instructions to visit policyholder's farms and businesses, answering riddles along the way. We came back to the ofce and had a delicious staff lunch and watched videos that each team created identifying AFM's values and commitment statements. It was a great day! We're pleased to share that Loss Prevention Representative, Matthew Flagler has written a book! The title is Held to the Fire. It's a true story about a tragic explosion and re at the Quaker Oats Factory in Matthew's home town of Peterborough, Ontario on December 11th, 1916. Twenty-four people lost their lives in what's considered the most tragic event in the city's history. Matthew's great-grandfather, Dennis O'Brien, and great-great grandfather, William Hogan, lost their lives that day. Matthew believes his experience in loss prevention and as a reghter gives him a unique insight into the devastating event. Matthew has worked on the HTM loss prevention team as an inspector for the past 21 years. He is the current Chair of the OMIA Loss Prevention Roundtable. Previously, he was a proud member in good standing of the Fire Service in Ontario, including the rank of Training Ofcer for a Municipal Fire Department.Trillium MutualWe received the Corporate Culture Award for the sixth year in a row! Developed in 2015 by Human Synergistics, the award was designed to celebrate organizations that have developed and maintained a constructive culture. Tracy MacDonald, President & CEO said, "At Trillium Mutual, our people and our culture are at the forefront of everything we do. I describe culture as "what it feels like", both at the ofce and virtually. Our people have built a truly amazing environment of collaboration and respect, and a commitment to delivering exceptional customer service to our valued members." Other News & Events
Page 33
pg. 33Nova MutualWe recently launched the AgriSafe program, which offers innovative solutions to prevent farm loss. It includes cutting-edge products and services to better support our agribusiness members including technology and devices designed to reduce the risk of re loss and keep operations running smoothly and without disruption. As part of AgriSafe, we've partnered with PrevTech, an ally in reducing the risk of re in farm operations. Their Prevention Program offers a unique solution for monitoring a building's electrical network, supported by a team of experts to assist when a situation is detected. This electrical monitoring technology reduces the risk of re in farm and commercial operations, providing expertise, assistance, and prevention. We recently had a system installed at our own ofce as well. It was important for us to lead by example. Once installed, it immediately found a ground fault issue on a circuit. We got to experience rsthand how the PrevTech team and the electrician worked together to diagnose and isolate the fault and repair it immediately. Farm Mutual ReThe Farm Mutual Re EDI Committee hosted an International Potluck in May where employees brought in their favourite traditional dishes, while we learned more about different cultures.On May 9th, Farm Mutual Re, OMIA and Collectivde volunteers spent an afternoon dedicated to cleaning up Pinebush Road in Cambridge. In partnership with Sustainable Waterloo Region, volunteers from Farm Mutual Re, Collectivde and OMIA spent the morning of May 16th planting 100 trees outside our ofce in a Green Team initiative to grow a micro-forest.We enjoyed a day and a half in Niagara Falls for professional development. Members from the Farm Mutual Re Board of Directors were able to join us for an insightful panel discussion, as well as a fun night of dinner and karaoke.
Page 34
pg. 34Howick MutualHowick Mutual Insurance marked our 150th Anniversary by hosting an Open House on May 26th. We had approximately 350 people in attendance. Lots of fun was to be had during the event, with local musician Natalie Irwin performing and beef served by Cardiff BBQ. Watch our social media throughout 2023 for interesting facts about the company's history!Howick Mutual staff were thrilled to be back at the Meet the Underwriter Night event in April! Special thanks to the Grey Bruce Brokers Association for hosting.Bruce Power hosted Howick Staff in June and provided very interesting education sessions on Bruce Power itself, Ontario Power Generation and the Nuclear Waste Management Organization. Bruce Power is a nuclear power station located on the eastern shore of Lake Huron near Tiverton, Ontario. The highlight of our visit was a tour of the 2300 acre site.
Page 35
pg. 35Grenville MutualGrenville Mutual was happy to host the Annual Group E Meeting on June 6th. In addition to elections for the OMIA and Farm Mutual Re boards, we also had some great open conversation. Thank you to John Taylor, Neil Shay, Jackie Roy, Ed Forbes, and Patrice Rouse for participating in this event. Our team was treated to cuddles from these lovable 6-week-old Labrador Retriever puppies on a visit they made with their owner, Julie Blair from our Claims department (far left). This formed part of our recognition of Mental Health Week in May. At Grenville Mutual, we recognize the importance of mental health for both our staff and the community, and this therapy session with the pups clearly hit the mark.IInnssiigghhtt LLeett uuss pprroovviiddee yyoouu wwiitthh ssoommee ...... CCaann''tt sseeee tthhee ffoorreesstt ffoorr tthhee ttrreeeess?? Credit Score Ask us about our products that will help you get there... Real Time Data IntegraonTitan InsightsSSEEHHCCoommppuutteerr SSyysstteemmss IInncc..sseehhccoommpp@@sseehhccoommpp..ccaa
Page 36
pg. 36Thank you to everyone who attended our annual Business Partners Appreciation Golf Tournament in June. This fun day was dedicated to acknowledging and celebrating the invaluable collaborations and partnerships that play a crucial role in propelling our mutual community forward.Employees from Farm Mutual Re gathered for popsicles and trivia to recognize and celebrate Pride Month!We hosted our annual Ontario Mutual Slow Pitch Tournament in June. It was great to see the vibrant participation from the mutual insurance community. The Farm Mutual Re team showcased exceptional skill and determination, remaining undefeated throughout the tournament until their nal game, where they secured a commendable fourth place. Congratulations to the winners and undefeated team, Ayr Farmers Mutual! We also applaud the Trillium Mutual B team for securing an impressive second place, closely followed by Salus Mutual.YOUR FORENSIC ENGINEERING ALLIESUnearth Expert InsightsWhether you're handling a kitchen fire, or a loss at a multimillion-dollar agricultural facility, you can rest assured that you have our skilled and experienced investigative team at your service. CEP Forensic's team of engineers and investigators prides itself on the cultivation of client relationships and unparalleled investigative expertise.Clear. Effective. Partners.cep-experts.caFarm Mutual Re
Page 37
pg. 37OMIAOMIA and Chair, Neil Shay, hosted our annual golf tournament at the Greens at Renton in Simcoe on June 15th. Despite only 11 holes of golf played due to lightning, everyone was in good spirits and there were many wonderful contributions to the silent auction. The tournament was packed, fully sold out, and a great day overall, with proceeds to the Farm Mutual Foundation and Ataxia Canada. Thank you to everyone for your participation and to our sponsors for helping make the day a success. Your efforts raised just over $18,000.Congratulations to:Putting: Tim Shauf, The CommonwellChipping: Gord Lodwick, The CommonwellLadies Closest: Suanne Wettlaufer, South EasthopeMen's Closest: Ethan Smith, Belfor Property RestorationLadies Longest Drive: Jackie Roy, OMIAMens Longest Drive – Jeff Barnard, BrantRunner Up Foursome:Evan Quinn – CTM InsuranceBrady Henry – CTM InsuranceRose Schmit – Cognition+Brodie McLellan – Cognition+Winning Foursome:Rachel Vandecayveye – OMAPDaryle Morrison – AinsworthKelly Burgess-Geiger – CTM InsuranceKate Ferraro - CTM Insurance
Page 38
pg. 38Ontario Mutuals participated as a Presenting Partner of the 2022 International Plowing Match (IPM) & Rural Expo in Kemptville, Ontario. We're happy to announce that the prots of the 2022 IPM were distributed to 40 charitable organizations throughout Leeds and Grenville on Monday, July 24th, 2023. A total of $165,000 was given to community youth groups, community support organizations, IPM partners, food banks and hospitals. Recipients included:Grenville 4-H Association, Kemptville Youth Centre, Connect Youth and Oxford Mills Sisterhood of Guiding, Seniors' Community Services, Community Living North Grenville, Leeds and Grenville Interval House, Beth Donovan Hospice, Merrickville Agricultural Society, Mountain Township Agricultural Society, Kemptville Snowmobile Club, North Grenville Curling Club, Rideau Community Health Services (Merrickville), Portland, Salvation Army Kemptville, Athens, Delta, Smiths Falls, House Lazarus, Kemptville District Hospital Foundation, Perth & Smiths Falls District Hospital Foundation, and the Brockville & District Hospital Foundation.OMIA hosted its annual CEO Conference at the Kingbridge Conference Centre in King City this May. President, John Taylor welcomed delegates, including many rst-time attendees, as well as out of province attendees from New Brunswick and Saskatchewan. Speakers from OMIA, Farm Mutual Re, OMAP, and Madorin Snyder updated the group on topics like, Catastrophe Activity, Emerging Claims, Underwriting, the Corporation Act, Auto Insurance, and FSRA Market Conduct. A panel and discussion took place on the future of the advisor model, change management, and emerging leadership competencies. This conference offers a place for our mutual members to receive important updates, discuss market issues, and learn from one another. Everyone was in great spirits for our rst time back at the Kingbridge Centre since the pandemic closures, and we look forward to continued momentum. Next year's dates are tentatively scheduled for Monday, May 27th to Wednesday, May 29th at Kingbridge Conference Centre.OMIA was pleased to host the Next Generation of Mutual Professionals Conference in Cambridge on July 10th and 11th. This conference is led by the new Emerging Mutual Professionals Committee with a clear purpose to provide a forum for the next generation of mutual professionals to network and develop their skills, as well as promote the mutual philosophy of our membership. On day one, attendees explored their personality dimensions with BizXcel. This session was designed to bridge the gaps between people by helping them understand how they differ in values, communication, and behaviours. Personality Dimensions can be used for identifying leadership styles, sales and marketing strategies, and career planning. Day two featured a mutual leadership panel, a presentation from the Insurance Institute on current educational opportunities, and an update from the Emerging Mutual Professionals Committee.The event was a success, with lots of participation and communication among the group. Planning is already underway for sessions in 2024!Ontario Mutuals CEO ConferenceNext Generation of Mutual Professionals ConferenceThe IPM: Making a DifferenceThe session panelists pictured with OMIA's Christine Senior (far right).
Page 39
pg. 39The IPM: Making a DifferenceOMIA's Training and Research Ofcer, Nicole Hackney spoke at the Women in Insurance Summit in Toronto. The Summit theme was Women Leading the Way- Building Gender Equity in Insurance. Nicole spoke on Supporting Women's Health at Every Career Stage. We're very proud of you Nicole. This is an important contribution to a vital topic.Dumfries MutualOMIACEO, Rocco Neglia, was featured in the Mirror Review, a leadership magazine whose mission is to inspire and enlighten thousands of businesses and personnel around the world. In the article, Rocco took a dive into achievements, milestones and plans for the future for Dumfries Mutual. While working in the insurance industry over the past 35 years, Rocco serves as an inspiration to all and has a great amount of insight to share with the world. The full article can be found on the Mirror Review's website in the June magazine edition! Cognition+ is more than a platform, it's an ecosystem that allows the flow of data to interact freely and safely. Allowing you to bring customers into focus and deliver a modern digital-first insurance experience to policyholders and users.From Quote — to Policy — to Claim resolution and everything in between, the Cognition+ Platform provides complete control of your P&C business. SCHEDULE YOUR EXPERIENCE TODAY www.gocognition.com/insurancexperienceTHEINSURANCE PERIENCE
Page 40
pg. 40RetirementsCelebrating Those Who Helped Us ThriveAxiom MutualHalwell MutualOne of our long-standing Directors, Marlene Munn, retired from our Axiom Mutual board in March. Marlene originally joined the Legacy Hay Mutual Board in 2010 and, as an HR Professional, she brought a unique perspective. This was a competency that the Board at that time was lacking. Marlene was also the rst female to join the Hay Mutual Board and twice served as Board Chair.After effectively serving on Hay Mutual's Board for a decade, Marlene took a short hiatus just prior to our amalgamation. She selessly rejoined the Axiom Mutual board when an unexpected vacancy arose. She continued her strong and thought provoking contributions before announcing that she would not be seeking reelection. We would like to thank Marlene for her commitment and wish her many years of happy retirement. Thank you, Marlene!Dufferin MutualDufferin Mutual would like to congratulate Diane Craig on her retirement! Diane has been a big part of our team for 20 years and we will miss her terribly. Diane will be spending her time watching and playing sports alongside her husband (watching the Toronto Rock games, cheering on their son!) Enjoy every minute Diane, you deserve it!Congratulations to Marg Torrance who celebrates two major milestones. After a decade of unwavering commitment to Halwell Mutual, Marg is transitioning into a well-deserved retirement. Marg will continue working part-time with the Halwell Mutual Board of Directors, focusing on strategic initiatives and broker projects. Marg's illustrious 40-year career in P&C insurance spans across various roles at prominent insurers and independent brokerages before nding her way to the mutual family in 2013. Her contributions and transformative leadership have propelled Halwell to remarkable success, leaving an indelible impact on the company's growth and trajectory. We express our heartfelt thanks and admiration for Marg's dedication, and we look forward to continued collaboration as we build upon the strong foundation she has established. Please join us in congratulating Marg on her remarkable tenure and best wishes for a joyous and fullling retirement, spent with your friends, family, and beloved granddaughters.Lambton MutualAfter 35 years of dedicated service, Clare Moffatt has retired from our board of directors. During his time on the board at Lambton Mutual, he has demonstrated extraordinary leadership, serving as Chair three times during his tenure. His calm demeanor and unfailing support will be missed but we wish Clare all the best as he enters retirement.
Page 41
pg. 41South Easthope MutualOn June 30th, Frank Rider retired after serving 20 years as the President & CEO at South Easthope Mutual. Frank's commitment to mutuality and service to members was always paramount and at the forefront of his leadership style. Frank embraced true core mutual values while leading the company to become even more nancially sound. We thank him for his many contributions during his tenure and for his unwavering loyalty to the members of South Easthope Mutual.Frank's hard work, dedication and commitment to excellence earned him the respect and admiration of all of us at South Easthope Mutual and those in the greater mutual community. We wish Frank all the best as he embarks on a new chapter in his life, and we are grateful for the time he has spent with our organization.Trillium MutualRon Wilson is retiring from Trillium Mutual after 19 years. Ron has played a key role in our Finance & Data department, not only through many projects and initiatives, but as a leader and mentor to many. His depth of nancial knowledge and experience will be extremely missed. Bonnie Thompson is retiring from Trillium Mutual after 33 years. Bonnie started at Formosa Mutual and has been in underwriting since, as an Auto Underwriter. She most recently shifted to the Agricultural side and will be missed by all the broker partners and staff she worked with.Dennis Lange is retiring from Trillium Mutual after 36 years. He will be missed by his peers, brokers and colleagues for his knowledge, professionalism, and his sense of humour. Thank you, Dennis for your dedication! Cayuga MutualAfter 43 years, Charlie Snyder has traded in his director chair for a well-deserved seat on his shing boat. Charlie joined the Cayuga Mutual board in March of 1980. He has witnessed and led many changes to our small mutual along the lower banks of the Grand River, including: two new buildings, three new Managers, the introduction of computers (yes, computers), the hiring of adjusters, and a ten-fold growth in both GWP and surplus!Family is very important to Charlie and while his Cayuga Mutual family will miss his reasoned and caring manner, we wish him nothing but the best as he looks to catch the "big one" at his family camp. All the best, Charlie, from Cayuga Mutual Directors, Management and Staff.
Page 42
pg. 42In MemoriamRemembering Our Mutual Family MembersWe are saddened that former Farmers' Mutual Insurance Company (Lindsay) Board member Frederick (Fred) Duncan McIntyre passed away on June 20th, 2023. Fred joined the Board of Directors of Farmers' Mutual Insurance Company (Lindsay) on April 29th, 1991, served as Board Chair from 2001 to 2002, and retired on March 28th, 2012, prior to amalgamation. Fred was very active in the mutual community, with many friends and acquaintances who will remember catching up with him over the years at mutual events. He was a true gentleman, a consummate professional and a committed Board member. Our prayers and condolences go out to the McIntyre Family. We are saddened to share that former long serving Director of Amherst Island Mutual Insurance Company, Allan Glenn, has passed away. Allan was Past President and long serving Director of the Amherst Island Mutual Board of Directors from 1975 through 2017. Allan was a passionate Amherst Islander and a methodical and thoughtful board member for 42 years. He will be missed by many.It is with great sadness that we share the passing of Kathleen Seemann. Kathleen retired from Farm Mutual Re in July 2020 after 18 years of service as our Receptionist. Kathleen will be remembered fondly as the warm, friendly face behind the reception desk and caring voice at the end of the phone line for both Farm Mutual Re and OMIA. She welcomed employees, our boards of directors, and members of the mutual community to our ofces. Kathleen was dedicated, committed to building relationships, and provided an exceptional experience with everyone she encountered. Kathleen will truly be missed by her mutual family. Frederick (Fred) Duncan McIntyreAllan GlennKathleen SeemannLynn Ivan KentWe are saddened to share the passing of Lynn Kent who was a long-standing Director of AlgomaMutual from 1999 until his last term as Board Chair ending in March of this year. Lynn led a very full life, growing up and remaining on Maple Ridge Farm, following along in his father's footsteps. He owned Lynn Kent Construction and was also a long time maple syrup producer, keeping Kent Bros. running for over 100 years. Lynn enjoyed playing the bagpipes as part of the 49th Field Regiment for many years. He was a Royal Canadian Legion member of Branch 374 for 45 years. Lynn also served as President for the Matthews Memorial Hospital Foundation. We send our deepest condolences to Lynn's family.
Page 43
It is with heavy hearts that we share the passing of Don Corby, Agent with Middlesex Mutual. Don will be remembered for his dedication to his daughters; being their super fan with whatever they were doing. He enjoyed camping, golng, shing, coaching and talking to anyone and everyone. He was a wonderful member of our mutual family and he will be greatly missed. We send our sincere condolences to Don's family and friends.Don CorbyWayne DunlopBernard MacNeilWayne Dunlop passed away peacefully at his home in Sauble Beach, on August 18th, in his 89th year. Wayne had a long and distinguished insurance career adjusting claims and helping policyholders through difcult events. Wayne's career was spent in the Guelph area where he worked for Morden and Helwig Clams Adjusters, Gore Mutual, and Halwell Mutual. Wayne joined Halwell in 1987 as Claims Manager and retired in 1997. Wayne was hard working, easy going, and always had a smile. He will be missed by all those he helped along the way with good advice, common sense, insurance expertise, and generous professionalism. We are saddened to share that Bernard (Bernie) MacNeil passed away on August 16th at the age of 77. Born in New Waterford, Nova Scotia, Bernie had a distinguished career in the mutual insurance industry as General Manager of Kent & Essex Mutual. Bernie served as the Group 1 Director on the OMIA board and was Chair in 2005/2006. During his time on the OMIA board Bernie served on the Benets Committee and Regulatory Review Committee. Bernie's theme for his year as Chair was "Facing Technology Together". A generous and charitable soul, he was loved by family, friends, neighbors, and colleagues.
Page 44
Address: 350 Pinebush Road, Cambridge Ontario N1T 1Z6 (519) 622-9220 Fax: (519) 622-9227Mail: P.O. Box 3187 Cambridge ON N3H 4S6 www.omia.com And keep that news coming!Please send your news, photos, updates and more to marketing@omia.com. OM News can be read online at OMIA.com and sign-in is not necessary. Just visit www.omia.com and pick Ontario Mutuals Newsletter from the menu on the left of the page.READY TO GO GREEN? Please drop us an email if you'd prefer to read your OM News online and help us save paper and ink. Email marketing@omia.com and we'll be sure that your name is included on the email notication that goes out when a new issue is available.