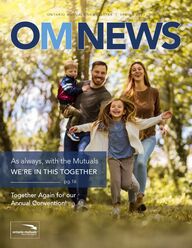 Return to flip book view
OM News Spring 2023
Page 1
OOMM NEWS NEWSONTARIO MUTUALS NEWSLETTER | SPRING 2023As always, with the MutualsWE'RE IN THIS TOGETHERTogether Again for our Annual Convention! pg. 48pg.16
Page 2
John Taylor, PresidentOntario Mutual Insurance AssociationOur Mission: To serve and strengthen our mutual insurance community.Our Vision: Grassroots insurance at the core of thriving communities.Spring Brings a Fresh Perspective This change of season always brings with it a sense of newness and possibility. There's the much needed sunshine of course, but there's also a chance to build momentum on new projects and strategies, connect with our communities at local events (outdoors if we're lucky), and renew our commitments to good causes.This year, we were able to hold our rst "normal" Annual Convention since 2019. What a joy it was to get back to it. With over 600 in attendance, we expect it was just as highly anticipated by our members.The following pages are a testament to the dedication of this mutual community, through donations, sponsorships, community events, professional development, and new partnerships. We're proud to be a part of a group that is always building towards a better future. OM News is produced by the Ontario Mutual Insurance Association on behalf of our member and associate member companies.
Page 3
Our Mission: To serve and strengthen our mutual insurance community.Our Vision: Grassroots insurance at the core of thriving communities.OM News is produced by the Ontario Mutual Insurance Association on behalf of our member and associate member companies.A Message from OMIA's ChairNeil Shay, CTM InsuranceQueen's Park DayLegislative Affairs CommitteeA Message from Past Chair Steve Quinn, Cayuga MutualNew Team MembersWelcoming New Faces to the Mutual SystemMutuals Give BackThis is How We Support Our CommunitiesMeet Our PeopleCelebrating Our Relentless VolunteersEducation CalendarOMIA Education at-a-glanceAppointments & Position ChangesTransforming the Mutuals MilestonesRecognizing Signicant AnniversariesAccomplishments Congratulating Mutual Members on Their Professional DevelopmentOther News & EventsMore Mutual NewsRetirementsCelebrating Those Who Helped Us ThriveIn Memoriam Remembering Our Mutual Family Members3326384042525534OMIn this issue >>Spring 2023456816 2023 OMIA Annual Convention pg.48Helping Hands in the Aftermath of Post Tropical Storm Fionapg. 30
Page 4
pg. 4A Message from OMIA ChairNeil Shay, CTM InsuranceHappy spring!We've come to the end of Past Chair, Steve Quinn's theme of "Our People, Our Communities, A Celebration of Success." But not quite the end, actually. As you'll notice with some of the interviews in this issue of OM News, we're going to enjoy the afterglow a little longer. It continues to be a privilege to work with Steve. The Association has been well served by his compassion, graciousness, and incisiveness. And it's not just Steve. Congratulations to the entire Ontario mutual insurance community for sending such a high quality group of people to serve on your Board of Directors.Writing a rst "Message from OMIA Chair" is daunting, and I prefer to remain behind the curtain, but here we go…My theme this year attempts to acknowledge our astonishing 150+ year history of success. At our March AGM, we chatted about the assigned homework items to everyone for the coming year: 1) Find a copy of the 1982 OMIA Centennial History book. 2) Read it! We'll check in on our homework progress at the June CEO Conference, the P&M Conference, and the group meetings.The theme also points ahead to our bright and condent future, and our mutual passion and skills that will make it happen. Our theme is a mindset, our theme is about not being satised with what has always worked. Our theme is keeping up maintenance along the way, and reinventing and redesigning when needed. Our theme is "Always Building".We are Always Building:• Our people• Our communities (especially with our special Steve Quinn haircuts)• Our products, priced spot-on• Back better!• Our systems• Our organizational capabilities• Our sophistication• Our strength; and • Our relevance.I look forward to renewing acquaintances and making new ones over the coming months. I look forward to seeing you and working together to build our tomorrow.Respectfully, Neil Shay
Page 5
pg. 5OMIA held its annual Ontario Mutuals Queen's Park Day at the Legislature in Toronto on March 7th. This was our rst chance to make this trip to Queen's Park since just before the Province locked down in March 2020. Forty-eight mutual members travelled to Toronto to meet with MPPs and staff for informal discussions on our role as mutual insurers. This was an important opportunity to hear from MPPs and staff about issues they're working on and that they're hearing about in their constituencies. These include a number of private members bills and studies on areas ranging from auto theft prevention to ood damage mitigation. Our visit included a brief address and welcome from the Minister of Finance, the Honourable Peter Bethlenfalvy. We also received a warm welcome from our sponsor for the day, Mike Schreiner, Leader of the Green Party.The OMIA Legislative Affairs Committee would like to thank all of the individuals who took the time to come to Queen's Park and the mutuals that supported the event. We were certainly struck by our MPPs high level of awareness and appreciation of the contributions that each of the mutuals make to local communities and economies. It was also encouraging that the new MPPs in attendance were interested to learn more about the mutual business model and the unique role we play as policyholder-owned insurers.Mutual members and supporters! Save the date for our annual golf tournament, hosted by Chair, Neil Shay, on Thursday, June 15th in Simcoe. Details will be shared with member companies by email.Save the date for the annual Slo-pitch Tournament hosted by Farm Mutual Re on Friday, June 23rd in Cambridge. Details will be shared with member companies by email.Legislative AffairsQueen's Park DayOMIA Annual Golf TournamentThe Greens at Renton, June 15thMutual Slo-Pitch TournamentCambridge, June 23rd
Page 6
pg. 6A Message from OMIA Past Chair, Steve QuinnI believe this is the last time I'll be asked to compose a message for the OM News as a Chair of any sort ….Wait. If I'm not mistaken, I can already hear a collective sigh of relief among the membership :). I must say it has been both challenging and rewarding to create multiple notes worthy of the membership's time to read. My theme for the year focused on our mutual people and their collective efforts to make their communities a better place for all. I hope we have succeeded in highlighting their remarkable achievements at least to some degree. For those of us who reside in smaller villages, centres, and towns we know all too well that county resources are stretched and that without volunteers, our community gardens wouldn't exist, our seasonal decorations would be limited, our parade oats empty, our food banks struggling, our senior's mobility restricted and our children's recreation a mere shadow of itself to name just a few examples.I have heard that trust is built on the notion of making one's life better, safer, and easier. It comes as no small coincidence then that volunteer organizations are held in such high regard. The list of organizations our members' commit to is almost too long to dictate – sufce to say the list is very long, widely varied and thoroughly impressive.I have been awed and inspired by the volunteer stories I was fortunate enough to hear these past 12 months and I am forever grateful to those who were so willing to share. I hope in some small way we have encouraged others so that they too may experience the relentless joy of giving.Our People, Our Communities - A Celebration of Success.Mutually Yours,Steve Quinn
Page 7
pg. 7Get to Know More About Steve QuinnMany in our mutual community may have missed the opportunity to get to know Steve Quinn during his year as Chair. We were happy to return, for the most part, to the conferences, conventions, events, and meetings that mark a typical year, but in case you missed him, here are some questions we asked Steve to give you a bit more insight into who he is. Which living person do you most admire?My wife, Susan.What is your greatest extravagance?A nice bottle of red!! :)What is your current state of mind? Reasonably optimistic. What quality do you most like in a person?Truthfulness.My family would tell you I am:Steady.Which talent would you most like to have?Does a scratch handicap count?What is your favourite pastime or hobby?Trail or road riding.What do you consider to be your greatest achievement?My Family.What is the most interesting place you have ever visited?The Badlands in South Dakota.Where in the world would you most like to live?Okanagan Valley ... still in Canada yet close to California!What is your most treasured possession?My Toby Jugs :)What genre do you most like to read?British detective novelsWho is your hero of ction?Ian Rutledge (Charles Todd Novels).If you could visit and explore any time in history, which time would you choose?Renaissance ...as long as it wasn't for too long (running water and all that)!What do you think is the greatest opportunity for the mutuals?Our mutual's commitment to their communities.What do you think is the greatest challenge for the mutuals?Loss of identity.What is your personal motto?This too shall pass or Don't overthink it.
Page 8
pg. 8We're pleased to announce the appointment of Nartha Mahalingam, CHRP, to the role of Human Resources Administrator. This is a new role within Axiom, that allows us to enhance the day to day functionality of our human resources initiatives. With a BSc in Psychology and a post graduate diploma in Business Management-Human Resources, Nartha is eager to begin her career, within our mutual insurance community. We're pleased to welcome Mary Bacher to the BCM Insurance family. Mary started in insurance at a State Farm Agency for many years and made her transition to the mutuals in 2009. She moved from Agent to Sales Manager, to becoming the COO with the responsibility of overseeing the insurance operations of the company as well as executive responsibilities for Human Resources - Mary brings a wealth of experience, knowledge, and understanding to our team. Welcome, Mary!Please join us as we welcome Emily Russell to the Cayuga Mutual team. Bringing previous mutual and broker experience to her Agent role, Emily currently resides with her family in Wellandport. Emily enjoys spending time on the golf course and at her cottage. We look forward to Emily's success here at Cayuga Mutual. We're happy to announce that Brent Roloson has joined Trillium Mutual as of January 9th, 2023 in the position of Agri-Business Development Advisor. Brent is a graduate of the Fanshawe Business Insurance Program and brings over 10 years of farm underwriting experience, having worked at Heartland Farm Mutual and most recently Nova Mutual. Please join us in welcome Brent to the team!Axiom MutualBCM Insurance Cayuga MutualTrillium MutualWendy Ryan, joined the Trillium team back in January 2022 and has been working with various departments to provide data conversion support on our recent Guidewire project. We're happy to share that Wendy will be joining our Finance team on a full time basis! She has spent the last 25 years working as an accountant and controller, with experience in nancial reporting and establishment of new processes and procedures. Wendy will be a great t as we transition to a new accounting system.OMIAWe're pleased to welcome Michelle Porter to the role of Accounting Assistant - Payables. Michelle comes to us with over 20 years of accounting experience. Born in Cambridge, Michelle spent most of her teenage years in St. John's, Newfoundland and is proud of those East Coast roots. She and her husband just celebrated their 29th wedding anniversary and have two adult children. Michelle has been a wonderful addition to the OMIA team.New Team MembersWelcoming New Faces to the Mutual System
Page 9
pg. 9Westminster MutualWe would like to welcome Yoh Issaraanatipong as a Sales Agent for our company. Yoh received his RIBO license in 2019, and has worked as a personal lines broker since 2020. Yoh and his family also own and operate the best Thai food restaurant in St Thomas. We're excited to have Yoh join our team!We're happy to announce the addition of Kayla White to the role of Member Experience Administrator. Kayla joined the team earlier this year on a contract basis, and we have been so pleased with her efforts and contribution to our team that we extended an offer to make her permanent. Welcome (again!) to Team Erie, Kayla. Erie MutualWe're excited to have Justen Wilson join our Account Executive team in the Member Experience Department. Justen will be serving new and existing members for all of their insurance needs and will be a fabulous addition to our team. We're pleased to announce that Joel Lima has joined our team as an insurance agent. He comes to us with previous experience in the insurance and mortgage industries. Joel will be working with our members to provide friendly service for all their insurance needs. Welcome to Team Erie, Joel!Please join us in welcoming Russell Perkins to Team Erie. Russell started his new position of Account Executive inour ofce on February 1st. He will be active in providing service to our policyholders as part of our current Member Experience Department. Welcome aboard, Russell!Tradition MutualWe're very pleased to welcome, Shara Bierman to our team as Business Development Manager, following Ken Rush's retirement. Shara brings many years of experience in the insurance industry, most recently as Manager, Insurance Operations for Donovan Insurance Brokers in Waterloo. We're looking forward to having Shara on the Tradition Mutual team! Usborne & Hibbert MutualWe're happy to announce that Julie Tam joined the U&H team as an Automobile & Residential Underwriter. Julie worked as a Broker for over 18 years. She took a short break from the insurance industry but decided to venture back! Prior to working as a broker, Julie was with Alma Mutual, which is now Trillium Mutual. We are very pleased to have someone with the wealth of experience that Julie brings. Welcome, Amanda Kellmann, our newest Customer Service Representative, soon to be Sales Agent. Amanda received her Business Insurance Diploma from Fanshawe College and shortly after, received her RIBO licensing. Her experience includes the processing of home, auto, and commercial transportation policies.Please join us in welcoming Dawn Brower to the role of Customer Service Representative at Westminster Mutual. Dawn comes to us from an insurance family, as her father and brothers have also had very successful careers in the industry. (If Dawn looks a bit like Axiom Mutual's Rob Pearson, you know why!) Dawn has 16 years' experience as a CSR at the brokerage level, and brings a wealth of knowledge to our company.
Page 10
pg. 10Many in our mutual world will already know Lee-Ann Vansteenkiste, who joined us in January as Chief Operating Ofcer after most recently being with Axiom Mutual.Lee-Ann began her insurance career in 1995 after graduating from Carleton University with an honours degree in Law. She has her CIP designation and experience working with national insurers, mutual insurers, and a large national independent adjusting rm. Lee-Ann is currently serving as a Director on the Insurance Institute of Ontario, Southwestern Ontario Chapter and serves as a member of OMIA's Market Issues Committee. Lee-Ann is an active member of her church and enjoys running, cycling, and hiking.In the short time she has been with us, Lee-Ann has made a huge impression and impact on our team.Trent Wayne has joined Salus Mutual as a Sales Assistant with valuable experience gained from several years in the real estate industry. Prior to that, he worked in the marketing agency sector, where he served mutual insurance clients. In his free time, Trent enjoys training and competing in Brazilian Jiu-Jitsu, as well as spending quality time with friends and family. Welcome, Trent!We're also pleased to welcome Margaret Tyndall as our newest Customer Service Associate. Margaret will be working out of our Ridgetown, Ontario ofce. Margaret is new to the world of mutual insurance having previously worked in Accounts Payable and other Ofce Administrative roles. Originally from Ireland, she moved to Canada in 2010 with her husband and three kids. Margaret enjoys spending quality time with her family and participates in Conqueror Virtual Marathons, having recently completed the Athens challenge. Welcome to the mutual community, Margaret! Salus MutualWe're pleased to welcome Steve Dilts in the role of Chief Financial Ofcer.Steve began his insurance career in 1990, working in the Cayman Islands managing Marsh's captive insurance operations for ve years. Steve has spent three decades in a variety of executive and management roles in nance and operations, working in almost every vertical in the insurance and wealth management industries.Steve has served the mutual insurance community in Ontario for eight years and is excited to be joining Salus Mutual and support the harmonization of two exceptional entities, West Elgin Mutual and Howard Mutual. Steve was born and raised in Alberta, and currently resides in Uxbridge, Ontario with his wife and son. He is a strong supporter of Habitat for Humanity and Canadian Cancer Society. We're pleased to welcome Sheila Bedford to the underwriting department in the role of Auto Underwriter. Sheila was previously a member of the Goodwill Committee at her former employer and looks forward to joining the mutual community and volunteering with the Salus Team. Sheila enjoys family time and watching her son and daughter participate in local sports. Welcome, Sheila! Specializing in Subrogation focusMaximizeyour subrogation recoveries and free time for your sta to on more critical adjusting work.We oer aordable contingency & flat fee options. Please contact us to discuss your subrogation needs. Suite 216 - 762 Upper James St., Hamilton, ON 905-389-4522 | christine@sageclaims.ca | sageclaims.ca
Page 11
pg. 11Maple MutualWe're very pleased to welcome Gordon Purchase to our team.Gordon joined Maple Mutual as an Insurance Adjuster in November 2022. Gordon has over 30 years' experience in the hospitality industry and brings a high level of leadership to the table from an impressive resume history.Gordon has lived in the Chatham-Kent area for the past 18 years. He is the proud father of seven kids (six boys and his "very spoiled" daughter). Gordon also loves to give back to the community. He was on the MRI Campaign Committee that raised over $3.2 Million to acquire an MRI for the local hospital. He has also been a long time member of the Festival of Giving Committee as well as an active member of the Sertoma Club of Thamesville. Gordon will be a wonderful addition to our mutual community.We're very pleased to welcome Jeremy Brewer to our team.Jeremy joined Maple Mutual as a Claims Manager in January 2023 with over 13 years' experience in various claims roles.Jeremy is originally from Woodstock and moved to Bothwell last fall with his wife, three year old son and two dogs. Jeremy enjoys playing golf, camping and racing Standardbred horses. Please join us in welcoming Jeremy to our team.
Page 12
pg. 12Howick MutualWe welcomed Dallas Fischer to the Finance Department as the Finance Administrator. Dallas graduated from the University of Guelph in 2021, where she obtained a Bachelor of Commerce, majoring in Marketing Management. Her work experience in administration and customer service, along with her education and skills, make her a great addition to our team. We're very pleased to have recently welcomed the following people to the Heartland Mutual team:We are pleased to welcome George Malitsin to the team as Claims and Loss Prevention Manager. George brings many years of claims and leadership experience to Howick Mutual. He obtained his Civil Law Degree from Moscow State University and completed the Business of Insurance Program at Conestoga College. He also holds a CIP designation. George's technical knowledge and understanding of all lines of claims, his leadership experience, along with his connection to the farm mutual insurance family, make him a great t for this role.We welcomed Dan Fritz to the role of Farm Underwriter. Dan has four years of multi-line insurance experience as a broker and is a partner in his family farming business. Dan holds an Associate Diploma in Agriculture from the University of Guelph, Ridgetown Campus. He is also a very active volunteer in his community. With Dan's knowledge and experience in farming and insurance, he will be a perfect t in our Farm Department. Heartland MutualDerrick AjmoVice PresidentClaimsElise BormanHuman Resources GeneralistZainab Al DulaimiAB Claims AssistantAnnie WhittleClaims RepresentativeAgnel T.Personal Lines UnderwriterAlain SeguinSr Field Claims RepresentativeLana ChoujaaCommercial Property UnderwriterCathy KeelerSr. Commercial Auto UnderwriterTaylor McKinnonClaims AssistantKent & Essex MutualWe would like to welcome, Jaylene Burns to the role of Underwriting Administrative Support. Jaylene has worked in customer service and ofce administration for several years and is excited to learn more about the insurance industry in her new role. Welcome, Jaylene! Brant MutualWe're pleased to welcome Jessica Parnica, CIP, to the Brant Mutual team as a Personal Lines Underwriter. Jessica has has close to seven years' experience in the mutual world. She lives in Hamilton where she likes to read, go to the gym, and bake in her spare time. Jessica has already been a great addition to the Brant team. Welcome, Jessica!
Page 13
pg. 13Dumfries MutualWe are excited to introduce our new Customer Service Representative, Alysha Mosgrove, who joined us in February. Alysha's experience and skills have her ourishing in her role. Alysha loves to travel, hike and explore new trails with her pup. Welcome to the team, Alysha. Emily Richer joined our team in November as our new Workow Coordinator! Over the years Emily has worked in various roles ranging from customer service, marketing and reception, to owning and operating her own cleaning business for over 15 years. Emily and her three boys and dog, Penny, live in Lynden. We are pleased to announce that in February, Elaine Taylor joined the team as our new Executive Assistant! Elaine brings over 20 years of administrative experience across a number of organizations and industries. She currently lives in Brantford with her family and enjoys archaeology, reading, playing games with friends and family and taking her dog for walks along the Grand River. HTM InsuranceWe're pleased to welcome Tracey Curran to our team as our VP of Finance. She comes to us with over 20 years of Finance and Accounting experience. Tracey has been part of the mutual community for over eight years and her experience includes insurance accounting functions such as nancial reporting, year end audit processes, P&C1 preparation and the regulatory requirements that are so critical to the nance functions. In addition, Tracey has an extensive knowledge in data management, systems process, integration and conversion. She also brings a critical and timely expertise in the IFRS-17 Insurance Contracts accounting standard. Tracey lives with her husband and two children in Perth, a couple hours from our home ofce in Cobourg. Her children are involved in hockey and gure skating and both Tracey and her husband love working with and raising Standardbred racehorses. A great addition to the HTM family.We welcomed Kyle Axtmann to the Ayr Farmers Mutual team, in the role of IT Solutions Technician. Kyle enjoys building computers, playing soccer, snowboarding, and playing tennis. With his previous experience as a Fibre Optic Technician, and IT Help Desk Technician, in addition to the completion of the Computer Systems Technician program, he is a great addition to our team.Ayr Farmers MutualWe're pleased to announce that Joshua Slaght has joined us as our new Director of Operations. This is a new role for WWMIC and integral to the continued growth and prosperity of the organization.Joshua brings tremendous experience to the WWMIC team with over 30 years in the insurance business. The bulk of his career has been spent in progressive leadership roles within Economical Insurance. Joshua's most recent position was Vice President of Claims Operations where he led a team of approximately 450 staff members. His "roll up your sleeves" attitude, coupled with his hands on experience as an adjuster working in the eld, to strong claims adjudication, HR and risk positions, Joshua is a tremendous t and asset to our team.Joshua lives in Deneld, Ontario with his wife and two children and is active in his community. Joshua embodies the value of relationships rst in how he works and lives and we are delighted to have him at WWMIC. Announcement Director of OperationsWest Wawanosh Mutual Insurance (WWMIC) is pleased toannounce the appointment of Joshua Slaght as our new Directorof Operations. This is a new role for WWMIC and integral to thecontinued growth and prosperity of the organization.Joshua brings tremendous experience to the WWMIC team with over 30 years in theinsurance business. The bulk of his career has been spent in progressive leadership roleswithin Economical Insurance. Joshua's most recent position was Vice President of ClaimsOperations where he led a team of approximately 450 staff members. His roll up yoursleeves attitude coupled with his hands on experience as an adjuster working in the fieldto strong claims adjudication, HR and risk, position Joshua as both a tremendous fit andasset to WWMIC. Joshua also holds his FCIP.Joshua lives in Denfield, Ontario with his wife and two children and is active in hiscommunity. Joshua embodies the value of relationships first in how he works and livesand we are delighted that he will be joining the WWMIC team on November 14th.West Wawanosh Mutual
Page 14
pg. 14Halwell MutualLet's give a warm welcome to Brad Talbot, our Financial Controller. Brad is a Laurier graduate where he studied Business and Accounting. Shortly after Brad graduated, he completed his CPA and worked for EY as an auditor, and Cowan Insurance as a Manager of Finance. Outside of work, Brad loves golng, drag racing, and playing hockey. Welcome to the mutual family, Brad!Please join us in welcoming Sarah Bennewies, our Intermediate UW in Personal Lines. Sarah has worked as a Personal Lines Broker at Zehr Insurance Brokers for the past three years. Sarah recently moved to Paris with her husband and her toy poodle, Jett. We're so excited to have you on the team, Sarah!Please join us in welcoming Laura Phillips, our Senior Commercial Underwriter. Sarah lives in Lucknow, Ontario with her husband, two kids, and wheaten terrier. She has a background in the broker world, and more recently, in Underwriting. We are so excited to have you on our team, Laura!We're excited to welcome Melanie Koeslag to our team of Underwriters. Melanie brings over 27 years of mutual experience to our team. Melanie obtained her FCIP in 2017, majoring in Management. She had previously spent 17 years at Germania Mutual, and 10 years at Heartland Mutual. Melanie lives in Durham with her family. We're thrilled to have you on our team, Melanie! Farm Mutual ReJennifer Holman joined the Underwriting and Loss Control Programs Department in the role of Senior Underwriting Quality Analyst in February 2023. Jennifer holds a Bachelor of Business Administration with a specialization in Marketing and Entrepreneurship from Brock University and has also achieved CIP and CRM designations. Prior to joining Farm Mutual Re, Jennifer was with Halwell Mutual in the role of Senior Personal Lines and Farm Underwriter.Sultan Shaikh joined the IT Infrastructure team as an IT Technical Support Co-op in February 2023. Sultan is a second-year student at Conestoga College in the Computer Systems Technician -Information Technology and Infrastructure Services program. Sultan previously worked at Rehan Web Services and Rainbow IT Service as a WordPress/PHP developer.Innovating with Ontario's mutuals for the next 100+ years!STRATEGY | STRUCTURE | PEOPLEwww.engagehr.com | Toll Free: 877-347-7411• Strategic Planning• Succession Planning• Performance Management• Organizational Culture• Employee Engagement• Training and Development
Page 15
pg. 15Sreya Francis joined the Innovation Department in the role of Head of Technical Innovation in September 2022. Sreya has a Master's in Machine Learning (Articial Intelligence) from MILA, Quebec's Articial Intelligence Institute and the University of Montreal. Sreya has a Bachelor's of Technology in Computer Science and Engineering from Cochin University of Science and Technology. Prior to joining Farm Mutual Re, Sreya was the Machine learning Research Lead with the Privacy Preserving Team at MILA in Montreal.Lily Liu joined the Actuarial Department in October 2022 as an Actuarial Analyst. Lily recently completed her Master's of Actuarial Science and Statistics from Western University and holds a Bachelor of Mathematics from the University of Waterloo. Previously, Lily worked at SCOR SE as a Marketing Intern and HengAn Standard Life Insurance as an Actuarial Analyst.Michael Stewart joined the Underwriting and Loss Control Programs Department in the role of Underwriting Quality Analyst in November 2022. Before joining Farm Mutual Re, Michael was with Creechurch and Beazley Canada. He focused on underwriting hard-to-place property and specialty classes of business such as Errors and Omissions for IT businesses. Neel Jadav joined the Innovation Department in November 2022 as an Innovation Engineer. Neel has his Bachelor's degree in Computer Engineering and is a recent graduate of the University of Windsor where he achieved his Master's degree in Applied Computing. Prior to joining us, Neel was with the University as a Software Developer Intern.Desmund Lee joined the Underwriting and Loss Control Programs Department in the role of Underwriting Quality Analyst in November 2022. Desmund has a Bachelor of Business Administration from Brock University, a Diploma in Insurance from Mohawk College, and a CIP designation from the Insurance Institute. Previously, Desmund was with Caradoc Townsend Mutual where he focused on underwriting the organization's commercial portfolio. Isabel Palacio joined the Project and Change Management Department in January 2023 as a Project Coordinator. Isabel attended York University for Kinesiology and Health Science and is completing a Project Management certicate from Toronto Metropolitan University. Prior to joining us, Isabel was with FoodFund Inc. as a Project Coordinator.Trevor Medeiros joined the Underwriting and Loss Control Programs Department in the role of Risk Assessor in January 2023. Trevor holds a Bachelor's Degree in Science from Wilfrid Laurier University and a Graduate Diploma in Environmental Science from the University of Guelph. Prior to joining Farm Mutual Re, Trevor was with Opta Information Intelligence as a Loss Control Specialist.Debbie Dales joined the Finance Department in January 2023 as a Finance and Payroll Specialist. Debbie has her Business Administration Accounting Diploma from Conestoga College and is a certied Payroll Compliance Practitioner. Previously, she was with the U of Waterloo School of Optometry as a Financial Coordinator.Farm Mutual Re
Page 16
pg. 16Mutuals Give BackThis is How We Support Our CommunitiesErie MutualIt was the 2022 season of giving, and Edge Mutual proudly partnered again with the Children's Foundation of Guelph and Wellington's Christmas Adopt-a-Family Program. The staff raised over $3,000 and donated fresh turkeys and food hampers to the local food banks, providing much needed help to those in the community.We partnered with our Brokers, Parry Sound Insurance, to make a donation to The Drop, a welcoming, free, and safe space for youth in Parry Sound. Pictured (L-R): Colleen McLean, The Drop; Sarah Bender, West Wawanosh Mutual; Peggy Shoebottom, Parry Sound Insurance Brokers. West Wawanosh Mutual
Page 17
pg. 17Maple MutualMaple Mutual was proud to sponsor the Wallaceburg Chamber of Commerce Business Excellence Award's Technology Award. The winner was Chad Debot. Maple Mutual VP of Sales, Marketing & Claims, Dean Muharrem, and Wallaceburg Chamber Executive Director, Jill Misselbrook accepted the award on Chad's behalf.Our Maple Mutual MISFITS (ie. Most Impressive Support From Individuals That Simply...Care about community!) took a polar plunge to raise funds for the Special Olympics. These seven brave souls raised over $2,200 individually, counting towards the $100k that was raised in total. Truly impressive (cold, but impressive)!Usborne & Hibbert MutualUsborne & Hibbert Mutual provided $12,500 to the St. Mary's Memorial Hospital Rebuild Project. The project will be completed over two years and will meet the expectations of the Canadian Infectious Disease Control, providing a better working environment for staff and more comfort to patients and family members. Pictured (L-R): Bernice De Decker, SMHF Communication and Fundraising Coordinator; Jennifer Schroter, U&H Chair; Mike O'Shea, U&H Director; and Linda McFayden, Director, St. Mary's Healthcare Foundation.Directors of Usborne & Hibbert Mutual were recently able to tour the new building at the Ritz Lutheran Villa in Mitchell. The Ritz Villa/ West Perth Village Seniors Community provides long-term care to area residents. U&H donated over $100,000 to the capital campaign, which will ensure that seniors in the community will be looked after in the future. Pictured (L-R): U&H Directors, Mike O'Shea, Jennifer Schroter, Krista De Groot, and Tom Feeney.
Page 18
pg. 18Inspired by the generosity of the staff at Axiom Mutual, Director, Bill Gibson spearheaded a Director-lead fundraising campaign for the food banks that serve our local communities. Several Directors on the Axiom Board are farmers who agreed to donate the value of one acre of crop to the local food banks. Staff, Directors, and Agents were then invited to "purchase" a bushel or more of crop to add to the total donation. The initiative was originally proposed in early 2022 and the campaign ran from November 1st to November 15th. When the harvest was over, Staff, Directors, and Agents had raised $12,822! The yield was split equally between Huron County Food Bank Distribution Centre and the Salvation Army Food Bank in Strathroy, servicing Middlesex County. This was truly an opportunity to help others at such a critical time. Both food banks indicated that 2022 was the busiest year they can remember. We're so proud of what we were able to accomplish. The hope is to challenge other mutuals in Ontario to raise the bar and help feed others in need - Neighbors helping Neighbors. Axiom MutualDISCRETIONARYWEALTHMANAGEMENTALL OF OUR FARM MUTUAL CLIENTS' PORTFOLIOSARE SEPARATELY HELD AND MANAGEDACCORDINGLY TO THEIR SPECIFIC GOALS.WE UNDERSTAND THE NEEDS OFMUTUAL INSURANCE COMPANIES - WE CAN HELP!FOR MORE INFORMATION PLEASE CONTACT:Brendan T. N. Caldwell150 King Street West, Suite 1710, P.O. Box 47Toronto, ON M5H 1J91-800-387-0859 • 416-862-7755bcaldwell@caldwellsecurities.comwww.caldwellsecurities.comCaldwell Securities Ltd.
Page 19
pg. 19Westminster MutualOur staff dressed in their PJs to support a donation by Westminster Mutual to Childcan. Childcan is an organization that supports families dealing with childhood cancer to help cover unexpected expenses, and support families and research in our area. Children affected by cancer wear their PJs every day. By wearing our PJs, we're showing them that they are not alone.Howick Mutual is pleased to offer support to the "Love Your Neighbour Communities" in New Hamburg, in partnership with Josslin Insurance. This organization is focused on rural affordable housing properties that build community and support intergenerational living with a mixed income model for sustainability.Howick MutualThe team at Ayr Farmers Mutual came together in December to support the Brantford Salvation Army with their annual Food & Toy Drive. With the rising costs of living, community initiatives have become more important than ever before. Donations included various food items and lots of fun toys! Moments like these remind us of how proud we are to support our communities.Ayr Farmers Mutual
Page 20
pg. 20Our ROOTS Council approved a $20,000 donation to AgScape and their food literacy programs. These programs educate and build young leaders that understand their role and impact on the world around them. Their focus is to bring Ag and food education into all Ontario classrooms using experiential programs to ignite interest.We are very proud to announce a $50,000 donation to the Saugeen Hospice towards the construction of their new facility. The funds will help provide compassionate and professional end of life services to the local community.Warwick Township received $5,000 from our ROOTS Community Fund to support their new East Lambton Community Complex. This centre will offer a variety of programs and services, including operating as a sports hub and community gathering spot that would not have been possible before. We also contributed funds to Grey Agricultural Services to purchase livestreaming equipment to provide increased hybrid education programs. This new equipment will help improve access to their education sessions and increase their reach into the agricultural community. As well, the ROOTS Community Fund supported the Ontario Soil and Crop Improvement Association with a $10,000 donation in support of their Mobile Soil Technology Suite project. The goal of the project is to help farmers and rural landowners learn about and adopt regenerative soil health practices. Lastly, we are very proud to announce a $10,000 donation towards the new Teeswater Medical Centre. The centre will bring an enhanced level of care to the community and its residents. Providing modern health care services closer to home to better support the rural community.We recently donated $25,000 to the Cainsville Community Centre. "Brant Mutual is proud to support the communities we serve, especially projects like the Cainsville Community Centre that is so close to our ofce and will be used by so many of our members both now and into the future," said Jeff Barnard, President & CEO.The new Cainsville Community Centre project, located at 15 Ewart Avenue, was driven by the community and is for the community. Residents and businesses wanted a larger space to gather and celebrate. The new Centre will easily accommodate 350 people and the spaces are large, modern, and transformable to meet a variety of needs. Sustainable features have been incorporated into the beautiful, natural design."On behalf of the Campaign Team, we are grateful to Brant Mutual for the $25,000 donation," said Brant County Mayor David Bailey. "This campaign has demonstrated the commitment businesses and residents have to lift up the community and make it even better." Trillium MutualBrant MutualPictured: Jeff Barnard, President and CEO of Brant Mutual (left) and Shawn Van Sickle, member of the Board of Directors for Brant Mutual.
Page 21
pg. 21Trillium Mutual Volunteer DaysAs part of Trillium's commitment to the community every staff member is provided a day each year to volunteer with an organization that has meaning to them. These organizations vary greatly, but are organizations that support the communities that our staff work and live in.A couple of our staff helped set up the incredible displays that could be seen throughout the town! Did you get a chance to visit the Formosa Country Christmas event last year? If you missed out last year, it's never to early to mark your calendar for this year (Nov. 30th – Dec. 3rd, 2023). Also recently, some staff volunteered at their local Salvation Army and helped with organizing the food and toy drive items for distribution.Finally, Erika recently volunteered with a local organization, It Takes a Village. She shared the following regarding her day spent at the store: "The village provides a safe space to see a smiling, non judgmental face. That community member can have a warm conversation and be treated with dignity and respect. People need that kindness more then we will ever know. The bare necessities that we all take for granted are provided by It Takes a Village. Volunteering there was a huge eye opener for me and this volunteer day will always stick out in my head."
Page 22
pg. 22Salus Mutual is honored to announce that we are the ofcial sponsor for the 2023 season at the Ridge House Museum in Chatham. This funding will be used to subsidize the attendance of 36 children for the Creative Kids programs, 50 students in the education program, and will also provide the Ridge House Museum with an opportunity to host a summer event.Jodi Rich, President & CEO, Salus Mutual (pictured, far right), met with Blair Newby, Coordinator, Museum Programs, Municipality of Chatham-Kent, to present her with a cheque for $1,500.In August 2020, the Board of Howard Mutual Insurance (now Salus Mutual) approved a donation of $150,000 towards the development of the Ridgetown and Area Adult Activity Centre. Due to COVID, there were delays in the completion of the centre, but nally, in the latter part of 2022, the centre was nished and in January of this year members of the Board were invited to tour the new facility.The Ridgetown and Area Adult Activity Centre is a not-for-prot corporation, that facilitates affordable accessible activities and programs, and services, to enhance the quality of life of its members and community.In late December, 2022, Jordan Timmermans (on behalf of The Storm U 17 Boys Fastball team), reached out to Salus Mutual seeking sponsorship for a new Fastball team that will be based out of Fingal. The team is newly formed bringing together players from as far away as Tillsonburg in the East and Chatham to the West.As a result of Jordan's "pitch," Salus Mutual agreed to sponsor The Storm for the 2023 season, and in early January, Brian Downie, Chief Integration Ofcer at Salus (pictured, far right), presented Jordan with a cheque.OMIA was pleased to offer sponsorship support, on behalf of Ontario Mutuals, to the Farm and Food Care Ontario Annual Harvest Denim & Diamonds Gala, held November 17th, 2022. It was truly a wonderful event that included a presentation of ve Agri-Food Champion awards, and a presentation of the Paul Mistele award by Feed Ontario. Minister, Lisa Thompson and Parliamentary Assistant, Trevor Jones were in attendance and participated in the awards presentations.The Harvest Gala celebrates agriculture, the best of the harvest, and those who farm or work in the agri-food sector. All funds raised from this event go towards Farm & Food Care Ontario's outreach activities throughout the coming year.Salus MutualOntario Mutual Insurance Association
Page 23
pg. 23Kent & Essex MutualKent & Essex Mutual, together with Brokerlink, donated $3,000 to the Maple City Homes & United Way Chatham-Kent Because We Care Campaign to address the homelessness issue in Chatham-Kent. Over the holidays, we sponsored the Chatham-Kent Municipal Museums' Ridge House Christmas Decor and Childrens' programs so that kids could attend for free. We also gifted 50 pillows and blankets to the Linck's Child Youth and Family Support Program, a non-prot agency that supports the needs of children, youth, and families; and, with 99.1 CKXS, spread holiday cheer to our seniors in Chatham-Kent by delivering poinsettia plants to hospitals and various senior homes. Our communities are so important and we're very pleased that, in partnership with HUB, we also donated $20,000 to various non-prot organizations in our community. At CTM, just like the rest of our mutual friends, we know how foundational it is to support our local communities. Our CTM Care initiative was created with the aim of helping our local communities survive and thrive. In 2022 the CTM Care Committee continued supporting the main pillars outlined in the CTM Care mandate. In our communities, CTM donated to our local hospital foundations, food banks, legions and donations on behalf of participants in the CTM Wellness Campaign. To end 2022, CTM Care launched Operation Christmas Cheer to deliver goods to Retirement Homes, Wellness Centers, and Care Homes. Caradoc Townsend Mutual
Page 24
pg. 24Halwell MutualHalwell Mutual is thrilled to support AgScape, a passionate team of partners who are dedicated to advancing agriculture and food literacy education. Our $15,000 donation will support 40 Teacher Ambassador Program lessons that will reach 880+ students. We are also supporting two thinkAG Career Competitions which will be delivered to over 200 high school students! Together, we are helping more students learn about the innovative agri-food sector, and the variety of exciting career opportunities available. The future of Ag education is bright! Halwell Mutual is grateful to support various food banks in the communities we serve with a $5,800 donation. This donation supported eight local food banks during the holiday season, in a time where the continued effects of the pandemic, and the rising cost of food and living has put unprecedented pressure on local food banks, and families in our community. Ontario food banks are truly resilient and dedicated to our communities, which is why we are so proud to support them. Halwell Mutual is proud to support The Canada-Ukraine Foundation with a $5,000 donation. The Canada-Ukraine foundation works to deliver crucial humanitarian assistance to Ukraine and Ukrainians displaced to the neighbouring countries by war. This one-time donation will help to provide the most urgent humanitarian needs of Ukraine and its people, during this very difcult time. We're so proud to support all the amazing things happening at Anishinaabeg Outreach. We made a $15,000 donation towards their Spirit Bundle truck. This truck will help deliver bundles of food, clothing, household necessities, baby supplies, traditional medicines, bicycles and much more to First Nations, Inuit, and Metis households. What started as a response to the COVID-19 pandemic has turned into a daily operation serving Kitchener-Waterloo, Cambridge, and Guelph, and providing necessities to over 450 Indigenous families.
Page 25
pg. 25Heartland MutualFarm Mutual ReFarm Mutual Re, Collectivde, OMAP, and OMIA employees worked together to prioritize their health and excelled in 9toThrive's year-end We Care Challenge. By reaching our goal of a group average of 150 points per day (equivalent to 15,000 steps per day), Farm Mutual Re donated $5,000 to the Canadian Red Cross in support of the Hurricane Fiona Relief Fund.You'll see in these pages that the mutual community is passionate about AgScape and its contributions to factual, balanced, and curriculum-linked food literacy programs and resources to Ontario's students.OMIA is pleased to offer sponsorship to AgScape on behalf of Ontario Mutuals.AgScape continues to increase their reach, and reported the following in 2022:797.4K Educational Experiences Provided to StudentsOntario Mutuals are Proud to Support AgScape12 thinkAG Career Competitions16 Virtual Field Trips2.2K Educational Experiences Through Camp AgScape636 Teacher Ambassador Program Lessons Delivered40K Educational Resources Accessed"I learned that agriculture might be something I'm into and that there's a lot more jobs than just farming. It seems fairly interesting and now I know there's more work that goes into making food than I had thought." - Student ParticipantWe're investing in future insurance professionals through a new Scholarship Program. We're thrilled to introduce the Heartland Mutual Insurance Award. Starting this year, we will be extending our iHeart Community Fund to include an extensive scholarship program. We've made a multi-year scholarship commitment to several post-secondary institutions in Nova Scotia and Ontario. The scholarship program will focus on insurance-specic programs and will provide direct support to students, based on their nancial needs and academic performance. According to Rob Rice, VP of Business Development, Marketing and Communications, "Heartland has been fortunate to see material growth, both in terms of top-line premium as well as in our operation following our Guidewire implementations and The Kings Mutual amalgamation. Our need for insurance talent has never been greater and our scholarship program is a tremendous way to give back to the community while investing in future insurance professionals." The Heartland Mutual Insurance Award will commence with the 2023 fall semester.
Page 26
Meet Our People Celebrating Our Relentless Volunteers We re taking the opportunity to highlight stories from our colleagues in the mutuals on their journey as volunteers in their communities We recently gathered stories from eight long time volunteers Members please reach out to marketing omia com Denise Tew Director North Blenheim Mutual Denise was born in Waterloo and currently lives near Washington Ontario She has volunteered with many organizations including Washington United Church Plattsville District Minor Hockey Plattsville Soccer Plattsville Curling Club The Christmas Place The Power of Hope Community Organization Peace United Church and The Plattsville District Heritage Society Julianna Forde Executive Assistant Caradoc Townsend Mutual Julianna was born in Barbados and currently lives in Simcoe Ontario She has volunteered in many organizations and currently participates in her local church and with an organization called Church Out Serving Terry Knight President North Blenheim Mutual Terry grew up on a farm just outside Edy s Mills and currently lives in Brantford Ontario He has volunteered with many organizations including Oil Springs Scouts Sarnia Ranson Jr Fastball and Paris Soccer Twin Rivers Soccer League Tiffany Courcelles Sr Commercial Lines Underwriter HTM Insurance Tiffany was born in Cobourg moved to Hamilton to attend Mohawk College and promptly returned to Cobourg to work with HTM Insurance upon graduating She has volunteered in all of the schools her daughters attended and sat on the board for Cobourg Angels She was a Sparks leader with Girl Guides of Canada and has recently started to Volunteer for Ed s House a Hospice in Northumberland County pg 26
Page 27
pg. 27Continued on the Next PageWhat pushed you to be a volunteer?Denise: The lack of involvement of others got me there but I have enjoyed every opportunity I've gotten to be involved in – working independently and as a team member.Julianna: My grandmother and auntie Marcia are my biggest inuences. I was encouraged to or "voluntold" from a young age to help others. It was built into the foundation of my childhood. So, helping others and being involved comes naturally to me.Terry: My dad was my rst fastball coach, so I grew up around volunteers.Tiffany: I have always wanted to be part of my community and to give back. Being part of the mutual system for 40 years has been a big part of that, as giving back to our community is what we are proud to do. What skills did you bring to the organizations you volunteered with?Denise: Highly organized, Computer, Bookkeeping and Accounting, Advertising, Newsletter Design, Websites and Facebook, Meeting Rules and Etiquette. I prefer to work behind the scenes and not be in the limelight!Julianna: I've had many volunteer experiences in different roles, but my strengths and passion lie in cooking and food preparation. I strongly believe we should not waste our talent. This talent isn't used in my paid work, but it brings me joy. I think putting mine to good use is a beautiful opportunity to be of service to others.Terry: For Paris Soccer, I was able to bring my board knowledge to the organization. Tiffany: Having a large family I have always cooked for many and loved being in a kitchen preparing for others to enjoy. My husband and I do a lot of entertaining so we are a great team in the kitchen so the kitchen at Hospice was an easy t for us. When I started at HTM I worked at Reception. I remember the importance of being the rst contact people have in an organization.What drew you the organizations you volunteered with?Denise: I got involved because others didn't, and if you have a child who wants to be involved in community sports, it takes a community to pull things together.Julianna: The current organization I volunteer with is called Church Out Serving. This is an umbrella organization for a program called First Serving, that started with a small group of people at my church. For 12 years I have been the main cook in serving hot meals to those in need within the community.Terry: The love of scouting and the love of sports.Tiffany: My father in law passed in 2016 and we were lucky as a family to have the option of Hospice. The care, compassion, and kindness we all received made my husband and I seek to be part of the Hospice Care if we ever had the opportunity in our community. When Ed's House announced its opening, we both signed up to volunteer. We took a 30-hour course to understand hospice care, and then we took another 20-hour course with Good Hands to be part of the kitchen.What do you consider the most challenging aspect of volunteering is and how did you overcome it?Denise: Probably the lack of time. I have always worked full time off the farm, worked on the farm (raising two children, gardening, cooking, baking, canning, sewing, knitting/crocheting, and volunteering, gathering eggs, and helping my husband Bryan – he used to feed 250+ cattle). When I was younger, it was easier. Since I've retired, my days are over full and I promised myself not to take on another cause the rst year of my retirement. Frankly, I have no idea how I ever found time to work 40 hours a week!
Page 28
pg. 28Julianna: Budgets! The most challenging aspect is navigating how to effectively use funding to support as many people as possible. Limited budgets pose restrictions on the number of people that can get access to what they need. Another major aspect is to avoid volunteer fatigue. In my experience it is important to be mindful of self-care for volunteers to ensure they have the strength to carry out the project.Terry: People with agendas that don't align with the organization. Although, they typically lter themselves out when they realize they aren't getting their way.Tiffany: Time, we all wonder how to have time to do anything right? I look back and wonder how I had children, participated in the community, and worked full time! However, we do the things that are important to us. Volunteering and giving back to my community is important to me so I make the time. What has been your biggest accomplishment as a volunteer?Denise: The completion of the Plattsville Library. The space is shared with the Plattsville & District Public School Library. It is new (probably 10 years old), warm, and welcoming)!Julianna: Honestly, I don't view volunteering as a measurable accomplishment. Many programs I have volunteered for have reached great milestones, but for me volunteering is a reection on self-development. Through volunteering I am able to recognize my privileges and feel blessed to support those who need it in that moment. There is comfort in offering a person in need a hand-up and not just a hand-out.Terry: Working with the municipal government to turn the old Syl Aps Arena in Paris into an indoor turf facility.Tiffany: This has to be the feeling of fulllment in giving back to the community I live in. I was always proud in past volunteer positions I held to know I was helping those organizations with funding and smoother operations. Ed's House is very special to me and when I am there, my heart is full and I am very thankful to be able to give back to this amazing organization.What has been your toughest challenge when volunteering?Denise: When people commit to do something and then don't show up or do what they said they would do. (People not calling is my biggest pet peeve!)Julianna: Specically, having worked in food-service based volunteering, food quantities are always a challenge. You don't want to run out based on the need. We started serving 50 people, and over a month we were serving well over 100. There is no RSVP for the First Serving program, so you have to estimate, maybe considering other social factors, how many people will attend each month.Terry: Time. The toughest challenge for me is scheduling everything into a week.Tiffany: Balance is a challenge. Finding the right balance in your life to even out work, family, and volunteering.How has volunteering impacted your life?Denise: I really enjoy being a volunteer, I'm a do'er and things get done. My husband (and others) joke that I'm a "pillar of the community". I'm not a pillar, I just care. My Dad always told me there would be a special place for me in heaven. Julianna: I have volunteered with parent groups, track and eld events, selling daffodils for cancer support. However, food security is the one area that tugs at my heartstrings. It heightens your awareness of how much we have. As well as how much we can give. You don't have to have deep pockets to give back.Terry: Recently, a young person who I had coached many years ago, reached out to ask if he could coach soccer with me. He wanted to volunteer his time and give back to the community. It makes you feel good to know that you do impact kids.Tiffany: I have seen the difference my time volunteering in sports and schools made for my daughters. They were always proud and happy to see Mom being a big part of the events that happened because of the volunteers. Volunteering at Ed's House has brought another impact to me as I know from rst-hand experience
Page 29
how precious these last moments with our loved ones are and if I can be part of helping with that next journey I am proud and fulfilled What impact has your volunteering had on your community Denise Every organization in the community needs people to get things done Everyone benefits and everyone needs to take a turn helping in small ways and big ways Many hands make light work Julianna I live in a community with many amazing people who give a lot of their time and financial support One great and current example is a project of Church Out Serving called Riversyde 83 This is an initiative and facility that provides a space including a commercial kitchen a teaching kitchen caf and meeting rooms for community members This space and the amazing people working to make it happen are aiming to give the community a space to connect learn and develop together My analogy of this hub reminds me of the proverb If you give a man a fish you feed him for a day If you teach a man to fish you feed him for a lifetime Terry The Paris and Twin Rivers soccer league expanded to other centres while I was involved It was great that other communities were able to get their kids involved in sport Tiffany I see my daughters volunteer today for things their children are now involved in and this gives me joy Also every time I am at Ed s House Hospice I see the difference volunteers make What would you say to someone who is considering volunteering Denise Give it a try keep your eyes ears and heart open Make a commitment and follow through If you don t like a volunteering opportunity learn from it and try something new Find people you like to work with and have fun Julianna Use your talent choose an area you are passionate about and do it for the right reasons Terry I would say jump at the opportunity to volunteer Whatever the volunteer position it likely takes a little of your time but impacts so many people Tiffany Do it It is the greatest feeling to know that you are making a difference in the community Volunteering provides a sense of accomplishment and confidence Volunteering gives me pride and insight into my own identity pg 29
Page 30
pg. 30Helping Hands in the Aftermath of Post Tropical Storm FionaWhen Catastrophe Struck Atlantic Canada, Our Mutual Community Took ActionNever was our mutual spirit more on display than in the many difcult weeks following the impacts of Post Tropical Storm Fiona on our eastern provinces.The September 2022 storm left hundreds of thousands of people without power after torrential rain and winds of up to 160km/hr whipped through, downing trees and power lines and even washing houses into the sea.This was an historic catastrophe event, reported by IBC as the largest ever Maritime severe weather event, and it was particularly devastating to our mutuals serving Prince Edward Island and Nova Scotia. For the rst time since the ice storm of the late 1990s, the Mutual Catastrophe Team Protocol was invoked, with a call for mutuals across Canada to help out. (Of course, the Maritime mutuals, had already begun helping well before anyone asked.)A sincere thank you to the mutuals who were able to free up and send resources to help. These early efforts were crucial to getting through this.This community is also well served by the strength and stability of Farm Mutual Re and its ability to support members on an instantaneous basis. This unconditional support provided by Farm Mutual Re as the backing reinsurer is a game changer for being able to survive these types of events. We can't underestimate their willingness to provide moral and operational support. This is what the mutuals do best: we work directly on delivering on what we promise to each other and to our policyholders.We're in this together.
Page 31
pg. 31OMIA, on behalf of Ontario Mutuals, is a Patron Sponsor of the Ontario Agricultural Hall of Fame Association (OAHF).The OAHF was incorporated in 1979 as a charitable organization. It opened June 1st, 1980 with the induction of nine pioneer agriculturists who represented more than 100 years of combined efforts and initiatives in building better agriculture for the province.It is the mission of the OAHF to acknowledge, record, and preserve the contributions made by leaders to the growth and development of Ontario's agriculture and agri-food industry.The Ontario Agricultural Hall of Fame gallery is situated on the ground oor of 1 Stone Road West, Guelph, Ontario in the hallway leading to the conference rooms and cafeteria. The gallery wall showcases recent inductees and acknowledges sponsors.This year, the OAHF will induct 11 individuals who have made signicant impacts on Ontario agriculture and beyond. All have been selected as worthy candidates based on their life-long commitments to Ontario agriculture. The inductees will be recognized in a ceremony on June 11th, bringing the total number of inductees recognized since 1980 to 256.Inductees for 2023 and their nominators include:David Biesenthal - Veterinarian and progressive Beef and Crop Farmer.Dale Cowan - Certied Crop Advisor (CCA)Carleton Mackinnon (Mack) Emiry - Dairy FarmerDr. Richard Frank - Co-creator and Director of the rst pesticide testing lab in OntarioBrian Gilroy - Apple GrowerPeter Gould - CEO, Dairy Farmers of OntarioCarolynne Grifth - Chair, Egg Farmers of OntarioRay Roberston, General Manager, Ontario Forage Council, President & Executive Director, Grey Agricultural ServicesRobert James Scott (1900 – 1946) - Farm Activist, United Farmers' Co-operative of OntarioDr. Tarlok Singh Sahota - Director of Research and Business, Thunder Bay Agricultural Research StationDoug Wagner - President (retired) & Co-founder of Canada's Outdoor Farm ShowCongratulations to all inductees on your achievements in, and contributions to, Ontario Agriculture, and this recognition by the OAHF.
Page 32
pg. 32Community groups across Ontario are beneting from a fresh new approach to philanthropy. L.E.A.F. (Learning Engagement & Accelerator Fund) is providing Ontario communities throughout 'Commonwell Country' (the smaller places and wide-open spaces of Eastern, Central and Western Ontario that The Commonwell Mutual Insurance Group serves) – with a total of $300,000 in grants to help fund community-led projects that foster local learning and long-term resilience.Just one example? Gathering in the kitchen to make delicious food is a great way to bring people together. Imagine taking that idea to the next level. That's the concept behind Kids Feeding Kids in Collingwood where professional chefs share their culinary skills and creativity with young people and together, they serve up nutritious meals for kids in need in their community. This is just one of 10 community organizations across Ontario that are beneting from these grants given by The Commonwell Mutual. A step beyond typical funding, our L.E.A.F. program is supporting community projects that focus on learning new skills and building resiliency and capacity for the long-term health of the communities. "We had almost 100 applications and they were all worthy of supporting. Making the selection was difcult, but we feel the 2022 L.E.A.F. grant recipients represent a very impressive range of community causes that will result in a long-term community investment by funding the sharing of knowledge," said Tim Shauf, President and CEO of The Commonwell Mutual Insurance Group. "We are excited to see these programs and initiatives across Commonwell Country come to life and serve the people and communities for years to come."The initiative is designed to create strong community engagement and we invited community groups to apply for a grant of up to $50,000 in September 2022. L.E.A.F. is part of The Commonwell's CARE to Grow philanthropy program which has provided $1.3 million to local communities over the past 18 months. What projects were eligible? Local community led initiatives in the areas that The Commonwell operates across Ontario that support learning programming or the places where communities gather to learn. Such as libraries, schools, and community centres. What specic towns were eligible? Alexandria, Arnprior, Barrie, Belleville, Bracebridge, Brighton, Brockville, Calabogie, Carlton Place, Coburg, Collingwood, Cornwall, Gravenhurst, Hawkesbury, Huntsville, Innisll, Kemptville, Kingston, Kincardine, Lindsay, Midland, Minden, Nappanee, Orangeville, Orillia, Ottawa, Owen Sound, Parry Sound, Pembroke, Perth, Peterborough, Prince Edward County, Renfrew, Smiths Falls, Wasaga Beach and all of the other smaller places and wide-open spaces in between.Applications for the 2023 Commonwell L.E.A.F. fund will open in September 2023 on our website.The Commonwell Mutual
Page 33
pg. 33Education at OMIASubject to change. Please refer to www.omia.com to review a current calendar of courses offered by OMIA. Click on "Education" and then "Education Calendar." Remember to check out our On Demand eLearning courses! Each member company has a designated administrator who can assist with access to the eLearning website as a user account is required (www.omiaelearning.com).Course Date & NameMay 2 - Balancing Life/Work PrioritiesMay 3 & 4 - Personal Liability Coverage ReviewMay 4 - Human Resource RoundtableMay 8 - 12 - Statutory Accident Benets Schedule Module IIIMay 9 - Sales, Business Development & Marketing Managers RoundtableMay 15 - Board Succession & Recruitment Planning for DirectorsMay 16 & 17 - Garage Auto ProgramMay 17 & 18 - Farm Liability Coverage ReviewMay 18 - Underwriting Managers RoundtableMay 19 - 2023 Complaint ResolutionMay 24 - Commercial & Farm Underwriting RoundtableMay 25 - Promoting Insurance to Value - Residential DwellingsMay 31 - Legal Review DayJune 2 - Board Chair & Vice Chairs RoundtableCourse Date & NameJune 6 & 7 - Next Generation of Mutual Professionals ConferenceJune 7, 14, & 21 - Engaging in Thriving Conict ConversationsJune 8 - Regulatory Compliance RoundtableJune 8 - Residential Underwriting RoundtableJune 9 - Agent Differentiation in the MarketplaceJune 13 - Automobile Underwriting Roundtable -June 15 - Underwriting Managers RoundtableJune 20 - Delivering Professional Performance ReviewJune 20 & 21 - Personal Lines Auto ProgramJune 21 - Accident Benets Claims Handling WorkshopJune 22 - Business Continuity and Disaster Recovery RoundtableJune 23 - Ontario Mutual Loss Prevention League RoundtableJune 27 - Building A Culture of Appreciation (Part 2 of Performance Reviews)June 27 & 28 - Commercial Property Coverage Review
Page 34
pg. 34Appointments & Positions ChangesTransforming the MutualsWe're pleased to announce that Eric Montgomery has been promoted to Team Lead, Underwriting. Eric joined Maple Mutual as an Insurance Intern in 2019, became a Claims Adjuster in 2020 and was promoted to Underwriting Team Lead October 2022. Congratulations, Eric.Melissa joined Maple Mutual in 2015 on contract in our underwriting department, before moving to the Accounting department for the last seven years. Melissa was promoted to Accounting Team Lead October 2022. Congratulations, Melissa.Maple MutualCaradoc Townsend MutualJoan Collins joined CTM in 2019 as an Agent and progressed to Commercial Specialist. Joan recently accepted the Manager of Underwriting Services and Broker Business Development position. She currently serves as the Vice Chair of Cognition+ and we look forward to her continued contributions to CTM as a member of the Senior Leadership Team. Laura joined CTM in 2022 as a Customer Service Representative. Laura has accepted a new position with CTM as the Customer Service Team Lead. Kate Ferarro joined CTM in 2016 as an Agent. Leaning on her prior claims experience, Kate made the transition to the claims team in late 2021, and accepted the position of Claims Team Leader at the end of 2022. Max Ongaro joined CTM in early 2022 as a Receptionist at our Waterford Ofce. Max has now accepted the position of Customer Service Representative and is looking forward to continuing his insurance education.
Page 35
pg. 35On January 1st, 2023, Howard Mutual and West Elgin Mutual ofcially became Salus Mutual Insurance. The amalgamation created opportunities for several staff members to move into different areas of the company. Here is a breakdown of those people and their new roles:Salus MutualIn January 2023, Erica Simpson was promoted to Facultative Underwriter. Erica started with Farm Mutual Re as a Reinsurance Co-op student in April 2018 and joined the team on a full-time basis in July 2018 as a Reinsurance Analyst. As an example of her dedication to continuous learning and development, Erica achieved the CIP designation in July 2020.Farm Mutual ReIn October 2022, Janeth Fernandez Ramos was promoted to Manager of the Actuarial Department. Janeth joined Farm Mutual Re in October 2021 in the role of Actuarial Team Leader. Janeth is a National Autonomous University of Mexico graduate with a BSc in Actuarial Science and holds an Associate of the Casualty Actuarial Society (ACAS) designation.In February 2023, Ivan Minokhin was promoted to Senior Actuarial Analyst, following the achievement of the Associate of the Casualty Actuarial Society (ACAS) designation in addition to the accomplishment of business requirements. Ivan joined Farm Mutual Re in 2017 as an Actuarial Analyst in the Analytics department and transferred to the Actuarial department in July 2022.In January 2023, Cam MacDonald joined Farm Mutual Re in the role of Interim Chief Reinsurance Ofcer. Cam has been working with Farm Mutual Re for the past six months as a Reinsurance Consultant, providing technical leadership, including le reviews, contract wordings, underwriting and pricing renewal discussions with our Reinsurance and Actuarial teams. Cam is a Fellow of the Insurance Institute of Canada and the Past Chair of the Reinsurance Research Council.In January 2023, Garry Brenneman joined Farm Mutual Re on a full-time basis as Assistant Vice President of Finance after having worked on a part-time basis with us since September 2022 as a Finance Consultant. Previously, Garry was with Economical Insurance as their Assistant Vice-President, Financial Reporting. Garry is a graduate of the University of Waterloo and has a Bachelor's in Accountancy Studies, as well as his Master's of Accountancy Studies.Garry is a registered CA and CPA. Brian Downie – Chief Integration OfcerMark Preston – Chief Technology OfcerRoberta Gifn – Sales ManagerRaewyn Perry – CIO Assistant and Marketing and Branding CoordinatorJess Towsley – CTO AssistantMallory Long - Jr UnderwriterMelanie Chase - Sales LeadErin Eltervoog - Jr Accident Benet Claims AdjusterAlex Brooks – Ofce Clerk
Page 36
pg. 36Corinna Nickless, one of our Customer Services Representatives, has been promoted to the role of Customer Service Team Lead. Corinna's devotion to leading the way and problem-solving goes unmatched. Dumfries MutualNate DeJonge, our Chief Financial Ofcer has been promoted to Vice President & Chief Financial Ofcer. Nate joined Dumfries in May of last year. In a short period of time, Nate has excelled in his work, bringing strong leadership skills to Dumfries. Kristine Duench, previously our Business Development Manager, has been promoted to Vice President of Operations. Kristine has been with Dumfries for three years and, among her many skills, she has developed key relationships with brokers and agents. In her new role, Kristine is responsible for Underwriting, Sales, Marketing, and Customer Service. Janice Brooks, our Claims Manager, has been promoted to Vice President of Claims and Loss Prevention. Janice has been with Dumfries for seven years and we've been so lucky to have her. With expertise in managing loss costs, while always treating policyholders as members, Janice is well-positioned to oversee loss prevention as a contributing function to improving the bottom line. Melissa McGovern has been promoted to the role of Accountant & HR Coordinator. While continuing her great work in Finance & Accounting, Mel has additional responsibility for payroll, benets and pension administration, HR policy and procedures, and corporate communication.Laurie Kelley, previously on our Customer Service team, has answered the call to become a Dumfries Agent. Laurie's passion for developing relationships with her clients, the community and our Dumfries team makes her a great t for this role.
Page 37
pg. 37Please join us in congratulating Zachary Ji on his promotion to Junior Commercial Underwriter. Zachary previously joined Halwell's Underwriting Department as an Assistant back in 2020. Zachary has learned a lot throughout his time and is now an integral part of the Underwriting Team. He is looking forward to continuing growing his skill set here. We're proud to announce that Tracy Brown has recently been appointed to Intermediate Accountant. Tracy has 25 years of experience in the Insurance industry and has worked in a variety of different roles. She started at Halwell in 2017 working in the Underwriting Department, and three years ago she joined the Accounting Department as a Junior Accountant. The value she has brought to the team over the past few years has been wonderful, and we're excited to watch Tracy continue to grow in her new role. We're pleased to congratulate Camryn Ferguson on her promotion to Communications Coordinator. Camryn started with us in a contract administrative role in May 2021, and was promoted to Operations Coordinator, where she provided support in the areas of Administration, Communication, and Team Engagement. Camryn focus on internal and external communication, staff and broker engagement, social media, and more. She is looking forward to continuing to grow her skill set and career in the mutuals.We're excited to announce that Eric Nagy has been promoted to Underwriting Team Leader. Eric joined Halwell in 2019, and has demonstrated a high level of competence and execution in his role as an Underwriter and Lead Underwriter in Personal Lines. Eric has also demonstrated strong leadership skills and has played a crucial role in improving our process and procedures within the team. We know Eric will continue to add immense value to our team. Please join us in congratulating Michelle Surlaya on her promotion to Manager of Administration & Communication. Michelle started at Halwell back in 2019 as an Administrative Leader, and the value she brought to the team and Board of Directors has been extraordinary. Michelle has been a driving force in pushing Halwell forward operationally. Her industry experience, organizational skills, and leadership is so valued at Halwell. We are so excited to see her continue to grow in her new role. Congratulations, Michelle! We're proud to congratulate Ginette Hardy on her promotion to Loss Prevention Coordinator. Ginette started at Halwell as a Claims Assistant in 2021 and was promoted to Junior Claims Adjuster. Ginette is well-known at Halwell for providing excellent customer service and for being an overall amazing team player. Congratulations, Ginette on this role!Halwell MutualSharon Leitch is no stranger to Halwell, having joined our team in 1988 and celebrating multiple milestones in her 35-year career (and counting!) We're so excited to celebrate another milestone with Sharon - her promotion to Accounting Operations Team Leader. Sharon brings so much value to our team, she is a vessel of accounting and industry-related knowledge, and she is always willing to lend a helping hand. Congratulations on your well-deserved promotion, Sharon!
Page 38
pg. 38MilestonesRecognizing Mutual Members' Signicant AnniversariesCongratulations to Karen Dufeld who celebrated her 20th anniversary with Halwell Mutual on January 15th. Karen continues to be an integral part of our Administrative Team and Halwell is so thankful for her two decades of dedicated service. Thank you, Karen, for all that you do!Halwell MutualErie MutualCongratulations, Dr. Bill Clarke on celebrating 15 years with our Board of Directors on February 21st. Congratulations, Allan Parke on celebrating 30 years with our Board of Directors on February 26th. Congratulations, Roydon King on celebrating 30 years with our Board of Directors on January 25th. Maple MutualCongratulations to Bob Fitzgerald who celebrated 30 years as an agent with us on February 1st.Congratulations on reaching this milestone. Here's to 30 more years! We would like to acknowledge a few Salus Mutual team members who celebrated milestone anniversaries in March. Dave Balogh (Claims Manager) celebrated 30 years. Mark Carreiro (Adjuster) celebrated 20 years and "The Three Amigos", Andrew Pearson, Andrew Schneider, and Andy McTaggart, celebrated ve years each.Congratulations! We're looking forward to celebrating future milestones with you all.Congratulations to Agent, Dale Killins, who recently celebrated his 20th anniversary at Cayuga Mutual!Salus MutualCayuga MutualDave Balogh Andrew Pearson Andrew Schneider Andy McTaggartMark Carreiro
Page 39
pg. 39Howick MutualHTM InsuranceHowick Mutual Insurance was established in 1873 and we plan to celebrate our 150th Anniversary throughout this year.A celebration is being planned for Friday, May 26th at our ofce in Wingham, Ontario. We're excited to celebrate our rich history and share this signicant milestone with our policyholders and community. Save the date and more information will come your way!HTM Insurance Company – formerly known as the Hamilton Township Farmers Mutual Fire Insurance Company, and later, the Hamilton Township Mutual Insurance Company – was formed in 1898.This year, we're proud to celebrate 125 years!A celebration will be held at our Cobourg ofce onFriday, June 2nd from 11:30 am to 3:00 pm.*Parking is available at Northumberland Mall. A Shuttle will be provided.* Make sense ofthe path aheadThe decisions your policy holders make now will define their future.While you support them, MNP is here to support you with accounting and investigative expertise – plus the latest insights to navigate these uncertain times, and strategies that get results.Jas Chahal, CPA, CA | 289.293.2371 | jas.chahal@mnp.caMNP.ca
Page 40
pg. 40Congratulations to Tyler McNaughton, CIP for completing the Insurance Institute's Commercial Insurance Certicate and for being the top Southwestern Ontario graduate in the program.Tyler joined U&H in 2018 after completing the Business of Insurance program at Fanshawe College. Over the next few months, Tyler will transition from Senior Underwriter in Farm & Commercial to working as an agent for the company. Tyler is a valuable member of the team and look forward to his continued success at Usborne & Hibbert Mutual.AccomplishmentsCongratulating Mutual Members on Their Professional DevelopmentSalus MutualSalus Mutual would like to congratulate Erin Eltervoog and Dana McKinlay on receiving their CIP designations. A great reward for all their hard work.Dumfries MutualThe Dumfries team is celebrating Auto & Specialty Lines Underwriter, Hilary Toth, on the completion of her Certicate in Risk Management (CRM). We are so proud of you, Hilary – way to go! Usborne & Hibbert Mutual
Page 41
pg. 41We're proud to share that Deanna Ferguson earned her CIP designation at the Southwestern Ontario Chapter Awards in front of her family and colleagues. Deanna is a diligent contributor in the Accident Benets department at Axiom and has been with the company since 2015. Her hard work and compassion are noted by all in the organization. Congratulations, Deanna!Axiom MutualCongratulations to Lambton Mutual's newest Chartered Insurance Professional (CIP) graduate, Auto Underwriting Supervisor, Andrea Goss who is pictured at the Insurance Institute graduation ceremony held this February. Thank you for your hard work and for your commitment to continuing education at Lambton Mutual.The Commonwell Mutual would like to recognize our 2022 CIP graduates and celebrate their dedication to continuous learning and professional development. Congrats to all CIP and FCIP Graduates across the mutuals!Lambton MutualThe Commonwell Mutual
Page 42
pg. 42Salus MutualCan you help with some research?Hugh Fraser, a well known barn historian and author of Swing Beam Barns of Niagara, is working on an ambitious new book on barns from the 1800s, and the stories behind them. He's hoping we might have some information on the earliest barns we insured in Ontario. If you have information on barns insured by your mutual (or your predecessor mutual) in your earliest days and are willing to help, please let us know. With many of our mutuals now hitting their 150th anniversaries, this might be a good opportunity to help capture some history. As you know, we're "Always Building". Please write to jtaylor@omia.com. OMIAIt's always good to be reminded of the impact we make on the lives of those around us every day. Salus Mutual Agent, Serge Lebedz, has denitely made a positive impact in his granddaughter Hailey's life. Hailey wrote this letter for a school project, about her grandpa: "The person who I know has succeeded because they put forth a lot of effort and that is my grandpa. I know my grandpa. My grampy succeeded because he has been an insurance agent for 35 years and he is a great insurance agent. He has put forth a lot of effort by having training courses and other insurance agents helped him when he just started in the ofce and now he is the one that is teaching new insurance agents. Also, he showed effort by being patient and accomplishing many things as an insurance agent."Tradition MutualSeveral of our Tradition Mutual staff and agents took part in an off-site farm training day on February 7th, hosted by Gerald and Scott Weersink. It was a truly unique and informative opportunity.Thank you to the Weersinks for welcoming us! Other News & Events
Page 43
pg. 43We're excited to announce the opening of a new sales ofce located at 274 Lynden Road, Brantford. The ofce opened on February 21st and will be staffed with a growing team of Insurance Advisors. The location opens new opportunities for our Advisors and will allow us to better serve our current and future clients.Heartland Mutual Farm Mutual ReThis past February, the Farm Mutual Re Board of Directors treated employees to a Thank You celebration dinner for all of their hard work and dedication throughout 2022. The Four Fathers Brewing Company hosted us for a wonderful night lled with connecting, games, and a delicious dinner. Did you know that flooding is Canada's most frequent and costly natural disaster? Learn more about your flood risk and how to prepare at FloodSmartCanada.ca.Be Flood Smart this Spring.Flooding can happen in any season. It is important to be readyto protect yourself and your home. FLOODSMARTCANADA.CAHelping Canadians Prepare for FloodsScan herePartners for Action (P4A) is a research initiative that seeks to empower Canadians to become floodresilient by promoting awareness and preparedness actions that are inclusive and evidence-based.FloodSmart Canada is one way P4A is taking action to better educate and prepare Canadians.uwaterloo.ca/partners-for-actionThe Ontario Co-operative Association has appointed Jennifer Ross as the new Executive Director, effective January 16th, 2023.Jennifer began her long journey with OCA in 2009 as the Ofce Coordinator, and moved into the role of Member Relations Manager in 2016. Over the years she has also supported the organization by assisting with co-operative development, governance, legislation, and advocacy work.She is a graduate of the Non-Prot Management Program at Sheridan College, and completed the Fundamentals of Co-operative Organizations Program with the Schulich School of Business.The Board is condent in Jennifer's capabilities to lead this organization and serve its membership.
Page 44
pg. 44Farm Mutual Re & OMIAAfter a few years of being on pause due to the pandemic, it was wonderful to have the Farm Mutual Re and OMIA Bonspiel back in action at the Guelph Curling Club in January. Despite a snowstorm, members came out to compete for the coveted trophy and raised $1,840 for the Farm Mutual Foundation.The supreme winner of both draws was team Broomzilla, taking home steak and holding the trophy proud! Draw one winners, The Rolling Stones, also got to take home delicious steak. The last place teams of the draws, Scotch on the Rocks and Lords of the Rings took home ground beef. JP Gagnon and John Taylor are pictured with Draw one Winners, Rolling Stones: Errol Butler, Eric Yeager, and Serge ThomasJP Gagnon and John Taylor are pictured with Draw one Last Place team, Scotch on the Rocks: Jackie Roy, Deb Field, Mike Salmon, and Ryan Weis JP Gagnon and John Taylor are pictured with Draw two Last Place team, Lords of the Rings: Cosimo Pantaleo, Amy Butler, Riley Doolittle, and Glen Blair Farm Mutual Re, President & CEO, JP Gagnon (far left) and OMIA President, John Taylor (far right) are pictured with Draw two Winners & Supreme Winners, Broomzilla: Karen Vogels, Lorraine Winger, and Scott MacNeil. Missing: Andrew Count
Page 45
pg. 45A few of our staff had the pleasure of attending the Meet & Greet to kick off the 2023 Ontario Tankard Scotties. This eight day event brought together the Top 12 Womens and Mens teams to Saugeen Shores to determine our National representatives! It was an incredible evening lled with food and much laughter, and we got to meet some incredible curling icons including Team Glen Howard and John Epping. Thank you to the Port Elgin Curling Club for hosting the tournament and such a wonderful night. The Sunday Final between Rachel Homan (Ottawa Curling Club) and Hollia Duncan (Woodstock Curling Club) entertained the sellout crowd at the Port Elgin Plex, with Team Homan taking the win. The week's estimated attendance was around 10,000 and viewership of the CurlON Broadcasts were in excess of 1 million people around the world.Trillium MutualYOUR FORENSIC ENGINEERING ALLIESUnearth Expert InsightsWhether you're handling a kitchen fire, or a loss at a multimillion-dollar agricultural facility, you can rest assured that you have our skilled and experienced investigative team at your service. CEP Forensic's team of engineers and investigators prides itself on the cultivation of client relationships and unparalleled investigative expertise.Clear. Effective. Partners.cep-experts.caDecember 1st, 2022, marked signicant milestones in the Amalgamation of The Kings Mutual Insurance Company and Heartland Farm Mutual Inc. Not only was this the effective date for the launch of Guidewire and the start of policy conversion to the new platform, but it was also a landmark date with the introduction of automobile insurance in Nova Scotia. This is a signicant accomplishment. Expanding the full suite of Heartland products to our Maritimes Operations is a key driver in supporting our growth plans in Nova Scotia. With the introduction of Guidewire, we were also thrilled to launch our Quantum Digital Centre in Nova Scotia. Quantum is designed to enhance broker efciencies by empowering them with the ability to quote, bind, and issue new policies for all lines of business. Quantum can also be used to complete policy changes and report claims, further streamlining processes for our broker partners. With the launch of Quantum, we also introduced two exciting new packages, Bizpak and BizFarm, bringing broker self-service to non-complex farm and commercial space. We continue to hold on to our key tenets of being a local, rural company, with deep roots in Nova Scotia, while we expand our presence and build on our digital capabilities, in partnership with the Nova Scotia broker community. Heartland Mutual
Page 46
pg. 46There are so many incredible individuals that work to provide safe food to Canadians throughout the year, and we want to continue telling their stories. Tune in to The Back 40 Podcast to learn more about what's currently happening with the food we eat and those who make it. Scan the QR Code below to listen to our most recent episode #76 - Brain Freeze: The Ice Cream Technology Course at the University of Guelph is the longest running course and the only one of it's kind in Canada! Professor Doug Goff joins us as we discuss over 100 years of ice cream making and tasting. Trillium reached a signicant milestone in our Guidewire transition with the completion of our conversion process in February. We are continually learning how to use our new software system and understanding how Guidewire can provide additional solutions to our day to day workow processes. We would like to thank our Broker partners for all their support and patience as we navigated through this signicant change to our systems within all aspects of our business. Giving back is part of the DNA of the mutual community. This year, we had the opportunity to recognize individuals who contribute to their communities through ve, special video projects that can now be found on the Ontario Mutuals YouTube channel. Thank you, again, to our relentless volunteers who inspire each of us to contribute where we can.Trillium MutualOntario MutualsIInnssiigghhtt LLeett uuss pprroovviiddee yyoouu wwiitthh ssoommee ...... CCaann''tt sseeee tthhee ffoorreesstt ffoorr tthhee ttrreeeess?? Credit Score Ask us about our products that will help you get there... Real Time Data IntegraonTitan InsightsSSEEHHCCoommppuutteerr SSyysstteemmss IInncc..sseehhccoommpp@@sseehhccoommpp..ccaa
Page 47
pg. 47Cognition+ is more than a platform, it's an ecosystem that allows the flow of data to interact freely and safely. Allowing you to bring customers into focus and deliver a modern digital-first insurance experience to policyholders and users.From Quote — to Policy — to Claim resolution and everything in between, the Cognition+ Platform provides complete control of your P&C business. SCHEDULE YOUR EXPERIENCE TODAY www.gocognition.com/insurancexperienceTHEINSURANCE PERIENCELambton MutualLambton Mutual was honoured to host the Group A Mutual companies Annual Meeting on November 24th in Warwick. This was a great opportunity to meet and network with fellow mutual insurance boards of directors and management colleagues. We were proud to show them what Lambton Mutual Insurance, and Lambton County has to offer. Lambton Mutual agent, Ravell Insurance Inc., held their Celebrate Women event in Forest this past October. Local businesses were presented with guest speakers, wine and cider tasting, a fashion show, a prize table, and great giveaways. Lambton Mutual happily donated the very popular grand prize, a Yeti cooler, to the silent auction with proceeds going to charities supporting women.
Page 48
pg. 48The 141st OMIA Annual Convention took place at the Sheraton Hotel, Toronto from March 22nd to 24th. There was a strong turnout with over 600 attendees taking part in one or more portions of our meeting program. It was a great time to catch up with our colleagues, hear from several speakers, and acknowledge award recipients.Keynote SpeakerThe morning started off with a keynote address from Tareq Hadhad, the CEO of Peace by Chocolate. His story of arriving in Canada with his family as a Syrian refugee in 2015 was very powerful, and his upbeat and open hearted approach to making a difference in society, and his adopted country, was inspiring.During Steve Quinn's year as Chair, there were many opportunities to recognize the contributions that individuals at mutuals make to their communities and worthy causes. The annual convention provided an opportunity to showcase ve brand new volunteer videos highlighting the mutual commitment of working to the betterment of others. These videos can be found on the Ontario Mutuals YouTube channel.AGMsThe Fire Mutuals Guarantee Fund and OMIA Annual General Meetings took place mid-morning. The OMIA meeting included addresses from President, John Taylor, Chair, Steve Quinn, and Incoming Chair, Neil Shay, where he introduced his theme: Always Building. John Taylor provided a report on OMIA's activities in 2022 and looked ahead to how the insurance business and the mutuals are evolving. He also noted the challenges we saw in 2022, including investment volatility, historic catastrophe losses, ination, and the increasing impact of climate change. Awards During the Awards Luncheon, the Presidential Merit Award was presented to Christine Van Daele of Westminster Mutual and the Outstanding Contributor Award was presented to Halwell Mutual.One of our educational success stories has been to popularity of the OMIA Director Certication Program. Governance has been an increasingly important area for boards everywhere and, as mutuals, we wish to make sure that directors have all the tools and skills necessary to serve as mutual directors on behalf of policyholders. We recognized 51 directors who completed the OMIA Certication Program modules on Governance, The Business of Insurance, and Insurance Finance and Accounting. This was a record number for a single year. Information SessionsThe non-delegates program was provided by Adam Shoalts, a Canadian outdoor adventurer. During the afternoon, delegates participated in educational sessions on the following topics:• Effective Onboarding and Mentoring for Directors• Public Speaking with Impact and Condence• A Legal Quick Hits Panel on Privacy, Employment Law, and Corporate Governance • A Behind the Scenes Look at the 2022 Reinsurance Renewal Season• An Expert's View on Usage Based Insurance• The Conference Board of Canada's interim results on matching labour skills to labour hungry industries. The 2023 OMIA Annual General Meeting & Convention
Page 49
pg. 49EntertainmentBanquet entertainment was provided by the ORANGEMAN Band and was followed by the ever-popular Farm Mutual Foundation live and silent auctions. Proceeds of over $30,000 were raised for scholarships.As an additional charitable bonus, Chair Steve Quinn underwent a live hair-cut as three years of pandemic ponytails were barbered for charity with a net result of approximately $37,000 for mental health and addictions support programs.OMIA President, John Taylor & Keynote Speaker, Tareq HadhadAdam Shoalts2022 2023OMIA Directors Certication Recipients Donation Collectors from Cayuga
Page 50
Presidential Merit Award Christine Van Daele Westminster Mutual Each year the Presidential Merit Award is presented to an individual who exemplifies the best elements of the mutual system Winners of this award have demonstrated a long term commitment to mutuality and service to the association OMIA was pleased to have presented the award to Christine Van Daele CEO of Westminster Mutual at our 2023 Annual Convention Christine joined Westminster Mutual as Accountant in 1993 and was appointed President in 2001 Christine s contributions to the mutual system began almost from Day One Her involvement and leadership have included chairing the OMIA Board and committees including Regulatory Review Data Strategy and Benefits She was a founding member of the IFRS Committee which has evolved into the Accounting Advisory Committee That committee has done more than a decade s worth of research and planning culminating with a challenging but successful conversion to IFRS 17 Christine was also a member of the Farm Mutual Advisory Committee which worked with FSCO as they considered transition to a new regulatory regime For several years Christine was a member of the Canadian Mutuality Leadership Taskforce a group of OMIA Farm Mutual Re and CAMIC Directors that helped unify and align efforts to build mutuality across the country Christine also played a leading role in organizing the mutual brokerage ownership group which became Collectivfide and most recently she joined the Farm Mutual Re Board as Group A Director in March 2020 Christine s theme for her year as OMIA Chair was Our Passion is Mutual That passion was there from Day One and continues with her leadership by example and advocacy for mutuality Past Recipients 2022 Brian Downie Allan Hedley 2021 Deferred 2020 Rob Pearson 2019 Catherine MacLellan 2018 Steve Smith 2017 Shelley Sutton 2016 Sue Baker 2015 Tim Shauf 2014 Neil Shay 2013 Frank Rider 2012 Don Davidson 2011 Alec Harmer 2010 Joe Dietrich 2009 Bill Jellous 2008 Kathryn Adie pg 50 2007 2006 2005 2004 2003 2002 2001 2000 1999 1998 1997 1996 1995 1994 1993 Brian Fisher Bob Brenner Rick Walters Rob Forsythe Glen Johnson Ernie Koehler Randy Hutchinson Aleck Stickle Dave Bailey John Harper Carrol Lambert Stuart Howlett Ron Perry Bert Abbott Lorne Wolgemuth 1992 1991 1990 1989 1988 1987 1986 1985 1984 1983 1982 1981 1980 Don Mylrea Vern Inglis Dave MacKay Mel McIntyre Fred Legg David Wilson Ed Pellow Bruce McBlain Gerald Snyder Emory Knill Bill Weir Bruce Caughey Sr Max Forsythe
Page 51
pg. 512022 Deferred2021 Deferred2020 Dumfries Mutual2019 Germania Mutual2018 Amherst Islan2017 Hay 2016 Bay of Quinte2015 PEI 2014 Grenville2013 Westminster2012 Lanark2011 Kent & Essex2010 Cayuga2009 Lambton2008 North Kent2007 West Elgin2006 Glengarry2005 Ayr Farmers2004 Oxford 2003 Dufferin2002 Formosa2001 Peel2000 Brant1999 Farmers' (Lindsay)1998 Hamilton Twp. The Outstanding Contributor Award is presented each year to a member company that has demonstrated leadership in supporting the mutual system. OMIA was pleased to have honoured Halwell Mutual of Guelph, Ontario with this prestigious award at our 2023 Annual Convention.Halwell is the product of the 1969 amalgamation of Eramosa Mutual established April 9, 1861 in Rockwood, Ontario, Halton Union Mutual Insurance, established April 1, 1890 in Acton, Ontario, and Puslinch Mutual established April 1, 1859 in Aberfoyle, Ontario.Over the years, many individuals at Halwell have gone above and beyond in supporting mutuality, fellow members and in creating or sustaining mutual organizations like OMIA, Farm Mutual Re, the Fire Mutuals Guarantee Fund, and Collectivde. Max and Rob Forsythe, Doug Winer, Marg Torrance, and Glenn Taylor were among those individuals cited for their efforts in board leadership, contributions to working groups and roundtables, and representing mutuality to regulators, insurance industry peers, policyholders, and the public. Halwell was also recognized for contributions towards their community. A sterling example was the Halwell Hope Project which donated $100,000 to multiple causes in local communities during the early days of the pandemic. Community volunteering and spirit continues at Halwell as each year their philanthropy committee looks for opportunities to support diverse groups and causes. With this mutual spirit and individual and collective contributions, it was our honor to recognize Halwell Mutual, an organization that is "Strong Enough to Protect, and Small Enough to Care."Outstanding Contributor AwardHalwell MutualPast Recipients:A huge thank you to everyone who contributed to our fundraiser! Your company and individual donations amounted to an unbelievable $37,000 towards mental health and addiction treatment.Steve Quinn will present a cheque to CAMHS on behalf of Ontario Mutuals. The generosity of our mutual community is unmatched. Together, we truly do make an incredible difference. We Exceeded Our Goal!
Page 52
pg. 52RetirementsCelebrating Those Who Helped Us ThriveAxiom MutualAxiom MutualIt is with mixed feelings that we announce the retirement of our beloved and much appreciated Dawnna Towers. Dawnna has been an integral part of our organization for over 25 years. Dawnna's hard work, commitment, and dedication are worthy of admiration and she was a true ambassador of not only the Farm Department and Axiom Mutual, but of the whole insurance community. We wish her all the very best as she starts a new chapter in her life with her husband, Stan at her side. After 17 years of dedicated service to the mutual insurance industry, Rob Pearson has set his sights on a well-deserved retirement from his COO duties as of April 30th. Rob was introduced to the insurance world while in high school when his father opened a State Farm ofce in Aylmer. (Today, his brother and sister both work in the mutual system, Rob's son, Andrew is an Agent for a member company, and his daughter Kathleen works for a brokerage.) Rob began his P&C insurance career with the Co-operators in London where he started in underwriting, eventually moving into claims. Next, he joined the Anglo-Gibraltar Group, later to evolve into Intact. In 1991, Rob became a co-owner of TWR Adjusters and, in 2005, Rob jumped into the role of CEO of Town and Country Mutual. After 15 successful years, Town and Country amalgamated with Hay to form Axiom Mutual, where he graciously assumed the role of Chief Operating Ofcer. Elected to the OMIA Board early in his mutual career, Rob was Chair in 2016-17. Rob's theme was "Together We Are Stronger". This was an important message then, and now. In 2016, Rob's industry achievements were acknowledged by the CIP Society, as a recipient of its National Leadership Award as an Established Leader. OMIA recognized his contributions in 2020, as the winner of the Presidential Merit Award. Rob has been an instructor of CIP courses for a number of years with the Southwest Ontario Chapter of the Insurance Institute and through the Business of Insurance Program at Fanshawe College. Rob has also sat on the Collectivde and SEH Boards, in addition to OMIA's Education, Market Issues, and Auto Rate Filing Committees. This month, Rob celebrates his 50th year in the insurance industry! We're eternally grateful that Rob found his ultimate career home in mutual insurance. Congratulations Rob! You have earned our respect and admiration. We wish you and Mary all the best in this exciting new chapter.
Page 53
pg. 53Nova MutualIt is with mixed emotions that we announce the retirement of Barbara Bethune as a member of the Board of Directors. Barbara has a long and valued association with the mutual insurance sector and has been a signicant contributor to Nova Mutual's Board since its inception in 2019. Prior to our amalgamation, Barbara was a member of the Board of Directors of Wabisa Mutual, serving in that capacity from 2000 until amalgamation.Barbara was instrumental in the successful amalgamation of Nova Mutual, chairing the Amalgamation Committee, serving on the CEO Hiring Committee as well as serving as Nova Mutual's inaugural Board Chair. Barbara continued to actively contribute to the effective governance of Nova Mutual, including acting in the capacity of Chair of Nova Mutual's Governance and Nominating Committees and as a member of the Investment & Risk Committee. As Chair of the Governance Committee, Barbara led the successful implementation of a revised Board Standing Committee governance structure and encouraged a strong governance policy framework that will serve as a strong foundation for the ongoing effective governance of Nova Mutual. In addition to her service to Nova Mutual and Wabisa Mutual, Barbara was also elected by OMIA Group 5 as a Director on the Board of Farm Mutual Re in 2006. With OMIA Member Group restructuring in 2015, Barbara was designated as the Group B Director. In 2018, she completed her 12-year tenure, having served as Chair of the Board in 2015/16. During her tenure with Farm Mutual Re, Barbara was the President of the Farm Mutual Re Foundation, dedicated to raising funds for scholarships awarded to children of employees and Directors pursuing post secondary education. Barbara also chaired the Bruce Williams Memorial "Silver Fox" Director Award Committee. Barbara served as the Farm Mutual Re representative on the Ontario Mutual Insurance Association (OMIA) Legislative Affairs Committee and has continued her participation on that Committee.Barbara evidenced her commitment to continuous learning and personal development, pursuing numerous educational and networking opportunities including OMIA roundtables and University of Waterloo Leadership Program. Barbara achieved OMIA Director Accreditation, NAMIC Farm Mutual Director Certication and was a recipient of the 2016 NAMIC Merit Award.We're extremely grateful to Barbara for her contribution to effective governance and for the signicant contributions that she has made to the mutual community at large. She will be greatly missed for her knowledge and experience, her willingness to fully engage and contribute, her championship of diversity, her sense of humour, and her strong commitment to the success of Nova Mutual and the mutual insurance sector. We wish Barbara all the best and we certainly hope retirement from the Nova Mutual board gives her more time to enjoy her many personal interests and endeavours. .com1-888-576-3010 Your Outsourced Investment Governance Expert Inquire about our proven expertise in: ➢ Governance documents ➢ Portfolio assessments ➢ Money Manager assessments ➢ Complete Quarterly Monitoring Services Contact Jeffrey Hand at 905-336-1879 or info@bonnycastle.ca
Page 54
pg. 54Donna White is retiring from the company after 20 years, 3 months and 9 days... but who's counting? Donna is! In response to many attempts by President & CEO, Alec Harmer for her to "slow down" for a better work-life balance, Donna would say, "Retirement is my only way out, otherwise I just think about work and do the work!" When Donna started with us, HTM was at an all-time low after struggling for a couple of years nancially. Donna came on as a Senior Financial Analyst performing an array of accounting and IT duties over the years. She has seen the company rebound into the organization it is today! During the pandemic, Donna was appointed to one of the highest positions in the organization, VP of Finance. Due to the circumstances, the transition was very short with little support available. Donna dug into the nance department and plowed ahead. Her abilities uncovered areas of issue and opportunities to improve the departments' accounting systems and processes. Her personality and leadership style in this new role elevated morale and improved teamwork. During her time as VP, Donna was involved in almost every project, from conversion to Cognition+ in underwriting, claims, and our consumer portal, to a new phone system and website. All of that plus the giant task of preparing for accounting changes under IFRS-17. Her last duty is to help our new VP of Finance, Tracey Curran, take over the role. Donna is looking forward to spending time with her grandchildren and doing some more travelling, and we wish her all the very best.After 35 years of service at Cayuga Mutual, Agent, Doug Murphy has retired.We were pleased to hold an open house in December to celebrate Doug and the many years of dedication he brought to our company. Congratulations, Doug. We wish you all the very best in your retirement.HTM InsuranceCayuga Mutual
Page 55
In MemoriamRemembering Our Mutual Family MembersKen GrahamHalwell Mutual is saddened to share the news of the passing of Kenneth "Ken" Graham, who served faithfully on the Board of Directors for eighteen years, including as President (Chair) in 1995. Ken was an enthusiastic supporter of the mutuals and Halwell in particular, attending our AGMs faithfully prior to the pandemic. We will all miss Ken's warmth and encouragement to all those he met. We send our sincerest condolences to his family at this time. Our Mission: To serve and strengthen our mutual insurance community.Our Vision: Grassroots insurance at the core of thriving communities.www.omia.com
Page 56
Address: 350 Pinebush Road, Cambridge Ontario N1T 1Z6 (519) 622-9220 Fax: (519) 622-9227Mail: P.O. Box 3187 Cambridge ON N3H 4S6 www.omia.com And keep that news coming!Please send your news, photos, updates and more to marketing@omia.com. OM News can be read online at OMIA.com and sign-in is not necessary. Just visit www.omia.com and pick Ontario Mutuals Newsletter from the menu on the left of the page.READY TO GO GREEN? Please drop us an email if you'd prefer to read your OMNews online and help us save paper and ink. Email marketing@omia.com and we'll be sure that your name is included on the email notication that goes out when a new issue is available.