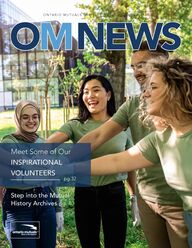 Return to flip book view
OM News November 2022
Page 1
OM NEWS O N TA R I O M U T U A L S N E W S L E T T E R Meet Some of Our INSPIRATIONAL VOLUNTEERS pg 32 Step into the Mutual History Archives pg 40 NOVEMBER 2022
Page 2
John Taylor, PresidentOntario Mutual Insurance AssociationOur Mission: To serve and strengthen our mutual insurance community.Our Vision: Grassroots insurance at the core of thriving communities.We Continue Along the Road As we move into the nal stages of a year that had its share of challenges, we should pause and think about how far we've all come. This year, we saw an increase in our ability to more freely meet with friends, family, and colleagues. No small thing, as our desire to connect with our communities is at the heart of what we do as mutual insurers.We've certainly eased closer to "normal" in our day-to-day, which has opened us back up to a world that we're used to experiencing - one of community building, face to face connections, and volunteerism.We've also welcomed many new faces to our mutual family, a change that is bright, diverse, and poised for the genuine connection building that we all value.As always, it is so nice to see our spirit, and our common goals, reected in these pages. OM News is produced by the Ontario Mutual Insurance Association on behalf of our member and associate member companies.
Page 3
Our Mission: To serve and strengthen our mutual insurance community.Our Vision: Grassroots insurance at the core of thriving communities.OM News is produced by the Ontario Mutual Insurance Association on behalf of our member and associate member companies.A Message from OMIA's ChairSteve Quinn, Cayuga MutualUpcoming EventsA Peek at our Spring ScheduleNew Team MembersWelcoming New Faces to the Mutual SystemMutuals Give BackThis is How We Support Our CommunitiesMeet Our PeopleCelebrating Our Relentless VolunteersAppointments & Position ChangesTransforming the Mutuals MilestonesRecognizing Signicant AnniversariesAccomplishments Congratulating Mutual Members on Their Professional DevelopmentOther News & EventsMore Mutual NewsEducation CalendarOMIA Education at-a-glanceRetirementsCelebrating Those Who Helped Us ThriveIn Memoriam Remembering Our Mutual Family Members3228373851525436OMIn this issue >>November202245613 2022 Presidents & Managers Meeting pg.48A Special Look Back at Part of Our Mutual Story - Nichol Mutual Insurance Company Folded in 1931pg. 40
Page 4
pg. 4A Message fromOMIA Chair, Steve QuinnOnce again, I would like to thank the membership for your continue support and encouragement. It has truly been my pleasure and honor to represent the trade association and its members these past seven months, meet many of you personally, hear your stories, learn from your experiences, and be humbled by your generosity. It is through these shared events that one recognizes the impact of our mutual system and just how brightly it does shine. It is a credit to you all!It seems only yesterday that I was composing my thoughts for the August OM News and here we are at it once again – this demand to be creative, interesting, and refreshing is quite taxing (smile). Although, we are now well into the autumn season and all the beauty it provides we are also touched by the notion of the winter that follows. These rhythms of seasonal change are a constant cycle – anticipated, understood and predictable. Unfortunately, with all the disruption surrounding us, it is a safe bet that our own personal and professional lives will be much less predictable and far less effortless as the changing of the weather. Let us take solitude in knowing that these months provide us with ample opportunities to seek the pleasures of the outdoors, breathe the crisp and cool autumn/winter air, enjoy activities we might not normally participate in, and most importantly, see our families, relatives, and friends over the holidays to come.So, how has the adventure gone since our last check-in? Well, let's say busy – from hosting the OMIA Summer Meetings in Niagara-on-the Lake, to attending the Farm Mutual Re Summer Meetings in Saskatoon (great city by the by), to attending the IBAO Convention in Toronto, the NAMIC Annual Convention in Dallas, the CAMIC Annual Convention in Winnipeg, and of course hosting the P&M Meetings at the beautiful Blue Mountain Resort. To an event, I found them to be profoundly interesting and, in some cases, rather eye-opening. It has been said that information is power – so one cannot leave these conferences without feeling refreshed and enlighten. I look forward to the rest of my term as Chair – meeting new members and re-connecting old friends and colleagues.As you will know my theme this year acknowledges the quiet volunteer efforts many of our members have made and the success stories that arise from them. One can easily nd inspirational volunteer stories with a simple internet search – they are often penetrating and moving. Thankfully, we have no need for Google when it comes to nding amazing volunteers and their stories. In the last few OM News additions, you have met several relentless volunteers and their stories are as equally compelling and inspiring, and in this addition you will meet even more. I am eternally grateful for their collective willingness to share their passions and applaud them for all the good they do!Please feel free to share your story, explain how you have made a difference and help us celebrate your volunteer triumphs.Mutually Yours,Steve Quinn
Page 5
pg. 5OMIA is pleased to represent the Ontario Mutuals brand at signicant community and industry events. We also look forward to sharing education, information, and camaraderie at our Association events. Please see below for details.Please write to marketing@omia.com if you have any questions about our upcoming events.Upcoming EventsLONDON FARM SHOW www.londonfarmshow.comThis is the largest spring farm show in eastern Canada, featuring over 370 exhibitors and 230,000 square feet of show space, showcasing the latest in agricultural technology & equipment. Western Fair DistrictMarch 8-10, 2023London, OntarioOMIA ANNUAL CONVENTIONComing soon!This is our opportunity to hold our annual general meeting and offer education sessions to our members. More details and a formal invitation to come in the new year. Sheraton Toronto HotelMarch 22-24, 2023Toronto, Ontario2022 ANNUAL GOLF TOURNAMENTComing soon!The Greens at Renton is a top-rated facility for the entire Haldimand Norfolk-Brant-Six Nations area, and we're looking forward to another fun day with our mutual colleagues. The Greens at RentonJune 15, 2023Simcoe, OntarioOTTAWA VALLEY FARM SHOW www.ottawafarmshow.comThis dynamic, innovative show, produced by the Ottawa Valley Seed Growers Association, is the longest running agricultural tradeshow in Ontario and draws visitors from across Canada. EY CentreMarch 14-16, 2023Ottawa, Ontario
Page 6
pg. 6Over the past two and a half years, the Canadian work force and Canadian employers have weathered both tremendous uncertainty and opportunity. Like all organizations, mutuals need good people to deliver on the mutual promise to policyholders. It has not been easy building out our teams in this environment, but on the pages that follow you will see an unprecedented hiring boom and a record number of promising new team members. A warm mutual welcome to all!IInnssiigghhtt LLeett uuss pprroovviiddee yyoouu wwiitthh ssoommee ...... CCaann''tt sseeee tthhee ffoorreesstt ffoorr tthhee ttrreeeess?? Credit Score Ask us about our products that will help you get there... Real Time Data IntegraonTitan InsightsSSEEHHCCoommppuutteerr SSyysstteemmss IInncc..sseehhccoommpp@@sseehhccoommpp..ccaaEdge Mutual Howick MutualTiffany Fry joined us in the position of Digital Communications Specialist. Tiffany started in digital communications after completing the Interaction Design program at Sheridan College in 2018. After working in app development as a graduate, she transitioned into the marketing and communications industry. She currently lives in Kitchener with her cat and collection of plants. Please join us in welcoming Tiffany to Edge.We are pleased to announce that Melissa Ellis has joined the team at Howick Mutual as a Commercial Underwriter. She brings experience from the mutual industry and is currently working towards her CIP designation. Melissa resides in Walkerton with her family and enjoys golng, playing slo-pitch and volunteering in her community. With Melissa's knowledge of the farm mutuals and her experience in commercial underwriting, she will make a great addition to our team. Welcome, Melissa!New Team MembersWelcoming New Faces to the Mutual System
Page 7
pg. 7We're excited to welcome Jamie Sass to the Ayr Farmers Mutual team as an Agent. Jamie was born and raised in Paris, Ontario and continues to live there with his wife, two sons, and dog. Jamie loves spending time with his family as well as curling, hockey, baseball, and playing cards - pretty much anything that involves social interaction! Jamie comes to AFM with over 27 years experience in the commercial playground industry, 16 of those focused on project management and customer relations. Ayr Farmers MutualWe're pleased to welcome Stephanie Hastings in the role of Claims Representative. Stephanie lives in Kitchener with her husband and their four kids where they keep busy with their children's sports that include basketball and hockey. Stephanie has worked in various roles over the past eight years with Curo Claims Services. She began her insurance journey in sales before becoming an adjuster. Please join us in welcoming Stephanie to the team.We're happy to welcome Parker Churchward to Ayr Farmers Mutual in the role of Claims Representative. Parker grew up in Paris, Ontario. He recently graduated from Laurentian University with an Honours Bachelor of Commerce, with a specialization in Sports Administration. He enjoys being involved in the community through hockey, and in his free time he plays hockey and golf. Parker is excited to start a career in the insurance eld and he's looking forward to continue building his excellent customer service skills. We are pleased to announce Aaron Bigras will be returning to AFM in the role of Commercial Property Underwriter. Aaron started at AFM in May 2020 on a contract as a Personal Lines Underwriter and became a full time Underwriter in March of 2021. In April of 2022 Aaron accepted a role within a brokerage where he gained valuable experience that will serve him well in his new role with us. Aaron lives in Stratford with his wife, sons, and dog. In his spare time, Aaron enjoys cooking, camping, and playing golf. Prior to his arrival at AFM, Aaron obtained his Bachelor of Economics from Laurentian University, and in 2019 completed his CIP. He spent 6 years working at Economical Insurance where he held a variety of underwriting roles including working as a commercial eet underwriter and a surety underwriter. Welcome back to the AFM family, Aaron!We're pleased to introduce Tammy de Belleval in the role of Executive Administrative Assistant. Tammy lives in Plattsville with her husband and their two boys. Tammy enjoys gardening, camping, baking, and playing pickleball. With her experience as an Executive Assistant for an engineering rm, as well as experience as an Administrative Assistant/Project Coordinator for Wilfrid Laurier University, Tammy will be a great addition to our team.United GeneralOMIADaphne Tseng joined United General on August 8 in the role of Underwriting Administration. We're pleased to welcome you to the team, Daphne!We're pleased to welcome Karandeep Sekhon to our team as a Business Intelligence Analyst. Karandeep is a University of Waterloo grad and lives in Kitchener. Handling data and analysis requests is a growing area for OMIA, and we look forward to Karandeep joining us to continue the great progress made.
Page 8
pg. 8Cayuga MutualWe would like to welcome Joanna Krisza to our Cayuga Mutual team in the role of Underwriter. Joanna brings over 12 years' experience in the P&C industry, a Business Insurance Diploma, and her CIP designation. Joanna is set for a successful career with us. Congratulations, Joanna.Please join us in welcoming Jaden Brownell to the Cayuga Mutual team as a Customer Service Representative. A business insurance graduate, currently pursuing his CIP designation, we look forward to his winning career with us. Jaden currently lives with his family in Caledonia.Please join us in welcoming Jahanvi Prajapati to Cayuga Mutual as a Financial Accountant. With her Masters of Commerce – Accounting, and over four years in the nancial/accounting world, we are happy to have Jahanvi join us and look forward to her future accomplishments.Welcome, Stacey Aitchison who has joined us at Cayuga Mutual as our Property & Commercial Underwriting Manager. Stacey brings with her over 20 years of insurance industry experience and a CIP designation. Currently residing with her family in Hagersville, we look forward to her continued success with us.Please join us in congratulating Samarth Patel, our newest Customer Service Representative at Cayuga Mutual. A recent graduate from the Mohawk Insurance Diploma program, we are excited to have Samarth on our team and look forward to his success in mutual insurance.We'd like to welcome our newest Agent, Rebecca Flatt who joined us in September this year. Bringing ve years of mutual insurance experience with her, it is a pleasure to have Rebecca join our team here at Cayuga Mutual.Join us in welcoming our newest Senior Technical Adjuster, Jared Kuchma! Jared has 18 years' experience in various claims roles at Crawford and is looking forward to learning "the mutual way" as our Senior Technical Adjuster. Welcome to the mutual family, Jared!We are also thrilled to introduce our newest Senior Commercial Underwriter, Kelly Jantzi! Kelly brings a wealth of knowledge and experience from across our mutual world. We are so happy to have her on our team. Welcome, Kelly!Halwell Mutual Trillium MutualWe're very excited to share with you that Wendy Ryan has joined the Trillium Mutual nance team. Wendy joined Trillium in January and has been working with the BIS/Underwriting departments to provide data conversion support on the Guidewire project. Wendy holds a Bachelor of Business Administration degree from Wilfrid Laurier University, her CPA Accounting designation and has spent the last 25 years working as an accountant and controller. Her experience in nancial reporting, budgeting, system implementations, and establishment of new processes and procedures make her a great t as our department transitions to a new accounting system over the next year. Please join us in congratulating Wendy!
Page 9
pg. 9Farm Mutual ReCam MacDonald joined the Farm Mutual Re team in the interim position of Reinsurance Consultant. Cam spent the rst fteen years of his career with Dominion of Canada, Royal Sun Alliance and Aviva. He then moved into reinsurance underwriting where he completed thirty years with Transatlantic Reinsurance Company (Trans Re), underwriting Facultative and Treaty business. He retired from Trans Re, holding the position of Chief Agent, with responsibility for all Canadian operations.Nardos Kassa joined the Communications team in the role of Communications Associate Co-op in September. Nardos is a third-year student at the University of Waterloo studying Legal Studies and Business. Nardos has previous experience working as a Junior Editor and Communications Associate at the University of Waterloo.Alyssa Rubenstein joined the Communications team in the role of Communications Coordinator and Social Media Administrator on a 15-month contract in September. Alyssa has a degree from Conestoga College in Public Relations and has worked in a variety of marketing roles at System Equine, Oculus Insights and Mckee-Pownall Equine Services. Garry Brenneman joined the Finance and Risk Department in the role of Finance Consultant in September. Garry is a graduate of the University of Waterloo and has a BA Honours in Accountancy Studies as well as his Masters of Accountancy Studies. Garry is a registered CA and CPA. Most recently, Garry was with Economical Insurance as their Assistant Vice-President, Financial Reporting.Devin Kim joined the Underwriting and Loss Control Programs department in the role of Underwriting Quality Analyst in September. Devin is a Wilfrid Laurier University graduate and holds an Honours Bachelor's Degree in Economics. Devin has also completed the Insurance Diploma Program with Mohawk College. Devin was previously with Farm Mutual Re in 2016 in the role of Loss Control Special Projects Administrator Co-op. Most recently, Devin was performing the role of Underwriting Team Lead with Modern Specialty Insurance.Yahya Thai joined the IT Department in the role of Software Developer in August. Yahya is a Wilfrid Laurier University graduate and holds a bachelor's degree in Computer Science. Prior to joining Farm Mutual Re, Yahya worked at Manulife as a DevOps Engineer.Share your mutual job opportunities on omia.com and ontariomutuals.ca!Members, write to marketing@omia.com
Page 10
pg. 10Heartland Farm MutualHeartland Farm Mutual offers a warm welcome the following new employees:Serena BarryMarketing & Communications AnalystMariyatta LouisData ScientistFeng TianActuarial AnalystChloe HuFinance Co-opDaniel ZhaoActuarial Co-opCathy MillerSr. Commercial Auto UnderwriterBarbara DunlopClaims RepresentativeSonia DemjanowClaims RepresentativeRebecca PatakiFinance RepresentativeSteven BlondeauPersonal LinesUnderwriterMaple MutualMaple Mutual Insurance is pleased to welcome Kari Maure to the team.Kari initially joined Maple Mutual as an Administrative Assistant in early August but was quickly promoted to Underwriting Assistant in September. Kari has over 11 years' experience in ofce administration and customer service. Born and raised in Chatham-Kent and residing in Dresden, Kari is married and is a proud mom to her son and two dogs. In her spare time, she enjoys yoga, going for walks and spending time with her family. Please join us in welcoming Kari to our team.Usborne & Hibbert MutualGracie Grimminck joined Usborne & Hibbert Mutual as a Grade 12 Co-Op student in 2019. She continued to work for us as she completed the Business of Insurance program at Fanshawe College.We're very pleased to welcome Gracie to the newly created Customer Service Representative position supporting both the sales and accounting departments. Gracie brings enthusiasm and a sense of humor to the role.
Page 11
pg. 11Heartland Farm Mutual offers a warm welcome the following new employees:Kent & Essex MutualWe would like to welcome David Penstone, FCIP, CRM, Commercial Auto Underwriter who brings to our team over 17 years' experience in the insurance industry. Dave's career has primarily been as a Commercial Automobile Underwriter and most recently as a broker. He is looking forward to getting back to his underwriting roots. Dave is also Chapter Chair for the Cambrian Shield Chapter of the Insurance Institute and a Certied CIP Instructor. We're pleased to announce, Raven Sennema, has recently joined the K&E commercial department as a Commercial Property Underwriter. Raven has over 10 years' experience in both commercial and farm insurance while previously working as a broker. Leanne Mills has joined the K&E claims team in the role of Claims Administrative Support. Leanne attended Georgian College for Marketing and Business Communications. She has over 20 years of customer service and administration experience. We would like to announce, Sean Banghart, CIP, has recently joined K&E as an Accident Benets Claims Adjuster with six years' experience in Accident Benets. He also has a BBA from Wilfrid Laurier University and Risk Management Certicate. Carrigan Baillargeon has joined the K&E claims team in the role of Claims Administrative Support. Carrigan has worked in customer service and ofce administration for over 15 years and is excited to learn more about the insurance industry. Welcome, Donna Gibbs-White, CIP, to the K&E claims department as a Physical Damage Claims Adjuster. Donna brings over 13 years of mutual experience to the team. She has also obtained a life coaching certication. We're pleased to announce Shawna Stevenson, CPA has joined the K&E team as an Intermediate Accountant. Shawna has an MBA degree with a professional accounting specialization. Her background includes three years in public accounting with experience in nance and team management. Welcome, Chris Kelly, Information Technology Specialist to the IT department. Chris has a diploma in Computer Networking and recently graduated from Nova Scotia Community College with an Advanced Diploma in Programming.
Page 12
pg. 12West Wawanosh MutualMandy Mallough has joined West Wawanosh Mutual as a Farm/Property Underwriter. Mandy has seven years' experience working in the insurance industry in various role and is excited to become part of the WWMIC underwriting team. Welcome Mandy!Welcome, Adam Gwalchmai, to our underwriting team as a Farm/Property Underwriter. Adam grew up in Huron County and has been in the mutual industry for 12 years. He obtained his RIBO licence in 2011 and worked as a CSR & Producer before joining WWMIC. Mutuals Give BackThis is How We Support Our CommunitiesMMIOn September 12, MMI welcomed Alli Lebbert, CPA as our new Finance Manager. Alli comes from PricewaterhouseCoopers (PwC) and was a Senior Manager. Her clients at PwC included the Insurance Corporation of BC (ICBC) and the Law Society of BC. Her experience also includes time at Seaspan Corporation as Corporate Reporting Manager. She brings with her a strong ethic, years of management experience and last but not least, knowledge of IFRS 17. Welcome, Alli.
Page 13
pg. 13This August, Ayr Farmers Mutual was the sole sponsor of the Ayr Mutual Global Invitational, a ve-day tournament bringing people together to build community and celebrate Canada's game. In collaboration with the Ayr Centennials and St. Andrew's College, this rst-annual event brought together six junior hockey teams representing different regions within Ontario, the United States, and Germany.The tournament, scheduled for August 27 to August 31, halted and was canceled due to the tragic sudden passing of the Ayr Centennial's beloved captain Eli Palfreyman on August 30, 2022. We keep the Ayr Centennials, Eli's family and friends, and the Ayr Community in our thoughts and wish them strength in healing. #17 Forever RememberedAyr Farmers MutualPictured: Ayr Farmers Mutual President, Jeff Whiting dropping the puck for game one with Eli PalfreymanOn September 28th, Ayr Farmers Mutual hosted a BBQ Lunch for Learning, a community BBQ and silent auction with all proceeds donated to Nutrition for Learning. We were able to raise $14,000 for this incredible cause! Thank you to everyone who came out or showed support, we truly appreciate it.Nutrition for Learning, a registered charitable organization established 25 years ago, works to help build equity and belonging through universal nutrition access in learning environments. They offer healthy food programs that impact students' physical, cognitive, behavioral, and academic needs at schools in the Waterloo Region, including over 250 students in the Ayr community alone. Nutrition for Learning is offered in 93% of schools in Waterloo Region, meaning over 72,000 students in our communities have equal access to food while at school.
Page 14
pg. 14AXIOM Mutual was a proud sponsor for the IIO Symposium West: Propelled by the Pandemic. The CEO panel was moderated by Axiom's Lee-Ann Vansteenkiste, Business Development Manager. Axiom MutualOver the summer, the OMIA and Farm Mutual Re garden was regularly maintained by members of the Green Team. Many large donations were made to the Cambridge Food Bank, consisting of tomatoes, zucchini, squash, eggplant, and snap peas. The garden wrap-up has now been completed and it is ready for winter!Farm Mutual Re & OMIAJim Oakley, an employee at Kent & Essex Mutual Insurance, volunteers at the Canadian Coast Guard Auxiliary Unit in Colchester. Jim and his crew are on call 24/7 for rescues of people on disabled vessels, missing people searches and medical calls. In support of the Unit's purpose and mission, Kent & Essex is excited to have donated $1,000 to their organization.We're also pleased to have awarded $1,000 scholarships to ve outstanding recipients in Chatham-Kent and Windsor-Essex areas. These deserving recipients had written spectacular essays about how insurance companies can help mitigate catastrophic losses brought on by global climate change.Kent & Essex Mutual
Page 15
pg. 15OMIA Chair, Steve Quinn happily presented a cheque to Kerry Wetherell, Operations Manager at the Centre for Addiction and Mental Health (CAMH) Haldimand-Norfolk. This cheque for $6,500 was made possible due to the generosity of our mutual members, partners, and sponsors at our annual golf tournament in June. Members, keep your eyes peeled for news from OMIA and Steve Quinn about how you can further support CAMH as we lead up to our annual convention in March.Giving back is in our DNA, both as companies and individuals. Subscribe to our Ontario Mutuals Youtube channel to see the mutual difference in action.New content, celebrating the relentless volunteers in the mutual system, will be coming in 2023!Visit youtube.com and search: Ontario Mutuals.Ontario Mutuals We're in This Together
Page 16
pg. 16It had been three years since we last hit the links so we were very excited to host our 8th Annual Charity Invitational Golf Tournament on June 16 at the beautiful Flamborough Hills Golf Club. This year, the money raised was donated to Flamborough Connects Youth Empowerment Program, which focuses on the physical and mental well-being of our youth. This is more important than ever as our youth recover from the impacts of prolonged isolation and other ill effects of COVID. Our Player Cards, Silent Auction (with prizes donated by attendees and staff), and our 50/50 Draw amounted to $21,590 being raised!Dumfries MutualIn the month of August, we had the pleasure of packing goodie bags with our friends at Farm & Food Care Ontario's Breakfast from the Farm event in Elora! This was a walk-through event with displays of farm equipment, livestock, agricultural education booths and an opportunity to speak with Ontario farmers. We were delighted to be in attendance on the day of the event – setting up a booth, running a contest, chatting with attendees and handing out Dumfries sunglasses! In October, we were delighted to celebrate the 170th anniversary of the Rockton Fair October 7-10 with amusement rides, events, agricultural exhibits and more! As a Platinum Sponsor, we had a great time hosting the Volunteers Kick-off BBQ as well as the Ag Alive tent. On October 6th, we welcomed the community, policyholders, friends, and family to our ofce for some fall fun. We handed out free pumpkins, apple cider and fall treats to all who attended! We love when our community comes together and are already looking forward to hosting more events in the near future!
Page 17
pg. 17Unearth Expert InsightsWhether you're handling a kitchen fire, or a loss at a multimillion-dollar agricultural facility, you can rest assured that you have our skilled and experienced investigative team at your service. CEP Forensic's team of engineers and investigators particularly prides itself on the cultivation of client relationships and unparalleled investigative expertise.cep-experts.caYOUR FORENSIC ENGINEERING ALLIESClear. Eective. Partners.Farm & Food Care Ontario's Breakfast from the Farm took place at Grand River Raceway in August. Over 100 people came through for breakfast and a chance to see where our food comes from. Everyone also got a "Breakfast Bag", a reusable grocery carrier with pancake mix, maple syrup and fun stuff for the kids. OMIA's Kip Moi, as well as a big gang from Trillium and Dumfries, helped get bags packed in record time. OMIA's Jackie Roy was also one of the volunteers on the day, riding the "side by side" delivering coffee and water to the volunteers on site. Farm & Food Care Trillium MutualWe're very proud of our Trillium Mutual team members who volunteered at Farm & Food Care Ontario Breakfast on the Farm held at the Grand River Raceway in August. Many of our staff members helped complete the prep work for the main event. Larry Holmes and Christa Royce volunteered on the day of the event. This was a walk-through event with displays of farm equipment and livestock, agricultural education booths, and an opportunity to speak with real Ontario farmers!
Page 18
pg. 18Halwell Mutual was also proud to support Hope in the Street's street festival as their Media Sponsor once again.The event was an astounding success, with nearly $40,000 raised to support those in our community who are affected by food insecurity and poverty. Halwell MutualHalwell Mutual is proud to support the University of Guelph's Ontario Agricultural College through our $40,000 ve-year funding agreement. Two awards of $2,500 each will be provided annually for ve years starting in 2022. We also funded three bursary awards of $1,000 each, which will be provided annually for ve years starting in 2023. These prizes will support 25 students at the Ontario Agriculture College and will support careers and the development of agriculture amongst the next generation! Take a look at the handwritten notes from the recipients of this year's scholarship!
Page 19
pg. 19A special fundraising project is helping to renovate and equip a multi-sensory environment for autistic students attending Thompson Creek Elementary School in Dunnville. The room will provide sensory stimuli that autism spectrum students seek and require, which helps to lower their anxiety. This renovation will enable the school to better meet the needs of these students. Erie Mutual is happy to support these fundraising efforts and wished all students returning to class a safe and successful school year!Erie MutualAffordable housing and the need for multiple support services for those individuals and families in need is a growing concern in all communities. Erie Mutual has partnered with Bethlehem Housing and Support Services in Niagara to help create awareness and support this important cause. As the title sponsor of this year's Summer Challenge, Erie Mutual was happy to attend the closing event on August 12th where we met many within the community and discussed the challenges and opportunities to build on this partnership. Pictured from L to R: Edward Whittaker (AE), Karen Wilson (Underwriter), Tim Curtis (AE), Jennifer Belu (AE) and Darcy Johnson (Manager of Marketing, Communications and Business Development). Bethlehem staff include Montana Pawlik (Summer Student), Lori Beech (Executive Director) and Emily Zwart (Communications & Engagement Coordinator) Pictured from L to R: Jenn Kucherway (EA), Olivia Gilmore (EA), Brandy VanderMeer (ASD Classroom Teacher), Darcy Johnson (Erie Mutual Manager - Marketing, Communications and Business Development) and Caitlin McVean (Principal).We specialize in surveillance for mutual insurance companies and have a proven track record of providing discrete, ready-for-court investigations that help our clients get the most out of their claims investigations. We service all rural and urban areas of Ontario and employ only top-rated and experienced investigators. www.mutualinsuranceinvestigator.caDirect Contact: jcrowley@crowpi.caNeed Surveillance? We're the Investigators you can Trust
Page 20
pg. 20Contact us today for all of your promotional marketing needs!519.623.5101 or aaron@arrowmarketing.caBuild your Brand with Promotional Products & Corporate Apparel Your Outsourced Investment Governance Expert Inquire about our proven expertise in: ➢ Governance documents ➢ Portfolio assessments ➢ Money Manager assessments ➢ Complete Quarterly Monitoring Services Contact Jeffrey Hand at 905-336-1879 or info@bonnycastle.ca Grenville MutualThe Grenville Mutual team was back at it in full force this fall supporting our community on two major fronts. The 2022 International Plowing Match and Rural Expo was held in Kemptville from September 20 to 24. Grenville Mutual had the pleasure of being a Distinguished Partner for this event. We had over 3,000 visitors participate in our draws. Our distribution and community partners joined us in our exhibit space to help us celebrate "130 years of partnerships."We were very proud to be part of an event that allows up to support our agricultural roots.1. Grenville's mascot, Spencer, on opening day.2. The kids just couldn't get enough of Spencer.3. The team at PrevTech Innovations Inc. with Risk Assessment Specialist, Dave McLaughlin (middle).4. Agent, Justin Rice.5. Grenville Mutual's Pam Marson and Spencer dropped by the Ontario Mutuals' tent to say hello and congratulate John Taylor on a great match!6. The very popular Morna Foan, Manager, Products and Pricing, served up more than 2,500 bags of popcorn.1234 5 6
Page 21
pg. 21Ontario Mutuals at the IPMGrenville Mutual is also pleased to be partnering with Habitat for Humanity Thousand Islands and Habitat Greater Ottawa on their new build in Kemptville, Ontario. We are both excited and proud to have the opportunity to support this project, which will provide safe, stable, and affordable homes for families in our community. This proposed 15-unit development consists of townhomes and stacked townhomes. When completed, it will house up to 64 individuals, including more than 30 children. We had so much fun at the community kickoff of Kemptville Korners in early October. The project broke ground earlier this fall. Watch for more news on upcoming build days we'll be sharing with our partners in the months to come!Ontario Mutuals are Presenting Partners of the International Plowing Match and the annual Ontario Queen of the Furrow Competition. The Ontario Plowmen's Association takes great care in pulling together this show each year, which sees thousands of visitors take in industry updates, entertainment, and of course, competition. This year, Kemptville, North Grenville, and United Counties of Leeds & Grenville hosted the rst match since 2019. Held over ve days from September 20 to 24, the event saw rain, cold, sun, and warmth! OMIA ran a tent next to Kemptville-based, Grenville Mutual, with a photobooth, draw contest, and prize wheel. Of course, the very popular Ontario Mutuals yardsticks were on hand each day, with visitors happy to receive their "collectible". Trillium Mutual and the Commonwell Mutual joined the tent through the week, and Amherst Island representatives stopped by for a few shifts as well!1. eQ Homes, Community Experience Director, James Paterson, North Grenville Mayor, Nancy Peckford, Grenville Mutual's President & CEO, Pam Marson, Habitat Greater Ottawa Board Chair, Scott Stevenson.2. Is that real?3. Big nod to reghter, Evan, and the North Grenville Fire Service.4. Habitat for Humanity, Warren Vibert-Adams, Lead Construction Hand, gives Spencer a tutorial on building.12 3 4
Page 22
pg. 22Once again, we were pleased to offer $1,000 scholarships to ve very worthy recipients. Lambton Mutual takes great pride in being an active contributor to the community. Students are chosen as scholarship recipients based on community involvement, volunteerism, and academic excellence. Pictured, Jack Denkers accepts his Scholarship Award from Deb Van Eyk, President & CEO.Lambton MutualWe're also pleased that the Lambton Mutual and myFM, "All Hands on Deck Food Drive" was a huge success this August. We were Title Sponsors for this event and took part for the second year in a row. After eight hours of collecting food and monetary donations, the food drive was able to ll a pick-up truck, a box-trailer, three SUVs, a school bus and the myFM cruiser (twice)! More canned goods, household items, drinks, dried goods, and school snacks were collected this year, in addition to more than $900 in cash and gift cards.This will restock the shelves of the local food banks, Women's Rural Resource Centre, and Next Wave Youth Centre.Maple Mutual Insurance is proud to sponsor Dresden Minor Baseball who hosted the OBA Finals Sept 2-4 in Dresden.Pictured are Maple Mutual Chair, Paul Badder, Dresden Minor baseball Coach, Justin Wright and a group of future baseball stars. Maple MutualOur ofce is pleased to have adopted a 2.4km trail in Fredericton, which we clean twice a year in support of maintaining the beauty of our natural landscape in New Brunswick.United GeneralSpecializing in Subrogation focusMaximizeyour subrogation recoveries and free time for your sta to on more critical adjusting work.We oer aordable contingency & flat fee options. Please contact us to discuss your subrogation needs. Suite 216 - 762 Upper James St., Hamilton, ON 905-389-4522 | christine@sageclaims.ca | sageclaims.ca
Page 23
pg. 23Specializing in surveillance.jrivard@RivardInvestigations.comRivardInvestigations.com519-641-3140Through our iHeart Community Fund, we aim to support several initiatives that reect values we hope to instill in our company and those with which we do business. Our 2022 community fund covered both of our provincial locations – Nova Scotia and Ontario. At the beginning of the year, through the Humanitarian Coalition, Heartland Mutual Insurance donated $20,000 to support the people of Ukraine during the crisis. The donation allowed the Humanitarian Coalition to continue its assistance to those eeing the conict. Emergency supplies, including food and water, hygiene kits, and cash were just a few of the many means of assistance that were provided. Following the devastating effects of Hurricane Fiona, Heartland donated $20,000 to the Canadian Red Cross with the Canadian government matching our nancial efforts. The effects of Hurricane Fiona were a cause near and dear to our hearts as several of our staff, brokers, agents, and policyholders were in the midst of the natural disaster. Heartland also had the privilege to continue our philanthropic efforts with the Canadian/American Spinal Research Organization (CSRO) and Farm & Food Care Ontario. iHeart has been supporting both charitable organizations by donating $5,000 each year for the past three years. These collaborative initiatives are integral to iHeart as each represents an important cause that Heartland wants to support and raise awareness for. In addition, the iHeart community fund has pledged to donate $100,000 to various Canadian-based non-prot organizations and initiatives that our brokers, agents and staff have individually requested. Heartland Mutual
Page 24
pg. 24Middlesex MutualNorthwest London Resource Centre (NWLRC) received $2,500 towards support of the Centre's Youth Empowerment Program (YEP). Middlesex Mutual Insurance is proud to support such a comprehensive program that offers participating youth ve different modules: Wellness, Skill Development, Community Relations, Creativity, Leadership - each representing a pillar of leadership. "The Youth Empowerment Program (YEP, We Can!!) is a fantastic leadership program for our youth that live in Northwest London. One of the graduates of YEP, pictured here, now works with NWLRC part-time to support and inspire other youth who are struggling or nding challenges in their journey," stated Amani Radhaa, Associate Director, NWLRC. On Saturday, Nov. 5, the Wellington 4-H Association celebrated their win of Provincial 4-H Go For The Gold at the Royal Agricultural Winter Fair in Toronto. The Wellington team included Josh Brander, Mary Brander, Sam Storey, Alexander Swackhammer and Jack Van Milligen, as well as coaches Tayler Black and Jennifer Pollock. Go For The Gold is 4-H Ontario's trivia style competition where youth ages 9 to 21 compete locally, regionally and provincially for the title of Go For The Gold champion. One team from each of the six regions across Ontario came together at the Royal Agricultural Winter Fair this past Saturday to compete for the championship title.The Go For The Gold competition is proudly sponsored by Ontario Mutuals. 4-H Ontario "Go For The Gold" Sponsored by Ontario Mutuals4-H Ontario Executive Director, Christine Oldeld (far left) and OMIA President, John Taylor (centre) are pictured with the winning team, the Wellington 4-H Association.
Page 25
pg. 25The 21st CKNX Health Care Heroes Radiothon was broadcast across Midwestern Ontario on October 15. Over its history, this annual event has raised a total of $13,224,808 supporting local hospital foundations. West Wawanosh Mutual Insurance is proud to have been part of this year's fundraising with a donation of $10,000.West Wawanosh MutualOur community BBQ was held on September 23rd in our ofce parking lot. The South Huron Fire Department and Jamie Higgins of Mobile Fire Safety joined the event and attendees learned how to operate a re extinguisher. Everyone enjoyed the hamburgers and hot dogs and over $1,100 was donated to the South Huron Fire Department.Usborne & Hibbert MutualDISCRETIONARYWEALTHMANAGEMENTALL OF OUR FARM MUTUAL CLIENTS' PORTFOLIOSARE SEPARATELY HELD AND MANAGEDACCORDINGLY TO THEIR SPECIFIC GOALS.WE UNDERSTAND THE NEEDS OFMUTUAL INSURANCE COMPANIES - WE CAN HELP!FOR MORE INFORMATION PLEASE CONTACT:Brendan T. N. Caldwell150 King Street West, Suite 1710, P.O. Box 47Toronto, ON M5H 1J91-800-387-0859 • 416-862-7755bcaldwell@caldwellsecurities.comwww.caldwellsecurities.comCaldwell Securities Ltd.
Page 26
pg. 26The Trillium ROOTS Council is a body within our governance model that will accept, review, and recommend levels of support for applications received from the communities in which our policyholders live and serve. We're committed to the sustainability of rural Ontario and we realize we have an opportunity to support programs that will foster the success of this responsibility. We're very pleased that the Fund has recently been able to support the following programs:A donation of $15,000 to the Ontario Soil and Crop Improvement Association (OSCIA). The donation will go towards the purchase of a large LED screen and soil research equipment that offers new ways to demonstrate concepts and share knowledge. The ROOTS funding will help local organizations access the Mobile Soil Technology Suite and these tools will help educate and encourage practices to increase soil health on farms across Ontario. A donation of $10,000 to the Empower Simcoe Foundation to support the building of their state-of-the-art supported living home. This new facility will develop individual support plans to address each individual's unique needs while advancing them towards a more inclusive and independent life.Saugeen Memorial Hospital Foundation was a recent recipient of $20,000 towards the purchase of a new CT scanner that will provide enhanced healthcare for their community. "We, as a Board, and as a community are so grateful for this tremendous gift to the CT scanner campaign. This donation brings the community one step closer to having local access to enhanced healthcare that will not change lives, but also save lives in Bruce County," said Tracy Murray, Executive Director of the Saugeen Memorial Hospital Foundation.A donation of $5,000 towards the completion of an onsite building for Holly's Haven Wildlife Rescue. Lynne Rowe, Director of Operations, at Holly's Haven said, "This grant will help us move forward with a new wildlife building, allowing a better work environment for our team, better services to the community, and improved ability to provide excellent care to the innocent animals that come to us for rehabilitation." A $10,000 donation towards the revitalization project of the Mindemoya Old School. The transformation will provide programming for the rural community along with transforming a century old building that was at risk of demolition. The building will provide new opportunities for recreation and socialization, while serving as a place for community gatherings and events.A $10,000 donation towards the construction of the new Teeswater Medical Centre. This new medical centre will increase access to care for many through a modern, fully accessibly facility that will support the sustainability of the local community.Trillium Mutual - ROOTS Community Fund
Page 27
pg. 27Tracey Long and Kurt Tosetto spent the day helping the Listowel Agricultural Society with their Seniors Day lunch. Everyone seemed to really enjoy themselves and the Ag Society was well prepared and organized, which made for a great volunteering experience.Michele Field spent her volunteer day organizing a clothing drive for victims from Ukraine. Thank you to Belfor Restoration in London for acting as the drop-off depot for this fundraising initiative and helping deliver all of the donations. Karen, Ev and Bernice spent their volunteer days with Trees for Woolwich. They learned much about the planting process including loosening up the roots to promote growth and placing a coconut around the tree trunk with mulch to make a bowl to catch excess water and allow the tree to drink more. Trillium's staff reected on their day saying The Trees for Woolwich people are an amazing group. There is something to be said about their community stewardship as they may never see the full foliage and shade of their planting efforts, but still give to their community for the betterment of generations to come and enjoy.Our Board Chair, Ben Rier, spent his volunteer day with the Tara Rotary Club assisting them at their annual yard sale. The Tara Rotary club is made up of dedicated community members who have a passion for service and work to impact their local community with positive change.Jessie Poulin spent her volunteer day with ReForest London. ReForest is a non-prot organization with a mission to improve London's environmental health through planting trees in natural areas and parks. They've started The Million Tree Challenge which seeks to inspire Londoner's to plant one million trees and the total count so far is over 490,000 trees.Krista Bester spent her volunteer day with the Maitland Valley Conservation Authority. Krista helped organize past employee clothing for recycling and new branded clothing for an in-house sale!.Mary, Debbie, and Rosemary spent their volunteer day helping out at the Golf for Hospice tournament. Throughout the morning they set up the carts, making sure each had all essentials including a water & scorecards. In the afternoon they were stationed on one of the holes and hosted the putting contest. Trillium Mutual Volunteer Days
Page 28
Meet Our People Celebrating Our Relentless Volunteers Steve Quinn s theme as chair this year Our People Our Communities A Celebration of Success provides a chance to highlight stories from our colleagues in the mutuals on their journey as volunteers in their communities We recently gathered stories from eight long time volunteers Four stories follow below and four will be featured in our April issue of OM News We d love to hear from and feature others throughout 2023 Reach out to marketing omia com Jacquie Bishop Director Howick Mutual Jacquie lives with her husband on a third generation swine sheep and cash crop farm She is Elections Ontario Provincial Returning Officer for Huron Bruce and Elections Canada Field Liaison Officer for Southwestern Ontario She has volunteered her time to many areas including 4 H Nursery School Board Sunday School Huron County Beef Producers Huron Hiker Tour Shunpiker Tour Huron Tourism Association IPM 2017 Princess of the Furrow Competition and Cancer Canvas Dan Boehm Director Westminster Mutual Dan Boehm grew up on a tobacco farm in southwestern Ontario and currently lives on his grandparents farm outside of Aylmer He is Director of Business Development and Key Accounts at Veolia ES Industrial Services Canada Inc and has volunteered in many areas including as a firefighter at St John s Lutheran Church Ducks Unlimited Canada Big Brothers Big Sisters East Elgin Secondary School and Ontario Power Generation Nuclear Environmental Advisory Group Warren Burger Director Erie Mutual Warren was born in Hagersville Ontario raised in Hamilton and has returned to Hagersville He was appointed Chief of Police in 1971 at the age of 28 and retired in 1999 as Deputy Chief after 33 years active in the police service Warren has volunteered in many areas including Haldimand Scout Council Community Living Haldminand Community Living St Catharines Dunnville Hagersville Norfolk Hospital Foundations Crimestoppers Service Clubs Church Groups and all levels of Federal Provincial Municipal Government Agencies across the province Greg Van Berkel Director Westminster Mutual Greg grew up near a farm in Kerwood Ontario and has lived in Dorchester for the past 18 years He is a Lawyer Partner at Nebitt Coulter LLP and he has volunteered in many areas including Western Law Games committee Music Reigns Kings College Grand Theatre fundraiser in London Family Service London now Family Service Thames Valley coaching youth sports in London and speaking mentoring at various schools pg 28
Page 29
pg. 29Continued on the Next PageWhat pushed you to be a volunteer?Jacquie: You only get out of life or the community what you put into it. I'm passionate about the community that we live in.Dan: I grew up with parents and grandparents volunteering with church and organizations in our community. (The same for my wife's family). It was a natural progression for us to follow suit. My grandfather said it was my duty and an honour to be giving back to our communities.Warren: I was raised in a family that was supportive and giving, with parents active in their community through volunteering for Scouts, Cubs, Church, Men's Club, Recreational Facilities.Greg: My initial forays into volunteering as a young adult was mainly prompted by expectations established by the law rm at which I was practicing. Giving back through volunteering was encouraged. After starting our family, more local opportunities presented themselves. I quickly learned that there was always too much to do and not enough people to do it, especially in minor/youth sports. An offer to help with a team turned into becoming the head coach despite a lack of experience (and, frankly, skill). It was so rewarding to work with the players and to get to know the parents that I just kept doing it. Becoming part of the boards for soccer and hockey, often while coaching, etc (as many parents do) was a logical extension, and actually t my skill set better. Over time, the main motivator was to build and strengthen the foundations of the organizations, from which they could continue to build and better serve the kids in our community.What skills did you bring to the organizations you volunteered with?Jacquie: I bring dedication to whatever the cause.Dan: Through my education and work practices I have the opportunity to use a number of job skills on a daily basis that can help with my volunteer work (eg. project management, customer service, marketing and employee development).Warren: My skills developed over time and in part because of personal character to want to be involved and help. I like people and am a good communicator.Greg: Initially, the only skill was being a warm body. Being willing to step up is really the most important thing and the rest can ow from there. Eventually, I think my analytical legal skills, the ability to be objective and somewhat dispassionate for the good of the organization as a whole, and my foresight were strengths that helped during my time on the boards.What drew you the organizations you volunteered with?Jacquie: I was drawn to various organizations based on my children's' interests. The people involved then became our network of friends. The people involved were like-minded, interested in the cause, and the importance of the particular organization. Supporting the next generation is key for our communities in the future. Also, educating the public about rural living has always been a passion of mine, so I welcome the chance to get involved in those types of programs.Dan: Again, our family, grandparents, and parents volunteered and it was expected I follow suit. I did with church and re department but eventually found Ducks Unlimited to be a way for me to positively affect our environment by empowering current and future generations to invest in our environment. It furthered my resolve that people make for strong communities, prots provide for stable economies and the planet will provide a suitable future.
Page 30
pg. 30Warren: I was drawn to at an early time in my adult life to Community Living Haldimand (formerly Haldimand Association for the Developmentally Challenged) and Scouting. The other organizations requested my help due to my active community volunteer leadership and, for the most part, successful results.Greg: My kids and their friends, and knowing that I could help to positively contribute to something so important in their lives, were the initial draws for the minor sports organizations. Once involved, then learning about the organization, discovering and dealing with the challenges faced by the boards at various times and the connections made with other volunteers and participants drew me in further.What do you consider the most challenging aspect of volunteering is and how did you overcome it?Jacquie: It can be challenging to nd common ground with people with different perspectives. I don't want to crush anyone's volunteerism goals. Change is also difcult for most people but it is necessary.Dan: There is always anxiety when volunteering (Is this an "old boys club"? Do they share the same goals/values I may have? Can I afford the time/effort? What did I get myself into?) But the old saying, "don't watch the wooded spokes on the wheels go around, just reach in and grab one" is true. Overcome those aspects by diving in and getting involved.Warren: Getting others interested in volunteering has, at times been a challenge. However, if the people recognize their volunteer contribution is for the good of the community such as recreational/sports parks, Hospital additions/equipment, Community/Arena Projects, hosting International Events such as Sports Tournaments, Ploughing Matches, RCMP Musical Ride etc, they will sign up. Moving forward, it will become more difcult as we see the state of our economy, coming out of a Pandemic, and rising costs of living all drastically affecting the spirit and will to volunteer. This is most evident in our Service Clubs and Churches etc.Greg: The biggest challenge is nding and motivating volunteers, including those who can replace you when your time is done. Building and fostering relationships and constantly working on the reputation of the board/organization help to address the challenges. Also, developing foundational by-laws and policies/procedures for an organization from scratch, and getting them approved and regularly reviewed. What has been your biggest accomplishment as a volunteer?Jacquie: As Chair of IPM 2017, I rallied the county residents, businesses, and governments to support the need to showcase Huron County to our visitors. The volunteers and businesses really grew a sense of pride in our county. Because of the engagement of all partners, it was very successful and we were able to give monetary donations to several dozen non-prot groups and to the hospitals, hospices, food bank distribution centre and develop a legacy fund for post secondary students. If our investment holds, there will be six or seven recipients awarded each year for 25 years.Dan: All of them have been accomplishments, but one that still astonishes me is the East Elgin Secondary School "Under the lights" fundraising campaign. Our local high school wanted to have football games Friday nights, under the lights. What started out as a rather simple idea mushroomed and despite School Board reluctance, and neighbourhood and funding concerns, it turned into a resounding success, due to efforts and monies donated by numerous groups and individuals. Our rst game under the lights drew close to a 1,000 people! Simply amazing.Warren: The most rewarding was a three-year fundraising project to construct the Jennie Deagle Complex on River Road for Community Living Haldimand. This was a major initiative at a cost of over $634,000 with no funding from the Federal, Provincial, or Regional Governments. It was the people, contractors, suppliers etc. who stepped up to build it! My second choice would be the infamous "Mud Match" of 1996 (IPM).Greg: It is always rewarding to foster the interests and passions of young people in my community. These sports and events really do bring people together.
Page 31
pg. 31What has been your toughest challenge when volunteering?Jacquie: It's always tough to restrict passionate volunteers from realizing their dream because of budgetary restraints. However, working as a team, we enable people to lead.Dan: Finding the time and energy.Warren: To encourage people and/or recruit people to "get involved" - more so moving forward. Committing to a project, big or small, the challenge is to get people to buy in with the same vision, excitement, willingness that you possess.Greg: Having to step into the president role after only months with the board was a big challenge. Trying to keep kids engaged in and playing sports safely, while still developing their skills through the pandemic was a unique and more recent challenge. However, the biggest one has always been trying to navigate the complexities of dealing with hockey parents, especially in a small town. Friendships can suffer when people have a myopic focus in the moment.How has volunteering impacted your life?Jacquie: I have developed lifelong friendships, increased my quality of life, and gained pride in making a difference.Dan: Volunteering is good for me and my family, good for my community, and good for the planet.Warren: The quick answer is it's meaningful, powerful, and inspiring with a wonderful sense of accomplishment. I have always stated publicly in reference to my over 50 years volunteering for C.L.H, and Mrs. Deagle, "The clients give more to me than I could ever give to them!"Greg: It has been incredibly rewarding. I'm sure that sounds cliché. Any negative thoughts go out the window when you see kids playing their sport with huge grins on their faces or when you get to hand them a championship medal or trophy – that re-focuses you on what it is all about.What impact has your volunteering had on your community?Jacquie: To date, Huron County is still living on the honeymoon of hosting the 2017 IPM with new friendships from all corners of the county, new business opportunities, and welcoming return visitors. A community is only as good as the people that live in it. It is up to the residents to make a difference in the area that they live in.Dan: It's hard to measure one person's impact, but if there are many involved, more will get involved (success breeds success) and the result is more impact accomplished.Warren: Hopefully a profound and meaningful impact which I suspect is measured by the community itself.Greg: In a small community, hockey in particular can be a big part of the social fabric. I was fortunate enough to be involved for many years and to watch the impact of the work done on individuals, teams, and the community at large.What would you say to someone who is considering volunteering?Jacquie: It is a life changer---it brings value to your life—you get from life whatever you put into it.Dan: I would say, nd something you are passionate about, research it and volunteer, regardless of your perceived value….you will never regret it.Warren: Great! Do your best! Give it your best effort and don't be discouraged. It can change and enrich your life. Greg: Just do it. Don't think about it. Don't worry if you have enough time, or skill, or whatever. Getting over the hurdle of inertia is the hardest part. Once you put your hand up and say that you will help, the rest will come and you will never regret it.
Page 32
pg. 32Appointments& PositionsChangesTransforming the MutualsCayuga MutualWe would like to announce that Renee Wardell has recently been appointed Sales Team Manager. Renee joined us in 2013 as a Property Underwriter. As a valued team member, with over 30 years' experience in the insurance industry, Renee's skills make her perfect for the role. We look forward to her success in the new role. Congratulations, Renee.No stranger to Cayuga Mutual, having come on board in 2019 as our Claims Manager, Paul Tiller has recently accepted the additional role as our Chief Operations Ofcer. With an FCIP with a Claims Management major, a Fellow of Chartered Loss Adjusters and Fellow of the International Federation of Adjusters Association, we await with pleasure, Paul's continued success.Joining the Cayuga Mutual team in 2021 as a Systems Administrator, Myles Tonnies has recently taken on the role of Chief Information Ofcer. With over 14 years' in the Information Technology eld, Myles' experience as an IT Manager with a strong technical foundation, assure we will see his continued success here at Cayuga Mutual. Congratulations, Myles. Halwell MutualJoin us in congratulating Camryn Ferguson on her promotion and her move into a permanent role at Halwell! Camryn started here in a contract Administrative role in May 2021 and the value she brought to the team was extraordinary. We're lucky to say that she is staying on in a permanent role as Operations Coordinator, in which she'll continue to provide support in the areas of Admin, Internal and External Communications, and more. She is looking forward to continuing to grow her skill set and her career!
Page 33
pg. 33Dumfries MutualOn July 13, 2022, our Board of Directors announced President & CEO, Shelley Sutton's successor, Rocco Neglia, who started with us on September 6. Rocco brings a wealth of expertise with over 35 years' Property & Casualty insurance industry experience. Rocco's most recent position was with Heartland Farm Mutual where he held the position of Vice President, Claims & Loss Prevention. Four weeks into his new job, we had the pleasure of sitting down with Rocco to get to know him better. Here are some highlights from that conversation:Q: Why did you want to be CEO of Dumfries Mutual?A: To help Dumfries continue on the right path. To help build a stronger team so that we can take on new challenges with resilience and optimism.Q: What inspired you to begin a career in insurance?A: When I started in insurance, it wasn't necessarily the industry of choice. I am so delighted that I fell into the right industry. In what other industry is the purpose for being to provide nancial security to those who are in need resulting from a loss or accident? How cool is that?Q: What motivates you?A: To be a good person in all facets! We are all living in a chaotic world, we need to savour and enjoy each day as it comes.Q: What are you most proud of regarding the company?A: Dumfries is a great workplace! It's an honour to be a part of it.Q: Having completed your rst month, what surprised you most about Dumfries?A: Not so much of a surprise about Dumfries, the great warm welcome I received by all the employees.Q: Anything you'd like to say to our policyholders?A: Historically, looking at what Dumfries represents – people coming together to pool their resources to help each other. This concept and ownership of a mutual insurance company vesting with its policyholder, remains as relevant today as it has ever done. At Dumfries, we are proud to carry on with this tradition.West Wawanosh MutualWest Wawanosh Mutual Insurance (WWMIC) is pleased to announce the appointment of Joshua Slaght as our new Director of Operations. This is a new role for WWMIC and integral to the continued growth and prosperity of the organization. Joshua brings tremendous experience to the WWMIC team with over 30 years in the insurance business. The bulk of his career has been spent in progressive leadership roles within Economical Insurance. Joshua's most recent position was Vice President of Claims Operations where he led a team of approximately 450 staff members. His "roll up your sleeves" attitude coupled with his hands-on experience as an adjuster working in the eld, to strong claims adjudication, HR and risk, position Joshua as both a tremendous t and asset to WWMIC. Joshua also holds his FCIP.Joshua lives in Deneld, Ontario with his wife and two children and is active in his community. Joshua embodies the value of relationships rst in how he works and lives and we are delighted that he has joined WWMIC team.
Page 34
pg. 34Farm Mutual Re Howard MutualKristyn Curran accepted a full-time position with the Business Operations team in July. Most recently, Kristyn has been a part of the Reinsurance team on contract as a Technical Assistant.Howard is pleased to announce Laura Feetham's transfer from Customer Service Associate to Customer Service Representative at the Ridgetown ofce. Laura will join the Sales team to provide assistance to our busy Agents. Laura's proven ability for collecting detailed information and her customer service skillset will be an asset to her new team. Congratulations, Laura!We're pleased to announce that Heather Simpson transfered from Customer Service Representative to Agent effective October 14. Heather started her career at Howard in January of 2019 at reception. Heather's ability to provide great customer service to our policyholders led her to the sales team as CSR in 2021. Congratulations on your achievement, Heather! We're happy to announce Vanessa Sloan's transition from Junior Underwriter to Intermediate Multi-Line Underwriter.Vanessa joined Howard in 2019 and has been working toward her CIP designation.Please join us in congratulating Vanessa on her achievement and wishing her all the best in her new role!The IT Department promoted Henry Wouda to Interim Development Team Lead in August. Henry has been with Farm Mutual Re since February 2008, where he began as a Senior Programmer Analyst. Over the years, Henry took on the role of Senior Software Developer and he has become an expert in many functions within the IT team. Henry has accumulated tremendous technical expertise and business knowledge throughout his tenure at Farm Mutual Re. This knowledge and expertise have been instrumental to the Synergy 2 and OnBase projects.Heartland MutualHeartland would like to celebrate the following employees as they step into new roles with the company. We're looking forward to your continued success!Marc Inns, ControllerPromila Mehta, Claims RepresentativeAmit Shingala, Junior Network AdministratorRish Marwaha, Junior Network AdministratorNathan Bentley, Field Claims Representative
Page 35
pg. 35Carleton-Fundy MutualCarleton-Fundy Mutual Insurance Company would like to announce the appointment of Jamie McDougall as President and CEO effective October 3, 2022. Jamie's background includes over 20 years of industry experience, with more than 15 as the senior executive accountable for critical operational teams including Underwriting, Claims, Brokering, and Business Intelligence & Analytics. Growing up in New Brunswick, Jamie attended the University of New Brunswick for his undergraduate degree and has an MBA from the Haskayne School of Business at the University of Calgary. Jamie is a strong advocate for the mutual Insurance system and brings an extensive skillset to the Carleton-Fundy team.Jamie joined the staff of Gore in 2000 and quickly became a Director within claims, and then Vice President of Claims in 2004. He transitioned to lead the personal underwriting team in both Ontario and British Columbia in 2007 and also has experience leading a commercial underwriting team, and building Gore's advanced analytics and actuarial pricing capabilities. Jamie served on numerous executive management committees including Investment, Audit and Risk Management, and Pension. Following his time at Gore, Jamie joined Aon's reinsurance brokering team in Toronto, but an opportunity to join a local brokerage close to home arose and he jumped at the chance to lead a personal insurance brokerage, wealth management team, and pension consulting operation.In reference to the appointment, Jamie McDougall commented: "I'm very excited to be returning to New Brunswick and joining the team at Carleton-Fundy. I believe strongly in the purpose-based approach of mutual insurance companies, and I'm looking forward to working with the team and the Board of Directors to continue to deliver exceptional insurance solutions to our members."Make sense ofthe path aheadThe decisions your policy holders make now will define their future.While you support them, MNP is here to support you with accounting and investigative expertise – plus the latest insights to navigate these uncertain times, and strategies that get results.Jas Chahal, CPA, CA | 289.293.2371 | jas.chahal@mnp.caMNP.ca
Page 36
pg. 36MilestonesRecognizing Mutual Members' Signicant AnniversariesErie MutualWe appreciate the efforts and devotion of those who have served our Board for many years.Erie Mutual wishes to congratulate Robert Diwell (left) and David Lindsay (right) for reaching signicant milestones on our Board of Directors as of 2022. Robert Diwell began on the Board on February 12, 1982, and is celebrating his 40th year in 2022. David Lindsay has some catching up to do, he started on the Board on February 28, 1997, and celebrates his 25th year in 2022. Thank you both for your continued commitment and dedication to Erie Mutual Insurance and our members. Heartland Farm MutualJoin us in celebrating the following employees on their career milestones:Melanie Buhrow, Commercial Auto Underwriting, celebrates 10 years and Lianne Grohmann, Personal Lines Underwriting, celebrates 20 years.Special mention to Leanne Yue, Analytics, who celebrates 5 years.Thank you all for your dedication to the important work you do at Heartland Mutual.West Elgin MutualCongratulations to Paul McWilliam who celebrated 35 years with West Elgin Mutual on August 28th, Sandra Leys who celebrated 35 years on October 26th and to Serge Lebedz who will celebrate 35 years on January 1st, 2023. Paul, Sandra and Serge – thank you for your hard work and dedication!Paul McWilliam Serge LebedzSandra Leys
Page 37
pg. 37AccomplishmentsCongratulating Mutual Members on Their Professional DevelopmentAxiom MutualCongratulations to AXIOM Mutual Director, Laurie Bruvall, who received her Mutual Director Certicate in Dallas, Texas, at the September NAMIC Convention.NAMIC'S Mutual Director Certication (MDC) program is designed to educate current and aspiring directors about mutuality and the roles and responsibilities of board members of a mutual insurance company. Participants who achieve certication will be recognized as industry-leading directors, demonstrating their commitment to mutual values, ongoing education, and boardroom excellence.Ayr Farmers MutualCongratulations to Ayr Farmer Mutual Accounting Staff member Ashley Seth who successfully passed her nal exam for obtaining her CPA (Chartered Professional Accountant) designation! Ashley worked tirelessly studying over the course of the last year and wrote the three-day exam in May 2022. Ashley passed all three sections, which is a tremendous accomplishment! Please join us in congratulating Ashley on completing this major milestone in her career as a professional accountant.Heartland Farm Mutual
Page 38
pg. 38Ayr Farmers MutualHowick MutualAfter a few years off, the Ayr Farmers Mutual Team had a booth at this years Canada's Outdoor Farm Show. It was great to be back and to get out and say hi to the other mutuals, policyholders, and show-goers.A warm September day brought out brokers far and wide to participate in a "Country Fair" themed broker appreciation day. Music, games, food trucks and fellowship were enjoyed by all. It was a great to see everyone out in their country attire!Farm Mutual ReFarm Mutual Re staff took in a special lunch for learning and commemoration where they watched educational videos to highlight the signicance of National Day of Truth and Reconciliation.Other News & Events
Page 39
pg. 39We proudly held our internal name change kickoff party for the employees and directors at Widder Station. Pictured above: COO, Rob Pearson, as the rst recipient of the AXIOM swag bags to celebrate. Rob greeted all participants as they arrived at the event.Axiom MutualAXIOM. A Mutual Evolution.CONTACT US TODAYZURICH 519 236 4381STRATHROY 519 246 1132info@axiommutual.ca axiommutual.caAXIOM Mutual Insurance is the evolution of H T & C Mutual Insurance, formerly Hay Mutual and Town & Country Mutual Insurance Companies. We are the same people with a new name that exemplies who we are, moving forward together with the same strong focus on customer service and reliability. We are here to serve you and the Community you live in with an unwavering commitment that holds true and strong, today and tomorrow. Look for AXIOM Mutual Insurance supporting our Members and the Communities of Huron, Middlesex, Perth, Lambton and Elgin.It's strong. It's true. And it's yours.We also held a "Meet the Team" night at Spencer Ivy Hall where we enjoyed a relaxed evening of food, drinks, a jazz band and fellowship with our team and industry partners. The photo below shows the take-aways: blue spruce tree seedlings – Strongly Rooted and Growing Together!AXIOM Mutual attended the "Meet the Industry" night held by the Insurance Institute of Ontario, LCA and LIBA. The event was attended by over 270 people across the Southwestern Ontario Chapter.
Page 40
pg. 40For Your Interest...A Look Back at Mutual HistoryWe recently came across a well researched article about the demise of a much admired farm mutual during the early days of the Great Depression. As complicated as today's world is, there have always been challenges for insurers. Perhaps some of those lessons learned have contributed to building and strengthening today's mutual system and our common purpose through OMIA, Farm Mutual Re, and the Fire Mutuals Guarantee Fund. Our thanks to the Estate of Dr. Stephen Thorning, for permission to reprint this article.Armed with an insatiable curiosity about the place he called home, renowned local historian Dr Stephen Thorning began researching and writing a weekly newspaper column on the history of the communities of Wellington County Elora in1990 and continued until his passing in 2017. The manuscript of a scholarly history of Elora was found in Dr Thorning's study after his untimely passing. This work will be published by the Wellington County Historical Society in 2023.A feature of the nineteenth century rural economy was the local mutual re insurance company.Most of those were organized to serve farmers in a single township. The earliest in Wellington County and the neighbouring areas dated to the 1850s.The local mutual companies attempted to keep their administration costs, and their premiums, as low as possible. As mutual companies, they were owned by their policy holders. There was no full-time staff, and premiums could vary a great deal from year to year, depending on the losses and payouts made during the previous year.In the long run, the most successful of the local mutual companies has been the Peel Maryborough Mutual Insurance Company, (Edge Mutual since 2015), based in Drayton. Formed in 1887, this rm enjoyed signicant growth over the years. It now has a full-time professional staff, policy holders across the province, and annual income from premiums exceeding $12-million per year (as of 2009).The Peel Maryborough Company, though, is a rarity, a survivor of what was once a signicant sector of the insurance business. One by one, the other local companies fell by the wayside. A few were wound up, but most were taken over by larger rms. Their strengths – local service and low premiums – were also their weaknesses when a rash of claims sapped their nancial resources.One of the casualties in the local insurance business was the Nichol Mutual Fire Insurance Company. Few readers will remember it, because it ceased to exist in 1931.The Nichol Mutual was one of the earlier insurance companies in this area, dating to 1860. The organizers were some of the important farmers and businessmen in Nichol and the western part of Garafraxa Townships. Alexander Watt, who operated a huge farm on the northern edge of Salem, was the rst president. Directors included David Allan, the Salem storekeeper, Sem Wissler, the founder of Salem, and well-known farmers such as A.F. Sherratt, John Brockie, and William Robinson.John Beattie served as secretary-treasurer for many years. Initially a farmer, he moved to Fergus in 1871, and four years later was appointed clerk of Wellington County. Over the years, the group of directors was a stable one. Several served for decades, and all, of course, were policy holders.Growth of the company was slow and cautious. At its 1885 meeting, after 25 years in business, there were 1,611 policies in force, insuring property valued at $2,100,000. Premiums were low that year. During 1884 there had been 11 claims, but the total loss amounted to only $3,100.Major claims on the company were infrequent. The minutes of the annual meetings of the company make for very boring reading. The company provided solid insurance coverage to policy holders, mainly farmers in Nichol and West Garafraxa, at rates that were as low as possible.Fortunes for the company began to turn in 1928. A series of mysterious barn res began that year. There were a number of them across the county, but they seemed to be concentrated in Nichol and especially so in West Garafraxa. The rash of res ended after a few years, but there were no arrests or solid leads that might allow police to identify the perpetrators.For three years the Nichol Mutual paid out record claims. The payments quickly depleted the cash reserves of the company.NICHOL MUTUAL INSURANCE COMPANY FOLDED IN 1931
Page 41
pg. 41As a consequence, annual premiums rose in 1929 and 1930. As well, there were two extra assessments on policy holders to meet the claims payouts.Soon the Nichol Mutual's rates were higher than other insurance options. That led to the cancellation of dozens of policies, as farmers sought the best deals they could nd. Consequently, the directors met several times in late 1930 to discuss their options.W.L. Deans was president that year. He called several meetings of the directors during the fall of 1930. Based on the current trends, only two options seemed viable for the company. Neither was attractive to the directors nor to the majority of policy holders, but there were no other courses that would put the company on a solid footing. They could either wind down the business and dissolve the company, or merge their business with that of a larger and more stable company. The latter course seemed to be the best, causing the least disruption and inconvenience to the policy holders.Discussions with several larger insurance companies followed. The directors concluded that it would be unwise to merge with any of the other remaining local mutual companies, most of which were also weak and vulnerable to the same situation that had put the Nichol Mutual in its unsustainable situation.The directors concluded that the Wawanesa Mutual Insurance Company was their best prospect.They liked the idea that it was a mutual company, run for the benet of its policy holders rather than outside stockholders. It was also a very strong company, at the time the largest re insurance company in Canada. There were other factors that spoke well for the company. It had a wide range of insurance policies, not just agricultural, over a wide geographic area.That spread the risk should there be large claims in a specic area, such as those that had led to the Nichol Mutual's troubles.As well, the company had large cash reserves, and a re-insurance agreement through Lloyd's of London that provided a cushion in the event of a catastrophic cluster of claims.W.L. Deans and secretary James Beattie – son of the original secretary – presented the proposed takeover at the 1931 annual meeting of the company, held at the Fergus library on February 21, 1931. It was a Saturday, and attendance was large. After dealing with the reports for the previous year, Deans explained the agreement and the reasons for it.The document had been ironed out by the directors, Wawanesa ofcials, and the provincial Superintendent of Insurance, who was also present.James Beattie then read the agreement. It authorized the Wawanesa Company to re-insure all current policies of the Nichol Mutual company effective January 1, 1932, and instructed the directors to take all measures necessary to turn the business over to the Wawanesa.The policy holders approved the agreement with little discussion or debate. Approval of a bylaw authorizing the agreement followed. That was the last ofcial act by the board.Howell Smith of the Wawanesa Company then rose and read a lengthy address, outlining the nature of the business of his rm and its strengths. He reinforced the good service and reasonable rates offered by a mutual company, run in the interests of the policy holders. His words helped to sooth the feelings of the policy holders, virtually all of whom would have preferred to remain independent. When Smith sat down, Deans accepted the nal motion, to adjourn for the last time.The end had come quickly, with the same quiet efciency that had characterized the company during its 70 years of existence. Many of those present were sons and grandsons of the founders and rst policy holders of the company.In his editorial marking the end of the Nichol Mutual, Fergus editor Hugh Templin observed that, "It seems too bad that a local company such as the Nichol had to give up after years of success."Though gone for close to a century, old Nichol Mutual policies are still prized keepsakes in a number of local households.The 1905 annual report for Nichol Insurance. Wellington County Museum and Archives, A2002.87, David M. Beattie Collection, Series 8, Item 9.
Page 42
pg. 42Lambton MutualAgent & Broker Appreciation Day Golf Tournament 2022!Thank you to all the employees, directors, agents and brokers who attended the annual Lambton Mutual Agent & Broker Appreciation Day Golf Tournament. We enjoyed a relaxing day; playing golf and socializing with our fellow colleagues, agents and brokers at Widder Station Golf Course.Middlesex MutualMiddlesex Mutual was pleased to sponsor a booth at the 2022 Ilderton Fall Fair and celebrate the agricultural lifestyle! After three years we were thrilled to be back and support this event which provides an opportunity for us to connect with current policyholders and meet community members. Each day of the fair featured a different Agent who came out and represented the Company. Over the weekend, Middlesex Mutual staff also volunteered and handed out hundreds of fresh local apples to fairgoers. DIGITIZE YOUR GROWTHConnect to your customers in a whole new wayLet's talk about how we can help accelerate your digital growth. BOOK A DEMO www.gocognition.com/omia-bookdemoIntegrate every part of your P&C business and deliver the best customer experience with one Enterprise Insurance Platform, Cognition+.
Page 43
pg. 43L&A MutualL&A Mutual Insurance proudly welcomed mutual agents from across the province to our new head ofce in Napanee, Ontario on September 13 & 14. This has been a vision and goal for our President, Mike Salmon for a very long time and we're so pleased to have seen it come to life. This was a two-day professional development conference that provided an opportunity for agents to expand upon critical skills and share insights and experience with their colleagues. The goal of the event was to create a venue for agents all over the mutual system to learn from each other, while having fun, to improve sales performance. The event featured guest speakers, great food, and live entertainment. Core topics were marketing strategies, sales skills, sales psychology, and regulatory compliance. Thank you to everyone that made our event a success!Maple MutualAgents, Directors and Staff of Maple Mutual came together to celebrate Thanksgiving. Awesome food, awesome time had by all.Usborne & Hibbert MutualOn September 7th employees, directors, agents and brokers had a fantastic day at the White Squirrel Golf Club just outside of Zurich. It was great to once again meet in person for the annual event and enjoy a round of golf and a delicious dinner on the patio.
Page 44
pg. 44Trillium MutualOn August 24, Trillium Mutual and The Listowel Agricultural Society hosted an evening with Kaleb Dahlgreen. Kaleb is one of the survivors of the Humboldt Broncos tragedy. He spoke on his story of determination and perseverance to overcome extreme challenges. His attitude towards the accident, hockey, and his future is truly an inspiration. Kaleb's story is told in his book, "CrossRoads: My Story of Tragedy & Resilience as a Humboldt Bronco".The weather is always a challenge in our industry, but that didn't stop about 200 of Trillium's broker partners and staff reconnecting at the Listowel Agricultural Society Fairgrounds in September. We were joined by Owen Riegling Music who was recently named the 2022 Boots & Hearts Emerging Artist Showcase. A huge thanks to all of our brokers and staff for your commitment and adaptability over the last year. It was an incredible evening with great music and company. Thank you to all that attended and celebrated working with an amazing group of people!After a lengthy pandemic related hiatus, the Perth County Mutual Aid Association met at North Perth's Listowel Fire Station and welcomed Trillium Mutual's own Dave Colyn of to present on Risk Management on Farm.We appreciate Perth County Mutual Aid Association's invitation to join their rst live gathering post pandemic. It's great to be together in community and support each other. A special thank you to members of the North Perth, Perth East & West Perth Fire Departments for attending. It was nice to spend time with our neighbours!THE CHOICE IS CLEAR
Page 45
pg. 45United GeneralWe have a new logo/brand that we launched in August. This new logo is a "united" U & G, with the colours representing violet which is the provincial ower of New Brunswick and Sandstone which is found in New Brunswick's Hopewell Rocks and was used in building many of our public buildings during the stone working boom of the 1800s.On September 22/23, United General held it's agent seminar which was an event lled with education, great food and good times! This is an event that celebrates the sales agents from our Mutual Partners, giving us an opportunity to further build our relationship with our sales teams.Howard Mutual & West Elgin MutualAt Special General Meetings on September 7th, 2022, policyholders of both Howard Mutual and West Elgin Mutual agreed to the proposed amalgamation of these two companies. Final FSRA approval has also been received meaning that on January 1st, 2023, we will ofcially become Salus Mutual Insurance Company.Everyone at Howard and West Elgin would like to thank all members of the mutual family for their patience and support, and the input and guidance provided in the lead up to the Special General Meetings. There is a lot of work to do in the coming months to ensure we're ready for the new year, but we have a great team and we know we'll get there!
Page 46
pg. 46West Wawanosh MutualOn September 29, West Wawanosh Mutual held an Open House to showcase our new ofce building in Goderich where Directors and Staff welcomed visitors to tour the state-of-the-art, two story, fully accessible building. Guests included the Honourable Lisa M. Thompson, Minister of Agriculture, Food, and Rural Affairs and MPP (Huron-Bruce), Goderich Mayor, Myles Murdoch and his wife Cathy, several Brokers, policyholders and business partners. We were also delighted to see many of our mutual colleagues. Visitors toured the ofce, enjoyed nibbles and refreshments, engaged with staff and left with some amazing WWMIC swag. West Wawanosh Mutual would like to thank everyone who visited and sent well wishes and gifts.Westminster Mutual Peel MutualWe were happy to support the Farm Mutual Foundation with the purchase of a great night of music from Monday Morning Whiskey in the drive shed of our Director, Dan Boehm. Thank you drummer Chris Serran (Farm Mutual Re Claims Medical Rehab Specialist) for donating your band's talents for our company Social!Peel Mutual would like to thank Hambly Insurance Brokers Ltd. for 100 years of partnership! We wish you continued success.Pictured back row left: Greg Van Berkel, Fred Neukamm, Dan Boehm, Front Row left: Doug Crockett, Christine Van Daele, Tracy Wintermute
Page 47
pg. 47Past, Present, & FutureOntario Mutuals at the IBAO ConventionTogether at ICC GolfHere's a fun photo of current OMIA Chair, Steve Quinn, alongside former Chair, Vern Inglis and upcoming Chair, Kevin Inglis. From left to right, the Present, Past, and Future OMIA Chairs.We were pleased to attend the IBAO Convention in person at the Sheraton Toronto Hotel October 19 and 20. The Ontario Mutuals tradeshow booth was well attended by mutual colleagues and the Hospitality evening was highlighted by a busy Ontario Mutuals suite, hosted by thirteen companies: Axiom, Collectivde, Dufferin, Edge, Germania, Grenville, Halwell, Heartland, Howick, Lambton, McKillop, Trillium, and West Wawanosh. This always popular convention offers a fantastic venue for networking with mutual broker partners. OMIA's Nicole Hackney, Training & Resource Ofcer (second from left) enjoyed a day of golf at the Insurance Institute's Southwestern Chapter Golf Tournament on September 7 with teammates from Lambton Mutual.
Page 48
pg. 482022 Presidents & Managers MeetingBlue Mountains, OntarioThe 2022 President and Managers meeting took place at beautiful Blue Mountain Resort from October 23-25 and hosted approximately 350 delegates who were happy to once again spend time together learning and networking.Our opening keynote speaker, Shane Feldman spoke on community as the answer to every question and the solution to every problem. Recognized by The White House, The Prime Minister of Canada, and The United Nations for his achievements in community leadership, he helps leading brands optimize team culture, leadership, engagement, and retention. Shane's high energy message brought tangible takeaways that we can apply to our life and work.The business session included reports from OMIA Chair, Steve Quinn and OMIA President, John Taylor. Steve Quinn reected on his theme, Our People, Our Communities, A Celebration of Success, and highlighted the many ways our mutual people give of themselves to their communities - spreading the "mutual message" beyond our own ofce walls.John Taylor provided some remarks recognizing, in Seth Godin's terms, the mutuals embodying the ideal of "organizations of humans with a clear measured goal and just enough prot to get there and make a huge impact". He spoke on the challenges the industry faced this year with the Derecho in May and the more recent tropical storm Fiona, sweeping through our eastern provinces. He recognized the many mutuals who were able to free up and send resources to help out. John also touched on the changes coming from FSRA, as well as IRFS 17 readiness, and environmental impacts - and the many resources available to mutuals through the Institute for Catastrophic Loss Reduction.Fire Mutuals Guarantee Fund Chair, Brian Downie provided updates on the Guarantee Fund and Catherine MacLellan gave her Financial Review Committee report including mutual results to June 30, 2022 and comparatives to the mutual's 2022 results and industry results. Tony Ngo, CEO of Collectivde provided a brief updates on their progress and recent broker acquisitions.Following the business meeting, the afternoon program included three guest speakers:E&Y experts, Daniel Willmann and Brooke McConville provided a timely session on a critical governance topic: IFRS 17. This session provided directors and senior management with a good overview of what nancial statement users will need to know on the conversion. Ritesh Kotak is a cyber risk expert who has been featured on CTV and CBC News on high prole cyber breach incidents. His session looked at the broader issues of cyber risk and how it affects small businesses who are the key clientele for mutuals. Renowned legal expert, Vince Saccomando walked us through what we need to know on potential coverage gaps and legal challenges arising from accidents in the United States as many of our policyholders begin looking to travel south of the border.Day two featured a panel discussion on "a whole new world in claims". Our panellists Brent Hackett from Crawford and Company, Garth Winterton from The Commonwell Mutual Insurance Group, and David Colyn from Trillium Mutual, spoke about what's new in claims handling, the challenges of 2022 and what we might expect as claims technology moves forward. Keynote, Shane Feldman (right) with OMIA Chair, Steve Quinn and Steve's grandson, JackClaims Panel: David Colyn, John Taylor (moderator), Garth Winterton, and Brent Hackett
Page 49
pg. 49The Farm Mutual Re Information Session included reports from CEO, JP Gagnon and CFO, Amy Butler, as well as a presentation from Chair, Valerie Fehr and an update from Jill Taylor and the Farm Mutual Foundation.An afternoon session featured Justin Ramkishun of J D Power who gave an overview of what's happening in the automotive industry in North America and globally. The automotive industry has been particularly hard hit by COVID-19 from a production and supply standpoint and is also experiencing the transition to new environment and safety technologies. Our closing speaker was Juno Award and Canadian Screen Award-nominated singer-songwriter, Peter Katz, who has spent the past 15 years touring internationally. A gifted storyteller, Katz infused his presentation with songs that spoke of creating our own paths, overcoming obstacles, and nding success.Farm Mutual Re: Chair, Valerie Fehr, President & CEO, JP Gagnon, and CFO, Amy Butler
Page 50
2022 Distinguished Service Award Jim Pinnock Stanley Mutual Each year OMIA presents the Distinguished Service Award to a retired individual from the mutuals who has a made significant contribution over the course of their career to mutuality and the mutual community This award has been presented since 1987 and the previous list of recipients is a who s who of mutual leaders and builders It only makes sense that individuals with this type of commitment don t just retire away from it but continue to embody those values We can learn a lot from their legacies This year we were particularly pleased to recognize a retired mutual leader from outside Ontario Jim Pinnock Unfortunately due to some health challenges Jim and his wife Lorna weren t able to join us at the P M but we were honoured to be able to host Jim s family Jody Pinnock Tara Pinnock McKinnon and Audrey Pinnock as well as Derek MacFarlane Colin Brewer Melissa Coleman and Tammy Ross from Stanley Mutual Stanley Mutual nominated Jim describing him as the face of mutuality in the Maritimes but that wasn t always the case In fact Jim joining Stanley Mutual involved a major career change for him and he jumped into that change wholeheartedly He attributed his success with his early opportunities to seek advice and mentorship from others in the mutual family They helped him hone his insurance skills and better understand how mutual insurance worked Jim in turn channeled that early assistance back into his own willingness to help others beginning their careers Jim was the longtime CEO and President of Stanley Mutual and following his retirement he returned to the board of Stanley Mutual before a sudden stroke forced his relatively recent retirement from the board Jim didn t just keep his efforts in Stanley s backyard but also served on the board of directors of the National Association of Mutual Insurance Companies in the US the United General Insurance Corporation in Fredericton and as a director and chair of Farm Mutual Re his year as Chair was 1995 96 Jim also turned his tremendous energies to making a difference in his home community He served on the Stanley Village Council for eight years and was also on the Board of Directors of Nashwaak Villa He served as President of the local curling club developed and coordinated the local Little Rocks curling program and qualified provincially as a certified curling coach Jim Pinnock back row centre and the FMRP Board For any of you who had the opportunity to work or socialize with Jim I m sure you ll remember his personal warmth genuine interest in people and willingness to pitch in These qualities live on today in those members of the Stanley Mutual team and through the mutual system who were positively influenced by Jim Jim was nominated by Stanley Mutual with support from Farm Mutual Re pg 50
Page 51
pg. 51Course Date & NameNovember 21 & 28 - Additional Session: Board Self Evaluation & CEO Evaluation SessionNovember 22 - Automobile Underwriting RoundtableNovember 22 & 23 - Ontario Mutual Loss Prevention League (OMLPL) Hybrid MeetingNovember 23 - Claims Managers/Adjusters RoundtableNovember 24 - Regulatory Compliance RoundtableNovember 25 - Agent Special Event -Ethics & E&ONovember 28 - December 2 - Accident Benets Certication Course (Module II)Course Date & NameNovember 30 - Covey -The 7 Habits for ManagersDecember 1 - CEO RoundtableDecember 2 - OMAP Q1 Auto Filing Additional SessionDecember 5 - Ethics (All Disciplines) December 7 - IFRS 17 Q&A for Directors (repeat session)December 8 - Sales ProspectingDecember 13 & 14 - Commercial Liability CoverageEducationMap Your Path to Success at OMIASubject to change. Please refer to www.omia.com to review a current calendar of courses offered by OMIA. Click on "Education" and then "Education Calendar." Remember to check out our On Demand eLearning courses! Each member company has a designated administrator who can assist with access to the eLearning website as a user account is required (www.omiaelearning.com).Explore OMIA's Certification Program on the members' website: omia.com.Hover over Education, and click Certication Program
Page 52
pg. 52Dumfries MutualOur current CEO & President, Shelley Sutton, has been at the helm for 30 years! More than two years ago, she announced her intention to retire in 2022. Alas, that time is here. We have a message from Shelley about how she feels about the time nally being here: "It seems impossible to think I've been at the helm of Dumfries for the past 30 years. Throughout that time, I have worked with many excellent people and met some wonderful policyholders. One of the most satisfying aspects of the job over the years has been bringing peace of mind to policyholders during challenging times for them. Knowing that we've been able to serve the policyholders and our communities has given me great satisfaction.Another aspect of the position is working with committed and hard-working individuals. They will continue the legacy of Dumfries long after I am retired. I consider them to be not only colleagues, but also my friends.I know you will be well taken care of in the future as there is a great group of people working to keep your best interests in mind when it comes to your insurance needs. The company is 166 years old. I know it will thrive well into the future!"We are going to miss you, Shelley! We were excited to celebrate you on November 3rd. Congratulations on a well-deserved retirement!South Easthope MutualLinda Stock recently retired from South Easthope Mutual's underwriting department after over 20 years of service to the company. We thank her for her hard work and dedication and wish her all the best in her retirement!Lambton MutualGale Edwards retired from Lambton Mutual after 18 years. Gale began her career in the Underwriting Department where she worked on all property lines of business, including farm. We sent her off with a rousing rendition of Queen's, "We will, we will rock (miss) you", and a fry truck lunch! We thank her for her dedication and wish her all the very best. RetirementsCelebrating Those Who Helped Us Thrive
Page 53
pg. 53Howard MutualIt is with warm wishes that we announce the retirement of Gary Houston. Gary joined Howard Mutual in 1989 as a board member, bringing along his experience as an adjuster in crop insurance. In 1993, Gary took the advice of a seasoned Howard Mutual Agent and applied for the same role with the company. Since then, Gary has been a witness and contributor to the many positive changes throughout the years at Howard. To give you a sense of how things were when Gary started his career with us:• There were about seven staff members.• Agents had no computers (just paper and pens)!• All le forms were on paper (they were photocopied so many times they were blurry).• People wore many hats to get jobs done. Gary is a true picture of what you might see in an ad: the insurance agent sitting at a kitchen table, talking, having coffee, and genuinely enjoying being there with his clients, many describing him as, "very kind, patient, and helpful." During his years as an agent with Howard, Gary has enjoyed getting to know his clients and their families and in most cases, would provide insurance to the next generation when the time came for their families to start their own. "I have had the privilege of working with some lovely clients and staff over the years, and I will have many fond memories to reect on in my retirement." Gary Houston Gary Houston, husband, father, grandfather, choir member, outdoors person, traveler, colleague, friend, and as of November 23, a retired agent with a long-dedicated service to Howard Mutual and their policyholders. We wish Gary and his wife Judy all the best in their next adventures, and we look forward to hearing how Judy's to-do list is shrinking. All the best to you Gary! Sincere congratulations to Tim Parker who, after over 35 years with Howard Mutual, has decided to retire.Tim began his career with Howard in 1987 in accounting and HR. Staff then included ve employees, three agents and one Manager. After twenty years, the accounting department doubled in size with the hire of an Accounting Assistant. Over the years, Howard has continued to grow to 30 employees, 10 agents, and a CEO with two ofces. When Tim started, he manually calculated payroll and paycheques, and hand typed T4s. Tim also fondly recalls having the P&C 1 typed up and mailed to OMIA. Tim was also the Treasurer until 2017 when Howard Mutual hired a CFO. In 2020, Tim went reduced to part-time work, concentrating on month-end work and investments. Tim's last day with Howard Mutual was October 31st.Tim and his wife Marg have retired to Tim's childhood home in Erieau after purchasing it back in 2013. With their cat Gareld, they have a great view of Lake Erie from their home.We wish Tim many happy years of retirement with his wife Marg. You will be greatly missed.
Page 54
pg. 54In MemoriamRemembering Our Mutual Family MembersWayne Kensit Jason GollBrant Mutual is saddened to announce the passing of former director, Wayne Kensit. Wayne was a member of our board from March 2014 to March 2020. He was also a long time member of the Royal Canadian Legion, Branch 461.Wayne was an avid spectator at his grandchildren's sporting and social events. Wayne loved golng, shing and spending time at both the cottage and the trailer. He will be greatly missed by all who knew him.It is with profound sadness that the Howick Mutual Board and Staff share that Jason Goll, our Claims & Loss Prevention Manager passed away suddenly on September 16th at the age of 48. Jason had been part of the Howick team since June 2019.As well as being a skilled adjuster, he was a caring and compassionate leader whose positive attitude had a signicant impact on all of us. He was known and respected by many in the industry as he had a very accomplished 27 year career in insurance. Prior to joining Howick, he was a Senior P&C Adjuster with Intact for 11 years and an Independent Adjuster with Crawford and Company for 12 years. Outside of work, Jason had a passion for restoring all types of vehicles but was especially proud to show off his prized '70 Chevelle SS at car shows on the weekends. Having grown up in Mildmay, he appreciated the uniqueness of "small town" rural Ontario and was happy to be back in the area where he and his wife Sherrie built their dream home, outside of Gowanstown. Jason was a wonderful friend, colleague and co-worker. His calm and quiet demeanor, along with his witty sense of humour will be greatly missed by all who had the pleasure of knowing him. Harold ParkerPeel Mutual is saddened to announce the passing of Harold Parker on September 26th. Harold's association with mutual insurance is long, varied, and valued by all who came to know him during his many years in the mutual system.Harold served as a director with Peel Mutual for 20 years and in doing so followed in the footsteps of his father Mervyn, who also was a Peel director for over 20 years. Harold served as the President of Peel's Board in 2001 and 2002 and also took on the responsibility of acting as the Group 3 OMIA director for nine years. During that time Harold served on numerous committees and became a valued friend of his fellow directors and OMIA staff. He promoted mutuality in both thought and action and inspired others to think mutually as well. Harold was the recipient of OMIA's Distinguished Service Award in 2012. Our sincere condolences to the Parker family.Harold is pictured (left) receiving his Distinguished Service Award from then OMIA Chair, Gordon Smith
Page 55
Page 56
Address: 350 Pinebush Road, Cambridge Ontario N1T 1Z6 (519) 622-9220 Fax: (519) 622-9227Mail: P.O. Box 3187 Cambridge ON N3H 4S6 www.omia.com And keep that news coming!Please send your news, photos, updates and more to marketing@omia.com. OM News can be read online at OMIA.com and sign-in is not necessary. Just visit www.omia.com and pick Ontario Mutuals Newsletter from the menu on the left of the page.READY TO GO GREEN? Please drop us an email if you'd prefer to read your OMNews online and help us save paper and ink. Email marketing@omia.com and we'll be sure that your name is included on the email notication that goes out when a new issue is available.