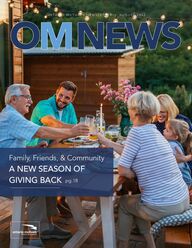 Return to flip book view
OM News August 2022
Page 1
OOMM NEWS NEWSONTARIO MUTUALS NEWSLETTER | AUGUST 2022Family, Friends, & CommunityA NEW SEASON OF GIVING BACKpg.18
Page 2
John Taylor, PresidentOntario Mutual Insurance AssociationOur Mission: To serve and strengthen our mutual insurance community.Our Vision: Grassroots insurance at the core of thriving communities.Mid-year ReectionThe relative calm of summer gives us a good opportunity to reect on the many achievements of our colleagues, our members, and our communities that took place during the whirlwind of winter and spring. These pages always serve to remind us of the incredible connections we've forged, and the mutual successes we share.From a welcome return to in person events, both for professional networking and community giving, to the introduction of new team members, and professional milestones, our mutuals are taking the year in stride and looking ahead to an invigorating fall season. A happy summer indeed. OM News is produced by the Ontario Mutual Insurance Association on behalf of our member and associate member companies.
Page 3
Our Mission: To serve and strengthen our mutual insurance community.Our Vision: Grassroots insurance at the core of thriving communities.OM News is produced by the Ontario Mutual Insurance Association on behalf of our member and associate member companies.A Message from OMIA's ChairSteve Quinn, Cayuga MutualUpcoming EventsA Return to Our Fall In Person ScheduleNew Team MembersWelcoming New Faces to the Mutual SystemMutuals Give BackThis is How We Support Our CommunitiesMeet Our PeopleCelebrating Our Relentless VolunteersAppointments & Position ChangesTransforming the Mutuals MilestonesRecognizing Signicant AnniversariesAccomplishments Congratulating Mutual Members on Their Professional DevelopmentOther News & EventsMore Mutual NewsRetirementsCelebrating Those Who Helped Us ThriveEducation CalendarOMIA Education at-a-glanceIn Memoriam Remembering Our Mutual Family Members3430394045485038OMIn this issue >>August 202245618 2022 Fall Events Return pg.5
Page 4
pg. 4A Message fromOMIA Chair, Steve QuinnWell, here we are halfway through 2022 already. Time, it seems, is ying by. I have thoroughly enjoyed and truly beneted from my rst four months as Chair of your OMIA board. I would like to thank you again for your support and encouragement as I look forward to representing the trade association in the busy months ahead.Back to the subject of time for a moment... I recently read an article discussing the ways to slow down one's perception of time. While a few of these suggestions are better suited for those living the "left coast lifestyle", there are some that are relatable and doable for us back in The Great White North. The philosophies of disconnecting, getting back to nature, and embracing novelty are all achievable and worth exploring, given the demands of the modern world. I would encourage all of us to put our cells away, take a walk in nature, and do something completely out of our normal daily routines! Sky diving anyone?The term "whirlwind" might best describe the adventure the past few months have been as Chair. From meeting our NAMIC friends at the Farm Mutual Forum in St. Louis, to being entertained by our MAMIC members in Moncton NB (as only east coasters can do), to visiting the coolest member ofce around (thank you, Mike S.), to sharing the stage with our fellow OMIA members, North Blenheim and Dufferin Mutual, at the annual OMIA Golf tournament. And, most recently, experiencing the sun and sand at the NAMIC Management Conference in Carlsbad, California. I feel so privileged to have been afforded these opportunities – I have been blessed. I will continue to embrace these experiences and promote the virtues of OMIA and mutuality where and whenever possible. By the way, our President and his lovely wife Linda make for wonderful travelling companions!On a more sombre note, we are all aware of the tragedies being inicted on Ukraine, the current levels of political unrest globally, and economic struggles many people are facing. While some of these and other circumstances have spilled over into Canada, we are so fortunate to live in the best country in the world. We may have differences of opinion, support different political stripes, and even speak different languages, but in the end we look out for one another, care for our fellow neighbour and lend a hand when possible. That's what Canadians do. That's what mutuals do!I would like to thank all of you who have shared your volunteer stories in support of this year's theme. Highlighting our mutual people and the great work they do in their communities seems so appropriate given our efforts to support others. Thus far, the OM News has featured two of our relentless volunteers – in this issue you will meet a few more. We ask for and encourage you to help us in spotlighting our mutual people in the coming issues and throughout the remainder of 2022.Respectfully,Steve Quinn
Page 5
pg. 5OMIA is pleased to represent the Ontario Mutuals brand at signicant community and industry events. This fall, the in person shows are back! Please see below for the details.Please write to marketing@omia.com if you have any questions about our upcoming events.Upcoming EventsCANADA'S OUTDOOR FARM SHOW www.outdoorfarmshow.comFor over 25 years, farmers have attended Canada's Outdoor Farm Show to learn about the newest and most innovative products and technology in agriculture.The full-scale outdoor farm show returns September 13th to 15th, 2022in Woodstock, Ontario.IBAO CONVENTION www.ibao.orgThis Convention is a highly anticipated educational and networking event for Ontario brokers and industry partners. We will have a presence at the tradeshow and hospitality night.More details to come!October 19th and 20th, 2022in Toronto, Ontario.THE INTERNATIONAL PLOWING MATCH www.plowingmatch.orgThe IPM is a celebration of agriculture and rural living. There are a range of activities for people of all ages, numerous opportunities to learn about agriculture, and near-constant live entertainment.Ontario Mutuals is a proud Presenting Partner! September 20th to 24th, 2022Kemptville, OntarioPRESIDENTS & MANAGERS MEETING www.omia.comMembers will hear updates from OMIA, Farm Mutual Re, and The Fire Mutuals Guarantee Fund, and will take part in a variety of important education and networking sessions.More details to come! October 23rd to 25th, 2022The Blue Mountains, Ontario
Page 6
New Team Members Welcoming New Faces to the Mutual System Over the past two and a half years the Canadian work force and Canadian employers have weathered both tremendous uncertainty and opportunity Like all organizations mutuals need good people to deliver on the mutual promise to policyholders It has not been easy building out our teams in this environment but on the pages that follow you will see an unprecedented hiring boom and a record number of promising new team members A warm mutual welcome to all Dufferin Mutual Dufferin Mutual is happy to welcome Taylor Cunningham to the team as Accounting Office Administrator Taylor has worked in the accounting field in the collision industry since her graduation from Carleton University and enjoys spending her time with her daughter and family We look forward to working with you Taylor Welcome Cassie Galbraith to the Dufferin Mutual family Cassie is taking on the role of Underwriting Assistant and we re very pleased to have her Cassie graduated from Office Administration at Georgian College on the Deans list and she enjoys sports traveling and the outdoors Welcome to the team Cassie Erie Mutual Erie Mutual is excited to announce the addition of Denise Thorkildsen to our team Denise has a wealth of knowledge and experience in the commercial insurance sector and will be a tremendous asset to our Member Experience Department in her role as Specialist Team Account Manager Welcome to Team Erie Denise Erie Mutual Summer Student We re also pleased to announce the addition of Michelle Hamilton to the role of Account Executive in our Member Experience Department Michelle is a welcomed addition to our team She prides herself on being a highly efficient insurance professional who will provide a high level of service to our members She is a University of Guelph Media Studies graduate and is currently working towards her CIP Welcome to Team Erie Michelle Please join us in welcoming Chloe LeBlanc to Team Erie Chloe has joined us as a summer student and will be busy helping the Claims Department with administrative tasks before getting back to her studies in the fall pg 6
Page 7
pg. 7Rob Moir joined CTM on June20th after accepting the position ofIntermediate Accountant. Rob lives inthe London area and will be workingout of our Kilworth Ofce. Robattended Fanshawe College, earningdiplomas in Accounting and Chain/Logistics Management.Chris Chaves joined CTM in January2022 as a Junior Accounting Assistant.Chris attended Conestoga College,where he completed an AccountingDiploma Program. Chris recentlymoved to the Simcoe area andcelebrated becoming a dad for therst time.Welcome to Max Ongaro, who wasborn and raised in Haldimand-Norfolkand joined CTM at Reception in Marchof 2022. Max is new to the insuranceindustry but is looking forward to along-term career in the insurance eldwith CTM.We welcomed Emily Van Daele toCTM in late 2021 as Controller &Treasurer. Emily grew up in Belmontand currently lives in London, Ontario.She earned an Honours Bachelorof Commerce Degree at McMasterUniversity. She has also obtained herCPA, CA accounting designation.Prior to coming to work for CTM, Emily spent six yearsworking at KPMG in the audit department.Sharlene Pimentel has accepted theposition of Document FulllmentAdministrator (DFA) in CorporateServices. This is a new position atCTM designed to give support toall departments. Sharlene was born,raised, and still resides in the Simcoearea with her two children and lovesspending time with family and friends. Having studiedat Fanshawe College, Sharlene is an experienced ofceadministrator, having worked for over a decade at anaccounting rm in Simcoe.Vanessa Pimentel Joined CTM in Mayto assist the Underwriting Departmentas a Junior Underwriter. Vanessa wasborn and raised in Simcoe/NorfolkCounty and resided there until shemoved to attend the University ofGuelph. Vanessa's focus of study is inApplied Human Nutrition. Vanessarecently moved back home to live in Simcoe/NorfolkCounty, where she enjoys spending time with family andfriends.CTM Insurance

Page 8
pg. 8Welcome to Abel Pinto, our newest Agent. Born and raised in Kitchener-Waterloo, Abel currently lives in Kitchener with his wife, their two children, and their very busy Boston Terrier. Abel comes to us with over 15 years of experience in customer facing roles. For the last 13 years, Abel worked in sales and marketing in the safety industry. He is very excited to join AFM!We're pleased to welcome Allison Gordon to the role of Personal Lines Underwriter. Allison resides in Woodstock with her husband, daughter, and their two dogs. Allison has over 10 years' experience in the insurance industry and a passion for underwriting, specically. We look forward to having Allison on the AFM team.Welcome, Bobbi Chapman to the Ayr Farmers Mutual team in the role of Business Development Coach. Bobbi lives in Woodstock with her husband and three kids. Bobbi has a broad range of experience, including as an Agent Advisor with The Co-operators for over 10 years where she gained valuable experience with Guidewire. In her role with AFM, she will be helping coach and train new agents. Bobbi is really looking forward to 'the mutual way' of caring for our Policyholders.We're pleased to welcome Julia Leach to the AFM team in the role of Ofce Administrator (Co-op) where she will be providing administrative support while offering coverage for Ofce Assistant and Reception duties. Julia's family are long time policyholders, originally from the Glen Morris area. Currently in her third year at Western University, Julia is pursuing a Bachelor of Management and Organizational Studies with a Specialization in Consumer Behaviour. We're also pleased to introduce Emily Delgauw, Co-op student, in the role of Claims Administrator. Emily currently lives in Ayr and is enrolled in the Bachelor of Business Administration – International Business Management Program at Conestoga College. Emily is passionate about customer service and creating positive experiences for people. In her spare time Emily has volunteered door to door for a local food drive and volunteered for International Women's Day at Conestoga College.We are pleased to welcome Melissa Paulino to the Ayr Farmers Mutual team, in the role of Commercial Property and Farm Underwriter. Melissa resides in Brantford with her daughter and her dog. Melissa has over 15 years of insurance industry experience and has held various roles, such as Personal Lines Underwriter, Technical Service Representative Manager, and Broker. Her experience will be a great asset to the AFM team. Ayr Farmers MutualAyr Farmers Mutual Co-op Placements
Page 9
pg. 9We're pleased to welcome Nate DeJonge as our new Chief Financial Ofcer. Living on a small farm in Lynden, Nate already believed in the "mutual way" before joining Dumfries. He is a self described accountant at heart who seeks to learn what the numbers mean, the stories they tell, and how we can use the numbers to make the best decisions possible. We're thrilled you have found your new work family, Nate!Laurie Kelley joined our team in April as one of our enthusiastic Customer Service Representatives. Both Laurie and her husband grew up on farms and try to spend as much time outdoors as possible. We are so happy to have you on the team, Laurie! Adrian Norgate joined the Dumfries team as IT Administrator in June. Adrian's hobbies include building and driving radio controlled vehicles, and working on computers and cars. He has worked in the eld of computers for the last 26 years and has clearly enjoyed every minute!Bernice Winter joined us as our Accounting Assistant in July. Bernice brings a passion for accounting and a great team spirit to the role. We're very much looking forward to having her on the team!We're pleased to welcome Ashley Spurr as our Blenheim Customer Service Representative. Ashley's uplifting personality and past customer service experience in the auto collision industry make her a great t. Her condence, penchant for teamwork, and open communication style are wonderful assets. Welcome to Howard Mutual, Ashley! Dumfries MutualHoward MutualBrooklyn Bergsma has just nished her degree at Western University in Political Science with her dream of being a member of parliament. During her studies, Brooklyn worked with children as an Education Assistant and felt highly rewarded in that eld.Cadance Caron is enrolled in the Environmental Studies program at the University of Windsor. A strong supporter of helping her community, Cadence has assisted in fundraisers within the Indigenous Community of Moraviantown, and at PAWR in Chatham. Erin Jenner is in her second-year studying Biological Science at the University of Guelph. Erin is looking forward to gaining more knowledge to assist with furthering her career for the future.Halle will be studying Criminal Justice at the University of Guelph in the fall, with her sights set on law school. She enjoys travelling, competitive dance, and learning new languages (French, Spanish and Portuguese to name a few).Howard Mutual Summer Students
Page 10
pg. 10Lyndsey Verkindt joined us in the role of Auto Underwriter, bringing with her eight years of insurance experience in the mutual community. When not at work, you will nd her with her three children enjoying the country life at her farm in Norfolk County. Please join us in welcoming Lyndsey to Edge.Robyn Stadnik joined us in the role of Commercial Underwriter. Robyn started in the insurance industry in 2011 as an underwriter at a local brokerage. She has serviced brokers across Canada with risks under programs such as Marine, High-Risk Residential, and Student Housing. Robyn lives in Cambridge with her husband and three children. Please join us in welcoming Robyn to Edge.Grant Hiscocks joined us in the role of Senior Farm Underwriter. Grant started in the insurance industry in 2012 and obtained his CIP after completing the insurance program at Fanshawe College. His last role was as a Senior Farm Underwriter at a fellow mutual. Grant lives in Woodstock with his wife and daughter. Please join us in welcoming Grant to Edge.Linda Baltus joined us in the position of Senior Farm Underwriter. Linda started in the insurance industry in 1994 in personal lines and farm. Sine 2006, she was a Senior Farm Underwriter at a fellow mutual. Linda lives with her husband in New Hamburg, and they have two grown daughters. Please join us in welcoming Linda to Edge.Joy Bartels joined us in the position of Accounting Supervisor. Joy has spent over 20 years in nance and customer service and is looking forward to assisting Edge Mutual's policyholders. Joy lives with her husband and son in Rockwood. Please join us in welcoming Joy to Edge.Nicole Manseld joined us in the position of Receptionist. For the last 12 years Nicole has run a home-based day care. While she loves working with children, she is excited to be in an ofce setting. Nicole lives in Harriston with her husband and two children. Please join us in welcoming Nicole to Edge.Ralph Wilson joined us in the position of Risk Assessment Specialist. Ralph had an extensive career after college in the aerospace industry, transitioning with a private venture into insurance damage/claims and Loss Prevention. Ralph and his wife are enjoying their hobby farm. Please join us in welcoming Ralph to Edge.Jack Cruise joined us in the position of Commercial Underwriting Assistant. Jack received his degree from the University of Waterloo in 2019 and has worked in the Life and Disability insurance market space since then. He currently lives in Waterloo and continues to take additional schooling for further professional development which led him to the P&C insurance eld. Please join us in welcoming Jack to Edge.Edge Mutual
Page 11
pg. 11While you support them, MNP is here to support you with accounting and investigative expertise – plus the latest insights to navigate these uncertain times, and strategies that get results.Make sense of the path aheadThe decisions your policy holders make now will define their future.Jas Chahal, CPA, CA | 289.293.2371 | jas.chahal@mnp.caMNP.caWe're pleased to welcome Leticia Kolkman to the role of Accounting/Administrative Assistant. Leticia grew up in Blyth, and now resides in Goderich. She received her Bachelors of Business Administration from Brock University and has many years' experience in accounting roles across various elds. She is also an active member of the theatre community.We're pleased to welcome Natalie Burton to the role of Document Management Coordinator/Administrative Assistant. Natalie graduated from triOS college for Business Administration and brings with her more than 20 years of customer service experience. New to the insurance industry, we welcome Natalie to our team.We're pleased to welcome Stacey Rubick to the role of Telephone Adjuster. Born and raised in Teeswater, Stacey started her career in the insurance industry as an Auto Underwriter. Over the next 20 years, she moved from underwriting to claims, specializing in accident benets. Stacey now resides in Goderich were she enjoys Lake Huron sunsets and walking trails. Welcome, Stacey!We're pleased to welcome Sheri Turner to our team in the role of Claims Adjuster. Sheri has worked in claims since 1998 and in various other positions, from auto to property, with two rms, as well as specializing in contents. She has been on the board of directors for the OIAA Georgian Bay Chapter since 2000 and was President in 2003 and again in 2017. Sheri resides in the Georgian Bay Area of Midland. West Wawanosh Mutual
Page 12
pg. 12Hassen El-Falou joined the IT Department in the role of Business Analyst in May 2022. Hassen has over 30 years of experience across a variety of industries, including tech, telecom, and healthcare. Hassen has held Business Analyst and Product Management roles with several companies including Mount Sinai Hospital, Microsoft, Saudi Telecom Company, and Miracle IT Consulting. He also currently serves as the Director of Chapters Operations for the Muslim Association of Canada. Hassen holds a Bachelor of Science in Electrical Engineering from Iowa State UniversityIn May, Joshua Vansteenkiste joined the Operations Department in the co-op position of Operations Assistant. Joshua is a second-year student at the University of Waterloo, studying psychology. Joshua has previously worked for the Pinery Provincial Park, Foodland, and Twin Pines Orchard & Cider House. Jacob Costantino joined the Claims Department in the role of Claims Coordinator on an 18-month contract in July 2022. Jacob has a degree from the University of Guelph in Philosophy. Most recently, Jacob worked at Canadian Tire in the role of Manager at Large. Olivia Bi joined the Actuarial Department in the role of Actuarial Analyst on a 6-month contract in July 2022. Olivia has a degree from the University of Toronto in Actuarial Sciences. Olivia was a part of the co-op program at U of T and worked as an intern at Intact Financial Group in their commercial auto department and RBC Insurance in their disability insurance department. Farm Mutual ReFarm Mutual Re Co-op PlacementMeet the New Faces at Heartland Farm MutualEd Locke Manager, Farm UnderwritingDianne GarceauProject ManagerJessica ReevesAccounting AdministratorLori FritzClaims RepresentativeChristina HeiszBroker Systems SpecialistDan DeruytterFacilities ManagerMarcel BadertscherVP, HRRonnie ZieglerFarm UnderwriterErin CourtneyClaims RepresentativeKaren BernardSenior Personal Lines UnderwriterColleen O'ConnorSr. Commercial UnderwriterRandy Van BakelRisk Assessment Specialist Nathan BeersBusiness DevelopmentSpecialistCasey GillisFinance Co-opKristy McIntoshClaims AssistantIce RenActuarial Co-op
Page 13
pg. 13Carson Drohan is joining Halwell as Underwriting Support for the summer months. Carson is a recent graduate from Trent's Sociology program. Carson will play a signicant role in assisting the Underwriting team and contributing to key projects. Welcome, Carson! Emma Harvey-Davies is also joining Halwell as Underwriting Support for the summer months. Emma is going into her second year at Wilfrid Laurier University. Emma will be assisting in all things Underwriting, while also contributing to some important initiatives. Welcome, Emma!We're pleased to announce our newest IT Systems Administrator, Dazzal Dhillon. Dazzal comes to us from the healthcare sector, but he has a variety of experience and education in the eld of IT management. Dazzal will be Halwell's go-to person on all things tech. Let's give Dazzal a warm mutual welcome! Please join us in welcoming Andrew Count to Halwell as Business Development Manager. Andrew brings with him over 15 years' experience in the P&C Industry including roles at Direct Writer (Agent), Independent Broker, and most recently, leading a sales team at Haggerty. He has extensive marketing and relationship building experience, building strategic sales plans and promotional events to build business. Andrew lives in Burlington with his wife and two sons. We're pleased to announce that Richard Gelbard is joining Halwell as our rst Commercial Underwriting Manager. Richard brings over 40 years of commercial lines experience from several roles and organizations. He has also consulted extensively over the years for various farm mutuals, conducting commercial audits, developing wordings, commercial manuals, and new product development. Richard will be an invaluable resource for mentoring our next generation of Underwriters and driving our commercial business forward. Richard currently resides in Simcoe and enjoys a variety of hobbies, including, funny enough, teaching and talking insurance! Welcome to the team, Richard! Halwell MutualHalwell Mutual Summer Students
Page 14
pg. 14Anne-Marie Patterson joined our team on March 7th as a Personal Lines Underwriter. Anne-Marie brings extensive experience from a larger insurer and instructional experience from Fanshawe College and the Insurance Institute of Southwestern Ontario.We are pleased to announce Robin Masse has joined the K&E team as a Senior Residential Underwriter.Robin brings a wealth of knowledge to the role with over 30 years' experience in personal lines insurance. Welcome to the team, Robin! We would like to welcome Holly Matthews, Auto Underwriter, to Kent & Essex Mutual. Holly has been in the insurance industry for the past 10 years with a focus on personal insurance. She is a great addition to our team. Welcome, Holly! We are pleased to welcome Joanne Tan to the team as Marketing & Brand Specialist. Joanne has over 10 years' experience in the insurance industry, focusing on marketing, business development, and digital innovation. She manages marketing and brand initiatives at K&E. Welcome, Joanne!We're pleased to welcome Jason Handsor to the role of Senior Claims Specialist.Jason is originally from Dresden and has spent the last 26 years working in the insurance industry across Canada. He has worked for independent adjusting companies, mutuals and also worked on catastrophe teams across Canada.Jason has his CIP designation, and brings a wealth of knowledge to our Claims department including All Lines Adjusting. Please join us in welcoming Jason to Maple Mutual Insurance, and back to Dresden.Laura Geoffrey joined us on April 25th as an Underwriting Assistant. She works out of our north branch (Zurich). Laura has nancial services experience, having worked with a prior brokerage and a wealth management ofce. James Taylor joined us in June as our Risk Management Assessor. James previously worked in risk management at Farm Mutual Re and has a wealth of experience and understanding in loss prevention within the mutual system. We look forward to James' contributions in establishing this function in our organization, assisting our front-end risk assessments to the benet of our members. Kevin Post returned to us in June as our Commercial Lines/Farm Underwriter. Kevin is based out of our south ofce (Strathroy). He has extensive experience, both on the broker side of insurance as well as the company side in a range of roles, bringing a holistic perspective to his current role.Angie Jones joined us in May as a licensed Agent, with prior experience from The Co-operators. Angie has a strong agricultural background, having grown up on a farm and obtained her Agricultural Program diploma from the Ridgetown Campus of the University of Guelph. Angie is based out of our north ofce (Zurich). HT&C Mutual Kent & Essex MutualMaple Mutual
Page 15
pg. 15Erica George has joined us as our Customer Service Representative. Erica has previous insurance experience and is currently working towards achieving her OTL license to become licensed as a general insurance agent in Ontario. Erica will be instrumental in optimizing the services we offer as we continue to grow. Grifn Simons joined the Middlesex Mutual marketing department as summer co-op student. Grifn is a Marketing graduate of Wilfrid Laurier University and is currently undertaking his Bachelor of Education at Western University. We look forward to Grifn's contributions and fresh perspective on all things social media, marketing, and public relations.We are pleased to welcome Lolade Adetola to the ofce. Lola will be the rst point of contact for our policyholders. She will also provide administrative support to the President & CEO and the Management team. Lola is eager to learn and has demonstrated professionalism with excellent organizational and communication skills and is actively pursuing her CIP and CRM designations.Middlesex MutualMiddlesex Mutual Co-op PlacementWelcome, Andy Freiter, Automobile & Residential Underwriter. Andy is a great addition to the underwriting team. He has a Bachelor of Sports Management degree from Brock University and brings customer service and data management skills to the role. Usborne & Hibbert MutualShare Your Job Opportunities on omia.com and ontariomutuals.ca!Members, Write tomarketing@omia.com
Page 16
pg. 16We would like to welcome these new faces to the Tradition Mutual team. Pictured from left to right: Natalia Uribe, Underwriting Assistant, Andrew Rivers, Underwriting Assistant, Sandra Matos, Underwriting Assistant , Megan McLean, Junior Accountant, Sonya Beimers, Administrative Assistant, and Mackenzie Oke, Underwriting Assistant. Not pictured: Heather Day, Claims Representative.We are very excited to announce a new addition to our Underwriting team, Melanie Chase. Melanie has been a licensed Broker in the Insurance Industry for over 25 years. Throughout her career, she worked as a Personal Lines CSR, Commercial Lines CSR, and Service Team Manager. With her background and experience we know she will be a great asset to our Underwriting team! Tradition MutualWest Elgin MutualWelcome to our new Agent, April Brown, who brings 15 years' experience in the industry. Living in Lambton County her whole life, she sees the importance of community and giving back. April's unique approach is focused on the advice she can offer clients; She believes an informed client is a happier client. We wish her great success as a Lambton Mutual Agent and are very pleased she has joined our team. Lambton Mutual
Page 17
pg. 17Amanda Korz joined the OMIA team in April as our Accounting Assistant - Payables. Amanda has her diploma in Ofce Administration Executive from Mohawk College and extensive experience in administration and accounting. She will be great asset to the Administrative Services team. Mike Tolan joined the OMIA Regulatory Compliance Department as a contract Compliance Resource, starting July 5th. Mike has 30+ years of experience in the Insurance Industry, most recently as Director, of Quality & Professional standards where he was responsible for compliance, internal/external audits, and D&O claims administration. Mike holds CIP, FCIP and CRM designations and has developed and implemented auditing and risk management programs for both insurers and TPA's. We are excited to have Mike Tolan join our team to support the ever-expanding needs of our members.Danielle Richardson joined the OMIA team in June as our Benets and HR Administrator to cover a maternity leave. Danielle has her bachelor's degree in Public Management from the University of Guelph and experience in human resources and payroll. Welcome, Danielle.OMIAWe're excited to announce that William Knowles has joined McKillop Mutual as Commercial Lines Underwriter. William is a graduate of the Mohawk College Business/Insurance Program and he also has his CIP and CRM designations. William is excited to be joining the mutual system, and there is no doubt that his experience and knowledge will make him a great t. McKillop is also excited to announce that Victoria Slichter joined the team as Personal Lines Underwriter. Victoria is not new to the mutual system, with three years of previous personal lines underwriting experience within the mutuals. Victoria's experience and prociency working with IBS and Cognition+ will be a great asset. An even greater asset for our team will be Victoria's drive and her excitement for professional learning and growth. Victoria is currently actively pursuing her CIP and CRM designations.McKillop MutualPlease join us in welcoming Rachel Vandecaveye to the OMAP team in the role of Product Analyst. Rachel brings over 15 years of experience in the insurance industry. Most recently, Rachel worked at Howard Mutual as an Underwriting Manager, supporting the competitiveness and protability of Howard's Personal and Commercial Lines products. Previously, Rachel worked as an Underwriter, as well as spending many years as a broker in both Personal and Commercial Lines. We're thrilled that we're adding more mutual experience to the growing OMAP team!OMAPSpecializing in Subrogation focusMaximizeyour subrogation recoveries and free time for your sta to on more critical adjusting work.We oer aordable contingency & flat fee options. Please contact us to discuss your subrogation needs. Suite 216 - 762 Upper James St., Hamilton, ON 905-389-4522 | christine@sageclaims.ca | sageclaims.ca
Page 18
pg. 18Westminster Mutual Directors, Fred Neukamm, Doug Crockett, Tracy Wintermute, Fiona Wynn, and CEO Christine Van Daele presented a $10,000 donation to Carrie Ford on behalf of the Hospice of Elgin. The donation is to help fund a new 10-bed facility and support services for individuals in Elgin County seeking end-of-life care.Westminster Mutual Erie MutualManager of Marketing, Communications and Business Development, Darcy Johnson, holds a hand printed commemorative piece which was presented to Erie Mutual by local lmmaker, Graeme Bachiu. We were happy to sponsor a highly successful six episode documentary series created by Windecker Road Films. The story portrays the front-line efforts to preserve history in the nearby village of Caneld. We absolutely love supporting stories about our community!Mutuals Give BackThis is How We Support Our Communities
Page 19
pg. 19Halwell MutualDumfries MutualHalwell Mutual President & CEO, Marg Torrance was invited to a "donors tour" of the Special Care Nursery of the Guelph General Hospital as part of Halwell's $250,000 contribution.GGH is ready to start construction, so Marg and other donors got to take a rst crack at tearing the walls down! Halwell is so pleased to celebrate the success of the campaign and the start of the Special Care Nursery that we contributed to. We were thrilled to host our 8th Annual Charity Golf Tournament Invitational at Flamborough Hills Golf Club on June 16th - our rst since 2019. Dumfries' partners came out swinging to support Flamborough Connects Youth Empowerment Program. Every cent from Player Cards, our Silent Auction (with prizes donated by attendees as well as staff) and a 50/50 Draw amounted to $21,590 being raised! Flamborough Connect's new Youth Programs Coordinator, Ava, and her team of youth volunteers are busy making plans to use these funds to connect youth throughout Flamborough, particularly in the rural areas. We consider this just the beginning of a beautiful relationship of partners passionate about the community we all live and work in.From the bottom of our hearts, we thank our many sponsors and the support of the community. We could not do this without your incredible generosity. ~ We're in this together. ~
Page 20
pg. 20Ayr Farmers MutualThe Ayr Farmers Mutual Board of Directors hosted our annual Volunteer Appreciation and Donation night on May 18th. For the rst time in two years, this event happened in person at our ofce in Ayr, with food, drinks, and great conversation. This evening is about showing appreciation to the volunteers who work tirelessly to keep our community and serving organizations going. Our Board Chair, Cathy Formica, presented each organization with a donation cheque during the event. Each representative took a moment to share how their organization impacts the community and which programs the donation will support. It was truly impressive to hear their stories. During this year's event we were able to provide 21 local organizations with over $18,000 in donations. The Ayr Farmers Mutual 2021 scholarship recipients went above and beyond for their communities during a challenging year. We were so impressed by their initiatives that we surprised each recipient with the opportunity to select a community charity of their choice to receive a $1,000 donation.When we shared this news with scholarship recipient Melodie, she knew right away that she would be directing her donation to Nutrition for Learning. Melodie believes that "School should be a safe space for students to learn, and for that, they need to be lled with nutritional food." Now, in her nal year of school, Melodie is pursuing a career in teaching and sees rsthand the critical need for nutrition programs in schools. "This program shows students love within our community, and we are so thankful for them."Scholarship recipient Sophia chose to direct the $1,000 donation to Jessica's House Hospice in Exeter. Founded in loving memory of Jessica Hamather, Jessica's House offers professional bereavement support services to individuals and families who have experienced the death of a loved one. Sophia Diebold explained, "I was lucky enough to know Jessica Hamather, after whom this hospice was named. My favourite memory was the day we spent in Banff together. I was younger, and Jessica made me feel so comfortable and loved. She had a knack for doing that, loving and caring for everyone so deeply. When she lost her life, it was no surprise that her loving spirit carried forward to Jessica's house project. I was really impressed by the hospices' mission: to provide compassionate, high-quality care for residents from the time of diagnosis through their palliative and end-of-life journey. I know Jessica, among many others, spent her last days in a dark, cold hospital room. The patient-centred and bright care at Jessica's House provides such a beautiful view during a difcult time."Our third scholarship recipient, Rachel chose to donate her $1,000 cheque to the Mitchell Snider Memorial Golf Tournament. The tournament occurs annually in the summer and raises awareness about mental health and suicide. All proceeds from the tournament are presented to the Waterloo Regional Suicide Prevention Council and are used for suicide prevention endeavors in the Ayr community.
Page 21
pg. 21We're extremely excited to announce the Ayr Mutual Global Invitational, a ve-day tournament bringing people together to build community and celebrate Canada's game. In collaboration with the Ayr Centennials, this rst-annual event will bring together six junior hockey teams representing different regions within Ontario, the United States, and Germany."We are very excited and proud to be the headline sponsor for this incredible event. We have always believed in giving back, and this tournament is an incredible opportunity to support and bring the Ayr community together," said President & CEO, Jeff Whiting.As the sole sponsor of this event, Ayr Farmers Mutual is also organizing a community barbecue, the Tailgate for Charity, on Wednesday August 31st, the nal day of the tournament. All members of the Ayr community are invited to attend the barbecue from 12 to 4 p.m. at the North Dumfries Community Complex. The community barbecue will feature games, music, and food, with all proceeds going to Nutrition for Learning.Tickets to Ayr Mutual Global Invitational games can be purchased at Team Vincent Motorsports and Barries Asparagus Farm starting Monday July 11th.Unearth Expert InsightsWhether you're handling a kitchen fire, or a loss at a multimillion-dollar agricultural facility, you can rest assured that you have our skilled and experienced investigative team at your service. CEP Forensic's team of engineers and investigators particularly prides itself on the cultivation of client relationships and unparalleled investigative expertise.cep-experts.caYOUR FORENSIC ENGINEERING ALLIESClear. Eective. Partners.
Page 22
pg. 22CTM InsuranceIn May 2020, CTM launched a community support initiative called CTM Care in response to the ongoing COVID-19 Pandemic. The campaign aims to help our communities revive and thrive. CTM allocated $100,000 in funds for 2020 to support efforts in our local communities that focus on healthcare, food security, mental well-being, senior support, and vulnerable people. Thanks to our reinsurance company, Farm Mutual Re, who generously provided us with an additional $40,000 in support, CTM had a total budget of $140,000. Based on input from our agents, staff members, and directors, the community services that have been targeted for support fall into the following broad categories:• Food Banks• Mental Health Initiatives• Healthcare Providers• Seniors• Vulnerable People, including victims of domestic violenceIn 2020, a signicant portion of our support went towards food security and support for the elderly in our communities. In 2021, we set out with the goal to focus more on mental health. Our agship action was a summer wellness campaign, Move for Mental Health. It aimed to get CTMers up and moving and raise money for CAMH Centres in Brant-Haldimand-Norfolk and Middlesex. CARE donated $1 for every kilometer we 'moved.' Throughout the campaign, we raised $6,000.Early in 2022, our Spring into Wellness campaign saw CTMers split into teams and given up to fteen tness and wellness-related activities to complete per week for four weeks. Each team competed on behalf of a charity, and a charitable donation was made for each team from our CTM Care Campaign budget.We have also supplied additional support for other community initiatives, including agricultural-related societies, support groups, local fairs, youth-related sports, educational opportunities, and legacy projects that ensure the development of our most important resources. We've recently updated our CTM Care application on our website (www.ctmins.ca) so that our community members and policyholders can contact us directly and let us know how they think we should continue to positively impact our communities. Ian Pickles, Manager of Agency Business Development at CTM, said, "COVID really made everyone think about local needs and challenges; We wanted to build something that could support our community through COVID and beyond. CTM CARE does just that, and we are proud of the work already done."
Page 23
pg. 23Members from our Green Team were pleased to be able to plant the ofce community garden on May 17th. This group works through the season to tend to the garden and, once ripe, all of the fresh produce is donated to the Cambridge Food Bank.Ontario Mutuals - We're in This TogetherFarm Mutual Re & OMIAOMIA was pleased to provide sponsorship support on behalf of Ontario Mutuals to Farm and Food Care's Annual Spring Conference. The Conference took place on April 13th in Elora - in person for the rst time since 2019. Farmers, processors, and agriculture business representatives had the opportunity to hear from a variety of speakers, including Ontario Minister of Agriculture, Food and Rural Affairs, Lisa Thompson.OMIA was very pleased to have sponsored, speaker, Tim May, known as Farmer Tim on social media. Tim May is a proud fourth-generation dairy farmer and award-winning "agvocate." He graduated from the University of Guelph in 1994 with a degree in animal science and has been managing his family's 45-head herd of Holsteins ever since. His personable and humorous approach to agricultural education online has garnered him over 120,000 followers on Facebook alone. OMIA President, John Taylor, had the opportunity to introduce Tim to the group.OMIA is looking forward to continued support of FFCO on behalf of Ontario Mutuals, through Breakfast From the Farm in late August, Gala in a Box, and sponsoring rst responders to take Livestock Emergency Response Workshops. These workshops help these individuals respond condently to transport accidents involving livestock trailers.
Page 24
pg. 24Contact us today for all of your promotional marketing needs!519.623.5101 or aaron@arrowmarketing.caBuild your Brand with Promotional Products & Corporate Apparel Your Outsourced Investment Governance Expert Inquire about our proven expertise in: ➢ Governance documents ➢ Portfolio assessments ➢ Money Manager assessments ➢ Complete Quarterly Monitoring Services Contact Jeffrey Hand at 905-336-1879 or info@bonnycastle.ca Heartland Farm MutualHowick Mutual HT&C MutualHeartland Farm Mutual has donated $20,000 to charities to provide humanitarian assistance to those affected by the invasion of Ukraine. Heartland is working with the Humanitarian Coalition, a group of 12 Canadian charities that join forces when there is a major international disaster. Howick Mutual was very proud to be a GOLD KEG Sponsor and a Golf Hole Sponsor for the Formosa Homecoming, which ran from July 29th to August 1st. This series of wonderful community events really brings people together. and we were pleased to present the donation cheque.HT&C staff from both ofces participated in the Hike for Hospice to support Jessica's House, Huron County on April 29th. We were proud to be the lead sponsor of the event and also see our staff out and about. On top of our sponsorship, our teams raised over $1,000 for this community fundraiser.
Page 25
pg. 25HTM InsuranceKent & Essex MutualCampbellford Hospital (Campbellford, Ontario) cares for mothers delivering babies on an emergency basis. Once the patients are stable, transportation of the mother and baby must be made to another local hospital. Because of this, the hospital requires a stretcher to properly and safely move the incubation unit from the hospital to the ambulance and then into the next hospital. HTM was very pleased to be able to make a donation of $25,000 to make this possible. This picture shows the incubation unit on the stretcher and representatives from the hospital and HTM.The staff at Kent & Essex Mutual recently participated in the Chatham-Kent Hike for Hospice and raised $3,300. Kent & Essex Mutual is a co-sponsor with HUB International for the upcoming Hogs for Hospice Leamington event that raises awareness and funds for the Erie Shores Hospice Foundation. We are proud to partner with HUB and support such a worthy cause.DIGITIZE YOUR GROWTHConnect to your customers in a whole new wayLet's talk about how we can help accelerate your digital growth. BOOK A DEMO www.gocognition.com/omia-bookdemoIntegrate every part of your P&C business and deliver the best customer experience with one Enterprise Insurance Platform, Cognition+.
Page 26
pg. 26Lambton MutualMaple MutualWe experienced great teamwork between two local co-operatives! Libro Credit Union and Lambton Mutual volunteered for three days of Community Clean Up for Earth Day on April 22nd. The total clean-up took 21 hours combined! A huge thank you to Libro Credit Union for organising and for inviting us to participate!We were very pleased to once again sponsor a hole for the Brain-Injury Association of Sarnia-Lambton's annual golf tournament. Our Accident and Benet Claims Adjuster, Linda Pereira took part in the Tournament. We gladly support this very worthy cause.We're also always proud to be a signicant sponsor of the local, and very successful, Alvinston Pro-Rodeo! This is fast becoming the event to attend, with people now coming from far and wide across South Western Ontario! And nally, Lambton Mutual is very proud to be making a donation of $200,000 towards the new East Lambton Community Centre, in Watford. Part of the community since 1875, we are honoured that our name will be displayed on the Community Hall/Gymnasium for the coming 20 years! We were pleased to join other local businesses in support of RetroFest, a Classic Car Cruise that took place on May 27th. We're also happy to partner with The Cultural Centre - CK Municipal Museums to sponsor two months of museum tours! Thank you to the Centre for preserving and sharing our history.Like our mutual friends, we're dedicated to supporting the communities we serve.
Page 27
pg. 27The Commonwell MutualEarlier this spring, The Commonwell welcomed back its philanthropy program SEEDit for its second year. The initiative is dedicated to increasing food security across Commonwell Country.The rst half of the SEEDit program launched in April, which provided community gardens the chance to apply for grants to fund their projects and grow produce for food insecure members of their community. With over 70 applications, the program provided 11 community gardens from Wiarton to Cornwall with a total of $10,000 in grants and some gardens receiving a bounty of vegetable seeds and plants.The second half of SEEDit offered individuals and their families $50 garden centre vouchers to help them grow fresh fruits and vegetables in their own homes while encouraging them to share their bounty with their community. Tim Shauf, President and CEO said, "With global food prices on the rise and families struggling to catch up, we felt it was more important than ever to support local food security." This year, The Commonwell added 30% more vouchers totaling $165,000 in funding and increased its goal of food shared to 4000 lbs, double the amount of last year. The expansion of the program into Western Ontario also allowed The Commonwell to extend their reach and touch more communities in need.While 2022's goal seemed ambitious, the launch of the voucher program on the morning of May 9th proved otherwise. When the site went live, over 1,200 Ontarians tried to sign up at the same time, crashing the website and eventually selling out various garden centres in just a few hours. Not only that, the Facebook group dedicated to the backyard farmers of SEEDit tripled in size overnight. Now, 1,900 participants and counting, the online community is home to passionate gardeners sharing tips, tricks, pictures of their gardens, and more. Check out the difference SEEDit is making in Ontario by heading to the Facebook: SEEDit Community. Specializing in surveillance.jrivard@RivardInvestigations.comRivardInvestigations.com519-641-3140
Page 28
pg. 28Tradition MutualUsborne & Hibbert Mutual West Elgin MutualWe were pleased to be able to make donations to the following organizations this spring and summer: Stratford basketball, Kinkora School, Rotary Hospice, and St. Marys Mobility Bus. We love showing our community the mutual difference!Usborne & Hibbert Mutual was proud to sponsor the Huron County 4-H Judging Competition held on June 18th. After two years of online judging, the Huron County 4-H Association was pleased to hold an in-person competition which attracted 80 participants.The 4-H'ers had the opportunity to try their hands at judging three classes of livestock, hammers, bicycle helmets, and cookies. A great day was had by all. The Growing for our Community Garden is in full swing again this year. In February, the garden received a $2500 grant from Canada Farmers Grow which will be put to good use this year.Since early June, the garden has been providing produce to 50+ people each week in the community via Foodbanks, geared-to-income housing and other outreach services. Pictured: A typical drop off box delivered to a local geared-to-income seniors' apartment building, containing beets, kale, and other fresh produce from the garden.
Page 29
pg. 29West Wawanosh MutualWest Wawanosh Mutual Insurance Company is pleased to have provided a $25,800 donation towards a pavilion for the new pickleball courts in Goderich.A joint project led by the Rotary and Kinsmen Clubs with additional nancial support from the Lions Club, this project also attracted support from over 120 individuals and in excess of 60 businesses.The Goderich pickleball community is a very active group and is enjoying playing this fast growing sport at this new state of the art facility. WWMIC is pleased to provide space for players and spectators alike. An inaugural tournament and grand opening event was held on June 25th.McKillop MutualMcKillop Mutual was proud to offer a donation of $3,500 to help support the many events planned for the Brussels 150th Homecoming!150 King Street West, Suite 1710, P.O. Box 47Toronto, ON M5H 1J91-800-387-0859 | (416) 862-7755bcaldwell@caldwellsecurities.comwww.caldwellsecurities.comSUPPORT THE RENEWABLE FUELS INDUSTRY IN ONTARIOINTEGRATED GRAIN PROCESSORS CO-OPERATIVE INC. ("IGPC") 7% DEBENTUREMATURING JULY 31, 2023 IS AVAILABLE FOR PURCHASE To request a 2020 IGPC Offering Statement, please contact:Brendan T.N. CaldwellDirector
Page 30
pg. 30The Umbrella Project Awards Were a Success!umbrellaproject.coArjun has found an incredible sense of purpose in a period riddled with COVID uncertainty. Arjun hadn't seen his grandparents and extended family for over two years.He took this situation and turned it into an opportunity to do something positive. He has a passion for studying waste management and he used this time to help neighbours sort their recycling, and spent hours on the weekends helping clean garden debris in preparation for yard waste collection.Zeroing in on the fact that a great deal of recyclable plastic in Canada still ends up in landlls, Arjun is now crafting a campaign to eliminate black plastic from restaurants in Toronto (the sorting machines do not recognize it). A simple shift to take out containers in a colour other than black could resolve the issue. It has instilled an ever growing determination in him to continue along this path. GRADE 1-8 RECIPIENTS:GRADE 9-12 RECIPIENTSDelina demonstrates that she thinks critically about the meaning and purpose of her studies and she sets high goals for herself in her schoolwork. Embracing her studies with determination and curiosity, she exhibits effective communication skills in both her oral presentations and her written work in Arabic, Tigre, and English. Delina has had some trying times in her life, but she is always positive about the things she has. Delina says she is strong and has determination to do well because she loves her father, mother, brothers, and sister. She says, "These things keep me strong because I love them so much." Delina acknowledges that life can be hard - but she says we cannot give up, "When I feel sad, I think about what I can do to help others and how I can make a difference in the world. That keeps me going." Delina believes in challenging herself, stating, "For me, it is the path which leads to growth."Evan has a great interest in people's mental health. He wanted to see what changes could be made at his school and in the community to help others who may also be struggling. Evan enjoys being with people and thrives on interaction. The pandemic has been a huge challenge for him as he saw his social world dissolve. Evan tried to nd the positive side and applied for grants to create positive changes at his school. Evan has started a chapter of a mental health awareness group at his school. Working with the jack.org organization and a teacher at his school, Evan is nding ways to help his peers access these tools and resources. Evan is the kind of person who looks around him to see how he can help. He enjoys the activities many other adolescents enjoy, but he devotes a great deal of time to helping with projects and programs to help others.Colby has overcome many challenges over the past two years and always puts a positive face and perseverance forward. One major thing that helped his coping during these unprecedented times was learning about mental health this year in school. This taught him the importance of using open dialogue, especially about his feelings, and about the necessity in speaking up and working through strong emotions to stay safe and healthy. Every negative he has been through, Colby has turned to a positive through communication and listening to feedback. He smiles, he cares and he shines bright with his big heart.
Page 31
We were happy to once again support these awards that celebrate students educators and school communities who are taking on life s challenges and strengthening their positive coping skills The Awards were presented online May 4th Here are the worthy recipients EDUCATOR AWARDS Gwen personifies and embodies the Umbrella Project in both word and deed in our community She is a humble leader on the team who never seeks recognition and is always willing to support others Gwen navigates challenging situations such as helping students appreciate themselves as they discover and disclose new aspects of their gender and sexual identities She also supports her students virtually to develop selfefficacy and growth mindset during a pandemic Equity is always top of her mind as she breaks down barriers and ensures all students have a fantastic grade 8 experience She reminds students of their purpose and helps ensure everyone remembers that they belong to a community Meaghan s responsibilities include teaching skills to students that will help them manage their mental health and well being She does this through one on one counseling classroom programming and school wide initiatives It s her goal to empower students to develop strategies that work for them so they can become more resilient to the challenges they face Meaghan said Once I began training to be a Child and Youth Worker I learned about how to help others heal and I started applying the lessons and ideas to myself I was able to build and strengthen my own umbrella independently I wish that we had programs like The Umbrella Program when I was younger so that I could have had the chance to learn these skills earlier SCHOOL COMMUNITY Canadian Martyrs is a school community that has faced many recent challenges It is through the use of their umbrellas that this community has pulled through challenges With all that has gone on in the last couple of years the school community could have focused on the negative and let the rain soak them all But that is not what happened The community focused on the many wonderful things that were happening in the school It was only through a team effort and a supportive environment that everyone was able to see the light at the end of the storm Regiopolis Notre Dame Catholic School The well being and mental health skills of our young people is a definite priority for this school community especially now as we emerge from two years of limited social interaction due to the COVID 19 pandemic This school community puts high value on students reconnecting with one another and in developing resiliency confidence and empathy when they engage in their school community They prioritize and understand the importance of the students ability to develop these skills to be able to successfully pursue higher education and or employment opportunities TEAM CHOICE AWARD With high school graduation around the corner Zaina is looking to apply to post secondary school Even though she has experienced a few obstacles in her life Zaina has told herself not to worry so much about what she cannot control and instead to take a step back and create a plan of action to help her with her future educational path She says that winning this award will help her to share her story with others who also might be experiencing some obstacles in their lives Experiencing her own challenges has led Zaina to already reach out to help others She founded a youth initiative called Bags of Hope where they provide essentials to youth who might need them Zaina even includes a hand written letter to help these young people feel valued pg 31
Page 32
pg. 32Harry Bryant is currently a Director for Dumfries Mutual. He retired as President of Tradition Mutual. Prior to that, he was the General Manager at Usborne & Hibbert Mutual. Harry has lived in Cambridge for the past 30 years with his wife Sandy and has two grown children. Steve Smith is currently a Director for Germania Mutual. His connection to the mutual system runs deep, having retired as CEO of the mutual reinsurer, Farm Mutual Re. Steve and his wife are enjoying retirement spending time with their four grandchildren.Meet Our PeopleCelebrating Our Relentless VolunteersMary Bacher is the Chief Operating Ofcer at Erie Mutual. Mary and her husband are fortunate to live close to both of their daughters and their families in Dunnville, Ontario. Mary's home is often lled with the joy and laughter of her ve grandchildren.Wendy Brohman is currently a Director for Cayuga Mutual. She has retired from an impressive 40 year career in Diagnostic Imaging at Hamilton Health Sciences and resides in Stoney Creek, Ontario. Wendy became a policyholder with Cayuga Mutual in 1988 after her exisiting insurer wouldn't provide farm insurance.What pushed you to be a volunteer?Harry: When I retired, my plan was to give more of my time to volunteering. I felt the need to contribute in a meaningful way and utilize skills that were a change from my work-life. Just prior to retirement, I was involved in the early stages of a major donation to a Hospice in Stratford. As I learned more about the work they do, it piqued an interest in volunteering with the Region of Waterloo Hospice. I am involved in a bereavement walking group designed for people who have lost loved ones and working through their grief. Steve: I was pushed to become a volunteer to be involved in organizations that mattered to me and required volunteer help to be viable and to succeed. I also felt drawn to give my time to help others.Mary: Volunteering to help with children's sports and at a school was a natural way to be involved in things my children were doing as well as giving assistance to organizations that always required additional resources to operate. More recently as the stage of my life continues to change, I was looking for a way to give back to my community in a meaningful way.Wendy: I enjoy the camaraderie and mutual trust and friendship of being involved in planning and executing projects and functions.Steve Quinn's theme as chair this year "Our People, Our Communities, A Celebration of Success", provides a chance to highlight stories from our colleagues in the mutuals on their journey as volunteers in their communities. We gathered stories from four long time volunteers earlier this year at convention, and these stories follow. We'd love to hear from and feature others throughout the year.
Page 33
pg. 33What skills did you bring to the organizations you volunteered with?Harry: I have always been a people-person and enjoy conversing one-on-one, or with a group. While I consider my life to be blessed, I have also experienced loss and grief, as I'm sure we all have. The skills that are most benecial in this role are empathy, listening without judgment and a desire to help people, or at least be present with them through their grief. This can be sad work but there can be opportunities to insert a little humour occasionally at an appropriate time to put a smile on someone's face. Steve: A passion to help others, to provide guidance and leadership in areas where I could share personal experiences. I bring organizational skills that help guide and coordinate others' efforts.Mary: Motherhood prepares you for many things and I have a natural love for children so volunteering with Big Brother Big Sister (BBBS) was a good t for me. I'm also able to use my strategic planning and budgeting skills to support the Dunnville Business Improvement Association.Wendy: I am an organized and task oriented person with leadership qualities.What drew you the organizations you volunteered with?Harry: Oops, I think I answered this above. I had always envisioned myself giving more of my time to good causes once I retired.Steve: I was drawn to the organizations through peers and my children via coaching and training in minor sports.Mary: My two daughters are both teachers and we often discuss the need for additional support for some of the students that are struggling. I also wanted further involvement in the community I live in. Wendy: My connection to the organizations came rst and, when I saw the need, I volunteered.What do you consider the most challenging aspect of volunteering is and how did you overcome it?Harry: The nature of this particular volunteer work requires a sensitivity and an ability to read people at any given time. Grief can come in waves and emotions can change quickly. I've always been a person who sees a problem and tries to x it. In these situations it's more important to just listen, take queues from subtle behaviour and be present in that moment with them. There is no xing on my part. Every grief experience is different. Steve: There never seems to be enough time. Never really overcame it, just did the best I could do.Mary: For me, it has been the lack of commitment and engagement by those who chose to volunteer but don't follow through. COVID increased this issue but, I worked at keeping the BIA board connected with email communication and virtual meetings until we were able to meet again in person.Wendy: Finding the time and the resources to carry out your responsibility towards the organization.What has been your biggest accomplishment as a volunteer?Harry: I feel honoured when people share their grief, their emotions, and their life stories with me. It demonstrates a trust in me that I consider a privilege and an honour.Steve: As a volunteer with the Syrian Refugee effort, I participated in providing housing materials, and furnishing residences to provide a safe and comforting place for new people to Canada after leaving their country during a conict. With RUYAC, we were very involved in providing companionship and comfort to terminally ill children and young adults, many of whom were abandoned by their families. We would entertain, visit and take them on excursions.Continued on the Next Page
Page 34
pg. 34Meet Our PeopleCelebrating Our Relentless VolunteersMary: The relationship I was able to form with my BBBS Mentee. A very shy child that needed one-on-one time due to having an autistic sibling that took much of his parents' time. I was able to win his trust by making each visit his special day. The big smile on his face when I arrived each week told me that the time spent and the activities we did together were making a positive impact on his life. Wendy: It is hard to pick just one accomplishment as they are all so varied but I would have to say the PanAm Games were a fun highlight.What has been your toughest challenge when volunteering?Harry: COVID has had a terrible impact on people who are grieving. During lockdown, those grieving were isolated from family and friends who would be their natural support system. In many cases, they were unable to have funerals at the appropriate time or have limited attendance, excluding many who would otherwise attend. During periods of lockdowns, volunteers were limited to zoom calls and individual phone calls, which for these situations was a challenge. It was such a relief when we were able to meet in person again. Steve: The toughest part of volunteering is when I run into personality conicts that may not represent similar values to my own.Mary: Unfortunately, the biggest challenge I have encountered has been COVID. The In-school mentoring program was shut down. All attempts to continue in a virtual environment were not successful. A gap of more than two years since I was able to visit or communicate with my mentee greatly changed the dynamics. Now a boy in grade 7, the chances of him wanting an older female mentor was in question. The family also did not respond to inquiries to reconnect the match, so it was ofcially closed. I was able to provide closure by sending a note expressing how much I had enjoyed our time together with a small gift. My daughter was able to deliver in person and let me know my mentee was pleased to receive this small token.Wendy: The toughest thing is nding the empathy when volunteering with the marginalized people of the inner city. For many years I was involved with these very same people in a much different capacity at the hospital. Food insecurity is more prevalent than ever, mental health issues are rampant as well as the at risk youth we see when volunteering with CityKidz and Liberty for Youth. It is difcult not to be burnt out with the need.How has volunteering impacted your life?Harry: I can't describe the satisfaction I get from my volunteer work. I get as much benet from my work with Hospice as those in the program. While my description of this work would appear incredibly sad, there are also moments of joy. I hear wonderful life stories and witness great love. There are cheerful moments and funny stories to share. People forge new relationships with other participants that last beyond the program. People are also very appreciative of your time with them. Steve: Volunteering gave me sense of pride to be able to give what is basically time, but it also transcended to my children who also learned to give of their time to various causes and personal interests, recognizing volunteers are essential for organizations to exist.Mary: Volunteering has provided a positive impact on my life knowing that I made a difference to the children I coached, the individual I mentored, and the organizations I have joined. Every volunteer opportunity I have engaged in has brought value to my well-being.What impact has your volunteering had on your community?Harry: It's important that people in the community are aware of hospice resources available for those in the last stages of life and also for their loved ones dealing with their grief and loss afterwards. The work of Hospice has
Page 35
pg. 35an immense impact on the communities they serve. My volunteer work has an individual impact, which gives me the greatest pleasure.Steve: I would think the impact is positive, at least in a small way. As stated above, many organizations, sports teams, youth groups do not function without volunteers.Mary: Schools and communities can not operate without many volunteers as resources and funding are always in short supply. My time and ideas help to build stronger relationships and organizations that benet the people of these communities.What would you say to someone who is considering volunteering?Harry: I've read that one of the benets of volunteer work is that it adds to the happiness factor in your own life, I agree with this completely. Work for the pure benet of others is incredibly satisfying. It doesn't matter what the nature of your volunteer work may be. Do what moves you and take a plunge! It's such a great experience.Steve: As far as my message to others, step in, get involved, make a difference in someone's life, even if it's a small difference. Mary: Anyone considering volunteering should jump in with both feet. It is a rewarding and satisfying way to provide support to your community. As I'm reaching the last "few holes" of my working life, I want to continue to seek new volunteer opportunities to provide meaningful purpose to my life and value and positive impact to the community.Wendy: I would encourage anyone who has the inclination to do so, to volunteer. It is hard work but it is so very rewarding. It also gives you an opportunity to meet like minded people. Most of the volunteers I have worked shoulder to shoulder with I count as life-long friends.Visit and subscribe to the Ontario Mutuals channel on YouTube to see many more examples of how our mutual members give back!
Page 36
pg. 36Appointments& PositionsChangesTransforming the MutualsKelly Peck-McDonnell was recently promoted to the role of Team Lead of AB Claims. Kelly joined K&E in 2021 as a Senior AB Adjuster and is a valuable member of the claims team. Congratulations, Kelly! The Nova Mutual Board of Directors is pleased to announce the appointment of Mr. Glenn Pick as President and Chief Executive Ofcer, effective May 27, 2022. Glenn has served as Nova Mutual's Chief Financial Ofcer for three years, and most recently, has successfully fullled the role of Acting CEO. The Board is condent that Glenn's core strengths and leadership skills will serve Nova Mutual and its Members well over the years to come. Please join us in congratulating Glenn Pick on his appointment as Nova Mutual's President and CEO. We look forward to working with Glenn and the team at Nova Mutual to continue to serve our Members and the larger Mutual insurance system.Kent & Essex MutualNova MutualPEI Mutual's CEO Hiring Committee is excited to announce the appointment of Craig Noonan of Summerside, as PEI Mutual's new General Manager and CEO. Craig began his role as General Manager and CEO on June 20th, 2022. He is actively involved in the community through sports and volunteer initiatives. Craig is a graduate of UNB, with post-graduate training from St. Mary's University, and a scholarship recipient from McGill – HEC's Executive MBA Program in Montreal. He is passionate about leadership and creating a culture in which team members feel engaged, supported and appreciated.Craig is the former Chief Operating Ofcer at the Evangeline-Central Credit Union and has played a key role in the change management process, leading, supporting staff and management through the largest merger in the history of Credit Unions in Atlantic Canada. Welcome to the "Mutual Team", Craig ! MEGAN MACCALLUM PEI Mutual would like to welcome Megan MacCallum as the newest member on our Board of Directors. We wish you much success in your Directorship role with the company and all the best as you travel the roads of PEI. Congratulations & Welcome Megan! PEI Mutual
Page 37
pg. 37Jennifer Brucculeri was born and raised in Hamilton and moved to Haldimand- Norfolk in 2008, and has spent the last ten years living in Port Dover. Jen attended George Brown College for Dental Hygiene but realized her true passion was customer service. She has held various sales and customer service roles, and before joining CTM was working as a Sales and District Trainer for the LCBO (She even has an Ontario Wine Certication.) Jen joined CTM in 2019 as a receptionist/ administrative support in Corporate Services. Jen has now taken on a new challenge as she accepted the Customer Service Representative position. Julianna Forde grew up on the small, beautiful island of Barbados. She moved to Canada in 1993 to live with her dad. Julianna attended Grade 13 in Canada to get the "high-school experience." Her work career started shortly after arriving in Canada, and she began at V&S Stedman's department store. After a few years of working, marriage and having kids, Julianna decided to return to school for Business/ Accounting. Julianna joined CTM in January of 2013 as a Customer Care Specialist. She then moved to Corporate Services Specialist in 2018 as an Executive Assistant. Julianna's new role on the leadership team at CTM is as the Corporate Services Team Leader. Katie De Jeu grew up in Mount Brydges and attended high school in the Strathroy- Caradoc Area. She is entering her third year at Kind's University College and pursuing a degree in Sociology and English. Katie started with CTM in 2018 as a summer student and has recently been accepted to the role of receptionist at our new Kilworth ofce for the summer.Evan Quinn grew up in Haldimand County before attending Carleton University and Algonquin College in Ottawa. Currently, he lives in Kitchener with his wife Ali, their son Jack and Golden Retriever named Flash. Evan joined CTM in 2019 as a Sales Agent but has recently transitioned into the role of Marketing and Communications Specialist.Please join us in congratulating Diane McCarten on her recent promotion to Manager, Commercial Insurance, at Erie Mutual. Over the past 2 years, Diane has successfully held the position of Team Lead and we know she will excel in her new role.Please join us in congratulating Lauren Horton, on her recent promotion to Manager, Personal Insurance, at Erie Mutual. Lauren has spent the past 2 years as Team Lead of the Personal Line Insurance Team, and we know she will do fantastic in her new role. Tamrah Edwards is promoted to Data Scientist Join us in congratulating Tamrah Edwards in her new role as a Data Scientist! Tamrah started at Halwell back in 2018 as a Data Analyst. In her new role she will be working on building useful tools for brokers and staff to use themselves. We are so grateful for Tamrah and are looking forward to seeing how she can use her expertise to drive Halwell forward! We wish to announce that Janette Holmes has been promoted to Sr. Auto Underwriter. A great historian of everything "Howard", Janette has brought a wealth of knowledge and mentorship not just to the Underwriting Department over the years, but to all of our Howard Team members.Congratulations on your achievement Janette!Erie MutualCTM InsuranceHoward MutualHalwell Mutual
Page 38
pg. 38Lisa Fazzari has been promoted to Chief Claims Ofcer, reporting to the CEO. Claims plays an important role in the relationship with our reinsurance partners and has recently become a larger focus point to help Farm Mutual Re manage and understand our results for the broker channel.Lisa has over 27 years of progressive experience in the insurance industry and joined Farm Mutual Re in April 2018 as Assistant Vice President, Claims. Before that, most of her career was spent at Economical Insurance in various claims leadership roles overseeing property, automobile, casualty and accident benets lines of business. Lisa has obtained the CIP (Honours) designation and holds a Bachelor of Science in Nursing from McMaster University. Sharon Turnbull has been appointed to AVP, Product Services & Loss Control which will report into the Chief Underwriting Ofcer role.In this new role, Sharon will collaborate with and support both the Product Services team, which focuses on audits, and the Loss Control team, which focuses on risk assessments to identify risks for the property owner and underwriter. Sharon joined Farm Mutual Re in 2015 as the AVP, Business Development after previously working at OMIA as their Research and Development Manager. During her tenure with Farm Mutual Re, Sharon was also appointed to the role of AVP, Integrated Analytic Services. She has been a Director on the Facility Association Board since 2020 and is Chair on their Data Governance Council. Sharon has obtained the CIP and Certied Human Resources Leader (CHRL) designations. She has a Business Diploma – Insurance and Human Resources Certicate, both with Honours.Amanda Hawkshaw has been promoted to the role of AVP, Business Operations, reporting to Jeff Consitt, SVP & COO.Amanda started with Farm Mutual Re in the role of Claims Administrative Assistant in 2006 and was promoted to Claims Department Coordinator in 2007. Amanda became the Reinsurance Claims Core Services Supervisor in 2015 where she was instrumental in the overall functions of the Claims Department. In 2019, Amanda was promoted to Manager, Claims Operations where she led the oversight of claims business processes to promote operational excellence and efciency internally and with our members supporting the development of OnBase and Member Service Gateway applications. Her experience in successfully managing claims operations will be an asset when collaborating with her new team and leaders from multiple departments to dene our Business Operations functions.Since joining Farm Mutual Re, Amanda has obtained her CIP designation and successfully completed the Leadership Development certicate program from Conestoga College. Amanda is currently working towards completing the Queen's Executive Program through the Smith School of Business. Krista Seiling has been promoted to Manager, Innovation Programs & Engagement reporting to Andrea Kerswill, Assistant Vice President, Innovation.Krista's involvement and facilitation of COMPASS, along with her history with the innovation function, make her a great t for this department. She will be involved in identifying and growing our internal innovators and empowering the organization through applied Innovation, among other things. In addition, Krista will oversee the Innovation Academy.Krista joined Farm Mutual Re in 2003 after working for North Blenheim Mutual as an Auto Underwriter and OTIP Insurance Brokers as a Personal Lines Broker. She has held various roles within Farm Mutual Re.Krista has obtained the Chartered Insurance Professional (CIP) and Certied Risk Management (CRM) certications. Farm Mutual Re
Page 39
pg. 39In recognition of her leadership of our People and Culture and Communications strategies, including recent organizational restructuring, our Equity, Diversity and Inclusion (EDI) focus, and advancing our Board communications, we are pleased to announce that Jennifer Allan has been promoted to Senior Vice President and Chief People Ofcer for Farm Mutual Re. Before joining Farm Mutual Re in 2018, Jennifer was the Vice-President People and Strategy at St. Joseph's Health Centre in Guelph and prior to that was Vice-President of HR Programs and Corporate Communications at Economical Insurance, where she worked for over 23 years.Jennifer has a Masters in Human Resources Management from York University, a Master of Arts from University of Waterloo, and an Honors Bachelor of Business Administration from Wilfrid Laurier University. She is a Certied Human Resources Leader, a Certied Compensation Professional and most recently a Certied Professional Coach. Farm Mutual ReThe Board of Directors is pleased to announce the appointment of Don McEvoy, CPA CA as President and Chief Executive Ofcer of the Erie Mutual Fire Insurance Company. Don is a graduate of McMaster University with a Bachelor of Commerce Honours Degree, a Chartered Accountant (Ontario Institute), and recipient of several awards in Business and Leadership. He is an experienced and seasoned nancial/insurance executive, serving in the Credit Union Sector prior to his 10-year tenure as President of the former Wabisa Mutual Insurance Company. Don's key strengths, to name but a few, are his ability to forge strong personal alliances both inside and outside an organization, resourceful collaboration to assist in building strong relationships based on mutual respect, loyalty, trust, and a unique ability to identify and understand all sides of an opportunity or challenge which results in effective operational change. We are looking forward to providing Don the necessary support, resources and guidance he will require as Erie Mutual moves forward in today's challenging P&C Mutual Insurance Industry. His skill as a strategic thinker and experiences in Analytics, Audits, IT, and Finances will be great resources in addressing change.Erie MutualWe specialize in surveillance for mutual insurance companies and have a proven track record of providing discrete, ready-for-court investigations that help our clients get the most out of their claims investigations. We service all rural and urban areas of Ontario and employ only top-rated and experienced investigators. www.mutualinsuranceinvestigator.caDirect Contact: jcrowley@crowpi.caNeed Surveillance? We're the Investigators you can Trust
Page 40
pg. 40Sincere congratulations to two Tradition Mutual team members who celebrated signicant anniversaries recently.Kim Wolfe celebrated 20 years of service and Ian Morrison celebrated 35 years of service.Thank you both for your dedication to Tradition Mutual! Westminster Mutual would like to congratulate Doug Crockett and Tracy Wintermute on their milestone anniversaries with Westminster Mutual. Doug is celebrating his 30 years with Westminster and Tracy is celebrating 20 years. Thank you for your dedication!Tradition MutualWestminster MutualMilestonesRecognizing Mutual Members' Signicant Anniversaries
Page 41
pg. 41Board Members of PEI Mutual recently received certicates of completion for the OMIA Director Certication Program. Pictured left to right: Stewart MacRae, George Matheson, Claude Dorgan and Brian Annear have completed all courses to earn this certication. Congratulations from everyone at PEI Mutual !PEI MutualAccomplishmentsCongratulating Mutual Members on Their Professional DevelopmentLearn more about the OMIA Directors Certication Program on omia.com, under Education.
Page 42
pg. 42For the second time, Farm Mutual Re, OMIA, OMAP and Collectivde proudly ew the rainbow ag at 350 Pinebush Road during the month of June in recognition of Pride Month. All four organizations value people's differences and are committed to providing an equitable, respectful, and welcoming environment to all, regardless of race, religion, gender, age, ethnicity, ability, or sexual orientation.We were so pleased to attend our rst event as an amalgamated team after the pandemic!We had a ton of fun at the Farm Mutual Re Slow Pitch Tournament. The Corn Belters may not have won any trophies but we had an incredible time together with other member companies.Farm Mutual Re was selected as one of Canada's Greenest Employers of 2022. Mediacorp's Greenest Employers is an editorial competition that recognizes employers that lead the nation in creating a culture of environmental awareness. Winning employers, selected by editors of Mediacorp's Top 100 Employers, are evaluated using four main criteria:1. Unique environmental initiatives or programs they have developed;2. Whether they have been successful in reducing their own environmental footprint; 3. Whether their employees are involved in these programs and contribute unique skills; and 4. Whether their environmental initiatives have become linked to the employer's public identity, attracting new employees or customers.Farm Mutual ReHT&C MutualOther News & Events
Page 43
pg. 43This spring we launched a marketing campaign to capture stories and accompanying photos of our policyholders who are building community. Our clients inspire us and we feel privileged to share their stories and cheer them on. Each month, we highlight these clients in our blog and eNewsletter, as well as a two page newspaper article in their local paper. They are the reason we do what we do.Maple Mutual's very own Victoria Taylor is pictured third from the left with representatives from Dumfries Mutual, Trillium Mutual, Middlesex Mutual and Farm Mutual Re. This was the opening session of the Co-operatives and Mutuals Canada congress in Calgary, June 14th to 16th.L&A Mutual Insurance hosted the annual OMIA Group E meeting on June 8th. We were so pleased to host this event and share our new building with all those in attendance. We really appreciate everyone who attended, and a great day was had by all. Special thanks to John Taylor, President, OMIA and JP Gagnon, President & CEO, Farm Mutual Re for joining us for the day!Dumfries MutualL&A MutualMaple MutualWest Wawanosh Mutual staff had a great time participating in the Perth Huron Insurance Brokers Association Summer Gathering and Golf Tournament at the Mitchell Golf Club where we won the "Most Honest Team" award. We'd like to say that no trees were injured during the day, but...West Wawanosh Mutual
Page 44
pg. 44Management and Staff were happy to get outside and enjoy a Professional Development Day in early June. Kintail Camp, north of Goderich, hosted the group and offered a guest speaker and outdoor activities. Frisbee golf, archery, high ropes and live edge wood painting kept us busy, and working together, on a beautiful sunny day. We invited Cecelia Brooks of the Sistansiak Wolastoqiyik community in New Brunswick to speak to our team in June. Cecelia talked about the residential school program, the history of the relationship between our two peoples, and the hope for the future. It was an extremely informative, touching and inspiring experience for our team. The social committee at Usborne & Hibbert Mutual organized a BBQ lunch and Cornhole tournament to kick off the summer. The lunch was a potluck with a delicious beef brisket cooked by Loss Prevention Specialist, Dave Erb. Employees were placed into teams and a competitive game of Cornhole was played. Every Friday through the summer months, a BBQ lunch is provided and employees continue the Cornhole tournament. Good luck to all the players!Howick MutualStanley MutualUsborne & Hibbert Mutual
Page 45
pg. 45SE Mutual was very excited to host the rst Maritime Mutual Insurance Company (MAMIC) Conference since 2019. The annual conference was postponed due to COVID restrictions the last two years which meant the gathering of delegates and companions this year was extra special. This event took place from May 27th to 29th, The conference was a refreshing mix of fun activities and educational sessions that allowed participants to reconnect with one another and refocus on the challenges and opportunities ahead in the world of insurance.Participants enjoyed golng, a wine tour, trivia, local sightseeing, food, and entertainment. Educational sessions included:• A claims panel (Robert Arsenault, Wanda Mitton, Ronald Savoy, and Andrew Wortman)• A session on major Canadian CAT events and the steps needed to reduce severity in the future (Glenn MacGillivray from the Institute of Catastrophic Loss)• A presentation on the importance of cyber security (Scott Beck from Becktek)SE Mutual Hosts MAMICOrganizing Committee, Shaun MacPhee, Sandra Batten, Amy LeBlanc, Justin Harrison, our bartender at the event Chris Harborne, and Andrew Wortman. (Missing, Pierrette LeBlanc)Attendees enjoying an east coast lobster dinner, requisite bibs and all.For the rst time ever, Usborne & Hibbert Mutual participated in the Farm Mutual Re Slo-Pitch tournament on June 3rd. Employees started the day with a ride to Cambridge in an RV and played intently to win the rst game and then lost the next two games. Many of the employees had not played ball since elementary school! It was a great day, enjoyed by everyone.Usborne & Hibbert Mutual
Page 46
pg. 46OMIA was very pleased to return to the links with our members golf tournament on June 9th at Hockley Valley Resort in Mono, Ontario.In light of our two year postponement, the event was co-hosted by Chair, Streve Quinn (Cayuga Mutual), and Past Chairs, John Stirk (Dufferin Mutual), and Terry Knight (North Blenheim Mutual).A fantastic day was had by all in the hills of Dufferin County.The winning foursome of the day was from sponsor company, Rebuild Response Group, and our runner up team was from Ayr Farmers Mutual.A special thank you to everyone who participated and sponsored the event and our silent auction. Your contributions helped us raise over $13,000! This will be split between the Farm Mutual Foundation and Community Addiction and Mental Health Service of Haldimand & Norfolk.On June 3rd, Farm Mutual Re held their rst Slow Pitch tournament since COVID shut down in-person events. Everyone was very enthusiastic and happy to be back! Fourteen teams signed up for a great day of ball. Congratulations to the winners of the day, Ayr Farmers Mutual and North Blenheim Mutual! The tournament would not be possible without our generous sponsors. If you would like to be a sponsor at our 2023 tournament, please reach out to Arden MacIntyre (amacintyre@farmmutualre.com).Farm Mutual ReOMIA
Page 47
pg. 47Congratulations to John Dunton on his retirement from the role of President and Chief Executive Ofcer. Prior to joining ''Team Erie", John held senior executive positions in the Financial Sector across Canada.John served as Erie Mutual President/CEO from November 15th 2009 to June 17th 2022, bringing a high degree of working experience in both the Business and Corporate Sectors to the company during his tenure. John's years of involvement in the Financial Investment Industry, his experience and understanding of the importance of adopting Information Technology, Data Analytics, and Strategic Planning were a most valuable asset and a key factor in improving the business and corporate culture of Erie Mutual.Although John's experience and familiarity with "the mutual difference" was limited initially, within a short period he quickly gained great knowledge of the mutual insurance industry, fostered working relationships within this sector, and actively engaged in annual conferences, workshops, and roundtables. John was a strong advocate for improved education/training of insurance personnel and directors and gained a reputation amongst colleagues as a creative outside the box'' thinker.The Financial Services Regulatory Authority (FSRA) in November 2019 appointed John to the Stakeholder Advisory Committee for the Property & Casualty (P&C) Insurance Sector. He was the only representative on this committee from the Farm Mutual Sector in Ontario.The Board recognizes and sincerely appreciates John for the many accomplishments, successes, and hard work for the betterment of Erie Mutual, its Policy Holders, the P&C Mutual Sector and the Civic/Corporate Communities we serve.Congratulations, John, with our best wishes for good health, and enjoyment in your retirement years.Please join Dufferin Mutual in congratulating Lisa White on her Retirement. Lisa has been with Dufferin Mutual for 33 years as our Vice President of Finance. Lisa had a strong hand in implementing IT initiatives within Dufferin and other mutuals along with being a member of the MCCG Board of Directors. Her contributions have been many over the years, but she will be remembered most for her positive nature, friendly face and her ability and willingness to help. Lisa is going to enjoy her retirement, spending time with her granddaughter and golng. Thank you for your many years of service Lisa. We will miss you here at Dufferin!Erie MutualDufferin MutualRetirementsCelebrating Those Who Helped Us Thrive
Page 48
pg. 48Tiffany Courcelles, CIP, has announced her intention to retire in January 2023. She began at HTM as a summer student in 1983 while studying at Mohawk College, before taking on a full-time position as Commercial Underwriter for 37 years. Her contributions, hard work, commitment, and dedication are worthy of admiration. Although we will all miss Tiffany, she has worked hard all of her career and has earned the opportunity to enjoy more time with her family, keep up with her volunteer work, and continue with her travelling escapades. We wish her all the best in her upcoming retirement!Maple Mutual held a long overdue gathering for retiring Directors, Phil Richards and Judy Bodkin on June 22nd. Delayed a number of times by the pandemic, Maple Mutual management and directors were able to nally enjoy a celebration of Phil and Judy's achievements. Phil and Judy are seen here accepting awards and receiving Maple themed gifts. Thank you for years of service, Phil and Judy!HT&C MutualPhil Erb retired on June 30th after an incredible 25 year career as an Agent with HT&C Mutual, starting with the legacy company Hay Mutual. Phil established an incredibly loyal book of members and has played an instrumental role in the success of our organization. He will be greatly missed by our staff and members but we are very excited for him on this next journey in life.We would also like to acknowledge the recent retirements of three members of our board.John Van Loo was elected to the Hay Mutual Board in 2004. He also served as Chair of the Hay Board, most recently in 2014. John served on the HR/Succession Planning Committee of HT&C Mutual.Linda McCormick came to the HT&C Board from the former Town & Country Mutual board. She was rst elected in 2015. Linda was also the Chair of the Finance/Audit Committee for HT&C Mutual.Tom Hartman was rst elected to the Hay Mutual Board in 2000. Tom has served as Chair of the Board, most recently in 2011. Tom was on the Finance/Audit Committee for HT&C Mutual.Thank you all for your contributions to our mutual community. Pictured (from left): John Van Loo, Linda McCormick, Tom HartmanHTM InsuranceMaple Mutual
Page 49
pg. 49Earlier this year, CTM bid adieu to VP Corporate Services, Mary Heastont as she started her well-deserved retirement.Mary started at R.E. Mann Insurance Brokers in Simcoe in 1980, where she worked with the future CEO of Norfolk Mutual, taking shorthand dictation and gaining a love of insurance.She then took some parental time for her two children, one of which would be the future CFO of Cayuga Mutual, Melissa Marcoux!Mary pioneered the hybrid work environment in August 1983, when she started at Erie Mutual in the basement ofce of the manager's home, working with paper policy registers and an Olivetti typewriter. The company moved to Dunnville to an actual ofce building and Mary gained the broad experience that can come as part of a mutual insurer. Along the way, she served on OMIA committees, gained her CIP, and her OTL license, and was appointed Secretary, Treasurer, and Manager.In 2009, Mary joined Townsend Mutual and then further deepened her experience when she oversaw a major software conversion whilst in the midst of an amalgamation.In lieu of a retirement reception, Mary asked Caradoc Townsend Mutual to donate to CMHA instead, and we were only too happy to do so.Thank you Mary, from everyone at CTM! May you live La Dolce Vita.CTM InsuranceAfter 35 years with West Elgin Mutual, Colleen McCready has decided to retire. Her last working day will be September 30th, 2022. Having joined the company on January 21st, 1987, Colleen is West Elgin Mutual's longest serving employee. We are tremendously thankful for her years of dedication and wish her all the best in this exciting new chapter. Congratulations, Colleen! West Elgin MutualTHE CHOICE IS CLEAR
Page 50
Education Map Your Path to Success at OMIA Subject to change Please refer to www omia com to review a current calendar of courses offered by OMIA Click on Education and then Education Calendar Please know that we are closely monitoring the COVID 19 situation as new information becomes available If changes to education sessions are necessary information will be updated on omia com as soon as possible Course Date Name Course Date Name September 14 Farm Discovery Day October 3 4 Commercial Liability Coverage September 15 Underwriting Managers Virtual Gathering October 4 11 18 Building A High Performance Team A 3 Module Program September 16 AM Delivering Professinal Performance Reviews Management Focus October 5 Residential Underwriting Roundtable September 19 PM Insuring Residential Condominium Unit Owners September 20 PM Automobile Underwriting Roundtable September 20 21 AM Commercial Property Coverage Review September 20 27 AM The Power of Positive Emotion to Foster Resilience October 6 Creating Optimizing LinkedIn Profiles October 6 13 Board Self Evaluation and CEO Evaluation What Boards Need to Know for Directors October 12 13 Farm Property Coverage Review October 18 19 Accident Benefits Claims Handling Workshop October 18 19 Residential Property Coverage Review September 22 AM Sales Business Development Marketing Managers Virtual Meeting October 19 Business Continuity and Disaster Recovery Roundtable September 22 AM Claims Managers Adjusters Roundtable October 20 Underwriting Managers Virtual Gathering September 27 AM Principles of Compensation Design Management October 25 Qlik Sense Session October 25 26 Personal Lines Automobile Course Program September 29 Commercial and Farm Underwriting Roundtable October 27 Accountants Roundtable September 29 Identifying the Regulatory Obligations of a Board of an Insurance Company for Directors October 27 Promoting Insurance to Value September 30 Ontario Mutual Loss Prevention League OMLPL Map Your Path to Success With Education at OMIA Visit omiaelearning com to see our current list of on demand eLearning courses As always find our current education calendar at omia com under Education pg 50
Page 51
pg. 51Kenneth WellsDufferin Mutual is saddened to announce the passing of our former board President, Kenneth Wells. Kenneth was a member of our board from 1984 to 2011, taking on a variety of rolls during this time including Vice President and, eventually President. He was a fundamental part of Dufferin's growth and development throughout the years and Dufferin is better for it. Thank you Kenneth. You will be missed.Joanne WinterIt is with great sadness that HTM Insurance informs you of the passing of a long-time mutual colleague and friend, Joanne Winter. Joanne worked in the mutual system for over 30 years, retiring in July of 2021. Her role in the last 10 years at HTM was Underwriting Manager. She was known to a lot of people in our industry as well as her community in Cobourg. Joanne always had a great attitude toward life; She loved to golf, travel, and to spend time with family and friends. With her jokes and contagious smile, she could always make someone's day better. As her loving obituary stated, she lived her life by the saying, "In a world where you can be anything, be kind." Robert GilchristWest Wawanosh Mutual is saddened to announce the passing of former director, Robert "Bob" Gilchrist.Bob farmed most of his life just outside of Lucknow and is well known to the community. In addition to farming, he operated a farm equipment business, worked as a butcher at Hilray Farms, and operated equipment for Teeswater Concrete and Porters. He brought his lived experience to the West Wawanosh Mutual board and we're grateful for his dedication.Bert AbbottWe are saddened to share of the passing of Bert Abbott, former Chair of the Ontario Mutual Insurance Association (OMIA), a director on the board of Farm Mutual Financial Services, and a director and past Chair of the Norfolk Mutual Board of Directors. Bert was a tobacco farmer and also the co-founder of Abbott & Townsend Lumber. Townsend Lumber is still active and located in Tillsonburg, Ontario. He loved to golf and was a member of the Tillsonburg Golf and Country Club. He also delivered Meals on Wheels and selessly used his resources to assist countless friends and family members when things were tough. In MemoriamRemembering Our Mutual Family Members
Page 52
Address: 350 Pinebush Road, Cambridge Ontario N1T 1Z6 (519) 622-9220 Fax: (519) 622-9227Mail: P.O. Box 3187 Cambridge ON N3H 4S6 www.omia.com And keep that news coming!Please send your news, photos, updates and more to marketing@omia.com. OM News can be read online at OMIA.com and sign-in is not necessary. Just visit www.omia.com and pick Ontario Mutuals Newsletter from the menu on the left of the page.READY TO GO GREEN? Please drop us an email if you'd prefer to read your OMNews online and help us save paper and ink. Email marketing@omia.com and we'll be sure that your name is included on the email notication that goes out when a new issue is available.