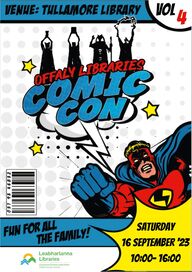 Return to flip book view
Offaly Libraries Comic Con 2022
Page 1
Page 2
INTRODUCTIONThis series of free events has been organised by OffalyLibraries, with support from Creative Ireland.To stay up to date on future news andevents at Offaly Libraries, please sign upfor our monthly newsletter atoffaly.ie/libraries Attendance at all events is free of charge and open to all.Please see individual event details for more information,Advance booking is required. To book, please contact Tullamore Library by email:tullamorelibrary@offalycoco.ie or phone: 0579346832
Page 3
WORKSHOPSEver wanted to write or draw something, butdon't know where to start? Let Wayne teachyou some tricks to help you put pen to paper.Design Your Own Superhero with Alan Nolan Booking is essential for workshops as places are limited. To book your place before 18th June, contact Tullamore Library by email: tullamorelibrary@offalycoco.ie or phone: 057 934 6832Join local digital artist Marta Boniakowska in this workshop tolearn how to create and pose a character as well as thebasics of cover layout and principles such as colour palettesand fonts.11:00am - 12.00pmSuitable for Ages 8 -12Create a Comic Cover Workshop with Marta Boniakowska'Getting into It!'Finding Inspiration for Comics and Stories with Wayne O'Connor Join author and illustrator Alan Nolan as he talks about hisfavourite superheroes and his superhero graphic novelDestination: Homicide. Learn how to draw a super-poweredanimal, and design your very own superhero!1:30pm - 2.30pmSuitable for Ages 8 - 122.30pm - 3.30pmSATURDAY 18TH JUNE 10am - 4pmBookingEssential BookingEssential BookingEssentialSuitable for Ages 8 - 12
Page 4
OFFALY LIBRARIES COMIC CONVendor StallsActivitiesCosplay CatwalkLibrary ServiceDesksEntry and ExitsWelcome DeskEntranceMechatrons Robotics Ghostbusters IrelandMarta Boniakowska ArtRetro Ralph GamesADV ComicsAlberich DesignsIrishComics.ieShamrock BricksLEGO Zone with Shamrock Bricks VEX RoboticsCosplay CompetitionJudges TableTable TopGames ZoneCosplay EntrantsAssembly PointToilets & Changing FacilitiesLIFTExitExitCosplayers Zone:Crafty Nathan's CreationsEmpty CosplayDaken Cosplay501st GarrisonCosplay DemonstrationAreaMain Desk WorkshopsUpstairsDemonstrationsDoors Open at 10amSATURDAY 18TH JUNE 10am - 4pmEmergencyExit Only
Page 5
WITH SPECIAL GUESTSGHOSTBUSTERS IRELANDMechatrons Robotics501st GarrisonSATURDAY 18TH JUNE 10am - 4pm
Page 6
WITH SPECIAL GUESTSShamrock Bricks will have various Lego Models on display throughout the library, can you find them all? Visit their stall to pick up some fabulous merchandise or join Shamrock Bricks in the LEGO Freeplay AreaSuitable for all ages!SATURDAY 18TH JUNE 10am - 4pm
Page 7
ROBOT STAR WARSTest your Robot skills in our VEXrobotics arena! Can you help Luke Skywalkerdestroy the Death Star? Great fun for all ages!SATURDAY 18TH JUNE 10am - 4pm
Page 8
TABLE TOP GAMES Let Leon O'Connor show you theways of Warhammer!Booking is recommended as places are limited. To book your placebefore 18th June, contact Tullamore Library by email:tullamorelibrary@offalycoco.ie or phone: 057 934 6832 Play through a game of Dungeons andDragons with Leon O'Connor, learningthe basics that will turn you into a pro!1.15pm - 2.30pm10.30am - 12.30pmSATURDAY 18TH JUNE 10am - 4pm
Page 9
COSPLAY ZONEShow and Tell: Panel DiscussionJoin our three judges as they work as ateam to create a cosplay accessory in thelibrary.Questions are welcome!Will you guess what they're making?Interactive DemonstrationsFind out what our Judges can dowith a €10.00 budget and somerecycled materials!SATURDAY 18TH JUNE 10am - 4pm12.00pm- 12.30pmCosplayZone12.30pm- 1.00pmCosplayZoneMeet the Judges:Marie Théreseof Empty CosplayKevin of Daken CosplayNathan of Crafty Nathan'sCreationsCosplay = Costume Play( )
Page 10
COSPLAY COMPETITIONTeen aged 12-17Adult over 18Child aged 0-11Marie Therese: Loves Creative ideas that make an impression. If thecosplayer can put on a show for the crowd, all the better!Kevin: Kevin loves functional looks that have the wearability they need. Ifsomething has been weathered or painted, he's a happy judge!How to Enter:Categories:Attend the Offaly Libraries Comic Con on June 18th 2022 (Doors open at 10:00am)Dress up as your favourite Superhero or Comic Character!Complete an entry form at the desk and receive your entrant's wristbandMeet at the Cosplay Competition area at 2:15pmJudging takes place from 2:30pmJudges announce the winners at 3:30pmSATURDAY 18TH JUNE 10am - 4pmBestHandmadeJudgesChoicesJudges like to see cosplays that are at least 70% handmade to give out this prize. Fill in your entry form on the day and let them know why you should win this year! Cosplay Competition - Judge's Choices:Nathan: The bigger the better! Nathan likes cosplays that are heavy onthe detail and loves to see the thought that goes into a look. Cosplay = Costume Play( )
Page 11
VENDORS AND ARTISTS ALLEY Marta BoniakowskaMarta BoniakowskaColorful digital art printsColorful digital art printsto win all hearts!to win all hearts!SATURDAY 18TH JUNE 10am - 4pmRetro Ralph Video GamesRetro Ralph Video GamesVintage Video Games andVintage Video Games andaccessories to remind everyoneaccessories to remind everyonethey're a gamer!they're a gamer!Alberich DesignsAlberich DesignsHandmade geeky jewelry,Handmade geeky jewelry,accessories, wands, pens, homeaccessories, wands, pens, homedecor and much more!decor and much more! ADV ComicsADV ComicsComics and Comic MerchandiseComics and Comic Merchandise with something for everyone!with something for everyone!Irish Comics.ieIrish Comics.ieSay hello to these Comic Creators,Say hello to these Comic Creators,whether you like Irish folklore,whether you like Irish folklore,history, science fiction, fantasy orhistory, science fiction, fantasy orhorrorhorrorShamrock BricksShamrock BricksFigures and MerchandiseFigures and Merchandise for every LEGO lover!for every LEGO lover!
Page 12
SURVIVOR'S GUIDE TO OFFALY LIBRARIES COMIC CON 2022Get with the Programme!To avoid disappointment, double checkwhich activities require prior booking andmake sure you save your place! Bookings can be made by phone, 057 9346832SATURDAY 18TH JUNE 10am - 4pmFast Track your DayBring your Library Card for fast entry to competitions and activities. It's free to join, so why not register online atoffaly.ie/libraries before 18th June?On the Day:Know your Emergency Exits!Stay Hydrated!Bring waterHave Fun!Know your Competition Deadlines!Create a Comic Book Cover CompetitionPlease submit all entries by Saturday, June 11th for judging.Winners announced on Saturday, June 18th Cosplay CompetitionEntry Forms must be completed before 2pm Saturday, June 18th.We ask all entrants to gather at the Cosplay Assembly point at2.15 for judging via the Cosplay Catwalk
Page 13
Download eBooks & eAudiobooks to your device for free withBorrowbox at Offaly Libraries. For adults, teens and children.Download eMagazines, Comics, coloring books and more to your devicefor free with Overdrive/Libby at Offaly Libraries. For adults, teens andchildren.Stream movies for free with Beamafilm at Offaly Libraries. For adults,teens and children.Stream & download music for free with Freegal at Offaly Libraries. Foradults, teens and children.Learn a Language for free with Transparent Language at Offaly Libraries..TTRS is an accessible, multi-sensory online literacy course that teachesreading and spelling through touch-typing. Suitable from ages seven to107.Learn something new from over 400 courses for free with UniversalClass at Offaly Libraries. iVox is an interactive storybook app for children ages 4-8. Designed forlittle hands and big imaginations,The Sensory Room is now available for bookings!Sensory Offaly Toys & Book Collections are also available.Who Next? is designed to help children and young people to read morewidely, by suggesting authors they might enjoy. Busy Code introduces children (6-13) to coding and is perfect forlearning programming concepts. Encyclopaedia Britannica is filled with comprehensive and digitallearning content for all age groups. How often have you finished a book and thought, "What can I read next?Then the 'Who Else Writes Like…?' website is here to help! FREE ESERVICES AT OFFALY LIBRARIES
Page 14
Ground FloorGround FloorUpstairs ( Creative Zone )10amDoors OpenOffaly Libraries Comic Con2022 Begins! 10.30am 11.00am 11.30am 12.00pmShow and TellPanel Discussion 12.30pmInteractive Demonstrations 1.00pmPerfect Time for Lunch! 1.30pmCreate a Comic Cover CompetitionWinner Announced 2.00pmCosplay Entrants - Meetat Assembly Point 2.30pm2.30 - 3.30pmCosplay Catwalk and Judging 3.00pmCosplay Catwalk and Judging 3.30pmCosplay Winners Announced 4.00pmOffaly Libraries ComicCon 2022 Concludes 1.15pm - 2.30pm Dungeons & DragonsDemonstration 1.30 - 2.30pmComics andStories Workshop with Wayne 2.30pm - 3.30pmDesign yourOwn Superhero withAlan Nolan10am - 12pmVEX RoboticsFreeplay 10am - 12pmWarhammerDemonstrationQUICK GUIDE TIMETABLEKeep an eye out for R2D2, Daleks,Stormtroopers, Ghostbusters and more through out the day!Shamrock Bricks will have some amazingLego displays on exhibition through out thelibrary!Can you find them all?ALL DAYAll DayBooking is essential for worskhops held upstairs in the Creative Zone. Phone 05793 46832 or email tullamorelibrary@offalycoco.ie to secure your place.11am - 12pmCreate a Comic Cover Workshop Lego Freeplay ALL DAY with Shamrock Bricks!