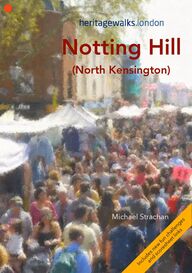 Return to flip book view
Notting Hill (North Kensington)
Page 1
!Michael StrachanNotting Hill (North Kensington)
Page 2
Copyright © heritagewalks.london 2019 75 West Street, Harrow on the Hill, London HA1 3EL info@walkingthepast.co.uk First published in the UK in 2012 Text and images copyright © Michael Strachan Michael Strachan has asserted his rights to be identified as the author of this work in accordance with the Copyright, Designs and Patents Act, 1988. All rights reserved. No part of this publication may be reproduced, stored in a retrieval system, or transmitted, in any form or by any means, electronic or mechanical, by photocopying, recording or otherwise, without prior permission in writing from the publisher. (The cover illustration shows Portobello Market).
Page 3
Michael StrachanNotting Hill (North Kensington)
Page 4
INTRODUCTION This walk takes you down to Portobello Road and the northern end of Ladbroke Grove to where the present Portobello Market began. From St John's Hill it moves down to the 'piggeries and potteries' area and Norland Square, returning to Notting Hill. Until the early nineteenth century Notting Hill was a small vil-lage set in the countryside far outside London following the old Roman road to Oxford. Portobello Lane (now Road) turned northward as far as Portobello Farm, and until well into the nineteenth century, much of the northern part of Kensington remained remote and inaccessible. From the 1820s this area became a development hotspot as fashionable London fol-lowed the Royal Family westward to Kensington Palace. The Kensington Hippodrome was a racecourse built here in 1837, by entrepreneur John Whyte who leased 140 acres of land from James Weller Ladbroke, owner of the Ladbroke Es-tate. It closed in 1842, and the land was developed by Lad-broke, who built crescents of houses on the site. During the boom years leading up to the peak of building in northern Kensington in 1868, many immigrants settled here for the building and service jobs. The Irish predominated but were soon followed by the Welsh and Jews. This pattern of immigration continued between the World wars and into the 1950s when there were settlements from the Caribbean, India and West Africa and Europe. Racial tensions, 1Portobello Farm early 19th centuryLadbroke Grove station early 19th centuryCarnival
Page 5
fanned by unscrupulous right wing politicians, greedy land-lords and criminal elements, led to the Notting hill riots of 1956. The local community responded by founding the Not-ting Hill Carnival to celebrate the wonderful and positive cul-tural diversity. Thereafter the area was 'gentrified', but has be-nefited from more waves of migrants from Europe and South America, making it one of the most diverse and exciting parts of London. To hear this Introduction please click this icon To find out more about 'What3Words' please click this information icon 2If you would like to donate an amount which will help us cover our costs and continue to work on new publications please scan or tap the QR link below:
Page 6
Planning Your Walk 1. If possible, walk with a friend. 2. Tel l som eone whe re you are g oing . 3. Tak e care when wal king at nigh t. 4. Wear sensible clothes and footwear. 5. Always take a bottle of water to avoid de-hydration. 6. Don't try to do too much in one visit. 7. Check the opening times of all Museums and Galleries online. 8. Tak e you r ca mera or ca mer a ph one with bat te rie s fu lly charged. 9. If you are printing out this do staple these!pages!together!. 10. Don't forget to download your free Quiz and Plaque scoresheets by using the URL links on the next page… Start at Westbourne Grove Underground station. (Circle line and Hammersmith and City) End at Notting Hill Gate Underground station. (Central, District & Circle lines) Use the Transport for London (TFL) planner to plan your journey. 36.3 km 2 - 3 hrs
Page 7
To make your walk more interesting… …we have created an on-line, interactive map which you can find by clicking the link below, or by scanning the green QR code opposite. This will only work if you are reading this guide on a smart device like an iPad: Plot-a-Route map We have also added some fun challenges - the first is a picture quiz. So you need to look out for interesting ob-jects such as 'street furniture', statues and architectural features shown in the I-Spy Challenge scoresheet. Click the link below, or scan the pink QR code opposite, to access a download for this scoresheet. It can then be printed or saved: I-Spy Challenge The second challenge is to 'bag' all the plaques along this walk. These are listed on a 'Pastwalkers' scoresheet along with their 'what3words' loca-tions. (Click the information icon op-posite for more about how 'What3-Words' works). The plaque scores are based on age and quality rather than the importance of the person or event commemorated. Download by clicking on the link below, or by scanning the blue QR code opposite: Plaque Challenge 4Tick them off when you find them
Page 8
From Westbourne Park to Notting Hill Gate As you come out of Westbourne Park station onto Westbourne Grove, turn right and… …pause to admire the Metropolitan pub… …before turning right into Tavistock Road and walking down to the junction with St Luke's Road… As you look to the right, on the corner you'll see an im-posing stucco villa with two plaques at ground level. Both are in memory of the writer W. H .Hudson (shown below). Hudson was born near Buenos Aires in Argentina and grew up to be a keen ob-server of nature in what was then a lawless frontier. He settled here in North Kensington and produced a series of ornithological stud-ies and books on the English countryside which helped encourage the back-to-nature movement of the 1920s and 1930s. He was also a founding member of the Royal Society for the Protection of Birds. Hudson's best known novel is Green Mansions (1904), later made into a film starring Audrey Hepburn. His best known non-fiction is Far Away and Long Ago (1918). His works were much admired by Ernest Hemingway. Continue down Tavistock Road through the green area to the junction with Portobello Road… 5
Page 9
On nearby buildings you'll find four Kensington plaques commemorating some of the people who made the Not-ting Hill Carnival into one of Europe's greatest festivals. Leslie Palmer (shown right) was a Trinidadian com-munity activist, writer and teacher, who migrated in the 1960s to the UK. He became involved in music and the arts in West London and is credited with de-veloping the idea for the Notting Hill Carnival, radically transforming its structure and content. Russell Henderson was another Trinida-dian. He founded the Russell Henderson Quartet in the 1940s before travelling to England where he played at the first Children's Carnival in 1964. Rhaune Laslett-O'Brien was a com-munity activist and the principal or-ganiser of the Notting Hill Fayre or Festival, that evolved into the Notting Hill Carnival with its world famous August bank holiday parades. Claudia Jones was a Trinidad-born journalist and activ-ist. As a result of her political activities in the United States, she was deported in 1955 and came to the United Kingdom. She founded Britain's first major black newspaper, The West Indian Gazette (WIG), in 1958. Turn right up the Portobello Road under the motorway underpass… This area is now called Portobello Green and is known for vintage clothing & accessories, collectables and bric-a-brac. 6For more in-formation on the Portobello Road Markets follow this link…
Page 10
Walking further up towards Golborne Road… … you'll pass a group of buildings on the west side of Portobello Road that was ori-ginally occupied by nuns of the Third Order of St. Francis, whose convent had been founded in 1857 at the instance of Dr. Henry Manning, who later became Cardinal Arch-bishop of Westminster. It is now a Spanish Primary and Secondary School. On the other side of the road, where now there is a modern estate of homes and flats, there used to be a Roman Catholic home for the aged and infirm. St. Joseph's Home was was built on the site of Portobello Farm and managed by the Little Sisters of the Poor, founded by Jeanne Jugan in 1839, who came to North Kensington from Brittany in 1865. 7Jeanne Jugin
Page 11
The picture on the previous page shows Portobello Farmhouse as it looked around 1864 with the tower of All Saints church in the background. The farm dated from 1740 and covered 170 acres, mainly cornfields and meadows. Portobello Lane was described by a local in 1882 as one of the pleasantest rural walks in London. The farm was named in honour of Admiral Vernon's capture of Porto Bello in the Gulf of Mexico in 1739 from the Span-ish. The road ran from Notting Hill Gate to the farm, and Portobello Road was known as 'the Lane' by locals well into the 1960s. At the junction with Golborne Road turn left down Chesterton Road… Turn right into St Lawrence Terrace and left into St Michael's Gardens by St Michael's Vicarage and Church to Ladbroke Grove… The site for St Michael & All Angels was given by C. H. Blake and John Parson, the two principal developers of the Portobello estate. The style chosen - Rhineland Romanesque in brick with terra-cotta, red Mansfield and Forest of Dean stone dressings - was a curious one for the time, when Gothic architecture was more popular with archi-tects. During its early years it was a fashionable church, famous for its music and frequented by members of the Royal 8
Page 12
Family. Its services were advertised on the front page of The Times, and the then Duke of Edinburgh was known to play the violin in the orchestra. Cross over Ladbroke Grove and there is a plaque on number 239… Hablot Knight-Browne - the famous illustrator of Charles Dickens' novels lived here between 1876 - 1880. You can see an example of his artwork opposite. He usually signed his work as 'Phiz'. When asked to explain why he chose this name he answered that it was done to harmonize better with Dickens's pen-name "Boz". Continue down Ladbroke Grove past the entrance to Chesterton Road… Turn into Bassett Road and look for number where you'll find the next plaque… It was here that Amy Garvey lived between 1934 and 1960 and you'll find a Kensington & Chelsea blue plaque commem-orating this. She was a feminist, and notable human rights cam- 9Amy Garvey
Page 13
paigner, Pan-Africanist and the first wife of the controver-sial politician Marcus Garvey. Amy Ashwood (as she was then known) married Garvey in a Catholic ceremony, but the couple separated after just three months. Garvey ob-tained a divorce in Jackson County, Missouri which Ash-wood contested, and for the rest of her life she claimed that she was Garvey's legitimate spouse Return to Ladbroke Grove and continue walking down past Oxford Gardens… Don't miss the shop front of Messrs John Nodes the un-dertakers - it is one of the few in the area which have hardly changed over the years. Carry on walking down Ladbroke Grove under the motorway and past the station to the junction with Lancaster Road… Looking back to railway bridge you can now compare it to the photos shown h e r e o f t h e same view in the early 20th century. The shops have changed and the railway station now is 'Ladbroke Grove' but little else has changed. Originally opened as part of the Metropolitan Railway on 13 June 1864, Ladbroke Grove station was originally named Notting Hill. When that line was extended from Paddington to Hammersmith it was renamed Notting Hill 10
Page 14
& Ladbroke Grove in 1880. In 1919 it became Ladbroke Grove (North Kensington), before acquiring the present name in 1938. This photo was taken when the area north of the station had still not been developed. Across the road you will see the North Kensington Public Library building Library, built in the 1890s as part of the free library movement following the Public Libraries Act of 1850. The Act followed a period of campaigning led by the Liberal MPs William Ewart and Joseph Brotherton, and Edward Edwards, a former bricklayer and Chartist, who had educated himself in the libraries of the Mechan-ics' Institute. Divert briefly past the library up Lancaster Road… On your right is the Serbian Orthodox Church of Saint Sava, originally built as the Anglican church of St Columb in 1903. After the Second World War, the church was pur-chased and adapted to suit the needs of the Orthodox Serbian community of West London and consecrated in 1952. !! The interior of the church looks truly magnificent, adorned with accurate copies of frescoes painted inside several mediev-al Serbian monasteries. Out-side there is a striking mosaic of Saint Sava which can be seen from the street. (See op-posite). Note the plaque cel-ebrating Miodrag Purkovic 1907-1976 Serbian historian, chairman of the Society of Serbian Writers and Artists Abroad who lived here 1972-1976.11
Page 15
Return to Ladbroke Grove and turn left… When you reach the Elgin pub cross over Ladbroke Grove and continue walking past Blenheim Crescent until you reach Elgin Crescent… As you turn into Elgin Crescent look to your right for a plaque on number 60 commemorating Jawaharlal Nehru. One of the founders of mod-ern India, he had attended Harrow School and Trinity College, Cambridge. After studying law at London's Inner Temple, he returned to India at the age of 22 to practise law. In 1929, he was elected president of the Indian Na-tional Congress—which sought independence from Britain. At the outset of World War II Britain de-clared war on Germany without consulting Indian leaders, and Congress demanded political freedom from Britain in exchange for support in the war effort. The Brit-ish government responded by arresting all Congress leaders, including Nehru and Gandhi. Nehru became the nation's first prime minister in 1947 and successfully established various reforms and policies that earned him the respect and admiration of millions of Indians. His daughter, Indira Gandhi, and grandson, Rajiv Gandhi, later served as prime ministers. Cross over Elgin Crescent and you'll see another blue plaque at number 79 celebrating Sir Osbert Lan-caster… Lancaster was born in London, and educated at Lincoln College, Oxford where he became friends with the poet 12
Page 16
John Betjeman and drew cartoons for the university magazine Cherwell. In 1939 he became cartoonist at the Daily Express, where, over a period of 40 years, he pioneered the pocket cartoon, a topical drawing appearing on the front page. In these he sympathetically mocked the British upper classes with his charac-ters such as William (8th Earl of Littlehampton, formerly Viscount Draynflete) and his wife Maudie. After the war Lancaster published several works surveying the architectural and aesthetic trends in British and Eu-ropean history. In 1951 he worked with John Piper on designs for the Festival of Britain before moving into stage design work for opera, ballet and theatre. Turn left into Rosmead Road and again left into Landsdowne Road… Here at number 117 the British World Chess Champion Howard Staunton lived for a while. An English chess master, he was regarded as the world's strongest player from 1843 to 1851, largely as a result of his 1843 victory over Pierre Charles Fournier de Saint-Amant. He promoted a standardised chess set – the Staunton pattern promul-gated by Nathaniel Cooke – that is still the style required for competitions Continue to the junction with Ladbroke Grove and cross over into Arundel Gardens… 13
Page 17
At number 12 Sir William Ramsay lived, as shown by the blue plaque in his honour. He was a Scottish chemist who discovered the noble gases and received the Nobel Prize in Chemistry in 1904 for the discovery of argon, along with his collaborator, Lord Rayleigh, who received the Nobel Prize in Physics that same year. At the end of Landsdowne Road turn left into Kensington Park Road, crossing over Elgin Crescent and up to Blenheim Crescent… This brings you back into the heart of the Por-tobello market at the point where some of the action of the film 'Notting Hill' took place. Turn right into Blenheim Crescent and look out for 'The Notting Hill Bookshop' and its film plaque… Continue up to Portobello Road and turn right… This is one of the most popular areas of the Por-tobello Road and the Market. On your right you'll see the 'Electric Cinema' , one of the oldest working cinemas on the UK. It opened in 1910 and was de-signed by architect Gerald Seymour Valentin in the Edwardian Baroque style. It changed its name in 1932 and be-came the 'Imperial Playhouse', but the area had become run-down and to many local cinema-goers it was known 14Sir William Ramsay
Page 18
as the 'bughutch'. Today it is an attractive cinema club and has returned to its original name. Continue along Portobello Road and cross over the junction with Elgin Crescent… This part of the Market attracts many tourists, especially on Saturday and Sunday. What began as a fresh-food market in the 19th century changed as antiques dealers arrived in the late 1940s and '50s, and now it is the largest antiques market in the UK. Note the plaque dedicated to Susan Garth above a series of linked shops on your right - the Red Lion Antiques ar-cade. She is credited with having developed the interna-tional reputation of the antiques area. Increasing rents have forced out many indi-vidual traders and chain stores are always at-tempting to muscle in. To find out more about the history of Portobello Road and how it has changed in order to survive follow this link… Continue up Portobello Road to the junction with Westbourne Grove… At the junction, if you to the right you will see the Twentieth Century Theatre - (291 West-bourne Grove) - a Grade 2 listed English Her-itage building circa 1860. It has seen memorable per-formances by Laurence Olivier, Margaret Rutherford, Rex Harrison, Marie Lloyd, Sir Henry Irving and many more. Charles Dickens staged readings here. For twenty years it was the London headquarters for Rudolph Steiner. 15Laurence Olivier
Page 19
Walk up Portobello Road to the junction with Chep-stow Villas where you turn right… Just across the road you will see a blue plaque honouring Louis Kossuth a noted Hungarian politician and re-former in the nineteenth century. Continue across Kensington Park Road into Kensington Park Gardens… Look for a large stucco house with a blue plaque. This one honours the nineteenth century sci-entist Sir William Crookes who carried out pioneering work in spectography. in his later life he became obsessed with spiritualism and, in a famous case involving Harry Houd-ini, the fraudulent basis of spiritualism was exposed. At the end of Kensington Park Gardens cross over Ladbroke Grove … At this high point you are standing on what used to be the grandstand of the Hippo-drome racecourse. Now the site of the local parish church, St. John's Church, from here spectators could view the races from start to finish as the competitors galloped around the course. In August 1836, a Mr. John Whyte took a twenty-one-year lease of 140 acres of ground and laid out courses for steeplechas-ing and flat racing, the principal entrance being at the modern junction of Kensington Park Road and Pem-bridge Road. He secured the fashionable patronage of 16Louis KossuthSir William Crookes
Page 20
Count D'Orsay and the Earl of Chesterfield as stewards and the first meeting at the new Hippodrome took place on 3 June 1837. By this time there was very strong local opposition, be-cause a public footpath crossed the course, providing the shortest route from Kensing-ton village to Kensal Green and Willesden. The fence Whyte had erected to sur-round the course now ob-structed this path, and when the Hippodrome opened in Jun e som e ver y large crowds successfully claimed a right of free entry along the path. The Sunday Times recorded that 'A more filthy or disgusting crew than that which entered, we have sel-dom had the misfortune to encounter.' In 1839 the Hippodrome was being directed by a man-agement and council of titled aristocrats who planned to raise a capital sum of £50,000 by dividing the property into five thousand 'proprietorships' of £10 each. The course was altered to clear the footpath. Besides the racing there were to be livery-stables where horses might be hired for hack riding in the vicinity, and facilities for cricket, archery, 'revels, fetes, balloon as-cents, fancy fairs etc., etc.' The whole park was to be en-closed by a high wooden fence, to keep out the rough- necks of the nearby Potteries. 17The Hippodrome in 1841
Page 21
However, Whyte's financial posi-tion continued to deteriorate and in 1842 he gave up the struggle, and relinquished his lease back to James Weller Ladbroke, who quickly re-sumed the development of the Ladbroke Estate, building crescents of houses on Whyte's cir-cular race track. Turn right before entering Lansdowne Crescent… Turn left into Landsdowne Rise and then into Clar-endon Road … At number 50 view the next blue plaque remember-ing Emmeline and Christabel Pankhurst… Emmeline Goulden was born on 14 July 1858 in Manchester into a family with a tra-dition of radical politics. In 1879, she mar-ried Richard Pankhurst, a lawyer and sup-porter of the women's suffrage movement. He had helped to draft the Married Wo-men's Property Acts of 1870 and 1882, al-lowing women to keep earnings or property acquired before and after marriage. His death in 1898 was a great shock to Em-meline. In 1889, she founded the Women's Fran-chise League, which fought to allow married women to vote in local elections. By 1903, 18
Page 22
she had helped to establish the more militant Women's Social and Political Union (WSPU) - which took more dir-ect action and whose members were the first to be called 'suffragettes'. Emmeline's daughters Christabel and Sylvia were both active in the cause. British politicians, press and public were horrified by the demonstrations, window smashing, arson and hunger strikes of the suffragettes. In 1913, WSPU member Emily Davison was killed when she threw herself under the king's horse at the Derby as a protest at the government's continued fail-ure to grant women the right to vote. (See poster opposite.) Like many suffragettes, Emmeline was arres-ted on numerous occasions over the next few years and went on hunger strike herself, resulting in violent force-feeding. In 1913, in response to the wave of hunger strikes, the government passed what became known as the 'Cat and Mouse' Act. Hunger striking prisoners were released until they grew strong again, and then re-arrested. Emmeline supported the war effort in 1914. The Repres-entation of the People Act gave voting rights to women over 30 in 1918. Emmeline died on 14 June 1928, shortly after women were granted equal voting rights with men (at 21). Return to the junction with Landsdowne Rise and cross the road into Clarendon Cross… 19
Page 23
Continue across and into Hippodrome Place - a short road remembering the ill-fated racecourse… Turn right into Walmer Road… You've now walked down from the site of the Hippo-drome into what used to be the 'Potteries and Piggeries' - a notorious area. The area today has houses that have been gentrified and sell for enormous figures, but back in the early nineteenth century it was a foul, notorious and violent slum avoided by anyone with sense. Just one pot-tery kiln remains in Walmer Road, shown below in a nine-teenth century print, and is marked by a Kensington and Chelsea blue plaque. After viewing the pottery kiln return to the junction of Walmer Road and Hippodrome Place… If you look over to your left, across the road into Pottery Lane you will see the Roman Catholic church of St Francis 20
Page 24
of Assisi. This church was built in 1860 by John Bentley, later famous as the architect of Westminster Cathedral. The simple style was imposed by the poverty of the neighbour-hood and the clergy's limited resources - the building was paid for almost entirely by Fr. Henry Augustus Rawes. Two sites were con-sidered by him, the first up on the hill by St. John's Church, the other on Pottery Lane. Fr. Rawes chose the latter site because, in his view, the rich could always come down the hill to go to church, but the poor would al-most certainly not go up it. To your left across the road take the entrance to Prin-cedale Road and follow this to the junction with Pen-zance Place… Turn right into Penzance Place and carry on until you reach St James Gardens with the church and gardens on your left… At number 31 you'll find a blue plaque commemorating Lao She - a Chinese writer who lived here between 1925 and 1928. He was one of the most significant figures of twentieth century Chinese literature, best known for his novel Rickshaw Boy and the play Teahouse. Tragically, he was severely humiliated in public by the Red Guards in the Cultural Revolution, and this persecu-tion led to his suicide. Continue around St James Gardens turning right when you reach the other end of Penzance Street… 21John BentleyLao She
Page 25
St James Norlands is a fine example of a Victorian church designed in 'the Gothic style of the twelfth century' by Lewis Vuillamy. The area was one of the first conservation areas designated by the Royal Borough of Kensington and Chelsea. At the junction with St Annes Villas turn left… As you cross the road view the Holland Park synagogue at number 8 St James Gardens. It's one of the oldest synagogues in London, founded, in the early 1900′s, by West London's Sephardi immigrant community originat-ing from Turkey and Salonika. At 17 St Annes Villas you'll see the next blue plaque celebrating Albert Chevalier, a legitimate theatre actor who went on to become a famous Victorian Music Hall artist. His most famous song was 'My Old Dutch' (cock-ney rhyming slang - 'Duchess of Fife'). 'As with many music hall songs, the lyrics dealt with poverty and gender differences. When introducing the song, Chevalier would enter dressed as an elderly Cockney man with his elderly partner. They would head to-wards a workhouse, whereupon the porter would separate them under the sexual se-gregation rules. Chevalier's character would cry out in refusal, "you can't do this to us; we've been together for forty years!" The porter and woman then exited the stage, and Chevalier would begin the song.' Turn left into Queensdale Road… 22Albert Chevalier
Page 26
Cross over Addison Avenue, noting the many beau-tiful Grade 2 listed houses and the view left down to St James Norland church… Walk to the end of Norland Square and turn right to continue around the Square before turning left into Norland Place… Norland Place is an interesting mews constructed as stables with accommodation above for staff and their families. They served the larger houses locally with horses and carriages but are now very desirable homes for the wealthy. Turn right into Princedale Road and walk up to Hol-land Park Avenue… 23
Page 27
Holland Park Avenue's present design was laid out in the 19th century. Despite the heavy traffic, it is elegantly lined with large well-established plane trees and boasts attractive terraces of large Victorian townhouses, as well as numerous high-end shops and restaurants. Walk up Holland Park Avenue to Portland Road and turn into it… Turn right into Ladbroke Road… When you reach Lansdowne Road look for a large corner building on your right … This is Lansdowne House, 80 Lansdowne Road, in which various artists lived who are commemorated by a blue plaque… Charles Ricketts (1866-1931) Charles Shannon (1863-1937) Glyn Philpot (1863-1937) Vivian Forbes (1891-1937) James Pryde (1866-1941) F. Cayley Robinson (1862-1927) Continue walking up Ladbroke Road… Number 117 was owned by Sir Edmund Davis (1861-1939), a millionaire patron of the arts who built nearby Lansdowne House to provide flats for artists. He let this house to artists as well and probably added the enormous studio with a huge northern light you can see on the top floor. He also owned Chilham Castle, pur-chased from the sale of three paintings – a Van Dyck, a Reynolds, and a Gainsborough. Cross over Ladbroke Grove… 24
Page 28
On the corner you'll see the original nineteenth century police station building and, as you walk up Ladbroke Road, on your left is the Ladbroke Arms pub. Continue walking around Ladbroke Road to the junc-tion with Kensington Park Road passing Horbury Mews on your left… Just before you reach the junction there is a low stone building which used to house the Mercury Theatre and the first home of the Ballet Rambert. The theatre and the Ballet Rambert appear in Powell and Pressburger's 1948 film The Red Shoes. Today the building is distinguished by a small bronze figure of Mercury mounted on the east end of the roof and two plaques marking each of these important foundations. Continue right into Notting Hill Gate and the tube station - where this walk ends. Don't miss the taxicab shelter in the middle of the road. 25
Page 29
If you have enjoyed this digital guide...
...please consider donating a reasonable amount by scanning or tapping the QR code below and
following the instructions.
Your contribution will help us to continue developing and designing our walks and will be greatly appreciated.
Contact Us send