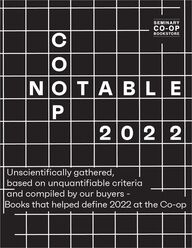 Return to flip book view
Notables 2022
Page 1
COOPN TA B L EUnscientifically gathered,based on unquantifiable criteriaand compiled by our buyers -2 0 2 2Books that helped define 202 at the Co-op

Page 2

Shop anytime at semcoop.com2023 Seminary Co-op NotablesNoteworthy titles fromthe Seminary Co-op BookstoreBooks that helped define 2022 at the Co-opBeginningMiddleEndHow to use this book, defining the Front Table, pastCo-op Notable Editions, ways to support the Co-opCo-op Notables Top 12 of 2022, featuring facultyauthors and radical thinkersCo-op Notables 2022 Full Selections, including worksby Ross Gay, Ed Yong, and Imani Perry

Page 3
How To Use This BookA Guide to Virtual Browsing1. Navigational tools are your friend. Use the arrows on either side of page to turn the page - almost as fun as turning a real book page! 2. Click! Throughout the book, you'll find clickable links. Feel free to click on them and follow your favorite books back to semcoop.com.3. If you'd like, use the bar at the top right of your screen to download this book as a PDF. Using either a PDF reader or a printer, mark up your own copy! 4. Enjoy the browse! Remember: there's always more to see at semcoop.com
Page 4

SEMINARY CO-OP BOOKSTORESThe first not-for-profitbookstore whosemission is booksellingThe Seminary Co-op's "product" if you will, hasalways been the browsing experience createdby our unwavering commitment to stocking andselling books of cultural, literary, andintellectual value. We recognize that in additionto purchasing books, most of our customerspatronize our bookstores in order to interactwith a space dedicated to books - a space, asAleksandar Hemon writers, "where nothingexcept books seems to exist fully, whereeverything else is either no important oralready in the books."Support the Co-op at semcoop.com/give

Page 5
PAST NOTABLESClick on any image below to browse previous Notables2017 2018 2019The LastDecade2020 2021

Page 6

The Front TableSubscription BoxFrom the Seminary Co-opBookstores, a recently expandedbi-monthly service offeringcurrent releases that are speciallyselected for the discerning generalreader. Find your way into livelyconversations with classic authorsand contemporary thinkers bysubscribing today!Which way will you read?Choose from:ClassicFront Table,with 9 differentoptions
BRAND NEWPaperbackFront Table &LiteratureFind out more and order atsemcoop.com/subscriptionsOR bundle as you choose!


Page 7

Shop anytime at semcoop.comNotables 2022 - Top 12Jena 1800: The Republic of Free Spirits (Farrar, Straus and Giroux)Peter Neumann; Shelley Frisch, trans.Around the turn of the nineteenth century, a steady stream of young German poets and thinkers coursed to thetown of Jena to make history. The French Revolution and the Napoleonic Wars had dealt a one-two punch to thedynastic system. Jena became the place for the young and intellectually curious, the site of a new departure,of philosophical disruption. Inuenced by Johann Wolfgang von Goethe, then an elder statesman and artisticeminence, the leading gures among the disruptors--the translator August Wilhelm Schlegel; the philosophersFriedrich Fritz Schlegel and Friedrich Schelling; the dazzling, controversial intellectual Caroline Schlegel, marriedto August; Dorothea Schlegel, a poet and translator, married to Fritz; and the poets Ludwig Tieck andNovalis--resolved to rethink the world, to establish a republic of free spirits. They didn't just question inheritedsocietal traditions; with their provocative views of the individual and of nature, they revolutionized ourunderstanding of freedom and reality. With wit and elegance, Peter Neumann brings this remarkable circle offriends and rivals to life in Jena 1800, a work of intellectual history that is colorful and passionate, informative andintimate--as fresh and full of surprises as its subjects.

Page 8

Shop anytime at semcoop.comLost & Found: A Memoir (Random House)Kathryn SchulzEighteen months before Kathryn Schulz's beloved father died, she met the woman she would marry. In Lost & Found, she weaves the stories of those relationships into a brilliant exploration of how all our lives are shaped by loss and discovery--from the maddening disappearance of everyday objects to the sweeping devastations of war,pandemic, and natural disaster; from nding new planets to falling in love. Three very different American familiesform the heart of Lost & Found the one that made Schulz's father, a charming, brilliant, absentminded Jewish refugee; the one that made her partner, an equally brilliant farmer's daughter and devout Christian; and the oneshe herself makes through marriage. But Schulz is also attentive to other, more universal kinds of conjunction:how private happiness can coexist with global catastrophe, how we get irritated with those we adore, how loveand loss are themselves unavoidably inseparable. The resulting book is part memoir, part guidebook to living in aworld that is simultaneously full of wonder and joy and wretchedness and suffering--a world that always demandsboth our gratitude and our grief. A staff writer at The New Yorker and winner of the Pulitzer Prize, Kathryn Schulz writes with curiosity, tenderness, erudition, and wit about our nite yet innitely complicated lives.Notables 2022 - Top 12

Page 9

Shop anytime at semcoop.comNotables 2022 - Top 12On Not Knowing: How to Love and Other Essays (University of Chicago Press)Emily OgdenMoments of clarity are rare and eeting; how can we become comfortable outside of them, in the more generalcondition of uncertainty within which we make our lives? Written by English professor Emily Ogden while herchildren were small, On Not Knowing forays into this rich, ambivalent space. Each of her sharply observedessays invites the reader to think with her about questions she can't set aside: not knowing how to give birth, tolisten, to hold it together, to love. Unapologetically capacious in her range of reference and idiosyncratic in thecanon she draws on, Ogden moves nimbly among the registers of experience, from the operation of a breastpump to the art of herding cattle; from one-night stands to the stories of Edgar Allan Poe; from kayaking near awhale to a psychoanalytic meditation on drowning. Committed to the accumulation of knowledge, Ogdennonetheless nds that knowingness for her can be a way of getting stuck, a way of not really living. Rather thanthe defensiveness of willful ignorance, On Not Knowing celebrates the defenselessness of not knowing yet—possibly of not knowing ever. Ultimately, this book shows how resisting the temptation of knowingness andembracing the position of not knowing becomes a form of love.

Page 10

Shop anytime at semcoop.comRules: A Short History of What We Live by (Princeton University Press)Lorraine DastonRules order almost every aspect of our lives. They set work hours, dictate how we drive and set the table, tell uswhether to offer an extended hand or cheek in greeting, and organize the rites of life, from birth through death. Wemay chafe under the rules we have, and yearn for ones we don't, yet no culture could do without them. In Rules, historian Lorraine Daston traces their development in the Western tradition and shows how rules have evolvedfrom ancient to modern times. Daston uncovers three enduring kinds of rules: the algorithms that calculate andmeasure, the laws that govern, and the models that teach. She vividly illustrates how rules can change—howsupple rules stiffen, or vice versa, and how once bothersome regulations become everyday norms. Rules havebeen devised for almost every imaginable activity and range from meticulous regulations to the laws of nature.Daston probes beneath this variety to investigate when rules work and when they don't, and why somephilosophical problems about rules are as ancient as philosophy itself while others are as modern as calculatingmachines. Rules offers a wide-angle view on the history of constraints that guide us—whether we know it or not.FACULTY AUTHORNotables 2022 - Top 12

Page 11

Shop anytime at semcoop.comNotables 2022 - Top 12The Tuskegee Student Uprising: A History (New York University Press)Brian JonesThe Tuskegee Institute, one of the nation's most important historically Black colleges, is primarily known for itsWorld War II pilot training program, a fateful syphilis experiment, and the work of its founder, Booker T.Washington. In The Tuskegee Student Uprising, Brian Jones explores an important yet understudied aspect of the campus's history: its radical student activism. Drawing upon years of archival research and interviews with formerstudents, professors, and administrators, Brian Jones provides an in-depth account of one of the most dynamicstudent movements in United States history. This explosive movement was thwarted by the arrival of the AlabamaNational Guard and the school's temporary closure, but the students nevertheless claimed an impressive array ofvictories. Jones retells these and other events in relation to the broader landscape of social movements in thosepivotal years, as well as in connection to the long pattern of dissent and protest within the Tuskegee Institutecommunity, stretching back to the 19th century. A compelling work of scholarship, The Tuskegee Student Uprising is a must-read for anyone interested in student activism and the Black freedom movement.

Page 12

Shop anytime at semcoop.comViral Justice: How We Grow the World We Want (Princeton University Press)Ruha BenjaminLong before the pandemic, Ruha Benjamin was doing groundbreaking research on race, technology, and justice,focusing on big, structural changes. But the twin plagues of COVID-19 and anti-Black police violence inspired herto rethink the importance of small, individual actions. Part memoir, part manifesto, Viral Justice is a sweeping and deeply personal exploration of how we can transform society through the choices we make every day. Vividlyrecounting her personal experiences and those of her family, Benjamin shows how seemingly minor decisionsand habits could spread virally and have exponentially positive effects. Born of a stubborn hopefulness, Viral Justice offers a passionate, inspiring, and practical vision of how small changes can add up to large ones, transforming our relationships and communities and helping us build a more just and joyful world.Notables 2022 - Top 12

Page 13

Shop anytime at semcoop.comNotables 2022 - Top 12Words for the Heart: A Treasury of Emotions from Classical India(Princeton University Press)Maria HeimWords for the Heart is a captivating treasury of emotion terms drawn from some of India's earliest classical languages. Inspired by the traditional Indian genre of a "treasury"—a wordbook or anthology of short texts orpoems—this collection features 177 jewel-like entries evoking the kinds of phenomena English speakers havevariously referred to as emotions, passions, sentiments, moods, affects, and dispositions. These entries serveas beautiful literary and philosophical vignettes that convey the delightful texture of Indian thought and the sheermultiplicity of conversations about emotions in Indian texts. An indispensable reference, Words for the Heartreveals how Indian ways of interpreting human experience can challenge our assumptions about emotions andenrich our lives.

Page 14

Shop anytime at semcoop.comAbolition Geography: Essays Towards Liberation (Verso)Ruth Wilson Gilmore; Brenna Bhandar, Alberto Toscano, eds.Gathering together Ruth Wilson Gilmore's work from over three decades, Abolition Geography presents her singular contribution to the politics of abolition as theorist, researcher, and organizer, offering scholars and activists ways of seeing and doing to helpnavigate our turbulent present. Gilmore offers a geographical grasp of how contemporaryracial capitalism operates through an "anti-state state" that answers crises with the organizedabandonment of people and environments deemed surplus to requirement. Gilmore escapesone-dimensional conceptions of what liberation demands, who demands liberation, or whatindeed is to be abolished. Drawing on the lessons of grassroots organizing andinternationalist imaginaries, Abolition Geography undoes the identication of abolition with mere decarceration, and reminds us that freedom is not a mere principle but a place.Edited with an introduction by Brenna Bhandar and Alberto Toscano.Allow Me to Retort: A Black Guy's Guide to the Constitution (New Press)Elie MystalWhen Elie Mystal went on The View to discuss Allow Me to Retort and called the Constitution "trash," the internet exploded. In chapters ranging from "Why You Can't Punch aCop" and "It's Not Unusual to Be Cruel" to "Everything You Know About the SecondAmendment Is Wrong" and "The Abortion Chapter," the legal commentator weighs in on everyhot-button issue facing the country (and the Supreme Court) today. As the New York Journal of Books observed, "It is impossible to enjoy reading the Constitution more than through the searing perspective of the brilliant Twainesque humor of Elie Mystal in Allow Me to Retort." Mystal brings the same tactics he uses to defend the idea of a fair and equal society onMSNBC and CNN to what Washington Lawyer calls a "witty, profane, and well-argued" bookthat lays bare the truth of the Republican project to keep America forever tethered to itsslaveholding past.America, Goddam: Violence, Black Women, and the Struggle for Justice(University of California Press)Treva B. LindseyAmerica, Goddam explores the combined force of anti-Blackness, misogyny, patriarchy, and capitalism in the lives of Black women and girls in the United States today. Through personalaccounts and hard-hitting analysis, Black feminist historian Treva B. Lindsey starkly assessesthe forms and legacies of violence against Black women and girls, as well as their demandsfor justice for themselves and their communities. Combining history, theory, and memoir,America, Goddam renders visible the gender dynamics of anti-Black violence. Black women and girls occupy a unique status of vulnerability to harm and death, while the circumstancesand traumas of this violence go underreported and understudied. America, Goddampowerfully demonstrates that the struggle for justice begins with reckoning with thepervasiveness of violence against Black women and girls in the United States.Notables 2022

Page 15

Shop anytime at semcoop.comAncestor Trouble: A Reckoning and a Reconciliation (Random House)Maud NewtonMaud Newton's ancestors have vexed and fascinated her since she was a girl. Mental illnessand religious fanaticism percolated through Maud's maternal lines back to an ancestoraccused of being a witch in Puritan-era Massachusetts. Maud's father, an aerospaceengineer turned lawyer, was an educated man who extolled the virtues of slavery andobsessed over the "purity" of his family bloodline, which he traced back to the RevolutionaryWar. He tried in vain to control Maud's mother, a whirlwind of charisma and passion given tofeverish projects: thirty rescue cats, and a church in the family's living room where sheperformed exorcisms. Searching, moving, and inspiring, Ancestor Trouble is one writer's attempt to use genealogy—a once-niche hobby that has grown into a multi-billion-dollarindustry—to expose the secrets and contradictions of her own ancestors, and to argue for thetransformational possibilities that reckoning with our ancestors offers all of us.Atlantis, an Autoanthropology (Duke University Press)Nathaniel TarnOver the course of his long career, Nathaniel Tarn has been a poet, anthropologist, and bookeditor, while his travels have taken him into every continent. Born in France, raised inEngland, and earning a Ph.D. from the University of Chicago, he knew André Breton,Salvador Dalí, Marcel Duchamp, Margot Fonteyn, Charles Olson, Claude Lévi-Strauss, andmany more of the twentieth century's major artists and intellectuals. In Atlantis, an Autoanthropology he writes that he has "never (yet) been able to experience the sensation of being only one person." Throughout this literary memoir and autoethnography, Tarn capturesthis multiplicity and reaches for the uncertainties of a life lived in a dizzying array of times,cultures, and environments. Drawing on his practice as an anthropologist, he takes himself asa subject of study, examining the shape of a life devoted to the study of the whole of humanculture. Atlantis, an Autoanthropology prompts us to consider our own multiple selves and themysteries contained within.Bad Mexicans: Race, Empire, and Revolution in the Borderlands(W. W. Norton)Kelly Lytle HernándezBad Mexicans tells the dramatic story of the magonistas, the migrant rebels who sparked the 1910 Mexican Revolution from the United States. Led by a brilliant but ill-tempered radicalnamed Ricardo Flores Magón, the magonistas were a motley band of journalists, miners,migrant workers, and more, who organized thousands of Mexican workers--and Americandissidents--to their cause. Taking readers to the frontlines of the magonista uprising and thecounterinsurgency campaign that failed to stop them, Kelly Lytle Hernández puts themagonista revolt at the heart of U.S. history. Long ignored by textbooks, the magonistasthreatened to undo the rise of Anglo-American power, on both sides of the border, andinspired a revolution that gave birth to the Mexican-American population, making themagonistas' story integral to modern American life.Notables 2022

Page 16

Shop anytime at semcoop.comA Beautiful Ending: The Apocalyptic Imagination and the Making of theModern World (Yale University Press)John Jeffries MartinIn this revelatory immersion into the apocalyptic, messianic, and millenarian ideas andmovements that created the modern world, John Jeffries Martin performs a kind of empathictime travel, entering into the psyche, spirituality, and temporalities of a cast of historical actorsin profound moments of discovery. He argues that religious faith - Christian, Jewish, andMuslim - did not oppose but rather fostered the making of a modern scientic spirit, buoyedalong by a providential view of history and nature, and a deep conviction in the coming End ofthe World. Through thoughtful attention to the primary sources, Martin re-reads theRenaissance, excavating a religious foundation at the core of even the most radical empiricalthinking. Familiar icons like Ibn Khaldūn, Columbus, Isaac Luria, and Francis Bacon emergestartlingly fresh and newly gleaned, agents of a history formerly untold and of a modern worldmade in the image of its imminent end.The Beauty of Dusk: On Vision Lost and Found (Avid Reader Press)Frank BruniOne morning in late 2017, New York Times columnist Frank Bruni woke up with strangelyblurred vision. He wondered at rst if some goo or gunk had worked its way into his right eye.But this was no eeting annoyance, no xable inconvenience. Overnight, a rare stroke hadcut off blood to one of his optic nerves, rendering him functionally blind in that eye—forever.And he soon learned from doctors that the same disorder could ravage his left eye, too. Hecould lose his sight altogether. In The Beauty of Dusk, Bruni hauntingly recounts his adjustment to this daunting reality, a medical and spiritual odyssey that involved not onlyreappraising his own priorities but also reaching out to, and gathering wisdom from, longtimefriends and new acquaintances who had navigated their own traumas and afictions.Becoming Kin: An Indigenous Call to Unforgetting the Past andReimagining Our Future (Broadleaf Books)Patty KrawecWeaving her own story with the story of her ancestors and with the broader themes ofcreation, replacement, and disappearance, Krawec helps readers see settler colonialismthrough the eyes of an Indigenous writer. Braiding together historical, scientic, and culturalanalysis, Indigenous ways of knowing, and the vivid threads of communal memory, Kraweccrafts a stunning, forceful call to "unforget" our history. This remarkable sojourn throughNative and settler history, myth, identity, and spirituality helps us retrace our steps and pickup what was lost along the way: chances to honor rather than violate treaties, to see the landas a relative rather than a resource, and to unravel the history we have been taught.Notables 2022

Page 17

Shop anytime at semcoop.comA Better Ape: The Evolution of the Moral Mind and How It Made UsHuman (Oxford University Press)Victor Kumar & Richmond CampbellIn A Better Ape, Victor Kumar and Richmond Campbell draw on the latest research in the biological and social sciences to explain the key role that morality has played in humanevolution. They explore the moral traits that humans share with chimpanzees; how a morecomplex moral mind enabled Homo sapiens to arise and out-compete other human species;and the place of morality alongside historic revolutions in technology and social organization.Throughout the book, Kumar and Campbell argue that morality co-evolved with intelligenceand complex sociality. Morality prevents societal collapse and enables complex knowledge.Understanding how we evolved--and how we continue to evolve--can help us become abetter ape.Black Dignity: The Struggle Against Domination (Yale University Press)Vincent W. LloydIn what might be called a work of observational philosophy--an effort to describe thephilosophy underlying the Black Lives Matter movement--Vincent W. Lloyd denes dignity assomething performative, not an essential quality but an action: struggle against domination.Without struggle, there is no dignity. He denes anti-Blackness as an inescapable condition ofAmerican life, and the slave's struggle against the master as the "primal scene" ofdomination and resistance. Exploring the way Black writers such as Frederick Douglass,Langston Hughes, and Audre Lorde have dealt with themes such as Black rage, Black love,and Black magic, Lloyd posits that Black dignity is the paradigm of all dignity and, moreaudaciously, that Black philosophy is the starting point of all philosophy.Butts: A Backstory (Avid Reader Press)Heather RadkeWhether we love them or hate them, think they're sexy, think they're strange, consider themtoo big, too small, or anywhere in between, humans have a complicated relationship withbutts. It is a body part unique to humans, critical to our evolution and survival, and yet it hascome to signify so much more: sex, desire, comedy, shame. A woman's butt, in particular, isforever being assessed, criticized, and objectied, from anxious self-examinations trying onjeans in department store dressing rooms to enduring crass remarks while walking down astreet or high school hallways. But why? In Butts: A Backstory, Heather Radke is determined to nd out. Part deep dive reportage, part personal journey, part cabinet of curiosities, Butts is an entertaining, illuminating, and thoughtful examination of why certain silhouettes come inand out of fashion--and how larger ideas about race, control, liberation, and power affect ourmost private feelings about ourselves and others.Notables 2022

Page 18

Shop anytime at semcoop.comBy Hands Now Known: Jim Crow's Legal Executioners (W. W. Norton)Margaret A. BurnhamIn By Hands Now Known, Margaret A. Burnham, director of Northeastern University's Civil Rights and Restorative Justice Project, challenges our understanding of the Jim Crow eraby exploring the relationship between formal law and background legal norms in a series ofharrowing cases from 1920 to 1960. From rendition, the legal process by which states makeclaims to other states for the return of their citizens, to battles over state and federaljurisdiction and the outsize role of local sheriffs in enforcing racial hierarchy, Burnham mapsthe criminal legal system in the mid-twentieth-century South, and traces the unremitting linefrom slavery to the legal structures of this period and through to today. Drawing on anextensive database, collected over more than a decade and exceeding 1,000 cases of racialviolence, she reveals the true legal system of Jim Crow, and captures the memories of thosewhose stories have not yet been heard.Casanova's Lottery: The History of a Revolutionary Game of Chance(University of Chicago Press)Stephen M. StiglerIn the 1750s, at the urging of famed adventurer Giacomo Casanova, the French state beganto embrace risk in adopting a new Loterie. In adopting this framework, the French state tookon risk in a way no other has, before or after. Stigler follows the Loterie from its curiousinception through its hiatus during the French Revolution, its renewal and expansion in1797, and nally to its suppression in 1836, examining throughout the wider question of howmembers of the public came to trust in new nancial technologies and believe in their value.Drawing from an extensive collection of rare ephemera, Stigler pieces together the Loterie'sremarkable inner workings, as well as its implications for the nature of risk and the role oflotteries in social life over the period 1700-1950. Both a fun read and fodder for manyelds, Casanova's Lottery shines new light on the conscious introduction of risk into the management of a nation-state and the rationality of playing unfair games.Chronos: The West Confronts Time (Columbia University Press)François HartogFrançois Hartog considers the genealogy of Western temporalities, examining the orders oftime and their divisions into epochs. Beginning with how the ancient Greeks understood time,Chronos explores the fashioning of a Christian time in the early centuries of the Catholic Church. Christianity's hegemony over time reigned over Europe and beyond, onlyto ebb as modern time—presided over by the notion of relentless progress—set out on itsmarch toward the future. Hartog emphasizes the deep uncertainties the world now faces aswe reckon with the arrival and signicance of the Anthropocene age. Intertwining reectionson intellectual history and historiography with critiques of contemporary presentism andapocalypticism, Chronos brings depth and erudition to debates over the nature of the era weare living through and offers keen insight into the experience of historical time.FACULTYAUTHORNotables 2022

Page 19

Shop anytime at semcoop.comCleopatra: Her History, Her Myth (Yale University Press)Francine ProseThe siren passionately in love with Mark Antony, the seductress who allegedly rolled out ofa carpet she had herself smuggled in to see Caesar, Cleopatra is a gure shrouded in myth.Beyond the legends immortalized by Plutarch, Shakespeare, George Bernard Shaw, andothers, there are no journals or letters written by Cleopatra herself. All we have to tell herstory are words written by others. What has it meant for our understanding of Cleopatra tohave had her story told by writers who had a political agenda, authors who distrusted hermotives, and historians who believed she was a liar? Francine Prose delves into ancientGreek and Roman literary sources, as well as modern representations of Cleopatra in art,theater, and lm, to challenge past narratives driven by orientalism and misogyny and offer anew interpretation of Cleopatra's history through the lens of our current era.Come Back in September: A Literary Education on West Sixty-SeventhStreet, Manhattan (Farrar, Straus and Giroux)Darryl PinckneyDarryl Pinckney arrived at Columbia University in New York City in the early 1970s and hadthe opportunity to enroll in Elizabeth Hardwick's creative writing class at Barnard. When thesemester was over, he continued to visit her, and he became close to both Hardwick andBarbara Epstein, Hardwick's best friend, neighbor and a fellow founder of The New York Review of Books. Pinckney was drawn into a New York literary world where he encountered some of the fascinating contributors to the Review, among them Susan Sontag, RobertLowell, and Mary McCarthy. Yet the intellectual and artistic freedom that Pinckney observedon West Sixty-seventh Street could conict with the demands of his politically minded familyand their sense of the unavoidable lessons of black history. In Come Back in September,Pinckney recalls his introduction to New York and intimately captures this revolutionary,brilliant, and troubled period in American letters.Constructing a Nervous System: A Memoir (Pantheon)Margo JeffersonIn Constructing a Nervous System, Jefferson shatters her self into pieces and recombinesthem into a new and vital apparatus on the page, fusing the criticism that she is known for,fragments of the family members she grieves for, and signal moments from her life, as well asthe words of those who have peopled her past and accompanied her in her solitude,dramatized here like never before. Bing Crosby and Ike Turner are among the author's alteregos. The sounds of a jazz LP emerge as the intimate and instructive sounds of a parent'svoice. W. E. B. Du Bois and George Eliot meet illicitly. The muscles and movements of aballerina are spliced with those of an Olympic runner, becoming a template for what a blackfemale body can be. The result is a wildly innovative work of depth and stirring beauty. It isdened by fractures and dissonance, longing and ecstasy, and a persistent searching.Jefferson interrogates her own self as well as the act of writing memoir, and probes thessures at the center of American cultural life.Notables 2022

Page 20

Shop anytime at semcoop.comCult of the Dead: A Brief History of Christianity(University of California Press)Kyle SmithThough it promises eternal life, Christianity was forged in death. Christianity is built upon thelegacies of the apostles and martyrs who chose to die rather than renounce the name of theirlord. In this innovative cultural history, Kyle Smith shows how a devotion to death has shapedChristianity for two thousand years. For centuries, Christians have cared for their saints,curating their deaths as examples of holiness. Martyrs' stories, lurid legends of torture, havebeen told and retold, translated and rewritten. Martyrs' bones are alive in the world, relicspulsing with wonder. Martyrs' shrines are still visited by pilgrims, many in search of a miracle.Martyrs have even shaped the Christian conception of time, with each day of the yearcelebrating the death of a saint. From Roman antiquity to the present, by way of medievalEngland and the Protestant Reformation, Cult of the Dead tells the fascinating story of howthe world's most widespread religion is steeped in the memory of its martyrs.Desperate Remedies: Psychiatry's Turbulent Quest to Cure MentalIllness (Belknap Press)Andrew ScullFor more than two hundred years, disturbances of the mind--the sorts of things that wereonce called "madness"--have been studied and treated by the medical profession. Mentalillness, some insist, is a disease like any other, whose origins can be identied and fromwhich one can be cured. But is this true? In this masterful account of America's quest tounderstand and treat everything from anxiety to psychosis, one of the most provocativethinkers writing about psychiatry today sheds light on its tumultuous past. Desperate Remedies brings together a galaxy of mind doctors working in and out of institutional settings: psychologists and psychoanalysts, neuroscientists, and cognitive behavioral therapists, socialreformers and advocates of mental hygiene, as well as patients and their families desperatefor relief.Dilla Time: The Life and Afterlife of J Dilla, the Hip-Hop Producer WhoReinvented Rhythm (MCD Books)Dan CharnasIn Dilla Time, Dan Charnas chronicles the life of James DeWitt Yancey, from his gifted childhood in Detroit, to his rise as a Grammy-nominated hip-hop producer, to the rare blooddisease that caused his premature death; and follows the people who kept him and his ideasalive. Dilla Time is a different kind of book about music, a visual experience with graphics that build those concepts step by step for fans and novices alike, teaching us to "see" andfeel rhythm in a unique and enjoyable way. Dilla's beats, startling some people with theirseeming "sloppiness," were actually the work of a perfectionist almost spiritually devoted tohis music. This is the story of the man and his machines, his family, friends, partners, andcelebrity collaborators. Culled from more than 150 interviews about one of the most importantand inuential musical gures of the past hundred years, Dilla Time is a book as delightfully detail-oriented and unique as J Dilla's music itself.Notables 2022

Page 21

Shop anytime at semcoop.comDirtbag, Massachusetts: A Confessional (Bloomsbury Publishing)Isaac FitzgeraldIsaac Fitzgerald has lived many lives. He's been an altar boy, a bartender, a fat kid, asmuggler, a biker, a prince of New England. But before all that, he was a bomb that explodedhis parents' lives-or so he was told. In Dirtbag, Massachusetts, Fitzgerald, with warmth andhumor, recounts his ongoing search for forgiveness, a more far-reaching vision of masculinity,and a more expansive denition of family and self. Fitzgerald's memoir-in-essays begins witha childhood that moves at breakneck speed from safety to violence, recounting anextraordinary pilgrimage through trauma to self-understanding and, ultimately, acceptance.From growing up in a Boston homeless shelter to bartending in San Francisco, fromsmuggling medical supplies into Burma to his lifelong struggle to make peace with his body,Fitzgerald strives to take control of his own story: one that aims to put aside anger, isolation,and entitlement to embrace the idea that one can be generous to oneself by being generousto others.Doing Criticism: Across Literary and Screen Arts (Wiley-Blackwell)James ChandlerDoing Criticism: Across Literary and Screen Arts is a practical guide to engaging actively and productively with a critical object, whether a lm, a novel, or a play. Going beyond the study oflyric poetry and literature to include motion picture and dramatic arts, this unique text providesspecic advice on how to best write criticism while offering concrete illustrations of what itlooks like on the page. Divided into two parts, the book rst presents an up-to-date accountof the state of criticism in both Anglo-American and Continental contexts—describing both thelongstanding mission and the changing functions of criticism over the centuries anddiscussing critical issues that bridge the literary and screen arts in the contemporary world.The second part of the book features a variety of case studies of criticism across media,including works by canonical authors, lms, screen adaptations, and a concluding chapter onseveral of Spike Lee's lm "joints" that brings several of the book's central concepts to bearon work of a single lm auteur.Ducks: Two Years in the Oil Sands (Drawn & Quarterly)Kate BeatonBefore there was Kate Beaton, there was Katie Beaton of Mabou, a tight-knit seasidecommunity where the lobster is as abundant as beaches, ddles, and Gaelic folk songs. Withthe singular goal of paying off her student loans, Katie heads out west to take advantage ofAlberta's oil rush—part of the long tradition of East Coasters who seek gainful employmentelsewhere when they can't nd it in the homeland they love so much. Katie encounters theharsh reality of life in the oil sands, where trauma is an everyday occurrence yet is neverdiscussed. Beaton's natural cartooning prowess is on full display as she draws colossalmachinery and mammoth vehicles set against a sublime Albertan backdrop of wildlife,northern lights, and boreal forest. Her rst full length graphic narrative, Ducks: Two Years in the Oil Sands is an untold story of Canada: a country that prides itself on its egalitarian ethos and natural beauty while simultaneously exploiting both the riches of its land and thehumanity of its people.FACULTYAUTHORNotables 2022

Page 22
Notables 2022
Shop anytime at semcoop.comThe Elephant in the Universe: Our Hundred-Year Search for Dark Matter(Belknap Press)Govert SchillingIn The Elephant in the Universe, Govert Schilling explores the fascinating history of thesearch for dark matter. Evidence for its existence comes from a wealth of astronomicalobservations. Theories and computer simulations of the evolution of the universe are alsosuggestive: they can be reconciled with astronomical measurements only if dark matter is adominant component of nature. Yet so far dark matter has escaped every experiment.Indeed, dark matter is so elusive that some scientists are beginning to suspect there might besomething wrong with our theories about gravity or with the current paradigms of cosmology.Schilling interviews both believers and heretics and paints a colorful picture of the history andcurrent status of dark matter research, with astronomers and physicists alike trying to makesense of theory and observation.Emergency: Reading the Popol Vuh in a Time of Crisis(University of Chicago Press)Edgar GarciaWritten during the lockdown in Chicago in the depths of the COVID-19 pandemic, theseessays consider the Popol Vuh as a work that was also written during a time of feverish social, political, and epidemiological crisis as Spanish missionaries and colonial militarydeepened their conquest of indigenous peoples and cultures in Mesoamerica. Emergencyuses the historical emergency of the Popol Vuh to frame the ongoing emergencies of colonialism that have surfaced all too clearly in the global health crisis of COVID-19. In doingso, these essays reveal how the authors of the Popol Vuh—while implicated in deep socialcrisis—nonetheless insisted on transforming emergency into scenes of social, political, andintellectual emergence, translating crisis into creativity and world creation.Faith, Hope and Carnage (Farrar, Straus and Giroux)Nick Cave & Seán O'HaganCreated from more than forty hours of intimate conversations with Seán O'Hagan, it is aprofoundly thoughtful exploration, in Cave's own words, of what really drives his life andcreativity. The book examines questions of faith, art, music, freedom, grief, and love. It drawscandidly on Cave's life, from his early childhood to the present day, his loves, his work ethic,and his dramatic transformation in recent years. From a place of considered reection, Faith, Hope and Carnage offers ladders of hope and inspiration from a true creative visionary.FACULTYAUTHOR

Page 23
Notables 2022
Shop anytime at semcoop.comFear of Black Consciousness (Farrar, Straus and Giroux)Lewis R. GordonIn this original and penetrating work, Lewis R. Gordon, one of the leading scholars of Blackexistentialism and anti-Blackness, takes the reader on a journey through the historicaldevelopment of racialized Blackness, the problems this kind of consciousness produces,and the many creative responses from Black and non-Black communities in contemporarystruggles for dignity and freedom. Skillfully navigating a difcult and traumatic terrain, Gordoncuts through the mist of white narcissism and the versions of consciousness it perpetuates.He exposes the bad faith at the heart of many discussions about race and racism not onlyin America but across the globe, including those who think of themselves as color blind. AsGordon reveals, these lies offer many white people an inherited sense of being extraordinary,a license to do as they please. But for many if not most Blacks, to live an ordinary life in awhite-dominated society is an extraordinary achievement.Forgiveness: An Alternative Account (Yale University Press)Matthew Ichihas PottsMatthew Ichihashi Potts explores the complex moral terrain of forgiveness, which he claimshas too often served as a salve to the conscience of power rather than as an instrument ofhealing or justice. Drawing on novels by Kazuo Ishiguro, Marilynne Robinson, Louise Erdrich,and Toni Morrison, and on texts from the early Christian to the postmodern, Potts diagnosesthe real dangers of forgiveness yet insists upon its enduring promise. Sensitive to thetwenty-rst-century realities of economic inequality, colonial devastation, and racial strife, andconsidering the role of forgiveness in the New Testament, the Christian tradition, philosophy,and contemporary literature, this book heralds the arrival of a new and creative theologicalvoice.Free Market: The History of an Idea (Basic Books)Jacob SollAfter two government bailouts of the US economy in less than twenty years, free marketideology is due for serious reappraisal. In Free Market, Jacob Soll details how we got to thiscurrent crisis, and how we can nd our way out by looking to earlier iterations of free marketthought. Contrary to popular narratives, early market theorists believed that states had animportant role in building and maintaining free markets. But in the eighteenth century, thinkersinsisted on free markets without state intervention, leading to a tradition of ideologicalbrittleness. That tradition only calcied in the centuries that followed. Tracing the intellectualevolution of the free market from Cicero to Milton Friedman, Soll argues that we need to goback to the origins of free market ideology in order to truly understand it—and to develop neweconomic concepts to face today's challenges.

Page 24

Shop anytime at semcoop.comGod after Einstein: What's Really Going on in the Universe?(Yale University Press)John F. HaughtBefore the early twentieth century, scientists and theologians knew almost nothing abouttime's enormity and the corresponding immensity of space. But now, after Einstein,cosmology offers theology a whole new way of looking at the ageless questions aboutmatter, time, God, cosmic purpose, and the signicance of our lives. The universe need notbe thought of as simply an endless reshufing of lifeless and mindless atoms in a pointlessseries of moments. Rather, the universe is a temporal drama of awakening whose meaningcan be revealed only gradually by looking, in a spirit of anticipation and hope, toward thehorizon of the cosmic future. In conversation with Einstein's ideas and opinions, John F.Haught develops here a new cosmological understanding of the meaning of God, time,eternity, mystery, life, thought, freedom, and faith. In doing so, he offers readers a new way ofunderstanding the relationship of science to theology.God: An Anatomy (Knopf)Francesca StavrakopoulouThe scholarship of theology and religion teaches us that the God of the Bible was without abody, only revealing himself in the Old Testament in words mysteriously uttered through hisprophets, and in the New Testament in the body of Christ. The portrayal of God ascorporeal and masculine is seen as merely metaphorical, gurative, or poetic. But, in thisrevelatory study, Francesca Stavrakopoulou presents a vividly corporeal image of God: ahuman-shaped deity who walks and talks and weeps and laughs, who eats, sleeps, feels, andbreathes, and who is undeniably male. Here is a portrait--arrived at through the author's closeexamination of and research into the Bible--of a god in ancient myths and rituals who was aproduct of a particular society, at a particular time, made in the image of the people who livedthen, shaped by their own circumstances and experience of the world. From head to toe--andevery part of the body in between--this is a god of stunning surprise and complexity, one wehave never encountered before.The Good-Enough Life (Princeton University Press)Avram AlpertAvram Alpert shows how our obsession with greatness results in stress and anxiety,damage to our relationships, widespread political and economic inequality, and destructionof the natural world. He describes how to move beyond greatness to create a society inwhich everyone ourishes. By competing less with each other, each of us can nd renewedmeaning and purpose, have our material and emotional needs met, and begin to lead moreleisurely lives. Alpert makes no false utopian promises, however. Life can never be more thangood enough because there will always be accidents and tragedies beyond our control, whichis why we must stop dividing the world into winners and losers and ensure that there is a fairshare of decency and sufciency to go around. Visionary and provocative, The Good-Enough Life demonstrates how we can work together to cultivate a good-enough life for all instead of tearing ourselves apart in a race to the top of the social pyramid.Notables 2022

Page 25

Shop anytime at semcoop.comThe Greatest Invention: A History of the World in Nine MysteriousScripts (Farrar, Straus and Giroux)Silvia Ferrara; Todd Portnowitz, trans.The L where a tabletop meets the legs, the T between double doors, the D of an armchair'soval backrest—all around us is an alphabet in things. But how did these shapes make it ontothe page, never mind form complex structures such as this sentence? In The Greatest Invention, Silvia Ferrara takes a profound look at how—and how many times—human beings have managed to produce the miracle of written language, traveling back and forth in timeand all across the globe to Mesopotamia, Crete, China, Egypt, Central America, EasterIsland, and beyond. A code-cracking tour around the globe, The Greatest Invention chroniclesa previously uncharted journey, one lled with past ashes of brilliance, present-day scienticresearch, and a faint, eeting glimpse of writing's future.The Greeks and the Rational: The Discovery of Practical ReasonVolume 76 (University of California Press)Josiah OberThe Greek discovery of practical reason, as the skilled performance of strategic thinking inpublic and private affairs, was an intellectual breakthrough that remains both a feature of anda bug in our modern world. In this book, Josiah Ober explores how ancient Greek sophists,historians, and philosophers developed sophisticated and systematic ideas about practicalreason. At the same time, they recognized its limits--that not every decision can be reducedto mechanistic calculations of optimal outcomes. Ober nds contemporary echoes of thistradition in the application of game theory to political science, economics, and businessmanagement. The Greeks and the Rational offers a striking revisionist history with wide-spread implications for the study of ancient Greek civilization, the history of thought, andhuman rationality itself.Guston in Time: Remembering Philip Guston(New York Review of Books)Ross FeldThe late work of Philip Guston has had a profound inuence on painters today, but asGuston's star has risen, it has been forgotten how scandalous these paintings, with theircartoonish imagery and almost fumbling application of paint, were initially deemed to be.Ross Feld, a young poet, novelist, and critic, was one of the rare critics to respond favorablyto Guston's late work. Guston answered with a grateful note, and a new friendship was soonborn. Guston in Time, written not long before Feld's early death from cancer, is a portrait of Guston the man; and of his wife, Musa, a major gure not only in his life but in his work; areckoning with his supremely individual achievement as an artist; and a work of art in its ownright.Notables 2022

Page 26

Shop anytime at semcoop.comHayek: A Life, 1899-1950 (University of Chicago Press)Bruce Caldwell & Hansjoerg KlausingerIn Hayek: A Life, historians of economics Bruce Caldwell and Hansjörg Klausinger draw on never-before-seen archival and family material to produce an authoritative account of theinuential economist's rst ve decades. This includes portrayals of his early career inVienna; his relationships in London and Cambridge; his family disputes; and denitiveaccounts of the creation of The Road to Serfdom and of the founding meeting of the MontPèlerin Society. A landmark work of history and biography, Hayek: A Life is a major contribution both to our cultural accounting of a towering gure and to intellectual historyitself.Hilma af Klint: A Biography (University of Chicago Press)Julia Voss; Anne Posten, trans.The Swedish painter Hilma af Klint (1862-1944) was forty-four years old when she broke withthe academic tradition in which she had been trained to produce a body of radical, abstractworks the likes of which had never been seen before. Today, it is widely accepted that af Klintwas one of the earliest abstract academic painters in Europe. But this is only part of her story.Not only was she a working female artist, she was also an avowed clairvoyant and mystic.Despite her enormous popularity, there has not yet been a biography of af Klint--until now.Inspired by her rst encounter with the artist's work in 2008, Julia Voss set out to learnSwedish and research af Klint's life--not only who the artist was but what drove and inspiredher. The result is a fascinating biography of an artist who is as great as she is enigmatic.His Name Is George Floyd: One Man's Life and the Strugglefor Racial Justice (Viking)Robert Samuels & Toluse OlorunnipaHis Name Is George Floyd tells the story of a beloved gure from Houston's housing projects as he faced the stiing systemic pressures that come with being a Black man in America.Placing his narrative within the context of the country's enduring legacy of institutional racism,this deeply reported account examines Floyd's family roots in slavery and sharecropping, thesegregation of his schools, the overpolicing of his community amid a wave of mass incarcer-ation, and the callous disregard toward his struggle with addiction--putting today's inequalityinto uniquely human terms. Drawing upon hundreds of interviews, Washington Post reportersRobert Samuels and Toluse Olorunnipa offer a poignant and moving exploration of GeorgeFloyd's America, revealing how a man who simply wanted to breathe ended up touching theworld.Notables 2022

Page 27

Shop anytime at semcoop.comHow Religion Evolved: And Why It Endures (Oxford University Press)Robin DunbarIn How Religion Evolved, Robin Dunbar explores these and other questions, mining thedistinctions between religions of experience--as practiced by the earliest hunter-gatherersocieties--and doctrinal religions, from Judaism, Christianity, and Islam to Zoroastrianism,Hinduism, Buddhism, and their many derivatives. Examining religion's origins, socialfunctions, its effects on the brain and body, and its place in the modern era, Dunbar offers afascinating and far-reaching analysis of the quintessentially human impulse to believe.I Always Knew: A Memoir (Princeton University Press)Barbara Chase-RiboudI Always Knew is an intimate and vivid portrait of Chase-Riboud's life as told through the letters she wrote to her mother, Vivian Mae, between 1957 and 1991. In candid detail,Chase-Riboud tells her mother about her life in Europe, her work as an artist, her romances,and her journeys around the world, from Western and Eastern Europe to the Middle East,Africa, the Soviet Union, China, and Mongolia. By turns brilliant and naïve, passionate andtender, poignant and funny, these letters show Chase-Riboud in the process of becoming whoshe is and who she might become. But what emerges most of all is the powerful story of aunique and remarkable relationship between a talented, ambitious, and courageous daughterand her adored mother.I Used to Live Here Once: The Haunted Life of Jean Rhys (W. W. Norton)Miranda SeymourIn I Used to Live Here Once, Miranda Seymour sheds new light on the artist whose proud and ercely solitary life profoundly informed her writing. Rhys experienced tragedy and extremepoverty, alcohol and drug dependency, romantic and sexual turmoil, all of which contributedto the "Rhys woman" of her oeuvre. Today, readers still intuitively relate to her unforgettablecharacters, vulnerable, watchful, and often alarmingly disaster-prone outsiders; women with adifferent way of moving through the world. And yet, while her works often containautobiographical material, Rhys herself was never a victim. The gure who emerges forSeymour is cultured, self-mocking, unpredictable--and shockingly contemporary. Based onnew research in the Caribbean, a wealth of never-before-seen papers, journals, letters, andphotographs, and interviews with those who knew Rhys, I Used to Live Here Once is aluminous and penetrating portrait of a fascinatingly elusive artist.Notables 2022

Page 28

Shop anytime at semcoop.comI Want to Keep Smashing Myself Until I Am Whole:An Elias Canetti Reader (Picador)Elias Canetti; Joshua Cohen, ed.I Want to Keep Smashing Myself Until I Am Whole is a summa of Canetti's life and thought, and the denitive introduction to a writer whose genius for interpreting world-historicalchanges was matched by a keen sense of wonder and an abiding skepticism about theknowability of the self. Sourced from Canetti's landmark texts, including Crowds and Power, an analysis of authoritarianism and mobs; Auto-da-Fé, a darkly comic, daringly modernistnovel about the fate of European literature; the famous sequence of sensory-titled memoirs,including The Tongue Set Free and The Torch in My Ear; and never-before-translated writings such as the posthumous The Book Against Death, this collection assembles its luminous shards into the fullest portrait yet of Canetti's remarkable achievement.The Idea of Prison Abolition (Princeton University Press)Tommie ShelbyDespite its omnipresence and long history, imprisonment is a deeply troubling practice. In theUnited States and elsewhere, prison conditions are inhumane, prisoners are treated withoutdignity, and sentences are extremely harsh. Mass incarceration and its devastating impact onblack communities have been widely condemned as neoslavery or "the new Jim Crow." Canthe practice of imprisonment be reformed, or does justice require it to be ended altogether?In The Idea of Prison Abolition, Tommie Shelby examines the abolitionist case against prisons and its formidable challenge to would-be prison reformers. While a world without prisonsmight be utopian, The Idea of Prison Abolition makes the case that we can make meaningful progress toward this ideal by abolishing the structural injustices that too often lead to crimeand its harmful consequences.An Immense World: How Animal Senses Reveal the HiddenRealms Around Us (Random House)Ed YongIn An Immense World, Ed Yong coaxes us beyond the connes of our own senses, allowing us to perceive the skeins of scent, waves of electromagnetism, and pulses of pressure thatsurround us. We encounter beetles that are drawn to res, turtles that can track the Earth'smagnetic elds, sh that ll rivers with electrical messages, and even humans who wieldsonar like bats. We discover that a crocodile's scaly face is as sensitive as a lover'sngertips, that the eyes of a giant squid evolved to see sparkling whales, that plants thrumwith the inaudible songs of courting bugs, and that even simple scallops have complex vision.We learn what bees see in owers, what songbirds hear in their tunes, and what dogs smellon the street. We listen to stories of pivotal discoveries in the eld, while looking ahead at themany mysteries that remain unsolved.Notables 2022

Page 29

Shop anytime at semcoop.comInciting Joy: Essays (Algonquin Books)Ross GayPrize-winning poet and author Ross Gay considers the joy we incite when we care for eachother, especially during life's inevitable hardships. Throughout Inciting Joy, he explores how we can practice recognizing that connection, and also, crucially, how we expand it. In "WeKin" he thinks about the garden (especially around August, when the zucchini and tomatoescome on) as a laboratory of mutual aid; in "Share Your Bucket" he explores skateboarding'sreclamation of public space; he considers the costs of masculinity in "Grief Suite"; and in"Through My Tears I Saw," he recognizes what was healed in caring for his father as he wasdying. In an era when divisive voices take up so much air space, Inciting Joy offers a vitalalternative: What might be possible if we turn our attention to what brings us together, to whatwe love? Full of energy, curiosity, and compassion, Inciting Joy is essential reading from oneof our most brilliant writers.Index, A History of the: A Bookish Adventure from Medieval Manuscriptsto the Digital Age (W. W. Norton)Dennis DuncanMost of us give little thought to the back of the book--it's just where you go to look things up.But as Dennis Duncan reveals in this delightful and witty history, hiding in plain sight is anunlikely realm of ambition and obsession, sparring and politicking, pleasure and play. In thepages of the index, we might nd Butchers, to be avoided, or Cows that sh-te Fire, or evencatch Calvin in his chamber with a Nonne. Here, for the rst time, is the secret world of theindex: an unsung but extraordinary everyday tool, with an illustrious but little-known past.Revealing its vast role in our evolving literary and intellectual culture, Duncan shows that, forall our anxieties about the Age of Search, we are all index-rakers at heart--and we have beenfor eight hundred years.Indigenous Continent: The Epic Contest for North America (Liveright)Pekka HämäläinenIn Indigenous Continent, acclaimed historian Pekka Hämäläinen presents a sweeping counternarrative that shatters the most basic assumptions about American history. Shiftingour perspective away from well-trodden episodes on the conventional timeline, he depictsa sovereign world of Native nations whose members, far from helpless victims of colonialviolence, dominated the continent for centuries after the rst European arrivals. From theIroquois in the Northeast to the Comanches on the Plains, and from the Pueblos in theSouthwest to the Cherokees in the Southeast, Native nations frequently decimated whitenewcomers in battle. Even as the white population exploded and colonists' land greed grewmore extravagant, Indigenous peoples ourished due to sophisticated diplomacy andleadership structures. Necessary reading for anyone who cares about America's past,present, and future, Indigenous Continent restores Native peoples to their rightful placeat the very fulcrum of American history.Notables 2022

Page 30

Shop anytime at semcoop.comIs Equality an Absolute Good? (Paul Dry Books)Eva BrannThe Declaration of Independence aimed to turn our continent from a British colony into anAmerican nation. Yet its rst, its primary claim, is that we are all individually equal. What's thatgot to do with national independence? However, the Declaration's claim of universal humanequality has grown into our primary political passion. This brief book asks: What concrete,substantial good do we get out of this equality? Well, specic safety of our equality before thelaw. But beyond that, and the easement of our envy? Equality at work, equalizing, is a mereleveling relation. Whatever is worth having involves distinction, that's inequality.Jacob's Younger Brother: Christian-Jewish Relations After Vatican II(Belknap Press)Karma Ben-JohananA new chapter in Jewish-Christian relations opened in the second half of the twentieth cen-tury when the Second Vatican Council exonerated Jews from the accusation of deicide anddeclared that the Jewish people had never been rejected by God. In a few carefully phrasedstatements, two millennia of deep hostility were swept into the trash heap of history. Jacob's Younger Brother pulls back the veil of interfaith dialogue to reveal how Orthodox rabbis and Catholic leaders spoke about each other when outsiders were not in the room. ThereBen-Johanan nds Jews reluctant to accept the latest whims of a Church that had unilaterallydictated the terms of Jewish-Christian relations for centuries.Joan Didion: What She Means (Delmonico Books)Joan Didion; Hilton Als & Connie Butler, eds.In Joan Didion: What She Means, the writer and curator Hilton Als creates a mosaic that explores Didion's life and work and the feeling each generates in her admirers, detractors andcritics. Arranged chronologically, the book highlights Didion's fascination with the two coaststhat made her. As a Westerner transplanted to New York, Didion was able to look at hernative land, its mores and xed rules of behavior, with the loving and critical eyes of adaughter who got out and went back. And from her New York perch, Didion was able toobserve the political scene more closely, writing trenchant pieces about Clinton, El Salvadorand most searingly the Central Park Five. The book includes more than 50 artists rangingfrom Brice Marden and Ed Ruscha to Betye Saar, Vija Clemins and many others, with worksin all mediums including painting, ephemera, photography, sculpture, video and lm. Alsoincluded are three previously uncollected texts by Didion.Notables 2022

Page 31

Shop anytime at semcoop.comJonas Mekas: The Camera Was Always Running (Yale University Press)Eds. Inesa Brasiske, Lukas Brasiskis, Kelly TaxterBetween 1950 and his death, the artist and impresario Jonas Mekas (1922–2019) made morethan one hundred radically innovative, often diaristic lms and video works. He alsofounded lm festivals, cooperatives, archives, and magazines and wrote lm criticism andpoetry. Jonas Mekas: The Camera Was Always Running is the rst major publication in English on this pivotal member of the New York avant-garde scene, presenting anextensively illustrated, in-depth exploration of his radical art and restless life. Born in ruralLithuania, Mekas made his way to New York, where he became a central gure in theoverlapping realms of experimental theater, music, poetry, performance, and lm. This bookbrings his work alive on the page with sequences of stills from lm and video, photographicseries and installations, and archival documents. Leading scholars examine his work andinuence, and a timeline expands our understanding of his life.Jozef Pilsudski: Founding Father of Modern Poland(Harvard University Press)Joshua D. ZimmermanIn the story of modern Poland, no one stands taller than Jozef Pilsudski. From the age ofsixteen he devoted his life to reestablishing the Polish state that had ceased to exist in 1795.Ahead of World War I, he created a clandestine military corps to ght Russia, which heldmost Polish territory. After the war, his dream of an independent Poland realized, he took thehelm of its newly democratic political order. When he died in 1935, he was buried alongsidePolish kings. Joshua Zimmerman's authoritative biography examines a national hero in thethick of a changing Europe, and the legacy that still divides supporters and detractors.Lydia Maria Child: A Radical American Life (University of Chicago Press)Lydia MolandBest known today for the immortal poem "Over the River and through the Wood," Child hadbecome famous at an early age for spunky self-help books and charming children's stories.But in 1833, Child shocked her readers by publishing the rst book-length argument againstslavery in the United States--a book so radical in its commitment to abolition that friendsabandoned her, patrons ostracized her, and her book sales plummeted. Yet Child soon drewuntold numbers to the abolitionist cause, becoming one of the foremost authors and activistsof her generation. Lydia Maria Child: A Radical American Life tells the story of what brought Child to this moment and the extraordinary life she lived in response. Child's lifetime ofbravery, conviction, humility, and determination provides a wealth of spirited guidance forpolitical engagement today.Notables 2022

Page 32

Shop anytime at semcoop.comMagnicent Rebels: The First Romantics and the Invention of the Self(Knopf)Andrea WulfWhen did we begin to be as self-centered as we are today? At what point did we expect tohave the right to determine our own lives? When did we rst ask the question, How can I befree? It all began in a quiet university town in Germany in the 1790s, when a group ofplaywrights, poets, and writers put the self at center stage in their thinking, their writing, andtheir lives. This brilliant circle included the famous poets Goethe, Schiller, and Novalis; thevisionary philosophers Fichte, Schelling, and Hegel; the contentious Schlegel brothers; and,in a wonderful cameo, Alexander von Humboldt. And at the heart of this group was theformidable Caroline Schlegel, who sparked their dazzling conversations about the self,nature, identity, and freedom. At the heart of this inspiring book is the extremely moderntension between the dangers of selshness and the thrilling possibilities of free will.Making Mexican Chicago: From Postwar Settlement to the Age ofGentrication (University of Chicago Press)Mike AmezcuaThough Chicago is often popularly dened by its Polish, Black, and Irish populations, CookCounty is home to the third-largest Mexican-American population in the United States. Thestory of Mexican immigration and integration into the city is one of complex political struggles,deeply entwined with issues of housing and neighborhood control. In Making Mexican Chicago, Mike Amezcua explores how the Windy City became a Latinx metropolis in the second half of the twentieth century. Amezcua charts the diverse strategies used by MexicanChicagoans to ght the forces of segregation, economic predation, and gentrication,focusing on how unlikely combinations of social conservatism and real estate market savvypaved new paths for Latinx assimilation. Making Mexican Chicago offers a powerfulmultiracial history of Chicago that sheds new light on the origins and endurance of urbaninequality.The Making of Barbarians: Chinese Literature and Multilingual Asia(Princeton University Press)Haun SaussyDebates on the canon, multiculturalism, and world literature often take Eurocentrism asthe target of their critique. But literature is a universe with many centers, and one of themis China. The Making of Barbarians offers an account of world literature in which China, ascenter, produces its own margins. Here Sinologist and comparatist Haun Saussy investigatesthe meanings of literary translation, adaptation, and appropriation on the boundaries of Chinalong before it came into sustained contact with the West. The Making of Barbarians looksclosely at literary works that were translated into Chinese from foreign languages or resultedfrom contact with alien peoples. The book explores why translation was such an undervaluedpractice in premodern China, and how this vast and prestigious culture dealt with thoseoutside it before a new group of foreigners--Europeans--appeared on the horizon.FACULTYAUTHORNotables 2022

Page 33

Shop anytime at semcoop.comMaybe We'll Make It: A Memoir (University of Texas Press)Margo PriceMaybe We'll Make It is a memoir of loss, motherhood, and the search for artistic freedom in the midst of the agony experienced by so many aspiring musicians: bad gigs and longtours, rejection and sexual harassment, too much drinking and barely enough money to liveon. Price, though, refused to break, and turned her lowest moments into the classic countrysongs that eventually comprised the debut album that launched her career. In the authenticvoice hailed by Pitchfork for tackling "Steinbeck-sized issues with no-bullshit humility," Priceshares the stories that became songs, and the small acts of love and camaraderie it takes tosurvive in a music industry that is often unkind to women. Now a Grammy-nominated "BestNew Artist," Price tells a love story of music, collaboration, and the struggle to build a careerwhile trying to maintain her singular voice and style.Mothercare: On Obligation, Love, Death, and Ambivalence (Soft Skull)Lynne TillmanWhen a mother's unusual health condition, normal pressure hydrocephalus, renders herentirely dependent on you, your sisters, caregivers, and companions, the unthinkablebecomes daily life. In Mothercare, Tillman describes doing what seems impossible: handling her mother as if she were a child and coping with a longtime ambivalence toward her. InTillman's celebrated style and as a "rich noticer of strange things" (Colm Tóibín), shedescribes, without inching, the unexpected, heartbreaking, and anxious eleven years ofcaring for a sick parent. Mothercare is both a cautionary tale and sympathetic guidance foranyone who suddenly becomes a caregiver. This story may be helpful, informative, consoling,or upsetting, but it never fails to underscore how impossible it is to get the job donecompletely right.The Matter of Black Living: The Aesthetic Experiment of Racial Data,1880-1930 (University of Chicago Press)Autumn WomackThe Matter of Black Living excavates the dynamic interplay between racial data and Black aesthetic production that shaped late nineteenth-century social, cultural, and literaryatmosphere. Through assembling previously overlooked archives and seemingly familiartexts, Womack shows how these artists and writers recalibrated the relationship betweendata and Black life. The result is a fresh and nuanced take on the history of documentingBlackness. The Matter of Black Living charts a new genealogy from which we can rethink the political and aesthetic work of racial data, a task that has never been more urgent.Notables 2022

Page 34

Shop anytime at semcoop.comOn Jazz: A Personal Journey (Cambridge University Press)Alyn ShiptonFew musical genres inspire the passionate devotion of jazz. Its mystique goes far beyondthe melodies and rhythms, with its key players and singers discussed by acionados with arespect that borders on reverence. Some books on jazz offer little more than theory or dryfacts, thereby relinquishing the 'essence' of the music. This book is different. One of the mostinuential and internationally known writers on the subject describes, through vivid personalcontacts, reminiscences and zesty anecdotes, his life in jazz as a player, broadcaster andobserver. Alyn Shipton recalls friendships with legendary musicians, while revealing freshdiscoveries about such luminaries as Fats Waller, Louis Armstrong, Count Basie, DukeEllington, Charlie Parker, Abbey Lincoln and Geri Allen. On Jazz powerfully evokes theatmosphere of clubs and dancehalls, and takes us behind the scenes and up onto the stage,so that this electrifying world is unforgettably spotlighted as never before.The New Science of the Enchanted Universe: An Anthropologyof Most of Humanity (Princeton University Press)Marshall SahlinsIn this, his last, revelatory book, Marshall Sahlins announces a new method and sets anexciting agenda for the eld. He takes readers around the world, from Inuit of the Arctic Circleto pastoral Dinka of East Africa, from Araweté swidden gardeners of Amazonia to TrobriandIsland horticulturalists. In the process, Sahlins sheds new light on classical andcontemporary ethnographies that describe these cultures of immanence and reveals howeven the apparently mundane, all-too-human spheres of "economics" and "politics" emergeas people negotiate with, and ultimately usurp, the powers of the gods. The New Science of the Enchanted Universe offers a road map for a new practice of anthropology that takes seriously the enchanted universe and its transformations from ancient Mesopotamia tocontemporary America.Nina Simone's Gum (Faber & Faber)Warren EllisOn Thursday 1 July, 1999, Dr. Nina Simone gave a rare performance as part of Nick Cave'sMeltdown Festival. After the show, in a state of awe, Warren Ellis crept onto the stage, tookDr Simone's piece of chewed gum from the piano, wrapped it in her stage towel and put itin a Tower Records bag. The gum remained with him for twenty years; a sacred totem, hiscreative muse, growing in signicance with every passing year. Nina Simone's Gum is about how something so small can form beautiful connections between people. It is a story aboutthe meaning we place on things, on experiences, and how they become imbued withspirituality. It is a celebration of artistic process, friendship, understanding and love.FACULTYAUTHORNotables 2022

Page 35

Shop anytime at semcoop.comOne Hundred Years of James Joyce's "Ulysses"(Penn State University Press)Ed. Colm TóibínEdited by world-renowned Irish novelist and literary critic Colm Tóibín, this book presents tenessays by preeminent Joyce scholars and by curators of his manuscripts and early editions,as well as an interview with Sean Kelly, the New York gallery owner who donated hisextensive Joyce collection to The Morgan Library & Museum. Beginning with Tóibín's expertinterpretation of the Dublin context for Ulysses, the volume follows Joyce in Trieste, Zurich, and Paris from 1914 up through the novel's publication--and the international scandal andfame that ensues. It draws on Joyce's notebooks and letters, as well as extant manuscriptsand proofs, to provide new insights into Joyce's life, the narrative and place of Ulysses, and the printed book.Our Transgenic Future: Spider Goats, Genetic Modication, and the Willto Change Nature (New York University Press)Lisa Jean MooreThe process of manipulating the genetic material of one animal to include the DNA ofanother creates a new transgenic organism. Several animals, notably goats, mice, sheep,and cattle are now genetically modied in this way. In Our Transgenic Future, Lisa Jean Moore wonders what such scientic advances portend. Moore centers the story on goats thathave been engineered by the US military and civilian scientists using the DNA ofspiders. Based on in-depth research with spiders in Florida and transgenic goats in Utah, Our Transgenic Future focuses on how these spidergoats came into existence, the researchers who maintain them, the funders who have made their lives possible, and how they t into thelarger science of transgenics and synthetics. This book is a fascinating story about thepossibilities of science and the likely futures that may come.Papyrus: The Invention of Books in the Ancient World (Knopf)Irene Vallejo; Charlotte Whittle, trans.Papyrus is the story of the book's journey from oral tradition to scrolls to codices, and how that transition laid the very foundation of Western culture. Award-winning author Irene Vallejoevokes the great mosaic of literature in the ancient world from Greece's itinerant bards toRome's multimillionaire philosophers, from opportunistic forgers to cruel teachers, eruditelibrarians to deant women, all the while illuminating how ancient ideas about education,censorship, authority, and identity still resonate today. Crucially, Vallejo also drawsconnections to our own time, from the library in war-torn Sarajevo to Oxford's undergroundlabyrinth, underscoring how words have persisted as our most valuable creations. At its hearta spirited love letter to language itself, Papyrus takes readers on a journey across thecenturies to discover how a simple reed grown along the banks of the Nile would give birth toa rich and cherished culture.Notables 2022

Page 36

Shop anytime at semcoop.comPrivate Notebooks: 1914-1916 (Liveright)Ludwig Wittgenstein; Marjorie Perloff, trans.During the pandemic, Marjorie Perloff found her mind ineluctably drawn to the profoundcommentary on life and death in the wartime diaries of eminent philosopher LudwigWittgenstein (1889–1951). Upon learning that these notebooks, which richly contextualizethe early stages of his magnum opus, the Tractatus-Logico-Philosophicus, had never before been published in English, the Viennese-born Perloff determinedly set about translating them.Beginning with the anxious summer of 1914, this historic, en-face edition presents therst-person recollections of a foot soldier in the Austrian Army, fresh from his days as aphilosophy student at Cambridge, who must grapple with the hazing of his fellow soldiers, thestirrings of a forbidden sexuality, and the formation of an explosive analytical philosophy thatseemed to draw meaning from his endless brushes with death. Much like Tolstoy's The Gospel in Brief, Private Notebooks takes us on a personal journey to discovery as it augments our knowledge of Wittgenstein himself.Posterity: Inventing Tradition from Petrarch to Gramsci(University of Chicago Press)Rocco RubiniRocco Rubini studies the motives and literary forms in the making of a "tradition," notunderstood narrowly, as the conservative, stubborn preservation of received conventions,values, and institutions, but instead as the deliberate effort on the part of writers to transmita reformulated past across generations. Whether reading work from the fourteenth century,or from the 1930s, Rubini elucidates the interplay of creation and the reception underlyingthe enactment of tradition, the practice of retrieving and conserving, and the revivication ofshared themes and intentions that connect thinkers across time. Building on his award-winning book, The Other Renaissance, this will prove a valuable contribution for intellectualhistorians, literary scholars, and those invested in the continuing humanist legacy.Parent Nation: Unlocking Every Child's Potential,Fullling Society's Promise (Dutton)Dana Suskind with Lydia DenworthWorld-class pediatric surgeon, social scientist, and best-selling author of Thirty Million Words Dr. Dana Suskind returns with a revelatory new look at the neuroscience of early childhooddevelopment—and how it can guide us toward a future in which every child has theopportunity to fulll their potential. Her prescription for this more prosperous and equitablefuture, as clear as it is powerful, is more robust support for parents during the most criticalyears of their children's development. In her poignant new book, Parent Nation, written with award-winning science writer Lydia Denworth, Dr. Suskind helps parents recognize both theircollective identity and their formidable power as custodians of our next generation. Anyonelooking for a blueprint for how to build a brighter future for our children will nd one in Parent Nation.FACULTYAUTHORFACULTYAUTHORNotables 2022

Page 37

Shop anytime at semcoop.comQuotations as Pictures (MIT Press)Josef SternIn Quotations as Pictures, Josef Stern develops a semantics for quotations using explanatorynotions drawn from philosophical theories of pictures. He offers the rst sustained analysis ofthe practice of quotation proper, as opposed to mentioning. Unlike other accounts that treatquotation as mentioning, Quotations as Pictures argues that the two practices haveindependent histories, that they behave differently semantically, that the inverted commasemployed in both mentioning and quotation are homonymous, that so-called mixed quotationis nothing but subsentential quotation, and that the major problem of quotation is to explainits dual reference or meaning--its ordinary meaning and its metalinguistic reference to thequoted phrase attributed to the quoted subject.Rediscovering the Islamic Classics: How Editors and Print CultureTransformed an Intellectual Tradition (Princeton University Press)Ahmed El ShamsyIslamic book culture dates back to late antiquity, when Muslim scholars began to write downtheir doctrines on parchment, papyrus, and paper and then to compose increasinglyelaborate analyses of, and commentaries on, these ideas. Movable type was adopted in theMiddle East only in the early nineteenth century, and it wasn't until the second half of thecentury that the rst works of classical Islamic religious scholarship were printed there. Butfrom that moment on, Ahmed El Shamsy reveals, the technology of print transformed Islamicscholarship and Arabic literature. Bringing to light the agents and events of the Islamic printrevolution, Rediscovering the Islamic Classics is an absorbing examination of the central roleprinting and its advocates played in the intellectual history of the modern Arab world.The Religion of Man (Monksh Book Publishing)Rabindranath TagoreThe Religion of Man (1931) is a compilation of lectures by Rabindranath Tagore, edited by Tagore and drawn largely from his Hibbert Lectures given at Oxford University in May 1930.A Brahmo playwright and poet of global renown, Tagore deals with the universal themes ofGod, divine experience, illumination, and spirituality. A brief conversation between him andAlbert Einstein, "Note on the Nature of Reality", is included as an appendix.FACULTYAUTHORFACULTYAUTHORNotables 2022

Page 38

Shop anytime at semcoop.comShirley Hazzard: A Writing Life (Farrar, Straus and Giroux)Brigitta OlubasIn Shirley Hazzard: The Writing Life, the extraordinary life of the award-winning writer is captured in full for the rst time. Brigitta Olubas, Hazzard's authorized biographer, draws onHazzard's ction--which itself drew on her lived experiences--as well as her extensive archiveof letters, diaries, and notebooks, and on memories of her surviving friends and family, tocreate this vibrant portrait of an exceptional woman. This biography attends to the distinctivetimes of Hazzard's life, from youth and middle age to her long widowhood, dementia, anddeath, and it traces the complex and intricate processes of self-fashioning that lay beneath itall. At last, Hazzard's life, as seen through her own writing, stories, and archival photographs,is set down on the page, and it completes and deepens our understanding of her ction.Shakespearean Issues: Agency, Skepticism, and Other Puzzles(University of Pennsylvania Press)Richard StrierIn Shakespearean Issues, Richard Strier has written a set of linked essays bound by alearned view of how to think about Shakespeare's plays and also how to write literarycriticism on them. The essays vary in their foci—from dealing with passages and key linesto dealing with whole plays, and to dealing with multiple plays in thematic conversation witheach other. Strier treats the political, social, and philosophical themes of Shakespeare's playsthrough recursive and revisionary close reading, revisiting plays from different angles andoften contravening prevailing views. Anyone interested in Shakespeare's plays will ndShakespearean Issues bracing and thought-provoking.Scorched Earth: Beyond the Digital Age to a Post-Capitalist World (Verso)Jonathan CraryIn this uncompromising essay, Jonathan Crary presents the obvious but unsayable reality:our 'digital age' is synonymous with the disastrous terminal stage of global capitalism andits nancialisation of social existence, mass impoverishment, ecocide, and military terror.Scorched Earth surveys the wrecking of a living world by the internet complex and its devastation of communities and their capacities for mutual support. This polemic by theauthor of 24/7 dismantles the presumption that social media could be an instrument of radicalchange and contends that the networks and platforms of transnational corporations areintrinsically incompatible with a habitable earth or with the human interdependence needed tobuild egalitarian post-capitalist forms of life.FACULTYAUTHORNotables 2022

Page 39
Sister Novelists: The Trailblazing Porter Sisters, Who Paved the Way forAusten and the Brontës (Bloomsbury Publishing)Devoney LooserBefore the Brontë sisters picked up their pens, or Jane Austen's heroines Elizabeth and JaneBennet became household names, the literary world was celebrating a different pair ofsisters: Jane and Anna Maria Porter. The Porters - exact contemporaries of Jane Austen- were brilliant, attractive, self-made single women of polite reputation who between thempublished 26 books and achieved global fame. Because the celebrity sisters expected theirrenown to live on, they preserved their papers, and the secrets they contained, for anybiographers to come. But history hasn't been kind to the Porters. Credit for their literaryinvention was given to their childhood friend, Sir Walter Scott, who never publiclyacknowledged the sisters' works as his inspiration. Sister Novelists is a groundbreaking and enthralling biography of two pioneering geniuses in historical ction.Notables 2022
Shop anytime at semcoop.comSonorous Desert: What Deep Listening Taught Early Christian Monks--And What It Can Teach Us (Princeton University Press)Kim Haines-EitzenFor the hermits and communal monks of antiquity, the desert was a place to ee thecacophony of ordinary life in order to hear and contemplate the voice of God. But thesemonks discovered something surprising in their harsh desert surroundings: far from emptyand silent, the desert is richly reverberant. Sonorous Desert shares the stories and sayings ofthese ancient spiritual seekers, tracing how the ambient sounds of wind, thunder, water, andanimals shaped the emergence and development of early Christian monasticism.Accompanied by Haines-Eitzen's evocative audio recordings of desert environments,Sonorous Desert reveals how desert sounds taught ancient monks about solitude, silence, and the life of community, and how they can help us understand ourselves if we slow downand listen.Smart Suits, Tattered Boots: Black Ministers Mobilizing the BlackChurch in the Twenty-First Century (New York University Press)Korie Little Edwards & Michelle OyakawaDr. Martin Luther King Jr. along with many of his Black religious contemporariescourageously mobilized for freedom, ushering in the civil rights movement of themid-twentieth century. Their efforts laid the groundwork for some of the greatest legislativechanges in American history. Today, however, there is relatively limited mass mobilization ledby Black religious leaders against systemic racism and racial inequality. Why don't we seemore Black religious leadership in today's civil rights movements? Black clergy continue tocare deeply about social justice and racial oppression. This book offers important insights intohow they approach these issues today, illuminating the social processes that impact when,how, and why they participate in civic action in twenty-rst-century America. It reveals thestructure and limitations of the Black religious-leader community and its capacity forbroad-based mobilization in the post-civil rights era.

Page 40

Shop anytime at semcoop.comSouth to America: A Journey Below the Mason-Dixon to Understand theSoul of a Nation (Ecco Press)Imani PerryThis is the story of a Black woman and native Alabaman returning to the region she hasalways called home and considering it with fresh eyes. Her journey is full of detours, deepdives, and surprising encounters with places and people. She renders Southerners from allwalks of life with sensitivity and honesty, sharing her thoughts about a troubling history andthe ritual humiliations and joys that characterize so much of Southern life. Weaving togetherstories of immigrant communities, contemporary artists, exploitative opportunists, enslavedpeoples, unsung heroes, her own ancestors, and her lived experiences, Imani Perry crafts atapestry unlike any other. With uncommon insight and breathtaking clarity, South to America offers an assertion that if we want to build a more humane future for the United States, wemust center our concern below the Mason-Dixon Line.Sound Experiments: The Music of the AACM(University of Chicago Press)Paul SteinbeckFounded on Chicago's South Side in 1965 and still thriving today, the Association for theAdvancement of Creative Musicians (AACM) is the most inuential collective organizationin jazz and experimental music. In Sound Experiments, Paul Steinbeck offers an in-depthhistorical and musical investigation of the collective, analyzing individual performances andformal innovations in captivating detail. He pays particular attention to compositions by MuhalRichard Abrams and Roscoe Mitchell, the Association's leading gures, as well as AnthonyBraxton, George Lewis (and his famous computer-music experiment, Voyager), WadadaLeo Smith, and Henry Threadgill, along with younger AACM members such as Mike Reed,Tomeka Reid, and Nicole Mitchell. Sound Experiments represents a sonic history, spanning six decades, that affords insight not only into the individuals who created this music but alsointo an astonishing collective aesthetic.Soundings: Journeys in the Company of Whales (Scribner)Doreen CunninghamIn this blend of nature writing, whale science, and memoir, Doreen Cunningham interweavestwo stories: tracking the extraordinary northward migration of the grey whales with amischievous toddler in tow and living with an Iñupiaq family in Alaska seven years earlier. Astory of courage and resilience, Soundings is about the migrating whales and all we can learnfrom them as they mother, adapt, and endure, their lives interrupted and threatened by globalwarming. It is also a riveting journey onto the Arctic Sea ice and into the changing world ofIndigenous whale hunters, where Doreen becomes immersed in the ancient values of theIñupiaq whale hunt and falls in love. Big-hearted, brave, and fearlessly honest, Soundings is an unforgettable journey.Notables 2022

Page 41

Shop anytime at semcoop.comStates of Plague: Reading Albert Camus in a Pandemic(University of Chicago Press)Alice Kaplan & Laura MarrisAs one of the most discussed books of the COVID-19 crisis, Albert Camus's classic novelThe Plague has become a new kind of literary touchstone. Surrounded by terror and uncertainty, often separated from loved ones or unable to travel, readers sought answerswithin the pages of Camus's 1947 tale about an Algerian city gripped by an epidemic. Manyfound in it a story about their own lives--a book to shed light on a global health crisis. Bothpersonal and eloquently written, States of Plague uncovers for us the mysterious way a novelcan imagine the world during a crisis and draw back the veil on other possible futures.Stay True: A Memoir (Doubleday Books)Hua HsuIn the eyes of eighteen-year-old Hua Hsu, the problem with Ken—with his passion for DaveMatthews, Abercrombie & Fitch, and his fraternity—is that he is exactly like everyone else.Ken, whose Japanese American family has been in the United States for generations, ismainstream; for Hua, the son of Taiwanese immigrants, who makes 'zines and haunts BayArea record shops, Ken represents all that he denes himself in opposition to. The only thingHua and Ken have in common is that, however they engage with it, American culture doesn'tseem to have a place for either of them. A coming-of-age story that details both theordinary and extraordinary, Stay True is a bracing memoir about growing up, and aboutmoving through the world in search of meaning and belonging.Stealing My Religion: Not Just Any Cultural Appropriation(Harvard University Press)Liz BucarLiz Bucar unpacks the ethical dilemmas of a messy form of cultural appropriation: theborrowing of religious doctrines, rituals, and dress for political, economic, and therapeuticreasons. Bucar sees religion as an especially vexing arena for appropriation debatesbecause faiths overlap and imitate each other. Indeed, if we are to understand why someappropriations are insulting and others benign, we have to ask difcult philosophicalquestions about what religions really are. Stealing My Religion guides us through threerevealing case studies—the hijab as a feminist signal of Muslim allyship, a study abroad"pilgrimage" on the Camino de Santiago, and the commodication of yoga in the West.Reecting on her own missteps, Bucar comes to a surprising conclusion: the way to avoidreligious appropriation isn't to borrow less but to borrow more—to become deeply invested inlearning the roots and diverse meanings of our enthusiasms.Notables 2022

Page 42

Shop anytime at semcoop.comTeaching White Supremacy: America's Democratic Ordeal and theForging of Our National Identity (Pantheon)Donald YacovoneDonald Yacovone shows us the clear and damning evidence of white supremacy's deep-seated roots in our nation's educational system through a fascinating, in-depth examination ofAmerica's wide assortment of texts, from primary readers to college textbooks, from popularhistories to the most inuential academic scholarship. Sifting through a wealth of materialsfrom the colonial era to today, Yacovone reveals the systematic ways in which this ideologyhas inltrated all aspects of American culture and how it has been at the heart of ourcollective national identity. A major assessment of how we got to where we are today, of howwhite supremacy has suffused every area of American learning, from literature and science toreligion, medicine, and law, and why this kind of thinking has so insidiously endured for morethan three centuries.Strangers to Ourselves: Unsettled Minds and the Stories That Make Us(Farrar, Straus and Giroux)Rachel AvivIn Strangers to Ourselves, a powerful and gripping debut, Rachel Aviv raises fundamentalquestions about how we understand ourselves in periods of crisis and distress. Drawing ondeep, original reporting as well as unpublished journals and memoirs, Aviv writes aboutpeople who have come up against the limits of psychiatric explanations for who they are.Animated by a profound sense of empathy, Aviv's exploration is refracted through her ownaccount of living in a hospital ward at the age of six and meeting a fellow patient with whomher life runs parallel—until it no longer does. Aviv asks how the stories we tell about mentaldisorders shape their course in our lives. Challenging the way we understand and talk aboutillness, her account is a testament to the porousness and resilience of the mind.Subversive Habits: Black Catholic Nuns in the Long African AmericanFreedom Struggle (Duke University Press)Shannen Dee WilliamsIn Subversive Habits, Shannen Dee Williams provides the rst full history of Black Catholic nuns in the United States, hailing them as the forgotten prophets of Catholicism anddemocracy. For Black Catholic women and girls, embracing the celibate religious stateconstituted a radical act of resistance to white supremacy and the sexual terrorism built intochattel slavery and segregation. Williams shows how Black sisters were pioneering religiousleaders, educators, healthcare professionals, desegregation foot soldiers, Black Poweractivists, and womanist theologians. In the process, Williams calls attention to Catholicwomen's religious life as a stronghold of white supremacy and racial segregation--and thusan important battleground in the long African American freedom struggle.Notables 2022

Page 43

Shop anytime at semcoop.comThe Third Person (Drawn & Quarterly)Emma GroveIn the winter of 2004, a shy woman named Emma sits in Toby's ofce. She wants to sharethis wonderful new book she's reading, but Toby, her therapist, is concerned with other things.Emma is transgender, and has sought out Toby for approval for hormone replacementtherapy. Emma has shown up at the therapy sessions as an outgoing, condent youngwoman named Katina, and a depressed, submissive workaholic named Ed. She has little orno memory of her actions when presenting as these other two people. The Third Person is ariveting memoir from newcomer Emma Grove. Drawn in thick, emotive lines, with the renedstyle of a comics vet, Grove has created a singular, gripping depiction of the intersection ofidentities and trauma. The Third Person is a testament to the importance of having the spaceto heal and live authentically.This Strange Idea of the Beautiful (Seagull Books)François Jullien; Krzysztof Fijalkowski, Michael Richardson, trans.Bringing together ideas of beauty from both Eastern and Western philosophy, François Jullienchallenges the assumptions underlying our commonly agreed-upon denition of what isbeautiful and offers a new way of beholding art. Jullien argues that the Western concept ofbeauty was established by Greek philosophy and became consequently embedded withinthe very structure of European languages. And due to its relationship to language, this con-cept has determined ways of thinking about beauty that often go unnoticed or unchecked indiscussions of Western aesthetics. Moreover, through globalization, Western ideals of beautyhave even spread to cultures whose ancient traditions are based upon radically differentaesthetic foundations; yet, these cultures have adopted such views without question andwithout recognizing the cultural assumptions they contain.Time of Anarchy: Indigenous Power and the Crisis of Colonialism inEarly America (Harvard University Press)Matthew KruerIn 1675, eastern North America descended into chaos. English America teetered on the edgeof anarchy. Piecing together Susquehannock strategies from a wide range of archivaldocuments and material evidence, Matthew Kruer shows how one people's struggle forsurvival and renewal changed the shape of eastern North America. Susquehannockactions rocked the foundations of the edging English territories, forcing colonial societiesand governments to respond. Time of Anarchy recasts our understanding of the late seventeenth century and places Indigenous power at the heart of the story.Notables 2022

Page 44

Shop anytime at semcoop.comTo Live Is to Resist: The Life of Antonio Gramsci(University of Chicago Press)Jean-Yves Frétigné; Laura Marris, trans.One of the most inuential political thinkers of the twentieth century, Antonio Gramsci (1891-1937) has left an indelible mark on philosophy and critical theory. But Gramsci's thinking isscattered across the thousands of notebook pages he wrote while he was imprisoned byItaly's fascist government from 1926 until shortly before his death. To guide readers throughGramsci's life and works, historian Jean-Yves Frétigné offers To Live Is to Resist, an accessible, compelling, and deeply researched portrait of an extraordinary gure. Throughoutthe book, Frétigné emphasizes Gramsci's quiet heroism and his unwavering commitment topolitical practice and resistance. Most powerfully, he shows how Gramsci never surrendered,even in conditions that stripped him of all power--except, of course, the power to think.Tractatus Logico-Suicidalis: On Killing Oneself (Wakeeld Press)Hermann Burger; Adrian Nathan West, trans.In the tunnel-village of Göschenen, a man named Hermann Burger has vanished without atrace from his hotel room, suspected of suicide. What is found in his room is not a note, but a124-page manuscript entitled Tractatus Logico-Suicidalis: an exhaustive manifesto comprising 1,046 "thanatological" aphorisms (or "mortologisms") advocating suicide.Hermann Burger (1942-89) was a Swiss author, critic and professor. Author of four novelsand several volumes of essays, short ction and poetry, he rst achieved fame with his novelSchilten, the story of a mad village schoolteacher who teaches his students to prepare for death. At the end of his life, he was working on the autobiographical tetralogy Brenner, oneof the high points of 20th-century German prose. He died by overdose days after the rstvolume's publication.Translating Myself and Others (Princeton University Press)Jhumpa LahiriTranslating Myself and Others is a collection of candid and disarmingly personal essays by Pulitzer Prize-winning author Jhumpa Lahiri, who reects on her emerging identity as atranslator as well as a writer in two languages. Featuring essays originally written in Italianand published in English for the rst time, as well as essays written in English, Translating Myself and Others brings together Lahiri's most lyrical and eloquently observed meditations on the translator's art as a sublime act of both linguistic and personal metamorphosis.Notables 2022

Page 45

Shop anytime at semcoop.comThe Trayvon Generation (Grand Central Publishing)Elizabeth AlexanderThe Trayvon Generation expands the viral essay that spoke so resonantly to the persistence of race as an ongoing issue at the center of the American experience. Alexander looks both toour past and our future with profound insight, brilliant analysis, and mighty heart, interweavingher voice with groundbreaking works of art by some of our most extraordinary artists. At thiscrucial time in American history when we reckon with who we are as a nation and how wemove forward, Alexander's lyrical prose gives us perspective informed by historicalunderstanding, her lifelong devotion to education, and an intimate grasp of the visioningpower of art. This breathtaking book is essential reading and an expression of both thetragedies and hopes for the young people of this era that is sure to be embraced by thosewho are leading the movement for change and anyone rising to meet the moment.Untying Things Together: Philosophy, Literature, and a Life in Theory(University of Chicago Press)Eric L. SantnerUntying Things Together is both an intellectual history of major theoretical paradigms and a call for their reexamination and renewal. Revisiting many of the topics he has addressed inprevious work, Santner proposes a new way of conceptualizing the eros of thinking, attunedto how our minds and bodies individually and collectively incorporate or "encyst" on a void atthe heart of things. Rather than proposing a "return to theory," Santner's book simply employstheory as a way of further "(un)tying together" the resources of philosophy, art and literature,theology, psychoanalysis, political thought, and more.Vagina Obscura: An Anatomical Voyage (W. W. Norton)Rachel E. GrossA camera obscura reects the world back but dimmer and inverted. Similarly, science haslong viewed woman through a warped lens, one focused narrowly on her capacity forreproduction. As a result, there exists a vast knowledge gap when it comes to what we knowabout half of the bodies on the planet. That is nally changing. Today, a new generation ofresearchers is turning its gaze to the organs traditionally bound up in baby-making—theuterus, ovaries, and vagina—and illuminating them as part of a dynamic, resilient, andever-changing whole. Welcome to Vagina Obscura, an odyssey into a woman's body from a fresh perspective, ushering in a whole new cast of characters. By turns funny, lyrical,incisive, and shocking, Vagina Obscura is a powerful testament to how the landscape ofhuman knowledge can be rewritten to better serve everyone.FACULTYAUTHORNotables 2022

Page 46

Shop anytime at semcoop.comWalking Through Clear Water in a Pool Painted Black, New Edition: Col-lected Stories (Semiotext(e))Cookie Mueller; Hedi El Kholti, Chris Kraus, Amy Scholder, eds.Legendary as an underground actress, female adventurer, and East Village raconteur, CookieMueller's rst calling was to the written word. Mueller's 1990 Walking through Clear Water in a Pool Painted Black, the rst volume of the Semiotext(e) Native Agents series, was the largest collection of stories she compiled during her life. But it presented only a slice ofMueller's prolic work as a writer. This new, landmark volume collects all of Mueller's stories:from the original contents of Clear Water, to additional stories discovered by Amy Scholder for the posthumous anthology Ask Dr. Mueller, to selections from Mueller's art and advice columns for Details and the East Village Eye, to still "new" stories collected and publishedhere for the rst time. Olivia Laing's new introduction situates Mueller's writing within thecontext of her life—and our times.Well-Kept Ruins (Seagull Books)Hélène Cixous; Beverly Bie Brahic, trans.In the Lower Saxony region of northwestern Germany sits the city of Osnabrück. This iswhere, in 1648, the Peace of Westphalia was signed, bringing the Thirty Years' War andone of the most calamitous periods of European history to an end. But the city was later towitness another calamity. In Well-Kept Ruins, Cixous returns to the historic city in 2019 and reects on the remains of the synagogue that "express the life lost, the life kept." Walking thestreets of the city, plumbing the depths of the past along with her own family's history, lookingdeep into the future, and punctuating her poetic prose with haunting photographs, Cixousexplores the ruins at the heart of humanity. Part memoir, part philosophical meditation,Well-Kept Ruins is a genre-defying and timely reection of the contemporary human condition.What We Owe the Future (Basic Books)William MacAskillThe fate of the world is in our hands. Humanity's written history spans only ve thousandyears. Our yet-unwritten future could last for millions more — or it could end tomorrow.Astonishing numbers of people could lead lives of great happiness or unimaginable suffering,or never live at all, depending on what we choose to do today. In What We Owe The Future,philosopher William MacAskill argues for longtermism, that idea that positively inuencingthe distant future is a key moral priority of our time. From this perspective, it's not enough toreverse climate change or avert the next pandemic. We must ensure that civilization wouldrebound if it collapsed; counter the end of moral progress; and prepare for a planet where thesmartest beings are digital, not human.Notables 2022

Page 47

Shop anytime at semcoop.comWhat's the Matter with Delaware?: How the First State HasFavored the Rich, Powerful, and Criminal--And How It Costs Us All(Princeton University Press)Hal WeitzmanThe legal home to over a million companies, Delaware has more registered businesses thanresidents. Why do virtually all of the biggest corporations in the United States register there?Why do so many small companies choose to set up in Delaware rather than their homestates? Why do wealthy individuals form multiple layers of private companies in the state?This book reveals how a systematic enterprise lies behind the business-friendly corporateveneer, one that has kept the state aoat nancially by diverting public funds away from someof the poorest people in the United States and supporting dictators and criminals across theworld. What's the Matter with Delaware? shows how the corporate laws get written behindclosed doors, enabling the rich and powerful to do business in the shadows.Why We Fight: The Roots of War and the Paths to Peace (Viking)Christopher BlattmanAt this moment of crisis in world affairs, this necessary book from a seasoned peacebuilderand acclaimed expert in the eld lays out the root causes and remedies for war and explainthe reasons why conict wins over compromise; and how peacemakers can turn the tidesonce conict threatens to or becomes war. Its message could not be more urgent right now. Why We Fight draws on decades of economics, political science, psychology, and real-world interventions to lay out the root causes and remedies for war, showing that violence is not thenorm; that there are only ve reasons why conict wins over compromise; and howpeacemakers turn the tides through tinkering, not transformation. From warring states tostreet gangs, ethnic groups and religious sects to political factions, there are commondynamics to heed and lessons to learn.Wired for Love: A Neuroscientist's Journey Through Romance, Loss,and the Essence of Human Connection (Flatiron Books)Stephanie CacioppoAt thirty-seven, Dr. Stephanie Cacioppo was content to be single. She was fullled by herwork on the neuroscience of romantic love—how nding and growing with a partner literallyreshapes our brains. That was, until she met the foremost neuroscientist of loneliness. InWired for Love, Stephanie tells not just a science story but also a love story. She shares revelatory insights into how and why we fall in love, what makes love last, and how weprocess love lost—all grounded in cutting-edge ndings in brain chemistry and behavioralscience. Woven through it all is her moving personal story, from astonishment to unbreakablebond to grief and healing. Her experience and her work enrich each other, creating a singularblend of science and lyricism that's essential reading for anyone looking for connection.FACULTYAUTHORFACULTYAUTHORFACULTYAUTHORNotables 2022

Page 48

Shop anytime at semcoop.comWoman: The American History of an Idea (Yale University Press)Lillian FadermanWhat does it mean to be a "woman" in America? Award-winning gender and sexualityscholar Lillian Faderman traces the evolution of the meaning from Puritan ideas of God's planfor women to the sexual revolution of the 1960s and its reversals to the impact of such recentevents as #metoo, the appointment of Amy Coney Barrett to the Supreme Court, the electionof Kamala Harris as vice president, and the transgender movement. This wide-ranging 400-year history chronicles conicts, retreats, defeats, and hard-won victories inboth the private and the public sectors and shines a light on the often-overlooked battles ofenslaved women and women leaders in tribal nations. Noting that every attempt to cementa particular denition of "woman" has been met with resistance, Faderman also shows thatsuccessful challenges to the status quo are often short-lived. As she underlines, the idea ofwomanhood in America continues to be contested.Worn: A People's History of Clothing (Pantheon)So ThanhauserIn this panoramic social history, So Thanhauser brilliantly tells ve stories--Linen, Cotton,Silk, Synthetics, Wool--about the clothes we wear and where they come from, illuminatingour world in unexpected ways. She takes us from the opulent court of Louis XIV to the laborcamps in modern-day Chinese-occupied Xinjiang. We see how textiles were once dyed withlichen, shells, bark, saffron, and beetles, displaying distinctive regional weaves and knits, andhow the modern Western garment industry has refashioned our attire into the homogenousand disposable uniforms popularized by fast-fashion brands. Drawn from years of intensiveresearch and reporting from around the world, and brimming with fascinating stories, Wornreveals to us that our clothing comes not just from the countries listed on the tags orready-made from our factories. It comes, as well, from deep in our histories.Notables 2022

Page 49
The Seminary Co-op BookstoresThank you for supporting the first not-for-profit bookstore whose mission is bookselling! Browse online anytime at semcoop.com, then choose from our three shipping options:IN-STORE PICKUPDuring store hoursWORLDWIDE SHIPPINGCheck our website for optionsSeminary Co-op5751 S. Woodlawn Ave.Chicago, IL 60637773.752.438157th Street Books1301 E. 57th St.Chicago, IL 60637773.684.1300email: info@semcoop.comsemcoop.com 57TH STREETBOOKSSEMINARYCO-OPBOOKSTORES