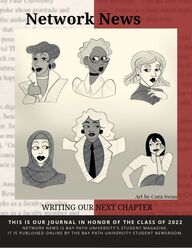 Return to flip book view
NN Journal-Seniors 2022
Page 1
T H I S I S O U R J O U R N A L I N H O N O R O F T H E C L A S S O F 2 0 2 2 N E T W O R K N E W S I S B A Y P A T H U N I V E R S I T Y ' S S T U D E N T M A G A Z I N E . I T I S P U B L I S H E D O N L I N E B Y T H E B A Y P A T H U N I V E R S I T Y S T U D E N T N E W S R O O M . Network NewsWRITING OUR NEXT CHAPTERArt by Cora Swan
Page 2
The cover of this edition of the Network News is titled "Old Times, New Times," and is designedby Cora Swan. The artwork is a direct homage to that from the 1981 edition of Bay PathUniversity's yearbook, The Portico. The original artist is known by the pen name M. Rossiter.The original piece quotes the words of Bay Path's own successful alumni and demonstrates poise and integrity.The Network News has enjoyed covering the 125th Anniversary of Bay Path and learning about its history. A special thanks to Melissa Weinberger, Karen Woods, Melissa Wert, and Robyn Rawson fortheir help in researching Bay Path's past and for the ongoing work they do for the Newsroom.About the Cover
Page 3
Rebecca Wehner '24Current Events andSocial Justice ColumnistCora Swan '23Digital Artist andArt DirectorLiz Hall '22Editorstudentnewsroom@baypath.edu Newsroom Contributors:spring 2022 Network News TeamJulia DeRidder '23Associate Editorjderidder@baypath.eduBAYPATHUNIVERSITYSpring2022Charlize Hernandez '23 Creative Writer Dia Arias '23 Womxn First SeriesEditor/Columnistdalmontearias@baypath.eduSTUDENTNEWSROOMContact us: studentnewsroom@baypath.eduSamantha Robinson '25Local Events ColumnistAllison Zaczynski '20Sawyer Harris '22Marissa Gallant '23Kathleen Ann Masciana Virgil Lybarger '25Andros Fluery '25The Network News Team holding their new signature glasses.Source: Newsroom
Page 4
NetworkNews Liveat Academic AchievementDayApril 12, 2022Congratulations to all of the students whopresented during Academic AchievementDay. The Network News team enjoyed itsLIVE session with Dr. Ruch, Dr. Surbrug,President Doran, and Dia Almonte -- withhost Julia DeRidder, Network News Associate Editor.The Network Newsroom Team would like to take thisopportunity to thank our wonderful staff contributorsand reviewers. Their help every month in creating thebest version of the magazines is invaluable to ourstudent team.Thank you to Dr. Ruch, Dr. Courtney Patrick Weber,Professor Maria Luisa Arroyo, Dinah Moore,Elizabeth Cardona, and Dean Ann Chapdelaine. And ahuge thank you to Professor Fondon, our fearlessleader, and the Communications, Professional Writing,and Digital Media Arts and Film departments. As another year is wrapped up, I just want to expressmy gratitude to the many teachers and readers whosupported the newsroom. This has been an incrediblelearning experience and Bay Path continues to be anincredible environment after 125 years. I look forwardto seeing the great work that the newsroom team andnext year's editor, Julia DeRidder will do. Congratulations class of 2022.-Liz Hall, Network News Editor '21-'22Julia DeRidder, Dia Arias, President Doran, Dr. Surbrug, and Dr. RuchA special thanks to Liz and Julia for their great work this semester.-- Professor Fondon
Page 5
President Doran'sinaugurationSenior shoutoutsAlumni sectionOn the Move and Women'sLeadership ConferenceAAPI Heritage Month Pride MonthWomxn FirstWhat's Happening onCampusSocial Justice SectionHealth and WellnessCreative Spotlight
Page 6
Congratulations Class of 2022!You are an amazing class of graduates! You are scholars of substance, of high moral character, dedicated tolearning in the classroom and in the world. You are participators and observers, enthusiastic about understandingyourselves and others. You are ready to apply the skills, knowledge, and competencies you have acquired here atBay Path to your futures! You have been part of our 125th Anniversary year…and you have accepted the challengeto Reimagine the possibilities.As the famous philosopher Thomas Merton said, "You do not need to know precisely what is happening, or exactlywhere it is all going. What you need is to recognize the possibilities and challenges offered by the present moment,and to embrace them with courage, faith, and hope."I ask you to embrace and celebrate this moment…your moment, and live your lives with courage, faith, hope…courage to follow your dreams, faith in yourselves and each other, and hope for the future!Carpe Diem!Sandra J. Doran, J.D. President
Page 7
President Doran's inauguration April 8, 2022 Congratulations to President Doran, who wasofficially inaugurated on April 8 at SymphonyHall in Springfield, MA. Featured speakersincluded Mayor Sarno of Springfield,Congressman Richie Neal, and previous BayPath president Dr. Leary. Students from the BayPath Chorale performed at the inauguration,including the Alma Mater.Photos from Newsroom and Bay PathUniversity.
Page 8
Page 9
Bay Path ushers in its new chapter with the unveiling ofits core values, the inauguration of its 6th President,the 25th anniversary of the Women's LeadershipConference, and the 2022 Anniversary Ball. Lookingahead, let's stay on the move to future success, as weprepare the students, engage faculty and work withstaff - step by step.What writing our next chapter means to me islooking forward to what is ahead. Don't lookback on the past because you may miss what isright in front of you.-Samantha RobinsonDiversity Makes Us StrongerWe Treat Others with Respect and CompassionOur Learners Come FirstHealth and Well-Being MatterWe are Committed to Equity We Pledge to Foster Inclusion and BelongingInnovation and Excellence Drive UsWe Work Best as a Community that CollaboratesBay Path is going through a period of great change onthe horizon, with a new president, a demand forincreased diversity, and the reevaluation of the conceptof the "women's college" and how to make that inclusiveto the genderqueer population. As a news team member,I hope to make an impact on the student body bypresenting all the news relevant to student life and tocreate change in real time.-Rebecca WehnerOUR SHARED VISION At Bay Path, every learner's desireof a better career, a richer life, anda brighter future will be realized.
Page 10
We asked the Bay Path community to nominate a seniorthey thought deserved a shoutout in the Network News.Here are their stories.Congratulating seniors as they moveto their next chapter!Section edited by Liz Hall and Julia DeRidder
Page 11
Kaleigh HartFavorite quote: "It does not matter how slowlyyou go so long as you do not stop" - Confucius Favorite artist: Harry StylesSamantha Brantigan Favorite quote: "The ghost of all the womenyou used to be are so proud of who you havebecome" -Nikita Gill One of Samantha's greatest adventures includedtraveling to Long Beach, California because it was afirst for a lot of things. It was her nationalgymnastics championship, her first plane ride, thefirst time she traveled that far. It truly was anamazing experience with talented and loving teammemories that will last a lifetime and friendshipsthat grew stronger on and off the mat. Sam's favoriteartists would include people like Demi Lovato andFletcher.It is also a beautiful opportunity that she hasshared one of the bravest things she hasconquered. This includes coming to accept herselfand her sexuality. She's recently come out to herfamily and the public through social media. Asstated by Sam "It was scary but at the same time aweight has lifted off my shoulder and now I am ina happy and loving relationship."-by Shakira Sosa, WELL400 studentYou are always so sweet and supportive toeveryone, it was lovely to have you inchoral with us. Going to miss you, you'regoing to do great things! I know it! -Melissa Fantato
Page 12
Cynthia MeadFavorite artist: Taylor SwiftFavorite quote: "Make something out of nothing"- Harry WilleyKailynn Schmidt Favorite artist: Bruno MarsFavorite quote: "The future belongs to those who believe in the beauty oftheir dreams." - Eleanor RooseveltFavorite quote:"The nicest thing about the rain is that it always stops. Eventually." -A.A. MilneFavorite artist: MIKAKamryn McCorison Good luck in your future adventures. Hope youhad a great time at Bay Path. -Samantha RobinsonThank you, Kam, for everything you have done tomake the softball and athletic program better. Bestof luck in your next adventures. -Steve SmithI wish you nothing but the best Kam! I am going tomiss you so much!!! Love you -Allie HendersonCynthia, you will make an amazing educator! I am sothankful to have been part of your journey to becoming alicensed educator. I know that you will go on to changemany lives. -Dr. RusticoGood luck! Thank you for always beingwilling to teach me something new. -Dr.Yadilette Rivera-Colón
Page 13
Erin HarlowFavorite artist: Taylor SwiftFavorite quote: "If you never bleed, you're never gonnagrow" - "The One" by Taylor SwiftDaniela CamposFavorite artist: Madiel LaraFavorite quote: "Better now than later"Kate NoranFavorite quote: "Going through things you never thoughtyou'd go through will only take you places you neverthought you'd get to." - Morgan Harper NicholsFavorite artist: Catie TurnerErin, best of luck to you in your future endeavors! You havebeen such an inspiration to me and I always love hearing yourthoughts and inputs in the classes we've had together. I willmiss seeing you around campus!- Vanessa ClarkYou've worked incredibly hard to complete your degree in 3years and be involved in so many things on and off campus. Youare truly a rising star. I wish you all the best! -Dr. KathyWiezbicki-StevensThank you for your kindness, love, and light! I'll miss you! <3-Carlin BlissI wish you the best of luck!! Thank you for bringing funand light to those early morning english classes. -Liz Hall I wish you the best of luck, Kate! You will do such greatthings in your life!- Hayley Fife
Page 14
Rebecca TepperJaneena IeraciFavorite artist: Salvador DaliFavorite quote: "In Omnia Paratus - Ready for all things"Favorite quote: "Whatever you choose to do, leave tracks. Thatmeans don't do it just for yourself. You will want to leave theworld a little better for your having lived."- Ruth BaderGinsburgFavorite artist: Leonid AfremovMadison HawkinsFavorite quote: "Nothing in the world is worth having or worth doingunless it means effort, pain, difficulty"-Theodore RooseveltFavorite artist: Georgia O'KeeffeI wasn't going to but, I'm nominating ME! I never in my life thought Iwould get the chance to go to college as I did terrible in high schooland the last few years have been the most trying of my entire life. Isuffered through severe postpartum depression, had my life uprootedTHREE times all while working full time, taking care of twins, tryingto keep my marriage afloat all while going to school. And somehow,making the dean's list, the presidents list, joining Project Growprogram, being nominated for a maroon key, and becoming a peermentor. I never dreamed I'd be here so yes, I'm nominating ME!Good luck on your future endeavors! Remember that myadvising doesn't expire with graduation. -Dr. RCCongratulations to Neena and the inaugural Bay Path DNPgraduating class of 2022! -Holly Johnson
Page 15
Amina RizwanAryanna TownsendFavorite artist: Summer WalkerFavorite quote: "Pain is our strength, struggle is our victory"Favorite artist: Leonardo da VinciFavorite quote: "Shoot for the moon. Even if you miss, you'll land amongthe stars." - Les BrownFavorite artist: Dr. Maya AngelouKimberly HilliardFavorite quote: "We rise by lifting others"You have really worked hard for this!!! I feel like we have beenfull circle from playing against each other in high school toplaying together in college! I am proud to say that I knew you!!!Even though you have been working so hard to graduate youhave always been a great friend to me and I know you're goingto do great things and be an icon to young women of color!Congratulations love! I will miss you but I know you will bemaking an impact where it really matters! Keep your head upand never stop following your dreams!-Dia Arias You are a shining star! I wish you the best of luck toilluminate others in your next chapter. -Dr. RCCongratulations Kim and theOTD Class of 2022! - HollyJohnson
Page 16
Nasstahjah Serrano Emily Holcomb (Jj) I'm so proud of you. You're the best - Alexis RecordCarlese DenhartFavorite artist: 5 Seconds of Summer, Mary CassattFavorite quote: "Ignore the glass ceiling and do your work. Ifyou're focusing on the glass ceiling, focusing on what you don'thave, focusing on the limitations, then you will be limited." -AvaDuVernayCan't wait to see you live out your dreams atVanderbilt. I know you'll be a great midwife <3Nashville isn't ready for you!!!- Julia DudekShannon KelleyShannon, congratulations on your award at theMarcia Conrad Awards! You are such a hardworkingperson, and I am so proud of you!- Alyssa TorraoYou are doing great! Keep up the good work Jj!- Yalitza WigginsHey Shannon. I just wanted to say I love you so muchand I'm so proud of you! You are the reason I'mgoing to fight through the depression and keep going.Thank you for everything you have done for me.Including being a shoulder to cry on, someone to geta hug from, and getting me this job. You have doneso much more for me than you even realize. You gotthis babes. The world can not hold someone as fierceand and amazing as you are down. There is no oneelse in this world that I have more faith in. I loveyou!- Sierra Cusson
Page 17
The senior that I decided to interview is myself. Ibelieve that I have been through a lot of braveryespecially now. I had to grow up quickly. My motherwas diagnosed with congestive heart failure with adefibrillator when she was 29 and I was only 4/5 yearsold. My mom throughout my childhood would need toget pacemaker surgery and I would take care of herrecovery with my dad. I almost lost my mom a coupleof times due to her pacemaker surgery and this lifeexperience has shaped me into the person I am today.Growing up helping my mom with healthcare helpedme in figuring out what I wanted to be in life. I havebeen a rock for my mom throughout my life andwatching her battle for her life every day and beingbrave for her and my dad helped make me the person Iam. In 2019, I lost my dad. This brought me to my lowestpoint in life but I knew I had to be here for my mom andcontinue on with my education and life to make my dadproud of the woman I will become one day. This is thebravest thing I have had. I chose Psychology as mymajor to help those who may not be fortunate enough tohave the help they deserve. I will continue on with myeducation and life to make my family proud and myselfproud. My life has added up to this becoming thebravest thing I have done. Brianna RolocutMy Life at Bay PathI am friends, a part of Bay Path University,I have learned and lived with equality of women,I have cried with the powerfulness of women,I was at my lowest of lows when I enjoyed,At my finishing time, I am where I wanted to be for therest of my life,No matter, your gender identity or sexuality,You will always be empowering yourself ultimately.As my major of psychology, and the workings of thebrain,I will always not know what to say, This school has helped me grow, And my time to stay is over, But I will always remember I was heard, I was listened to, I was shown a new light,This light was the empowerment of women,Women; the future boss,The future of the world.The world will be run by encouragement, bravery,and continuity. We are one, we are all, we are the future of the world.Favorite Song: "Welcome To My Life" by Simple Plan.Favorite quote:"you can do anything a man can do or better".A WELL400 class conducted the following interviews with seniorsand shared monologues they created.
Page 18
This is the way Stephanie shows her bravery and it'smade her the person she is today. "The idea ofhaving bravery is very broad to me. We each haveour own interpretations of what it means to be brave,but for me, it was when I made the decision to speakup for myself at work. I used to be a nanny for afamily a few years ago and during that time I becamevery close with them. I worked with them for twoyears, but it wasn't until one day I noticed that mypay was short for the week. I had trusted themenough and hardly kept track of my hours, but afternoticing this I sat down and counted my hours and Irealized they had been underpaying me for weeks. Iwas disappointed to learn this, but I knew I neededto speak up so that I could find a possible reasoningbehind this.They were honest with me that they had made the mistakeof underpaying me for one week and because I didn'tcorrect them, they continued to pay me this inaccurateamount for the following weeks that came after. I wasextremely saddened to learn this and although they hadoffered to make amends, I made the decision to give in mytwo weeks. I knew that I needed to work with a family thatwould appreciate my work ethic and not take advantage ofit. It was definitely a hard decision to make, but I was proudof myself for being brave enough to speak up and walkaway from something I knew wasn't benefitting me at all." -Stephanie Poma Stephanie Pomaby Yannelle ZelayandiaKeep on moving.I found myself pursuing school yet again, but this time a new school.Bay Path University.The institution behind my growth and accomplishments.Bay Path has taught me;To expand my knowledge and interests every day.To grow in curiosity and explore the unimaginable.To always be kind, fair, and understanding to others.To always put forth my best effort in everything I do.Carpe Diem or "Seize the day" is the foundation of this university.The very foundation I firmly stand in.Carpe DiemI am everything that little me always dreamed Iwould be.I am the woman that I used to look up to as a child;The embodiment of strength, courage, resilience,dedication, and hard work.However, these accomplished feelings did not comeeasy to me.Three years ago, I was completely lost.Not a clue in the world about what I wanted to do orwhere I wanted to be.I found myself unsure of what my purpose was inlife.I took a step back and resigned from college after myfreshman year.I thought life's trouble would stop if I stopped.Life didn't stop though, it kept on moving.Perhaps this was my tough pill to swallow, but itmade me realize I had to do the same;I was extremely nervous to bring this to theirattention because I didn't want to offend them, but Ifinally built up the courage one day and told them.Favorite quote: "Let your faith be bigger than your fear"Hebrews 13:6Favorite song: "Watch Me" by Labi Siffre
Page 19
Admittedly, I haven't had to do much that would beconsidered "brave."However, what may have been the first time I reallymade a decision for myself that went against whatmy family wanted for me was when I decided not toget confirmed by the church my freshman year ofhigh school. My family attended a Protestant churchin town that people from my school, as well as mygrandparents, also attended. My mom was excitedfor me to get confirmed, however, I felt that I didnot personally share the faith that I had been raisedon. I felt like I would be a fraud to just go throughthe motions and stand before the congregation andproclaim my faith in God when in reality, I came tothe realization that I was not personally a believer. At first, I was concerned about what mygrandparents would think, as their faith wasimportant to them, as well as being concernedabout potential small-town gossip between theparents of the children from my school whoalso attended that church. But ultimately, Idecided that by staying true to myself andtaking the confirmation as seriously as itshould be taken, I was giving the confirmationceremony the respect it should be treated with.I also felt that I owed it to myself to stand forwhat I believe in, even if it was uncomfortableto disappoint my mother. Of course, I did thiswith respect for the rest of my congregationand my family who did have faith, and theyalso respected my decision, even if they weresurprised initially. Making this decision mademe feel more secure in my autonomy, and Idid feel a bit proud for standing up forsomething I felt was important to myself.Lauren MatukaitisFavorite quote: "Don't choosethe one who is beautiful to theworld. But rather, choose theone who makes your worldbeautiful." -Harry StylesFavorite musical artist: Taylor Swift
Page 20
The senior whose story I want to share is… myself! If my journeyhas taught me anything is that it's okay to take your time and go atyour own pace. I started my college journey in 2017, going toUAlbany right after graduating from high school in Russia. I didn'ttake any time to properly research my options and ended up notdoing well my first semester. The experience at a big school wasdiscouraging, and I returned back to Moscow. I didn't want to giveup on my dreams, however, I was convinced that college was justnot for me. That time around I started thinking about the reasons Iwas unsuccessful: it was the inability to concentrate, not gettingpersonal attention from professors, and, finally, a huge studentbody. I decided to give college another shot after taking a breakand working for a healthcare research company, and the secondtime sure was a charm – I found a perfect match! Bay Pathwelcomed me with open arms and gave me many opportunitiesover the years I was a student. I was lucky and grateful to studythings I love, led by professors passionate about what they do. Inthat sense, the bravest thing I have ever done was probably the factthat I gave college a second chance. I was extremely afraid ofchange and failure, however, after receiving a scholarship at BayPath, I was reassured that I'm welcome here and that my potentialis recognized. I'm forever grateful for the push that I got at thisschool.Tatiana Bocharava I am more than what I appear to be; I am a woman, a scientist, and many otherthings in between. There were many obstacles I went through tobecome what I am, And there are many more to come. I couldn't become the person I am todaywithout any help; My mentors, friends, mother, and husbandhave been there for me no matter what. I was picky with choosing my surroundings, And was rewarded with getting theexperience I yearned for. My journey is just starting, But I'm grateful for the experience I havehad leading to this point. I'll always be grateful for the relationshipsI've built along the way, My peers, professors, and bystanders, Have all taught me something important. Every day I'm learning something new, Because every day there's a new opportunityto pursue. I'm flawed, And there are many things in me to work on. The first step is made, In acknowledging my flaws. I'm more than I appear to be, But there's so much more that I have not yetbecome. Favorite quote: "Happiness is never stable; it is the relieffrom anxiety."- Andre Maurois, The Climates of LoveI joined the WiSH program and got to connect with like-minded peersand saw people in professors, who are just like me, driven by a goal andmoving forward despite many hardships and challenges that come theirway. To make the most out of my time as a student, I decided to get ajob that will help me after graduation. I started working as a medicalscribe, and really enjoyed my job, as I learned many things from theM.D.'s I worked with and other clinic staff. Giving back to thecommunity was my second priority, so I wasted no time finding aperfect opportunity to volunteer at an elementary school inLongmeadow. My job is to teach robotics and bring interest in STEM to2-4th graders. I can confidently say that college has taught me manythings and given me a sense of belonging, and I can't wait for what's tocome.
Page 21
For my interview, I had the opportunity to speakto Christina Woods, who is in the MOT program.I asked Christina to reflect on her pastexperiences of bravery, in hopes that she may beencouraged to utilize bravery as she gets ready tomove on to her Master's degree. "One of thebravest things that I have done was deciding toswitch careers and go back to school. Afterreceiving an Associate of Science degree in AudioProduction, I found myself working at a 9-5 officejob, which was something that I never wanted. Astime went on, I thought the idea of going back toschool was becoming impossible and wascompletely out of reach. I also found myselfgetting stuck in my position at work and lost sightof what the future may entail.Christina Woodsby Stephanie Poma I saw that the community college that wasnot far from my house offered night classes inoccupational therapy so I decided to set up anappointment with them to learn more about it.I found out I was able to start at my ownpace, so I started just taking 1-2 classes atnight while I still worked full time. I thoughtmy only option would be community collegeto a bridge program, however, I was happy tolearn that I was able to transfer, and I amhappy that I chose Bay Path to be the placewhere I graduate and accomplish my goal ofchanging my life for the better, and hopefullystarting a brand-new career in occupationaltherapy.
Page 22
Having always had an affinity for children and family, acareer in social work suits Rosemarie well. When I asked her the first question, "what are you mostproud of?" she said she is most proud of sustaining arelationship with God. She was also proud of being awife and mother. The next question was, "If given theopportunity, what is one thing you'd do differently?" heranswer was automatic; she would have liked to havetaken school more seriously. She feels she would havecompleted her degree and would be working in her idealfield by now. The third question, "what is the greatestrisk you've taken?" Rose answered by saying that shefinds comfort in being comfortable, so that she will beleaving a job she's had for ten years is a considerable riskfor her. However, being comfortable at this job has notbeen rewarding, so the fact that she realized she wasn'tbeing valued or growing pushed her out of her comfortzone. The last question was, "what is the bravest thingyou've ever done?" Rosemarie describes that shewas with her cousins. Her cousins are prettyadventurous, and they started to jump off of a bridgeinto the body of water. Rose said that she did itwithout thinking and later regretted it. When Rosejumped off the bridge into the water, she jumped offimproperly and belly-flopped into water. "The burnwas real!" she said, and we laughed. I curiouslyasked her, "what did that teach you?" Rose said,"not every risk is worth taking!"Rosemarie's favorite artist at the moment isMaverick City. When I asked her why she said thespontaneous praise they go into always speaks toher. Praising Jesus should not be scripted. PraisingJesus comes from the heart, from the bottom of yoursoul. Rosemarie Oliverasby Quinettii GomezAfter what seemed like a long pause, I asked her, "what areyour current goals?" She responded that getting closer toGod, losing weight, which by the way, she's been doing agreat job at staying motivated and disciplined, andexpanding her family were her goals. We then got intowhat she would change about her personality; I cansympathize with this one. Rose is quite timid, and she feelsthat because she is so shy, she's missed out on manyexperiences. "What is something you are surprised that youovercame?" I think so many people can relate to this. Heranswer wasn't specific because she didn't want that in apaper, but childhood trauma. Not only did she overcomethe physical aspect of the trauma, but the emotional trauma.This is important to pause and talk about because so manypeople do not overcome the emotional scars a situation canleave. Emotional trauma, if allowed to, manifests itself ineverything like relationships, decisions, life's path, etc. Itcan have such a profound effect on the individual's psyche.She added to this by saying that only Jesus was her sourceof help. He healed her heart, and honestly, Rose canforgive people so easily, which is a godly trait. This trait issomething many lack, but she never lets hate, anger, orresentment enter her heart. It is something I truly admire inher. Favorite song: Nadie Puede Detenerle," whichtranslates to "No one can hold You"
Page 23
thought that they were interesting, and I ended uplearning about fascinating subjects that I would neverhave learned about on my own." Coriann alsomentioned that she is still being brave academically bypresenting at Academic Achievement Day on herhonors thesis, which is about COVID's effect onacademic performances.On a lighter note, her favorite quote depends on theday. "One that comes to mind at the moment is, 'Anywindow with a hammer is also an emergency exit',which is from an album I enjoy-- the Bifrost Incident."She also likes and recommends Emily Dickinson.When asked about her favorite artist, she respondedthat it depends on what kind of art. "If you meanfamous painter," she mused, "then probably Van Gogh.My parents have a copy of Starry Night over the livingroom mantel, and I loved to look at it. I really enjoy hisart style, and when I saw him featured on Doctor Whoat a young age, it stuck with me." Coriann is sure to do magnificent work in the future,and I wish her all the best.I interviewed Coriann Willingham. Her answers werethoughtful and thorough, just like I know her to be. Coriann transferred to Bay Path in September of 2020.Her entire first year was therefore online. One goodthing to come out of this was when her history class hada bring your pets to class day. She said, "I also have funmemories of just sitting around on campus betweenclasses and knitting. I enjoy making small knit crafts,like hearts or animals, and it was fun to do on campusand occasionally share with other people." Having beenon the receiving end of one of her knitted hearts, I canattest to her skills.Corrian is skilled not only in small crafts but also in herability to transition into new places with bravery, such astransferring to a new school during the pandemic. Whenasked about a time when she had to be braveacademically and it paid off, she said "there are so manytimes I've had to be brave academically, and each onehas paid off in unexpected ways. I started college at theage of 16, having been homeschooled all my life, and Iended up excelling. I chose hard classes because I Coriann Willinghamby Julia DeRidderFavorite artist: The Mechanisms
Page 24
I did a brief interview with Shakira Sosa, who isalso my roommate. For her, the bravest thingshe's ever done, out of a very long list, wasmoving across the country to attend Bay Path.Over the course of four years, she and her familyhave been living in Massachusetts while sheattends and lives on the campus. However, afterher graduation, they're moving back to Arizonaand for her graduate classes, she will be oncampus. Meaning that she'll be on her own herewhile her family is in Arizona. This will be a bigstep for her as this year her family has only beena short drive away for the past four years.Shakira Sosaby Madeline SalamonFavorite Song: "My Girl" by The TemptationsYou made it. Congratulations! I'm excited for youand your next professional developmentopportunities. -Elizabeth Cardona Love you lots, momma! -Quelenna KellerYou're the cool senior I met as a first year,congrats and go far!!- Andromeda FleuryLOVE YOU SHAKIRA!! You've done so much foreveryone, much love for you, you're going to havesuch an amazing and bright future ahead of you<33 -Mouna AlrahaniI know you are going to do great in your next chapters!You are one of the hardest working individuals I havemet and I want you to keep pushing! CongratulationsLove you DID IT!!!!- Dia AriasYou are a beautiful soul- Shakira SosaFavorite quote: "It might take a year, it might take a day, butwhat's meant to be will always find its way back." -The S.W
Page 25
Yannelle Zelayandia's story of bravery came from theheart and details her triumph in becoming who she istoday. "Being brave has different meanings to differentpeople. There are so many ways of being brave.However, in my case, one time where I felt brave, waswhen I was in school being bullied. I started gettingbullied in the third grade all the way to about eleventhgrade. The type of bullying I faced was more of theemotional side but there were a few physical times. Somany things were said about me and to me. Peoplewould bother me every day without fail to make myday horrible. I remember it so well when I would comeoff the bus to go home and once I reached home sayinghi to my mom I would start crying. Telling hereverything that happened. I remember crying every dayfor a few years. There came a point where I didn't want to go to schoolanymore. I was tired of the constant bullying,I wanted to just stay home and never see anyone again. I started toslowly believe some of the things that were said to me. I felt like Iwas worthless, I'm not smart enough, I'm too different for anyoneto be friends with me, etc. I am a Christian and I depend a lot onmy faith. I prayed to God all the time and thank God I was able toovercome the bullying. I didn't let the bullies feel like they hadpower over me. When things were said to me I would just ignorethem and keep on with my day. Did it still hurt? Yes, it did but Ididn't let it stop me. I worked hard in school to be where I amtoday. In a good college with good grades and looking towards abright future. I was brave enough to say enough is enough andnothing was going to get in my way in life. And for that, I amthankful to God for helping me get past that stage in my life andmaking me the person I am today." Yannelle's story of bravery isinspirational to so many and proves that faith and bravery can helpovercome hardships and help shape you into the person you aretoday. Yannelle ZelayandiaFavorite quote: "Lord, hear my prayer;let my cry for help come help comebefore You"- Psalm 102:1by Christina WoodsFavorite Song: "Fighting for Me" by Riley Clemmons
Page 26
As the famous saying states, "curiosity killed the cat," and,although Kelsey's mother may attribute this to her superbparenting skills, curiosity certainly did not kill the Kelsey.Ms. O'Brien reports that curiosity has fueled her life'sjourney, and led her to rich knowledge and understandingof the world around her. She feels the bravest thing she hasdone is maintain her curiosity and pursuit of knowledgedespite facing many obstacles. Kelsey has always been fullof questions and theories, wanting to dive deeper into howand why things work or happen around her. She discoveredthrough years of being a learner inside and out of theclassroom that her most thoughtful and thorough learningstemmed from curiosity. Kelsey always knew her intentions were pure, but sheadmitted she had a tough time in school when she wasyounger because her teachers were often frustrated withher constant questions and desire for more knowledge thanthey were giving her. She acknowledged that her questionswere, at times, a distraction from the lesson but she assuredthat the questions were always relevant to the subjectmatter. Kelsey performed well in high school but admitsshe rarely completed homework or take-home projects.When she got to college, a lack of pre-established studyskills and habits caused her to fall behind pretty quickly.Kelsey ended the first year of her college career with acritically low GPA, and near total lack of confidence in herabilities as a student. After a semester off, Kelsey wasready to hop back into college, but it was far from easy.Kelsey struggled in the following semesters and decided topursue outside help to help bring her grades up. Kelseymentioned her difficulties in college to her primaryphysician who suggested screening for a learningdisability. She was hesitant at first, but decided to gothrough with the screening shortly after her appointment.After a series of surveys completed by apsychologist, her parents, and one self-report, Kelseywas diagnosed with attention deficit hyperactivitydisorder. This diagnosis changed her entire outlookof herself as a student. Despite the numerouschallenges she faced, Kelsey always knew in herheart that she was intelligent and capable ofcompleting her degree. Kelsey's diagnosis allowedher to seek out proper help and allow herself gracewhen she faces a challenging assignment rather thanshutting down. Kelsey has persevered through herundergraduate degree and was able to greatlyimprove her GPA in the process. Kelsey is currentlywrapping up the final semester of her undergraduatejourney and preparing to take her next step at theUniversity of Hartford where she will be studyingoccupational therapy. Kelsey owns her curiosity, herdiagnosis, and her educational journey. She sharesher struggles openly in hopes of destigmatizingADHD and empowering other young women to owntheir struggles and unique journeys. Curiosity alonemay have killed that poor cat, but curiosity backedby determination, passion, and desire for growthbrought Kelsey to life. Kelsey O'BrienFavorite song: "Upside Down" by Jack JohnsonFavorite quote: "She was powerful. Not becauseshe wasn't scared but because she went on sostrongly despite the fear" –Harper Lee
Page 27
I AM not my failures.by Katrina Roxo...I AM determined to complete my bachelor'sdegreeand I AM beyond excited to start my next chapterof life,as a woman of science I AM proud of who I'vebecomeand I have to thank Bay Path University for gettingme back on my feet.During my time at Bay Path, I've had familymembers very sick during the pandemicwhile learning online, taking care of my lovedones, and working full time has made merealize to take the time and smell the roses.I cannot control what happens in life butI AM responsible for my future andI AM impressed with how far I've come on myjourney.Brianna LachapelleI am growing, I am learning, and Iam progressing.During my time at Bay Path, Ilearned so much about myself as notonly a student, but a person overall. Irealized my strengths, weaknesses,overcame struggles and celebratedachievements. I became more organized, learned tomanage my time to fit class time,assignments, my job, and time forfriends, family, and myself. Going from playing sports my whole life tono longer doing so in college was a bigchange for me, and I spent a lot of timefeeling sad that that part of my life was over. I slowly learned that being an athlete meantmore than playing on a team, and that it was about being active and doingwhat made me feel good. I started makingtime to go to the gym, which was difficult atfirst with how busy my days felt, but Iquickly realized how much happier I felt overall making time forsomething I love.
Page 28
Thank you to our traditional WELL Peer Mentor seniors, Class of 2022 The Traditional WELL Program wanted to thank all of ourpeer mentors for the work that was done throughout theentire 2021-2022 academic year. Being a peer mentor isno easy task and takes dedication, commitment, empathy,and leadership. I would like to take a moment to highlightour three senior peer mentors: Samantha Brantigan,Sawyer Harris, and Erin Harlow. by Dinah Mooredescribed her as being "super helpful and super easy tospeak with," faculty have described her as "absolutelygreat to work with," and I am describing her as "anabsolute force to be reckoned with!" Sawyer has a uniqueintuition that helps her to naturally understand others, agift of emotional intelligence that she will be able to takeanywhere in life. We will miss Sawyer but know that sheis not going anywhere quite yet, as she will be continuingher studies here at Bay Path in the Master of OccupationalTherapy program. Erin Harlow served as a peer mentor for multiple years.Some of her instructors have shared that "Erin Harlow isthe best peer mentor that any WEL100 faculty could everask for." Erin's willingness to help does not only takeplace within the classroom. It has often extended beyondthe classroom. Instructors have also shared that " Erin'scommunication with students and myself is her toppriority, as she kept me in the loop about students'concerns in a timely manner." Erin is a true team playerwho is always willing to work together for the commongood. COVID was not an easy time for students and Erinpersevered. She was flexible and often times, was alwaysthe first to answer communications concerning the team.She is organized and prepared, but most importantly, shehas a really big heart and wants her peers to succeed.During Erin's first year of being a peer mentor, Erinproactively took it upon herself to communicate with herpeers. Her ability to adapt to change was shown herebecause as soon as she tested one form of communicationfor her class and found that it was not working, shequickly changed her format until she found the best formof communication within a few weeks. Whether it isacademic in nature, such as waking up early to help herpeers register for courses for the first time, or it is socialand mindfulness in nature, such as coordinating apumpkin decorating gathering, I think that we can allagree that Erin Harlow cares about her peers and thatwhat she does comes from the heart and nowhere else.Her peers have described her as friendly, caring, supereasy to talk to, and a natural teamplayer. We will missyou, Erin, for everything that you have brought to thetable, totally Erin style! Samantha (Sam) Brantigan started her peer mentoringrole in the WELL Program in 2019. Her instructorsdescribe her as someone "who has great intuition, who isreliable, who is willing to go the extra mile for her peers,and who takes pride in advocating for her peers." Herstudents have described her as "someone who cares, whocan be trusted, who is super helpful, and respects whatthey have to say." Sam has not only supported the WELLprogram in the classroom but has supported her studentsoutside the classroom. Sam has also supported the WELLProgram by speaking with both prospective students andtheir families at Admissions events for the university andhas co-moderated Title IX events for both Sexual Assault Month and Domestic Violence Awareness Month. Samhas placed her students before her and she will be missedfor not only being who she is but for what she brought tothe table for both WELL and Title IX! Sawyer Harris started her peer mentoring role in 2019and has been a peer mentor for 3 years in both WEL100and WEL310. She has worked directly with the ExecutiveDirector of WELL as a senior coordinating various eventshosted by WELL, including the University Thumbprint,The WEL310 Virtual Leadership Experience. Sawyer'sWELL instructors have described her as a "NaturalLeader" who "has woken up with her students to helpthem register for courses at 6 am, and has assisted studentswith their assignments and uploading them to theePortfolio." Sawyer is empathetic to the needs of herpeers. She has been professional and has naturally fit rightinto committees that have consisted of Bay Path faculty,staff, and leaders out in the community, as she has spenttime leading the coordination efforts for events aroundsexual assault and domestic violence. Her students have
Page 29
Bay Path Alumnion their next chapterMegan Griffin '21B.A. in Professional WritingMegan, former editor of Network News, is attendingBridgewater State University working towards an MAin English. She also had her first piece of creativewriting published entitled "Survivor of Suicide Loss",published in Months to Years.Jennifer Corey LeFort '06B.A. in BusinessJennifer started a new job as a Launch Success Managerat Workhuman. She learned about the job opening fromJanna Millette '06.Melanie Blanden '11B.S. in Forensic ScienceMelanie started a position as a professor atSyracuse University teaching biochemistry andbiotechnology.Kiernan Rushford '98 '00OTA and B.A. in Liberal StudiesKiernan was promoted to Project Manager atFarm Credit Financial Partners Inc.Section edited by Allison Zaczynski '20(continued on next page)
Page 30
Bay Path Alumni Amanda Thibedeau '12 G'19B.A. in Legal Studies M.S. in Leadership & NegotiationAmanda became a certified Fire Marshal in the State ofConnecticut in 2021. She also started working with theTown of East Granby as a Deputy Fire Marshal -Deputy Emergency Management Director. Shecelebrates her 17th year as a Volunteer Firefighter and6th year as a Career Firefighter.Heidi Trewhella Joseph '88A.S. in Legal SecretaryHeidi will start as Chief Operations Officer at FirstChoice Health Center in East Hartford, CT.Aprell Munford '19 G'21B.A. in Professional WritingMFA in Creative Nonfiction WritingAprell is working as a daily writer for the RepublicanNewspaper Company and MassLive. She is a curator atthe Springfield Library and Museum for an upcomingexhibit. Aprell is also on the Board of Directors at theArt for the Soul Gallery. Lastly, she is in collaborationto work on a theater project at OSV with another BPUAlumni.Colleen O'Mara DelVecchio G'15M.S. in Nonprofit ManagementColleen launched Maxady, a training andcoaching business.(continued on next page)
Page 31
Tammy Nuccio '05 G'06B.S. in Business Administration and MBATammy is in her first term as a CT State Representativeand has announced that she is running for her second.Elizabeth Beaudry '10B.S. in Business Executive ManagementElizabeth joined New Valley Bank & Trust in 2018and is now VP Senior Credit Officer at the bank.Bay Path Alumni Kahntapaht Wilson G'18MBA in Entrepreneurial Thinking & Innovative PracticesKahntapaht has recently taken over thefamily business Mr. C's Sauce andMarinade as owner. She expanded salesall over Western Massachusetts toGeissler's, Arnold's Meat, and AtkinsFarm and is now expanding in Boston.Rebecca Whitten '20B.A. in Child PsychologyRebecca is at Antioch University NewEngland earning her MA in Couples andFamily Counseling. She was recentlyhired as a counselor at RecoveryConnection of America, a MAT suboxoneclinic.Michelle Smith Cotto '03B.A. in Legal StudiesMichelle was recently hired as Chief Legal and Human ResourcesOfficer at InterCommunity.
Page 32
Bay Path University kicks off 125th anniversary celebrationwith On the Move, bringing together inclusive, diverse voicesMagdalena Gómez, 2019-2022 PoetLaureate of Springfield, MAQuinettii Gomez"I can't makemyself so smallthat I don't learnfrom the worldaround me." -MagdalenaGómezBay Path University, along with a host of communitycollaborators, convened at the sixth annual On the Moveforum on Tuesday, March 22. The daylong virtual eventengaged community members and leaders, students fromBay Path and other area institutions, businesses,educators, and others from the Springfield region andbeyond for a day of conversations and workshopsdesigned to provoke thought, build community, andinspire action.Favorite quotes from the eventSection edited by Julia DeRidder"Bay Path is commemorating 125 years of evolution,innovation, and impact, and On the Move is the perfectevent to launch our year of celebration," said Bay PathPresident Sandra Doran. "This event captures so muchof what inspired and continues to inspire those of uswho advocate for change, but also invites the voices andperspectives of this emerging generation to shape theconversation and set the agenda for the future."-Professor Janine Fondon(continued on next page)Dani Monroe, Senior Director of Global Diversity andInclusion at the Pfizer Corporation Lisanne Corniffe"Only you can decidewhether or not a fight isworth it"-Dani Monroe
Page 33
Amiya Phillips, poet and co-ownerof Miya's MixesFavorite quotes from the event and awardeesKatrina Roxo"Mental health doesn't havean age."- Amiya PhillipsAndrea St. Louis, a Coach, Writer,and business consultantChristina Woods"We have to get better atbeing curious about otherpeople" -Andrea St. LouisSarah Boss, Kelsey O'Brien"Brave leaders are neversilent around hard things" -Andrea St. LouisOn The Move Inspiration AwardWinnersA special thank you to those who made the awards gifts possible. Erin Harlow, Samantha Brantigan, and Alexia Hosey with theircertificates. Source: Samantha RobinsonInspiration AwardRecipient Nicole Young-Martin is shown with hercertificate along with (leftto right) Allison Zaczynski,2021 recipient, and On theMove Founder, JanineFondonAdjewa Adjei-Saifah,Elizabeth Moniz"If you feel like animposter; you're not, you'rejust representing acommunity that hadn't beenrepresented there before,you belong there". -Delmarina LópezBay Path alumna Delmarina López, ChicopeeCity Councilor
Page 34
Photos by Donyell Felton Dinah Moore and Andrea St. LousProfessor Fondon, Aundrea Paulk, Megan Griffin,Professor Kathryn Wiezbicki-StevensJanine McVay and Susan HalpernTeam at Marketing Doctor
Page 35
Keynote speaker Tyra Banks and President DOranNaomi Naylor and Donyell FeltonDanielle Williams and Yvonne Williams Keynote speaker Christine CashenKeynote speaker Patrice Banks
Page 36
@bpu_networknewsFollow us onStay updated on newissues, get exclusivecontent, and get involved.
Page 37
On Earth We're Briefly Gorgeous by OceanVuongCrying in H-Mart by Michelle ZaunerLittle Fires Everywhere by Celeste NgA Little Life by Hanya YanagiharaAsian American and Pacific Islanders(AAPI) Heritage Month The school year ends at the very beginning of May, meaning that the Network Newsdoes not get the opportunity to fully cover AAPI Heritage Month or Pride Month. Forthis reason, we are dedicating a section to these two important topics in this journal.May 1-31 This year's theme: Advancing Leaders Through CooperationA history of the celebration:In the first week of May 1978, Asian Americans andPacific Islanders were officially celebrated by thegovernment. It took until 1992 before the whole month ofMay was designated as Asian American and PacificIslander Heritage Month, despite the numerous ways thatAAPI folk have shaped America.Jeanie Jew was the woman who pushed for thisrecognition. She was a staffer on Capitol Hill and anOCA-Asian Pacific American Advocates board member.Jew was fueled in part by the fact that AAPI people werenot recognized during America's bicentennial. Sheapproached Frank Horton, the New York representative,and persuaded him to draft a bill to recognize AsianAmericans. Congressman Norman Mineta co-signed withHorton, and a month later another bill followed suit. Themonth of May was chosen because it is the anniversary ofMay 7, 1843, which was the first arrival of Japaneseimmigrants, and the anniversary of the completion of theTrans-Continental Railroad on May 10, 1869, which wasprimarily built by Chinese immigrants.Jeanie Jew. Source: Cleveland.comby Julia DeRidderPopular (and entertaining) booksby AAPI authors:(continued on next page)
Page 38
Topics in the news headlines that we need to think aboutStop Asian Hate"A majority of incidents takeplace in spaces open to thepublic. Public streets (31.2%of incidents) and businesses(26.9% of incidents) remainthe top site of anti-AAPIhate." --Stop AAPI HatewebsiteThe "model minority" is the expectation that Asian Americans are moreintelligent and successful than other minorities.This pits minority communities against one another, leads to unrealisticexpectations and microaggressions, and ignores the fact that Asian Americansand Pacific Islanders are extremely diverse with an array of experiences.The myth of model minoritiesPacific Islander Americans and theterm AAPIThere is an ongoing debate about the efficacy of putting Asian Americans andPacific Islanders under one label. This contributes to the erasure of PacificIslanders and their own unique set of struggles, such as the continued negativeresults of American colonization of their lands. Asian Americans are not a monolithEvery person who is an Asian American and Pacific Islander's experience is different. 22 millionAmericans can trace their identity to over 20 countries in East Asia, Southeast Asia, and theIndian Subcontinent. However, the government groups these people together in official forms andcensuses, leading to the inability to see what communities, in particular, are struggling. Forexample, it erases the fact that Asians enjoy a median household income of $85,000, butBurmese-Americans have a median income of $44,000, according to Pew Research. Thesedisparities are cloaked under the prevailing myth of the monolith. COVID-19 has led to an increase in racist attacks against Asian Americans. According to a report by the Stop AAPI Hate website, from March 19, 2020,to December 31, 2021, 10,905 hate incidents against Asian American andPacific Islander (AAPI) persons have been reported. (continued on next page)
Page 39
Some Asian American and PacificIslanders leaders to knowHiram Fong (1906-2004)first Asian American United States SenatorVicki Draves (1924-2010)first Asian American woman to win anOlympic medalSource: WikipediaAnna May Wong (1905-1961)First Chinese-American movie star Source: FlickrKalpana Chawla (1962-2003)First woman of Indian origin to go to spaceSource: FlickrSource: wikicommons
Page 40
Pride Month is every month!by Rebecca WehnerJune marks the beginning of Pride Month for theLGBTQ+ community, and because the Bay Pathschool year ends in April, we don't always get anopportunity to celebrate the queer individuals oncampus. However, there is still a thriving communityon campus of all identities that deserves recognition.It is also important for allies to take the time to learnterminology and equip themselves with tools to be assupportive as they can be!Pride Month in the United States was first publiclyacknowledged in 1999, but 1970 was the year that theLGBTQ community began officially celebrating. Onthe one-year anniversary of the Stonewall Riots, thefirst Pride Parade and March was held on June 28,1970. This marked a rise in the queer liberationmovement and paved the way for the modern prideevents of today. In 1999 and 2000, President BillClinton announced June as "Gay and Lesbian PrideMonth", and has since been revised by presidentsObama and Biden to be referred to as "LGBTQ+Pride Month". June hosts a plethora of worldwideparades, performances, and other events todemonstrate queer joy and acceptance.June isn't the only time when queer people arerecognized by a mark on the calendar. There are avariety of other time periods that demonstrateawareness and acceptance towards a specific part ofthe LGBTQ community. Here are some days, weeks,and months you can look out for to support thecommunity all year round: There is a large population of students at Bay Paththat belong to the LGBTQ community, and it isimportant to ensure that their voices are being heard.The incoming changes on campus, such as the respectfor trans and non-binary identities and pronouns inthe classroom, are setting an inspiring precedent forthe longer road to inclusion. Some Bay Path studentshave shared what Pride Month means to them:"The support I see during Pride Month makesme feel comfortable enough to be myself."-Alexandra Staples (they/she) '25"It makes me feel like I'm not abnormal orweird for loving the people I love. It makesme feel like people care about my rights."-Ashlyn Patridge (she/her) '24"To me, Pride Month means the collectivehealing of generational trauma."-Julia DeRidder (she/her) '23(continued on next page)"Pride Month is a great way to celebrate not just others,but also yourself. It's a reminder of how far we've come."-Madison Dion (she/they) '24"It helps me embrace myself. Knowing that myexperience is both unique and similar to othersmakes me feel validated and not alienated."-Andros Fleury (he/they) '25"Pride month, especially when I was younger and not out,was basically the only time I saw anything positive aboutLGBT people. It was lonely, but in June I wasn't anymore."-Olivia Reinert (they/she) '23April 26: Lesbian Visibility DayJune 12: Pulse Night of RemembranceSeptember 16-22: Bisexual Awareness WeekOctober 11: National Coming Out DayNovember: Transgender Awareness Month
Page 41
Commonly Used Pride Flags:The "Progress Pride" flag. Representsthe full LGBTQ community; this standsout from the original rainbow flag due toits deliberate inclusion of the transcommunity and queer people of color.The Lesbian Pride Flag. Representswomen who love women; often referred toas "non-men loving non-men" in order tobe inclusive to those outside the genderbinary who still use the term lesbian.The Bisexual Pride Flag. Representsthose who love two or more genders.Bisexuals sometimes have a preferencefor a certain gender, but not always!The Transgender Pride Flag. Represents thosewho identify as a gender other than the one theywere assigned at birth. Trans men and womenuse this flag, and non-binary individuals oftenchoose to use it as well. The Pansexual Pride Flag. Represents thosewho are attracted to individuals regardless ofgender. Although there is overlap betweenbisexual and pansexual identities, many usepersonal preferences to define the differences.The Non-binary Pride Flag. Representsthose who do not fit into the genderbinary of "male" or "female". Non-binaryindividuals often choose to use singular"they/them" pronouns, but people can usedifferent sets of pronouns regardless ofgender! There are also individuals who donot identify as male or female but chooseto use a different label and flag, such asgender-fluid or agender, or use multiplelabels to define themselves.There are also many more pride flags out there; while notall labels are presented in mainstream society, it iscompletely valid to use whatever identifier suits you best.Others take comfort in having no labels at all. There is nodeadline to figure yourself out, and trying out differentlabels is totally okay! This pride month, be kind to yourselfat whatever stage of your coming out process you are at.
Page 42
Kudos to Blind Techie Geek Speaks I am the founder of "Blind Techie Geek Speaks" podcast,and my show is officially trademarked. My podcast is atechnology show. I also speak about current events. Thegeographic audience of my show is global. Ivoox is a sitethat makes my voice speak in Spanish, but in the rest ofthe world my words come out with closed captions. Thedemographic of "Blind Techie Geek Speaks" is set fortechnology, with no profanity or violence. The podcast iseducational and teaches people about software updates.The ethical affinity of "Blind Techie Geek Speaks" ismainly for Apple users, but I also discuss other Androidproducts. The custom audience that listens to "BlindTechie Geek Speaks" are usually Apple users and Appleengineers because I am a Beta Tester for Apple. Thepsychographics of "Blind Techie Geek Speaks" listenersare mainly interested in technology and software updates. My listeners are hoping I leakinformation about Apple's software before the software isreleased to the public. As a Beta Tester, I am unable toleak, blog, or post screenshots of new software before it isintroduced to the public. I can speak about softwareupdates as long as the information is coming from othercredible sources.The majority of my audience is on Anchor and Instagramplatforms. My followers on Facebook are usually friendsand family. I learned not to put "Blind Techie GeekSpeaks" on SoundCloud because my podcast is not amusic show. My targeted audience is usually peopleinterested in technology. I have been the founder of mypodcast for two years, and I am still working on makingimprovements, and getting more listeners.by Kathleen Ann MascianaFollow this link to Kathleen's channel.
Page 43
WOMXN FIRST* Page Art by Dia Ariasby Dia Arias*The term "womxn" is intended to beintersectional, to encompass not just womenbut also nonbinary and genderqueerindividuals. We acknowledge that there aremultiple genders here at Bay Path, despitebeing labelled a "women's" college. We alsoacknowledge the drawbacks of this term. Ifyou have a term you think would be moreappropriate to use, please email us at eitherdalmontearias@baypath.edu orstudentnewsroom@baypath.edu. Shining a spotlight on Womxn appreciation success and Resiliency
Page 44
Answers to Student Asked Questions!In an earlier edition, the Network News received numerous questions asked by students oncampus and decided to create the "We Want Answers" column. We asked our questions andBay Path has answered! The Navy Blue parts of this article are the responses from theuniversity that were received.Q: Who chooses the items on the dining hall menu?Our dining services chef, Brian Clark, selects eachmenu from a template and recipes provided byAramark. He reviews the suggested menu items andchooses according to our concepts here at Bay Path.The menu currently is on a four-week rotation. ChefBrian will tweak the menu during the semester tomake sure the current students like the options bygetting input from the dining team and students.If you have any suggestions or feedback, you cancontact: Brian Clark, Chef (clark-brian6@aramark.com) Paige Barbieri, DiningManager (Barbieri-Paige@aramark.com)Additionally, Student Life will be resuming theFood Committee, which is a monthly open meetingfor students to drop in and provide suggestions tothe dining hall. Please keep an eye out for Springdates published in "This Week on Campus".Many students have agreed that the dining hall food hasprogressively improved. The more diverse food is a hit.However, students have noticed that the lunch optionsare generally more liked and enjoyed than the dinneroptions and components like the sandwich station andthe gluten-free station, where sometimes there areomelets or more personalized kinds of pasta, are notavailable during dinner. If these options were availableduring dinner more students would be able to havemore personalized options and be more satisfied withdinner options.Q: How does Bay Path keep students on and off-campus safe when it comes to issues like drunkdriving?CPS officers are well trained and work collaborativelywith students to ensure their safety needs areaddressed and met. Although CPS does not have theauthority to provide service beyond our campusproperty we recommend that student(s) who choose tosocialize and consume alcohol off campus do soresponsibly and that they use rideshares such as Uber& Lyft, taxis, or assign one of their friends as adesignated driver. Some ideas to consider to help keepyour fellow students safe: Several Universities andcolleges have collaborated to sign a joint petition toprevent dangerous alcohol and vehicle relatedincidents. After signing a pledge, student volunteersserve as designated drivers to ensure that they can becalled upon by their fellow classmates when needed. 2.Other schools have formed a SADD (Students AgainstDrunk Drivers) chapter on campus. If this issomething students are interested in, they can contactSADD to find out how to establish a chapter thatoffers support, counseling, treatment programs, andother guidance options.To the knowledge of many students, the universitydoesn't provide any safety workshops on drug andalcohol use to ensure that students are equipped with theknowledge to stay safe and make the right decisions evenafter they graduate. Although several universities havejoined petitions, was Bay Path one of those universities?by Dia Arias(Continued on next page)
Page 45
Answers to Student Asked Questions!If so, how does this petition ensure that the university isdoing their part to keep students safe and are not solelyrelying on student volunteers to carry thisresponsibility? Many other schools in our area providetheir students with shuttle services that run later onweekends to ensure that there are safe options for theirstudents to get back to campus. This is something that anumber of students agreed would be beneficial. Q: Does Bay Path have track and field sports? Whynot?We currently do not have competitive track & fieldat Bay Path University. Decisions regarding thesponsorship of competitive sports at Bay Pathresulted in the discontinuation of track & fieldalong with basketball, cross-country, and lacrosse.We will look into possibly supporting new sportsafter the academic year ends. Please stop by theathletic office with your questions or concerns.Q: What happened to clubs like Motherland and thedance team?Clubs on campus are completely student-led.Unfortunately, sometimes with students graduating,clubs cease to exist. Clubs are a great way tocontinue courses that may have been dropped dueto low participation. Students are always welcomeand encouraged to rekindle any and all clubs theywould like to see active on campus (TAWC, TRAD,and GRAD). Please reach out to the StudentInformation Desk at sid@baypath.edu for moreinformation on how to establish a club!Dance Company has always been offered as acourse, and as is true for any course, its ability torun has been contingent on enrollment. Based onpast enrollment, the Academic Affairs division decided not to run the Dance class this past fall.Moving forward, transitioning Dance Company to aclub could be a wonderful opportunity to keep theDance Company alive. However, it is advisable thatthe club operate under the advisory of an individualwith experience in choreographing!Q: Does public safety know what students need tofeel safe?Public safety officers are on duty 24 hours a day/7days a week, including holidays, snowstorms, andwhen school is not in session. We depend on ourofficers to be visible, approachable, and to engagewith students. This has proven to be the mosteffective way of determining what studentsimmediate safety concerns and needs are. CPSofficers pride themselves on embracing thecommunity policing philosophy and are open to newideas or suggestions that will improve service to theBay Path University students and employees.Some of the security measures provided include:1. CPS monitors 32 exterior cameras on theLongmeadow Campus, and 14 cameras at the RyanCenter with active plans for additional cameras. 2. There are two exterior blue light emergencyphones on the Longmeadow Campus, one located infront of Catok and one 3. Each residence hall has anemergency phone in the entryway as well as alandline on every floor of the residence halls. 4. Every building is on 24 hour lockdown and onlyUniversity members who are in compliance with theUniversity's COVID 19 policy can gain access. 5. CPS can immediately deactivate any UniversityID of any individual, student, faculty, or staff that isnot in compliance with COVID 19 safety policy. in Blake Dining Commons facing Lot A. Continued...Thank you to all of those who helped provide clear answers to student questions!(Continued on next page)
Page 46
Answers to Student Asked Questions!6. Officers monitor m/v traffic on campus. Operatorsdriving on campus that are deemed to be drivingerratically are approached, questioned, and remindedof the school's 15 mph limit. Violators can be issued acitation and repeat offenders could have their privilegeto drive on campus rescinded. 7. CPS has direct radio communication withLongmeadow Police and Fire. Police response tocampus is traditionally 3 minutes or less.8. CPS provides escort services any time of the day ornight. 9. Officers and Residential Life staff are a team thatworks together and is agile enough to quickly respondto student needs or any crisis situation. 10. CPS and Residential Life follow certain protocolsbefore outside visitors are allowed to visit residents oncampus. 11. CPS' main office is located across the street at 577Longmeadow St with a substation office in D'AmourHall. 12. CPS requires University members to register on theOmnilert notification system. This allows CPS to sendtexts and email messages to the entire community whena situation calls for mass notification, such as shelter inplace or lockdowns, registration is active for two years. 13. All officers have received extensive training,including, just to name a few: CPR, First Respondercertified, have attended crisis intervention training,De-escalation & Use of Force, Responding toEmergencies Involving Persons with Mental Illness,Cultural Competency, Responding to Mass Gatherings(Crowd Management), Human Trafficking, LawEnforcement Officer Mental Wellness, CriticalIncident Stress Management & Suicide Prevention,and Legal Updates.Students were actually surprised at many of thesesecurity measures and did not know about the escortingservices. Overall, many students are satisfied and forthe most part, feel safe on campus. However, everyoneagreed that Campus Public Safety should have safetysurveys sent out once a semester to ask students if theyfeel safe and what suggestions or concerns they mayhave.We Want Answers!If you have any questions you want the News Room to find answers to please email us at studentnewsroom@baypath.edu or Dia Arias at dalmontearias@baypath.edu! Continued...
Page 47
And more!The Starry Night GalaBay Path's Musical RevueSexual Assault AwarenessMonthAccepted Student's Day
Page 48
A Magical Evening at the Starry Night Galaby Rebecca WehnerSophie Coldwell, Alexandra Staples, Ashlyn Patridge,and Madison Dion. Source: Alexandra Staples.On Saturday, April 9, Bay Path studentsattended the school's annual gala, held thisyear at Wyckoff Country Club in Holyoke,Massachusetts. The theme of the gala wasStarry Night, so guests were encouraged todress up and wear colors that fit the theme.The event began at 5:00pm and a dinner oftortellini, potatoes, roast beef, and salad wasserved. Students had the opportunity toparticipate in a slow-motion video boothwhere they could wear and hold fun props.The DJ played many hit songs that goteveryone out of their seats and on the dancefloor. Everyone had a chance to let go oftheir classroom stresses and let loose for onespecial night of fun and community.Janell Smith, Samantha Brantigan,Meghan Mawdsley, and Sophia Giza.Source: Sophia Giza.Erin Jefferis and MackenzieRichards. Source: Erin Jefferis.The Bay Path volleyball team. Source: Sophia Giza.
Page 49
Essence Step Teamby Dinah MooreThe Essence Step Team was created this year to help bringawareness of African culture to the Bay Path communityand it did just that and a whole more. Under the leadershipof undergraduate students Shakira Sosa and Asli Hassan,the team not only performed for the Black History MonthPoetry Slam February 25, 2022, but also made a historicalpresentation for BPU's On the Move event March 22, 2022and has recently performed for the 125th BPU Gala eventon April 8, 2022. As advisors for the team, Dean of Students, Dinah Moore,and former Assistant Director of Student Life, RamonaEast, wanted to thank all team members for what they eachbrought to the table for this team to be as successful as theywere in achieving their goals for this academic year. Aspecial thanks to the entire team for their creativity,dedication, perseverance, leadership, diversity, respect, andauthenticity: Shakira Sosa, Asli Hassan, Frances Banks,Ajanay Hill, Ashley Reynolds, Amaya Jones, Azzu'reJohnson, Yileisy Almada, Kayla Victor, Diane Arias. A special thanks to Elizabeth Cardona, Janine Fondon,Crystal Neuhauser, Karen Woods, and President Doran forempowering Essence to be bold, beautiful, and authentic! The Essence Step Team. Source: Dinah MooreThe Essence Step Team. Source: Dinah MooreThe Essence Step Team in action. Source: Dinah Moore
Page 50
Alumni joined current Bay Path students toperform songs and scenes from theproductions put on by the theater departmentover our 125-year history at the MusicalRevue on April 6. Before the show, guests andBay Path community members could joinPresident Doran in celebrating herinauguration at a special dinner in BlakeDining Hall. Fries, salmon, salad, and otherfoods were available to be eaten with balloonsand a photo booth to be enjoyed.After dinner, audience members made theirway over to Carr Hall. The production startedpromptly at 7pm with a well-made video,"Coming Home: A Celebration of thePerforming Arts Department". Past and presentmembers of the Bay Path community explainedwhat the department meant to them, with mostinterviewees describing it as "home." The video ended and the impressive singers KristinaTran, Sophia Coldwell, Beck Wehner, and thechorus kicked off with Cabaret, which had beenperformed in 1972. All of the performances hadmerit and were enthusiastic, but a few, in particular,stood out. Meagan Dame ('14) sparkled in theperformance of Mama Will Provide (from 2014).Her powerful but smooth voice captivated theaudience. Brooke Martineau ('17) and Lou Schutz ('20)'svoices melded together deliciously as they sang ASpoonful of Sugar (from 2016). Current studentsAmanda Emet and Margaret Philie did a hilariousand rowdy performance of Brush Up YourShakespeare (from Kiss Me Kate, 1991) that had thecrowd laughing and got thunderous applause. A Review of Bay Path's Musical RevueBeck Wehner and Alexandra Staples performing You're the Top.Source: Sue Wehner(continued on next page)by Julia DeRidder
Page 51
Kristina Tran and Lou Shutz rock out during Under Pressure.Source: Samantha RobinsonA Midsummer Night's Dream (from 2018)sequence by Megan Fabiano '19, Lou Schutz,Madison Harakles '20, and CarolinePaleologopoulos '19 was another amusing partof the show that got plenty of chuckles. All inall, the performing arts department is lucky tohave this cast of talented actors and singers. Margret Phillie and Amanda Emet performing Brush up YourShakespeare. Source: Samantha RobinsonSophie Coldwell singing her solo in theopening number of the show, Cabaret.Source: Sue Wehner.Andros Fleury, Amelia Gioscia, and Olivia Carey sing in unison after eachof their solos in What I Did for Love. Source: Sue Wehner.Brooke Martineau reprising her role as Mary Poppinssinging A Spoonful of Sugar. Source: Sue Wehner.(continued on next page)
Page 52
Cast of Peter and The Starcatcher performed in 2019. Source: Kevin Barlowski.Kristina Tran performs a scene from We Will RockYou performed in 2018 . Source: Kevin Barlowski.The cast of Little Women performed in 2015. Source: Kevin Barlowski.Pictures from past performances:by Samantha RobinsonSpecial thanks to Kevin Barlowski andBobby Tomasulo for their tireless workin the performing arts at Bay Path. -The Network News Team
Page 53
A breakdown of Dr. DePergola's Lecture on Ethics in Healthcarepost-pandemicPart Three: The Method-- Ethical Leadership viaEmotional Intelligence and IntegrityHealing from the ethical ramifications of the pandemic asa health care worker requires ethical and emotionallyintelligent leadership, using three methods. 1. Emotional Intelligence. Emotionally intelligent leadersinspire emotions in their followers, making it possible tomove their audience to compassion and action. 2. Authenticity and Equality, or "what others see in termsof your integrity." It includes humility, accountability,security, and vulnerability. 3. Servanthood and Empowerment. Leaders must viewtheir followers holistically to "grow wiser, healthier, freer,and more likely to become themselves." When someonefeels they are trusted unconditionally, they will go aboveand beyond the call of duty. This was necessary duringthe pandemic, Dr. DePergola said, because hospitalscalled professionals to roles they otherwise wouldn't havefilled to help the staffing shortage. Dr. DePergola, Bay Path's Mark T. Futter EthicsLecturer, holds many titles and positions. He is theChief of the Ethics Consultation Service and Chair ofthe Ethics Advisory Committee at Baystate Health andworks at Elms College as an Associate Professor andFamily Chair for the Study of the Humanities. Say thatfive times fast. His lecture on morality in the healthcare profession wasequally as grand as his title. Dr. DePergola wasthorough but easy to understand as he tackled thecomplex ideas behind how to heal the healthcare field'smorality as a result of the COVID-19 pandemic. The speech was divided into four parts: The Disease,The Treatment, The Method, and The Plan of Care. by Julia DeRidderPart one: The DiseaseDr. DePergola identified three illnesses he saw in hismedical professional colleagues.1. Moral Distress. "Moral distress comes from a lackof power, agency," he explained. This came from thestaff shortage. "Staff was really our scarcest resource." 2. Moral Injury. This occurs when "injury is sustainedand not alleviated." He saw this through compassionfatigue, burnout, and suicide. 3. Moral Suffering. The third phase of the disease iswhen "hope goes away that the pain will stop," Part Two: The TreatmentHealing healthcare professionals of these moral illnessesinvolve three treatments.1. Moral Resiliency. Dr. DePergola likened this to herdimmunity. Medical professionals have to "invite ourselvesto work together to do the right thing." 2. Moral Resolve. This is "making of a firm, stableintentional decision to believe that why I know to be rightis right, and continuing to do it." 3. Moral Recovery, or "the collaborative dynamic processon reflection of what went wrong." It involves pivotingyour survival actions and mindsets by engaging incommunal causes. This is where we are reaching now inthe pandemic, he argues. Part Four: Plan of Care The Plan of Care is what Dr. DePergola called the threemoral lessons he encourages healthcare professionals totake from this terrible situation.1.Moral Character. This includes "treating others fairlyeven if it's something you wouldn't do," such as not beingvaccinated, or continuing to smoke despite warningsotherwise.2. Moral Courage, or persisting in doing the right thingeven when the people around you think what you're doingis wrong. The more we have moral courage, the fewerheroes we need, Dr. DePergola argues, referencing therhetoric that healthcare workers were the pandemic heros.3. Moral Compassion is what separates a good clinicianfrom a great one, according to Dr. DePergola. A goodclinician will enter the chaos of the pain a patient isfeeling, but a great clinician wants to be in the chaos andpain with the patient. "Something happens when youknow you want to be there," he said. Reaching that place of compassion is possible if clinicianscan recover from the moral distress that was the height ofthe pandemic.
Page 54
Wildcats Softball Home OpenerBy Samantha RobinsonOn a cold and rainy Saturday afternoon, our very ownWildcats softball team had their home opener against StJoseph in a doubleheader, the first game being at 1:00 pm andthe second game being at 3:00 pm.Bay Path tried very hard to beat St Joseph, but the final scorefor the first game was St. Joseph 24-- Bay Path 6. The score ofthe second game was St. Joseph 12-- Bay Path 2. Despite the weather being cold and damp a lot of peopleshowed up but most of them stayed in their cars to stay warm. The softball team played very well despite the rain.It is never easy to play in this type of weather because yourhands get cold and the ball gets wet, so you can't play at yourbest.The team played very well in front of a small but good crowdfor their home opener. Daisy Guzman.Source: Samantha RobinsonBrooke Evanchak.Source: Samantha Robinson
Page 55
Remembering the Boston Marathon Bombing: an interview withBoston Police Commissioner Billy Evans By Samantha RobinsonOn April 15, 2013, the face of Boston was changedforever. During the running of the 117th annualBoston Marathon, the deadliest terrorist attack in theUS since September 11, 2001, took place. The first bomb went off just outside Marathon Sportslocated at 671 Boylston St. Not long after the firstbomb went off, the second one went off down thestreet at the Forum Café located at 755 BoylstonStreet.The FBI took control of the investigation and labeledthis as a terrorist attack. 3 people died and 29 individuals people werehospitalized, one in critical condition. Many victimshad lower leg injuries and shrapnel wounds, whichindicated that the devices were low to the ground. Atleast 16 civilians lost limbs at the scene, or bysurgical amputation, and three lost more than onelimb. The entire city of Boston came together to aid eachother in the days following this tragic event—eventhe Boston Red Sox baseball team changed theirjerseys for one night just to say "Boston" instead of"Boston Red Sox" as they normally do. Posters andmemorials were set up to honor the victims of thishorrible attack. The American Flag was flown athalf-staff to honor those who were killed. The phrase"Boston Strong" became a worldwide saying toremember that the city of Boston united againstterrorism, and even in the face of fear and tragedy,nothing could tear them down.On March 25, 2022, I got a chance to interview BillyEvans who was the Boston Police Departmentcommissioner during the Boston Marathon Bombingsto ask him what he remembers from that day.Samantha: What do you actually remember aboutthat day?Billy Evans: I remember running the race, first ofall... It was a great day. I started at 10 am. Everyonewas in just a festive mood... After the race, I hoppedin my car and went home to South Boston. I wentdown to the local bar and I was in the hot tub whensomeone ran in and told me that two bombs hadgone off in Copley Square. I took a shower at theathletic club, went home, changed into my uniform,and what I remember most is going back to thescene, seeing the destruction there. Windows wereblown out, barriers everywhere, the young bodieslying there. It is something I will never forget. Samantha: When you heard that two bombs hadexploded at the finish line what was going throughyour mind?Billy Evans: At first I was in disbelief. A few yearsbefore we had power line explosions, so at first, Isaid it can't be true, it had to be manhole explosions.My detective who came to get me said "No chief,they are saying there were initial explosions." I wasat the scene about 15 minutes later. I could tellsomething terrible was happening... I thought thiscan't be terrorism, this can't be someone doing thisto our marathon. Never thought terrorism couldcome to Boston.Samantha: Do you attend the marathon at all and ifso what is it like being there this many years later?Do you get a sense of guilt or sadness? Billy Evans: Yes I do, every time I walk down thatstreet it brings back some memories. What I reallyalways remember are the memorials that peoplemade with the sneakers, and posters. I always lookback and it brings tears to my eyes. We run for thepeople who were killed. (continued on next page)
Page 56
Samantha: When the younger brother was finallycaught and in custody and people lined the streets,what were you and the Boston PD feeling?Billy Evans: It was the best feeling ever. I rememberdriving out of Watertown and seeing the youngerbrother dragged past me. It was like all the blood wasdrained out of me. It gave me goosebumps to see allthe people. It was like we won the war. I rememberwalking into the bar and everyone was cheering andbuying us beers. I was on the field the next morningwhen David Ortiz threw out the F-bomb. They sang"God Bless America" and paid tribute to the victims. Samantha: When you and the Boston PD werehonored at the Red Sox game how did that make youfeel?Billy Evans: Well it made me feel good because we allwent through a lot in the last five days. To see thewhole city come together and "Boston Strong" andhow the Red Sox pulled off the celebration was goodclosure for the city. The music, the big screen, andwhat David Ortiz said brought tears to my eyes.Samantha: Do you have nightmares or PTSD fromworking that tragic day?Billy Evans: I got to tell you I do a lot of running. I love torun. I run almost every day. After going almost five dayswith no sleep. For a few days, I was fine. Running is mymedicine. Samantha: If there is anything you would say to thesurvivors of the bombings what would you say to them?Words of encouragement? Billy Evans: I would say sorry for the pain and sufferingyou went through. I like to say never forget. As days go on Iwish you the best. Samantha Robinson: This next question comes from acriminal justice professor. She wants to know do you thinkthat the younger brother deserves the death penalty? If yes,why? If not, do you think he deserves to spend the rest ofhis life in prison? Billy Evans: I have two thoughts on this. Not a bigadvocate of the death penalty. I think he does because ofhow much evil is in him and how he could stand there andblow up such a wonderful family like the Martin kid. Samantha: What do you think the bombings taught us?Billy Evans: I think for some tragic events, good thingscome out of these things. That is what came out of this. Thecity realized that we need to look out for each other. Peoplelearned a lot from this event. I just want to say thank you to Billy Evans for letting meinterview him for this and it was an honor. Samantha: So that brings me to my next question.CBS films made a movie about the events that tookplace that day entitled Patriot's Day. What were yourthoughts on the movie?Billy Evans: I was really involved in the movie. Wewanted to respect the victims when filming the movie.At the end, I comment. It was a good movie. Itrecreated a lot and it played with the facts a little. Samantha: If you could change one thing from thattragic day what would it be and why?Billy Evans: The biggest thing would be not knowingthe evil intentions of these two people. I watched thevideo with the Martin kid and "white hat" for tenminutes. He knew what he was doing. It still bothersme to this day. He knew what he was doing and who hewas blowing up.
Page 57
Accepted Students Day By Samantha RobinsonOn a damp and cold Saturday afternoon, Bay Pathhosted Accepted Students Day, where the transfer andincoming freshmen are welcomed to our campus. Theday started at 1 pm in Blake Dining Hall with acelebration check-in. At 1:30 pm, a welcome speechwas given by our president Sandra Doran. Studentsgot to meet our Wildcat Mascot Roary who was verykeen on taking pictures with people. Right after the welcome session students broke offinto groups and went to their chosen AcademicSessions. That went from 2 to 3 PM. At 3 PM,students got to meet their success team. Students got to go to a portion called choose yourpath. That went from 3:45 PM to 5:00 PM.At 5 PM, students gathered back in Blake DiningHall for hors d'oeuvres, games, mingling, and theclosing speech. Students were given theopportunity to ask questions about our campus andtalk to current students about what they enjoyabout Bay Path. One question that always comes to mind is "what isthe best part of going to a small school?" Theanswer is simple, you don't feel like you're just anumber like you do at a large school. Theprofessors know you by name, and unlike a largeschool if you're not on a sports team or part of aclub you're just another face on campus.Accepted Students Day was a great way for futurestudents to learn about Bay Path University.President Doran and Roary. Source: Samantha RobinsonAriana Maggio and Roary. Source: Samantha Robinson
Page 58
April is sexual assault awareness month. Everyone dealswith this type of trauma differently. It is important to sendlove to the survivors no matter how they are trying to cope.A survivor who is not ready to speak up is just as valid as asurvivor who has chosen to speak up. Sometimes survivorsSexual Assault Awareness The first Tuesday in April is the SAAM Day of Action,empowering survivors and encouraging action and awarenessin offering support for survivors and preventing theperpetuation of stigma, stereotypes, and further sexualassault. At Bay Path, this occasion was acknowledged via atabling event outside of Blake Dining Hall and a campus-wide campaign of wearing the color of SAAM; teal. Theevent even featured a photo opportunity with President Doranwho was also displaying her support of this month ofadvocacy with her own teal ensemble. On Thursday, April 14, Bay Path hosted a virtual andanonymous "Tell a Story" event that offered a welcome,open and safe environment for anyone to share a story and/orexperience pertaining to sexual assault. On Thursday, April 21, from 5:00 pm-6:30 pm, a night ofcommunity, empathy, and education showing variousdocumentary clips discussing sexual assault, its prevalence,and its effects on survivors was planned. All students,faculty, and staff were welcomed to join in discussing thesedocumentaries and their topics via zoom. -Charlize HernandezOn Wednesday, April 27, all students, faculty, and staffare invited to show solidarity in wearing denim and BPUgear in support of Denim Day. Denim Day has beendesignated and recognized, both nationally andinternationally, to support survivors of sexual assaultbased on ruling in the Italian Supreme Court, where ajudge overturned a rape conviction because they thoughtthat the victim must have provided consent because shewore tight jeans and helped to take them off in the sexualact that took place. do not have an outlet or a safe space to speak up. This iswhy it is important to have a safe space where we cantalk about such things, here at Bay Path. You are seenand you are heard. You are most definitely not alone. by Sawyer Harris Bay Path community wearing teal to support sexual assault survivors. Source: Dinah MooreAll four events held this month featured representativesfrom the YMCA (Jade Cross, Iviannette Acevedo, AmberEstelle and Chelsea Isom), sexual assault survivor,advocate, and author, Kathy Picard, BPU faculty andstaff, Dr. Mark Benander, Dr. Kristina Hallett, Dr. TanyaColes-Dailey, Alecia Bryant, Peter Testori, Dinah Moore,and Occupational Therapy major, and peer mentor, classof 2022, Sawyer Harris. Many, many thanks to them fortheir feedback, insight, expertise, and most importantly,their time.
Page 59
We hope this month of support, community,education, and empathy helped create a safespace for survivors as well as created a bandof allies to help further this advocacy andconversation. We all can play a role in theprevention of sexual assault and be a supportfor survivors. Additional Resources:https://www.baypath.edu/about/title-ix/National Resources for SexualAssault Survivors and their LovedOnesTable at one of the events. Source: Dinah MooreKathy Picard, Dr. Tanya Coles-Dailey, Dinah Moore,and Sawyer Harris. Source: Dinah Moore
Page 60
Page 61
Meredith O'Brien speaks about her medical memoir"I never planned to write a memoir," Meredith O'Brienshared with the attendees of the Friends of Hatch event.Meredith is the author of the memoir UncomfortablyNumb, detailing her experience of discovering that shehad multiple sclerosis and learning how to find peacewith it. She began writing the book while an MFAstudent at Bay Path, in the Creative Nonfictionprogram. For each free-write, writing exercise, andworkshop, her journey with multiple sclerosis was themain theme. "It was clearly something I had to workthrough because it kept coming up in my writing,"Meredith said. Meredith decided to write about hermultiple sclerosis as her thesis project, which eventuallyculminated into Uncomfortably Numb.Having a background in journalism, includinginvestigative journalism, meant that writingUncomfortably Numb was a process not just ofmemory, but also one of research. "When I approach allof my writing, I do so as a reporter." Meredithdownloaded her texts, emails, and medical recordswhile writing the memoir. She also interviewed all ofthe friends and family who were in scenes of her bookto make sure that what she was describing was accurate. During the question and answer portion of the event, anauthor named Tamara Sellman spoke up, thankingMeredith for her honesty, stating that she, too, hadmultiple sclerosis and could relate to everything she hadsaid. Tamara was relieved to have found another personwho understood what she was going through. Tamarawrote a book of poetry herself because she couldn't findmany books on multiple sclerosis. This interaction notonly proved how important representation in literature isbut also the power of Meredith's writing to bringtogether and explain so clearly a disease that many don'tunderstand. You can find Meredith O'Brien on Twitter at @MeredithOBrien. UncomfortablyNumb is available on Amazon, along with other book retailers.Meredith was generous in sharing her experiences withmultiple sclerosis, both through reading an excerpt of herbook detailing an attack and also describing to attendeescandidly what having the condition feels like. It started byaffecting her legs– making them go periodically numb,and tingly. Heat and humidity bring on attacks. It's anerve problem, Meredith explained. "Imagine your phonecharger breaking," she said. Multiple sclerosis "attacksthe plastic coating, like taking a glass of water anddumping it on the wire." But for Meredith, the phonecharger is her body.by Julia DeRidderMeredith O'Brien. Source: Julia DeRidder
Page 62
Lindsie Lavin Goodbye Partyby Samantha RobinsonOn Thursday, March 24 2022, Bay Path said goodbye toyet another great staff member, Lindsie Lavin, who wasthe Executive Director of Student Life andCommencement. Students and staff were invited to saygoodbye to Lindsie in the Blake Student Atrium in theirbest workout gear. It may have been cold and dampoutside but inside it was toasty warm as students and staffenjoyed cupcakes and punch. It was a hard day indeed forBay Path as Lindsie left us. Just like when Ramona left,students and staff got to say goodbye and share memoriesthat they shared with Lindsie. It was a sad day for all of us but we know as atight community that when one person leavesthey are expanding their career. Lindsie will bemissed. She always knew how to brighten aroom and bring a smile to anyone's face whenthey needed it. Lindsie has a bright future aheadof her. Source: Samantha RobinsonLindsie Lavin. Source: Samantha RobinsonWe want to give a special thanks toeveryone who is transitioning out of BayPath or into new roles. May you findsuccess wherever you are at. We send aspecial welcome to incoming Dean ofStudents Dinah Moore. We send abittersweet farewell to Maria Furlow whosupported our events and activities.-- The Network News TeamDinah Moore. Source: Bay Path UniversityMaria FurlowSource: LinkedIN
Page 63
Here's whatwe're watchingShows and movies we've been streaming all month longSource: IMBDBridgertoncreated by Chris van DusenThere are problems with Bridgerton, which is setin an alternate universe England in the early1800s. The show follows the exploits of oneinfluential and wealthy family. We had some goodold fashioned queer baiting in season one, forexample, and the refreshing possibility of welldone race-blind casting was thrown out thewindow halfway through the season with aweirdly-placed conversation. But the stories itself,with its Jane Austen-level romance and jaw-dropping visuals (the flowers, flowers in everyscene-- I want to live in a world where flowers arethat abundant and vibrant), are just too pleasing tonot watch.I've seen that some people thought season 2 wasn'tas good as season 1. I'd argue that people thinkthis because it doesn't have as many... intimatescenes, we can call it, as season one, but thenagain, Euphoria's season two had as manyintimate scenes as possible and it was still widelythought to be a disappointment. So why hasBridgerton fallen off of some people's must-watchlist? Was this season's romance too contrived?Have we moved on from tortured, hushed loveconfessions and tense but powerful familialbonds? Or are we doing that turnaround we always do when a showor person has a tantalizing first wind and we can't letourselves get swept up a second time?I don't know, but I do recommend watching Bridgerton, ifyou think you can handle yearning stares and jealousy overnot being able to frolick through lush green grass withflowers practically tumbling out of your pocket. -Julia DeRidder(continued on next page)
Page 64
Is It Cake?Source: Netflixcreated by Dan Cutforth In the wake of the popular TikToks and videos in whichseemingly solid inanimate objects are cut open to berevealed as cake, this show has turned the concept into a fullbaking show. The premise is fun and exciting, withcharismatic and funny contestants who clearly know whatthey're doing. Judges get to decide which out of a variety ofobjects is the hidden cake, and viewers get to play along,making it an interactive piece of media. There have been acouple of complaints regarding this first season, such as asupposed cheater in the mix, but for the most part I thinkthat the setup is realistic and there are legitimateconsequences for those who don't do well. My biggestcomplaint is the show's host, Mikey Day; his exaggeratedpersona where he asks deliberately dumb questions and uses"comical" voices adds a cringe factor to an otherwiseentertaining experience. Would love for the show to berenewed for a second season, hopefully with a new host thathas actual baking experience.-Rebecca WehnerSource: IMDBCATSDirected By David Mallet andAndrew Llyod WebberCATS is a great musical and movie that hasbroken so many records and has been onBroadway for years. Growing up with suchan iconic movie is a treat. Being veryyoung when it first aired on PBS Kids issomething I will never forget. What I willalways remember is my mom and I seeingit live for my birthday granted it was not onBroadway but it was still a one of a kindexperience. I highly recommend this movieto anyone who is a fan of musicals. -Samantha Robinson
Page 65
Current Events &Social Justice WARNING: This section contains sensitive content, includingdiscussions around discrimination and war.This section of the Bay Path Network News will be recurring in futureissues. A variety of social issues will be discussed, such as minorityrecognition, gender equality, the Black Lives Matter movement, globalissues, and so much more.Source: CanvaSource: Canva.
Page 66
Hon. Ketanji Brown Jackson confirmed to the UnitedStates Supreme Courtby Rebecca WehnerSource: CNN.On April 7, the Senate confirmed Kentaji BrownJackson to serve on the United States SupremeCourt, granting her a win with a vote of 53 to 47.This historic decision has made Brown the firstAfrican-American woman to ever be nominated tothe Supreme Court, let alone to serve at all. Thedecision to nominate Brown was decided byPresident Biden following Judge Stephen Breyer'simminent retirement from the judiciary. Months earlier, Biden had announced hisintentions to nominate a Black woman to theSupreme Court, which many took note of andhoped that he would hold his promise. Heannounced that he planned to nominate KentajiJackson Brown on February 25; while Browngarnered support from many Democratic judgesand Senators, there were others who felt that thisdecision was in poor judgment and accusedBrown of being unqualified for the position.Jackson, 51, attended Harvard University for college andlaw school, and has since served on the Harvard Board ofOverseers. Her professional credits include the UnitedStates District Court for the District of Columbia, the USCourt of Appeals for the DC Circuit, and the vice chair ofthe United States Sentencing Commission. Throughout Jackson's opening hearings prior to the vote,she was grilled with many questions and comments,ranging from a request to define the word "woman", aquestion asking if she believed babies were racist, andseveral accusations of her policies being soft on crime.Some have said that these often random questions wereonly presented as an attempt to confuse or discreditJackson. The Senate voted on her confirmation on April4, and restating the vote on April 7 after a tie in theJudiciary Committee. All fifty Democrats voted "yea",accompanied by three Republican senators. Despite themany bouts of bad news, this decision has made thecountry take a step forward to equity.
Page 67
The highs and lows of the Academy Awardsby Rebecca WehnerThe 2022 Oscars was certainly one for the books, with many memorable andcontroversial moments alike. Here is a breakdown of what happened and what canbe taken away from this night of achievements and drama (in more ways than one).The most infamous event of the night by far occurred abouthalfway through the show, when Chris Rock was onstage.After poking fun at Jada Pinkett Smith's shaved head, whichis due to her alopecia, a medical condition she has publiclyspoken about, her husband proceeded to march onto thestage and smack Rock in the face. After Smith returned tohis seat, he shouted, "keep my wife's name out of your f--ingmouth!" Not long after, Smith won an Oscar for his film,King Richard. He has since apologized for his actions.Audiences are split on who was in the wrong; while somethink Rock deserved it for mocking a woman with a medicalissue, others feel that Smith took it too far. The clip has sincegone viral, with many taking to the Internet to share theirthoughts. Will Smith and Chris Rock. Source: WikiphotosThe scene made between the two men overshadowedmuch of the night for both viewers and Oscar winners,but history was made on multiple accounts during theceremony. Ariana DeBose won Best Actress in aSupporting Role for her part as Anita in West Side Story.She was the first queer woman of color to accept anaward in the category, and she spoke tearfully about herexperience as an Afro-Latina woman and how gratefulshe was to have won. Additionally, the winner for BestSupporting Actor was given to Troy Kotsur for hismovie CODA, making him the first deaf actor to everwin an Academy Award. These exciting moments madethe night worthwhile for many, and give hope to thosewho wish to achieve such lofty recognition in theirfutures. While viewers agree that the Academy isn'tperfect and has recognized problematic actors in thepast, it goes without saying that this year's ceremonywas one that won't be forgotten any time soon.Ariana DeBose. Source: WikiphotosTroy Kotsur. Source: Wikiphotos
Page 68
Wellness Wednesdaysby Samantha RobinsonWellness Wednesdays is an event that takes place everyWednesday of the month. Each Wednesday is a differentevent, such as massages or candle making. It is spreadout from 9:00 am to sometimes 3:00 pm or later. It is agreat way for students to relax, destress and learn how totake care of themselves. It also helps students find waysto cope with things like midterms, tests, quizzes, orwhatever else is going on in their lives. It is a chance forstudents to get away from the classroom and have "cooldown" time. Students don't have to worry about thingsthat are weighing them down they can just relax and havesome much-needed fun in stressful times. WellnessWednesday gave students the chance to get help toprepare themselves for finals because finals week is avery stressful and hard time for any college student. Health and Wellness SectionThe origins of self-careby Julia DeRidderSelf-care has not always been about facemasks and soothingactivities. While those are great ways to reduce stress levels,self-care is deeper than that.The self-care movement began in the '50s and '60s as a wayto care for the community through caring for yourself. Itwas popularized by the Black Panther Party, who took itfrom the medical field and implemented it by recognizingthe links between activism and mental and physical well-being. Black women, in particular, spearheaded this,including Angela Davis and Audre Lorde.Next time you take some much-needed you-time, make sureto consider what self-care means beyond the expensivesprays and bath bombs, and remember that by caring foryourself, you're caring for others. Want to learn more about the history of self-care? Follow these links:the radical history of self-carehow you can honor the radical history of self-careReclaiming self-care
Page 69
CreativeSpotlightTHe Creative Spotlight is asection where we highlightsome of the amazing visualand literary art that ourstudents create. These piecescan range from poetry toillustrations.This month we feature poetry from Virgil Lybarger,Samantha Robinson, and Charlize Hernandez, andart from Andros Fleury and Marissa Gallant.If you wish to have your art, writing, or creativeexpression featured in the next issue, please submitto studentnewsroom@baypath.edu.
Page 70
From "a series of unusual love letters"by Virgil Lybargerthere are lilacsin my driveway. every year, late spring,may to june,they bloom. they're sweet-smelling things,something i can actually smell,pretty and simple. you don't exactly realizehow much you love themuntil you notice their absence. so i have takento appreciating the weekswhere they bloomand the air is permeated by pollensince i knowit will not last forever. they will be back next year,but that is hardly the point. i enjoy them while they last,then savor the memorythrough the summer.
Page 71
If Only I KnewIf I knew that tomorrow would be your last day, I would never want it to come If I knew I would never hear you say "I love you Samantha," again I would record itIf I knew I would never get another warm, gentle hug from you, I would neverlet go If I knew that today was your last day I ever went fishing, and caught a smellyfish with you I would rewind it, and live in the moment If I knew that today would be the last time I ever saw your smiley face withyour five o'clock shadow, I would take a million pictures If I knew that tomorrow would be the last time I ever saw you I would frameyour picture If I knew that it would be the last time I ever heard you ask me "do you wantto go for donuts and coffee?" I would record it If I knew I would never go to another Springfield Falcons game with you, andeat that delicious popcorn, with you I would take pictures to remember theday If I knew I would never go to another coin show, and hear you ask me "whichone should I buy? Or how much do you think I can sell it for?" I would gomore often If I knew I would never hear you say "I bid $50 on lot #23" I would record itand help you bid. If I knew that I would never hear you say "who started the car without thekey?" again I would admit it was me If Only I Knew By Samantha Robinson (in memory of my Grandpa Earl who passed away in November of 2018)
Page 72
"A Forest Clearing at Noon"by Andros Fleury
Page 73
Golden Gal by Marissa Gallant
Page 74
Tick tockThe melody drumming in my earssimilar to the way you whispered to me broken promises and everything I wanted to be truetick tock As time passes you grow into someone I used to knowsomeone whom I used to talk tonow you remain a strangertick tock I wish I could erase your touch and the sound of your voicethe way you used to make me feelthe way you spun it all on metick tock Time can't erase the pain you've caused you looked into my soul and told me it was my faultwhy did I start to believe you? tick tock As each minute passes, I feel myself breaking away from youI start to feel like myself again The pain has begun to subside and you will soon fade from my memorytick... tock
Page 75
BAYPATHUNIVERSITYSTUDENTNEWSROOMSPRING2022Have a great summer, and see you in the fall!-The Network News Team