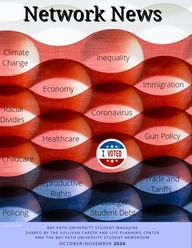 Return to flip book view
Network News Oct/Nov 2020
Page 1
Network NewsNetwork NewsB A Y P A T H U N I V E R S I T Y S T U D E N T M A G A Z I N ES H A R E D B Y T H E S U L L I V A N C A R E E R A N D L I F E P L A N N I N G C E N T E RA N D T H E B A Y P A T H U N I V E R S I T Y S T U D E N T N E W S R O O MO C T O B E R / N O V E M B E R 2 0 2 0EconomyHealthcareCoronavirusGun PolicyImmigrationInequality ClimateChange Reproductive RightsPolicing ChildcareCollege/Student Debt Trade andTariffs RacialDivides Image: Unsplash
Page 2
Page 3
About NAMICFounded in 1980, the NationalAssociation for Multi-ethnicity inCommunications (NAMIC) is thepremier organization thateducates, advocates andempowers multi-ethnic diversityin the communications industry.Partners include CharterCommunications, Viacom/CBS,Comcast/NBC Universal,Disney/ESPN and others.
Page 4
Student Financial Services is available atsfs@baypath.edu should you haveconcerns regarding financial aid.First-Years andSophomores:November 16thstarting at 6 amCourses Viewableon Portal startingOctober 26thSpring RegistrationTraditional undergraduate students can register for anyof the sessions belowJuniors andSeniors:November 9thstarting at 6 amCoursework taken in any of these sessions - provided that they contribute toward yourdegree requirements and meet usual eligibility guidelines - will be considered forfinancial aid.Deadline to self-register is December 18th by 11:59 pmGraphic created by Kate Beebe
Page 5
studentnewsroom@baypath.edu
Page 6
Cora Swan Makayla FrancisCommencement 2020Cover story: 2020 Election FeatureSocial JusticeSpecial Section:Sullivan Career andLife Planning CenterCreative Spotlight:Fresh perspectivesStudent NewsroomContributors:Julia DeRidderMolly WalshKhyarah Gastón FelicianoAllison ZaczynskiMegan GriffinCareer Section EditorsKate BeebeElizabeth HallCareer Contributors:Fangy ZhaoThe Power of a Storya reflection from Molly WalshMost of us remember a 'story' because it's something uplifting --something hopeful. Stories help us stay strong and stand by life as ithappens -- especially when everything feels awful. When life gets youdown, or you need a little encouragement, stories help you pull yourselfback up. Hopefully, that is why people will remember the power of thestory. What stories do you remember?
Page 7
Learning to "Carpe Diem" at Commencementby Megan Griffin Congratulations to our 2020 Bay Path University graduates. In this issue, we highlight our Bay Path University undergraduates. While wewere not together, in person with cap and gown, we are all united in our virtualcelebration of the 2020 graduates.
Page 8
by Megan GriffinLearning to "Carpe Diem" at Commencement
Page 9
by Megan GriffinLearning to "Carpe Diem" at Commencement
Page 10
Page 11
Class of 2020 Bachelor and Associate Degree Recipients
Page 12
Class of 2020 Bachelor and Associate Degree Recipients
Page 13
What's at Stake? Art and Statement by Cora Swan
Page 14
Election Issues That VotersCare AboutBy Kate Beebe
Page 15
by Julia DeRidderThe Pressure is On
Page 16
By: Liz HallUNICEF CLUB PRESENTS:LET'S TALKPOLITICS
Page 17
5 Books You MayNot Have KnownWere Banned By: Liz Hall
Page 18
THIS MONTH WE DISCUSS:THE BREONNA TAYLOR VERDICTCARPE DIEM MARCH FOR SOCIAL JUSTICE ,GLOBAL ISSUES ALONGSIDE BAY PATH STUDENT AND ARTIST AUDIRA CAVE. THIS SECTION OF THE BAY PATH NETWORK NEWS WILL RUN IN FUTURE ISSUES, TOEXPLORE SOCIAL JUSTICE TOPICS -- THE BLACK LIVES MATTER MOVEMENT, WORLDHUNGER, IMMIGRATION AND MORE. WE ARE BRINGING LIGHT TO THESE IMPORTANT SOCIALISSUES IN OUR WORLD WITH HOPES OF RAISING AWARENESS. OUR GOAL IS TO MAKE A CHANGE FOR OUR FUTURE.SECTION EDITOR: MAKAYLA FRANCISSource: unsplash
Page 19
B Y M A K A Y L A F R A N C I S
Page 20
Page 21
Page 22
@audira.Johanna@ajc.creative @qntessential.soapco@blackgirlswhofreedomflow
Page 23
W H O :H O WW H A T :Y O U C A N H E L P :
Page 24
Voices: Peer DialogueIndigenous Peoples' Day
Page 25
by Fangy ZhaoOccupational Therapy '21Graduate AssistantOffice of Multicultural Affairs andInternational Student Life
Page 26
continued from previous pageby Fangy ZhaoOccupational Therapy '21Graduate AssistantOffice of MulticulturalAffairs and InternationalStudent Life
Page 27
Page 28
continued from previous pagePoder Latinx
Page 29
Page 30
Page 31
Sullivan Career andLife Planning CenterThis section will share important resources for your career journey!21
Page 32
Page 33
Page 34
Pre-Occupational TherapyCareer Networking Event by Liz Hall
Page 35
WEL310 LuncheonBy: Liz HallBay Path PresidentSandra Doran
Page 36
Working Within The "New Normal"by Cora Swan
Page 37
Page 38
11/4 @ 6 pm Education Career & Networking Event 11/5 @ 6 pm Psychology Career & Networking EventUpcoming Career and Networking EventsUpcoming Internship Planning SessionsListen to our panelists share their career stories. Practice introducing yourself andsharing your career aspirations. Expand your professional network. Explore careeroptions in your field. Register on handshake if interested!11/6 @ 9:30 am11/10 @ 3:30 pmJoin us to learn about our internship program fortraditional undergraduate students, and how you canstart the planning process now. Space is limited to 15students. Register on handshake!Upcoming InternshipReflection Session11/13 @ 9:30 amWe welcome all members of our community to thecelebrations of learning as students share theirinternship experiences. Register on handshake!Questions? Email careers@baypath.edu orcall (413)565-1049More info on these events on next page
Page 39
Wondering what youcan do with aPsychology degree? Psychology Career &Networking EventThursday, November 5, 20206:00 pm - 7:15 pm, via ZoomRSVP via Handshake Panelists include: Heather Antanavica, TAWC Alumni- Adjustment Counselor at NorthbridgeHigh School, Owner of Private PracticeMaryanisa Del Rio, 19' - Eureka!Program Coordinator at Girls Inc. of theValleyCassidy Caravella, 17' -Master's LevelFamily Intervention Specialist at YouthVillages in Woodstock CT, Student inDevelopmental Psych GraduateProgram @ BPUMonica Shaird, 12' - Crisis Bed SearchSupervisor at Behavioral HealthNetwork,Student in Clinical Mental HealthCounseling Graduate Program @ BPUYsabel Garcia, '18 -Bilingual SuicideAwareness Educator & ConsultantStudent in Public Health Master'sProgram @ BPUModerator: Dr. Vernon Percy,Psychology Faculty Owning Our Now &Redefining Our Roles-Leadersin the Education FieldEducation and CareerNetworking EventWednesday, November 4, 20206:00 pm - 7:30 pm, on ZoomRSVP via HandshakePanelists include:Jessica CliffordAdjunct Professor, Bay Path UniversityWorld Language Curriculum Coordinator,Saugus Public SchoolsJustin HaltonAdjunct Professor/Practicum Supervisor, BayPath UniversitySpecial Education Director, Judge RotenbergEducation CenterAmanda ConnorBay Path University AlumTeacher, Somers Public SchoolsBernitta BurnettBay Path University AlumExecutive Director, EducareJennifer DomaingueReading and Literacy Graduate StudentTeacher, Springfield Public SchoolsShauntel SzczurkoReading and Literacy Graduate StudentTeacher, Springfield Public SchoolsModerator: Ellen Rustico, Ed.D.Chair of Education and Director of TeacherLicensure, Bay Path University
Page 40
Page 41
M U R D E R CreativeSpotlight
Page 42
Page 43