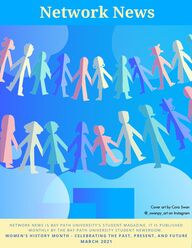 Return to flip book view
Network News March 2021
Page 1
Network NewsN E T W O R K N E W S I S B A Y P A T H U N I V E R S I T Y ' S S T U D E N T M A G A Z I N E . I T I S P U B L I S H E DM O N T H L Y B Y T H E B A Y P A T H U N I V E R S I T Y S T U D E N T N E W S R O O M . W O M E N ' S H I S T O R Y M O N T H - C E L E B R A T I N G T H E P A S T , P R E S E N T , A N D F U T U R EM A R C H 2 0 2 1
Page 2
Cora Swan '23Bay Path StudentNewsroom ArtDirectorMakayla Francis '21Bay Path Student NewsroomLayout & Design CoordinatorSocial Action SeriesWriter/ColumnistMegan Griffin '21Bay Path StudentNewsroom EditorLiz Hall '22Bay Path StudentNewsroom Associate EditorStudent Newsroom Contributors:Jamie CoresKassidy LopezAndrealis Martinez PadillaAprell MayCarly PaluckJanell SmithKayla VanceRebecca WehnerAllison ZaczynskiJulia DeRidder '23Bay Path StudentNewsroom Creative Arts& Events SupervisorBAYPATHUNIVERSITYSTUDENTNEWSROOMSPRING 2021On the MoveForumA world withoutfirstsCarpe DiemConversationsWomen'sleadership: Past -Present - FutureWomen's historytimelinesBlack HistoryMonth eventreflectionsCreativeSpotlightBay Path alumni -On the moveSocial justicesection
Page 3
Page 4
Page 5
Page 6
Page 7
Page 8
Page 9
Page 10
Open to TRAD, GRAD, and TAWCSubmit your piece athttps://forms.gle/HBM4SapQHN9eBPSFAATTENTION STUDENTS!
Page 11
by Megan Griffin and Cora Swan
Page 12
Page 13
Bay Path University, Springfield Museums, and communitycollaborators convene 2021 On the Move Forum to Advance WomenThe virtual event scheduled for March 8 (10-11:30 AM) is free and open to the publicThis is What Change Looks Like:Nikai FondonAprell MayMegan GriffinDr. Ariana Curtis
Page 14
Dr. Laura L. LovettNatalia MunozDr. Demetria ShabazzExhibit at Springfield Museums until March 15
Page 15
Carpe Diem Conversationsby Megan GriffinWomen's History Month
Page 16
Women's leadershipPast - Present - Future
Page 17
"Certainly there are very real differencesbetween us of race, age, and sex. But it isnot those differences between us that areseparating us. It is rather our refusal torecognize those differences, and toexamine the distortions which resultfrom our misnaming them and theireffects upon human behavior andexpectation" - Audre Lorde"Humans are allergic to change.They love to say, 'We've alwaysdone it this way.' I try to fightthat. That's why I have a clock onmy wall that runs counter-clockwise." - Grace HopperWomen's leadership: Past - Present - FutureGrace Hopper Audre Lordeby Jamie Coresby Julia DeRidder
Page 18
"I'm not afraid of storms, for I'mlearning to sail my ship." - Louisa May AlcottLouisa May Alcottby Carly PaluckFirst Ladies: Michelle Obama & Dr. Jill Bidenby Kassidy Lopez"Now I think it's one of the most uselessquestions an adult can ask a child-What do youwant to be when you grow up? As if growing upis finite. As if at some point you becomesomething and that's the end." -Michelle Obama, "Becoming""Education doesn't just make us smarter. Itmakes us whole." - Dr. Jill BidenWomen's leadership: Past - Present - Future
Page 19
Source: The New YorkerSource: Yale NewsSource: Scientific AmericanSource: Tenley Boehm BurkeSource: On WisconsinSource: United Press InternationalSource: Air Force Space Command
Page 20
Page 21
Source: FlickrSource: snl.noSource: PicrylSource: FlickrSource: FlickrSource: FlickrSource: Flickr
Page 22
Bay Path University Black History MonthCelebration Reviews
Page 23
by Julia DeRidderKIM ROXIE TAUGHT US HOW TO
Page 24
Page 25
Black in Boston:Entrepreneurs PanelB Y M A K A Y L A F R A N C I S INTRODUCING
Page 26
SHEENAS ADVICE TO US:4. "The Best Way to Build Anything is With a Community"Q1. What inspired you to open a business?Q2: What did you shift from to get to your current career?PSA: While Black History is celebrated greatly in the month of February, let'sremember to uphold such a commemoration and respect Black lives, and encourage equality. &
Page 27
A Night of Spoken Word with the First Annual Black Student Union Poetry Jam"I am so glad that organizations arecontinuing to keep this going. Art isimportant. Poetry is important. Blackvoices are important. Keep using yourvoices. Keep making history. Keep being history."by Julia DeRidderTrivia answers - 1: C, 2: BLynette JohnsonKhyarah Gastón FelicianoVicKToryEliman JengSpeakers included:Jemilia DeliceEliman JengFelicia LundquistVicKToryCrystal Senter-BrownKhyrarahEliganceAprell MayRowanne MustafaAsim WatersAjanay HillLynette JohnsonTRIVIA QUESTIONSWhen was Black History Week first celebrated? a. 1909 b. 1976 c. 1926 d. 1963Who said this famous quote:"I believe all Americans who believe in freedom, tolerance andhuman rights shave a responsibility to oppose bigotry"a. Frederick Douglass b. Corretta Scott Kingc. Martin Luther King d. Jackie Robinson
Page 28
INTERSECTING IDENTITIES AND HONORING OUR BODIES WITH YA-YA FAIRLEYby Megan Griffin
Page 29
"I love the intergenerationalexchanges!" - Elizabeth Cardona, Director of the Office ofMulticultural Affairs"Thank you for sharingstories about yourtraditions. So cool tohear how you celebratethe New Year!" - Dr. Sandra Haddad, AssociateProfessor, Biology and ForensicScience"Thank you for sharingyour family traditions. I learned so much!" - Dean Anne Chapdelaine, Dean ofStudents and Director of Persistence
Page 30
Legal Career and Networking Eventby Carly PaluckLenore Chouinard'07, Specialty ClaimsSpecialist, speaks toLegal Studiesstudents on Zoom
Page 31
SOCIAL JUSTICESECTION EDITOR: MAKAYLA FRANCISTHIS SECTION OF THE BAY PATH NETWORK NEWS WILL BERECURRING IN FUTURE ISSUES. A VARIETY OF SOCIAL ISSUESWILL BE DISCUSSED, SUCH AS THE BLACK LIVES MATTERMOVEMENT, WOMENS RIGHTS, GLOBAL ISSUES, MINORITYRECOGNITION AND SO MUCH MORE.We accept submissions; refer to page 3 for more information
Page 32
Women of the WorldThe Rise of #MeTooby Liz Hall
Page 33
Page 34
by Julia DeRiddersource for picture- https://pixabay.com/illustrations/body-positivity-woman-yoga-curvy-5375825/Cherry, K. (2020, February 25). What Is Body Positivity? verywellmind.com. https://www.verywellmind.com/what-is-body-positivity-4773402.FINDING PEACE WITH YOUR BODY IN A SOCIETY OF TOXIC BEAUTY STANDARDS
Page 35
B Y M A K A Y L A F R A N C I SMENTAL HEALTH CRISISP O L I C E O F F I C E R S A N D
Page 36
I FOUND MYSELF IN ADARK SPACE…PEOPLE TELL ME HOWSTRONG I WAS, BUT IFELT HELPLESS.I DEFINITELY WILL DO MYRESEARCH AND TAKE A LOOKAT IT TO SEE IF THERE'SANOTHER SEAT I WANT TO RUNFOR IN THE NEAR FUTURE.SYBRINAFULTONPSA: TRAYVON'S BIRTHDAY WAS FEBRUARY 5, HEWOULD'VE BEEN 26 THIS YEAR.HAPPY BELATED BIRTHDAYBY MAKAYLA FRANCISwho is she?
Page 37
Gender Pay Gap in Sportsby Kayla VanceThe Yankees bat boy salaryis more than myprofessional softballcontract.
Page 38
An Interview with the Artist Elizabeth Erazo Baezby Julia DeRidder"Thispainting wasadmiring thebeautifulcolors of thefruit, as Ienjoyed mycafé. I love theplay of thecontrastingbright colors""This painting wasabout enjoying thegreens of thepasteles, plantainsand the beautifultan of the woodpilón against thered pepper"Cafe with Fruits and BerriesPilón
Page 39
Page 40
Thank YouThank you for all of yourwonderful donations thismonth. Your contributionswill make all thedifference for youngchildren around the world. From the UNICEF Club Board Members:Sawyer HarrisPresident Amber BaushVice PresidentLiz Hall SecretaryKilee FerreraCommunity Outreach andFundraising OfficerMackenzie EdwardsTreasurerYou will receive an email from the club in regardsto your gifts and when to expect them
Page 41
SECTION EDITOR: ALLISON ZACZYNSKI
Page 42
Phyllis Williams-ThompsonCelebrates One Year At Tech FoundryJynai McDonald Running forWard 4 City Council
Page 43
How Did Bay Path Prepare You As AnEntrepreneur?
Page 44
Page 45
Page 46
Page 47
Page 48
BAYPATHUNIVERSITYSTUDENTNEWSROOMSPRING 2021