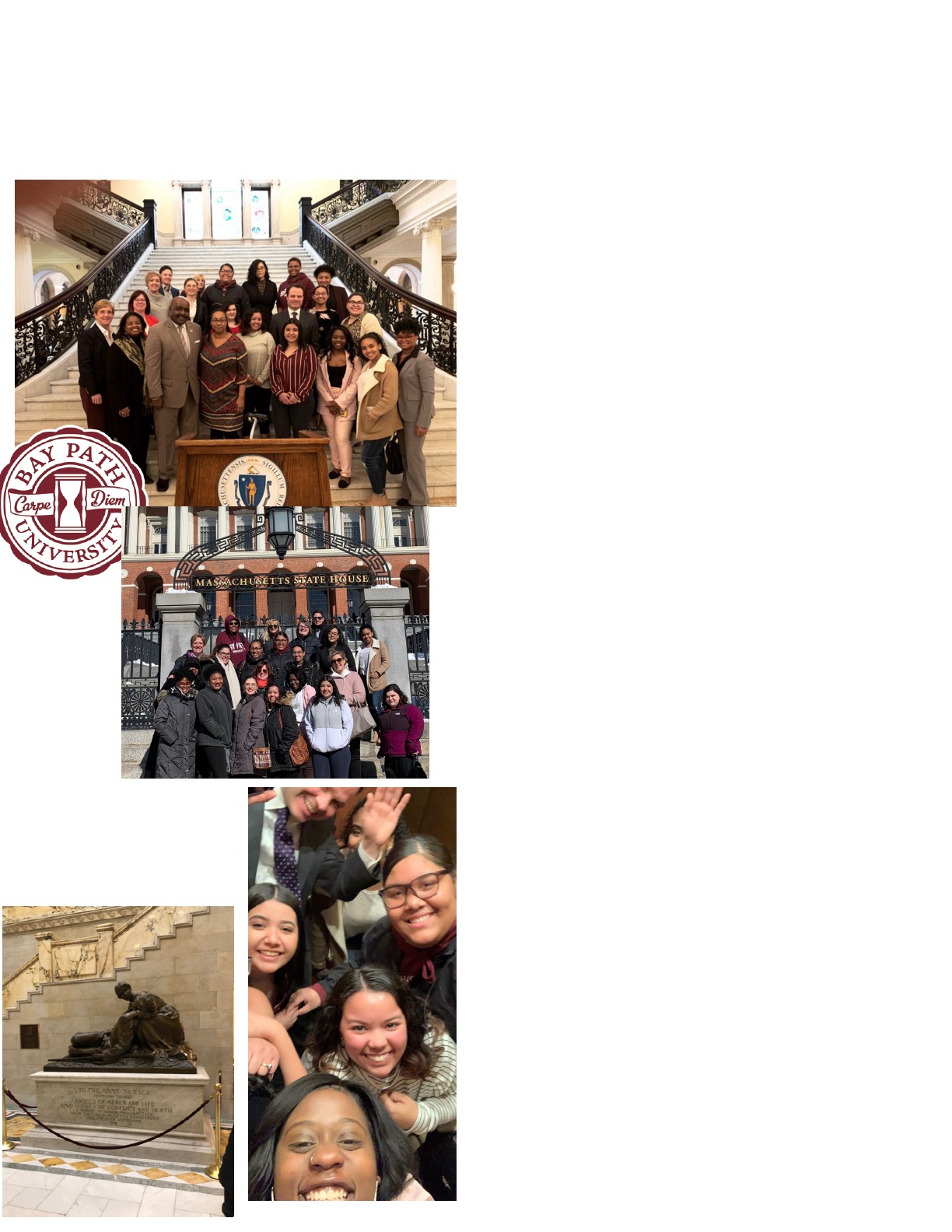 MAKING HISTORY AT
THE MASSACHUSETTS STATE HOUSE
On March 7, a group of thirteen students along with faculty
made the two-hour trip at 7:30 in the morning to visit the
Massachusetts State House. Students, faculty, and staff were
part of a Bay Path 'On the Move' trip to Boston's State House in
honor of International Women's Day (March 8). The bus pulled
up to the Robert Gould Shaw- 54th Regiment Memorial on the
Freedom Trail and students got off the bus to view the statue
and take photos at the front entrance of the State House. Later,
on the State House tour, students learned about the
Massachusetts Senate and House of Representatives, the first
Democratic government systems, the nurses' involvement in
times of war, interesting connections to the Civil War, and the
artworks showing the rare full-body paintings of Abraham
Lincoln.
The tour group gathered at the State House Grand Staircase
where the group met Senator Eric Lesser, who represents nine
communities in the First Hampden & Hampshire District. Sen.
Lesser proudly serves Western Massachusetts as one of the
youngest members of the State Senate. Lesser noted, "We need
young people to step up -- especially when there are so many
challenges right now. In the future, young people are going to
have the most at stake in making decisions. We need to engage
young people - in particular, women, students of color, and the
people who may be as connected as they need to be. Times are
changing, and it's time for people to step up".
Senator Lesser also issued a proclamation to the students and
Professor Janine Fondon for the work they are doing to educate
and inspire their students to become more politically active - a
tremendous honor for the Bay Path community. After lunch, the
students were allowed into the Senate Chamber underneath the
golden dome, precisely at the center of Boston, while the
legislature was in session. Being introduced by Senator Lesser,
the entire legislative stood in a fantastic ovation to applaud the
young women from Longmeadow's Bay Path University. The
students all agreed this was truly an awe-inspiring moment.
Regardless of the early morning trip and desperate need of
coffee, the students marched into the State House with a clear
goal to learn about more about their government and ways to be
more involved. With snacks, drinks, and an awesome selfie with
the Senator, the students headed back for Bay Path feeling not
only more knowledgeable but feeling like they could conquer the
world.
Go to wwlp.com
See the news clip on
TV 22 WWLP News!
By: Anissa Nieves, Andrealis Martinez Padilla, and Flor Castillo Rivas
4