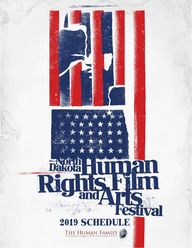 Return to flip book view
NDHRFF19 Program
Page 1
Promoting Human Rights & Social Justice through Film & ArtThe Human Family2019 SCHEDULE
Page 2
Page 3
TICKETSPasses and Individual ticketsAll-Access Pass $35Provides access to all lm screenings in all citiesCity All-Movie Passes Provides access to all lm screeningsin specic citiesBismark $25Grand Forks $15Fargo $25Single Admission $10Single admission to afternoon or evening screenings in any cityStudents & Seniors 55+ $3Student or Seniors 55+ single admission to afternoon or evening screeningsGroup Rates Groups of ve or more are eligible for a Group Discount. Contact info@human-family.org for more information.How to buy ticketsOnline ticket sales begin Monday, June 3.Tickets are avilable at Human-Family.org. Tickets will be emailed and avilable via the Box Ofce will-call the night of the event.Box Ofce sales avilable the night of each screening at each venue.Online and Box Ofce payment: Cash, Visa, MasterCard, Discover and Ameircan Express are accepted. Checks are not accepted.The Fine Print: All orders are nal. No refunds, exchanges, substitutions, or replacements. The Human Family is not responsible for lost, stolen, forgotten, or damaged tickets or passes, or any item misdirected by the Postal Service or spam lters. If a screening is cancelled, attendees will have an opportunity to attend a rescheduled screening. Service fees for returnedrescheduled passes or tickets are non-refundable. The service fee is $1.00 per pass or ticket.VenuesBismarck North Dakota Heritage Center & State Museum 612 E. Blvd. Ave., Bismarck, ND 58505 www.statemuseum.nd.govGrand Forks The Empire Arts Center 415 Demers Ave., Grand Forks, ND 58201www.statemuseum.nd.govFargo The Fargo Theatre 314 Broadway N., Fargo, ND 58102www.fargotheatre.orgMinot The Oak Park Theater 1500 4th Ave. NW, Minot, ND 58703www.oakparktheater.netAccessiblityAll screening venues are wheelchair accessible.ASL interpretation is provided at select introductions and post-screening Q&A sessions. To request specic accomidations, emailinfo@human-family.orgConnect with usWebsite Human-Family.orgPhone (701) 205-0248 FAX (701) 212-4197BADV3
Page 4
2019 SCHEDULEFriday, November 11PMHeritage Center2PM3PM4 PM5 PM6 PM7 PM8 PM9 PM1:45 pmInviolable: The Fight for Human Rights1:30 pmColour Me Free1:50 pmJack and Anna7:00 pmBalkowitschOPENING NIGHT8:00 pmQ&A with Gregory DeSay,Chelsy Ciavarella8:30 pmThe Cleanup Story that Didn't Make the News9:00 pmDiscussion: DiscriminatoryPractices in Housing Saturday, November 21PMHeritage Center2PM3PM4 PM5 PM6 PM7 PM8 PM9 PM2:05 pmRustic Oracle1:30 pmWantoks: Dance of Resilience in Melanesia1:55 pmMother, Daughter, Sister7:00 pmLos OtrosOPENING NIGHT8:13 pmI Am Not Your Negro9:00 pmDiscussion: The Deep NorthTuesday, November 51PMEmpire Arts Center2PM3PM4 PM5 PM6 PM7 PM8 PM9 PM2:19 pmStranglehold1:30 pmOfra & Khalil7:00 pmThe Eagle and the CondorOPENING NIGHT8:00 pmQ&A with Paulette Mooreand Rebecca Kemble8:30 pmMMIW9:00 pmDiscussion: Water Protector Legal Collective1:36 pmMy Name is Mohammed4
Page 5
1:43 pmNemesis7:00 pmTopanga7:20 pmHayley7:31 pmA Story of a Panty9:00 pmDiscussion: Three White Pastors on the Stage2019 SCHEDULEThursday, November 71PMFargo Theatre2PM3PM4 PM5 PM6 PM7 PM8 PM9 PM1:48 pmTeam Tibet1:30 pmThis Being Human1:42 pmAziz7:00 pmSolitaryOPENING NIGHT7:02 pmDead Die Once7:11 pmThe Other Border9:00 pmDiscussion: The State of Contemporary Media Friday, November 81PMFargo Theatre2PM3PM4 PM5 PM6 PM7 PM8 PM9 PM2:05 pmBayt Jadeed: Seeking Home1:30 pmThe New Mother7:00 pmSafe HavenOPENING NIGHT7:15 pmSolitary8:45 pmDiscussion: Human Tracking in NDTuesday, November 121PMOak Park Theater2PM3PM4 PM5 PM6 PM7 PM8 PM9 PM1:30 pmBetty Williams7:19 pmThe Brainwashing of my Dad7:17 pmHoney Bee5
Page 6
Friday, November 1Colour Me FreeDirected by Gray HodgkinsonYear 2019 | 4 min 59 secondsGenre Animation|ExerimentalLanguage(s) EnglishCountry of Origin SingaporeA symbolized narrative influenced by the plight of civilians caught up in war. Through no fault of their own, people are trapped in their cities, targeted by both sides as acceptable collateral damage, or even as human shields. This movie explores how these survivors are forced to question their allegiances, as expressed by color, as their base human need to survive takes precedence.Inviolable - The Fight for Human RightsDirected by Angela Andersen Year 2019 | 88 minGenre Documentary FeatureLanguage(s) English, GermanCountry of Origin Germany70 years after the Declaration for Human Rights was written, do countries value what has been a great vision after World War II? Highlighting the many people are tirelessly fighting for human rights, the documentary shows people who are aected by the actions of their governments or corporations.Bismarck | Hertiage Center | Afternoon Session | 1:30-4:00 p.m.My name is Mohammed and Raghad, we don't exist here anymoreDirected by Ali Mousawi Year 2019 | 11 min 40 secondsGenre Narrative ShortLanguage(s) Arabic, EnglishCountry of Origin AustraliaA day in the life of an Iranian-Ahwazi asylum-seeking family surviving in Australia. Mohamed is ten years old. Raghad, his sister, is eleven. Growing up without their mother, or extended family, they make a home however they can while fighting to unite their family.6
Page 7
Friday, November 1The Eagle and the CondorDirected by Paulette MooreYear 2018 | 57 minGenre Documentary FeatureLanguage(s) EnglishCountry of Origin United StatesFrom 2016–2017 Standing Rock water protection camps located at the heart of Turtle Island became the largest assembly of Indigenous peoples in recent history. Gathered nations confronted big energy's extreme extraction through the strength of their ceremonies, histories, and connections. The film is based around prophecy of the Eagle and Condor that originates with nations from the South.Bismarck | Hertiage Center | Evening Session | 7:00-9:30 p.m.Filmmaker Q&A Paulette Moore & Rebecca KembleJoin award-winning filmmakers director Paulette Moore and producer Rebecca Kemble for a conversation about their film, "The Eagle and the Condor." From creation to discovery to impact, the filmmakers will describe the film's journey to-date, and future plans for the story.The Water Protector Legal Collective has served as the on-the-ground legal team for the ceremonial resistance camps at Standing Rock, ND. They have provided legal representation, coordination and advocacy for over 800 Water Proectors who have been arrested in resistance to DAPL. This short tells the story of 26 Water Protectors who faced felong charges stemming from a ceremony held on November 15, 2016 to remember Missing and Murdered Indigenous Women.MMIW Directed by Johnathan Klett & Teena PuglieseYear 2019 | 17 minGenre Documentary ShortLanguage(s) EnglishCountry of Origin United States7
Page 8
DiscussionWater Protector Legal CollectiveJoin Water Protector Legal Collective legal worker Leoyla Cowboy for a discussion about the work of the WPLC, updates about the water protectors the organization is providing legal support for, and a conversation about the discriminatory practices being leveled at the water protectors by the justice system. Elizabeth Loos, President of the Board of Trustees of the Bismarck Mandan Unitarian Universalist Church and organizer for the North Dakota Human Rights Coalition, will join Cowboy to facilitate the conversation.Explore the stories of artists and filmmakers making socially aware and relevant art. The first 7 episodes premiere weekly leading into #NDHRFF19.Find us on SoundCloud - The Human FamilyFriday, November 1Bismarck | Hertiage Center | Evening Session | 7:00-9:30 p.m.
Page 9
Saturday, November 2Wantoks: Dance of Resilience in MelanesiaDirected by Iara Lee Year 2019 | 19 min 59 secondsGenre Documentary Short Language(s) English, FrenchCountry of Origin Solomon IslandsIn all Melanesian countries, residents face the challenge of climate change, as rising sea levels threaten to swallow both land and tradition. In this charged context, captivating performers use their talents to celebrate local culture and draw international attention to their islands' plight and the perils of a warming world.Rustic OracleDirected by Sonia Bonspille Boileau Year 2019 | 85 minGenre Narrative Feature Language(s) English Country of Origin Canada8-year old Ivy is trying to understand what happened to her big sister, who has vanished from their small Mohawk community. With minimal clues, Ivy and her mother Susan embark to find her sister. First distant, the journey ultimately brings the pair closer together, despite challenging circumstances. Bismarck | Hertiage Center | Afternoon Session | 1:30-4:00 p.m.Jack and AnnaDirected by Ksenia Ivanova Year 2019 | 15 min Genre Student FilmmakerLanguage(s) English Country of Origin United StatesBased on true events that happened in the early 1900s in Colorado, the film tells a story of a young couple who live a happy life on their farm. Suddenly a man from the past reveals Jack's biggest secret – that he is, in fact, a woman named Helen Hilsher. After the revelation Helen is put on trial for cross-dressing and same-sex marriage.9
Page 10
Saturday, November 2BalkowitschDirected by Gregory DeSaye & Chelsy CiavarellaYear 2019 | 57 minGenre Documentary FeatureLanguage(s) EnglishCountry of Origin United StatesEveryone has a purpose, but most spend their lives searching. For one man, his purpose came late in life and has been fueled with passion, spreading like wildfire across the prairies and now spanning the world. Shane Balkowitsch has found his voice through the lost art of wet plate photography. He is archiving history, preserving bloodlines and capturing his visions in silver on glass for future generations.Bismarck | Hertiage Center | Evening Session | 7:00-9:30 p.m.Filmmaker Q&A Gregory DeSaye and Chelsy Ciavarella with specialguest Shane BalkowitschJoin first-time filmmakers Gregory DeSaye and Chelsy Ciavarella for a conversation about their film "Balkowistch." We'll follow the story of the film's production from conception to completion. Special guest Shane Balkowitsch will also participate in the conversation.The Clean-Up Story that Didn't Make the NewsDirected by Karen Van FossenYear 2019 | 30 minGenre Documentary ShortLanguage(s) EnglishCountry of Origin United StatesIn response to forcible evacuation orders from state and federal authorities, water protectors and allies from North Dakota spent the winter cleaning up the Oceti Sakowin camp and sal-vaging supplies before they reached the landfill. Local media told a very dierent story. This is the cleanup story that did not make the news.10
Page 11
DiscussionDiscriminatory Practices in HousingJoin the High Plains Fair Housing Center for a discussion about housing discrimination in the Bismarck-Mandan area.Saturday, November 2Bismarck | Hertiage Center | Evening Session | 7:00-9:30 p.m.SEPTEMBER 16-19202012
Page 12
Tuesday, November 5Ofra & KhalilDirected by José Alberto Andrés Lacasta Year 2019 | 25 min Genre Narrative Short Language(s) EnglishCountry of Origin SpainKhalil (Palestinian) works as a mason in Israel and has a girlfriend Ofra (Israeli), a student at the University. A tragedy forces them to make hard decisions that will separate them forever. Although the strength of love and life will try to break through, their fatal fate is an almost irremediable place.StrangleholdDirected by John Zipperer Jr. Year 2019 | 62 minGenre Documentary Feature Language(s) English Country of Origin United StatesThe opioid epidemic is not what you think it is. Watch the real-time struggle of an Alaska physician on the frontlines of the battle. During filming, the clinical operation he led came under an intense "investigation" which was conducted as a campaign of disruption by an FBI agent with a known history of significant abuses.GRAND FORKS | The Empire arts center | Afternoon Session | 1:30-4:00 p.m.Mother, Daughter, SisterDirected by Jeanne Marie Hallacy Year 2019 | 28 min Genre Documentary Short Language(s) Bengali, Jingpho Kachin, Burmese Country of Origin United StatesAmae, Thamee, Ama (Mother, Daughter, Sister) gives voice to Kachin and Rohingya women calling for an end to sexual violence in conflict. Powerful testimonies from survivors, witnesses, and activists explore the far-reaching impact of sexual violence and trauma upon communities, woven with stories of courageous women calling for justice and an end to impunity.12
Page 13
Tuesday, November 5Los OtrosDirected by Monica PendergrassYear 2019 | 13 minGenre Documentary ShortLanguage(s) English, SpanishCountry of Origin United StatesHundreds of thousands of undocumented Americans are deported from the United States to "their country of origin" every year. What happens to these "non-citizens" after they return to a country they barely know? Separated from family and starting all over with nothing, they attempt to forge new lives in the shadow of a broken immigration system and a country not prepared for their return. DiscussionThe Deep NorthJoin Courtney Souvannasacd, Outreach Coordinator with the National Resource Center on Native American Aging, Dr. Eric Burin, Professor of History at UND and author of the book "Protesting on Bended Knee", and Jaylani Hussein, Executive Director for CAIR-Minnesota, for a conversation about historical and contemporary racisim and discrimination in the United States and at home in North Dakota.Grand Forks | The Empire Arts Center | Evening Session | 7:00-9:30 p.m.I Am Not Your NegroDirected by Raoul Peck Year 2017 | 80 minGenre Documentary FeatureLanguage(s) English, FrenchCountry of Origin United StatesIn 1979, James Baldwin wrote a letter to his literary agent describing his next project, "Remember This House." The book was to be a personal account of the lives and assassinations of three of his close friends: Medgar Evers, Malcolm X, and Martin Luther King, Jr. At the time of Baldwin's death in 1987, he left behind only 30 completed pages of this manuscript. Filmmaker Raoul Peck envisions the book James Baldwin never finished.13
Page 14
Thursday, November 7This Being HumanDirected by Aimie Vallat Year 2019 | 12 min 58 seconds Genre Documentary Short Language(s) EnglishCountry of Origin United StatesA portrait of a young Iraqi who left everything behind at 15, in a solo quest for a more peaceable future. Hameed's salvation is education in the U.S. bound by a big altruistic dream.Team TibetDirected by Alison Pinkney Year 2019 | 90 minGenre Documentary Feature Language(s) English, Tibetan Country of Origin United KingdomA film about survival, perseverance, friendship, and hope. A remarkable story of courage, of physical, mental, and spiritual exhaustion, with a drive to cross the finish line stronger than that of any Olympian. Tibet cannot take part in the Olympics as it is not recognized as a sovereign state by the International Olympic Committee, so in an act of defiance and solidarity, a group of young Tibetan refugees held their own.Fargo | The Fargo Theatre| Afternoon Session | 1:30-4:00 p.m.NemesisDirected by Behzad Jafarimazhab Haghighi Year 2019 | 5 min Genre Animation/Experimental Language(s) Silent Country of Origin Islamic Republic of IranIn an amusement park, where everything is standing out of circulation, a defendant is charged for having a whirligig...14
Page 15
Thursday, November 7TopangaDirected by Aycil Yeltan Year 2019 | 15 minGenre Narrative ShortLanguage(s) EnglishCountry of Origin United StatesHearing impaired, homeless Gala escapes from a man who continually abuses her. While her life becomes a routine in an abandoned old truck on a mountain road, she is unaware the abusive man finds out where her hiding place is. One night, after a brutal attack, she finds the strength to stand up one last time and starts walking. She has no clue where this survival walk will end up and change her life forever. Fargo | The Fargo theatre | Evening Session | 7:00-9:30 p.m.HayleyDirected by Michael Dolha Year 2018 | 11 minGenre Student Film Language(s) English Country of Origin United StatesA 3-hour flight becomes a race against time for a 24-year-old neurotic flight attendant doing everything in her power to collect evidence to save an 8-year-old girl she believes is a victim of sexual abuse. The protagonist's goal becomes impossible thanks to the young girl's accompanier who claims to be her uncle.A Story of a PantyDirected by Stefanne Prijot Year 2018 | 60 minGenre Documentary Feature Language(s) French, Hindi, Indonesian, Uzbek Country of Origin BelgiumA store owner used to sell clothes that were made 100% in Belgium. But since the relocation of factories 30 years ago, this is something she cannot oer anymore today. Step by step, from one stage to another of its manufacture process, from one country to another, the story of this panty brings us close in the intimacy of five women, each of them like a chain link of globalized production.15
Page 16
DiscussionThree White Pastors on the StageIn North Dakota, a majority white population (88%) identifies their faith-based aliation to be Christian (77%). What is the role of the majority population in ensuring that human and civil rights are protected and expanded for marginalized communities, and how does religious faith play into those responsibilities? Speaking from their faith traditions and personal experiences, Rev. Karen Van Fossan, Pastor Joe Larson and Rev. Grace Murray will share the individual moments each were called to elevate human rights and social justice in the face of public criticism and disagreement. They'll discuss their anchors and their centering, and how they found peace in the discomfort of standing against ideologies of division.The conversation will be facilitated by Jessica Thomasson of Lutheran Social Services of North Dakota.Special ThanksPRODUCTIONSJ and S16
Page 17
Friday, November 8The New MotherDirected by Eleva Singleton Year 2019 | 12 min 22 seconds Genre Animation/Experimental Language(s) EnglishCountry of Origin United StatesThe New Mother is a 12 minute short experimental drama which explores the delicate paradigm shift between an aging mother and her adult daughter who becomes her caregiver... We explore the stages of grief/acceptance/understanding and new beginnings in this suspenseful psychological silent film.Bayt Jadeed: Seeking HomeDirected by Danica Simonet & Mackenzie Kuhl Year 2019 | 29 min 40 secondsGenre Documentary Short Language(s) EnglishCountry of Origin United StatesBayt Jadeed narrates the search for home from the perspective of refugees and receiving communities both in Germany and in Minnesota. Fargo | The Fargo Theatre| Afternoon Session | 1:30-4:00 p.m.AzizDirected by Mica Agustoni Year 2018 | 21 min 35 seconds Genre Narrative Short Language(s) Arabic, Swiss German Country of Origin SwitzerlandSix-year-old refugee Aziz wants to return to his home country and board a cruise ship on the lac of Greifensee. Nothing makes the boy realize that he is on the wrong track. Captain Elmar, who has long since stopped dreaming, finds out of his apathy through Aziz. The meeting of two homeless people who could not be more dierent and still sit in the same boat.17
Page 18
Friday, November 8Betty Williams: Contagious CourageDirected by Dawn Engle Year 2018 | 64 minGenre Documentary Feature Language(s) EnglishCountry of Origin United StatesThe story of a young mother living in Northern Ireland as her country teetered on the brink of civil war. When three little children were killed, hundreds of thousands of people, mainly women, rose up to demand that their country change. The film shows how average people can overcome their fear, and how one person can make a dierence in a violent and unpredictable world.FARGO | The Fargo theatre | Evening Session | 7:00-9:30 p.m.Solitary ConfinementDirected by Raquel Salvatella de Prada Year 2013 | 2 minGenre Animation/Experimental Language(s) English Country of Origin SpainA visual representation on an excerpt from prisoner Chris McBride's letter to the newspaper Indy Week dated July 4th, 2012. This piece attempts to visually communicate, in less than 2 minutes, the amount of time a prisoner spends in a very small confinement, the minuscule amount of time spent outside the cell and the psychological impact this can have.The Dead Die OnceDirected by Max McGillivray & Alex Morelli Year 2018 | 8 min 30 secondsGenre Narrative ShortLanguage(s) Arabic, English Country of Origin United StatesAfter settling into her new life in America, a Syrian refugee receives a visit from her past. Based on a story by Syrian writer Jehan Sayed Issa.
Page 19
The Other BorderDirected by Justin Zimmerman Year 2019 | 7 min 54 seconds Genre Documentary Short Language(s) EnglishCountry of Origin United StatesHigh school student Gerardo Hernandez, raised in the United States since six months of age, was one of over 100 undocumented workers arrested by ICE in Ohio on June 5th, 2018. Gerardo spent almost 2 months in prison before being released, and is now scheduled to be deported in early 2020.DiscussionThe State of Contemporary MediaJoin Doug Hamilton and special guest John Nichols for a conversation about the state of contemporary media. Nichols is a pioneering journalist for The Nation, host of the podcast Next Left, and author of several books, including Horsemen of the Trumpocalypse: A Field Guide to the Most Dangerous People in America, as well as The Genius of Impeachment.Their conversation will focus on John's experiences working in media: what he's seen as a journalist, what is working and what he's concerned about, and what consumers of media need to be wary of moving forward. The Brainwashing of My DadDirected by Jen Senko Year 2015 | 78 min Genre Documentary Feature Language(s) English Country of Origin United StatesAs filmmaker Jen Senko tries to understand the transformation of her father from a non-political, life-long Democrat to an angry, right-wing fanatic, she uncovers the forces behind the media that changed him completely. This documentary shines a light on how it happened (and is still happening).
Page 20
Tuesday, November 12Safe HavenDirected by Edson Da Conceicao & Timo Ottevanger Year 2019 | 15 minGenre Narrative ShortLanguage(s) EnglishCountry of Origin NetherlandsTwo innocent orphans, Maiky and Alice, are trying to survive in a world overrun by war. It seems they will never be able to escape the war but still they hold on to hope.OAK PARK THEATER | Evening Session | 7:00-9:30 p.m.Honey BeeDirected by Rama Ra Year 2018 | 90 minGenre Narrative Feature Language(s) English Country of Origin CanadaThe journey of quick-witted Natalie "Honey Bee" Sorensen, an underage truckstop prostitute trapped in a human tracking ring and controlled by her pimp-boyfriend until she is transplanted into foster care in remote Northern Ontario and forced to confront her identity. Solitary ConfinementDirected by Raquel Salvatella de Prada Year 2013 | 2 minGenre Animation/Experimental Language(s) English Country of Origin SpainA visual representation on an excerpt from prisoner Chris McBride's letter to the newspaper Indy Week dated July 4th, 2012. This piece attempts to visually communicate, in less than 2 minutes, the amount of time a prisoner spends in a very small confinement, the minuscule amount of time spent outside the cell and the psychological impact this can have.18
Page 21
DiscussionHuman Tracking in North DakotaAnnete Mennem, Director of the Native American Center at MSU, Maria Berlin, Executive Director of Hispanics Have a Voice Too, Tara Bjornson, Assistant Director of the Domestic Violence Crisis Center, Brandi Jude, Executive Director of Invisible Innocence, and James Falcon will have a discussion about the human and labour tracking crisis currently happening in North Dakota.19
Page 22
THIRD ANNUAL north dakotaHUMAN RIGHTSARTS FESTIVALHuman FamilyDEADLINE 11/29/19CALL FORARTISTSLEARN MORE & SUBMIT YOUR WORK ONLINEHUMAN-FAMILY.ORG2D, 3D, PERFORMANCE & WRITTEN ARTISTSACTION SERIES