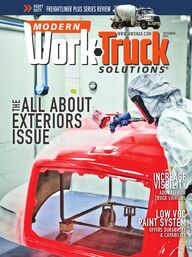 Return to flip book view
Modern WorkTruck Solutions September 2022
Page 1
ALL ABOUT ALL ABOUT EXTERIORS EXTERIORS ISSUEISSUETHEINCREASE VISBILITYADD EXTERIOR TRUCK LIGHTINGHEAVY DUTY FREIGHTLINER PLUS SERIES REVIEW SEPTEMBER2022WWW.MWSMAG.COMLOW VOC PAINT SYSTEMOFFERS DURABILITY & CAPABILITY
Page 2
Page 3
Page 4
CONNECT WITH US on Twitter (@mwsmag), Facebook (www.facebook.com/modernworktruck), and LinkedIn (www.linkedin.com/company/modern-work-truck-solutions).INDUSTRY NEWS ................................6INDUSTRY INSIGHT ............................12WORK TRUCK PRODUCTS .................42IN EVERY ISSUEDELFLEET ONE®PAINT SYSTEMPPG's premium paint technology offers exceptional color matching, ease of use, and ultra-low VOC ratings.www.DelfleetOne.comINSIDE THIS ISSUESEPTEMBER 2022 VOL-7 NO-9EXPERIENCE WORK TRUCK LIVE! IN LAS VEGAS THIS JANUARY ............ 44ALL ABOUT ALL ABOUT EXTERIORS EXTERIORS ISSUEISSUETHEINCREASE VISBILITYADD EXTERIOR TRUCK LIGHTINGHEAVY DUTY FREIGHTLINER PLUS SERIES REVIEW SEPTEMBER2022WWW.MWSMAG.COMLOW VOC PAINT SYSTEMOFFERS DURABILITY & CAPABILITY28LIGHT-DUTYSTEEL OR ALUMINUM? CHOOSING A ROOF RACKPLUS SERIES REVIEW FREIGHTLINER'S NEW TRUCKS HEAVY-DUTY14TECH FOR SMALL FLEETS ATTAINABLE SAFETY TECH38MEDIUM-DUTYCOVER STORIESMAINTENANCELOW VOC PAINT SYSTEM ..............30Offers durability & capabilitySAFETYINCREASE VISIBILITY .....................34Add exterior truck lighting ALL ABOUT ALL ABOUT EXTERIORS EXTERIORS ISSUEISSUETHE
Page 5
Page 6
OPERATIONS 6 TIPS FOR WORK TRUCK UPFITTING WITH AN ALL-IN-ONE COMPRESSOR AND WELDER SYSTEM .................................... 20 Best practices for improved efficiency and performanceOPERATIONS DEFEATING DOWNTIME WITH IMT SERVICE TRUCKS AND CRANES ........................................................................24 How DBM saved a client time and money with reliable trucksFEATURED PRODUCT EBERSPAECHER ...................................................................43 Climate solutions for today and the futureIt's a new month and a new season. New seasons sometimes bring about changes in work truck fleet operations, and we want to help make this fall season as productive, profitable, and safe as possible. This month's issue has a focus on exteriors. That encompasses: exterior lighting to make sure your trucks and the job have full visibility (page 34); how to choose the right roof rack for your operations (page 28); and which paint to use that offers great coverage and is also a win for the environment (page 30). We've also got pieces on productivity on the jobsite from Miller (page 20) and IMT (page 24). And have you heard? Freightliner recently introduced its revamped M2 and SD trucks to create the Plus series. I drove the trucks and shared my experience on page 14. All in all, there's a lot of educational and insightful information packed in this issue. Be sure to let us know which pieces offered any work truck solutions by connecting with us on our social channels. Happy learning!Jade Brasher EditorEDITOR'S NOTE20www.mwsmag.com P.O. Box 660197 Birmingham, Alabama 35266DONNA CAMPBELL Editor in Chiefdonna@mwsmag.com JADE BRASHER Editorjade@mwsmag.comRANDY MOON Associate Publisher randym@mwsmag.comVAL CARRIER Media Consultantval@mwsmag.comGARY BARKER Media Consultantgary@mwsmag.comTIM O'HARA Media Consultanttim.ohara@mwsmag.comLISA AVERY Art Director lisa@mwsmag.comSETH SAUNDERS Digital Media SpecialistINGRID BERKY Office ManagerNo part of this publication may be reproduced or transmitted in any form or by any means, electronic or mechanical, including photocopy, recording, or any information storage-and-retrieval system without permission in writing from the publisher. The views expressed by those not on the staff of Modern WorkTruck Solutions, or who are not specifically employed by Highlands Publications are purely their own. All Industry News material has either been submitted by the subject company or pulled directly from its corporate website, which is assumed to be cleared for release. Comments and submissions are welcome, and can be submitted to jade@mwsmag.com.SUBSCRIPTION INQUIRIES OR CHANGES CALL:205.380.2048CHRIS GARMONCFO DONNA CAMPBELLVP, Editorialwww.highlandspublications.com 312 Lorna Square Birmingham, AL 35216TIM GARMONCEORUSSELL HADDOCKPresidentTONYA BROWNINGVice PresidentTalk soon! Jade2443
Page 7
Page 8
MODERN WORKTRUCK SOLUTIONS WWW.MWSMAG.COM SEPTEMBER 20226INDUSTRY NEWSWORK TRUCK SOLUTIONS ADDS MANHEIM VEHICLES TO ITS VEHICLE ACQUISITION SEARCH TOOLWork Truck Solutions announced an addition to its Vehicle Acquisition Search Tool (VAST), adding Manheim as a partner. As inventory shortages continue restricting franchised dealers' OEM allotments, enterprising dealers are finding alternative sources to fill their customers' needs. In response, Work Truck Solutions adds to the vehicle source pool within VAST. With the addition of Manheim, VAST now has more than 50,000 commercial vehicles available. Dealers can use VAST to quickly find inventory from auctions, fleets, rental companies, and other sources efficiently from one platform. This approach to fulfilling customer needs helps dealers build loyalty with their business customers and maintain a positive revenue stream. For more, visit www.worktrucksolutions.com.WERNER ENTERPRISES SIGNS LETTER Werner Enterprises, a transportation and logistics provider, and Cummins Inc., a power solutions provider, announced Werner signed a letter of intent to purchase 500 Cummins' 15-L hydrogen internal combustion engines upon availability. The two companies announced earlier this year that Werner Enterprises plans to validate and integrate Cummins' 15-L natural gas and Cummins' X15H hydrogen engines, both part of Cummins' fuel agnostic platform, into their fleet.Hydrogen engines offer OEMs as well as end-users the benefit of adaptability. Cummins accomplishes this by continuing to use familiar mechanical drivelines with vehicle and equipment integration. This mirrors current powertrains while continuing to provide the power and capability for meeting application needs. Significant reuse of parts and components from Cummins' existing platforms drives scale advantages on cost. Cummins projects this reuse of components to also deliver reliability and durability equal to diesel. For more, visit www.cummins.com. BOOSTER EXPANDS MOBILE FUELING SERVICES COAST TO COASTIn response to growing customer demand from enterprise fleets looking to optimize costs as well as lower carbon emissions and source renewable fuels, Booster, a tech-driven mobile energy delivery company, announced expansion across the United States with several new market launches. The company recently launched in three new markets—Portland, Oregon, Philadelphia, and Boston—and will be in a fourth, Phoenix, in October. Additionally, Booster continues to scale up operations and expand its serviceable range to meet growing demand from large-scale enterprise MWS Can help you CliMb out of the hole.NUMBERS DOWN IN THE DUMPS?NUMBERS DOWN IN THE DUMPS?combine print & digital advertising, and WatcH YoUr bottom line rise! 205.795.0223 | rUssell@mWsmag.com
Page 9
Page 10
MODERN WORKTRUCK SOLUTIONS WWW.MWSMAG.COM SEPTEMBER 20228INDUSTRY NEWScustomers. These customers include Amazon and UPS, which continue to see unprecedented growth. Phoenix will mark the company's thirteenth major market following its recent expansion. The new markets enable Booster to deliver tens of millions of gallons of fuel. The company plans to increase growth and volume in Philadelphia, Boston, and Phoenix by the end of the year. For more, visit www.boosterusa.com. BUSINESS INTELLIGENCE GROUP SUSTAINABILITY LEADERSHIP AWARD WINNERGPS Insight announced that Business Intelligence Group named the company a 2022 Sustainability Leadership Award winner in the 2022 Sustainability Awards program. Companies bestowed with the Sustainability Leadership Award have demonstrated sustainability as a central aspect of their operations and goals. Sustainability efforts are important for companies interested in minimizing their environmental impact. Fleet and field automation and optimization can help businesses and organizations contribute to their companies' sustainability efforts and also provide a foundation for a substantial reduction in waste. Gary Fitzgerald, GPS Insight CEO, says the company aids fleet and field managers in lowering pollution levels through easy-to-implement practices. These practices decrease the use of fossil fuels and increase fleet efficiency, he says. For more, visit www.gpsinsight.com. NEW OEM UNVEILS COMMERCIAL MEDIUM-DUTY PLATFORM SET TO ELECTRIFY AND REVOLUTIONIZE THE INDUSTRYHarbinger announced its official launch and unveiled a new electric vehicle (EV) platform poised to transform the medium-duty industry. Founded to bring modernization and fresh thinking to the electrification market, Harbinger's products will include stripped chassis and cab chassis. Harbinger designed its products to address performance, durability, and life span expectations required in Class 4 to Class 7 vehicles. This past year, a team of EV passenger car veterans have developed a medium-duty powertrain and chassis. The goal was to overhaul an industry still running on half-century-old technology. Current EV solutions inthe medium-duty space offer only incremental improvements, largely by retrofitting popular internal combustion engine (ICE) products. But, Harbinger grounded its suite of in-house developed EV solutions in road-tested passenger EV technologies. They enable a new paradigm in chassis architecture, focused on electrification and improvements in vehicle operation, safety, and driverergonomics. It expects the first vehicles in customers' hands in late 2023, followed by the launch of volume production in 2024. For more, visit www.harbingermotors.com.
Page 11
Work safe in any weather, and every lighting condition with Peterson LED forward lighting.Designed, engineered and manufactured with legendary Peterson quality, our USA-made LED work lights set new standards in efficiency and durability. Whether spec'd as OEM standard or an aftermarket installation, you can count on your Peterson lights to work as hard as you do.Scan to seePeterson'sfull line of work lights.pmlights.comTOUGH. ENOUGH.908 LumenX® 4" Round LED Rubber Housing Work Light• PAR 36 replacement with LED technology• High vibration resistance906 LED Pedestal-Mount Work Light• Low profile, low weight• Rugged polymer housing701 Great White® LED 7" PAR 56 Round Headlight • UV- and impact-resistant, heavy-duty polycarbonate lens • Standard H4 connection• Separate high/low beams• IP66 ingress rating1,000LUMENS800LUMENS1100 LUMENS: LOW BEAM1650 LUMENS: HIGH BEAM
Page 12
MODERN WORKTRUCK SOLUTIONS WWW.MWSMAG.COM SEPTEMBER 202210INDUSTRY NEWSNEW DATA SHOWS SAMSARA DRIVES COST-SAVINGS OPPORTUNITIES FOR CUSTOMERS IN FIRST YEARSamsara Inc. released data that shows how it's helping customers reduce costs within the first year of adoption. Headwinds like inflation and high fuel prices have led physical operations companies to prioritize cost savings. Samsara helps leaders navigate today's challenges and its technology can act as a deflation enabler. Benefits this sample customer cohort realized within their first year of Samsara adoption include: 47% reduction in crashes; 40% decrease in idling; and 20-plus% improvement in vehicle utilization. Find out more, visit www.samsara.com. WEBASTO LAUNCHES THE WEBASTO GO CHARGER IN THE US AND CANADAWebasto Charging Systems, Inc., a subsidiary of Webasto Group, launched the Webasto Go, a Level 2 mobile EV Charger, for electric vehicle owners. The mobile charger—developed, tested, and produced by Webasto—is a globally certified product and is now available in the US and Canada for EV-owners to purchase at major retail stores or directly on the Webasto EV Solutions website. The Webasto Go charger is a global application that comes with region-specific certifications such as UL, cUL, CE, and more. Webasto designed the dual-voltage (120V and 240V) portable EV charger to charge all types of EVs at home or on-the-go. Delivering up to 32A, the Webasto Go can add more than 20 miles of driving range per charging hour; enough for most EV drivers to fully charge overnight. Webasto designed the robust and durable charger to endure harsh outdoor conditions while keeping users safe from electrical hazards. For more, visit www.evsolutions.com. TOMTOM'S GO NAVIGATION APP INTRODUCES TRUCK NAVIGATIONTomTom, mapmaker and geolocation specialist, introduced GO Navigation's truck plan—an offer designed to meet the needs of professional truck drivers. In addition to GO Navigation's premium navigation capabilities, this enables drivers to plan routes that account for their vehicle's dimensions, fuel requirements, desired maximum speeds, and cargo (such as dangerous goods). This also enables drivers to plan multiple drop-offs and gain access to an overview of upcoming points of interest (POIs). These POIs include fuel stations suitable for their vehicle as well as truck stops. These truck-specific additions work in conjunction with the app's existing navigation features, including intuitive lane guidance, live traffic, and the Route Bar. The Route Bar is a convenient snapshot of the route, stops, relevant alerts, and restrictions ahead. For more, visit www.tomtom.com.
Page 13
Page 14
MODERN WORKTRUCK SOLUTIONS WWW.MWSMAG.COM SEPTEMBER 202212INDUSTRY INSIGHTAQERIC RIVERAProtecting Fleet Trucks with Aftermarket AccessoriesMWS: WE'RE TALKING ABOUT EXTERIORS THIS MONTH. WEATHER GUARD® HAS MULTIPLE TRUCK PRODUCTS SHOULD BE MOST ON A FLEET OWNER'S RADAR TO IMPROVE THE LOOK AND FUNCTION OF THEIR TRUCKS?RIVERA: For commercial fleet managers, finding nice-looking and functional equipment can often be a complicated process because the needs can be specific to the industry. The commonality though, regardless of trade or application use, is the need to securely store tools to and from a jobsite. The one WEATHER GUARD product that is practically a necessity for all trades is a truck box. WEATHER GUARD is the industry leader, and for good reason; we offer the consistency in functionality, durability, and protection that the market has come to expect when they see the WEATHER GUARD name. We've recently introduced new Saddle and Lo-side box models with a more modern appearance. Paired with advanced technology they'll enhance the overall experience for the customer. MWS: THESE PRODUCTS CLEARLY AESTHETIC APPEAL WHAT CAN TRUCK OWNERS EXPECT FROM WEATHER GUARD PRODUCTS?RIVERA: Owners of our products are proud to display WEATHER GUARD, but it is not only because they look good on their trucks. Truck owners recognize WEATHER GUARD for durability, security, and weather resistance, but there are so many distinctive details worth mentioning. For example, our latest truck box designs include enhanced tiedown buckles to help properly secure lighter cargo in the truck bed. An easier-to-close lid with optimized latching system helps reduce the pounding your truck box (and truck!) will take when accessing your tools. And finally, there's our integrated PowerSync™ lighting for customers who are working before dawn and after dark. WEATHER GUARD ACCESSORIES IMPROVE FUNCTIONALITY, DURABILITY, AND TRUCK PROTECTION
Page 15
SEPTEMBER 2022 WWW.MWSMAG.COM MODERN WORKTRUCK SOLUTIONS 13As for aesthetic appeal, we also introduced a new color this year: Gunmetal Gray. This is in addition to our current range of colors, including white, gloss black, textured matte black, and our most popular clear coat (aluminum).MWS: BEING SUITABLE FOR TYPICAL ROAD AND WORK TRAVEL PRODUCTS WITHSTAND THE BEATING TAKEN FROM WORK TRUCKS THAT OPERATE IN EVEN THE HARSHEST ENVIRONMENTS? RIVERA: It's in our name—WEATHER GUARD! We know our customers depend on our products to protect in all types of environments, which is why our truck boxes include double-welded seams, rugged weather stripping, higher gauge metal thickness, and high-security locks and latches that are stress tested to function on the most intense jobsites. And our locks are good for use in -40 degrees F to 185 degrees F (-40 to 85 Celsius), so they can withstand the harshest climates.MWS: DO YOU RECOMMEND CERTAIN PRODUCTS THAT HELP THE MOST WITH MAINTAINING THE TRUCK'S EXTERIOR?RIVERA: There are a variety of products that help protect the truck exterior, depending on needs of the owner. Truck racks are a great way to deliver ladders or long materials safely and securely without scraping the truck bed or cab. Our 12-gauge steel heavy-duty transfer tanks offer a safer mode of transporting as much as 110 gallons of diesel fuel to your jobsite. Additionally, PACK RAT® drawer units are perfect for maintaining bed space while allowing for secure, organized, and convenient storage.MWS: WHAT IS IT ABOUT THESE PARTICULAR PRODUCTS THAT MAKE THEM STAND OUT FROM THE COMPETITION WHEN LOOKING AT THEM FROM A COMMERCIAL FLEET PERSPECTIVE?RIVERA: For commercial fleets, dependability and value are extremely important. WEATHER GUARD offers ONE KEY SIMPLICITY that allows for coding multiple locks/boxes on a truck or entire fleet to the same Key Code, which will greatly help fleet managers reduce downtime. No more fumbling through stashes of spare keys to find the right one for each lock. WEATHER GUARD boxes are also finished with an ARMOR TUF® powder coat to extend the quality look and feel of our boxes above and beyond the competition. MWS: WEATHER GUARD ANNOUNCED A NEW MEDIA CAMPAIGN THIS FALL THAT ALIGNS WITH COLLEGE FOOTBALL. CAN YOU SPEAK TO THAT? RIVERA: WEATHER GUARD recognizes the hard work and commitment it takes to become a competitive athlete. It's similar to the dedication and work ethic of our core customers. We felt like the college football partnership and new campaign really spoke to our brand. The theme of the campaign is that "A Job Worth Doing is a Job Worth WEATHER GUARD." We are known for attention to detail in our pro-grade truck boxes, and that aligns well with those who push themselves to become the best. MWS: ADDITIONAL THOUGHTS?RIVERA: In addition to our extensive portfolio of products, we are excited to launch some new products in the coming year. Check out weatherguard.com and our social media pages to stay up to date on all things WEATHER GUARD.Whether you are a professional, DIY'er, or simply prefer WEATHER GUARD products for your trucks and vans, share your experiences on your social media posts with the hashtag #WEATHERGUARDnation!FOR MORE INFORMATIONEric Rivera is a product manager for the WEATHER GUARD truck category. With more than a decade of experience in product management and applicaon engineering, he has spent the majority of his career understanding customer needs and ensuring products meet and exceed expectaons. Before joining WEATHER GUARD, Eric worked as a product manager for a variety of leaders in their respecve industries and helps inject a fresh perspecve to the truck accessory market. Eric holds a mechanical engineering degree from the University of Illinois at Urbana-Champaign. Find out more, visit www.weatherguard.com. WEATHER GUARD's ONE KEY SIMPLICITY allows operators to code multiple locks/boxes on a truck or entire fleet to the same Key Code.
Page 16
Page 17
Page 18
MODERN WORKTRUCK SOLUTIONS WWW.MWSMAG.COM SEPTEMBER 202214Freightliner Plus Series ReviewHEAVY-DUTY WORKTRUCK SHOWCASEHEAVY-DUTY WORKTRUCK SHOWCASE
Page 19
SEPTEMBER 2022 WWW.MWSMAG.COM MODERN WORKTRUCK SOLUTIONS 15A SAFER, MORE FAMILIAR TRUCKBy Jade BrasherFreightliner Plus Series Review
Page 20
MODERN WORKTRUCK SOLUTIONS WWW.MWSMAG.COM SEPTEMBER 202216Freightliner recently introduced its new Plus series, featuring its M2 and SD trucks. The models enhance the driving experience to keep drivers comfortable and safe. And with the driver shortage, that's a plus.Freightliner took the advice of fleet owners and drivers to make improvements to the trucks. This led to a completely redesigned interior, connectivity and safety systems available across the lineup, and the latest advancements in powertrain components.I had an opportunity to get behind the wheels of trucks in the Freightliner Plus series, and I'm here to report back.DETROIT POWERAll trucks in the Plus series feature Detroit powertrain components. The heavy-duty Freightliner 114 SD Plus features the Detroit DD13 Gen 5 engine. The engine offers a horsepower range between 370 and 525 hp. Its diesel technology makes it reliable and enhances its performance to offer new vocational power ratings. Designed optimally for vocational applications, the DD13 Gen 5 features available front and rear PTOs and a new aftertreatment system with one large DPF that offers less downtime due to increased service intervals. Using a single, larger DPF also saves 60 lbs, and the design of the Gen 5 helps improve fuel economy by up to 4%. For an optimum pairing, the Freightliner Plus series features the vocational-focused Detroit DT12-V transmission, which offers up to 2,250 lb-ft of torque. It also features an Off-Road Mode, Hill Start Aid, Rock-Free Mode to help free tires from mud, and a Paver Mode that allows dump trucks to shift from neutral to drive without pressing the brakes. Additionally, its Power Launch feature automatically raises engine speed to provide a powerful take-off when hauling heavy loads.Cummins engines are available in Plus series trucks depending on the truck model. Cummins offerings include the B6.7, L9, and X12 diesel engines as well as the L9N and ISX 1N natural gas engines. Eaton and Allison transmissions are also available in the Plus series.FAMILIAR COMFORTWhen you first hop in the driver's seat, you'll notice that the truck has a more automotive feel to it. This construction was intentional, helping drivers ease the transition from their personal vehicles to their work vehicles, and also to aid in driver comfort. Like consumer vehicles, the trucks now feature steering wheel controls and power windows, locks, and side mirror controls on the door panel. One truck I drove was even equipped with an aftermarket backup camera—which many HEAVY-DUTY WORKTRUCK SHOWCASE The Freightliner Plus series' electrical components are optimally located.
Page 21
SEPTEMBER 2022 WWW.MWSMAG.COM MODERN WORKTRUCK SOLUTIONS 17drivers are accustomed to having in their own vehicles.The dash layout as well as the digital driver information display that houses truck and safety information are also new features. The dash in the Plus series is customizable according to the application the truck will be used, the amount of auxiliary equipment necessary, and according to the safety system, telematics, or GPS system used. Positioned just below the dash was the gear shifter column that includes engine braking functions.SAFETY & TECHNOLOGYWhen Freightliner's vocational trucks are equipped with a Detroit engine and DT12 transmission, drivers and owners can take advantage of Detroit's safety systems. Plus series trucks are available with the Detroit Assurance 5.0 safety suite. But owners that are loyal to Cummins engines won't be left out. These customers will also have the ability to order certain Detroit Assurance features even with the Cummins engine.The Detroit Assurance suite for the Plus series includes Lane Departure Warning, Active Brake Assist, and an optional Side Guard Assist. Adaptive Cruise Control will be available with the Plus series in 2023.Part of what makes the Plus series safe is that it's paired with industry-leading technology with the Detroit Connect Suite of Connectivity Systems. This system offers fleet owners information on their trucks in terms of vehicle performance. These insights can even help fleet owners make business decisions that improve productivity, reduce downtime, and in turn, increase profits. These insights include Virtual Technician remote diagnostic service, Remote Updates, Safety Event Viewer, and Detroit Connect Analysis.Detroit's Virtual Technician service informs fleets of fault severity as well as how to best fix the issue after a fault event occurs. Remote Updates use over-the-air capabilities to update engine parameters and more to eliminate downtime. Detroit's Safety Event Viewer gives fleets visibility into the driver's performance. It notifies fleets of incidents and includes data such as location, date, and time. The Safety Event Viewer also allows fleets that use Detroit Connect to monitor critical events and use data to make decisions that increase the safety of trucks on the road and on the job. Finally, Detroit Connect Analysis gives fleet owners on-demand data that identifies driver and truck trends and behaviors as well as insights that can increase productivity and lower fuel consumption.QUICK UPFITCreature comforts are important, especially when they improve or aid in driver retention and increase driver and motorist safety. But for a fleet to purchase a truck, it also has to make business sense. It has to be reliable, handle the workload, and be a complement to the task at hand. Freightliner designed its Plus series to make upfits easy with the QuickFit Electrical System. This system provides easier access to connection points, programmable switches, power sources, interlock features, customizable parameters, and more.The QuickFit system integrates upfit software easily with the factory software and hardware electrical connection. This increases upfit efficiency. The new electrical components also possess the potential to host TEM software and make vehicle connections plug and play. Additionally, Freightliner's engineers relocated key electrical components to protect them from road debris and external variables after installation.MY TAKENow that I've given an overview of the trucks, let's talk about how it feels behind the wheel. As mentioned before, the first things I noticed were the automotive-style features. Their presence made the brand new trucks seem familiar to me, and because I don't drive trucks on a daily basis, the automotive features made the trucks less intimidating. Along with the automotive features, the Class 6 trucks were an easy drive. Side Guard Assist is available with the Detroit Assurance safety suite.
Page 22
MODERN WORKTRUCK SOLUTIONS WWW.MWSMAG.COM SEPTEMBER 202218HEAVY-DUTY WORKTRUCK SHOWCASEClearly they were much larger than any vehicle I would drive on a regular basis, but I could see novice professional drivers being quite comfortable driving these trucks. And although the 114 SD is obviously a heavy-duty Class 8 vehicle, even it didn't seem like too much to handle. As far as making big trucks more comfortable and familiar to drivers, I'd say Freightliner delivered. But what about their safety components?TESTING SAFETYNot only were the trucks easy to drive, the technology features they have make them safer than most trucks on the road today. During testing, driving too far off to one side initiated the Lane Departure Warning that imitated the sound of tires crossing rumble strips—and it was almost just as loud. Further, when a vehicle entered my blind spot, the Side Guard Assist's yellow, triangular warning light illuminated in the A pillar. If I initiated my turn signal with the vehicle in my blind spot, an audible warning sounded and the warning light flashed red. The Side Guard Assist works just as well if pedestrians are present (I tested it!).I also tested the Adaptive Cruise Control. Fleet owners can govern the distance between the fleet truck and the vehicles ahead. The trucks we tested were about a three-car-length's distance between the lead truck, and the trucks easily maintained that distance. Another safety test was automatic braking. I've tested these systems before while driving, but this time, I was a passenger. Freightliner set up a dummy car on the test track, and our truck headed straight for it. The automatic braking stopped us within a few feet of the dummy car as audible warnings sounded off inside the cab. No matter how many times I witness this feature in new trucks, I don't think I'll ever get used to it, but I am glad those features are becoming more widely available. It seemed no matter which way I looked at the trucks in the Plus series, I was pleased with how far technology has come and how it has (finally) entered the work truck space. With a comfortable cab that has the familiar automotive-style features we know and love in our own vehicles, it only makes sense that these trucks should have the same safety features that our cars have, too.ABOUT THE AUTHORJade Brasher is the editor of Modern WorkTruck Soluons magazine. Reach her at jade@mwsmag.com. Freightliner will begin producon of the Plus series in the third quarter of 2023. Find out more about the Freightliner Plus series, visit www.freightliner.com.
Page 23
SEPTEMBER 2022 WWW.MWSMAG.COM MODERN WORKTRUCK SOLUTIONS 19
Page 24
MODERN WORKTRUCK SOLUTIONS WWW.MWSMAG.COM SEPTEMBER 202220OPERATIONS WHEN INSTALLING AN ALL-IN-ONE UNIT, MOUNT IT WHERE YOU WILL HAVE EASIER SERVICE AND MAINTENANCE, SUCH AS DRAINING ENGINE OIL FROM THE MACHINE. ALSO, BE SURE THERE'S ROOM TO GET INTO THE TOP AND SIDE OF THE UNIT TO ACCESS SERVICE POINTS.
Page 25
SEPTEMBER 2022 WWW.MWSMAG.COM MODERN WORKTRUCK SOLUTIONS 21Fleets may make some common mistakes during work truck design that can cost money and affect equipment performance and technician efficiency. Following some best practices during layout and installation can pay off in the long run—optimizing equipment performance, reducing costs, and enhancing efficiency. Consider these six tips when upfitting a work truck with an all-in-one compressor and welder system.MOUNT THE UNIT ON A STAND When an all-in-one is mounted directly to the floor, it's harder to perform routine service like oil changes. Mount the unit on a stand when possible for easier service and maintenance, such as draining engine oil from the machine. Also, be sure there's room to get into the top and side of the unit to access service points. If an all-in-one is mounted under a deck, for example, it can impede the ability to open the top cover, so it needs to be mounted on a slide-out to provide access. Service points inside a unit may differ from model to model, so be sure to check the owner's manual before installation to know the service points on your specific unit. Removing potential challenges and making it easier to perform service will help ensure the work is done when it's needed. AIRFLOW AROUND THE UNIT An all-in-one unit that's packed into a tight space on a work truck—such as when it's under a deck or surrounded by other equipment—limits the space for necessary airflow to the unit. This can cause the machine to overheat. Check the owner's manual for clearance requirements that will help optimize performance for your unit. Also, be aware that space requirements can differ for each side of the unit. Some sides may require an inch or less of clearance, while other sides may need more space depending on the design and where airflow is pulled through the unit. INSTALLATION FOR ENCLOSED UNITSIf you will install your all-in-one in an enclosed truck or inside a cabinet on a work truck, take care to follow proper installation methods for enclosed units. For example, in an enclosed space, there must be proper exhaust routing and ventilation for the unit to operate safely and efficiently. Don't bury the unit with other equipment, consider ducting the hot air directly to the outside, and choose a machine with lower noise levels for a better work environment in an enclosed space. LINE ROUTING Use at least the minimum recommended hose diameter when routing the fuel lines to connect the all-in-one unit to the chassis fuel supply. The unit owner's manual will provide the recommended fuel hose diameter for your specific machine. It's also a good idea to increase the hose diameter as hose length increases. In 6 Tips for Work Truck Upfitting With an All-in-One Compressor and Welder SystemBEST PRACTICES FOR IMPROVED EFFICIENCY AND PERFORMANCE By Joe Gitter
Page 26
MODERN WORKTRUCK SOLUTIONS WWW.MWSMAG.COM SEPTEMBER 202222OPERATIONSaddition, keep the fuel line routing straight with as few fittings as possible. If the hose is snaked through cabinets or you use numerous elbow fittings this adds restrictions to the fuel line, reducing the amount of fuel that gets to the unit. This can result in low power and affect performance. INVERTER TO OPTIMIZE TECHNOLOGYWhen the all-in-one unit you're installing is an EnPak® A30 or EnPak A60 from Miller, it's beneficial to also install an inverter that runs off the 12-volt battery system. Using an inverter ensures that you get the full benefits of the Chassis Power feature on EnPak units. This technology monitors the truck battery voltage and automatically charges the battery as needed. This allows service technicians to turn off their trucks and not worry about jobsite tools draining the truck battery while they work. The inverter provides 120-volt power for things like battery chargers and tools, while the EnPak monitors the chassis battery to keep it fully charged. REMOTE PANELS IN A CONVENIENT LOCATION Remote panels provide techs with access to the all-in-one unit's controls from outside the truck bed, improving efficiency, convenience, and safety since they don't have to climb in and out of the truck to access controls or make changes. Install remote panels in the most convenient, usable location for the tech to optimize versatility and convenience. Make sure the panel is close to the main work area. It can also be helpful to install the panels inside a cabinet. OUTPUTConsidering some best practices during truck upfitting and all-in-one installation will help ensure the most convenient, flexible layout for the tech—delivering cost and time savings along with optimized performance and output. Keeping these tips in mind can also help make a technician's job easier, resulting in more satisfied and productive techs for your fleet. ABOUT THE AUTHOR Joe Gier is a technical applicaons specialist with Miller Electric Mfg. LLC. Find out more, visit www.millerwelds.com. Following some best practices during layout and installation of a work truck can pay off in the long run—optimizing equipment performance, reducing costs, and enhancing efficiency. Take care to ensure proper air flow around your all-in-one unit. Packing it into a tight space on a work truck, such as when it's under a deck or surrounded by other equipment, limits the space for necessary airflow to the unit.
Page 27
Page 28
MODERN WORKTRUCK SOLUTIONS WWW.MWSMAG.COM SEPTEMBER 202224OPERATIONSDefeating Downtime with IMT Service Trucks and CranesHOW DBM SAVED A CLIENT TIME AND MONEY WITH RELIABLE TRUCKS
Page 29
SEPTEMBER 2022 WWW.MWSMAG.COM MODERN WORKTRUCK SOLUTIONS 25At a young age Alex Stursa remembers riding shotgun in an Iowa Mold Tooling Co., Inc. (IMT) truck alongside his dad on the winding roads of Nevada and thinking that when he grew up he wanted to own an IMT truck of his own. Years later, Stursa is now the owner of Design Build Maintain Equipment Repair (DBM), a heavy equipment, machining, and welding company based in Fernley, Nevada. DBM uses a fleet of service trucks to take on a variety of jobs in the mining and construction industry, with nine IMT trucks in the company's fleet of 10 trucks.Stursa started DBM in 2016. At the time, he and his wife had a baby on the way, and Stursa decided it was time to consider what he wanted for his future. Stursa was struggling to find funding for his first work truck when a good friend, who owned a heavy equipment repair company of his own, reached out and offered to front the cost of the truck and let Stursa lease-to-own it from him. "He runs IMT, and so when he got me started he said, 'Hey, if we're getting you a truck, I'm calling Lodi, and we're getting you set up with an IMT,'" Stursa says. "And that's how I got started. It was kind of a full circle moment. Things have just spiraled and grown from there."In the early days of DBM, the company's fleet was made up of a variety of trucks. But as it grew and operations expanded, Stursa transitioned his fleet over to run new and refurbished IMT trucks. DIFFERENT EVERY DAYWhether it's being sent out into the field for a line boring job or to help with dismantling a piece of equipment, every day is a little different at DBM. And because every day is a little different, DBM requires rugged trucks that can take on the tough terrain of construction and mining jobs and
Page 30
MODERN WORKTRUCK SOLUTIONS WWW.MWSMAG.COM SEPTEMBER 202226OPERATIONSprovide the run time that's needed to get the job done.Seven of the IMT trucks in DBM's fleet are 14-ft mechanics trucks with either 10,000-, 12,000-, or 14,000-lb crane accessories. Two of them are 11-ft Dominator trucks with 10,000-lb crane accessories. All of the trucks run hydraulic compressors, and three of them are also outfitted with diesel air packs that DBM uses for welding jobs."No matter what job we go to, I know if I send an IMT truck out there, it's going to get the job done," Stursa says.RELIABILITY IS KEYMore often than not, you'll find Stursa behind the wheel of his truck or out in the field alongside his crew. As a truck operator himself, Stursa understands what his crew is up against and that they rely on having a quality, reliable truck to help them get the job done. "One of the most important things to me is the usability of the truck," Stursa says. "My guys usually run 12-hour shifts with an hour drive each way or more, so they're in their trucks 14-plus hours a day. They're in them more than they are at their houses or with their families."That's why Stursa turned to IMT service trucks to run his fleet. IMT products are developed and manufactured to deliver unparalleled quality, enduring value, and top of the line performance. IMT products incorporate carefully crafted details to ensure that end user experience is simple, intuitive, and above all, reliable. "(IMT trucks) are really hardy," Stursa begins. "The mines we work in use magnesium chloride to keep the dirt stuck together on roads so it doesn't get dusty, but it also causes everything to rust really badly. The paint holds up really well on the IMT body, and the rust situation is not what it is with some of the other brands I've used. IMT also makes it so that the trucks are easy to clean and maintain. I've had issues with other manufacturers where the bodies crack really badly in certain spots from flexing, and my IMTs don't."COST SAVINGSRecently, DBM put two of its IMT trucks to the test on a mining job after a crane that was needed for the job was delayed due to inclement weather. "We were building some CAT electric trucks at a mine, and we needed a crane to put the front spindles on, however, the crane didn't show up," Stursa says. "We had two service trucks there and got permission from the mine to use our own trucks, which had crane accessories on them, to place the spindles on the electric truck."
Page 31
SEPTEMBER 2022 WWW.MWSMAG.COM MODERN WORKTRUCK SOLUTIONS 27In doing so, DBM was able to provide its client with cost savings by avoiding the need to use the crane and were able to get the job done quicker while avoiding unplanned downtime. "Not only did we save a bunch of downtime, we finished the trucks five days ahead of schedule," Stursa explains. "We ended up building three electric trucks for them and just kept using our own trucks with the attached crane accessories to complete the job."IT TAKES A TEAMThe rugged, reliable performance that IMT trucks offer isn't the only reason that Stursa chose to run almost all of DBM's fleet on IMT. Another benefit of having almost all of the trucks in the fleet be IMT is that they are able to share parts across trucks and that employees are familiar with the trucks' bodies and setup. "I keep a decent parts selection on hand, and it makes it really fast to do replacements and repairs because even if I have one guy go off shift and the next guy comes on, he has the exact same truck body so he knows where something is if a part needs to be replaced because he has it on his truck," Stursa says.IMT also makes maintenance easy by publishing its product manuals and literature online so that they are available for reference when an end user or technician is working on a truck.DBM also has a strong relationship with its IMT distributor, Lodi Truck & Equipment."Another factor that led me to go with IMT is the closeness of Lodi and the phenomenal team they've got over there," Stursa says. "Anything you need, they've got it. They know the parts. And with us being in northern Nevada and them in northern California, we are able to get parts sent to us really fast."As Stursa looks to continue to grow DBM's operations and expand its service portfolio, he says he plans to continue to run IMT."My dad ran an IMT truck for 15, 20 years, and I knew that one day I wanted to own my own. Now I've got a bunch of them and plan to purchase more," Stursa says. "Later this year, we're going to put an order in for two more trucks."FOR MORE INFORMATIONFind out more, visit www.imt.com and www.lodiequipment.com.
Page 32
MODERN WORKTRUCK SOLUTIONS WWW.MWSMAG.COM SEPTEMBER 202228MAINTENANCEAs you pull up to any home improvement retail store, you can pan the parking lot and see multiple commercial work vehicles upfitted with roof racks. All through that parking lot are different types of vehicles: some with the same rack and some with different types of racks. Have you ever wondered what rack is right for your commercial upfit? Or what to consider when searching? Let's consider the categories of a rack when shopping. Categories can be broken down into the following: material, construction, weight capacity, accessibility, durability, price point, and maintenance. When doing one's due diligence to find the right one, you would think all categories would be researched and checked off. However, in recent talks with a commercial vehicle upfitter, I was moved to discover that with the many options available to the end user, maintenance was hardly top of mind.MAINTENANCENow, let's talk maintenance. Maintenance is the state of being maintained. It is the process of preserving. Proper maintenance of any equipment will increase its optimal use time and increase its efficiency. By preserving a commercial roof rack, it will continually maintain its value and is a key component in the overall life span of the product. So, as many folks go out into their jobs as carpenters, plumbers, contractors, electricians, and more, their commercial vehicle and their cargo rack either is—or becomes—an extension of the office. Therefore, they all need to think about the maintenance of them. How to Decide Between a Steel or Aluminum Roof RackCONSIDER WEIGHT, MAINTENANCE, AND LONGEVITY By Jillian Burrowlight-duty feature
Page 33
SEPTEMBER 2022 WWW.MWSMAG.COM MODERN WORKTRUCK SOLUTIONS 29ALUMINUM VS. STEELWhen choosing a cargo carrier for your commercial vehicle, what should it be made of? Commercial racks made of either aluminum or steel are found most on the market these days. Aluminum is lighter weight, but steel is proven stronger and more durable. When considering a rack made of aluminum, do you know how strong you need it to be? While steel is prone to rust over time, aluminum does not contain iron, so it will not rust. However, it must be noted that aluminum does need to go through the process of anodizing if it is to be used outdoors. Aluminum is expensive and must be cleaned regularly to remove any buildup of dirt.Steel racks are strong, durable, and reliable to the end user. While steel is prone to rust over time because its primary component is iron, most steel racks on the market combat this by additive methods that protect them from rust and environmental conditions. With additive protection the end user is allowed a stronger rack with a long life span.ANODIZING ALUMINUMAnodizing aluminum is coating the surface with a protective oxide layer by an electrolytic process in which the metal forms the anode.Raw aluminum will not sustain a polished surface when exposed to outside environment. Oxides form on the surface, which will dull the finish. Maintenance in the habit of cleaning and polishing are required to sustain a luster on aluminum finishes. Aluminum is anodized to increase corrosion resistance and improve adhesion. It does not increase strength because it is an insulative layer.GALVANIZING STEELOne impressive method for coating steel is galvanizing. Hot-dip galvanizing is the process of immersing fabricated steel or iron into a kettle of molten zinc. While immersed, iron in the steel reacts with the zinc to form a bonded alloy coating. There are major benefits to galvanized steel. Galvanizing steel racks is most often less expensive upon initial purchase than alternative protective coatings. Also, when galvanizing is deemed higher cost initially, the long-term life that galvanizing gives the steel outweighs the initial cost in durability. Galvanized steel is very reliable, and its process has a predictable outcome. When choosing a galvanized steel rack, it offers a reasonable purchase price with little to no maintenance in the product's lifetime.HEAD TO HEADBy anodizing an aluminum surface, end users can reduce corrosion, but the threat is not eliminated. Anodizing provides a thin protection in form of an aluminum oxide layer. This layer will deteriorate over time. Depending on the thickness and quality of the anodization layer, the surface protection could last 10 to 20 years.Galvanized finish steel is a rust-free and abrasive-resistant finish to the metal. Galvanizing gives steel a life expectancy of 50-plus years and provides complete protection. This is because during the process, every part of the item is bonded by the zinc. With complete protection of the steel, the product can be scratched, dinged, or dented without the need of any maintenance or repair. The entire item is bonded by the zinc. The galvanized coating is the toughest coating to be applied to steel.When the time comes to pick a roof rack, don't forget to think about weight, maintenance, and longevity. If weight is a concern, aluminum is a great option, although it will require periodic maintenance. In applications where weight isn't a concern, perhaps a more maintenance-friendly steel rack is the way to go.ABOUT THE AUTHOR Jillian Burrow is the oce andmarkeng manager at Topper Manufacturing. With her husband, Bruce Burrow Jr., the pair has been running Topper Manufacturing for 15 years and are the proud owners of Topper Manufacturing today. Jillian is the daughter of Ed Brown and the granddaughter of the late Robert E. Hedstrom. Ed and Robert are the engineers behind the design and development of the Topper Manufacturing All Steel Galvanized Rack. Jillian and Bruce spend most road trips looking out the window to see just how far from the Midwest that Topper Racks have traveled. Their favorite has been the southernmost point of the United States in Key West, Florida. Find out more, visit www.toppermfg.com. Roof rack made with galvanized steel.
Page 34
MODERN WORKTRUCK SOLUTIONS WWW.MWSMAG.COM SEPTEMBER 202230MAINTENANCE
Page 35
SEPTEMBER 2022 WWW.MWSMAG.COM MODERN WORKTRUCK SOLUTIONS 31When you take into consideration all the different types of commercial trucks on the road today, you'll be hard pressed to find a harder working group of vehicles than those belonging to the work truck segment. These hard-nosed dynamos power through dirt, mud, rain, ice, snow, and pretty much anything else that gets in their way when there's a job to be done.It's no surprise that OEMs, body builders, and collision repair operations demand a paint finish that is equally tough. In recent years, however, they have added another item of importance to their wish list. Fueled by growing concern with climate change and stricter environmental regulations imposed by US and Canada, the work truck industry is paying more attention to paint products that can further limit the emission of volatile organic compounds (VOCs) into the atmosphere and create a healthier work environment. LOW VOC PAINTSOne manufacturer who has addressed these demands head on is PPG. The company's PPG DELFLEET ONE® paint system offers the commercial transportation industry's lowest VOC product ratings—1.5 lbs per gal VOC for basecoat, direct gloss, and matte finishes, and 2 lbs per gal VOC or less for undercoats and clearcoats. Overall, this equates to a reduction in VOC emissions by 57% compared to typical 3.5 lbs per gal VOC commercial paint systems—a number significantly below current VOC restrictions throughout North America.Low VOC Paint System Hits High Mark for Color Capability, DurabilityENVIRONMENTALLY PROGRESSIVE PAINT SYSTEM EXCEEDS VOC REGULATIONS WHILE PROVIDING WORK TRUCK INDUSTRY WITH EXCELLENT APPEARANCE, ON-THE-JOB TOUGHNESS
Page 36
MODERN WORKTRUCK SOLUTIONS WWW.MWSMAG.COM SEPTEMBER 202232MAINTENANCE"Our work truck customers want a durable coating that efficiently enhances job quality and productivity while reducing its environmental impact," says Scott Colvin, PPG brand manager, fleet segments, USCA Commercial Coatings, Refinish. "And we did just that with the PPG DELFLEET ONE system."When PPG asked work truck operations what their expectations were for an ultra-low VOC system, color capability was high on their list. In order to perform fast, efficient work, color matching excellence is an absolute must. CONFIDENT MATCHWith thousands of OEM, fleet, and transit color formulas—and some of the industry's most advanced color matching tools—it appears the PPG DELFLEET ONE paint system has an advantage in this regard. PPG's offering features a compact mixing system that includes the latest aluminum and pearl pigments to provide full color capability for direct gloss, basecoat, and matte colors. To identify and consistently achieve accurate color matches, the PPG DELFLEET ONE paint system is equipped with a number of advanced color tools, including but not limited to the PPG DELFLEET ONE Color Selector, which houses thousands of OEM color chips, a state-of-the-art spectrophotometer, and the PPG Color Matching Laboratory, dedicated exclusively to matching commercial vehicle colors.LONG-HAUL DURABILITYPaint system durability is another factor that rates high for OEMs, body builders, and refinish operations servicing the work truck segment. In addition to the previously mentioned operating environments, work trucks are also exposed to gravel, road salt, extreme temperatures, and blazing sunlight. To battle such exposures, the PPG DELFLEET ONE system uses the latest epoxy and urethane coatings technology in its direct gloss and basecoat/clearcoat systems. Additionally, UV inhibitors are built directly into both the direct gloss products and the clearcoat for the basecoat/clearcoat offering. The result is an extremely tough coating designed to provide exceptional corrosion and UV protection over the long haul—one that's backed by the PPG Commercial Vehicle Paint Performance Warranty.EASY DOES ITOf course, a low VOC commercial vehicle paint system that provides exceptional color capability and tough-as-nails durability is basically useless if it's difficult to work with. Today's OEMs, body builders, and refinish operations simply do not have the time and patience for substandard performance. For this reason, PPG developed the PPG DELFLEET ONE paint system from the painter's perspective. New users will find the system is easy to mix, with a simple 2:1:1 mix ratio for basecoat and direct gloss. Even the most novice painter can learn and master mixing colors in short order.The PPG DELFLEET ONE system is also easy to apply with impressive features that include excellent metallic control, good rivet hang, and the ability to precisely control dry times via hardener selection (especially helpful for painting large work trucks). GOOD NEWSThe commercial truck industry's migration to low VOC paint systems is well under way. But there is still work to be done. "As other coatings manufacturers move in similar direction with PPG and introduce new low VOC offerings, the industry as a whole will benefit," Colvin says. "And that's good news for those who prep and paint work trucks, as well as anyone else that wants to see increased use of environmentally progressive products."FOR MORE INFORMATIONFind out more about PPG's DELFLEET ONE paint system, visit www.ppgrenish.com.
Page 37
SEPTEMBER 2022 WWW.MWSMAG.COM MODERN WORKTRUCK SOLUTIONS 33
Page 38
MODERN WORKTRUCK SOLUTIONS WWW.MWSMAG.COM SEPTEMBER 202234SAFETY
Page 39
SEPTEMBER 2022 WWW.MWSMAG.COM MODERN WORKTRUCK SOLUTIONS 35Truck lighting is an important way to ensure the safety of your truck, other drivers, and of course, your own personal safety. In addition to basic headlights, taillights, and interior lighting, your upfitter can add supplemental lighting to keep you safe and visible, especially for those who work in the evenings or during times of decreased visibility. Lighting is one of the fastest and easiest ways to stay safe on the road and make your job easier on the worksite. Below is an outline of different types of optional safety lighting and when you should consider adding them to your existing work truck.ROOF MOUNTINGDepending on the size of your work truck, you may already be required to have roof-mounted lights. Even if your truck is smaller than the required size, there are a lot of benefits of having additional lighting on your roof. The purpose of these roof-mounted "clearance lights" is to warn other drivers that a wide (wider than 80 inches) truck is on the road and coming toward them. The lights indicate to other drivers to pay extra attention to how much space they allow on either side of their vehicle. Increase Visibility by Adding Work Truck LightsADD VISIBILITY TO YOUR WORKSITE AND KEEP YOUR WORKERS VISBLE TO THE PUBLIC By Jim Smith
Page 40
MODERN WORKTRUCK SOLUTIONS WWW.MWSMAG.COM SEPTEMBER 202236SAFETYIn addition to warning other drivers, these lights increase visibility for drivers loading materials onto a dock or entering a confined space like a garage or tunnel.BED LIGHTINGBed lighting is a great way to work easily and efficiently no matter what time of the day you're working. Perhaps your truck bed is upfitted with several different toolboxes, storage containers, equipment, and more. Or, perhaps, you just need to keep your truck bed visible for easy loading and unloading. Whatever your situation, bed lighting can be a great addition to your truck to increase visibility and make your job easier.COMPARTMENT LIGHTINGSpeaking of storage compartments, if you're a contractor who uses and stores a lot of small equipment, consider adding compartment lighting to your work truck. This lighting can reduce your eye strain and help you quickly grab or store your equipment and tools. Lights can be installed in each compartment or around a group of compartments to illuminate several spaces at once.BUMPER & BALL MOUNTLighting at the back of your truck serves several purposes. If you have a work trailer and tow equipment, it can help illuminate your space as you hook up or unhook your trailer. Additionally if you frequently go in and out of your truck bed, it can help to illuminate your steps to ensure you are safely stepping up or out.EXTERNAL LIGHTINGIf you work in construction, you know the importance of strong external (scene) lighting. This type of lighting is often designed to be flexible, so lights can be placed wherever you need them the most. In winter months when the day ends earlier and earlier, external scene lighting can keep you working safely into the evening.WARNING LIGHTSWarning lights help keep you and your crew safe when working in a public environment. These lights have to warn the public of your presence so drivers can slow to appropriate speeds before reaching workers. If you don't work in secured worksites and instead work on roadways or highways, the extra illumination can quite literally be lifesaving.THE RIGHT PARTNERSHIPThere are so many ways to increase your visibility and safety by incorporating additional lighting into your work truck. One work truck light manufacturer, Monroe Truck Equipment, believes in not only providing the right products but the right partnership that leads to long-term success.ABOUT THE AUTHOR Jim Smith is the director of sales at Monroe Truck Equipment. Find out more, visit www.monroetruck.com.
Page 41
Page 42
MODERN WORKTRUCK SOLUTIONS WWW.MWSMAG.COM SEPTEMBER 202238TECHNOLOGYFleets are not all created equal. Large fleets, those with hundreds or even thousands of vehicles, have the means and the incentive to outfit their trucks and vans with tools and technologies that enable advanced capabilities—like location tracking, smart dispatching, and accident recording, along with safety features like collision and drowsy driver warnings.However, this puts the smaller fleets, like a mom-and-pop plumbing company with six vans or a local moving company with a dozen trucks, at an even greater disadvantage. They're already dealing with the disadvantages introduced by economies of scale they do not possess, which they work to overcome by providing higher quality, more individualized service. But overcoming the technology gap is more complicated. Location tracking, for example, can enable smart dispatching and routing. By optimizing routes, fleets can reduce the time it takes to complete a job—which customers love—and increase the number of jobs a single truck can complete in a day. And, of course, it can reduce the amount of fuel consumed, which is a significant advantage given today's sky-high prices.Smartphone Brings Powerful Video, Safety, and Roadside Technology Within Reach of Smaller FleetsCOMPROMISE NO LONGER, SMALL FLEET OWNERS By Rashid Galadanci and Paul Williams medium-duty feature
Page 43
SEPTEMBER 2022 WWW.MWSMAG.COM MODERN WORKTRUCK SOLUTIONS 39Safety is another factor. Collision warning systems, drowsy driver detection, and other safety technologies not only protect people and property but can also result in lower insurance premiums over time as the fleet's driving record improves. And should an accident occur, accident recording can provide crucial evidence that makes the difference in an insurance claim approval or winning a potentially costly lawsuit.Many newer vehicles have these technologies built-in by the manufacturer. But fleets can't replace their vehicles wholesale, especially smaller ones. They need to use the assets they have. And retrofitting is expensive, especially at a time when fuel prices are at historic highs.ONE FLEXIBLE PLATFORMEnter the smartphone. While these devices have been designed for consumers, they possess several key features that make them extremely flexible, cost-effective platforms for building business applications, including fleets.The smartphone is ubiquitous, equipped with a video camera, constant high-speed connectivity, and GPS capabilities. Plus, they have a relatively low cost compared to custom-built vehicle technologies. And because they've been developed for consumers, almost every driver will already know how to use them. Driver Technologies is one such company that's developed a platform that transforms smartphones and tablets into a mobile driving assistance system and dash cam for fleets. The phone or tablet is affixed to the dash with an inexpensive mount, and there it acts as a dashcam that records fleet trips and analyzes them in the cloud. Additionally, a fleet manager can see all of their vehicles' dash cams
Page 44
MODERN WORKTRUCK SOLUTIONS WWW.MWSMAG.COM SEPTEMBER 202240TECHNOLOGYfrom a single screen and set privacy settings. For instance, the device only records video during a collision or only provides video after a driver gives permission. Plus, it enables safety features such as collision detection and drowsy driver alerts.But Driver knew that this would not be enough. Because while the dashcam and safety features are valuable, fleets—especially smaller fleets—want to minimize the number of technology vendors with whom they work. The more capabilities a technology company can offer from its platform, the more valuable it becomes to a fleet. But while smartphones are an established technology, building fleet technology services on top of them is still an emerging space. Developing all the capabilities a fleet could want in-house is too expensive and time-consuming for a single company to undertake. As a result, technology companies are driven to partner with other vendors who provide complementary capabilities.PARTNER POWERIn the case of Driver, the company has partnered with a large number of other vendors. GasBuddy enables fleets access to fuel discounts, for instance. At the same time, NOCELL blocks non-essential apps from being used while driving, and PingLoud enables any text messages a driver receives during trips to be read aloud.Driver also knew that fleets need roadside assistance and towing services, but, again, it knew that to offer this, it would need to partner with a company specializing in that industry. It was essential for Driver that its tow and roadside partner take full advantage of a smartphone's location capabilities to ping the nearest qualified tow provider and show that provider's progress toward the stranded driver in real-time, much like one would see on a rideshare app. To this end, Driver partnered with HONK Technologies, a company with a network of more than 108,000 service vehicles and employs artificial intelligence and machine learning, to find the closest qualified provider to a driver. Additionally, HONK works with many large insurers to power its roadside assistance services. In the past year, a new digital technology was rolled out to assist with accident scene documentation to speed up the resolution of claims.Driver's mission, of course, is to make driving safer, but we know it's not if an accident will happen but when; therefore, if they do occur, its integration with HONK provides drivers with a guided process for photographing damage to ensure that photos cover the entire vehicle, capturing all damage, and are usable. With this documentation, fleets can accelerate the claims process to settle much more quickly.The smartphone is a flexible, powerful device that can enable even the smallest fleets to obtain the kinds of safety and insurtech capabilities that have previously only been within the reach of large organizations. And as vendors continue to innovate and partner, the range of technology-powered services will only become more affordable and powerful.ABOUT THE AUTHORSRashid Galadanci is the CEO and co-founder of Driver Technologies, Inc. Paul Williams is the vice president of business development at HONK. Find out more, visit www.drivertechnologies.com and www.honkforhelp.com. SOCIAL CLIMBINGADVERTISERS MWS SOCIAL MARKETING CAN HELP YOUR BUSINESS:• INCREASEbrandawareness• BOOSTinboundtraffic• BECOMEanindustryauthority• IMPROVEwebsearchrankings• RAISEconversionrates
Page 45
Call Gary Barker today to get started at 205.795.0247 or email us at gary@mwsmag.comOur digital marketing campaigns can identify prospects interested specifically in your product, and then tell you exactly who they are! See what our customers are saying:You Need Leads!We Have the Solution!The reports are awesome! Thank you. If we can get that level of information from all of our suppliers, we will be very happy! We have already made one machine sale to a prospect from the e-blast and I am sure there will be more. Paul Gazik,Business Development/International Salesfor
Page 46
MODERN WORKTRUCK SOLUTIONS WWW.MWSMAG.COM SEPTEMBER 202242WORK TRUCK PRODUCTSMONROE TRUCK EQUIPMENT SMOOTHRIDE SYSTEMWorkers who spend a large portion of their day in their truck cab understand the importance of a safe and comfortable ride. Monroe Truck Equipment's innovative SmoothRide™ system was created to address drivers' biggest complaint: an uncomfortable ride. It produces a 50% reduction in max G-Force impact by decreasing shock impact to drivers and passengers. With a self-adjusting air bag system that includes factory body mounts, rechargeable OEM quality air bags with an integrated high-pressure air compressor, and active pressure regulator, the SmoothRide™ system will make it feel as if the cab is floating on air while on the road. www.monroetruck.comQUIXX SYSTEM HEADLIGHT RESTORATION KITPlastic headlight lenses fog over time. Severely fogged headlights can reduce vision by up to 50%, making it difficult to see the roads and to respond to hazards. QUIXX's inexpensive DIY Headlight Restoration kit consists of a polish that quickly and permanently restores clear, bright headlights to like-new condition. The kit: removes yellowing, matte spots, and slight scratches; is simple, fast, and effective; restores luminosity to the headlights, increasing driving safety; provides a long-lasting protective layer with an additional UV protector against yellowing ; improves the appearance of the vehicle; and saves hundreds of dollars for repairs and maintains value. www.quixx-usa.com TOYO TIRES M325 TIREToyo Tire's Toyo M325 is an on/off-road heavy-duty all position tire that delivers durability, retreadability, and a high return on investment. The M325 features a wide footprint with specially designed stone ejectors in every groove and a cut-and-chip resistant tread compound. For fleets that demand an even tougher tire, there is the M325 CR in size 11R24.5 with an extra tough cut-and-chip resistant compound and rugged sidewall protector for the most severe-duty jobs. The M325 on/off-road heavy-duty all position tire is available now in eight SKUs, including 425 and 385 wide base sizes.www.toyotires.com HOT SHOT'S SECRET Earlier this year, Hot Shot's Secret introduced a new 10w-30 offering in its Blue Diamond PAO diesel engine oil line. All Hot Shot's Secret Blue Diamond Oils use 100% poly-alpha-olefin (PAO) Group IV synthetic oil and high-quality Group V esters for a 100% synthetic formula. Previously introduced in two viscosities, 15w-40 and 5w-40, the 10w-30 viscosity expands the Blue Diamond oil line to meet additional engine oil specifications. Blue Diamond PAO 10w-30 oil provides an unsurpassed level of longevity and performance unlike other synthetic oils. Benefits include improved starting, increased power and fuel economy, reduced soot, extended engine life, and reduced friction. www.hotshotsecret.comSEE ADPG 1
Page 47
SEPTEMBER 2022 WWW.MWSMAG.COM MODERN WORKTRUCK SOLUTIONS 43The Eberspaecher Group is one of the world's leading system developers and suppliers of exhaust technology, vehicle heaters, and bus air conditioning systems. Eberspaecher is also a professional innovation partner for the automotive industry in air-conditioning of special purpose vehicles and in automotive electronics.Eberspaecher North America (Eberspaecher NA), formerly Espar Heater Systems, offers product solutions for climate control and sells and services fuel operated heaters and air condition solutions for a variety of applications including trucks, school buses, vocational vehicles, vans, marine, military, off-highway equipment, and passenger cars. Internally the Eberspaecher group has sales, after sales support, and service groups that reach out in support of its customers. Eberspaecher services the market through a number of different channels including OEMs, OEM dealers, large distributors, dealers, and independents.Eberspaecher heating systems use 12- or 24-volt battery systems and gasoline or diesel as an on-board fuel. They operate as diesel or gasoline furnaces with sealed combustion chambers. Eberspaecher air heaters use forced air as a heating medium while the Eberspaecher Coolant heaters circulate the engine coolant to transfer heat.BUNK HEATERSEberspaecher air heaters have heat outputs that range from 6,000 BTU to 41,000 BTU. These air systems are compact with all heat creation and fan distribution neatly packaged within the unit. The heaters have from two to four heat levels and cycle between these levels according to the temperature desired by the user.ENGINE PRE-HEATERSEberspaecher Coolant Heaters have heat outputs that range from 5,500 BTU to 120,000 BTU. These coolant systems are compact with all heat creation, fan distribution, and plumbing neatly packaged within the unit. The heaters have from two to four heat levels and cycle between these levels to maintain a constant coolant temperature called for by the control unit.FOR TODAY & TOMORROWEberspaecher NA provides environmentally friendly products that serve the needs of its customers. The company enables drivers to shut down their engines yet retain a comfortable warm environment within the vehicle. Eberspaecher NA products are marketed through a variety of aftermarket supply chains and are an OE-installed option on major new trucks, school buses, and off-highway equipment. Eberspaecher NA has met CARB approval on all popular models of heaters and is listed on the EPA website and other sites as an anti-idling solution. By owning and operating its engineering and manufacturing facilities, Eberspaecher NA meets the specific needs of customers today and develops technologies to meet the customer needs in the future.featured productFind out more, visit www.eberspaecher-climate.com.CLIMATE SOLUTIONS FOR TODAY AND THE FUTURE
Page 48
MODERN WORKTRUCK SOLUTIONS WWW.MWSMAG.COM SEPTEMBER 202244Contractors and business owners that employ work truck fleets know the importance of these assets. They carry equipment, haul loads, transport employees and technicians, and for those that are branded well, act as a mobile advertisement. In the masonry and construction industries, however, these assets are vital. So it's about time work trucks have their own section at one of the biggest trade shows in the industry, right? Right. And MWS is here to make it happen.WHAT IS ITWORK TRUCK LIVE! is an exhibit area dedicated only to the workhorses of the industry—work trucks. It takes place January 17-19, 2023, in Las Vegas in conjunction with World of Concrete. Work Truck Live! will display in the Central Hall of the Las Vegas Convention Center. The exhibit area will showcase the work truck industry's newest innovations and updates that will increase a company's safety and productivity.Having this dedicated space allows contractors and attendees the opportunity to talk to representatives from vehicle manufacturers like Isuzu and Ram Trucks, find solutions that increase productivity from companies like Agri-Cover, Cemen Tech, Knapheide, and Heavy Haulers, and discover so much more.WHY ATTENDAs they say in the old infomercials—"But wait, there's more!" WORK TRUCK LIVE! isn't confined to exhibitor space. There will also be a Ride and Drive that gives attendees the opportunity to get behind the wheel and be up close and personal with trucks that have piqued their interest but have yet to make it into their fleet. Attendees will drive these trucks on a short, closed loop located near the convention center. The Ride and Drive will take place only on Tuesday and Wednesday of the trade show (17th and 18th).With all this on the docket, World of Concrete should at least be considered as a must-attend trade show in 2023—especially for those in the construction and masonry business. A full agenda and more updates will be announced leading up to the show. Stay tuned to learn more!Find out more about Work Truck Live!, visit www.mwsmag.com.Talk soon! JadeEXPERIENCE WORK TRUCK LIVE! IN LAS VEGAS THIS JANUARY Modern WorkTruck Solutions will team 
Page 49
Page 50
Page 51