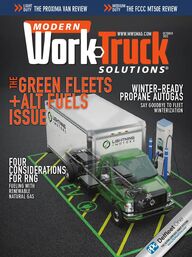 Return to flip book view
Modern WorkTruck Solutions October 2022
Page 1
MEDIUM DUTY THE FCCC MT50E REVIEWGREEN FLEETS GREEN FLEETS ++ALT FUELS ALT FUELS ISSUEISSUETHEFOUR CONSIDERATIONS FOR RNGFUELING WITH RENEWABLE NATURAL GASOCTOBER2022WWW.MWSMAG.COMWINTER-READY PROPANE AUTOGASSAY GOODBYE TO FLEET WINTERIZATIONLIGHTDUTY THE PROXIMA VAN REVIEW
Page 2
Page 3
Page 4
CONNECT WITH US on Twitter (@mwsmag), Facebook (www.facebook.com/modernworktruck), and LinkedIn (www.linkedin.com/company/modern-work-truck-solutions).INDUSTRY NEWS ................................INDUSTRY INSIGHT ............................WORK TRUCK PRODUCTS .................IN EVERY ISSUELIGHTNING EMOTORSELECTRIC COMMERCIAL VEHICLESLightning offers a range of capable and reliable electric work trucks from Class 3 cargo vans to Class 7 trucks, including this Class 4 box truck.www.lightningemotors.comINSIDE THIS ISSUEOCTOBER 2022 VOL-7 NO-10A CELEBRATION OF THE FIRST NATIONAL PROPANE DAY ................... MEDIUM DUTY THE FCCC MT50E REVIEWGREEN FLEETS GREEN FLEETS ++ALT FUELS ALT FUELS ISSUEISSUETHEFOUR CONSIDERATIONS FOR RNGFUELING WITH RENEWABLE NATURAL GASOCTOBER2022WWW.MWSMAG.COMWINTER-READY PROPANE AUTOGASSAY GOODBYE TO FLEET WINTERIZATIONLIGHTDUTY THE PROXIMA VAN REVIEW 14LIGHT-DUTYPROXIMA WALK-IN VAN EV CHALLENGES IS THE INDUSTRY READY FOR EVS HEAVY-DUTY40THE FCCC MT50E 20MEDIUM-DUTYCOVER STORIESOPERATIONSFOUR CONSIDERATIONS FOR RNG .......................26Fueling with renewable natural gasMAINTENANCEWINTER-READY PROPANE AUTOGAS .......46Say goodbye to fleet winterizationGREEN FLEETS GREEN FLEETS ++ALT FUELS ALT FUELS ISSUEISSUETHE
Page 5
Page 6
OPERATIONS HOW RENEWABLE DIESEL CAN COMBINE WITH ON-SITE FUEL STORAGE TO REDUCE CARBON EMISSIONS.............................................................28 A sustainable fuel solutionOPERATIONS THREE WAYS YOUR FUELS ARE BECOMING MORE SUSTAINABLE TODAY .................................................32 From the fuels themselves to how we get themTECHNOLOGY A NEW, ADVANCED, AND HIGHLY FLEXIBLE CLASS 2-5 EV PLATFORM IS IN THE MAKING ............................................... 36 And VIA Motors is on track to deliverTECHNOLOGY DISCUSSING THE FLEET INDUSTRY'S HOTTEST TOPICS FOR 2022 AND BEYOND ........................................................44 Industryinsightaccordingtoatelematicsprovider:part2MAINTENANCE AFTERMARKET ACCESSORIES THAT PROVE BENEFICIAL FOR FLEETS .........................................................................48 From toolboxes to cameras, these products help improve safety and maintenance It's a topic so hot, we're dedicating another issue to it! That's right, we're talking about green fleets and alternative fuels again. Back in March we shared pieces on the topic from Bollinger Motors and Lubrizol. We offered showcases on electric vehicles in light-, medium-, and heavy-duty segments. We also shared an introduction to EAVX, a division of JBPCO. And we're back this month with more EV showcases, considerations for converting to a renewable natural gas (RNG) and renewable diesel fleet (pages 26 and 28), insight on the sustainability of your fuels (page 32), and insight on the industry's hottest topics (pages 12 and 44). Our truck showcases dive a bit more into an integration with EAVX (page 14) and a review on the FCCC MT50E (page 20). We've also got a peek at a new player in the market: VIA Motors with its flexible chassis platforms (page 36). This is definitely a beefy issue, filled with solutions and insight to the EV world of today and tomorrow. Enjoy!Jade Brasher EditorEDITOR'S NOTEwww.mwsmag.com P.O. Box 660197 Birmingham, Alabama 35266DONNA CAMPBELL Editor in Chiefdonna@mwsmag.com JADE BRASHER Editorjade@mwsmag.comRANDY MOON Associate Publisher randym@mwsmag.comVAL CARRIER Media Consultantval@mwsmag.comGARY BARKER Media Consultantgary@mwsmag.comTIM O'HARA Media Consultanttim.ohara@mwsmag.comLISA AVERY Art Director lisa@mwsmag.comSETH SAUNDERS Digital Media SpecialistINGRID BERKY Office ManagerNo part of this publication may be reproduced or transmitted in any form or by any means, electronic or mechanical, including photocopy, recording, or any information storage-and-retrieval system without permission in writing from the publisher. The views expressed by those not on the staff of Modern WorkTruck Solutions, or who are not specifically employed by Highlands Publications are purely their own. All Industry News material has either been submitted by the subject company or pulled directly from its corporate website, which is assumed to be cleared for release. Comments and submissions are welcome, and can be submitted to jade@mwsmag.com.SUBSCRIPTION INQUIRIES OR CHANGES CALL:205.380.2048CHRIS GARMONCFO DONNA CAMPBELLVP, Editorialwww.highlandspublications.com 312 Lorna Square Birmingham, AL 35216TIM GARMONCEORUSSELL HADDOCKPresidentTONYA BROWNINGVice PresidentTalk soon! Jade28 38
Page 7
Page 8
MODERN WORKTRUCK SOLUTIONS WWW.MWSMAG.COM OCTOBER 20226INDUSTRY NEWSBEST LOGISTICS GROUP REPORTS SAFETY SUCCESS METRICS WITH NETRADYNENetradyne announced that its customer Best Logistics Group has significantly decreased its claims and improved its driver safety program over the past year. The company reports tremendous results since rolling out Netradyne's AI vision-based Driver•i safety camera platform. North Carolina-based Best Logistics Group selected Netradyne's Driver•i for its fleet of 400 trucks because of the solution's proactive nature. These solutions for Best Logistics Group included real-time alerts as well as actionable data for improving safety and transparency for drivers. Additionally, in-cab alerts, including drowsy and distracted driving, enable drivers to self-coach and immediately make corrections, resulting in fewer incidents. Another benefit Best Logistics realized from the camera system and HD video clarity is the ability to defend drivers effectively in the event of an accident. For more, visit www.netradyne.com. TOWN OF CARY, NORTH CAROLINA, ORDERS MACK LR ELECTRICThe Town of Cary, North Carolina, recently ordered a Mack® LR Electric Class 8 refuse vehicle to reaffirm its commitment to sustainability and its citizens. The Mack LR Electric will provide the community with reduced emissions, maintenance, and fuel costs. The city expects the LR Electric to be in full operation in the fall of 2023. This order makes Cary the first municipality in North Carolina to order a Mack LR Electric refuse vehicle. Cary, population 180,000, chose the Mack LR Electric as the first battery-electric vehicle (BEV) in its refuse fleet. The city chose Mack in recognition of Mack's history of producing refuse vehicles to meet the demands and requirements of customers. Further, Mack's experience with the diesel-powered LR helped ensure that the LR Electric would be successful, town executives said. Cary will equip its LR Electric vehicle with an automated side-loader and will operate in residential areas. Cary currently services about 54,000 customers, a mix of residents and businesses. For more, visit www.macktrucks.com. SAMSARA INTRODUCES PROACTIVE DRIVER COACHINGDriver safety is a top priority, but especially in a tight labor market, a safety program is essential to attract and retain talent. The commercial driver shortage has increased safety concerns, and the shift from experienced drivers to new drivers has brought attention to driver training and coaching. Therefore, Samsara announced Proactive Driver Coaching. The solution is the evolution of the company's existing in-cab coaching capabilities, designed to elevate the
Page 9
Page 10
MODERN WORKTRUCK SOLUTIONS WWW.MWSMAG.COM OCTOBER 20228INDUSTRY NEWScoaching experience in the cab and empower drivers while on the road.The Proactive Driver Coaching solution takes a preventive approach to driver coaching, elevating the in-cab experience to help drivers build safe habits during the moments that matter—in real time, before an incident occurs. The coaching system: uses AI technology to prevent an incident; empowers drivers to own their coaching experience; and motivates and incentivizes drivers to build safe habits. For more, visit www.samsara.com. ALTERNATIVE FUEL TAX CREDIT EXTENDED FOR PROPANEThe Propane Education & Research Council encourages propane autogas fleet operators to take advantage of the Alternative Fuel Tax Credit, which was recently passed by the US Congress as part of the Inflation Reduction Act, 2022. Propane autogas fleet operators who apply for the tax credit will be able to claim a credit for every gasoline gallon equivalent of propane autogas purchased, or about 37 cents per gallon. The bill extends the credits through December 31, 2024. It also allows fleet owners to apply for credits retroactively for any fuel purchases made in 2022. Tax exempt entities using propane autogas from an on-site fueling station for a vehicle fleet also qualify for the incentive. The new law also extends the Alternative Fuel Vehicle Refueling Property Credit. This allows operators to claim up to 6% or $100,000 of the cost of installing qualified alternative fuel refueling property. It also includes propane autogas refueling equipment. For more, visit www.propane.com. GASBOY LAUNCHES SITE PRIME AND TRUCK PRIME FUEL MANAGEMENT SYSTEMSGasboy, fleet fueling solutions, added Gasboy Site PRIME and Truck PRIME into the PRIME Suite of Fuel Management Solutions. Site PRIME is Gasboy's latest innovative fuel management system. Gasboy designed the system for smaller form factor fleet operations while maintaining the robust capabilities of the PRIME Product Suite. Site PRIME tracks as well as records all fuel site activities including authorizations, transactions, and inventories. It also features easy-to-use driver authorization methods including contactless tag reader, proprietary card swipe, wireless gateway for FuelPoint, and Wi-Fi for the new Fuel & Drive mobile application. Gasboy designed these offerings to interface with any fuel pump or dispenser and communicate via LAN or internal cellular connectivity. Additionally, Site PRIME Integrates seamlessly with the EKOS cloud software for real-time reporting to manage the entire fleet fueling ecosystem. This addition completes the PRIME Family product suite to meet the needs of any fleet operation. For more, visit www.gasboy.com.
Page 11
Page 12
MODERN WORKTRUCK SOLUTIONS WWW.MWSMAG.COM OCTOBER 202210INDUSTRY NEWSVOLVO TRUCKS SIMPLIFIES EV CHARGER PROCUREMENT WITH VENDOR DIRECT SHIPPING PROGRAMVolvo Trucks North America announced a program providing streamlined access to electric vehicle (EV) charging offerings for dealers and customers. The Vendor Direct Shipping program allows customers to procure mobile and fixed charging hardware solutions directly from Volvo Trucks dealers. Customers can procure these chargers when they purchase Volvo VNR Electric trucks.Beginning this October, customers will have the opportunity to purchase charging hardware when they purchase a Volvo VNR Electric truck. Initially, customers will have two chargers to choose from, including: a 50kW Mobile DC Fast Charger; or 180kW Flex DC Fast. Additionally, Volvo Trucks will continue expanding its offerings and partners as more and more fleets begin to adopt battery-electric trucks. For more, visit www.volvotrucks.us. ALTERNATIVE FUEL TAX CREDIT NEXIQ TECHNOLOGIES LAUNCHES NEW NEXIQ Technologies® announced the release of its USB-Link™ 3 Vehicle Interface Wireless Edition. NEXIQ bills the device as a next generation handheld device that allows users to "make the connection anyway you like." The USB-Link 3 connects seamlessly to a PC, tablet, or smart phone via Bluetooth and Wi-Fi. Dave Shock, NEXIQ Technologies product manager, says the company built a new, more capable USB-Link. He says this device supports CAN FD and DolP protocols while also compatible with a range of OEM diagnostics software. He further says that enabling Bluetooth and Wi-Fi connectivity in a single device represents NEXIQ's most advanced VCI to date. For more, visit www.nexiq.com. FLEETIO ADDS VMRS MAINTENANCE CATEGORIZATION CODES CREATING CONSISTENCY AND COST EFFICIENCYFleetio, a modern fleet maintenance software, added five VMRS (Vehicle Maintenance Reporting Standards) Code Keys to its maintenance data categorization capabilities. This update will enable fleet managers to see the full picture of their maintenance spend, uncover costly trends, and optimize vehicle productivity. VMRS is a robust, industry-standard system for categorizing maintenance activities for fleet vehicles and equipment. With Fleetio, fleet managers can choose to adopt as much or as little of the system they prefer. This gives users the ability to tailor their experience specifically to their reporting and technician workflow needs. The company has plans to add additional code keys over time, which will unlock even greater insight for users. For more, visit www.fleetio.com.
Page 13
Page 14
MODERN WORKTRUCK SOLUTIONS WWW.MWSMAG.COM OCTOBER 202212INDUSTRY INSIGHTAQ, BELINDA RUEFFERDiscussing the Fleet Industry's Hottest Topics for 2022 and BeyondMWS: SOME FLEET OWNERS ARE BUILDING AN ELECTRIC VEHICLE OTHERS ARE BUILDING UP THEIR REGARDLESS OF FUEL CHOICE, EVERY FLEET IS LOOKING FOR WAYS TO SAVE ON FUEL COSTS. HOW CAN A TELEMATICS COMPANY, SUCH AS GPS INSIGHT, HELP FLEETS OF ALL TYPES DO JUST THAT?RUEFFER: Recent price hikes are causing fleet companies of all types to hemorrhage cash, unfortunately forcing many to raise their prices and risk losing business from equally fiscal-focused customers. Higher fuel costs are particularly damaging because they hit businesses on both sides of the ledger, raising operational and material costs while leaving consumers with less to spend. A major component in lowering fuel costs is to understand exactly how much fuel your fleet is burning and formulate an action plan. This is made possible through GPS tracking and telematics data provided by GPS Insight. One specific instance of unnecessary fuel usage is excessive idling time. For example, when one GPS Insight customer established idle time benchmarks, it realized that some of its vehicles were turned on all day, every day without being shut off. Idle time for that particular company in just one month added up to more than 200 gallons of excess fuel. As a solution, GPS Insight tracking notifies managers of excessive idling so they can coach drivers on more fuel efficient practices. Another example of unnecessary fuel usage is ineffective routing and dispatching. GPS tracking solutions allow fleets to create predefined stop routes that are optimized for highway, speed, and distance preferences, ensuring that drivers aren't taking the long way to their destinations and burning excess fuel. Better and more accurate scheduling and route optimization solutions provided by GPS Insight allow managers to increase efficiency and significantly reduce fuel costs across their entire fleet, increasing profits. MWS: ASIDE FROM SAVING INDUSTRY INSIGHT ACCORDING TO A TELEMATICS PROVIDER: PART 1 OF 2
Page 15
OCTOBER 2022 WWW.MWSMAG.COM MODERN WORKTRUCK SOLUTIONS 13INCREASE IN THE NEED FOR SAFETY TECHNOLOGY. WHAT TOOLS HELP INCREASE SAFETY?RUEFFER: One of the most effective tools in improving fleet safety is the smart dash camera, as they track and analyze important safety data such as distracted driving, cell phone use, and speeding, alerting drivers and fleet managers on behaviors to correct. The GPS Insight dash cam solution, Driveri, protects drivers by: • Providing a clear snapshot of where drivers stand in comparison to the fleet safety average and goals• Allowing drivers to correct behaviors based on real-time, in-cab coaching• Providing drivers with direct video evidence in the event of accident disputes• Opening the door to negotiate for reduced insurance premiumsDash cams, like Driveri, that track and quantify unsafe driving and coach drivers are key components of any safety program. This is especially important as commercial fleets are driving more and their mileage on the road is increasing.MWS: WHY ARE SOME FLEETS HESITANT TO ADOPT DASH CAMERAS? RUEFFER: Dash cam technology is relatively new to drivers, and there are many misunderstandings as some drivers fear the data provided will be used in a punitive fashion, penalizing them for any and all violations. However, this is not the case with Driveri. In addition to tracking bad behaviors, this solution also identifies good habits and allows driver rewards crediting them for safe driving actions. When adopting dash cams, it is important for drivers to keep in mind that video is not the point; managers aren't going to spend a lot of time looking at video footage. Instead, these solutions aggregate data into charts showing safety scores at the total fleet and individual driver levels, providing insights into what behaviors are the most common and which ones need to be addressed at each level. Another key benefit of dash cams is providing drivers with direct evidence to exonerate them when they are not at fault for an accident. The footage from the camera can provide critical context for why the event took place, protecting both the driver and the fleet.FOR MORE INFORMATIONnearly a decade of experience in the the technologies that fuel them. to be recognized as a leader in Infrastructure. Find out more, visit www.gpsinsight.com. Read the remainder of the Q&A with Belinda Rueffer on page 44.Take note!One of the most effective tools in improving fleet safety is the smart dash camera.""
Page 16
Page 17
LOOKS TOUGH. WORKS TOUGHERBED SLIDES FOR WORK TRUCKS, VANS, SERVICE BODIES AND TRAILERS• HEAVY DUTY – Up to 3,000 lb. load capacity • BUILT TOUGH – 20 year warranty• EXTENDS OVER 110% - past your taillights • FULLY CUSTOMIZABLECOVERED SERVICE BODY TELECOM TRUCK W/ SHELLEXTENDOWALL IN VAN-SIDE DOOR MOUNT WORK VANRAM PROMASTER VAN STORAGE WITH PULLOUT WORK SURFACEWORK TRUCK WEEK 2022 SHOW DISCOUNT EXTENDEDCall or email now to get a complimentary design and quote800-752-0706websales@extendobed.com • www.extendobed.com
Page 18
MODERN WORKTRUCK SOLUTIONS WWW.MWSMAG.COM OCTOBER 202214LIGHT-DUTY WORKTRUCK SHOWCASELIGHT-DUTY WORKTRUCK SHOWCASEThe Proxima Walk-in Van
Page 19
OCTOBER 2022 WWW.MWSMAG.COM MODERN WORKTRUCK SOLUTIONS 15A THREE-PART COLLABORATION THAT REINVENTED VEHICLES IN THE DELIVERY SEGMENT By Jade BrasherThe Proxima Walk-in Van
Page 20
MODERN WORKTRUCK SOLUTIONS WWW.MWSMAG.COM OCTOBER 202216LIGHT-DUTY WORKTRUCK SHOWCASEDid you see REE Automotive's REEcorner technology at the 2022 Work Truck Show? I wrote a bit about the revolutionary technology in a Work Truck Show review in our March issue. I wrote: "REE essentially redesigned vehicles as we know them with its REEcorners that integrate all critical vehicle components into the arch of the wheel."I was impressed with the technology, albeit confused because the company had quite literally reinvented the wheel. Yet, no matter how impressed I was, I expected it to be a few more years before the company developed something for the North American market. Boy, was I wrong.But, REE didn't develop a vehicle for the North American market on its own. The company partnered with Morgan Olson, who collaborated with EAVX, to develop the body of the vehicle. Morgan Olson needs no introduction, but remember EAVX? A division of JB Poindexter and Co. (JBPCO), EAVX works with JBPCO's brands and other industry players to improve electric chassis and truck body integration. Mark Hope, EAVX COO and general manager, explained it best in our March issue: "Traditionally, there were two different streams of operations: those that work exclusively with the truck body, and those that work exclusively with the chassis. EAVX's goal is to bridge the gap between the two and collaborate with different chassis manufacturers to enhance the electric value to the customer."Having three different players, especially these three, collaborate on a new vehicle is enough to gain some interest, and I had the opportunity to get up close and personal with the product of the collaboration—the Proxima walk-in van.THE PLATFORMIf you're not at all familiar with REE Automotive, the Israel-based company's REEcorner technology allows for a completely flat electric chassis that gives owners up to 35% more interior cargo volume, according to REE. This is because all critical vehicle components are resting between the chassis and the wheel (didn't I say the company reinvented the wheel?). This works through x-by-wire technology, meaning that once a driver turns the steering wheel or presses the brake pedal, instead of an actual mechanical operation, the vehicle operates electronically—or by wire. This electronic operation has the potential to completely transform the way vehicle bodies are made.Omitting mechanical components also frees up space for more cargo. According to REE's website, walk-in vans built on the company's P7 EV chassis (Class 3-5) also offer the industry's lowest step-in height—in fact, a REE chassis allows a floor height as low as 20 inches. Another perk of x-by-wire operation is that having independent motors in each wheel allows for all-wheel, bidirectional steering, which vastly improves maneuverability.Finally, REE states that the P7 chassis' maintenance isn't so bad, either. Because REEcorners are identical and each features all necessary drive components, if an issue arises out of one, it can simply be replaced. REE Automotive also offers over-the-air software updates and preventive maintenance artificial intelligence, much like many OEMs offer today. Pair all of that with a brand new walk-in van body, and you've got a recipe for innovation.THE BODYThe body aspect of that innovation was born through another The REEcorners on the REE P7 platform allow for bidirectional steering.
Page 21
OCTOBER 2022 WWW.MWSMAG.COM MODERN WORKTRUCK SOLUTIONS 17collaboration. Morgan Olson and EAVX designed the Proxima body specifically for use on an electric platform. This intention brought about some significant changes to the conventional cab we're used to seeing and driving on the road today. Designed to be optimally aerodynamic with a low, flat platform, the Proxima delivers a drag reduction of 56%. That low platform also allows for a load floor height that is one step lower than other vans. Delivery drivers will appreciate fewer steps getting in and out of the van, and the omission of one step can even speed up deliveries.Speaking of delivery drivers, the design team at Morgan Olson had a goal to improve driver visibility in the Proxima. As a result, the van's windshield, dash, and side- and rear-view screens give drivers an enhanced view of the road ahead and beside them—this is about a 25% blind spot improvement from other walk-in van models. Additionally, with a lower driver seating position due to the flat P7 chassis, drivers' visibility is further improved.The Proxima also gets EAVX's VX Control, a digital vehicle infrastructure that allows an array of connected technologies. These technologies communicate with each other and with drivers regardless of the chassis or powertrain used in the vehicle. VX Control in the Proxima unifies equipment, cameras, tools, lighting, sensors, and driver assistance technologies into a single system. As a result, this unified technology system delivers lower operational costs and higher efficiency. POWER OF THREEThis three-way integration with REE Automotive, Morgan Olson, and EAVX is a lot to take in. The collaboration brought us a brand new walk-in van with a completely flat platform with motors in each wheel as well as a totally redesigned, EV-optimized cab. But enough with the flash; now for the specs.
Page 22
MODERN WORKTRUCK SOLUTIONS WWW.MWSMAG.COM OCTOBER 202218The Class 5 Proxima walk-in van has 100 kW peak motor power in each wheel, 136 Nm peak torque in each wheel, and its maximum speed is 75 mph. The all-wheel-drive, all-wheel-steer Proxima can travel roughly 125 miles on one charge. It has a GVWR of 19,500 lbs, an 8,000-lb payload, and a cargo volume of 1,000 cu ft. I was impressed with the visibility of the Proxima during my ride-along, and I just had to hold my phone out of the cab to capture a video of the bidirectional wheel movements—otherwise I might not have believed it. The three companies conducted the ride-along experience on a closed test track, but all invited were able to experience its sharp turning radius and how easily it weaved through a lineup of traffic cones.But not only did we get to ride in the Proxima, a conventional Morgan Olson walk-in van was on the premises so that we could compare the two. Clearly there were drastic differences in height (both floor height and overall height) as well as floor and cargo space—not to mention the futuristic look and increased visibility of the Proxima.ONLY THE BEGINNING Perhaps one of the coolest things about the Proxima body and the REE platform is that both components are agnostic. As mentioned, the REEcorner platform can be used with a variety of available bodies or custom bodies according to the owners' application, specifications, and preferences. In the same way, the Proxima body can be used with either electric powertrains or conventional powertrains on different platforms. This is simply the first pairing for both the REE Automotive platform and the Proxima body in North America, but, it surely won't be the last pairing for either of these groundbreaking concepts.LIGHT-DUTY WORKTRUCK SHOWCASEABOUT THE AUTHOR Jade Brasher is the editor of Modern WorkTruck Soluons magazine. Reach her at jade@mwsmag.com. Find out more about the EAVX Proxima van,  The Proxima on the REE P7 platform offers a floor height that's one step lower than traditional walk-in vans.
Page 23
Page 24
MODERN WORKTRUCK SOLUTIONS WWW.MWSMAG.COM OCTOBER 202220The FCCC MT50eMEDIUM-DUTY WORKTRUCK SHOWCASEMEDIUM-DUTY WORKTRUCK SHOWCASE
Page 25
OCTOBER 2022 WWW.MWSMAG.COM MODERN WORKTRUCK SOLUTIONS 21A MEDIUM-DUTY WALK-IN VAN FOR ZERO-EMISSION DELIVERY FLEETS By Jade BrasherThe FCCC MT50e
Page 26
MODERN WORKTRUCK SOLUTIONS WWW.MWSMAG.COM OCTOBER 202222It seems there's no shortage of electric work vehicles in the media and on the industry radar. But of those vehicles, few are in use by fleets today. Will those concepts ever be in production? That isn't the case with the MT50e, the electric walk-in van from Freightliner Custom Chassis Corporation (FCCC). The vehicle is the result of a three-way partnership that marries proven components with a revolutionary concept that will aid delivery fleets in their zero-emissions goals.PARTNERSHIP POWERTeamwork makes the dream work, and the MT50e is a prime example of the result of a shared mission. A partnership between FCCC, Daimler Trucks NA, and Proterra made the MT50e possible. This all-new and all-electric walk-in van offers a range of 150 to 170 miles, features a performance of 70 mph at a GVWR of 23,000 lbs, and it comes with an eight-year/175,000-mile warranty—and that's all while giving off zero emissions.As for the battery itself, FCCC chose its partner wisely.When developing the MT50e, the partnership with Proterra allowed FCCC to keep its focus on the chassis. Mike Stark, product manager at FCCC, says that while designing the MT50e, FCCC didn't have to worry about the durability or reliability of the Proterra battery because "it was already proven." And he's right. The Proterra battery packs already have more than 20 million proven miles under their belt with transit buses. The battery MEDIUM-DUTY WORKTRUCK SHOWCASE OPTIVIEW 360-DEGREE AND TURN SIGNAL CAMERA VIEWS.
Page 27
OCTOBER 2022 WWW.MWSMAG.COM MODERN WORKTRUCK SOLUTIONS 23packs designed for the MT50e feature 226 kWh, or the equivalent of 303 hp. And the best part, these batteries charge in just three hours.Those with range concerns can rest easy. That's because the MT50e also uses regenerative braking, which captures energy from braking and converts it into battery energy for an increased range. From a safety perspective when driving on snowy or slick roads, the regen feature can be turned off, which will illuminate an icon in the instrumentation alerting the driver of the Regen status.Further, FCCC built the body of the MT50e to the same specifications as the gas- and diesel-powered MT products. This means owners can integrate the MT50e into their existing fleet, using the electric vehicle in the same application and using the same upfits that are already known and loved by operators. Finally, FCCC built the MT50e's chassis with single-piece steel frame rails and Detroit front axles that deliver a 50-degree wheel cut.COMFORT & TECHWould it be a true EV without the latest technology integration? FCCC thinks not. Aiding drivers in operation as well as safety, the MT50e features an OptiView instrument cluster. The OptiView is essentially the brains of the MT50e's safety system. This fully integrated, digital LCD cluster provides drivers with vehicle information at a glance with a clean, streamlined look that won't distract drivers. FCCC intended this technology to replicate that of what drivers experience in their personal vehicles.Other features that drivers will find similar to their personal vehicles include a left-handed stalk, automatic headlights, 360-degree camera system and sensors (complete with an overhead sensor for vehicle height), turn signal cameras, traction, and stability control. Further, the MT50e's rotary dial shifter allows fingertip operation. This makes it easy for drivers to shift gears without taking their eyes off the road.MAINTENANCEThe word in the industry is that electric vehicles require less maintenance overall, but that doesn't mean EVs are completely maintenance free. In fact, there are a few maintenance checkpoints the MT50e should undergo on a periodic basis to keep it running for years to come. Those checkpoints include: cooling system changes every three to five years and brake, tire, COMPLETED FCCC MT50E CHASSIS AWAITING VAN BODY.
Page 28
MODERN WORKTRUCK SOLUTIONS WWW.MWSMAG.COM OCTOBER 202224MEDIUM-DUTY WORKTRUCK SHOWCASE MODERN WORKTRUCK SOLUTIONS' EDITOR, JADE BRASHER, TEST-DRIVING THE MT50E ON THE STREETS OF GAFFNEY, SOUTH CAROLINA.
Page 29
OCTOBER 2022 WWW.MWSMAG.COM MODERN WORKTRUCK SOLUTIONS 25and Freon checks. One maintenance aspect that might take some getting used to is the fact that the MT50e uses no filters, which significantly changes routine maintenance.For issues that do arise, FCCC has been training its dealers' service technicians for the past two years on electric vehicle maintenance. Rest assured, if your MT50e needs a little bit of TLC, your dealer should have trained technicians at the ready. FCCC will also provide service training for large fleets. And for an added cushion of assurance, FCCC can also send a technician to your location to assess issues.If there's ever a problem with the MT50e Proterra battery, you'll likely know about it through an alert before your drivers notice a change in performance. This is because the battery pack sends a fault code in the event of even a single failed battery cell. During my visit with the folks at FCCC, we also discussed brake maintenance. Using regenerative braking is a great way to increase the range on your EVs or hybrid vehicle, but these non-conventional brakes could mean different maintenance. FCCC designed the MT50e's four-piston brakes to last up to 100,000 miles—which FCCC has already proven. In fact, I'm told the MT50e's brakes could even last the life of the vehicle.FCCC is also developing a service app, 24/7 Direct, that can aid owners and drivers on scheduling maintenance and send reminders when maintenance is due.THE DRIVEWith the MT50e being the first electric vehicle for me to drive, I wasn't sure exactly what to expect. But aside from the vehicle's exterior "MT50e" decals, it didn't take long for me to notice the difference between a gas- or diesel-powered walk-in van and the new MT50e. In fact, I noticed the difference after simply "cranking" the electric motor. The vehicle was so quiet, I could hear birds chirping and the breeze blowing the leaves of the trees.The next thing I noticed was the vehicle's instant torque. Imagine the torque you feel when driving an electric golf cart. That's the best comparison I can make with the MT50e's torque. If your mind went directly to the moments you've floored it in the golf cart and the momentum pushed you backward, don't be alarmed. The MT50e's power feels controlled and continuous while increasing the vehicle's speed. While driving the MT50e, you won't feel the transmission shift gears; it's more like a steady flowing boost of power that increases as you accelerate.Even with the significantly quieter operation and the electric powertrain, the MT50e drove like, well, a vehicle. In my opinion, drivers should experience a smooth transition from a conventional walk-in van to the MT50e.In fact, I'm not the only one to test-drive the MT50e. Currently, there are several MT50e units in fleet service performing customer revenue operations that have demonstrated the reliability and durability of the truck.FUTURE FORWARDWith the latest technology integrations, proven Proterra battery technology, and the brawn of FCCC and Daimler Trucks, the MT50e is well on its way to making major waves in the industry. FCCC is in the process of releasing several new features for the MT50e model including smaller batteries for customers that require less range, additional wheelbases, and exportable power for applications such as utility operations.ABOUT THE AUTHOR Jade Brasher is the editor of Modern WorkTruck Soluons magazine. Reach her at jade@mwsmag.com. Find out www.electricwalkinvan.com.
Page 30
Page 31
Page 32
MODERN WORKTRUCK SOLUTIONS WWW.MWSMAG.COM OCTOBER 202226OPERATIONSThe transportation sector is one of the largest contributors of greenhouse gas (GHG) emissions in the United States. As more companies focus on the goal of becoming net zero, trucking fleets have an opportunity to make a substantial impact on the environment by transitioning to alternative fuels. While there are many technologies to consider and exciting innovations in development ranging from ubiquitous electric vehicles to hydrogen fuel cell technology, renewable natural gas (RNG) remains a readily available, low-carbon solution that fleets can implement now. Further, the transition to RNG as a fuel source might be easier than expected.Creating a successful alternative fuel program requires finding the right mix of sustainable technologies for your fleet. Here are four reasons to consider RNG.1 ENVIRONMENTAL IMPACTOn average, RNG reduces GHG emissions by 80-plus% when compared to diesel. Also known as biogas or biomethane, RNG is produced by capturing the methane that is released during the decomposition of organic materials found in landfills, wastewater, agricultural waste, food waste, and livestock manure. As the second-largest contributor to global warming, accounting for 30% of all GHG emissions—according to McKinsey Sustainability—methane is harmful when released into the atmosphere. In RNG production, the methane is captured, processed, and repurposed into a sustainable, clean energy source with the lowest carbon intensity of any alternative fuel available on the market today. In some instances, it even has the potential to be carbon negative. One great example is RNG derived from livestock manure.2FUEL SAVINGS & CREDITSRNG offers a one-to-one replacement for diesel with significant Four Reasons to Consider RNGDRIVING TOWARD A SUSTAINABLE FUTURE By Fury Zaidi
Page 33
OCTOBER 2022 WWW.MWSMAG.COM MODERN WORKTRUCK SOLUTIONS 27savings on fuel costs. Rates vary by state, but in general, fleet owners and operators can expect to save anywhere from 50% to 70% per gallon with RNG over diesel. According to NGV America, natural gas provides long-term fuel savings with limited volatility because approximately 25% of the pump price is related to the commodity cost compared to 50% for diesel. The outlook for continued price stability with natural gas is encouraging for fleet owners when it comes to recouping the upfront investment required to convert commercial vehicles from diesel to natural gas. In addition to savings captured at the pump, fleets that use RNG can benefit from federal and state programs that offer credits to end-users and consumers to help further reduce the cost of alternative fuels. These programs include the Renewable Identification Number (RIN) credits and the Alternative Fuels Tax Credit (AFTC), which was recently extended for three years by the federal government to provide consumers with a 50 cent per gallon tax credit for RNG. There are also state programs available, such as California's Low Carbon Fuel Standard (LCFS) Program, which offers credits for alternative fuel consumption based on the amount of carbon dioxide reduced. 3INFRASTRUCTUREAnother important consideration when evaluating alternative fuel solutions is accessibility. Is there infrastructure in place that supports the use of the fuel or technology in consideration that makes it easily accessible to fleets? While the trucking industry is focused on the future with the push toward electric vehicles, a nationwide infrastructure of readily accessible charging stations is still several years away. There are millions of miles of natural gas pipeline throughout the US and a nationwide network of more than 1,800 natural gas fueling stations, making RNG a readily available option for fleets. Fleet companies also have the option to partner with one of the many RNG producers throughout the country to establish on-site fueling stations for their vehicles. 4PROVEN PERFORMANCERNG has served as an alternative fuel for more than a decade. With testing and adaptation over the years, the operational performance of RNG vehicles has proven to be as efficient as diesel with comparable power, torque, load, and range capabilities. In addition, the life span of natural gas engines is equivalent to diesel engines, assuming regular maintenance is performed as recommended by the manufacturer. As high diesel prices remain a consistent trend and environmental concerns continue to drive the transition to more sustainable solutions, RNG offers one of the most affordable, accessible, and low-carbon alternative fuel options available today. Weighing the benefits of implementing RNG is an important consideration for achieving a near-term solution to overall long-term sustainability goals.NGV GLOBAL'S ALT FUEL FLEETNGV Global Group, a global manufacturing, technology, and logistics company, debuted a line of EPA-approved F-650 box trucks. The trucks operate on compressed natural gas (CNG) and renewable natural gas (RNG). With more than a decade of experience, NGV Global Group has inspected, serviced, repaired, and converted more than 15,000 natural gas engines.Find out about how to purchase or lease a 7.3-L CNG/RNG F-650, visit www.wingpowersystems.com.TRUCK FEATURES• 2022 7.3-L CNG/RNG engine• EPA approved• Certified to Ford Q185 calibration standard (does not void manufacturer warranty)• Operates on natural gas exclusively up to 500 miles; bi-fuel options available (natural gas and gasoline)• GVWR up to 25,999 lbs• Does not require a CDL to operate• Up to a 26-ft box• 3,300-lb lift gate• Stainless steel lines, fittings, and injector rails • Wing Power System™ Warranty • Nationwide network of trained service technicians ABOUT THE AUTHOR Fury Zaidi is the CEO of Dallas-based NGV Global Group, a global manufacturing, technology, and to helping customers achieve Global's legacy company (NGV provide natural gas technologies date, the company has inspected, serviced, repaired, and converted engines. Zaidi also serves as CEO of NGV Global subsidiary GreenPath heavy-duty trucks, including natural gas, hybrid, and—deploying in more, visit www.ngvglobalgroup.com 
Page 34
MODERN WORKTRUCK SOLUTIONS WWW.MWSMAG.COM OCTOBER 202228OPERATIONSHow Renewable Diesel Can Combine with On-site Fuel Storage to Reduce Carbon EmissionsA SUSTAINABLE FUEL SOLUTION By Je Lowe
Page 35
OCTOBER 2022 WWW.MWSMAG.COM MODERN WORKTRUCK SOLUTIONS 29North America is seeing a growing emphasis on sustainability and the role environmental initiatives play in making the world a cleaner, greener place to live. Both the United States and Canada have set targets to reach net-zero emissions by 2050. As states and equipment manufacturers set carbon neutrality and net emissions goals of their own, more fleets are striving to meet "green quotas" as they go about their daily work.It's important to remember that a focus on sustainability means more than environmental benefits; it can also play a direct role in helping fleet managers reduce energy usage, improve efficiency and, as a result, increase profitability. Equipment that can run on battery power and other alternative power sources has gained popularity; however, options that create environmentally friendly solutions for diesel consumption are a critical piece of the puzzle. This is where renewable diesel takes the stage—a new diesel option that is 100% sustainable and renewable.RENEWABLE DIESEL 101Traditionally, diesel—also called petroleum diesel or fossil fuel—is made from crude oil. It has long been a popular fuel for large equipment due to diesel engines' ability to take on heavy-duty work. Although petroleum diesel is often favored, it is derived from a non-renewable source of energy and also contributes to air pollution. Biodiesel's introduction created an option to reduce these concerns. However, biodiesel has its limitations. It's not a direct drop-in replacement for diesel and doesn't perform as well in cold temperatures due to its chemical composition. Now, renewable diesel enters the playing field. With components that maximize the benefits of both biodiesel and petroleum diesel, renewable diesel is setting the standard for the future.Renewable diesel is a sustainable, low-carbon biofuel derived from waste products and other biomass such as vegetable oils, greases, and natural fats. Like biodiesel, renewable diesel reduces particle emissions. But unlike biodiesel, renewable diesel is processed by treating oils with hydrogen, which removes the limitations related to reduced shelf life and cold-weather performance that first-generation biodiesel encountered.The renewable diesel production process involves saturating feedstocks—such as vegetable oils or waste fats—with hydrogen at temperatures above 572 degrees Fahrenheit. The final step in the process is isomerization, which creates a fuel that's almost chemically identical to petroleum diesel. This means renewable diesel can be used interchangeably with petroleum diesel without requiring additives or special blends.
Page 36
MODERN WORKTRUCK SOLUTIONS WWW.MWSMAG.COM OCTOBER 202230OPERATIONSStoring renewable diesel follows the same guidelines as regular oils like petroleum diesel, kerosene, and other fuel blends. Of course, these fuel storage regulations vary depending on the location and use of the tank but typically require a UL Listed tank and a form of secondary containment. On-site fuel storage manufacturers understand these guidelines. Therefore, some have created their fuel tanks to be not only UL Listed but also to include double-walled containment to eliminate the need for a secondary containment pan.BENEFITSRenewable diesel's ability to serve as a direct drop-in alternative for petroleum diesel is just the start of the advantages this fuel provides. From reduced maintenance and long storage life to its environmental benefits, renewable diesel is a win for everyone involved and excels as an option for all applications where diesel power is required. Renewable diesel's clean burning properties reduce particulate production by up to 50%, helping improve air quality. This is a method contractors can use to meet carbon emission targets for projects while potentially limiting the need to make other changes that might impact jobsite efficiency. This reduced particulate production also helps improve engine cleanliness and extend the life of the machine.Additionally, renewable diesel has a higher tolerance to cold temperatures than petroleum diesel. The chemical composition of renewable diesel gives it a freeze point of -40 degrees F while petroleum diesel starts to freeze at around 14 degrees F. At the same time, renewable diesel also has a high flash point of 140 degrees F, which reduces fire hazards.Unlike first-generation biofuel options, renewable diesel does not contain oxygen, which allows a prolonged storage life of up to 10 years. In comparison, petroleum diesel can only be stored for six to 12 months. Renewable diesel both improves sustainability and provides efficiency-enhancing benefits. However, before making the switch, check to be sure the equipment OEM has approved the use of the fuel and verify that your fuel storage solution is compatible with renewable diesel. On-site fuel storage solutions help reduce emissions because the storage tanks can be strategically moved and placed in areas that reduce the distance equipment needs to travel to refuel. It also minimizes the number of deliveries to the site, which means fewer emissions from transport.
Page 37
OCTOBER 2022 WWW.MWSMAG.COM MODERN WORKTRUCK SOLUTIONS 31STORING FUEL Using an on-site fuel storage solution can further reduce emissions because the storage tanks can be strategically moved and placed in areas that reduce the distance equipment needs to travel to refuel. It also minimizes the number of deliveries to the site, which means fewer emissions from transport.For example, if a fleet that consumes 10,000 gallons of fuel per week switches to renewable diesel, they can reduce their emissions by approximately 5,243 metric tons. If that same fleet adds on-site fuel storage along with renewable diesel, they can further reduce their carbon footprint by two additional metric tons per year. This is based on standard mpg calculations for fuel delivery trucks and reducing weekly site fuel drops from five to one.Using on-site storage tanks with a fuel management system also allows fleet managers to track fuel usage, which delivers accountability for every drop of fuel. Some on-site fuel tank manufacturers also offer personalized alerts for situations like above-average consumption rates, overfill incidents, and more. These customizable reports and alerts are sent as emails or texts and help ensure efficient use of this resource.FINDING A BALANCEWith the ability to reduce carbon emissions by up to 85%, it's no surprise that renewable diesel is viewed by many as the wave of the future. For example, California's Low Carbon Fuel Standard program aims to decrease carbon intensity and improve air quality. The program's data dashboard reflects an increase in renewable diesel use in the state, with 2021 marking the year with the highest volume of renewable diesel since the fuel's introduction to California in 2012.Although petroleum diesel is still predominant, environmental trends and the benefits that come with this new fuel solution indicate this is just the start for renewable diesel in North America. Managers can prepare for the future by partnering with manufacturers who offer the flexibility to use either petroleum diesel or renewable diesel for their fleet.By partnering with an on-site fuel storage solutions provider who is familiar with fuel trends and storage compatibility, managers can take further control of their fuel supply. With flexible storage solutions, fleet managers can be ready to use the best diesel option for their application while reducing emissions during transport and refueling, no matter which type of fuel they choose. When the time comes, having on-site fuel tanks that are renewable diesel ready will make the switch as seamless as possible so the operation can quickly reap the efficiency and sustainability benefits that renewable diesel provides.ABOUT THE AUTHORAmericas director of product and sales enablement. Find out more, visit www.western-global.com. FLEET MANAGERS CAN TAKE FURTHER CONTROL OF THEIR FUEL SUPPLY BY PARTNERING WITH AN ON-SITE FUEL STORAGE SOLUTIONS PROVIDER WHO IS FAMILIAR WITH FUEL TRENDS AND STORAGE COMPATIBILITY. SOME TANKS OFFER THE OPTION TO BE USED WITH EITHER PETROLEUM DIESEL OR RENEWABLE DIESEL WITHOUT ADDITIVES OR SPECIAL BLENDS. With components that maximize the benefits of both biodiesel and petroleum diesel, renewable diesel sets the standard for the future.
Page 38
MODERN WORKTRUCK SOLUTIONS WWW.MWSMAG.COM OCTOBER 202232OPERATIONSNew internal combustion engine (ICE) cars and trucks continue to hit the roads. By 2030, millions more will be sold, many joining mixed fleets alongside zero emissions vehicles (ZEVs). Yet even by 2040, when ZEVs are forecast to dominate new vehicle sales, according to Bloomberg, ICE vehicles will continue to serve specific missions and payloads. Now and in the future, all vehicles and their fuels will need to operate in compliance with stringent emissions targets.Traditional fuels are being reformulated for lower emissions. A recent report by Mckinsey & Company explains that "sustainable fuels can provide GHG reductions comparable to BEVs and are applicable in multiple sectors," helping to quickly decarbonize existing fleets while electric vehicles enter initial deployments. In fact, ASTM-certified renewable and synthetic fuels can reduce total carbon intensity well before tailpipe emissions even occur.Fuel producers are also reinventing production methods. The route to your fuel tank is changing. Global energy companies and startups are introducing new low-carbon pathways regularly. Instead of legacy oil and gas refining, fuels can now be synthesized from renewable feedstocks, blended to suit specific applications, or converted from flexible energy carriers.Fleet operators looking to decarbonize trucks and equipment should watch these trends and plan Three Ways your Fuels are Becoming more Sustainable TodayFROM THE FUELS THEMSELVES TO HOW WE GET THEM By Chris Kaueld
Page 39
OCTOBER 2022 WWW.MWSMAG.COM MODERN WORKTRUCK SOLUTIONS 33ways to improve overall efficiency while progressively reducing carbon emissions. 1RENEWABLE FEEDSTOCKSDemand for sustainable alternative fuels is expected to triple over the next 20 years, accounting for up to 37% of energy demand by 2050, according to Mckinsey & Company. While new fuels will be a crucial component of long-term decarbonization, their success as part of a low-carbon transition will rely on the eventual elimination of fossil-based sources. In other words, the need for new, renewable feedstocks will grow as well. Already, a range of fuels from renewable natural gas and renewable diesel to ethanol and methanol are made from waste sources including biomass, municipal waste, industrial scrap, corn, soybeans, banana peels, and more. The output of sustainable alternative fuels coming from these feedstocks is growing globally. In many cases the resulting fuels are "drop in" replacements, indistinguishable from the fuels truck operators depend on already. Bio-based renewable diesel, for example, can significantly reduce a diesel fleet's life cycle greenhouse gas emissions while still maintaining high performance. Users can safely mix ASTM-certified renewable diesel within a single tank, allowing an easy transition back and forth with traditional fuel if necessary. No modifications, upgrades, or changes to vehicles or equipment is required.2BLENDED FUELSStandard products such as clear diesel (CD) generally provide both energy and carbon content in a fixed relationship, firmly linked due to crude oil origins. Blending can change that relationship, altering the profile of a given product and its supply chain. Blends are not a new concept; it's a long-established practice to produce a summer blend and a winter blend of many fuels. Now, blending has become much more sophisticated to suit geographies, vehicle use cases, and local cost factors. Among several international producers, Renewable Energy Group offers a range of sustainable blended fuels, each tuned to lower emissions or increase certain performance measures compared to traditional fuels like clear diesel. On the production side, blending techniques offer flexibility and precision to make the right product for the right use. For users, blended fuels allow for tradeoffs between emissions, costs,
Page 40
MODERN WORKTRUCK SOLUTIONS WWW.MWSMAG.COM OCTOBER 202234OPERATIONSand specific energy content. Usually certified to standard specifications, blends with high renewable content can help fleets realize immediate direct and indirect carbon reductions (scenarios typically reported as Scope 1 or 3). As a result, blends generally receive strong policy attention, often subsidized or encouraged through programs such as California's Low Carbon Fuel Standard.Gasoline blends include ethanol variants (you've likely seen E85 in some markets) to newer, experimental options. The EPA intends to finalize a rule before summer 2023 allowing year-round sales of gasoline blended with a higher level of plant-derived ethanol to support cleaner combustion. A recent proposal from Southwest Gas aims to test hydrogen-blending scenarios for cold weather and high-elevation conditions, which would include blending hydrogen with natural gas or renewable natural gas.3FLEXIBLE ENERGY CARRIERSHistorically, most new fuels also require new end-to-end dedicated infrastructure: terminals, storage, transport, and stations. As a result, the adoption of new technologies such as fuel cells or micro-grids is typically held up by supply chain logistics. However, some energy types are emerging as multipurpose carriers, stored and transported through existing methods, but convertible to specialty fuels on-demand. This approach allows fuel suppliers and buyers to handle a single bulk product, only producing the final energy form when and where needed.Dimethyl Ether (DME) offers an example. Typically synthesized from biomass, DME can be used as a precursor to renewable hydrogen, as a blending agent for propane, or as a replacement for some diesel applications. Similarly, a variety of synthetic gases (generally known as syngas) can be made from waste sources and transported easily, then converted at smaller facilities to a range of fuels including hydrogen, synthetic diesel, and synthetic aviation fuels. These varieties can be "built up" at the molecular level into hydrocarbon fuels, minimizing total carbon impact and allowing for customization.MAKING SENSEIf you manage or operate a truck fleet, good news—there is massive fuel innovation underway on your behalf. Energy suppliers are developing new fuels and techniques, while infrastructure operators are making sustainable energy more available. Certainly some new fuel concepts will linger as research projects, and others will fail to offer practical sustainability impact. You will want to monitor the companies specializing in new processes and favor those that are able to pass regulatory and scientific scrutiny. Cross-validate the perspectives of engine OEMs and energy providers, and ask your fleet managers and service partners to recommend practical steps ahead. You have new choices to optimize your fleet and reduce carbon emissions through the fuels you select. Depending on location, you may already be able to pump a bio-based blended diesel product as your next tank fill. More tailored solutions will include a diverse mix of fuels matched to applications, supplied through both fixed stations and mobile fueling partners. Regardless of the size of your fleet, treat fuel management as a critical function that connects fleet performance to your company's long-term sustainability goals.ABOUT THE AUTHORat Booster. Find out more about sustainable fuels and how to www.boosterusa.com.
Page 41
Page 42
MODERN WORKTRUCK SOLUTIONS WWW.MWSMAG.COM OCTOBER 202236TECHNOLOGYWhile past experience doesn't guarantee future success, it certainly does bode well if the objective is to build a company into a major OEM capable of competing with anything and everything out there. That is no small task when one considers the ever-growing list of EV players in the marketplace. However, VIA Motors is not new to the scene, nor is it unfamiliar with the OEM ecosystem. Founded in 2010, the company began its foray into the commercial EV space by converting General Motors (GM) vehicles into plug-in hybrids."General Motors vehicles were a logical choice because of the background of the founders and senior management," says Frank Jenkins, senior director of sales and marketing for VIA Motors. "VIA's chairman of the board, Robert Lutz and its chief executive officer and director, Robert Purcell among them."Lutz's automotive career spans 57 years and includes his time as vice chairman of GM. He was one of the primary drivers behind the development of the Chevrolet Volt. Purcell's 30-year automotive experience includes 25 years in hybrid and electrical drive systems at GM. He A New, Advanced, and Highly Flexible Class 2-5 EV Platform is in the MakingAND VIA MOTORS IS ON TRACK TO DELIVER
Page 43
OCTOBER 2022 WWW.MWSMAG.COM MODERN WORKTRUCK SOLUTIONS 37also led GM's Advanced Technology Group for 10 years, including his oversight of the EV1, the world's first modern electric car."Something I noticed immediately when I first came to VIA Motors was their understanding of what it takes to succeed in this very competitive space," Jenkins says. "These are folks who have experience launching and nurturing products at the major OEM level, and they expect nothing less at VIA Motors."Jenkins points to the company taking the same developmental steps that would be familiar to anyone at a Big Three manufacturer. He says it is capital intensive, but it's the only way to ensure that the vehicle is designed, built, sold, and supported in "the right way."FROM THE GROUND UP"We've been observing the commercial EV marketplace for more than a decade and have been paying attention to its continuing trajectory," VIA's Purcell asserts. "The time came for us to move beyond hybrid conversions and to develop our own fully-electric platform. The VDrive is the culmination of our initial vision."VIA Motors' VDrive chassis is a skateboard-based platform engineered to address the wide range of applications and duty cycles of commercial fleets with Class 2-5 vehicles. The company's VTrux cab chassis cutaway will easily accommodate multiple body styles, including box trucks, service trucks, stake trucks, walk-in vans, school buses and shuttle buses, among many others. All-wheel drive and front-wheel drive versions are currently offered. "We first envisioned and then developed the skateboard-based VDrive chassis from the ground up to offer fleets and bodybuilders a variety of practical advantages," Purcell says. "Our industry-leading 21-inch low-floor design and ultra-tight turning radius make our VTrux easy to enter, to exit, and to maneuver—even in congested urban cores."Indeed, Purcell believes that VIA Motors can be a positive force for change in the evolution of cities. "We are dedicated to helping today's fleets become the energy-efficient and environmentally sustainable fleets of tomorrow," he says.FLEXIBLE FOR ALLIn addition to providing an exceptionally low floor height, VIA's skateboard architecture provides a flat floor from the cab through the rear of the vehicle—even in the all-wheel drive versions. The VDrive's low profile also allows higher cargo density to be achieved because the lower the floor, the greater the cargo volume for a given wheelbase and roof height. The cab-forward driver position also frees up more space for cargo.The flexible and scalable VDrive is available in 130-inch, 160-inch, and 190-inch wheelbases. Battery sizes range from 55 kWh, 82 kWh, 124 kWh, and 165 kWh. In short, the VDrive platform offers fleets and upfitters the ultimate in flexibility and is capable of accommodating a wide variety of vehicle top hats. VIA's platform design also has another critical feature that is vital, yet often absent from other skateboard chassis approaches. The VDrive has a rail system that matches The VDrive chassis has a rail system that matches industry standards, enabling upfitters to traditionally marry virtually any body to the platform. Bodybuilders of all kinds will find the body-to-chassis interface both familiar and convenient. VIA Motors' VDrive chassis is a skateboard-based platform engineered to address the wide range of applications and duty cycles of commercial fleets with Class 2-5 vehicles.
Page 44
TAKE NOTE MODERN WORKTRUCK SOLUTIONS WWW.MWSMAG.COM OCTOBER 202238TECHNOLOGYVIA MOTORS' VTRUX SPECIFICATIONSCLASS 2• Payload: up to 4,860 lbs• Wheelbase: 130, 160, 190 inches• Range: up to 250 miles• Models: chassis cab and cab cutawayCLASS 3• Payload: up to 6,900 lbs• Wheelbase: 130, 160, 190 inches• Range: up to 240 miles• Models: chassis cab and cab cutawayCLASS 4/5• Payload: up to 11,780 lbs• Wheelbase: 160 and 190 inches• Range: up to 200 miles• Models: chassis cab and step vanSKATEBOARD PLATFORM• Class: Classes 2 to 5• Payload: up to 11,780 lbs• Wheelbase: 130 to 190 inches• Range: up to 250 miles *Note: Some specifications are model dependent industry standards, enabling upfitters to traditionally marry virtually any body to the platform. With VIA's rail system, bodybuilders of all kinds will find the body-to-chassis interface both familiar and convenient.MARKETPLACE BUY-INVIA Motors recently announced that it has received a purchase order for 2,000 Class 3 VIA electric cutaway chassis cabs from Pegasus Specialty Vehicles. The deal is valued at more than $170 million, with deliveries of the Class 3 cutaway chassis cabs to begin in 2024.A Pegasus bus body on a VIA cutaway will feature all-wheel drive and will benefit from the platform's low floor height and turning radius. Gross vehicle weight rating (GVWR) of the units will range from 12,500 to 14,000 lbs. The electric motors will generate up to 439 hp and will be able to transport a payload of up to 8,200 lbs within a range of 180 miles."The first time I drove the VTrux, I was very impressed with its turning radius and how nimble it was," says Brian Barrington, president of Pegasus Specialty Vehicles. "It's an extremely comfortable and well-designed vehicle. Our advanced bodies, coupled VIA Motors' VTrux cab chassis cutaway will easily accommodate multiple body styles, including box trucks, service trucks, stake trucks, walk-in vans, school buses and shuttle buses, among many others. Pegasus will leverage the flexibility of VIA's commercial products to build Type A school buses, electric shuttles, and paratransit buses that will benefit from the platform's low floor height and turning radius.Box Truckover wheel/reeferWalk In VanBox Trucksaddle bagCab/CutawayService Truckover wheel/low floor opportunityStake Truckover wheel/low floor opportunityWalk Thru/Shuttle Bus
Page 45
OCTOBER 2022 WWW.MWSMAG.COM MODERN WORKTRUCK SOLUTIONS 39with these reliable, environmentally sustainable chassis will enable us to precisely right-size our vehicles for their specific applications."Pegasus Specialty Vehicles has an agreement in place with Creative Bus Sales to support the sale and servicing of their vehicles. VIA is also in ongoing discussions with other large commercial dealers and service providers that will deliver nationwide coverage for the brand. Based on its OEM experience, the company understands that sales, support, and parts availability must be in position even before the first vehicles begin rolling off the assembly line. A TRANSFORMATIVE DEALOn August 30, 2021, VIA Motors entered into a pending agreement with Ideanomics, a global company focused on driving the adoption of commercial electric vehicles and associated energy consumption. Ideanomics is a global group with a simple mission: accelerating the commercial adoption of electric vehicles. By bringing together vehicles, charging, and financing solutions under one roof, Ideanomics is a one-stop partner needed to simplify the transition to and operation of any EV fleet. "VIA Motors is changing last- and mid-mile delivery with innovative electric commercial vehicles that fleets can afford," Purcell says. "Combining VIA with Ideanomics facilitates significant synergies, while Ideanomics' financial and personnel resources provide the backing we need to pursue an array of exciting growth prospects we have identified."Ideanomics Mobility, Energy, and Capital divisions are service providers that facilitate the adoption of electric vehicles by commercial fleet operators through offering vehicle procurement, finance and leasing, and energy management solutions under its innovative sales to financing to charging (S2F2C) business model."With Ideanomics vertical, end-to-end approach, fleets can feel even more confident as they embrace the transition to electrification," Purcell says. "Together, we will offer fleets a unique and robust one-stop-shopping opportunity that will add convenience and reduce complexity for everyone involved. Moving forward, we will be a force to be reckoned with in the commercial EV space."FOR MORE INFORMATIONwww.viamotors.com. VIA is in ongoing discussions with other large commercial dealers and service providers that will deliver nationwide coverage that includes sales, support, and parts availability. VIA's commercial vehicles leverage proven advanced electric drive technology, delivering sustainable mobility solutions to help fleets achieve their electrification goals.
Page 46
MODERN WORKTRUCK SOLUTIONS WWW.MWSMAG.COM OCTOBER 202240TECHNOLOGYChallenges when Switching to Electric Vehicles IS THE INDUSTRY READY FOR THE SWITCH? By Ross Daviesheavy-duty feature
Page 47
OCTOBER 2022 WWW.MWSMAG.COM MODERN WORKTRUCK SOLUTIONS 41We all know the switch to electric is important in the transportation industry. While there remains challenges, the uptake of electric cars is definitely on the up. But what about other vehicles, such as electric trucks? Are we likely to see more of those on our roads? We take a closer look.IMPORTANCE OF EVs Over the last few years, there has been a growing push to move away from fuel-powered engines and toward electric ones across the transportation industry. And there are good reasons for this shift. Electric engines are much more efficient than their fuel-powered counterparts, meaning they use less energy to run. This not only helps to reduce emissions—an important consideration in today's climate-conscious world—but it also saves on operating costs. Electric engines also tend to be quieter than fuel-powered engines, making them better suited for use in urban areas. And as battery technology continues to improve, electric engines are only going to become more practical and affordable. These aspects paint a positive picture for the switch to electric vehicles as opposed to internal combustion engines (ICE) for the transportation industry—not just for cars, but for trucks, buses, and other large vehicles too. But although the idea sounds great, it doesn't come without its challenges. EV CHALLENGESTruck drivers play a vital role in our economy, transporting goods all across the country. If all of them drove electric vehicles, the impact could be huge. But there are some challenges:• THE AVAILABILITY OF ELECTRIC TRUCKS. When DHL decided in 2013 that it wanted to upgrade its fleet to electric powertrains, it couldn't find a suitable vehicle or an original equipment manufacturer willing to develop one. The company ended up investing in a start-up that designed one specifically for DHL. While times have changed slightly and more electric trucks are available, there are still far fewer options than in the consumer car market. • THE COST. THE AFFORDABILITY OF THESE VEHICLES IS ALSO STILL AN ISSUE. Once e-trucks have a lower total cost of ownership, it's predicted that many commercially driven business owners will switch their fleets to electric. In fact, research So much great information, so readily available.READ ON...www.mwsmag.comHot new products, reviews of trade shows and new releases, arcles from the top brands and the leaders of work truck innovaon are present in every arcle and every issue of Modern Worktruck Soluons magazine. Access your copy on every digital plaorm.Visit www.mwsmag.com and click on the digital edion tab to access the enre MWS digital library—or subscribe for free.
Page 48
MODERN WORKTRUCK SOLUTIONS WWW.MWSMAG.COM OCTOBER 202242TECHNOLOGYconducted by McKinsey & Company suggests electric trucks could account for 15% of global truck sales by 2030. But for now, the upfront cost of electric vehicles in the commercial space is a problem. • THE RANGE OF BATTERIES. Electric trucks tend to have a shorter range than traditional trucks, which could limit the distance a driver travels. However, technology is constantly improving and ranges are on the up. The improvements will always benefit light-duty trucks more where battery capacity and daily range requirements may match. For freight operators with variable routes and mileage, it's a tougher challenge. • ACCESS TO CHARGING STATIONS. Suitable charging facilities need to be commonplace. Distribution centers should invest in charging infrastructure, and governments and private entities should also invest in charging infrastructure along all main highways allowing easy recharging along popular routes. Not only do truck drivers need access to charging stations, they need to "refuel" quickly; therefore, ultrafast chargers will be in high demand. CLIMATE SOLUTIONDespite the challenges, electric trucks may go mainstream sooner than you think. The environmental pressures faced by the whole transport industry are tough. There is already an increasing demand for anyone involved to reduce the impact their business has on the climate—and electric trucks are part of the solution. As the price of electric vehicles goes down, along with improvements to range and charging facilities, electric fleet vehicles could be much more attainable.After all, it's a commercial decision, too. As investment in the renewable energy sector continues to bring down the cost of generating electricity, running costs are likely to reduce—and when you apply that across a whole fleet of vehicles, the cost savings are huge.ABOUT THE AUTHORRoss Davies has always been interested in sustainability and how experience, Davies is keen to share his knowledge and help businesses reduce their environmental impact. Davies has a proven track record looking for new ways to make his can be a key driver of success for any business, and he is excited to see what the future holds.
Page 49
Page 50
MODERN WORKTRUCK SOLUTIONS WWW.MWSMAG.COM OCTOBER 202244Discussing the Fleet Industry's Hottest Topics for 2022 and BeyondINDUSTRY INSIGHT ACCORDING TO A TELEMATICS PROVIDER: PART 2 OF 2AQMWS: WITH TECHNOLOGY ADVANCING SO RAPIDLY, IT'S CLEAR THAT FLEETS COULD USE TELEMATICS ADVANTAGE DOESN'T ONLY BENEFIT THE FLEET. WHAT ARE SOME WAYS TELEMATICS SYSTEMS STREAMLINE SUSTAINABILITY EFFORTS?RUEFFER: The unfortunate truth is that heavy-duty vehicles, like those that comprise a fleet, contribute greatly to air pollution, generating more than 25% of the total global warming emissions from the transportation sector, according to the Union of Concerned Scientists. Telematics data provided by GPS Insight solutions give insights into driver behavior that can inform and support sustainability efforts, such as: • Reducing unnecessary engine idling that contributes to excessive CO2 emissions and air pollution• Increasing route efficiency and significantly reducing greenhouse gas emissions• Identifying and purchasing the most appropriate size and class of vehicle for the intended application • Scheduling maintenance reminders to stay up to date on oil changes, air-filter changes, and emissions testing In addition, telematics data help managers institute fuel-efficient driving practices and create rewards programs that offer incentives for conserving fuel. MWS: WE MENTIONED DIFFERENT TYPES OF FLEETS EARLIER, AND OUR READERS WORK IN ALL AREAS OF THE INDUSTRY. WITH THAT IN MIND, HOW DO SUSTAINABILITY EFFORTS LOOK DIFFERENT FOR GOVERNMENT FLEETS VS PRIVATE COMMERCIAL FLEETS?RUEFFER: Government fleets—whether state, local, or federal government, college, or public safety—face special challenges ranging from stricter regulations to greater public scrutiny and more complex accounting standards. In these regards, government fleets have higher levels of accountability to the public than private fleets, and it is perhaps even more imperative for them to reduce their carbon footprint, institute more green initiatives, and save money. One key initiative on these fronts is replacing conventional vehicles with electric vehicles, which not only reduces emissions, but also cuts maintenance and operating costs. The federal government's eGallon calculator shows that an EV costs less than half its gasoline counterpart to go the same distance. The calculator is based on residential rates. Public fleets that have their own solar or wind power will pay even less. There are also federal incentives to encourage the switch to EVs, which can reduce the higher purchase costs.MWS: WHAT HAVE BEEN THE KEY TRENDS FOR SUSTAINABILITY, OR TELEMATICS TECHNOLOGY IN TECHNOLOGY
Page 51
OCTOBER 2022 WWW.MWSMAG.COM MODERN WORKTRUCK SOLUTIONS 45GENERAL, FOR 2022? WHAT DO YOU FORESEE AS TRENDS FOR 2023?RUEFFER: Key trends for 2022 have included a focus on reducing fuel costs, combating driver shortages, implementing safety programs, and building emissions-reducing sustainability goals. Increasingly, companies are asking for enhanced reporting capability to show where they are today in terms of environmental impact and to provide tracking mechanisms for showing improvements over time and progress against goals. Finding ways to reduce fleet costs are always on the table; and finding ways to do so while reducing environmental impact is a significant trend going forward.MWS: ADDITIONAL THOUGHTS?RUEFFER: GPS Insight is collaborating with third parties to incorporate electric vehicle charging and fleet vehicle performance into our fleet management solutions to support the wave of government and private fleets incorporating EV technology into their businesses in the coming years. Additionally, GPS Insight has a never-before-seen integration of fleet management and field optimization technologies that help generate significant cost savings for the organization as a whole. Fleet and field automation and optimization can help companies not only contribute to their companies' sustainability efforts but also provide a foundation for substantial reductions in materials. Field service organizations can use the savings their field service automation systems deliver to expand into new markets, enhance customer service, and increase the productivity of every driver and field engineer they employ.By implementing simple measures that reduce carbon emissions and fuel inefficiency, GPS Insight helps fleet and field managers improve efficiency, productivity, safety, and customer service while helping reduce air pollution. To stay up to date with our initiatives and industry-leading solutions, visit our website and follow our social channels.FOR MORE INFORMATION Find out more, visit www.gpsinsight.com. Read the first half of the Q&A with Belinda Rueffer on page 12.Take note!
Page 52
MODERN WORKTRUCK SOLUTIONS WWW.MWSMAG.COM OCTOBER 202246MAINTENANCEIt's Time to Winterize Your Fleet—Unless You Use Propane Autogas PROPANE AUTOGAS IS A WINTER-READY FUEL By Mario Genovese
Page 53
OCTOBER 2022 WWW.MWSMAG.COM MODERN WORKTRUCK SOLUTIONS 47Winter is just around the corner here in the United States, and the time to prepare fleets for winter is now—at least depending upon the fuel used in the fleet. Winterizing and fuel preparation for work truck fleets can be costly and time-consuming. In cold winter weather, selecting the right type of fuel can save fleet operators time and money on staff and resources. When compared to diesel, propane autogas is a fuel with stand-out characteristics for cold weather operation. Propane autogas trucks require no extra steps or costly equipment to keep the fuel from gelling, which can cause a complete operational shutdown. Diesel trucks, on the other hand, have several additional requirements to operate in cold weather. First, they need to be plugged in overnight to keep heat in the cooling system, which allows the engine to start in cold climates. This is done by using a block heater installed in the coolant system on the engine. Second, they need fuel additives to prevent the fuel from gelling, which causes poor vehicle performance, even lack of operation, due to fuel pressure not making it to the engine.ENTER PROPANE AUTOGASInnovative propane fuel systems perform well in cold temperatures due to the properties of the propane fuel and the technology behind the engine calibration. This ensures no cold-start issues and provides fleet operators with more reliability. For instance, ROUSH CleanTech's liquid propane fuel systems are based off gasoline engine platforms, which don't encounter the same cold start and fuel gelling concerns as diesel engines. Propane autogas doesn't have a true freezing point, but rather changes phase from a liquid to a vapor at -44 degrees Fahrenheit. Further, since ROUSH CleanTech's fuel system is liquid injected, it performs well in extremely cold temperatures mainly due to the properties of the propane fuel itself.One recommendation to prepare propane vehicles for the winter months is to make sure that the propane fuel has been properly treated with methanol. This is an industry standard practice performed by fueling providers to ensure that during cold weather months, moisture doesn't collect in the fuel that could cause possible drivability concerns. Be sure to consult the vehicle owner's manual for OEM-specific guidelines. Otherwise, there are no special requirements to prepare vehicles operating with a propane fuel system for winter operation. Because of their simplicity and reliability, they warm quickly, and fleet operators consistently report saving time and money on staff and equipment. Propane-fueled trucks put fleet operators in the best position to feel confident when heading into the winter months.ABOUT THE AUTHORcustomer success for ROUSH CleanTech. Find out more, visit www.roushcleantech.com or call BUSINESS NEED A JUMP START?BUSINESS NEED A JUMP START?MWS CAN HELP CrANk it uPHELP iS JuSt A CALL AWAy 205.795.0223 | ruSSELL@MWSMAG.COM
Page 54
MODERN WORKTRUCK SOLUTIONS WWW.MWSMAG.COM OCTOBER 202248MAINTENANCEAQWhether your fleet is an electric fleet, an alternative fuel fleet, a gas-powered fleet, or a diesel-powered fleet, every truck or van must be maintained. Truck and van maintenance encompasses maintenance under the hood, interior maintenance, exterior maintenance, and accessory maintenance. Read Modern WorkTruck Solutions' conversation with the corporate manager of Power Trucks USA, Mikayla Kyle, who offers insights to truck exterior and accessory maintenance. SOME TRUCK PRODUCTS AND ACCESSORIES CAN HELP IMPROVE TRUCK MAINTENANCE WHILE ALSO IMPROVING FUNCTIONALITY AND STYLE. POWER TRUCKS USA HAS MULTIPLE PRODUCTS THAT FIT INTO THIS SPACE, BUT WHICH PRODUCTS STAND OUT TO YOU?KYLE: Most aftermarket accessory parts for fleet owners are more for the functionality of the job that they need to do. Our most popular ones are work bins, ladder racks, strobe lights, toolboxes, and headache racks. With these accessories on a fleet vehicle, fleet operators and truck drivers essentially have access to a mobile "garage" that they can take with them. This ensures operators and technicians have all their tools at their fingertips. FUNCTIONALITY FOR FLEETS IS MANY DESIRE. BUT WHAT ABOUT FLEETS THAT USE THEIR VEHICLES AS A ROLLING ADVERTISEMENT? WHAT AFTERMARKET SOLUTIONS DO THOSE FLEET OWNERS HAVE?Aftermarket Accessories that Prove Beneficial for FleetsFROM TOOLBOXES TO CAMERAS, THESE PRODUCTS HELP IMPROVE SAFETY AND MAINTENANCE
Page 55
OCTOBER 2022 WWW.MWSMAG.COM MODERN WORKTRUCK SOLUTIONS 49KYLE: Any and all aftermarket parts can be powder coated to any color. This is a great option for fleets that use their vehicles as advertisements or branding because the parts can be custom coated to match a company's brand colors. So not only is it great aesthetically, but the powder coating helps protect the accessories, and the accessories help protect the vehicle and tools in and on the truck or van. INCREASED FUNCTIONALITY AND AN AESTHETICALLY PLEASING NEW ACCESSORY THAT DOUBLES AS PROTECTION SURE IS A PLUS. BUT SOME OF OUR READERS WORK IN ENVIRONMENTALLY CHALLENGING CONDITIONS. HOW CAN FLEET OWNERS PREPARE THEIR VEHICLES AND ACCESSORIES FOR THESE CONDITIONS?KYLE: There are several products that can help protect a work truck in harsh environments. For example, Line-X will protect the bed of your truck from getting scratched and rusted. Frame under coating protects a vehicle's undercarriage from rusting out. And finally, a heavier ply tire helps with towing, hauling, and tackling challenging terrains. DO YOU RECOMMEND ANY STEPS FLEET OWNERS CAN TAKE OR PRODUCTS THEY CAN BUY THAT ENSURE A LONG LIFE FOR THEIR VEHICLES AND ACCESSORIES?KYLE: There are many solutions and options fleet owners can consider to prolong the life of their assets. For fleets whose truck beds carry equipment and tools and take a beating on a daily basis, a bed liner should be employed for ultimate truck bed protection. Going hand-in-hand with a bed liner is a headache rack. Storing equipment, tools, and supplies in the bed of the truck can lead to damage to more than just the bed. It can also lead to cracked or broken rear windows. Headache racks protect rear windows from damage. Finally, coating fleet vehicles in a ceramic coating protects fleet trucks and vans from rock chips and road debris. YOU'VE SHARED A LOT OF GREAT INSIGHT WITH US TODAY THAT OUR READERS WILL SURELY FIND HELPFUL. BUT AS A FINAL QUESTION, CAN YOU SHARE ANY SEEN WHERE A PRODUCT HELPED SAVE A TRUCK BODY FROM SEVERE DAMAGE?KYLE: Yes—bumper guards! We've seen a bumper guard fully protect a vehicle's body, lights, engine components, and tailgaite during accidents. If there's one product I recommend getting on a fleet vehicle, a bumper guard would be it.ADDITIONAL THOUGHTS?KYLE: Although I've mentioned several products and solutions today, I don't want to forget to mention another accessory that can help improve operator safety. A trend in the industry that is sure to stick is employing cameras on fleet vehicles. Having cameras installed on a fleet truck, both on the vehicle and dash cameras, provide several benefits. The bumper cameras can help fleet vehicle drivers know their surroundings, and the dash cams help discourage theft, encourage safe driving, and provide evidence in the case of an emergency.FOR MORE INFORMATIONSteel, Extreme Rentals USA, and several waste companies.staying ahead of the ever-evolving trends in several industries, and building solid approaches each task with enthusiasm and a commitment to provide exemplary www.powertrucksusa.com. With these accessories, fleet operators essentially have a mobile garage.""
Page 56
MODERN WORKTRUCK SOLUTIONS WWW.MWSMAG.COM OCTOBER 202250WORK TRUCK PRODUCTSCOXREELSC SERIES LED LIGHTSCoxreels recently introduced a new line of three industrial duty LED lights now available on the C (Dual Purpose) reels. The new LED lights feature a variety of industrial-grade features and options, including: a 50,000 hour rating, internal light diffusers, and shatter-resistant polycarbonate lenses. Coxreels' new LED lights also feature adjustable steel hooks for hands-free placement. Whether you are looking for the compact LED light feature (-M), the LED light with the additional power source (-K), or the industrial-duty, UL Listed LED light (-H), these reels have the features to complement a variety of applications.www.coxreels.comSTEMCOGATEREADER SVTSTEMCO Vehicle Technology (SVT) products replace the need to manually track mileage data. Using smart technologies, these products save time and ensure consistent, reliable data that is free from human collection errors. Coupled with the usage of DataTrac SVT, GateReader SVT is designed to provide data to fleet managers wirelessly and automatically to improve maintenance practices and increase fleet safety. Attached on or near the gate at the entrance of the yard, GateReader SVT wirelessly captures readings from the DataTrac SVT attached to each vehicle's wheel end, requiring no trenching or hardwiring. www.stemco.comTRANSFER FLOWTransfer Flow introduced a gasoline high-capacity replacement fuel tank for 2020-22 Ford F-250 and F-350 Super Duty short bed, crew cab pickups with 6.2-L and 7.3-L engines. The 58-gallon fuel tank system passed extensive emissions testing and has been granted an executive order from the California Air Resources Board. The fuel tank is made from American-made 12-gauge aluminized steel for superior strength and corrosion resistance and includes exterior fuel lines and a highly engineered emission system. Each fuel tank is equipped with internal baffles for additional durability and to reduce fuel slosh. This system also has a complete installation kit.www.transferflow.comHILLTIPSWEEPAWAY ROTARY BROOMHilltip's SweepAway rotary brooms attach to pickups, tractors, and other equipment. Available in 59- to 86-inch widths, attachments feature a 20-inch-diameter brush for high performance in various applications. Broom mounts allow an angle up to 25 degrees for controlling the direction of swept material. The brooms require a hydraulic system with a minimum flow of 11 gallons per minute. Truck owners can add a Hilltip Power Unit if truck does not meet flow requirements. The power unit has a KOHLER® engine that provides up to 12 gallons per minute of hydraulic flow to operate the SweepAway rotary brooms, as well as other machines.www.hilltipna.comSEE ADPG 6SEE ADPG 35
Page 57
NATIONWIDE PUSH-TO-TALK IS BACK! PeakPTT is a manufacturer of next-generation Push-To-Talk radios. Its two-way radio service leverages LTE wireless data, the internet, and rugged, purpose-driven hardware that provides businesses instant, always-on two-way radio service.GETTING MORE DONEAnswering phone calls and sending and receiving text messages are a waste of time. With PeakPTT your business communication will receive a 10-times boost in productivity with instant talk. This means:• No more missed phone calls• No more ignored text messages• No wondering your field personnel's location• No more time wasted (the average length of a PTT call is 15 seconds)PTT SERVICE INCLUDES• Nationwide 4G LTE PTT coverage• Instant communications—less than a second• Unlimited channels• Private, one-on-one calls • Secure and encrypted communications• Record calls with instant playback and timestamp• SOS and lone worker notifications• Cross talk between different companies• 60 second GPS trackingRUGGED DEVICESPeakPTT uses purpose-built, rugged radios that are built for business use. Its devices are designed to handle some of the most challenging work environments. This means the devices are:• IP67 and IP68 Rated• Waterproof• Drop resistant• Feature long battery life• Equipped with extra loud speakers• Handheld and mobile devices availableWORKS OUT OF THE BOXPeakPTT radios arrive ready to use out of the box. Wireless LTE data on a Tier 1 carrier is included in the service—no programming or setup needed. PeakPTT can also customize radio names and create an unlimited number of additional channels. Further, PeakPTT can work without a base station. In fact, with PC dispatch software, fleet managers can have one or multiple dispatchers located in different locations, communicating with field workers.Visit our website www.peakptt.com or call 855-600-6161
Page 58
MODERN WORKTRUCK SOLUTIONS WWW.MWSMAG.COM OCTOBER 202252The Propane Education & Research Council (PERC) celebrated its inaugural National Propane Day earlier this month on October 7, 2022. PERC observed National Propane Day as an opportunity to recognize the propane industry and celebrate all the benefits propane offers, including for transportation directors and fleet owners.WORKING FUEL"Whether you're transporting students safely to and from school, working to make sure goods are delivered on time, or providing a clean ride for the community, propane autogas is the sustainable energy source to achieve all of these goals," says Steve Whaley, director of autogas business development at PERC. "Propane autogas is energy for everyone, and we are proud to celebrate that in communities around the nation on National Propane Day and beyond."Thousands of fleet owners and transportation directors choose propane autogas to power their vehicle or school bus fleets every day. It is an ideal energy source for Class 3-7 vehicles that need a range of up to 400 miles per day and the ability to carry a heavier payload, all while significantly reducing emissions.GREEN ALTERNATIVEToday's propane autogas engines are 90% cleaner than mandated EPA standards, with effectively zero particulate matter emissions and 96% fewer nitrogen oxide (NOx) emissions than clean diesel engines. The propane engines are certified to the optional ultra-low NOx emissions standard as defined by the California Air Resources Board (CARB) for heavy-duty engines with 0.02 grams per brake horsepower-hour. LOWER COSTSAs an affordable solution, propane autogas also provides fleets with the lowest total cost-of-ownership. According to a survey of fleet end users published in the Gladstein, Neandross, and Associates State of Sustainable Fleets 2021 Market Brief, a majority of respondents found the affordability of propane autogas vehicles to be equal to or better than diesel and gasoline based on fuel cost (82%), maintenance cost (68%), and total cost of ownership (67%). The survey also found propane autogas is the most popular alternative fuel for school bus, paratransit, shuttle, and delivery vehicle fleets, with over 50% of fleet operators choosing propane autogas vehicles over compressed natural gas, battery electric, and fuel cell electric vehicles."Propane autogas is abundant and available today to provide fleets with the environmental sustainability they want and the financial sustainability they need," Whaley says. "We invite fleet owners to take the time on National Propane Day to learn how this clean energy source can benefit their fleet."Find out more, visit www.propane.com.Talk soon! JadeA CELEBRATION OF THE FIRST NATIONAL PROPANE DAY that's just what the Propane Education & Research Council did earlier this month with its inaugural National Propane Day. The day celebrates the alternative fuel that burns cleaner than conventional fuels while also offering the power and range that fleet owners and operators need to perform tasks on a daily basis. Read on to discover more, and mark it on your calendars for next year.
Page 59
Page 60
Page 61