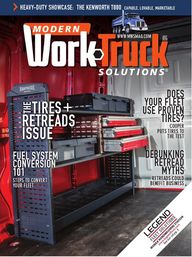 Return to flip book view
Modern WorkTruck Solutions Magazine 0720
Page 1
WWW.MWSMAG.COMJULY 2020HEAVY-DUTY SHOWCASE: THE KENWORTH T880 CAPABLE, LOVABLE, MARKETABLE DOES YOUR FLEET USE PROVEN TIRES?COOPER PUTS TIRES TO THE TESTFUEL SYSTEM CONVERSION 101STEPS TO CONVERT YOUR FLEET TIRES + RETREADS ISSUETHE TIRES + RETREADS ISSUETHEDEBUNKING RETREAD MYTHSRETREADS COULD BENEFIT BUSINESSRETREADS COULD BENEFIT BUSINESS
Page 2
Page 3
Page 4
HEAVY DUTY SHOWCASE THE KENWORTH T880 CAPABLE LOVABLE MARKETABLE WWW MWSMAG COM THE TIRES RETREADS ISSUE FUEL SYSTEM CONVERSION 101 STEPS TO CONVERT YOUR FLEET JULY 2020 DOES YOUR FLEET USE PROVEN TIRES COOPER PUTS TIRES TO THE TEST DEBUNKING RETREAD MYTHS RETREADS COULD BENEFIT BUSINESS
Page 5
Page 6
18CONNECT WITH US on Twitter (@mwsmag) and Facebook at www.facebook.com/modernworktruck34 38KENWORTH T880 CAPABLE, LOVABLE, MARKETABLEINDUSTRY NEWS ................................ INDUSTRY INSIGHT ........................... PRODUCT SHOWCASE ...................... IN EVERY ISSUECTECHMOTIONLATCH DRAWERSCTech partners with Knapheide on a collaborative new product for Knapheide Van Equipment and Sortimo van shelving. CTech's MotionLatch® drawers, designed to mount to both shelving units, are available through Knapheide.www.ctechmanufacturing.comWWW.MWSMAG.COMJULY 2020HEAVY-DUTY SHOWCASE: THE KENWORTH T880 CAPABLE, LOVABLE, MARKETABLE DOES YOUR FLEET USE PROVEN TIRES?COOPER PUTS TIRES TO THE TESTFUEL SYSTEM CONVERSION 101STEPS TO CONVERT YOUR FLEET TIRES + RETREADS ISSUETHE TIRES + RETREADS ISSUETHEDEBUNKING RETREAD MYTHSRETREADS COULD BENEFIT BUSINESSRETREADS COULD BENEFIT BUSINESSINSIDE THIS ISSUEJULY 2020 VOL-5 NO-7LIGHT-DUTYSHOWCASEALT-FUEL MAINTENANCEA CRASH COURSE IN TRAININGCONTACTLESS FUEL ON THE GO ......... HEAVY-DUTYMEDIUM-DUTYOPERATIONSDOES YOUR FLEET HAVE PROVEN TIRES? ............26 Cooper puts tires to the testOPERATIONSFUEL SYSTEM CONVERSION 101 ..........30 Steps to convert your fleetMAINTENANCEDEBUNKING RETREAD MYTHS .........................36 Retreads could benefit business TIRES + RETREADS ISSUETHEYEAR OF EV FLEETSTHE DEMAND FOR EV
Page 7
Page 8
MILESTONESMUNCIE POWER CELEBRATES 85 YEARS.............................................................................16 From auto parts to power take-offs OPERATIONSFIELD SERVICE COMPANY LIFTS ITSELF TO SUCCESS ........................................................................24 Stopping at nothing TECHNOLOGYELIMINATING VISUAL, PHYSICAL, AND COGNITIVE DISTRACTIONS .................................................... 40 Operatinginthenewnormal:Part2I was once told when it comes to vehicle maintenance: "No matter what, be sure you change your oil and you're rolling on good tires." That has stuck with me. It leads me to believe that no matter how expensive, clean, spec'd out, or powerful a vehicle may be, the vehicle is only as reliable as the tires supporting it. That's why we dedicated this issue to tires and retreads. In this issue you'll learn how Cooper proves its tires through tests with real truck fleets (page 26). Have you ever heard negative myths about tire retreads? TravelCenters of America debunks those myths on page 36. Additionally, the Kenworth T880 is our heavy-duty showcase this month. We'll give you all the details along with a real owner's reasons for purchasing the truck. Read about it on page 18. If you're interested in an update on EVs in the industry, check out page 38 to see what's in store for 2020 and beyond. There's always something interesting in the pages of MWS magazine. Read through and tweet us your favorite piece! Happy tweeting!Jade Brasher EditorEDITOR'S NOTE2416www.mwsmag.com P.O. Box 660197 Birmingham, Alabama 35266DONNA CAMPBELL Editor in Chiefdonna@mwsmag.com JADE BRASHER Editorjade@mwsmag.comRANDY MOON Associate Publisher randym@mwsmag.comVAL CARRIER Media Consultantval@mwsmag.comGARY BARKER Media Consultantgary@mwsmag.comTIM O'HARA Media Consultanttim.ohara@mwsmag.comLISA AVERY Art Director lisa@mwsmag.comCRISTELA TSCHUMY Graphic DesignerSETH SAUNDERS Digital Media SpecialistINGRID BERKY Office ManagerNo part of this publication may be reproduced or transmitted in any form or by any means, electronic or mechanical, including photocopy, recording, or any information storage-and-retrieval system without permission in writing from the publisher. The views expressed by those not on the staff of Modern WorkTruck Solutions, or who are not specifically employed by Highlands Publications are purely their own. All Industry News material has either been submitted by the subject company or pulled directly from its corporate website, which is assumed to be cleared for release. Comments and submissions are welcome, and can be submitted to jade@mwsmag.com.SUBSCRIPTION INQUIRIES OR CHANGES CALL:205.380.2048CHRIS GARMONCFO DONNA CAMPBELLVP, Editorialwww.highlandspublications.com 312 Lorna Square Birmingham, AL 35216866.251.1777TIM GARMONCEORUSSELL HADDOCKPresidentTONYA BROWNINGVice President40
Page 9
Page 10
MODERN WORKTRUCK SOLUTIONS WWW.MWSMAG.COM JULY 20208INDUSTRY NEWSMARION BODY WORKS SEEKS ACCOUNTABLE, CREATIVE EMPLOYEESMarion Body Works seeks top talent to support its growing customer base. Marion calls on innovative individuals who can uphold the company's core values of integrity, respect, excellence, accountability, creativity, and honesty. Since its founding in 1905, Marion operates with strategic initiatives to ensure a thriving future for upcoming generations of employees. Marion strives to be the employer of choice in the Marion community. It works to achieve this through its state-of-the-art facility, progressive office amenities, 1% turnover, and history of 30-year company veterans. The longevity of Marion employees speaks to the company's opportunities for professional and personal growth as well as its benefits. For more, visit www.marionbody.com.SKF RECOGNIZED AS A SUPPLIER OF THE YEAR BY AMERICAN AXLE & MANUFACTURINGAmerican Axle & Manufacturing (AAM) recognized SKF as a Supplier of the Year for 2019 at AAM's 26th Annual Supplier Day, held virtually from Detroit. AAM recognized SKF for continued and consistent exceptional performance. The award states: "The SKF team proactively approaches AAM with new opportunities that create win/win outcomes and engages openly and competitively on new technology." This is SKF's second Supplier of the Year award. "SKF and AAM have worked together to bring high-quality, innovative, and competitive bearings and sealing solutions into the automotive marketplace. We deeply value our relationship with AAM," says Jim Seta, president, Automotive OEM Bearings, SKF Americas. "It is a great honor to be recognized as a Supplier of the Year." For more, visit www.skfusa.com.FISKER INC. TO LIST ON NYSE THROUGH MERGER WITH APOLLO-AFFILIATED SPARTAN ENERGY ACQUISITION CORP., WILL PRODUCE ELECTRIC VEHICLEFisker Inc. and Spartan Energy Acquisition Corp. (Spartan) announced a definitive agreement that would result in Fisker becoming a publicly listed company. Based in Los Angeles, Fisker develops emotionally desirable and eco-friendly electric vehicles, supported by advanced mobility solutions. They anticipate the transaction to provide Fisker the funding to bring its first product, Fisker Ocean, to production in 2022. The Fisker Ocean is a fully electric SUV with premium styling and features. Fisker designed it to be the world's most sustainable vehicle, including extensive use of environmentally friendly and recycled materials. The Fisker Ocean will be available to consumers through an innovative leasing package, optimized for
Page 11
Page 12
MODERN WORKTRUCK SOLUTIONS WWW.MWSMAG.COM JULY 202010INDUSTRY NEWSCOMPATIBLE WITH MOST AFTER MARKET LADDER RACKS AND FUEL TANKS. TOOLRIG.COMMade in the USAOUR RUGGED TOOLBOXES ARE DESIGNED FOR SAFETY AND ALLOW FOR 100% UTLIZATION OF THE TRUCK BED SPACE!· unique design does not obstruct rearview mirror or 3rd brakelight.· load more cargo in truckbed area safely with tailgate closed.· also serves as a cab protector/headache rack.REDUCES COSTLY SLIPS AND FALLS WITH SIDE ACCESS TOOLBOX DOORS. *Patented 5052 " ALUMINUM CONSTRUCTION RIVETED TOGETHER. ALL COMPONENTS REPLACEABLE. SLIDING REMOVABLE SHELVES THAT CAN HOLD SHOVELS AND OTHER LONGER ITEMS.driver convenience and accessibility. The vehicle has won numerous awards since its debut at the Consumer Electronics Show earlier in 2020. This highlights strong market reception for this type of vehicle and for the Fisker ethos of appealing design and sustainability. For more, visit www.fiskerinc.com.NAVISTAR PARTNERS WITH SAMSARANavistar has partnered with fleet management solutions provider Samsara. Since pioneering OnCommand® Connection, an open-architecture, all-makes remote diagnostics solution, Navistar has committed to delivering simplified, powerful solutions for customers. The partnership allows International customers to seamlessly add Samsara solutions without the installation of additional vehicle hardware. Using the factory-installed telematics device, any new International truck customer can integrate into the Samsara platform, no additional hardware required. The new partnership allows Samsara telematics customers to access OnCommand Connection's Advanced Remote Diagnostics solution for their fleets.Additionally, fleets subscribed to Samsara via Navistar's factory-installed telematics device will enjoy continued telematics service. This includes OnCommand Connection's Advanced Remote Diagnostics solutions access and over-the-air programming capabilities for the duration of the Samsara subscription. For more, visit www.samsara.com and www.navistar.com. WORK TRUCK SOLUTIONS PROVIDES FREE SERVICES FOR NTEA MEMBERSWork Truck Solutions launched a program with NTEA. In 2020, body and equipment manufacturers and distributors that are active NTEA members get free services from Work Truck Solutions. These solutions aid with expanding their digital footprint, bring more visibility to their companies, and get advanced reporting tools. NTEA members can expand reach and sophistication via their own websites with Work Truck Solutions Inventory Locator. The Inventory Locator allows buyers to sort, filter, and find the right upfitted vehicle from dealers in their area. NTEA upfitters will also have their own inventory listed for free on Comvoy.com, a comprehensive commercial vehicle marketplace. Comvoy strives to serve commercial buyers by making it easy to find the exact work vehicle they need and learn about different upfitted vehicles. Therefore, listings on Comvoy display all the specs and important information from body and equipment manufacturers, which increases sales. Thousands of potential buyers see Comvoy listings every day and greatly expand the visibility of upfitters and their brands. For more, visit www.worktrucksolutions.com/ntea-members.
Page 13
Page 14
08.18.2020 | 10a—4p_CDTMODERN CONTRACTOR SOLUTIONSPREMIER EVENTMCSMODERN CONTRACTOR SOLUTIONS VIRTUAL EXPO 2020CONNECT_ENGAGE__EXPLORE_EXPERIENCE_EXPO 2020Attend safely from your home or office on your smartphone or laptop. REGISTER TODAY! mcsmag.com/go/virtualexpo-august/Modern Contractor Solutions heard the demand and answered the call with its virtual expo for the construction industry! _FREE virtual event_Live chat or video with exhibitors_Download literature/brochures_See product videos/demosLIVE CHAT_with industry experts WEBINARS_educational best practices EXHIBITS_from the industry's eliteSPONSORS_
Page 15
Page 16
MODERN WORKTRUCK SOLUTIONS WWW.MWSMAG.COM JULY 202014INDUSTRY INSIGHTAfter you picked the perfect pickup for your job, were you ever overwhelmed at the possibilities of the kinds of service body upfits you could get? On the flipside of that, have you ever found yourself unable to find that perfect fit anywhere? Maybe you just aren't looking in the right places. Bryan Mernaugh from Dakota Bodies shares why Dakota Bodies would be a great place to begin your truck body search, especially if your tastes or needs are specific. After all, custom is Dakota Bodies' standard.Dakota Bodies are as Custom as Custom Can GetTHE COMPANY BEHIND WORK TRUCK BODIES FOR EVERYBODYBRYAN MERNAUGHMWS: WHAT IS DAKOTA BODIES AND YOUR ROLL WITH THE COMPANY? MERNAUGH: Founded in 1997, Dakota Bodies has grown to be one of the nation's leading truck body manufacturers. Dakota Bodies is based in Watertown, South Dakota, and is one of the area's top employers. I am the Midwest territory sales manager. MWS: WHAT SETS DAKOTA BODIES APART FROM OTHER TRUCK BODY MANUFACTURERS? MERNAUGH: Dakota Bodies has a diverse product lineup. We manufacturer service bodies, utility bodies, flatbeds, canopied bodies, contractor bodies, chipper bodies, and custom bodies. What really sets us apart from others is our ability to customize bodies to fit specific customer needs. If a customer has a wild idea, we are more than willing to entertain it and do what we can to make that idea a reality.MWS: DAKOTA BODIES TOUTS ITS CUSTOM SOLUTIONS FOR VIRTUALLY ANY APPLICATION. EXACTLY HOW CUSTOMIZED CAN A DAKOTA BODIES TRUCK BODY BE?MERNAUGH: Our engineering and production teams have strong capabilities for designing and manufacturing custom solutions to help provide the most useful body for the end customer. We understand that the truck body is the end customer's "toolbox." The more thought out and fully designed a body is, the more useful it is to help the customer be as productive as possible. One of our company slogans is "Custom is Our Standard," and we truly stand by that.We have built a lot of interesting bodies over the years. The wildest one in my opinion is a design we build for
Page 17
JULY 2020 WWW.MWSMAG.COM MODERN WORKTRUCK SOLUTIONS 15a power company that incorporates a toilet and septic tank in one of the vertical compartments. Now that is pretty custom!MWS: TRUCK BODIES ARE THE BREAD AND BUTTER OF DAKOTA BODIES. BUT HAS THE COMPANY BRANCHED OUT IN THE MANUFACTURING OF OTHER PRODUCTS AS WELL? MERNAUGH: Our focus is 100% on truck bodies and options/accessories for our truck bodies. We build a lot of products internally that many truck body manufacturers purchase externally. One good example is our drawer sets, which are very high quality and more affordable than many of the drawer set brands out there.MWS: WHAT'S ON THE HORIZON FOR DAKOTA BODIES?MERNAUGH: We have had tremendous growth the last several years in regard to not only sales, but facilities and our growing workforce. We are just finishing up an expansion in our Watertown, South Dakota, facility and recently opened another manufacturing facility in Liberty, Missouri. The facility in Missouri gives us more manufacturing capacity and better distribution for our Southern customers.We have several new products that we are excited about. One of them is our new Dakota Utility Canopy body that functions as an enclosed, mobile workshop. We also have a great, new contractor's flatbed body coming out. By the time of this publication, the first one will have already rolled off the production floor. I believe both of those products will do very well in the industry.MWS: ADDITIONAL THOUGHTS?MERNAUGH: Please don't hesitate to reach out to us with any questions or ideas you might have. We love helping and talking with the work truck community and are so thankful to be a part of it! FOR MORE INFORMATIONBryan Mernaugh is the Midwest territory sales manager at Dakota Bodies. Reach him at bryanm@dakotabodies.com. Dakota Bodies manufactures work truck bodies for a variety of industries. Find out more, visit www.dakotabodies.com.
Page 18
MODERN WORKTRUCK SOLUTIONS WWW.MWSMAG.COM JULY 202016The end of the Great Depression probably doesn't sound like the best time to start a new business, right? But that's exactly what Louis Conne did in July 1935. He founded Muncie Parts Manufacturing Company, which later became the Muncie Power Products, Inc. you know today, in Muncie, Indiana. IN THE BEGINNINGMuncie Parts Manufacturing Company began in a single office space (less than 500 sq ft) with a desk, chair, telephone, and marketing and inventory catalogs—and one other employee, Hamer Shafer. Ironically, the company did not manufacture anything—it did assemble a few parts—but it really served as a distributor of new and recycled automotive replacement parts. The automotive parts business was rapidly growing because of the economic situation. New vehicle sales were stagnant in the 1930s, meaning those that owned cars were driving them longer and needed replacement parts. Additionally, General Motors, Ford, and Chrysler Corporation had locations in Muncie or in nearby Anderson, Indiana, meaning it was easy to access inventory supplies. In addition to offering automotive parts, Muncie Parts Manufacturing began to get into the niche market of power take-offs (PTOs) and mechanical winches. PTOs are a type of device that use a power source, such as an engine via its transmission, to perform a variety of mechanical tasks. One thing that made Muncie Parts Manufacturing's PTO models stand out was because the shifter control could be operated inside the cab.Muncie Power Products Celebrates 85 YearsFROM AUTO PARTS TO POWER TAKE-OFFSHamer Shafer becomes president of Muncie Parts Manufacturing Company19491935 19661970197619791980 1986Muncie Parts Manufacturing Company opensMuncie Parts Manufacturing Company brands single-gear PTO with BorgWarnerPolyethylene reservoir product line added and patented; wet line kits addedCompany renamed: Muncie Power ProductsProduct and Application School training program beginsMuncie Power shop employees in Muncie, IndianaMuncie Power Products begins manufacturing PTOsCORPORATE HEADQUARTERS MUNCIE, INDIANAMILESTONES
Page 19
JULY 2020 WWW.MWSMAG.COM MODERN WORKTRUCK SOLUTIONS 171999Muncie Power joins Interpump GroupEMPLOYEE TO PRESIDENTShafer, the first employee, was a 19-year-old recent graduate of Muncie Central High School and became Conne's right-hand man in 1935. Together, the two mailed out flyers and letters to potential customers and would go out on the road to various states to promote and market to other distributors. Later, when Shafer took on a larger role in the company's operation after the passing of Conne, Muncie Parts Manufacturing shifted its primary product emphasis to PTOs. Shafer saw the opportunity in the development of the work truck. This is because after World War II, trucks became bigger because people wanted to haul more in less trips, and the increased attention on building infrastructure meant trucks had more work to do. Shafer bought into the company when he entered into a joint partnership with Conne's daughter in 1952, which would become incorporated again eight years later. In 1965, Shafer purchased the remaining stock and became the company's president. Through the late 1960s and into the mid-1970s, Muncie Parts Manufacturing expanded its products with a patent of the polyethylene hydraulic oil reservoir and offered the dump pump. It wasn't until October 1979 when the company officially changed its name to Muncie Power Products to better represent its role in the truck and mobile equipment industry.MORE THAN A DISTRIBUTORIn 1982, with Shafer leading the company as president, the decision to develop a revolutionary PTO design with Tulsa Winch, a division of Sperry Vickers, guided Muncie Power to become a manufacturer rather than only a distributor. After purchasing the PTO manufacturing equipment and facilities in Tulsa, Oklahoma, in November 1986, Muncie Power officially became a manufacturer. Since then, Muncie Power has offered a wide breadth of products that can be used on various applications. Muncie Power eventually went on to join Interpump Group S.p.A. in 1999, becoming part of a multinational operation. Today, Interpump Group is a leader in PTOs and high pressure piston pumps. Even with the growth of the company and the transfer of ownership to the Interpump Group, Muncie Power continues with the same mission: "…to provide quality products and services that will satisfy the needs and expectations of our customers." To maintain that mission, Muncie Power also created a Product and Application School to not only help give employees a better knowledge of the product offerings, but also to distributors throughout the country. The school's goal was to better assist distributors in getting exactly what they needed. MOVING FORWARDThis commitment to the customer is what made Muncie Power successful through the years. Today, Muncie Power continues to focus on a people-first philosophy where the company is committed to developing and motivating its employees to grow professionally while promoting a positive work environment. Its continued investment in people allows for the highest quality of customer service and innovative product development within the work truck industry.This year, Muncie Power will begin breaking ground on a new manufacturing and distribution facility in Tulsa, Oklahoma. This new facility will allow for expanded manufacturing capacity, additional machinery, and continued product innovation. 2020FOR MORE INFORMATIONFind out more about Muncie Power Products, visit www.munciepower.com.2000PTO shaft extension products added2004Snow & Ice Division added2011Optimum Series gear pumps introduced Hydraulic telescopic cylinders introduced20122014Directional control valves introducedTITAN® MC1 Series PTO introduced2019Hose & Fittings introduced2015Muncie Start® introducedOmni-System™ and Omni-System™ Plus and F20 Series PTO introduced2018
Page 20
MODERN WORKTRUCK SOLUTIONS WWW.MWSMAG.COM JULY 202018HEAVY-DUTY WORKTRUCK SHOWCASEHEAVY-DUTY WORKTRUCK SHOWCASE
Page 21
JULY 2020 WWW.MWSMAG.COM MODERN WORKTRUCK SOLUTIONS 19CAPABLE, LOVABLE, MARKETABLEShowcasing the Kenworth T880 NOT ONLY IS A KENWORTH T880 A PRACTICAL CHOICE FOR YOUR WORK TRUCK FLEET, IT'S ALSO SEEN BY SOME AS A PERFECT TRUCK TO HELP MARKET THEIR BUSINESS.
Page 22
MODERN WORKTRUCK SOLUTIONS WWW.MWSMAG.COM JULY 202020Maybe it isn't enough that your work truck be capable. Maybe it isn't enough that your truck is a driver favorite. Maybe what you're looking for is something that's capable, loved by your drivers, and also catches the eye of a potential customer. We don't want to downplay how imperative it is that your truck be capable or a driver favorite—that's why we discuss what makes the Kenworth T880 capable and lovable below. But there's also that eye-catching aspect that many owners look for. We're not here to tell you about how marketable the Kenworth T880 is … we just know someone else who can. Keep reading to find out what makes this truck a top choice for fleet owners in the work truck industry. AT THE COREThe Kenworth T880 is available with two engines: the PACCAR MX-13 and PACCAR MX-11. The MX-13 is a 12.9-L engine that delivers increased horsepower and torque for those heavy loads at steep grades that you deal with on a regular basis in the construction industry. It offers up to 510 hp with peak torque at 1,850 lb-ft. The MX-11 is a 10.8-L engine that is a great option for those concerned with weight savings in bulk haul and ready-mix applications. It offers up to 430 hp with 1,650 lb-ft of peak torque. Both engines feature a high pressure common rail fuel system and compacted graphite iron (CGI) material for improved strength while reducing weight. Pair either engine with your choice of transmission, be it the PACCAR automated, Eaton UltraShift Plus automated, Fuller manual, Allison automatic, or other transmission options to meet specific needs. A main component of the core aside from the powertrain is the truck's chassis. The Kenworth T880 rests on a frame and crossmembers that are durable yet lightweight. It features durable, one-piece aluminum crossmembers with customizable locations to fit specific application upfits. The chassis features a PACCAR, Meritor, or Dana suspension system. Choose between the PACCAR 20,000 and 22,800 or the 12,000 to 23,000 Meritor or Dana suspensions in the front and up to 26,000-lb rating per axle in the rear. The T880's fuel system also features upfit-specific options with tank size, heavy-duty 7-inch strap options, polished options, wide step, and raised options.SPOTLIGHT ON DESIGNWhat starts with a powerful core is complemented by a choice of three different configurations in the Kenworth T880. The T880 MX Optimized Hood configuration—best suited for dump, vacuum, refuse, tanker, bulk haul, and ready mix applications—features a set-back axle designed for productivity, weight distribution, and flexibility in body-mounted applications. The T880 Standard Hood features the "standard" set-back front axle configuration. It offers a foundation for a variety of tough applications such as dump, heavy haul, and logging. Finally the T880S Set-Forward Front Axle configuration is great for demanding payload requirements in a bridge-law compliant wheelbase. This configuration is preferred for ready mix, dump, crane, and municipal.The task to design the body of the Kenworth T880 wasn't taken lightly. Design aspects from a sloped hood to a comfortable driving environment ensure the truck is ready for a full day's worth of work. The hood was designed for easy replacement for maximum uptime. An optional pre-cleaner and optional forward fender close-out accessory are designed to keep dust and mud at bay, protecting the chassis and powertrain. For the drivers, Kenworth's reflector halogen headlamps offer projector-beam performance without the added costs; the T880 door, triple sealed to reduce noise, features a door pad for added details and craftsmanship; and the cowl-mounted side mirrors offer better stability, while the convex portion of the mirror is 37% larger than Kenworth's standard convex mirror design. Speaking of drivers' benefits…DRIVERS' TRUCKThe cab of a Kenworth T880 is more like a command center. This is due to the Kenworth Driver Performance Center. The Center offers information on vehicle and safety systems, performance, and fuel tracking. Information is displayed on a 5-inch full color screen, telling drivers everything they need to know about efficiency and performance.Additionally, Kenworth's NAV+ HD assists drivers with a range of features. The 7-inch touchscreen gives drivers access to navigation, hands-free calling, vehicle data, roadside assistance, audio controls, the blind-spot camera, and the internet.For issues that go beyond the cab, Kenworth has you covered with TruckTech+ Remote Diagnostics and Service Management. This system sends instant notifications to your fleet managers if a truck's fault code is triggered, giving proactive diagnostic and assistance with fault code analysis. This helps fleets determine the best course of action for their operations. If the fleet manager decides to send the truck to the dealership, Kenworth dealers will already have access to the fault code diagnostics through TruckTech+, streamlining your truck's service.The Service Management side of TruckTech+ allows you to manage HEAVY-DUTY-DUTY WORKTRUCK SHOWCASE
Page 23
JULY 2020 WWW.MWSMAG.COM MODERN WORKTRUCK SOLUTIONS 21service events through a web portal. This speeds up communication, centralizes asset information, and eliminates error-prone data entry. With the web portal, managers can schedule maintenance, collaborate with Kenworth's service team, obtain real-time visibility of the service event process, and gain access to real-time analytics and decision support tools. Rest assured, no matter what lies ahead on the road in front of you, Kenworth will be there every mile of the journey.IN THE FIELDNot only is a Kenworth T880 a practical choice for your work truck fleet, it's also seen by some as a perfect truck to help market their business. When Dervin Witmer founded Dig-it Excavating, he knew the way he marketed his business would be instrumental in achieving success. "As soon as we were in a position to purchase equipment that we believed would support our marketing goals, we began adding Kenworth T880s," Witmer says.Dig-it Excavating began adding Kenworth T880s to its fleet in 2015. Witmer said his drivers noted the T880's enhanced visibility and tight turning radius. "Many of our jobsite locations require our drivers to navigate tight roads and back-in frequently. The T880's maneuverability is top-notch and makes our drivers' job a little easier when they're servicing customers in areas that are difficult to get to," he says.According to Witmer, the company consistently posts pictures of its Kenworth T880s at work on the company's website and on its social media pages. "We get the best of both worlds with our Kenworth T880s—a marketing tool that assists our efforts to grow the business, backed by the overall performance we expected when we decided to purchase them," Witmer says.When your bases are covered—capable, lovable, and marketable—your business will go as far as the pavement and then some in a Kenworth T880.FOR MORE INFORMATION about the Kenworth T880, visit www.kenworth.com.
Page 24
MODERN WORKTRUCK SOLUTIONS WWW.MWSMAG.COM JULY 202022UPFIXDepending on the job, getting a heavy-duty truck ready for the job takes a bit more work than getting a pickup ready for the job. Often there are few modifications necessary when the job requires a pickup. Yet when the job calls for a heavy-duty beast, there are usually specifics involved. Which body will help you get the job done faster? Which transmission will be the most beneficial for the efficiency of your operations? The list of questions runs on and on.If you're thinking of buying a Kenworth T880 and looking for a specific upfit, perhaps we can help. Explore the options below to help you brainstorm.Upfit Your Kenworth T880READY FOR YOUR WORKLOADGALBREATH Galbreath Above Frame (AF) cable hoists are versatile enough to work with any truck chassis. The AF hoist is ideal for alternative fuel chassis such as CNG and LNG. Since the lift cylinders can be mounted on top of the chassis frame, it provides additional space for other accessories like toolboxes. Plus, the single-cylinder reeving system improves load and unload speeds by up to 25%. The unit also features the Pioneer Rack 'n Pinion® tarping system with its pivot design for consistent, precise tarp movement. Durable, hydraulically powered steel tarp arms make the system ideal for covering roll-off containers.www.galbreathproducts.comHEAVY DUTY LIGHTING Trying to discover the perfect lighting solution? Heavy Duty Lighting could have your solution ready to install. The brand places a strong emphasis on plug-and-play vehicle specific direct replacement lights for your fleet regardless of make and model. Recent additions include several Kenworth T880-specific replacement products like the new cab marker #HD10403Y and the universally designed, left or right side, trapezoid shape side turn markers #HD63503YCSMD and HD63503YCSMD-C. HDL lights are designed for perfect factory harness connectivity and engineered for superior fit, finish, and operation to meet or exceed factory installed lights.www.heavydutylighting.comPhoto by Galbreath customer, Ruble Truck www.rubletrucks.com
Page 25
JULY 2020 WWW.MWSMAG.COM MODERN WORKTRUCK SOLUTIONS 23IMT (IOWA MOLD TOOLING) When you need exceptional strength, stability, and reach, choose an IMT® 26/180 articulating crane, which easily upfits to a Kenworth T880. Delivering a max lifting capacity of 20,020 lbs for the SL model and 20,020 lbs for the DL model, as well as a horizontal reach of 71 ft 2 inches for both, these compact cranes lift higher and farther. The hexagonal boom design offers strength and stability, while innovative features and options, like the ability to stow within themselves, make 22/153 cranes perfect for nearly every jobsite. Pictured: The IMT 26/180 Articulating Material Handling Crane configured with two hydraulic extensions, This specific unit is primarily used by Teichert for the delivery and pick up of concrete jersey barriers.www.imt.com PULLTARPS®These are just a few of the endless options we've picked out to upfit a Kenworth T880. Your options in this truck go far and wide. If you already own a Kenworth T880, show us an image of your upfit on Twitter. Mention @mwsmag for a retweet!ALLISON TRANSMISSION Most drivers will tell you, the job is easier when you don't have to worry about changing gears. A truck driver's job is difficult enough, why not make it as easy as you can with an automatic transmission—specifically an Allison Transmission from the Rugged Duty Series (RDS). The Kenworth T880 is available with the 4700 RDS automatic transmission that features shift energy management, oil level sensor, power take-off, prognostics, second reverse, and FuelSense 2.0. Allison Transmission's RDS transmissions are typically used in applications such as concrete mixer/pumper, dump truck, equipment hauler, logging, liquid waste hauler, roll on/roll off, sewer/septic vacuum, snow removal, and more.Take note!www.allisontransmission.com If you're looking for something to cover your load, check out Pulltarps®. Pulltarps® specializes in truck tarps and tarp systems for all types of projects and vehicles. The brand's Semi-Automatic tarp systems operate via spring tension and are easy to deploy and retract into the housing. These tarp systems require no hand cranking! Pulltarps® Automatic Tarping Systems fully cover any dump truck's load and are safer for larger trucks. Pulltarps® uses a 1.3HP 12V motor to retract the tarp back into the housing by simply turning a switch. This allows operators to stay in the truck while the load is covered and uncovered. Whether you haul asphalt, sand, demolition, or waste, Pulltarps® has you covered.www.pulltarps.com
Page 26
MODERN WORKTRUCK SOLUTIONS WWW.MWSMAG.COM JULY 202024OPERATIONSLike most great ideas, Boude's Field Service Company started in a garage. "We couldn't get our service trucks in the garage, so we'd poke our cranes right through the garage door to rebuild transmissions," says Jesse Boude, owner Boude's Field Service Company. "Funny looking back at where we were in 2016 considering where we are now."Where they are now is a large shop in Williston, North Dakota, with a crew of six full-time mechanics. How did Boude move out of his garage and into a successful shop? A perspective he picked up along the way from influential figures in his life. Over and over again Boude heard "Nobody or nothing owes you anything—you've got to go out and get it. You have to want success more than you want to breathe." It's a lesson he was taught by his grandpa, Mike Boude, and his mom, Michelle Boude, in his childhood, and it was reiterated during his first farmhand job by his employers Rick and Ryan Miller. "Stop at nothing and you'll achieve what you set out to do."That's exactly what he did. A FIELD ADDICTIONWhile he's worked in a garage and a shop, Boude's first introduction to repair work was in a barn. "My first real job was working on a farm, and they repaired all their own equipment," Boude says. "I was fascinated with what they could do in a barn." Launching from barn to mechanic, Boude eventually moved to Wyoming to work for an independent field service repair company. After a few years, he decided that instead of handling the stress of running someone else's business, he might as well be stressed about running his own operation. That's when Boude's Field Service Company was established in his North Dakota garage. "I'll never forget my first customer, Troy McCoy," Boude remembers. "He had me troubleshoot a hydraulic system on a 143H motor grader." After that first job, the work kept coming in, and Boude's Field Service Company took off. "Every day really is a challenge," Boude says. "It's a unique breed that can go and troubleshoot equipment—lay in a puddle of mud or hydraulic oil and fix a piece of equipment out in the middle of nowhere." But that's just how Boude and his crew like it. While they handle some frack pump and power generation repair work, Boude's bread and butter is heavy equipment repair. "That's what we're known for. You give us a broken-down piece of equipment, and we'll do our thing," he says. RELIABLE EQUIPMENTSince the early days when he used crane booms through the garage door, Field Service Company Lifts Itself to SuccessSTOPPING AT NOTHING
Page 27
HEAVY DUTY SHOWCASE THE KENWORTH T880 CAPABLE LOVABLE MARKETABLE WWW MWSMAG COM THE TIRES RETREADS ISSUE FUEL SYSTEM CONVERSION 101 STEPS TO CONVERT YOUR FLEET JULY 2020 DOES YOUR FLEET USE PROVEN TIRES COOPER PUTS TIRES TO THE TEST DEBUNKING RETREAD MYTHS RETREADS COULD BENEFIT BUSINESS
Page 28
MODERN WORKTRUCK SOLUTIONS WWW.MWSMAG.COM JULY 202026OPERATIONSFor Phil Mosier, Cooper Tire's manager of commercial tire development, it's only when he hears the words, "When can I buy these tires?" does he know new tires in development are ready to go to market. "Engineering and bringing to market a new tire has a lot of stages, but the ultimate moment is when our customers, who have seen us testing and validating our tires against their current tires, can't wait to start placing orders," Mosier says. "That validates our performance in real-world conditions. It's the proof in the pudding, and fleet managers see first hand how our tire performs as we gather data. So when they get excited and want to buy our tire after the test is complete, it validates even further that we've hit a homerun."According to Mosier, by the time a new tire hits the market, it has passed multiple layers of developmental, design, and on-road testing—not to mention government verification so that the tire will meet or exceed customer expectations. "For a product that looks simple in nature, it's not simple to produce," Mosier explains."In the lab, our tire engineers look for innovative ways to enhance previous tire models or develop an entirely new tire," Mosier says. "With the help of computer modeling and other technology, we're able to test new tire designs to see if we're on our way in developing a breakthrough design. It allows us to test theoretical performance and gain surface-level insight into a tire's predicted performance. We can also test new compounds in our compounding lab to see how they might perform and hold up over time. But, that's just the start."Have Your Truck Tires Been Proven?COOPER TIRE WORKS WITH FLEETS FOR PERFORMANCE VALIDATION
Page 29
JULY 2020 WWW.MWSMAG.COM MODERN WORKTRUCK SOLUTIONS 27TO THE TESTSOnce a design is deemed "test ready" and prototypes are made, Cooper takes to a commercial test track to get a glimpse into the tire's real, on-road performance. Through track tests, engineers evaluate a tires' performance in a controlled environment. The track features obstacle courses and is designed for engineers to put heavy miles on tires by running around-the-clock tests for the tread and sidewalls. This test proves grip, durability, and chip/chunk resistance. While track testing provides engineers with the information they need to see how the prototypes perform, they also allow for benchmarking competitive tires. The data collected is a barometer—a forecast of future performance. But, to ensure accuracy, Cooper moves from the track to the road. To see the true performance of new tires, Cooper relies on fleets to test their tires in a variety of road conditions. "And, the fleets we choose for tire trials are typically ones that make runs on North America's toughest roadways," Mosier says. "We select trucking companies that we believe will push our tires to the limit. Our tires need to prove they can handle harsh conditions. When we trial our over-the-road tires, we look for a mix of fleets operating in all conditions—cold and snowy, mild and wet, hot and dry—pretty much any driving condition you can think of. We'll fit our tires with customers that operate in construction, package delivery, utility, and other industries that are notoriously tough on tires to see how the tires fare over the course of a trial. We want our tires to prove that they can handle any terrain a customer of ours may face so that there are no surprises come production time."TO THE FLEETDuring trial runs, Cooper Tire will fit multiple trucks in a fleet and run similar routes with the same average miles per month. "Often times we will be evaluating multiple variations of a new tire design—there may be different compounding for example, but the same tread design. We may love the durability characteristics of one tire, yet the performance of another. We'll then go back to the lab to fine-tune development. From there, we'll then do another round of field testing to see where we stand."To ensure field tests will result in fair and accurate results, Cooper works with fleets that prioritize their maintenance programs.
Page 30
MODERN WORKTRUCK SOLUTIONS WWW.MWSMAG.COM JULY 202028OPERATIONS"It's essential to work with companies that are on top of their trucks' maintenance," Mosier explains. "If a truck is out of alignment, we'll see uneven tire wear, and the test won't be accurate. To make sure the trial is going accordingly, we'll meet with the fleets regularly to receive feedback from the company, check the tires to see how they wear, what the tread life is, as well as a number of other factors to see how they're performing. "When we examine our tires, we're looking for anything that appears to strike out as irregular or issues we notice that are common across the tires tested," Mosier says. "If for example, a fleet experiences issues with cuts in their tire, it's back to the lab to improve the tires' cut-chip-resistance. "For us, it's important to be highly critical of our tires. Not only do we compare our new tire design to its predecessor, we also see how it stacks up against Tier 1 tires. We'll often bring in our competitors' latest tires to see how we measure up. We need to be confident that our tires will perform up to high standards and our testing processes play an instrumental part in affirming our confidence."FOR MORE INFORMATIONCooper Tire's Global Technical technology around the globe. The well as conducts performance and out more about Cooper Tires, visit  Once a design is deemed "test ready" and prototypes are made, Cooper takes to a commercial test track to get a glimpse into the tire's real, on-road performance.
Page 31
Page 32
MODERN WORKTRUCK SOLUTIONS WWW.MWSMAG.COM JULY 202030OPERATIONSFuel System Conversion 101FONTAINE MODIFICATION'S STEPS TO ALT-FUEL CONVERSIONIf you've paid much attention to the way COVID-19 affects our world, you'd know it goes just beyond an illness of the body. It's affected the way we worship and the way we work. It's affected how we care for and communicate with our loved ones, just to name a few. It's also no surprise that it's affected our economy. The UK, Japan, Germany, and the US are just a few major economies experiencing a recession due to the coronavirus. But perhaps there is a silver lining in this pandemic after all. As many countries put their citizens in lockdown across the globe, the environment seemed to clean up a bit. CNN reported that "an international study of global carbon emissions found that daily emissions declined 17% between January and early April compared to average levels in 2019." This change came simply from the fact that fewer people participated in road and air travel during those months. It's been a relatively known fact that gas-powered vehicles aren't good for the environment, but this period of lockdown and quarantine gave us tangible data to prove it. So now that we see what happens to the earth when it's subjected to fewer carbon emissions, what can we do to
Page 33
JULY 2020 WWW.MWSMAG.COM MODERN WORKTRUCK SOLUTIONS 31change the way we run the work truck industry to continue a downward trend of carbon emissions? INSTALL ALTERNATIVESAn obvious way to reduce carbon emissions is to seek alternative fueling solutions for your work vehicles. Some solutions are electric-powered vehicles, fueling with propane autogas, fuel made from 100% renewable materials, hybrid vehicles, and so forth. But once you find a solution that's just right for you, you'll need to decide how to implement that solution. One company, Fontaine Modification, helps fleets convert their existing vehicle fuel systems to a cleaner, greener system, whether that be with complete engine installations/changes to fuel tank packages for alternative fuels.Modern WorkTruck Solutions was able to chat with Paul Kokalis, president, and Nate Eichinger, director of operations, at Fontaine Modification to learn the ins and outs of the company's conversion process. But let's first share a little background.Fontaine Modification has installed alt-fuel systems for more than a decade, beginning in 2007 and 2008 when fleets first began putting test units into operation. Back then, Fontaine Modification received a glider kit from the OEMs with a pre-installed natural gas engine. Fontaine Modification completed the conversion by adding the tanks and the fuel system. Paul and Nate say in those days, Fontaine Modification was heavily involved in alternative fuels for light-duty trucks that already had LPG engines; Fontaine Modification just added the tanks and systems.STEP BY STEPFontaine Modification's steps to conversion depends on the truck. Each manufacturer has a different system, and each manufacturer's system varies depending on the truck model. Some manufacturers offer a conversion prep package, and some do not; however, even if an OEM has alternative fuel installation available, Nate and Paul say that customers contact Fontaine Modification for different tank mounting options.Fontaine Modification's early installation process involved removing lines, the fuel tank, injectors, and pressure regulators and replacing them with alternative fuel components. But today the process looks a little different. OEMs send trucks that don't require as much work, eliminating unnecessary components and saving time.
Page 34
MODERN WORKTRUCK SOLUTIONS WWW.MWSMAG.COM JULY 202032OPERATIONSNow when Fontaine Modification installs LPG engines in lighter trucks, technicians update or replace the ECU module to adjust the programming for the engine. Additionally, Fontaine Modification installs hundreds of CNG systems annually.Fontaine Modification performs installations for most fuel system suppliers. These suppliers typically package their own systems, and Fontaine Modification ensures the system is installed and ready for work. The process involves installation of the tank system, plumbing, testing, and filling the system. Based on the complexity of the system—saddle tanks vs back of cab, for example—an installation could take 6 to 10 hours to complete.Paul and Nate share that battery drivetrains are gaining momentum in the industry, especially in light-duty, regional trucking. However, the conversion process for electric is more complex than other alternative fuels. Chassis packaging for electric systems generally requires a substantial amount of engineering work from the folks at Fontaine Modification before the truck is ready for fleet work. Nevertheless, Fontaine Modification currently has multiple electrification projects in the works for different applications, suppliers, and customers.WHY FONTAINE?Multiple companies perform fuel system conversions. But Nate and Paul share that a fleet manager should choose Fontaine Modification to perform their conversions for a couple of reasons. First, the company's history in the trucking industry is long and includes extensive knowledge of alternative-fuel systems and packages. The company also works with customers to ensure they get the right components for their application.Another perk: Fontaine Modification has ship-through agreements with all major OEMs, which means that the truck maintains its equalized freight system even after Fontaine performs the install—at no extra cost to the customer. Even if your fleet features multiple truck models from multiple OEMs, Fontaine Modification can deliver consistency because of its standardized installations and quality controls across all OEMs and installation centers.The silver lining of COVID-19 is encouraging when it comes to improving the current state of our environment. But these lower carbon emissions numbers won't last once lockdown regulations loosen. One way to contribute is by converting your gas- and diesel-powered fleet to sustainable, alternative fuel systems. And Fontaine Modification can help.FOR MORE INFORMATIONPaul Kokalis is the president of He has been in the industry for almost 40 years. Nate Eichinger beginning his career in engineering and quickly moving to a leadership role at Fontaine. Find out more, visit  FONTAINE MODIFICATION PERFORMED GAS-TO-ELECTRIC TRUCK CONVERSION FOR STAPLES.
Page 35
PARK NEUTRAL DRIVEINFORM THE INDUSTRY OF YOUR STATUS DURING THIS PANDEMICThe work truck industry has questions: Can you ship products and equipment today? Do you have new safety measures in place?Modern WorkTruck Solutions Position your company at the forefront of decision makers' minds.WHAT GEAR IS YOUR BUSINESS IN?WHAT GEAR IS YOUR BUSINESS IN?WWW.MWSMAG.COMWWW.MWSMAG.COMPRINT ADVERTISINGStudies show that print messages are retained more easily and for longer periods of time than digital ones. A MONTHLY WITH MUSCLEEvery month MWS features articles about light-, medium-, and heavy-duty work trucks, providing in-depth solutions for readers to incorporate into their company operations.DIGITAL ADVERTISINGThe MWS digital edition showcases your company videos and ads to the work truck industry. IMPRESSIONS & CLICK-THRU RATESAvailable digital options include web ads, wallpaper ads, custom e-blasts, e-newsletter ads, podcasts, and website pop-up ads. Combine print and digital for the most penetration. REV UP YOUR BUSINESSWITH THESE ADVERTISING OPPORTUNITIES Or, receive special pricing with a customized plan of print and digital and potentially reach an audience of 140,000 in just one month.*For More Information Call: 205.795.0223*Publisher's projected data; numbers include single targets receiving multiple products.Request a Media Kit:russell@mwsmag.com
Page 36
For fleets looking to adopt alternative fueled vehicles, training on the maintenance plays a key role. It's one thing to choose an alternative to gasoline or diesel, but a crucial component is to make sure it runs after it's been delivered. That includes the ability to have it serviced. Your technician or local service station/dealership may know how to fix and maintain your truck model, but they'll need to know the specifics on the alt-fuel parts, too.Here are things to look for in a training program when adopting an alternative fuel—like propane autogas or compressed natural gas—and how that training should tie back to ongoing maintenance.AVAILABLE TRAININGIf the fuel system manufacturer offers training, find out what type they offer. Training courses can be both online or in person. If online, find out what topics are covered and if certification can be attained. Can questions be asked? Are there tests to gauge knowledge? Is the online training thorough enough that a technician can make the repair without hesitation? It's very doubtful that you'll be able to find a YouTube video with enough information to show you how.Some companies offer online training resources, making it convenient to learn at your own pace. Look for them to offer demonstration videos on service and diagnostic procedures or service manuals to simplify diagnostics steps, speed up repairs, and minimize downtime. Do they have any technical publications with easy-to-follow instructions? These will give users the flexibility to complete a training program and provide all information in one place.On-site training at your fleet's location is the most specialized type of training. The biggest benefit of on-site training is that you have the trainer's full focus on your specific model of truck, and technicians can ask specific questions about your fleet vehicles and specific requirements. Also look for factory workshop training where you can visit the manufacturer's facility to learn in small groups with hands-on instruction. This may be as beneficial as on-site training as you'll interact with people from other organizations, too.Some manufacturers have certified service centers where training can be performed. Working with a service center may save your fleet the space and expenses from having a separate repair garage.Be sure to ask the cost of these training programs and if there's a cap on how many technicians can be trained.If training is not available, you will be on your own to figure out how and where to service your vehicle.REPAIR ASSISTANCEWhat if you don't have an in-house mechanic? Don't worry. Your vehicles' OEM can direct you to a dealership MODERN WORKTRUCK SOLUTIONS WWW.MWSMAG.COM JULY 202034MAINTENANCEAlt-fuel Truck MaintenanceA CRASH COURSE IN TRAINING By Todd Mouw TECHNICIANS RECEIVE TRAINING ON A PROPANE AUTOGAS FUEL SYSTEM DURING A FACTORY WORKSHOP.light-duty feature
Page 37
JULY 2020 WWW.MWSMAG.COM MODERN WORKTRUCK SOLUTIONS 35that has training in your type of fuel system. Or even better, find out if the alternative fuel vehicles' fuel system manufacturer offers assistance. For instance, ROUSH CleanTech in Livonia, Michigan, trains and equips an extensive service network with the tooling and service diagnostic information required to service and maintain its propane autogas fuel systems. The company's in-house customer success team is made up of field service engineers to take care of customer training and service needs. ROUSH CleanTech helps fleets handle warranty parts and has more than 600 approved service centers across the country. ADDITIONAL REQUIREMENTSAlways refer to the vehicle owner's manual for regular maintenance even with an alt-fuel model. Follow the manufacturer's recommended oil change intervals, even if you may think it isn't necessary. Many alt fuels, like propane autogas, burn so clean that often your oil will still look new when it's time to change it. That helps keep your engine clean, but the oil should still be changed at the recommended interval. Make sure you use the oil levels with fuel filters changed on schedule. Continue with basic maintenance—changing and inspecting the spark plugs, air filters, battery, etc., at proper intervals—just like you would with conventionally fueled vehicles. Plus, you won't need to purchase and install pricey diesel aftertreatments, which aren't required on alt-fuel models.Even after you've gone through training, if you have further questions about the alternative fuel system in your truck, contact the system manufacturer. They should be able to help you with the system components and might recommend another workshop to further your knowledge. For all questions not related to the fuel system, contact the vehicle manufacturer directly.ABOUT THE AUTHORTodd Mouw is president of ROUSH CleanTech, an industry leader of advanced clean mobility technology. Mouw has served as president of the NTEA Green Truck more, visit www.roushcleantech.com.
Page 38
MODERN WORKTRUCK SOLUTIONS WWW.MWSMAG.COM JULY 202036MAINTENANCEThe COVID-19 pandemic has most companies searching for savings and operating efficiencies. When it comes to a work truck fleet, leadership may be able to find those opportunities where the rubber meets the road. Retreads are a sustainable way for fleets to optimize productivity while cutting down on cost per mile. Whether you've considered retreads before, they are definitely worth looking into. To help with your evaluation, we're debunking some of the most common retread myths. MYTH #1"Retreads are unsafe." One of the most tired retread myths we hear today is that they aren't safe. But in fact, the safety of tires, whether new or retread, often comes down to care of their casings. One of the most common causes of truck tire failures is underinflation. Underinflated tires experience excessive sidewall flexing, which causes them to run extremely hot. This buildup of heat can lead to tread and casing separation and unexpected blowouts. Needless to say, the safety of your tires largely depends on the tire maintenance practices your fleet follows. The overall quality of retreads has increased dramatically over the years, and retreading is held to the same standards of quality as new tires in terms of tread depth and other safety concerns. Today, retreading is a controlled process using advanced technology, equipment, and comprehensive inspection techniques. The TA Commercial Tire Network Retread Center, for example, uses nondestructive testing techniques at initial inspection and a high pressure inflation tester in the final stages of retreading, as well as the latest cutting edge Shearography equipment to ensure only quality casings are retreaded. The truth is that new tires today are crafted to be retreaded, and only casings that pass a rigorous safety test are selected for the retreading process. Work with a quality manufacturer and take care of your casings, and you can expect the same level of safety as new rubber from your retreads. Debunking Common Retread Tire MythsRETREADS COULD BE MORE BENEFICIAL THAN YOU THINK By Callie Vanek
Page 39
JULY 2020 WWW.MWSMAG.COM MODERN WORKTRUCK SOLUTIONS 37MYTH #2Retreads don't perform as well as new tires." The lower price tag of retreads might make it feel like you're sacrificing performance, but many of the quality retreads available have proven to perform comparable to new tires. Plus, dependable tire performance is closely tied to choosing the right retreads for your fleet's application and establishing a tire maintenance routine. You want to shop for retreads the same way you'd select a set of new tires. In order to achieve optimum performance, you must make sure you're purchasing the right retreads for your application. Determining the position in which your retreads will be placed and what application they will be used in should be the first steps you take when purchasing tires. You also might be surprised to find out that more than 80% of all aircraft tires in use in the US today are retreads. From fighter jets to school buses, retreads move some of our most important cargo across many industries. If retreads didn't perform, would they be used every day by ambulances, fire engines, air crafts, and more? Work with a trusted tire partner and service provider to ensure you're getting expert tire advice and quality retreads, like Goodyear and Bandag models, which are offered nationwide through the TA Truck Service Commercial Tire Network. MYTH #3Retreads aren't good for harsh applications." This again comes down to proper maintenance and running the right tires and tread compound for your application and operating environment. You wouldn't choose a traditional low rolling resistance retread, for example, if you're operating in a rugged off-road application. You may instead look for retreads with higher traction and improved cut resistant compounds, which are widely available in the market. Sometimes there is worry when it comes to wear, but just because the tread is worn on a tire, doesn't mean the casing is unusable. Quality casings can far outlive their original tread, and if you're taking care of your casings, your fleet may opt to retread your own application-specific tires that you already know are a fit for your environment. Knowing the load and inflation history of your fleet's tires can also be helpful in determining which of your casings are better suited for certain wheel positions. Work with a quality retreader and service provider who can create a tailored cradle to grave tire management program to ensure you're maximizing your original tire investment. MYTH #4Retreads will only end up costing you more." Did you know that retreading actually saves the trucking industry over $3 billion each year? The most expensive part of a tire is its casing. Since retreads are made using existing casings, they cost much less to produce than new tires. Manufacturers pass that savings to their customers by selling retreads for less than the price of a similar new tire, and in fact, retreads can cost as much as 30 to 50% less than new tires. Since the performance of today's quality retreads is comparable to new tires, retreading is the most effective way to lower your total tire costs and increase the competitiveness of your business. With proper care and the right tire management program, retreads will indeed save you money both up front and in the long run.MYTH #5Retreads wear faster and cause more blowouts than normal tires." Retreads have a reputation for causing that rubber debris often found on the side of the highway. However, studies show that 68% of tire debris collected on the highway actually comes from new tires, not retreads. The reality is that retreads will wear at the same rate as new tires if you aren't properly maintaining them. We know that tire failures, whether new or retread, are mostly related to improper inflation, among other culprits like worn parts, misalignment, overloading, and more. The easiest way to avoid tire-related downtime is to implement a thorough tire management program that includes regular inspections and maintenance of all wheels and tires. Retreads are still a major investment and require engaged maintenance practices, such as daily tire checks, to ensure pressure levels are adequate and match the load hauled. Thanks to time and technology, modern retreads are made with a much higher level of quality than they were decades ago. Next time you need to make a tire purchase, talk to a TA Truck Service tire expert about which retreads might be a fit for your application.ABOUT THE AUTHOR Callie Vanek is the director of the TA Truck Service Commercial Tire Network. Find out more, visit www.ta-petro.com."""""
Page 40
MODERN WORKTRUCK SOLUTIONS WWW.MWSMAG.COM JULY 202038TECHNOLOGYConventional wisdom says low oil prices will slow the transition to electric mobility (e-mobility), but the facts on the ground suggest otherwise. The Washington Examiner reported that analysts don't see the long-term trend toward electrification receding in the rearview mirror anytime soon. In fact, the Green Car Congress reports there are signs the global pandemic may actually result in more momentum for electric vehicles (EVs) going forward. There's another signal that fossil fuels may be on their way out: electric fleet pilots are accelerating. IT CONTINUESWorldwide, fleets were already making substantial investments in electrification before the global public health crisis began. In Europe, climate mandates made fossil fuels a losing proposition. Bloomberg reports that 24 European cities with a combined population of 62 million people plan to eliminate all diesel vehicles from city centers by 2030, including 13 that will ban all transportation powered by internal combustion engines (ICE). In North America, fleet electrification happens for more pragmatic reasons. Energy.gov found electric vehicles less expensive to fuel and maintain than their traditional counterparts. And federal, state, and local incentives for EVs and charging infrastructure can make the transition to electric even more attractive.EV MODELS As demand for cleaner modes of transportation increase, fleet managers continue to be concerned about a lack of availability of electric vehicle models for fleets. With the need for electric options growing exponentially—especially for medium- and heavy-Why 2020 Will Still Be the Year of Electric FleetsPILOT PROGRAMS AND PUBLIC OPINION DRIVE DEMAND FOR EV By Michael Hughesmedium-duty feature
Page 41
JULY 2020 WWW.MWSMAG.COM MODERN WORKTRUCK SOLUTIONS 39duty EVs—vehicle manufacturers must continue to ramp development and production to meet the growing demand. As that happens, expect to see a lot more electric trucks, vans, and buses in the coming years.According to the BloombergNEF (BNEF) Electric Vehicle Outlook 2020 report, the electric fleet share will reach 47% by 2040, including 24% of all light commercial vehicles. Increasing demand, exacerbated during the pandemic, coupled with the rapid shift in consumer expectations for more on-demand delivery options will keep electrification top of mind and result in increased investment in the category. It is therefore unlikely commercial fleets will rush back to gas anytime soon.EV FOR DELIVERYIn its quest to become carbon neutral by 2040, online retailer Amazon placed an order for 100,000 electric delivery vans from startup Rivian in September 2019. To date, it's the single biggest order of its kind. The first vehicles are expected to hit the road next year, with all of the remaining vans to be deployed by 2030. Amazon is not alone. UPS recently announced it will add 10,000 battery electric trucks to its fleet for a pilot that is set to begin later this year. If the four-year pilot goes well, the delivery giant says it will purchase another 10,000 vehicles. FedEx already has 2,500 EVs in its global fleet, and shipper DHL plans to introduce its own electric van this year as well. EV FOR FLEETSFor years fleet managers have cited a lack of available electric models as an obstacle to electrification. But that will change. Ford plans to release an electric version of its popular F-150 as early as 2021, while General Motors has committed $3 billion to its electric truck program. Lordstown Motors will come out with its electric pickup truck, Endurance, in 2021. Zero-emission big rigs from Tesla, Freightliner, Peterbilt, Volvo, and Mack are set to debut early this decade too. In Europe, availability of electric delivery vans has grown with the announcement of Ford's electric transit van and the Rivian van in 2021; and we have already seen fleets transition to the electric Mercedes van.A lot of these launches fill the gaps as true electrified medium- and heavy-duty fleets go through testing periods before coming online in the next one to two years. The proliferation of low- or zero-emission zones in the coming decade suggests electric trucks have a bright future, especially in cities. Early adopters may even benefit from preferential access rights in some places, due to electric trucks' lack of noise and air pollution.SHIFT TO E-MOBILITYA new Polaris Market Research report suggests that the global electric vehicle charging infrastructure market alone will be worth $56.9 billion by 2026. New roaming partnerships and integrations create even more access to charging across a wide range of networks in both North America and Europe, while removing friction. That combined with the increasing proliferation of fast chargers on highways, better EV technology, more efficient batteries, and falling costs further enable the widespread adoption of EVs for fleets. In particular, the increased availability of EV charging in city centers, rural communities, and along highways supports delivery fleet fueling needs as consumers rely more on home deliveries during the current crisis and beyond. FUTURE OF EVThere's one more reason fleets will continue to electrify: air quality. National Oceanic and Atmospheric Administration (NOAA) researchers report massive drops in both nitrous oxide (25-30%) and carbon dioxide (15-20%) emissions in the Northeast US during periods of lockdown due to the coronavirus pandemic. A recent UK survey finds that "the radical improvement on air pollution" has convinced 45% of respondents to consider an EV for their next vehicle purchase. In fact, they're not just considering EVs, they're buying them. While registrations for diesel and gas vehicles have plummeted in the UK, registrations for battery electric vehicles (BEVs) were up more than 160% YoY as of April, according to the UK's Society of Motor Manufacturers and Traders.Prior to the current crisis, governments already made commitments to green fleets, and there's no reason to believe that will change. We have all experienced a world with fewer fossil fuels. Now as people return to work and travel, as passengers use public transit again, and as drivers make all those last-mile deliveries, there will be a call to create a more sustainable future. We now know the world must change. It appears a lot of people have already decided what they want that future to look like. And fleets, perhaps more than any other industry, know how to deliver.ABOUT THE AUTHOR Michael Hughes is the chief ChargePoint. He leads global sales, Prior to joining ChargePoint, he spent nine years at Barracuda Networks, serving as senior vice president of worldwide sales and services and scaling the company previously vice president of sales for Asempra Technologies and a sales and business development leader at and Marimba. Michael advises 
Page 42
MODERN WORKTRUCK SOLUTIONS WWW.MWSMAG.COM JULY 202040SAFETYIn the first part of this series about how the commercial transportation sector operates through the pandemic and post-pandemic reality, we focused on the importance of clear, consistent, and effective communication between fleet safety managers and drivers. We continue to ask ourselves, "what is normal?" Whether we are dealing with schedule, load, or route changes, we continually ask drivers to do more and remain vigilant in every detail of their already complicated job.According to early data by the National Safety Council, there was a 14% jump in fatality rates in March 2020, despite the significant decrease—by 18.6%—in miles driven. In April, the California Highway Patrol recorded an 87% increase in speeding tickets for drivers going 100 mph. From a global pandemic to nationwide protests, commercial drivers today face an unprecedented combination of obstacles. In response, many fleets rely on technology to ensure driver safety as they navigate these uncertain times.Now, more than ever, it's imperative drivers focus on the task at hand, not giving in to any distractions in the cab, on the road, or at the point of delivery. With the number of vehicles on the road beginning to rise as states reopen, drivers should continue to be aware of surroundings at all times. It only takes a second to cause or be involved in a collision, which may result in an injury or even fatality. Driving is a skill that requires full attention and involves constant, complex coordination between mind and body. Not all distractions are alike, nor do they impact drivers in the same way. Video event recorders are the best way to know if a driver is distracted and understand the full situation. The combination of video evidence, driver safety scores, and a driver dashboard is the best way to correct risky behavior before it leads to collision.Eliminating Visual, Physical, and Cognitive DistractionsOPERATING IN THE NEW NORMAL: PART 2Eliminating Visual, Physical, and Cognitive DistractionsOPERATING IN THE NEW NORMAL: PART 2
Page 43
JULY 2020 WWW.MWSMAG.COM MODERN WORKTRUCK SOLUTIONS 41TYPES OF DISTRACTIONSWhen reviewing and discussing video in coaching sessions with drivers, it's important to keep in mind the three types of distractions:• Manual distractions—a driver moves his/her hands away from the wheel• Visual distractions—a driver's focus and/or eyes are not on the road or surrounding environment• Cognitive distraction—a driver's mind wanders away from the task at handWhen coaches sit down with drivers—virtually or in-person—it's important to distinguish which type of distraction a driver exhibited and assess other factors in order to intervene and correct the behavior. Were the driver's hands off the wheel in order to eat, tend to in-cab technology or sensors, or something else? Does the driver have a habit of moving his/her hands from the wheel while the vehicle is in motion? Does the driver often lose focus or was this a one-time event? When and where did the event happen? But most importantly, why did it happen? Getting to the root cause and truly understanding the type of distraction and reason behind it will help mitigate future occurrences.Advanced technology offers immediate access to the data manager's need to combat distracted driving through coaching and return home safely every night. Video event recorders are the best way to know if a driver is distracted and understand the full situation.FOR MORE INFORMATION To gain more insights on download the eBook, "Coach Your Drivers to Safety and Success," from SmartDrive. It can help make coaching part of your safety culture, measure your and more. Find out more, visit www.smartdrive.net.
Page 44
MODERN WORKTRUCK SOLUTIONS WWW.MWSMAG.COM JULY 202042WORK TRUCK PRODUCTSSUPERIOR SIGNALSSY4435-A STOP/TAIL/TURN LIGHTWhile it may look like a simple stop/tail/turn light, this light has three flash patterns and owners can synchronize multiple units to flash together or alternate. Its 4-inch diameter means that the light fits into existing holes with a grommet-style mount. The module can tolerate multiple voltages, making it useful in a wide range of applications while the 24 LEDs it contains means that the SY4435-A has serious light output. The light is IP67 certified, making it resistant to dust and moisture. Furthermore, the DOT-approved light is great for emergency, maintenance, and service vehicles due to its SAE W-2 certification.www.superiorsignals.comGUARDIAN TECHNOLOGIESTAILGATE ALERTGuardian Technologies' new Tailgate Alert is a system designed to ensure valuable tools and expensive possessions aren't stolen or lost from a truck's bed. The Tailgate Alert works by sending a red signal that can be identified in the driver's side mirror, alerting the driver that the tailgate was not raised and locked into place. Tailgate Alert fits pickup trucks including Ford, Chevrolet, GMC, Ram, and Toyota. The system is easy to install and runs off two AA batteries. The LED bulb flashes yellow when batteries require replacement.www.guardiantechnologies.com YOKOHAMA TIRE714R PICK-UP/DELIVERY TIREYokohama Tire's all-new 714R™ will deliver year-round. Engineered for urban pick-up/delivery applications, the open shoulder drive tire is available in sizes 225/70R19.5 (14) and 245/70R19.5 (16). The 714R first debuted at the TMC show in February and is now available. Benefits of the 714R include: outstanding traction with open grooves that provide excellent traction in wet or snow conditions; long tread life with a wide tread pattern that controls the ground contact pressure to deliver long, original tread life; durable construction with steep grooves; and fuel-efficient operation with Yokohama's low-resistance tire compounds.www.yokohamatruck.comCOXREELSDUAL HYDRAULIC REELSCoxreels®' dual hydraulic reels, designed for use with hydraulic tools and accessories, are offered in two configurations: the MPD and the TDMP series. As with most Coxreels spring rewind reels, the dual hydraulic reels feature single sided access for both the spring and the swivel. The supply and return lines come in the same side of the reel into an external fluid path via a removable, dual port hydraulic swivel. This same inlet and swivel side of the reel also houses an easy-to-service spring cartridge motor. Dual hydraulic reels feature heavy gauge steel construction and durable polyester powder coat.www.coxreels.com
Page 45
JULY 2020 WWW.MWSMAG.COM MODERN WORKTRUCK SOLUTIONS 43A.R.E.CX REVO AND CX EVOLVE TRUCK CAPSA.R.E.'s CX Revo and CX Evolve models put current automotive glass technology into A.R.E.'s product line. The CX Revo and CX Evolve feature a frameless all-glass, tailgate-formed rear door. This door follows the styling of each truck's tailgate by forming the glass down and over the tailgate for superior styling and security. Both covers feature OneMotion handle and ActiveTilt auto on/off lighting technology. The OneMotion handle offers greater ease of use, as well as optional keyless entry to lock and unlock using your truck's factory key fob for added security. The ActiveTilt system uses magnet technology to turn the LED lighting on and off when opening and closing the rear door.www.4are.comGTECH CLEANDISINFECTANT SPRAYGTech Clean is an EPA-approved spray that leaves a microscopic protective barrier on hard and soft surfaces and continues to kill bacteria and viruses, including human coronavirus, influenza, mildew, and mold, for up to five days. Workers simply fog the area they want to disinfect and let it air dry—no need to dilute the solution or wipe it away. GTech Clean features a fast-spraying, high-coverage applicator that allows users to dispense minimal product. GTech also kills pathogens for up to five days.www.gtechprotection.comSYGIC GPS NAVIGATIONEV MODESygic GPS Navigation released EV Mode, a navigation system with integrated charging station data. Sygic's eMobility solutions are available to eVan manufacturers for integration into built-in infotainment systems. Sygic's goal is to achieve navigation systems specifically tailored for electric vans. The brand hopes to achieve this goal through dedicated waypoint optimization, live traffic, charging station data, last-mile feature, weather information, and driver behavior evaluation. Additional goals are to finalize EV Mode's algorithm to use live and static data to determine exact range, suggest charging stops, reserve charging station spots, and predict discharge of the battery.www.sygic.comHOT SHOT'S SECRETNEVER RUST LUBRICANTHot Shot's Secret Never Rust Lubricant is a multi-purpose, 100% synthetic spray lubricant that protects metal parts from rust and corrosion significantly longer than competitive brands. Formulated by Lubrication Specialties Inc., manufacturer of Hot Shot's Secret high performance oils and additives, Never Rust protects any metal surface up to 20 times longer than even top brands like WD-40. It is ideal for use on metal nuts and bolts, cables and chains, metal tools, automotive parts, and more. Highly resistant to water washout, it will not dry out, separate, or bleed on equipment. Never Rust Lubricant provides exceptional rust protection.www.hotshotsecret.com
Page 46
MODERN WORKTRUCK SOLUTIONS WWW.MWSMAG.COM JULY 202044thethinkCabOutsidetheCabthinkOOOOetsideeeeideOOOOOOOOOOOOOOOOOOOOOOOOOOOOOOOuuuuuuutsideueutsidedeeiutsideeitututtssssiiiiddddddddeeeeeeeeeeeedddeeeeeeeiiiiiuuuttssiiddeeeeeddeeiiCabCabThinkThethethinkCabOutsidetheCabthinkOOOOetsideeeeideOOOOOOOOOOOOOOOOOOOOOOOOOOOOOOOuuuuuuutsideueutsidedeeiutsideeitututtssssiiiiddddddddeeeeeeeeeeeedddeeeeeeeiiiiiuuuttssiiddeeeeeddeeiiCabCabThinkTheCONTACTLESS FUEL ON THE GOContactless and clean fueling on the go. That sounds great, doesn't it? Especially in a world where "essential" has taken on a whole new meaning. In a time when essential parcel delivery, food distribution, and cleaning services perform around the clock and more frequently, it's imperative that fleet managers ensure quick, safe, and easy fueling so that drivers can focus on their duties instead of on the fuel gauge. Thankfully, Booster—a same-day fuel delivery service—is here to help.Booster is a service that brings fuel directly to your fleet for the same price as you'd pay at a gas station. Not only does it simplify fleet refueling, but each of Booster's fuel deliveries is more environmentally friendly than conventional fueling, reducing vehicle miles traveled and the associated CO2 emissions.It isn't difficult to conclude that fuel delivery services simplify fleet operations. But a worldwide pandemic has increased the demand for such services. Since the start of the COVID-19 pandemic, Booster has experienced a 25% surge in fuel delivered to essential services, such as parcel delivery and logistics, food delivery and distribution, construction, and cleaning companies."Given today's state of affairs, mobile fuel on-demand has become even more essential for getting goods into the hands of people who need them most," says Frank Mycroft, founder and CEO of Booster Fuels.NEW TO DCBooster recently expanded its market to Washington DC. DC is the most recent government permitting mobile fueling as the service grows in popularity. Earlier this year, mobile fueling permits and ordinances were passed by state governments in Maryland, Texas, and Washington as states rethink the future of cities and the innovative role mobile fueling plays. Booster helps cities eliminate the need to plan for gas stations and the environmental hazards and road congestion they bring.Booster has worked with local regulators and fire departments to provide its mobile fueling service, often exceeding requirements for environmental quality and safety. The company has secured all the required permits and regulatory licenses to deliver gas and diesel in DC and Maryland.Booster launches in DC with several new, local customers including Falcon Transport, Dutch Mill Catering, Reston Limousine, and Shorb Landscaping. With six local Booster employees, this office marks the company's seventh major market following recent expansion to Dallas, Austin, Nashville, San Francisco, San Jose, and Seattle. In total, Booster has received permits to operate in more than 50 cities or counties across the US."We're proud to support essential services and create good jobs by bringing contactless fueling to DC and Maryland," says Jordan Valdés, Booster's DC-based director of public affairs. "Our trained service professionals are committed to a level of service, safety, and transparency that sets a new standard in gas and diesel delivery."CONTACTLESS & EASYBooster's fleet is made up of proprietary carbon-neutral purple mini tankers. Each mini-tanker fits in a regular-sized parking space and provides 100% contactless service. To date, the company has delivered more than 30 million gallons of fuel and works with more than 500 fleet customers across the US. If you're interested in simplifying fleet operations and creating a safer fueling solution for your employees, visit www.trybooster.com.Talk soon! Jade
Page 47
Page 48