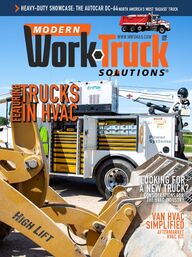 Return to flip book view
Modern Worktruck Solutions June 2021
Page 1
WWW.MWSMAG.COMHEAVY-DUTY SHOWCASE: THE AUTOCAR DC-64 NORTH AMERICA'S MOST 'BADASS' TRUCKJUNE2021VAN HVAC VAN HVAC SIMPLIFIEDSIMPLIFIEDAFTERMARKET AFTERMARKET HVAC KITHVAC KITLOOKING FOR LOOKING FOR A NEW TRUCKA NEW TRUCKCONSIDERATIONS FOR CONSIDERATIONS FOR THE HVAC INDUSTRYTHE HVAC INDUSTRY??TRUCKS TRUCKS IN HVACIN HVACFEATURINGFEATURING
Page 2
Page 3
Page 4
Page 5
Page 6
CONNECT WITH US on Twitter (@mwsmag), Facebook (www.facebook.com/modernworktruck), and LinkedIn (www.linkedin.com/company/modern-work-truck-solutions).INDUSTRY NEWS ................................8INDUSTRY INSIGHT ........................... 14PRODUCT SHOWCASE ......................48IN EVERY ISSUECTECH MANUFACTURING MOTIONLATCH® TOOL DRAWERSMotionLatch® drawers feature a full-length, dual-latching handle paired with lightweight aluminum drawer construction. All drawers are built-to-order in central Wisconsin.www.ctechmanufacturing.com INSIDE THIS ISSUEJUNE 2021 VOL-6 NO-616LIGHT-DUTYYEARS OF INNOVATIONDECADES OF 'FIRSTS'ENSURING FLEET SAFETY DURING ANOTHER COVID SUMMER ............... 50COVER STORIESTHE AUTOCAR DC-64MOST 'BADASS' TRUCKHEAVY-DUTY18OPERATIONSLOOKING FOR A NEW TRUCK ................24Considerations for the HVAC industryWOMEN AND JOBS IN TRUCKING FEMALE TRUCKING JOBS28MEDIUM-DUTYWWW.MWSMAG.COMHEAVY-DUTY SHOWCASE: THE AUTOCAR DC-64 NORTH AMERICA'S MOST 'BADASS' TRUCKJUNE2021VAN HVAC VAN HVAC SIMPLIFIEDSIMPLIFIEDAFTERMARKET AFTERMARKET HVAC KITHVAC KITLOOKING FOR LOOKING FOR A NEW TRUCKA NEW TRUCKCONSIDERATIONS FOR CONSIDERATIONS FOR THE HVAC INDUSTRYTHE HVAC INDUSTRY??TRUCKS TRUCKS IN HVACIN HVACFOCUS ONFOCUS ONMAINTENANCEVAN HVAC SIMPLIFIED ...................38Aftermarket HVAC kitsSHOWCASETRUCKS IN HVACFEATURING
Page 7
Page 8
OPERATIONS TRAINING TO DECREASE THE GROWING DEMAND FOR CDL DRIVERS ...................................30Texarkana trucking partnership addresses driver shortageTECHNOLOGY WORK TRUCK TIER 3 NOZZLES OPTIMIZE SEWER CREW EFFICIENCY AND PROFITABILITY .....................34Water conserving nozzles enable crews to accomplish moreSAFETY SHIFT INTO BETTER LIVER HEALTH ........................................46Liver exams and chronic care management improve health, safety, and productivity of truck driversFEATURED PRODUCT RETRAC ...............................................................................49Driving business forwardwww.mwsmag.com P.O. Box 660197 Birmingham, Alabama 35266DONNA CAMPBELL Editor in Chiefdonna@mwsmag.com JADE BRASHER Editorjade@mwsmag.comRANDY MOON Associate Publisher randym@mwsmag.comVAL CARRIER Media Consultantval@mwsmag.comGARY BARKER Media Consultantgary@mwsmag.comTIM O'HARA Media Consultanttim.ohara@mwsmag.comLISA AVERY Art Director lisa@mwsmag.comCAMILLE BLACK Graphic Designer camille@mwsmag.comSETH SAUNDERS Digital Media SpecialistINGRID BERKY Office ManagerNo part of this publication may be reproduced or transmitted in any form or by any means, electronic or mechanical, including photocopy, recording, or any information storage-and-retrieval system without permission in writing from the publisher. The views expressed by those not on the staff of Modern WorkTruck Solutions, or who are not specifically employed by Highlands Publications are purely their own. All Industry News material has either been submitted by the subject company or pulled directly from its corporate website, which is assumed to be cleared for release. Comments and submissions are welcome, and can be submitted to jade@mwsmag.com.SUBSCRIPTIONS FOR ALL CHANGES, GO TO MWSMAG.COMCLICK THE "SUBSCRIPTIONS" BUTTON IN THE MAIN MENUCHRIS GARMONCFO DONNA CAMPBELLVP, Editorialwww.highlandspublications.com 312 Lorna Square Birmingham, AL 35216866.251.1777TIM GARMONCEORUSSELL HADDOCKPresidentTONYA BROWNINGVice PresidentThe coming of June means that school's out and summer is here! For those of you working in the HVAC industry, your toughest jobs are likely just getting started. That's why we decided this issue should focus on you—the HVAC technician and the trucks he/she uses to get the job done. Flip on over to page 24 to learn specific aspects to consider for your truck when upfitting it for the HVAC business. If you're interested in an HVAC system for your HVAC van, look no further than page 38 for Webasto's HVAC kit solution. For those who aren't in the HVAC industry, no worries! We've got plenty of pieces that fit every industry, including jobs for women in trucking on page 28, a history of Continental Tires on page 16, and a look at driver health on page 46. We've also got a truck designed in our hometown of Birmingham, Alabama, as our heavy-duty showcase this month. Check it out on page 18. There's so much in this issue to help you start your summer right! Enjoy!Jade Brasher EditorEDITOR'S NOTETalk soon! Jade46304934
Page 9
SUBSCRIPTIONS FOR ALL CHANGES, GO TO MWSMAG.COMCLICK THE "SUBSCRIPTIONS" BUTTON IN THE MAIN MENU
Page 10
MODERN WORKTRUCK SOLUTIONS WWW.MWSMAG.COM JUNE 20218INDUSTRY NEWSVISIONTRACK EXPANDS TO USVisionTrack, provider of cloud-based video telematics, expanded its international footprint with the launch of a new US business. The company aims to capitalize on growing demand in North America for advanced AI video telematics solutions. The idea is to replicate the success VisionTrack has achieved in the UK, Ireland, and mainland Europe. VisionTrack Inc will be based in California, serving fleet operators and partners across the US. Further, Marsh says the company commits to driving innovation, focusing on data science, artificial intelligence, and computer vision developments.VisionTrack's precense in the US will allow fleets access to a range of connected solutions from dashcams through to multi-channel MDVRs; all of which comes with optional AI technology from leading device manufacturers. With direct integration between these devices and IoT platform Autonomise.ai there is no need for any third-party APIs or middleware. This allows VisionTrack to cater to all types of vehicles, operations, and industries on a single cloud-based platform and API. For more, visit www.visiontrack.com. HOT SHOT'S SECRET DONATES FUNDS TO BATTLE SCARRED MOTORSPORTS TO HELP WOUNDED VETERANS RACEHot Shot's Secret donated $6,000 to Battle Scarred Motorsports. The funds will help convert donated police cars into hand-controlled race cars. Veterans as well as first responders who no longer have full use of their legs will race the hand-controlled cars. The Battle Scarred Motorsports organization's mission is to impact the lives of past and present service members and first responders. The organization accomplishes this by putting veterans and first responders on the track or on the crew in the pits. In addition to this donation, Hot Shot's Secret also provides all of the oils, fuel, and oil additives for the entire Battle Scarred Motorsports race team and for their diesels that tow the race cars. For more, visit www.hotshotsecret.com. CONTINENTAL WIRELESS CAMERAS PROVIDE EXCEPTIONAL VISION AND SAFETY FOR TRUCK AND OFF HIGHWAYContinental adds a new line of wireless cameras and monitors to its performance proven range of cameras systems. The new cameras are ideal for use on articulated equipment or vehicles where long cable lengths are not preferred. Available in 12V and 24V configurations, Continental new wireless cameras offer a wide range of applications in small and medium trucks, agricultural and construction equipment, and material handling applications. The line also incorporates a camera designed specifically for forklift applications. Continental's new cameras and monitors feature a code-pairing technology
Page 11
Page 12
MODERN WORKTRUCK SOLUTIONS WWW.MWSMAG.COM JUNE 202110INDUSTRY NEWSthat allows for simple installation and setup of the system. The code-pairing also helps to reduce interference and maintains a stable video connection with a barrier-free transmission distance of up to 130 yards. For more, visit www.continental.com. MACK mDRIVE HD NOW AVAILABLE IN MACK TERRAPRO CONCRETE PUMPERS Mack Trucks customers can now order a Mack® mDRIVE™ HD automated manual transmission (AMT) in Mack TerraPro® cabover concrete pumpers powered by the 13-L Mack MP®8 engine. Fully integrated with the MP8 engine and Mack axles, the 13- and 14-speed mDRIVE provides concrete pumper customers a proven solution to help improve performance, boost on-site productivity and safety, and maximize uptime. Mack customers requiring pumpers with longer booms, starting in the 30-meter to 40-meter range, prefer bigger pumps and higher horsepower to power the pumps to move concrete through the boom. The mDRIVE HD paired with the MP8 engine, delivering up to 505 hp and 1,860 lb-ft of torque, is a proven combination, providing durability and power where high horsepower is necessary. The mDRIVE HD features split-shaft PTO functionality, receiving output directly from the transmission, creating higher torque for large auxiliary equipment like concrete pumps. For more, visit www.macktrucks.com.XL FLEET ACQUIRES WORLD ENERGY EFFICIENCY SERVICES TO ACCELERATE FLEET ELECTRIFICATION ADOPTION AND EXPAND CHARGING INFRASTRUCTURE OFFERINGXL Fleet Corp. announced the acquisition of World Energy. World Energy provides energy efficiency solutions as well as renewable technology solutions. It also provides electric vehicle charging stations among other energy solutions across New England. Combining solutions with incentive programs, project management, and financing, World Energy assists companies throughout all aspects of the electrification process. The company provides charger installations including infrastructure assessment as well as site layout plan of charging area and equipment installation. Tod Hynes, founder and president, XL Fleet, says the availability of charging and infrastructure is critical to meeting electrification goals. He adds that some customers have identified facility power as a challenge when charging multiple vehicles at one location. World Energy's experts can help, he says, incorporating energy efficiency measures and solar power to assist in EV charging. For more, visit www.xlfleet.com.
Page 13
Page 14
MODERN WORKTRUCK SOLUTIONS WWW.MWSMAG.COM JUNE 202112INDUSTRY NEWSPETERBILT EXPANDS DEALER NETWORKPeterbilt Motors Company announced the opening of two new dealership locations. Rush Peterbilt Truck Center, Phoenix East in Arizona and Peterbilt of Augusta in Georgia are additions to Peterbilt's dealer network. This adds to the growth of the Peterbilt network of over 400 locations across North America. Rush Peterbilt Truck Center, Phoenix East opened in late March as a Parts and Service location. It features eight service bays as well as 1,000 sq ft of parts retail space and 3,000 sq ft for parts inventory. The Phoenix East store's location also offers easy access to US Highway 60 and US Highway 101. This is the latest addition to Rush's network of Peterbilt Dealers located across 22 States. Additionally, Peterbilt of Atlanta opened its Augusta store in April as a Full Service location, as well. It features nine service bays, 1,000 sq ft of parts retail space, and 3,000 sq ft for parts. Peterbilt of Atlanta operates four Peterbilt dealerships in Georgia. The Augusta location was chosen in part due to its easy access to Interstate 20 and State Highway 104. For more, visit www.peterbilt.com.MASTER BUILDERS SOLUTIONS NAMED EXCLUSIVE RESELLER OF COMMANDASSURANCE™ SYSTEMMaster Builders Solutions agreed with Command Alkon to be the sole third-party reseller of the COMMANDassurance in-transit concrete monitoring system. The scope of the agreement includes the US and Canada. The core of the COMMANDassurance system is the in-truck probe that provides real-time data of concrete properties while in transit. These properties include aspects such as slump, volume, and temperature. An advantage of the COMMANDassurance system is that it takes measurements from direct contact with the concrete mixture. In contrast, other concrete sensor technologies infer concrete property measurements through indirect contact with the concrete. For more, visit www.commandalkon.com. ENERSYS COMMEMORATES ODYSSEY VIDEO SERIES EnerSys®, a leader in stored energy solutions for industrial applications and the manufacturer of ODYSSEY® batteries, pays tribute to the 25th Anniversary of ODYSSEY® batteries with the launch of the "ODYSSEY® Battery Journey" video series. Each video takes viewers along for the ride through the customer's personal journey using this virtually maintenance-free power solution and illustrates the battery's diverse appeal across global demographics and applications, including automotive/truck, powersports, marine, recreational vehicles (rvs), heavy duty, and fleet vehicles. For more, visit www.odysseybattery.com.
Page 15
Page 16
MODERN WORKTRUCK SOLUTIONS WWW.MWSMAG.COM JUNE 202114INDUSTRY INSIGHTAQJOHN BERARDINOHVAC Industry Fleet TrackingMWS: FIRST, CAN YOU TELL US A BIT ABOUT YOUR COMPANY?BERARDINO: OHA Heating and Air has served the residential community in the DC capital region for over two decades. We were fortunate to buy it from a retiring business owner who, like so many in our service industry, was hardworking and focused on customer satisfaction. We saw great potential to expand OHA's solid brand in our community and beyond and knew in order to do that we needed to expand the use of technology to help us more effectively manage our operations. We attribute our tremendous growth these past three years to getting the right tech tools in place combined with growing our team and continued laser focus on taking care of our customers. Our staff has grown from five to more than 25, and we are excited to continue to expand down the Southern Corridor. MWS: CAN YOU SHARE A BIT ABOUT HOW TECHNOLOGY AND, MORE SPECIFICALLY, GPS FLEET TRACKING HAS HELPED SUPPORT YOUR GROWTH? BERARDINO: It is quite simply all about visibility. Knowing where our techs are at any given time is key to being able to provide timely and exceptional customer service. First, we implemented a customer service system (ServiceTitan) and quickly thereafter ramped up with ClearPathGPS fleet tracking system.As with any field service business, running a smooth operation is not always easy, and time is not often on our side. Instead of chasing down techs with phone calls, our team simply refers to our live fleet map. This allows us to anticipate, for example, when a job is taking longer and enables us to re-route another tech quickly. In essence, our dispatch team can take care of customer complaints before they occur—something we would not be able to do without GPS fleet tracking.MWS: ARE THERE ANY SPECIFIC BENEFITS OF GPS FLEET TRACKING RELATIVE TO THE HVAC INDUSTRY?BERARDINO: Demand calls. For those in the HVAC industry or really any field service business, we all know the challenge of handling these emergency, sometimes frantic calls. "My AC just busted, the heat is rising in my house—please send a tech ASAP!" Being able to route techs to a customer's home quickly is key and simply would take us a lot longer to do if we didn't have GPS tracking. This capability and distinction of "being responsive" is a huge business success driver, as evidenced in our continuous stream of positive reviews we receive online.MWS: YOU MENTIONED USING CLEARPATHGPS. CAN YOU SHARE WHY YOU CHOSE THAT GPS FLEET SERVICE PROVIDER AND HOW THAT EXPERIENCE HAS BEEN?HOW OHA HEATING AND AIR GREW ITS BUSINESS
Page 17
JUNE 2021 WWW.MWSMAG.COM MODERN WORKTRUCK SOLUTIONS 15BERARDINO: First, ClearPathGPS' seamless integration with our customer service system, ServiceTitan, was key. After that, as with any service business, it came down to ClearPathGPS' reputation in the industry. Was it reliable? Did it have solid customer reviews? ClearPathGPS more than checked those boxes and has proven to be a great partner for us ever since, from the quick and easy setup to its highly responsive customer service. If I send an email asking a question, literally, it will just be minutes before I get a response back from the ClearPathGPS team.MWS: YOU'VE MENTIONED THAT YOU'RE LEVERAGING YOUR GPS TRACKING DATA WITH SERVICETITAN? WHY IS THAT IMPORTANT?BERARDINO: It comes back to having those eyes on your tech in the field. It's one thing to have great tools in place to manage your customers, but when you layer in live insights of where your service techs are at any time, that data is invaluable to our dispatch team and key to the success of our day-to-day operations.MWS: ANY OTHER CONSIDERATIONS ON WHY COMPANIES WITH TRUCK AND VAN FLEETS CONSIDER A GPS FLEET MANAGEMENT SYSTEM?BERARDINO: Another key component is how GPS fleet tracking helps protect your business and brand. In a couple of instances, we discovered vehicles are not where they should be, making it clear that we had a few service techs taking on side jobs. Not only is this unacceptable, it puts your business at risk. What if something happens at that "side job," and now your business is accountable? One of many scenarios GPS fleet tracking can help you protect your business and bottom line.MWS: ANY ADDITIONAL THOUGHTS?BERARDINO: I have been told by my customer success team at ClearPathGPS that there are a lot more invaluable ways to leverage the system to help further support our growth and protect our brand. I look forward to learning more and sharing.FOR MORE INFORMATION John Berardino is the owner of OHA Heang and Air. Find out more, visit www.xmyair.com and www.clearpathgps.com.
Page 18
MILESTONES1618751904Founded in Hannover, GermanyAdopted the "rampant horse" as its logoThe first company to develop automobile tires with a patterned tread1914All three podium winners at the French Grand Prix were fitted with Continental tires1955Developed air springs for trucks and buses; it was the first German company to start manufacturing tubeless car tiresThis year Continental celebrates its 150th anniversary. The company was founded in Hannover, Germany, in 1871, and over the next 15 decades, Continental transformed from a manufacturer of tires and rubber products to an international technology company. Today, three out of every four vehicles on the road worldwide are equipped with the company's tires or automotive technologies. THROUGH THE YEARSThe company began by manufacturing horse "hoof buffers" along with solid tires for carriages and bicycles. In 1904, Continental was the first to develop automobile tires with a patterned tread and invented the detachable rim four years later. In 1921, Continental produced its first commercial truck tires and became the first German company to produce tires reinforced with pliable cords rather than linen fabric. Six years later, it launched the very first pneumatic tractor tire in Europe.The innovation continued. In 1955, Continental was the first company to develop air springs for trucks and buses and the first German company to manufacture tubeless car tires. By the 1960s, Continental employed 26,800 people. It revolutionized the solid tire segment—used on heavy-duty industrial applications—with its ContiSuperElastic tires.By 1988, Continental employed 45,900 people around the world. It acquired Uniroyal and Semperit in Europe and General Tire in the United States. Within the next 10 years, the company added sites in Central and South America, Africa, and Eastern Europe. After a 10-year hiatus, Continental re-entered the OTR construction and mining tires segment in 2015, and shortly thereafter restarted production of radial agricultural tires. In 2019, Continental was one of the two most recognized brands in US Consumer Reports' top tire picks.THE ICONIC SYMBOLContinental adopted the "rampant horse" as its logo around 1875. One story claims it began with a local veterinarian named Hartmann who invented "hoof buffers" made from soft rubber, designed to prevent horses from slipping on icy surfaces. He held the patent while Continental produced and distributed them. But the broader significance of the horse stems from the company's roots in Hanover, Germany; the thoroughbred racing horse of the same name is a traditional symbol in the region. The rampant horse is one of the most familiar trademarks in the automotive industry. The horse has evolved over the years but remains an iconic symbol of the Continental brand.RACING TIRESA 150-year-old brand will undoubtedly spread its wings across multiple industries, and Continental is no exception. Continental has a storied history in racing when its pneumatic 150 Years of InnovationCONTINENTAL CELEBRATES DECADES OF 'FIRSTS' MODERN WORKTRUCK SOLUTIONS WWW.MWSMAG.COM JUNE 20211908Invented the detachable rimLaunched the very first pneumatic tractor tire in Europe1927Produced its first commercial truck tires and became the first German company to produce tires reinforced with pliable cords rather than linen fabric1967Opened the Contidrom test track19211871light-duty feature
Page 19
171988Doubled in size, employing 45,900 people around the world2003Unveiled the ContiSportContact 2 Vmax, the first road tire approved for speeds up to 224 mphBecame one of the top five largest automotive suppliers worldwideAnnounced an open source, eco-friendly dip technology called Cokoon2019Re-entered the OTR construction and mining tires segment20152050100% sustainability goalsJUNE 2021 WWW.MWSMAG.COM MODERN WORKTRUCK SOLUTIONS tires were used on the first Daimler Mercedes, which won the 1901 Nice-Salon-Nice race. Later, all three podium winners at the 1914 French Grand Prix were fitted with Continental tires. In 1951, Continental repeated its successes on the racetrack. Race cars fitted with Continental tires won the 1952 Carrera Panamericana and the French, British, Dutch, and Italian Grand Prix. Then in 2003, Continental unveiled the ContiSportContact 2 Vmax, the world's first road tire approved for speeds of up to 224 miles per hour. Later, Continental was officially recognized by Guinness World Records for selling the fastest road-legal tires in the world. Continental is also involved in bicycle racing and athletic shoe production.MOBILITY INNOVATIONIn its 150 years, Continental has had plenty of time for innovation. In 1968, the first electronically controlled driverless car took to the track at Continental's Contidrom. More than 400 news outlets reported on the event. The car was used to test the performance of Continental's tires.Today, Continental has a global fleet of automated and autonomous driving test vehicles. They collect data covering more than 9,000 miles per day. The resulting data corresponds to around 50,000 hours of driving footage. A supercomputer evaluates these test drives and creates virtual worlds in which further real test drives can be simulated.This year Continental was recognized with three CES 2021 Innovation Awards. This marked Continental's eighth CES Innovation Award and fifth consecutive year being recognized for its mobility innovations.LOOKING FORWARDOne can rarely discuss the future without the word "sustainability." Seen as a popular topic of conversation today, Continental has had a sustainable mindset for decades. Continental was the first manufacturer to launch an environmentally friendly passenger tire, the ContiEcoContact, in 1991. Continental was also the first to release a prototype commercial truck tire made of alternative natural rubber in 2016, using its Taraxagum rubber from dandelions.Continental also contributes to the sustainability of the manufacturing industry. In March 2019, the company announced a technology called Cokoon that bonds textiles and rubber without the use of resorcinol and formaldehyde. The series production of the first of 250,000 passenger car tires featuring Cokoon began in 2019.By 2050, the company aims to reach: 100% carbon neutrality along its entire value chain; 100% emission-free mobility and industries; 100% circular economy with closed resource and product cycles; and 100% responsible sourcing and business partnerships.FOR MORE INFORMATIONFind out more, visit www.connental.com. 1968The first electronically controlled driverless car used to test tire performance2010Collaboration with Adidas produced shoe with Continental rubber sole Released a prototype commercial truck tire made of Taraxagum rubber from dandelions20162018Geraint Thomas wins the Tour de France, showcasing Continental's bike tire engineeringLaunched an environmentally friendly passenger tire, the ContiEcoContact2012Launched a highly automated test vehicle, covering 15,000 miles of public roads1991 2007
Page 20
MODERN WORKTRUCK SOLUTIONS WWW.MWSMAG.COM JUNE 202118HEAVY-DUTY WORKTRUCK SHOWCASEHEAVY-DUTY WORKTRUCK SHOWCASE
Page 21
JUNE 2021 WWW.MWSMAG.COM MODERN WORKTRUCK SOLUTIONS 19NORTH AMERICA'S MOST 'BADASS' TRUCKThe Autocar DC-64
Page 22
The folks at Autocar made a bold statement when they decided to trademark the brand's severe-duty Class 8 vocational truck series as "BADASS." But does the DC-64 truly live up to its trademark?"The DC-64D is expertly configured and solves many industry issues not addressed by other suppliers," says Eric Schwartz, president of Autocar Truck. "Unlike any other vehicle in the North American heavy-duty commercial truck market, Autocar Trucks are vocational, pre-engineered for seamless body integration, and don't require significant structural modifications. As such, our trucks are safer, more structurally sound, and are engineered to have a longer life span, which lowers the TCO (total cost of ownership) and adds to our 'Always Up' promise. This truck is truly BADASS."THE 'BADASS' LINEUPRecenlty, Autocar added the DC-64D Dump Truck to its 'BADASS' truck series, upholding the brand's 120-year tradition of truck innovation and adding to what Autocar touts is the oldest line of specialized severe-duty vocational trucks in North America. But what makes the truck so 'badass'?Autocar built the DC-64 from the ground up, designing it to handle the most challenging jobs in the industry. In order to build a workhorse capable of handling the most challenging jobs, Autocar collaborated with key industry experts with more than 200 years of severe-duty truck experience to direct the DC-64's design. The result offers vocational power, driver comfort, and a workhorse that's versatile enough for several vocational applications.VOCATIONAL POWERThe DC-64's power comes from multiple Cummins engine options: the L9, X12, and ISX12N CNG series. These engine options provide performance, fuel economy, and lower operating costs per mile—all backed by Cummins' service and parts network. Additionally, the new X12 offers access to the Single Module aftertreatment system with more efficiency and service access from Cummins. The Cummins X15 will be available in the DC-64 in 2022. Although power is required to do the job and do it well, serviceability is another aspect to be considered when buying a severe-duty work truck. That's why Autocar designed the DC-64 with best-in-class routing and clipping and electrical serviceability through its electrical system that offers easy diagnostics and repairs. Water-sealed connectors are located in easy-to-reach areas for fault finding and testing. Breathable harness coverings provide protection to keep out water, chemicals, dirt, and debris. Finally, improved routing from the bottom frame flange and a Hellerman Titan clamping system support the harness every 12 inches.Choosing Cummins engines also has its perks. The Cummins single module aftertreatment system requires less active regeneration and offers easy serviceability. The exhaust aftertreatment cover, with eight fasteners, provides easy, unobstructed access for DPF replacement in mere minutes.With Autocar, great power collides with great serviceability. DRIVERS' PERSPECTIVEA powerful and serviceable truck might be great for business, but driveability and safety are great for driver retention. Thankfully, the DC-64 features a spacious and functional cab—perfect for anyone whose office chair is their truck's driver's seat. But the cab isn't just spacious and functional, it also makes driving less stressful with 325-degree all-around visibility for the driver. This is due to 30% more window surface area than competitive trucks. The DC-64 is also the only Class 8 vocational truck with rear-corner wrap-around windows to improve rear visibility, another win for the driver. Additionally, a 7-inch information display gives drivers all the information they need at a glance, minimizing distraction. The information it provides also helps MODERN WORKTRUCK SOLUTIONS WWW.MWSMAG.COM JUNE 202120HEAVY-DUTY WORKTRUCK SHOWCASE
Page 23
JUNE 2021 WWW.MWSMAG.COM MODERN WORKTRUCK SOLUTIONS 21technicians get drivers back on the road after maintenance.Further, a large part of driver comfort is driver safety—of which the DC-64 delivers. The truck's cab features all-welded steel construction, providing protection in the event of a roll-over incident. Its frame rail material's yield strength is 160,000 psi, and its RBM is 3.91 lb-inch. Additionally, Autocar builds every DC-64 with dual Sheppard M100 steering gears. As a result, the DC-64 (with a 112-inch BBC) receives a wheel cut of up to 50 degrees, offering easy steering and maneuverability. If drivers are ever in a pinch, Autocar also offers its Always Up 24/7 factory support as well as direct-to-customer sales support with vocational experts.NAME YOUR VOCATIONA truck this purpose-built for the vocational sector should be available for the most severe applications. And it is! The DC-64 is available in four different vocational applications: DC-64R for refuse, DC-64M for mixers, DC-64P for pump, and DC-64D for dump. Autocar equips the DC-64R with Galfab roll-off hoists. Models include the Galfab OR60 174 Series, OR60 194 Series, and OR75 194 Series. The DC-64R also features exceptional rail strength and a tight turning radius. The DC-64M was built for mixer guys by mixer guys. It features specialized suspension, frame rails, and cab and electrical features to withstand any challenge mixer operations can throw at it.An RS Godwin SCS dump body outfits the new DC-64D for dump. Made of Hardox steel, the Godwin body offers durability while weighing less—and that means more payload capacity. Autocar built the DC-64D Dump Truck solely for dump applications. Partnerships with dump body manufacturers made this feat possible through parallel engineering of essential dump body mount features. This helped Autocar achieve its mission to deliver the highest level of integration in the industry. So, does the Autocar DC-64 live up to its trademark? I guess you'd have to be a 'badass' yourself to find out.FOR MORE INFORMATIONFind out more, visit www.autocartruck.com.
Page 24
Page 25
LOOKS TOUGH. WORKS TOUGHERBED SLIDES FOR WORK TRUCKS, VANS, SERVICE BODIES AND TRAILERS• HEAVY DUTY – Up to 3,000 lb. load capacity • BUILT TOUGH – 20 year warranty• EXTENDS OVER 110% - past your taillights • FULLY CUSTOMIZABLECOVERED SERVICE BODY TELECOM TRUCK W/ SHELLEXTENDOWALL IN VAN-SIDE DOOR MOUNT PROMASTER VANRAM VAN STORAGE WITH PULLOUT WORK SURFACEWORK TRUCK WEEK 2021 SHOW DISCOUNT EXTENDEDCall or email now to get a complimentary design and quote800-752-0706websales@extendobed.com • www.extendobed.com
Page 26
MODERN WORKTRUCK SOLUTIONS WWW.MWSMAG.COM JUNE 202124OPERATIONSContractors, especially those in the HVAC industry, need trucks with upfit options that help organize all their tools and equipment, offering easy access to anything they may need. HVAC professionals are responsible for a variety of repairs and need to respond to any project at a moment's notice. A work truck is the most important tool of an HVAC service technician, as it facilitates the safe and easy access to every other tool.There are several upfitting options that increase ease of use, organization, and safety for professionals in the HVAC industry. The experts at Monroe Truck Equipment have put together a guide on what considerations HVAC professionals should make when investing in a new truck to make their job easier and ensure long-term ROI.SAFETY FIRSTOne of the first and most important considerations to make when investing in a new HVAC truck is what options are available to ensure the long-term safety of you, your belongings, and your vehicle.DRIVER SAFETY With such a rigorous job, HVAC professionals need to ensure that they upfit their truck with options that protect their long-term safety and comfort. Look for nitrogen gas strut door holders for storage doors and hinged panels. This helps users easily raise panels and keep them open without assistance. Most importantly, it prevents fingers and hands from being slammed in doors or hinges when closing. For getting in and out of your truck, consider a safety bumper that offers features like "cleats" or raised bumps that help your boot grip and prevent slippage. This will ensure easy and safe movement when getting in and out of the truck bed. SECURE STORAGEWith so much equipment needed for the job, at any given moment an HVAC truck can have thousands of dollars' worth of tools inside. Security and the safety of your equipment is a top priority. Invest in features like bolt-on locks or remote-locking capabilities. To protect your equipment when driving, the use of shelves, containers, pegboards, and magnetized strips can ensure minimal movement when driving and help keep your tools safely in place.Truck Considerations for the HVAC IndustryWHAT HVAC PROFESSIONALS SHOULD LOOK FOR IN A NEW TRUCK By Scott Hanewall
Page 27
JUNE 2021 WWW.MWSMAG.COM MODERN WORKTRUCK SOLUTIONS 25TRUCK SAFETYThere are many upfitting options available to keep your truck in top shape and accident free. Here are a few options to consider:• BUMPER LIGHTS > Increase visibility for other drivers• SEPARATE BUMPER > Help reduce risk of damage to truck body • WIND DEFLECTOR > Minimizes wind resistance to reduce your fuel mileage•  > Reduce employee injury and damage to truck and equipment > Extra visibility helps drivers stay within designated roadways• ALUMINUM ROCK SLIDERS > Keep your truck body free from denting > Safe extra step for getting in cab • ADDITIONAL SET OF ROUND LED STOP/TURN/TAIL LIGHTS IN REAR > Extra visibility and awareness•  > Prevent rust and fight erosion through years of use ACCESSIBILITY After safety, accessibility and organization are top concerns for HVAC professionals. Being able to quickly access any tool, know where your equipment is at all times, and keep things tidy and organized is imperative to do your job day in and day out. An overhead ladder rack keeps large equipment up and out of the way. Top packs and shelving with doors and partitions provide dedicated space for your equipment and tools and prevent excessive movement when driving. Shelves can be made to hold particular
Page 28
O P E R AT I O N S SERVICE BODY TRUCK SAFETY items like vacuum pumps and other bulky equipment to ensure safety Storage bins tool drawers and part cases allow the driver to find their own organization system and keep the smaller tools safe and organized Aluminum or steel storage units help protect against wear and tear over time Wall liners are used around the interior of the truck to protect the integrity of the interior and reduce noise levels A variety of flooring options are available and offer slightly different benefits No matter how you organize lighting is going to be imperative to ensure safe and quick access to tools and equipment at any time day or night BASIC TOOL INVENTORY HVAC professionals store a basic stock list of tools and equipment in their trucks to ensure they have what they need to complete tasks Here are 26 a few suggestions of tools to keep around to stay safe and work with ease and comfort PROTECTIVE EQUIPMENT Ear plugs Goggles Kneepads Masks Hard hat HVAC ESSENTIALS Cable ties Driers Copper tubing and tools Coil cleaner Refrigerant PVC glue Electrical Tape Filters Electrical testers Wire strippers BASIC TOOLS Extension cord Shop vac MODERN WORKTRUCK SOLUTIONS Drills Caulk gun LONG TERM ROI Certain choices can ensure long term value when investing in your truck When considering how long your equipment will last the variety of services you can offer and the ease of use over time long term value can be truly built into your truck ABOUT THE AUTHOR Scott Hanewall is the vice president of commercial sales at Monroe Truck Equipment Find out more about how to get the most value of your investment visit www monroetruck com WWW MWSMAG COM JUNE 2021
Page 29
Page 30
MODERN WORKTRUCK SOLUTIONS WWW.MWSMAG.COM JUNE 202128OPERATIONSA year ago, when the Covid-19 pandemic first hit the US, millions of jobs were wiped out, particularly among women who found themselves back home and coordinating everything from elderly parent medical issues along with additional home-school activities for kids who were also sheltered at home.A year later we have made great strides to bring back many of these jobs in a variety of roles and industries. While many women are also just now starting to look where to resume their careers, some of their best opportunities might just be found in industries that have traditionally been filled by a predominantly male labor pool.MALE-DOMINATED INDUSTRYIndustries like trucking, transportation, automotive, and aerospace have traditionally offered careers that have been filled predominantly by men. Sectors that have traditionally offered a larger pool of jobs for women, such as hospitality, travel, and catering, have been particularly hit hard by the pandemic. It is time women look at industries like trucking and transportation to advance or restart their careers, especially since these industries look vastly different from just a few short years ago. There remains a significant shortage of drivers in the trucking industry. Women could have a significant impact in helping to reduce the driver shortage, and more companies look to hire more women to fill these roles. According to a 2019 report by the American Trucking Association (ATA), the industry was short roughly 60,000 drivers in 2018, up nearly 20% from the prior-year estimate of just over 50,000. The ATA warns that if current trends hold, the shortage could swell to over 160,000 by 2028. Driver opportunities abound for women in addition to a plethora of other career potential.GENDER DIVERSITYGender-diverse opportunities grow every day inside the corporations that operate within the trucking industry. Today, the transportation industry has shed its years-ago perception that it was filled with old men driving dirty trucks. The trucks themselves are now state-of-the-art in many cases, and the companies that oversee a multitude of operations are brimming with careers in fields such as finance, asset management, procurement, legal, technology, data, and analytics.Women in particular play a leading role in shaping the technology that's used to advance today's transportation industry. NON-DRIVING ROLESAt Fleet Advantage I've played an integral part in the development of the company's Life Cycle Cost Management (LCCM) Software within the company's technology platform ATLAAS Unified (Advanced Truck Women and Jobs in TruckingTHE TRANSPORTATION INDUSTRY OFFERS GENDER-DIVERSE CAREER OPPORTUNITIES By Jackie Jacobsmedium-duty feature
Page 31
JUNE 2021 WWW.MWSMAG.COM MODERN WORKTRUCK SOLUTIONS 29Life Cycle Administrative Analytics Software). This module helps our customers identify and optimize the ideal time for replacing their aging trucks with newer, more efficient units. The opportunity to build a professional career leveraging my expertise in data and analytics was exactly what I hoped for, but I didn't initially think I'd find it in the transportation industry. Forward-thinking companies in the industry see the value in this type of gender-diverse skillset, where my ongoing analysis, reporting, and statistical modeling helps the company provide custom analytic reports for our clients and bank partners to examine cost metrics and to establish an optimal fleet modernization strategy.I initially began my career within the consumer goods sector, but quickly realized my skillsets were better suited for a B2B industry such as transportation where advanced business intelligence and data analytics are leveraged to help large enterprise-level companies make decisions that improve their bottom line.GROWTH POTENTIAL A growing number of companies in the trucking and transportation industry are realizing the skillsets that women offer. Organizations like Women In Trucking also have been instrumental in advocating for women to learn more about opportunities in the industry."The mission of Women In Trucking is simply to increase the ranks of women working in the industry," says Ellen Voie, CAE, PDC for the Women in Trucking Association, Inc. "Companies who recognize the importance of gender diversity have proven to experience greater net returns, but more importantly, they make a focused effort to attract, retain, and promote women."Today, America's economy needs the transportation system more than ever. As more gender-diverse career paths open up inside transportation companies, these organizations will unlock even more potential for growth through the advancement and empowerment of a more diverse workforce.ABOUT THE AUTHORJackie Jacobs is senior eet transacon analyst and project manager for Fleet Advantage, a leading innovator in truck eet business analycs, equipment nancing, and life cycle cost management. Find out more, visit www.eetsdvantage.com.
Page 32
MODERN WORKTRUCK SOLUTIONS WWW.MWSMAG.COM JUNE 202130OPERATIONSA partnership between TexAmericas Center and Texarkana College has helped pump more than 300 new drivers into the trucking industry whose demand for employees continues to increase. TexAmericas Center is based in New Boston, Texas, near the Arkansas border. The organization owns and operates one of the largest mixed-use industrial parks in the United States, servicing four states: Arkansas, Louisiana, Oklahoma, and Texas. The college already had a presence at TexAmericas Center offering training programs for diesel technology and welding. Trucking seemed like a natural fit, and talks started in 2014. Scott Norton, executive director/CEO at TexAmericas Center, was the bridge to help connect the two groups, having previously worked at the college."There's a big need for truck drivers throughout the country, which includes opportunities to work with a variety of different companies, whether that's open road or staying local," Norton says. "We wanted to partner with TC to provide them with the space that helps support their needs going forward."THE PROGRAMThe Texarkana College Professional Driving Academy is a four-week, 160-hour program. Students split their time between classroom lessons on the college campus, at the driving range at TexAmericas Center, and on the road gaining real-world skills and experience through a variety of driving scenarios (navigating pedestrian and traffic situations, different terrains and weather conditions, etc.).In addition to those skills, the program also includes instruction and practice on pre-trip and post-trip inspections, various backing techniques, parallel parking, experience with navigation tools and logbooks/cargo documentations, and dispatch procedures. The college partners with the Ancora Corporate Training program for its instructors. Ancora is well-known in the trucking world, working throughout the US with government agencies and Fortune 500 companies."Our instructors have the proper certifications and industry expertise to work with our students and deliver one-on-one instruction and ensure successful completion and graduation for our program," says Mendy Sharp, executive director of the Professional Driving Academy.Once students have completed the program, they are certified and qualified for employment expectations of any trucking road drivers, meaning they can travel to all 48 states and Canada. The only prerequisite for students is a high school diploma or GED equivalent, a valid driver's license, and a birth certificate or state ID.WHY IT WORKEDTexAmericas Center had ample room for the program's classroom space, truck parking, and room for students to practice basic maneuvering and get them comfortable behind the wheel. Its location is also logistics friendly Training to Decrease the Growing Demand for CDL DriversTEXARKANA TRUCKING PARTNERSHIP ADDRESSES DRIVER SHORTAGE
Page 33
JUNE 2021 WWW.MWSMAG.COM MODERN WORKTRUCK SOLUTIONS 31because of proximity to rail lines and roadways such as Interstates 30 and 49, and the Interstate 59/US Route 59 north-south corridor from Houston. The partnership is also mutually beneficial. For TexAmericas Center, it addresses workforce needs."We have tenants who need commercial truck drivers directly or need to make sure raw materials can be brought in and shipped out for finished products," Norton says. "The program also is something we can showcase to prospects that we're helping to meet workforce needs on our footprint. We want to do everything we can to support a trained workforce."One of those prospects-turned-tenants is Woodfield Inc., a family-owned/operated trucking business in Camden, Arkansas. The company will lease a 1,500-sq-ft space for its offices and 10 spaces for its trailer trucks across a total of three acres at TexAmericas Center—and the trucking connection with Texarkana College was part of the draw.ADDRESSING THE NEEDThe American Trucking Associations estimates that there's a deficit of more than 60,000 drivers across all industries—a deficit that's only expected to increase. There are more than 9,000 full-time job openings with average annual starting salaries of $62,000, Sharp notes.To help address that need, Texarkana College has offered the four-week driving academy nearly every month. Accounting for holiday breaks and other closures, Sharp says they're successfully completing 10 to 11 sessions per year. That frequency allows the college to keep the class sizes small—featuring about six to eight students at a time. Other factors like number of trucks available also dictate class sizes."Our instructors also really deliver intensive instruction and make sure students get equitable time behind the wheel," Sharp says.Since 2014, about 300 students have graduated from the program. Sharp says program officials are looking into ways to increase offering the program while still keeping it small. That means considering adding both instructors and trucks."Truck drivers were already in high demand, but in the last year, they became recognized as essential occupations and took on new characteristics through the pandemic," Sharp explains. "There are phenomenal opportunities for people willing to train and enter the field."In the past month, Sharp says they turned away more students than they ever had before—enough to put on the list for the next session so that it's almost filled up. They will continue to study that trend and consult with college and Ancora leaders about future growth.STUDENTS SEE SUCCESSThe program draws students from Texas and Arkansas because it's in a border city but also because of great relationships with workforce connection organizations in both states, Sharp says. Participants are predominantly men, but many women have also enrolled and graduated.Sharp also notes the program initially attracted older students who may have been unemployed or looking for second career options. More recently, younger students who initially thought they'd go away for college have applied, looking for quicker transitions from education to job opportunities.Renee Roberts, the program's admissions representative, says most graduates have already spoken to at least one recruiter who has visited the training yard by the time they complete the four-week course. Students train and test in 18-wheelers and apply this to their employment opportunities about 80% of the time. Other drivers choose to drive locally to be near their families.Graduate David Owens recalled at least four trucking companies were interested in him and fellow students because the school is certified and "so structured.""I've since driven with Maverick, trucking all across the country, but I now use my skills for transporting patients to the hospital and doctors' offices," Owens says. "The opportunities I have with my CDL are endless."After six years, the program is still going strong. College officials just signed a new two-year lease for the TexAmericas Center space with three one-year options."We hope five years from now, we're signing another lease to continue the program," Norton says. "We look forward to seeing the program grow and continuing to meet the local workforce needs. We're excited to play a small role in these efforts to grow our local economy."FOR MORE INFORMATIONFind out more, visit www.texamericascenter.com and www.texarkanacollege.edu.
Page 34
Page 35
Page 36
MODERN WORKTRUCK SOLUTIONS WWW.MWSMAG.COM JUNE 202134TECHNOLOGYWork Truck Tier 3 Nozzles Optimize Sewer Crew Efficiency and ProfitabilityWATER CONSERVING NOZZLES ENABLE CREWS TO ACCOMPLISH MORE By Del Williams
Page 37
JUNE 2021 WWW.MWSMAG.COM MODERN WORKTRUCK SOLUTIONS 35Work truck dealers provide nearly limitless truck chassis, body, equipment, trailer, and accessory variations tailored to the specific job, which requires a close working relationship with manufacturers.Plumbers, municipalities, and big-line sewer contractors need specialized equipment and accessories when it comes to underground utility and sewer inspection, maintenance, and repair, including flushing and hydro excavating. This often includes sophisticated nozzles for cleaning sewer pipes, CCTV cameras, and equipment for inspection.In sewer, storm, and sanitary line cleaning, hose nozzles are an essential tool that directs pressurized water to clear out obstructions such as silt, sludge, grease, mineral buildup, and tree roots as part of required maintenance or to prepare pipes for re-lining. In this way, the nozzle is like a gun and water like bullets that must be precisely directed with force to the target. While there are many nozzle options available in a variety of configurations, the standard Tier 2 nozzles that are typically supplied with the purchase of a sewer truck are only rated 50 to 60% efficient. Although these nozzles can handle some blockages, some sewer crews opt for the highest performance nozzles.Using high-performance nozzles has benefits that go far beyond conserving water to protect the environment. Reducing water use also minimizes trips to refill the sewer truck water tank and keeps crews effectively cleaning to expedite work completion. By decreasing unnecessary travel, the approach also reduces the cost of vehicle fuel and maintenance, which further boosts profitability. OPTIMIZING EFFICIENCYAs work truck dealers know, there are tiers of nozzles rated for water efficiency from Tier 1 to Tier 3. Although they cost less, low efficiency Tier 1 nozzles tend to use only 30% of the available energy, wasting 70% due to excessive turbulence or otherwise lack necessary precision to clear obstructions. Tier 2 nozzles are more efficient (50 to 60%), but are still not adequate to tackle tougher jobs or perform with anywhere near the efficiency offered by more sophisticated units. In contrast, the most effective Tier 3 nozzles (75 to 95%) have tight water patterns that efficiently clean the pipe wall and create a powerful water stream to move debris long distances and propel the nozzle. Crucially, these nozzles provide efficient fluid mechanics to prevent the wasteful use of water and operating pressure. However, even within the Tier 3 category there are significant differences in levels of efficiency. Opting for the lower-end Tier 3 nozzle with 75% efficiency could still lead to additional trips to refill. Additionally, such units may not remove restrictive sewer buildup or blockage in a timely manner.Consequently, to proactively improve operations, sewer truck/accessory dealers and contractors turn to the most efficient Tier 3 nozzles. This enables sewer maintenance crews to clean better and faster while conserving water and achieving dramatically more between each water tank refill. This approach also substantially reduces labor and machine hours to clean lines along with equipment wear and tear and can save approximately 9 to 17% in fuel costs, including travel to refill water tanks and run equipment.HIGHER EFFICIENCY"Today, operators want to conserve water use to be more productive with their trucks and work crews. Water is an important natural resource, and usually drinking water is used," says Matthew Woods, vice president of sales and marketing at Haaker Equipment, a dealer of sewer cleaners, pipe inspection equipment, and parking lot sweepers for the contractor, municipal, and industrial
Page 38
MODERN WORKTRUCK SOLUTIONS WWW.MWSMAG.COM JUNE 202136TECHNOLOGYsectors in California, Nevada, and Arizona.In the case of Haaker Equipment, Woods says that Tier 3 nozzles from KEG Technologies are frequently recommended, although the dealer also carries nozzles of various tiers from other manufacturers as well.KEG Technologies, a manufacturer of sewer and storm line products including Tier 1 to Tier 3 nozzles, chain cutters, floor cleaners, and camera nozzle systems, is a member of NASSCO, the National Association of Sewer Service Companies. The Spartanburg, South Carolina-based company's Tier 3 nozzles, such as the Aqua Power 700 and OMG, provide up to 98% efficiency.Additionally, refilling the sewer truck tank with water can take 30 minutes to an hour, depending on the hydrant location, according to Woods."Typically, the highest operating cost over the life of the vehicle isn't the truck or the nozzle: it's the operator's labor, and that is saved tremendously by using an ultra-efficient Tier 3 nozzle. If an operator can avoid two water tank fill cycles a day by using the most efficient nozzles, they can save an hour a day, 20 hours a month, and 140 hours annually, which is a great boost to productivity," Woods explains. TIER 2 V. TIER 3According to Woods, the difference between using a Tier 2 nozzle and a top Tier 3 nozzle can be cleaning from 30% to virtually 50% more sewer line with the same amount of water. Efficient water use also reduces vehicle fuel as well as wear and tear by requiring fewer trips to the hydrant.In addition, while municipal water is usually free locally, the ability to conserve water can minimize potential water use charges for contractors who use water from a county line. In the case of KEG's Tier 3 nozzles, the high-performance fluid mechanics design leaves little room for power losses and excessive turbulence. After exiting the jetter hose, water travels into the body of the nozzle before moving through smooth, curved channels. This design enables the water to maintain its power and speed before entering the nozzle's replaceable titanium ceramic inserts. Next, the water is funneled from a short conical shape to a larger, longer cylindrical shape, allowing a tight water pattern to emerge.The internal workings of the nozzle, including the way the water gets turned, redirects the energy of the high-pressure water entering the nozzle as efficiently as possible. This results in what is needed for the task: more thrust and power using less water. KEG Technologies' Tier 3 Twin OMG Penetrating Nozzle jet provides up to 98% efficiency.
Page 39
JUNE 2021 WWW.MWSMAG.COM MODERN WORKTRUCK SOLUTIONS 37"There is tremendous force and pressure created in a Tier 3 KEG nozzle," Woods says. "It is often what is needed to get the most out of the Vactor sewer trucks we represent, which are considered the 'Ferrari' of the industry. To extend the analogy, you cannot go 200 mph in a Ferrari with the cheapest tires available."While Woods does not insist that such a Tier 3 nozzle is necessary for every job, he does recommend it as an essential tool for the sewer crew's toolbox.NOZZLE IMPORTANCETroy Whitton is a parts and service sales specialist at Vimar Equipment, a British Columbia, Canada-based dealer of sewer and street vehicles and equipment for the contractor and municipal markets. Whitton, who has been a dealer for 20 years and is the startup demonstration trainer for the equipment that Vimar sells, also recommends using highly efficient Tier 3 nozzles."With the KEG design, operators get the greatest efficiency out of their water, which provides the most power to clean the pipe and pull the hose," Whitton says. "Because it is so efficient, operators typically achieve more than they ever could before with a lot less water."As a Vactor sewer truck dealer, he wants Vimar Equipment's customers to understand the importance of using the highest quality nozzle on the hose to get the cleaning job done safely, quickly, and efficiently.Additionally, he suggests that choosing the best tool for the job can resolve the most difficult cleaning challenges, when a less powerful or precise nozzle may not be sufficient to do the job in a timely way."Selling the best nozzle for the job goes hand-in-hand with selling Vactors because the nozzles do the work," Whitton explains. "The nozzles are essentially the 'tip of the spear' so you need the right nozzle for the job."While he acknowledges that other nozzles may cost less at first, he says that such units ultimately end up costing considerably more in less efficient work performance on the job.While work truck dealers have long accepted the status quo in sewer, storm, and sanitary line cleaning, better approaches now exist in the form of ultra-efficient Tier 3 water conserving nozzles that can enable work crews to perform significantly more in less time. Ultimately, this helps to boost both service ratings and profitability.ABOUT THE AUTHORDel Williams is a technical writer based in Torrance, California. Find out more, visit www.kegtechnologies.net.
Page 40
MODERN WORKTRUCK SOLUTIONS WWW.MWSMAG.COM JUNE 202138MAINTENANCEVan HVAC SimplifiedA LA CARTE AFTERMARKET HVAC KITS HELP BODYBUILDERS, UPFITTERS, AND FLEET OWNERS GET COMFORTABLE AGAIN
Page 41
JUNE 2021 WWW.MWSMAG.COM MODERN WORKTRUCK SOLUTIONS 39Until now, if you were in the market for an auxiliary, tie-in heating/cooling, or stand-alone HVAC kit for a Ford Transit, RAM ProMaster, or Mercedes Sprinter van, you'd have to first obtain a model-specific kit designed to fit your particular vehicle. However, with the popularity of vans and the variety of models out there, chances are that the kit you need might not be available when you need it.UNBUNDLING THE PROBLEM"Webasto has been making aftermarket van HVAC kits for years, and we alone made 22 separate systems, each designed to fit the leading van makes and models," says Mike Cicioni, HVAC application manager, Webasto. "Our systems work seamlessly, but our distributors had to carry multiples of all 22 kits if they wanted to be stocked and ready to meet the demand." Webasto realized that many of the HVAC components they were using to make their kits were common among varying makes and models, and others were purpose designed and manufactured. They also realized that unbundling the components might make it easier for bodybuilders, upfitters, and fleets to get what they wanted with more speed and consistency."Our objective was to find a way to remove the burden from our customers, enabling them to carry a reduced inventory of the constituent components, instead of the potentially 22 vehicle-specific kits," Cicioni says. "Essentially, the concept was to provide lower-cost, unbundled components that could later be re-bundled based solely on application and demand."It was a novel approach, and if they could make it work, they figured they could cover 90% of the van market with approximately 30 a la carte HVAC
Page 42
MODERN WORKTRUCK SOLUTIONS WWW.MWSMAG.COM JUNE 202140MAINTENANCEcomponents. The approach would allow Webasto customers to carry less inventory and increase their ability to be more responsive to fluctuating demand, all while giving them the opportunity to capture a wider variety of work truck applications beyond the existing Webasto van-specific HVAC kits.ACHIEVING INSTALL-ABILITYWebasto engineers set out to reexamine each system and component in an effort to minimize variability and to optimize application performance. As they honed their designs, their technical teams conducted fieldwork with numerous installer groups to understand the way they would approach an installation. They took what they learned and made their designs and process even better."One thing I can say with great certainty, is that through their intimate hands-on work with installers, our engineering folks learned all the pain points that they needed to address," says Matt Wheeler, head of HVAC, light and medium duty. "I know of lengthy debates over selecting exactly which was the best path to run a hose in a specific make and model and why."Based on their insights, the team even examined and optimized cartonning methods and physical orientation of components in their individual packaging. Installation sequences were also refined and documented in step-by-step detail so they could easily be made into instructions.It took four years for Webasto to work through the component design and to perfect the best methods of vehicle integration. By the end, they were able to get the parts list down to between just five and seven constituent parts, depending on the make and model.MENU-DRIVEN SOLUTIONThe next step was to establish the best method for specifying the components for each vehicle. Webasto chose a decision tree method that would allow virtually anyone to choose the right system components by answering just eight questions. The questions can be answered by simply marking a brochure and noting the corresponding part numbers. An online configurator is also in the works, and it will be compatible with both desktop and mobile devices."This is a powerful system that is deceptively simple to use," Wheeler says. "Now everyone can spec a system like a pro, maybe better than some."PROS & CONSOne of the issues that Webasto's a la carte HVAC Kit-building System addresses is the common problem of over- or under-specifying of aftermarket HVAC systems. As in the realm of consumer HVAC system purchases, there is often confusion surrounding the correct sizing of an HVAC system required to heat or cool a specific van make and model."When someone doesn't have the exact system for the job, they may suggest something they do have in stock, and that's when the problems start," Cicioni says. "Let's say a van is electrically engineered to accommodate a 32,500 BTU system, but the only one available is a 40,000 BTU system. You might think, 'sounds great, it's really going to heat and cool my van,' but you're wrong. Now you've paid for 7,700 more BTUs, but you're only going to get the 32,500 the system was designed to support. And the same thing goes for a system that's too small."In the meantime, Cicioni insists that since the system isn't optimized for that particular vehicle it's going to be mechanically and electronically over- or under-performing from day one. That means the owner is likely to encounter comfort issues and service and maintenance problems down the road.But when specified and configured using an a la carte method, a Webasto aftermarket HVAC kit will integrate seamlessly with a vehicle's factory system. The system will provide users with optimal auxiliary heating and cooling performance because it is the right size and the right configuration for that vehicle in that application. Using Webasto's a la carte HVAC Kit-building System, these components are specified and kitted for custom install applications for various vehicles styles.
Page 43
JUNE 2021 WWW.MWSMAG.COM MODERN WORKTRUCK SOLUTIONS 41FINE TUNINGFor large volume customers and specialty on-road vehicle manufacturers, Webasto will still provide direct support and customized application solutions. Webasto's team of experts will deploy to a customer's production facility and will produce a custom bill of goods as needed.Webasto's a la carte HVAC Kit-building System is also compatible with its Neo controller line. For AC and HVAC systems, there are four application-specific and one digital option. Each controller offers standard on/off control and variable fan speed and temperature control. Controllers are packaged in-dash or can be located anywhere inside the vehicle.The Webasto Neo 2+ controller is an all-in-one temperature management system that allows operators to quite literally dial in the temperature they want, and the device does the rest. It's configured with four operating modes: cooling, heating, automatic, and ventilation. It also offers an auto start-up feature that allows the system to start in the same mode and settings that were in use when the system was turned off.POWERFUL AMMUNITION TO PROTECT YOUR EQUIPMENTSpray-on Liner1-855-2 BULLET (285538) www.bulletliner.comHigh tensile strength material provides a superior, permanent layer of protectionProtects from impacts and abrasions Won't ake, bubble or crack, no matter what Trouble and maintenance freeBULLET LINER is a permanent, spray-on polyurea coating system for truck and trailer beds, tool boxes, wheel wells, running boards and other high-contact vehicle and equipment surfaces. Expertly applied by highly trained technicians, Bullet Liner is the toughest protection in the business—oering high caliber protection for the life of your eet vehicles and equipment. PICKUP TRUCKS HEAVY EQUIPMENTTRAILERSSecure your investment. Safeguard your cargo and workers. Protect your image. Seamless integration of a Webasto aftermarket HVAC system in a RAM ProMaster. The Webasto Neo 2+ Digital Controller is an all-in-one temperature management system that enables operators to dial in the temperature they want and more.
Page 44
MODERN WORKTRUCK SOLUTIONS WWW.MWSMAG.COM JUNE 202142MAINTENANCE The rotary dial backlights red, blue, or white, depending on the current operation mode. The OLED information screen displays set temperature, current time, and blower speed level. The system features several options including on-screen fault code display and light indicator, hour meters to assist with maintenance schedules, and Fahrenheit and Celsius preferences.IT'S SIMPLEWebasto's a la carte HVAC Kit-building System is engineered to the highest international quality standards. As a tier-one automotive supplier, Webasto has built a reputation that spans more than 100 years. "We've designed and engineered a system of exceptional quality that is easy to specify and install, and all at a competitive price," Wheeler says. "In a world that seems to get more complex by the day, we just made one thing much simpler."FOR MORE INFORMATIONFind out more about Webasto Thermo and Comfort North America, visit www.webasto-comfort.com/en-us/. Key features like this ModulAir ducting component can also be added to assist with even air distribution.
Page 45
Page 46
Call us today to get started at 205.795.0223 or email us at russell@mcsmag.comOur digital marketing campaigns can identify prospects interested specifically in your product, and then tell you exactly who they are! See what our customers are saying:You Need Leads!We Have the Solution!The reports are awesome! Thank you. If we can get that level of information from all of our suppliers, we will be very happy! We have already made one machine sale to a prospect from the eBlast and I am sure there will be more. Paul Gazik,Business Development/International Salesfor
Page 47
Call us today to get started at 205.795.0223 or email us at russell@mcsmag.comOur digital marketing campaigns can identify prospects interested specifically in your product, and then tell you exactly who they are! See what our customers are saying:You Need Leads!We Have the Solution!The reports are awesome! Thank you. If we can get that level of information from all of our suppliers, we will be very happy! We have already made one machine sale to a prospect from the eBlast and I am sure there will be more. Paul Gazik,Business Development/International Salesfor
Page 48
MODERN WORKTRUCK SOLUTIONS WWW.MWSMAG.COM JUNE 202146SAFETYProfessional truck drivers, fleet owners, and fleet safety officers are seeking strategies to help keep drivers at peak health so they can remain productive and stay safe behind the wheel. Maintaining an adequate pool of employees is an ongoing struggle for many fleet owners with serious health issues being a key reason for driver turnover. Solving this problem is important, especially given the shortage of professional drivers in the United States. The trucking industry reports 80,000 fewer available drivers compared to 2019 with projections of 160,000 fewer by 2028. What's more, drivers suffering from poorly or uncontrolled chronic diseases carry potential implications for the safety of the American driving public. Uncontrolled hypertension, diabetes, sleep apnea, and respiratory dysfunction are examples of the types of medical conditions that will preclude a driver from attaining licensure and continuing with their livelihood. In a survey conducted by the Healthy Truckers Association, one in three professional truck drivers expressed concerns about diabetes and one in two about obesity. Fatty liver disease (FLD), including non-alcoholic fatty liver disease (NAFLD) and the more problematic non-alcoholic steatohepatitis (NASH) are conditions that accompany the epidemics of obesity and diabetes, often leading to advanced fibrosis and liver cancer, liver transplantation, increased risk of cardiovascular events, and all-cause mortality.Liver disease has been linked to metabolic syndrome (MetS) and obesity and may result from work-related conditions that include long hours on the road with limited opportunities for physical activity, healthy food, and irregular shift and sleep patterns.The good news is that non-invasive, rapid, and painless examinations can assess liver health to support liver and metabolic health. Early identification of at-risk drivers combined with health coaching are essential. Such a program fosters healthier living to ensure better health and that drivers continue to pass the biennial medical exam to maintain a CDL. TRUCK DRIVER HEALTHAccording to the Centers for Disease Control and Prevention (CDC) research, seven of 10 professional truck drivers are obese in the United Shift into Better Liver HealthLIVER EXAMS AND CHRONIC CARE MANAGEMENT IMPROVE HEALTH, SAFETY, AND PRODUCTIVITY OF TRUCK DRIVERS By Jon Slaughter and Jon GingrichShift into Better Liver HealthLIVER EXAMS AND CHRONIC CARE MANAGEMENT IMPROVE HEALTH, SAFETY, AND PRODUCTIVITY OF TRUCK DRIVERS
Page 49
JUNE 2021 WWW.MWSMAG.COM MODERN WORKTRUCK SOLUTIONS 47States alone, leading to coronary diseases, insomnia, and Type 2 diabetes. Obesity is a key risk factor for diabetes, with 89% of US adults aged 18 years or older diagnosed with diabetes being overweight or having obesity. Interventions to impact these conditions have traditionally been ineffective. Diabetes is one of the leading causes of disability and death in the United States. One in 10 Americans have diabetes—more than 30 million people—and another 84 million adults are at high risk of developing Type 2 diabetes. Diabetes and obesity are closely linked to MetS and insulin resistance. NALFD, the accumulation of lipids in liver cells not associated with the consumption of alcohol, and NASH are highly prevalent in people living with MetS. They are recognized not only as leading causes of liver disease but also contributors to increased cardiovascular disease (CVD) mortality among people living with Type 2 diabetes. Not simply a result of alcohol consumption, NAFLD is the most common type of liver disease in the Western world. FOCUS ON NAFLD NAFLD affects roughly 100 million Americans and costs the US health care system $32 billion annually. In a recent retrospective analysis among Medicare Advantage plans, the annual cost of NAFLD was $9,062 for a new diagnosis and $5,363 for long-term management versus $4,111 per matched control.Costs per patient and overall costs per year are the result of inpatient hospitalization and outpatient appointments, emergency department visits, organ transplantation, medical procedures or new diagnoses, new medications or changes to existing medications, and mortality. Moreover, one in every 17 people in the United States is employed by the trucking industry, with the average truck driver being a 55-year-old male.Because NAFLD and NASH are so tightly intertwined with obesity, diabetes, and lifestyle, more coordinated engagement is needed to support behavioral changes that will result in better outcomes across the co-morbid conditions affecting the professional truck driver population. Chronic care management (CCM) provides the opportunity to cost-effectively improve that coordination, especially when combined with non-invasive liver exams, to detect and monitor progress in lifestyle changes. LIFESTYLE CHANGESNAFLD is reversible if caught in the early stages and accompanied by lifestyle changes. To help maintain a good, clean liver, professional truck drivers should eat fresh, whole foods and skip the high-fat, high-sugar "Western" diet that a recent study determined was a source of liver inflammation.If left untreated, over time liver disease can lead to a more serious stage called cirrhosis, a scarring of the liver that can lead to liver failure—the number one reason for liver transplants in end-stage liver disease or liver cancer. Along with CCM programs, Lifestyle Change Programs (LCPs) that include diet and exercise can have a big impact. One such program designed for professional drivers showed that even 3% to 5% weight loss improved liver health. CMS has found that CCM programs reduce costs and improve outcomes to address chronic conditions, including Type 2 diabetes and obesity. ADDRESS THE ISSUE As part of a CCM program, non-invasive exams—such as FibroScan or transient elastography—are designed to improve individual health outcomes, lower payer costs by avoiding expensive, invasive interventions, and enhance the financial performance of practices. This combination improves care coordination as part of a comprehensive care plan for patients with NAFLD, NASH, Type 2 diabetes, obesity, and/or the underlying MetS that contribute to the progression or risk of developing advanced liver disease. Rapid and non-invasive assessment of liver fat and stiffness can assist in reducing unnecessary diagnostic procedures, additional treatments, and cost associated with progressive liver disease. At point of care or in the primary care setting, physicians can provide liver stiffness and fat assessment as a component of a wellness visit rather than waiting for serious and more damaging symptoms to occur. Among its many benefits, non-invasive exams provide: consistency and evidence; standardized care and state-of-the-art technology; and are covered by CMS and most commercial insurance plans for diagnosing and monitoring chronic liver disease. As part of an overall liver assessment, a medical assistant can perform these exams and then be interpreted by the physician; it takes about 10 minutes to perform the exam. With limited options for primary care, healthy food, and exercise, professional drivers face significant barriers for improving their health. A focus on chronic care management and health and wellness programs can support these efforts. Innovative, point-of-care tools play a key role in measuring lifestyle change, improving patient engagement, and giving fleet owners an opportunity to provide the resources and means to improve quality of life for driver health and well-being.ABOUT THE AUTHORSJon Slaughter is the CEO of Healthy Trucking of America. Jon Gingrich is the CEO of Echosens North America. Find out more, visit www.healthytruck.org and www.echosens.us/technology.
Page 50
MODERN WORKTRUCK SOLUTIONS WWW.MWSMAG.COM JUNE 202148WORK TRUCK PRODUCTSFIASEAT PROTECTORSFia Seat Protector™ custom fit seat covers are the ultimate in protection for fleet/work truck use. Made from commercial grade polyester, Seat Protectors are double stitched to stand up to any heavy work setting. They also come with a PVC-coated backing to provide a highly water-resistant cover. Available in black or gray, Fia has applications for both light truck and heavy-duty truck applications. All Fia custom seat covers are vehicle tested to ensure a custom fit and are also airbag compliant where applicable. Protect your seats from premature wear, stains, and spills, with Fia custom fit seat covers. www.gofia.comYOKOHAMA TIREYokohama Tire's new all-position waste and sanitation tire, the 506U, offers the extreme durability and tread life fleets depend on. The 506U, which replaces the MY627W Spec-2, is now available in a 315/80R22.5. Other benefits of the 506U include: enhanced durability through a wider tread pattern that incorporates a wide outside rib to resist tearing; longer tread life with a tread compound that resists scrubbing; premium casing that is highly retreadable; and added traction with zig-zag circumferential grooves that enhance water evacuation.www.yokohamatruck.com FELLING TRAILERSPCD TRAILERFelling Trailers' new Pole/Cargo/Dump (PCD) trailer model class is a workhorse of Felling Trailers' Utility/Telecom solutions. The Pole/Cargo/Dump can transport poles, backfill, debris, and even reels with the optional removable reel stands. It is one unit with the functionality of four. Operator safety, functionality, and maintenance are prime factors when any company is looking into equipment acquisition. These same factors are even more vital in the utility and telecommunications industry as they serve, build, and maintain infrastructures for their state and local regions. Thus the PCD's multi-use capabilities can assure operators many years of reliable, time-saving, trouble-free service.www.felling.comBUYERS PRODUCTSLED LIGHTING SOLUTIONSBuyers Products' new, Silicone Strip Lights are great for illuminating truck toolboxes, storage compartments, and other tough-to-reach areas on your HVAC truck. Buyers also offers a motion-activated, 2200-lumen, LED Dome Light that kicks on when you need it and automatically turns off when you don't to avoid draining your battery. For the truck's exterior, Buyers has a variety of strobes and work lights to suit your needs. Its Combination Stop/Turn/Tail + Backup + Strobe light is a particularly popular option; the light, available in 4-inch round and 6-inch oval styles, installs in your body's existing DOT light slots, providing functionality without requiring you to drill any new holes.www.buyersproducts.com
Page 51
RETRAC knows that your truck is your livelihood and that you're required to be self-reliant and accountable. As such, every product you buy is an investment in yourself, and you expect the same dependability that's required of you every day.Since 1958, RETRAC has become an industry leader and recognized name for quality mirrors and front-end protection. RETRAC accomplishes this with three simple concepts—dependability, accountability, and self-reliance. Simple yet hard to deliver day after day, these principles are those that make or break your career.ENHANCE FLEET SAFETY & EFFICIENCY The HighRise™ folding rear entry step is an innovative accessory for semi-trailers, box trucks, and flat decks. It provides safer, easier access to the rear cargo area that increases speed and efficiency on the job. Featuring grated steel, high-traction treads, it easily bolts onto virtually any 4-inch bumper beam and has an auto-stowing design to prevent the step from being damaged when backing up.SAFER, EASIER TRAILER ACCESSThe HighRise folding rear entry step features an ergonomic design that reduces strain and promotes worker health and wellness. The auto-stowing polyurethane roller mechanism prevents damage when in reverse, and the counter-balanced design keeps step in stowed position during travel. The grated steps provide exceptional traction, even when wet. This step is assembled in the USA (may include imported hardware). Better yet, installation is quick and easy with just a 4-bolt installation.Find out more, visit www.retracmirrors.com.JUNE 2021 WWW.MWSMAG.COM MODERN WORKTRUCK SOLUTIONS 49DRIVING BUSINESS FORWARDfeatured product
Page 52
MODERN WORKTRUCK SOLUTIONS WWW.MWSMAG.COM JUNE 202150From the desk of Fred FakkemaMore than a year into the pandemic, fleet managers face a fresh set of safety and compliance issues to implement programs, enable evaluations, and provide training and reporting to comply with new coronavirus health standards issued by the US Department of Labor's Occupational Safety and Health Administration (OSHA). To date, we've seen the agency issue 11 coronavirus-related citations to establishments across the country, totaling over $100,000, and the Center for Disease Control (CDC) has also issued guidelines for the cleaning and sanitization of vehicles.WHAT'S THE SOLUTION?Safety product features such as electronic verified inspection reporting (EVIR) solutions are must-haves for fleet managers to maintain safety and the uptime of fleets during the pandemic. Zonar, a provider of fleet management programs, patented an EVIR solution that can be configured to be compliant with all DOT, OSHA, and MSHA inspection requirements. Now, drivers can leverage the RFID or NFC tags of their EVIR configurations to address vehicle sanitization. Fleet managers can leverage EVIR to easily adopt coronavirus health and sanitization standards into their pre- and post-trip inspections with EVIR. Our new configuration enables fleet managers to certify each inspection through digital records and even document the specific disinfectants used to sanitize vehicles. We expect to see additional safety requirements emerge for fleet managers. As such, Zonar's team of safety and compliance experts also hosts regular webinars and Q&A sessions to provide advice for fleet managers to stay up to date on the latest compliance regulations. You can access them at www.zonarsystems.com.Check out more safety solutions and tips at www.mwsmag.com/safety-solutions.Talk soon! JadeNOT YET OUT OF THE WOODSENSURING FLEET SAFETY DURING ANOTHER COVID SUMMERAlthough COVID-19 is on the downhill slope (for now), avoiding health risks in the workplace should continue to be a top priority for your employees and colleagues. Not only should it be a priority, fleets could be penalized for failing to follow guidelines to combat the coronavirus set in place by OSHA and the CDC. Fred Fakkema, vice president of safety and compliance for Zonar, shares his comments on the subject.
Page 53
Page 54