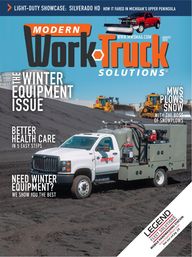 Return to flip book view
Modern WorkTruck Solutions August 2020
Page 1
LIGHT DUTY SHOWCASE SILVERADO HD HOW IT FARED IN MICHIGAN S UPPER PENINSULA WWW MWSMAG COM THE WINTER EQUIPMENT ISSUE AUGUST 2020 BETTER HEALTH CARE IN 5 EASY STEPS NEED WINTER EQUIPMENT WE SHOW YOU THE BEST MWS PLOWS SNOW WITH THE BOSS OF SNOWPLOWS
Page 2
Page 3
Page 4
Page 5
Page 6
LIGHT DUTY SHOWCASE SILVERADO HD HOW IT FARED IN MICHIGAN S UPPER PENINSULA WWW MWSMAG COM THE WINTER EQUIPMENT ISSUE AUGUST 2020 BETTER HEALTH CARE IN 5 EASY STEPS NEED WINTER EQUIPMENT WE SHOW YOU THE BEST MWS PLOWS SNOW WITH THE BOSS OF SNOWPLOWS
Page 7
Page 8
LIGHT DUTY SHOWCASE SILVERADO HD HOW IT FARED IN MICHIGAN S UPPER PENINSULA WWW MWSMAG COM THE WINTER EQUIPMENT ISSUE AUGUST 2020 BETTER HEALTH CARE IN 5 EASY STEPS NEED WINTER EQUIPMENT WE SHOW YOU THE BEST MWS PLOWS SNOW WITH THE BOSS OF SNOWPLOWS
Page 9
Page 10
MODERN WORKTRUCK SOLUTIONS WWW.MWSMAG.COM AUGUST 20208INDUSTRY NEWSPETERBILT'S DENTON PLANT Peterbilt's Denton, Texas, manufacturing plant celebrates its 40th year of operation. Since its beginnings in August 1980, Peterbilt's Denton plant has become the main manufacturing facility for the brand. The plant began operation as a 435,000-sq-ft facility with 81 employees on 80 acres of land. Today it sits on 238 acres, employs over 2,500 people, and has over 700,000-sq-ft of space spread over multiple buildings. Of those original 81 employees Peterbilt congratulates Susan Bishop and Ken Montgomery who are still working at the plant today."During the past forty years Peterbilt has built over 629,000 trucks in the Denton plant," says Leon Handt, Peterbilt assistant general manager operations. "We're constantly investing and implementing new technologies and processes to improve our quality and efficiency for the future. The past five years alone have seen investments in automated overhead parts storage and retrieval, automated guided vehicle assembly lines, additional emissions reduction equipment, a brand new test building as well as numerous enhancements throughout the plant." Additionally, Peterbilt added The Peterbilt Experience inside the plant for customers to see glimpses of Peterbilt's past, present, and future. For more, visit www.peterbilt.com.Octillion Power Systems, provider of advanced lithium-ion storage systems for electric mobility, announced a new demonstrator program for battery leasing. The program allows fleet customers to lease batteries when they purchase vehicles. Participating fleet operators can source batteries through a five-year "lease-to-own" program, with no up-front payment. Access to the program will be on a first-come, first-served basis. Leasing is a critical leverage tool to drive the adoption of electric commercial vehicles. Leasing allows fleets to realize the benefits associated with operating electric vehicles versus those powered by internal combustion engines (ICE). For more, visit www.octillion.us.FOOTPRINT WITH OPENING OF Mack Trucks dealer Vanguard Truck Centers recently opened a new facility in Georgetown, Texas. This expands the Centers' sales and service support for the rapidly growing region north of Austin, Texas. The 19,288-sq-ft facility rests on six acres at 2144 Interstate 35 Frontage Road, offering easy access from the highway. The Vanguard facility is the eighth Vanguard Truck Centers location in Texas and the 19th site overall for the group. It will initially offer $500,000 in parts inventory with
Page 11
Page 12
MODERN WORKTRUCK SOLUTIONS WWW.MWSMAG.COM AUGUST 202010INDUSTRY NEWSplans to increase the amount at a later date. The facility has 12 drive-through service bays, taking up about 11,400 sq ft of the dealership footprint. Another 5,300 sq ft is dedicated to parts. The new Georgetown dealership opened on April 1. It has 16 full-time employees, with three master service technicians, one mobile service technician, and two master service advisors. For more, visit www.macktrucks.com. In 2018, Michelin created its Services and Solutions division addressing business challenges and providing innovative solutions for sustainable connected mobility. In support, Michelin introduces its cloud-based platform—MAESTRO—creating a stronger, more effective relationship between service providers, fleets, and Michelin. MAESTRO provides real-time digitization that reduces billing errors and improves timeliness and service turnaround time. MAESTRO's easy-to-use scheduling and real-time communication features also maximize productivity for servicing vehicles and planning for future loads. This platform creates an ideal experience for customers while also driving simplification and efficiency within their internal business processes. Additionally, Michelin designed MAESTRO to deliver precise accuracy, enhanced efficiency, and insightful intelligence in service event and sales order management. For more, visit www.michelinman.com. WORKSPORT ANNOUNCES LAUNCH Worksport Ltd announces the global launch of its TerraVis™ System. The add-on solar accessory will electrify conventional trucks and provide a meaningful charge for electric pickups and other light trucks. TerraVis is a fusion of solar engineering, technology, and design for pickup trucks, the top-selling vehicles in North America. TerraVis will provide users with a customized user experience. It allows the ability to do more with the truck while providing a meaningful energy source with no carbon footprint. Worksport has developed and refined this new technological breakthrough for many years. It has also applied for the appropriate patents to preserve and secure its intellectual property.Along with the TerraVis, Worksport also launched a website that contains photos, videos, and technical materials (such as installation instructions and warranty information). In the near future, the new Worksport site will also use a proprietary revenue-centric backend system where Worksport customers can place and manage orders, as well as track shipments, and pay account balances. Additionally, this technology will place Worksport in a key position as an advanced vertically integrated, connected, and accessible manufacturing brand. For more, visit www.goterravis.com.
Page 13
Page 14
MODERN WORKTRUCK SOLUTIONS WWW.MWSMAG.COM AUGUST 202012INDUSTRY INSIGHTAre you one who waits until the last minute to prepare your vehicles for the winter? Do you find yourself pouring in antifreeze and new oils the night before or the morning of the first freezing temperatures of the season? Do you find yourself having to replace certain parts because you didn't prepare them properly? If you fall into those categories, listen up. Dan Holdmeyer of Chevron Lubricants is here to help ready your fleet for the cold months ahead.DAN HOLDMEYERGet Your Fleet Ready for Winter with these TipsLET CHEVRON LUBRICANTS' INDUSTRIAL SECTOR MANAGER CLUE YOU INHELD THE POSITION?For the past six years my role has been the Chevron North American Lubricants Industrial Sector Manager. As the Industrial Sector Manager I am responsible for industrial segments that include construction, mining, agriculture, and waste haulers. My duties include making certain we have the right fluids (which includes coolants, greases, and oils) for each segment and support them with appropriate services and programs to help our customers achieve "Best in Class" performance.PREPARING FLEETS FOR COLD WITH US?  Since a portion of my portfolio includes engine coolants, many people easily think of checking their antifreeze, and that is critical. It is good to monitor your coolant system year round. To prepare for winter, one should check the coolant for the proper antifreeze concentration for freeze protection, generally 50% glycol and 50% water provides freeze protection down to -34 degrees F or for extremely cold conditions 60% glycol and 40% water provides freeze protection down to -62 degrees F. The thermostat should be checked for proper operation. Check hoses and connections for leaks and correct any issues. Another important check is your battery for its power, which will be required to start the engine in extreme cold, and check to make sure the terminals are clean and the cables are in good condition.Synthetic lubricants do provide improved low temperature fluidity allowing for easier starting and better fuel economy during the winter. Besides your engine oil, the transmission fluids and gear oils should
Page 15
AUGUST 2020 WWW.MWSMAG.COM MODERN WORKTRUCK SOLUTIONS 13be checked and possibly changed to synthetics. If your truck has a centralized grease system, a lower NLGI grade grease should be considered to enable the system to pump the grease to lubrication points in extreme cold. IN TOP SHAPE IN THE WINTER?With increased biodiesel use, fuel additives and fuel maintenance is even more important. Biodiesel fuel will gel at higher temperatures than conventional diesel fuel, so avoid fuel pump and injector failures. DEF (Diesel Exhaust Fluid) heaters also should be checked. Now is a good time to change wiper blades to enhance vision during winter storms and avoid windshield damage from broken wiper blades. Another trick to improve winter driving vision is to clean headlights with a polishing kit. This prevents snow and slush from sticking easily, allowing headlights to shine brighter. OWNERS TO PREP THEIR FLEETS FOR THE WINTER?Instead of explaining the importance, let me give a examples of some of the consequences that could come for fleets who don't prepare for winter.• Belts, hoses, and wipers are more likely to fail or malfunction due to extreme winter conditions• Roadside breakdowns with expensive repairs including towing and lost revenue• Frozen fingers• Cold and brittle parts• Seals become less supple; leaks occur• Water in vehicle's fluids cause corrosion and prevent lubrication; forms ice• Linkage and hinges become finicky in the cold• Salt and snow makes a brake job more difficult• In winter, everything takes longer. Thaw things first, clean out snow, salt, etc. because it doesn't taste so good and stings your eyes if you have to crawl under your truck during winter.ADDITIONAL THOUGHTS?Following the above tips can really help fleet owners looking to winter-proof their fleet. In addition to these tips, Chevron offers a Kool Tools Maintenance Kit to help develop a "Best in Class" coolant maintenance program.
Page 16
MODERN WORKTRUCK SOLUTIONS WWW.MWSMAG.COM AUGUST 202014LIGHT-DUTY WORKTRUCK SHOWCASELIGHT-DUTY WORKTRUCK SHOWCASE
Page 17
AUGUST 2020 WWW.MWSMAG.COM MODERN WORKTRUCK SOLUTIONS 15HOW DID THEY FARE IN MICHIGAN'S UPPER PENINSULA By Jade Brasher Silverado HD Snow Day with BOSS Snow Plow
Page 18
MODERN WORKTRUCK SOLUTIONS WWW.MWSMAG.COM AUGUST 202016Known for their toughness and ability to work long and strenuous hours, a snowplow driver's job is to keep the roads safe so the rest of us can go about our daily routine. As simple as the job may sound, it's definitely a challenge, and I got to experience it firsthand. Back in February of this year, Chevrolet and BOSS Snowplow hosted a crew of journalists to experience a day in the life of a snowplow operator, and I'm here to report. We were flown into Marquette County, Michigan—a place the National Weather Association deems as one of the snowiest places in the United States with an average snowfall of 141 inches per season. The journalists were split into groups of two, and Chevrolet loaned each group a Silverado HD to drive to the event. Just as luck would have it, it snowed the morning of our plow activity. Being from the South, I had never driven in the snow. When it snows where I'm from, we all just stay home. However, I was feeling very up to the challenge—especially in the Silverado HD.BUILT TO PLEASEThankfully my driving partner was from New York and was able to give me pointers on driving in the snow. But even with my lack of experience, the drive was easy, and I attribute that to the machine I was driving. Even though I was behind the wheel of a vehicle that is thousands of pounds heavier than my everyday vehicle, I didn't feel panicked by the snow on the roads as the truck handled very well. I enjoyed my driving experience in snowy Marquette country.But in reality, I'm sure what constitutes the Silverado HD as a pleasure to drive depends on who's driving and why they're driving. I can't help but to think that when a snowplow operator is in the cab long hours of the day in inclement weather, perhaps they'll most appreciate the Silverado HD's large, comfortable interior. The HD Crew Cab adds about 3 inches in length, which gives the driver and the back seat passenger more legroom. Drivers are also seated at a higher position in the HD, giving them a better view of the plow and the road ahead. Features that I personally appreciate in the Silverado HD are its wide uses of technology. The trucks are equipped with Apple CarPlay and Android Auto with built-in 4G LTE Wi-Fi. They also feature eight available cameras that give drivers 15 different views (including transparent trailer view and Surround Vision).With the Silverado HD's use of helpful technology (and a little bit of patience with an inexperienced snow driver) my partner and I safely made it to our destination to try our hand at plowing snow.BUILT TO WORKThis trip to plow snow in Michigan's Upper Peninsula wasn't my first time imitating work in the Silverado HD. I guess you could say I've been around the truck a bit. Last year, I towed heavy equipment around Mt. Bachelor near Bend, Oregon, with the truck. I was also at the Silverado HD reveal in Michigan back in February 2019. Each time I get behind the wheel, I'll admit, I do get a little excited. When sitting in the driver's seat of the Silverado HD, work feels a little less like work (hence, the "imitating work" above) and more like pleasure. The Silverado HD truly adds a sort of "effortless power" to work truck operations. When hauling LIGHT-DUTY WORKTRUCK SHOWCASETHE SILVERADO HD FEATURES AN INTEGRATED BLOCK HEATER OUTLET CONVENIENTLY LOCATED FOR EASY ACCESS EVEN WITH A SNOWPLOW INSTALLED. NO MORE DANGLING CORDS!
Page 19
LIGHT DUTY SHOWCASE SILVERADO HD HOW IT FARED IN MICHIGAN S UPPER PENINSULA WWW MWSMAG COM THE WINTER EQUIPMENT ISSUE AUGUST 2020 BETTER HEALTH CARE IN 5 EASY STEPS NEED WINTER EQUIPMENT WE SHOW YOU THE BEST MWS PLOWS SNOW WITH THE BOSS OF SNOWPLOWS
Page 20
MODERN WORKTRUCK SOLUTIONS WWW.MWSMAG.COM AUGUST 202018UPFIXThose who don't employ snowplows in their fleets might not realize how specialized the snowplow industry is. It's an industry that requires round the clock work with long and sometimes odd hours. It's an industry that remains a mystery among many in regions with little to no snowfall. It's an industry whose trials and hard work might largely go unrecognized, but that doesn't make the job any less important.If you're in the business of plowing snow or salting roads and you're getting your fleet ready for the upcoming season, look no further than these pages to get a head start on your equipment search. From complete truck packages to specific equipment to lighting, let Modern WorkTruck Solutions help you find the perfect addition to your snowplow or salt spreader fleet.Searching for Snowplow Equipment?BONNELL Bonnell Industries Inc., has manufactured road and truck equipment in its hometown of Dixon, Illinois, for 60 years. Family owned, the company was started by J.L Bonnell in 1960 when he saw the need for a mobile welding service in the local community. Bonnell is now in third generation ownership and proudly manufacturers five main product lines. This truck was built for one of its municipal customers located in the Chicagoland area. The upfit includes a Bonnell Commander truck body with top screens, Aero tarp roller, lighting package, Force America hydraulics, Bonnell underbody scraper, and Bonnell front mounted plow. www.bonnell.comVIKING CIVES Viking Cives presents the Tennessee Department of Transportation (TDOT) Winter Truck Package. This Western Style, cross-memberless dump body design is a staple for Viking Cives. The durable quarter-inch Hardox steel body is corrosion resistant and is perfect for the harsh terrain of snow and ice applications. This Tennessee Department of Transportation design features fully enclosed, trapezoid-style long sills and a removable double-acting, high-lift tailgate. Viking's stainless steel dual auger spreader, 10-ft underbody scraper, and MW30R10 plow with a Corten moldboard has proven to meet any challenge a snowy winter can muster.www.vikingcives.comWE'VE GOT YOU COVEREDMEYERwww.meyerproducts.com The commercial-grade Meyer Super Blade plow is bigger and stronger than any other adjustable plow on the market. With the press of a button, it can expand from 8 ft to 10.5 ft and back again or anywhere in between. The wings extend as a pair or independently at your command. The Super Blade is 32-inches high in the center of the moldboard, while the outer adjustable wings measure 36-inches high, giving unprecedented plowing efficiency. Other features include:• Five-year warranty• Standard Nite Saber LED lights for better sight• Industry-leading ground clearance means less chance of bottoming out and allows higher stacking capability• A pistol grip controller with self-diagnostics reduces downtime
Page 21
LIGHT DUTY SHOWCASE SILVERADO HD HOW IT FARED IN MICHIGAN S UPPER PENINSULA WWW MWSMAG COM THE WINTER EQUIPMENT ISSUE AUGUST 2020 BETTER HEALTH CARE IN 5 EASY STEPS NEED WINTER EQUIPMENT WE SHOW YOU THE BEST MWS PLOWS SNOW WITH THE BOSS OF SNOWPLOWS
Page 22
MODERN WORKTRUCK SOLUTIONS WWW.MWSMAG.COM AUGUST 202020OPERATIONS
Page 23
LIGHT DUTY SHOWCASE SILVERADO HD HOW IT FARED IN MICHIGAN S UPPER PENINSULA WWW MWSMAG COM THE WINTER EQUIPMENT ISSUE AUGUST 2020 BETTER HEALTH CARE IN 5 EASY STEPS NEED WINTER EQUIPMENT WE SHOW YOU THE BEST MWS PLOWS SNOW WITH THE BOSS OF SNOWPLOWS
Page 24
MODERN WORKTRUCK SOLUTIONS WWW.MWSMAG.COM AUGUST 202022OPERATIONSbought specifically for this trip—and headed out to the fleet of Silverado 2500 and 3500 HDs.SNOWPLOW BOSSWhat's the point in having a great snowplow if your truck is no good? On the flipside, what's the point in having a Silverado HD that's built to plow when your snowplow is, well, less than spectacular? Before we went out into the snow, the folks at BOSS gave us a rundown of the snowplow industry: what contractors expect from their plow and plow manufacturers, typical applications for plowing, plows used, and ice control equipment. Turns out from BOSS' research, snowfighters want an easy-to-operate, reliable product from a manufacturer that is there when help is needed and stands behind their product. BOSS strives to meet all of those expectations. If you're unfamiliar with the industry (as I am being from Alabama), you'd be surprised at the work, equipment, and possible headache that goes into being a snowplow contractor. Think: Long shifts that begin at any hour of the day and end only when the job is done; specialty equipment that is right for the job; and keeping watch for homeowners getting in your path while clearing their driveways and vehicles passing you while plowing.Due to the stressful nature of the job, it's important that at the very least, a snowplow should be capable. When running the grounds of the Sawyer International Airport, I realized what a long, difficult job snowfighting can be without proper equipment, which, thankfully we had. Each Silverado HD was equipped with BOSS snowplows of all kinds: straight, expandable, and V plows. BOSS touts itself as being the number one brand of truck plows in the United States, and after plowing for a bit myself, I could see why these plows could be considered the boss.FOR THE JOBOne thing I'd like to note about BOSS snowplows is their operating controllers. These devices can be hand held, dash mounted or floorboard mounted—whichever you find increases efficiency. We used a hand-held controller in our truck. The controller had an on/off switch at the top and five, large buttons, which was great for inexperienced snowfighters like myself, but it's also great for guys and gals who plow long hours during the winter. Having only five buttons simplifies operations and gives crews one less hassle to juggle. The backlit buttons were simple to read and even easier to use, so I could focus on the task at hand—pushing that snow.The kind of plow you'll use really depends on the job. Our truck was equipped with a straight plow, so there were areas of the Sawyer airport course we weren't able to drive in without several passes with the V plows first. I'm told V plows are great for breaking up snowbanks whereas the straight plow is best for plowing The Chevrolet Silverado HD above, featuring the Alaskan Snow Plow package, is equipped with a BOSS spreader. Journalists and media professionals grouped off into each truck to try their hand at plowing the snow.
Page 25
AUGUST 2020 WWW.MWSMAG.COM MODERN WORKTRUCK SOLUTIONS 23lots and driveways. However, just because you're pushing snow without breaking snowbanks doesn't mean the job isn't tough. It took several passes in the same area for the crew in my truck to clear a safe path, and we also tried a little snowbank-breaking action of our own. "You're not going to hurt the plow," said Mark Klossner, VP of marketing at BOSS, as we cut into the sides of the bank. He was the designated snow plow expert for the crew of journalists in my group.TOUGH ENOUGHPerhaps he said we wouldn't hurt the plow because of our hesitation to get too close to the snowbank. Once we started hitting the bank, the noise from the plow-to-snow collision shifted our casual conversation to a nonconfrontational screaming session. In addition to the noise, the truck jarred and jolted as the plow tore through the sides of the bank. I was nervous we would do some serious damage to the plow or the truck, but they both held tight, proving their capability and then some. After the V plows trudged through the more difficult part of the course that was deemed too dangerous for the straight plow, Mark was able to get us into the trenched area.Looking into the trench, I could tell it had been passed by snowplows several times over the past hour. Yet when we got in to plow through it, it seemed as though we were the first ones to make a pass. Rough would be an understatement. I will say, however, the whole experience was one of the most exhilarating of my career. Not only was it a thrill to cut through the snowbanks and give the plows a beating, it was also quite fun seeing all the journalists in other trucks ramming into snowbanks and bouncing through the trenches themselves.If this trip taught me one thing, it would be to show mad respect to all the snowfighters who run plows for hours on end. I don't know if I'd be tough enough to endure on a daily basis the noise and the jarring I experienced from just a few hours—and this was on a closed course. I can't imagine what it's like for snowfighters in the public who must maintain constant awareness of other vehicles and pedestrians crossing their plow's path.BE THE BOSSIt didn't take long for the other journalists and me to understand just how tough a snowplow must be to get the job done. And the same goes for the truck that's pushing it. At the end of the day, many factors determine whether it's a good or a bad day of snowplowing. But the one thing you don't want to have to worry about is the capability of your truck and your equipment. With a Silverado HD and a BOSS snowplow, along with the customer and dealer support from both brands, you'll have two fewer things to worry about on your shift as a snowfighter. ABOUT THE AUTHORJade Brasher is the editor of Modern WorkTruck Soluons magazine. A graduate of The University of Alabama, Jade resides in Tuscaloosa, Alabama, and enjoys of course, work trucks. Reach her at jade@mwsmag.com. Find out more about BOSS snowplows, visit www.bossplow.com. The Silverado HD above, paired with a BOSS plow, was the truck used by Jade and other journalists in her group. The freezing temperatures ensured tightly packed snow that was tough to cut through, but the BOSS plows cut through it easily.
Page 26
MODERN WORKTRUCK SOLUTIONS WWW.MWSMAG.COM AUGUST 202024OPERATIONS MODERN WORKTRUCK SOLUTIONS WWW.MWSMAG.COM AUGUST 2020245 Steps to a Better Health Care PlanIMPROVE DRIVER HEALTH, REDUCE SPENDING BY FOLLOWING THESE FIVE STEPS By Donnie Marcontell Crises remind us of the important purpose those in the trucking industry serve. During COVID-19, it's delivering personal protective equipment, medical supplies, and hand sanitizer. After 9/11, it was mail when the US Postal Service decided it wanted to ship by ground rather than air. In 2001, Bancroft and Sons Transportation LLC, a Fort Worth and Arlington, Texas-based federal motor carrier, answered this call by shifting its entire fleet to carry mail instead of commercial products. Six years later, it had 130 trucks moving mail all across the country, and now nearly 20 years later, Bancroft's business still booms. In 2017, the company decided to make bold changes to the health plan they offered employees, which is one of the reasons they've been able to navigate changing business conditions. Bancroft and Sons had a higher turnover rate and often struggled to attract and retain qualified drivers. This was partly due to providing a traditional, yet expensive health benefits plan, which rendered minimal control of annual rising costs. Bancroft and Sons now offers a higher-quality, lower-cost health plan to employees, which has resulted in lower turnover. After the first year, the company lowered costs by $300,000, was able to cut deductibles in half, and slashed their drivers' premium contributions by 40%. So, how did Bancroft and Sons do it? And more importantly, how can other trucking companies do the same? It starts with following these five steps from Dave Chase, CEO and co-founder of Health Rosetta, an organization that aims to accelerate the adoption of simple, practical, nonpartisan fixes to the US health care system.1LEARN TO BE LIBERATED The status quo approach to health benefits is to provide a health plan via a brand name insurance carrier. These are quality carriers with good intentions, but they often have misaligned financial incentives due to market dynamics. A better approach for many employers is to use a self-insured health plan. When properly structured, self-insured plans provide a better opportunity to control costs, while still protecting the employer's liability. Moving to a self-insured health plan was the first fundamental change Bancroft and Sons made. 2INFRASTRUCTURE The next step was to partner with an experienced benefits advisor. It is critical for leaders to understand that they don't have to go it alone. There are benefits advisors willing to work transparently, plus partner the client alongside carrier-independent third-party administrators (TPAs) and other vendors with aligned financial interests. 3BENEFITSMany pharmacy benefit managers (PBMs) are well known for hidden fees, shell-game pricing, and taking drug manufacturers' money to promote specific drugs. Business owners can gain more value and savings by partnering with a transparent PBM. A transparent PBM returns 100% of manufacturer rebates to the employer, OPERATIONS
Page 27
AUGUST 2020 WWW.MWSMAG.COM MODERN WORKTRUCK SOLUTIONS 25contractually agrees the employer owns their claims data, and is most effective at managing drug costs and quality. 4Primary care providers are the bedrock of the highest-functioning health systems. But, in the current high-volume, fee-for-service reimbursement model, providers are stressed and find it difficult to properly diagnose patients. Therefore, the best investment an employer can make is to provide employees access to Direct Primary Care (DPC) providers. DPC practices are paid based on their quality of care, have a much lower volume of patients, and are thus able to better diagnose the physical and emotional needs of patients. For truck drivers who spend long hours sitting down and are often eating at greasy spoons, a value-based primary care model like DPC can reduce downstream costs in the form of fewer long-term medical conditions like heart problems or chronic back pain. Most importantly, it's better for the health and well-being of employees.5EXTRACTING PPO NETWORKS The initial idea behind PPO networks was to trade guaranteed patient volume for lower costs using a smaller network. After many years, that's no longer the case. Major carrier networks are great at selling their "discounts," particularly for hospital charges, but these "discounts" are often 250 to 500% higher when benchmarked against what Medicare pays. Bancroft and Sons decided to rent a PPO network for physicians and ancillary providers only and use reference-based pricing and direct bundled contracts to pay a fair price to hospitals and facilities. Reference-based pricing pays hospitals a fair percentage more than Medicare, but often significantly less than PPO network rates. Thanks to following these five steps, Bancroft and Sons was able to save money, better recruit and retain talent, and recently reach a monumental step in the family-owned business' history: Its 50th anniversary. There's nothing stopping other trucking companies from soon experiencing the same success.ABOUT THE AUTHORDonnie Marcontell is senior client he builds health plans using the www.onedigital.com.
Page 28
Chain ReactionA REVOLUTIONARY "TEXTILE" CHAIN TECHNOLOGY MAKES OPEN-DECK CARGO SECUREMENT EASIER ON FLATBED, LOWBOY, DROP-DECK, AND GOOSENECK TRAILERS Anyone who's ever secured cargo with chains knows that simply getting the chains in position to begin securing the payload can be quite a task. Thirty-ft lengths of half-inch, 100-grade steel chain can weigh as much as 85 lbs each, 98 lbs if you carry the necessary 15-lb load binder at the same time. Now, multiply that by the number of chains that may be needed to adequately secure a load, and you can be talking about a lot of cumulative weight."We use a different amount of chain for each load depending on the load weight and available securement points," says Ace Carter, engineer for Northwest Logistics Heavy Haul, an Oklahoma-based heavy-haul service provider doing business throughout the US and Canada. "A theoretical load requiring 14 30-ft, half-inch 100-grade steel chains and binders with a 15,000-lb working load limit (WLL), would add up to about 1,372 lbs of securement. Simply deploying this is a long and strenuous task for even a two-man crew."OPERATIONS MODERN WORKTRUCK SOLUTIONS WWW.MWSMAG.COM AUGUST 202026 DOLECO®'S REVOLUTIONARY DONOVA® POWERLASH TEXTILE LASHING CHAIN AND TIE DOWN SYSTEM IS MADE OF HIGH-PERFORMANCE DYNEEMA® FIBER. heavy-duty feature
Page 29
AUGUST 2020 WWW.MWSMAG.COM MODERN WORKTRUCK SOLUTIONS SHACKLEDOnce the chains are situated around a trailer and its cargo, the real work begins. Some cargo items have engineered anchor points that enable workers to connect load securement devices directly to the cargo. This is known as "direct" securement. Other cargo articles have nothing to attach to, so the securement has to pass through, over, or around the article. This is known as "indirect" securement.Carter says that on larger loads like tanks, a team of two would generally be used to secure the load. One person usually throws a guide rope, attached to the chain, over the tank to a second person on the opposite side of the trailer, who then pulls the chain up and over the vessel as the first helps guide it. "Either way," Carter begins, "steel chains take time to set and secure, and it's physically demanding work."Steel chains aren't just heavy, they can also be abrasive. When using them, Northwest often had to use carpet, rubber, fire hose, and other liners to protect their cargo's finish from damage. The process sometimes required climbing ladders and the use of manlifts or forklift baskets. This led to more materials to buy, transport, store, and maintain. More care was also required when handling, orienting, and securing heavy chains to avoid damage to payloads that could ultimately result in customer dissatisfaction. THE MISSING LINKSIn 2018, Carter and Northwest began exploring a cargo securement technology from Doleco USA that promised to alleviate some issues surrounding the use of steel chains for cargo securement. Doleco's new product had the potential to completely change Northwest's approach to load securement with steel chains.Doleco's DoNova® PowerLash Textile Lashing Chain and Tie Down System is made of high-performance Dyneema® fiber. Dyneema's ultra-high-molecular-weight polyethylene (UHMWPE) material is 15 times stronger than steel by weight, and when made into chain, up to 85% lighter—so lightweight, in fact, that it floats on water. "The DoNova PowerLash Textile Lashing Chain has extremely low moisture absorption, is self-lubricating, is highly resistant to corrosive chemicals, and is 15% more resistant to abrasion than carbon steel," says Ralph Abato, president and managing director of Doleco USA. "The textile chain is available with a WLL as high as 22,000 lbs, more than that of half-inch steel chain and just under the 22,600-lb WLL of 5/8-inch steel chain."Northwest's crews needed only 10 DoNova PowerLash Tiedowns to do the job of 14 steel chains. Coupled with other tangible benefits, Northwest decided to give the DoNova product a try. "Less weight means easier handling, less fatigue, and a lower potential for injury," Carter says. Carter notes that now his folks can toss the guide rope over and pull the lightweight DoNova PowerLash Textile Lashing Chain over a tank and secure both sides without worrying about scratching the tank's finish. He believes that DoNova chains save time and effort while reducing worker fatigue and risk of injury."Now we have less effort required for securement, less risk of personal injury, less gross weight to haul and permit, fewer securement devices required on some loads, and the 10-metric-ton-capacity matches securement points on many of our European trailers," Carter says.CHAIN-GING THE GAMESecuring cargo on an open-deck trailer can be daunting at times. Construction materials and equipment in particular present challenges. Those securing cargo and vehicle operators must be familiar with federal regulations and must have a working knowledge of the physics of how cargo behaves once it's in motion.DONOVA® POWERLASH TEXTILE LASHING CHAIN IS LIGHTWEIGHT AND EASIER TO HANDLE AND MANIPULATE THAN STEEL CHAIN. 27
Page 30
MODERN WORKTRUCK SOLUTIONS WWW.MWSMAG.COM AUGUST 202028Depending on the type of load and the requisite securement method called for, those doing the securing have a number of decisions to make. Some cargo types are simpler than others. Some are downright complicated, requiring significant physical effort. Some loads may be heavy, have sharp edges, or be prone to shifting. Climbing into, onto, and around items in order to attach restraints can expose workers to a host of hazards."Maybe your heavy-haul drop deck or lowboy trailer is carrying large or articulating equipment to and from an off-highway worksite," Abato says. "If so, you have to know that any and all hydraulic arms need to be secured, and that any dirt and rocks left on the deck may be considered 'unsecured cargo' by the authorities."The extremely low weight and flexibility of DoNova PowerLash chain promotes easier handling of heavy-duty load securing devices. It can be easily thrown over large loads or guided around complex cargo geometries without damaging them or their finish. With DoNova, individual workers can handle long lashing chains of more than 60 ft all by themselves. The textile chains can also be shortened very quickly since all hooks of the tensioning device can be attached directly to the flexible chain links. This chain is particularly well suited for heavy use since it is extremely resistant to abrasion, chemicals, and even seawater.TANGIBLE CONTRASTDoleco also developed load binders for the DoNova Textile Chain. At just three quarters as long as a standard load binder, the DoRa® Ratcheting Load Binder fits into spaces but expands to enable users to reach twice as far as any other. The compact size and extra length of the DoRa save users time and trouble because they don't have to detach and reattach chains when periodically retensioning cargo."Doleco's DoRa Ratcheting Load Binder is 20% shorter than others, extends to twice their length, and makes chain retensioning a breeze," Abato says. "The patented spindle-in-a-spindle design of the DoRa Ratcheting Load Binder … is designed specifically to work as a system with Doleco's DoNova PowerLash Textile Lashing Chain."With its WLL of 22,000 lbs, the DoNova PowerLash 25/8 may be used with the lashing strap as a tensioning element. Doleco's Heavy Duty 2-inch Ratchet with Gear Drive features webbing made with Dyneema and special eye hooks and coupling links that can substitute for standard load binders. It also gives the system an increased tensioning range at a reduced weight. The WLL of the tensioning elements employed (straight pull or loop) are easily matched to the WLL of the textile chain and hooks effortlessly into their respective chain elements. DoNova can also be used as a head sling. If a load has no fastening points, it can be secured with a sling that runs over and/or around the cargo. Few new products offer the quantity of dramatic advantages delivered by Doleco's advanced textile chain technology. The contrast between steel chain and the DoNova PowerLash Textile Chain is quite tangible."All I have to do is let folks hold a steel chain in their bare hand and a DoNova Textile Chain in the other," Abato says. "People immediately understand that this is an advancement in material engineering and industrial design that will have implications that extend far beyond cargo securement—there's almost always a slight look of awe on their face." FOR MORE INFORMATION Find out more about Doleco USA Chains, visit www.doleco-usa.com. NORTHWEST ALSO USES DONOVA POWERLASH TEXTILE CHAINS TO SECURE LARGE DEMETHANIZER VESSELS FOR TRANSPORT. NORTHWEST LOGISTICS HEAVY HAUL USES DOLECO'S DONOVA POWERLASH TEXTILE CHAINS TO SECURE LARGE PAYLOADS WITHOUT MARRING THEIR FINISH. OPERATIONS
Page 31
Page 32
Anti-Idling Regulations for Utility Work Trucks Expected to Intensify After COVID-19CITY RESIDENTS ARE LIKELY TO DEMAND CLEANER AIR GOING FORWARD. HOW WILL UTILITIES RESPOND? By Jack JohnsonAs countries around the world continue moving toward stricter environmental regulations, the pressure to double-down on vehicle anti-idling laws may intensify soon. People living in densely-populated areas experienced a stark improvement in air quality in the wake of the COVID-19 pandemic and subsequent shelter-in-place orders with fewer cars on the roads. A study published by IQAir in late April 2020 analyzed the levels of what they call "the world's deadliest air pollutant," fine particulate matter (also known as PM 2.5) in 10 major global cities that enacted wide-spread quarantines and stay-at-home measures in response to the COVID-19 pandemic. The study showed a reduction in air pollution particulate levels by 31% in Los Angeles and 25% in New York City compared to the same period in 2019. Compared to the average particulate level over the previous four years, LA's air pollution dropped by 51%, while NYC's dropped by 29%. Of the 10 cities that IQAir collected and analyzed, nine of 10 had reduced air pollution levels compared to the same period the previous year by up to 60%. In an effort to help countries set goals for reducing pollution, the World Health Organization (WHO) created a set of standard targets for reducing ambient, or outdoor, air pollution. During California's statewide lockdown, not only did LA meet WHO target air quality guidelines for the longest time period since the guidelines were created, but it also had the cleanest air quality month ever recorded for the city. Photographs of large American cities over the last several decades contrast greatly with ones taken during stay-at-home orders and quarantines, MODERN WORKTRUCK SOLUTIONS WWW.MWSMAG.COM AUGUST 202030TECHNOLOGYmedium-duty feature
Page 33
AUGUST 2020 WWW.MWSMAG.COM MODERN WORKTRUCK SOLUTIONS 31and innumerous first-hand anecdotal accounts about the decreased pollution levels show a clear preference of city residents for the cleaner air.POLLUTION'S IMPACTWhile we're still learning about the impacts of COVID-19 on the body, John Hopkins reports that lasting lung damage appears to be a collective experience for those most afflicted. This damage worsens when patients experience secondary respiratory ailments like pneumonia, sepsis, or lung failure while fighting or recovering from the virus, and data from the BBC show that air pollution may have an impact on COVID-19 patient recovery. Dr. Panagis Galiatsatos of Johns Hopkins Bayview Medical Center estimates that it could take patients' lungs from three months to over a year to return to pre-COVID normal function, leaving them more vulnerable to lung issues in the meantime. Besides those experiencing or recovering from COVID-19, city residents suffering from ailments like asthma, COPD, lung cancer, and other pulmonary diseases reap the benefits of reduced air pollution. This respite and the desire to maintain the newfound cleaner air could increase pressure from the general public to minimize future air pollution.UTILITY SERVICE IMPACTAccording to the US Department of Energy, the elimination of vehicle idling would equate to removing 5 million vehicles from the road. For many cities and states, the elimination or reduction of vehicle idling may be a step toward permanently reducing air pollution. The Green Car Congress concludes that more than half of US states already have some form of anti-idling or idle-reduction legislation, but a survey of 48 US transit agencies in 2015 named "the nature of fleet operations" as their greatest barrier to aligning operations with idle-reduction regulations. With so much precedent across the country, it may not be long before other states follow suit and take a simple step toward cleaner air. While eliminating idling is environmentally important, access to idle-free vehicles remains limited by high prices and low availability. Market and scale pressures continue to prevent production of EVs that would meet requirements of the work truck world. Plus, the initial price of the vehicle doesn't include the cost of implementing charging infrastructure on-site and the additional electricity necessary to charge them. Depending on current infrastructure, the logistics of integrating those changes can be more complicated than initially meets the eye. Additionally, according to research completed by UPS in collaboration with GreenBiz, "A fleet of 200 to 300 electric trucks ... requires up to four times the power needed for a facility designed for diesel trucks." Many facilities aren't equipped for the electrical output required to integrate an electric fleet, necessitating additional infrastructure upgrades before they could even begin using electric work vehicles. Due to the legislations already in place, organizations that rely upon specialty work vehicles and utility trucks are scrambling to find an alternative to the standard vehicles used for years. A possible solution, however, is closer to their grasp than they may realize.HYBRID AUXILIARY POWERAlthough some fleets may not view fully electric trucks as affordable for their commercial, municipal, or utility operations, there's another option for economically reducing work vehicle idling: hybrid auxiliary power systems. A hybrid auxiliary power system is exactly what it says: a power system for vehicles that's separate from the vehicle's main power system. They can be used to run heavy power tools, power lift buckets, run cabin A/C, and more without idling the engine. There are big cost savings in eliminating engine idling, too. According to Volta Power Systems, Fleets could save nearly $15,000 per truck per year in fuel, vehicle maintenance, and depreciation costs. Fleet managers can opt for these systems in newly-purchased work trucks or, if they aren't interested in fully replacing their current fleet, can retrofit them on existing vehicles. Some systems, like the ones developed by Volta Power Systems and currently in operation with Oklahoma Gas & Electric, are capable of charging with an alternator while driving, eliminating the need for expensive charging infrastructure. Hybrid systems offer a scalability that isn't possible with full-EV solutions and don't place a limit on range. Systems that integrate into nearly any chassis can retrofit a full mix of fleet vehicles, maximizing existing investments and ensuring standardization for new vehicles. The ability to economically and efficiently create an idle-free fleet is the first step toward meeting new and upcoming emissions regulations while maintaining adequate power levels to complete necessary work. As the global shift toward environmental consciousness continues, the ability to easily integrate technologies that prioritize protecting public health in a financially responsible way will lead the way into the future.ABOUT THE AUTHORJack Johnson is the founder and CEO of Volta Power Systems. Jack has 16 years' experience with Johnson Controls providing leadership in advanced material science, new technology launches, and structured turn arounds on an was asked to lead the launch of where he was responsible for $250M capital development for the lithium-ion plant. In 2014 Johnson decided to use the lessons learned in advance lithium-ion and start his smaller OEMs in advance energy deployment. Find out more, visit www.voltapowersystems.com.
Page 34
MODERN WORKTRUCK SOLUTIONS WWW.MWSMAG.COM AUGUST 202032TECHNOLOGYTECHNOLOGYDuring the period from 2009 to 2018 (the latest figures available), fatalities in collisions involving large trucks have been on an upward trajectory, rising from 3,147 to 4,136 according to the Insurance Institute for Highway Safety. Both the human and financial costs of these crashes demand that we act. Fortunately, technological developments give fleet managers a range of effective tools to develop the safety programs we need to make roads safer and the trucking industry stronger. TELEMATICSTelematics: You've likely heard the term before, but do you know where it got its name? Telematics is a combination of the words telecommunications and informatics and refers to the transmission of information over long distances. It is now almost exclusively used to refer to vehicle telematics—communicating vehicle information over long distances. The growth of telematics was the result of several breakthroughs.Although telematics in and of itself is not a safety technology, it can help turn other technologies into more effective safety tools.FMSThe main purpose of a fleet management system (FMS) is, as it says in the name, to help manage your fleet. These systems digitize much of the juggling work necessary to run a fleet. An FMS, which can work from a central server, coordinates vehicle and driver schedules, maintenance schedules and costs, fuel costs, among other functions. You can think of it as a database optimized for use with fleets. At a very basic level, an FMS can play a role in fleet safety—making sure drivers are on proper schedules, which can cut down on drivers' "wasted time" when they are waiting around not on the clock and not resting. In addition, maintenance scheduling and engine monitoring help prevent mid-trip equipment failures that can lead to dangerous situations. However, with the addition Rising Fatalities in Truck-related CollisionsTechnological developments give fleet managers a range of effective tools to develop fleet safety programs.WHAT CAN TECHNOLOGY DO?
Page 35
AUGUST 2020 WWW.MWSMAG.COM MODERN WORKTRUCK SOLUTIONS 33of telematics, these systems can make further contributions to fleet safety. These telematics systems can identify speeding and use g-sensors to track when and where vehicles are braking, accelerating, and cornering harshly—all behaviors often associated with poor driving habits.Harsh braking can indicate tailgating, harsh cornering indicates either speeding or not adjusting to road conditions, and harsh accelerating indicates aggressive driving. Telematics can also pinpoint where these incidents occurred, which can provide important context; if a wide variety of drivers are cornering harshly at a particular location, maybe it's the location and not the driver.CONTEXT CLUESOf course, there is the issue of context. On a blog post, Chris Hemedinger, manager of SAS Communities, once compared driver evaluations based on this type of data to judging someone's driving while sitting in their car with your eyes closed, "with your eyes shut, you're denied important information such as your location, traffic conditions, speed limits and traffic signals, and weather conditions. Sightless, your only source of data comes from your sense of motion as the vehicle accelerates, slows down, and turns." In order to get this context, you need to sit down with drivers and go over their routes in detail, discussing any out-of-the-ordinary incidents. These evaluations are important as not only do you get the context you need, drivers understand that they are monitored. Of course, there is a fine line between keeping employees attentive and an oppressive "Big Brother" atmosphere. VERVideo Event Recorders (VER), popularly known as dashcams, are classified as "safety equipment" but how often do fleets use them as such? For many fleet managers they are simply devices to prove fault in case of collision, but they can, in fact, be an important part of a fleet safety program. By pairing VER with a telematics device, fleets can isolate incidents of harsh braking, accelerating, and cornering and view the footage to get the context of the situation. This information can then be used as the basis for further driver coaching and training. Another aspect of VER is the possibility of adding an in-cab camera to monitor drivers. This provides a powerful incentive for drivers to follow
Page 36
MODERN WORKTRUCK SOLUTIONS WWW.MWSMAG.COM AUGUST 202034TECHNOLOGYthe rules, as most of us do when we know we're watched. It can also be further proof, in case of collision, that the driver was not engaging in dangerous behavior. Of course, many drivers feel these cameras are an intrusion into their privacy, a feeling many people would share if they were filmed all day at work.CASCollision Avoidance Systems (CAS) monitor the road, scanning for potential collisions and warning drivers in time to either avoid or mitigate a collision. Given that the NHTSA has determined that nearly 80% of crashes involve driver inattention within three seconds of an event, these warnings can be a powerful tool in a fleet safety program. A robust CAS should include:• Headway monitoring to warn drivers if they are too close to the vehicle ahead.• Forward collision warnings to warn drivers of an imminent collision with either a vehicle, pedestrian, or cyclists ahead.• Lane departure warning to warn drivers if they leave their lane unintentionally.In addition to helping drivers avoid collisions with these alerts, there is also evidence that CAS actually help train drivers while they're on the job. It seems that drivers naturally try to avoid triggering warnings by driving more safely. A University of Missouri study showed after driving with collision avoidance systems, drivers showed a 43% drop in lane departure warnings, 71% drop in warnings for following too closely (headway monitoring), and a 57% drop in forward collision warnings.As with VER, combining CAS with telematics can significantly boost its potential for safety training. Using this combination of CAS and telematics, fleet and safety managers can determine how often and where drivers trigger alerts. While lacking the visual context provided by VER, CAS in many ways can provide a more comprehensive picture of driver behavior. For instance, CAS can track instances of tailgating, lane drift, and speeding, even if the incident does not lead to harsh braking, accelerating, or cornering. Fleets can also use this alert information to map out potentially dangerous areas, for example an area where drivers trigger numerous pedestrian collision warnings may indicate a lot of foot traffic; possibly a place for fleets to avoid.TECHNOLOGY FOR SAFETYFleets are currently challenged by increasing fatalities in crashes involving trucks. Fleets themselves need to evolve more effective safety programs to stem this tide. For maximum effectiveness, these programs must start taking advantage of the untapped potential provided by the cutting-edge technologies available to them today.FOR MORE INFORMATION visit www.mobileye.com/us.
Page 37
LIGHT DUTY SHOWCASE SILVERADO HD HOW IT FARED IN MICHIGAN S UPPER PENINSULA WWW MWSMAG COM THE WINTER EQUIPMENT ISSUE AUGUST 2020 BETTER HEALTH CARE IN 5 EASY STEPS NEED WINTER EQUIPMENT WE SHOW YOU THE BEST MWS PLOWS SNOW WITH THE BOSS OF SNOWPLOWS
Page 38
MODERN WORKTRUCK SOLUTIONS WWW.MWSMAG.COM AUGUST 202036SAFETYWhile many businesses put a halt to their operations during the pandemic, construction businesses remain resilient. Self-service innovations are a staple in keeping essential construction operations going. Software and automation technology can create a virtually touchless supply chain and reduce the need for truck drivers to engage directly with other quarry, plant, and jobsite personnel.Automation devices and objects with built-in sensors are connected to an IoT platform. A platform can integrate data from each connected device and apply analytics to share the most valuable information with applications built to address specific needs. These powerful platforms can pinpoint useful information or data as well as use the data to detect patterns and problems before they occur. Touchless data can be used in nearly every link in the construction supply chain, starting with sales.TOUCHLESS SALESThe first step is a mobile app that your sales team can download, enabling them to generate and send quotes directly from the device and then have it sent back to dispatch as a confirmed order. This keeps sales guys in the field and can eliminate inaccuracies while quoting customers. But touchless supply chain extends beyond sales, even venturing into worksites.AT THE QUARRY Once orders are ready for pickup, there are many technology solutions that can be implemented at the quarry to enable touchless processes. A scale ticketing system eliminates the common issues of handwritten errors, misplaced tickets, Save Money, Expedite Operations with a Touchless Construction Supply ChainNEARLY EVERY LINK IN THE CONSTRUCTION SUPPLY CHAIN CAN BE "TOUCHLESS" By Tom Rice
Page 39
AUGUST 2020 WWW.MWSMAG.COM MODERN WORKTRUCK SOLUTIONS 37and handwriting recognition challenges. Point-of-sale modules interface directly with the quoting, dispatch, transportation management, and back-office modules to ensure timely and accurate information flow.An Automatic License Plate Recognition camera further expedites the process for customers by streamlining the entire process, starting with checking in to weighing out with a load ticket. Once on-site, the vehicle is identified in the ticketing system once it passes the check-in ALPR camera. This is confirmed by displaying a "green light" to direct the driver to proceed toward the material loading zones.A driver can confirm his assignment with the scale operator through radio contact or using an auto check-in lane if repeating previously ticketed job and product information. Once verified, the system will capture the tare weight and communicate the customer ID and target weights to the entire loadout system. The system will update remote displays for the scale operator as well as each customer service loader allowing the view of ticketing information, the required material, and time-in-yard metrics.The loader operator can use a Wireless Loader program to view all vehicles on-site to be loaded. The program provides all the information needed to load the vehicles from a portable tablet mounted inside the cab of the customer service loaders. After being loaded, the customer's vehicle proceeds toward the outbound scale where the vehicle's license plate is reread. The system captures the gross weight and initiates a "green light" for the driver, signaling the load ticket is printing to the remote printer kiosk for their retrieval.AT THE PLANTStudies show that the construction industry generates over one million paper tickets per day in the US alone at the cost of over $1 billion per year. Four to five-part tickets are handed out to various departments and individuals on the jobsite. For example, the seller wants a signature on his ticket while the delivery manager will take the ticket as proof of delivery. The buyer receives a part of the ticket and sends it to accounts payable for paying invoices. By the end of the day, one paper ticket has been handled by five or six people—and these same people handle a large number of tickets each day. With digitized processes at the ready mix plant, businesses can proactively manage project timelines and costs. With digital processes, reconciling with invoices is quick, easy, and accurate. Even when a delivery is made after hours, the information can still be captured. Without waiting until the end of the day to enter material receipts, batch operators can focus on plant activities instead of managing materials.Employees can enter data directly into a mobile phone, tablet, or laptop out in the field or when on the jobsite, sending the data directly to business systems in real time. Drivers can receive electronic signatures and use electronic proof of delivery screens. Truck drivers can electronically deliver their information as soon as the materials are delivered, which means invoices can be sent directly to suppliers for quicker payment.Ticket information is displayed instantly on a driver's mobile device. Drivers have all the information they need to perform their jobs without having to reach out to dispatch or managers, causing delays in the delivery process. Drivers can pull up their next ticket so they are prepared for their next job.ON THE JOBSITEDigital ticketing data enables users to see ticket data in real time, throughout the ticket's life cycle. Digitalized documentation keeps your guys in the field instead of chasing paper tickets, allowing office personnel to no longer be buried in paperwork and tedious reconciliation processes. With digital ticket data flowing seamlessly from suppliers to contractors and owners through a Collaboration Platform, the jobsite stays in sync. Having information in one place allows the user to browse orders scheduled for the day and upcoming orders for future days, monitor real-time truck locations and load-level summaries of completed and future orders, receive notifications when a load is on the way, view records of load status times, and automatically match incoming delivery tickets with hauler pay sheets and invoices.ABOUT THE AUTHOR Tom Rice is a business consultant and assists with the contractor team at Command Alkon. Tom spent eight years working for Peter Kiewit and Sons in both management roles—from heavy oil, chemical, and gas industrial management and value engineering and design. Find out more, visit www.commandalkon.com.
Page 40
MODERN WORKTRUCK SOLUTIONS WWW.MWSMAG.COM AUGUST 202038SAFETYIn the second part of the series regarding how the commercial transportation industry adapts to the COVID-19 pandemic, we focused on eliminating visual, physical, and cognitive distractions for drivers inside the cab. As we continue to navigate the "new normal," it's important we tap technology to ensure maximum safety and efficiency.Before COVID-19, drivers were used to clogged highways, stopped vehicles, and rush hour traffic around big cities. Now, with many people working from home, there are less commuters and far less vehicles on the road that commercial drivers must deal with during commuter rush hours. But, as states begin to reopen and traffic begins to approach pre-pandemic levels, commercial drivers will need to continue to use caution on emptier streets.However, it's important to note that less traffic doesn't necessarily mean safer roads. For instance, the California Highway Patrol has seen a drastic increase in speeding, and as a result, issued more tickets. In a one-month period when the stay-at-home order started, officers issued 87% more citations to drivers suspected of going more than 100 mph than during the same time period last year. The spike also coincides with a 35% decline in traffic volume on state roads compared to 2019. LEVERAGE ADASSpeeding often leads to serious injuries and significantly increases the chance of death in an event of a collision. One way to combat unsafe driving habits is with an Advanced Driver-Assistance System (ADAS). Designed to identify, combat some of the most dangerous driving risks, and intervene with drivers before a collision occurs, ADAS uses a computer vision-enhanced camera to enable real-time driver risk mitigation for following too closely to another vehicle, forward collision, lane departure, and speeding.With less traffic on the roadways, drivers operating at higher speeds, and increased opportunities for collisions, it's important to know the following:• If a driver is at high risk of getting into a collision with other vehiclesPutting the Power of ADAS to Work for Your FleetOPERATING IN THE NEW NORMAL: PART 3
Page 41
AUGUST 2020 WWW.MWSMAG.COM MODERN WORKTRUCK SOLUTIONS 39• If a vehicle unintentionally drifts from its lane• If the distance from the vehicle ahead is less than 1.5 seconds, i.e. following too closely ADAS provides critical in-cab alerts to help drivers avoid collisions. Because of these progressive audio and visual alerts—delivered based on moderate or severe identified risk—drivers receive timely feedback that can lead to self-improvement. Safety managers are able to intervene when necessary, which ultimately leads to a reduction in collisions.By helping drivers become more aware of their surroundings and driving habits now while there are less drivers on the road, it's more likely a collision can be avoided once the "new normal" returns—whatever that may look like. ADAS uses a computer vision-enhanced camera to enable real-time driver risk mitigation for following too closely to another vehicle, forward collision, lane departure, and speeding.FOR MORE INFORMATIONYour Drivers to Safety and Success," from SmartDrive. It can help make coaching COMPATIBLE WITH MOST AFTER MARKET LADDER RACKS AND FUEL TANKS. TOOLRIG.COMMade in the USAOUR RUGGED TOOLBOXES ARE DESIGNED FOR SAFETY AND ALLOW FOR 100% UTLIZATION OF THE TRUCK BED SPACE!· unique design does not obstruct rearview mirror or 3rd brakelight.· load more cargo in truckbed area safely with tailgate closed.· also serves as a cab protector/headache rack.REDUCES COSTLY SLIPS AND FALLS WITH SIDE ACCESS TOOLBOX DOORS. *Patented 5052 " ALUMINUM CONSTRUCTION RIVETED TOGETHER. ALL COMPONENTS REPLACEABLE. SLIDING REMOVABLE SHELVES. (303) 357-3828
Page 42
SAFETYWe're all in this together. How often have we heard this refrain over the last few months? The implication is that we all should look out for one another. But for essential workers and those now rejoining the workforce, the shortage of adequate personal protective equipment (PPE) has been a constant source of frustration.For those working in remote locations away from modern plumbing, the problem can be exacerbated. Not only is PPE in short supply, but try finding hand sanitizer, sanitizing wipes, or even baby wipes these days.The president's Coronavirus Guidelines for America lists hand-washing first under its guidelines for practicing good hygiene. However until now, it has been difficult for vehicle operators, work crews, and others functioning in isolated conditions to observe what the Centers for Disease Control and Prevention (CDC) calls "one of the most important steps we can take to avoid getting sick and spreading germs to others."People working with their hands are advised to be cautious. Particularly those sharing tools, manipulating materials that others have been in contact with, or simply touching surfaces that have a good chance of potential contamination. Unfortunately, even though "we're all in this together," when we're working away from civilization, or at least civilized plumbing, we're kind of on our own.CLEAN UP OUR ACTBusiness owners and managers who have either continued to work through the pandemic or are just now putting their folks back in the field have to Hand-washing Station Makes Hygiene Compliance MobileNATIONAL FLEET PRODUCTS IMPROVES DRIVER HYGIENE MODERN WORKTRUCK SOLUTIONS WWW.MWSMAG.COM AUGUST 202040
Page 43
AUGUST 2020 WWW.MWSMAG.COM MODERN WORKTRUCK SOLUTIONS 41think long and hard about how they will protect workers from the virus and from contaminating each other. Regular hand-washing in the field has been one of the hardest regimens to adhere to, even for the most ardent supporter of hygiene compliance.National Fleet Products just announced the introduction of new portable and vehicle-mounted hand-washing stations. The rugged, purpose-built product design allows water and hand sanitizer to be dispensed virtually anywhere, and application-specific hardware enables units to stand on their own or to be mounted to a wide variety of vehicles."Our versatile mobile hygiene station will be a game changer, making hand-washing more accessible and convenient and helping to reduce the spread of COVID-19," Steven Peterson, president of National Fleet Products, says. "These cleansing stations are totally versatile and will now enable all sorts of businesses to protect their workers and their customers from transmitting disease."These days, organizations accepting cargo may be wary of those manning vehicles. They don't know what hygiene methods are observed by operators and crews and may be generally concerned."We've installed National Fleet Products' vehicle-mounted hand-washing stations on two of our work trucks," says Mark Barfield, president of Houston-based Expedite!, Inc. "Using the hand-washing stations when we arrive for a delivery shows our customers that we care about their safety and our workers' health, and it also demonstrates that we're organized and have our own protocols in place."Barfield noted that many of his customers have made positive comments about the hand-washing stations. "I've had lots of appreciative comments about the hand-washing measures we're taking and about the professionalism it projects about our business and the way we run our fleet."WASHING STATIONThe black or translucent white water-dispensing tanks come in 6.5 gallon and 10 gallon sizes and are made of durable, virgin polypropylene with an additive that makes them resistant to UV rays. An integrated removable soap dispenser serves as the cap to the filling port. A separate cap is also available for those who want to provide other forms of soap or cleansing agents. "These units are extremely rugged, easy to clean, and built to last," Peterson says. "They can survive quite successfully on the outside of a vehicle, on a worksite, and in just about any environment you throw at them."Spring-toggle water spigots are easy to operate, and because they automatically stop water flow whenSAVE THE DATE 10.6.20 10A–4P CDTBrought to you byRegister today to attend in October - at no cost to you!MODERN WORKTRUCK SOLUTIONSMODERN WORKTRUCK SOLUTIONSPREMIER EVENTPREMIER EVENTEXPO 2020_FREE VIRTUAL EVENT _TEXT CHAT AND VIDEO CHAT WITH EXHIBITORS _DOWNLOAD LITERATURE & BROCHURES _SEE PRODUCT VIDEOS & DEMOSRegister today! mwsmag.com/go/virtualexpo-october
Page 44
MODERN WORKTRUCK SOLUTIONS WWW.MWSMAG.COM AUGUST 202042SAFETYno longer depressed, they eliminate recontamination because there is no need to touch them again once hands are clean. The spigots are recessed and side mounted to protect them from damage."We wanted to minimize the need to touch the unit after washing," Peterson says. "The spigots also reduce water usage and the potential for waste due to someone leaving the water on during washing or forgetting to turn the water off after finishing."RIGHT PLACE RIGHT TIMEPortable units are available with sturdy, powder-coated steel frame stands that can be outfitted with additional accessories such as paper towel dispensers, graphic signage, and more. "Positive guidance signage that reminds people to wash hands frequently can easily be applied to the frames," Peterson says. "The tanks can also accommodate special decal material and other customization of accessories can be explored on an individual basis."Vehicle-mounted units are available with frame- and body-mounting hardware that is compatible with virtually any type of truck, including heavy-, medium- and light-duty pickups, work trucks, box vans, ag and construction equipment, trailers, and more."Mounting the hand-washing stations on our vehicles was fast and easy," Barfield says. "Everything we needed was in the kit from National Fleet Products."Now workers who share tools and equipment can regularly clean their hands to reduce cross contamination with colleagues. The new units meet OSHA requirements for hand-washing stations at construction sites and can easily be positioned and repositioned as the need arises. KEEP IT CLEANThe vehicle-mounted hygiene station enables drivers and crews to sanitize their hands before reentering the vehicle. The system also allows workers and others to avoid unnecessary exposure to hand-washing fixtures in public restrooms, often recognized as key vectors for disease exposure and transmission. "My drivers and crews are thrilled to be able to wash their hands right after fueling their vehicles and without having to enter the gas station or interact with others," Barfield says. "We have exterior truck-mounted toolboxes as well and keep them stocked with paper towels for hand drying after washing."Most fleets are attached to physical facilities of some type, and the vehicles are simply and extension of the way that facility is run. Not only can the portable and vehicle-mounted hand-washing stations augment sanitation around a physical plant, it allows the fleet to show workers that good hygiene habits don't stop when they drive off the lot. "I had one municipal solid waste fleet tell me that they are excited to have such a versatile sanitizing solution because they want to keep their people working, but they want to keep them safe in the process," Peterson says. "Our new portable and vehicle-mounted hand-washing stations help establish new behaviors and reinforce better, more health-conscious habits."Responding to the new normal is something we all face, so we really are all in it together," Peterson continues. "With our new portable and vehicle-mounted hand-washing stations, we hope to give individuals, businesses, and municipalities the freedom to stay mobile while also staying safe."National Fleet Products' new portable hand-washing stations can be located at warehouse shipping and receiving doorways, at manufacturing and commercial building points of entry, near fixed and portable restroom facilities, adjacent to food production stands, on construction project sites, and at agriculture production and processing facilities. The vehicle-mounted hand-washing stations can go anywhere the vehicle goes.FOR MORE INFORMATION Find out more, visit THE UNITS MEET OSHA REQUIREMENTS FOR HAND-WASHING STATIONS AND CAN EASILY BE REPOSITIONED. THE DESIGN ALLOWS WATER AND HAND SANITIZER TO BE DISPENSED VIRTUALLY ANYWHERE. APPLICATION-SPECIFIC HARDWARE ENABLES UNITS TO STAND ON THEIR OWN OR MOUNTED TO VEHICLES.
Page 45
Page 46
MODERN WORKTRUCK SOLUTIONS WWW.MWSMAG.COM AUGUST 202044WORK TRUCK PRODUCTSBOSCH REXROTHBosch Rexroth's Compu-Spread System provides closed-loop ground speed related control of multiple actuators used in material spreading. The system is highly configurable. In addition to the drop-down menus used to set up the spreader system according to the vehicle requirements, the joystick console is modular, allowing the selection of various joystick and switch configurations. Full data transmission can be done live with the built-in WiFi feature. Reliable connection to valves and sensors is guaranteed by the purpose-designed junction block, engineered for harsh environments.SNOWEXThe new SnowEx® RDV™ V-plow is specifically designed for half-ton trucks. The RDV V-plow is stronger and lighter than conventional steel and configures to varying vehicle heights for optimum performance on some of the most popular truck models. Available with either powder-coated or stainless steel blades, the RDV V-plow is 7-ft-6-inches wide as a straight blade or 6-ft-9-inches wide in V mode. Double-acting angle cylinders allow the operator to adjust the wings independently or to lock them together for efficient straight-blade operation and clean back-dragging. Trip edges are included to protect the equipment and operators if an unseen obstacle is struck.www.snowexproducts.comFISHERThe all-new FISHER® EZ-V® v-plow with trip-edge design is purpose-built to provide industry-leading features, performance, and efficiency, just like the other v-plows in Fisher's lineup, but in a lightweight design that's ideal for businesses and homeowners using half-ton trucks. Available in powder-coated or stainless steel, the EZ-V v-plow features InstaLock double-acting cylinders and is constructed of high-strength, low alloy steel that makes it stronger and lighter than conventional steel, and the ideal weight for half-ton trucks. www.fisherplows.comWESTERNThe WESTERN® Striker™ 0.7-cu-yd stainless steel hopper spreader offers the features and accessories that give you the performance, capabilities, and efficiency of larger WESTERN Striker hopper spreaders, but in a more compact size that's better suited to handle smaller spaces and jobs. Purpose-built for half-ton and light-duty trucks, WESTERN designed this spreader to provide excellent material flow and delivery to the spinner. Dual variable-speed control allows operators to easily control salt and sand spread and precisely match material delivery and spread patterns to conditions.www.westernplows.com
Page 47
PARK NEUTRAL DRIVEINFORM THE INDUSTRY OF YOUR STATUS DURING THIS PANDEMICThe work truck industry has questions: Can you ship products and equipment today? Do you have new safety measures in place?Modern WorkTruck Solutions Position your company at the forefront of decision makers' minds.WHAT GEAR IS YOUR BUSINESS IN?WHAT GEAR IS YOUR BUSINESS IN?WWW.MWSMAG.COMWWW.MWSMAG.COMPRINT ADVERTISINGStudies show that print messages are retained more easily and for longer periods of time than digital ones. A MONTHLY WITH MUSCLEEvery month MWS features articles about light-, medium-, and heavy-duty work trucks, providing in-depth solutions for readers to incorporate into their company operations.DIGITAL ADVERTISINGThe MWS digital edition showcases your company videos and ads to the work truck industry. IMPRESSIONS & CLICK-THRU RATESAvailable digital options include web ads, wallpaper ads, custom e-blasts, e-newsletter ads, podcasts, and website pop-up ads. Combine print and digital for the most penetration. REV UP YOUR BUSINESSWITH THESE ADVERTISING OPPORTUNITIES Or, receive special pricing with a customized plan of print and digital and potentially reach an audience of 140,000 in just one month.*For More Information Call: 205.795.0223*Publisher's projected data; numbers include single targets receiving multiple products.Request a Media Kit:russell@mwsmag.com
Page 48
MODERN WORKTRUCK SOLUTIONS WWW.MWSMAG.COM AUGUST 202046thethinkCabOutsidetheCabthinkOOOOetsideeeeideOOOOOOOOOOOOOOOOOOOOOOOOOOOOOOOuuuuuuutsideueutsidedeeiutsideeitututtssssiiiiddddddddeeeeeeeeeeeedddeeeeeeeiiiiiuuuttssiiddeeeeeddeeiiCabCabThinkThethethinkCabOutsidetheCabthinkOOOOetsideeeeideOOOOOOOOOOOOOOOOOOOOOOOOOOOOOOOuuuuuuutsideueutsidedeeiutsideeitututtssssiiiiddddddddeeeeeeeeeeeedddeeeeeeeiiiiiuuuttssiiddeeeeeddeeiiCabCabThinkTheHOW READING KEPT TRUCKING IN A SAFE, EFFICIENT WAYWhat do you do when a global pandemic forces manufacturers across the nation to shutter, but you're considered an essential business? How do you keep production moving and employees safe when certainty is thrown out the window? Can you stop the virus from clocking in with your employees at the next shift? Jim Brodie, Reading Truck's vice president of operations, lockdown and which practices large companies can use going forward.BRODIE: Our leadership was actually in the middle of discussing how we would react in the event of a COVID-19 case at one of our facilities when there was a false alarm at our Maryland facility. It happened before states started going into lockdown and before it was officially declared a pandemic. It turned out not to be COVID, but that was a really critical moment for us. Everyone in leadership realized that we couldn't wait for a case to hit and then react. That incident started a process of trying to anticipate what could happen and planning out our responses, which ultimately developed into our internal COVID-19 task force. BRODIE: Failing to plan is planning to fail. Beyond planning ahead, having a dedicated task force is critical. A task force centralizes decision-making and the flow of information so there's clarity and accountability. For a manufacturing company, a good COVID-19 task force should include site leads, human resources, and health and safety departments. Our task force includes about 40 people from across departments, and we decided early on that meeting every morning during the work week was essential. Conditions on the ground change frequently, and guidance from health care authorities like CDC, OSHA, and state health departments changes almost daily. You have to meet often to respond to rapidly changing conditions. At a typical task force meeting, we go over changes in guidelines, review potential cases and test results, and talk about employees who need to be tested. It's really an extension of the daily management techniques that many manufacturers (including Reading) use in their regular business operations.PREPARE FOR A POTENTIAL INFECTION?BRODIE: The practices have helped avoid transmission at our 13 facilities across the US so far. But we had to be ready for the possibility of transmission, so we turned to the lean manufacturing principles we use in our plants for help. The task force created a set of standardized practices that can be implemented in the event of a potential exposure or incident. This "decision tree" gives the site leads a very simple playbook that tells them how to react appropriately no matter where an incident happens, who is on shift, or whether an executive is available. That standard has been in place across the company since March, and we've made eight iterations of it as guidance as regulations have changed.COMING UPNext month we'll wrap up our interview with Jim Brodie as he answers questions on physical changes in Reading's operations, additional measures to address the pandemic, and using technology to slow the spread. Floor markers and guide paths to ensure social distancing at Reading Truck Group's facilities. Facial and mask recognition and temperature screening solutions with Real Time Network technology is used at entrances to Reading Truck Group's corporate office, with plans to roll-out to additional locations.Talk soon! Jade
Page 49
Page 50