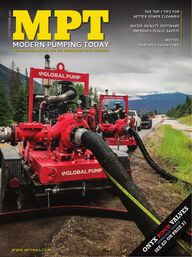 Return to flip book view
Modern Pumping Today September 2021
Page 1
WWW.MPTMAG.COMSEPTEMBER 2021MPTPROVIDING SOLUTIONS FOR THE WORLDWIDE PUMP INDUSTRYMODERN PUMPING TODAY®THE TOP 7 TIPS FOR BETTER SEWER CLEANINGWATER QUALITY SOFTWARE IMPROVES PUBLIC SAFETYWEFTEC FEATURED EXHIBITORS
Page 2
Page 3
Page 4
SUBSCRIPTIONSFor all changes, go to:WWW.MPTMAG.COMClick the SUBSCRIPTIONS button in the main menuWWW.MPTMAG.COM P.O. Box 660197 | Birmingham, Alabama 35266WWW.HIGHLANDSPUBLICATIONS.COM 312 Lorna Square | Birmingham, Alabama 35216866.251.1777J. CAMPBELL Editor jay@mptmag.comTONYA BROWNING Vice President tonya@mptmag.comJEFF FLETCHER National Sales Manager jeff@mptmag.comLISA AVERY Art DirectorSETH SAUNDERS Digital Media SpecialistINGRID BERKY Office ManagerModern Pumping Today®@modpumpmagCHRIS GARMONCFODONNA CAMPBELLVice President, EditorialTIM GARMONCEORUSSELL HADDOCKPresidentTONYA BROWNINGVice PresidentNo part of this publication may be reproduced or transmitted in any form or by any means, electronic or mechanical, including photocopy, recording, or any information storage-and-retrieval system without permission in writing from the publisher. The views expressed by those not on the staff of Modern Pumping Today, or who are not specically employed by Highlands Publications, Inc., are purely their own. All Industry News material has either been submitted by the subject company or pulled directly from their corporate website, which is assumed to be cleared for release. Comments and submissions are welcome, and can be submitted to jay@mptmag.com.SEPTEMBER 2021A NOTE ON THIS ISSUE:Welcome to the September issue of MPT. The big news this month is the return of the 94th annual WEFTEC, the world's largest water quality exhibit, for an in-person event in Chicago. MPT has selected some standout companies for your attention in this month's Trade Show Prole (pg. 12). Check out these Featured Exhibitors while you're in the Windy City! And with a nod to the crowd at WEFTEC, we serve up a double-sized edition of our monthly Water & Wastewater Focus section. First up, frequent MPT contributor Dell Williams returns with "7 Tips To Achieve Better, Faster Sewer Cleaning" (pg. 20). Water professionals charged with cleaning municipal sewer, storm, and sanitary lines face a host of challenges, and tried-and-true, expert tips are always in need.Additionally, innovation is at the heart of the water industry, and John Yap of Aquatic Informatics shares a success story of new technology paying off for California's Riverside Public Utilities (pg. 24). At a time when most municipalities relied on spreadsheets and pen-and-paper reporting, RPU implemented AI's WaterTrax to consolidate and automate water quality sample data transfers from the laboratories. The results will impress. Enjoy!J. Campbell, EditorModern Pumping TodayMPTEDITORIAL ADVISORY BOARD:TERRY BELL Product Manager, ABBHEINZ P. BLOCH, P.E. Consulting Engineer, Process Machinery ConsultingROBERT G. HAVRIN Director of Technology, Centrisys CorporationMICHAEL MANCINI Consultant and Trainer, Mancini Consulting ServicesJOHN M. ROACH Engineering Manager for New Product Development, Trebor International, Inc.: A Unit of IDEXLISA RILES Business Development Manager, Wastewater Pumps, Xylem Inc.: FlygtFRANK KNOWLES SMITH III Executive Vice President, Blacoh Surge Control GREG TOWSLEY Director of Regulatory and Technical Affairs, GrundfosTREY WALTERS, P.E. President, Applied Flow TechnologyCOVER PHOTO Courtesy of Global Pump
Page 5
SUBSCRIPTIONSFor all changes, go to:WWW.MPTMAG.COMClick the SUBSCRIPTIONS button in the main menu
Page 6
INDUSTRY NEWS What's Happening in the Industry .........................6SPECIAL SECTION WEFTEC Must-see Exhibitors .............................. 12CASE STUDIES Retrot Pays Off ........................................................ 16 T-screen success in Indiana wastewater treatment facilityWATER & WASTEWATER FOCUS 7 Tips To Achieve Better, Faster ......................... 20 Sewer Cleaning Expert guidance to optimize cleaning efciency while preventing tough blockages Riverside Forging Ahead ......................................... 24 on Water Quality Integrated software platform streamlines compliance and protects public safetyMAINTENANCE & RELIABILITY Benets of Installing ................................................ 28 Anti-stagnation Valves City of Hamilton reduces pump costs and energy consumption Part 2 of 2PUMP SOLUTIONS Double Duty for Twin Screw Pumps................ 32 Keep pace evolving consumer demand with twin screw pump technology Water Injection Pumps Increase Recovery Rates ........................................ 36 Fifteen Sulzer pumps are optimizing production at Iraq's largest oil eldMOTOR SOLUTIONS How PMAC Motors Are Often the .................... 42 Best Solution for Processing Applications A high-performance and low-cost alternative to servo motors and induction motorsSEALING SOLUTIONS Selective Electroplating: ........................................ 48 Fast, Precise, Localized Introducing a cost-effective solution to retouching electroless nickelMODERN PUMPING PRODUCTS ATLAS COPCO ............................................................ 54 PAC Flow Series PumpsEFFICIENCY POINT On-site Motor Inspection Goes Viral ............... 56 Nidec's Dave Lyle on expanding testing services in an online spaceCONTENTSSEPTEMBER 2021SEPTEMBER 20211620284254
Page 7
Page 8
6 | SEPTEMBER 2021WWW.MPTMAG.COMMPTNEW NOVATECH CEO SEEKS TO CONSOLIDATE ORGANIZATION AND PRODUCTSNovaTech announces the appointment of Conrad Oakey as their chief executive officer. Oakey, who originally joined NovaTech in 2000, includes among his many accomplishments consolidating the management of the two business units (power and process automation), simplifying online ordering and customer support, as well as continuing to improve the functionality and ease-of-implementation of the company's three product lines.In his previous role as vice president of strategy and communications, Oakey focused on web technologies, search engine optimization, and other digital marketing strategies while tracking or managing multiple high-level change initiatives within the organization. He continues to drive the digitization of internal information and work processes to increase responsiveness to customer needs.During the pandemic, he successfully shifted NovaTech's communications by introducing weekly educational product webinars for their power business customers and adopting real-time web-based collaborations to support process division customers during installations. These innovations helped keep NovaTech engaged with their customers during a period when they could not visit them in person. As CEO, Oakey has a priority meeting with NovaTech's customers as markets begin to open up. "I want to make sure I spend as much time meeting with customers and advocating for them within our organization as possible," says Oakey. GWS TOOL GROUP ANNOUNCES MONSTER ACQUISITION GWS Tool Group announces it has acquired Monster Tool Company. This is the fourth acquisition in 2021 for GWS Tool Group, and the second west coast acquisition by the U.S.-based manufacturer. The acquisition of Monster Tool Company adds significant depth to both the GWS general purpose and high-performance standard product portfolio. Their robust offering of end mills, drills, burrs, and reamers expand upon or fill in product gaps for GWS. Their grinding expertise, geography, and exceptional service reputation will further elevate the GWS value proposition by enhancing our product and service capability, particularly in the western United States.Located in Vista, California, Monster Tool is a recognized leader in the manufacturing and distribution of solid round cutting tools with a commitment to perpetual innovation and excellence. Second-generation and family owned, Monster operates out of an approximately 40,000 square feet facility with additional real estate secured for future expansion. Monster's tooling solutions support critical manufacturing of some of the world's most advanced products. INDUSTRY NEWSINDUSTRY NEWS
Page 9
Page 10
8 | SEPTEMBER 2021WWW.MPTMAG.COMMPT"Monster Tool is a best-in-class cutting tool company with a tremendous reputation for producing quality performance cutting tools and delivering them to their customers with the utmost speed and ease," says GWS CEO Rick McIntyre. NOVOLEX CLOSES DEAL FOR FLEXO CONVERTERS USA, INC. Novolex has acquired the business of Flexo Converters USA, Inc. and certain of its affiliates. Flexo is a manufacturer of stock, custom, and recycled paper bags and sacks. A family-owned business, Flexo was founded in 1994. It is headquartered and has a manufacturing facility in Meriden, Connecticut, and an additional plant in Monroe, Georgia. Flexo products will be sold under the Novolex Duro Bag brand. The addition of Flexo products to the Novolex portfolio will enable Duro to support customer demand through Flexo's production capacity. Novolex has seen a significant increase in demand for paper bags and sacks as consumer purchasing patterns have shifted. Novolex is a portfolio company of The Carlyle Group, a leading global investment firm that acquired a majority of the company in December 2016. With more than 10,000 employee families, Novolex operates fifty-five manufacturing facilities in North America and Europe, including two world-class plastic film recycling centers. ABB PROVIDES AUTOMATION AND ELECTRIFICATION PLANNING FOR NEW MINE IN SWEDEN Nordic Iron Ore appointed global technology company ABB to scope process control and management systems for a future-proof and fully digitalized mining operation at the Blötberget iron ore mine. ABB has provided mine design consultancy and recommended scope of supply for the opening of the former Blötberget mine near Ludvika in the Dalarna region of Sweden. The mine, which has been closed since 1979, is being redeveloped by mining company Nordic Iron Ore and is transitioning from study phase towards construction.ABB's recommendation addresses automation, digitalization and electrification for long-term, safe, sustainable, and efficient mining operations at the site. The technology provider analyzed a detailed feasibility study by Nordic Iron Ore and has made a significant advancement on the definitions and scope of supply of the automation and electrification aspects of the mine.In planning mine design, ABB draws on its comprehensive ABB Ability MineOptimize portfolio of electrification and automation solutions, engineering, digital applications, and collaborative services. ABB Ability MineOptimize integrates individual mining solutions into a secure and structured plant-wide system to optimize all WEFTECBOOTH#5623VISIT US ATVISIT US ATWEFTECWEFTECBOOTH#4018INDUSTRY NEWSINDUSTRY NEWS
Page 11
Page 12
10 | SEPTEMBER 2021WWW.MPTMAG.COMMPTstages in the life-cycle—from design and build to operation and service—of any open-pit or underground mine and minerals processing plant. GOVERNORS AMERICA CORPORATION RECEIVES AS9100 CERTIFICATIONGovernors America Corp., a veteran-owned, Massachusetts-based global manufacturer of engine solutions, has received its AS9100 certification. An international aerospace manufacturing standard, the AS9100 ensures that an organization has a quality management system capable of consistently providing products that meet statutory and regulatory requirements. Many aerospace manufacturers require AS9100 approval from its suppliers."This certification will open up new doors for us and further proves the quality of what we produce," says Governors America Corp. President Sean Collins. "For more than thirty-five years, we have been developing and manufacturing essential parts for almost everything that moves. This certification raises us to a new level, allowing our body of work to grow and expand."Receiving an AS9100 certification requires a rigorous application process that can take years to complete, including a two-stage audit. The certification is valid for three years, with a surveillance audit completed each year to ensure compliance with a set standard and a re-certification audit prior to the expiration. "This rigorous process was made even more difficult due to the restrictions of the pandemic, which delayed our obtaining the certification," continues Collins. "But all the time and effort was worth it. We are known for power generation in multiple industries and this certification will allow for further expansion."JON-DON ACQUIRES DYNAMIC DIAMOND TOOLING Jon-Don announces the recent acquisition of Dynamic Diamond Tooling (DDT). Founded by Patrick Pollitt and Ron Yagur, Dynamic Diamond Tooling is a supplier of equipment, tooling, and chemicals for concrete surface prep and polishing. Based out of Orlando, Florida, DDT offers a private-label line of concrete grinders, vacuums, and tooling made in the United States, along with products from other top industry brands."Both Jon-Don and Dynamic Diamond Tooling share a similar set of core values, most notably in delivering above-and-beyond service to the customer. We are thrilled for this partnership and providing our customers with additional products and support to minimize costs, improve efficiency, and achieve success," says Patrick Pollitt, co-founder of DDT. INDUSTRY NEWSINDUSTRY NEWS
Page 13
Page 14
12 | SEPTEMBER 2021WWW.MPTMAG.COMMPTTRADE SHOW PROFILE | WEFTECTRADE SHOW PROFILE | WEFTECELECTRO STATIC TECHNOLOGY BOOTH 3957 Electro Static Technology (EST) is the global leader in the elimination or mitigation of induced electrical charges on moving surfaces. AEGIS® PRO Rings are specially designed to protect large motors against electrical bearing damage by channeling VFD-induced discharges safely to ground. With six rows of conductive microfibers for high current-carrying capacity, AEGIS PRO Rings reduce shaft voltages to safe levels, protecting both motors and coupled equipment. Easily installed, even in the field, AEGIS PRO Rings are ideal for electrical and maintenance contractors as well as for motor manufacturers. Maintenance-free and tolerant of dirt and grease, AEGIS PRO Rings last for the life of the bearings, regardless of motor RPM. WWW.EST-AEGIS.COMENVIRONMENT ONE CORPORATION ONLINE EXHIBITOR Are you dealing with failing septic tanks? Is I&I from your existing sewer system eating up your budget? Do you have a sewer project with challenging terrain looming ahead? Get after it. ALL-TERRAIN SEWER™ low pressure systems from E/One give you the freedom to sewer anywhere. Environmentally sensitive, economically sensible™: ALL-TERRAIN SEWER low pressure systems are significantly more affordable than conventional gravity sewers, safer than septic systems, and they're a light touch on the land. Plus, ALL-TERRAIN SEWER low pressure systems carry a proven track record of reliability with the lowest life-cycle costs in the industry. Whether it's dead or dying septic tanks or expensive inflow and infiltration, E/One can help. WWW.EONE.COMWhere the water community comes to connect.WEFTEC 2021 FEATURED EXHIBITORSVisit MPT at WEFTEC BOOTH 3770MPT
Page 15
SEPTEMBER 2021 | 13WWW.MPTMAG.COMMPTWEFTEC | MUST-SEE EXHIBITORSGRIFFCO VALVE, INC. BOOTH 4018 Griffco manufactures a comprehensive line of pump accessories to enhance the accuracy, safety, and longevity of chemical feed systems used in water and wastewater treatment facilities. Made in the USA, all products are machined, molded, or cast for high-quality performance. More than 1,000,000 valves and system accessories have been installed in the field since the company was founded in 1992. The product line includes back pressure and pressure relief valves, calibration columns, pulsation dampeners, inlet stabilizers and surge suppressors, injection valves/quills, corporation stops, gauge and instrument guards, fusion dampeners, y-strainers, and other fluid handling accessories. With corporate offices, engineering, and manufacturing facilities in Western New York, Griffco products are sold worldwide through an extensive network of channel partners. Certifications include ISO 9001: 2015, CRN to CS-B51-03, NSF-61, and CE to PED 2014/68/EU Annex III Module D. WWW.GRIFFCOVALVE.COMGRUNDFOS BOOTH 1221 Introducing the new Grundfos CR 215 vertical multistage pump, the newest addition to the range of CR pumps. The CR 215 offers greater efficiency, reliability, and ease of use in more application and processes. With over 1480 gallons per minute and 1,155 feet of head, the CR 215 provides more performance than ever offered by a vertical multistage pump and can be used in applications that previously required large split-case and end-suction pumps. The new CR technology is better for processes such as pressure boosting, reverse osmosis, water transfer, and temperature control. Every detail of the new CR line was designed for maximum energy efficiency, reducing kilowatts without sacrificing performance. The only regular maintenance needed is fast and easy, and can be done on-site. Every CR pump is also performance-tested and approved per ISO 9906:2012 before shipping. WWW.GRUNDFOS.COM/US/NEWCR BLACOH FLUID CONTROLBOOTH 4254 Blacoh offers engineered fluid control products manufactured to exacting standards in a wide variety of sizes, materials, and pressure ratings to suit virtually every application. Blacoh has been improving process system performance, reliability, safety, and productivity for over forty-five years, so find Blacoh products wherever fluid is being pumped. Blacoh products are made in the USA for a reason—nothing gets in the way of providing Blacoh products to customers. WWW.BLACOH.COMBOERGERBOOTH 1309 Boerger designs, manufactures, and sells rotary lobe pumps, macerating technology, separation technology, and feeding technology to convey low to high viscous and abrasive media. Key applications can be found in wastewater applications including sludge (primary, WAS, RAS, digested, thickened, etc.), biosolids, grease, sewage, scum, lime slurry, alum sludge, permeate, polymers, etc. Boerger products are designed with maintenance-in-place, which allows for all wetted parts to be easily replaced through the front cover without the removal of pipe or drive systems. WWW.BOERGER.COMWhere the water community comes to connect.
Page 16
14 | SEPTEMBER 2021WWW.MPTMAG.COMMPTTRADE SHOW PROFILE | WEFTECTRADE SHOW PROFILE | WEFTECONYX VALVE COMPANY BOOTH 4223 Onyx Valve products measure and control hard-to-handle fluids.Pinch Valves: Control slurries ranging from thickened sludge to sand blasting media. D-series valves are a full port design with no wetted metal parts. Sizes from 1/2 to 30 inches with hand wheels, electric, or pneumatic actuators for either on/off or modulating service. Isolator Rings: A reliable way to measure pressure on slurries, they are immune to clogging, plugging, and corrosion. Measure pressure on anything from calking compound to salsa. Compatible with virtually any pressure gauge, switch, or transmitter. In sizes from 1/2 to 48 inches in a variety of materials. Duckbill Check Valves: High flow volume with minimum head loss. Excellent for stormwater, allowing highways and parking areas to drain quickly and completely while preventing streams from backing up through the system flooding roads, homes, and businesses. In sizes from 1 to 60 inches with flanged or slip-on connections. WWW.ONYXVALVE.COMGORMAN-RUPP PUMPS ONLINE EXHIBITORGorman-Rupp sets the industry standard for packaged wastewater-handling pumping systems. These stations are equipped with solids-handling self-priming or submersible pumps, valves, controls, and enclosures that are designed for reliability and easy maintenance. Gorman-Rupp's commitment to "total system responsibility" means you only have to make one call if you encounter a problem. This concept simply offers the best sewage-handling solution on the market—guaranteed. WWW.GRPUMPS.COMCLA-VAL COMPANYBOOTH 4621 Since 1936, Cla-Val has produced the world's highest quality automatic control valves for diverse industries. Cla-Val has strengthened operations and customer service by enhancing product lines and building state-of-the-art production facilities around the world. With major locations having dedicated training centers, the team provides exceptional industry expertise. Aggressive R&D programs have resulted in advanced electronic and hydraulic control systems that meet the challenges of complex and diverse applications. WWW.CLA-VAL.COMPLAST-O-MATIC VALVES, INC. BOOTH 4259 Plast-O-Matic will be introducing its new, all-plastic CAFÉ and NITRO actuators designed for water/wastewater, chemical, RO, ozone treatment, and other corrosive applications. Providing actuation times as fast as one second, CAFÉ and NITRO feature multi-voltage 24-240V AC/DC with automatic voltage sensing. They're suitable for virtually any quarter-turn valve such as ball valves or butterfly valves, metal or plastic material. Standard features include CE Mark, IP67 ingress protection, LED status, remote indicator, and electronic overtorque protection. Options include fail-safe, programmable OLED screen, modulation, MODBUS, and other premium features. CAFÉ and NITRO are engineered and assembled in USA. WWW.PLASTOMATIC.COMWhere the water community comes to connect.
Page 17
SEPTEMBER 2021 | 15WWW.MPTMAG.COMMPTWEFTEC | MUST-SEE EXHIBITORSMELTRICBOOTH 4175 Meltric manufactures a full line of industrial plugs and receptacles, including a signature brand of UL listed switch-rated devices with push-button circuit disconnection. These all-in-one devices combine the safety and functionality of a disconnect switch with the convenience of a plug and receptacle and can be safely connected and disconnected under full load. Meltric also manufactures other safe and reliable industrial plugs and receptacles, including multipin, high amperage, single pole, and hazardous location devices. WWW.MELTRIC.COMHOMA PUMP TECHNOLOGYBOOTH 2058HOMA stands behind every product with a generous warranty, extensive spare parts inventory, regional authorized service centers, factory engineers and technicians who are all dedicated to the support of the entire HOMA product line. Whether your application requires a residential grinder or effluent pump, or you are handling an industrial process stream or municipal wastewater, HOMA will engineer a pumping solution for you. WWW.HOMAPUMP.COMWEG ELECTRIC CORP.BOOTH 3404WEG is committed to creating quality products and efficient solutions. To achieve this, there is continuous investment in innovation and team work. Helping people reach their goals by living the values of the company is WEG's passion. At WEG, the customer is also part of the team. Working together we can develop the best solutions. There are many approaches to efficiency at WEG. Whether it be energy saving, to reduce costs, or increase productivity, we work to fulfill the needs of our customers. We never stop because a product works well. We always look for a way to make it work even better. This constant search for improvement has led to the creation of some of the most efficient products in energy saving available on the market. WWW.WEG.NETVAUGHAN COMPANY BOOTH 2021 At its core, a true chopper pump consists of a rotating impeller with cupped and sharpened leading edges, cutting against stationary fingers at the entrance to the volute.The original patent was applied for in 1960 (granted shortly thereafter) by Vaughan Company founder, Jim Vaughan. Vaughan Company has introduced many new chopper pump models covering a broad range of heads and flow, greatly improved efficiencies, all incorporating numerous patented cutting features. Including upper cutters, stationary cutter bars, and other cutting features is fundamental to chopping and clearing problematic materials. This protects downstream components which is vital to the effectiveness of wastewater systems. From the start, and to this day, Vaughan Company remains committed to giving customers outstanding service and the most dependable product solutions in the world. WWW.CHOPPERPUMPS.COMWhere the water community comes to connect.
Page 18
16 | SEPTEMBER 2021WWW.MPTMAG.COMMPTCASE STUDIESCASE STUDIESLakeside's Hydronic T-rake system.
Page 19
SEPTEMBER 2021 | 17WWW.MPTMAG.COMMPTBefore a series of upgrades (totaling $27 million over fivr years), at the city of Washington's wastewater treatment plant in Indiana, even the smallest amount of rainfall would cause an overflow. Of course, $27 million is a significant sum of money, but as any municipal works superintendent will tell you, funding is a long and complicated process.Prior to the installation in 2012 of a fixed bar screen, Superintendent Scott Rainey and his team at the city of Washington's wastewater treatment plant could be forgiven for any choice words uttered as they painstakingly pulled out large debris from a fixed overflow weir (installed in 1988), that was overwhelmed during storm events.FACING DOWN MUNICIPAL BACK-UPSWith a collection system comprising of combined sanitary and storm sewers with four combined sewer overflows (CSOs), treatment has sometimes been as complicated as funding—but again, learning to be patient, resilient, and resourceful is very much part of responsible wastewater treatment plant life."Our old screen just kept on blinding," says Rainey, who has served the city of Washington's WWTP for the past sixteen years. Back-ups were all too regular. We knew—and we wanted to take action—as of course did the state's Department of Environmental Management, but our hands were tied until we had funding in place. In the meantime, we simply had to get on with it. With talk of a fine hanging over our heads, this wasn't always easy."Finally, when approval was given to go ahead with a new screen, to the tune of up to $1 million to $1.2 million, Rainey set about researching the best possible solution, speaking to operators all over the United States. He also sought advice from his trusted contact, Ken Sobbe at FACO Waterworks in Indianapolis, who had helped supply the plant (which opened in 1952) with equipment on many occasions. "Serving a small community (12,000), we all have several hats to wear," adds Rainey, "so getting away isn't easy—but I attended trade shows—and trust me, I listened to all sorts of solutions that were put forward. I knew that while we certainly needed something robust and of good quality to cope with heavy debris, we didn't necessarily need a full-blown mechanical screen, just for the sake of it. We're not trying to reinvent the wheel."RETROFIT AND UPGRADE CONCERNSA key factor in the decision-making process was the possibility for retrofit. During the previous upgrades, a forward-thinking approach saw the main storage tank designed so that is could be retrofitted if required—with only slight modifications. Rainey also consulted with the treatment plant's engineer of record Midwestern Engineers, who came up with the idea of integrating an automated rake system to clean and clear the bar screen during storm events."Attending the WEFTEC show was well worth the time in the end," continues Rainey, "and when I showed my engineers the Hydronic T-screening System from Lakeside Equipment Corporation, they liked it immediately. Seeing a video of the Hydronic T pull a log out of a creek was very impressive—and when I spoke to other operators, they, like Sobbe, confirmed what high quality and precisely engineered equipment it is. We all agreed that we could have gone bigger and therefore more expensive, but we knew we could make use of our existing structure—so long as the mechanical transition could be as simple as possible. To be honest, we didn't realize that there was anything out there on the market quite like the Hydronic T-screen."As those saddled with funding issues or ultimately benefiting from it know, the next obstacle to negotiate when all has been agreed upon, is timing. Twelve months may at first sound like a long time—but achieving everything from scratch—research and design, culminating in just three months to complete all the engineering was a considerable feat. Together with a very skilled contractor, the goal-oriented and product delivery-driven team is what enabled the project to stay on budget and finish ahead of the EPA mandate.A JOINT EFFORT THAT DELIVERSThe contractor in this case was Bowen Engineering Corp. (established 1967, Indianapolis, Indiana), who was confident that this joint effort would deliver the right results—as well as stick to the original cost estimates for the project.Sam Hill, project manager at Bowen Engineering, takes up the story: "We wanted to deliver a really high-quality product while always challenging ourselves as to how can we do RETROFIT PAYS OFF T-screen success in Indiana wastewater treatment facility BY DAN WIDDEL, LAKESIDE EQUIPMENT CORPORATION
Page 20
18 | SEPTEMBER 2021WWW.MPTMAG.COMMPTCASE STUDIESCASE STUDIESsomething better for less money," he says. "The city of Washington is a long-time customer of ours, so by knowing and understanding their needs, we feel that we are working with them as a team rather than as separate entities."The Stormwater Combined Sewer Overflow Tank is intended to be a storage tank during major rain events to prevent sewage from discharging into local waterways—but with a clogged screen, the sewer/stormwater is diverted into the waterway, in effect making the tank totally ineffective. Retrofitting the existing system with Lakeside's Hydronic T-rake brings the tank into play as it should—and in doing so, cleans up the area's waterways. Most importantly, it helps to prevent the city from being fined large sums of money by government environmental agencies for diverting flow." A hydraulically operated telescoping boom and rake mechanism, the Lakeside Hydronic T utilizes hydraulic cylinders to pivot the boom and to extend and retract the boom and rake for depths up to 50 feet. A hydraulic power pack provides greater lifting capacities as compared to other screens, and it has all of its components accessible above the channel for ease of maintenance. The Hydronic T-screen's flexible design saves money when designing indoor headworks systems with deep channels, low headroom or retrofit needs. At the city of Washington, the system features a double 12-foot-wide telescoping design to rapidly remove the anticipated debris from storm events. Unlike the previous operation, a level sensor in the channel will intelligently switch the screen on until the water elevation returns to the required level.DELIVERING ON A PROMISE"We weren't trying to cut any corners," continues Rainey, "but from a potential outlay of up to $1.2 million, the big plus of having a retrofit was that we spent $750,000 instead. We do want our bang for the buck." The very nature of retrofitting existing equipment and integrating it with new can often present many unforeseen challenges and issues, but according to Bowen Lakeside Hydronic T-screen at the city of Washington, Indiana.
Page 21
SEPTEMBER 2021 | 19WWW.MPTMAG.COMMPTEngineering's Hill, apart from a couple of very minor points, the installation of the new Lakeside rake went very smooth."The equipment was delivered just as it should have been, and the Lakeside engineers were always available on the phone without delay. Perhaps it seems a petty and maybe obvious thing to say, but the equipment that was shipped matched the drawings! Often this is a challenge when modifications to equipment don't match current drawings. Hugely frustrating and time-consuming."From main structural members to the smaller items like hydraulic tubing, all of the prefabricated parts came together very well. The shipping package from Lakeside was engineered so the equipment was preassembled to the maximum allowable prior to shipping, which always helps the owner cut down on site cost. The Lakeside Hydronic T is a great rake system—a very high-quality product that was delivered on time and ready to install. Top quality equipment and proper planning makes a big positive difference."A GREAT EXAMPLE OF QUALITY ENGINEERING FACO Waterworks' Ken Sobbe, a veteran of no fewer than forty-one WEFTECs, agrees: "We all knew that it would be a tight call, but I have to say that it came together very nicely indeed, with the new screen doing everything we said it would. I've seen the Hydronic T put through its paces and it's a great example of quality engineering."Rainey concludes, "We had to slightly change the angle of elevation and tweak the hydraulic pressures a little for heavier debris, but as with all installations, you have to expect a bit of fine tuning for the specific needs of your own plant. Overall, everyone is very pleased with it. Throughout the process Lakeside did a very good job. They turned things round quickly but always with quality. And despite the delay in getting the project released, which initially would have meant project completion after the deadline for crucial compliance purposes, the tenacity of Bowen Engineering, together with us all as a team, saw construction completed ahead of schedule—at no extra cost to the city. The option to retrofit has proved an excellent fit for what we needed here." DAN WIDDEL is regional sales manager at Lakeside Equipment Corporation. Lakeside Equipment Corporation is an engineering and manufacturing company concentrating on helping to improve the quality of our water resources. Lakeside started in the spring of 1928 to engineer, develop, and provide water purification systems to municipalities and companies throughout North America. For more information, visit www.lakeside-equipment.com.
Page 22
20 | SEPTEMBER 2021WWW.MPTMAG.COMMPTWATER & WASTEWATER FOCUSWATER & WASTEWATER FOCUSContractors cleaning municipal sewer, storm, and sanitary lines face a host of challenges on the job. This can range from having to clean miles of line in the most efficient manner, complying with annual regulatory mandates, to handling tough blockages caused by roots, grease, and cave-ins. It can even involve dreaded "blown toilets," which can become a clean-up and public relations nightmare if this occurs too often.So, for busy contractors, tried-and-true, practical tips will be provided from experts at an industry innovator: KEG Technologies, manufacturer of sewer and storm lines products including Tier 1 to Tier 3 nozzles, chain cutters, floor cleaners, and camera nozzle systems. As a national trainer of best-practice techniques, the Spartanburg, South Carolina-based company is a member of NASSCO, the National Association of Sewer Service Companies, and its Tier 3 High Efficiency nozzles, such as the Torpedo, Royal, and OMG, provide up to 98 percent efficiency."Most of the problems are in four-inch up to 18-inch sewer pipe, which accounts for up to 95 percent of all the pipe in the ground, anywhere in the United States," says Dan Story, KEG operations manager. "Proper training and education can resolve the majority of these issues."1TO CLEAN FASTER, SLOW DOWN The number one mistake of most contractors is simply rushing through the cleaning process, according to Story."Most operators run their nozzles way too fast. Slow your nozzle down and let it do its job. You're not in a race. If you run the nozzle up in a hurry and back in a hurry, all you do is waste water and time," says Story.According to Story, when contractors slow down and let the water flow carry the material back to the evacuation point, the water in the pipe becomes like a "conveyor belt that moves the material.""If you clean correctly, the water is going to carry the debris off and out of the way," says Story. "That is why with six to 15-inch lines, 95 percent of the time it is possible to go from manhole to manhole and clean them in one pass. While I'm moving on, most operators who rush are still making second and third passes."To stay productive, Story advises contractors to never outrun their water. "As you go in the pipe, if you go in slow enough, you should be running between 40 and 60 feet per minute, based on the condition of the pipe and how much material is in the pipe. The more material, the slower you want to move," he says. "You want to be able to chop that material up and get it in the flow of the pipe's stream. When you get to the end of the line, dial your pressure back down and rinse it. When you come back, the job is done," he adds.2CHOOSE THE RIGHT NOZZLE FOR THE JOBIn addition to going slow, Story emphasizes that choosing the right nozzle for the job is critical."By going slow and using the right type of nozzle, you will clean your line in one pass," says Story.7 TIPS TO ACHIEVE BETTER, FASTER SEWER CLEANING Expert guidance to optimize cleaning efciency while preventing tough blockages BY DEL WILLIAMS
Page 23
SEPTEMBER 2021 | 21WWW.MPTMAG.COMMPTHe points out that in many cases, using a high efficiency Tier 3 nozzle will provide significantly more cleaning force, at a greater distance, with less water. This enables crews to get more line cleaned before having to leave the jobsite to refill the sewer truck with water.As is known throughout the industry, there are tiers of nozzles, rated for water efficiency from Tier 1 (about 30 percent efficient), Tier 2 (50-60 percent efficient), to Tier 3 (75-98 percent efficient). However, even within the Tier 3 category there are significant differences in levels of efficiency. Opting for the lower end Tier 3 nozzle with 75 percent efficiency could still lead to additional trips to refill. Additionally, such units may not remove restrictive sewer buildup or blockage in a timely manner.According to Story, a Tier 1, 30-degree drilled nozzle running 72 gallons a minute at 2,200 psi will only exert 13 pounds of force to move debris nine feet away from the nozzle. In contrast, a very high-efficiency Tier 3 nozzle running 60 gallons a minute at 2,000 psi will impact that plate nine feet away with 98 pounds of force. "If your objective is to remove debris out of the sewer line, which one's going to do it better? 98 pounds of force or 13 pounds of force?" asks Story. "Using high-efficiency Tier 3 nozzles are key to getting more done in less time."3SLOW DOWN EVEN MORE TO REMOVE BLOCKAGESWhile blockages come in many varieties, including roots, grease, mineral deposits, and cave-ins, it is essential to clean even slower when encountering one, according to Story. "If the contractor rushes up the sewer line, sooner or later they will run into a blockage of roots, grease, etc. and plug up their front jets. Now, they no longer have a penetrating tool. They have a battering ram, a nozzle with no forward jets trying to feed its way through the blockage," says Story.He advises, "Instead, slow down even more to remove a blockage and let the nozzle do the work. The reason we put forward jets on those nozzles is so they can open the blockage before the nozzle arrives. By slowing it down, the water will open the blockage even before the nozzle ever gets there."4AVOID BLOWN TOILETS: SLOW DOWN, AND CLEAN UP AND DOWN THE SEWER LINEAs any contractor knows, a "blown toilet" can leave sewer material on a homeowner's floor and toilet seat, raising tensions in the community. This occurs when the contractor rushes up
Page 24
22 | SEPTEMBER 2021WWW.MPTMAG.COMMPTWATER & WASTEWATER FOCUSWATER & WASTEWATER FOCUSthe sewer line with little or no cleaning going up the sewer line on the first pass. This results in excessive piles of debris on the return trip through the same stretch of sewer line.According to Ken Billingham, KEG international product specialist, air flow from the jet nozzle compresses between the nozzle and the debris, creating significant positive pressure. When the debris passes by a home's service line, the pressurized air blasts up and out of the service line, causing a blown toilet. The solution, according to Billingham, is to slow down and clean going down the sewer line and back. This can largely prevent the conditions that too often lead to blown toilets.The same approach can prevent the worst incidents – when rotting black material trapped in sewer pipe sags gets launched into homeowner's bathrooms. "By cleaning slowly, contractors are able to pull the water and trapped material out of the pipe sags, so they will not blow the worst kind of material out of the toilet," says Billingham.When the city of Ottawa in Ontario, Canada had a serious issue with blown toilets, the city council would not allow sewer cleaning crews to go into certain parts of town where there were chronic problems.After Billingham conducted a three-day training session with the city's contractors, the local newspaper reported that the training had helped to reduce blown toilets in the city by 88 percent.5SET UP AND USE CHAIN CUTTERS CORRECTLYChain cutters can be used to remove most types of sewer line blockages. As an example, high output torque cutters such as KEG's Micro Chain Cutter can readily remove light roots, while its Supernova Chain Cutter is designed to eliminate heavy root blockages as well as scale, mineral deposits, and years of hardened grease. However, these tools must be set up and used correctly."Chain cutters are forgiving, but most people are hesitant to use them because if they are set up wrong or run improperly, they can destroy your pipe. If you set it up right, and run it properly, you will never damage a pipe," says Story.Story says that contractors must first set up cutters correctly and follow the manufacturer's guidelines. In general, he advises, it is best to set up the cutter chain to be about one inch smaller than the pipe it will cut (i.e., use a 9-inch cutter chain in a 10-inch pipe, etc.)As for operating the cutter, he says, "Let the tool find its way down. You will know when it's in contact with roots. You can feel it. You can smell it. You can hear the change in the way that the tool works. Just keep feeding it in slow and steady until it gets through the problem."6USE A CAMERA NOZZLE TO QUICKLY DETERMINE THE PROBLEM OR VERIFY COMPLIANCEWhen contractors need to quickly assess the condition of a sewer line to determine a solution or document its condition to verify mandated compliance, today nozzles with integrated cameras can accomplish both during routine cleaning."A small municipality could use a camera-nozzle to inspect their own pipes to verify they are clean instead of contracting it out. If they found any major problems, they could bring their contractor in," says Ken Billingham.
Page 25
SEPTEMBER 2021 | 23WWW.MPTMAG.COMMPT"When the operator is having problems trying to get through a pipe, a camera-nozzle can take a quick look at it, so they can pick the right tool, whether it is a cutter, blockage nozzle, or digging crew," he adds.For example, KEG's camera-nozzle, called KleenSight, offers operators the ability to clean sewer and storm lines while recording video, as well as quickly assess the line without having to use a CCTV camera truck. Only a jetter hose connection is required—no cables or wires. With wi-fi capability, the camera captures the video in memory and allows viewing and downloads on any Wi-Fi enabled device, such as a smartphone, laptop, and so on.Story adds an important word of caution: "Anytime you put a root cutter in any kind of pipe, the line should always be inspected with a camera first, and a camera nozzle makes this easy. Also, all cutting should be done with a camera to help the contractor know what he or she is doing. This is critical because with all the varied utilities in the ground, if you're not inspecting the pipe, you're liable to hit electric lines, gas lines, or fiber optic lines—and that can cause explosions or serious outages."7CONDUCT INDUSTRY BEST-PRACTICE TRAINING TO OPTIMIZE SAFETY AND PRODUCTIONMost municipal contractors do not have the time to keep up-to-date with the industry's best practices and equipment. That can lead to costly errors and even safety hazards. For those who want to enhance the safety and productivity of their workforce, scheduling periodic or ongoing training can resolve serious issues and turn problems into strengths, as training did with the city of Ottawa."Whether contractors take advantage of online or in-person classes, or get hands-on instruction, guidance, and practice right in their own communities, learning best-practice techniques usually pays off quickly in improved service quality and production," concludes Story. DEL WILLIAMS is a technical writer based in Torrance, California. KEG Technologies Inc. offers a wide range of nozzles to satisfy the most difficult pipe cleaning conditions imaginable. From value priced Tier 1 nozzles to patented ultra-high efficiency Tier 3 nozzles, KEG nozzles get the job done fast. For more information, call 866.595.0515 or visit www.kegtechnologies.net.
Page 26
24 | SEPTEMBER 2021WWW.MPTMAG.COMMPTWATER & WASTEWATER FOCUSWATER & WASTEWATER FOCUSRiverside Public Utilities (RPU) has been providing water and electricity to the city of Riverside, California, since 1895. As an innovative public utility serving 70,000 customers, RPU has developed a new initiative—Utility 2.0, a strategic plan that addresses big challenges that all utilities are facing today. Some of these challenges that affect the delivery of safe drinking water include ageing infrastructure, climate change, new government regulations, aging workforce, and of course technology. Technology has a role to play in all these areas and Riverside is known for keeping ahead of the curve. AUTOMATING INFORMATIONIn 2007, when most municipalities relied on spreadsheets and pen-and-paper reporting, RPU implemented WaterTrax to consolidate and automate water quality sample data transfers from the laboratories. Included in the implementation was a thorough import and migration of historical data. Having State Certified Environmental Laboratories upload results they produce directly into WaterTrax, allows RPU to utilize WaterTrax as its secure database of record. There is no ability for the end user to edit an analytical result or accidentally make a typo as with a spreadsheet. WaterTrax's user-friendly interface gives RPU immediate access to the information in an organized useful format. Out-of-the-box report generating, archiving, and trend analysis tools are utilized on a daily basis to fulfill data requests and to monitor treatment plant processes and raw water trends. WaterTrax streamlines regulatory compliance RIVERSIDE FORGING AHEAD ON WATER QUALITY Integrated software platform streamlines compliance and protects public safety BY JOHN YAP, AQUATIC INFORMATICS
Page 27
SEPTEMBER 2021 | 25WWW.MPTMAG.COMMPTand provides alert notifications when parameters are under or over the set range, which allows the utility to geographically pinpoint trouble spots and enact corrective measures when needed.SEEKING IMPROVEMENTSIn 2018, WaterTrax released a free API to existing customers, as a means to seamlessly integrate WaterTrax with third-party systems (for example, BI tools, CMMS, GIS, etc.), in a secure and automated manner. As expected RPU was quick to jump on board and see how they could further improve efficiencies in operations and what improvements, if any, could be made with deeper data analytics.Robin Glenney, water quality administrator at Riverside Public Utilities, spearheaded the API adoption, along with the PI team. With a unique API key having been issued by WaterTrax to securely access the API, the utility was able to begin configuring the tool to appropriately map and subsequently trigger the transfer of hundreds of thousands of data points from a multitude of analytes associated with hundreds of sampling locations from WaterTrax into their internal OSISoft PI System. The entire process of integrating WaterTrax with the PI System, which included a stringent quality assurance testing process to ensure accuracy of data, was completed in less than six months. INTEGRATING DATA ACROSS SYSTEMSThe API function enabled the transfer and ingestion of water quality data from WaterTrax into Riverside's internal business intelligence tool, OSISoft PI System—a vehicle used for centralizing data sourced from other business units including SCADA, Esri GIS, and asset management/work order system (UWAM). The integration enables RPU Water quality sites and regulatory reports on display.John W. North Water Treatment Plant's membrane filtration that can treat up to 10 million gallons per day.
Page 28
26 | SEPTEMBER 2021WWW.MPTMAG.COMMPTWATER & WASTEWATER FOCUSWATER & WASTEWATER FOCUSto view current data from systems that were previously siloed and isolated. This integration has provided the utility with a more holistic view of their distribution system samples, treatment plant process control samples and groundwater well samples. Having all the data automatically funnel into a centralized system as it becomes available means staff no longer needs to manually extract data separately from WaterTrax, SCADA, and UWAM before performing subsequent data manipulation. This has made the process of data compilation and report generation much more efficient.The integration of the OSISoft PI and WaterTrax has yielded other benefits to the utility and its key users. Visual displays can now be created and automatically updated as new data is made available. Moreover, dashboards are displayed on a secure site for operators and management to see in real time. This has had a significant impact on the operations team with respect to improving the efficiency of water quality management, which is always a priority when adopting new software solutions.CONNECTING DATA TO USERSRPU's groundwater wells and treatment facility effluents blend prior to entering the distribution system. Real-time data from SCADA and WaterTrax are integrated in a blend model dashboard, where over 500 calculations run real time and show operators the blend at each transmission main, as well as entering the distribution system. If there is a change to the blend that exceeds the established setpoints, the water quality team gets an email or text message alert. This allows the operational team to make timely and appropriate decisions. Water quality data from WaterTrax and service requests from UWAM are plotted on a map in ESRI GIS and displayed on a dashboard allowing staff to visualize location of service calls alongside chlorine residuals and other water quality data."The API integration has really improved our ability to quickly make decisions based on real time data," says Robin Glenney. "The advantage of combining information from SCADA, UWAM, and WaterTrax gives us the big picture in one place and allows us to improve performance and operational efficiency," Glenney concludes. JOHN YAP is WaterTrax senior product manager for Aquatic Informatics. He works with municipal water professionals to design and deliver a robust suite of water and wastewater data management software solutions with a focus on industry best practices and regulatory standards. As leader of the WaterTrax product team, Yap continues to enhance features and functionality to optimize user experience. Aquatic Informatics, the producers of WaterTrax, provide ongoing support and training for newly released features through regular software updates, ensuring that utilities get the most out of their data with the constant evolution of technology. For more information, visit www.aquaticinformatics.com.
Page 29
SEPTEMBER 2021 | 27WWW.MPTMAG.COMMPT
Page 30
28 | SEPTEMBER 2021WWW.MPTMAG.COMMPTMAINTENANCE & RELIABILITYMAINTENANCE & RELIABILITYwww.mptmag.comSEE •PART ONE•VISITThe anti-stagnation valves have reduced the use and maintenance of Hamilton's pumps by 50 percent, which has a significant cost saving now and in future planning of pump stations.
Page 31
SEPTEMBER 2021 | 29WWW.MPTMAG.COMMPTDetermining the optimal run time of the stagnation valve depends on a few parameters that can vary from one location to another. Dave Alberton, manager of water distribution and wastewater collection for Hamilton Water, points out, "Our engineering firm created a spreadsheet to determine how long the anti-stagnation valves need to open for. By entering in the diameter of the pipe that the normally-closed boundary valve is connected to, and the distance to the nearest piping intersection, upstream or downstream of the isolation valve (whichever is longer), the program calculates the total volume of potentially stagnant water on one side of the boundary valve. Then we input the upper zone and lower zone pressures which are normally constant. And lastly, we can 'play' with the size of the anti-stagnation valve—trying different sizes to see what is the most suitable for the application." The program takes the valve's size, converts that to its Cv and can then calculate the flow through the valve using the equation Q (flow) = Cv * square root of the Dp across the valve. The volume divided by the flow rate gives the city the time required to flow the entire volume of stagnant water through the valve.BATTERY USE AND RELIABILITYTo meet the need for high demand and reliability without fail, the latching solenoid is a high-quality unit, and the entire valve, including the solenoid, is rated to 232 psi. It can range in size from 1/2 to 4 inches, but most common is the 3/4 inch. The unit runs off a long life 9-volt lithium battery and the whole assembly is IP-68 submersible which is important to have in a valve chamber where flooding can happen. The battery is rated for three years of service, but the city prefers to err on the side of caution and replace the batteries every year during regular maintenance checks to ensure the valves are working properly and continue to do so. "In the worst case, if the battery runs out of power, the valve will cease to function but is designed to fail in the closed position. The unit will retain its program so that, when a fresh battery is installed, the program does not have to be re-entered. When connected to a computer the unit will synch to its date," says Alberton.SAVINGS ACROSS THE BOARDThe pilot project focused on thirty-seven water distribution level valves and open bypass lines that separate the two pressure districts. The previous one-year historic pumping station electrical demand (kW) and energy consumption (kWh) were used as a baseline for the pilot project. BENEFITS OF INSTALLING ANTI-STAGNATION VALVESCity of Hamilton reduces pump costs and energy consumptionPart 2 of 2 BY PETER SUCHARDA, DEVINE & ASSOCIATES, AND MARK GIMSON, CLA-VAL COMPANYHamilton Water staff perform maintenance on anti-stagnation valve.
Page 32
30 | SEPTEMBER 2021WWW.MPTMAG.COMMPTMAINTENANCE & RELIABILITYMAINTENANCE & RELIABILITYThe post-retrofit period is being continuously monitored using the city of Hamilton's Office of Energy Initiatives to gather electrical demand (kW) and energy consumption (kWh) data to verify actual project energy savings and electrical demand reduction. Based on the product calculations, it was estimated that each valve would save 44,000 kWh of energy, or 1,628,000 kWh per year in total for thirty-seven valves. This was based on a 185-kW reduction in electrical demand and a 24/7 process operation. However, the valve timers were set for fifteen minutes, which is shorter than the original time used to estimate savings, so the actual energy savings were even greater.ENERGY SAVINGSThe graph shows the flow before and after the anti-stagnation valve installation. The actual results of the pilot study were a monthly savings of 258,515 kWh which equates to a reduction 3,102,180 kWh per year of energy use. This translates into an annual coast savings of CDN $199,637 for the pilot project. With a total installed project cost of under CDN $90,000, the simple payback is under five months for this technology.WATER SAVINGSUsing anti-stagnation valves has enabled the city to eliminate stagnant water concerns and reduce water consumption. The valves are programmed to open at staggered times in order to minimize impact to the system. By flowing during the daytime, when there is normal demand, these valves can reduce and even eliminate over-pressurization in the lower system. As they flow for shorter periods of time there is less wear and tear to the chamber piping, significantly reducing breaks down the 3/4-inch line elbows and fittings that occur due to high velocity flow and cavitation issues. Since the pilot project watermain breaks have decreased by 15 percent resulting in a reduction of non-revenue water loss.EQUIPMENT SAVINGSBy reducing flow, the city will also reduce equipment costs associated with delivering that water in three key areas. 1. ANNUAL MAINTENANCE: As pump usage is reduced by 50 percent, All problems eliminated by implementing an anti-stagnation valve to open only when required.PRESSURE DISTRICT 4 AND PRESSURE DISTRICT 8 - ANTI STAGNATION VALVE PROJECT RESULTS
Page 33
SEPTEMBER 2021 | 31WWW.MPTMAG.COMMPTmaintenance costs should decrease by 50 percent (based on running time). 2. PUMP REPLACEMENT COSTS: With 50 percent reduction in operation, each pump's life expectancy will double. Therefore, replacement cost will drop by half on a yearly basis. 3. NEW STATION COSTS: If the original plan were to use four pumps but now only two are required, new station costs will decrease significantly. With a reduced number of pumps, station size decreases as does its complexity since the station will require less valves and associated piping.The pilot project (Phase 1) has clearly demonstrated that incredibly significant energy savings and water reduction for the city of Hamilton is achievable using the anti-stagnation valve technology in its pressure district zones. "We have a culture of continuous improvement at Hamilton Water, so with such a positive ROI and reduction on energy consumption we are now in the process of rolling out two more phases. Phase 2 will involve the installation of an additional thirty-seven valves, providing an energy savings estimated at 445,000 kWh per year … Phase 3 will see the installation of a further 36 valves, estimated to reduce energy consumption by 400,000 kWh per year," adds Alberton.THE TIME IS NOWThe city of Hamilton is well on its way to improving operational practices that reduce carbon emissions with the end game of 60 percent reduction in emissions by 2050. "Every effort counts when it comes to saving the planet for our future generations. I encourage all municipalities to step up to the challenge—the technology is there, it's up to us to implement it," concludes Alberton. PETER SUCHARDA, P.ENG., is president of Devine & Associates, which works with end users, consultants, and contractors to design, produce, implement, and support flow solutions for water, wastewater, storm water, slurry, and other fluid applications. He can be reached at psucharda@devineassoc.com. MARK GIMSON is director of marketing and international sales for Cla-Val Company and can be reached at mgimson@cla-val.com. Cla-Val is a world-leading designer and manufacturer of automatic control valves. From reducing and relief valves to deluge, air valves and more, Cla-Val manufactures and provides a wide variety of solutions for use in some of the world's most demanding applications. For more information, visit www.cla-val.com.
Page 34
32 | SEPTEMBER 2021WWW.MPTMAG.COMMPTPUMP SOLUTIONSPUMP SOLUTIONSDOUBLE DUTY FOR TWIN SCREW PUMPSKeep pace with evolving consumer demand with twin screw pump technology BY TOM KORTE, RODEMKeeping pace with twenty-first century consumer demand while maintaining operational costs and production schedules is trickier than ever. In today's fast-paced society, food and beverage producers face rapidly changing consumer tastes, constantly emerging flavor trends and the demand for a variety of choices on supermarket shelves everywhere. As a result, these producers must find creative ways to incorporate flexibility into their processing systems and production lines, while adhering to tight operational budgets and schedules.To meet these ever-changing trends and high consumer expectations, savvy food producers leverage twin screw pumping technology to create the in-house flexibility their processes and consumers' demand. The Axiflow twin-screw positive displacement pump has a non-contacting feed screw design, that facilitates a speed range of less than 50 and up to 4,000 rpm. This means that the Axiflow twin screw pump is able to process high-viscosity food products as well as low viscosity fluids like clean-in-place (CIP) solutions used for cleaning.See how one Midwest yogurt producer was able to improve their flavor changeover process to meet customer demand, while controlling operating costs, improving efficiency, and eliminating downtime by incorporating twin screw pumping technology into their process for both product and CIP duties. THE CHALLENGEPrior to incorporating the twin screw technology, this producer was using manual swing connections to flush out between flavor changes in their yogurt process several times daily. Breaking the lines for flavor changeovers was negatively affecting production
Page 35
SEPTEMBER 2021 | 33WWW.MPTMAG.COMMPTschedules due to the downtime necessary to disconnect, clean, and reconnect.This producer faced other factors that contributed to unwanted downtime associated with manual connections and pump changes. For each flavor change, they needed manpower to manually break lines and make connections. The need to rely on manual labor also opened the door for other factors to impact production efficiency—from human error to safety concerns as operators navigate both over and under vessels to make the swing connections. THE SOLUTIONIn order to meet consumer tastes and keep pace for production demands, this producer incorporated Axiflow twin screw pump technology into their yogurt process to serve as both process and CIP pump. On viscous products, twin screw pumps can run at a relatively low speed providing a gentle yet very high suction capability and extremely low, if any, pulsation. On thin, water-like products, the Axiflow pump can be sped up to overcome the slip to maintain high velocities to perform CIP and CIP return pump functions. Since the cleaning medium flows completely through the pump at the required velocities, outstanding cleaning results are achieved. The pump is also cleaned successfully by CIP even under the most difficult operating conditions, as with viscous dairy products.Because the Axiflow twin screw pump can perform double duty, both process and CIP, they were able to eliminate the need to break lines and do manual swing connections to flush out between flavor changes, enabling greater uptime for production. When it is time to clean between flavors, they simply ramp up the Axiflow pump that is also being used for process and are able to flush the lines and pump out water flush from A REVOLUTIONARY PUMPING TECHNOLOGYTwin screw pumping technology has proven to be a viable alternative for transferring multiphase products, and it is designed to be capable of running at much higher speeds than conventional positive displacement pumps. For the sanitary market, Axiflow pumps set a new benchmark for a variety of pumping and mixing applications and offer viable solutions to many difficult processing problems often experienced with positive displacement pumps.
Page 36
34 | SEPTEMBER 2021WWW.MPTMAG.COMMPTPUMP SOLUTIONSPUMP SOLUTIONSprocess vessels without switching to another pump. This has also done away with the need to have a separate CIP pump to purchase, maintain, control, and operate.THE RESULTThe elimination of manual swing connections results in less downtime and more up time to meet production goals. With the number of flavor changes daily, the ability of the Axiflow pump to perform both process duty on viscous products and overcome slip on thin products like CIP has significantly increased process efficiency.The result is faster processing from one flavor to the next, coupled with a variety of other benefits that accompany incorporating twin screw pump technology into their process. In addition to the boosted productivity, this producer has utilized Axiflow twin screw pump technology to: • Eliminate product-to-product carryover• Decrease labor expense due to the elimination of manual line breaking• Improve pump performance from human errors or manual mistakes• Improve operator safety• Ensure product quality through minimizing contamination risks that are present during manual line breaking The Axiflow pump does have a higher initial cost than traditional pump alternatives, but it makes up for that with an extremely low cost and simplicity of ownership. Because one pump performs two duties, spare parts and maintenance needs are simplified and there is no need for duplicate pump controls. Axiflow twin screw pumps can operate in the field for years before requiring any spare parts. Faster processing, boosted productivity, improved safety, the added flexibility through Axiflow twin screw pump technology helped this yogurt producer maintain the uptime required to keep up with their production schedule and meet the rapidly changing consumer demands of the twenty-first century. TOM KORTE is director of sales for Rodem. 2021 marks Rodem's fiftieth year in business in the sanitary processing industry. Rodem credits its success to a talented workforce, loyal customers, dedicated partners, and the drive to provide valued clients with the best possible solutions and service. For more information, visit www.rodem.com.WEBINARSWEBINARSWEBINARSLEARNING FOR TODAY'S PUMP INDUSTRY, AT YOUR FINGERTIPSWhether your work focuses on water and wastewater, chemical processing, or original equipment manufacturing, you need to stay up to date with the latest training. MPT's hosted webinars bring industry experts from leading companies to your computer and offer professional certificates for completion.FOR MORE INFORMATIONJ. Campbell (jay@mptmag.com)visit our website mptmag.com
Page 37
www.LSelectricAmerica.com1-800-891-2941 | sales.us@lselectricamerica.comPOWER: 1 HP to 800 HPPERFORMANCE: Best in Class Pumping VFDEASE-OF-USE: Macros w/Keypad – GOOD! HMI with FREE Program – BEST!STOCK: Chicago, IL U.S.A.gameCHANGERTHE H100+Contact us today to try yours soon!EASY PID setup with LS HMI and free PUMP program! Get up and running FAST!
Page 38
36 | SEPTEMBER 2021WWW.MPTMAG.COMMPTPUMP SOLUTIONSPUMP SOLUTIONSSulzer has delivered fifteen of the largest pumps in its CP range to an operator in Iraq's Rumaila oil field. The pumps are part of a project to introduce enhanced oil recovery (EOR) technology at several of the customer's well sites. The ten-stage Super Duplex CP pumps will each deliver more than 132,000 gallons of water per hour at just under 200 bar to the well, increasing recovery rates significantly.CLASS-LEADING EFFICIENCY AND RELIABILITYFollowing on from initial consultations between the customer and Sulzer oil and gas specialists, the company's CP pumps were selected for the EOR application. The volute design of the CP range offers improved energy-efficiency over alternative designs: the pumps could deliver the required pressure and volume using a 4.6 MW motor running at 3,000 rpm. That would save between 300 and 500 kW of installed power at each pump, reducing the capital cost of the equipment and delivering significant operating cost savings over the lifetime of the installation.The remote location of the Rumaila field also meant that reliability and straightforward maintenance were a priority. The CP pump offers good solids tolerance, reducing the risk of damage if sand is carried over into the feed water. In addition, the pump WATER INJECTION PUMPS INCREASE RECOVERY RATESFifteen Sulzer pumps are optimizing production at Iraq's largest oil eld BY MING KUST, SULZER PUMPSAs part of the engineering specification, the Sulzer sourcing team had to find a specialist NORSOK-qualified foundry that could produce parts using a particular grade of super duplex stainless steel. Sulzer has delivered fifteen of the largest pumps in its CP range to an operator in Iraq's Rumaila oil field.
Page 39
Page 40
38 | SEPTEMBER 2021WWW.MPTMAG.COMMPTPUMP SOLUTIONSPUMP SOLUTIONScasings are axially split, allowing for easy access when maintenance is required. With a long-track record of work with Iraq's oil and gas industry, Sulzer has specialist local field service teams in the country to support its customers on-site.ENGINEERED TO ORDERWhile the CP pump has a standardized and well-proven design, pumps of this size are engineered to meet the customer's precise operating specifications. For this project, that meant the Sulzer team had to complete an end-to-end design, source, build, and test program in line with the customer's demanding delivery schedule.As part of the engineering specification, the Sulzer sourcing team had to find a specialist NORSOK-qualified foundry that could produce parts using a particular grade of super duplex stainless steel. The high-quality material was central to the design of the pumps and would provide long-term durability in the arduous application.The fifteen pumps and their drive motors were all assembled on skids and string-tested at Sulzer's Leeds facility before onward shipment to Iraq. Once in the country, field engineers helped the customer install the pumps into three purpose built pumping stations. All fifteen were delivered on time in accordance with the customer's build schedule.LOOKING TO THE FUTUREFollowing on from the success of the new water injection system, Sulzer is also working with the customer to supply retrofit fit technology for a number of legacy BB4 pumps across its Rumaila operations. The customer's existing pumps had a poor reliability track record, with corrosion and erosion leading to a mean time before failure (MTBF) of just eighteen months. Sulzer's proven retrofit technology uses modern materials and an improved design to extend MTBF to six or seven years, further enhancing the oil company's operations. WEBINARSWEBINARSWEBINARSLEARNING FOR TODAY'S PUMP INDUSTRY, AT YOUR FINGERTIPSWhether your work focuses on water and wastewater, chemical processing, or original equipment manufacturing, you need to stay up to date with the latest training. MPT's hosted webinars bring industry experts from leading companies to your computer and offer professional certificates for completion.FOR MORE INFORMATION:J. Campbell (jay@mptmag.com) visit our website mptmag.comMING KUST is marketing and communication manager for Sulzer Pumps. A global leader in fluid engineering, Sulzer specializes in pumping, agitation, mixing, separation, and application technologies for fluids of all types. Sulzer's Pumps Equipment division specializes in pumping solutions specifically engineered for the processes of customers who seek the market-leader in pumping solutions for water, oil and gas, power, chemicals, and most industrial segments. For more information, visit www.sulzer.com.
Page 41
SEPTEMBER 2021 | 39WWW.MPTMAG.COMMPTSun-Star Electric, Inc. is the worldwide distributor for Hitachi submersible motors. We are also fully equipped to design and manufacture a custom submersible motor for your specific project. Sun-Star's signature line of oil and water filled motors are built to meet your exact requirements. Put our 40+ years of experience to work on your next submersible motor project.Sun-Star Electric, Inc. 888-SUN-STAR/800-782-9675 sales@sunstarusa.com www.sunstarusa.comCUSTOMIZED SUBMERSIBLE MOTORS
Page 42
Page 43
Page 44
42 | SEPTEMBER 2021WWW.MPTMAG.COMMPTMOTOR SOLUTIONSMOTOR SOLUTIONSHOW PMAC MOTORS ARE OFTEN THE BEST SOLUTION FOR PROCESSING APPLICATIONSA high-performance and low-cost alternative to servo motors and induction motors BY MATT HANSON, BISON GEAR AND ENGINEERINGVFsync motor shown with NEMA 56C mounting. IEC mounting styles also available.
Page 45
SEPTEMBER 2021 | 43WWW.MPTMAG.COMMPTSelecting the right type of motor for your next machine build now includes a new option to consider. Bison Gear and Engineering has introduced a platform of motors called VFsync that can help optimize performance and minimize overall costs. Up until now, engineers who needed to control an axis on a machine would typically specify a costly servo system. Other options included motors and drives that could not reliably deliver a specified speed without a feedback system and labor-intensive commissioning. Bison's new product line provides the intermediate solution between servos and induction motors, delivering velocity control using recently introduced variable frequency drives.WHAT IS A PMAC MOTOR?A PMAC motor is a relatively new product in the marketplace. PMAC stands for permanent magnet, alternating current. This family of motors uses a stator wound to operate on three phase windings coupled with a rotor that includes permanent magnets. These motors rotate synchronously with the rotating magnetic field generated in the phase windings.From a machine builder's point of view, PMAC motors operate at the exact speed you specify using a VFD (variable frequency drive) instead of a servo drive. That is a huge advantage when working on multiple axis machines that require more accuracy than traditional induction motors. Induction motors operating speed is driven by the supplied frequency; but slight changes in operating voltage or operating temperature can lead to speed variations that are not desirable..WHY HAVE PMAC MOTORS EMERGED ONLY RECENTLY?The many benefits of PMAC technology have been known for many years:• Motors operate synchronously with input frequency.• Ability to operate at specified speed even with normal line voltage variation.• Improved efficiency compared induction motors.However, commercially available PMAC products have only recently begun to emerge. Bison Gear and Engineering has led this trend offering a broad range of full-system PMAC solutions, with a broad power range, mounting, enclosure, and voltage configuration options. The emergence of improved variable frequency drives has created a product ecosystem ripe for PMAC technology. Multiple manufacturers now produce VFDs capable of driving permanent magnet style AC motors, with applications in most market segments previously only optimized with servo motors.Many of the VFDs already installed for induction motors can also support PMAC motors. The higher performance PMAC motors can often replace the existing induction motors without the need to change or upgrade any other components.ENCODER NOT REQUIREDToday's VFDs that run PMAC motors do so without sensors, eliminating the need for encoders. The majority of velocity control applications do not need the feedback in order to operate at a designated speed. Running without an encoder eliminates the effort required to commission the encoder as well. Bison has enclosed Internal permanent magnet (IPM) rotor core with skewed mounting to prevent cogging.
Page 46
44 | SEPTEMBER 2021WWW.MPTMAG.COMMPTMOTOR SOLUTIONSMOTOR SOLUTIONSencoders (as a standard option) available if your application uses a PLC and needs to operate at low input motor speeds.ALTERNATIVE TO SERVO MOTORSPMAC motors offer a no-compromise solution for many applications where servo motors are used today—but at less cost.Velocity control is critical for manufacturing and other applications involving the coordination of multiple actions performed in conjunction with each other. For example, the motors driving a packaging machine need to operate in sync with one another to ensure proper machine operation. Another example of velocity control is constantly maintaining the specified speed of fans in convection ovens even while the line voltage varies considerably depending on installation location.Most machine builders use servo manufacturers PLCs and drives to run their machines. Many of these servo manufacturers have VFDs that can run new PMAC style motors and operate within the PLC programming, saving cost compared to the servo drive.ALTERNATIVE TO INDUCTION MOTORSNot only is there a compelling case for considering PMAC motors as a less expensive and simpler alternative to servo motors, but PMAC motors are also replacing induction motors in many applications. For an incremental cost compared to a comparable induction motor, the existing investment in an VFD can be leveraged to easily upgrade to take advantage of the performance improvements and velocity and motion control previously only available with servo/encoder systems.PMAC MOTORS HAVE SEVERAL IMPORTANT ADVANTAGESPMAC technology also provides many advantages and benefits of importance to several applications.1. Ability to synchronize multiple axes at the same speed.2. Efficiency: lower heating watts generated means a cooler running motor, increasing life.3. Power density: Higher efficiency allows overall motor size to be reduced. A 1-horsepower VFsync motor consumes 176 cubic inches compared to a conventional three-phase motor at 398 cubic inches.4. Reduced weight: Improved use of magnetic materials helps to reduce weight. With the same 1-horsepower example, the weight is reduced from 38 pounds to 14 pounds.5. Wider speed range: PMAC motors can provide nameplate torque, without a feedback encoder, as low as 500 RPM, synchronously.6. Improved starting torque, typically 30 percent better than induction motors.IN CONCLUSIONVelocity control applications are prime candidates for Bison's new VFsync product offering. The platform of motors operates well with most manufacturers' drives, including leading PLC/servo panel setups, as these manufacturers have VFDs that integrate within the PLC system architecture. In most applications encoders are not required, reducing the costs associated with feedback, shielding and cables.Commissioning the new motors are straightforward and typically require seven to ten attributes from the motor to be up and running, significantly less intensive than compatible servo motors. The motors are manufactured at Bison's motor facility in St. Charles, Illinois, and are readily available.Whether you are looking for a less expensive alternative to a servo motor, without compromising performance and functionality, or you are looking to gain better performance and added functionality compared to an induction motor, PMAC motors are an option worth considering. Internal view of VFsync motor with IPM rotor core and inverter duty stator windings.MATT HANSON is general manager, industrial markets, for Bison Gear and Engineering. The company has been in operation since 1960, designing and manufacturing long-lasting and robust fractional horsepower AC motors, DC Motors, and PMDC motors, gearboxes, gear reducers, as well as a full selection of AC and DC parallel shaft gearmotors, right-angle gearmotors, and brushless DC gearmotors. Some newer technology includes hypoid gearmotors and IP69K wash-down gearmotors. For more information, visit www.bisongear.com.
Page 47
Page 48
Page 49
Page 50
SEALING SOLUTIONS SELECTIVE ELECTROPLATING FAST PRECISE LOCALIZED Introducing a cost effective solution to retouching electroless nickel BY THOMAS CHAPMAN SIFCO ASC E lectroless nickel has many applications and many are mission critical But what happens when parts need repair or retouching Typically they re either scrapped and replaced or if feasible stripped and replated a costly and time consuming process Selective electroplating offers a faster and more cost effective solution Widely used across multiple industries nickel and nickel alloy surface coatings create a tough finish that can possess significant wear and anti corrosion properties This makes these coatings indispensable for critical applications especially where harsh conditions are prevalent such as in aerospace marine petrochemical and the oil and gas industries In particular nickel phosphorous plating alloys have grown in popularity due to several unique physicochemical properties While Nickel Phosphorous alloys can be applied electrolytically they are more commonly applied through an electroless autocatalytic process due to the unique ability to provide coating uniformity across complex geometries making them ideal for OEM components Known as electroless plating this technique does have some drawbacks though Namely this is when you need to repair or replate electroless nickel phosphorous ENP coated parts To explain as ENP plating happens in an immersion tank replating of already coated areas can cause the part to be out of tolerance due to excess build up of material To overcome this there needs to be either significant if not cost prohibitive masking or risky chemical stripping of the entire part before replating There is an alternative to the above though and that is selective electroplating This process is focused only on limited specific surfaces of a part rather than the entire geometry so the issue of coating uniformity across varying geometries is no longer a concern Consequently when it comes to repair touch up and refurbishment of ENP coated parts the selective plating process provides a viable option that can save significant time and cost Components that might ordinarily be scrapped can be saved all without compromising the quality or integrity of the part THE TRADITIONAL ENP REPAIR OPTION Close up of wear area prior to electroless nickel plating repair Wear area after electroless nickel plating repair 48 SEPTEMBER 2021 The traditional method of retouching or repairing ENP components involves stripping and replating the entire part requiring the removal of the component from its setting immediately creating downtime There are other significant drawbacks to the traditional method of ENP repair as well The repair of damaged ENP components often involves chemical stripping of the entire part which can come with the substantial risk of damaging the part beyond repair While masking is possible it can be complex and time consuming Similar issues apply with original equipment manufacturer where mis machining after plating can compromise quality leading to scrap and waste Equally even small damage such as minor scratches in transit can result in rejection of the part Therefore while returning components for electroless nickel plating is an option it inevitably involves more time MPT WWW MPTMAG COM
Page 51
SEPTEMBER 2021 | 49WWW.MPTMAG.COMMPTcost, and risk. Which is where selective plating such as the SIFCO Process® really come into its own, as many world-class manufacturers have discovered.THE ADVANTAGE OF BEING SELECTIVEWith selective plating, the key word is definitely "selective." Nickel plating that mirrors the performance characteristics of ENP can be applied accurately to small and clearly defined areas without the need to immerse the part in a plating bath. This does away with the need to replate the whole part, and in many cases, the need to disassemble components too. More importantly perhaps, the plating equipment can be taken to the part and applied in situ, eliminating the need to remove it and all the associated costs of downtime and delays.So how does it work, and how effective is it?Selective electroplating is actually a long-established technology, originally developed in 1938. Today, the SIFCO Process of selective plating has approvals across multiple industries, including military, aerospace, and energy, and comes with powerful recommendations.In selective (or brush) plating, an electric current is run through a circuit which is completed when an anode—the plating brush—touches the component to be plated. This allows the deposit to flow onto the negatively charged part. This entire process is done without the need to immerse the part in a traditional plating tank. The deposit can be applied accurately and reliably to very localized areas without the need for post- machining. Deposition rates are also up to 60 times faster than tank plating, further minimizing downtime.PLATING PORTABILITYThough it can be automated, selective electroplating is an effective manual process requiring minimal equipment—typically a portable kit which can be easily carried to facilitate the spot retouching. Component selected for electroless nickel plating.
Page 52
50 | SEPTEMBER 2021WWW.MPTMAG.COMMPTSEALING SOLUTIONSSEALING SOLUTIONSApart from portability and being able to repair specific areas, the plating quality of the SIFCO Process® is comparable to tank plating in terms of performance, hardness and adhesion. Just like traditional tank plating methods, selective plating forms a metallurgical bond to the base material. The selective plating process can also deliver good results on aluminum substrates that may require ENP touchup. AN ELECTROLYTIC NICKEL-PHOSPHORUS OPTION FOR SELECTIVE REPAIRSIFCO ASC has a specially developed coating—5709 nickel-phosphorous—the same plating alloy used in electroless nickel plating. What is unique about 5709 nickel-phosphorous is the ability of the plating operator to adjust plating parameters to apply different levels of phosphorus content depending on the specific application. Thus, with one plating solution, both low and high phosphorous type coatings can be applied depending on the desired surface characteristics. When applied with a high phosphorous content, the coating structure changes from crystalline to amorphous, resulting in a coating with superb corrosion resistance properties. Finally, the SIFCO Process offers a range of environmentally safe alternatives. It also uses less energy and produces less effluent waste than tank plating, and brings considerable environmental benefits too.For operations committed to in-house resources, the process can also be automated to deliver consistent application during both pre-treatment and plating. Data logging and traceability can be added to the list of benefits.AN OPTIMAL SOLUTIONElectroless nickel plating is an established, effective and necessary process, improving the corrosion resistance of components across virtually all industry sectors. However, it is not an ideal solution for repairs and retouching, largely because for repairs, it requires the removal and replating of the whole component. This, in turn, adds time and cost to operations.As a tried-and-tested alternative, selective plating with the SIFCO Process delivers ease, speed, and convenience. Most importantly, it creates a tough, corrosion resistant finish on even the smallest areas, preserving the function and integrity of the component while minimizing downtime and costs. THOMAS CHAPMAN is Northeast sales manager at SIFCO ASC. A Quaker Houghton company, SIFCO ASC provides practical, cost-effective selective brush plating solutions to improve part performance and reduce manufacturing costs through corrosion protection, increased wear resistance, increased hardness, improved conductivity, anti-galling, or slip. SIFCO ASC surface enhancement technologies and brush plating services have been used for over fifty years on both OEM components and on parts requiring refurbishment in the aerospace, oil and gas, general industry, and power generation sectors. For more information, visit www.sifcoasc.com.Area with Nickel 2086 lightly hand blended.
Page 53
Page 54
Page 55
Page 56
54 | SEPTEMBER 2021WWW.MPTMAG.COMMPTMODERN PUMPING PRODUCTSMODERN PUMPING PRODUCTSFor more information, visitWWW.ATLASCOPCO.COM/EN-US/CONSTRUCTION-EQUIPMENT.ATLAS COPCO At Atlas Copco, we are driven by innovation. Our new PAC Flow Series pumps are designed with three key features in mind: performance, technology, and serviceability that bring you best-in-class performance.The PAC F66 and F88 feature an enclosed impeller that can pass a 3-inch spherical solid, meaning when it comes to flow and performance, it can get the job done. Our carefully thought-out design brings you up to 82 percent efficiency. Our priming system is powered by a diaphragm vacuum pump that delivers 50 cfm, meaning you get a faster prime and can start pumping quicker. When crafting our Flow Series, we kept the same design components as other Atlas Copco pumps. Our polyethylene fuel tanks have a massive advantage against steel fuel tanks that prevent any oxidation within the tank, thus increasing the lifetime of the fuel system. Another technological advantage within the PAC Flow range is our QR code. Scan the QR code on your mobile device to take you to Power Connect, connecting you with relevant machine information and documents, all in the palm of your hand.One of the greatest features of the PAC Flow pumps is the ease of serviceability. We designed these units with our patented swing-door solutions that give you access to the impeller and the heart of the pump within minutes. Two additional features that enhance serviceability are our semi-cartridge seal design and link belt. Both actively reduce your mean time to repair, so you can continue your operations quicker and more efficiently. With flows up to 3,950 gallons per minute and heads to 200 feet, you can easily transfer and dewater in quarry and mining applications, complete sewer bypasses, and provide diesel backup systems for sewer lift stations. No matter the application, the Atlas Copco Flow Series can get the job done. PAC FLOW SERIES PUMPSFEATURED PRODUCT
Page 57
SEPTEMBER 2021 | 55WWW.MPTMAG.COMMPTARMSTRONG FLUID TECHNOLOGY DESIGN ENVELOPE FIRE PUMP WITH FIRE PUMP MANAGERArmstrong Fluid Technology has unveiled its Design Envelope Fire pump unit along with Fire Pump Manager, a new, connected service for tracking pump performance. In addition to providing important new safety benefits, Design Envelope Fire Pump holds the distinction of being the first self-regulating variable-speed fire pump to meet NFPA-20 (2019 Edition), Section 4.8 standards. Armstrong believes engineers, contractors, and owners will get the best possible performance and value from fire safety systems at every phase in the life-cycle of a building. For more information, visit www.armstrongfluidtechnology.com. WEIDMULLER KLIPPON CONNECT TERMINAL BLOCKSKlippon Connect high-current terminal blocks support the entire panel building process with their convincing concept. Whether it's simple handling when connecting the conductors, more space in the control cabinet, or time savings during installation: Klippon Connect makes a significant contribution towards increasing productivity, efficiency, and safety. The range of individual terminal block systems, prefabricated blocks, and various mounting options leaves nothing to be desired. Customers can choose from three-, four-, and five-pole block variations. Prefabricated supply blocks reduce the number of variations and storage costs. For more information, visit www.weidmuller.com. NAI STEADY LINK SERIES-S GPS AND SYNC CABLE ASSEMBLIESNAI's Steady Link Series-S Cable Assemblies provide high precision FTSP performance for use with Nokia AirScale wireless systems and cellular installations. Series-S Cable Assemblies accommodate the growing demand for 5G mobile networks. They will accommodate a variety of 5G applications, from small office/home office (SOHO) to airports, commercial enterprises, and even deep rural villages. These interconnects support the challenges of the rapidly developing internet of things (IoT) for high-capacity networks with simultaneously connected devices and low latency. For more information, visit www.nai-group.com/sync_assemblies. DINKLE INTERNATIONAL SIGNAL INTERFACE MODULESDinkle International announces availability of its complete line of interface modules, used to simplify and improve reliability of automation connections and signal conversions, in a compact form factor. Users will realize many benefits in their designs by taking advantage of these universal interface modules. When creating automation systems using major PLC brands like Allen-Bradley, Keyence, Mitsubishi, Omron, Siemens, and more, designers are challenged to connect an ever-increasing number of equipment signals to the I/O modules. For more information, visit www.dinkle.com/en/electronics_List/interface-module.
Page 58
56 | SEPTEMBER 2021WWW.MPTMAG.COMMPTEFFICIENCY POINTEFFICIENCY POINTTo listen to an extended version of this interview, be sure to subscribe to MPT's podcast, The Efficiency Point. On-site motor inspection is a useful and necessary maintenance tool for several industries, but it does present cost hurdles for many facilities. Nidec Motor Corporation is attempting to knock those hurdles down by launching a virtual test service that will allow customers to remotely witness and monitor motor testing at its manufacturing facility in Mena, Arkansas. On a recent episode of MPT's podcast, Nidec's Dave Lyle joined us to fill in the details.MPT: What are some of the needs that Nidec's virtual test services look to fill? And whom do you see is the potential target customer for this service?DAVE LYLE: Basically, the whole purpose of the virtual testing is to really ensure test compliance to anybody that's involved with specific motors that are being manufactured by Nidec. And really, by actually seeing live testing of a motor that they would purchase, it definitely provides our customers and their end users, in many cases, the ability to validate the motor performance characteristics and specifications prior to shipping the product to the customer. And it also eliminates the time and costs associated with traveling. Nidec does offer an on-site witness test, but the virtual testing is really, in our opinion, a lot more convenient way for our customers and end users to actually witness and view a test being performed at our manufacturing facility.MPT: Can virtual test services be customized to meet specific needs that might vary from one customer to the next?DAVE LYLE: Those who know Nidec know that we produce a lot of different products for a lot of markets and applications. And again, each of those segments in the industry have their own distinct specifications. The customers and end users can easily validate the products that we offer through this virtual test offering that we have now. And our customers then can select the actual tests they need specific to their application, along with the end users' needs in their application, and really customize tests that might be needed in order to qualify the product prior to shipment.MPT: How much back and forth between the customer and the engineering team would be possible?DAVE LYLE: During the test, whichever the case may be, whether it's a performance test, a heat run, vibration or sound test, the customers will be able to talk directly to the specialist who's performing the test, and they can answer the majority of the questions that the customer or end user may have throughout the test sequences that we perform. For more technical questions that are obviously going to be asked throughout these testings, we'll have various times throughout the test sequence or throughout the day, depending on how long these tests will run. We offer time scheduled for our engineering teams to get online and answer those more technical questions that maybe the test specialists can't answer at that time. Our engineering team will be fully engaged at various times throughout these tests to answer those questions. Along with that, of course, we can always perform follow up meetings, either that same day or even after the tests are conducted. We're a very service-oriented company, and we want to make sure our customers and users are completely satisfied with the product. So we're 100 percent available for any additional technical questions or technical support needed once the motor ships. ON-SITE MOTOR INSPECTION GOES VIRTUALNidec's Dave Lyle on expanding testing services in an online space
Page 59
Page 60
Page 61