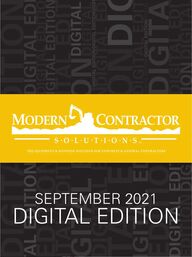 Return to flip book view
Modern Contractor Solutions September 2021
Page 1
SEPTEMBER 2021DIGITAL EDITION
Page 2
Page 3
SEPTEMBER 2021WWW.MCSMAG.COMACCESS ACCESS EQUIPMENTEQUIPMENTWORKING AT HEIGHTWORKING AT HEIGHTCRANE CRANE PADS PADS GROUND GROUND SUPPORT SUPPORTRANSOMWARE RANSOMWARE SCARE SCARE CYBERSECURITY CYBERSECURITY OPTION OPTIONDIFFERENT DIFFERENT SPIN SPINCIRCULAR CIRCULAR PAD POUR PAD POURREPLACEMENT & REPLACEMENT & REHABILITATIONREHABILITATIONGEOTECHNICAL GEOTECHNICAL INNOVATIONINNOVATION
Page 4
Page 5
Page 6
Page 7
Page 8
SEPTEMBER 2021 www.mcsmag.com41444SEPTEMBER 2021VOLUME 15 ISSUE 09Inside This Issue38special focusIN EVERY ISSUEIndustry News ............................ 08Modern Construction Products ... 59Coach's Corner ........................... 60technology solution Mobile Solar Powersilence and savings for fleet operatorssoftware solution Rampant Ransomwareoutsourcing cybersecurity an optionequipment solutionDrum Cutterslock enlargement project22concreteproject profile Ski Run Clearing mulcher and excavator create dream teamBEST PRACTICES FOR DRONE OPERATION Guest Post by Emily NewtonPUTTING A "STOP" TO HARSH BRAKING Guest Post by Bryce Wilson 4 INNOVATIVE MATERIALS AND TECHNIQUES FOR SPEEDING UP COMMERCIAL CONSTRUCTION Guest Post by Max ShaferON THE BLOGmaintenance solutionHydrodemolition Robotsbridge repair attachments52technology solutionDifferent Spinpouring circular pad46A Morooka MST-1000VDL outfitted with a Terex 6 ft boom lift helps trim trees to maintain powerlines in Hinsdale, New York.www.morookacarriers.com
Page 9
Page 10
SUBSCRIPTIONS For all changes, go to:MCSMAG.COMClick the SUBSCRIPTIONS button in the main menuwww.mcsmag.com P.O. Box 660197 | Birmingham, AL 35266DONNA CAMPBELL Editor in Chiefdonna@mcsmag.comMIKE BARKER Publishermike@mcsmag.com RANDY MOON Media Consultantrandym@mcsmag.comMICHAEL FISCHBACH Media Consultantmichael@mcsmag.com JOHN FRIEND Media Consultantjohn@mcsmag.comKEVIN MCCLARAN Media Consultantkevin@mcsmag.comLISA AVERY Art Directorlisa@mcsmag.comSETH SAUNDERS Digital Media Specialist seth@mcsmag.comINGRID BERKY Office Manageringrid@mcsmag.comTIM GARMONCEORUSSELL HADDOCKPresidentCHRIS GARMONCFODONNA CAMPBELLVice President, EditorialTONYA BROWNINGVice PresidentNo part of this publication may be reproduced or transmitted in any form or by any means, electronic or mechanical, including photocopy, recording, or any information storage-and-retrieval system without permission in writing from the publisher. The views expressed by those not on the staff of Modern Contractor Solutions, or who are not specifically employed by Highlands Publications are purely their own. All Industry News material has either been submitted by the subject company or pulled directly from its corporate website, which is assumed to be cleared for release. Comments and submissions are welcome, and can be submitted to donna@mcsmag.com.For reprint information, contact Chris Garmon at chris@mcsmag.com.Canada Post Publication Agreement #41578525. Undeliverables 355 Admiral Drive, Unit 4, Mississauga, ON L5T 2N1Modern Contractor Solutions Magazine@mcsmagModern Contractor SolutionsPROJECT PROFILESSki Run Clearing ........................................................ 14Houston Venue .......................................................... 18 Historic Preservation ................................................. 20EQUIPMENT SOLUTIONSDrum Cutters ............................................................. 22Crane Pads ................................................................ 24Working at Height ..................................................... 26ENVIRONMENTAL SOLUTION Diesel Bug ................................................................. 28MANAGEMENT SOLUTIONS Customer Mindset ..................................................... 30Schedule Makeover ................................................... 32Project Management Evolution .................................. 34LEGAL SOLUTIONRenewable Energy ..................................................... 36SOFTWARE SOLUTIONRampant Ransomware ..............................................38SAFETY SOLUTIONSGermicidal LED .........................................................40 Caught on Camera .....................................................42TECHNOLOGY SOLUTIONSMobile Solar Power ................................................... 44Different Spin ............................................................ 46Tech Helping Tech ..................................................... 48MAINTENANCE SOLUTIONSHydrodemolition Robots ............................................ 52Geotechnical Innovation ............................................ 54FEATURED PRODUCTCarnie Cap: Rebar Cap System ..................................58Donna CampbellEditor in ChiefA FOUNDATION TO BUILD UPONWelcome to the September issue! This month's focus is concrete. From circular pads to bridges and drum cutters to curb rollers, concrete is a chosen material for heavy-duty innovation. Concrete is a recyclable product and finds new life as backfill or recycle in new material for road work. And, as with every issue, we focus on the same sections with a variety of solutions for legal, software, technology, maintenance, and management. This issue is no exception. For learning to evolve your business to be customer-centric, know your customer mindset (pg 30). For having a fully coordinated project delivery team, a schedule makeover may be needed (pg 32). The evolution of project management is driven by technology platforms and AI (pg 34). September has been a month of ups and downs. My immediate and extended family has celebrated births, birthdays, weddings, anniversaries, and engagements. We have grieved over loved ones that have passed away. We have helped each other when sick and been present when a project needed an extra pair of hands. All these things build a strong family foundation, which reminds me of a cement slab … it's meant to be a foundation to build upon. Keep bidding. Keep winning. Keep building.COACH'S CORNERCheck out what the coach says to Concerned Carl in this month's column on page 60.BALTIMORE (Sept. 9, 2021) Chief Navy Counselor Jericus Lewis, a Birmingham, Alabama, native, divisional leading chief petty officer assigned to Navy Recruiting Command's (NRC) Office of Outreach and Diversity, facilitates the Lean Six Sigma workshop to Morgan State University students during the Navy Promotional Days (NPD) Baltimore. NPDs are a part of the Navy's national search for the best and brightest students who have what it takes to excel in high-demand, cutting-edge fields. NRC consists of a command headquarters, three Navy Recruiting Regions, 26 NTAGs, and 64 Talent Acquisition Onboarding Centers (TAOCs) that serve more than 1,000 recruiting stations around the world. Their mission is to attract the highest quality candidates to assure the ongoing success of America's Navy. U.S. Navy photo by Mass Communication Specialist 1st Class Diana Quinlan
Page 11
Page 12
SEPTEMBER 2021 www.mcsmag.com8industry newsBACKING THE RED: FELLING TRAILERS 2021 TRAILER FOR A CAUSE AUCTION Felling Trailers, Inc. conducted its ninth annual online auction of an FT-3 drop deck utility trailer to benefit a non-profit organization. Minnesota Fire Fighters Foundation is the 2021 recipient. Felling Trailers wanted to help generate awareness about the hidden health dangers and cancer risks firefighters face while serving and beyond. Thus, Felling Trailers manufactured and painted one of its most popular trailers, the signature fire engine red with custom fire engine gold pinstriping, and bears the Minnesota Fire Fighters Foundation emblem. The online auction of the trailer ran for 7 days: September 5th thru September 11th. Several Felling Trailers' suppliers joined to support MNFFF by sponsoring the trailer build, from lighting to tires to decking. The 2021 Trailer for a Cause sponsors are Trans-Texas, PPG, Dexter, Sealco, Peterson, Industrial Wood, Demco, Pacific Rim, and Metal Crafters/Flexco. 100% of the winning bid went to the Minnesota Fire Fighters Foundation. For more, visit www.felling.com. TOPNET LIVE GNSS NETWORK EXPANDS TO MEET INCREASED DIGITALIZATION DEMANDSTopcon Positioning Group announces an expansion of the Topnet Live Global Navigation Satellite Systems (GNSS) network of correction solutions to support today's work environments. The newly expanded global network now has more types of correction services and subscription options. This growth is a result of the increasing demand for digitalization in various industries including construction, surveying, machine control, and agriculture.The flexible service options include Realpoint, the Real-Time Kinematic (RTK) service, and Starpoint, a Precise Point Positioning (PPP) service. The different services have varying delivery methods, coverage, and reliable centimeter-level accuracy. Under a flexible subscription model, customers can purchase to suit their needs. Additionally, an RTK service supported by PPP, Skybridge, is available to maintain connectivity and productivity if the customer temporarily leaves RTK coverage.Topnet Live uses all four GNSS constellations: GPS, GLONASS, Galileo, and BeiDou. The customer benefits from continuous accuracy and always-on service coverage. For more, visit topconpositioning.com/topnetlive.MILWAUKEE TOOL MARKS ANOTHER EXPANSION IN MISSISSIPPI Milwaukee Tool will, once again, expand their footprint in the United States with the announcement of a new manufacturing facility in Clinton, Mississippi. Anticipated to open in November,
Page 13
Page 14
SEPTEMBER 2021 www.mcsmag.com10industry newsthis new facility will accommodate increased capacity for the company's growing business. The project is a more than $7 million corporate investment, and is part of the company's recent commitment to creating 1,200 jobs in Mississippi. Milwaukee will invest more than $7 million to establish the new 357,000 square-foot facility which will act as an expansion of the company's current facility in Jackson, Mississippi. During the last decade, the company has grown their employee headcount in the state from 526 in 2010, to more than 3,659 in 2021. The company last expanded in Mississippi in April, announcing plans to construct a facility in Grenada. With the announcement of that expansion, the company committed to creating 1,200 overall jobs in the region within 8 years. In the last 5 years alone, Milwaukee has invested $368 million in domestic expansion projects and now employs more than 7,600 people in the U.S. For more, visit www.milwaukeetool.com. CUPIX INTEGRATION WITH PROCORE DELIVERS INDUSTRY'S FIRST LOCATION-BASED VIRTUAL JOBSITE NAVIGATIONCupix, the fast-growing pioneer of cutting-edge 3D digital twin solutions for building owners and the architecture, engineering, and construction (AEC) industries, announced the expanded integration of its CupixWorks 3D digital twin platform with Procore Technologies, Inc., a leading provider of construction management software.Unique in the industry, Cupix's integration with Procore delivers a 360-degree panoramic view with full 3D spatial context, enabling users to search locations within a jobsite by the names they already use, e.g., main lobby, conference room A, conference room B, all without having to leave the Procore platform or alter Procore's normal operations.Cupix's real-time 3D digital twin collaboration tool, SiteView, offers life-like virtual remote site navigation, progress tracking, as-built vs. BIM analysis, 3D measurements, and 3D annotations. Since Cupix's SiteView virtual representation of a jobsite can be embedded in the Procore platform, users can remotely "walk through" a jobsite, navigating to the location of RFIs, observations and open items, and searching by location names. Additionally, users are able to review jobsites retrospectively, enabling teams to review iterative progress on a jobsite dating back days, weeks, or months.Requiring minimal set-up and intuitive ease-of-use for Procore users, the integration is underpinned by Cupix's streamlined onboarding approach, freeing construction project managers of any set-up requirements. All project managers need to do is to jump to the point of interest within a jobsite and navigate inside SiteView to get started. For more, visit cupix.com or procore.com.SEE US AT ARA BOOTH #3442
Page 15
SEE US AT ARA BOOTH #3442
Page 16
SEPTEMBER 2021 www.mcsmag.com12industry newsSAKRETE LAUNCHES FIRST-EVER CONCRETE COMPETITION GAMESHOW Sakrete, part of Oldcastle APG, introduces the first ever concrete game show, with the same reality TV show feel and spirit of competition seen on Iron Chef, Forged in Fire, and Dirty Jobs. Now, the dramatic elements of those classic shows are combined in a knock-down, drag-out concrete battle royale: Sakrete's Concrete Combat available on YouTube.Each episode of Concrete Combat pits two teams of professional contractors against each other in a head-to-head concrete construction or repair challenge designed to test concrete know-how in a wide variety of scenarios. Concrete Combat's Season 1 features eight teams from across the US competing at the Sakrete Concrete Coliseum in a single-elimination showdown—win and advance, lose and go home. Challenges include pouring slabs, repairing damaged concrete, setting fence posts, and more. All of the tools and materials are provided to the contestants, but they have no idea what challenge they're facing until it's revealed at the beginning of each episode. With two episodes available on YouTube, the competition is already starting to heat up in the run-up to the grand finale to be filmed live at World of Concrete 2022 in Las Vegas. Check out the Sakrete YouTube Channel and stay tuned for new episodes every month through November to find out who will reign supreme in concrete perfection.LEICA GEOSYSTEMS PARTNERS WITH INFOTECHLeica Geosystems, part of Hexagon, announces FieldGenius for Construction Inspection, a solution that increases efficiency and accuracy of daily work reporting for inspectors and engineers in construction firms and Local Public Agencies involved in civil engineering infrastructure projects.The FieldGenius for Construction Inspection solution is the first product of its kind to seamlessly integrate information and reduce the risk of human error from manual collection and input. Developed in partnership with Infotech, a leading provider of SaaS solutions for infrastructure construction, FieldGenius for Construction Inspection is designed to simplify and accelerate the construction inspection process by streamlining how survey data is collected and reported with Infotech's Appia construction management service. For more, visit leica-geosystems.com.WORK TRUCK WEEK 2022 RETURNS TO INDIANAPOLIS WITH EXPANDED CONTENTNorth America's largest work truck event returns in person to Indiana Convention Center in Indianapolis, Indiana, March 8–11, 2022, with an expanded format, new branding, and Mike Rowe. OSHA Compliant Guardrail andStair Rail SystemsSafety Boot® Guardrail SystemStringerShield® Stair Rail System1.800.804.4741safetyboot.com• Non-Penetrating Design• Rugged Steel Construction• Exceeds OSHA Regulations• Simple, Aordable & Reusable• Residential, Multi-Family & Commercial Applications• Unique Free Standing Design• Keep Post Attached For Reuse On Next Level Or ProjectFeatured on osha.gov website!
Page 17
Page 18
SEPTEMBER 2021 www.mcsmag.com14project profile
Page 19
www.mcsmag.com SEPTEMBER 202115Ski Run ClearingSki Run Clearingmulcher and excavator create dream teamTHERE'S NO BUSINESS LIKE SNOW-BUSINESSBoth skiers and snowboarders like their trees delicately covered in snow, creating picturesque backdrops that flank pristine ski runs. Indeed, one of the goals of winter sports is to generally avoid meeting those pines face-to-face on the slopes. For that reason, "ski bums" in Big Sky, Montana, should tip their beanies and offer a mittened salute to a man they won't likely meet on the slopes: Justin Miller. CLEARING BIG SKYMiller is the owner of Big Sky Land Management (BSLM), a forestry and excavation service company in Big Sky. BSLM does everything from fuel reduction and fire safety to lot clearing for development—and of course, clearing for the ski resorts in town.Miller knows the slopes at the various resorts around Big Sky better than many of the skiers; he's been helping clear them since he started BSLM in 2005. He started with a chainsaw, but when he saw a Fecon Bull Hog™ mulching head on a project, he was so impressed by the quality of the product and its efficiency that he bought one for BSLM. DREAM TEAM CREATEDFast forward 10 years, and he's still clearing and mulching with that same Fecon BH40 attachment. Currently, it's attached to a 2015 CAT 320 ELRR, creating a dream team combo that's tough enough to stand up to steep terrain and long work hours. With a severe duty build and reinforced side walls, the Fecon Bull Hog was built to stand up to the toughest jobsites, like Miller's remote ski slope work. A variable displacement motor optimizes Miller's rotor speed and torque for maximum production, no matter the size of the tree he's mulching. Miller uses an HDT head, which features low profile rotor bars, stronger tool holder design and a staggered tool pattern to provide superior mulching performance. The HDT head excels in stringy vegetation and in situations where working the material into soil is necessary for long term stability. In Montana, working the material into the soil creates a sturdy bed ready to be topped with a blanket of snow, rather than washing away when the snow comes. While the BH40 could be undersized for the 320, and the CAT could handle the larger BH80, Miller finds the balance perfectly tuned. The BH40 puts less weight on the end of the machine at full extension, creating a greater sense of safety on the 35-degree grades Miller regularly finds himself on.
Page 20
SEPTEMBER 2021 www.mcsmag.com16project profilePRIVATE SKI RESORTRecently, Miller was involved in a project 5 years in the making: a new private ski resort was opening in Big Sky. The 2,000-acre plot was ready for runs to be carved through it, and Miller was tasked with clearing the way. The project was broken down into five phases, with 400 to 500 acres of clearing scheduled each season. With the clearing season limited by the weather—Miller can only access the site when it isn't covered in snow, typically from May to November—he had to make the most of the time he had. PROJECT SCOPEMuch of the work of clearing the ski runs is thinning trees: mulching lodgepole pines and scrub alpine firs while keeping desirable white bark pines. The White Bark Pines are native to the area and have been devastated recently by pine beetles. Saving them is vital, because they provide nuts that are a main source of nutrients for grizzly bears. Turns out, Miller can count among his fans not only the skiers, but also the denizens of the forest that come out when the snow melts. Miller and his team will take down trees anywhere from 1-inch dog hairs all the way up to a 12-inch fir. The CAT 320 nimbly moves between the keeper trees while the Fecon BH40 makes short work of clearing the rest. He estimated that he ranged anywhere from 2-10 acres a day based on the terrain.CARBIDES DO THE WORKFecon offers a variety of rotor and teeth combinations for the Bull Hog, but Miller exclusively runs carbides. The terrain around Big Sky is notoriously rocky, and Miller frequently finds himself grinding granite instead of wood. A regular tooth would shatter instantly, creating downtime as Miller would have to replace it manually in the field. The carbides take a beating, but they hold up on site, meaning Miller can replace them on his own terms in the shop. Less time changing teeth on site means more time mulching, and with the limited season for clearing, Miller has to make the most of his time on site. Miller estimates he gets a year's worth of work out of the carbide teeth before he has to change them. In addition to changing teeth and greasing regularly, Miller's normal maintenance routine also involves adding new wear pads and chains when needed.MULCHING BENEFITSDue to the remote nature of many of Miller's jobsites—accessible only by chair lift and skis for most of the year—the trees have to be mulched in place rather than removed wholesale. Mulching not only makes for even terrain when the snow falls, it also provides a long-lasting, sustainable bed of nutrients for the forest floor. The BH40 takes down the trees then transforms them into a neat pile of finely sized material. As the phases of the resort project unfolded, the terrain looked more like a ski resort each year. Where before the mountain side was wild forest, now it features 50 neatly carved runs ready for skiers and snowboarders. Now that the resort is fully up and running, the slopes are packed with powder and powderheads, and Miller is onto the next project. CLOSING THOUGHTWhether it's clearing for real estate or runs for another ski resort, Miller's confident that his BH40 is up to the task. The severe-duty build and the efficient mulching capabilities ensure that not only will it last for another 10 years, but Miller will be making good use of it for that long, too. for more informationWhether you are buying, renting, or servicing your mulching equipment, FECON has solutions that focus on your success. For more, visit www.fecon.com.
Page 21
Page 22
SEPTEMBER 2021 www.mcsmag.com18project profileThe star of the construction show in any theater project is the stage upon which the performers demonstrate their acting and singing talents. With that idea in mind, excitement in Houston was palpable when The Gordy, a new three-stage performing arts venue, swung open its doors last year.The $35 million project in a former storage warehouse brings three theaters into one 66,850-square-foot campus. Architects added 26,850 square feet to the existing footprint, primarily for a parking garage. The building also includes a pedestrian plaza, two rehearsal spaces, dressing rooms, costume room, scene shop, and office space. It is named after philanthropists Russell and Glenda Gordy, who donated $5 million to the project.While each stage is unique, the overriding theme is intimacy. The venue is the home to Stages, a 43-year-old producer of performing arts in the city. Its leadership worked with architects and construction teams to design the facility. Feeling connected to the on-stage artists was an important part of the design intent."The core concept was about community, how the community interacts and how near can they be to the action and to each other,'' says Kenn McLaughlin, artistic director for Stages. "Those considerations were key to us as they are the core values for Stages. Our patrons told us what they loved about our theatre was 'initimacy,' being close to the artists and to their fellow audience members was the most important factor above all other things."VARIOUS SHAPES AND SIZESAll of the theaters are under The Gordy umbrella, but the similarities end there. The 251-seat Sterling Stage is the most traditional of the three. The stage is a three-quarters thrust design with four rows on the main floor and two rows on the second level. The rows are pitched higher than traditional rows so audiences can see the full torso and above for everyone in the space. "The space is remarkably flexible and acoustically magnificent,'' McLaughlin says. "Our patrons are going to love the ease of entry and the nearness of the actors. While the scale feels large, the intimacy is amplified in a host of ways so it feels very theatrical and very intimate all at once." The arena-shaped Smith Stage includes 220 seats. The stage is raised 18 inches, so the first row of seats is below stage level. "The theatre is designed to be more industrial,'' McLaughlin says. "It is essentially a black stone box with a theatre inside the box, like an engine inside a container. It is more playful and surprising. The colors and finishes are cooler, theatrical and industrial. There are lots of exposed cable runs, metal and infrastructure."Levit Stage provides the most versatility of the three venues. With a maximum seating capacity of 125, the stage is a traditional black box that offers 18 configurations. It includes acoustic drapes and removable risers and seats. "It was built to house long-run populist material and provides the most flexibility,'' McLaughlin says. The diversity of seating venues at The Gordy reflects the eclectic offerings of Stages. "We offer a mix of programs from populist musicals to progressive world premieres and pretty much everything in between,'' McLaughlin says. "We wanted to make a space with these seemingly divergent forms and genres could co-exist and be produced side by side."PROJECT FOR THE ARTSHouston Venuedetails create sound decisionsBy Thomas RennerThe Gordy, a $35 million, three-stage theater in Houston, is the newest addition to the city's cultural scene. The project includes seven acoustical smoke vents manufactured by BILCO.Photo courtesy of Recorded Shadows
Page 23
www.mcsmag.com SEPTEMBER 202119ACOUSTIC CHALLENGESOne challenge facing architects in the designing the theater was maintaining acoustic separation in three venues. "Sound separation was an important part of the design process,'' says Bruno Cardenas of Charcoalblue, an international theater and acoustics design consultancy. "The Sterling Stage and the Smith Stage were designed to be used at the same time. The big aspect in designing them was to make sure they were well isolated from each other and adjacent spaces. It was also a challenge because they are flexible spaces to be used for drama, spoken word shows, and musicals. We considered the room's acoustic design to ensure people can understand what is happening on the stages."Architects from Charcoalblue and Gensler achieved acoustic isolation from exterior noises by including acoustical smoke vents manufactured by The BILCO Company. Seven acoustical smoke vents—two are 4-feet x 7-feet, 6-inches, and the others are 4-feet x 6-feet—limit noise intrusion from the exterior and carry STC and OITC sound ratings. BILCO's acoustical smoke vents are widely used in concert halls, theaters, and other interior applications that require limiting noise from the outside. They also include the standard smoke vent properties that help firefighters bring a fire under control by removing smoke, heat, and gases from a burning building."We spent a lot of time researching and designing the envelope of the performance space,'' Cardenas says. "With the acoustical hatches, you will not hear rain, you won't hear traffic. With a regular smoke hatch, you will hear sirens and other external noises. It's not the noisiest site, but you don't want exterior noise to become an issue."BILCO unveiled a new acoustical smoke vent in 2020 that has industry high STC-50 rating and an OITC-46 sound ratings. Forney Construction served as the general contractor on the project, while Peak Roofing installed the smoke vents that were procured by JM Maly, BILCO's sales representative in the Houston area. CLOSING THOUGHTHouston is the fourth-largest city in the U.S. in population. Yet, McLaughlin feels The Gordy and its tight-knit focus is a perfect fit in the city. "There is a remarkable sense of civic pride here, more than any city I have ever lived,'' McLaughlin says. "We get the benefit of serving as the arts anchor in our neighborhood. We are at one of the best intersections of varied communities in the city. about the authorThomas Renner writes on building, construction, engineering, and other topics for trade industry publications in the United States and Canada.
Page 24
SEPTEMBER 2021 www.mcsmag.com20project profileHistoric Preservationwindows light up long-neglected buildingSTONE GROUP ARCHITECTSThe Sioux Falls East Side Fire Station and Branch Library, according to the South Dakota State Historical Society, was constructed in 1916 and co-occupied by the city's first motorized fire truck crew and its first satellite branch library. Despite opposing requirements for loud vs. quiet, the oddly paired public servants shared the space until the 1960s when the once vibrant building was relegated to a recreational equipment storage space and began to show signs of neglect. Architect Todd Stone, CEO and principle for Stone Group Architects, had always considered the building, located in Sioux Falls' Heritage Park, to be a diamond in the rough. Over the years, as he watched the structure slowly fade into disrepair, he never abandoned his dream of restoring the property and reawakening its past character. Stone's vision became reality in 2017 when a serendipitous decision by city officials allowed Stone to purchase the property for $211,000—just as his firm was beginning to outgrow its 2,000-square-foot headquarters. His innovation and tenacity would eventually place the one and a half story building on the National Register of Historic Places and earn it the 2020 Sioux Falls Mayor's Award for Historic Preservation. RESTORATION PROCESSDuring the early days of the renovation, the architect began the lengthy process of applying for historic window approval, which can be one of the most critical and challenging aspects of the process. While restoration of the property forged ahead, window design negotiations were ongoing. The role that natural light played in Stone's overall design scheme—to bring the outside indoors—placed particular emphasis on the window design. On the recommendation of Tim Lund of Kitchen & Windows Unlimited in Sioux Falls, the architect chose to source all 36 windows through Weather Shield®, a Medford, Wisconsin, firm with an unparalleled reputation for vintage window design—and the only firm that could meet the stringent criteria for replication.BUILDING WITH A VIEWStone explains, "We were able to work out details with their architectural window team, who then custom-made each window to our liking—including our choice of wood species and quality for the interior."He continues, "They even matched the exact specifications for a large bi-fold window located on the building's west side. We kept all historical trim on inside of building, which was a bit of a challenge, but with the support of Weather Shield's specialized design team, Tim and his guys made it work."Lund elaborates, "For all 36 windows, we were able to use the American fir interior and black exterior frames—all custom-sized to fit each opening, which allowed the existing historical trim to remain in place. We installed special brick mold on the exterior that matched the building's original wood brick mold beautifully."RESTORATION CHALLENGEThe round-topped window located on the upper level of the front entrance presented the most obstacles for Stone, but he saw only potential in that grand feature."We wanted a wow factor—something that would draw people's attention to this historical building," he recalls. The opening spanned 18 feet wide by 93 inches tall and had been fitted with glass block, aptly named since it blocked the natural light and created a dim interior space on the upper floor. In addition, many of the wood insert boards had rotted through. "Stone notes, "One of the biggest challenges was getting an accurate radius measurement to meet National Historic Society expectations. Ultimately, with guidance from the Weather Shield team, the specifications were met, and their team got to work on the design." The hefty glass replacement components were shipped in five pieces, which were joined with wood spacing pieces and secured by a single piece continuous arch 20-foot aluminum trim fit over the top. The end result was a sleek, elegant glass expanse that allowed the outdoor light to pour in—a stunning focal-point window and a beacon for patrons and curious onlookers.
Page 25
www.mcsmag.com SEPTEMBER 202121BEAUTY ACHIEVEDLund enthusiastically noted, "It turned out absolutely fantastic—what Todd did with the building from top to bottom. The windows look like they were there forever, and the mixed grain fir blends right in with the existing woodwork. Weather Shield partnered with us through the entire process to help accomplish this beautiful look.""The project took a full 3 weeks to complete," explains Troy Wolf, owner of Wolf Construction in Sioux Falls. "We had to remove the existing windows and then attach the new window frames to the exterior brick, which was extremely brittle in several spots. But it all turned out really well. Weather Shield provided a quality product that installed easily with few adjustments."CLOSING THOUGHTIn addition to replicating the window design, Stone earned high praise for his painstaking restoration of the original brick walls in the garage and the structural clay tile wall in the former library. As a tribute to the fire fighters who once served the city, he included a vintage fire pole in the office space motif. The upper half-story, which once served as the fire crew living space, was repurposed into a co-working space for outside clients, and Stone's craftsmen restored the natural wood on the firemen's lockers to add an authentic feel to the space. With an eye towards expansion, the CEO had the roof contractors install a support structure to accommodate a future rooftop patio with a view of downtown Sioux Falls.As Stone reflected on his quest for National Register for Historic Places status, he acknowledged that the rigorous process was daunting at times but worth the effort."It took four attempts, and the guidelines were stringent, but we proudly persevered to earn this prominent, historic designation." for more informationBased in Medford, Wisconsin, Weather Shield remains family-owned, with three generations actively involved in the day-to-day operations. Over the years, dedication to innovation has grown the company into one of the nation's leading window and door manufacturers. For more, visit www.weathershield.com.
Page 26
Page 27
Page 28
SEPTEMBER 2021 www.mcsmag.com22equipment solutionDrum Cuttersquick work of lock enlargement project ANTRAQUIPAs a leading manufacturer of mechanized rock and concrete cutting equipment including drum cutters and rock saws, Antraquip recently supplied three of its powerful AQ-5 drum cutters to one of its most longstanding customers in northern New York state. Although this contractor has performed many demolition jobs using Antraquip cutters over the years, this project was a unique challenge.CHALLENGE ACCEPTEDFor this project, the contractor was on a particularly tight timeline to complete the controlled concrete demolition of a wall within a lock which would need to reopen by spring to allow large ships to pass through the vital waterway to access the major cities in the northeastern part of the U.S. and Canada. The customer mounted the AQ-5s on CAT349 excavators. The excavators were positioned on barges from where they would grind the concrete back up to a depth of up to 1 meter. This concrete was not your normal weathered concrete commonly seen on lock and dam rehab jobs but instead had a hardness of 55MPa (UCS) with steel support imbedded within the concrete. As the machines worked their way down, the water level was dropped in order to access the deeper areas of the lock. The project required operation of the three machines around the clock despite brutal weather conditions with temperatures dropping to as low as -30 degrees F. Nevertheless, the entire project was completed well ahead of schedule in less than 1 month.CLOSING THOUGHTThe use of Antraquip drum cutters was the ideal option for a project like this as the AQ-5s provided the perfect combination of high productivity and precision while eliminating the possibility of over breaking or micro fracturing that could damage the integrity of the lock walls. for more informationAntraquip offers high production solutions with its heavy-duty cutters without having strict limits on the compressive strength as is the case with other models on the market. Along with projects like this, Antraquip attachments have tackled many demo jobs even operating in heavily reinforced material. For more, visit www.antraquip.net/products/aq-5-hydraulic-cutter/.The customer mounted the AQ-5s on CAT349 excavators. The excavators were positioned on barges from where they would grind the concrete back up to a depth of up to 1 meter.TECHNOLOGY • MANAGEMENTTECHNOLOGY • MANAGEMENTMANAGEMENT • ENVIRONMENTALMANAGEMENT • ENVIRONMENTALEQUIPMENT • SAFETYEQUIPMENT • SAFETYSAFETY • TECHNOLOGYSAFETY • TECHNOLOGYENVIRONMENT • EQUIPMENTENVIRONMENT • EQUIPMENTSOLUTIONSSOLUTIONSSOLUTIONSSOLUTIONSSOLUTIONSSOLUTIONSSOLUTIONSSOLUTIONSSOLUTIONSSOLUTIONSTECHNOLOGY • MANAGEMENTTECHNOLOGY • MANAGEMENTMANAGEMENT • ENVIRONMENTALMANAGEMENT • ENVIRONMENTALEQUIPMENT • SAFETYEQUIPMENT • SAFETYSAFETY • TECHNOLOGYSAFETY • TECHNOLOGYENVIRONMENT • EQUIPMENTENVIRONMENT • EQUIPMENTSOLUTIONSSOLUTIONSSOLUTIONSSOLUTIONSSOLUTIONSSOLUTIONSSOLUTIONSSOLUTIONSSOLUTIONSSOLUTIONSGo to mcsmag.com for solution-based articles with insight from industry experts.LET MCS BE YOUR RESOURCE.LET MCS BE YOUR RESOURCE.SEEKING A SOLUTION? SEEKING A SOLUTION?
Page 29
TECHNOLOGY • MANAGEMENTTECHNOLOGY • MANAGEMENTMANAGEMENT • ENVIRONMENTALMANAGEMENT • ENVIRONMENTALEQUIPMENT • SAFETYEQUIPMENT • SAFETYSAFETY • TECHNOLOGYSAFETY • TECHNOLOGYENVIRONMENT • EQUIPMENTENVIRONMENT • EQUIPMENTSOLUTIONSSOLUTIONSSOLUTIONSSOLUTIONSSOLUTIONSSOLUTIONSSOLUTIONSSOLUTIONSSOLUTIONSSOLUTIONSTECHNOLOGY • MANAGEMENTTECHNOLOGY • MANAGEMENTMANAGEMENT • ENVIRONMENTALMANAGEMENT • ENVIRONMENTALEQUIPMENT • SAFETYEQUIPMENT • SAFETYSAFETY • TECHNOLOGYSAFETY • TECHNOLOGYENVIRONMENT • EQUIPMENTENVIRONMENT • EQUIPMENTSOLUTIONSSOLUTIONSSOLUTIONSSOLUTIONSSOLUTIONSSOLUTIONSSOLUTIONSSOLUTIONSSOLUTIONSSOLUTIONSGo to mcsmag.com for solution-based articles with insight from industry experts.LET MCS BE YOUR RESOURCE.LET MCS BE YOUR RESOURCE.SEEKING A SOLUTION? SEEKING A SOLUTION?
Page 30
SEPTEMBER 2021 www.mcsmag.com24equipment solutionThis article details the process Connelly Crane Rental Corp., used to choose FiberMax Crane Pads and why they decided to do so, rather than options their team previously used for ground support, including wood mats, steel crane pads, and steel plates.THE CUSTOMER'S BUSINESSConnelly Crane Rental Corp., Detroit, Michigan, is a 75-year-old regional crane rental company serving Michigan, Indiana, and Ohio. Its fleet includes boom trucks, RT cranes, AT and truck cranes, and crawler cranes. For years, the company had used timber mats for ground support under its larger cranes but were looking for an improved solution."It is important that cranes with outriggers be set up on some type of pads," says Joe Estep, operations manager. "When it comes to crane accessories, outrigger pads are fundamental."CRANE PAD SOLUTIONWhen the company purchased a 265-ton Liebherr LTM 1220-5.2 all-terrain crane, Estep considered his options for ground support materials that would be longer lasting, easier to move, and would eliminate the need to spend $3,000 to $4,000 every few years for new mats.For cranes the size of Connelly's new Liebherr, DICA helped Estep understand the advantages and disadvantages to timber mats, steel crane pads, and steel plate compared to DICA's FiberMax Crane Pads.Wood is an organic material that easily breakdowns and needs frequent replacement: Wood mats and pads degrade, or rot, over time and the structural strength decreases as they decompose. Because of this, engineers have no way of knowing if the mats or pads are good quality or not. Wood outrigger pads must be replaced frequently. Both wood and timber cribbing are increasingly being limited by site managers. OSHA is paying closer attention to crane pads and foundation setup. OSHA has said that cranes must be setup on firm ground that's been sufficiently drained and graded, while also using supporting gear like blocking, pads, and crane mats. For more, see OSHA 1926.1402. Using an engineered outrigger pad with known properties, although not required, makes communication with compliance officers much easier.Steel is strong and rigid, but its primary drawbacks are weight and corrosion: Increased weight means increased transportation and labor costs. Loading out a single truck with a set of 4 steel pads is typically not cost effective. Internal welds on steel crane pads are susceptible to corrosion and fatigue and are not easily inspectable. In addition, overstressed steel can yield and suffer permanent deformation.THE DECISION PROCESSEstep says contractors are becoming increasingly aware of the importance of proper crane setup."They may not fully understand the dynamics behind it, and often request solid matting, when blocking or cribbing would suffice. However, there seems to be a trend that customers prefer to see solid mats under the outriggers," he says.Estep performed a cost-benefit analysis between FiberMax Crane Pads and timber mats. Because wood breaks down quickly, Estep typically replaces the timber mats every 2 to 3 years at a cost of $3,000 to $4,000 each set. In the last 15 years, he has replaced the timber mats used with the company's larger 360-ton Liebherr at least seven times."That's $25,000 to $30,000 just on wood mats, not considering the labor to configure them," he says. "Over a 15 to 16-year span, I figured I would spend the same amount on replacing timber mats as I would on investing in the FiberMax crane pads. Plus, I will save on labor and transportation costs since the FM8x5x10 Mega Duty crane pads weigh less than equipment solutionCrane Padsmaking the right choice for your needsFIBERMAX Crane Padsmaking the right choice for your needsFIBERMAX By Kevin Koberg
Page 31
www.mcsmag.com SEPTEMBER 2021251,300 lbs, about 60% less than what we had been using previously."THE SOLUTIONBased on the crane's maximum outrigger reaction force of 265,264 lbs, a 10-inch FiberMax Pad with a rated capacity of 325,000 lbs was the ideal solution. To determine the pad area our team worked with Joe to understand their typical use, ground conditions, and customer requirements. Ultimately, Connelly Crane selected the FiberMax 8ft x 5ft x 10-in (40 square feet) crane pad. Based on the pad area, their average Ground Bearing Pressure would never exceed 6,600 psf, which aligned with their objectives." explains Kris Koberg, DICA CEO.Benefits of FiberMax over Wood and Steel Crane Pads: Made of engineered materials, FiberMax Crane Pads will not rot, delaminate or degrade with use or exposure to the environment, have a 20+ year lifespan, and are as strong as steel. The bi-directional shear web design was originally developed for vehicle and pedestrian bridges. This innovative design allows FiberMax Pads to distribute concentrated loads over large areas and effectively reduce ground bearing pressures.CLOSING THOUGHTThe new crane outfitted with the FiberMax Crane Pads has completed several jobs within the first month of delivery. One of those was lifting a 150,000-lb piece of machinery out of a steel factory in Dearborn, Michigan."The operator and crew couldn't be happier," says Estep, primarily because the FiberMax crane pads are easier to handle—they weigh half as much as wood and steel plate, which makes them easier to set up. The crew also says they have confidence in their setup and like that the crane pads look professional.Based on the performance and cost savings of the FiberMax product, "This was the first set of FiberMax crane pads we've purchased, but they won't be the last," says Estep. about the authorKevin Koberg is the Marketing Director for DICA. He leads marketing and brand development in domestic and international markets. DICA is a family owned and operated company that specializes in building high performance engineered outrigger pads, crane pads, cribbing blocks, and magnetic sling protectors that are lightweight, easy to use, and long-lasting. DICA products are proudly made in the USA, ASME B30.5 compliant, and used by operators on all seven continents and 40+ countries around the world. The company delivered its first outrigger pads in 1988 and has continued to lead the way in outrigger pad product innovation since. With 30+ standard models in its product line, DICA is able to fit equipment with lifting capacities up to 500 tons or more, anywhere in the world. For more, visit dicausa.com.
Page 32
SEPTEMBER 2021 www.mcsmag.com26equipment solutionConfusing and complicated. These are two words that can frequently describe the selection of equipment in construction that is suitable for working at height. With so many types of machines available—each with a variety of models, specifications, and attachments—how do you know which is the best fit for your job? On top of that, the pressures of intense deadlines can sometimes drive contractors to assume another piece of equipment already on site will make due. However, using a machine that is not designed for the work is inefficient and dangerous, says Brad Mellott, product training specialist for JLG Industries."If they've chosen the wrong machine for the job, the ultimate end result could be injuries or fatalities," he says. With the proper planning and site assessments, contractors can avoid these significant consequences by selecting access equipment that will help keep their crews productive and safe. In this article, find out what questions you need to ask and how to appropriately evaluate which machine is the right one for the task at hand.TELEHANDLER VS. CRANEIncreasingly, OEMs are introducing higher-capacity telehandlers as crane alternatives. Telehandlers can often reduce costs, save time, and maneuver more easily around congested jobsites. So, when can a telehandler serve as an appropriate substitute for a crane? Mellott says there are five main factors to consider, which include: • Weight of the load• Distance to the target landing area• Ground conditions• Site access constraints• Proximity to the publicThere are several ways to determine if the telehandler is in fact capable of placing the load at the destination, Mellott says.The first does not require the use of the machine at all. The telehandler's load chart features an X and Y axis for distance from the front tires and height needed for placement. Using the load chart and a tape measure, a determination can be made to see if the machine can safely place the load.The other way is through a dry run procedure. "The dry run procedure is a practice run of the lift or pick being performed but with no load on the forks. Using the indicators on the side of the boom, the operator completes a dry run placement and compares it to the load chart to determine if the machine can safely place the load," Mellott says.Something else that contractors need to consider is that with the right attachments, some telehandlers can essentially turn into cranes. Though OSHA provided guidance on this in 2014, Mellott says questions about this issue come up in nearly every training class he teaches. OSHA directive CPL 02-01-057 states, "Any forklift that lifts with a boom (including the boom of the forklift itself) and a hoist would be covered by the requirements of the cranes and derricks standard. For example, a variable reach forklift would also be covered by the cranes standard if it is configured with a hoist and used like a crane."This is important because that means the telehandler now requires a certified crane operator for its use, Mellott says.BEST PRACTICESWorking at Heightselecting the right access equipment By Jennifer Stiansen
Page 33
www.mcsmag.com SEPTEMBER 202127BOOM LIFT VS. TELEHANDLER WITH WORK PLATFORM Not only is it possible for a telehandler to transform into a crane, it can also perform work like a boom lift when paired with a personnel platform. When is this option a viable replacement?First, Mellott says contractors must ensure the work platform attachment is OEM-approved. "All attachments, including the personnel work platform, must be an approved attachment," he says. "They can't just stand on a pallet on the end of the forks."Contractors can check to see if an attachment is approved on the JLG website. "On the JLG website, you can select a specific machine and locate the list of approved attachments for that machine," Mellott says.Second, the user must also take into account the distance to the work area, ground conditions, site constraints, and proximity to the public. "Typically, the reach on a telehandler is not nearly the reach that a boom lift can offer," he says. Telehandlers with personnel work platforms have the potential to pose additional safety concerns that contractors should be aware of, Mellott says. This is because the telehandler operator is located in the cab with personnel in the work platform, as opposed to a boom lift, where the operator is in the platform.Telehandler operators need to maintain a clear line of communication and visibility with the personnel in the work platform, Mellott says. MAKING THE RIGHT CHOICEIn addition to working with your rental company's customer service representatives on your access equipment selection, digital tools can also assist in your decision-making.Introduced at ConExpo-Con/Agg 2020, JLG's Augmented Reality app allows users to view whether equipment can fit in an actual work area. Currently, boom lifts and scissor lifts are available on the app, with plans to add low-level access solutions and telehandlers by the end of summer 2021.CLOSING THOUGHTWhile many of these considerations may seem like common sense, Mellott says it's important that access equipment users have a thorough understanding of what is unsafe and where to draw that line. Being able to use resources from JLG's Augmented Reality app allows users to view whether equipment can fit in an actual work area. And, there are other resources like the BIM Library, and an equipment selector tool on the JLG website to match options to specific tasks. about the authorJennifer Stiansen is the director of marketing for JLG Industries. For more, visit, www.jlg.com.
Page 34
SEPTEMBER 2021 www.mcsmag.com28environmental solutionDiesel is an organic compound, and, like a slice of bread, it can go moldy. Mold, a form of fungus, yeasts and bacteria can grow in fuel over time. Termed "microbiological contamination," this threat is greater now as the global pandemic has created a reduction in fuel turnover. As fuel is stored and backed up in the supply chain for longer, road haulage and commercial forecourt operations need to take extra care to keep this contamination in check.Microbiological contamination in fuel supplies has more serious consequences on fuel systems and storage tanks. As microbes multiply in the fuel, they can form a biomass layer consisting of billions of organisms. This biomass can block filters, increase injector wear, and even corrode tanks with the organic acid it produces. Worst of all, microbiological contamination can be passed along the fuel supply chain, whether from pipeline to storage tank or fueling truck to retail forecourt. This means that even if a depot is experiencing high fuel turnover, delivering supplies, the overall slump in global fuel consumption across all modes of transport means contamination from the fuel supply chain could still be an issue.Rachel Harrison at Fueltek Ltd, says: "The 'diesel bug' is something that anyone storing fuel in bulk is generally aware of, but maybe not of the increasing risks it poses."WHAT DOES THIS MEAN?No one wants to add unnecessary activity or cost to operations, but managers need a smart way to make smart decisions to help prevent the potential of significant remedial costs due to damage caused by microbiological contamination. But why does microbiological contamination occur?Fuel inherently contains water in some form as soon as it leaves the sterile environment of the refinery. Water can be picked up at any point in the supply chain; in pipelines, storage tanks and fueling trucks. It can also naturally enter storage tanks due to condensation, making it impossible to keep it completely out of the supply chain. Of course, many companies will have sophisticated wet stock management with water sensory equipment, but even the smallest amount of water (far from the levels these mechanisms can detect) can do damage. Couple the presence of even a small amount of water with the use of more sustainable and environmentally friendly fuels, which has led to a reduction in sulphur and addition of biofuels, and the microbiological problem gets worse. While steps can be taken, such as cleaning fuel tanks or dosing them with biocides if the tank is not contaminated, this adds a significant cost to operations. A regular, on-site testing regime using lateral flow devices, however, offers a quick, easy, and low-cost way to ascertain whether action needs to be taken. Immunoassay antibody test kits, such as FUELSTAT® from Conidia Bioscience, are a proven technology to give accurate levels of microorganism activity in a fuel source. Testing can be carried out on site without the need for in-depth training or investment in sophisticated test readers or other high-tech equipment. The kits require no special handling, storage, or disposal and are safe and easy to use, providing quick results without the need to send samples away for testing. The very nature of how the test works means that there is minimal risk of cross-contamination (unlike if samples are sent away to a lab), results are accurate and completely reliable, and site managers can take control in ensuring they will not be caught out by undetected contamination.Compared with other testing methods or technology to prevent a build-up of microbes, antibody test kits are one of the lowest cost options. With no initial capital investment required, the cost of a kit provides an almost immediate return on investment if it prevents just one unnecessary storage tank clean or biocide dosing or averts an incident where an engine is damaged by the microbiological contamination.Diesel BugDiesel Bugantibody testing for microbiological contaminationKEEP THE SUPPLY CHAIN MOVINGBy Mark Busch
Page 35
ANTIBODY TEST KITS wipe sampling equipment should be CLOSING THOUGHT Antibody fuel test kits have been used cleaned after each sample is taken If left unchecked microbiological for many years in the aviation industry and ideally a new sampling container contamination can have serious impact where fuel testing has long been a should be used for each sample on machinery and drivers Indeed the standard procedure and other bulk users If a site begins to use antibody test damage it can cause to diesel engines of diesel fuels such as marine and power kits to periodically test fuel supplies fuel tanks pumps and other machinery generation have followed suit Most the frequency of this testing can should not be underestimated The people are aware of the technology which be adjusted as historical results are contamination can be transferred to most is widely used in the medical industry as catalogued If using FUELSTAT test middle distillate fuels and will grow if it is the principal test for the COVID 19 kits site managers will have the left undetected Antibody test kits offer infection While there is no regulation unique added benefit of a free result a simple quick cost effective way of or mandate to test fuel supplies at app which can be installed on a wide checking fuel supplies on site without the garage forecourts or at road haulage range of mobile devices both iOS and need for specialized skills or procedures refueling hubs the risks contamination Android Users scan the test kit and get poses especially at a time when overall instant digital verification of the test throughput in the supply chain is lower results which they can store and share are significant Managers have access to the Report A GOOD TESTING REGIME Microbiological contamination can occur about the author Mark Busch engages in business portal to track test results across all development for Conidia Bioscience and their assets in real time examines how immunoassay antibody test For companies that employ fuel kits applying medical grade technology to fuel testing provide immediate results at any stage in the fuel supply chain In maintenance contractors fuel testing is any testing process some important not assured and the number of cases in procedures should be followed the road transport sector of equipment associated with contamination For more Sampling points should be wiped clean being damaged because of contaminated visit conidia com with at least 70 alcohol solution or fuel is increasin www mcsmag com allowing the haulage industry and commercial forecourts to reduce the risks and costs SEPTEMBER 2021 29
Page 36
Page 37
Page 38
SEPTEMBER 2021 www.mcsmag.com30Customers today are continuously evolving, which means the importance of adhering to their desires—also known as being a customer-centric business—is paramount for any enterprise's sustained success. For roofing and contracting companies specifically, much of their secured business derives from returning customers, as well as new customers who receive referrals from family and friends, or who study online reviews about a company they're considering. In fact, the probability of businesses selling to existing customers lands between 60-70%, compared to just a 5-20% probability when approaching new customers. Additionally, 97% of consumers reported they would tell others about very good or excellent customer service experiences. As we see with these two statistical examples, customers interact and engage with companies they know and ones that appeal to their personal preferences.While the idea of having a customer-centric business may sound mundane, the reality is that many in our industry struggle to do so—talking the talk rather than walking the walk. The inability to adapt to and fit customers' current makeup can minimize new job opportunities, leading to loss of revenue, high employee turnover, and many other severe consequences. To help business owners in the roofing and contracting spaces avoid these complications, we dive into three principles that can be implemented into an organizational strategy to ensure businesses are making profits and properly serving customers at the same time. HIRING THE RIGHT TALENTAs a business owner myself, I know the challenges that come with searching for ideal candidates who mesh well not only internally with the team, but also externally with customers. Employees are the face of the business, no matter if they're sales staff or the on-site project team. Good or bad, they represent the company at all times, which is why hiring with a customer-centric focus in mind is a must.One way to accomplish this is by promoting company culture within specific job descriptions and promoting culture when sharing job openings themselves. Job seekers are focusing more on company culture than ever before, with 77% reporting they consider it before applying to a specific company. Not only does promoting culture bring more applicants in the door, but it also attracts the top industry talent that provide the skills, experience and intangibles needed for a customer-friendly enterprise. It's also important to emphasize candidates' soft skills during the interview process, in addition to their work skills and experience, which can be done by inserting more personable and conversational interview questions. While some prospects may be the most qualified for the job, a lack of interpersonal skills can cause rifts inside the company, as well as subpar customer communication, eventually leading to a poor representation of the company. IMPORTANCE OF RELATIONSHIPSWith a good chunk of industry business coming from existing customers and their referrals, an important method to use in securing this business is fostering long-standing relationships with customers. The value of relationships continues to grow, whether it's utilizing personal connections during a job search, or securing upcoming opportunities with customers. Relationships, and strong ones at that, are king in today's day and age, which makes having these with customers a huge asset for a business' success. The first step in this process is to befriend the customers, followed by sustaining that "friendship" over time. management solutionCustomer Mindsetevolving your business to serve people ORGANIZATIONAL STRATEGYBy Josh White
Page 39
www.mcsmag.com SEPTEMBER 202131Tactics used in personal friendships can pay dividends in building friendships with customers, such as being honest with customers, building trust between both sides, genuinely caring about them and their desires, and more. With 79% of customers saying they want companies to show that they understand and care about them before they purchase, utilizing these tactics can secure a plethora of referrals and new customers.What's more, companies that hire with a customer-centric mindset will have employees with the intangibles and interpersonal skills to create these long-lasting relationships with customers, building a pipeline for future business opportunities. GIVE BACK TO THE COMMUNITYThe 2020 Consumer Culture Report found that 71% of consumers prefer buying from and interacting with businesses that align with their values. Typically, this is seen through companies pledging donations to specific causes consumers are passionate about or giving back in other ways to serve the greater community. For business owners in our industry, giving back may be one of the more feasible and effective ways to build brand affinity with customers. Whether it be donations to local nonprofits or offering free services to neighbors in a time of need, our businesses can make a major difference across our respective communities with what we bring to the table. Additionally, customers will feel that the local company truly cares about them and the communities' well-being, leading to them being more inclined to seek services in the future. Businesses must not forget to be genuine when giving back to their communities. Sure, it can help bring in new job opportunities and can be a good public relations boost, but the most important thing is what can be done to better the community and the lives of its citizens. CLOSING THOUGHTWhile it's important to excel in the individual services and expertise a business provides, they must not forget to also excel in their customer service and customer appeal. Consumers now desire companies that are friendly and unique to them, rather than just offering the best service or the lowest price, making it a necessity for all businesses—especially for those in our industry. about the authorA disabled veteran from Indianapolis, Indiana, Josh White has served as the president of Hoosier Contractors since 2013. Hoosier Contractors is a locally owned and operated residential and commercial contracting business serving the greater Indianapolis area. Using a customer-first approach to build business, Hoosier Contractors is part of the National Roofing Contractor Association and accredited by the Better Business Bureau. For more, visit www.hoosierroof.com.
Page 40
management solutionSchedule MakeoverSchedule Makeoverwhy a fully coordinated project delivery team is bestADAPT TO THE FUTUREAfter a challenging year, many industries are navigating still uncertain waters and adjusting their business models to adapt to whatever the future might hold. The construction industry, in particular, is starting to see a change in the culturally entrenched attitudes towards project management as organizations look for ways to modernize their operations.One long-entrenched process—the schedule—is one area in need of a process makeover. Previously, it's been the expertise of the scheduler that dictates the quality of the schedule, but now organizations are focused on uniting all office and field staff to be part of one fully coordinated project delivery team. That means the collective team will be working together to manage the planning and scheduling process. OFFICE AND FIELD CONNECTEDToday, a schedule should be multi-dimensional. It should consider the summary of activities found in the scope of work of the contract, as well as the field level production details based on the guiderails in these summaries. Great scheduling combines the needs of the field and the front and back office. And as the complexity and duration of construction projects continue to increase, so do the number of specialized team members involved on a project—and the intricacies of a schedule. The more members that are added to the project team, the more mature the schedule should become, adding depth and creating a more thorough plan for all teams. Incorporating metrics around milestones, deliverables, and productivity can coordinate and optimize labor, equipment, and material resources both within and across all projects of an organization. Given today's supply shortages and material delays, being able to account for hiccups in the schedule in near real time becomes even more essential. The construction industry pivoted quickly over the past year to remotely manage many aspects of a job (safety, control, risk, etc.), and as the adoption of mobility solutions has grown, so has the number of project delivery team members that are involved in the execution process.As organizations in the industry continue to reimagine the workspace and analyze how they can assemble and mobilize staff quickly, they are also considering how they can effectively digitize more of the workforce while adapting to more mobile and remote working approaches. The By Garrett HarleyAs the construction industry continues to look at ways that can improve the quality of the schedule and the project outcome, they will look to incorporate any tools available to them to ensure their organization is as efficient as possible.SEPTEMBER 2021 www.mcsmag.com32
Page 41
www.mcsmag.com SEPTEMBER 202133Contractor's #1 Choice for Flat FloorsA great power screed using straight flat screed bars. The❝Black Beauty❞GET FLAT FLOORS!Screed bars are available in lengths up to 20 feet.▼ Equilateral screed bars stay straight through years of use.▼ Now available with "T" handle (shown) or "Bicycle" handle.▼LOCATE A DEALER AT advancedconcretescreeds.com OR CALL US AT 800-648-0542.REPAIR SPALLS AND CRACKS IN 10 MINUTES!ROADWARE 10 MINUTE CONCRETE MENDER™It's thin, it gets in, and it won't pop out!See more at www.roadware.us or call 800-522-7623.Cartridge applied or bucket mixed, Roadware Concrete Repair Products will have your oors ready for trafc, coating, or polishing in about 10 minutes. Any size repair. Blend with sand and pigments to create unlimited colors. Permanent repair.800-522-7623ROADWARE INCORPORATED381 BRIDGEPOINT WAYSOUTH ST PAUL, MN 55075 www.roadware.usschedule needs to be able to quickly account for scaling up and down this more diversified team and ensuring everyone is informed and aligned and working towards the common project goal. TOMORROW'S SCHEDULE TODAYA more coordinated and collaborative schedule blends the approaches of how work is both planned and managed. It is inclusive of all team members, and unites the critical path (in the CPM schedule) with field task and risk management. It provides a view that businesses need to efficiently plan, schedule, and control programs and individual projects.One development helping to identify potential risks and inefficiencies early in the project schedule is through the use of AI. Organizations who analyze their companies existing historical project data, and combine it with their internal knowledge base, can generate an improved quality of schedule by using AI to evaluate scenarios in real time. They can determine the best project plans and mitigate risks, as well as optimize resources across project teams and track progress.As the construction industry continues to look at ways that can improve the quality of the schedule and the project outcome, they will look to incorporate any tools available to them to ensure their organization is as efficient as possible. While the schedule will still remain the blueprint or air traffic controller for successful project delivery, the process needs to evolve and adapt to focused on uniting all office and field staff to be part of one fully coordinated project delivery team.CLOSING THOUGHTConstruction businesses must overcome complacency in order to continue to modernize. Historically, emerging technologies have made up roughly 1% of E&C firms' overall IT investment. However, the pandemic spurred many firms to immediately invest and adopt in new technologies, or expand on their existing technology infrastructure. We are now seeing that firms that have been prioritizing incremental moves to digital- and cloud-first solutions have come out on the other side better equipped to adapt to and take advantage of new norms. Technology plays a key role in enabling significant improvements in three key areas for E&C firms: improving operational efficiency, reducing exposure to risks, and increasing financial discipline. Complacency may stall the growth of many firms if they don't continue to invest and make use of technologies to improve the all aspects of their business. about the authorGarrett Harley is director of product marketing for Oracle Construction and Engineering. He is an industry speaker, thought leader, and project controls professional with more than 20+ years in engineering construction technology. For more, visit www.oracle.com/construction-engineering.
Page 42
SEPTEMBER 2021 www.mcsmag.com34management solutionThere are several factors that must be considered before a company can determine that a technology platform driven Project Management Office (PMO) solution is right for them.HISTORY OF PMOToday's PMO can be traced back to the 1950's, where project management became recognized as a distinct discipline. Ad-hoc project oversight environments evolved into processes such as PERT and CPM. These techniques were widely used in the defense industry, where the US military's development of complex missile systems necessitated a PMO-driven management structure whereby each weapon system was comprised of several subprojects grouped together in system program offices. The PMO was able to provide oversight and guidance of not only project systems (e.g., the missile), but also the warhead, support equipment, launcher, training, and logistics support. This became the model upon which the Project Management Institute (PMI) was formed in 1969.STRATEGIC DELIVERY CHALLENGESIn today's post pandemic project execution environment, organizations must tailor their requirements for improved productivity, cost savings, and adequately trained project management professionals to an increasingly remote workforce. Remote teams make key decisions that impact execution, and work with contractors and suppliers located around the world. Organizations are finding it necessary to integrate existing technology stacks of systems like SAP, Oracle Primavera P6, IBM Maximo, and others. A PMO solution that does not fit an organization's unique culture is doomed for failure. AI AND PREDICTIVE ANALYTICSToday's best PMO teams have at their disposal technology platforms with advanced data analytics, predictive modeling, and machine learning capabilities. These teams have the ability to track and process a huge volume of information and provide guidance based on active or predicted risks and much more. Armed with advanced technology platforms, today's PMO teams can, with a high level of accuracy, hone-in on issues based on a number of factors such as team experience, historical information, project types, project constraints, environmental factors, and work process types. By providing solutions backed by hard data, and by thoroughly understanding an organization, its culture, and its available resources, PMO solution companies with robust technology platforms provide valuable insight to help clients deploy their resources effectively and efficiently. TECHNOLOGY PLATFORMSTechnology platforms that digitize documents for PMO programs provide valuable automation technology using real-time information. Beyond digitally capturing data, a good tool can increase the accuracy of information, document, eliminate redundancies, and automate data processing. These platforms allow solutions that provide valuable tools such as key performance indicator (KPI) tracking to provide insight and intelligence that consistently steers organizations towards industry best practices.By organizing and consolidating financial, operational, and schedule data regarding ongoing projects, and combining with GIS capabilities and readying for integration with existing Project Management EvolutionProject Management Evolutionsolutions driven by technology platforms and AIDATA-DRIVEN ANALYTICSBy Jesse Guzman Jr and Hari VasudevanTHINK POWER SOLUTIONS Think Power Solutions is a leading tech-enabled infrastructure management solutions provider with highly skilled and dedicated consultants who clients entrust to manage their mission-critical infrastructure. Think Power Solutions was founded with the vision of providing exceptional client service influenced by modern technology to positively impact the utilities, telecom, and construction industries.
Page 43
www.mcsmag.com SEPTEMBER 202135By Jesse Guzman Jr and Hari Vasudevanwww.sunflowerboatandbarge.com • 563-583-0556• Sectional Barges• Spud Barges from 75x32 to 195x70• Hydraulic Dredges• Truckable Tugboats from 300 – 600 hp• Traditional Tugboats• Support EquipmentAvailable for Lease:ERP, these tools give clients the ability to see the big picture. Technology platforms provide executives, project managers, stakeholders, and team members a closed loop environment that improve communication and keep everyone up to date with reliable and actionable data.HUMAN PERFORMANCEBecause even the best of the best is fallible, the Human Performance-centric approach to project management breaks the links in the chain that lead to errors. Human Performance is a work process that analyzes how actions result in mistakes and how education and relevant procedures reduce or eliminate them. By adopting Human Performance into its culture, where all employees are engaged in a highly reliable organization that focuses on learning and continuous improvement, the stigma associated with reporting less than desirable occurrences in the field is eliminated. That fear is replaced with the goal of learning from these same instances, reducing errors as opposed to simply assigning blame.CLOSING THOUGHTWhen considering whether or not to engage with a PMO, first take an overall look at how your company operates. What is the organizational structure: is it functional, divisional, matrix, or flat? Does your company culture lend itself to continuous improvement? Do you require integration of existing technology stacks? Would you like to improve project delivery and execution as well as maintain consistent reporting standards across your enterprise?If the answer to any of these is yes, many options now exist for cutting edge technology driven solutions for PMO and capex oversight. As businesses learn to embrace the available technology platforms, they begin to realize the benefits of engaging in PMO solutions driven by technology platforms for everyday problem solving in the office and out in the field. Improved productivity, process refinement, alignment with strategic goals, management practices, and organizational intelligence all benefit from engaging with a PMO that fits your company culture. about the authorsJesse Guzman Jr is a certified project management professional and the director of the PMO group at Think Power Solutions. He has more than 16 years in the construction industry with over 10 of those in the utility industry. Hari Vasudevan is the founder and CEO of Think Power Solutions. Think Power Solutions is a leading tech-enabled infrastructure management solutions provider with highly skilled and dedicated consultants who clients entrust to manage their mission-critical infrastructure. Think Power Solutions was founded with the vision of providing exceptional client service influenced by modern technology to positively impact the utilities, telecom, and construction industries. For more, visit thinkpowersolutions.com.
Page 44
SEPTEMBER 2021 www.mcsmag.com36legal solutionIn May 2021, the Biden Administration unveiled an aggressive agenda to curb carbon emissions created by the construction sector. The plan includes development of building performance standards for federal buildings, which would establish metrics, targets, and tracking methods to reach federal carbon emission goals, which the president has committed to being "net-zero" by the year 2050. This spring, the New York Senate passed legislation which would alter the state's building codes, a move towards more energy efficiency. The California Energy Commission also just adopted an updated "2022 Building Energy Efficiency Standards Code" for newly constructed and renovated buildings to lower their carbon footprint. Similar codes, regulations, and pronouncements have been made all across the country, on statewide and local levels, and likely many more will be adopted soon that require buildings to be more resilient, adaptable, and efficient. As a result, the construction industry must take notice and adapt to the changes for building and renovation. ENERGY EFFICIENCY REGULATIONS In a study reported at the Environmental Protection Agency's 17th International Emission Inventory Conference in 2008, it was noted that globally, buildings use 30-40% of "primary energy," typically generated from biomass in low-income countries, and burning fossil fuels in middle- and high-income nations. In the United States alone, it was reported the building sector accounts for approximately 48% of annual greenhouse gas emissions, not including the production and transportation of materials used in building construction. Further, the long-term operational generation of greenhouse gas emissions from these completed structures, assuming a lengthy lifespan, is significant.The announcement from the White House did not set a timeline for developing these building performance standards and did not include any specific benchmarks. New York state passed through its Senate the "Advanced Building Codes, Appliance and Equipment Efficiency Standards Act of 2021," now before its Assembly, which will promote consumption of clean energy and implementation of an aggressive climate agenda including energy efficiency standards for buildings, requiring greenhouse gas emission reduction in design criteria, increased efficiency, reduced environmental impact of buildings, and a resultant lower energy use and operation costs. Proposed changes to the California code will not go into effect until 2023. If adopted in December of this year, they will apply to all newly constructed and renovated commercial buildings and high-rise multifamily structures, including hotel, office, medical, retail, restaurant, school, and civic construction. The revisions to the 2022 California Energy Code focus on four key areas: encouraging electric heat pump technology for space and water heating, which consumes less energy and produces fewer emissions than gas-powered units; establishing electric-ready requirements for single-family homes so owners will use cleaner electric heating, cooking, and have electric vehicle charging options; expanding solar photovoltaic systems and establishing on site battery storage standards; and strengthening ventilation standards to improve indoor air quality. Other similar regulations attempt to force developers, owners, designers, and contractors to adopt a significantly more aggressive renewable and sustainable energy posture, which invariably will add to short-term increases in construction costs and project budgets. PIVOT TO SUSTAINABILITYSustainability requirements should come as no surprise. Since 1997, the American Institute of Architects' (AIA) Committee on the Environment has focused on achieving climate action and justice through design, and annually recognizes the construction industry's most innovative projects, integrating design excellence with environmental performance. In its 2020 Code of Ethics, the AIA's very first Cannon requires its members to "consider the social and environmental impact of their professional activities." The American Society of Civil Engineers, in its brand-new Renewable Energy Renewable Energy poses enduring challenges to construction professionalsCHANGE IS COMINGBy William S. Thomas
Page 45
www.mcsmag.com SEPTEMBER 202137Code of Ethics implores its members to "enhance the quality of life for humanity," to "adhere to the principles of sustainable development," and to consider and mitigate against adverse environmental impacts in their work. For design professionals, the old way of doing things may no longer be an option. IMPACT OF SUSTAINABILITY Changes to statutes, codes, and regulations mandating adoption of climate change initiatives will have significant impacts to ongoing and future construction projects. As an initial matter, owners and developers will need to factor into their budgets the expense of sustainability compliance, which may require a detailed assessment of the long-term operational impacts to truly appreciate the overall cost-benefit. These initiatives, once the easy target of value engineering efforts, will no longer be on the chopping block; however, other improvements may need to be. The data must support this long-view approach, encouraging building owners to see benefit where once there was only non-essential expense. Therefore, long-term data collection, cost monitoring, and performance goals will all need to be maintained and recorded. Contracts will need to be reviewed with care, as most obligate design professionals to comply with "all" rules, regulations, codes, and statutes. Often, there is no clarity provided as to when the compliance is required, meaning codes or standards adopted after the plans are completed may still need to be complied with, even though not part of the design. Either way, compliance with these sustainability requirements needs to be an owner expense item, and not something the design professional pays for out of its insurance policy. CLOSING THOUGHTMany contracts obligate designers and contractors to design and build to a budget. An early pre-design meeting of the team could aid in creating a working budget which allows the owner to make informed decisions about the design before getting too committed to one direction over another. These costs will soon become a part of every project. about the authorWilliam Thomas is a principal at Gausnell, O'Keefe & Thomas, LLC in St. Louis, where he focuses his practice on construction claims and loss prevention. He is a member of the AIA, ASCE, and International Association of Defense Counsel, for which he serves on the Construction Law Committee. He can be reached at wthomas@gotlawstl.com.ON THE WEBLearn when change will come in this article on mcsmag.com
Page 46
SEPTEMBER 2021 www.mcsmag.com38software solutionRampant Ransomwareoutsourcing cybersecurity may be the best optionIS YOUR CONSTRUCTION BUSINESS SAFE?With ransomware attacks making headlines, construction managers at organizations of all sizes are increasingly asking, "Are we vulnerable too?" or even "Are we next?" According to the U.S. Cybersecurity & Infrastructure Security Agency (CISA), "Ransomware is an ever-evolving form of malware designed to encrypt files on a device, rendering any files and the systems that rely on them unusable. Malicious actors then demand ransom in exchange for decryption. Ransomware actors often target and threaten to sell or leak exfiltrated data or authentication information if the ransom is not paid."Although there are various measures that construction businesses can take to reduce the risk of becoming a ransomware victim—which can involve a loss of data and production for an indefinite period until it is resolved—managers shaken by the scope of the problem are increasingly turning to expert third-party cybersecurity firms for guidance and protection.POTENTIAL VICTIMSWhen Colonial Pipeline was targeted by the DarkSide gang in a ransomware attack this April, it disrupted gas supplies along the U.S. East Coast, causing widespread shortages in multiple states. Colonial Pipeline paid $4.4 million dollars in bitcoin to release their billing system and internal business network, although U.S. law enforcement later recovered much of the payment.Global ransomware damage costs are predicted to hit $20 billion in 2021, up from $11.5 billion in 2019, $5 billion in 2017, and just $325 million in 2015, according to the Cisco/Cybersecurity Ventures 2019 Cybersecurity Almanac.Cybersecurity Ventures, the world's leading researcher and a trusted source for cybersecurity facts, figures, and statistics, expects that businesses will fall victim to a ransomware attack every 11 seconds in 2021, up from every 14 seconds in 2019, and every 40 seconds in 2016.Concern over the danger to businesses has even risen to the international stage. NPR reports that at a recent summit in Geneva, "President Biden called on Russian President Vladimir Putin to crack down on cybercrimes. But the Russian leader has shown little interest in combatting an emerging criminal industry in his country that's called 'ransomware-as-a-service.'"In the battle against ransomware, the challenge is that essentially any construction business with older PCs, networks, firewalls, or operating systems is vulnerable, particularly those that do not immediately update to the latest software to "patch" security issues, according to Yuriy Tatarintsev, manager, technical operations at BTI Communications Group, an IT cybersecurity and technology convergence provider that services clients nationwide. "Even one PC running an older, unsupported version of Windows can be a chink in the defensive armor that invites intrusion," states Tatarintsev. KEEPING BUSINESSES SAFEThe fight against ransomware begins with having a companywide process to ensure that all machines are patched with the latest security updates from Microsoft and other applications as soon as they are released.Next, defending critical construction business processes from attack goes beyond simple anti-virus protection that solely reacts to known threats, and that leaves operations vulnerable to yet unidentified risks."We recommend a new generation of advanced antivirus software that does not always depend on identifying known threats or 'signatures.' Instead, such software uses artificial intelligence to analyze which PC programs and processes are affected and as soon malicious activity is detected, stops it," explains Tatarintsev. SECURITY EMAIL VITALAccording to Tatarintsev, email security is also of critical importance today because insufficient precaution in this area is perhaps the leading cause of companies getting ensnared in ransomware."Statistically most construction companies acquire ransomware when an employee receives a suspicious email
Page 47
www.mcsmag.com SEPTEMBER 202139that seems legitimate and clicks on an embedded link. This starts the ransomware attack, which then spreads throughout the company network," says Tatarintsev.To protect against this hazard, Tatarintsev recommends that construction businesses use advanced email spam protection tools that offer significantly more defensive capability than earlier, more rudimentary options."The advanced tools not only filter out all potentially malicious emails, but also stop users from going to dangerous website destinations by clicking on links that could start a ransomware attack," he says. He explains that the tools rewrite all the embedded link Uniform Resource Locators (URLs). So, if a user clicks a URL in an email, instead of linking to a potentially dangerous website, he or she is redirected to a safe location or "sandbox." The URL is analyzed to determine if it is dangerous, and if it is safe the user is allowed to go to the original website destination.BACKUP ESSENTIALIf all these defenses fail and ransomware does infect and shut down a construction company's IT network, a reliable back up system should be in place that can quickly restore all critical data."If a business's vital server data is encrypted by ransomware, with a good backup solution data can be restored from the backup," says Tatarintsev. He notes, however, that some data will be lost, depending on the frequency of backup. Unless these are virtually continuous, a day or even a week or more of current data could be lost.Care is a must when data is transferred and saved to keep ransomware from having access to network storage sites.While construction businesses can attempt to fight the growing scourge of ransomware in-house, most IT departments do not have the time, resources, or expertise available to deter the constantly evolving threat on a 24/7 basis.As an alternative, an increasing number of construction businesses are cost-effectively protecting against ransomware by outsourcing to professional, third-party firms like BTI Communications Group that remotely and continually provide layers of protection with a comprehensive, integrated IT approach to continually deter and detect threats, as well as resolve vulnerabilities. CLOSING THOUGHTWith the menace of ransomware continuing to escalate, construction businesses of all sizes would be wise to examine options for deterring the threat before being victimized. for more informationFor more about BTI Communications Group, visit www.btigroup.com.
Page 48
SEPTEMBER 2021 www.mcsmag.com40Construction professionals have a golden retrofitting opportunity as commercial facilities expand their precautions against viruses: an effective new type of "germicidal" LED fixture that can be quickly and easily installed in existing structures. This specialized, enclosed LED fixture draws in air and irradiates it with ultraviolet light (UV), significantly improving indoor safety by providing continuous disinfection of airborne viruses as well as bacteria and germs. While traditional UV fixtures have been used for many years to clean surfaces, they could not be safely used in occupied spaces. The new type is designed to safely and constantly disinfect indoor air in occupied rooms. Although LED light fixtures normally emit non-harmful visible light with a 400nm-700nm wavelength, lower frequency ultraviolet (UV) light LEDs can effectively kill such pathogens. UVC, a powerful ultraviolet light wavelength between 180nm-280nm, is viricidal, bactericidal, and fungicidal since it passes through the outer wall of the pathogen and causes damage at the molecular level. The destruction ultimately leads to inactivation of the pathogen, making the cells unable to reproduce. UVC is known to disinfect air, water, and nonporous surfaces and has effectively been used for decades to reduce the spread of bacteria such as tuberculosis, influenza, and Legionnaire's disease. According to the CDC, UVC is the only recognized technology for effective germicidal treatment for airborne pathogens. HEALTHY RETROFITTINGThe CDC has also determined that the integration of in-room UVC sources in conjunction with building-wide HVAC systems has great promise, particularly given the growing knowledge of the dangers of airborne viruses. Best of all, these stand-alone UVC fixtures can be used continuously throughout the day, in occupied rooms, even when the HVAC system is off. "For easy retrofitting by the construction trade in indoor settings, individual room air can be continuously recycled while safely treating it with UVC radiation and eradicating airborne viruses, says Michael Fischer, president of Energy Harness Corporation, a Florida-based designer and manufacturer of LED lighting for a variety of commercial settings. "Unlike traditional wide spectrum fluorescent or mercury vapor UV tubes, LEDs can produce UVC by controlling the specific wavelengths of light emitted. In addition, they don't contain extremely toxic substances like arsenic or mercury that are inherent in the traditional UV tubes."Prior to the pandemic, Energy Harness responded to the demand for hydroponic "grow" lighting, and designed LED lights with color spectrums (including UV) to mimic sunlight. When the COVID pandemic began, Fischer says his team quickly realized the potential effectiveness of UVC technology to deactivate viruses and used the technology to design a fixture to treat the airborne organisms. However, to do this requires technology that can safely deliver the proper UVC dosage in a specific combination of three main factors: dosage, distance, and wavelength.According to Fischer, to eradicate pathogens effectively, the UVC wavelength should be in the germicidal effective range, with a peak of approximately 268nm. The intensity must be high enough to irradiate the space, and the duration must be long enough to affect the organism. He spells out the equation as (Wavelength Intensity * Duration) = Dosage Delivered.ACTIVE-AIRFLOWAfter significant R&D, the LED manufacturer developed a ceiling mounted UVC system called Active-Airflow that circulates room air many times per hour into an enclosed chamber, where UVC disinfection occurs.Due to its unique patent pending design, the unit allows for an exceptionally long exposure time. The internal germicidal chambers are filled with hundreds of high-powered LEDs arranged in very close proximity to the airborne pathogens as they move through the fixture. Germicidal LEDGermicidal LEDdisinfect airborne viruses in commercial spacesRETROFIT OPPORTUNITYBy Del Williamssafety solution
Page 49
www.mcsmag.com SEPTEMBER 202141With the intensity, the distance and the time measured, Energy Harness can effectively "control" the UVC dosage. In addition, the LEDs in the unit irradiate in the most effective germicidal range (with a 260-280nm wavelength). SAFETY IN A SECONDWhen the Active-Airflow LED fixture was tested by Intertek Laboratories (ETL), a nationally recognized testing laboratory (NRTL), it was shown to be 99.9% effective in eliminating airborne pathogens. Further laboratory testing directly on the SARS-CoV-2 virus has shown the LED technology produced in the Active Airflow fixture showed a 99.998% inactivation of the virus—within one second. A virus reduction rate of 99.999% is the maximum sensitivity that the testing mechanism could measure."To know that our technology maxed out the testing equipment, that's a pretty exciting moment," says Peter Lehrer, senior vice president for project development at Energy Harness. "It says that we've got the ultimate virus killer on our hands."Because the unit houses the UVC LEDs internally, it does not produce any visible light in the room it disinfects. With the unit mounted in the ceiling, the people occupying the space are completely shielded from the UVC. Each LED fixture can typically disinfect a 256-square-foot area, depending on average occupancy, occupant activity level, etc., and multiple units can be deployed in larger rooms, according to Fischer.Contractors in the construction and retrofit business should know that when installed in standard ceiling grids, the pathogen inactivating UVC LED fixture can be used continuously through the day in occupied rooms. This enables constant airborne disinfection of the air throughout the area. Although this UVC LED unit works independently from the HVAC system, it still uses active air handling to draw room air into the unit. The standalone approach of the disinfection system could make it simpler for most facilities to install. The unit is designed to fit into a grid ceiling much like a troffer luminaire and takes up the same space as a single 2x4-foot ceiling tile. CLOSING THOUGHTThe bottom line for construction professionals is that they have an important new opportunity retrofitting commercial facilities, making indoor areas safer with occupants still in the room. The incorporation of fixtures that can continuously kill airborne pathogens will be vital to aid safe operation. about the authorDel Williams is a technical writer who lives in Torrance, California. For more about LED technology with Energy Harness, visit energyharness.com/uv/.
Page 50
SEPTEMBER 2021 www.mcsmag.com42safety solutionCaught on Camerachoose the right safety technology for off-road vehiclesFOCUS ON SAFETYWorksites can be dangerous places. The potential for deaths and injuries caused by moving machinery and equipment should not be underestimated. According to the World Health Organization, construction, agriculture, and mining are among some of the highest-risk work populations in the world with many injuries and fatalities caused by moving vehicles or machinery. Here, Corey Heniser, a vehicle safety expert at Brigade Electronics Inc., discusses the most appropriate safety devices and what to consider when choosing vehicle safety technology for off-road vehicles. CAMERA MONITOR SYSTEMSAll vehicles have blind spots—areas around the vehicle that are obscured by bodywork, load, or attachments. When maneuvering, these blind spots present a significant danger to anything or anyone in the vehicle's path and inhibit the driver's ability to operate the vehicle safely.While mirrors and single-view cameras help to address blind spots, they do not eliminate them completely. Research shows that in the time it takes to scan four mirrors/a monitor, assess, and then react to hazards, even at speeds as low as 3 mph, a vehicle can travel as far as 33 feet. However, 360-degree camera monitor systems, like Brigade's Backeye®360, can solve this problem. The four-camera technology is designed to eliminate vehicle blind spots and assist safe maneuvering in challenging situations by providing the driver with a complete 360-degree view of their vehicle in a single image. The system combines images from four ultra-wide-angle cameras, providing a real-time view on the operator's monitor. The result is a "bird's-eye-view" of the vehicle and surrounding area. SHUTTER CAMERASWorking in difficult conditions, such as dusty worksites, can mean visibility from camera monitors is compromised. Dirt can quickly cover any rear-view camera lens, making it difficult for drivers to see what is behind them. Shutter cameras feature an automatic shutter to protect the camera while it's not in use. The shutter is only triggered to open when a vehicle enters reverse gear, meaning the camera lens remains clean and the life of the camera is increased. BACKUP WARNING ALARMSRear blind spots are a huge problem, with backup incidents accounting for a quarter of deaths in the workplace. Backup alarms provide an audible warning for anyone in a vehicle or machine's path when it is backing up.While "beep-beep" backup alarms are still widely used across the globe, multi-frequency alarms using broadband
Page 51
www.mcsmag.com SEPTEMBER 202143VISIT US AT BOOTH # K170technology, such as Brigade's bbs-tek®, are considered to be much safer due to their locatable "ssh-ssh" sound that not only eliminates noise complaints but more importantly is far quicker for pedestrians and ground workers to pinpoint, particularly when wearing hearing protection or when working in difficult and noisy conditions. RADAR OBSTACLE DETECTIONCamera monitor systems will help to eliminate blind spots in most scenarios. However, when visibility is poor, drivers and operators need additional assistance. This is where radar obstacle detection comes in.Industries such as mining, quarrying, and construction regularly operate in harsh terrains and difficult conditions, such as fog, dust, and darkness, which further decreases visibility for drivers of machinery. Radar obstacle detection can detect stationary and moving objects, even in the toughest conditions, providing operators with in-cab visual and audible warnings, immediately alerting them to potential hazards. This is critical, especially in busy worksites, to alert the operator of a nearby person or obstacle. VEHICLE CCTVVehicle CCTV combined with a Mobile Digital Recorder is playing an important role in helping to improve safety and security. It provides irrefutable evidence in the event of an incident or fraudulent insurance claim and helps protect drivers from false accusations and to improve operator performance. Incidents involving vehicles can be extremely time consuming and costly to resolve. A lack of solid evidence can often mean companies accept liability or operators are unfairly blamed, leading to increased costs for businesses and stress for operators. Mobile digital recorders capture vehicle data and footage from up to 16 vehicle-mounted cameras, providing an accurate account of events and important proof in the event of a dispute.CLOSING THOUGHTVehicle safety systems have made a huge impact on enhancing safety for these industries, helping to eliminate vehicle blind spots and alert groundworkers to moving vehicles. for more informationBrigade Electronics is a worldwide market-leading provider of safety devices and solutions for commercial vehicles and machinery. Brigade's products work to reduce the risk of collisions and protect vulnerable road users by minimizing vehicle blind spots and assisting drivers to maneuver safely. Brigade's product portfolio includes 360-degree camera systems, camera monitor systems, White Sound® reversing alarms, obstacle detection sensors, obstacle detection radar, and digital recorders. For more, visit brigade-electronics.com/en-us/.
Page 52
SEPTEMBER 2021 www.mcsmag.com44technology solutionMobile Solar PowerMobile Solar Powersilence and savings for fleet operatorsPOWERING THE FLEETCompanies operating work truck fleets are always looking to cut costs and optimize operations. The generators used to power truck peripherals like lifts, chargers, and welding equipment represent one of their biggest headaches—they're expensive to install, run, and maintain.As a result, many of these companies are turning to Go Power!—North America's leading provider of solar and mobile power solutions for the trucking industry—for an innovative, sun-powered solution. The Go Power! Solar Dynamo Work Truck Solution is helping these companies reduce costs and eliminate downtime.PROBLEM WITH GENERATORSThis was the case for one national broadband company that serves millions of homes and businesses across the United States. Many of the trucks in the company's fleet are equipped with large, commercial generators to power a range of peripheral equipment. "These generators are expensive to acquire and operate," explains Sean O'Connor, business development manager at Go Power! "Fuel is also expensive, as is the required regular maintenance."Another, often-overlooked drawback of generators is the noise. "Commercial generators are LOUD," explains O'Connor. "The noise is a big concern for operators and other jobsite workers."Trucks not equipped with generators face a different challenge. Often these trucks must be idled to charge the battery banks that power peripheral equipment. That's become a problem for many fleet operators, as many jurisdictions have restricted truck idling. And, if batteries run out of juice on the job, service call costs—$500-$700 per incident—add up quickly.Also, over time, fully draining and recharging batteries takes its toll on battery life and performance. Premature battery replacement is another significant expense for fleet operators.SOLAR DYNAMO The broadband company team turned to their long-time solar provider Go Power! and its Solar Dynamo Work Truck Solution to help address their fleet power challenges.Solar Dynamo is an "all-in-one" turnkey power solution for utility vans and mid-size vehicles and can either replace or supplement generator output. The solution generates pure AC power, ideal for sensitive electronics, and is designed to run equipment and power cordless tool chargers without the need for generators or truck idling.The Solar Dynamo system is engineered with rugged components purpose-built for fleet applications, including:• Dual 50-watt Solar Flex Panels. These thin, low-profile panels can curve up to 30°. Designed for durability and life in the field, they come with a 5-year warranty.• 20-amp MPPT Solar Controller. Built to perform in tough environments, the MPPT Solar controller delivers smart, efficient battery management.• IC-2000 Inverter Charger. With a 3-year warranty, the UL458 and UL1741-certified IC-2000 inverter charger is a 3-in-1 system with a built-in charger and transfer switch. • 100ah Lithium Battery. This state-of-the art-battery delivers 200-amp hours of maintenance-free mobile power and comes with a 10-year limited warranty.
Page 53
www.mcsmag.com SEPTEMBER 202145INDUSTRY'S TOUGHEST TESTINGSolar Dynamo is built to withstand the rigors of long-term fleet use. "We've implemented the toughest testing in the industry," says O'Connor. "We simulate strikes from 2-inch hailstones at 50 mph. There's extreme temperature cycling and shock and vibration testing. And, we have UV testing that can simulate 5 years of sun exposure in less than a month. We do all this to ensure Solar Dynamo's performance and longevity in the field."QUICK RETURN ON INVESTMENTSince engaging Go Power!, the broadband company has been aggressively retrofitting their bucket truck and service body fleet with Solar Dynamo, with plans to install several hundred more units each year. To date, they've been impressed with the savings."This customer has dramatically reduced their fuel consumption from generators and truck idling," O'Connor explains. "Generator maintenance costs are also way down. Also, the reduction in 'dead battery' service calls is much greater than expected. The savings of $500-$700 per service call really add up, and that doesn't even consider the cost savings associated with less driver downtime or longer battery life. Finally, there's improved customer satisfaction due to fewer service interruptions and more jobs completed on time." According to O'Connor, the broadband company team estimates they see a return on their Solar Dynamo investment in 12-18 months. And driver satisfaction has improved, too. "Fleet generators are very noisy, which can contribute to job fatigue," says O'Connor. "Solar power is silent power—something that I'm sure most operators appreciate."CLOSING THOUGHTSolar Dynamo can provide savings for both small and large work truck fleets. "For customers that need less than 2,000 watts of power, Solar Dynamo can take the place of expensive generators," says O'Connor. "Trucks that require over 2,000 watts and use Solar Dynamo can run their generators for less time, saving fuel, maintenance, and cutting noise."Our solar fleet solutions have proven themselves over many years and millions of miles," adds O'Connor. "And fleet operators can count on professional installation and support from our certified, nationwide dealer network. "For a solar solution that operates silently, Solar Dynamo is making a lot of noise with commercial fleet operators—noise of the good kind." for more informationGo Power! has been in the business of solar technology since 1996 and is a trusted, recognized leader in mobile power for both recreational and industrial use. For more, visit gopowerfleet.com.
Page 54
SEPTEMBER 2021 www.mcsmag.com46technology solutionContractors wear many hats during their life—mechanic, electrician, and heavy equipment operator, just to name a few. Having the knowledge and proper tools to easily pivot between tasks is what keeps operations running smoothly. Contractors know that investing in specialized tools, even just for occasional work, can provide a great return on their investment with efficient, long-lasting results that benefit future generations. To achieve a lasting foundation, contractors should evaluate their options, recognize the drawbacks, and choose equipment best fit for their scenario.BEGIN WITH THE BASICSCircular concrete pours most often start with a pivot kit, which minimally consists of a metal stake fixed to a weighted base. The stake is affixed to the center of the work area and can be used as a guide to frame out the circular pad. A pivot kit gives users the ability to attach one end of a concrete screed to the center stake and control the screed from the other end, screeding off concrete in a clockwise motion. Any number of concrete screed options can attach to a pivot kit. The most popular methods include hand screeding, using an A-frame screed or working with a roller screed, but each come with their own limitations. OPTIONS AND LIMITATIONS Hand screeding utilizes a long aluminum or heavy wooden board which is extended to the center stake and pulled by hand around the circular form. This can be a strenuous, time-consuming task and may result in structural flaws due to a warped board and uneven concrete dispersion. With structural flaws rarely justifying savings, this option leads many to explore the methods implemented by professional contractors, like an A-frame or roller screed. These methods have varying levels of usability, with some more user friendly than others.A-frame screeds consist of multiple sections and can be more cumbersome than alternatives. Fins and vibratory attachments hang off the back of the main bar to provide a compacted and smooth finish as the screed pulls, vibrates and spreads the concrete. However, this design limits screeding to one direction. A roller screed, on the other hand, consists of a drive head and pipe that spins in the opposite direction it is being pulled to level concrete. Roller screeds can be electric, hydraulic, or gas motor powered and are typically lighter and easier to maneuver than an A-frame. However, a gas motor can be a limiting factor as it restricts the direction of the spin, a shortcoming similar to the A-frames. But what's wrong with only screeding in one direction?Different Spinmethods for pouring a circular concrete padAVOID A COLD JOINTBy Seth UlmerImage courtesy of Curb Roller ManufacturingRoller screeds that can easily change spin direction allow operators to screed clockwise or counterclockwise during the pour, eliminating the risk of a cold joint.
Page 55
www.mcsmag.com SEPTEMBER 202147UNIDIRECTIONAL SCREEDINGUnidirectional screeding is often acceptable for conventional concrete flatwork but less favorable with circular pours. A circular concrete pad can take several hours to pour, and unidirectional screeds are committed to screeding one direction for the duration of the project. For efficiency and minimal wasted movement, the pad is usually poured in continuous sections with, for example, the first being from 12 to 2 o'clock. A contractor screeds that section and then the next is poured from 2 to 4 o'clock, and so on.This might seem effective, but once the pour is nearing completion and arriving back to the first section, the crew is now pouring and screeding wet concrete next to concrete that has been curing for several hours. This creates a cold joint which can cause a division in the uniformity of the concrete pad, preventing it from curing as one solid, smooth, level foundation. The visual irregularity from a cold joint may leave something to be desired for the concrete pad's appearance, but it's also a structural flaw that can result in future costly repairs or possible grain bin failure. MULTIDIRECTIONAL SOLUTIONThe best method to avoid a cold joint is by pouring each section of concrete and alternating left and right sides of the circle. For example, if a section is poured at the circle's 12 to 2 o'clock position, the next section could be poured from 2 to 4 o'clock, but the third section should be poured from 10 to 12 o'clock. This alternating pattern ensures every section cures for the shortest amount of time before fresh concrete is poured next to it, leading to a more uniform cure. This alternating pattern introduces the utility of screeds with a changeable spin direction. For all roller screeds to operate correctly, the screed pipe spins away from the operator. But, the ability of some screeds to change spin direction at the push of a button allows operators to effortlessly screed clockwise or counterclockwise, making these screeds capable of performing the alternating pattern efficiently. This means operators can alternate screeding sections rather than working in a full rotation and risking cold joints and wasted movement.CLOSING THOUGHTA contractor is no stranger to recognizing efficient solutions. Tackling a circular pour with equipment already available is possible, but alternative methods can offer time savings and lasting quality. about the authorSeth Ulmer is the sales manager at Curb Roller Manufacturing, a world leader in shaped concrete roller screeds for more than 10 years. Curb Roller's ergonomic machines not only make it easy to shape standard curb, gutter, and sidewalks, but also flume, v-gutter, swale, and other unique shapes. For more, visit www.curbroller.com.
Page 56
SEPTEMBER 2021 www.mcsmag.com48technology solutionTechnology firms are starting to branch outside of city centers and open offices in outskirts, suburbs, and mid-market cities. These locales offer less expensive facilities, plentiful space to enable social distancing, and—in some cases—very attractive tax incentives. This pivot to the mid-cap markets has another major advantage; the tech industry's most coveted talent appears to be making a similar move out of the big cities. Today, the tech sector's talent pool consists of a variety of generational groups, working styles, and personality types. This diversity of experience and thinking is a powerful driver for innovation, and as such will require a more dynamic approach to the workplace, especially for an industry perpetually engaged in a war for top talent. On average, the tech industry has a very high employee turnover rate, an 18.3% globally. In assessing the cause of this churn, many tech firms have started to explore the impact of personality type on employee engagement and long-term retention, seeking workplace solutions beyond a "one size fits all" model to appropriately address employee needs. To better understand their workforce, tech firms have started to use various personality assessments. Leveraging this methodology, many researchers have found a marked predominance of what are generally called introverts among computer professionals, particularly software engineers. These engineers have different workplace needs than other types of employees, some of which appear in mutual opposition to the goals of the business. It's a challenge to be sure, but it possible to offer concentration-conducive workspaces engineers need while activating shared office space. Ideally, this supports the strategic collaboration and innovation behind industry-changing ideas, products, and services. ALL ABOUT THE ENGINEER Currently, there is a major talent shortage in tech, with a particular lack of software engineers, typically the industry's most coveted talent base. Despite rising unemployment numbers in the wake of the COVID-19 pandemic, technically qualified candidates are becoming increasingly hard to resource and onboard. This talent gap is particularly glaring considering tech companies Tech Helping Techtrends driving construction firms to different workspaces By Albert De Plazaola MAKING THE MOVEUsing data, workplaces can be designed to support varying roles and personas, while providing pathways and spaces for interaction and collaboration.
Page 57
www.mcsmag.com SEPTEMBER 202149are hiring whenever and wherever they can. For example, at Google, software engineer hiring was up 12% in 2020 despite Covid-19 and related economic contractions. Even with rises in hiring, 41% of IT hiring managers say finding tech talent is becoming harder every year. In addition to challenges with attracting talent, the national average tenure for software engineers is just 35 months, a very fast cycle time when compared with other roles and industries. This average is even lower in the areas surrounding major existing tech hubs, such as San Francisco (27 months) and Seattle (28 months). This kind of constant turnover is disruptive and costly, and one that the physical workforce can tangibly help mitigate. Deloitte argues that workplace amenities will continue to be a key element in attracting and retaining tech talent. While amenities like in-office dry cleaning, massage therapists, hair salons, bars, and even nap pods are attractive to new employees, the future is going to require more. The focus will need to be about how to attract and retain introverted engineers, and how to unlock and harness their inherent value onsite. Simply put, the workplace will need to enable the life of the software engineer, not impede it. This efficiency, in turn, translates into an improved work/ life balance for employees, building loyalty, supporting productivity and, ultimately, reducing turnover. THE POWER OF PEOPLE The next evolution of the tech workplace will hinge on thoughtful, human-centric space design; a new workplace framework that encourages play and offers specific working style options for different types of workers. By leveraging quantitative and qualitative data to create a workplace that maximizes space utilization and balances every individual, their personality, workstyle and role, tech firms can create their own competitive advantage in recruiting and retaining top talent.The agile workplace framework, Propeller, adapts according to each individual's work and personal circumstances, their locations (office, home, and/or hub), their confidence around other people, and the experiences they need to have, to maximizing productivity and sentiment. Flexibility is key, with movable and multi-purpose fixtures and furniture, and partitions and walls which can rapidly transform spaces from one function into another. Being able to quickly reconfigure spaces provides in-the-moment benefits and experiences for every team. This includes the appropriate atmosphere for every occasion, with variable lighting, room scale, soundscapes, olfactory stimulants, textures, technology, wellness amenities, and much more. CLOSING THOUGHTThis agile framework is ideal for any industry, creating a workplace strategy that is customized to achieve companies' business goals and meet their people needs. Using data, workplaces can be designed to support varying roles and personas, like software engineers, while providing pathways and spaces for interaction and collaboration as it fits into their workday. STAY UPDATED:@modern contractor solutions@mcsmagabout the authorBased in San Francisco, Albert De Plazaola is a strategy consultant with Unispace, a global strategy design and construction firm. He has extensive experience in people-centered design and change strategies for private and public institutions. By leveraging design thinking and a user-centric approach, he moves beyond the typical motivations to explore how meaningful change can occur to foster greater organizational responsiveness, adaptability and innovation. Contact him at albert.deplazaola@unispace.com. For more, visit www.unispace.com.
Page 58
SEPTEMBER 2021 www.mcsmag.com50
Page 59
www.mcsmag.com SEPTEMBER 202151Our digital marketing campaigns can identify prospects interested specifically in your product, and then tell you exactly who they are! See what our customers are saying:The reports are awesome! Thank you. If we can get that level of information from all of our suppliers, we will be very happy! We have already made one machine sale to a prospect from the eBlast and I am sure there will be more. Paul Gazik,Business Development/International Salesfor You Need Leads!You Need Leads!We Have the We Have the Solution!Solution!Call us today to get started at 205.795.0223 or email us at russell@mcsmag.com.
Page 60
SEPTEMBER 2021 www.mcsmag.com52maintenance solutionHydrodemolition RobotsHydrodemolition Robotsthree attachments for bridge repairMAXIMUM PRODUCTIVITYFor decades, road and bridge repair contractors have relied on the power and precision of Hydrodemolition robots to increase efficiency for concrete removal and surface preparation applications. Traditional methods of bridge deck repair took hours of manual labor using handheld water jetting equipment or handheld pneumatic tools. By switching to Hydrodemolition robots, contractors are able to keep operators out of harm's way, reducing injuries and increasing efficiency. Hydrodemolition uses high-pressure water jets as powerful as 40,000 psi manipulated by a robot to remove layers of deteriorated and damaged concrete. The results are superior bonding and extended structure lifespans, as well as increased safety and productivity. A Hydrodemolition robot's high-pressure water jet removes concrete by widening existing pores and micro cracks in the weakened structure. Since the process is impact-free, there are no vibrations, and therefore less risk of microfractures. Hydrodemolition also cleans and descales rebar without damaging it. And with a production rate of up to 25 times faster than hand lances, it's no wonder contractors employ Hydrodemolition for bridge deck repairs, expansion joint replacements, and a number of other flatwork tasks.But what if that same productivity could be harnessed for work in other areas, such as abutments and piers? With the right attachments, it can. Here are three Hydrodemolition attachments to maximize bridge repair efficiency. EXTENSION KIT WITH ELBOWWhen tasks extend beyond flatwork, contractors often resort to scaffolding and hand tools to reach surfaces on the girders, parapet, or under the edge of the bridge. An extension kit offers improved versatility by extending the Hydrodemolition robot's reach 8.2 feet below the robot's tracks. The extension kit allows for about a 13-foot working width—side to side and up and down—for a wider surface removal. The addition of an elbow means not only can the Hydrodemolition robot reach higher, it can also bend to access hard-to-reach areas. In this way, an extension kit can be used for concrete removal or surface preparation on the side of a bridge or column while the robot remains on the deck—and there's no need to dismantle the bridge railing. Additionally, the kit can be configured to allow removal of material from the underside By Keith ArmishawAn extension kit offers improved reach and versatility with a wider surface removal by extending the Hy-drodemolition robot's reach side to side and up and down for about a 13-foot working width. Photo credit to Gilbert Infrastructure of Quebec.Aqua Cutter 710V with an extension kit and elbow along with a lance extension to reach closer to the concrete surface. Circular cutting heads incorporate two semi-circular pieces of track that wrap around pillars of any diame-ter to create a 360-degree ring. From there, a robotic cutting head is attached and "walks" around on a curved roller beam.
Page 61
www.mcsmag.com SEPTEMBER 202153TECHNOLOGY • MANAGEMENTTECHNOLOGY • MANAGEMENTMANAGEMENT • ENVIRONMENTALMANAGEMENT • ENVIRONMENTALEQUIPMENT • SAFETYEQUIPMENT • SAFETYSAFETY • TECHNOLOGYSAFETY • TECHNOLOGYENVIRONMENT • EQUIPMENTENVIRONMENT • EQUIPMENTSOLUTIONSSOLUTIONSSOLUTIONSSOLUTIONSSOLUTIONSSOLUTIONSSOLUTIONSSOLUTIONSSOLUTIONSSOLUTIONSSOLUTIONSTECHNOLOGY • MANAGEMENTTECHNOLOGY • MANAGEMENTMANAGEMENT • ENVIRONMENTALMANAGEMENT • ENVIRONMENTALEQUIPMENT • SAFETYEQUIPMENT • SAFETYSAFETY • TECHNOLOGYSAFETY • TECHNOLOGYENVIRONMENT • EQUIPMENTENVIRONMENT • EQUIPMENTSOLUTIONSSOLUTIONSSOLUTIONSSOLUTIONSSOLUTIONSSOLUTIONSSOLUTIONSSOLUTIONSSOLUTIONSSOLUTIONSSOLUTIONSGo to mcsmag.com for solution-based articles with insight from industry experts.LET MCS BE YOUR RESOURCE.SEEKING A SOLUTION? of a bridge deck by reaching over the edge and aiming the cutting head upwards. ROTATING TOOL FOR SURFACE PREPARATIONPair the extension kit with a rotating tool with multiple water jets for efficient surface preparation and membrane removal in hard-to-reach places. These tools take advantage of the Hydrodemolition robot's power—operating at up to 36,259 psi—to eliminate the need for hand lances and sandblasting while providing a superior bonding surface. With a rotating tool, contractors can easily achieve concrete surface preparation (CSP) values from 3 to 10.Rotating tools clean, remove, and roughen concrete surfaces during bridge repair applications and can tackle rubber coatings, paint, rust, plastic, and other materials. Tools are available with up to 20 jets or nozzles and offer production speeds up to 1,500 square feet per hour, depending on application. They can be used anywhere the robot can reach, reducing the need for scaffolding and the use of hand tools. As an alternative for sandblasting in surface preparation and paint removal on bridges, this method also eliminates dust pollution and there is no contaminated sand to dispose of.Specialized surface preparation cutting heads are available from industry-leading manufacturers and can cover a surface diameter as wide as 14 inches for maximum productivity. CIRCULAR CUTTING HEADA circular cutting head greatly increases efficiency for concrete removal on columns and pillars. Traditionally, repair and rehabilitation of these structures would take a fair amount of repositioning as crews with hand tools worked their way around, often on scaffolding. However, circular cutting heads incorporate two semi-circular pieces of track that wrap around pillars of any diameter to create a 360-degree ring. From there, a robotic cutting head is attached and "walks" around on a curved roller beam. The circular track and cutting head then move up and down using the robot's mast. This process eliminates the need to reposition equipment or crew, saving significant time while providing ample power for concrete and material removal. CLOSING THOUGHTA Hydrodemolition robot and suite of attachments can reduce labor requirements, increase safety, and provide a better result than handheld tools—taking them far beyond flatwork. about the authorKeith Armishaw is the business development manager for Aquajet's North American subsidiary. He has more than 24 years of industry and leadership experience. Aquajet is known as the industry leader in hydrodemolition machines and solutions, both in terms of quality and volume. The company's headquarters and production facilities are in Holsbybrunn, Sweden. For more, visit www.aquajet.se.
Page 62
SEPTEMBER 2021 www.mcsmag.com54maintenance solutionFrequently, an owner agency releases a letting for a bridge replacement or rehabilitation utilizing tried-and-true solutions without knowing that more innovative or cost-effective methods are available. If the owner is open to value-engineered proposals, then creative ideas and alternatives proposed to the original design may be the contractor's avenue to increased profits while providing a superior solution. However, the contractor has no incentive to propose innovation without a contractor-friendly and rewarding value-engineering process and an agency open to new ideas. Even when it would extend the service life, improve the traffic level of service, increase safety, or lower the project's overall cost. The key driver to all this is innovation. What concepts can the contractor bring to the table to extend service life, shorten the construction schedule duration, lower the construction cost, and provide value to the owner agency? Herein lies a primary reason why the design-build concept is gaining momentum—rapid innovation can be easily incorporated into construction projects. Regardless of the contracting mechanism, the contractor needs to bring new ideas to the table. Specialty contractors often provide the pioneering concepts that drive this innovation. These companies have engineering staff and state-of-the-art tools devoted to providing solutions to specific applications outside the realm of typical general contractors. In most cases, these specialty contractors will perform the preliminary engineering necessary to determine the feasibility of an alternative or two and provide drawings as part of a submittal package for an owner agency to consider.GEOTECHNICAL ALTERNATIVESThe dominant repair solution for failing bridge, culvert, and retaining walls is to take the structure out of service and completely replace it with new construction. In most cases, loss of the bridge or retaining wall results in traffic detours, stability problems for buildings above the failing structure, permitting delays, and project duration from months to years. Using design-build contracting and value-engineered designs, a contractor can rehabilitate the failing structure in place, thereby avoiding or mitigating these problems. Technologies developed for geotechnical construction applications can be applied to these repairs in innovative ways. Soil nails can be drilled through the existing facing and anchored into the soil behind the structure. Micropiles, installed with limited-access equipment in areas unreachable with other equipment, can underpin walls to transfer vertical loads and can be battered to withstand horizontal forces. Grouting technology can improve soil properties, carry loads, and provide increased shear strength for slope stabilization. Reinforced shotcrete can be applied with soil nails over any façade, timber, stone masonry, concrete, or steel. The original surface acts as the form with a layer of shotcrete applied directly over it for increased stabilization. Then, the shotcrete can be troweled smooth to look like cast-in-place concrete or stained and sculpted to look like a natural stone outcropping or a stacked stone masonry wall.Another cost-effective innovation is a Geosynthetic Reinforced Soil (GRS) wall. This type of wall is comprised of closely spaced layers of geotextile or geogrid Geotechnical Innovationhow to offer the most appropriate solution to customers REPLACEMENT AND REHABILITATIONBy Michael Close, M.S., P.E.Geotechnical Innovationhow to offer the most appropriate solution to customers REPLACEMENT AND REHABILITATIONBy Michael Close, M.S., P.E.
Page 63
www.mcsmag.com SEPTEMBER 202155and stone backfill. It can be used for a wide variety of applications ranging from bridging over soft soils, transferring loads to deep foundation elements, to building retaining walls that behave more like gravity walls than Mechanically Stabilized Earth (MSE) walls. Federal Highway Administration guidance shows these structures can carry loads above 20,000 psf with little internal consolidation settlement under load. Unique geometries, including negatively battered walls (made possible by a cantilever effect of closely spaced layers of a geosynthetic and stone), have been constructed and satisfactorily load tested using strain gages and load cells.BRIDGE REPLACEMENT EXAMPLERecently a local county government faced the prospect of replacing a single-span road bridge. Wanting to use county labor forces to reduce costs, a contractor worked with the county engineer to design and construct the bridge abutments. A Geosynthetic Reinforced Soil-Integrated Bridge System (GRS-IBS), constructed using closely spaced layers of geotextile and stone supporting spread footings, was chosen and built. A bridge beam supplier delivered the bridge beams, and these were placed atop the newly fabricated abutments. The beam supplier provided a design for the beams and the deck. The county decided to set the abutments back away from the water crossing and protect the new abutments with riprap, a row of scour protection micropiles, available from a specialty contractor, tied together with a micropile cap (see photo). While the county could have set the abutments directly on a micropile foundation closer to the stream, this value-engineered approach reduced the total project cost.CLOSING THOUGHTContractors can bring the traveling public safe, innovative, cost-effective solutions to everyday applications if allowed a contractual and financial mechanism to work within. All parties can collaborate in a mutually beneficial, trusting relationship utilizing new ideas and methods to the taxpayer's benefit. Design/Build/Warranty contracting, which places the solution's success squarely on the contractor's shoulders, allows the owner to enjoy an innovative solution with the knowledge that a warranty exists in the remote case of an issue arising after the project finishes. Design and Construction Guidelines for Geosynthetic Reinforced Soil Abutments and Integrated Bridge Systems; Publication No. FHWA-HRT-17-080, June 2018Deep Patch Repair, Phase 1: Analysis and Design, Report No. FHWA-WFL/TD-12-003, March 2012about the authorMichael Close is a project development engineer at GeoStabilization International. With more than 20 years of industry experience, he specializes in slope stabilization, and bridge repair and rehabilitation projects. For more, visit www.geostabilization.com.
Page 64
Page 65
Page 66
SEPTEMBER 2021 www.mcsmag.com58featured productNow more than ever, construction sites are keeping a close eye on safety, particularly when it comes to falls. "The most frequent injuries and fatalities in construction are falls from a height," Wendy Hunt says. "When they fall from a height on a big project, they're likely to land on something sharp."One object they are likely to fall on is concrete reinforcement bars, but that is where Carnie Cap, Inc. can help. Hunt serves as the CEO for the Moline, Illinois-based company, which provides systems that prevent impalement on rebar.She explains a site safety auditor working for a large contractor in the western U.S. developed the system when complaints were received on a jobsite that standard rebar caps were falling off, and in some instances, impalement was still occurring. "They didn't feel they were safe enough," Hunt says.After collecting input, the idea was to place 2-inch by 4-inch beams in two squared U-shaped brackets that were supported by a tube that slipped over and encased the rebar. A larger model was created for larger diameters of rebar. A product was patented but took 9 months of testing before releasing it to the market. The product was sold to the current owners in 2004.AVOIDING IMPALEMENTToday, Carnie Cap, Inc. sells the system, which allows builders to comply with OSHA standards, including the requirement of withstanding a 250-lb weight dropped from 7.5 feet without the rebar breaking through. (The Carnie Cap™ was tested with a 10-foot drop). The systems work using only 2 Carnie Caps™ for every 8 linear feet of rebar (CAL-OSHA requires spacing every 4 linear feet and doubling the thickness of the lumber.) It also has proven advantages over previous rebar cap systems.Carnie Cap, Inc.'s products also work better than flat caps that have metal in them, Hunt says. When a body hits these products, "They're not going to hit just one part," she explains. "They're going to hit in stages."On the first stage, "The rebar cap gets pushed down and the rebar pokes through the first layer of plastic, hits the metal insert and bends to the side," she describes. In the nanoseconds after the initial impact, other body parts hit and that's when impalement is most likely to occur.Carnie Cap, Inc.'s system sets itself apart by featuring a longer plastic barrel that holds the rebar cap in place, keeping them from falling off easily, and the wood absorbs the impact and prevents impalement. "To our knowledge, nobody has ever been impaled using our caps," Hunt states."The importance of using fall protection devices including, but not limited to the Carnie Cap™, cannot be overstressed. We caution veteran workers and new workers alike to be mindful of their safety equipment. It is there to protect you, whether you have been on the job for many years or only a day," Hunt says.It's Carnie Cap's mission to act as the last line of defense against impalement. The company's motto is "Proudly Preventing the Human Shish Kabob." For more, visit www.carniecap.com. REBAR CAP SYSTEM preventing impalement on jobsites
Page 67
www.mcsmag.com SEPTEMBER 202159modern construction productsDitch Witch announced the all-new RT70 ride-on trencher. Designed to enhance the experience of utility and fiber installation on tough jobsites, the RT70 is equipped with features to increase operator comfort and visibility—helping to increase efficiency on the jobsite. The new trencher includes an ergonomically-designed, open layout with a 90-degree swivel seat, more leg room and intuitive controls, enhanced visibility to give operators a complete view of the machine, a patented cooling fan to reduce the temperature of the operator station, and a modular design, allowing for use of tires or tracks. For more, visit ditchwitch.com/ride-on/rt70.com. DITCH WITCHRide-On TrencherTOUGHBUILT launches its first-of-its-kind five-blade utility knife. This patented multitool can also switch between two different modes: Scraper Mode and Utility Knife Mode. The unique Rapid Load Change System allows users to easily change blades without the need for additional tools. The knife includes five blades. Made from 58% aluminum and zinc alloy, 15% ABS, PP and TPE, 27% steel, the blade is 2.2 inches long with a 6-inch handle. The handles and blade are made from triple-injected plastic and steel, respectively. Retails for $17.98. The utility knife is available nationwide and at Lowe's online and in stores. For more, visit toughbuilt.com. TOUGHBUILTFive-Blade Utility Knife GCP Applied Technologies has been observing the growth of blindside waterproofing in shotcrete applications and has continued to advance its below grade waterproofing system for shotcrete foundation walls, PREPRUFE® SCS Waterproofing System. The PREPRUFE® SCS blindside waterproofing system has received a positive response from the market since its introduction. This innovative waterproofing solution is designed for the difficult and high-risk task of shotcrete application. Unique features include: designed to withstand the force of shotcrete placement; and resistance to hydrostatic pressure. For more, visit gcpat.com. GCP APPLIED TECHNOLOGIES PREPRUFE® SCS LATICRETE has elevated its skim-coat product line with Skim Lite, a new premium quality, fast-drying, polymer-modified, cement-based underlayment designed for skim-coating, smoothing, and leveling prior to the application of floor coverings. Skim Lite incorporates record-breaking lightweight technology that puts less strain on labor and contains no respirable crystalline silica levels that exceed OSHA action level. The product is fiber-reinforced to offer the customer optimal flexural properties. Its rapid-setting, high-yield formula does not require additional water and is ready for finished flooring in as soon as 20 minutes. The product can be applied from skim depth to 1-inch thick. For more, visit laticrete.com. LATICRETE Skim LiteWerner announces a new easy-operating extension ladder with a breakthrough innovation: a patent-pending lift assist technology that helps the end user comfortably raise and lower the ladder's fly section. The Werner GLIDESAFE™ Extension Ladder is the only ladder on the market with Werner's patent-pending technology which provides up to 50% assistance to raise the ladder in addition to speed-controlled lowering. The new GLIDESAFE extension ladder also comes with built-in transportation latches which can be buckled around the rungs of both ladder sections. The latches help ensure safe transportation of the ladder, keeping it from extending while on the go. Available in six sizes ranging from 20 to 40 feet, each GLIDESAFE extension ladder is rated for a 300-lb load capacity. The new ladder features many of the details that help set Werner products apart for their useability, including dual-action feet that can be used on both hard and penetrable surfaces as well as exclusive ALFLO® rung joints, providing Twist-Proof performance. Dual-colored rails help users stay oriented and allow them to focus on the task at hand. For more, visit www.wernerladder.com. WERNER GLIDESAFE™ Extension Ladder
Page 68
SEPTEMBER 2021 www.mcsmag.com60Dear Concerned Carl,Yes, you should be concerned. Turnover, low productivity, and a lack of commitment signify a substantial employee engagement problem. You didn't mention low morale, but I expect you have a bad case of that as well. A disengaged employee generates unexpected costs and unwelcome turmoil while rarely contributing to executing the business plan. Understanding the causes of disengagement and knowing the drivers of an engaged workforce is important for all construction leaders. Here are two main causes of disengagement to pay close attention to: ✖ INEFFECTIVE COMMUNICATIONPoor communication leads to confusion, chaos, frustration, conflict, and so many other problems. These in turn contribute to a disengaged workforce. So, look for ways to improve communication with your people. Start by listening more and asking questions such as: "What communication is breaking down? What processes need to be fixed? What problems are they experiencing?" Also provide continual feedback and eliminate surprises, conflict, gossip, and the rumor mill. Share information. Be upbeat, helpful, encouraging, and supportive. ✖ DISTRUST OF MANAGEMENT Take a close look at the trustworthiness of those in management and supervisory positions. Get feedback anonymously from the employees through carefully designed surveys. You can ask questions such as: "Are they doing what they say they'll do? Are they taking credit for the good things happening and shifting blame on the not-so-good things? Are their actions in alignment with our company's values?" Of the many drivers for engaging your workforce, pay close attention to these two: ✖ RESPECT FOR EMPLOYEES Everyone wants to be treated with respect. It doesn't cost anything to show respect, but it sure can cost plenty when you're not respectful of your employees. Actions demonstrating respect include treating your employees fairly and showing an interest in their ideas and opinions. Convey that you care about their well-being, including their families and their professional development. When you treat employees with respect, you will receive respect back.✖ STRONG LEADERSHIP Almost everyone wants to see leaders in their organization demonstrate strength. You can accomplish this by making timely decisions, being ethical, respectful, consistent, and building a culture that employees want to be part of. You will maintain credibility as a leader by not micro-managing or letting little problems get big, being proactive not reactive, remaining positive during challenging times, developing plans for growth, and communicating those plans to everyone. ✖ CLOSING THOUGHT Leaders play a key role in creating an environment in which their employees can be engaged and perform at their best. Have a plan for the company's future that makes sense. Ensure employees know what it is and how they can contribute to it. And make it exciting enough for them to want to be part of it! HEY COACH, I own a small construction company and am experiencing an ever-increasing problem with lack of employee loyalty, higher than normal turnover, and employees who give minimal effort in almost everything they do. I'm not sure why. What can I do about it? HELP! about the coachAs a leadership development expert, Randy Goruk works with construction industry leaders to improve employee engagement and business growth. Register to receive his Leadership Tip of the Week at www.LeadersEdge360.com, or contact him directly to learn how he can help you and your team: randy@LeadersEdge360.com.
Page 69
Page 70