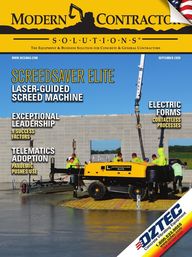 Return to flip book view
Modern Contractor Solutions September 2020
Page 1
SEPTEMBER 2020WWW.MCSMAG.COMLASER-GUIDED LASER-GUIDED SCREED MACHINESCREED MACHINEELECTRICELECTRICFORMSFORMS CONTACTLESSCONTACTLESSPROCESSESPROCESSESEXCEPTIONALEXCEPTIONALLEADERSHIPLEADERSHIP 9 SUCCESS9 SUCCESSFACTORSFACTORSTELEMATICSTELEMATICSADOPTIONADOPTION PANDEMIC PANDEMIC PUSHES USEPUSHES USESCREEDSAVER ELITE SCREEDSAVER ELITE
Page 2
Page 3
Page 4
Page 5
Page 6
Page 7
Visit www.felling.com | Call 1-800-245-2809 | Email trailers@felling.comAttachment Rack= Functionality= FlexibilityScan Now to Watch VideoFT-16 IT-I Industrial TiltShown with optional removable attachment rack, toolbox, dual jacks, spare wheel & tire mounted, (3) shovel tubes, pallet fork holder, Sublime Green paint, and more. Attachments provided by PRIME AttachmentEXPERIENCE YOU CAN TRUST, QUALITY THAT IS PROVEN.You know what you need to haul, Felling has the trailer to get it there. With over 100 years combined industry sales experience,we have the answers to your specialized trailer needs. PLAY VIDEO
Page 8
WWW MCSMAG COM SEPTEMBER 2020 SCREEDSAVER ELITE LASER GUIDED SCREED MACHINE EXCEPTIONAL LEADERSHIP 9 SUCCESS FACTORS TELEMATICS ADOPTION PANDEMIC PUSHES USE ELECTRIC FORMS CONTACTLESS PROCESSES
Page 9
INDUSTRY NEWSGCP Applied TechnologiesLind Equipment AwardPROJECT PROFILEWebster Recreation Center EQUIPMENT SOLUTIONGreat Lakes Dredging Project MANAGEMENT SOLUTIONEquipment Rental or Purchase
Page 10
Donna CampbellEditor in ChiefMORE THAN AGGREGATESThis month's issue focuses on concrete and holds a special place in my life. Why? My dad was a concrete guy that learned on the job and started his own business with tools and equipment that were going to be thrown away. Some of those tools still exist and are in working order; my dad was of the generation that took care of their belongings. As soon as I was able to know the tools in the toolbox, I was dad's helper. From experience, I know concrete is more than simply aggregates. For decorative concrete with branding flair, check out the Valley Children's Hospital project on page 18. The technique of the blue glass used in Revealed exposed aggregate concrete was matched from the giraffe in the Valley Children's Healthcare logo. From high-rise concrete challenges (pg 50) to the best methods for concrete profiling (pg 52), the cover story from Ligchine on page 32 rounds out the concrete topics. We're still dealing with COVID-19 with issues such as supply chain disruptions, keeping workers well, and material shortages. Dodge Data & Analytics released the 2020 Q3 Commercial Construction index mid-September; for the key takeaways, read What's Trending on page 66. Stay well; be strong, my friends.Cheers, www.mcsmag.com P.O. Box 660197 | Birmingham, AL 35266DONNA CAMPBELL Editor in Chiefdonna@mcsmag.comMIKE BARKER Publishermike@mcsmag.com RANDY MOON Media Consultantrandym@mcsmag.comMICHAEL FISCHBACH Media Consultantmichael@mcsmag.com JOHN FRIEND Media Consultantjohn@mcsmag.comKEVIN MCCLARAN Media Consultantkevin@mcsmag.comLISA AVERY Art Directorlisa@mcsmag.comCRISTELA TSCHUMY Graphic Designercristela@mcsmag.com SETH SAUNDERS Digital Media Specialist seth@mcsmag.comINGRID BERKY Office Manageringrid@mcsmag.comTIM GARMONCEORUSSELL HADDOCKPresidentCHRIS GARMONCFODONNA CAMPBELLVice President, EditorialTONYA BROWNINGVice PresidentSUBSCRIPTION inquiries or changes:205.380.2048No part of this publication may be reproduced or transmitted in any form or by any means, electronic or mechanical, including photocopy, recording, or any information storage-and-retrieval system without permission in writing from the publisher. The views expressed by those not on the staff of Modern Contractor Solutions, or who are not specifically employed by Highlands Publications are purely their own. All Industry News material has either been submitted by the subject company or pulled directly from its corporate website, which is assumed to be cleared for release. Comments and submissions are welcome, and can be submitted to donna@mcsmag.com.For reprint information, contact Chris Garmon at chris@mcsmag.com.Canada Post Publication Agreement #41578525. Undeliverables 355 Admiral Drive, Unit 4, Mississauga, ON L5T 2N1@mcsmagModern Contractor Solutions MagazineModern Contractor SolutionsPROJECT PROFILESBrand Builder ............................................................ 18Ready to Roll (Part 2 of 2) .......................................... 22Daytona Project Hits the Fast-Track ........................... 24 EQUIPMENT SOLUTIONSPortable Heat ............................................................ 30Building on Success .................................................. 32Catastrophe Prep & Recovery .................................... 34MANAGEMENT SOLUTIONSExceptional Leadership ............................................. 38Maintenance Practices .............................................. 40 Telematics Adoption .................................................. 42SOFTWARE SOLUTION Electronic Forms ....................................................... 44LEGAL SOLUTIONTermination Decisions ............................................... 48TECHNOLOGY SOLUTIONSConcrete Complexity ................................................. 50Concrete Surface Profile ............................................ 52SAFETY SOLUTIONTelehandler Manbasket .............................................. 56MAINTENANCE SOLUTIONService Management ................................................. 58FEATURED PRODUCTDiablo Drill Bits ......................................................... 62Next-generation Safety Rails Are Changing the Construction Industry Guest Post by Debra HilmersonON THE BLOGLet Freedom RingRemembering 9/11 I recall that fateful day in September 2011 like it was yesterday. The tragedy unfolding on live television and not truly understanding what was taking place before my eyes. The days that followed were filled with emotion and a sense of patriotism that brought a nation and the world together. There was unity. I don't remember protests and riots; I remember rubble and smoke. American flags here and abroad were honored; people from across the U.S. and in different countries cared for one another. I'm sure you have your own memories and have heard others share where they were when people valued the words, "Let freedom ring." To those we lost that day and in the years that followed, and to the lives that were forever changed, let us not forget but remember 9/11.
Page 11
SUBSCRIPTION inquiries or changes:205.380.2048VIRTUALFALL 2020 XP11.17.2020 | 10a—4p_CSTSPONSORS: MODERN CONTRACTOR SOLUTIONS VIRTUAL FALL EXPO 2020MCS is bringing the construction industry together again with its Virtual Fall Expo! FREE VIRTUAL EVENTLIVE CHAT OR VIDEO WITH EXHIBITORSDOWNLOAD LITERATURE/BROCHURESSEE PRODUCT VIDEOS/DEMOSAttend safely from your home or office on your smartphone or laptop. REGISTER TODAY! highlandspublications.com/virtual-expo-register/
Page 12
SEPTEMBER 2020 www.mcsmag.com10industry newsHILTI CONCRETE SENSORS SYSTEM DELIVERS END-TO-END SOLUTION FOR MONITORING CONCRETE Hilti releases its end-to-end solution to help contractors more accurately measure and predict the performance of concrete, Hilti Concrete Sensors. The single system includes a portfolio of connected (i.e., "smart") devices, an easy-to-use mobile app, internal lab testing for calibrating concrete mix designs, and training and support services. Hilti Concrete Sensors will help commercial contractors manage and simplify concrete monitoring, potentially enabling schedule acceleration of construction projects. Using Hilti Concrete Sensors technology can help bring not only productivity, but also cost savings compared to traditional monitoring methods. A sensor embedded into concrete works with the easy-to-use software to provide real-time data on the concrete as it cures and dries. The mobile app can quickly share the status of the concrete's estimated strength, temperature and relative humidity. With a state-of-the-art in-house lab, the exact concrete mix can be more accurately tested enabling construction managers to make faster and more thorough decisions regardless of climates. Understanding the importance education and safety play on a construction jobsite, the company will also offer implementation, training, and support services on site for contractors and their teams. Hilti acquired technology startup Concrete Sensors in March. The solution extends Hilti's digital (IoT) portfolio into new and important applications and strengthens the brand's leadership position as a provider of productivity solutions in the construction industry. For more, visit www.hilti.com. B2W SOFTWARE ENHANCES ESTIMATING SOFTWARE CHANGE ORDER MANAGEMENT CAPABILITIES B2W Software, a leading provider of heavy construction management software, has enhanced change order management capabilities within its B2W Estimate application. New functionality now makes it easier and faster for estimators to add, modify, and track change orders directly within an original estimate.With the new B2W Estimate enhancements, construction estimators can create any number of new change orders associated with a base bid within the application. They can add items and activities from the B2W Estimate database, or copy, paste, and adjust information from the base bid. Change orders appear as independent links within the B2W bid menu structure.Change orders are visible from bid pricing and distribution strategy tabs, allowing estimators to make adjustments separate from the base bid for individual change orders.Users can also lock the portion of the bid containing the change order once it has been accepted to prevent further modifications.Contractor's #1 Choice for Flat FloorsA great power screed using straight flat screed bars. The❝Black Beauty❞GET FLAT FLOORS!Screed bars are available in lengths up to 20 feet.▼ Equilateral screed bars stay straight through years of use.▼ Now available with "T" handle (shown) or "Bicycle" handle.▼LOCATE A DEALER AT advancedconcretescreeds.com OR CALL US AT 800-648-0542.
Page 13
Page 14
SEPTEMBER 2020 www.mcsmag.com12industry newsWith traditional approaches, change orders are stored and managed separately, isolated from the base bid and sometimes built with a different structure, according to Reitz. "This makes it very difficult to keep up with various change order versions and updates, keep them in sync with the base bid, and get an overall picture at any given point in the estimating process."Change orders are used by estimators to accommodate changes in the scope of a project identified after the original design is bid on or while construction is underway. Reitz points out that some contractors also use change orders in B2W Estimate to plan in advance for potential additional work that they envision on a project or to cost out several alternate methods for performing work for comparison. For more, visit www.b2wsoftware.com.CURRY SUPPLY TEAMS WITH VERSATRAN TO PRESENT THE RETRIEVERCurry Supply is thrilled to work with Versatran to present the Retriever line of industrial carriers, one of the most exciting transport industry developments in recent years. Versatran was acquired by Metalcraft of Mayville in 2019, which broadened the product families already offered by the company and enabled Versatran to establish itself as a world-class industrial transporter manufacturer. First developed in 2002, the Retriever line provides an innovative method for loading and transporting various types of equipment. The Retriever boasts an air operated curved platform, fast cycle times, idle-free system operation, fantastic hauling capacity, as well as a deck featuring a low center of gravity and the shallowest loading angle in the industry. What's more, the Retriever's nimble design and rapid deck and ramp deployment are bound to increase daily deliveries. Versatran cites Retriever efficiencies improving owner returns by $60K+ per year."Every day we work alongside our customers and partners, exploring solutions to drive productivity. We've been waiting for something just like the Retriever," explains Jeff Shaw, vice president of sales and marketing at Curry Supply. "Versatran has come to market with an unmatched carrier option. We're proud to team up and add the Retriever to our national portfolio."Curry Supply now offers the Retriever 20T and 15T models across the country. The group will also take part in launching Versatran's eagerly anticipated non-cdl 6T model early next year. For more, visit currysupply.com/retriever.50 YEARS AS "THE ONE-SOURCE SOLUTIONS PROVIDER"One of America's fastest growing privately held companies and leading composite manufacturers in North America, Mar-Bal, Inc. (Chagrin Falls, Ohio) is celebrating its 50th year as an industry leader–known as "The One-Source Solutions Provider." From its
Page 15
Page 16
SEPTEMBER 2020 www.mcsmag.com14industry newsinception in 1970 as a thermoset composite molder on Scranton Road in Cleveland, Ohio's flats region, the ISO 9001: 2015 Registered company has charted a formidable and steady growth trajectory in providing customers with comprehensive thermoset composite solutions—including part design, specialized material formulations, decorating, assembly, and customized automation. Family driven via a "Total Value Commitment" philosophy since day one, Mar-Bal, Inc. currently operates manufacturing facilities in Ohio, Virginia, and Missouri, as well as an overseas facility in Taizhou, China and Asia Sales Office located in Shanghai. The company serves the appliance, electrical, industrial, food service, transportation, and construction industries—with approximately $70 million in annual sales and 450 employees. Today, Mar-Bal continues to research and formulate advanced materials, and develop innovative products via its portfolio of brands and proprietary products to deliver composite solutions–driving their customer's technology and success. For more, visit www.mar-bal.com.MACK® LR ELECTRIC TO BEGIN PRODUCTION IN 2021Mack Trucks announced plans to commercialize the Mack® LR Electric, its revolutionary refuse model equipped with a fully electric integrated Mack drivetrain. Orders for the Mack LR Electric will open in Q4 2020, with deliveries beginning in 2021."Mack's leadership in the refuse segment goes back more than a century, and we're pleased to build on that heritage by announcing the commercialization of the LR Electric model," says Martin Weissburg, president, Mack Trucks. "This clean, quiet, and powerful truck demonstrates the very best of Mack innovation and our people."The production Mack LR Electric model will fulfill the needs of refuse customers, whether commercial or municipal, seeking a true zero-emissions truck that aligns with their own environmental goals and local emissions regulations. With its quiet operation, the LR Electric will meet the needs of customers working in an urban setting who are seeking to cut noise pollution and operate quietly at night. Introduced as a prototype in 2018, the LR Electric features Mack's fully integrated electric powertrain with twin electric motors and four NMC lithium-ion batteries providing vehicle propulsion, as well as power for all onboard accessories. A unique three-mode regenerative braking system takes into account the truck's increasing load and helps recapture energy from the hundreds of stops refuse trucks make per day. In a nod to its unique pedigree and fully electric driveline, LR Electric models will feature a copper Bulldog mounted on the front of each truck. For more, visit www.macktrucks.com.
Page 17
Page 18
Page 19
WWW MCSMAG COM SEPTEMBER 2020 SCREEDSAVER ELITE LASER GUIDED SCREED MACHINE EXCEPTIONAL LEADERSHIP 9 SUCCESS FACTORS TELEMATICS ADOPTION PANDEMIC PUSHES USE ELECTRIC FORMS CONTACTLESS PROCESSES
Page 20
SEPTEMBER 2020 www.mcsmag.com18project profileBrand Builderperformance, quality, and customization define decorative concrete solutions VALLEY CHILDREN'S HEALTHCARE By Sean O'Keefe
Page 21
www.mcsmag.com SEPTEMBER 202019In the late 1940s, five civic-minded mothers in California's Central Valley recognized the need for local pediatric care and formed a small but tenacious organization to help raise money. Three years later, a 42-bed hospital dedicated to pediatric care opened as Valley Children's Hospital in Fresno. In the nearly 70 years since, Valley Children's Healthcare has grown to be one of the largest pediatric healthcare networks in the country serving Central Valley children and families across approximately 45,000 square miles. Vice President, Jessie Hudgins, has been with Valley Children's Healthcare for some 23 years and understands the importance of building the organization's image and attitude into everything they do."Being a pediatric healthcare provider, we are focused on helping children heal," says Hudgins, who has been the vice president of construction for 12 years. He and a team of five project managers oversee design and construction services at the hospital and 28 supporting facilities stretching from Modesto to Bakersfield. "My role is to help translate Valley Children's Healthcare's commitment to children and their families into every aspect of the facilities we design, build, and maintain. That includes everything from child-sized accommodations that encourage play and distraction from aliments to ensuring we maximize return on investment through material durability and operational efficiency."DESIGN-BUILD Hudgins finds that engaging the Design-Build contracting methodology is one reliable key to success in completing approximately 100 facility improvement projects a year. In choosing a turn-key delivery solution, Hudgins concentrates the onus for design of each commission on the chosen contractor, while his team manages the big-picture expectations for execution and operations."Valley Children's Healthcare is quite a large organization, with a lot of facilities and lots of active work going on concurrently," he continues. "My team is committed to creating consistency in process, performance, and outcomes so the tangible results are reliably positive user experiences for the people we serve."Asked about the decision-making criteria connecting the choices his team makes in addressing the ever-advancing requirements of pediatric care, Hudgins is confidently concise."Performance is number one," he shares. "How a material or product holds up over time, its ability to fight the spread of infection, cleanability, durability, ongoing maintenance, and lifecycle considerations shape our selections."ENGAGED TEAMHudgins applies a similar sense of focus to selecting the design-build teams engaged to complete the robust annual work program required to maintain Valley Children's presence on the leading edge of pediatric care. He typically solicits strong design-build contractors in Central California and draws on positive relationships with a dozen or so healthcare architects. Among them, Quiring General, LLC has become a trusted resource and recently completed a series of prominent projects entailing two new specialty care clinics of approximately 52,000 square feet each and revitalizing the landscape on the hospital's main campus. Stevan Garcia has been Quiring's project manager responsible for delivering each of the three commissions and shares Hudgin's commitment to quality."Going beyond the sticks and bricks, we build what matters," says Garcia of the firm, which was founded in 1947 and has become a Central Valley fixture in healthcare, senior living, and multi-family housing construction. "In the case of Valley Children's Healthcare and many other local clients, what matters most are the people and communities we serve."
Page 22
SEPTEMBER 2020 www.mcsmag.com20project profileSOUPS TO NUTSAs a hands-on project leader, Garcia describes his role in the recent series of design-build projects for Valley Children's Healthcare as soup-to-nuts. His participation stretches from early engagement with architects on design concepts through construction implementation and into warranty management. The integrated focus from start-to-finish gives Garcia an appreciation for the building process that goes well beyond what and deep into the why of every decision made."The time spent with the client and consultants before construction in a design-build delivery allows us to work through the finer points of every detail," continues Garcia. "Understanding the staff, what they do, how they do it, and their workloads builds vital relationships that shape situation-specific solutions. Everyone in our community relies on Valley Children's Healthcare when our children's health is at stake when families are most vulnerable. They hold a special place in our hearts and it's very easy to get behind their mission."Garcia reveals that Quiring's commitment to meeting premium expectations extends to every facet of the work his team has done for Valley Children's Healthcare. From the architecture and execution to site work and aesthetics, attention to detail makes a difference in the finished product. Scrutinizing materials and project partners is paramount to achieving premium performance.EXPERT CRAFTSMANSHIPWhen it came to the hardscape scope for decorative concrete on the recent projects, Garcia and Quiring turned to Heritage Bomanite, a Central Valley concrete contractor that installs high-quality Bomanite products. Known as the first name in decorative and specialty concrete, Bomanite invigorated the market in the mid-1950s by inventing the process of stamping concrete. Today, Bomanite materials are installed by a select group of Licensed Contractors like Heritage Bomanite who apply local know-how to premium products to achieve excellence."The site work concrete scope on these projects called for a unique combination of materials and craftsmanship that isn't easy to achieve," says Garcia. "It was very important in the design process to determine an exact mix of aggregates, custom colors, and joint patterns to complement architectural aesthetics. Heritage Bomanite played a big part in getting it right."Through their sample development program, Heritage Bomanite helped Quiring and the design team select a completely customized concrete package that included two hues of grey, heavy-etched Sandscape concrete, and Bomanite Revealed glass exposed aggregate concrete. Used to add a whimsical flair and vibrant color to the exterior of each site, the blue glass used in Revealed exposed aggregate concrete was matched from the giraffe in the Valley Children's Healthcare logo. The ability to create brand-centric decorative concrete solutions is only part of what distinguishes Bomanite contractors in Garcia's mind.CLOSING THOUGHT"Heritage Bomanite has become a great partner to us, both at Valley Children's Healthcare and beyond," continues Garcia. "From the creativity in the sample selection program, the thoroughness of their estimates, and their meticulous installation process everything felt completely custom. Our client didn't want standard grey broom-finished concrete. It's great knowing that the Bomanite line of products can help our clients build their brand into virtually any decorative concrete solution they can imagine." about the authorSean O'Keefe has more than 20 years of experience articulating the complexities, challenges, and camaraderie of construction and design. He writes Built Environment stories for owners, architects, contractors, and product manufacturers. He can be reached at sean@sokpr.com.
Page 23
Page 24
SEPTEMBER 2020 www.mcsmag.com22project profileBy the time the drum arrived on the jobsite, the Realm Construction team had prepared the first section of the pour with forms, fabric, and reinforcement. Not knowing exactly how quickly the pours would go or how much progress they'd make, the team prepared 500 feet of forms.Also onsite was a Takeuchi TL10 compact track loader that provided hydraulic power for the spinning drum, as well as a Telebelt telescopic belt conveyor to place the concrete. The team modified the conveyor to lay the concrete in front of the tube. CONQUERING THE POURThey began pouring the concrete—a MoDOT hand-finished paving mix with a predetermined slump calculation."We were allowed to go to 5-inch slump, but we aimed for a 3.5-inch slump because of the slope," Stark says. "We had more of a problem getting it too wet, which is ok because we just let it dry out."The wet concrete problem—which can be common on projects like this—wasn't the only issue during the first day of pouring. "We got the flume all set up and moving it forward wasn't a problem," Stark says. "The only problem seemed to be related to the power source. The drum was binding up, but Kraig was on-site and he was determined to figure out a way to make it work efficiently."The team poured 60 yards and had to stop to address the power source. "A very simple problem quickly became apparent," Pyle says. "We had improperly sized the control valve to the upsized motor to handle the larger drum. This restriction in the smaller valve was causing the loader to overheat. A larger prototype valve we had in the works reduced the back pressure and restriction, alleviating the overheating that was happening."After Pyle figured out a solution for the power source issues, Stark and his team had to configure the dispersing of the material. This process presented its own set of issues."We tried placing the Telebelt chute right in front of the tube to move the material forward," Stark says. "When it was right up against the tube like that, Ready to Roll how 1,000 pounds of spinning metal changed the Missouri ditch liner industryPROJECT INNOVATION SUCCESSPART 2 OF 2
Page 25
www.mcsmag.com SEPTEMBER 202023PROJECT INNOVATION SUCCESSit ended up spraying the guys like crazy. We moved it ahead and found that the ideal spacing was about 6 feet ahead of the drum. This allowed the majority to be placed onto the bottom and the excess fed up onto the sides. Not only did this work better, but our guys were a lot happier because they didn't go home looking like a sidewalk."Once everything was dialed in and set to the perfect speed, distance, and power, the Realm Construction team was on a roll. They poured 400-450 linear feet of concrete a day for the next 3 days, with virtually no roadblocks or issues. Despite the delays near the beginning of the project, they completed the project more than a week ahead of schedule.QUITE THE SIGHTOn a stand-out project such as this, it's no surprise that everyone involved was curious about the process. Workers, supervisors, and even those driving by were spotted taking photos or video of the impressive setup. All of the contractors, manufacturers and MoDOT people involved kept a close eye on the project and were impressed with the equipment throughout. "This was a real partnership, and we were more than pleased with the end result," Daulton says. "We've worked with Realm Construction in the past, so I trust their judgement when Russ says he had a new idea. We got a better final product, and they were able to decrease their cost and share some of that with us."The MoDOT maintenance team perhaps benefits most from the final product, since it makes their cleanup efforts a much simpler job. The team uses a skid steer to clear the ditch after every significant rainfall, and best of all it doesn't require any lane closure or traffic disruption. CLOSING THOUGHTThe project showcased everyone's ingenuity; it highlighted MoDOT's judgement, the contractor's ability to think outside the box, and the manufacturer's high-quality product. All parties agree, this project was a win-win-win. for more informationCurb Roller Manufacturing has been the world leader in shaped concrete roller screeds for more than 10 years. With high-quality products for everyday concrete work, Curb Roller's ergonomic machines make it easy to shape standard curb, gutter, and sidewalks, flume, v-gutter, swale, and other unique shapes. For more, visit www.curbroller.com.ON THE WEBCheck out this article on Check out this article on mcsmag.com for a break mcsmag.com for a break down of savings and timedown of savings and time
Page 26
SEPTEMBER 2020 www.mcsmag.com24project profileDaytona Project Hits the Fast-TrackSITE DEVELOPMENTThe one common tie that seems to bind avid GNSS users is the abundant number of ways they find to put the technology to use. Companies now regularly use it for everything from material volume verification to recording the sag in power lines. Jobsites without a GNSS presence are becoming increasingly rare, while those on which the technology is playing multiple roles are more and more commonplace. For site development contractor, The Briar Team, a recent 800-acre home site development project on Daytona Beach's LPGA Corridor became a literal GNSS showcase as the company-built roads, pads, retention ponds, and more for the 1,200-home "full-life community." According to Briar officials, GNSS solutions helped them save time, keep crew sizes down, eliminate extraneous work, and streamline the workflow in almost every facet of the job. Since Briar considers technology a part of the everyday work picture for them, this truly was a "Team" effort. AT HOME IN HOMESEstablished more than 40 years ago by Fred and Eloise Good, Briar Construction and Paving, as it was known then, focused on construction of small commercial buildings and tennis courts. The company grew steadily and in 1984, was purchased by their son, Michael, and renamed The Briar Team. Today, the organization that started out so modestly has grown in both size and stature. Headed up by third generation family member Bobby Lee Good, The Briar Team employs more than 200 and has evolved into one of the region's go-to site development companies. With area growth at a breakneck pace, the company has tackled some impressive projects, one of the most recent of which was the Homes at Mosaic project for ICI Homes mentioned above."The entire site is roughly 500 acres in size and we were doing two phases that were about 80 to 90 acres apiece," says Tony Camacho, Briar's senior survey crew chief. "In just those two phases, we Florida-based team relies on GNSS technology By Larry Trojak
Page 27
www.mcsmag.com SEPTEMBER 202025moved more than 1.2 million yards of soil onsite. In addition to clearing, we did all the utilities, storm, sewer, water, reuse, we built at least ten different roads, poured all the curb, built the lot pads—it was total site development in every sense of the word."CHANGE IN ATTITUDEFive years ago, a project workload of that size and complexity would have presented any number of challenges to The Briar Group. Most significant of those would have been the massive amounts of staking needed for the initial clearing and grading, for the curbs and roads, for each of the five ponds, and then for each house pad. Not so today.Seeing the changes taking place with regard to GPS, machine control, and the like, roughly 4 years ago, The Briar Team, began what would be an ongoing relationship with GNSS technology. It hasn't looked back since."We saw the immediate savings that could be realized in layout time alone and knew that was a route we had to take," says Camacho. "Our projects are generally all mid-sized and larger—rarely anything smaller than 50 acres—so layout has always been a headache. Knowing that we could do jobs like this with few if any stakes, was exactly what we were looking for." AT A CROSSROADWorking through geopositioning equipment specialists The Lengemann Corporation, The Briar Team made its move into GNSS-based machine control and, in doing so, arrived at a metaphorical place that today is known as "The Intersection of Infrastructure and Technology." Here, at this conceptual crossroads, Topcon Positioning Systems provides industry professionals with the expertise to be at the forefront of technological innovation and reap the benefits via increased productivity and profitability. And, The Briar Team had those benefits on full display at the Mosaic project."We use GPS for a lot of different things, and at the Mosaic site we used it right out of the gate to set silt fence," says Camacho. "Doing so with GPS is fairly uncommon, because we are generally dealing with wooded areas which can affect the instrument's signal. But this site was wide open, and the silt fence line ran roughly 30 feet off the woods, so we had no problems."To illustrate how impactful that move was, he says that Colin Stiger, one of their survey party chiefs, staked about 6,000 feet of fence in one day, an effort that, done conventionally, would have involved a lot of calculations, turning, and traversing. "It also probably would have taken a three-man crew 9 hours to get what he did by himself in 6," he said. "That, alone, was a nice savings."THE DIRT ON ITSilt fence aside, the real impact the GNSS solution has had on Briar's operation can be found in the production they get from their dozers in earthmoving and grading applications. According to Dan LaFlamme, the company's equipment superintendent, those benefits extended to all facets of the job, from mass excavation, to pond construction, to the house pads themselves."At one point, we had as many as five John Deere Model 700K dozers onsite at one time—each running a Topcon 3D-MC system," he says. "To get started each day, we would simply upload a file and our operators immediately started grading. Some of the retention ponds at the Mosaic site were 5 to 6 acres in size, which, to get top of slope, slope break, and toe, would have meant an easy 2 days of layout on each structure. With the dozers, not only is it all there on the model, we've noticed that we get much cleaner slopes using machine control. Having a stake at the top and the bottom increases the chance of the operator leaving a 'belly' in the slope; with GPS, the slope is nice and clean."While there was some initial apprehension on the part of some of The Briar Group's operators about implementing GNSS technology, those attitudes have largely been replaced by an overwhelming sense of acceptance.The Briar Team made its move into GNSS-based machine control and, in doing so, arrived at a metaphorical place that today is known as "The Intersection of Infrastructure and Technology." Here, at this conceptual crossroads, Topcon Positioning Systems provides industry professionals with the expertise to be at the forefront of technological innovation and reap the benefits via increased productivity and profitability. And, The Briar Team had those benefits on full display at the Mosaic project.
Page 28
SEPTEMBER 2020 www.mcsmag.com26project profile"Not only have they accepted it, most of our dozer guys freak out when they have to wait for updates to the file," says LaFlamme. "Steve Terry from Lengemann warned us about this happening and he was right—they just can't live without it now."NO LOAD LEFT BEHINDAt the heart of the Mosaic development, of course, were the 1,200 house pads that needed to be constructed and Comacho says they've realized benefits from using the GNSS solution there as well."We get much cleaner pads, there's no doubt about it," he says. "If we came out here and put five stakes on a lot pad: two in front, two in back and one in the middle, even the best dozer operator is either going to leave a bit of extra dirt on that pad or cut too much. With the Topcon system, our estimating department is getting precisely what they've bid."He adds that, were they to leave a quarter of a load on every lot pad, a project with 1,200 lots represents a good deal of material left behind. "This makes for a much more accurate product which directly impacts the bottom line." ROWS AND ROADSBecause the development's curbs were already in place, The Briar Team took a somewhat lower-tech—but nevertheless effective—approach: using Topcon Grader System Five to grade the 10+ roads onsite. According to grader operator Sean Cote, using that system for slope control made grading both roads and right of way (ROW) a breeze."This system uses a Topcon Sonic Tracker to send a beam of light down to the curb indicating the blade position and keeping it at a specific grade," he says. "The right of way had to be sloped at 2 percent and then changed to 4 percent from the back of the ROW to the utility easement. So, I simply ran the first blade width at 2 percent and bumped it up to 4 percent for the second pass. The crown of the road to the curb was all 2 percent, so that was a snap as well. Without this system we would have had to pull string line to check grade which takes time and three people to do. Although we will still run such a check it at the very end for county inspection—that's the only time it's done. Otherwise I do it all myself with the cross slope and that's a huge savings in time and manpower."CLOSING THOUGHTBoth LaFlamme and Comacho agree that Lengemann Corporation was a key component in their successful migration over to GNSS and has continued to be a valuable ally as they've moved forward. "Lengemann has always been responsive to our needs, they maintain a solid inventory of replacement parts and have a good handle on changes taking place with regard to GPS equipment," says Comacho. "That's important to an organization like ours." about the authorLarry Trojak is president of Trojak Communications, a Minnesota-based marketing communications firm. He has written for the construction, recycling, demolition, scrap, and aggregate processing industries.
Page 29
Page 30
Page 31
Page 32
WWW MCSMAG COM SEPTEMBER 2020 SCREEDSAVER ELITE LASER GUIDED SCREED MACHINE EXCEPTIONAL LEADERSHIP 9 SUCCESS FACTORS TELEMATICS ADOPTION PANDEMIC PUSHES USE ELECTRIC FORMS CONTACTLESS PROCESSES
Page 33
www.mcsmag.com SEPTEMBER 202031often easy on jobsites where spaces are not sealed during most phases of construction. For those environments that are fully sealed spaces with no access to exchange air, like manholes and underground mines, direct-fired heat should not be used.FLAME COMBUSTIONMost portable heaters use combustion involving a flame. Combustion occurs when oxygen and fuel combine in a reaction that produces heat. Direct-fired heaters that do not conceal the flame like portable forced air gas and kerosene heaters are considered open flame. When a flame is visible there is potential for interaction with combustibles in an environment—like stray plastic sheeting or saw dust on construction jobsites. FIRST TO MARKETIn the 1990s, L.B. White introduced the first enclosed flame portable heater to the construction market. Enclosing the process of combustion separates the flame from the environment while still providing 99 percent fuel efficiency. By enclosing the flame and adding a fan to the design, flex duct can be attached to L.B. White Premier® heaters to move heated air from point A to point B. Indirect-fired heaters have an enclosed the flame and can be ducted, too, but are typically 0-25 percent less fuel efficient.NEW FROM L.B. WHITEThe new Premier 40 portable heater from L.B. White offers the ultimate combination of efficiency and convenience. It is the smallest enclosed-flame direct-fired heater currently on the market offering 40,000 BTU/hr output and ultimate portability at 53 pounds. It can run on a single 20 lb LP tank for 6-8 hours in many scenarios and draws only a single amp when running continuously. It is made here in the U.S. and is backed by a 2-year warranty and lifetime of technical support. The Premier 40 is easy to transport, fuel, and power, so fits many general contracting needs and is easy to get up and running when unanticipated heat needs pop-up. CLOSING THOUGHTA few key variables determine the amount of heat needed for a space: cubic feet of the environment, desired rise in temperature, and amount of insulation in the space, if any. When shopping for heat you may notice some retailers focus on the square feet a heater can handle. Square footage does not consider critical factor of height of the space. for more informationTo quickly calculate the amount of BTU/hr needed for your environment, check out this free heat estimator app at www.lbwhite.com/heatestimator. Be sure to check out other L.B. White products like the Premier® 40 portable heater.
Page 34
SEPTEMBER 2020 www.mcsmag.com32equipment solutionSince its' inception in 2017 at the World of Concrete, Ligchine's SCREEDSAVER PRO has been a wildly successful product with hundreds of units delivered around the world. Despite that success, Ligchine wanted to build on the popularity of the PRO and design the most complete, mid-price boom screed ever. As such, the SCREEDSAVER ELITE was born.MOST INNOVATIVEThis new and innovative machine introduces all new key features including larger boom sections for greater stability and accuracy, a revolutionary side-shift head, all-wheel drive, state-of-the-art control system, and much more. The SCREEDSAVER ELITE is the most innovative laser-guided screed machine to join Ligchine's SCREEDSAVER family of machines.The SCREEDSAVER line of machines were all conceived and developed by Pete Ligman, co-founder and head of product development at Ligchine. Matt Eischeid, owner and founder of Elite Builders of Dallas Center, Iowa, is among a core group of contractors who contribute extensively to Ligchine's future product development and was influential in the bringing the SCREEDSAVER ELITE to fruition.Eischeid, runs a successful custom concrete screeding company in the Midwest and has been closely connected with Ligchine for years. "When I started in business, I wanted to run a small, lean company that used the latest and greatest in labor-saving technology and Ligchine fit the bill. Certainly, there were others that I could have partnered with, but the company is so customer focused, that I was hooked. Pete Ligman had years of experience in the flatwork business and I thought he had one of the most creative minds in the business in terms of understanding what flatwork contractors want in a boom screed."VOICE OF THE CUSTOMERNow years later, Eischeid runs a full crew of operators and currently owns four Ligchine machines—three SCREEDAVER BOSS machines and one SCEEDSAVER MAX. When asked why he likes about working with Ligchine he says, "When I asked for a more compact machine with a larger boom frame, they listened." Building on Successincrease profitability with automated concrete screeding machinesCOVER STORYBy Ryan OlsonThe SCREEDSAVER ELITE is the most innovative laser-guided screed machine to join Ligchine's SCREEDSAVER family of machines, featuring a narrower chassis to navigate through smaller doors and an 18-foot boom length when fully extended.
Page 35
www.mcsmag.com SEPTEMBER 202033We're managing resources in real time to keep jobs running smoothly.B2W ScheduleBreak new ground, win more work and complete it more profitably with the unified ONE Platform for heavy construction estimating, operational workflows and business insight. HEAR GREG'S SUCCESS STORY AND MORE AT B2WSOFTWARE.COM/GREGGREG BALAMUTA – BRUBACHER EXCAVATINGThe SCREEDSAVER ELITE features a narrower chassis to navigate through smaller doors and an 18-foot boom length when fully extended."When I asked for an all-wheel drive system, they listened."For the first time, Ligchine incorporated an all-wheel drive system into the new machine. "The all new side-shifting head is helpful when working around stick-ups such as plumbing and columns."Additionally, the SCREEDSAVER ELITE features a newly designed remote control with improved paddles. "This new remote is a lot more ergonomically friendly as opposed to others I've used," he says.CUSTOMER SERVICE COUNTSLast but not least, Eischeid says he continues to remain loyal to Ligchine because of the lower cost of ownership, outstanding service, and the ability to transport all of their high-performance screeds with a ¾-ton pickup. "When I'm dealing with any manufacturer, service is a big piece for me. In the time I've been a Ligchine customer, I've never been down for more than a day—ever."Eischeid has seen the SCREEDSAVER ELITE in action and has purchased one of the first models off the manufacturing line. CLOSING THOUGHT"The key to my success has been owning Ligchine machines. If you can get a better-quality finish and perform the job quicker, you're a fool not to buy a Ligchine. Just recently, I poured a 28,000-square-foot slab in four and a half hours. The average contractor is not going to be able to do that without a Ligchine laser-guided screed." about the authorRyan Olson is the director of marketing at Ligchine. For more, visit www.ligchine.com.
Page 36
SEPTEMBER 2020 www.mcsmag.com34environmental solutionCatastrophe Prep & Recovery more complicated than ever … here's whySTORMY WEATHER APPROACHESThe ongoing COVID-19 pandemic has created many challenges for contractors and construction projects, necessitating new health and safety measures, triggering project delays and cancellations, and disrupting supply chains. Now peak hurricane season is here, and contractors must be prepared to manage potentially catastrophic storm events amid a global public health crisis. HEIGHTENED EXPOSURE Forecasters recently increased predictions for the 2020 Atlantic hurricane season, now projecting 25 named storms, as many as eleven of them hurricanes, with three to six packing winds of at least 111 miles per hour. With Laura and Michael, the Gulf of Mexico experienced two hurricanes in the past 3 years with maximum sustained wind speeds of 150 mph or higher; this has occurred fewer than 10 times in the past 100 years.Hurricanes such as Harvey and Florence underscored the threat storms bring not only from wind, but also from water. According to catastrophe modeling firm RMS, about 90 percent of Harvey's insured losses resulted from inland flooding. Flood risk is clearly increasing across the country. In recent years, it has not been uncommon to observe devastating flood impacts outside of FEMA's designated critical flood zones, and this highlights the need for contractors to look beyond the traditional flood and hurricane "footprints" when considering potential storm exposure. PREPARING DURING PANDEMIC In the current climate, preparing to mitigate storm losses is a more complex task. There are new considerations. For example, in a socially distanced world, will it take longer to secure the jobsite as a storm approaches? How and where will workers evacuate? What housing and hotels will be available? In order to address pandemic-related health and safety issues and local regulations, decisions to shut down a site and evacuate workers will likely need to be made earlier than in the past.Recovery after a major storm may be more complicated as well, with the economy not fully open and supply chains already disrupted by the pandemic. Here again, foresight is fundamental. Contractors should expand their universe of potential suppliers to increase the likelihood of keeping their supply chain viable and having access to essential resources following a storm event. Contractors should also be prepared to be flexible and creative in sequencing schedules. In many cases, schedules have already been delayed due to the pandemic; pushbacks may have landed certain tasks that were originally scheduled to take place before hurricane season right in its peak. As a basic risk management rule, contractors should try to avoid embarking on tasks they would not ordinarily do during storm season. This time of year, it's wise to avoid starting any jobsite task that can't be wrapped up within 72 hours to allow time to lock down the jobsite in the event of a developing storm. Creative scheduling may also be needed after a storm to navigate supply chain and procurement obstacles and get a project back online as soon as possible. INSURANCE COVERAGE CHECKUPContractors should carefully review their builder's risk insurance coverage with their brokers and carriers to make sure they understand how their policies apply with respect to storm-related losses, including losses arising from water damage. Importantly, builder's risk coverage typically distinguishes between damage caused by rising or overflowing water (e.g., flood and storm surge, which are increasing in frequency and severity) and other water damage, such as water entering a building before the walls and/or roof are finished. Definitions of flood vary from one policy to another and should be evaluated and well understood by the insured parties. If there are contractual agreements between the contactor and project owner as to who is responsible for flood or water damage, insured parties should ensure that definitions in the contract align with those in the insurance policy to the extent possible prior to any loss occurrence. By Bruce Jervis
Page 37
www.mcsmag.com SEPTEMBER 202035Limits and deductibles also merit close consideration. Typically, deductibles for flood and named windstorm are significantly higher than those for water damage or other non-catastrophe causes of loss. In some policies, it may be expressed as a percentage of the property value. In a builders' risk insurance policy, it may be based on the value of the project at the time of loss (VARTOL). In this case, the deductible amount will increase as the project moves along and nears completion, as the values exposed are greater than at the beginning of the project.Notably, some policies include storm surge as part of the flood definition, while others address it in the named windstorm definition of the policy. How these terms are defined may impact limits and/or deductibles. Contractors should work with their brokers to have storm surge clearly defined in their policies as part of either the flood or named windstorm definition and not left open to interpretation.There's a lot to consider, and policies have evolved in recent years in response to the increasing frequency of severe weather events. Having a clear understanding about how your specific policy applies in these potential loss situations is critical for all contractors.CLAIMS CONSIDERATIONS Many builder's risk policies cover not only costs to repair physical damage to the project site, but also "soft costs" or loss of income resulting from project delay caused by covered physical damage to insured property (similar to the business interruption coverage in standard property policies). Contractors and owners should keep their project schedules up to date to assist in the investigation and adjustment of delay claims. An accurate and current construction schedule will enable loss of income or project delay costs to be accurately assessed, which should result in a smoother claims process. CLOSING THOUGHTExtreme weather events have demanded greater risk management diligence from contractors for years. The pandemic has increased the complexity of catastrophe preparation and recovery. In this environment, contactors and project owners need to review and adapt their standard plans to ensure the safety of people and equipment while navigating the effects of a global pandemic, and affirm that their insurance is the best fit for their risk and budget in an era of heightened windstorm and flooding exposure. about the authorBruce Jervis is executive vice president, Chubb North America Commercial & Inland Marine. For more, visit www.chubb.com.PLAY VIDEO
Page 38
SEPTEMBER 2020 www.mcsmag.com36
Page 39
www.mcsmag.com SEPTEMBER 202037
Page 40
SEPTEMBER 2020 www.mcsmag.com38management solutionExceptional Leadership9 success factors during challenging timesTHOUGHT LEADERSHIPAs we firmly enter the second half of 2020, we can expect the time between now and January 2021 to fly by. As it does, we have to prepare to lead our teams through the year's extreme challenges. The COVID-19 pandemic and other events—hurricanes, tornadoes, monsoons, cyber-crime, social unrest, unemployment, economic instability, and more—concern us. Beyond that, we face a presidential election that could change our country significantly.During this challenging year, stay focused on these nine success factors that will foster exceptional leadership during times like these. RECOGNIZE THAT LEADERSHIP DURING CHALLENGING TIMES IS NOT MUCH DIFFERENT THAN ANY OTHER TIME.Demonstrate unwavering character: Lead with actions, words, and behaviors in the best interest of those you serve. Take the high road when you're faced with challenges, and just do the right thing.Show you care: Show you care about the well-being of your employees, customers, vendors, and community. If you don't care about them, why should they care about you? What is one more action you can take to show you care? Communicate fully: Tell others where you're at, where you're going, how you'll get there, and what it will be like when you arrive. And don't feel you have to plan and communicate all on your own. Solicit suggestions from people on your team. Think things through: Acknowledge that you might not be an expert in the tough issue(s); however, you can gather facts, do research, consider options, and then assess the consequences of your decisions. Think it through without procrastinating.Be mentally tough: Accept that many decisions you will make are unprecedented. Summon your courage to implement them. If you stay grounded by your values, your mission, and your vision for the future, making the right decisions will be easier.Embrace accountability: Don't wait for others to take action. You are the leader. CONFIRM THAT THE MESSAGES YOU SEND ARE CLEARLY UNDERSTOOD BY YOUR STAKEHOLDERS. Do you care about the wellbeing of all stakeholders? Do your words and actions truly demonstrate you care? How do you know? Do you have a clear plan of action your stakeholders know about? Is it really understood by everyone? How do you know? Do you provide status updates frequently? Are your messages filtering through to all your stakeholders? How do you know?To confirm, don't limit your one-on-one conversations to those on your management team. Expand your reach to your customers, vendors, and frontline production, sales, and service associates. Be easy to reach and be someone people are happy to hear from. Mostly, ask great questions. This is how you will really know. Remember, if your communications on challenging issues are ineffective, you risk your people experiencing an erosion of trust, respect, and loyalty. DON'T WAIT UNTIL A CHALLENGING EVENT IS BEHIND YOU TO CREATE A RECOVERY PLAN. INSTEAD, STRATEGIZE NOW SO YOU'RE READY TO EXECUTE SOLUTIONS WHEN THEY'RE NEEDED. Think about your stakeholders, products and services, positioning and value proposition, competitive advantage, and other elements of your unique business. Get a running start once you've put the challenges behind you. Don't expect your business to return to the way it was; it likely won't. Instead, take responsibility to prepare for a new reality. HEED THE ADVICE OF KEY STAKEHOLDERS IN A POSITIVE WAY WHILE SEEKING CREATIVE SOLUTIONS TO CHALLENGING SITUATIONS. As you tackle problematic situations, remain positive and open-minded by implementing creative solutions that lead to the best outcomes. Applying creativity can: drive new products, introduce new processes, improve quality, stimulate fresh thinking, promote teamwork, solve By Randy Goruk
Page 41
www.mcsmag.com SEPTEMBER 202039underlying problems, save time in the long run, make you more money, and set up a better work environment. DEMONSTRATE PATIENCE WHEN DEALING WITH DIFFICULT SITUATIONS. Your patience is important when introducing a new strategy. It can take time to prove your idea is the correct strategy. When it's successful, your reward will be extremely satisfying. Apply patience when developing people. Although some people take longer to excel than others, you'll find the value resulting from their development worth the wait. USE PERSEVERANCE AND RESILIENCY TO ADAPT TO CHANGE AND THEN MOVE FORWARD.To develop perseverance and resilience, adopt these ideas: Don't stress over what you can't control. | Be calm and remain positive, knowing "this too will pass." | Stay connected to those who maintain positive attitudes. | Eat well and exercise regularly to keep your body strong. | Accept that change will happen and do your best to embrace it. | Stay laser-focused on your short-term goals. | Do not lose sight of your long-term purpose. | Communicate to inform, inspire, and initiate action. | Look forward, not backward, as you develop creative solutions. | Celebrate your wins—you will have many along the way. REMAIN GROUNDED AND CONSISTENT IN YOUR DECISION-MAKING DESPITE THE UNCERTAINTY.Position yourself to think through considerations in advance. You'll gain clarity when you take time to think, plan, and reflect. Use your company vision, mission, and business values as your guiding light to decision making. They form the foundation of your business and should never waver. Get feedback, remain open-minded, and ask great questions. Don't play favorites. Rather, do the right thing for the business. Remember, decision-making is about business; it's never personal. MAINTAIN YOUR FOCUS ON SOLUTIONS WHILE AVOIDING DISTRACTIONS. Focus takes self-discipline and mental toughness. You know if you are mentally tough when you don't get distracted by outside situations, remain clear and objective during turmoil, stick to your plan, remain confident in any situation, successfully deal with conflict, follow the rules and know when to change them, and don't let situations you can't control bother you. Ask yourself: How can I get even better in each of these areas? ENSURE YOUR ORGANIZATION STAYS ACTIVE WITH PROFESSIONAL DEVELOPMENT. Without continuous professional development, you're missing an opportunity to develop the skills and capabilities of your team. It's during challenging times that team members must be at their best. Having an ongoing plan ensures that happens. When you abandon professional development, you send a deflating signal to your team and risk your organization's strength, the quality of its work environment, and its business growth.CLOSING THOUGHTAfter facing challenges for a long, it's understandable you might grow tired of the disruption. Still, be patient and encourage everyone around you to be patient, too. Each challenge will pass. By reflecting, problem-solving, and planning, your preparation will pay off. about the authorAs a leadership development and employee engagement specialist, Randy Goruk works with leaders to increase team engagement and business growth. For help with professional development, contact Randy at randy@leadersedge360.com. Register to receive his Leadership Tip of the Week at www.leadersedge360.com.MCS is bringing the construction industry together again with its Virtual Fall Expo! FREE VIRTUAL EVENTLIVE CHAT OR VIDEO WITH EXHIBITORSDOWNLOAD LITERATURE/BROCHURESSEE PRODUCT VIDEOS/DEMOS Attend safely from your home or office on your smartphone or laptop.REGISTER T O DAY! highlandspublications.com/virtual-expo-register/VIRTUAL XPMODERN CONTRACTOR SOLUTIONS VIRTUAL FALL EXPO 2020FALL 202011.17.2020 | 10a—4p_CST
Page 42
SEPTEMBER 2020 www.mcsmag.com40management solutionFleet equipment is usually the single most tremendous asset, outside of people, for construction companies. If operated and maintained efficiently, your fleet will provide quality service and output within reasonable costs. If operated or maintained inefficiently, the quality of service degrades, and cost escalates. What causes the difference? How do business owners ensure the maximum return on investment? How do you know if your equipment is maintained well? What are the indicators that you are spending too much or too little maintaining that equipment?As business owners, we assume that the staff we place in charge of managing those assets will perform those duties in the most effective and cost-efficient manner. However, this may be only an assumption. We presume they are rigorously monitoring the costs of services and using trends and patterns to drive a skeptical examination of those costs. We also believe they are benchmarking those costs against others for relative comparison to know if they are within a logical range, I do not want to alarm you, but in my 30 years as a fleet consultant working with hundreds of operations, I have found a few instances of a meticulous cost control regarding fleet management. Now, this is not to imply your staff are wantonly spending money to no end, but it does indicate that stable fiscal control of fleet expenditures may be lacking, causing you to spend too much on your fleet upkeep. GETTING THE BEST YIELDSLet us examine some ways to see if we are getting the best yields and returns from our equipment. Return on Capital Employed (ROCE) is a gauge indicating the efficiency and profitability of applying a company's capital investments. We need to calculate the existing Return on Capital Employed (ROCE) as a benchmark to compare it later. ROCE is calculated as: Return on Capital = Net profit (before tax) X 100 Capital investedROCE is a calculation that indicates the efficiency and profitability of a company's capital investments. Obviously, ROCE should always be higher than the rate that the company borrows at; otherwise, any increase in borrowings will reduce shareholders' returns and earnings. It is a measure of the returns that a company realizes from its capital; therefore, capital employed. It is calculated as profit before interest and tax divided by the difference between total assets and current liabilities. It represents the efficiency with which money is being utilized to generate revenue. When external benchmark numbers are unknown to compare to, the owner can still examine the trend. The fact is, improving maintenance practices should indicate a positive trend of an increasing ROCE over time. Another measure, even more utilized than ROCE, is RONA, Return on Net Assets. A standard alternate to ROCE would be to measure Return on Net Assets as a benchmark to evaluate our returns from your fleet investment. RONA is calculated as: = Net Income Fixed Assets + Net Working Capital Our consulting firm uses RONA as a good indicator of fleet investment return. We have developed benchmarks over the years for relative comparison. Here is what we found in comparing "average" fleets to "Best in Class" fleets.RONA0510152025303540455025-30% 50% INDUSTRY AVERAGEBEST IN CLASSMaintenance Practicesis your fleet paying for itselfMAXIMIZE EQUIPMENT ROIBy Preston Ingalls
Page 43
www.mcsmag.com SEPTEMBER 202041The absence of tracking RONA can lead to the following, an actual chart from an assessment of a new client. As you see, their RONA has been diminishing over the last few years. They had not been tracking RONA, and inadequate maintenance practices became very evident in high costs and low returns on investment.-15.0%-5.0%05.0%15.0%25.0%35.0%45.0%55.0%BEST IN CLASS7.9%2.1%-2.8%2017 2018 INDUSTRYAVERAGE2019As the charts indicate, well-maintained and controlled fleets produce double the returns than the average. Efficient maintenance practices such as Preventive Maintenance (30 to 50% of maintenance working hours), carefully monitored Operator Care for frontline maintenance (100% applied and audited), efficiently applied Maintenance, Repair, and Operational Supplies (inventory control) producing turn rates higher than 2, technical training for mechanics or techs (at least 2 weeks per year for each), utilizing a sturdy and capable Computerized Maintenance Management System (CMMS) producing reports for constant analysis of failures and spending trends, along with careful monitoring of fleet maintenance costs compared to asset value and sales. One standard measure to assess whether you are spending too little or too much on maintenance is to look at the ratio of maintenance expenditures as a percent of Estimated Replacement Value (ERV) or Fleet Replacement Value (FRV). ERV is the cost to replace, in kind, your total fleet. In some cases, it is referred to as the insured value of the equipment. It is the costs to replace the equipment with ones of comparable value (not new), fair market value. Maintenance expenditures include all maintenance labor, parts and materials, and cost of maintenance overhead. It excludes fuel and depreciation, which is a production consumable and tax burden, but not a cost of maintenance. The chart below shows a company's maintenance costs relative to its fleet replacement value compared to itself for 3 years (the three bars to the far left), compared to the industry average (the light blue bar in the middle), compared to Best in Class (best in the industry) with the yellow bar, and finally compared to World Class to the far right, which represents the best in all sectors. We can see they are spending too much. MAINTENANCE COST % ERV0%5%10%15%20%25%30%2017 2018 2019IND.AVGBEST IN CLASSWORLDCLASS22.1%24.9%20.5%14.5%4.0%2.5%Most see maintenance as merely the function or activities to keep the equipment functional. To a reasonable extent, that is true. The equipment division or shop is charged with enabling operations to do their job efficiently and cost-productive by providing equipment in a constant state when needed. Therefore, the equipment division or shop is charged with maximizing production capacity. If all they do is "fix things," they may not be doing the right things to ensure that equipment is running well since fixing is reactive by nature. Few companies track any maintenance performance or cost metrics, Key Performance Indicators (KPIs), to allow them to know what is working and what is not to improve. CLOSING THOUGHTAs an owner, begin the journey to reducing maintenance costs by providing visible leadership asking critical questions and showing support for equipment improvement. Suppose you are unhappy with the returns from your fleet … do something about it! about the authorPreston Ingalls is president and CEO of TBR Strategies, LLC, a Raleigh, North Carolina-based maintenance and reliability firm specializing in the construction and oil and gas industries. Preston can be reached at pingalls@tbr-strategies.com.
Page 44
SEPTEMBER 2020 www.mcsmag.com42management solutionBy now, it is clear the pandemic has accelerated almost every aspect of digital adaptation for businesses in order to survive.Jason Threewitts, digital services manager for Carter Machinery, a Caterpillar dealer located in Salem, Virginia, believes that shift could have the most dramatic impact on the construction industry, particularly in the adoption and application of telematics solutions.Threewitts says the pandemic is forcing contractors to depend on connected fleet data now more than ever before, during this time when access and visibility to fleets and jobsites have been limited. "It's very relevant, especially now when you think, how are you going to get hours off of that machine, but you're not allowed to go to that machine," Threewitts says. "And your depreciation on the books doesn't stop because of COVID-19. Customers are realizing, especially within the last 6 months, that being able to be at the site without being at the site has all new meaning here."Threewitts helps contractors become more proactive with their equipment data through the assistance of his team at Carter Machinery, which serves customers in Delaware, Maryland, Virginia, and the panhandle and southern regions of West Virginia. He says the construction industry was on the cusp of a significant transition in embracing the benefits of a digitally connected fleet—and the pandemic is simply serving as the tool to push that turning point.RISING VALUE OF TELEMATICS As the scales tip in favor of connected fleets, Threewitts says contractors are increasingly wanting to understand the value of the data beyond tracking hours and location for their heavy equipment.Because Carter Machinery covers a territory with diverse customers—including miners with 50 machines in their fleet to landscapers with just a skid steer and a small excavator—it would be natural to think their needs would be varied as well. But Threewitts says that would be wrong."I would challenge that and say they both have the same problems—the size and scope of the problems changes," he says. He guides contractors into making more proactive decisions by helping them understand how their construction equipment telematics data can assist with tracking and trending load monitoring and preventive maintenance (PM) to achieve significant cost savings."I always like to ask customers questions like, 'How often do you get your PMs done on time?'" Threewitts shares, "They'll quickly say, 'Well, Jason, I thought we were talking about connectivity.' And I'm like 'I am talking about connectivity.' The amount of time and variables and errors that could potentially be in that is high."He recognizes that identifying a fleet's needs and the appropriate solutions, including order parts in advance, to avoid unexpected and expensive downtime is a complete paradigm shift from how most contractors have historically operated."Our industry's been really good at being reactive and Rescue 911 forever," Threewitts says. "And that's changing."LET DATA DRIVE DECISIONSThough it may be initially uncomfortable to be confronted with the data's insights, such as where your organization is losing money or needs to make changes, Threewitts says most fleet owners and equipment managers quickly understand it's an asset that can be invaluable."You get that pulse check every hour of every day," Threewitts says. "What am I doing, how am I doing it, where am I falling short? Do I need to make a different decision?"The contractors that decide to learn from the data are starting to use it to drive operator training. For example, by monitoring how an operator loads trucks, the data could reveal the machine should be functioning more efficiently."Maybe I need to give [the operator] some training on how to stage trucks and how to set up so he's not swinging from one side of the machine to the other to load a bucket," Threewitts says.The data also opens the doors to provide better solutions and develop closer relationships between client and service provider, he says."What we're doing is we're consulting with them and helping them leverage what all this data is telling us," Threewitts says. "I'm here because the data told me to be here."Telematics Adoption Telematics Adoption taking fleet management to the next levelPANDEMIC CAUSING SHIFTBy Karen M. Scally
Page 45
www.mcsmag.com SEPTEMBER 202043CONDITION-BASED MONITORINGMajor component budgeting plays a significant role in every heavy equipment contractor's operation and yet, it's something that nearly every customer struggles with. The data from the connected fleet now creates the opportunity for enhanced condition-based monitoring. "So. the idea is I'm making decisions off of the condition, or in this case, the condition is driven by the data," Threewitts says.In the past, condition-based monitoring, such as fluid analysis, had its limits."You've got a critical oil sample that tells you your iron reading in your engine is through the roof," Threewitts says. "What are you going to do? All right, it's reactive time. I'm going to order parts."But now contractors can marry up that sample with monitoring machine trends to become more proactive and develop a plan to repair or replace parts before an emergency occurs."It allows us to make a recommendation to the customer that you might want to think about doing X, Y, and Z, because the data is telling us that you're heading for the wall," Threewitts says. "Let's fix it now ... before it starts chucking parts out of the side of the engine and then it's a catastrophic failure."EMBRACE PROACTIVE SOLUTIONSThe key to achieving success with a connected fleet is for contractors to first have the right mindset, Threewitts says. Contractors must have a culture that desires for its business to improve."You need to give a strong look at how you enable everyone from the water truck driver all the way out to the guy or gal who's changing the bucket teeth on your excavator," Threewitts says. "Are they empowered for change?"If a contractor doesn't have an open-minded, empowered team, Threewitts says the data is useless. "It is absolutely where data goes to die," he says. "Data without a process or a purpose is just dead on arrival."Threewitts recognizes that contractors also may be intimidated by the investment of implementing a connected fleet."But you break it down for them in cost per hour and start relating it to that major failure you could have caught if somebody was looking at stuff or that PM that you completely whiffed on because you didn't even know it was due," he says. "Or how much does someone in the office spend of their day just transcribing numbers into a system? What if you can make that go away? Or what if you could take that highly valuable asset to the company and let he or she do something else productive in the company? What value does that bring?"CLOSING THOUGHTThreewitts says contractors can quickly see the $600 worth of telematics hardware they're putting on the machine result in a ROI that's tenfold. He believes the construction industry is just beginning to realize the benefits of connected fleet integration and that the proactive use of its data will continue to rapidly accelerate."It's an exciting time for sure," Threewitts says. "I've got a lot of great colleagues spread out across a lot of different dealers across North America that I converse with on a regular basis, and we're all saying the same thing. I would say the next 2 to 5 years are going to be pretty rapid, pretty fun, and pretty exciting." about the authorKaren M. Scally is a Metro Detroit journalist who has covered the construction industry for more than a decade. She is currently a contributor to the gearflow.com blog and can be reached at karen@gearflow.com.
Page 46
SEPTEMBER 2020 www.mcsmag.com44software solutionCOVID-19 didn't create the need for effective health and safety programs, but the current climate heightens awareness of how paper-based safety processes can hold contractors back.OSHA, state and local authorities, and construction companies themselves have ramped up pandemic-specific protocols and safety requirements to prevent exposure and reduce the spread of the virus. At a minimum, many companies are checking and recording the temperature of employees every morning and requiring them to complete a daily questionnaire about COVID-19 exposure and symptoms. General contractors are often doing the same for any subcontractors that work on their sites. Most are also adding daily toolbox talks covering the latest recommendations. Those efforts have resulted in a substantial increase in the volume of new forms, documents, and training materials specific to the pandemic that are in circulation. Moving that information to and from the field with speed and agility is more important than ever to keep employees safe and to stay in compliance with guidelines and reporting requirements that may be evolving daily. Paper creates lag time and limits data quality and reporting. Handling physical documents is even a challenge to physical distancing.STREAMLINED PROCESSESCreating paper safety forms can be a tedious and time-consuming job. As a result, many contractors rely on generic forms, which limit the amount and value of the data they can collect. Getting those paper forms from the office to jobsites is equally inefficient, usually requiring a lot of driving and time. The more sites a contractor has, and the more dispersed they are geographically, the more difficult the challenge.Abandoning paper in favor of electronic forms and reporting gives contractors the ability to build and revise customized forms in minutes with drag-and-drop simplicity. This flexibility is particularly valuable in managing form requirements related to COVID-19, as new requirements or changes may occur frequently and quickly. Contractors, for example, can rapidly design and publish customized forms—or update an existing form—to highlight specific data points that they need leaders in the field to capture.Most electronic solutions also come with pre-built form templates for a wide range of construction health and safety requirements, including forms specific to COVID-19, and reports to track completion of those forms.These electronic forms can be published for online access with a click. Up-to-the-minute documents like the latest recommendations or requirements regarding COVID-19 can be included as PDF attachments. Employees can then access the forms and materials on their own devices, allowing them to maintain physical distancing. BETTER DATA IN REAL TIMEOnce a paper safety form does make it to the jobsite, its ability to capture information is limited compared to that of an electronic form. Getting forms back to the office presents another opportunity for delays and lag time. Typically, a foreman will return forms at the end of the week. This obviously will not work for forms and data related to COVID-19.Electronic forms make it easier to capture more and better data in a structured format and get that data back to the office right away. The forms themselves are easier to fill out on mobile devices in the field. That saves time and leads to better compliance. Electronic Forms coronavirus amplifies need for contactless processesBEST PRACTICESBy Greg Norris
Page 47
WWW MCSMAG COM SEPTEMBER 2020 SCREEDSAVER ELITE LASER GUIDED SCREED MACHINE EXCEPTIONAL LEADERSHIP 9 SUCCESS FACTORS TELEMATICS ADOPTION PANDEMIC PUSHES USE ELECTRIC FORMS CONTACTLESS PROCESSES
Page 48
SEPTEMBER 2020 www.mcsmag.com46OSHA Compliant Guardrail andStair Rail SystemsSafety Boot® Guardrail SystemStringerShield® Stair Rail System1.800.804.4741safetyboot.com• Non-Penetrating Design• Rugged Steel Construction• Exceeds OSHA Regulations• Simple, Aordable & Reusable• Residential, Multi-Family & Commercial Applications• Unique Free Standing Design• Keep Post Attached For Reuse On Next Level Or ProjectFeatured on osha.gov website!SOLUTIONS FOR 80 YEARSBUILDING INNOVATIVE TRANSPORT TALBERTMFG.COM | 800-348-5232NOTHING BETTER BETWEEN THE LOAD AND THE ROAD!• Well Rehab Products• Manholes• Bentonite• Filter Sock• Inline Chemical Mixers• Sampling Bailers• Clear PVC Pipe• Locking CapsAtlantic Screen& Manufacturing, Inc.Manufacturers of slotted & perforated pipe ranging from ½" to 24" in diameter302-684-3197Fax 302-684-0643142 Broadkill Road ■ Milton, DE 19968www.atlantic-screen.com ■ atlantic@ce.net
Page 49
www.mcsmag.com SEPTEMBER 202047
Page 50
SEPTEMBER 2020 www.mcsmag.com48legal solutionMost construction contracts contain termination provisions of some kind. These provisions usually fall within two categories: (1) termination for default and (2) termination for convenience. A termination for default clause will describe the events of default or breach that give rise to the non-defaulting party's right to terminate the contract. The clause will also set forth each party's rights and remedies upon termination. The defaulting party will likely have limited rights to recover compensatory damages, and the non-defaulting party may have substantial rights of recovery against the defaulting party, especially if the cost to complete the terminated work exceeds the remaining contract balance in the terminated agreement. A termination for convenience clause will define the parties' rights to terminate absent an event of default and set forth the rights and remedies of each party upon such termination. These clauses typically permit a non-defaulting party the right to recover demobilization costs and some associated markup, but they may limit the recovery of consequential or incidental damages like lost profits. It is unusual for a downstream party to have any right of termination for convenience, but downstream parties often negotiate for some limited right of termination for default to cover, for example, instances of sustained nonpayment for completed work. One of the more difficult decisions construction owners, contractors, and subcontractors have to make is when to terminate a contract for default. Obviously, considerations for making the termination decision will vary depending on where a party falls in the project hierarchy. When a project gets sideways and tensions are high, parties often instinctively turn to their termination provisions as a way out of a soured relationship. However, a "trigger-happy" approach to terminating a party for default can have severe consequences including prolonged and expensive litigation. Caution and clear, objective thinking are advisable when making the decision to terminate a contract. Let's look at some questions you should consider before making that decision.TERMINATION RISKSYou should read through each of the termination provisions in your contract to determine exposure to damages for things like lost profits, impact damages, and claims for reputational harm. An objective assessment of your potential liability upon termination will help you make an informed decision. Note, if you are terminating for default and it is later determined that the termination should be treated as one for convenience, your counterparty may be able to recover damages under the separate termination or convenience clause of your contract. That possibility should be factored into your liability assessment. Additionally, termination can and, often does, result in some kind of legal dispute. You should consider the risk and expense of dealing with liens, indemnity demands, costs of completion, or claims resulting from the termination decision. Before you decide to terminate a party, consider how the legal dispute will play out. Does the terminated party have strong defenses (i.e., the ability to rebut allegations of default)? Do you have sufficient documentation to support the termination? Are you ready and able to handle any resulting litigation? You should also consider how termination may impact other requirements in the contract. For example, termination may affect warranty rights on completed work or rights against a surety on a payment and performance bond.TERMINATION ALTERNATIVESIf there is a dispute over a certain portion of the work, one option in lieu of termination may be to enter into a deductive change order on the troublesome scope of work. Note a deductive change may create challenging material and coordination issues on remaining work and may have impacts on warranty rights and obligations that need to be considered. Termination Decisionsevaluating the contract provisionsBEST PRACTICESBy Aman Kahlon
Page 51
www.mcsmag.com SEPTEMBER 202049Additionally, if there is some external issue disrupting the project, an upstream party could elect to suspend the project instead of pursuing termination. This may give the parties time to sort through the external impacts. Under such circumstances, there may be change disputes relating to the costs of the suspension, but, depending on the circumstances, such limited disputes may be favored over the consequences of termination.PLAN POST-TERMINATIONIf you are an upstream party, you need to map out a strategy for completing the project after a termination for default. Make sure you have a replacement contractor or subcontractor lined up to complete the work or at least some sense of the cost of completion. Consider whether termination will create licensing or permitting issues (e.g., your replacement contractor is not licensed to perform work where the project is located, or permits are issued in the original contractor's name and will need to revised and resubmitted). Understand that if you intend to pursue the terminated party for the costs to complete, you likely have a duty to mitigate your damages. Spending recklessly will limit your ability to recover in any resulting litigation. If you need materials, equipment, designs, etc. from the terminated party, have a plan for getting possession of those items and a plan on how to proceed if the terminated party refuses to cooperate.If you are a downstream party, consider what your options will be against the upstream party if you decide to terminate. Can you pursue litigation or place a lien on the property? Is there a bond, parent guarantee, or other security for you to claim against if the upstream party is insolvent? What is your exposure if costs for the upstream party to complete exceed the remaining contract balance? What responsibility do you have to protect material and turn over equipment for the project upon termination? CLOSING THOUGHTThere is substantial uncertainty and risk inherent in the decision to terminate, which is why you should proceed cautiously. Consulting an outside attorney may be useful in evaluating this risk and may save you expense in the long-term or, at least, give you some comfort on your potential exposure. about the authorAman Kahlon is a partner in the Construction Practice Group at Bradley Arant Boult Cummings (www.bradley.com) in Birmingham, Alabama. He represents owners, general contractors, and subcontractors in construction and government contracts matters. His litigation experience covers a wide variety of disputes, including substantial experience in power and energy matters. He also advises clients on delay, interference, defective design, and negligence claims. He can be reached at akahlon@bradley.com.
Page 52
SEPTEMBER 2020 www.mcsmag.com50technology solutionConcrete ComplexityConcrete Complexitytackling high-rise concrete construction challengesBEST PRACTICESAs architects design new high-rise buildings taller and with more complexity, producers are challenged to deliver ready-mix concrete that can be pumped, placed, and finished effectively for these structures. High-rise buildings (defined as those that are 75 feet or higher from the lowest level of fire department vehicle access to the floor of highest occupiable space) typically require higher strength concrete. For taller, more design-forward concrete framed structures, the design concrete compressive strength may be 10,000 psi or more. There may also be requirements for Modulus of Elasticity. Producing this high-strength, high-performance mix, however, sometimes requires sacrificing some of the typical workability-related characteristics of the concrete.Pumpability also becomes increasingly difficult the higher the structure. High-range water reducers help disperse the cement better in these applications, while rheology modifying admixtures can help improve other functional characteristics of the mixture. Choosing the right water reducer and rheology modifier can be complex, as there are multiple factors to consider.BALANCING MULTIPLE GOALS When it comes to supporting high-rise construction, concrete producers want to create mixes that are strong and workable, yet don't break the bank. Identifying the right mix to meet these goals requires delving into all elements of the concrete proportioning and production process, including materials management and project specifications. Common considerations include:• What type of aggregates do you have access to and what type of aggregates are you willing to use?• Do you have a history of producing high-strength concrete?• What are your current mix proportions and performance and associated costs?• What limitations do you have (ex: a limited number of silos for storing cementitious materials)?• What are your goals? (ex: If you're concerned about reducing the variability from batch to batch, you may want to optimize the mix to have a low degree of production variance. However, it's likely the mix constituency costs would then be higher.)The more we drive a mix with chemicals, the greater the load-to-load variability in production. But the reality is that concrete requires the use of admixtures. The question is how much and what type and to what extent.Having a concrete admixture partner helps with these making informed decisions that improve ROI and accelerate the project timeline. The GCP Technical Services team helps producers to balance their project goals and optimize their mix designs, providing mix-design consulting advice as well as lab tests to validate findings. OPTIMIZING CONCRETE MIXESOptimizing mixes involves the convergence of the Four F's: fit, function, finish, and finance. By Jason D. Wimberly, PE, MCE
Page 53
www.mcsmag.com SEPTEMBER 202051• Fit: Does the proposed mix design fit the spec?• Function: Does the resulting concrete function well in production? In other words, can you take it from the lab to the plant and make it work? • Finish: Does the concrete have a good finish to it? Does it perform how we need it to in the field? For example: If it's a horizontal application, is it finishable? For a vertical application, does it provide a suitable surface finish? • Finance: What is the cost? The overall cost is impacted not just by the cost of materials and the proportioning. If you can't consistently produce the mix from load to load, for example, that results in rejected loads and, ultimately, higher costs.CONSISTENT PRODUCTONOne of the most difficult aspects of concrete production is producing concrete consistently from load to load. Achieving consistency across loads is particularly vexing with high-strength concrete, as minor changes in material properties from load to load, such as aggregate moistures, can have a significantly more measurable impact. Additionally, mixer driver habits such as those washing-down a truck must be addressed and often corrected. The VERIFI® in-transit concrete management system from GCP Applied Technologies helps producers both achieve greater consistency across loads, and helps optimize mixes. The VERIFI system's batch screen very quickly alerts producers to potential changes in materials going into the concrete on a load-to-load basis. It can then automatically increase the slump while the concrete is en route to the jobsite, adding water and/or admixtures as needed and instructed to deliver the concrete within spec.CLOSING THOUGHTThe taller the skyscraper, the stiffer the concrete may need to be, and consequently the higher the modulus of elasticity will be specified. Even slight differences in the amount of air and water in the mix can alter it considerably, so for high-rise applications, having a system like VERIFI becomes even more crucial for reproducing the right mix. www.sunflowerboatandbarge.com • 563-583-0556• Sectional Barges• Spud Barges from 75x32 to 195x70• Hydraulic Dredges• Truckable Tugboats from 300 – 600 hp• Traditional Tugboats• Support EquipmentAvailable for Lease:about the authorJason Wimberly, technical services manager, manages Engineering Services for GCP Applied Technologies (GCP) for the Eastern U.S. and Canada. GCP is a worldwide leader in construction products research, development, manufacturing and technology. Jason's responsibilities include providing technical consultation and training to GCP's Account and Technical Services teams, customers and the design community, assisting in new product development, and participation in industry technical committees. His primary activities are centered around the engineering support of GCP's STRUX line of synthetic macro fibers and technical support of high-performance concrete across the Southeast US. For more, visit gcpat.com/en.
Page 54
SEPTEMBER 2020 www.mcsmag.com52technology solutionOne of the biggest mistakes in gardening is failing to prepare the soil properly—by loosening the soil and adding organic matter before planting, gardeners can set themselves up for success. Similarly, correct surface preparation is the key to obtaining beautiful flooring that lasts for decades. Here Claude Besson, country manager for France at surface preparation expert National Flooring Equipment, explains the best techniques for concrete profiling. Concrete surface profile (CSP) is a standardized measure for the roughness of a surface that has been established by the International Concrete Repair Institute (ICRI). It is expressed with a number from one to nine, where nine represents the roughest finish possible. There are several methods to obtain the ideal CSP for your application, which can be grouped in two broad categories: mechanical and chemical.MECHANICAL METHODSBefore starting any concrete profiling, it is important to remove the old coatings with appropriate technologies, such as walk-behind or ride-on scrapers. In this way, the removal will be achieved in minimal time, saving a lot of labor and fatigue, and damaging the substrate as little as possible. This will also allow the operator to limit the amount of dust and broken parts generated while removing the old material. This step is effective if operators use the appropriate blades and shanks, which will optimise tooling-related costs.After this step, one of the most commonly used techniques for mechanical concrete profiling is abrasion. In this method, diamond grinding erodes the surface and causes a progressive disintegration of the concrete, which results in a flat and relatively uniform surface. Abrasion leads to minimal surface damage and results in a very low CSP, usually around one to three.Contractors can also use differences in heat to profile a surface, a method known as expansive pressure. In this approach, the surface is heated quickly to a high temperature, causing the top to peel off. This is usually done with flame blasting, high pressure water jetting, or steam blasting, and results in a rough surface with a CSP of six to nine.THE TALE OF TWO METHODSConcrete Surface Profileensuring the coating or covering will adhere correctly
Page 55
www.mcsmag.com SEPTEMBER 202053THE TALE OF TWO METHODSConcrete Surface Profileensuring the coating or covering will adhere correctlyTo preserve the surface as much as possible, pulverisation can be the way to go. Small particles travelling at a high speed collide against the surface, removing the top layer. This method causes minimal damage to the surface and can result in a broad range of CSPs, from two to eight. Pulverisation is commonly done by abrasive blasting—also known as sandblasting—and shot blasting.Lastly, when a very rough profile is needed, contractors can consider the impact technique, which is usually done with a bush hammer or scarifier. In this method, the substrate crumbles as a result of repeated impact by a hardened point, which causes the aggregate and cement paste to crack. This damages the surface considerably but allows the contractor to obtain a rough profile with a CSP ranging from four to nine. CHEMICAL TREATMENTSChemical reaction may sound like an obsolete and environmentally unfriendly solution, but there are still applications in which this is necessary. If the jobsite cannot accommodate big machinery and the substrate is so compromised that hand-held devices are not powerful enough, chemical treatments might be the only solution.This method involves applying a solution of water and muriatic or citric acid to the concrete with a low-pressure sprayer or a plastic sprinkling can remove the superficial cement paste and expose the fine aggregate. Acid treatments produce a very light profile similar to fine sandpaper. Since light profiling is suited to thin coatings, this method is ideal for microtoppings that are less than 10 mm thick. During the chemical treatment, toxic materials can be released, so it's essential that operators wear personal protective equipment such as goggles. It's also important to prevent contact between machinery and acid, since this could corrode any metallic components. Lastly, operators should be aware of local regulations on how to safely dispose of acid and contaminated water.CLOSING THOUGHTGardeners know that a well-prepared soil is essential for healthy and beautiful plants. Similarly, you should make sure that the floor is properly prepared to ensure that the coating or covering will adhere correctly. for more informationFounded in 1968, National Flooring Equipment designs and manufactures quality flooring equipment and supports it with unparalleled customer service. For more about how National Flooring Equipment can help you choose the best concrete profiling method, visit www.nationalequipment.com.
Page 56
Page 57
WWW MCSMAG COM SEPTEMBER 2020 SCREEDSAVER ELITE LASER GUIDED SCREED MACHINE EXCEPTIONAL LEADERSHIP 9 SUCCESS FACTORS TELEMATICS ADOPTION PANDEMIC PUSHES USE ELECTRIC FORMS CONTACTLESS PROCESSES
Page 58
SEPTEMBER 202056safety solutionManbasket or MEWP (Mobile Elevated Work Platform) is a name for different tools used to obtain the same outcome: lift personnel and materials to height. Personnel safety is a consistent factor when it comes to manbasket operation. For MEWPs, a quick internet search for MEWP safety brings information from various sources on the what-to-do and not-to-do for these machines. In this article, the manbasket is discussed as an attachment to a telehandler.MEWP VS TELEHANDLERSimply, A MEWP is a machine with the manbasket permanently attached to the unit. Whether an articulating arm, scissor lift, or mast, the basket is always in place. With telehandlers, the basket is treated as an attachment; connected when needed. Basket operation is similar with MEWPs. Using a Merlo telehandler as an example, I will explain a manbasket set up and its operation (many telehandler manufacturers offer a similar configuration). This knowledge is important for safe manbasket operation when attached to a telehandler. One caveat: What follows builds on the fact this telehandler is preprogrammed for the manbasket attachment. This status needs to be clarified before the basket can be attached. Attaching the basket to the boom. Always think safety when connecting the manbasket to the telehandler. With Merlo, manbaskets operate only with machines that are equipped with stabilizers/outriggers. First, deploy the stabilizers. The carriage must be snug against the base of the basket and attached to the basket hooks. Look for: Is the boom carriage correctly in place, straight against the basket frame, no gaps, on the Telehandler Manbasketsafe attachment process for operationSAFETY TRAININGBy Brian Hatch and Susan Doyle
Page 59
www.mcsmag.com SEPTEMBER 202057basket frame hooks? (Reminder, the carriage should not have anything else attached to it when connecting to a manbasket.)Next, raise the boom to bring the basket floor to eye height for the next step. Now, find the safety pin. It should be attached to the basket with a stout chain. Slide the pin through the channel and secure it with the finger lock. The pin has to line up with the basket's safety button and the pin's finger lock has to be securely in place; no play on the pin. Look for: With the basket at eye level, under the basket, to the right, is a sight hole where you can see if the pin is placed properly. (The Merlo safety system will sound an alarm if the pin is not snug against the safety plate.) Is there play on the pin? If so, reset the pin and adjust the finger lock. No play? Great. Lower the basket back to the ground for the next step.Basket condition. Just because a manbasket may be new, do not believe it is in perfect shape. Do what's correct and look it over. Is the floor solid? Is there anything on the floor that would cause you (or the operator) to lose footing? Are the guard rails secure with no give? Is the gate, usually attached to the basket with a chain, in place? Good.Connecting the electronics. Telehandler manbasket manufacturers may offer different designs; almost all have a similar configuration. Still, it's a very good idea, especially when starting the day (and starting the day with a new unit) to familiarize yourself with your particular machine and its components. With Merlo, the remote control (RC) box is separate from the manbasket. It is connected at the time of use. There are three steps in getting the manbasket fully operational: 1. Connect the round cable (check for fraying) from the RC deck to the box itself.2. Slide the RC onto its deck; secure the finger locks.3. Under the RC deck, move the cabled (check for fraying) junction box; connect it to the boom's outlet.Almost there. Make sure the telehandler's ignition key is in accessory mode.Manbasket remote control. Personnel safety is always paramount. Merlo has visual and audible warnings in place to ensure the operator is safe at all times. Even if you and other personnel are lift and manbasket pros, every basket brings something to the job. Become familiar with the control box and the available resources of this particular basket.Are load charts and other important information such as the Buford scale (wind speed and effects), quick operation, and emergency protocol easily accessible for reference? Are there in-depth manbasket instructions somewhere on the basket?On the left side of the Merlo RC is the "Safety Stick." It is designed to disengage the box after 5 seconds of no reaction. Raise the stick. You have 5 seconds to create an action. If nothing happens, you will need to cycle through again. This safety feature's design means the stick cannot be zip-tied into place. Look for: Where will the harnesses connect? Do all the switches, buttons, and lights work? What does each do? Are the emergency stop buttons functioning? What is the basket reaction to each command?Walk around completed? Everything checks out? Place the telehandler where it needs to be, engage the stabilizers, lift the "Safety Stick," and push the start engine button. Lift the stick again, engage the manbasket motion of your choice, and safely go to work.CLOSING THOUGHTWhen a Merlo telehandler is purchased with a manbasket, it arrives preprogrammed for that basket. If the basket is added later, a diagnostic box is needed to pair the basket with the telehandler. about the authorsBrian Hatch is the service training manager with AMS-Merlo, importer and distributor of Merlo telehandlers. Susan Doyle is with the AMS-Merlo marketing department. For more, visit ams-merlo.com.
Page 60
SEPTEMBER 2020 www.mcsmag.com58maintenance solutionBusinesses that offer services have been—and continue to be—the lifeblood of our economy, but the global pandemic is bound to change the way service is delivered in the field. What happens to valuable customer touchpoints if people must keep distance from each other? How will changing customer expectations and preferences push service organizations to innovate? Technology has a key role to play in addressing these questions. Seven service management software capabilities that will help organizations succeed with servitization in a more intelligent, zero-touch, post-COVID world will be discussed in this article.As the restrictions holding back business growth subside (albeit there are some businesses that have grown significantly during this COVID period), we see a sudden flurry of service requests, from repairs to installations to consultations and everything in between—and service providers must be ready to seize these opportunities. Customers now want more remote and technology-enabled service. This means that to be successful, your service business needs to be a digitally enabled one, and your service contracts need to be based on a desired outcome or at minimum moving from product to recurring service revenue. Solutions like IFS geared towards enabling successful servitization will power business growth around the world, and enable a swift recovery in the face of social, environmental, and economic challenges as we move out of the pandemic lockdown and embrace the new norm. Don't take it from us—the 2020 Gartner Magic Quadrant for Field Service Management has just positioned us highest in our ability to execute. This means that we're not just ready with the tools, but also the vision and the execution chops, to help lead you through these challenges.That said, here are seven key capabilities service providers will need today to prepare for the unique opportunities that recovery will offer.REMOTE ASSISTANCE AND ZERO-TOUCH SERVICEIn the past 5 years we have seen a steady rise in businesses across a variety of industries moving towards zero-touch service: fast casual restaurants putting mobile orders on shelves, retailers creating online pickup lockers, self-checkout kiosks, and IoT-enabled fixes for devices like routers and cable boxes. At the same time in the service sector, we have seen augmented reality (AR) become increasingly commoditized and utilized for service functions across a variety of disciplines—as a means to train up employees, quickly arrive at customer-driven solutions and reach customers in a zero-touch world. While zero-touch service will likely be achieved through dozens of technologies—sometimes working in tandem, other times tied to the specific needs of an industry—what is certain is that zero-touch capabilities will be a given component of software purchases in 6 months, making this the most urgent and profitable investment right now. THE FUTURE OF REPAIR: AR AND ROBOTS LEND A HELPING HANDRepair is a key part of zero-touch service. Imagine a scenario where a customer initiates a remote repair call, and the technician identifies a part that needs to be replaced based on a combination of IoT data and visual inspection. Rather than dispatch a technician, the organization could dispatch the part itself, then provide step-by-step replacement or repair instructions via the AR array. Zero-touch parts allocation will take time to map out, but theoretically, the infrastructure is already there to make this a reality. The process could be done live with a person aided by step-by-step instructions—pre-recorded and validated using the AR screen—and in the future, even through robots. This might seem far-fetched today, but many industrial manufacturers are already deploying fleets of robots to assist with simple repairs. They will be handling heavy parts, running routine security checks, and providing a photo log which is attached to the customer account.SOPHISTICATED PARTS MANAGEMENT As manufacturing activity, shipping, and the supply chain have been disrupted by the pandemic, many industries find that replacement parts, components, and subcomponents required for service provision may be in short supply. In the Service Management7 ways to build resilience in uncertain timesPREPARE FOR THE UNEXPECTEDBy Marne Martin
Page 61
WWW MCSMAG COM SEPTEMBER 2020 SCREEDSAVER ELITE LASER GUIDED SCREED MACHINE EXCEPTIONAL LEADERSHIP 9 SUCCESS FACTORS TELEMATICS ADOPTION PANDEMIC PUSHES USE ELECTRIC FORMS CONTACTLESS PROCESSES
Page 62
Page 63
Page 64
SEPTEMBER 2020 www.mcsmag.com62featured productDiablo, a solution-oriented range of best-in-the-world and best-for-our-world products for the professional user, introduces a new full-range of SDS-Plus and SDS-Max Rebar Demon™ 4-cutter full carbide head hammer drill bits for concrete and reinforced concrete applications. Designed with innovative technology to meet the user's needs, this new range answers the growing issues of life, durability, strength, and speed.Concrete building trends continue to grow at a fast pace, driven by both the robust economy and building codes for commercial and residential sectors. The building materials industry is creating higher-strength concrete and rebar forcing power tool manufacturers to develop stronger, more powerful drills. However, current drilling solutions in the marketplace have not kept up with these growing trends: the ability to handle high-heat, tough to drill applications such as rebar, or being fast enough to minimize labor costs.For years, Diablo has received end-user feedback requesting state-of-the-art products to address durability, strength, speed, and labor costs, all of which are not currently offered. Diablo's first-ever complete range of Rebar Demon™ 4-cutter full carbide head hammer drill bits is the ultimate solution for drilling fast, precise holes without the need of changing to a rebar cutter to drill reinforced concrete, delivering extreme savings in time and money.Diablo's revolutionary range of SDS-Plus and SDS-Max Rebar Demon™ 4-cutter full-carbide head hammer drill bits are the only bits designed to be the most durable, fastest, and coolest solutions on the market. The Rebar Demon bits feature up to 2X more Dura-Carbide to withstand up to 1800°F of intense heat whereas standard bits fail at 800°F. Diablo's impact resistant 4-cutter full-carbide head withstands the stress of high-powered hammer drills and the impact of rebar by taking small bites of rebar to deliver controlled carbide wear, reduced vibration and up to 7X longer life. Produced with Tri-Metal Fusion Welding, the full-carbide head resists heat and prevents breakage in extreme impact situations. Precision Tip delivers the stability and accuracy required to produce fast, precise holes in reinforced concrete for anchor setting. Rebar Demon™ SDS-Plus & SDS-Max 4-Cutter Full Carbide Head Hammer Drill Bits Diablo's Rebar Demon™ range includes (75) hammer bits, covering a range of sizes:• SDS-Plus range: 5/32 to 1-1/8 in. • SDS-Max range: 3/8 to 2 in.For more, visit www.diablotools.com/takestheheat.
Page 65
www.mcsmag.com SEPTEMBER 202063The ScreeDemon™ is one of the most innovative and ergonomically friendly wet screeds on the market featuring MBW's first electric version powered by Milwaukee Tool's M18™ REDLITHIUM™ battery. Quieter than an engine version with lights to improve visibility in darker work areas. Zero emissions make it perfect for indoor work and a clamp system makes assembly and disassem-bly fast and easy. The sealed exciter requires no maintenance and hand/arm vibration is 50 to 90% less than the competition. US & International Patents. For more, visit www.mbw.com. MBW, INC.ScreeDemon™ Wet Screed Powered by M18™ REDLITHIUM™ The Heated WORKSKIN™ Midweight Base Layer is powered by the REDLITHIUM™ USB 3.0AH Battery with carbon fiber heating elements for even heat distribution throughout the chest and upper back. A one-touch LED controller allows users to select from two heat settings for ideal heat in any environment and a quick-heat function provides heat 3X faster. Constructed with a double-lined polyester body, fleece-lined arms, raglan sleeves, and seamless shoulders, allows range of motion and comfort. For more, visit www.milwaukeetool.com/heated-gear. MILWAUKEE TOOL Heated WORKSKIN™ Midweight Base LayerXL Specialized Trailers introduces the XL 120 hydraulic detachable gooseneck (HDG) 3+2 trailer. Boasting a 120,000 lbs in 10 ft concentrated capacity rating and a low 18-inch deck height, this new trailer is versatile and adaptable, allowing drivers to haul a wide range of construction equipment across the country. The XL 120 HDG trailer features several different configuration op-tions to haul equipment. This includes setting up with a 3+2 or 4+1. The power booster can also be removed to run three, four, or five axles in a row. A modular deck connection adds deck sections or swaps out deck designs and allows for shimming. The trailer is 53 ft long overall. For more, visit www.xlspecializedtrailer.com. XL SPECIALIZED TRAILERS 120 HDG 3+2 Trailer Do you need an anchor solution that doesn't damage your roof walls? Malta Dynamics announces its new reusable parapet anchor, designed specifically for flat roofs surrounded by parapet walls. These parapet anchors are fully adjustable and can be installed on wall thicknesses from 2.36 inches all the way up to 14.1 inches. Parapet walls must be at least 9-inch high to install this anchor that supports workers up to 310 lbs. This anchorage device is non-penetrating and requires no tools to install. The dual tightening handles allow for even force distribution and rubber protective pads eliminate dam-age to the parapet wall. For more, visit maltadynamics.com. MALTA DYNAMICS Parapet Anchors
Page 66
Page 67
Page 68
SEPTEMBER 2020 www.mcsmag.com66FINDINGS Confidence in New Business and Revenue Rises As commercial construction contractors look to the future, 82% now have moderate to high confidence that the U.S. market will provide sufficient new business opportunities in the next 12 months, up from 75% in Q2. The majority (60%) of contractors expect their revenues to remain about the same in the next 12 months (the same as in Q2); 22% expect an increase, up from 17% in Q2. Job Growth on the Horizon, but Finding Skilled Workers Remains a Challenge Most contractors (57%) expect to keep the same number of workers in the next 6 months, up from 48% in Q2; and one in three (32%) plan to hire (the same as in Q2). Just 7% expect to reduce staffing, down from 15% last quarter. At the same time, most contractors (83%) report moderate to high levels of difficulty in finding skilled workers. More than one in three (36%) contractors who report difficulty also report turning down work because of it, up from 32% last quarter. COVID-19 Impact The impact of coronavirus still looms large, but its perceived impact is lessening over time. Nearly all contractors (85%) are still experiencing delays due to the coronavirus outbreak, with 83% expecting delays to continue into the fall and 71% expecting delays will remain through early 2021. However, the average amount of delays has decreased sharply as the year continues. In July, contractors reported an average share of 26% of their projects were delayed, down from 40% in April. ADDITIONAL FINDINGS • Worker health and safety remains top concern. Most (70%) contractors say worker health and safety is a top concern for their business. A majority (60%) report more project shutdowns/delays as another top concern. • Contractors are taking action to ensure employees are safe. Nearly all contractors (97%) report making changes in response to COVID-19 this quarter, including providing items like masks and sanitizer (82%); changing work procedures to increase social distancing (75%); and allowing remote work for office employees (67%). • Concern over fluctuating costs for materials remains relatively high. Most (62%) contractors indicated that cost fluctuations have a high or moderate impact on their business, up from 59% in Q2. • Lumber is highest reported shortage. Over half (54%) of contractors report facing shortages for at least one material, up from 45% in Q2. Wood and/or lumber is the most reported shortage at 11%, up from 5% last quarter. for more informationThe U.S. Chamber of Commerce Commercial Construction Index is a quarterly economic index designed to gauge the outlook for, and resulting confidence in, the commercial construction industry. The U.S. Chamber produces this Index, along with Dodge Data & Analytics (DD&A). Each quarter, researchers from DD&A source responses from their Contractor Panel of more than 2,700 commercial construction decision-makers in order to better understand their levels of confidence in the industry and other key trends. This panel allows DD&A to provide findings that are representative of the entire U.S. construction industry by geography, size, and type of company. For more, visit www.commercialconstructionindex.com.The commercial construction industry showed signs of rebound in the latest U.S. Chamber of Commerce Commercial Construction Index. While the overall index score remained fairly steady, increasing by one point to 57 in the third quarter, two of the three main indicators saw increases, pointing to more optimism about the future. Despite the overall gain, the index remains significantly below the score of 74 from the first quarter of 2020. COMMERCIAL CONSTRUCTION CONTRACTORS Express Optimism by working through backlogs and planning for the future
Page 69
ROME specializes in disc plows, earthmoving scrapers, land leveling scrapers, and haul roadmaintenance equipment for the construction industry.ROMEROME manufactures construction disc plows from 6' wide up to 20' wide that range from 400 pounds per blade to an industry leading 1100 pounds per blade. ROME offers disc blade sizes from 28" up to 42" in diameter ontheirconstruction plows. No matter what your application or power unit size ROME has you covered on your construction tillage needs.tillage needs.ROME manufactures earth moving scrapers in both pivot dump and ejector styles. The pivot dump line ranges from 9 yards to 21 yards. The ejector line ranges from 16 yards to 35 yards.ROME's haul road maintenance line is far and above the most diverse in the industry. Whether you need a simple bottomless scraper, ejector finishing scraper, or a roller box scraper ROME has you covered.For more information on our products or for the closest authorized ROME dealer please contact us.
Page 70