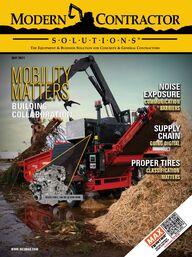 Return to flip book view
Modern Contractor Solutions May 2021
Page 1
BATTERY POWERED REBAR TYING TOOLSWATCH VIDEOSEE PRODUCT AD INSIDEMOBILITYMOBILITYMATTERSMATTERSBUILDINGBUILDINGCOLLABORATIONCOLLABORATIONMAY 2021WWW.MCSMAG.COMSUPPLYSUPPLYCHAINCHAINGOING DIGITALGOING DIGITALPROPER TIRESPROPER TIRESCLASSIFICATIONCLASSIFICATIONMATTERSMATTERSNOISENOISEEXPOSUREEXPOSURECOMMUNICATIONCOMMUNICATIONBARRIERSBARRIERSISUZU 4HK1, 188 HP @ 2000 RPM
Page 2
Page 3
Page 4
Page 5
Page 6
MAY 2021 www.mcsmag.com45032MAY 2021VOLUME 15 ISSUE 05Inside This Issue52special focusIN EVERY ISSUEIndustry News ............................ 08Modern Construction Products ... 63Coach's Corner ........................... 64management solution Workforce Developmenthow do leaders leadtechnology solution Li-Fi Technologypotential game changerequipment solutionConcrete Profitsadd a curb machine16projectstechnology solution Supply Chainrewards of manual to digital transformationThoughts on LeadershipGuest Post from Al Antoniewicz, former president and COO of Spancrete One of the essentials of a good leader is to recognize that people, processes, and cultural expectations change constantly. A good leader recognizes these shifts and adapts to the changing times. Construction is a very dynamic and exciting industry that is changing rapidly. Be an active part of driving the exciting future.ON THE BLOGsoftware solution Accurate Estimates7 tips to help with bid40legal solution "As-Built" Documentsrisks and responsibilities44ISUZU 4HK1 provides quiet, fuel efficient power to Morbark 2400X Wood Hog Horizontal Grinder. www.isuzuengines.comPhoto courtesy of Isuzu Motors America, LLC.
Page 7
Page 8
SUBSCRIPTIONS For all changes, go to:MCSMAG.COMClick the SUBSCRIPTIONS button in the main menuwww.mcsmag.com P.O. Box 660197 | Birmingham, AL 35266DONNA CAMPBELL Editor in Chiefdonna@mcsmag.comMIKE BARKER Publishermike@mcsmag.com RANDY MOON Media Consultantrandym@mcsmag.comMICHAEL FISCHBACH Media Consultantmichael@mcsmag.com JOHN FRIEND Media Consultantjohn@mcsmag.comKEVIN MCCLARAN Media Consultantkevin@mcsmag.comLISA AVERY Art Directorlisa@mcsmag.comCAMILLE BLACK Graphic Designercamille@mcsmag.com SETH SAUNDERS Digital Media Specialist seth@mcsmag.comINGRID BERKY Office Manageringrid@mcsmag.comTIM GARMONCEORUSSELL HADDOCKPresidentCHRIS GARMONCFODONNA CAMPBELLVice President, EditorialTONYA BROWNINGVice PresidentNo part of this publication may be reproduced or transmitted in any form or by any means, electronic or mechanical, including photocopy, recording, or any information storage-and-retrieval system without permission in writing from the publisher. The views expressed by those not on the staff of Modern Contractor Solutions, or who are not specifically employed by Highlands Publications are purely their own. All Industry News material has either been submitted by the subject company or pulled directly from its corporate website, which is assumed to be cleared for release. Comments and submissions are welcome, and can be submitted to donna@mcsmag.com.For reprint information, contact Chris Garmon at chris@mcsmag.com.Canada Post Publication Agreement #41578525. Undeliverables 355 Admiral Drive, Unit 4, Mississauga, ON L5T 2N1Modern Contractor Solutions Magazine@mcsmagModern Contractor SolutionsPROJECT PROFILECONNEX Jobsite ....................................................... 14EQUIPMENT SOLUTIONSConcrete Profits ........................................................ 16Proper Tires ............................................................... 20ENVIRONMENTAL SOLUTIONS Durability Factor ........................................................ 22Power Outages.......................................................... 26MANAGEMENT SOLUTIONS Emerging Trends ....................................................... 30Workforce Development ............................................ 32Mobility Solutions ..................................................... 34SOFTWARE SOLUTIONS Going Digital ............................................................. 38Accurate Estimates ................................................... 40LEGAL SOLUTION"As-Built" Documents ................................................44TECHNOLOGY SOLUTIONSVoice Automation ......................................................46Supply Chain .............................................................50Li-Fi Technology .........................................................52SAFETY SOLUTIONSNoise Exposure .........................................................56Simulation-based Training ..........................................58 COACH'S CORNERCheck out what the coach says to Transitioning Tony in this month's column on page 64.Donna CampbellEditor in ChiefPROJECTS TAKE PRIORITYWelcome to the May issue! The focus this month centers on projects and opens with a project profile from Command Alkon and its CONNEX Jobsite for tackling complex project management operations (pg 14). For concrete contractors wanting to increase profits, adding a walk-behind curbing machine is worth the investment (pg 16). And, equipment to get the job done on any jobsite requires proper tires (pg 20). For a deep dive into surface sealing, check out the article on page 22 about cold-applied versus hot-applied liquid waterproofing; it's comes down to durability. For those still wondering about the emerging trends for 2021, check out the article on page 30 for three takes on the matter from Yaron Dycian, chief product and strategy officer at WINT, Tommy Linstroth, CEO of Green Badger, and Cameron Page, founder and CEO of Extracker,To round out this issue, you'll find articles on workforce development (pg 32), mobility for building collaboration (pg 34), a case study on going digital (pg 38), seven tips to make your bids more accurate (pg 40), and understanding "as-built" documents (pg 44). From voice automation to noise on the construction site and Li-Fi technology, this issue brings you solutions to tackle your projects. Check out Coach's Corner as Transitioning Tony gets advice when he moves from worker to boss. It's a great article for new and seasoned managers. Enjoy the issue!Cheers, YOKOSUKA, Japan (April 29, 2021) Rear Adm. Butch Dollaga, Commander, Submarine Group 7 (CSG7), presents Electronics Technician (Submarines) Navigation 2nd Class Alan Boutell, from Hoover, Alabama, with a Navy and Marine Corps Achievement Medal during a surprise award ceremony held at CSG7 headquarters. Boutell received the award for his expertise in waterspace management during a critical equipment malfunction. His rapid response to the material discrepancy was instrumental in ensuring deployed units operated safely in the U.S. 7th Fleet area of operations, and is indicative of their determination and continued dedication to our warfighting readiness under challenging conditions. U.S. Navy photo by Mass Communication Specialist 2nd Class Adam K. Thomas
Page 9
Page 10
MAY 2021 www.mcsmag.com8industry newsTRIMBLE AND AMBERG TECHNOLOGIES COLLABORATE Trimble and Amberg Technologies announces a collaboration to provide a tunnel survey solution. The combined hardware and software solution will enable construction, mining professionals, and surveying service providers in underground environments to utilize a complete field-to-office workflow for increased efficiency and productivity.The Trimble and Amberg solution enables tunnel surveyors to perform a variety of underground tasks such as excavation guidance, control, automated survey, and stakeout of different tunnel elements using design information. In addition, it delivers a comprehensive module for digitalization of tunnel construction and further optimization of related processes.The tunneling solution combines the robustness and the speed of the Trimble® S series robotic total stations with the user-friendly workflows of Amberg Navigator field software, running on a ruggedized Trimble TSC7 data collector or T100 Tablet. The streamlined workflows are optimized and easy to use for non-geospatial professionals, helping to keep tunneling and underground projects on time. For more, visit www.trimble.com/amberg.COMMAND ALKON DELIVERS CONNEX INSIGHTS CONNEX Insights serves up a business-driven visualization of the transactional, operational, and cost data available on the CONNEX Platform, allowing construction materials supply chain participants to analyze and explore their operations and projects for exceptions, trends, and benchmarks to make better decisions. Consolidated data pulled from on-premise, cloud, and third-party systems provides timely, actionable recommendations for those who need it most in plants, quarries, offices, and on construction projects."CONNEX Insights helps users to identify and take action before a problem becomes a disaster," says Jon Wanlass, vice president at Command Alkon. "Knowing where your business or job stands on a day-to-day basis empowers your team to streamline operations and maximize profitability, freeing up leadership to plan for the future instead of fixing today."CONNEX Insights Base offerings for Ready Mix, Concrete Telematics, System & Fleet Health, and Job Material & Haul Costs are currently available, with additional base offerings for Bulk Materials and Haulers coming in the short term. For more, visit www.commandalkon.com/getconnexinsights.GREEN BADGER ACADEMY BRINGS GREEN CONSTRUCTION E-LEARNING TO THE FOREFRONT Green Badger, the premier cloud-based LEED certification software solution for the construction industry, announces the launch of Green Badger Academy—an on-demand, e-learning portal bringing best in class green construction education to
Page 11
Page 12
MAY 2021 www.mcsmag.com10industry newsthe market. The self-paced courses provide practical, actional lessons that help construction professionals go from LEED novice to ninja in less than 2.5 hours.According to Tommy Linstroth founder and CEO of Green Badger, LEED requirements are ever changing and are difficult to keep up with; whether it is for an individual or an entire organization, Green Badger Academy empowers construction professionals to become their own expert in LEED construction. For more, visit www.getgreenbadger.com/academy.DETECTABLE WARNING SYSTEMS' NEW CASTIRON ALL-WEATHER TACTILE WARNING PLATES Continuing to cultivate innovative growth into the multi-million-dollar warning surfaces market and build upon their rich history of product development via their proprietary Detectable Warning Systems™ (DWS) safety product line, Mar-Bal, Inc. launches its CastIron premium gray iron detectable warning plate. Made in the USA, this cast iron plate was developed to be installer friendly while meeting or exceeding ADA and DOT specifications for detectable warnings. Designed for use in cold harsh climates with snow removal concerns, as well as entities desiring longer-term durability, the CastIron plates feature premium Class 35 grade gray iron strength–the highest level made in the USA. A unique "rib" design makes it lighter (45 lbs) than standard competitive plates on the market. This equates to an easier and quicker installation without sacrificing strength or rigidity. The addition of DWS' CastIron superior slip-resistant truncated dome plates offers contractors, distributors, states, and municipalities a durable, proven tactile warning product specifically designed for easier installations and backed by a 7-year warranty. For more, visit www.detectable-warning.com. HITACHI'S INTRODUCES THE NEW ZX-TRA MONTHLY PAYMENT OFFERHitachi Construction & Mining Division, an operating division of John Deere Construction & Forestry Company, announces a new, special financing offer on select ZX models to provide customers with extra savings while gaining the efficiency, reliability, and durability that a Hitachi excavator offers. The ZX-tra Offer features low monthly payments, providing customers a path toward equipment ownership and growing their fleets. The ZX26U-5, ZX75US-5 and ZX85USB-5 are the Hitachi excavator models that are eligible as part of the ZX-tra Offer, which is running now until October 31, 2021. The ZX26U-5 is eligible with a canopy or cab option while the ZX75US-5 and ZX85USB-5 are cab-only machines. All three models feature a fuel-efficient Yanmar engine that meets EPA Final Tier 4 (FT4)/EU Stage IV emission standards while being easy to maintain.Contractor's #1 Choice for Flat FloorsA great power screed using straight flat screed bars. The❝Black Beauty❞GET FLAT FLOORS!Screed bars are available in lengths up to 20 feet.▼ Equilateral screed bars stay straight through years of use.▼ Now available with "T" handle (shown) or "Bicycle" handle.▼LOCATE A DEALER AT advancedconcretescreeds.com OR CALL US AT 800-648-0542.
Page 13
Page 14
MAY 2021 www.mcsmag.com12industry newsThe ZX-tra Offer is available at participating U.S. Hitachi excavator dealers. Prices and available models may vary by dealer. The ZX-tra Offer is available on qualifying new equipment purchased in the U.S. For more, visit your local Hitachi excavator dealer or hitachiconstruction.com/zx-traoffer.HILTI INTRODUCES WEDGE ANCHOR TO COVER MORE APPLICATIONS AND JOBSITE CONDITIONS Hilti North America expands its industry-leading concrete anchor portfolio with the launch of Kwik Bolt-TZ2, a high-performing mechanical anchor that's easier-to-install and can be used in more application and jobsite conditions than any other expansion anchor currently on the market. The innovation is proven to make design easier for engineers and contractors, delivering up to 20% higher tension performance and approvals, while optimizing edge distance and spacing. Taking the time to ensure a safer anchor design requires a thorough review of the specific applications and load requirements. The use of complex anchors like epoxy or heavy-duty mechanical anchors can be labor-intensive and expensive, which can lead to complex anchor redesign requests from project owners or contractors. The Kwik Bolt TZ-2 has been designed to help make anchoring easier by being the only fractional expansion anchor on the market to offer diamond core hole approvals, a combination drill bit that reduces fatigue on the installer and compatibility with Hilti's Adaptive Torque module that helps increase installation quality every time. The KB-TZ2 is available now throughout the U.S. and Canada. For more, visit www.hilti.com.GCP PARTNERS WITH ATHENA SUSTAINABLE MATERIALS INSTITUTEGCP Applied Technologies announces a partnership with Athena Sustainable Materials Institute, a nonprofit research collaborative bringing lifecycle assessment to the construction sector. The new partnership leverages GCP product-specific lifecycle assessment (LCA) data for concrete admixtures to develop environmental product declarations (EPD) for concrete mix designs.GCP's new EPD program first collects mix design data from the concrete plant, then uses LCAs of concrete materials and plant data to generate an EPD report in accordance with ISO standards. The third-party verified reports will help the concrete plant gain visibility into the environmental footprint of each concrete mix. Using this data helps support LEED and other green building certifications, and helps organizations better understand how to achieve carbon reduction targets. For more, visit www.gcpat.com. CUTTING EDGE IMPALEMENT PROTECTIONCARNIE CAP is the most effective way to cap exposed rebar while keeping your workers safe and on the job.National OSHA Compliant • CAL-OSHA ApprovedPatent #5826398, 6073415ORDER TODAY!(888) 743-7725 www.carniecap.comWORKS IN HORIZONTAL, VERTICAL & INCLINATIONAPPLICATIONS✓ ASSEMBLE WITH 2X4 OR 2X6 LUMBER ALREADY ON SITE✓ SAFELY DISTRIBUTES WEIGHT ACROSS ENTIRE SYSTEM✓ NO MORE CAPPING EVERYREBAR!✓
Page 15
Page 16
MAY 2021 www.mcsmag.com14project profileRunning a construction business is unlike managing any other business. With so many moving parts and a lot at stake, having the right tools is a key to success. Technology platforms can do wonders from an efficiency standpoint by connecting internal supply-chain processes with suppliers, buyers, logistics providers, inspectors, and owners. A digital platform allows a company to simplify data and analytics across their trading partners to simplify operations and track business performance.GRAND PARKWAY PROJECTThe SH 99-Grand Parkway Segments H, I-1 and I-2 project spans 52.8 miles around northeast Houston within Chambers, Harris, Liberty, and Montgomery counties, making up approximately 25% of a 180+-mile circumferential scenic highway.At 180+ miles, the completed project represents the longest highway loop in the United States, traversing seven counties and encircling the Greater Houston region.In March 2017, the Texas Department of Transportation awarded the $855 million design-build construction contract for Segments H, I-1 & I-2 to Grand Parkway Infrastructure (GPI), a joint venture led by global infrastructure leader Ferrovial Construction, along with Webber LLC and Granite Construction Inc.The project is receiving 10 million cubic yards of inbound materials including dirt, air cement, 680,000 cubic yards of ready-mix concrete, concrete slabs, 1.2 million cubic yards of sand mixed with cement, and precast materials such as beams and panels for the walls. The project is scheduled to be complete in April 2022.CONNEX JOBSITEGPI faced a huge challenge and needed a system to help manage the business processes associated with the vast amount of materials required for a project of this size. "GPI's portion of the project consists of 55 miles of new roadway construction around the outer ring of Houston. The materials include 10 million cubic yards of dirt, 600,000 cubic yards of concrete—plus an additional 150,000 cubic yards of concrete for structures, large volumes of asphalt, and 200,000 linear feet of beams," says David Romero-Garcia, project controls manager at Grand Parkway Infrastructure, LLC. "With CONNEX, we can easily share real-time plans, designs, and daily reports, and communicate with all of our materials suppliers through one solution."Command Alkon's CONNEX platform is a cloud-based technology approach that allows for digital delivery ticket workflows, eProof of Deliveries (ePODs), and automated invoice reconciliation. Now that electronic ticket data automatically flows through GPI's systems, they know exactly how much material has been received, and their project managers and other team members can view daily job costs to manage budgets. With CONNEX, GPI tracks materials entering a jobsite. Users can accept materials electronically in the field and are also able to electronically append field test results and photos.Inbound materials and haul costs are automatically coded and accounted for so that GPI no longer has to deal with the pain of month-end accruals. They have started to use the solution to make electronic order requests straight from their mobile device. "Now when requesting orders, there is no miscommunication with phone calls or emails," says David. "Everything is centralized, and everyone is on the same page."CONNEX Jobsitetackles complex project management operationsPRODUCTIVITY + COLLABORATIONBy Karli LangnerDavid Romero-Garcia, project controls manager, and Pere Serra Arnau, segment manager S1 at Grand Parkway Infrastructure, LLC can view daily job costs and manage budget with CONNEX Jobsite.
Page 17
www.mcsmag.com MAY 202115It used to take days reconciling invoices at month-end. Now, digital delivery tickets are pre-coded, invoices are automatically reconciled against goods received, and they have visibility into their materials and hauling costs daily."We know at the end of the day how many tickets the supplier has uploaded and sent in a day, even if our field personnel haven't approved the tickets yet," continues David. "Having that information in real time has been very beneficial to keeping up with our job costs."CONNEX Jobsite puts time back into the hands of accounting personnel and field engineers. Checking invoices and managing disputes with suppliers used to be a huge time investment. Now, everyone has access to the same information in real time. Their relationships with their suppliers have improved, as well as the internal relationships among the engineers, foremen, and the accounting department. BUILDING THE NETWORKIn the past, GPI's operations with their trading partners were disjointed. Now, GPI and all of their trading partners can connect and exchange information from one single source. The power to connect internal supply chain processes with suppliers, logistics providers, inspectors, and owners brings visibility into the condition and location of orders, trucks, and materials at all times and simplifies invoice reconciliation and AP workflows.CLOSING THOUGHT"We no longer need to manually check tickets one by one. We just have to check if the delivery ticket has been approved by the engineers, said Miguel Hernandez, segment accounting manager, Grand Parkway Infrastructure, LLC. "What use to take 1 to 2 hours, now it takes about 30 seconds to reconcile an invoice." about the authorKarli Langner has been with Command Alkon since 2017 and currently serves as a media relations and content marketing specialist. For more, visit www.commandalkon.com/getconnexjobsite. The SH 99-Grand Parkway Segments H, I-1 and I-2 project spans 52.8 miles around northeast Houston.
Page 18
Adding a new tool to your fleet can be just as risky as taking on a new employee. Both require a great deal of research, time, and a monetary investment. But just like adding a new employee to the team, a new tool can also bring with it the potential for new and expanded business.Hiring an employee who excels in a certain area of the business can increase the opportunity for success. Their expertise opens doors to jobs that the rest of the team may not have been comfortable doing. That same approach applies to construction equipment, specifically the curb and gutter market. After researching and investing in a new machine, the doors to new jobs open. By finding the right piece of new equipment, curb and gutter contractors can expand their specialties and do more work themselves without subcontracting out the work. When looking for the right tool to expand business, it's important to consider the cost vs. benefit of adding the tool and service. Beyond the initial expense, consider potential revenue, maintenance costs, and required employee training. In the concrete business, a walk-behind curbing machine could be the perfect solution. WEIGHING THE OPTIONSLike any construction endeavor, curb and gutter can be tackled with several methods. While there are many options—including large slipform pavers and hand-forming—there is rarely a one-size-fits-all approach. Contractors without experience or heavy equipment can find it difficult to track down experienced labor to sub out the job. If they do find a reputable curb company that specializes in curb and gutter work, the options may be pricey. Dedicated contractors may have access to a large, drivable curb machine. While this efficient equipment is great for significant curb and gutter jobs, it is not economical for jobs less than 1,500 linear feet. A slipform paver can lay up to 4,000 linear feet in an 8-hour workday, but it can only be run by a highly skilled operator. Pair that with the cost of transporting the large equipment, and the costs often outweigh the benefits for smaller jobs.On the smaller end of the scale is the hand-forming approach. Hand work is suitable for small jobs, but is slow compared to heavy equipment. Quality control is also more difficult with this MAY 2021 www.mcsmag.com16equipment solutionConcrete Profitsimplementing a walk-behind curbing machine can increase profitsMAKING MONEYBy Seth Ulmer
Page 19
www.mcsmag.com MAY 202117method. Plus, this approach is often paired with physical strain and back-breaking labor. In between hand-forming methods and large slipform curbing equipment lies a mid-size option: the walk-behind curbing machine. This easy-to-transport, simple-to-use option is a logical addition for contractors looking to handle curb and gutter jobs themselves and avoid the complications of subcontracting out the work.THE PERFECT FITWalk-behind curbing machines provide productivity without the extreme physical labor or need for large machinery. This class of equipment provides enhanced productivity in a product that is easy to learn and simple to use, as well as being an economical option.Unlike the larger drivable machines, walk-behind curb rollers offer ease of transport and a small footprint. The system consists of a handle, attached to a metal drum run by a hydraulic power source. The single-operator machine takes most of the back-breaking work out of curb and gutter, while producing a consistent, high-quality finished product. The equipment is intuitive to use, making it accessible for workers who might not have as much experience. With low initial investment and minimal maintenance, a walk-behind curbing machine offers a fast ROI and a quick way to boost profits. Whether a contractor is looking to take on new jobs or improve the efficiency of current offerings, the equipment can be a smart addition to a fleet.SAVING TIME & MONEYMost common in curb and gutter projects ranging from 50 to 5,000 linear feet, a walk-behind machine can help a crew accomplish curb forming work up to 50% faster than by hand. With hand-held tools, crews can pour and finish up to 600 feet in an 8-hour day. However, with a walk-behind machine, they can pour and finish up to 2,000 feet in a day. Plus, a crew can accomplish the job with half as many workers and with less physical strain on the crew. These factors allow a walk-behind curb roller to pay for itself after just 1,200 feet.Taking on curb work in-house can save tremendously on the margins of subbing out the work. Besides that, and perhaps more importantly, it gives companies the ability to self-perform this previously tedious curb and gutter work and keeps the job moving without holdups. Many jobs only allow for a certain number of days to complete the work, and any time over results in a penalty. By self-performing all aspects of the job, there is no need to wait on an additional crew and face the potential risk of paying a daily penalty for incomplete work. Contractors can save on the cost of subcontracting and open the door to potential money-making opportunities by taking on curb and gutter work with an in-house crew. The cost of installing curb and gutter varies by city. If 200 feet of 6-inch-by-18-inch concrete curb costs $2,500 in labor and materials, five 200-foot jobs in a month would equate to $12,500. That can either be considered as profit from new opportunities, or savings from not having to hire a subcontractor.Utilizing their existing crew, contractors can save on labor costs by using a walk-behind curb roller. When compared to a manual method or face forming, crews can pull curb and gutter twice as fast with half as many workers. And because of the intuitive, straightforward operation, it only takes a few minutes to train them on the equipment. Some machines of this kind feature an ergonomic design and a pivoting handle to provide a comfortable offset tailored to the height of the operator. The operator then walks outside of the framework parallel to the form while pulling the concrete. Another benefit to a walk-behind curb forming machine is the flexibility when working with concrete. Having a fast-moving process is important because of the slump requirements for curb work. The walk-behind drum option lets the workers control the speed of the machine, making it easy to keep a close eye on the concrete itself. This also allows a worker to add water if the slump is too low and the concrete is too dry. On the other hand, if the slump is too high, a skilled concrete worker will know to let the material sit to dry out for a while before forming. Because of the slump calculations that a curbing machine requires—usually 3- 4-inch slump—it offers a longer time of workability and allows for finish work or touchups.Additionally, a walk-behind curbing machine is easy to clean and requires almost no maintenance. Unlike larger equipment that might require a significant amount of time spent on cleanup, curb rollers can be simply rolled in the grass and wiped down. Its lightweight nature makes it easy for two workers to lift the equipment into a truck bed, eliminating the need for additional transportation accommodations like a trailer.CLOSING THOUGHTWhether a contractor is looking to expand their equipment offerings from large to smaller or vice versa, a mid-size piece of equipment like a walk-behind curbing machine can be a smart choice. From the largest company to the smallest two- or three-man operation, the equipment allows for expanded profits each time crews take on a curb and gutter job. Similar to the hiring process, selecting the right equipment to fit the bill requires time and research, but the increased job potential and ROI make the effort worth it. about the authorSeth Ulmer is the sales manager at Curb Roller Manufacturing, a world leader in shaped concrete roller screeds. Ulmer joined Curb Roller Manufacturing after spending over a decade in the concrete and construction industries. For more, visit www.curbroller.com.
Page 20
Page 21
Page 22
Large equipment, such as loaders, is a big part of most construction jobs. They are versatile, being used in many different projects. Loaders are used from general construction work, snow removal by municipalities, landscaping, building roads, and loading dirt and rock at quarries. They are also used in more severe applications like waste haul landfills and various mines. Because of the many differing environments, it is important that the equipment is fitted with the proper tires to handle the jobs they will be performing. TIRE CLASSIFICATIONThe Tire and Rim Association (TRA) classify loader tires based on tread type and depth. Tread types are designed for differing applications from smooth, regular terrains to rocky, snowy, and severe mining environments. They are classified from L-2 to L-5's. "S" designations represent smooth treads. • L-2 maximum traction for softer conditions• L-3 is used in general applications with more durability and resistance• L-4 is a deeper tread for durable wear and extended tire life in rocky conditions• L-5 provides the deepest tread for MAY 2021 www.mcsmag.comequipment solutionProper Tiresto handle the jobsite applicationCLASSIFICATION MATTERS20EARTHMAX SR 30 (E-3/L-3) EARTHMAX SR 53 XL GRIP (E-3/L-3) w
Page 23
www.mcsmag.com MAY 202121the toughest applications with chip resistance and extreme durability• L2/L3 are considered standard depth• L4 are 150%, or 1-1/2 times deeper• L5 are 250%, or 2-1/2 times deeperBKT LINEUPBKT has a full line of loader tires designed for every type of job from light to severe applications. BKT designs both bias and radial tires for loader applications. Radial tires have a flexible casing which provides a smoother ride, yields less cuts, and lower heat generation. Radials also have a more consistent shape for longer tread life, and better traction and flotation. Bias tires have a stiffer carcass which leads to increased lateral stability, keeping the bucket more stable. Bias tires are also more economical.The XL Grip is a bias tire with an L-3 code for heavy duty loading operations. It has a wide base and excellent traction designed to minimize cuts and punctures.The EARTHMAX SR 22 is an all-steel radial tire with an L-2 large, non-directional tread designed to operate in extreme winter conditions in ice and snow. It is also made for dozer and grader applications. The traction provides excellent stability.The EARTHMAX SR 30 is an L-3 radial tire that is excellent harsh conditions, but also perfect for everyday use. It has multi-layer steel belts with a cut resistant compound and a rigid block pattern for stability and durability. It is dual purposed for dump trucks, too. The L-4 EARTHMAX SR 41 all-steel radial tire has a special block pattern to provide extra resistance to punctures with the addition of a cut resistance compound. It is also purposed for dump trucks and dozers and can be used for long working hours without downtime. The deep traction provides extra durability in severe conditions.For severe, rocky conditions, like underground mines, quarries, and scrap yards, the EARTHMAX SR 53 has an L-5 extra deep tread design. The cut resistant compound and traction provide extra stability and extended wear life. This radial tire is also designed for dozers and low-profile dump trucks (LPDT). CLOSING THOUGHTWith so many different tires and applications, it is important to assess the situation and environment in order to choose the proper tire. All contractors want tires that perform at maximum efficiency and last as long as possible, to provide them the best return on their tire investment. Choosing the right tire is a big part of any contractor's bottom line. BKT has a trained sales and technical staff that can assist in determining the best choice for the job and equipment. for more informationFor more about BKT and its loader tire lineup, visit www.bkt-tires.com.
Page 24
MAY 2021 www.mcsmag.com22environmental solutionThere are many obvious reasons why durability is important for commercial construction and the waterproofing of covered podiums and plaza decks, green roofs, balconies, and terraces. Most of these public areas need to withstand foot traffic, vehicles, and equipment transport. In all cases, especially with roofs, specifiers need to ensure there is a reliable, highly durable membrane sealing the surface and any design features to provide long-term water protection. Commercial builders, designers, and architects can choose from numerous different types of waterproofing products. Liquid-applied is typically preferred when conformation to the given site layout and/or speed of installation are critical. There are two types of liquid waterproofing—cold-applied and hot-applied—each of them has its own set of features and benefits. In addition, the total amount of material needed to provide a reliable waterproofing layer should be considered. So, which type of liquid waterproofing is more durable? After looking at the durability factors in waterproofing, we will explore the differences between cold and hot-applied waterproofing, concluding which liquid waterproofing type is recommended based on those all-important durability factors. LIQUID WATERPROOFINGThere are six major criteria that should be considered when assessing the durability performance of a component product and system overall, five of which are defined through ASTM International standard testing methods. Formerly known as the American Society for Testing and Materials, ASTM is a standards organization that develops and publishes voluntary consensus technical standards for a wide range of materials, products, systems, and services. The six testing criteria for vulcanized rubber and thermoplastic elastomers (the materials that hot-applied and cold-applied liquid waterproofing solutions are made of respectively) are as follows: TENSILE (TENSION) STRENGTH (ASTM D412): The ability to withstand tensile forces. Tensile strength measures the stress required to stretch the material to the point where it breaks. It can be used to evaluate the maximum amount of tensile force that a material can be subject to before failure. TEAR RESISTANCE OR TEAR STRENGTH (ASTM D624): The resistance to tearing action, including the force to initiate tearing of the materials or tear propagation. With a waterproofing Durability Factorcold-applied versus hot-applied liquid waterproofingSEALING THE SURFACEBy Lynn Connors
Page 25
www.mcsmag.com MAY 202123application, the force to initiate the tearing is particularly important. ADHESION TO CONCRETE (ASTM D4541/ASTM D7234): The greatest perpendicular force a surface area can bear before a section of material is "pulled off" or detached. How well the material adheres to the concrete and maintains after water immersion is very critical with liquid waterproofing.SHORE HARDNESS (ASTM D2240): The resistance a material has to indentation. This measures the indentation hardness of substances such as thermoplastic elastomers, vulcanized (thermoset) rubber, elastomeric materials, and some plastics. ABRASION RESISTANCE (ASTM D4060: TABER WEAR INDEX): The rate of wear as calculated by measuring the loss in weight (in milligrams) per thousand cycles of abrasion. The lower the wear index, the better the abrasion resistance. LOW-TEMPERATURE CRACK BRIDGING (ASTM C836 OR ASTM C1305): The ability of the material to maintain its integrity while bridging a crack in the substrate at low ambient temperatures when the polymeric materials are least likely to be flexible. Meeting this criterion allows the material to perform exceptionally at crack-bridging, a critical factor with construction-based waterproofing.A waterproofing system should be evaluated on the basis of the results of this set of tests and should not be selected based on a single performance value. Importantly, the highest possible test value does not always translate into installed performance. Therefore, the system should be evaluated in total to determine the likelihood of achieving the desired installed performance. NOTABLE DURABILITY DIFFERENCES Hot-applied liquid waterproofing systems consist of rubberized asphalt. Multiple layers must be applied to achieve durability, along with a reinforcement layer made of fleece and a protection board, which add complexity to the installation. Because of the additional skill set required for the installation of reinforcement and protection, there is a greater chance of errors occurring during the installation that could affect the watertight performance and durability of the product. Cold-applied liquid waterproofing requires applying only one or two layers (after the primer) to achieve durable performance. Some of these systems do not require a reinforcement layer or protection course during construction.DAMAGE RESISTANCEAsphalt-type hot-applied liquid waterproofing is composed of large proportions of low and medium
Page 26
MAY 2021 www.mcsmag.com24environmental solutionmolecular weight components and consequently does not stand up well to equipment grease and solvents that may be dropped on the surface. Also, it can handle only limited loads or cycles of abrasion on its surface before showing wear or penetration.Most cold-applied liquid waterproofing systems are reactive and made to form a high molecular weight or cross-linking polymer. This results in good resistance to wear and tear, the hydrocarbons, grease, or solvents that are often spilled on the jobsite. A properly selected cold-applied liquid system can handle construction or ongoing activity, including mishaps, such as equipment and tools dropping on the surface. In a worst-case scenario, an impact may break the concrete deck underneath the membrane and the waterproofing must have crack bridging capability to maintain its integrity. Reactive cold-applied liquid waterproofing is often designed with ability to handle "point loads," which can be caused by a heavy piece of equipment with a narrow leg at the bottom or similar point load situations. Even in those instances, the membrane will not show a dent or penetration. One cold-applied waterproofing membrane, SILCOR® liquid waterproofing, has demonstrated the ability to withstand point load of 3000 psi without causing a dent on the membrane.LOW TEMPERATURE CRACK-BRIDGINGCrack-bridging is a critical feature of liquid waterproofing materials due to the natural dynamic movement of buildings and structures that understandably creates cracks. In climates with temperature changes from seasons to season, these cracks can shift, open, and close. This back and forth movement of cracks as temperatures change creates many fatigue cycles for the waterproofing membrane. Waterproofing materials need to withstand these various temperatures, and low temperatures in particular, so that when there is a crack in the substrate (typically concrete), the waterproofing membrane stays in its original condition. There will be no fine-line cracks or breaks in the membrane and it will remain monolithic, protecting the structure underneath by preventing water from getting through and damaging the structure. Materials can become rigid, and some even brittle, when the temperature drops, rendering them unable to maintain their original condition under stress or repetitive movement. That is why, when choosing a waterproofing system, the material's temperature related properties and overall chemistry should be given serious consideration.Hot-applied liquid waterproofing requires continuous maintenance to ensure the membrane's protection of the surface below. With respect to durability, enduring fatigue cycles of building movement or maintaining integrity over time, especially in cold temperatures, is a challenge for hot-applied liquid waterproofing.The elastomeric qualities inherent in cold-applied liquid waterproofing membranes mean that they easily withstand building movements and fatigue cycles, maintaining their integrity over a long period of time and requiring no ongoing maintenance. Cold-applied liquid waterproofing can also handle more extreme temperatures, down to -15° F.APPLICATION DURABILITYWhen applying hot rubberized asphalt at high temperatures, air will try to escape and moisture will try to evaporate through any defects in the primer, which can cause a good deal of blistering or pinholes. Applying cold liquid greatly reduces the chance of evaporation of moisture and water trapped in concrete as well as expansion of trapped air in the concrete when compared to hot liquid application. With cold-applied waterproofing, you can build a continuous membrane for waterproofing integrity. CLOSING THOUGHTA waterproofing product is considered durable not only when it meets the six critical performance requirements, but also demonstrates the ability to handle jobsite conditions and maintain long-term performance in the service condition. In other words, it installs easily with minimal defects and is physically tough and chemically inert enough to handle the construction site abuse and long-term aging (from water, repetitive movement, etc.) to maintain its waterproofing integrity. Since reactive cold-applied liquid waterproofing products have the flexibility to be uniquely formulated to a specific purpose, a well-designed cold-applied liquid waterproofing product can meet all the requirements to provide the long-term performance needed. With such a product, builders and architects can trust they have a superior and efficient waterproofing system that will provide a seamless, robust, and monolithic membrane that is more durable and longer-lasting, and will effectively and reliably seal and protect surfaces and structures from water penetration. about the authorLynn Connors is a global marketing manager at GCP Applied Technologies. Lynn has over 15 years' experience growing emerging markets by bringing innovative solutions to market. She has held senior management positions at iRobot Corporation and Velcro USA Inc. Overall, cold-applied waterproofing can handle greater loads and a higher number of cycles of abrasion than hot-applied.
Page 27
Page 28
environmental solutionIt's important to be ready for anything as a contractor. If you encounter a sudden obstacle, as contractors did during the recent blackouts in Texas, you should have a plan in place so that you can return to work safely. KEEP AN EYE ON WEATHER CONDITIONSThere should be an effort to watch weather conditions, too. If your location experiences seasonal weather changes, you likely already keep an eye on the climate. This knowledge will help you build an emergency plan that keeps your site prepared for potential power interruptions.It's sometimes impossible to have a strategy in place, especially when the weather can be unpredictable. Those scenarios require you to pick the best solution according to the moment, so your plan might not apply. However, you'll still be much more prepared when you have a procedure for weather events that may affect power sources, like snowstorms and heatwaves. DETERMINE CURRENT ENERGY NEEDSFigure out how much energy you need for operations. This amount might differ, but you can use your site's average BEST PRACTICESPower Outagesbeing prepared on the jobsiteBy Jane Marsh
Page 29
usage as the baseline. List all electric-powered items you use most often. Include equipment like smartphones, tablets, and computers you require, too.This information will help you know what your site requires energy-wise to continue work. Construction relies heavily on fossil fuels, so you could reconsider conventional power supplies altogether. Many studies point to how renewable energy might be more reliable than gas and coal, so you'd theoretically be able to lessen power outage risks. USE A GENERATORThis equipment will allow you to power your site when you don't have electricity. Before you purchase a generator, you must know your power needs to select the best size. That's when your research will be beneficial. It's worthwhile to analyze potential plumbing concerns because you may need additional watts to ensure your water runs properly. Test the device periodically to confirm the device works. This way, you won't encounter any other unexpected concerns.SCHEDULE TIME FOR UNEXPECTED ISSUESAreas that experience a city-wide power outage endure more issues than most realize. It's bad enough not to have electricity or water, but you can experience specific concerns related to your work. Take transportation as an example. There could be a logistics issue with your materials, so you can't proceed as planned until they arrive.Try to leave additional time in your day's schedule for emergencies. These events aren't always power-related, either. If you rush operations, you could create other problems associated with work quality and worker injuries. Cushion your projects' timelines to avoid issues.CONSIDER BATTERY-OPERATEDIt might seem nonsensical to pick battery-operated tools when the electricity doesn't work. That said, you can't always find a reliable fuel source during power outages. Plus, you need to ventilate indoor spaces when you operate said tools, and your HVAC system might not be an option.Instead, consider equipment that uses rechargeable batteries. Keep the batteries charged to prevent issues—and have spares on hand. You should find various battery-operated devices for your needs.CLOSING THOUGHTAlways be prepared for the unexpected; have a plan to execute. about the authorJane is an environmental and green technology writer who covers topics in sustainable construction and green building materials. She also works as the editor-in-chief of environment.co.
Page 30
Page 31
Page 32
MAY 2021 www.mcsmag.com30management solutionTo get perspective on the year ahead, Yaron Dycian, chief product and strategy officer at WINT, Tommy Linstroth, CEO of Green Badger, and Cameron Page, founder and CEO of Extracker, shared their insight on emerging trends and the role of technology in a Q&A. The following contains their thoughts on the year ahead.Looking ahead into 2021, what emerging (or sustained) trends do you see impacting new business, project management/flow, and the jobsite for contractors and construction companies? LINSTROTH: The newfound focus on health is not going away, and it's going to impact a variety of factors, from how jobsites and workers are managed to increasing the use of remote working environments, which will result in the increased use of online collaboration tools. While this will certainly include a focus on building technologies to improve health inside the building, it will now impact jobsite practices as well.DYCIAN: Two megatrends will impact contractors and construction companies in 2021:• Insurers are growing weary of the claims on construction projects, and the insurance market is hardening, with a significant rise in premiums and deductibles. Water leak damage is becoming a specific area of concern as they account for over 70% of claims. In some places, premiums have more than tripled, and the trend is expanding worldwide. Contractors should proactively identify risks and implement mitigating measures.• Sustainability is growing in importance, and the new U.S. administration is likely to expedite this trend. Owners and developers will increase their interest in sustainability, and will require sustainability solutions to be incorporated in new buildings.PAGE: With uncertainty caused by the pandemic, one thing that often gets overlooked is how costs will be scrutinized more closely than they were before. When owners and general contractors have tighter budgets and the next project isn't promised, costs, particularly change orders, will be looked over with a fine-tooth comb. sitting down in person to review and negotiate these costs may not be possible. so, it is paramount that subcontractors and general contractors are organized and clear when presenting change order costs to their clients.Given these trends, what role will technology play in shaping new solutions for contractors facing both ongoing challenges and new ones introduced by the pandemic? LINSTROTH: Technology will continue to play an increased role. What 2020 demonstrated is how much productivity you can have even when remote. But that was based on the incorporation of technology, from video meetings to document-sharing to virtual site inspections. Technology will continue to enable those workflows and will likely result in some of these pandemic practices becoming standard practices moving forward. Emerging Trends3 takes on trends and the role of technologyWHAT'S AHEAD FOR 2021Emerging Trends3 takes on trends and the role of technologyWHAT'S AHEAD FOR 2021
Page 33
www.mcsmag.com MAY 202131DYCIAN: Advanced technologies such as the Internet of Things (IoT) and artificial intelligence (AI) are being applied to a variety of challenges facing GCs. The pandemic has specifically accelerated the need to mitigate water leak damage due to the increased risk of extended closure times and partial availability of staff. Automated, remote-controlled mitigation technologies are proving extremely effective and can practically eliminate water leak damage. Moreover, these same technologies can carry over to the operational phase of the project where they not only protect against water damage but also save 20%-25% of ongoing consumption, contributing hugely to water savings and sustainability goals.The short of it: Forward looking contractors are now using water intelligence solutions to protect their projects from water damage as well as serve the owner/developer's long term sustainability goals.PAGE: The ability to communicate change order costs in real time with clear and organized documentation will be increasingly important. Processing extra work costs can often take weeks or months with traditional methods. Owners will no longer accept those delays or confusing documentation. With the use of cloud-based workflows, contractors can process these documents instantly and share them in a collaborative way for their customer to review and approve. Tracking these on paper and email simply adds too much friction.Do you believe the industry will maintain the increased rate of tech adoption from 2020 into and beyond 2021?LINSTROTH: Definitely. Technology enabled a ton of remote productivity in 2020 and those "pandemic practices" will become best practices moving forward. While obviously the actual construction process will continue in person, the host of associated meetings can remain virtual as both meeting technologies and workflow/documentation management technologies eliminate the need to sit in the same room as someone else to review progress or solve challenges.DYCIAN: Technology adoption in construction is only just starting. As an industry, construction has not benefitted enough from the computer revolution. This is now changing rapidly as funds are being allocated across the tech industry to build innovative solutions. "Construction Tech," a term that did not exist only 2 years ago, now returns millions of Google results. These technologies will revolutionize construction as they did every other industry and will re-define the leader and laggards. Developers, owners and contractors should monitor and adopt this trend wisely to stay competitive in this new era.PAGE: Yes, we believe the mindset shift towards technology had already started even before 2020, but the events of the past year only added fuel to that fire. Contractors are now realizing that even small competitive advantages that tech can offer will help them win more work, perform the work more efficiently, and protect their bottom line. In a more competitive world, contractors simply cannot afford to lose out on those gains.Are there any new technologies (or new applications of existing technology) that will have a significant impact on the construction industry in 2021? LINSTROTH: While the pandemic shifted attention from some of the trends happening in the design and construction industry, I think we'll see those re-emerge in 2021, and technology will be the backbone of implementation. Specifically, I see the importance of carbon management growing—beyond just what a building will do when occupied but moving downstream to managing carbon emissions from the actual jobsite and construction processes to the embodied carbon of materials going into buildings. DYCIAN: AI and IoT are two key technologies to closely watch. Internet of Things technologies will become extremely impactful as they enable distribution of smart sensors for tracking critical attributes across the jobsite. Coupled with artificial intelligence (AI) technologies, these devices enable real-time analysis and detection of critical situations such as adherence to safety standards, detailed planning, and water leak prevention. Innovation continues rapidly and new and exciting capabilities will continue to emerge.PAGE: Extracker is a change order communication platform intentionally built to help subcontractors, general contractors and owners bring clarity to the change order process by giving teams the tools to process changes in real time, collaborate around approvals, and summarize costs between parties. What makes Extracker truly unique is that it is built for contractors in every single trade and companies of all sizes, from small two-person operations all the way to enterprise subcontractors and general contractors. CLOSING THOUGHTFrom the viewpoints expressed in this article, it's clear that the adoption of technology will continue to be an emerging trend for the construction industry. New and improved ways to use technology to streamline processes and provide greater safety will continue in 2021. for more informationFor more about the companies in this article, visit wint.ai, www.getgreenbadger.com, and www.extracker.com.
Page 34
MAY 2021 www.mcsmag.com32management solutionWorkforce development—recruiting, training, promoting, and retaining—could be a complex system for company leadership to build and maintain. But broken into components, it's a series of simplified building blocks for the future. For many reasons, construction company leaders habitually maintain a focus on short-term, quarter-by-quarter, project-by-project objectives. Building and maintaining a workforce development system requires a longer view. The key is for leaders to answer this question: "How many of what kinds of people over how many years will we need to complete projects safely, on-time, with exceptional quality and profitability?" The answer serves as a vision—a long-term view the entire organization should work toward for each project, quarter-by-quarter. To be successful in this effort, leaders must get department heads, managers, and supervisors to engage in workforce development while continuing to complete projects. The leader's role is to provide the roadmap, while the managers and supervisors handle the tactics. In this way, the best leaders teach their managers to think strategically and act tactically. ASSESS CURRENT SITUATIONTo begin, it's vital to assess how effective your existing recruiting and staffing efforts are in order to move forward. Review role definitions and make sure you know why the role exists for each position. This is more than a typical job description. In some cases, you may have to get down to the task level for clarity. Important issues to investigate include:• How well-defined are career paths for people joining your company? Everyone wants to know they have a shot at growth, and the help to get there. Make sure you include things like wages and training when considering this answer. Defining career paths has several benefits. For employees, a career path offers a vision of long-term growth and stability; for the company, it ensures that jobs can be accomplished, and identifies any skills gaps that would prevent job completion. For both parties, you'll know and agree on who is accountable for what objectively.• How engaged are team members in problem resolution and decision-making? You'll need to decide who should be involved in this process, then make sure they feel safe enough to speak up. • How safe is your environment and what role do team members have in promoting safety for themselves and others? Almost every company we work with declares that every employee has the right to stop work if they don't feel safe or understand the process. But whether that happens in practice depends on the corporate, and more specifically, the team culture. DETERMINE WHAT NEEDS TO CHANGEYou want the development process to be as smooth as possible so pitfalls, obstructions, and barriers need to be removed. So, once you've determined how effective your current process is, the next step is to pinpoint where the system breaks down. This is critical because if you don't know where the current pitfalls are then adding more layers and methods just covers them up—but they're still there, waiting to eat up time, money, and effort.In a planning session for heavy equipment movement, we saw the two most common conflicts when it comes to change. A supervisor resisted the need to plan—after all, they had made 80 moves like this before. That was right after a new employee admitted he was scared to participate in the move because he didn't know anything about moving equipment. So we had resistance to change and fear of shame. The solution happened when another supervisor recognized the conflict and got involved.• What is causing the breakdowns along the way? Is it people, process, or both?• How do internal forces like politics, silos, or the corporate culture contribute to breakdowns? Workforce Developmenthow do leaders lead successfullyBEST PRACTICESBy Bart Gragg and Peter Krammer
Page 35
• What external influences need to be clarified and controlled? RENOVATE!Finally, and the toughest part, is to renovate your system and write a plan. Managers and supervisors need to understand their jobs exist to make or save money—the results go to the bottom line in many different ways. And saving money, like reducing fuel and maintenance costs due to the idling of engines, can free up funds for people development.• Redefine the long-term outcome—what does workforce development need to look like in your company? How many people in each sector of your business will you need in order to survive, and how many more will you need to grow?• How will you get there—given the competing demands of finances, projects, customers, and employees? What needs attention and how can you innovate to solve the problems?• Prioritize the work—if you have a turnover problem, what needs to happen to fix it? If you need training, how will you fund it? If you need funding, how will you create it? Developing leadership down to the field level is critical to success. How will you do that?Remember, every company is unique, and another company's design won't work for yours. That's because your processes and culture are what make your company unique. CLOSING THOUGHTBuilding a system piecemeal or working on it only when you have a little extra time and money won't get the results you need. And short-circuiting the effort wastes resources, kills momentum and morale, and ultimately leads to failure. In workforce development, short-term thinking is your enemy. Building a roadmap, and following it, is how you control the beast. www.mcsmag.com MAY 202133about the authorsPeter Krammer has been helping leaders put their heads and their hearts into their businesses for more than 30 years. Peter, senior partner with Okos Partners, is a consultant, trainer, program designer, entrepreneur, and jazz musician. For information on Okos Partners helps businesses align their business and people strategies, visit okospartners.com. Bart Gragg is president of Blue Collar University®. He works with business leaders, managers, and supervisors to plan and work more effectively with each other. Bart is an advisor, trainer, barrel racer, and photographer. For more information on how to engage Bart as a speaker or advisor visit www.bluecollaru.com, or call him at 925.354.0277.Bart and Peter are co-authors of the upcoming book, The Trouble with the Safety Curve: What and How We have to Change to Get to Zero Incidents.
Page 36
MAY 2021 www.mcsmag.com34management solutionAlong with unprecedented challenges brought on by the COVID-19 pandemic, the construction industry also saw an unexpected silver lining: the acceleration of collaborative technology on the jobsite. Before 2020, construction was the second least digitized industry in the world, second only to agriculture. The pandemic pushed construction professionals to adopt cloud-based project management and other technologies to drive collaboration and productivity. A recent survey of 250 middle managers and above discovered that 66% of construction companies deployed some form of new technology in response to the pandemic, with 94% reporting improved workflows. A key factor behind these improvements? Mobility. Mobility drives collaboration by disseminating updates and mission-critical information in real time, making data that once took weeks or months to pull from the field or office locations instantly available. Once limited to smartphones and laptops, mobility in the construction industry now includes tables, drones, wearables, cloud-based solutions, and more. How is mobility building collaboration and increasing efficiency in construction? Read on to find out. IMPROVED VISIBILITY AND CONTROLWhat progress was made on site today? Does the staffing schedule align with project timeline and goals? What materials are running low? Mobile solutions provide the ability to view this information in real time, mitigating the risk of unnecessary project delays. This improved visibility is also applicable when monitoring equipment status. From major repairs to general wear and tear, equipment is one of the most valuable investments for construction businesses. Having the insight into a problem before it worsens can save time and money. INCREASED SITE SECURITY Unattended construction equipment and other materials such as copper wire are susceptible to theft, especially in remote or poorly lit locations. Combining GPS with other mobile technologies, operations teams can monitor for and prevent security breaches with customized alerts. If materials are removed from a jobsite illegally, they can be located and recovered via mobile tracking technologies. Mobile solutions also help to maintain the integrity of company devices and data by continuously monitoring for security breaches and settings changes that can open the door to vulnerabilities. IT managers can automate important upgrades and remove applications that compromise security or employee focus and productivity. In scenarios where employees are using personal devices, mobile solutions can be deployed to safeguard company data and IT infrastructure. SAVE AND TRANSFERIn addition to security concerns, remote jobsites located in areas with limited Wi-Fi or cellular coverage can Mobility Solutionsbuilding collaboration and increasing efficiencyMAXIMIZING PRODUCTIVITYBy Kyle Yencer
Page 37
www.mcsmag.com MAY 202135make collaborative communication a challenge. With mobility, contractors have the option to save and transfer important project information via a mobile application once they return to a connected area, ensuring the latest updates are correct. AUTOMATED WORKFLOWSDeploying mobile solutions helps firms automate workflows, enabling faster execution of business processes, including change orders. Cloud-based solutions streamline the process, limiting idle time spent on site while waiting for approvals. Teams are notified of change order approvals, as well as consequential tasks and schedule changes in real time through their mobile devices. This boosts productivity, eliminating the burdensome and clunky manual methods to send requests and receive confirmation from management. Teams can leverage constant updates on progress, challenges, and business operations, empowering faster and smarter decision making.Mobile solutions also cut down on paperwork and other reporting that can cause bottlenecks. Workers can clock in and out on their devices each day, transmitting that information directly to the office and making it easier to record and track hours. BUDGET COMPLIANCEExecution of a project begins the moment a contract is signed and ends as final payments are received. The time and work between those moments require minute-by-minute monitoring, especially when managing a budget approved by the client beforehand. Budgets often suffer due to waiting times and miscommunication caused by inefficient applications, but with cloud-based solutions, stakeholders can monitor budgets and communicate with their teams in real time. CLOSING THOUGHTDisruption and technology are changing the way the workforce comes together around business initiatives. If the COVID-19 pandemic taught us anything, it's that today's construction site needs to be agile, and most importantly, connected. With multiple stakeholders working against competing deadlines and priorities, even the slightest miscommunication can yield costly delays. Mobile solutions increase efficiency, accuracy, and collaboration on the jobsite, allowing firms to remain competitive while maximizing productivity and the bottom line. about the authorKyle Yencer is the vice president of services and connected workforce at MicroAge, an award-winning managed service provider. For more on MicroAge, visit www.microage.com.
Page 38
Page 39
Page 40
MAY 2021 www.mcsmag.com38software solutionGoing Digitalrapid expansion leaves paper systems unmanageable WISE INVESTMENT Galindo & Boyd's field employees filled out paper time cards, photographed them, and sent them to the payroll department daily. Next, the payroll team keyed the data into iSolved for payroll and JOBPOWER for job costing. At the time, Galindo & Boyd had about 100 employees and payroll processing took two-and-a-half days each week. Payroll deadlines for time cards were missed. New employee time cards were missing or unknown employees submitted hours. The payroll team also had to track down foremen to verify if the submitted hours were legitimate and contact HR to confirm the completion of new hire paperwork. The payroll and management team wanted a better way to track employees' time that was easily verifiable and not reliant on handwritten time cards. The company also faced challenges with change orders. Field employees often received verbal feedback from the general contractor. Without a signed change order, Galindo & Boyd struggled to collect payments for the out-of-scope work. Additionally, Galindo & Boyd struggled with maintaining an accurate equipment inventory due to the use of paper, spreadsheets, and disconnected systems. Field supervisors purchased tools and equipment on company credit cards because they couldn't find equipment. The administrators only knew about the new tool and equipment purchases after-the-fact when they received expense reports. In the last few years, Galindo & Boyd acquired Arahed Lathing, Corp, which tripled the number of employees to more than 300 in a short time. Relying on paper time cards and forms to handle field data collection became unmanageable, and Galindo & Boyd needed a better solution. DIGITAL TRANSFORMATION Galindo & Boyd selected cloud-based WorkMax TIME for time tracking to streamline its processes and increase accuracy for their 285 employees at the time. After implementing WorkMax TIME, foremen clocked their crews in and out using face recognition on a mobile-device's rear facing camera to maintain proper social distancing. Foremen, supervisors, and superintendents tracked labor hours in real time and allocated them to the right cost code much faster
Page 41
www.mcsmag.com MAY 202139on their mobile devices than with paper and dramatically increased accuracy. With WorkMax FORMS, Galindo & Boyd streamlined and digitized their incident daily field reports, change orders, and drivers' logs. Data quality dramatically improved by providing all forms in both Spanish or English depending on the employee's native language. Field employees instantly filled out change orders and collected e-signatures from the general contractors and sent them to the accounting to expedite billing. Foremen also completed daily field reports on their mobile devices that were also automatically emailed to the general contractor. For safety incident reports, WorkMax FORMS simplified documentation. The foremen entered incident reports in real time, took photographs, and digitally recorded the incident's details. The company also used WorkMax FORMS to reduce COVID-19 risks on jobsites. Employees were prompted with health screenings on their mobile device upon clocking in and out. Using WorkMax FORMS, Galindo & Boyd's foremen also photographed the jobsite to document the COVID-19 safety precautions for PPE and handwashing stations to mitigate any OSHA fines or safety risks. Galindo & Boyd chose WorkMax ASSETS to manage its tool and equipment inventory. From the warehouse to the jobsite, WorkMax ASSETS provided accurate lists of the tools and equipment, including their location. Now, the company had its tools and equipment information in one easily accessible place, including warranty information and maintenance logs. DIGITIZED FIELD DATA From their mobile devices, foremen, supervisors, and superintendents allocated job costs faster with WorkMax TIME than with paper or spreadsheets. WorkMax TIME's intuitive interface saved over an hour each week as they allocated the labor hours to the right project and cost code. This saved $100,100 in labor costs in the first year. By utilizing WorkMax TIME, WorkMax FORMS, WorkMax ASSETS, Galindo & Boyd streamlined their growing operations. By eliminating paper time cards and integrating WorkMax TIME with iSolved HCM and JOBPOWER, Galindo & Boyd reduced payroll processing time by 40-50%. WorkMax also improved labor cost accuracy. By collecting labor hours in real time and using face recognition and GPS, they reduced overtime by $801,253 in 12 months. They also saved $254,592 in regular labor hours and no longer had missing time cards trickle in after payroll deadlines.With WorkMax FORMS, Galindo & Boyd quickly captured e-signatures on change orders from general contractors within 24 hours. Before, it took up to a week for change orders to arrive at the office. Using WorkMax, they increased the number of change orders submitted and received them the same day with e-signatures. This change expedited billing and improved cash flow. Meanwhile, WorkMax ASSETS enabled the company to catalog its entire tool and equipment inventory. Overall, Galindo & Boyd saw a savings of $1,079,505 in the first 12 months of utilizing WorkMax—and the company has only continued to build upon those savings to this day for their 475 employees. Their return on investment was a staggering 4997%.CLOSING THOUGHTIt's time to change the way you collect field data. Start your digital transformation today to dramatically reduce your labor costs and also expedite billing. Find out how digitizing forms on mobile devices for change orders, safety, daily log reports, and purchase orders increase accuracy and significantly impact your job costs and billing. for more informationWorkMax by AboutTime Technologies empowers SMB to enterprise businesses to make better decisions with accurate live field data using one app to provide actionable insights into labor, job costs, production, equipment management, safety, and field reporting. The WorkMax cloud platform includes WorkMax FORMS, TIME, and ASSETS. For more, visit www.workmax.com."We were thrilled to see how quickly employees utilized WorkMax - their participation was key & it wouldn't have been possible without WorkMax being so easy to use."~Rebecca Gates,Human Resources/Payroll
Page 42
MAY 2021 www.mcsmag.com40software solutionAccurate EstimatesAccurate Estimates7 tips to make your bids more accurateWIN THE BIDAlthough no money is made while performing a takeoff, the information gathered will influence the estimate and the bid, which, if it becomes the winning bid, will determine how much money your company will make. "You need to be as precise as possible," says Jenny Williams, owner, Williams Dirt Service, LLC. "Unknowns in your estimate can haunt you and hurt your bottom line."Williams Dirt Service has been in business for 15 years providing earthmoving and then drone services. "At first, we either did measurements by hand or paid a third party to perform our takeoffs for us, which was getting expensive," says Williams. "At the time, we were typically bidding on two to three projects per month. Then, we invested in InSite Software for takeoff and estimation and we now routinely bid on more than 10 projects per month at less cost than paying an estimator."Here are seven tips for making your bids more accurate: CHOOSE YOUR ESTIMATION PROCESSESPrior to creating individual estimates, you need to formalize a process for creating estimates. Each process brings different benefits to creating more accurate estimates. • Analogous estimating: Use historical data, such as estimates from previous, similar projects, for time, labor, and resource needs. • Parametric estimating: Also known as statistical modeling, uses historical data of key cost drivers to calculate costs under different conditions. • Bottom-up estimating: The people who perform the work come up with estimates for their portion of the project and the estimator compiles all estimates.• Three-point estimating: Create three estimates based on three scenarios: optimistic, pessimistic, and realistic. CHOOSE THE RIGHT PROJECTSCompanies usually create fairly accurate estimates for projects that are similar to projects they have completed in the past. When companies bid on projects that include a lot of tasks they don't normally perform, estimates tend to be less accurate. Choosing projects that are right for your company is one of the biggest obstacles to creating accurate bids. Using a digital earthwork takeoff solution, such as InSite, can help contractors bid on the right projects by improving accuracy and verifying earthwork quantities with shareable graphics and reports.Digital takeoff solutions also decrease the amount of time it takes to create a great bid and helps boost contractor confidence in their bids; lack of time and lack of confidence are two more of the top obstacles to creating accurate bids. BREAK DOWN BIG TASKSOnce you've chosen a project at which your company can construct, you need to define the work breakdown structure (WBS) to make the project more manageable. Break down tasks into smaller tasks that are easier to assign time, material, and labor elements. If tasks are too large, you are more likely to miss something. Each task should be granular enough to be comprehensible, manageable, and assignable. Also, spend extra time on the portions of the estimate that are associated with the largest costs. If, for example, the project calls for a lot of concrete, make sure you have the price of concrete accurate. FILL IN ALL THE BLANKSUnknown factors can decimate an otherwise fair estimate and accuracy is achieved by eliminating unknowns."We use InSite's training videos and 24/7 support to help us quantify our unknowns and increase accuracy. When we have a question, help is a quick phone call with a knowledgeable staff member," says Williams. USE THE BEST CALCULATION TOOLSManual tallies and calculations performed on paper contribute to human error and less precise calculations. Digital models populate more accurate quantities, which will lead to more accurate calculations. "InSite makes A screenshot of InSite Elevation. Digital models populate more accurate quantities compared to manual. Data can be verified in real time using Elevation's 3D-Live feature.
Page 43
verification easy with tools such as Scale Check, which ensures the scale is proportioned correctly, and 3D Live, which ensures the elevations have no typos," says Williams. "InSite's precise user tools allows for accurate digitization of the contours; the Snap feature and the Offset tool help keep quantities tight and as competitive as possible." PAY ATTENTION TO MATERIAL PRICES AND DELIVERY COSTSCommodity prices aren't a constant; their price at the time the estimate is made won't necessarily be the same price after you've won the bid and you need to purchase the material.If you use current prices, and prices increase significantly, project costs will increase, and this will negatively impact revenue. If you use current prices and prices decrease significantly, your project costs will be under estimate, but you could lose out on winning the project to someone with a lower bid. Consider any factors that could negatively impact material delivery. Contact suppliers of specialty products to ensure they can deliver the products in the desired timeframe. REVISE YOUR ESTIMATESEstimates don't go away once you've won the bid; they are used as a baseline during construction for determining whether the project is being completed on time and on budget. As work is completed, substitute estimated values with actual values or even with more accurate estimated values. CLOSING THOUGHT"We increased accuracy while decreasing the time and cost necessary to perform quality estimates by revising our estimation process when we adopted InSite. And, the consistent creation of more accurate estimates has translated into more bids won and more revenue per project." www.mcsmag.com MAY 202141for more informationJenny Williams and Matt Williams are co-owners of Williams Dirt Service, LLC.InSite Software, based out of Rochester, New York, is the industry leader in earthwork takeoff and GPS modeling tools, giving estimators the tools required to be competitive, accurate, and profitable. InSite Software is recognized for its software innovations and continues to expand its product offerings to meet the growing productivity needs of customers. For more, visit www.insitesoftware.com.
Page 44
Page 45
Page 46
MAY 2021 www.mcsmag.com44legal solutionCurrent versions of the American Institute of Architects (AIA) family of contracts address responsibility for preparation of project documentation which reflects the "as-built" condition of the work. Providing "as-designed" or "as-constructed" record drawings is an additional service under the standard B101 Owner/Architect agreement. The A201 "General Conditions," however, require the contractor to keep and maintain documentation reflecting field changes, selections made during construction, approved shop drawings and submittals, and which serves as a "record of the Work as constructed." (Article 3.11). These "as-built" documents are to be provided to the Architect and Owner at the conclusion of work, and have many uses and benefits. While these contract provisions reflect the typical expectations for construction professionals, the trend is away from this practice, and towards a more custom approach, with owners seeking access to more and more robust and integrated documentation, some of it from the design professional, and all of it for free. UNDERSTANDING THE LANGUAGEAs with all things in construction, the words used to describe documents reflecting the work as built are not interchangeable. The work product of the design professional, used by the contractor to construct the project, are typically referred to as the Construction Documents, or Contract Documents, consisting of drawings and specifications. These documents show the project "as designed," and are the baseline from which the "as constructed" set of documents are generated. From time to time, due to addenda issued during bidding, and before construction, the design professional will issue a set of "Conformed Documents," which incorporate these pre-construction changes. During the project, the scope and execution of work changes, invariably, as a natural part of the construction process. These changes often result from design modifications, differing site conditions, contractor-requested changes, responses to RFIs, or value engineering, among other reasons. These changes are to be documented so what was actually constructed can be memorialized. This report of changes is typically made directly on the Contract Documents by the contractor, the end product of which are the As-Built drawings.Some owners request the architect issue a set of documents at the end of the job which incorporate all of the changes reflected in the As-Builts, often referred to as "Record Drawings." Record Drawings take the notes of changes made to the on-site Contract Document drawing set, which are then edited and compiled in an "architect reviewed" set reflecting the on-site changes, and purportedly representing the conditions of the completed project. They could also include the "Shop Drawings," those documents prepared by a contractor, supplier, manufacturer, subcontractor, or fabricator, reflecting their drawn version of the information shown in the Contract Documents. These documents are then officially released, in either paper or electronic format. "As-Built" Documents"As-Built" Documentsunderstanding the risks and responsibilitiesBEST PRACTICESBy William S. Thomas
Page 47
www.mcsmag.com MAY 202145If the project is using BIM technology, the participants may be creating their documents in separate distinct models based on their discipline, as architects, structural engineers, building service engineers, contractors, subcontractors, or suppliers. Their individual building models are uploaded to a shared data environment, known as the "Common Data Environment," where they can be accessed and combined. These individual models are then imported into a single piece of software, and become a "Federated Model."BENEFITS VERSUS RISKSAs-Builts provide a resource available during the project which depict all current, authorized changes, work scope and materials installed. This makes them an excellent tool for proving claims of unanticipated conditions, changes in scope or inefficiencies. After project completion, As-Built or Record Drawings can be used by the owner or property manager as a reference over the life of the facility, assisting in the location of buried or hidden elements, troubleshooting problems, for health and safety reasons, and as a guide for subsequent changes or expansions. The property manager could use them for safety training, failure analysis, tenant information, lease or sales literature or information required by authorities with jurisdiction. If future expansion or development is planned at the site, they can serve as demolition drawings, or for recording land-use history. With all the benefits, there are a number of risks. Decided cases where the accuracy or existence of As-Built documentation is in issue do exist. Courts have uniformly held those to blame for inaccuracies in the drawings responsible for the consequences, including potential personal injury or added cost. Further, if changes were not reflected in documentation and were not noted on approved As-Built drawings, they were not properly approved. Also, courts recognize accurate As-Built data as a major factor in judging entitlement to extra-contractual damages when things had to be changed due to differing conditions. If the documents are being transmitted electronically, or the owner is given access to BIM models or CAD drawings, have there been "field verification" and "markup drawings" prepared with such precision that allow actual point data to be converted into the modelling software? How accurate will these documents really be? How much precision and assurance can the design professional provide when issuing a set of Record Drawings? These questions need answers before any work product is released. If in an electronic medium, it is imperative that all disciplines who have access to the model keep their inputs current and accurate, and that sufficient data is kept in the system to later make sense of the changes. COMMUNICATION AND EXECUTIONDesign professionals requiring As-Built drawings as part of the contractor's set of deliverables should have a clear, understandable, and comprehensive set of directives in the specifications so expectations can be measured. Formatting, procedure, and protocol should be dictated, down to the color of ink used to denote changes. While there is no industry standard, there are numerous guidelines and requirements of public agencies and scholarly articles on "as-builts" which provide example language and thorough checklists for best practices. If the owner wants something more than just As-Builts, the contractor or design professional needs to clearly communicate what they can provide, and whether it is part of basic services or will cost more. CLOSING THOUGHTContractual language must be examined on the front end to make sure it is understood by all participants what the deliverable will be. Necessary liability and risk shifting provisions in the contract need to be carefully examined by counsel to ensure they are appropriate to the level of documentation requested, and in the format provided, whether paper or digital. And finally, the deliverable itself must meet the criteria spelled out in the specifications and should be kept current as the project progresses, incorporating all contemporaneous changes and information, and be prepared with care and attention, quality checked, and not be something rushed through at the end of the job. about the authorWilliam Thomas is a principal at Gausnell, O'Keefe & Thomas, LLC in St. Louis, where he focuses his practice on construction claims and loss prevention. He is a member of the AIA, ASCE, and International Association of Defense Counsel, for which he serves on the Construction Law Committee. He can be reached at wthomas@gotlawstl.com.
Page 48
MAY 2021 www.mcsmag.com46technology solutionVoice AutomationVoice Automationcreating efficiency for trucking and transitEYES ON THE PRIZEBy Mack GreeneCommunication automation and technology has become quintessential across nearly every industry to keep up with employee and customer preferences in the digital age. Implementing these technology solutions in older, more established industries can not only be incredibly satisfying, but also exponentially beneficial to that industry's evolution. For trucking and transit companies, communicating effectively with their fleet during transit is a crucial facet of the business when it comes to overall safety and efficiency—ultimately affecting a company's revenue. Thanks to emerging technologies such as Communications Platforms as a Service (CPaaS), modernizing the process can be relatively easy and can produce quick and tangible results for every party involved. IntelePeer, a leading CPaaS provider, has helped many fleet customers in the trucking and transit industries increase safety, revenue, efficiencies, and overall productivity through revamping communications systems at their core.SMOOTHER COMMUNICATIONS With its rich history and legacy, the trucking and transit industry has no trouble proving that their current and past processes and technology work well. Although a complete digital transformation might not seem realistic for every fleet, a communications automated solution is a strategic first step. We've been able to bring some newer, more advanced technologies to bear for this industry that aren't in wide scale user adoption right now, predominantly techniques to help automate, via voice, interactions that a trucking or transit driver would have with the back office. When dealing with a workforce with a higher turnover rate, it is strategic to simplify just about every process involved, but it becomes especially important when it comes to central communication with drivers.Simplicity and safety go hand in hand, and the ability to seamlessly report issues to the home office using just your voice is crucial when drivers are on the road. Whether it's something as routine as getting a location for the next pickup, or something more pressing like a vehicle breakdown or accident, ease of use is key. With IntelePeer's voice automation technology, drivers can both send and receive important information without ever taking their eyes off the road, let alone having to pull over.PEACE OF MIND For trucking and transit companies implementing voice automation, on-road safety and convenience are just the beginning of the benefits that this solution can provide. When the back office adopts technology allowing for a simplified two-way communication, that information can be used to create long-term improvements and efficiencies in the company's overall service.A typical support system for truck drivers isn't unlike the ones most consumers are familiar with when talking to customer service. Drivers are forced to dial in, navigate a menu where they're asked to press numbers corresponding to the service they need, and then hope they'll be in touch with a human being that can solve their problem. Using artificial intelligence and voice automation solutions like IntelePeer's Atmosphere, brings some real intelligence to the communication process. Fleet drivers can simply describe whatever challenges they might be having at that moment, and the AI system can effectively pre-interview them before routing them to the appropriate back office contact person. This type of intelligence-based, voice-driven solution has proven to be a key upgrade because it reduces the amount of time employees spend interacting with the call system and cuts down the individual call time on the back-office end, ensuring time is more efficiently and effectively spent. DIGITAL TRANSFORMATIONWhen it comes to getting companies and industries to adopt new automation solutions, there is often an innate fear of change. However, when considering a new technology, businesses should think like such, and focus on the core purpose of the decision—return on investments. Some of those results may show up as soft dollars—a more efficient system creates happier, safer employees—but there are more than enough tangible hard-dollar benefits to justify quick and comprehensive adoption of these technologies.First, the actual cost of implementation can be relatively low with communications platforms such as IntelePeer, because the platform can be built almost entirely on top of a company's existing communication infrastructure. Once it's in place, companies can expect to see a significant reduction in the amount of labor needed
Page 49
www.mcsmag.com MAY 202147to fulfill drivers' requests, and in many cases, live agents can be removed from the initial process altogether, allowing their skills and experience to be focused on more important tasks for the business's high-value clients. This creates a relatively fast return on a relatively small investment—an ideal scenario for any company, but especially for those that might be in a growth phase.As with any migration to some new platform, technological or otherwise, the goal is to see an improvement, and when a company starts to stack up all of the benefits of voice automation, it's fairly easy to see the potential for growth in result. When you run a safer fleet, you spend less on insurance and repairs. When your employees are happier, the ones that help your business run better stay longer. And when your business runs better, your happier customers will stay longer too—and spend more on your services.CLOSING THOUGHTIn the trucking and transit industry, striking the balance between safety and efficiency essentially is the core of the business model. Using voice automation, truckers can keep their eyes on the road while their counterparts in the back office keep their eyes on the prize. about the authorMack Greene is director of custom engineering for IntelePeer. IntelePeer powers the new customer experience with Atmosphere® CPaaS, which enables companies to communicate better—driving more revenue, improving the customer experience, and making better business decisions—leveraging omni-channel Automation & Self-Service, AI, and Analytics, all delivered through a single easy-to-use cloud platform that works seamlessly with your existing business. For more, visit intelepeer.com.
Page 50
MAY 2021 www.mcsmag.com48
Page 51
www.mcsmag.com MAY 202149TECHNOLOGY • MANAGEMENTTECHNOLOGY • MANAGEMENTMANAGEMENT • ENVIRONMENTALMANAGEMENT • ENVIRONMENTALEQUIPMENT • SAFETYEQUIPMENT • SAFETYSAFETY • TECHNOLOGYSAFETY • TECHNOLOGYENVIRONMENT • EQUIPMENTENVIRONMENT • EQUIPMENTSOLUTIONSSOLUTIONSSOLUTIONSSOLUTIONSSOLUTIONSSOLUTIONSSOLUTIONSSOLUTIONSSOLUTIONSSOLUTIONSSOLUTIONSTECHNOLOGY • MANAGEMENTTECHNOLOGY • MANAGEMENTMANAGEMENT • ENVIRONMENTALMANAGEMENT • ENVIRONMENTALEQUIPMENT • SAFETYEQUIPMENT • SAFETYSAFETY • TECHNOLOGYSAFETY • TECHNOLOGYENVIRONMENT • EQUIPMENTENVIRONMENT • EQUIPMENTSOLUTIONSSOLUTIONSSOLUTIONSSOLUTIONSSOLUTIONSSOLUTIONSSOLUTIONSSOLUTIONSSOLUTIONSSOLUTIONSSOLUTIONSGo to mcsmag.com for solution-based articles with insight from industry experts.LET MCS BE YOUR RESOURCE.SEEKING A SOLUTION?
Page 52
MAY 2021 www.mcsmag.com50technology solutionIn 1989, one of the most innovative and complicated construction projects I know was built in Jukkasjarvi, Sweden. It's the Ice Hotel. It's a working hotel that only books rooms from December to April. It's built using 2-ton bricks of ice harvested from the Torne River along with what the builders call snice, a combination of snow and ice. It's not a building that can exist in many parts of the world due to the complicated ice and snice supply chain and particular weather requirements. This may be an extreme example to discuss supply chain issues in the construction industry, but it perfectly illustrates something unique about construction. No two projects are the same depending on the location, building requirements, and execution of the construction. And, the bigger the project is, say a single-family home versus an airport, the larger and more complicated the supply chain.The need to harvest ice, mill lumber, or quarry rock, points to another issue with construction supply chains. Though it's 2021, construction supply chains are still manual with orders and requests handled on paper and through phone and human transactions. This presents other problems when one considers the specialized construction equipment, materials, and skilled labor. It's all costly and if materials and equipment are lost, stolen, damaged, or simply fail to arrive on site when expected, timelines, budgets, and reputations can be damaged. DIGITAL SUPPLY CHAIN A 2020 survey by Marcum LLP's national Construction Services group reports a positive outlook by respondents about the current and future state of the construction industry, despite the COVID-19 pandemic. Factors influencing this optimism were the ability to secure financing for new projects and finding new sources for building materials, that means new supply chains. Additionally, while job backlogs remain strong, respondents say they see the need for more diversified supply chains. The news for 2021 looks to be a good year for the construction industry, too.Construction professionals are more interested than ever in adopting technology to meet the needs of the construction industry just as other industries have such as biotech, aerospace, manufacturing, and agribusiness.We can expect to see the use of technology in the risk mitigation programs that contractors are deploying. We are already seeing the use of several technologies growing in the sector such as GPS, Bluetooth, and RFID technology to identify and locate large and expensive items that are prone to theft and general loss, such as equipment, materials not installed but are staged on-site, and construction machinery.Managing the supply chain for a major building project involves understanding the breakdown and traceability of materials, logistics, people, activities, resources, and information that allows the project to go smoothly and within budget. The ability to see what's happening in real time in the supply chain is the difference between on time and on budget delivery and resource scheduling, and a project foundation languishing for months.This process starts at the design stage, scoping the work into packages. Early evaluation based on feedback from the supply chain can produce enormous cost benefits and value. Capacity and production capability in a market controlled by supply and demand are particularly significant if bottlenecks are to be avoided.BLOCKCHAIN SOLUTIONThe increasing complexity of modern construction projects, both in an administrative and architectural sense, means that projects can quickly become difficult to coordinate, and potentially lead to mistrust and disputes if the involved parties disagree about basic project facts. Supply Chainrewards of manual to digital transformation INNOVATIVE INTEGRATIONBy William Wapplerrewards of manual to digital transformation INNOVATIVE INTEGRATIONBy William WapplerSupply Chain
Page 53
www.mcsmag.com MAY 202151Better documentation and new systems that promote trust and transparency of data can provide major benefits for construction industry companies of all kinds. Blockchain is one of the most exciting answers to this problem. It provides added security and applications as well as a means to prevent tampering and provide authenticity for valuable building materials.Blockchain is a digital ledger technology best known for its use in the cryptocurrency Bitcoin. A blockchain is a decentralized, distributed digital ledger of records called blocks that is used to record transactions across many computers so that any involved block cannot be altered retroactively, without the alteration of all subsequent blocks. This allows the team members of a specific project to verify and audit transactions independently and relatively inexpensively. With blockchain in the construction industry, it's possible to establish trust across multiple, unrelated third parties by inviting disparate groups to collaborate on documents. Products can be tracked and verified for quality and authenticity if necessary. Other elements such as equipment rentals can be included, too. Because of the many partners in a major construction project, the use of blockchain to manage, in real time, all the moving parts is not only essential but cost-effective. The role of data in today's supply chain should be viewed from the aspect of improvement and change, and the degree at which each can occur. The value of data can be measured in two distinct ways: the quality or integrity of the data and its ability to create transformative impact. By developing a single community framework to build into a cloud-based solution, supply chain data can be accessed with a cell phone, alerts, or notifications to follow the tags. Tags can be followed out, and more importantly back, in the case of a recall. As we move forward, I see a greater use of technology being deployed in storage yards going beyond location into following maintenance service dwell time, time off site, over-the-road location, and on-site time of use and movement.CLOSING THOUGHTTechnology is allowing supply chains to become resilient and agile. A community using a common framework would solve many of the fractured data issues. The pandemic has highlighted the importance of supplier relationship management. Accurate, data-driven supply chains move beyond transactional relationships, focusing on innovation and collaboration. And that's a "snice" future. about the authorWilliam Wappler is the founder and CEO of Surgere, a leading company revolutionizing and expanding visibility into the physical supply chain with engineered and patented supply chain software, IoT-based sensors, and certified asset identity hardware. For more, visit www.surgere.com.
Page 54
MAY 2021 www.mcsmag.com52technology solutionThe Li-Fi industry is constantly touching new heights, especially at a time when IoT is proliferating in every sector and the use of smart, connected technologies is at an all-time high. The demand for wireless connectivity that can meet the ever-increasing need for data communication is growing. With ongoing advances in IoT and 5G, the world needs a faster and more convenient way for communication, one that's away from the radio frequency spectrum. The commercial sector is likely to emerge as a leading adopter of Li-Fi solutions, providing users with uninterrupted and hassle-free highspeed internet connectivity. The technology has immense potential in a variety of public infrastructure applications. Li-Fi integrated streetlights, for example, could provide wireless connectivity and targeted communications to smartphone users, while Li-Fi enabled traffic lights could be used to connect with vehicles. Smart and connected spaces are expected to be the future of buildings and public spaces. Smart lighting being ubiquitous, the scope for highspeed internet access through lighting in commercial buildings, public areas, roads, bridges, and other commercial establishments is definitely high. Reports claim that the global Li-Fi market size will be worth over US$8 billion by the year 2030. Besides notable adoption in private buildings, digital advancement of commercial areas is also a part of developing smart city initiatives, which could drive the overall market outlook.CONSTRUCTION SPENDING According to Global Market Insights, the Li-Fi industry share in North America could surpass US$2.5 billion by 2030. The commercial sector will be a prominent contributor to this growth, due to the financial scale of public projects and the ability of contractors to harness the latest technologies at convenient value.The never-ending need for commercial infrastructure solutions in the U.S. indicates that the construction sector will boom in the next few years. Government spending on commercial construction is rising steadily. According to a report by the Associated General Contractors of America published in March 2020, public construction investments jumped by 12.6% compared to a year earlier, including highway and street construction spending which increased by over 11.7%. As smart city projects and initiatives gain momentum, these numbers are slated to grow substantially, opening up an array of opportunities for the local Li-Fi solutions providers. In June last year, Oregon-based HomeGrid Forum had joined hands with tech firm UVAX to accelerate the growth and deployment of a smart city solution. HomeGrid Forum has been a leader in seamless interconnectivity, covering Li-Fi communications, IoT, and other smart tech. According to UVAX, today's public lighting, which makes up a significant share of a city's electricity bill, is an underutilized and expensive infrastructure. The company has been focusing on designing solutions to deliver seamless internet connectivity and improve smart city services. As per the partnership, UVAX will leverage HomeGrid Forum's G.hn technology to advance its Connected Street Lighting (CSL) solution. The UVAX CSL technology integrates internet access points, among other features such as sensor networks, video surveillance, and EV charging stations. The nascent technology has the potential to be a key part of the services delivered by commercial contractors for private and government customers.LI-FI SOLUTIONSRemote control and scalability are among the key benefits of the technology, which could enable its widespread deployment in adaptive public lighting, highway safety systems and information panels. At the virtual All Digital CES exhibition held in January 2021, California based SLD Laser had announced the launch of LaserLight, the world's first dual emission infrared (IT) white light laser source. It can be deployed for for highspeed Li-Fi communications, night vision illumination, automotive, and consumer lighting applications. Utilizing its new white light/IR dual emission LaserLight technology, SLD lasers plans to offer a commercial Li-Fi development kit with a 1gbps data rate, enabling customers to integrate Li-Fi with emerging optical communication applications. These include smart streetlights, smart public spaces, and smart connectivity in commercial Li-Fi Technologypotential game changer in commercial applicationsWIRELESS CONNECTIVITYBy Saloni Walimbe
Page 55
www.mcsmag.com MAY 202153buildings, such as offices and healthcare facilities. The number of new project orders for development of systems based on Li-Fi had skyrocketed in recent years, according to Signify, formerly known as Philips Lighting. The company had estimated that the number of project orders would nearly double during 2020. Over the past few years, Signify has deployed hundreds of Li-Fi systems in office buildings and other commercial spaces such as hotels and hospitals. Back in June 2019, the company had rolled out the first commercial Li-Fi technology called Trulifi. The technology uses optical wireless transceivers embedded into Philips lights. According to the company, employees can use a USB access key to receive Li-Fi signal with wireless speeds of up to 150 Mbps. Imagine these components deployed in various applications across government offices, highway systems, and V2X solutions. It certainly indicates new possibilities for commercial developers to gain an edge over conventional tech-only firms.COVID-19 IMPACT As the COVID-19 pandemic continued to impact businesses in every sector, the U.S. witnessed the rollout of new government initiatives to support businesses and revive the country's economy. In the construction sector, initiatives and programs at the federal, state, and local levels were introduced to help bolster infrastructure development. In September 2020, the U.S. Department of Transportation had unveiled Infrastructure for Rebuilding America (INFRA) discretionary grant program to invest more than US$906 million throughout the country. As part of the program, about 20 projects in 20 states will be aimed at improving major highways, railroads, and bridges across the country. With higher awareness of the technology among contractors and considering the ever-growing need for seamless internet connectivity anytime and anywhere, the widespread implementation of Li-Fi technology could help transform the way public services and safety is enhanced. CLOSING THOUGHTAs the world moves into the internet of everything era, each and every device will be connected to the internet, and Wi-Fi would not be capable of handling all the internet traffic. Li-Fi, the technology that combines illumination and wireless data transmission, could be a suitable solution for the problem. about the authorSaloni Walimbe a content writer for Global Market Insights, providing articles relating to global industry trends, business, and trade and finance. For more, visit www.gminsights.com.
Page 56
MAY 2021 www.mcsmag.com54TECHNOLOGY • MANAGEMENTTECHNOLOGY • MANAGEMENTMANAGEMENT • ENVIRONMENTALEQUIPMENT • SAFETYSAFETY • TECHNOLOGYENVIRONMENT • EQUIPMENTSOLUTIONSSOLUTIONSSOLUTIONSSOLUTIONSSOLUTIONSTECHNOLOGY • MANAGEMENTMANAGEMENT • ENVIRONMENTALEQUIPMENT • SAFETYSAFETY • TECHNOLOGYENVIRONMENT • EQUIPMENTSOLUTIONSSOLUTIONSSOLUTIONSSOLUTIONSSOLUTIONSLET MCS BE YOUR RESOURCE.LET MCS BE YOUR RESOURCE.SEEKING A SOLUTION? SEEKING A SOLUTION? Go to mcsmag.com for solution-based articles withinsight from industry experts.
Page 57
Page 58
MAY 2021 www.mcsmag.com56safety solutionConstruction is a noisy business. The average noise levels measured for various construction-related tasks range from almost 96 dbA for installing trench conduit to more than 102 for chipping concrete. And, the maximum measured noise exposure for many such tasks can be as high as 120 dbA. This creates at least two sets of problems: potential issues in terms of worker safety from direct exposure to unhealthy noise levels and difficulty in communication—which creates ripple effects in terms of additional sets of issues, including indirect reinforcement of other risks to worker safety.DIRECT THREATS TO SAFETYThe Center for Disease Control warns that damage to hearing can occur after just 2 hours experiencing anything above 80-85 decibels. At 100 decibels the critical window for safety falls to only 15 minutes. And the threshold for pain and injury is 120 dbA. This means that even the lowest noise levels associated with various construction tasks can cause hearing impairment, or worse. Of course, ear plugs and other hearing protective devices (HPDs) are effective in reducing the potential for hearing problems. But workers resist wearing these for a variety of reasons, as we'll discuss shortly. COMMUNICATION CHALLENGESThe second set of problems relates to difficulty in communicating. Collaboration is critical for many reasons on any project, and there is no collaboration without clear communication. In the planning and design phases, collaboration is made far easier by increasingly sophisticated technology, ranging from BIM software to augmented reality. But while these technologies also have a role on the site itself, there is no substitute for direct person-to-person interaction when and where the work is being done, especially when unanticipated situations require adjustments on the fly. Yet noise is a huge hindrance to communicating. And in a physically challenging environment like a construction site where the potential for injury is high—loads can slip, seemingly stable footing can suddenly become unstable—a missed warning could lead to a serious injury.The irony here is that, in the eyes of many workers, the solution to the first problem often makes the second problem worse. Just as surely as the noise levels on a typical site create communication problems, wearing HPDs can make it difficult to hear fellow workers or supervisors. Collaboration remains hindered. Meanwhile, the benefits of preserving one's hearing may pale in comparison to the potential for a more serious injury thanks to the lingering inability to communicate. As a result, many construction workers resist wearing hearing protection.Noise ExposureNoise Exposureovercome unique barriers to communicationCOMMUNICATION MATTERSBy Rick Davies
Page 59
www.mcsmag.com MAY 202157HEADSET SYSTEMSIn fact, construction employment doesn't mean a worker has to make trade-offs between the risks of hearing damage on the one hand and the potential for an even more debilitating injury on the other.The solution to many of these challenges lies in use of staff communication systems. These are built around two core components, headsets and transceivers, that enable the wearers to overcome barriers to communication—not only the ambient noise of a construction site, but distance as well. The elimination of this latter barrier can be particularly important in avoiding injuries. The sudden emergence of a potentially dangerous situation or even the immediate threat of an accident is often clearer to those viewing the scene from a distance. An operator sitting high up in the cab of an excavator, for example, can take in the whole picture in a way the people comprising that picture cannot. And when everyone is equipped with headsets and receivers, he can warn of rapidly encroaching threat at least as quickly as a co-worker standing shoulder-to-shoulder with the person in danger. CLOSING THOUGHTSome of the drawbacks of impaired communication are direct and obvious, and others are the result of ripple effects and perhaps less obvious. None would deny that clear communication is critical in any job taken on by two or more individuals, at minimum for simple reasons of efficiency. Yet while injury prevention may not come to mind as a primary benefit of communication for most people, it's top-of-mind for many who are regularly exposed to the risk of injury. Their embrace of a technology to address their concerns will determine whether or not that technology is ultimately adopted and successful. A staff communication system is more than likely a solution the large majority will embrace. about the authorRick Davies is North America's foremost expert in improving manufacturing group communication, education, training, and group hospitality processes. He has more than 40 years of group hospitality experience, most recently serving as president of plant-tours.com for the last 18 years. He has provided consulting services with the majority of Fortune 500 industrial corporations improving group communication dynamics of all types in manufacturing environments. Plant-tours.com manufactures the most reliable, easy to use, highest quality headset communication systems for the manufacturing, industrial, and institution markets.
Page 60
MAY 2021 www.mcsmag.com58safety solutionAccording to OSHA, the construction industry suffers from one of the highest incident rates among high-risk industries. Statistics from the Department of Labor indicate that, in a single year, construction workers accounted for 1,008 or 21.1% of work-related fatalities. But the news isn't all bad as steps are being taken to accelerate improvements. Today trade unions, independent contractors, and industry organizations are placing a growing emphasis on safety."People recognize the dangers of this business; we've made safety our top priority," says International Union of Operating Engineers (IUOE) Local 14 training director, Tom Gordon. "Simply put, we're responsible for the safety of our workforce and people in and around the jobsite, and we take that very seriously."MEASURING PERFORMANCEWith such high risks, construction is today being held to some of the most stringent workplace safety standards. And to further protect workers, many companies are adopting metrics to measure themselves against OSHA as well as internal standards. These metrics generally include:• Number and frequency of incidents• Number and frequency of "near miss" incidents• Number of severe incidents resulting in hospitalization or fatalities• Amount of time lost to injury• Total recordable incident rate• Absent rates• Equipment breakdownDespite such steps, dangers remain. The Electronic Library of Construction Occupational Safety & Health (ELCOSH) reports that while construction site injuries account for 6% to 9% of project costs, safety and health programs account for only 2.5% of project costs.Measurable and sustained improvement is only realized through commitment. And a growing number throughout the industry are demonstrating this by establishing and monitoring key metrics for health and safety. Moreover, these same companies are doubling down by investing in the resources to manage, track, and enforce best safety practices in the workplace while implementing formal training programs to administer and evolve these standards. SIMULATION PROVIDES SUPPORTSimulation directly addresses health and safety metrics by reducing injury, while allowing trainers to virtually capture unsafe equipment operation. Built-in performance metrics can track everything from collisions and contacts with powerlines, personnel, vehicles, and other hazards. This provides the succinct, immediate, and objective feedback to avoid such dangers on the physical construction site.Leveraging simulation in your training program allows operators to gain familiarity and confidence in a safe, low-stress environment before taking control in the field. "Everything revolves around safety," explains IUOE Local 926 safety and training director Anthony Nash. "Our members come to learn proper set up, what to look for, and what to anticipate in the field. Experiencing these things in a controlled setting under an instructor's watchful eye saves significant time, money, and possibly lives."Greg Brown, inspector and trainer for Crane Industry Services, LLC, says that an added benefit is the ability to prepare operators for extreme conditions not easily replicated in field training. "We can challenge students with a wide variety of tasks, distractions, and difficult conditions such as high winds, rain, and so on without creating danger in or around the jobsite. And simulators aren't just for beginners. Their flexibility allows us to teach customized and advanced operations to even the most experienced operators."Accidents aren't the only job-related hazards that operators face. A paper from the US National Library of Medicine National Institutes of Health contends Simulation-Based Trainingimprove and maintain your health and safety metricsSAFETY FIRSTBy Mala Dewansafety solution
Page 61
www.mcsmag.com MAY 202159that exposure to dust, fumes, the sedentary nature of their jobs, mental stress, and long hours of temperature and sun exposure put operators at further health risks. Lessening training time spent on physical equipment reduces exposure to adverse conditions. As an added bonus, limiting machine service hours also reduces breakdowns and extends equipment life. INVESTMENT YIELDS RESULTSWhile improvements are being made, construction remains an inherently dangerous occupation. Fortunately, the industry continues to pursue, advance, and invest in employee health and safety. And while employers are clearly obligated to protect their workforce, formal programs are shown to contribute to a strong bottom line. From employee absence to rising insurance premiums, workers compensation, medical bills, time delays, and even litigation, worksite injuries come at a high price.According to the National Safety Council, construction companies can save an average of $32,000 for each medically consulted injury they avoid. Similarly, OSHA reports that construction companies can save $4 to $6 in indirect costs for every dollar invested in direct costs by evading an injury in the workplace. Irrespective of motivation, construction companies are putting programs in place to ensure a safer work environment; and Key Performance Indicators (KPIs) help track and measure progress on outlined objectives. Regardless of how long or detailed that list is, training is a common thread that runs through these indicators.CLOSING THOUGHTAs equipment becomes increasingly powerful and complex, operator training takes on a whole new level of importance. And simulation-based training is shown to offer a substantial return on investment in terms of time, retention, and effectiveness. about the authorMala Dewan is a product marketing manager for CM Labs Simulations, whose mission is to simulate the world to make operations safe and efficient, by connecting people, processes, and equipment design. The company builds simulation-based solutions to help clients design advanced equipment and prepare for skilled operations. Through its Vortex® Studio platform, CM Labs provides capabilities for training simulators, mission rehearsal, virtual prototyping, and testing. Clients include OETIO, IUOE, Kiewit, Liebherr, Mammoet, Manitowoc, NASA, and more than 100 other world-class companies, OEMs, equipment operators, and trades training organizations. CM Labs' vision is to be the leader in digital transformation, from machine design to training. For more, visit www.cm-labs.com. THE LEADER in Innovative Products
Page 62
MAY 2021 www.mcsmag.com60
Page 63
Page 64
MAY 2021 www.mcsmag.com62OSHA Compliant Guardrail andStair Rail SystemsSafety Boot® Guardrail SystemStringerShield® Stair Rail System1.800.804.4741safetyboot.com• Non-Penetrating Design• Rugged Steel Construction• Exceeds OSHA Regulations• Simple, Aordable & Reusable• Residential, Multi-Family & Commercial Applications• Unique Free Standing Design• Keep Post Attached For Reuse On Next Level Or ProjectFeatured on osha.gov website!
Page 65
NATIONAL CONSTRUCTION RENTALS understands the relationships we build are just as important as the quality of work we put into each project. It's with this principle in mind that has made us become the largest supplier of temporary fencing, barricades, portable toilets, hand wash stations, restroom trailers, mobile storage containers, and temporary power in the nation.For nearly 60 years, National Construction Rentals has worked with every leading construction company, supplying temporary site service solutions to: Bechtel, Flour, Kiewit, Turner, PCL Construction, The Shaw Group, Skanska USA, Clark Group, Jacobs, Foster Wheeler AG, The Walsh Group, Balfour Beatty, Whiting-Turner, Tutor Perini Corp., CB&I, Gilbane, Hansel Phelps, Mortenson Construction, McCarthy Construction, and countless others.From commercial and residential construction, to government projects, public works, and emergency response, National's team of experienced professionals dedicate themselves to each project until each customer is satisfied with the results. This was our goal when we started in 1962. This is what continues to define who we are today. For more, visit www.rentnational.com.WOC Booth# C6642 and N2142WOC MUST-SEE EXHIBITORwww.mcsmag.com MAY 202163modern construction productsDesigned with the contractor in mind and manufactured with American steel, the Dual Dozer can push or pull material and grade in any direction. The dual-sid-ed cutting edge fills in low spots faster. Get closer to edges with rear-mounted casters. The Dual Dozer works with even the highest level of all industry-leading machine controls and can be ordered with a standard quick-tach plate, three-point mount, or both to maximize your mounting options. HitchDoc has been manufacturing the Dual Dozer for more than 20 years and sells through a trusted dealer network. Dealer opportunities are available.For more, visit www.hitchdoc.com/dual-dozer.php. HITCHDOCDual DozerToughbuilt provides the ultimate in stability, comfort, and functionality with its GelFit™ Rocker Knee Pads. Made with abrasion-resistant 1680D fabric and hard-wearing, shatter-resistant plastic, the injected gel and foam design ergonomically embraces the natural shape of the knee and upper shin, maximizing pressure distribution for all-day comfort. The high sidewalls prevent the knee pads from twisting off the knee. The EVA elastic leg straps can comfortably maintain its position without cutting off the circulation. For more, visit www.toughbuilt.com/knee-pads. TOUGHBUILTGelFit™ Rocker Knee Pads STAY UPDATED:@modern contractor solutions@mcsmagEXTENDOBEDEXTENDOBED FOR WORK VANSExtendobed revolutionizes the way you store and access your equipment and supplies on your fleet of work vans. Every system can be customized to meet your needs, providing: • Double the storage volume than typical shelving systems• Increased productivity of work crews by helping them get on/off jobsites quicker• Reduced injuries—no more lifting heavy items from awkward positions or climbing in and out of a van, injuring knees, ankles, and backs. For more, visit www.extendobed.com.
Page 66
WE BUILD STUFF TOO Like better business practices and stronger bottom lines
Page 67
Page 68
MAY 2021 www.mcsmag.com64Dear Transitioning Tony,In this industry, it's common for people to get promoted to become the boss of their coworkers. How you handle the transition is critical to your long-term effectiveness as a leader. Tony, you are wise to seek advice as you make this transition. Overseeing their work can be awkward, but it doesn't have to be. Keep the following tips in mind to make your transition easier.✖ IT'S NOT PERSONAL: IT'S BUSINESSIt's important to have good, friendly, professional working relationships, but it's not necessary to maintain a "best-of-buddies" attitude outside of work (unless that's your choice). What's best for the business may not be best for these friendships. What can you do? Set clear expectations and boundaries, and make sure they're understood and accepted by the crew. Most important, always make decisions that are best for the business. Yes, be respectful of how your decisions affect crew members, but don't compromise your personal values to make a popular decision. Remember, business comes before personal.✖ RESPECT MUST BE EARNEDNew bosses are typically selected by company leaders, not the employees they will manage. However, your new position does not command respect; you must earn respect. To do that, be sure to demonstrate exceptional leadership at every opportunity. These 10 actions will help you earn your employees' trust and respect.• Be reliable; do what you say you'll do and follow up.• Use mistakes as an opportunity to teach and coach.• Practice humility and give credit where credit is due.• Be available and approachable to listen and be present when you do.• Roll up your sleeves and lend a hand when the crew needs help. • Show you care by humanizing yourself in a way that helps them grow professionally.• Set clear expectations on the work to be done and hold workers accountable.• Provide genuine appreciation and recognition for a job well done.• Treat people as you like to be treated; speak to them as they like to be spoken to.• Be fair and consistent in everything you do. Any perception of favoritism will tear a crew apart and negatively affect the outcome of a project.✖ NEVER THINK YOU'VE MADE ITCongratulations on your promotion, but you haven't made it yet. There is still much to learn and plenty of work to do to further develop your leadership skills. It's important to create a professional development plan that includes:• what you need to work on• how you plan to work on it • when you will execute that plan CLOSING THOUGHTYou already know the why—because you want to have a long, successful career in the construction industry. Implementing these ideas will put you on that path. about the coachAs a leadership development expert, Randy Goruk works with construction industry leaders to improve employee engagement and business growth. Register to receive his Leadership Tip of the Week at www.LeadersEdge360.com, or contact him directly to learn how he can help you and your team: randy@LeadersEdge360.com.HEY COACH, I just got promoted. I've been working on a crew for the past 2 years and it has worked out really well. My projects have completed on time and within budget, and our company is growing. This is a great opportunity for me. What advice can you give me as I make this transition from being on the crew to leading the crew?
Page 69
Page 70