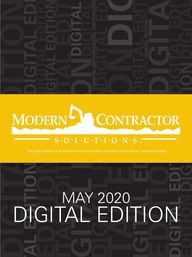 Return to flip book view
Modern Contractor Solutions May 2020
Page 1
Page 2
Page 3
MAY 2020WWW.MCSMAG.COMBOOMERS IMPACT ON THE ECONOMYPROJECTBUSINESSESADOPTING ACLOUD STRATEGYJOBSITEISSUESPOSSIBLESETBACKSLEVERAGINGTECHNOLOGYBE COMPETITIVE
Page 4
Page 5
Page 6
Page 7
Page 8
ENVIRONMENTAL SOLUTIONRetrofits for Cutting Carbon EmissionsSOFTWARE SOLUTIONUsing Data Metrics for ProfitabilityTECHNOLOGY SOLUTIONResearchers Use Enerpac for Safety Testing SAFETY SOLUTIONAdjustable Arch Lifting Technology16project profile Atomized Mistcuring concrete with consistent humidity level52MAY 2020VOLUME 14 ISSUE 05Inside This IssueON THE COVERPhoto courtesy of Morooka USA. A Morooka MST-2200VDR helps move dirt for a creek restoration project near Charlottesville, Virginia. Its unique ability to rotate its upper structure without moving the tracks allows for it to easily maneuver smaller jobsites. See the Morooka USA ad on the back cover.www.morookacarriers.com42special focusIN EVERY ISSUEIndustry News .................................08Modern Construction Products.......63What's Trending ..............................66safety solution Common Sensereturning to the office as states reopenlegal solution Delay Issuesa glimpse into construction setbacksmanagement solution Project Businessesadopting a cloud strategy 32software solution Leveraging Technologyremaining competitive 38projectssoftware solution Digital Transformationeffect of digitization36
Page 9
Page 10
Donna CampbellEditor in ChiefFrom the Editorwww.mcsmag.com P.O. Box 660197 | Birmingham, AL 35266DONNA CAMPBELL Editor in Chiefdonna@mcsmag.comMIKE BARKER Publishermike@mcsmag.com RANDY MOON Media Consultantrandym@mcsmag.comMICHAEL FISCHBACH Media Consultantmichael@mcsmag.com JOHN FRIEND Media Consultantjohn@mcsmag.comKEVIN MCCLARAN Media Consultantkevin@mcsmag.comLISA AVERY Art Directorlisa@mcsmag.comCRISTELA TSCHUMY Graphic Designercristela@mcsmag.com SETH SAUNDERS Digital Media Specialist seth@mcsmag.comINGRID BERKY Office Manageringrid@mcsmag.comTIM GARMONCEORUSSELL HADDOCKPresidentCHRIS GARMONCFODONNA CAMPBELLVice President, EditorialTONYA BROWNINGVice PresidentSUBSCRIPTION inquiries or changes:205.380.2048No part of this publication may be reproduced or transmitted in any form or by any means, electronic or mechanical, including photocopy, recording, or any information storage-and-retrieval system without permission in writing from the publisher. The views expressed by those not on the staff of Modern Contractor Solutions, or who are not specifically employed by Highlands Publications are purely their own. All Industry News material has either been submitted by the subject company or pulled directly from its corporate website, which is assumed to be cleared for release. Comments and submissions are welcome, and can be submitted to donna@mcsmag.com.For reprint information, contact Chris Garmon at chris@mcsmag.com.Canada Post Publication Agreement #41578525. Undeliverables 355 Admiral Drive, Unit 4, Mississauga, ON L5T 2N1@mcsmagModern Contractor Solutions MagazineModern Contractor SolutionsPROJECT PROFILEAtomized Mist ....................................................................16EQUIPMENT SOLUTIONSProper Footwear .................................................................20Compact Utility Loaders .....................................................24ENVIRONMENTAL SOLUTIONDisaster Recovery Plan ......................................................28MANAGEMENT SOLUTIONSThose Darn Boomers: Part 1 of 2 ......................................30Project Businesses .............................................................32SOFTWARE SOLUTIONSDigital Transformation ........................................................36Leveraging Technology ......................................................38LEGAL SOLUTIONDelay Issues .......................................................................42TECHNOLOGY SOLUTIONSThermal Bridging: Part 3 of 3 .............................................44Battery UPS ........................................................................46Healthcare Construction ....................................................48SAFETY SOLUTIONSCommon Sense..................................................................52Digital Tool Adoption ..........................................................54MAINTENANCE SOLUTIONSeasonal Care ....................................................................58FEATURED PRODUCTMi-T-M .................................................................................62PROJECTS CONTINUEI'm thankful construction is deemed essential. In fact, I view every industry as essential to the American way of life. There will always be an unforeseen issue that will need to be handled. I learned as a Girl Scout that the first rule of thumb was to not panic. In other words: do not overreact, think logically, and form a solution. Solutions are at the core of MCS and this issue puts a focus on projects. From the footwear needed on the jobsite (pg 20) to the versatility of compact utility loaders (pg 24) and adopting a cloud strategy (pg 32), the importance of technology and using data remains. We are still dealing with COVID-19 as states reopen. For articles related to the pandemic, read the legal issue of delays (pg 42); returning to the workplace as states reopen (pg 52); and a Q&A with Jon Tate, vice president of construction risk engineering for Zurich North America, as he shares his insight on the current state of the construction industry (pg 66). A close look at Baby Boomers and their impact on the economy is presented by Preston Ingalls (pg 30); part two of this article will be in the next issue of MCS.No doubt we've learned a lot about ourselves and business operations during this global pandemic. Will changes be made to better adapt to changing landscapes? Will safety in the workplace and on the jobsite be viewed differently? Together we will answer these questions and more as the year unfolds. For now, I leave you with commentary below from a GC in New York regarding his projects and the emphasis on safety.Cheers,SUPPORT FOR WOMEN IN CONSTRUCTIONGuest Post by Michaela CostonON THE BLOG"As far as I can see, the construction industry has been wearing gloves and masks, using hand sanitizer, and practicing proper social distancing. Our projects in New York, whether essential or not, have been working since this [pandemic] started and what we are seeing is if you maintain the proper protocol, we should be safe. All of our clients and employees have been very safe and we haven't heard of any cases within our own people or clients whom have had this other than a subcontractor that we know who contracted the virus. We firmly believe the safety behind controlling the virus works and will continue to be successful if the proper safety measures are maintained." Michael A. BordesCertified General Contractor and President of AA Jedson Company LLC
Page 11
SUBSCRIPTION inquiries or changes:205.380.2048
Page 12
MAY 2020 www.mcsmag.com8industry newsSOFTWARE PLATFORM ENHANCES EFFICIENCY AND ELIMINATES RISKY IN-PERSON CONTACT Extracker, a cloud-based collaboration platform that helps general contractors and subcontractors create, track, and share change orders and time and material tags, offers added safety and financial security during the COVID-19 crisis by ensuring real-time visibility into project costs for all parties and providing tools for working remotely and touch-free. In addition to financial protection, Extracker provides many of the country's subcontractors and general contractors a key tool to track T&M work while complying with COVID-19-related jobsite distancing requirements. Instead of filling out paper T&M tags for physical authorization, subcontractors can use the Extracker mobile app to professionally document their work and request a digital signature by email. The touch-free process automatically generates a cloud-based log for both companies. Many construction companies in the United States trust Extracker. Turner, a global provider of construction services with 10,000 employees, recently leveraged Extracker to convert the Sacramento King's former NBA Arena into a field hospital to treat up to 360 COVID-19 patients.Instead of bidding the project, Turner agreed to perform the work on T&M. All of their trade partners were trained on Extracker in less than 24 hours and used the touch-free workflow to get T&M Tags signed and automatically price out a change order request at the end of each day. With Extracker, Turner was able to see the project costs in real time and keep their teams healthy. "The goal for our customers right now is to get their teams back to work, and to do that in a healthy way," says Cameron Page, founder and CEO of Extracker. "Our tools allow them to do their jobs touch-free in a challenging environment and also help them protect their profit margins in this new economy. These are difficult circumstances, but it's also an opportunity for companies to evaluate their processes and workflows to incorporate new ideas and technology that will continue to give them competitive leverage after the current crisis has passed." For more, visit www.extracker.com. DOUBLE COIN AND LOVE'S TRUCK CARE/SPEEDCO ANNOUNCE PARTNERSHIPDouble Coin and CMA, a leading tire manufacturer and marketer, announce its joint partnership with Love's Truck Care and Speedco. In addition to the hundreds of current Double Coin dealer locations, Love's customers can now select from a wide range of Double Coin's Truck and Bus Radial (TBR) tires at any of the more than 380 Love's Truck Care and Speedco locations in the United States. Some of the available tires include: the
Page 13
Page 14
MAY 2020 www.mcsmag.com10industry newsRR150 premium 5-rib steer/all-position multi-use tire, the RLB400 closed shoulder drive position tire, and the TR100 ultra-premium shallow tread trailer tire. Love's and Speedco combined represent the largest oil change, preventive maintenance, and total truck care nationwide network, and provides professional drivers and fleets access to certified technicians to help get them back on the road quickly and safely with the best range of proven products and services. For more, visit www.doublecointires.com and www.loves.com. REDTEAM PROVIDES CONSTRUCTION INDUSTRY WITH ROI CALCULATOR TOOL TO MEASURE TECHNOLOGY VALUERedTeam, a collaboration platform for commercial contractors, announces its new ROI calculator tool to help companies estimate and measure the value of construction technologies. The new tool furthers RedTeam's commitment to servicing the construction industry by helping companies understand how benefits may be realized through the adoption of technology.Project delays caused by COVID-19 have given many general contractors the time to reevaluate their businesses and determine which workflows can be optimized. One of the biggest considerations is the adoption of new software—and understanding which software is worth the investment is critical. While most GCs have a clear picture of the general benefits of their technology options, there was no easy way to determine how these benefits will translate into their specific operations.RedTeam's new ROI calculator allows GCs to quickly determine the value of a new technology for their specific needs. The calculator takes the benefit (financial value created by the technology being used) divided by investment (the total cost of buying, implementing, and maintaining the software) to find the ROI, or total net value created. Benefits are measured in four categories: Labor Savings: Doing the same amount of work and doing it with less people, reducing overall labor costs Productivity Gain: Uses a method based on applying weighted per hour productivity calculation using average revenue per employee multiplied by gross profit hourly wage Workplace Benefits: With stronger controls and workflows, businesses have less conflicts and are able to run more smoothly, reducing stress and helping to retain employeesRisk Mitigation: Technology helps to lower company exposure to costs associated with project disputes"While many GCs are interested in exploring options for a technology software and have a sense that there are clear
Page 15
Page 16
MAY 2020 www.mcsmag.com12industry newsbenefits to adopting the right technology for their business, the value created from the use of software is not always easy to measure," says Frédéric Guitton, chief strategy officer at RedTeam Software. "When you evaluate technology, there are a lot of variables to consider that are not always apparent. With our ROI calculator, we help assess those variables to ensure you are getting the most accurate sense of the return on investment you feel is attainable for your business."The ROI calculator is located on RedTeam's website for free download. Companies can simply download the spreadsheet and input their specific structure and estimated impact to help optimize operations and profitability. To download the ROI calculator, visit www.redteam.com/roi-calculator/.COAST-TO-COAST U.S. COVERAGE NOW DEPLOYED FOR TRIMBLE'S CENTERPOINT RTX FAST CORRECTION SERVICETrimble announces the completion of the breakthrough expansion of its CenterPoint® RTX Fast correction service, with coverage now spanning the contiguous U.S. and southern Canada. This expansion is central to Trimble's vision to transform how and where users can leverage precision and accuracy. Ideal for autonomous applications in both on-road and off-road markets, the coverage and performance of the service enables industry professionals to rethink what is possible when using augmented positioning for improving safety, performance, productivity, and operational efficiency. The CenterPoint RTX Fast subscription service delivers horizontal positioning accuracy of one inch or less in under a minute, with the versatility of satellite or cellular delivery. This expanded coverage makes it the largest, high-performance GNSS correction network in the world. No other GNSS correction service provides this combined level of accuracy, convergence speed, flexible delivery, and geographic coverage. Now, with more than 5 million square miles of CenterPoint RTX Fast network coverage worldwide, users across North America and Europe, including farmers, land surveyors, and GIS professionals can untether from the cost and complexities of GNSS base stations. In addition, Trimble RTX Fast offers a single, continuous correction technology platform ideal for enabling a broad range of safety-critical autonomous applications in markets such as automotive, agriculture, and construction.CenterPoint RTX Fast subscriptions for Trimble RTX-compatible GNSS receivers are available through Trimble's Authorized Business Partners or Trimble's online store at: tpsstore.trimble.com. Trimble RTX correction services are available throughout most of the world. For more, visit positioningservices.trimble.com. SOLUTIONS FOR 80 YEARSBUILDING INNOVATIVE TRANSPORT TALBERTMFG.COM | 800-348-5232NOTHING BETTER BETWEEN THE LOAD AND THE ROAD!
Page 17
Page 18
Page 19
Page 20
MAY 2020 www.mcsmag.com16project profileAtomized Mistcuring concrete with consistent humidity level AIRFIELD TARMAC PROJECT
Page 21
www.mcsmag.com MAY 202017A pioneer in atomized mist technology helped a government contractor comply with strict military concrete quality and dust emission standards during the construction of an airfield tarmac. By providing a consistent humidity level in a high-heat desert environment, the DustBoss® DB-30™ (manufactured by BossTek) helped Southwest Concrete Paving Company (SWCP) maintain the proper moisture levels needed for high-grade concrete production. In addition, the mobile misting cannon offered dust suppression during the demolition of the previous tarmac and storage of dusty material. The result of the 9-month, multi-phase contract was a premium quality 87,000-square-yard concrete tarmac that passed inspections the first time while adhering to all workplace dust standards throughout the project. PROPER CONCRETE CURINGThe consequence of not meeting the required standards can be ripping out entire sections of the project to create a compliant product. The lifecycle of a normal road is 15 to 20 years, whereas the lifecycle of an airstrip apron is 40 to 60 years. Due to the point loads of jets and other aircraft, proper curing is critical, thus engineers meticulously test for slump and moisture content every step of the way. Paving crews in arid conditions generally work through the night to control surface temperature and slump. Critical factors include ambient temperature, concrete temperature, wind speed, and humidity. As the concrete mix temperature increases, slump will decrease approximately 0.8 inches for every 20-degree Fahrenheit rise in temperature."The night temperatures fluctuated, but often remained above 80-degrees Fahrenheit," explains David Rath, QCQA manager for SWCP. "In those conditions, the relative humidity across the curing slab has to consistently stay above 40 percent. If the surface
Page 22
MAY 2020 www.mcsmag.com18project profileconditions aren't precisely controlled, the concrete surface will be prematurely exposed to tensile stresses that it cannot withstand before the hydration of the cement has passed a certain stage. This causes small cracks known as plastic shrinkage, which can significantly reduce the life of the concrete."PRECISE MOISTURE CONTENTOnce the sun went down, the atomized misting cannon was moved to the front of the paving machine to lay an even surface of moisture across the base layer. When pouring, the moisture content of the concrete mixture is precise, but the dry ground can draw the moisture out of the meal, increasing the chances of cracking.Due to the need for mobility, SWCP secured the DustBoss DB-30 to the back of a flatbed truck with a 250-gallon water tank and a portable generator to create a completely mobile and autonomous unit, designed for conditions that lack adequate access to water and power. The water cannon could be removed and placed on a hydraulic forklift as high as 40 feet in the air. This allowed improved targeting of the atomized mist sprayed over and around the newly poured concrete to provide the humidity and surface moisture needed for proper finishing. Using the variable height and the DB-30's adjustable 0- to 50-degree vertical angle settings, operators were able to control the humidity levels and coverage area, while compensating for wind.EVENLY DISTRIBUTED DROPLETSWater from the tank is forced through a circular stainless-steel manifold with 30 atomizing spray nozzles at the front of a heavy-duty cone-shaped barrel design. A powerful 7.5 hp fan at the back of the cannon, producing 9,200 cfm of airflow, launches millions of tiny droplets in a 100-foot cone. With 180-degree horizontal oscillation, the unit has a coverage area of 17,000 square feet. Using only 9.8 gpm of water, the unit raises the humidity of an entire area with evenly distributed droplets between 50 to 200 microns in diameter (approximately the size of fine dust), while minimizing pooling or runoff.The unit is designed to be set up by a single worker and operated autonomously without further attention. Able to be operated by remote control, the DB-30 also has a touch screen panel for adjusting the settings (oscillation, pump settings, etc.). The panel is encased in a NEMA 3R cabinet to protect it from the harmful elements of outdoor operation such as dust, rain, and contaminants.ADJUSTABLE TO THE JOBThe mobility and adjustability of the DB-30 allowed crews to reposition and recalibrate the settings of the atomized mist cannon to raise the humidity above the paved surface and prevent water from being sheared away by high winds. "Some of the wind conditions would have stopped construction cold in the past," says Rath. "Positioning the DustBoss upwind, allowing the air to carry the humidity with it, kept us up and running on several occasions. Otherwise, we might have had to go back, rip out what we poured, and start again."Wrapping up the finishing touches of the project, core samples of the concrete taken by inspectors demonstrated high quality, with no compliance issues. The meticulous planning, technical skill of the staff and use of modern technology allowed SWCP to complete the project on time and on budget with no major downtime. CLOSING THOUGHTThe atomized mist technology has proven to be applicable across several segments within SWCP's business, from road construction to military and public airports. Enhanced control over the finishing process helped improve the outcome and extend the life of the finished product. This attention to detail and quality has become a hallmark of SWCP projects. for more information BossTek is a global leader in dust and odor control solutions for the storage and handling of clinker, petcoke, coal, rock and aggregate, as well as controlling air quality during port unloading, recycling and scrap processing, mining, earth moving, and construction demolition. For more, visit www.bosstek.com.
Page 23
Page 24
MAY 2020 www.mcsmag.com20equipment solutionProper Footwearconsiderations for choosing the right work bootCONSTRUCTION JOBSITE PPEBy Xavier Kawula
Page 25
www.mcsmag.com MAY 202021Footwear is an essential tool and element of protection for contractors. Depending upon what you put on your feet, standing, pouring, climbing, and working for long periods of time can positively or negatively impact your productivity. Looking generically for a work boot may set you down a bad (and uncomfortable) path. When choosing the proper footwear, your key guidelines are function, fit, and features. A basic boot that fits well and hits all required governmental regulations is great, but could you do better? For example, the Muck Chore Classic has been a mainstay of the work boot world for 20 years. It was built on that proven framework and designed the new Chore Max with a composite toe, which has a slower heat transition rate (vs steel toe boots) to keep feet warmer longer in cold weather. The traction was improved with a new outsole design and put a non-metallic puncture resistant plate in every pair. The Oliver line does things similarly. The 65493S is a rigger boot that nails the functions of the class. ASTM and CSA certified, but with additional features like an ergonomic toe cap, antimicrobial linings, a dual density insole, barnyard resistant leather, slip resistant outsole, TPU toe and heel for additional wear resistance, and Kevlar stitching along the vamp plug for additional durability.Key features when considering a boot are: waterproof protection, climate control, slip resistance, and cost.WATERPROOF PROTECTION The workday doesn't stop just because it's wet outside, even if it is very wet or cold. The client wants the job completed on the contracted date. The problem with leather boots is that eventually they will start absorbing water—yes, even waterproof leather. When it becomes saturated, it loses strength and begins to tear and leak. The performance features of some brands, like the Original Muck Boot Company, are built to be fully waterproof, keeping feet safe and dry regardless of what Mother Nature puts in your path. Muck boots keep your feet warm and dry even in the worst conditions as they are constructed from hydrophobic materials such as rubber and neoprene, no matter how many days in a row you have had the worst conditions. The same goes for days you are pouring concrete or doing irrigation work. The performance features of reliable boots like the Chore Classic, Chore Cool, and the new Chore MAX mean that you can get the right boot for the right job no matter the conditions.CLIMATE CONTROLHow you protect yourself from the cold is also becoming more sophisticated in footwear design. In the past, contractors have looked for higher and higher temperature ratings, thinking that more is better. Instead, we are seeing a trend in contractors looking for climate control in the boots rather than simple insulation in the product design. High insulation values that cause perspiration create a worse condition than the cold itself, as the now released perspiration condenses and soaks even more heat out of the body, especially when the person goes from active to inactive states. This is where Honeywell industrial work brands such as Muck, Oliver, and Ranger have additional insight, as many years ago, Honeywell was an early innovator in the concept of climate control. Therefore, when designing products for contractors and other industrial workers, creating the right climate in the boot is thought about, not just loading it up with insulation.SLIP RESISTANCEAnother important feature for a contractor is slip resistance. Whether working on a roof or pouring concrete, traction is an important feature of a safety shoe and something that all workers should consider. However, there is a lot of industry frustration and confusion around slip ratings and what is best. Many products will say they are slip resistant or call out their slip resistance as Fair, Good, or use another subjective
Page 26
MAY 2020 www.mcsmag.com22equipment solutionterm. If you are truly looking for footwear to be compliant to a Slip Hazard Assessment Plan, it is important to be able to review the manufacturer's actual slip scores in the standardized tests. The current standard for slip-resistant testing is the SATRA, which is a whole shoe test. Older tests were designed to test the floor, not the shoe, and are considered obsolete. We suggest looking for SRA for most wearing occasions and an SRC slip-rated outsole when looking for best-in-class slip performance. If an outsole has a passing score on the Slip Resistance A test—soapy water on quarry tile—it can be labeled SRA. If an outsole has a passing score on the Slip Resistance B test—glycerol on stainless steel—it can be labeled SRB. If it passes both tests, it can be labeled as SRC.COST OVER TIMELastly, it is important to consider cost over time in your footwear investments. Often when shopping for boots, we only focus on the initial sticker price and don't take into account such things as average wear time or time to failure. Higher-end manufacturers take a lot of things into consideration to make sure you are getting true quality from what you spend. Manufacturers look at where the high-wear, high-flex, and high-stress areas of the boot exist, and how to mitigate damage through material selections and design changes, so you may be paying more upfront but the longevity and quality of the product is well worth the price.CLOSING THOUGHTWhat you put on your feet needs to be what is going to work best for you over time. Whether you are out on a job in the wet, cold weather setting deadlines and budgets; coordinating with subcontractors; or obtaining appropriate building material; your footwear is a key piece of gear to keep you safe and comfortable. It is important to keep overall costs, climate control features, slip resistance, and waterproof features in mind when purchasing. about the authorXavier Kawula has 20+ years footwear experience. He currently serves as Honeywell's liaison for innovation, as well as product manager for Honeywell's Work and Hunt offerings. Prior to Honeywell he was a product manager at Timberland Boot Company and Timberland PRO.
Page 27
Page 28
MAY 2020 www.mcsmag.com24equipment solutionCompact Utility Loadersversatile machines for the jobsiteGAINING MOMENTUMCompact utility loaders (CULs) have been gaining remarkable momentum in recent years, and rightfully so. These powerful, durable, and versatile machines are a hit in the compact equipment industry. With the CUL segment gaining in popularity, this category has already started giving compact track loader and skid steer loader manufacturers a run for their money. CULS ON THE RISEContractors, both large and small, continue searching for creative and effective ways to maximize their overall capital equipment investments. We know that a CUL generally has a smaller upfront investment than its rivals in the skid steer loader and compact track loader classes. However, in addition to offering you a bigger bang for your buck, do CULs also deliver high-performing results on the jobsite? In the past, contractors realized the benefit of the smaller upfront investment with CULs; however, they were a bit skeptical of how the CUL would perform on a typical large-scale jobsite.Luckily, with recent major technological enhancements from popular CUL manufacturers like Toro, contractors are realizing that CULs can lift as much or even more than entry-level skid steer and track loaders. It's evident that when you have a CUL, you can take advantage of all the other benefits associated with a smaller machine. Not to mention the lower upfront and ongoing maintenance costs when compared with skid steers or track loaders. OPERATIONAL COST SAVINGSNumbers aside, in terms of performance, there are really three main reasons that any contractor looking to minimize operational costs should consider. First, compact utility loaders can go places skid steer loaders and compact track loaders cannot. Thanks to the compact footprint and lower overall operating weight, the machine is both easier to transport and typically nimbler and maneuverable on the jobsite. Second, the fact that operators can mount and dismount the machine easily is a feature that can be very attractive for contractors and equipment operators. If a specific job requires crew members to get in and out of a machine frequently, the CUL class has the edge. Stepping off the platform is objectively much simpler than climbing in and out of the cab of a machine. Finally, a CUL offers superior visibility over a skid steer loader or a compact track loader. Where the latter two classes of equipment rely on mirrors and backup cameras, the compact utility loader class requires the operator to simply turn their heads for a panoramic, unobstructed view of their surroundings. By Kyle Cartwright
Page 29
Page 30
www.mcsmag.com MAY 202025NEXT GENERATION OF CULSThere are also several innovative and intuitive features that have been engineered into the CUL category. Here are a few of the smart features that would make an excellent choice for any contractor to include in their fleet: effortless controls, which allow the operator to have all the controls of the machine on an easy-to-navigate control panel at their fingertips; a high-drive track system which mimics the design of many CTL models and ensures that it can withstand the demanding conditions of a construction site; and comparative height and reach statistics when compared to entry-level SSLs and CTLs. And, they're getting more powerful and innovative. For example, in February 2019, Toro introduced the Dingo TXL 2000, which harnesses all the benefits of a compact utility loader with an outstanding rated operating capacity of 2,000 pounds and telescoping loader arms. They're also getting smarter. The next generation of CULs is also starting to feature electric compact equipment, with the introduction of the world's first revolutionary electric Dingo—the Toro® e-Dingo™ 500 compact utility loader. With an operating capacity of 515 pounds, the e-Dingo allows contractors to utilize all the benefits and power of a standard compact utility loader with no fuel costs and zero exhaust emissions. Higher efficiency and reliable performance set the e-Dingo apart for faster completion times and higher ROI for rental partners. It's also powered by lithium-ion battery technology designed for tasks that require heavy or continuous operation for indoor applications. Now that electric-powered equipment has found its way into the CUL category, contractors could anticipate even more popularity with CULs. After all, people do enjoy using machines that are lighter, quicker, high-performing, and sustainable—factors they can expect to find in CULs, specifically in electric-powered CULs.CLOSING THOUGHTWhen you break it all down, CULs are an outstanding alternative to the two other equipment classes. They now have the power to rival their larger equipment counterparts and the intelligently engineered features to make the compact utility loader not only a legitimate option, but potentially a superior option on the jobsite for light-, mid-, and heavy-duty applications alike. about the authorKyle Cartwright is the marketing manager at Toro, a leading worldwide provider of innovative solutions for the outdoor environment including turf and landscape maintenance, snow management, rental and construction equipment, and irrigation solutions. For more, visit www.toro.com. The Only lifT Made fOr Skid STeerS and TracTOrSinfo@skidlift.com ▲ 701-799-8228 check OuT Our webSiTe www.skid-lift.comand Teach yOur Skid-lOader Or TracTOr SOMe new TrickSThe Skid-Lift goes anywhere your skid steer goes and provides a solid anchor and larger footprint for a safe, stable, and secure platform.Call now!
Page 31
MANUFACTURERS OF SLOTTED & PERFORATED PIPE RANGING FROM ½" TO 24" IN DIAMETER142 Broadkill Road ♦ Milton, DE 19968 ♦ www.atlantic-screen.com ♦ atlantic@ce.netAtlantic Screen& Manufacturing, Inc.302-684-3197Fax 302-684-0643•WellRehabProducts•Manholes•Bentonite•FilterSock•InlineChemicalMixers•SamplingBailers•ClearPVCPipe•LockingCaps
Page 32
MANUFACTURERS OF SLOTTED & PERFORATED PIPE RANGING FROM ½" TO 24" IN DIAMETER142 Broadkill Road ♦ Milton, DE 19968 ♦ www.atlantic-screen.com ♦ atlantic@ce.netAtlantic Screen& Manufacturing, Inc.302-684-3197Fax 302-684-0643•WellRehabProducts•Manholes•Bentonite•FilterSock•InlineChemicalMixers•SamplingBailers•ClearPVCPipe•LockingCaps
Page 33
MAY 2020 www.mcsmag.com28environmental solutionThe tornadoes that tragically ravaged the southern U.S. recently underscore the reality that natural disasters can strike at any moment. Ongoing construction projects are particularly vulnerable to natural disasters and catastrophic weather events. Owners of construction projects and their contractors should have an effective disaster recovery plan in place that contemplates legal and insurance issues related to extreme or catastrophic weather events. INSURANCE ISSUESWhen drafting recovery plans, project owners and contractors have numerous insurance-related questions to consider including whether the project owner has coverage for flood damage, for example through the National Flood Insurance Program, and/or for windstorm damage. Project owners and contractors should review all property, casualty, builders risk, and other policies and determine the availability and scope of insurance coverage; identify the causes of all potentially covered property damage, for example whether damage was caused by wind-driven rain, wind, storm surge, a breakdown of flood protection systems, and/or flooding from rain; and identify issues that may affect a policyholder's ability to collect on a claim. The policyholder will likely need to review how the policies define key terms such as "flood" and "wind" to determine whether the policy language is broad enough to cover potential property damage caused by these elements.Other considerations should include whether builders risk policies are in place that will cover natural disasters; whether policies cover any expected business interruption losses caused by delays, or "contingent" business interruption losses, which are losses suffered because a supplier or subcontractor was delayed; and, if a disaster occurs, how project participants will collect and preserve materials necessary to substantiate claims.In addition, companies should be prepared to determine, after a catastrophic weather event, whether it is necessary to engage a forensic accountant or other consultant—the cost of whose services may be covered in a policy—because specific specialized information may be needed to develop a claim for business interruption or other types of loss. Project participants must also know how to comply with notice requirements of the relevant policies—which is generally a mandatory condition precedent to a claim—and provide timely notice to all carriers whose policies potentially provide coverage.CONTRACT CONCERNSProject participants should also understand their contractual rights and obligations in the event of a severe weather event including, for example, those related to increases to costs of work, termination, delays, and claim submission requirements. Delays and Increased Costs: Delays caused by severe weather events are treated in many construction contracts as "excusable delays," i.e., the contractor is entitled to additional time to complete the work but not additional compensation. Delays are generally compensable only if they would not have occurred but for the action or inaction of the owner, or where the delays arose Disaster Recovery Planrecovering your construction project after a natural disasterBEST PRACTICESBy Daniel A. Kapner, Esq.
Page 34
www.mcsmag.com MAY 202029as a result of a condition that the owner was originally responsible for, such as differing site conditions. However, some contracts do contain provisions expressly addressing extreme or catastrophic weather events, so project participants should carefully review the particular terms of the agreement. Project participants should also analyze the terms of the contract to determine the contractors' entitlement to increased costs arising from natural disasters such as the costs of cleanup, correcting and/or replacing damaged work, and increases in the cost of construction materials, and determine whether further insurance coverage is necessary to protect against the risk of incurring such costs.Claim submission requirements: Most construction contracts require the submission of claims and notice of claims within mandatory established time periods. Because many jurisdictions strictly enforce such provisions, it is critical that project participants strictly comply with the procedure for asserting claims and all associated notice requirements. Parties should also ensure that claim notices are properly submitted to sureties, if applicable.Termination: Whether a contractor is contractually entitled to terminate a contract is complicated and depends on the particular terms of the agreement. Even if a project has become significantly delayed, the contractor may be responsible for a substantial increase in costs. If it appears unlikely that the project is able to achieve completion due to a natural disaster, the contractor should not assume that it is contractually entitled to or advisable to terminate. If a contractor is considering termination, they should exercise the utmost care and caution because terminating a contract regularly leads to disputes.CLOSING THOUGHTProject owners and contractors must carefully review their construction contracts in preparation for an extreme weather event and understand their rights and responsibilities, so they are best equipped to get the project back on track if a natural disaster were to occur. about the author Daniel A. Kapner, Esq. (www.slslaw.com/daniel-a-kapner) is a member of Shapiro, Lifschitz & Schram's trial practice, construction law, and power and energy construction groups, where he advises local, regional, and national clients in various sectors of the construction industry on contract and commercial disputes, mechanics lien claims, construction defect claims, design errors and omissions, real estate and property disputes, and contract drafting. Contact him at 202.689.1900 or kapner@slslaw.com.
Page 35
MAY 2020 www.mcsmag.com30management solutionSo, you have to work with a Baby Boomer or two? Ever notice they are different from the other Generations, like Gen X or Gen Y (Millennials)? Well, the reason they seem different is because they are.DECADES IN THE WORKFORCELet's explore the Baby Boomer. I am offering my unique firsthand perspective because I have been one all my life. Although I started working part time after school at the age of 12, it wasn't until I was 16 years old that I started paying in on Social Security, meaning I have over five decades in the workforce. It might help to define exactly who qualifies as a Baby Boomer. Technically, it is an individual born between 1946 and 1964—that makes up 20 percent of all Americans. The origins of the Baby Boomers began after the end of World War II, when birth rates across the world increased sharply. The explosion of new infants became known as the Baby Boom. During this period, almost 77 million babies were born in the United States alone, making up almost 40 percent of the American population.BOOMER SPENDINGAccording to an AARP bulletin, Baby Boomers spend roughly $7 trillion per year on goods and services. And even though we are getting older (the youngest Baby Boomer would be in their late 50s in 2020), we continue to possess considerable corporate and economic influence. In fact, 80 percent of the country's personal net worth belongs to Baby Boomers.America's post-World War II prosperity provided well for the previous generation, the Greatest Generation. Many had company-funded pensions. For example, according to the Social Security Administration, 90 percent of retirees today receive Social Security benefits, in contrast with only 69 percent of retirees in 1962. They also benefited from a workforce in which there were six employees for every retiree. Plenty of people in that generation were able to retire at the official age of 65 and many even younger. LONGER LIFESPANAnother significant change from then to now is that a large portion of the 72 million remaining American Baby Boomers will actually live 10 to 25 years longer than our parents did. That means those folks retiring in their 60s can expect to live about 25 years beyond retirement, thanks to healthier lifestyles and improved healthcare systems. But most companies did away with pension plans in lieu of the 401K plan. Because Boomers were the first generation to encounter these changes, a majority of the them didn't start saving enough or early enough, with many procrastinating. Those Darn Boomersthe baby boomers' impact on the economyEXPERT COMMENTARYBy Preston IngallsPART 1 OF 2
Page 36
www.mcsmag.com MAY 202031In addition to most not saving enough money, Baby Boomers experienced the Great Recession in the late 2000s at a crucial time for their retirement savings. The meltdown of 2008 in the mortgage industry and the subsequent stock market crash left many Baby Boomers struggling with their retirement savings. Many lost their jobs and subsequently turned to borrowing against the equity in their homes as a solution, which put them further in the hole. Countless Boomers were frightened by the crash and missed the rebound.THE WORRISOME WRINKLEHere is the bad news … research by the Insured Retirement Institute (IRI) showed that 45 percent of Baby Boomers have no retirement savings. Only 55 percent of Baby Boomers have some retirement savings and, of those, 28 percent have less than $100,000, which will be totally inadequate to fund the 10 to 25 years of projected retirement. This appears especially troubling when you consider that, based on information from the Bureau of Labor Statistics, adults between ages 65 and 74 spend, on average, $48,885 a year. This means many will depend on Social Security for those retirement years. However, the average Social Security benefit of $1,503 per month for 2020, according to the AARP, is less than half the average wage, which is approximately $3,668, according to the Bureau of Labor Statistics. Current events will create even more stress. With an uncertain future, Baby Boomers could face difficulty in returning to the workforce due to employers opting to hire cheaper, younger workers and discouraging older, more highly compensated workers from returning to their jobs. And, many Boomers may decide, "What the heck?" it's time to go on Social Security and Medicare ... that will be a disaster. CLOSING THOUGHTAs we can see, we depend on Boomers returning, so let's hope they do. The economy needs it and so do they (we). Now that you know the basics of Boomers, get ready for part two of this series in the next issue of MCS, which will cover how to work with a Boomer. ON THE WEBCheck out this article on mcsmag.com for added commentary from Bloomberg Opinionabout the authorPreston Ingalls is president and CEO of TBR Strategies, LLC, a Raleigh, North Carolina-based maintenance and reliability firm specializing in the construction and oil and gas industries. Preston can be reached at pingalls@tbr-strategies.com.
Page 37
MAY 2020 www.mcsmag.com32While the federal government has not announced any guidelines on construction during the coronavirus pandemic, many state and local governments have issued their own regulations. However, despite the fact most states have implemented a "stay-at-home" order excluding construction workers, there's no denying construction projects are slowing down, on standby mode, or completely shut down. According to the Association for General Contractors of America, 27 percent of construction firms reported coronavirus-related layoffs. In addition, the firms responding to the Association survey that said they have been ordered to stop or completely cancel projects by their clients jumped to 55 percent. The impact of the coronavirus has forced many companies to work remotely. Unfortunately, most project-based companies, also known as Project Businesses, are not equipped to do so. Of course, it is understood that construction work requires a hands-on approach; however, that's not to say there isn't a need be able to work and manage projects remotely. The fact is, Project Businesses are not set up to take advantage of the cloud. Unlike traditional business industries where it's much easier to apply technology to standardized processes and data in order to automate and accelerate production, it's not so easy with Project Businesses with their unique products and non-standard business practices. IDENTIFY THE ISSUESMost Project Businesses operate within a host of disparate tools and applications to run their entire business (e.g., project management, time and expense, project accounting, ERP, and lots of spreadsheets). In addition, they spend a lot of time, money, and resources trying to manually translate, consolidate, and validate large amounts of project data from these multiple solutions. On top of that, many of these applications are not cloud-ready, meaning they may not be accessible remotely, or the applications and files could be sitting on someone's desktop, inaccessible from the rest of the company. And while this fragmented setup means these companies have no way to integrate, share, and present that data in these remote working conditions, it also means project managers and executives do not have real-time visibility into the status of their projects. This disparate landscape leads to mistakes and delays, which can cause important business decisions to be made based on outdated and unreliable information. What should construction companies do now? Where do you start and how should you move to the cloud? If you replicate your fragmented environment in the cloud, you'll have the same problem, just in a different place. Construction companies need to rethink their cloud strategy. To benefit from the cloud, you need to consolidate your multiple point solutions into one, end-to-end cloud system. This approach maximizes the value of the cloud not only by reducing overhead costs to manage individual applications, but you can eliminate them altogether. PROJECT BUSINESS AUTOMATION Moving to the cloud represents an opportunity for construction companies to unify their organization by integrating all the project functionality normally managed in disparate applications into one, end-to-end Project Business system. This is a new concept called Project Business Automation (PBA). Project Businessesadopting a cloud strategy is key during and after pandemicIMPROVING PRODUCTIVITYBy Daniel Bévortmanagement solution
Page 38
www.mcsmag.com MAY 202033PBA standardizes, integrates, and automates all Project Business processes and data. With this structure, PBA can produce time-phased operational and financial threshold data, giving construction companies the ability to run their projects with real-time visibility and control over processes, costs, and risks. This will allow project managers and executives to determine if any projects are running late or over budget and can mean the difference between low and high profitability. Let's face it, being able to anticipate and respond to changing market conditions can make and save you a lot of money. Implementing a project-based cloud solution not only creates the data structure necessary to operate like a well-oiled machine, but enables your employees to collect, share, and analyze the right data, at the right time. When your project plan is the central entity against which a host of other operational activities are planned and managed, you need to make it central to your business system strategy. With this approach, you will be able to make better business decisions faster and improve the overall productivity of your company. CLOSING THOUGHTBy the time we get through this pandemic and on the other side, the way we do business will never be the same, and the reboot to normalcy will demand more than business as usual. Project Businesses need to prepare now. Take this time as an opportunity to restructure your organization and data processes in a way that allows you to efficiently and effectively work, collaborate, and manage your projects in times of crisis now and in the future. The temporary pause forced upon us by COVID-19 presents a narrow, but unprecedented opportunity to make bold moves. In good times when business is humming along, making the move to an integrated cloud system might be seen as disruptive and put on the back burner. Now companies have the chance to make that move quickly and set themselves up for success on the other side of this. about the author Daniel Bévort is the founder and CEO of Adeaca, a specialized Microsoft industry partner focused primarily on the development of new business processes and systems for project-based companies. For more, visit www.adeaca.com.Editor's Note: What has your experience been using an integrated cloud-based system? If not currently using a software solution, do you have plans to update your operational technology? Email me at donna@mcsmag.com. Look for answers to this question and more in the next issue of MCS.
Page 39
Page 40
Page 41
If you've followed the predictions of construction industry technologists over the last decade you could be forgiven for skepticism about the current hype. Similar to Chicken Little's warning about the falling sky in the children's fable (turns out it was just an acorn), the promised mass reckoning for industry laggards and Luddites has not yet materialized. But just because a prediction hasn't come true yet doesn't mean it won't. The growing demand for built infrastructure and Silicon Valley's generous subsidization of innovation seem to indicate that the construction industry will soon reach its tipping point. HARBINGERS OF CHANGEAnother key driver for this change will be a critical mass of savvy owners implementing new approaches to planning, procuring, building, and operating their built assets. The incremental efficiency gains within siloed project stakeholder groups will compound and then accelerate, as clients increasingly require a more integrated design and construction supply chain. What will this digital transformation look like for the construction industry? The results of this will look a lot like the future the technologists have been promising.Construction tech insiders are seeing a number of trends that will soon pose real risks to unprepared firms. Miners would bring canaries to work to warn them if they needed to evacuate when conditions became unsafe (they warned them by dying). Here are three canaries to watch and how to prepare for their eventual demise. ACCESS TO SKILLED RESOURCES. The construction industry skews disproportionately older, and we will soon feel the impact of lost technical expertise as the Baby Boomer generation retires. Additionally, young people are increasingly picking professions in different industries, depriving the industry of new blood. Companies should be prepared to adjust to a new reality in which expertise is increasingly scarce and distributed. A critical success factor will be the ability to leverage technology to capture knowledge that until now existed in the brains of the most seasoned workers, MAY 2020 www.mcsmag.com36software solutionDigital Transformationthree ways digitization could change the construction industrySEIZING OPPORTUNITYBy Sean Olcott and Scott UngerTHE GROWING DEMAND FOR BUILTINFRASTRUCTURE AND SILICON VALLEY'SGENEROUS SUBSIDIZATION OF INNOVATIONSEEM TO INDICATE THAT THE CONSTRUCTIONINDUSTRY WILL SOON REACH ITS TIPPING POINTOF EMBRACING TECHNOLOGY AND MOVINGFORWARD TO BE COMPETITIVE AND ALIGNITSELF WITH DIGITAL BEST PRACTICES.
Page 42
www.mcsmag.com MAY 202037and to implement systems that can automate the application of it. Another factor will be the ability to leverage new technologies to scale operational processes and best practices, so that companies can still grow even with a shrinking talent pool. DESIGN-BID-BUILD PROJECTS. Owners are adopting project delivery methods that better align team incentives and facilitate improved collaboration, such as Design Build, Construction Manager at Risk, Design Assist, and Integrated Project Delivery. Many of the features of a successful design-bid-build engagement for an individual operator in the supply chain—the hoarding of information, the allergy to risk, the change order—cannot be maintained in a contracting method where project success is defined by the absence of those features. A key enabler for these delivery methods are modern systems that leverage the cloud, are flexible enough to accommodate unique user requirements, and are predisposed towards integration. Companies must embrace these systems and the transparency it brings to projects, or will increasingly find itself on the outside of these new contracting approaches favored by its clients. SOFT COSTS AND BILLABLE HOURS. As processes go digital and project teams become more integrated, the industry will see increased scrutiny of what activities add value to the design and construction process. This will not just touch the more easily automated administrative and oversight activities on projects, it will even impact professional services resources who must justify pricing paradigms based on old ways of doing business. As owners begin to recognize the possibilities of greater visibility and more control of their project delivery supply chain, organizations will need to adopt Lean principles and be prepared to reevaluate how they should be compensated for their work. CLOSING THOUGHTWhen the Dutch sailors arrived on Mauritius in the late 16th century, they weren't the first humans the Dodo Birds had ever encountered—but they were the ones that drove them to extinction. There are real reasons to believe we are approaching the long promised digital transformation of the construction industry. Firms that will thrive in today's economy and the coming years will be the ones able to not only spot the risk, but to seize the opportunity it presents. It will be these companies that succeed. about the authors Sean Olcott, technical director at Gafcon (www.gafcon.com), has been at the bleeding edge of industry innovation since 2006. Prior to joining Gafcon in 2013, Sean worked at industry start-ups that brought emerging solutions to the market for Building Information Modeling, business process outsourcing, managed service cloud platforms, and digital twin technologies. At Gafcon, he helps project owners make sense of the expanding alphabet soup of industry technology acronyms (PMIS, VDC, BI, EDMS, CMMS, BI, IoT, UAV, AR, VR, and more!) to design and implement solutions that enhance collaboration, drive accountability, and increase predictability on their capital building programs and projects.Scott Unger is the co-founder and CEO of Kahua (www.kahua.com), the creator of the world's only collaborative network for real estate and construction project management. He helps the world's leading owners, contractors, architects, and engineers to profitably deliver the highest performance capital projects at the lowest possible cost. Prior to Kahua, Scott was co-founder, president, and CEO of Constructware, the first cloud-based SaaS project controls solution. Constructware was acquired by Autodesk in 2006, and he served on the Autodesk executive team following the acquisition. Scott has served as chairman of the Board of Directors for Associated Builders and Contractors.
Page 43
MAY 2020 www.mcsmag.com38Rising material and labor costs, coupled with an increasingly competitive landscape, means tight margins for construction firms and little room for error when it comes to delivering construction projects. A 2020 Deloitte Engineering and Construction Industry Outlook report noted that most engineering and construction firms "continue to experience low profitability and margins … The industry's traditionally low margins, combined with increasing project complexity, fierce competition from Asian companies, and supply chain constraints, will likely continue to put extra pressure on US companies' profitability in 2020."In this environment, many construction firms are struggling to grow and achieve business goals. Leveraging technology in project design, building, and managing can help firms remain competitive and improve profitability.DESIGNA design-assist approach, which brings together key construction team stakeholders with design professionals early in the design phase, is a collaborative approach that helps address complexity in construction projects. Advances in technology are helping facilitate this approach connecting architects, contractors, engineers, and key subcontractors to develop a shared understanding of the project early in the process. This can help make projects more profitable by minimizing RFIs and change orders, saving time and money.The time it takes to manage and answer RFIs can be costly. A higher quantity of RFIs to answer is not necessarily the core problem on its own, but a lack of proper tracking and communication can heighten risk and cause issues. Firms are using cloud-based construction software to break down the communication silos that add time and cost to RFI responses and wreak havoc with project timelines. Cloud-based project management technology streamlines communication and provides anytime, anywhere access to project information. An added benefit of the technology is real-time information which keeps all project stakeholders on the same page and the project on-track.BUILDINGThe way firms execute projects has a major impact on profitability. Productivity and jobsite efficiency are key drivers for controlling costs and keeping a project on schedule. Factors such as scheduling mishaps, supply chain issues, and rework can derail productivity and decrease profit margins.A report released by FMI and Plangrid revealed that construction professionals spend 35 percent of their time on non-optimal activities, such as, looking for project information and data, conflict resolution, and dealing with mistakes and rework. This non-optimal activity accounts for $177.5 billion in labor costs per year in the U.S. alone.Rework, in particular, is one of the issues which has a major impact on project profitability. The same report estimated that $31.3 billion of rework in the U.S. in 2018 was caused by poor data and miscommunication.Construction project management platforms can reduce rework by connecting cross-functional and distributed teams ensuring a "single source" of truth with a central repository of the most accurate and up-to-date information on project drawings, markups, RFIs, and change orders. This streamlines communication and improves productivity and workflows, minimizing rework, which is often considered one of the most inefficient activities on a construction site. The boost in productivity, efficiency, resource, and time savings that result from reducing the incidence of rework translates to more profitable projects. MANAGING To protect the profitability of projects, construction firms need to stay on top of risk management. This involves tracking all of the resources, assets, and activities that impact productivity. Managing financial resources is foundational to achieving better profitability. This process starts with Leveraging Technologyremaining competitive to improve profitabilityPROJECT MANAGEMENTBy Frederic Guitton software solution
Page 44
creating detailed, accurate estimates that factor in the real costs associated with overhead, risk, and job costs. Technology that simplifies estimating and integrates accounting into project management can help construction firms accurately assess how job progress and profitability stack up against real-time revenue recognition—the barometer for measuring job profitability, cash flow, and working capital efficiency.Project management platforms further help firms mitigate risk through document management. The complexity of construction projects generates thousands of documents firms must track through the lifecycle of a project. Proper documentation and collection can help construction firms more quickly settle disputes that can adversely impact profitability. Disputes and litigation are costly. According to the 2019 Arcadis Global Construction Disputes Report, during 2018 in North America alone, the average dispute cost $16.3 million and lasted more than 15 months. The report noted that "projects fail because they are unable to adequately manage uncertainty and expectations. The plans are either too optimistic (i.e., the budget and schedule are based on the wrong assumptions), or external events and risks impact the plan's objectives, often giving rise to construction claims and disputes."Cloud-based technology provides access to updated real-time information from the office to the field or anywhere in between. Centralizing document management and tracking can help firms easily access information to avoid disputes and litigation and protect project profitability. Visibility into project data provided by project management technology can also help manage risk. Deloitte's 2020 Engineering and Construction Industry Outlook Report highlighted the importance of digital technology and real-time data for helping "project managers make better-informed decisions around scheduling labor and materials and this type of project monitoring is moving beyond documenting cost overruns and construction delays to include more forward-looking insights."CLOSING THOUGHTIn an environment of increasing competition as well as labor and material costs, project management technology can give construction firms a competitive edge. Construction firms that embrace the use of technology in all phases of projects can better collaborate, execute, and manage projects from preconstruction to closeout. This maximizes productivity and minimizes RFIs, rework, and other risk factors to boost profitability. www.mcsmag.com MAY 202039about the author Frédéric Guitton is chief strategy officer/chief marketing officer at RedTeam Software. Frédéric works closely with financial and strategic partners, identifying new partners, providing an excellent experience and great support to existing clients. For more, visit www.redteam.com.
Page 45
Page 46
Page 47
MAY 2020 www.mcsmag.com42Delay Issuesa glimpse into construction setbacks due to global pandemicESSENTIAL BUSINESSBy Christopher S. DrewrySince March, the COVID-19 pandemic has wreaked havoc on the United States and the rest of the world. Beyond the obvious health consequences and the changes in peoples' daily lives, the virus has also crept into the world of construction. Despite the fact that many (though not all) states throughout the country have deemed construction an essential business and the ongoing work on construction projects therefore has (for the most part) continued, there are still a variety of impacts on those jobs due to the pandemic. In addition to the health of and well-being of the workers and the overall operations, there are widespread concerns over potential delays and other impacts on projects. Specifically, there are questions of whether the COVID-19 pandemic gives rise to excusable or even compensable delays. The construction industry has been facing myriad issues, including labor and manpower shortages, disruption to supply chains, material delays, resequencing of work, issues relating to social distancing requirements and other excessive or stringent protocols, and even voluntary withdrawal. Additionally, there are impacts to productivities and efficiencies as companies and jobsites have adapted to a variety of requirements and protocols laid out by OSHA, the CDC, and others. EXCUSABLE DELAYS It seems almost inevitable that there will be some form of delay or labor inefficiency on any given project. Ultimately, this begs the question: Will such claims be viable and, if so, who will bear the burden of any cost and/or schedule impacts? Many industry experts have debated whether the pandemic itself and/or any of the resulting impacts will qualify as an excusable delay or force majeure event. At its core, "force majeure" is the excusing of contractual performance as a result of unforeseen circumstances. Although many people associate force majeure with "Acts of God," the application can vary significantly depending on the wording of the contract.In contracts, the purpose of an "excusable delay" or "force majeure clause" is to (1) allocate risk, and (2) provide notice to the parties of events that may suspend or excuse performance. Many construction contracts will make express reference to "Acts of God" or utilize the broader language of "circumstances beyond the control" of the parties. Specifically, the American Institute of Architects (AIA) A201 General Conditions § 8.3.1 pertaining to Delays and Extensions of Time states as follows:"If the Contractor is delayed at any time in the commencement or progress of the Work by (1) an act or neglect of the Owner or Architect, of an employee of either, or of a Separate Contractor; (2) by changes ordered in the Work, (3) by labor disputes, fire, unusual delay in deliveries, unavoidable casualties, adverse weather conditions documented in accordance with Section 15.1.6.2, or other causes beyond the Contractor's legal solution
Page 48
www.mcsmag.com MAY 202043control, (4) by delay authorized by the Owner pending mediation and binding dispute resolution; or (5) by other causes that the Contractor asserts, and the Architect determines, justify delay, then the Contract Time shall be extended for such reasonable time as the Architect may determine."Additionally, the ConsensusDocs 200 Standard Owner-Constructor Agreement expressly refers to "epidemics" in its excusable delay clause. Although inclusion of the term "epidemic" or "pandemic" may make the analysis more straightforward under the ConsensusDocs, most parties nevertheless will be left to argue whether the COVID-19 pandemic fits within the scope of their respective excusable delay or force majeure clauses. On the one hand, the overall COVID-19 pandemic and the related social distancing measures and shutdowns of non-essential business would most likely fall within the broad scope of these contracts' force majeure clauses. However, excusing non-performance or delayed performance resulting from the COVID-19 pandemic remains an issue. Stated differently, the resulting events and impacts stemming from the pandemic must be evaluated and put under the contract microscope.Regardless of the scope of clauses like the AIA A201 or the ConsensusDocs, the parties must look to their respective contracts to determine whether only a time extension is allowed, or whether there are grounds for an adjustment to the contract price. The contract may further define (a) the types of costs recoverable; (b) the burden or methodology needed to establish, prove and document such costs; and (c) notice, timing, and formal submission of claim requirements associated with pursuing any time extension or contract price adjustment. DELAY NOTICE ISSUESThis latter point regarding notice, timing and submission is particularly important as satisfying these claim requirements in a contract is critical to preserving the right to relief. Notwithstanding the issues COVID-19 may present to office staff and personnel, contractors must nevertheless strictly conform with the timing and procedural requirements to successfully preserve a claim. Typically, notice for any delay events—including force majeure or other delays which are claimed to be associated with COVID-19—involves a multi-step process beginning with the initial notice requirements tied to the impact event followed by subsequent requirements to quantify costs as well as a "formal claim" submission. Additionally, for claimed ongoing delays, the contract may require periodic updates as costs continue to accrue. Finally, the form of claim submission (i.e., submission by mail or electronically, the identification of recipients, etc.) must still be followed. Regarding "traditional" claim notices—that is, those not pertaining to COVID-19—some courts have sounded a clear warning: Only by compliance with the notice requirements of the contract documents can a contractor help ensure that if (and when) delays are encountered it can secure monetary as well as schedule relief. Even in those jurisdictions which take a more equitable approach, it is still important to meet the express contractual notice requirements to protect against an owner's arguments of lack of actual knowledge and prejudice by the noncompliance. In the end, a contractor who fails to satisfy the contractual notice requirements runs the risk of forfeiting its entitlement to delay damages and/or time extensions. This remains true on those claims resulting from COVID-19 impacts on a project. CLOSING THOUGHTIn the end, this pandemic is unchartered territory so it is not entirely clear how courts and arbitrators may come down on the specific issues which COVID-19 presents. Under some states' laws, claims that non-performance or delayed performance of a contractual duty should be excused under a force majeure theory are largely evaluated on a case-by-case basis. The first and most important issue for courts to consider is the specific language of the contract, as the scope and effect of a force majeure clause or other excusable delay provision will depend on the specific contract language as opposed to traditional definitions. Ultimately, we are left with the harsh reality that delays associated with the COVID-19 pandemic will be extremely case specific based on the project, the contracts involved, and the underlying facts. … ONLY BY COMPLIANCE WITH THE NOTICE REQUIREMENTS OF THE CONTRACT DOCUMENTS CAN A CONTRACTOR HELP ENSURE THAT IF (AND WHEN) DELAYS ARE ENCOUNTERED IT CAN SECURE MONETARY AS WELL AS SCHEDULE RELIEF. about the author Christopher S. Drewry is a partner with the law firm of Drewry Simmons Vornehm, LLP, in Indiana (www.dsvlaw.com). He focuses his practice on construction law and litigation, as well as labor and employment law and litigation. He is also a member of the Construction Law and Litigation Committee of the International Association of Defense Counsel. He can be reached at cdrewry@dsvlaw.com.
Page 49
MAY 2020 www.mcsmag.com44technology solutionPart one of this article introduced thermal bridging and its consequences; part two discussed the options to address thermal bridging. In part three of this series, examples of steel buildings constructed using thermal breaks are presented.REAL-WORLD EXAMPLESLife Sciences Lab Building at the University of Massachusetts: The University sought to reduce thermal energy loss due to thermal bridging where 40 steel cantilevers that support a canopy above an external walkway penetrate the building envelope. Isokorb® Type S thermal breaks were installed at each penetration point, providing continuous insulation and reducing heat loss by approximately 50 percent at those points. The use of thermal breraks—plus the deployment of energy efficient plumbing, chillers, ventilation, and lighting systems—enabled the University to save approximately $300,000 a year in energy costs and achieve LEED Gold certification. Preventing thermal bridging also protects the structure from condensation and rust damage and eliminated conditions that could cause mold growth, which might adversely affect the health of building occupants. National Museum of African American History and Culture, Washington, D.C.: The Museum houses priceless artifacts that must be protected from interior condensation. At the same time, the Museum must provide a comfortable interior for visitors and staff in an energy efficient manner. Doing so involved insulating the building envelope where support structures for rooftop chillers penetrate the envelope and could lead to heat loss and condensation on interior surfaces. An additional design change called for swapping out a chilled water connection with rooftop cooling towers, leaving an area of the rooftop unprotected and subject to a substantial thermal bridge directly over exhibit space. Isokorb Type S load-bearing thermal breaks were installed to insulate and support the cooling tower columns where they penetrated the building rooftop. The thermal breaks prevented conditions that could lead to condensation and mold growth, and helped the Museum reduce energy loss by 50 percent at each penetration point and maintain humidity levels to protect the artifacts inside.CLOSING THOUGHTAddressing thermal bridges will improve insulation efficiency so large amounts of heat energy will not continue to escape the building. Thermal Bridginginsulating penetrations through envelopes of steel buildings BUILDING EFFICIENCYPART 3 OF 3for more information For more about Schöck North America and thermal bridging, visit www.schock-na.com. The UMass Life Sciences Lab features a 300-plus foot elevated walkway along the building's façade. An overhead glass canopy supported by 40 steel beams protects passers from the elements. Structural thermal breaks at each point of penetration insulate the building interior.The museum features four thermal breaks at each of four steel rooftop penetrations per cooling tower preventing thermal bridging between exterior and interior environments while supporting loads.Photo courtesy SmithGroupJJR.
Page 50
Page 51
MAY 2020 www.mcsmag.com46technology solutionMission-critical facilities realize that batteries provide a trustworthily, Uninterruptible Power Supply (UPS) to augment the grid during outages. However, this option has not always been available, as until relatively recently batteries were not a cost-effective means to hedge against the grid's instability. Improvements in lithium-ion technology and scalability have transformed storage into a notable option for utilities, burning coal, natural gas, or diesel fuel. ECONOMIC ALTERNATIVEToday, batteries are a cost-effective, economic alternative to backup diesel generators, due to technological advancements in management software, coupled with the fact that they require minimal maintenance and are friendlier to the environment.Although batteries decrease greenhouse gases and don't need tank loads of diesel fuel—which are difficult to get following a natural disaster—the main reason for selecting them is simple economics—they are cheaper to operate compared to generators. They are a far superior option compared to peaker plants, which are incredibly expensive for utilities to maintain and operate. Peaker plants also create an enormous amount of greenhouse gases in addition to particulate pollution, often in the heart of urban neighborhoods. In addition, batteries require no spool-up time, as opposed to large peaker plants, as they can start supplying power in seconds when needed. Add to that the ability to recycle them at end of life (as opposed to dealing with the ground contamination common to underground fuel tanks, potential fuel leaks, etc.) and the economics become fairly stark.BATTERY OPTIONS TODAYThere are multiple viable battery options on the market today, such as NextEra Energy and BYD that utility-grade project developers can consider. Perhaps the most impressive battery options to date come from Tesla. The company has already demonstrated its expertise by powering the world's largest lithium-ion battery installation in Hornsdale, South Australia, using its Powerpack batteries—although the power is being produced by the wind. In its July 2019 blog, "Introducing Megapack: Utility-Scale Energy Storage," the company boasts that Hornsdale saved nearly $40 million in its first year and helped to stabilize and balance the region's unreliable grid. Engineers were all "charged up" by these results and went on to produce the utility-scale Megapack, which will ship from the factory fully assembled and bring a payload of up to 3-megawatt hours (MWhs) of storage and 1.5 MW of inverter capacity. In late March, Hawaiian Electric announced the development of an 810 MWh installation at its Kahe Generating Station on Oahu, adding to the Megapack's front-runner status. To put things into perspective, it would have over six times the energy capacity of the Hornsdale project, and would currently be the largest BESS in the world.SOLAR + BATTERYWhile the majority of the initial battery energy storage system (BESS) projects were standalone storage systems, we're now seeing a great many involving the integration of solar power and battery storage. This pairing has become popular because solar panel prices continue to drop, and there are sophisticated software control systems that add a great deal of flexibility for developing more resilient, smart energy grids. TOO NEW TO BUDGETEven though many companies are considering utility-scale battery and Battery UPSalternative energy sources provide powerUNINTERRUPTIBLE POWER SUPPLYBy Abbot Moffat
Page 52
Page 53
technology solutionMAY 2020 www.mcsmag.com48Healthcare Constructionthe role of single source technology integratorsBUILDING MATTERSToday, there is significant increase in the number of hospitals, clinics, and outpatient centers that are being built or remodeled across the country, in part due to the rise in demand for healthcare from an aging population and more access to health insurance. To accommodate this rapid growth, however, requires a sophisticated level of technology integration that goes beyond brick-and-mortar construction to the design and installation of networking, communications, electronic record-keeping, and patient/staff security systems. SINGLE SOURCE TECHNOLOGYAs a result, the healthcare industry is increasingly turning to single source technology integrators during the earliest phases of construction, that can design, install, and manage an integrated package of systems while coordinating with other more traditional aspects of construction. Integration, defined on dictionary.com as "an act or instance of combining into an integral whole," can be a somewhat vague concept because the combination of parts can be unending, while each individual solution is specific to the application.What is known is that the best integrators are those that have an extensive knowledge of the available products and component parts of any system and are able to connect them together in a manner that extracts significant added value. In other words, the "whole" [a properly integrated system] should be much greater than the sum of its parts.In healthcare, with new construction booming "integration" has taken on new meanings as well. To start, technology integration in new hospital, medical group, or clinic construction now encompasses an array of options from network IT and Wi-Fi access points, to access control systems, physical security cameras, alarms, VoIP phones, nurse call systems, and environmental and temperature monitoring—to name a few.Then there is integration of effort and coordination with other aspects of new construction when installing such systems. COORDINATED EFFORTTechnology integration, it turns out, is not covered under the umbrella of the general contractor. That means technology integrators, often hired by building owners, must coordinate and integrate their efforts with the general contractor and associated plumbers, electricians, drywall installers, painters, and other tradesmen in a side-by-side effort. In addition, technology integrators often coordinate with healthcare company personnel tasked with overseeing specific aspects of the installation, whether environmental control managers, IT staff, or physical security experts. In short, any integration—if not properly coordinated, scheduled, and executed with accommodations for last minute changes, etc.—can be a nightmare for those responsible for managing the overall effort and all the contractors.SINGLE SOURCE COMPANYTo avoid this scenario, healthcare companies are turning to single source companies that not only can handle the full array of technologies, but can do so down to the installation of the low voltage wiring, cabling, conduit trays, wireless antennas, hubs, electronic equipment racks, and even the locks on the exit doors. "By working with a single source technology provider that offers a menu of technology offerings, there is an advantage of having a single point of contact for overall system design, installation, management, and support," says Eric Brackett, president of BTI Communications Group, a technology convergence provider serving the healthcare, logistics, and aerospace sectors.
Page 54
www.mcsmag.com MAY 202049 Brackett adds that this can save healthcare organizations significant time and money in technology consultation, along with saving "a lot of aggravation and headaches" related to managing construction staff.EVOLVING TECHNOLOGYTraditionally, voice, data, network, and physical security system purchases have been made independently. Security cameras and access control systems, for example, are implemented by security integrators, while VoIP phone systems are installed by telecom providers. In this approach, each vendor offers a proprietary solution with little consideration as to how it will be converged with other aspects of the network.However, integration of these applications during new construction or remodeling can offer immediate significant revenue, security, and savings to a healthcare organization's bottom line, says Brackett."If you go to a traditional vendor in commercial security, VoIP or even IT, they may try to interest you in products that are currently promoted," says Brackett. "It might not end up being a fully operational solution to the business problem they are attempting to solve." "Some vendors may not comprehend the full integration potential and so are not able to go the extra mile to deliver advanced functional capabilities that are built into the system," adds Brackett.As an example, an access control system can be integrated with the HR database to coordinate changes in employee status such as termination, to automatically activate or deactivate an employee keycard. If that same employee has remote access to the security cameras, the network can disable the account immediately. CLOSING THOUGHTIt is important to note also that the role of the technology integrator does not end once the system is installed. Proactive monitoring should be employed, so that the system actively oversees technology performance to identify anomalies even before a malfunction occurs. Problems are addressed proactively often without the customer even knowing about it. When site visits are required, the monitoring system dispatches an engineer without interrupting the customer. ON THE WEBRead about managing costs in this article on mcsmag.comfor more informationFor more about BTI Communications Group, visit www.btigroup.com.
Page 55
Page 56
www.mcsmag.com MAY 202051
Page 57
MAY 2020 www.mcsmag.com52Due to COVID-19, health and safety are the top motives for having employees work remotely … and health and safety will be the driving factors for the employee's eventual return to the office. Ware Malcomb's 2020 Return to the Office research project explored employee's motivations and behaviors as they worked remotely. The research affirmed that employees will be emboldened to push back on returning to the workplace until they feel it is safe to do so. As organizations begin planning this transition back to the office, things will be different. Significant attention will be paid to "visible housekeeping" that was once intentionally concealed. Workstation areas will no longer have the crowded cafe feel; rather, they will be de-densified to maintain social distancing. Every organization's return to the office will be customized to their circumstances, but each will have a few commonalities:• Perception is reality and what employees perceive is what they will believe is happening• Transparency is essential for building trust and managing misinformation• Common sense should prevail, grounding decision making in practical, sound judgementThe strategic and tactical planning guidelines outlined below are situationally dependent. Different circumstances will require different responses in planning for bringing employees back to the office.COMMUNICATIONS & TRAININGThe level of organizational communications prevalent during the work from home period will be maintained after employees are allowed back into the office. Openly advertising protocols for visitors, social distancing, and housekeeping will establish a sense of trust that employee's health and safety are top priorities. Things will be different around the office post COVID-19, and a robust training and change communications program will establish the "new normal." Examples of change management techniques include establishing back-to-the-office instructions for using the office space, especially if it has been newly configured for social distancing, and posting or sharing change communications documents, such as "Frequently Asked Questions" postings, and "Stay-Safe" etiquettes guides.SAFETY PROTOCOLSSafety protocols can be adapted in various ways. Screening procedures for employees, visitors, and contractors may use the Infrared Fever Scan Systems (IFss) or other health assessment measures. Staggered work times/days, or 4-day work weeks can reduce the number of employees in the office at the same time. Lunch and break times can be scheduled or lengthened to minimize occupant loads.In addition to social distancing and capping group sizes, centralizing trash and Common Sensereturning to the office as states reopen EXPERT COMMENTARYBy Cynthia Milotasafety solution
Page 58
www.mcsmag.com MAY 202053recycling bins with frequent disposal can slow disease transmission. A clean desk policy devoid of employee memorabilia will enable the nighttime cleaning crew to thoroughly clean all desks.In addition to the conventional hands-free faucets and soap and paper towel dispensers, no touch options can be considered for doors, badge readers, and garbage/recycling bins. The increased use of virtual digital assistants for enterprise applications is another consideration.Employees may choose to wear Personal Protective Equipment (PPE) when returning to the workplace to protect the transmission of germs through contact and droplet routes. PPEs include face masks, gloves, and potentially goggles. Organizations may also make these available to employees for personal use outside the office as an additional level of protection.WORKPLACE GUIDELINESAs the owner and leader of your construction company, making sure all areas of operation meet the health and safety regulations and guidelines is an essential task. Below are thoughts given to a particular space to help with overall return-to-work readiness. Reception areas. If no formalized visitor protocols or badge requirements exist, consider controlling access to the office via signage for phone-in entry. Temporary plexiglass "sneeze guard" screens can be installed at reception or check-in points. Rearrange or take away seating in the reception area to manage social distancing. To maintain hygiene, remove magazines, corporate swag or pens from the reception space, and keep the hand sanitizer dispensers in plain view.Workstation areas. To accommodate 6 feet of social distancing, start with a floor plan indicating the workstations to be occupied and determine your maximum capacity per floor or wing. Remove chairs or even monitors to discourage unoccupied workstation use. Seating should remain assigned until the widespread threat of virus transmission has diminished. Employees personal items should be removed for thorough nightly worksurface cleaning. Additional concepts include installing higher panels/shields between workstations or repositioning workstations, so employees do not face one another.Collaboration areas. To satisfy the 10-person maximum gathering rule imposed by many states and municipalities, remove extra conference room chairs and install signage indicating the maximum number of people allowed in each conference, meeting, huddle, and focus room. Use a portion of your largest conference room for chair storage, until the need for social distancing has diminished.Breakroom. The office coffee maker, water dispenser, and fresh fruit snacks will temporarily go by the wayside along with the morning bagels and birthday cake, until the threat of transmission has diminished. However, pre-packed twinkies would be safe.OTHER CONSIDERATIONSTouchless hand sanitizers and disinfectant wipes will become like exit signs; employees can see them from every vantage point. Maintaining adequate stock will be challenging until the supply chain has regulated production.Increase "during the day" housekeeping, maintaining a visible presence so employees see the efforts of the organization to keep them healthy and safe.Virtual meeting and collaboration platforms will continue to keep the people connected professionally and personally. Encouraging virtual meeting attendance even while in the office may be recommended until the virus transmission has curbed.CLOSING THOUGHTThere are vast amounts of speculation and misinformation surrounding the Coronavirus, leading to anxiety and uncertainty. The local, national, and global impacts are monumental. The eventual return to the workplace will provide a sense of routine and the beginnings of the new normal. In planning that return, the considerations can be overwhelming.Dated January 10, 1776, Thomas Paine wrote the pamphlet Common Sense to the American colonists. He began with this line: "In the following pages, I offer nothing more than simple facts, plain arguments, and common sense." As organizations navigate the COVID-19 complexities, let common sense be the guide. about the author Cynthia Milota is director, workplace strategy, with Ware Malcomb, where she is responsible for leading Ware Malcomb's workplace strategy practice in North America. She partners with clients to formulate their unique objectives: mindful of employee experience and business objectives along with wellness, social responsibility, talent strategy, the workforce ecosystem, and measures for success. For more, visit www.waremalcomb.com.EMPLOYEES MAY CHOOSE TO WEAR PERSONAL PROTECTIVE EQUIPMENT (PPE) WHEN RETURNING TO THE WORKPLACE TO PROTECT THE TRANSMISSION OF GERMS THROUGH CONTACT AND DROPLET ROUTES.
Page 59
MAY 2020 www.mcsmag.com54safety solutionIf you've been in the industry long enough, you'll notice a trend in the average age of its code professionals. A report released in 2014 by the International Code Council (ICC) listed the average age of the profession as 62 years of age with 85 percent of inspectors and plan examiners above 45, and there is no question the average age is even older today. We've also seen this firsthand with older applicants far out-numbering younger ones, suggesting that younger workers are not joining the profession. Even before the pandemic, 80 percent of code professionals were set to retire within the next 15 years, and unless businesses and building departments take action, the current COVID-19 pandemic is likely to accelerate this trend. At SAFEbuilt, we've seen how the right technology can enable an aging workforce to continue working past average retirement age by reducing the risk of illness, eliminating the physical requirements for the job, and improving quality of life through the reduction of travel time. CONCERN OVER APPROVALSWhile 93 percent of building departments say they are still conducting inspections, 61 percent say they do not have the capabilities to conduct remote or electronic inspections. Given the average age of inspectors and the disparate impact COVID-19 has had on older Americans, the fear of catching the virus while on site is especially acute for this group, and may push inspectors to retire early, take a leave of absence, or to delay or cancel inspections when possible. With no end in sight to the pandemic and few younger professionals to fill the ranks, building departments and developers alike are bracing for a potential slowdown in permit approvals and inspections, thus increasing project length and costs.At SAFEbuilt, our number one priority is safety through attention to detail in applying the codes and standards we review and enforce on a daily basis. For almost 30 years, we have worked with more than 1,100 communities nationwide, as well as the nation's top five home builders, to come up with new ways to perform plan reviews and commercial or residential inspections that consider the challenges that both code officials and developers experience in the field. With this current pandemic, the industry has to ensure an older workforce stays safe while not delaying projects indefinitely. In Florida, we saw how this played out firsthand. As a result of stay-at-home-orders that affected our workforce above the age of 65, many of our projects could have been delayed had our code officials not been able to conduct remote plan reviews. VIRTUAL INSPECTIONSRemote inspections provide the best of both worlds by giving older workers the ability to inspect jobsites from a safe location. An additional benefit is the elimination of travel time to and from sites, allowing inspectors to "visit" more jobs. Virtual inspections connect the inspector to the jobsite where they can tour and see the work as the contractor walks the site with a smart phone, tablet, or other video streaming platform.After testing and using this technology in the field for more than 2 years with certified project managers, inspectors, and plans examiners, we have been able to determine what inspection types it works for best. Additionally, we are working with ICC to ensure we continue to meet code standards. By knowing what types of projects are best suited to virtual inspections, we are better able to protect our workforce by dramatically limiting the number of inspectors we send out to jobsites.LEVERAGING TECHNOLOGYDigital plans submission is another way we can leverage technology to help expedite projects while keeping SAFETY IN THE DETAILSBy Joe DeRosaa necessity to protect an aging workforceDigital Tool Adoption
Page 60
www.mcsmag.com MAY 202055workers safe. As of now, 60 percent of jurisdictions do not possess digital plan submission capabilities. For traditional plan submission, paper copies of plans must be delivered to building departments at city or town halls. This traditional system can potentially endanger government employees by drawing more people into municipal buildings. Additionally, as studies show the virus can live on paper for up to 5 days, anyone handling the plans is at risk of getting sick. Many cities have mandated a 5-day quarantine period for all physical copies of building plans. Using digital tools such as email, secure online portals, or cloud-based file drops, you eliminate the need to ship and handle paper, reducing the risk of coming in contact with anything or anyone who has the virus. Digital plan reviews have an added bonus of being more convenient by saving a trip to the building department while enabling the customer to submit plans at any time of the day. They also more easily comply with record retention laws, allow plans to be easily stored and searched, and promote collaboration among departments. Once submitted, digital plans can be routed to a qualified inspector, thus reducing backlogs and related delays. Speed is especially critical now as a quarter of building departments recently surveyed have reported seeing an increase in plan submissions for temporary occupancy and/or temporary structures as a result of the COVID-19 pandemic. To help expand services to fight the coronavirus pandemic, many healthcare facilities have proposed putting beds in alternative locations (like school gymnasiums, hotels and conference facilities, outpatient surgical centers) or installing temporary structures in their parking lots. It goes without saying that the ability to inspect these new temporary healthcare facilities virtually is critical to ensure workers aren't exposed to the virus and the facilities are up to code. THE DIGITAL SOLUTIONDigital tools that enable projects like these and help keep the code inspector workforce safe, are especially crucial now as cities think about how to address their budget shortages at a time when they and their workers are being asked to do more with less. Through forward-thinking public and private partnerships that leverage digital tools and remote capabilities we can help improve the efficiency of busy building departments by helping them add additional digital and remote capabilities along with staff fluent in using them. CLOSING THOUGHTThrough the use of digital tools, building departments can ensure their workers stay safe and healthy during COVID-19 by reducing person-to-person contact and thus they will be more likely to continue working. Going forward, it is critical that these digital tools get more widespread adoption so that cities don't have to risk the health of their inspector workforce. These digital tools have many advantages and will boost the efficiency of building departments, which will be critical to address the future shortage of experienced code professionals. For cities with staffing shortages or workers who are reluctant to switch to digital code inspections or plan reviews, private provider services like SAFEbuilt can help cities keep workers safe and projects moving. about the author Joe DeRosa is the chief revenue officer of SAFEbuilt. Joe and his team are responsible for all aspects of revenue growth for SAFEbuilt. Joe is a global sales and marketing executive with experience in industries including SaaS, FinTech, FinServ, Insurance, Telecom, Manufacturing, and Industrial. Founded in 1992, SAFEbuilt supports municipal governments and public and private corporations with community transformation services, including expert and professional community development, infrastructure, and maintenance services to over 1,100 communities across 24 states. SAFEbuilt offers customized solutions that are built to fit its client's development needs including stabilizing budgets, maximizing efficiencies, improving customer services, and adaptable staffing. For more, visit www.safebuilt.com.
Page 61
MAY 2020 www.mcsmag.com56
Page 62
Page 63
MAY 202058maintenance solutionSeasonal Careequipment maintenance for optimal performance and longevityBEST PRACTICESYou already realize the importance of winterizing your construction equipment before cold weather hits in the winter. But did you know that you should be taking similar measures ahead of hot weather in the spring and summer to ensure that your equipment runs as efficiently as it can?You're probably thinking that you've never taken any sort of "dewinterizing" steps before and your equipment seems to work just fine. Well, it's true that you can probably get by without prepping your equipment for the summer. But by opting not to take these steps, you're decreasing the life of your equipment, making it more difficult—or even impossible—for your equipment to operate at full capacity and increasing the opportunity for small issues to turn into larger ones.Dewinterizing will protect your equipment against hot temperatures, it will improve your equipment's ability to perform when it's hot and it will extend the life of your equipment, which increases the value you get from your company's investments.If you're not sure what you should be doing to prepare your equipment for hot weather, here are a few ways that you can get started now.REGULAR MAINTENANCEThis one seems like a no-brainer but it's one of the most important (and most overlooked) steps to ensure your equipment runs well in all weather conditions. If you have a mechanic at your disposal then this should just be a matter of staying on top of maintenance scheduling and making sure it gets done. You'll also want to schedule time for your equipment in the shop for bigger jobs or if you don't have a mechanic who goes job-to-job.Even if you already have maintenance scheduled and being performed routinely, you should double check that everything is being done properly since it's easy for construction mechanics to get complacent about routine work. Regular maintenance on heavy equipment should include things like:• Oil checking/changing• Air filter checking/changing• Checking/changing other fluids & lubricants (powertrain fluids, grease, etc.)• Checking for broken parts (lights, glass, etc.)• Checking for worn parts (rubber tracks) If you don't have a great budget or enough manpower to do routine maintenance as recommended then you can also encourage your workers to check the equipment before, during, and after they use it. Ideally, this is already happening, but in many cases it doesn't. Getting operators on board will allow you to identify and resolve issues more quickly, which can have a major impact on the equipment's condition and lifespan.OPERATE WHEN COOLERWhen you operate your machinery in cold weather, the impact is often very noticeable. But believe it or not, the heat can take a great toll on your equipment as well.When temperatures get really high, it impacts how your equipment parts and fluids work within the machine. One example of this is that your fluids may get used up more www.mcsmag.com
Page 64
www.mcsmag.com MAY 202059quickly and may even evaporate during usage. When your fluids and lubricants get used up more quickly, it increases the risk of damaging the equipment.One way to protect against this happening is to look ahead at which days of the week are supposed to be the hottest and schedule work for your equipment on the cooler days, while scheduling work without that equipment for the hotter days. You can even use the hot days to get the equipment checked out for regular maintenance.If you're unable to schedule your equipment to run on cooler days, consider telling your workers to shut the equipment down every now and then to give it a break. This will allow your equipment to cool down and not get overworked.PROPER CAREDepending on the type of work you do, the number of jobs you have going on, the size of your fleet and other factors, you might use certain equipment during certain seasons.If this is the case for you then you probably have equipment sitting around all winter long and then when spring and summer roll around you expect it to fire up as usual. But the longer your equipment sits, the more difficult it will be to get it going again when you need it.Even worse, letting your equipment sit for long periods without being checked or stored properly increases the chances of it getting damaged or malfunctioning.One easy step for proper off-season storage is to make sure the equipment is clean when you stop using it. You can get by with letting dirt, mud, and other debris hang around when you're using equipment daily (although you should really be cleaning it every day) but letting debris pile up and sit for extended periods of time is just asking for trouble. Other steps you can take to safely store off-season equipment include:• Draining fluids• Shutting off fuel lines• Covering or storing indoors (out of sunlight) if possible• Store with hydraulic parts lowered• Refer to your equipment manual for moreCLOSING THOUGHTThe equipment you use makes up some of the largest investments your company makes on an ongoing basis. You can protect those investments and get the most from them by properly preparing for hot and cold temperatures and by taking care of the machinery when it's idle. for more informationTo learn more about care for rubber tracks from Dominion Equipment Parts, visit www.depparts.com.OSHA Compliant Guardrail andStair Rail SystemsSafety Boot® Guardrail SystemStringerShield® Stair Rail System1.800.804.4741safetyboot.com• Non-Penetrating Design• Rugged Steel Construction• Exceeds OSHA Regulations• Simple, Aordable & Reusable• Residential, Multi-Family & Commercial Applications• Unique Free Standing Design• Keep Post Attached For Reuse On Next Level Or ProjectFeatured on osha.gov website!
Page 65
Page 66
www.mcsmag.com MAY 202061
Page 67
In response to the immediate need for disinfecting equipment, Mi-T-M Corporation introduces two new combination models that are not only used to dispense disinfectant but can also be used as a cold water pressure washer. Dana Schrack, vice president for the Peosta, Iowa manufacturer says long-standing customers called looking for help, "Our sales guys started getting calls from customers with an urgent need for equipment to help with disinfecting. Within 2 weeks of those first calls, we were shipping product." The Mi-T-M engineering team came up with a redesign of an electric pressure washer, currently being sold by Mi-T-M, and developed it as a combination model. According to Schrack, Mi-T-M then teamed up with another Peosta company, "We immediately contacted our hose supplier, ProPulse, and they were able to redesign an existing high pressure hose to handle the disinfectant needed to combat COVID-19. Working together we were able to put equipment in the hands of people who are helping businesses get back to work."DUAL PURPOSEThe electric combination 1400 psi cold water pressure washer and 350 psi low pressure dispensing mister is easy to use and comes in either a hand carry or portable model. Since it is a combination model it can be used for all purpose cleaning around the home or small business and, in mister mode, used to put disinfectant right where it's needed. Each unit includes a 36-inch lance and trigger gun with quick connect nozzles for pressure washing, a trigger gun with misting nozzle and 75-foot x ¼-inch hose. The high quality electric motor makes it safe to use both inside and out. Designed to be used with a concentrated disinfectant mixture, you can disinfect a multitude of surfaces quickly and efficiently. Either model works great on high contact areas inside buildings, such as medical offices and supply stores. The compact commercial grade unit will quickly help to sanitize break rooms and rest rooms. It can be used in locker rooms and in gyms, on weights, exercise equipment, and other common spaces.HOT WATER PRESSURE WASHERSMi-T-M has been highly respected in the cleaning industry since 1971. In 2016, Mi-T-M introduced an innovative all electric hot water pressure washer perfect for sanitizing food and beverage facilities. Now, more than ever, the HAE Series of hot water pressure washers is helping businesses with their cleaning and sanitizing needs. The HAE Series is available in 2500 or 3000 psi and consists of two major components. The high-quality belt-driven pump and motor is protected by a stainless-steel cabinet that resists corrosion and rust. The innovative heat exchanger cartridge design provides consistent and efficient on-demand hot water. The temperature will rise 120 to 130 degrees above incoming water temperature within 3 to 5 minutes, so crews can get right to work. To view videos of these essential machines, visit www.mitm.com/support/videos. For more about Mi-T-M Corporation, visit www.mitm.com. For more about ProPulse, visit www.powermovingforward.com.MAY 2020 www.mcsmag.com62featured productMi-T-M CORPORATIONEssential Equipment
Page 68
www.mcsmag.com MAY 202063modern construction productsCPG 250 and CPG 330 generators include a John Deere 9-liter, 6-cylinder Tier 4 Final diesel engine. The CPG 250, which has a rated prime power of 250 kVA/200 kW, operates at 290 hp. With a rated prime power of 330 kVA/264 kW, the CPG 330 runs at 390 hp. Unit includes the standard dual axle trailer or an optional skid mounted unit with forklift pockets. An internal 385-gallon fuel tank runs for 34 hours at 75 percent load on the CPG 250 and 26 hours at 75 percent load on the CPG 330. Both units are manufactured with an emergency stop. For more, visit www.cp.com. CHICAGO PNEUMATIC POWER TECHNIQUE Generators Atlas Copco's inverter power (iP) P 3500i generators use advanced electronics and magnets to ensure efficiency. An inverter produces high-voltage, multi-phase AC power. The AC power is converted to DC, and then the DC power is inverted back to clean, predictable AC power at the required voltage and frequency. The P 3500i delivers 3.0 kVa. Incorporating fuel tanks of 3 gallons, the P 3500i can run for as long as 6 hours before refueling. Despite their large fuel capacity, the generators are compact and lightweight — just 99 lbs — making it easy to move them around sites. For more, visit www.atlascopcogroup.com. ATLAS COPCO Inverter Power GeneratorsICON engineers started with a ridged 8-inch X 8-inch X ½-inch box-beam frame that offers enough under-frame clearance to prevent trash buildup or clogging. Thanks, in part, to its 11,500-lb weight and large 36-inch by 12-mm notched disc blades, the 6510 provides up to 14 inches maximum penetration depth to cut, level, and mix the soil across the full 10 ft, 9-inch working width. Featuring 17½-inch blade spacing on both gangs, front blades are set on a 20-degree angle, while the rear gang features an 18-degree blade angle for a level finish. For more, visit www.landoll.com. LANDOLL CORPORATIONICON 6510 Construction DiscThe new OLFA SK-15 Disposable Concealed-Blade Safety Knife protects workers with an enclosed cutting solution that doesn't require blade changing—when the blade gets dull, simply throw the knife away and use a new one. The SK-15 has an ultra-sharp stainless-steel blade. The durable plastic handle has blunt plastic piercing tips on each blade end to grab materials and initiate cutting while also encasing the blade ends. Cuts materials up to 0.16-inch thick. The large, oversized tethering loop allows the tool to be hung from a hook or tethered to a lanyard for safety. For more, visit www.olfa.com. www.alumaklm.comAluma Trailers are in for the long haulThe Purdy Pail (suggested MSRP $13.49) is available at Sherwin-Williams and features multiple grip options and hands-free hanging. Add a pail hook to the bail to allow the Purdy Pail to hang on ladders within easy reach. Purdy Pail is the perfect companion for mini rollers up to 4½ inches with a roller ramp, a helpful side rest, and an interior molding that holds rollers out of the paint. An integrated brush magnet holds a brush and a mini roller on the outside of the paint simultaneously. Three-pack of liners sold separately (suggested MSRP $6.99). For more, visit www.purdy.com. PURDYPaint Bucket OLFADisposable Concealed-Blade Safety Knife
Page 69
MAY 2020 www.mcsmag.com64
Page 70
www.mcsmag.com MAY 202065WE BUILD STUFF, TOO.
Page 71
What do you see in the construction industry since mid-April and now the beginning of May with regards to states beginning to open?JON TATE: States such as Pennsylvania are permitting construction to resume beyond projects that were deemed life-sustaining, with many safety conditions spelled out, including procedures for cleaning and disinfecting the worksite, employee health screening, not sharing tools, mandatory masks or face coverings, and spatial distancing of at least 6 feet. You'll see pandemic safety officers being appointed at worksites and limits on the number of workers who can be on sites at once. Technology innovation such as contact tracing could help contractors and crews as projects resume to help ensure that workers are complying with social distancing guidelines. What factors are affecting jobsites still in operation?JON TATE: One of the most significant impacts include all the new protocols, including staggered start times and breaks. There are fewer people to help manage the work on site; project managers, project engineers, and other office staff are working remote. Contractors are moving to virtual new hire orientation and training rather than in-person. Costs are likely increasing and schedules extending. This slowing down of the process could potentially enhance overall site safety and quality of work. However, there is concern that many projects will accelerate in efforts to get back on schedule, putting pressure on safety and quality. What do you see for the construction industry for the remainder of 2020? JON TATE: There's quite a bit of uncertainty about the rest of the year, and it is nearly impossible to predict the full impact this pandemic will have on our industry. After we get fully back to work, we may see some construction increases in sectors that weren't previously planned, such as healthcare, infrastructure, warehousing, which was already going gangbusters, and manufacturing. Coronavirus has created supply chain issues associated with offshore providers; the reaction to that may be making more of that material here in America. There are some predictions that we will see regional population shifts in response to the hardships endured during the pandemic. This will result in increased construction in areas of growth.In the last month I've taken inventory of every call and email to ask GCs around the nation how COVID-19 is affecting their current jobsites and upcoming projects. The responses vary depending on which state, county, and city or town in which the work is commencing. Sadly, some projects are on hold in hard hit states like New York. In North Dakota, it's business as usual with increased safety protocols to maintain social distancing and the addition of portable handwashing stations on jobsites. Of vital importance is the role of the project manager to schedule work on projects while adhering to OSHA's guidelines and keeping the project on task towards completion. Words by Donna CampbellONE TAKE ON THE MATTERJon B. Tate, vice president of construction risk engineering for Zurich North America, a leading provider of insurance products and services for construction customers, did a brief Q&A to share his thoughts.CLOSING THOUGHTThis pandemic reminds me of a line from my favorite movie series Jurassic Park: "Life finds a way." Indeed, it does. Work continues; living continues. For some, the virus is simply an obstacle to overcome. The journey moves along. My heart goes out to the families that have truly lost a loved one to the novel coronavirus. It's hard to grieve with chaos and uncertainty around every corner. Through it all, however, I have faith in human ingenuity to improvise and adapt. Yes, some things will change. It won't be the end of the world. Embrace your fellow man (virtually) and stand firm on liberty and freedom. We'll get through this and be stronger on the other side. COVID-19 AND CONSTRUCTIONPerspective Matters the latest on the pandemic and America's jobsitesMAY 2020 www.mcsmag.com66
Page 72
Page 73