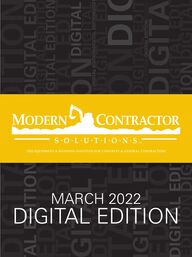 Return to flip book view
Modern Contractor Solutions March 2022
Page 1
MARCH 2022DIGITAL EDITION
Page 2
• Unique value of 5 buckets in 1• Variety of attachments to choose from• Auto-closing spring discharge gate• 100% Welded steel construction• Durable powder coated finish• Meets or exceeds all ASME StandardsExplore our Boscaro 5-in-1 Concrete BucketTalk to an Expertbigfootcrane.com
Page 3
MARCH 2022WWW.MCSMAG.COMBUILDBUILD SMARTER SMARTERAI LENDS A HANDAI LENDS A HANDMAXMAX PAYLOAD PAYLOADTRAILERTRAILER PRODUCTIVITYPRODUCTIVITYFUELING FUELING EFFICIENCYEFFICIENCYMOBILE & REMOTEMOBILE & REMOTETIER 4 & STAGE V ENGINES TIER 4 & STAGE V ENGINES & POWER UNITS& POWER UNITSSTANDARD OF STANDARD OF EXCELLENCEEXCELLENCE
Page 4
Page 5
Page 6
Page 7
Page 8
MARCH 2022 www.mcsmag.com4RENEWABLE ENERGY RESOURCES SET TO GROW ON CONSTRUCTION SITESGuest Post by Jane MarshIt takes a lot of energy, in various forms, to create a new construction project from the ground up. The majority of the carbon emissions in the building industry come from the structures themselves and their operational costs. One way to reduce these emissions is to switch to renewable energy.2042MARCH 2022VOLUME 16 ISSUE 03Inside This Issue38special focusIN EVERY ISSUEIndustry News ............................ 08Modern Construction Products ......57, 59 Coach's Corner ........................... 60software solutionBuild Smarterartificial intelligence helpssoftware solutionSecurity Threatsprotecting IT operationsequipment solutionMax Payloadincrease productivity16TRANSPORTATIONequipment solution Fueling Efficiencyfuel faster on remote recreation developmentsON THE BLOG2023 Isuzu NPR-HD diesel chassis with an EBY dump bodywww.isuzucv.comCourtesy of Isuzu Commercial Truck of America, Inc.18equipment solutionTruck Tirestips for longer life22equipment solutionStandard of Excellenceengines and power units
Page 9
Page 10
PROJECT PROFILEBreaking Ground ....................................................... 14EQUIPMENT SOLUTIONSMax Payload .............................................................. 16Truck Tires ................................................................. 18Fueling Efficiency ...................................................... 20Standard of Excellence .............................................. 22Autogate Tailgates ..................................................... 26ENVIRONMENTAL SOLUTIONClose Encounters ...................................................... 28 MANAGEMENT SOLUTIONSLousy Leadership ...................................................... 30Forward Movement ................................................... 32Workforce Management: Part 1 of 4 ......................... 34Construction Ph.D Program ....................................... 36SOFTWARE SOLUTIONSSecurity Threats ........................................................ 38Mobile Workforce ...................................................... 40Build Smarter ............................................................ 42LEGAL SOLUTIONOwner Concerns ....................................................... 44SAFETY SOLUTIONSRope Access ............................................................. 46Regular Inspection .................................................... 48Restoring Safety ........................................................ 50TECHNOLOGY SOLUTIONTheft Recovery .......................................................... 52MAINTENANCE SOLUTIONWork Truck Upkeep ................................................... 54FEATURED PRODUCTSDemco Side Dump & Drop Deck Trailers .................... 56Hilti Nuron Battery-Powered Cut-Off Saw .................. 58SUBSCRIPTIONS For all changes, go to:MCSMAG.COMClick the SUBSCRIPTIONS button in the main menuwww.mcsmag.com P.O. Box 660197 | Birmingham, AL 35266DONNA CAMPBELL Editor in Chiefdonna@mcsmag.comMIKE BARKER Publishermike@mcsmag.com RANDY MOON Media Consultantrandym@mcsmag.comMICHAEL FISCHBACH Media Consultantmichael@mcsmag.com JOHN FRIEND Media Consultantjohn@mcsmag.comKEVIN MCCLARAN Media Consultantkevin@mcsmag.comLISA AVERY Art Directorlisa@mcsmag.comSETH SAUNDERS Digital Media Specialist seth@mcsmag.comINGRID BERKY Office Manageringrid@mcsmag.comTIM GARMONCEORUSSELL HADDOCKPresidentCHRIS GARMONCFODONNA CAMPBELLVice President, EditorialTONYA BROWNINGVice PresidentNo part of this publication may be reproduced or transmitted in any form or by any means, electronic or mechanical, including photocopy, recording, or any information storage-and-retrieval system without permission in writing from the publisher. The views expressed by those not on the staff of Modern Contractor Solutions, or who are not specifically employed by Highlands Publications are purely their own. All Industry News material has either been submitted by the subject company or pulled directly from its corporate website, which is assumed to be cleared for release. Comments and submissions are welcome, and can be submitted to donna@mcsmag.com.For reprint information, contact Chris Garmon at chris@mcsmag.com.Canada Post Publication Agreement #41578525. Undeliverables 355 Admiral Drive, Unit 4, Mississauga, ON L5T 2N1Modern Contractor Solutions Magazine@mcsmagModern Contractor SolutionsDonna CampbellEditor in ChiefTRANSPORTATION MATTERSWelcome to March! This month's issue looks at the engines, trailers, and work trucks that move product and people from point A to point B. On construction sites, materials and workers arrive at scheduled times, making transportation essential. In this issue, MCS looks at the way trailers can increase productivity by hauling equipment safely and on time for use; ways to increase tire life to keep projects rolling; refueling on site for faster turnaround; and the engine and power units to power innovation. As projects ramp up for spring and summer work, keeping in mind wildlife is paramount. As project sprawl opens new grounds and cuts into hillsides, animal's homes are disrupted and destroyed. Displaced wildlife seeks new shelter where food and water are abundant. Know the safety concerns if you're bit on page 28.It's notable to share that March is Women's History Month, March 8 was International Women's Day, and NAWIC (National Association of Women in Construction) celebrates women in the construction industry for a week in March. To celebrate the forward movement of women in the industry, read about one company's approach to embracing women on page 32.With trailers and equipment on the jobsite, keeping these assets safe and having a means to recover them if stolen is good preventive business. Check out Galeo Pro on page 52. The Galeo Pro is a device to attach to trailers or even equipment to track movement and use GPS for recovery location. The particulars are answered in a Q&A.Lastly, March is a month of changing weather, St. Patrick's Day, basketball tournaments, and getting ready for spring plantings. There can be turbulent storms but being prepared, like being prepared for day-to-day business operations, can make for a successful outcome. Cheers, 60COACH'S CORNER three ways leaders develop other leaders
Page 11
Page 12
MARCH 2022 www.mcsmag.com8industry newsPACCAR MX-11 AND MX-13 ENGINESIn 2021, PACCAR introduced several new upgrades to its PACCAR MX-11 10.8 L and PACCAR MX-13 12.9 L engines that are designed to optimize performance and efficiency for Class 8 trucks. Both engines feature redesigned internal components to enhance fuel economy—up to 2.4% in the PACCAR MX-13, and 3.4% in the PACCAR MX-11—depending on the application and specification. The PACCAR MX-11, designed for weight-sensitive applications, can now be spec'd with a higher hp rating up to 445 hp at 1,700 lb-ft of torque @ 900 RPM. The PACCAR MX-13 engine can be spec'd up to 510 hp at 1,850 lb-ft of torque @ 1,000 RPM.In addition to fuel efficiency improvements, engineers added robustness to increase reliability and durability of the MX-11 and MX-13 engines. A fully encapsulated engine wiring harness protects against the elements, while connections were reduced between the engine and vehicle. Inside the engine, several structural enhancements were added to strengthen components, reduce wear, and optimize rigidity. Other features include an enhanced multi-pulse fuel injection system, a smaller, more efficient turbocharger, and enhanced piston design intended to reduce frictional losses. For more about the EPA 2021 PACCAR MX-11 and MX-13 engines, visit paccarpowertrain.com. CORE LAUNCHES FIELD-FIRST APP MADE FOR FOREMAN AND CREWS Core, the web and mobile construction management system created to support the global construction workforce, announces the launch of the Crews by Core App for foremen. Specifically targeting foremen, this new app combines task and crew management in one centralized place saving time and cutting stress in the field. Free to download, Crews by Core arms users with everything they need to manage the job their way and is available on both iPhone and Android devices.Since the New Year, the app has been adopted by more than 500 construction companies across the US. Workers cite the app's ease of use, ability to share tasks with subcontractors and teams, along with key features such as real-time status updates, daily progress reports, punch lists, and messaging. For more, visit crews.bycore.com.HOW THE TWINTIER IS CHANGING THE CONSTRUCTION INDUSTRYWith the surge in construction from coast to coast, MAX has providing contractors with reliability and cost efficiency. With advanced technology evolving to create safer and more efficient jobs for end-users, contractors are beginning to bring in more of these tools to help overcome the labor shortage, rotational OSHA Compliant Guardrail andStair Rail SystemsSafety Boot® Guardrail SystemStringerShield® Stair Rail System1.800.804.4741safetyboot.com• Non-Penetrating Design• Rugged Steel Construction• Exceeds OSHA Regulations• Simple, Aordable & Reusable• Residential, Multi-Family & Commercial Applications• Unique Free Standing Design• Keep Post Attached For Reuse On Next Level Or ProjectFeatured on osha.gov website!
Page 13
Page 14
MARCH 2022 www.mcsmag.com10industry newsshifts, and also minimize jobsite injury. To help overcome and efficiently adapt to these new chal¬lenges, MAX USA, Corp., is working with contractors and developers to sustain core business functions, in the field, by deploying the TwinTier as an enhancement to rebar tying operations. As an alternative to hand tying or inefficient tools, the TwinTier is delivering a multitude of benefits to contractors from cost-savings in materials and time, increased productivi¬ty, efficiently support labor shortages and overall safer jobsite operations.At 5,000 ties per charge at approximately 1/2 second a tie, the TwinTier series works effortlessly to keep up with the day-to-day operations on construction jobsites. Not only does the TwinTier increase productivity, Its primary focus is the health benefits. Reinforcing workers are at a greater risk of developing musculosketal disorders to upper extremities (i.e. wrists, hands, fingers, and shoudlers) and lower extremites (i.e. knees, ankles, feet, and back) due to the reperative motion involved in the job of tying rebar. For more, visit www.maxusacorp.com.CATERPILLAR STATEMENT ON UKRAINE AND RUSSIADeeply saddened by the tragic events continuing to occur in Ukraine and hope for a peaceful resolution to the crisis, Caterpillar, through its Caterpillar Foundation, is donating more than $1 million to support both urgent and long-term needs of the Ukraine humanitarian crisis. Caterpillar is complying with all applicable laws and evolving sanctions, while remaining focused on its employees, dealers, and customers. Operations in Russia have become increasingly challenging, including supply chain disruptions and sanctions, and thus, Caterpillar is suspending operations in its Russian manufacturing facilities and will continue to look for ways to support its valued employees.WEILER ABRASIVES DONATES $25,000 TO WORKSHOPS FOR WARRIORSWeiler Abrasives announces its continued support of the mission of Workshops for Warriors (wfw.org) with a donation of $25,000. The nonprofit school trains and certifies veterans, wounded warriors, and transitioning service members in CNC, welding, computer-aided drafting (CAD), and other technical trades, as well as helping to place them in advanced manufacturing careers. Workshops for Warriors core values focus on human dignity, a commitment to those who have served, patriotism, integrity, and teamwork. Since 2008, the school has focused on rebuilding America's advanced manufacturing talent workforce and supporting transitioning service members and veterans to enter viable American advanced manufacturing careers. This year, the nonprofit will celebrate its 1,000th graduate and currently has graduates working in every state in the nation.
Page 15
Page 16
MARCH 2022 www.mcsmag.com12industry newsIn addition to financial support, Weiler Abrasives has supplied in-kind donations of abrasive and safety products to Workshops for Warriors since 2014. For more, visit weilerabrasives.com.PRACTICAL APPLICATION OF ARTIFICIAL INTELLIGENCE IN CONSTRUCTIONFrom Jan Tore Grindheim, Founder & CEO, FONNHere are five steps to improve your projects that have been identified for organizations to implement to improve the "heart rate" and "health" of your projects: Keep your project well documented. This is vital for a healthy project. Upload, revise, and share documents with all participants in your project to increase probability of it being successful. Schedule you project. Either tailored to your project or use an existing template. Report percentage completion and document completeness of your project to increase Quality. Keep your conversations open and online.(No emails, phone calls or simple messaging systems). Enrich discussions with the use of images. These are two small steps that increase Project Satisfaction and Quality. Be pro-active! Projects that deactivate push-notifications are notoriously unhealthier than the ones that use notifications to actively keep the team up to date and informed. Personnel Changes. Sometimes unavoidable, but changes of personnel and teams in projects seem equal in reducing Satisfaction.To read the entire whitepaper from founder and CEO Jan Tore Grindheim, visit mcsmag.com/fonn-construction-project-health. PROVIDING SAFETY PRODUCTS THAT ARE UNIQUE, TESTED AND PROVENwww.bedlocksafety.com ▲ 217-553-0963 TWO CHAINS ARE BETTER THAN ONETHE ORIGINAL PATENT#6905174NEW FOR 2022
Page 17
Page 18
MARCH 2022 www.mcsmag.com14project profileBreaking Groundproject team seeking LEED Gold certificationJACOBSEN CONSTRUCTION COMPANYConstruction of the 40-floor Astra Tower luxury residential high-rise officially broke ground in January, marking a significant milestone in the history of Salt Lake City's skyline and its downtown residential offerings.GOLDEN SHOVELSProminent civic and business leaders joined Park City-based developer Kensington Investment Company, global design firm HKS and Salt Lake City general contractor Jacobsen Construction Company in the ceremonial turning of dirt at 200 S. State Street."Increasingly, people want to both live and work in the heart of Salt Lake City, because it offers not only innovation and growth but also the thrilling experiences of a highly accessible, active, and exciting day-to-day urban lifestyle," says Salt Lake City Councilmember Ana Valdemoros. "The Astra Tower will accelerate and accentuate all of these strengths of Salt Lake."THE TOWERAstra Tower will consist of 372 luxury home apartments, all of them for rent, when completed in Fall 2024. The tower will also be an exemplary steward of the natural environment and will push the skyline higher than ever as Utah's tallest building."Astra Tower will show what Salt Lake City is going to become in the future. This building will be remarkable for much more than its height. Its completion will set a new benchmark for upscale downtown living," Kensington Investment Company CEO Ed Lewis shared at the groundbreaking celebration in January. "As a company with a substantial Utah presence already, and as the managing firm of this residential property upon its completion, we could not be more excited to see Astra Tower become a timeless fixture on the city's skyline for generations to come."SEEKING LEED GOLDThe Astra Tower project team will seek LEED Gold certification by building to strict environmental standards that minimize carbon footprint and address environmental issues specific to northern Utah such as air quality. Once built, the tower will also use integrated WELL Building concepts that enhance residents' health and well-being, introducing fresh ideas on what it means to live well downtown."Throughout the design process our focus has been on the future residents of Astra Tower and providing them with a refreshing experience that can readily reset mindsets for relaxation, productivity, and celebration," says Deanne Teeter, senior interior designer at HKS. "Promoting wellness, an active lifestyle, and a vibrant community were central to our design goals. With the tower's abundance of natural light, majestic views, and multiple outdoor amenity areas, residents will have a unique opportunity to engage with nature in an urban landscape."WALL WITH A VIEWAstra Tower residents will enjoy breathtaking views of the Salt Lake Valley and Wasatch Front, as the south and southeast façades will be clad with a floor-to-ceiling glass wall. The rest of the façade will be a variation of glass fiber-reinforced concrete cladding with deeply recessed windows that create a residential character. The high-rise, designed to age well as a timeless downtown Salt Lake icon, will be topped with a unique open rooftop expression that activates the skyline."We work with companies all over the world that are evaluating Salt Lake City for potential expansions," says Stephanie Frohman, senior vice president of strategy & partnerships at Economic Development Corporation of Utah. "A development like Astra Tower
Page 19
www.mcsmag.com MARCH 202215assures them that 'we've arrived'—that our city has the lifestyle, cultural, and recreational assets that today's professional workforce seeks."CONCRETE DESIGNStructurally, Astra Tower will use a performance-based, post-tensioned concrete design that greatly minimizes building damage or risks to residents in a seismic event. The concrete structure of the building will be erected in the first 20 months of the project, meaning it will reach its full height of 450 feet by September 2023."It will quickly become apparent just how much this building raises Salt Lake City's skyline profile, and it will generate lots of excitement in the community," says Jacobsen Construction Project Manager Doug Carley, who will oversee work at the site.Astra Tower's luxury residential offerings will make it one of Salt Lake City's most coveted addresses. Amenities will include an outdoor urban park, a clubhouse with chef kitchen, a work lounge with conference rooms, a full-service fitness center with a multipurpose studio, an outdoor pool and terrace, a spa and wellness center, and a large rooftop terrace.URBAN DWELLING LIFESTYLE"Astra Tower will revolutionize the urban dwelling lifestyle in Salt Lake City that will help attract new professional talent and recruit new companies," says Emir Tursic, principal and architect at HKS. "In doing so, it will enhance commercial development within the city's most urban and densely populated area and promote economic growth in the broader Salt Lake region and throughout Utah."CLOSING THOUGHTKensington Investment Company has made it a central priority of this project to ensure Astra Tower becomes a standard bearer for environmentally sustainable construction on large-scale, high-rise urban projects. Valdemoros says city leaders are grateful for the emphasis on environmental sustainability in the design, construction, and operation of the building. for more infromationFounded in 1922 by Soren N. Jacobsen in Salt Lake City, Jacobsen Construction Company is a 100% employee-owned, Employee Stock Ownership Plan (ESOP) company. With more than 600 employees, Jacobsen is consistently ranked as one of the top contractors in the country, as well as one of the nation's Top 100 Green Contractors. For more, visit www.jacobsenconstruction.com.
Page 20
MARCH 2022 www.mcsmag.com16equipment solutionMax PayloadMax Payloadpaving company increases productivity to grow businessXL SPECIALIZED TRAILERSBased out of Traverse City, Michigan, and serving the entire state, Global Asphalt Solutions, a milling and paving business, relies on an ability to transport machines and attachments from jobsite to jobsite in order to maximize its productivity. THE RIGHT TRAILERThe standard lowboy they were using in 2020 just wasn't cutting it anymore, with multiple trips to and from the jobsite every day. The team needed to find a trailer that would hold up to the day-to-day demands of an asphalt company in the Midwest looking to improve productivity. Specifically, Global Asphalt Solutions needed a trailer with plenty of space to transport all of their equipment and necessary attachments. Looking at options, Pace Inc., the asphalt company's dealership in Plymouth, Michigan, introduced them to XL Specialized Trailers.THE TRAILER SOLUTIONGlobal Asphalt Solutions decided on the XL 110 Low-Profile HDG with full-width neck and hydraulic ramps. The full-width neck of the trailer allows for their team to transport additional attachments for
Page 21
www.mcsmag.com MARCH 202217machinery to the jobsite. Additionally, the hydraulic ramp allows for additional space on the back deck of the trailer.Now, instead of only being able to take a dozer or a mill to the jobsite with one trip, owner Bill Korreck and his team can take its larger equipment along with any skid steer loaders and attachments that may be needed. This allows the contractor to increase the time spent at the jobsite, rather than on travel time, and helps to increase overall productivity. Korreck expressed the benefit of the trailers they introduced to their business. "We wanted the neck to be able to transport any of our additional attachments," he explains, the ramps and the extra space on the neck "allows you to haul more than just a standard lowboy." QUALITY FIRSTSince 2010, Global Asphalt Solutions has put the highest quality equipment at the forefront of its business model. The now three XL trailers the company possesses are matching expectations perfectly. Korreck and his team utilize these trailers at least twice a week, though some of the trailers they use every day. When asked if he believed the trailers contributed to an increase in productivity Korreck replies, "Oh, hands down."CLOSING THOUGHTThe trailers Korreck and his team were using in the past were unable to haul the amount that the XL trailers can. Since adding the first XL trailer to its fleet only 2 years ago, Global Asphalt Solution has continued to look for the solutions that XL can provide to help improve its business. This natural increase in productivity allows Global Asphalt Solutions to grow without being limited by its transportation ability, with no intention of slowing down any time soon. for more informationFor more about trailer options for project productivity, visit www.xlspecializedtrailer.com.The full-width neck of the trailer allows for their team to transport additional attachments for machinery to the jobsite. This allows the contractor to increase the time spent at the jobsite, rather than on travel time, and helps to increase overall productivity.
Page 22
MARCH 2022 www.mcsmag.com18equipment solutionThere is a lot of technology built into today's commercial tires. Never have they been tougher, nor have they lasted as long. But all that can go for naught if you don't choose your tires correctly, or constantly monitor your tire's condition.COMPOUNDING For those running construction trucks in on/off road conditions, it's critical to think about quality when it comes to your tire purchase. Compounding, tread design, and "stone protectors" all can help make a tire in a construction application last longer. Arguably, compounding is one of the most important aspects. When compounding is not specifically designed for on/off road conditions, it can greatly impact the tire's performance. RETREADABILITYWhen considering the longevity of a tire, drivers should also be aware of stones that can drill into the tread and penetrate the casing. When that happens, rust can get to the belts and inevitably impact retreadability. To help combat this, look for tires that feature stone protector technology that is built into the tread.MISALIGNMENTUnlike for those running over-the-road trucks, construction trucks often experience misalignment issues caused by hitting rocks, chuck holes, and curbs. If your alignment is out, you'll often notice wear on the outside or inside shoulders of the tires. What's more, due to constant rough rides, components, such as bearings, bushings, and tie-rods can fail, which can throw irregular wear into the mix. INFLATIONMonitoring inflation pressure for all tire positions is very important. The proper target inflation pressure should be set according to the maximum load the truck sees on each axle position. However, due to the application of many construction fleets the truck is often fully loaded going out and empty coming back. When the truck is running empty this can take some of the load off the shoulders of the tire, which can lead to faster shoulder wear. This is true in all wheel positions but can be exacerbated with the wide-base tires many fleets run in the steer position.IRREGULAR WEARThere are some remedies though. Once you see the irregular wear starting, check out the mechanical condition of your truck, starting with the alignment. Then inspect the vital components that impact how your steer tires track if your alignment is solid. To stem irregular wear from getting worse on your steer tires, demount your steer tire and flip it around on the wheel. This may help counter the irregular wear and smooth out wear going forward. HEAL-TOE WEARTypically, on drive tires, for on/off road applications, heal-toe wear is a condition Truck TiresTruck Tirestips to get longer life MONITOR FOR LONGEVITYBy Phil Mosier
Page 23
www.mcsmag.com MARCH 202219to watch for. Most fleets will run open shoulder tires with between four and five ribs in this application. This provides the traction needed off road. However, if you don't stay on top of inflation levels of your duals—keeping them at the same pressure—or if you run mismatched duals (diameter) then your lugs have more "snap" on the back edge of the lug. As you accelerate, the leading edge of the lug passes smoothly through the road contact patch, but the trailing edge "snaps" back in order to catch up. This also tends to happen more frequently when a truck is used in hilly terrain or high torque applications. The result is a saw-tooth type pattern in your lugs. It's pretty easy to see, but it's often easier to "feel" the problem setting in. If you run your hand over the tread, you will spot the problem before you actually see the issue with your eyes. This gives you the opportunity to correct the problem before it gets worse. Get those inflation levels in order and double check your tire circumference especially if you run retreads.If the heal-toe wear is well underway, it may be difficult to fully undo the problem, but you may be able to keep it from getting worse and salvage some added miles before taking the tire for retreading. A tire rotation, moving the duals to the other side of the truck, will change the direction the tires travel and may help even out the wear on the lugs. Assuming you have proper maintenance practices in place, and your tires don't need to be pulled prematurely due to irregular wear, the next question is when should you pull your tires for retreading? This really depends on which tire you are running and the quality of the casing that supports the tread. Talk to your retreader about the rejection rate of the tire you're currently running to better understand when tires can be pulled.CLOSING THOUGHTIn the construction industry, tires are a major expense. Look for tires that can give you long miles to removal, have technology, and compounding specific for your application, have stone protectors built into the tread and have quality casings that can handle multiple retreads. If you do, that can give you low cost of ownership (LCO). Couple that with consistent maintenance practices and inspections (from your drivers and shop techs) that can spot problems before they become issues, and you'll be on your way to running a high-level tire program. about the authorPhil Mosier is the manager of commercial tire development at Cooper Tire & Rubber Company. A 20-year tire professional, he is responsible for the design and development of commercial truck and bus tires for the North and South America regions. Phil and his team have brought to market many successful commercial truck tires in the Cooper Commercial Series and Roadmaster brand tire lines. For more, visit coopertrucktires.com.REPAIR SPALLS AND CRACKS IN 10 MINUTES!ROADWARE 10 MINUTE CONCRETE MENDER™It's thin, it gets in, and it won't pop out!See more at www.roadware.us or call 800-522-7623.Cartridge applied or bucket mixed, Roadware Concrete Repair Products will have your oors ready for trafc, coating, or polishing in about 10 minutes. Any size repair. Blend with sand and pigments to create unlimited colors. Permanent repair.800-522-7623ROADWARE INCORPORATED381 BRIDGEPOINT WAYSOUTH ST PAUL, MN 55075 www.roadware.us
Page 24
MARCH 2022 www.mcsmag.com20equipment solutionFueling Efficiencyfuel faster on remote recreation developmentsTHUNDER CREEK Tucked away amongst wide swaths of agricultural fields and small, rural communities the Big Woods private waterfowl preserve is being developed by H2Dig LLC. The company specializes in premium outdoor recreational development and oftentimes is working in remote areas without great access to service stations, fuel, or equipment maintenance resources.MANAGING FUEL, NEEDSAs part of the project, H2Dig has developed a sophisticated levy system that allows the property managers to strategically flood portions of the 1,500-acre hardwoods when waterfowl—specifically ducks—are migrating. With construction wrapping-up on the property in late 2020, H2Dig has relied on maximizing efficiency while managing weather delays and navigating power line upgrades with local utilities. To help fuel that efficiency, they have relied on a 920-gallon Thunder Creek Equipment multi-tank trailer to manage their diesel, diesel exhaust fluid, and daily maintenance needs.MOBILE SERVICE STATIONThe MTT 920, which does not require a HAZMAT to tow or operate, serves as H2Dig's mobile service station. The 40-gallon-per-minute pump fuels H2Dig's fleet fast, which gives the team more time to do what they do best: move earth."The MTT 920 has really increased our efficiency, about two hours per operator every day," said Travis Hughes, managing executive of H2Dig. "They're not running back-and-forth for fuel or carrying around the one-gallon jugs of DEF anymore, and that time adds up."The additional time equals out to about 300 yards of earth moved every day, which may not sound like much, but over the course of four weeks, you're H2Dig uses the no HAZMAT Thunder Creek MTT920 to fuel, manage DEF and deliver daily maintenance to its fleet working to develop private recreation properties in remote areas. On average, the MTT920 saves each operator about two hours every day.
Page 25
www.mcsmag.com MARCH 202221looking at 6,000 additional yards of earthmoving with that time saved."CLOSING THOUGHTIn addition to streamlining fueling, DEF handling with Thunder Creek's 2-in-1 patented DEF system, and aiding in preventive maintenance, the Thunder Creek Trailer has also more than withstood the intense, off-road environment at Big Woods."We can pull the Thunder Creek straight up the side of the levees and through all the ditches and get to the equipment, no matter where it is, even if it's deep in the woods," says Rodney Hughes, superintendent of H2Dig. "A lot of things don't hold up out here off-road, but we've had no issues at all with the Thunder Creek." for more informationFor more about Thunder Creek's products, visit thundercreek.com.Built to last in Pella, Iowa, The Thunder Creek MTT920 stands up to every harsh, off-road environment H2Dig throws at it, including over a levy system and through heavy timber.
Page 26
MARCH 2022 www.mcsmag.com22equipment solutionStandard of ExcellenceStandard of ExcellenceTier 4 and Stage V engines and power unitsISUZU DIESELWith everyone experiencing worldwide uncertainty with pandemic proportions, Isuzu is here to support your North American power requirements, from agricultural, industrial, medical, and construction, by providing environmentally responsible and critical power products for your specific applications. Isuzu is always available to understand your needs as they relate to your business and that of your customers. Times are difficult but Isuzu's problem solving and product support can make a difference in your business challenges.INNOVATIVE POWERThere are over 28,000,000 Isuzu engines spanning over 100 countries. Not only does Isuzu Diesel validate specific off-road application usage, it develops Power Units for unlimited applications. Isuzu has built and maintained a professional organization and backs its products with warranties that go up to 5 years/5,000 hours providing power solutions that work.Isuzu Diesel ensures the most advanced performance and services, with a goal to become the new international standard of excellence in product development, quality, and customer support.DISTRIBUTOR DISTRIBUTION "Isuzu's strategy is to deliver the most reliable, eco-friendly, durable, and technologically advanced products in the industry with world-class customer support. It is why Isuzu collaborates with distributors who are willing to invest the resources necessary to accomplish this," says Ken Martin, executive director, sales & business advisor, Isuzu Diesel. "A good example of this is why we just expanded new territories for Hamilton Power Solutions, Isuzu 4JJ1X Genset Ready Power Unit 70.8 kW (95 HP) @ 1800 RPM
Page 27
www.mcsmag.com MARCH 202223who has proven that they can deliver. These additional territories build on our relationship with Hamilton Power Solutions. They will continue to support our customers with an experienced team already in place to help insure the best customer service possible." GENSET READYIsuzu's newest Power Units are pre-tested, validated, and GenSet ready, equipped with adjustable bolt-on mountings for ease of installation for multiple generator applications. These GenSet ready power units save customers time, money, and resources. Isuzu's Alternative Fuel Engines and Power Units use natural gas or propane and can be equipped with a Dual-Fuel System to simply reconfigure the fuel source and eliminate downtime. These Dual-Fuel Power Units are being recognized as industry leading for their innovative ability to change from one fuel to another, while on location, without shutting down an entire jobsite to change an available fuel source. For example, in Louisiana where higher levels of hurricanes occur and natural gas gets interrupted. These Dual-Fuel Power Units can be switched off and restarted with a flip of a switch to easily change to a readily available propane tank. Isuzu Open GenSet Power Units are Over 90% Pre-ValidatedIsuzu can save OEMs and Distributors engineering time, money, and resources with its 4J Series 1800 RPM EPA Tier 4 Certified and 4H Series 1800 RPM EPA Tier 4 Certified Power Units with the following specifications: 4J Series 1800 RPM with 5 yr./5000 hr. Warranty*• 3.0L, 4 Cylinder, 70.8 kW (95 HP) @ 1800 RPM • 12V system• SAE #3 Flywheel Housing• 10" & 11.5" combination flywheel• 500 hour oil change intervalPower Unit Options:4JJ1XAGV01-420• Enables Distributor/OEM to use their own skid base design• Or Distributor/OEM can fabricate a skid base locally from ISZA provided skid base drawing4JJ1XAGV01-421: Includes skid base that features:• Integrated fork pockets for lifting• Adjustable generator cross member that can be repositioned to fit specific Stamford, Marathon or Mecc Alte generator models • Generator isolatorsBenefits:• SCR mounted high above flywheel to provide clearance for the generator • Common wire harness used across multiple engine platforms• Standard PCV heater to prevent line freeze-up• Standard crankcase pressure safety switch4JJ1XAGV01• Certain models equipped with adjustable cross member to fit multiple generators• Pre-validated cooling package (open power unit configuration) good to 45 C ambient temperature*Years or hours of service, whichever comes first. Please see your authorized Isuzu distributor or dealer for warranty and other details.Isuzu 4JJ1X Engine and Genset Ready Power Unit70.8 kW (95 HP) @ 1800 RPMIsuzu 4HK1X Engine and Genset Ready Power Unit127.5 kW (171 HP) @ 1800 RPM
Page 28
MARCH 2022 www.mcsmag.com24equipment solution• Pre-validated air intake and exhaust systems that meet Isuzu air inlet restriction, air inlet temperature rise, exhaust back pressure restriction, and exhaust temperature drop criteria• Pre-validated for vibration on select power unit configurations and generators 4H Series 1800 RPM with 5 yr./5000 hr. Warranty*• 5.2L, 4 Cylinder, 127.5 kW (171 HP) @ 1800 RPM • 12V system• SAE #3 Flywheel Housing• 11.5" flywheel • 500 hour oil change intervalPower Unit Options:4HK1XAGV01-420: Includes skid base that features:• Integrated fork pockets for lifting• Dual cross members for generator mounting • Fits select Stamford generators4HK1XAGV01-500: Includes skid base that features:• Integrated fork pockets for lifting• Single cross member for generator mounting • Fits select Mecc Alte generator modelsBUILT TO LASTIsuzu has proven to be Reliable, Eco-friendly, Durable, and Technologically Advanced. Its Tier 4 and Stage V Engines and Power Units, branded under Isuzu REDTech™, provide quiet, low maintenance and fuel-efficient solutions for existing and new applications. From 6.7kW to 397kW, these Engines and Power Units use the latest after treatment DOC or DOC+SCR, with vertical or horizontal SCR for design flexibility. Every Isuzu Engine or Power Unit is precision tuned for its highest efficiency, while reducing oil and fuel consumption. A long-lasting and robust fuel injection system incorporates excellent fuel economy and extended service life. Stringent criteria to lower NVH (noise, vibration, harshness) are engineered into every Isuzu product. Each application is designed to meet customer specifications and is engineering validated for each environment. Isuzu REDTech™ Engines and Power Units with reliable performance, durability, and high thermal efficiency help reduce downtime. CLOSING THOUGHTAll Isuzu Diesel products are supported by Genuine Isuzu Parts, a Distributor and Dealer network, along with dedicated professionals, to ensure power solutions that are reliable, eco-friendly, durable, and technologically advanced where you need them. for more infortmationFor more, visit www.isuzuengines.com.• Well Rehab Products• Manholes• Bentonite• Filter Sock• Inline Chemical Mixers• Sampling Bailers• Clear PVC Pipe• Locking CapsAtlantic Screen& Manufacturing, Inc.Manufacturers of slotted & perforated pipe ranging from ½" to 24" in diameter302-684-3197Fax 302-684-0643142 Broadkill Road ■ Milton, DE 19968www.atlantic-screen.com ■ atlantic@ce.netContractor's #1 Choice for Flat FloorsA great power screed using straight flat screed bars. The❝Black Beauty❞GET FLAT FLOORS!Screed bars are available in lengths up to 20 feet.▼ Equilateral screed bars stay straight through years of use.▼ Now available with "T" handle (shown) or "Bicycle" handle.▼LOCATE A DEALER AT advancedconcretescreeds.com OR CALL US AT 800-648-0542.
Page 29
Page 30
MARCH 2022 www.mcsmag.com26equipment solutionAutogate Tailgatesensure full truck utilizationPHILIPPI-HAGENBUCHPhilippi-Hagenbuch Autogate® Tailgates are designed to maximize haul truck utilization, effectively increasing haul capacities by up to 20% while also providing added safety and extended tire life. Philippi-Hagenbuch's tailgates include models suited for both articulated and rigid frame trucks, making them the ideal solution for everything from quarries to coal mines to mineral mining applications. The increased capacity proves effective for any material—hard and rocky or liquid.Continuing its longstanding tradition of providing productivity-enhancing products to the aggregate and mining industry, Philippi-Hagenbuch designed the Autogate Tailgates as a solution for maximizing the truck's volumetric capacity while reducing spillage. Unwilling to subscribe to the one-size-fits-all approach of other tailgate manufacturers, Philippi-Hagenbuch constructs the Autogate series with a specific spec for each model and make of both articulated and rigid frame trucks. This tailored approach not only eliminates spillage from the rear of the bed, but also prevents side spillage—even when driving on inclines or making sharp turns. By matching the design and fit with specific truck requirements, such as increased height clearance or enhanced capacity, PHIL Autogate Tailgates work with the overall truck design to boost capacity while also balancing load distribution for easy maneuvering and enhanced safety. OPTIMAL LOAD BALANCEIn addition to increased capacities, the PHIL Autogate Tailgates offer improved tire life and reduced maintenance by providing a more centered and evenly distributed load. This optimized balance of the load further enhances safety while driving in adverse or uneven terrain. Operating without a tailgate often results in the front-loading of trucks, which causes added weight and stress on the front tires, significantly accelerating wear. Additionally, materials are prone to falling off the rear of trucks not equipped with a tailgate, resulting in additional work for maintaining haul roads. BUILT TO WORKWith a keen focus on engineering products with a simple design to reduce maintenance and failures, Philippi-Hagenbuch manufactures the Autogate Tailgates to stand up to years of jobsite and environmental abuse. Constructed of high-strength steel and an exclusive steel alloy chain, the PHIL Autogate Tailgates boast maximum durability with virtually no maintenance in a design durable enough to handle even large boulders. Philippi-Hagenbuch's unique approach uses no locks, cylinders, grease points or controls—virtually eliminating the potential of malfunction. As the body dumps, gravity naturally opens the tailgate to discharge material from the bed in a design that eliminates traditional maintenance headaches. Autogate Tailgates provide maximum opening at the exact angle where material begins to move, ensuring optimized dumping speed. CLOSING THOUGHTThe Autogate Tailgates are customized to fit nearly any scope and size of articulated or rigid frame off-highway haul truck and can be installed through the OEM or retrofitted on-site. The three-piece tailgate construction allows for easily adapting to different bed widths, ensuring hassle free installation. for more informationEngineering innovative haul-truck solutions for over 52 years, Philippi-Hagenbuch Inc. designs and builds custom high-volume end-dump bodies, lowboy and bottom dump trailers, sideboards, load ejectors, and water tanks for nearly every make and model of articulated and rigid frame off-highway truck available. For more, visit www.philsystems.com.equipment solution
Page 31
Page 32
Page 33
Everything you need for your office workflow in one place.From Quoting to Scheduling to Dispatching to InvoicingDrag & Drop Dispatching • Mobile AppPaperless Workflow • Simple Certified Payroll Safety Plans • Inventory • Time KeepingFor more information, call or visit today.801.478.6822 Option 1cenpoint.com
Page 34
MARCH 2022 www.mcsmag.com28environmental solutionI remember getting a call one day from my safety director who was working with our crew in Texas. His exact words to me were, "Boss, if the boar charges us, I'm going to shoot it. Just saying." And then the phone went dead. Seriously? When I finally got him back on the phone, he told me the boar was not bothering them right now, so they were going to leave him alone. Encouragement to move him with a forklift did not deter this grand creature. He kept coming back. I spent many hours hoping that stupid boar would leave the crew alone. CALL OF THE WILDI used to think that crews going to sites only had to worry about standard construction safety. You know, fall protection, PPE, RF, rigging, etc. I have come to realize that these fabulous men and women in the field get to work around some of the most unbelievable wildlife, every day. Some good. Some not so good. HOLY COW!!! Literally, even a cow. The reality is: crews, who already face hundreds of hazards just by working outdoors, are also at risk for becoming injured or ill due to contact with wildlife. Dangerous animals come in all sizes. Bears, groundhogs, raccoons, opossums, birds, deer, feral cats, rodents, foxes, coyotes, ticks, mosquitos, bees, wasps, spiders, and snakes. All the crews that I have been so blessed to work with and am in support of, can attest to seeing almost all the animals listed. Did I mention alligators? Many times, encounters are harmless. But any animal, even gentle deer, can become dangerous if they are frightened, have young to protect, are in mating season, or if they are injured or ill. Some of these creatures, ticks and mosquitos, bite because that is their very nature. However an encounter ensues, the results can be serious or even deadly for our crews. DETER FROM SITEI've seen articles written about pre-stressing. It's a term used to describe actions taken to encourage wildlife to move away from a site prior to the onset of construction. Common methods of pre-stressing include having one or more people walk the site while talking loudly or playing loud music or placing pieces of cloth or other object that carry a strong human scent into animal dens. To be effective, these measures may need to be combined and repeated several times over the course of 2 to 3 weeks.I hate to say this—but this doesn't always work. Alligators in Florida just seem to move "closer," not farther away. PROTECTION MEASURESAll personnel should be briefed about wildlife protection measures at the outset of any project. The briefing needs to provide an overview of the mitigation measures that are being used at the site, as well as instruction on what to do if, and when wildlife is encountered during the work. Common attractants on a jobsite should be controlled or eliminated: Close Encountersknowing the hazards of wildlife on the jobsiteLIONS, TIGERS, AND BEARS. OH MY!By Kathy Stieler
Page 35
Food wastes and garbage Water supply drainage to limit standing pools fence off temporary storm ponds or waterbodies Shelter cover contain piles of soil fill brush rocks and loose materials cap ends of pipes ensure trailers bins boxes and vacant buildings are secured every day to prevent access by wildlife There could be species at risk in the area of your construction site and basic identification tips and recommendations need to be outlined to save protected species Do not harm feed or unnecessarily harass wildlife Any wildlife encountered during site clearing or subsequent construction activities should be allowed to exit the site on their own via safe routes Crews should not attempt to capture or handle most kinds of wildlife Scratches and bites from animals whether domestic or wild can result in serious infections and or transmit diseases Immediate medical treatment should be sought for any person injured by an animal INJURIES AND ILLNESSES Bite Wounds Many animals are naturally equipped with a powerful bite and sharp teeth which are literally designed to tear flesh and break bones Infections Treat a bite wound immediately Animals mouths harbor hundreds of forms of bacteria which is transferred into the bite wound Lyme Disease Carried by ticks Most are aware of the existence of Lyme disease but don t know how serious it can be Rocky Mountain Spotted Fever This disease is also spread by ticks and symptoms include rash fever muscle pain and confusion Rabies Spread through an animal bite deadly Envenomation Venomous snakes and insects can inject venom which can be deadly or do significant damage to the tissue surrounding the bite Are you sure you know without a doubt all 3 400 species of snakes and you know which one is on your jobsite CLOSING THOUGHT Be safe Educate yourself on wildlife in the area where you are working ALWAYS be prepared for the unexpected visitor about the author Kathy Stieler is the director of safety health compliance for NATE The Communications Infrastructure Contractors Association She can be reached at 812 204 8832 or kathy natehome com www mcsmag com MARCH 2022 29
Page 36
MARCH 2022 www.mcsmag.com30Bad leaders have something over the good ones. Bad leaders have much better job security. Why? Simple. They run off anybody who is a threat to them before any damage can be done. Bad leadership is an art form. It's not easy to make yourself into the kind of leader who nobody wants to follow anywhere. And, because this underrated art form and the job security that goes with it are seemingly in great demand … here are five rules for lousy leadership. WHAT'S RIGHT IS WHAT I SAY IS RIGHTA very simple way to let everybody know, right out of the gate, that there is only one person at the top, and that person is you. Your genius, your organization skills, your foresight and intelligence will take you on to new heights, despite your team's ineptitude. From the start you simply tell them, "It's all been carved in stone. I speak. You agree." It's amazing how effective a weapon this can be in your Lousy Leadership arsenal. You ever see those shows about Buckingham Palace, and how the help all stops and bow their heads whenever a royal walks by? Well, that's how your people will be whenever you walk down the hall. Or, better yet, whenever you burst into a room and yell out, "Who's working hard today?" Just the sort of thing to make their little hairs on the back of their insecure little necks stand on end. KEEP THAT GREAT PLAN YOU MADE ALL TO YOURSELFSomewhere deep in your desk drawer, although you've likely forgotten where, there is a copy of the master plan you drew up for the company. Well, the master plan the vice presidents drew up under threat of loss of parking spaces if they ever deny you wrote it. It's probably really a pretty good plan. Take the company forward, get everyone on the same page. But it involves a true terror for a Lousy Leader. To implement the plan, one department must know what another department is doing. And you can't have that. So, when you are asked about the plan you say, "Yeah, we have a plan. What great business doesn't? But if I want you to know what's going on in another department, I'll tell you what's going on in another department." Quick about face and back to your private dining room. IT'S NOT A LIE IF YOU BELIEVE ITYour people know you to be a person of impeccable honor. (Right!) They must trust you because, to a large degree, you never have any interaction with them, so they must believe you are doing the top job just brilliantly. On those rare and unfortunate occasions when you find Lousy LeadershipLousy Leadershipfive ways to have 'em hate youTHE RULESBy Mark Oristanomanagement solution
Page 37
www.mcsmag.com MARCH 202231yourself forced to mingle, at a staff meeting, at the all too rare awards handouts or, good gracious, on Pizza Friday, there is a simple way to let everybody know that everything is alright. When called on to speak, just take the mic, fake that sincere look and say, "People—one thing is always true. You know I would never lie to my family!" Look out over their faces, bask in the warmth of their admiration for you. Quick about face and back to your office, door closed as always. IT'S VERY SIMPLE REALLYSo many unknowing people think that leadership is a terribly difficult task to master. To get to that seven-figure salary level must take years of climbing the ladder, finding a mentor, and so on. However, you know the truth is that even though others helped you out (now and then) you made the climb on your own. There's nobody to thank when they come to interview you for Forbes or Fortune. All the admiration is aimed at you because you did it your way. And now, at the top, you pass along this key piece of wisdom to your people. "I gave you your orders. Now carry them out." Magic words that put you and your management style in sharp focus. And the great thing is, if you give them orders that are lousy, and they carry them out … then it's their fault for doing a lousy job. MAKE SURE EVERYBODY IS SCARED OF YOUThis last one is so obvious, it's almost shameful to list it for you. The greatest motivator of all … fear. If you can arrange the office so that the mere sight of you makes breath catch in your people's throats, you're on the way to becoming a Lousy Leader. Everything else is small potatoes next to this rule. Tell them if they want a friend to get a dog. Nothing … NOTHING succeeds like FEAR.CLOSING THOUGHTOK, so sorry this isn't written in the Sarcastica font. Nobody sets out to be a lousy leader. Some people can't help it because it stems from their personalities. Some people fail because the training they got was woefully inadequate. Some can't cut it because they are afraid of leading others. And some just think they're naturals and they become General Patton-2.0; they want their people to feel the fear. (SPOILER: IT DOESN'T WORK) about the authorMark Oristano has distilled the leadership lessons he learned in 30 years as an NFL broadcaster into a concise, complete course in leadership with principle. Lessons learned from his years in the front office of the original Dallas Cowboys makes compelling, yet easy to implement, rules for solid leadership. For more, visit markoristano.com.1-877-350-5584
Page 38
Forward Movementthe growth of women in construction INDUSTRY Q&ACourtesy of Sunbelt RentalsMARCH 2022 www.mcsmag.com32management solutionCareers in the construction industry may involve hard hats and safety vests on a jobsite in the field, or they can involve data and spreadsheets in the office. The industry offers job diversity and flexibility—something that many female candidates may not realize. As the industry looks to recruit labor and better reflect the communities they serve, attracting and retaining more women in construction jobs increases the labor pool—and diversifies it. FROM THEIR PERSPECTIVEFour women in leadership positions at Sunbelt Rentals share their thoughts on the important skills women bring to the industry and how the industry can do a better job attracting women. Hear from Cheryl Black, senior vice president of culture and engagement; Julie Burton, vice president of human resources; Vicky Gibson, senior director of talent acquisition; and Monica Ziegler, vice president of talent management. Why is it so important for Sunbelt Rentals to hire female employees? BURTON: We want our locations to represent the communities they serve, so having a diverse employee base is important. In addition, women can introduce different ideas and perspectives. In an industry that's traditionally been dominated by men, this can bring whole new ways of thinking. Recruiting women also doubles our candidate pool and helps us get more talent in the door. BLACK: Having women in roles at Sunbelt Rentals can help us increase innovation. That's why we are also in the process of introducing a women's ERG group to our organization: WISE. Women. Inspired. Supported. Empowered. The mission is to provide equitable opportunities throughout our organization and the communities we serve.What skills do you think women bring to the construction industry?GIBSON: Women may offer different viewpoints and are typically good listeners, which often translates into them taking time with our customers and asking questions to help find the right solution. ZIEGLER: Women bring diversity of thought and different insights into problem solving and how we go about creating solutions to grow the business. Another important factor is that they bring a different perspective in terms of mentorship and advocacy. Women really engage with opportunities to be mentors for other people.What does Sunbelt Rentals do to actively recruit female employees? Are there programs or events that the company hosts? GIBSON: We are promoting through videos featuring women who work at Sunbelt Rentals, where they talk about their experiences and why Sunbelt Rentals is a good fit. The more we put women and their opportunities at the forefront, the more other women will start considering them as well.ZIEGLER: We're doubling down on our career progression stories with women Julie Burton, Cheryl Black, Monica Ziegler, Vicky Gibson
Page 39
www.mcsmag.com MARCH 202233who have had an incredible trajectory, from working in a branch location to higher-level leadership positions. We're capturing those stories and positioning ourselves as an attractive place for women to work. BURTON: We also rolled out a paid parental leave program this year. That is for men and women, but we think that's an important benefit for female applicants. What type of culture does Sunbelt Rentals have that makes it a good place for women to work?BLACK: Sunbelt Rentals is fast paced. We're vibrant. We've had so much growth, and people are growing up in this business. I think that makes it more comfortable for women to work and develop their skills here. We're getting more women in different levels and roles in the organization, so other women can see themselves here. I had a woman tell me recently that she wanted to be the CEO of Sunbelt Rentals one day. We would have never heard that 20 years ago. ZIEGLER: Coming from 29 years in another male-dominated industry, the culture at Sunbelt Rentals is very engaging. There is a great deal of encouragement and respect and it's an inclusive environment to try different things to achieve our common goals.GIBSON: Sunbelt Rentals is very family oriented, and family is the most important thing. Our leaders expect us to put our families first. It's never questioned.What do women in leadership positions like yourselves do to encourage other women to grow and thrive?ZIEGLER: We absolutely help build each other up. When you're in this type of industry, you need to champion for each other, even if you have different thoughts and different approaches to initiatives. Helping people be confident and speak up and promote themselves—especially in a male-dominant industry.BURTON: I have worked with so many women throughout my career who supported me and have helped me get to where I am today. I owe it to my team and the women at Sunbelt Rentals to ensure there are opportunities for them to grow and thrive. In the last several years there has been a lot of internal movement within the HR department but also within the organization as a whole, and several women have been promoted and are now in leadership roles. We need to keep that momentum going.What would you tell women who are considering a career at Sunbelt Rentals or in the construction industry?BURTON: You can have a great career, both at Sunbelt Rentals and in the construction industry in general. The career potential in the industry is tremendous.ZIEGLER: It's a fantastic industry. It's stable and growing. GIBSON: That's why we need to have more programs to specifically target women to get them in the door, so we can change the perception of the industry and spread the word about the opportunities. When a woman is qualified for a seat at that table, she will have a seat at the table just like anyone else. CLOSING THOUGHTThroughout the month of March, the focus shifts to women in history, the balancing of men and women in the workplace and in the world. Construction is one industry where women can excel in a dynamic career. for more informationFor more information about Sunbelt Rentals, visit www.sunbeltrentals.com.
Page 40
MARCH 2022 www.mcsmag.com34management solutionPaperwork is far from the top of the "pros" list of the construction industry for any contractor. There's too much of it, it's easy to misplace or lose, and it seems like there is a new form to complete every other week.But like it or not, paperwork is part of the job. Proper documentation demonstrates the following:• Your company's due diligence in creating a safe environment for your team.• Your ability to perform quality work in the capacity that you were paid to. • Your workforce and equipment compliance, which mitigates risk. Unfortunately, it's an issue that has been haunting the industry for years, leading to lost productivity, project rework, wasted labor, and generally costing the industry millions. When addressing these common issues of workforce and equipment documentation in your business, there are three questions you should ask: ARE THERE CLEAR PROCESSES IN PLACE?The first place to look when addressing an issue is to check that the processes you already have in place make sense. On average, construction workers spend 35% of their time on unproductive tasks like searching for project information. Is there a clearly defined path to get the correct information into the right hands or vague guidelines about passing it up the chain with the hope it makes it to the right inbox eventually? There should be designated endpoints for all documentation, with clear steps on how to get them there, whether it's through direct hand-off to a supervisor or placing it in a file at the end of the day. WHAT DO THE BOOTS ON THE GROUND HAVE TO SAY?A process can look good on paper but fail in execution. That's why it's important to have feedback from your field workers. Their perspective can lend useful insights into where processes are breaking down or getting disorganized. Talking with your workers also presents you with the opportunity to educate them on the importance of documentation and its purpose. At the same time, these conversations can often result in increased buy-in from these team members for processes that are already in place. Communication and transparency of information with your field workers will improve jobsite productivity, safety, and performance. AM I USING THE BEST TOOLS?Your tools could also be the reason behind your documentation problem. Paper forms, whiteboards, and excel sheets have been contractors' go-to methods for workforce management, but it's time to step into the digital age.There are a wide variety of construction operations platforms available for contractors looking to embrace tech and improve documentation efforts. However, teams should look for a complete, all-in-one solution for digitizing your workforce. Using a tablet or smartphone, on-site workers can fill out and send documentation in real time and not have to worry about if it makes it into the right hands. Everything from incident reports to daily inspections can be sent and stored in a centralized location in real time that is accessible both onsite and at the office. There are many solutions currently available on the market. When searching for the solution that is the best fit for your business, be sure to check that it has the ability to integrate with existing systems, such as accounting, payroll and, estimating. CLOSING THOUGHTPaperwork isn't going anywhere, but there are solutions available to help you cut down on administrative tasks, increase your productivity, and help get back to what matters—completing the job, safely and efficiently. Workforce Managementthree ways to improve documentation DO WHAT MATTERSBy Fred HaynesPART 1 OF 4about the authorFred Haynes is a solutions engineer at Assignar. For more, visit www.assignar.com.
Page 41
Page 42
MARCH 2022 www.mcsmag.com36management solutionThe Clemson University Board of Trustees has approved a set of plans that will significantly expand the Nieri Family Department of Construction Science and Management's graduate programs.BOARD APPROVESFirst, the Board voted in favor of launching a Ph.D. in Construction Science and Management, pending approval from the South Carolina Commission on Higher Education. Second, they approved a plan to dissolve the current Department of City Planning and Real Estate Development (CPRED) and move its two degree programs, the Master of Real Estate Development (MRED) and the Master of City and Regional Planning (MCRP), over to the Nieri Family Department of Construction Science and Management.Nicholas Vazsonyi, dean of the College of Architecture, Arts and Humanities shares, "The Master of City and Regional Planning is a nationally accredited program that is essential to the array of disciplines we offer in the Build and Design sector of the College. Together, these programs cover the entire spectrum of building activities from conception to development and construction. Partnering our program in Real Estate Development with Construction Science and Management also paves the way for tremendous synergies going forward."NIERI FAMILY DEPARTMENTThe Nieri Family Department of Construction Science and Management is home to B.S. and M.S. degrees in Construction Science and Management. The addition of the Ph.D. program expands the department's offerings to serve students from their undergraduate education through to a terminal degree. "This new Ph.D. program will expand on the opportunities for us to continue to bring experienced professionals to the graduate research and teaching missions of the department," says Mike Jackson, chair of the Nieri Family Department of Construction Science and Management. "The doctoral program will also enable us to grow our undergraduate degree program by leveraging our traditional faculty and staff with experienced professionals pursuing advanced graduate studies in construction management. It is also the fulfillment of a 5-year goal to better align the department with the research mission of the University."The Master of Real Estate Development (MRED) program is located at Clemson's downtown Greenville campus in the Greenville ONE facility. Its 56-credit hour curriculum offers training in construction, finance, law and urban planning, while also offering students hands-on learning activities, including internships, field studies, and independent research.Clemson's Master of City and Regional Planning program is fully accredited by the Planning Accreditation Board (PAB) and has a 50-year history of developing professional planners. The 48-hour program has a strong track record of securing scholarships and paid internships; over the last 3 years, 100% of its students who requested funding received full funding for 2 years. SYNERGISTIC OPPORTUNITIES"This merger presents a new configuration of synergistic opportunities at the three-way intersection of construction-development-planning," says Professor John Gaber, chair of CPRED. "This new trifocal approach to development allows for persistent urban problems like lack of affordable housing and environmentally unsustainable urbanization to be reexamined in a more holistic context. We have an opportunity for breakthrough thinking on how we can make urban areas more livable for future generations."CLOSING THOUGHT"The addition of these two graduate degree programs will contribute to the continued growth and diversity of our undergraduate degree program, while also enhancing the MRED and MCRP graduate programs," says Jackson. Construction Ph.D Programdepartment offerings expand at ClemsonHIGHER EDUCATIONBy John Eby about the authorJohn Eby is the public information director for Clemson University, College of Architecture, Arts and Humanities. www.clemson.edu.
Page 43
Page 44
MARCH 2022 www.mcsmag.com38software solutionMost companies have a plan for emergencies like a fire at the office or road-blocking weather, including training for employees to know the plan. What they don't realize is that their company data is so important that if they were to lose it, their day-to-day operations would come to a halt. You need a plan for critical cybersecurity threats that target your company data, the most damaging of which is a ransomware attack. Ransomware is a profitable criminal enterprise, and you should plan how you will respond to a ransomware incident. Here are some valuable tips to help you prepare a quick and efficient recovery, in the event you are hit. BACKED UP: NO 'BUTS' OR 'IFS'Protecting your company's data starts with being able to recover it. Recent variations on ransomware are extracting then encrypting or deleting backups made on the systems they are infecting. This prevents the company from "restoring from backup" with minimal to no loss of business continuity. Consider your current data backup strategy:• Are backups routinely taken? • How far do they go back?• What systems are backed up?• Are your backups stored inaccessible from the main office network? • How long would it take to get a backup from "offline" or "cold storage" and restore it to the production systems?Ideally, periodic backups should be configured to be routinely (or immediately) copied off the network, verified, then saved to a secondary system which is completely isolated from the main production network. Those offline backups should also be routinely tested and verified. Restoring a week, a month, or 2 months back in time should be known processes.ROUTINE SCANNINGYour systems should be monitored actively, and any anomalous behavior should be investigated. Investment in this approach is key. Ransomware begins with a user doing something strange (starting to encrypt all files they have access to), and this is something that can be caught early. This can be done automatically by a system's antivirus software, or engaging technology and staff that can help differentiate routine from abnormal behavior in your networks and systems. Many reputable antivirus systems offer such solutions as a service for their customers to help separate the emergencies from the day-to-day operations. Think about: • How quickly can you respond to anomalous behavior? • What constitutes anomalous behavior from your users? • Is your IT department prepared to manage anomalous behavior?INSURANCESo, when (we have probably moved past the "if") something goes wrong, is your business financially covered? Ransomware insurance has increasingly become another routine insurance premium for companies to invest in. They can send experts to help with recovering your systems if they are recoverable, or to negotiate with the ransomware gang if systems are not recoverable without the Security ThreatsSecurity Threatsprotecting your IT operations PREPARE AND RECOVERBy Gen SimmonsProtecting your company's data starts with being able to recover it.
Page 45
www.mcsmag.com MARCH 202239decryption key. Performing the previous steps and others your insurance company requires may entitle you to a premium reduction and limit your downtime. SEPARATING THINGS OUTPhishing attacks (fake emails designed to get a user to open a link that installs a virus on their computer) are one of the most common ways networks are compromised. Once in your system, a computer virus tries to elevate its permissions in the network. The more permissions each user on your network has, the easier it is for an attacker to find an account with the proper permissions to begin encrypting your data. Are your accounts provisioned in the mindset of "least privilege," where a user has only the permissions necessary to do their job? Staff should also receive monthly training on what a malicious email attachment or phishing attempt will look like, as they are your best defense against malicious activity on your network. SAFETY IN THE CLOUDMany contractors use software that is available in the cloud, but is it safe? Contractors often have concerns over data protection, security threats, and potential data loss if their software is maintained in the cloud. Information stored in the cloud is more likely to be more secure than any files on your office computer because cloud service providers will implement robust cybersecurity solutions and services to protect your data.You want to make sure that you trust your cloud partner so that you feel your data is secure and protected. Make sure the cloud providers data center is ISO 27001, SSAE 16/SOC compliant. The SSAE 16 (Statements on Standards for Attestation Engagements No. 16) verifies the controls and processes set in place by a data center and requires a written assertion regarding the design and operating effectiveness of the controls being reviewed. CLOSING THOUGHTMake sure your data is secure in an enterprise-class data center with a high-availability infrastructure that allows data backups and disaster recovery. Most cloud hosting services will provide you a virtual server with no additional services. Without a cloud hosting service provider, you would be responsible for getting antivirus protection, maintaining your applications, data, security, updates backups, and everything that comes along with managing servers and IT. about the authorGen Simmons is a technical product manager with HCSS, a company whose mission is to develop software to help construction companies streamline operations. For more, visit www.hcss.com.
Page 46
MARCH 2022 www.mcsmag.com40software solutionMobile WorkforceMobile Workforcethree ways to maximize ROI and productivityBEST PRACTICESBy Mike MerrillIn the past, construction teams were tasked with using multiple apps and software solutions to cover every aspect of their construction business. Sounds easy enough, but the reality of this approach was not so simple. Spread out amongst users, multiple logins, lost passwords, and confusing user experiences led to workers throwing up their hands in frustration and construction leaders not getting their investment value back from their technology. Fortunately, this is where modern mobile workforce solutions can help.To maximize your construction software's return on investment (ROI) in 2022, follow these steps to increase your data usage, productivity, and profitability. INTEGRATE APPLICATIONS WITHIN A MOBILE WORKFORCE SOLUTIONHaving a mobile workforce solution that integrates with a wide range of third-party applications provides the flexibility to get all your business activities done in one location. Some common cloud-based applications to integrate with a quality mobile workforce solution include QuickBooks accounting software, Acumatica cloud ERP solutions, Sage Intaact, Procore project management solution, ADP, Paychex, UKG, and other payroll and HR-based programs. Construction projects typically have lots of moving parts, so it's vital to have systems like these in place to maintain an audit trail for each step of these critical business processes.Connecting third-party applications to your mobile workforce software enables you to deploy web-to-web connections for accounting, CRM, time management, digital form submissions, and asset and tool tracking. You won't have to worry about lost papers or missing emails any longer. The accounting department will have everything they require to handle finances in one place and at their fingertips. They will no longer need to track down multiple individuals to fill in gaps from missing information. Platform integrations even make collecting sign-offs, approvals, and signatures easy to request and obtain, and they're available immediately on completion. "Integration is a term that's often overused or misspoken about," says Mike Gillum, a product specialist at Acumatica. "It's really the ability to gather data in one central location and have players in your company and outside of your company, both internal and external, accessing that information."Gillum also says platform integration enables everybody to work with the same data set instead of waiting a week or two weeks for the PM to come in from the field, the accounting team to go through approval processes, or a bill to get paid. "With real-time information in one central location, it's going to allow everyone to have timely information to make important decisions," he says. CREATE A SINGLE SOURCE OF TRUTHYou need a mobile workforce solution that takes an objective, neutral approach to your operations and represents a single source of truth (SSOT) for all data-driven processes. Why? So everyone on your team has access to the same information, at the same time, day in and day out.To achieve this, it's important to aggregate data from many different systems to one specific location. An SSOT isn't a system, tool, or strategy, but a methodology that ensures everyone in the organization is looking at the same data to make informed decisions. When companies have multiple data sources to analyze and manage, they risk low data accuracy, poor accessibility for employees, and a resulting lack of effective collaboration between teams. These factors can significantly impact productivity and profitability over time, but a SSOT offers a powerful resolution to this significant industry problem, which is more effective project cost management, or PCM. ENSURE DATA IS ACCESSIBLE AND MANAGEDData has the power to uncover critical insights for a construction business and help lay the groundwork for future growth. The challenge is making data accessible and then actually using it effectively. Many construction companies have gathered a massive amount of valuable data, including project performance, payroll, labor hours, productivity, safety, and equipment tracking. FMI Corporation's latest study on Harnessing the Data Advantage in Construction surveyed over 3,900 construction professionals on their data practices. Results showed that bad data might have cost the global industry $1.85 trillion in 2020. This includes data that
Page 47
www.mcsmag.com MARCH 202241is "inaccurate, incomplete, inaccessible, inconsistent or untimely, and can't be used to derive actionable insights."It's vital to make sure the programs you choose to integrate with your mobile workforce solution are simple to implement and use, save your employees time, and enable you to get your data in and out with ease. Since not all integrations are created equal, you'll need to research the right programs for your company and the solution you're using. BENEFIT OF INTEGRATIONSMany construction employees are buried under communication from apps and waste hours each day sifting through the data and alerts. App fatigue sets in, and productivity plummets due to this, disrupted workflows, and disengaged, distracted workers. By integrating a mobile workforce solution, companies can offer a single-entry point, streamline internal communications, and eliminate app fatigue. Having important data presented properly and with the appropriate role-based configurability and perspective makes having this data even more valuable.Other benefits include: • Improved accuracy of estimates by reducing over- or under-estimating of project costs.• Transparency from start to finish, which improves customer experience and service provider reputation.• Tracking and management of all assets from employees to tools, materials, and equipment.• Getting quicker insight into potential project delays, alleviating losses caused by equipment issues, manpower allocation challenges, and material shortages.• Sharing digital forms, signatures, and insights with all internal and external stakeholders. • Saving time with virtual site walkthroughs instead of in-person project visits.CLOSING THOUGHTGetting the most out of your mobile workforce solution will undoubtedly increase your productivity and profitability, but only if you are implementing systems with integrations that encompass the entirety of your construction business processes—from accounting and payroll to employee productivity and live field data collection for complete project cost management. about the authorMike Merrill is co-founder and chief evangelist of WorkMax by AboutTime Technologies and host of The Mobile Workforce Podcast. Mike has been an entrepreneur and business owner in the construction and technology industry for nearly three decades.
Page 48
MARCH 2022 www.mcsmag.com42software solutionThe engineering and construction industry has historically placed a high emphasis on hands-on experience and expertise. As a result, the industry as a whole has been slow to adopt new technologies, lagging behind other sectors such as finance, healthcare, and hospitality. E&C companies are beginning to recognize that trying to operate complex and disjointed systems in siloed and archaic environments is hindering their ability to deliver projects on time and on budget, and many are looking to new technologies to solve these challenges. According to a 2020 survey from PwC, 77% of E&C CEOs were already planning to implement more 4th Industrial Revolution technologies, such as drones, AI, augmented reality, Internet of Things (IoT), and robotics, even before the pandemic. For these technologies to drive and collaboration among project team members both on- and off-site, the industry must embrace intelligent construction platforms that enable the technologies to work seamlessly together, empowering creative solutions to traditional problems. The industry is heading in that direction as it embarks on a new wave of digitization, and AI has found itself front and center of this digital transformation.BENEFITS OF AIConstruction projects generate tons of data. There is a tremendous opportunity to use this data to generate valuable insights that allow E&C businesses to improve schedules, develop more accurate estimates, and mitigate potential risks. AI is a key component that enables firms to be able to collect, process, and analyze this vast amount of data more easily. The increased adoption of cloud computing and evolving computing capabilities have made AI much more accessible in the construction industry. AI acts as a force multiplier from investment in digital initiatives, providing additive benefits for companies that are already investing in the cloud and other technologies. Digitizing business processes often produces immediate productivity gains. The data these systems generate can help produce descriptive analytics that can aid decision making in the field. It can provide a real-time look into which tasks to prioritize, the current state of the budget, and any lags in the supply chain. AI powers predictive analytics, taking insights from historical and real-time data and applying them to current projects. This is crucial to driving continuous improvements and avoiding repeat mistakes. AI and predictive analytics shift the focus from lag indicators to lead indicators. Rather than focus on "what has happened" or "what is happening" on projects, AI provides an opportunity to take proactive action on "what might happen?" For example, AI can be used to analyze project schedules and identify activities that are at risk of being delayed. AI can also be used to detect risks of disputes, change events or variations. This can greatly increase the potential to deliver projects ahead of time, improve profit margins, and reduce risks.Build Smarterartificial intelligence lends a handDIGITAL TRANSFORMATIONBy Karthik VenkatasubramanianAI and predictive analytics shift the focus from lag indicators to lead indicators.
Page 49
www.mcsmag.com MARCH 202243TRANSFORMING CONSTRUCTIONAI has potential to greatly enhance project team members ability to make smart decisions on projects with a decision-making solution that is rooted in historical performance, state-of-the-art machine learning, and data. AI can act like an additional team member that is constantly monitoring the project landscape for early signs of risks, such as compliance violations, health and safety issues, or added costs, and it can surface them before they become an issue. As E&C firms continue to generate massive amounts of data on projects and implement new technologies, new intelligent technology platforms, powered by a core of AI and machine learning, can help organizations better utilize their data and convert it into the intelligent insight needed to enhance performance and create operational efficiencies, helping them succeed in the present, and learn from the past to improve the future.IMPROVING APPROACHESEmerging use cases of AI in the construction industry show how ripe the industry is for digital transformation. When it comes to processes and mining unstructured data photos, videos, and text and converting them to insights and intelligence, AI can do it in a fraction of the time, compared with traditional approaches. For example, Natural Language Processing can mine text data for early warning signs. Other examples include using anomaly detection to identify unexpected data points, using computer vision to track progress and act as a failsafe for issues missed by human inspectors. AI and machine learning systems also have the ability to evolve and learn from feedback provided by the user, a huge improvement over traditional systems that require manual human interaction to update and apply new rules or logic. AI systems can self-learn and improve their algorithms, as well as re-train based on new data that becomes available, becoming more accurate and efficient over time. Users can easily see the accuracy of the system through transparent accuracy and precision scores. CLOSING THOUGHTAI is not only allowing the E&C to learn from the past, but also to predict the future. The list of positive use cases will only continue to grow as AI becomes more nascent in the industry. about the authorKarthik Venkatasubramanian is global vice president of data strategy and development at Oracle Construction and Engineering. For more, visit www.oracle.com/industries/construction-engineering.
Page 50
Page 51
Page 52
legal solution THE PERFECT STORM Owner Concerns navigating construction contracts in uncertain times By Danielle Waltz and Patrick Estill T he modern contractor is no Second follow through by contractor fails to follow the claims stranger to dealing with increased incorporating the bid documents as part notice provisions the claim is waived building costs and delays in of the contract documents which will Such waivers will be in enforced in getting project inputs to the doorstep be defined somewhere in the contract many jurisdictions So try and get Construction contracting is a continuous The bid or proposal documents should waiver or similar language removed dance of managing these risks in order be listed and attached so there s no If unsuccessful clarify that a waiver to protect the schedule and the bottom question that they are part of the will only result if the owner can show line But with the lingering COVID 19 deal The contract should say that material prejudice or harm pandemic continued supply chain these documents are incorporated by Second ask for reasonable time to issues and labor shortages coupled with reference If the owner will not agree submit change requests or claims Make inflation and geopolitical uncertainties be sure to include the relevant parts that it clear that notice is not required until contractors may have a perfect storm define or limit scope the contractor understands the need for of such risks While there is no reason Third many industry standard form submitting the change Additionally ask to panic there is cause for caution documents e g American Institute of for more time to document the claim good planning and attention to detail Architects AIA have blank spaces for Third consider clarifying that email in reviewing negotiating and drafting filling in assumptions or exclusions correspondence satisfies notice contract language to guide contractors Don t let these spaces go to waste requirements Many contracts have through rough waters This article Instead reference your bid documents notice provisions requiring formal outlines issues in contract negotiations or note other assumptions e g that the notices to be given by other methods and strategies to help contractors meet contract sum is based on market pricing Yet if the owner is kept informed via such owner concerns at the time of your bid which may normal channels of communication fluctuate given market conditions there is no reason why this should not OVERLY BROAD SCOPE constitute notice of claims Overly broad scope provisions can have UNFAIR CHANGE PROVISIONS dire consequences requiring strategies Owners must protect their investment reasonable claims process follow it to manage this risk First start with clear in the project and proper change Document everything and communicate assumptions and exclusions in your bid provisions are an important way they in writing Recognize that having things documents While you should negotiate can do so and prevent surprises But in writing could prove invaluable in revisions to the construction contract keep when change order requirements are too defending a claim in mind that contractors already control the onerous to be followed or penalize the bid or proposal documents Get those right contractor it may be time to push back on scope so there are no questions on what s included in the work 44 MARCH 2022 First be wary of waiver language Provisions may say that if the Fourth once you have negotiated a FORCE MAJEURE Force majeure provisions will remain a topic of conversation However despite www mcsmag com
Page 53
www.mcsmag.com MARCH 202245our perfect storm of external forces on contracts in past years, owners may still be resistant to allow delays or additional costs.First, remember that contractors are entitled to additional time for delays that are not foreseeable or within their control. Excusable delay provisions should be broad enough to cover those delays. When such provisions are modified, beware of restrictive terms that cut off rights to extend the schedule based on anything related to the pandemic (even if not foreseeable or within your control). Second, push for compensation where reasonable, industry standard, or required by law. For example, delay attributable to owner should be compensable. If an owner takes an extreme position on these issues, find out why and be prepared to discuss these questions.Third, if owners will not budge on compensation when delay is outside the contractor's control, insist on a materials escalation clause. Make the case that such a clause is reasonable given supply issues; also consider addressing tariffs, embargoes, or similar changes in law or import/export costs. Make the clause fair and reasonable, and be careful with overreaching. Note that one industry-standard form (ConsensusDocs) has adopted a "model" materials escalation addendum. ON THE WEBRead about liquidated damages in this article on mcsmag.comCLOSING THOUGHTThe above is not a comprehensive list of the many issues that can arise in addressing project risk through contract negotiations and drafting, nor does it account for the unique business concerns of every project. There is no substitute for the advice of professional. However, this article should leave contractors better equipped to spot some of the issues, ask the right questions, and chart the right course for construction contracting in uncertain times. about the authorsDanielle M. Waltz is a commercial and construction litigator and government relations specialist in Jackson Kelly PLLC's Charleston, West Virginia, office, where she is a member. She represents a variety of construction clients. She is a member of the International Association of Defense Counsel (IADC) and is active in its Construction Law and Litigation Group. She can be reached at dwaltz@jacksonkelly.com.Patrick F. Estill is a construction lawyer in Jackson Kelly PLLC's Lexington, Kentucky, office, where he is a member. He focuses on construction transactions; drafting and negotiating contracts and other project-related documents for owners, contractors, and consultants; and advising on risk-allocation in projects. He also has extensive experience in construction litigation and procurement matters. He can be reached at pestill@jacksonkelly.com.
Page 54
MARCH 2022 www.mcsmag.com46safety solutionRope access experts use ropes to safely and efficiently descend, ascend, and perform project tasks on otherwise unreachable jobsites. It's become a common practice in limited-access areas and at extreme heights—such as in slope stabilization and rockfall mitigation where scaffolding or aerial platforms are not plausible. Rope access, however, is not without risk and not for the unprepared. A detailed safety plan, that includes a site overview, an equipment checklist, training background, and understanding of site hazards, is important before accessing ropes. EVALUATE AND ASSESSUnderstanding the variables of a jobsite allows for a thorough plan that outlines the scope of the work and the best way to undertake the job to ensure any risks to health and safety of the team—and others—are minimized.In geohazard mitigation work, a proper site evaluation should include a comprehensive slope assessment that outlines both current and potential hazards. It should also note if there are any safety measures required to begin mitigation work—such as scaling to remove loose rocks—and what areas will need to be accessed throughout the process. This will enable the engineering team to create proper mitigation and construction plans, detailing the exact work needed, the equipment that will be necessary for success, and the expertise needed to compose the crew. TEAM TRAINING, COMPOSITION Building the best team for the job is the goal for companies across industries. When it comes to rope access work the best team doesn't just mean the most knowledgeable it requires a team that is appropriately trained, industry certified, and keenly aware.Crews should follow an industry certification. An example of industry certification is the SPRAT (Society of Professional Rope Access Technicians) certification. It is one of the most advanced technical achievements and internationally recognized standards for rope access work. Training includes comprehensive multi-day courses with extensive time on ropes. Technicians must pass written, oral, and practical tests to confirm skills and safety understanding. Within the SPRAT certifications, there are different levels based on technical understanding, safety skills and number of training hours on ropes. Depending on SPRAT certification levels and rope access experience, companies and contractors can then assemble the most appropriate team to get the job done safety—such as rope access technicians, supervisors, and engineers.Companies should also maintain a written rope access program that is accessible to all employees, and includes safety specifications, training guidelines, up-to-date regulations, equipment checklist, and certification levels. Personnel should go through regular training to ensure being up to date on current practices in the industry, have a communication system in place while on the ropes, and have the ability and know-how to self-rescue or prompt rescue teammates if the need arises.INDUSTRY-PROVEN EQUIPMENTEffective equipment can make or break jobsite success. This is especially the case when it comes to rope access. Rope Accesssafe mitigation and slope stabilization workBEST PRACTICESBy Josh Monroe
Page 55
www.mcsmag.com MARCH 202247Anything less than industry-tested, proven and up to date tools and equipment can gravely sacrifice safety. In rope access, proper equipment includes a harness, safety helmets, rope descender and ascender, anchors, connectors, back-up device, and ropes. Each piece of equipment should meet current industry standards, as well as their specific manufacturer guidelines.Meeting industry standards means more than equipment types or abilities. While expected, wear and tear also must be assessed to ensure safety is never sacrificed. Harnesses should be checked for proper function of the buckles and wear on the waist bands, as well as corrosion on all metal components. Integrity of all anchors, bearings, and connectors should be assessed regularly before every jobsite, and ropes should be checked for exposed core fibers, and inconsistencies in texture. If issues are found with any equipment it must be replaced. While not required across rope access industries, a two-rope system further decreases risk. In a two-rope system the rope access technician uses two primary ropes. There isn't a designated main or safety line as both ropes are utilized as the main line. In this case, if something were to happen to one rope the system will continue to progress on the other rope without the need to move to a backup system. This not only provides enhanced safety to the rope access technician it allows work to continue without delays. LOOK BEFORE YOU LEAPOnce on the jobsite, start every morning with a plan for the day and safety checks. Inspect all pieces of equipment. Confirm the anchors are set appropriately and are capable of holding the loads required for the day's work. Examine the ropes, check to see if they are passing over any sharp edges. Ensure everyone knows where their teammates will be located throughout the day and what to look out for in potential hazards. CLOSING THOUGHTWhen it comes to rope access, it is imperative that crews are always aware of their surroundings and have detailed safety and communication plans in place. While the work doesn't come without risk, understanding the intricacies of the jobsite, being trained to industry certifications, and working with industry-proven, up-to-date equipment will significantly enhance safety for those on and off the ropes. about the authorJosh Monroe is the vice president of health, safety and risk management at GeoStabilization International. He leads the safety program for all activities throughout the United States and Canada. For more, visit www.geostabilization.com.www.sunflowerboatandbarge.com • 563-583-0556• Sectional Barges• Spud Barges from 75x32 to 195x70• Hydraulic Dredges• Truckable Tugboats from 300 – 600 hp• Traditional Tugboats• Support EquipmentAvailable for Lease:
Page 56
MARCH 2022 www.mcsmag.com48safety solutionRegular InspectionRegular Inspectionconsistent training for proper tire maintenanceSTAY ROLLINGMaintaining tire safety on jobsites is not an easy task. The massive size and weight of some of the equipment and the tires can create very complex issues. Plus, the environments they are used in, like earthmoving, construction, and mining, can present many potential hazards. One mistake can lead to serious injury or even death, so safety is key.Proper procedures and OSHA rules should always be followed on jobsites. Regular and consistent training is very important when it comes to checking and servicing OTR tires. Tires and equipment have limits as to how much weight they can handle, how fast they can run, how much impact they can absorb, and how much heat they can withstand. Being educated on these limits helps prevent accidents and damages on the worksite. TRAINING FOR BEST CAREIt is important for companies and contractors to provide continuous training to their employees on the safety and care of tires and equipment. Abuse and misapplication are some of the leading causes of accidents and failures on the jobsite. This leads to downtime which then leads to an increase in operating costs. Before beginning a job, be sure to regularly inspect the tires and machinery for any damages. For tires, check for any imbedded objects, chunks of torn rubber, tread detachment, uneven wear, or exposed steel or belts. Cracks, punctures, or severe wear on the tires could lead to blowouts which can cause serious damage. Inspect the bead area for any damage or detachment as well.Wheels should also be checked for things like loose lug nuts, damaged valve stems, cracks, and irregular wear. Never use any form of heat on a wheel assembly as this can lead to pyrolysis, a high heat chemical reaction that creates a deadly blowout. This can happen even hours after the heat source has been removed. TIRE AIR PRESSUREManaging tire air pressure is one of the most important practices for a safe and efficient operation. It is crucial to have tires inflated to the proper pressures to handle the weights of the loads they will be lifting or moving. Tire Pressure Monitoring Systems (TPMS) are safety systems that allow operators to keep constant watch on air pressures so that any issues can be caught and corrected before any major problems arise. These tools can help lead to increased production on the jobsite.BKT'S TECH STAFFBKT has an experienced technical staff that can visit work sites to train staff and inspect tires to help ensure a safe operation. BKT has even developed a tire tracking system that monitors tire performance by gathering data from the jobsites, vehicle, and loads to identify key issues and determine the best tires and practices to increase performance. SPOTech (Satellite Performance Optimization Technology) gathers operational data and helps troubleshoot issues such as belt separations, heat issues, tire cuts and punctures, and irregular wear. CLOSING THOUGHTFollowing proper safety guidelines, performing regular maintenance, and keeping up with training are the best ways to prevent OTR tire failures and worksite injuries. Ensuring a safe work environment will prevent incidents which can lead to downtime and a decrease in revenue. for more informationTo schedule a visit with a BKT technical specialist or to learn more about BKT tires, visit www.bkt-tires.com.
Page 57
Page 58
MARCH 2022 www.mcsmag.com50safety solutionLadders and scaffolds have long been the go-to solutions for elevated work—they're simple to transport and don't cost much to purchase or rent. While they excel in these areas, ladders and scaffolds continue to lag in one major, and potentially costly, area: safety. Like many workplace injuries, most falls can be prevented with the right equipment. Low-level scissor lifts, for example, are compact and lightweight enough to work on finished floors, drive through doorways, and take a ride on an elevator, but, most importantly, they enhance safety by leaps and bounds. Operators get a stable platform to stand on while performing work, and railings protect them from falling. So, what's holding some businesses back from implementing safer alternatives, such as low-level lifts? One word: awareness.LADDERSLow-level lifts show up to a jobsite and are ready to go, and one would think ladders do, as well. Setting up a ladder, however, can be more complicated—something many users would never suspect from such a basic tool. From duty ratings to height guidelines, there are several factors to consider when choosing a ladder and setting it up for optimum safety. Unfortunately, this knowledge is often overlooked and not communicated to users, making the risk of falls a real concern. Here's what all contractors should know.Ladders come in five duty ratings: Type III light duty, Type II medium duty, Type I heavy duty, Type IA extra heavy duty, and Type IAA extra heavy duty. Each are designed to safely handle a certain amount of weight. Exceed that weight and physics kicks in with the potential for the ladder to snap and cause severe injury. Safer with lifts. There is a safer way for workers to haul themselves and their materials to the elevated worksite and that's with a low-level lift. Workers can place material on the lift's platform and move from place to place on the jobsite. Lifts even feature overload sensors that restrict movement if there is excess weight on the machine. In addition to capacity, height is also a critical factor that often gets overlooked when selecting a ladder. When it's too short, it's tempting to stand on the top rungs or overstretch beyond the rails, either of which can lead to a fall. A ladder that's too tall is more likely to be set up incorrectly against a wall and can slip out from underneath a worker because there is not enough friction to hold it in place. Safer with lifts. Low-level lifts address these potential pitfalls by allowing users to work as high as 25 feet, ample height for reaching almost any job. Properly setting up a ladder is challenging and leaves a generous amount of room for error. OSHA recommends that users ensure the top of the ladder extends 3 feet higher than the elevated surface, place it at a 75-degree angle, and set it one-quarter of the working height away from a wall. For instance, if the wall's height is 40 feet, the base of the ladder should be 10 feet away. It's often impractical to measure for these recommendations—or even have room to meet them—on the jobsite, but not following that guidance can substantially reduce the ladder's stability. The challenge of properly setting up a ladder is likely why a growing number of contractors are choosing alternatives for their worksites.Cutting safety corners for the sake of time and effort is also a concern with ladder usage. Overreaching can cause the ladder to topple over and "walking" it—shifting side to side to move—can also cause it to tip or fold on itself. Safer with lifts. With low-level push around lifts, the user brings the lift to the ground and pushes the unit to the next location. Or, with a self-propelled lift, the operator can simply drive to the next spot. Lifts are required by the ANSI standard to meet a specific level of side Restoring Safetyeliminating jobsite injuries with low-level liftsBEST PRACTICESBy Justin KissingerLow-level-access scissor lifts offer the same working height as ladders and scaffolds, but with greater convenience and safety features.
Page 59
www.mcsmag.com MARCH 202251pull to prevent tipping when pushing against the wall with tools.SCAFFOLDSScaffolds can provide variable working heights and larger elevated platforms, which ladders cannot, but they still create some of the same safety challenges. Just like ladders, scaffold must be set up correctly to provide a stable framework and prevent collapse underneath the weight of workers, tools, and materials. Safer with lifts. Low-level scissor lifts are ready to go and leave virtually no room for assembly error. They also make reaching elevated heights nearly effortless. Hauling tools and materials up and down scaffold is a challenging and dangerous chore that can increase user fatigue and lead to more slips and falls. Once a worker is on the deck, depending on the setup, there might not be anything to prevent them from taking a perilous step off the side of the platform. Safer with lifts. Lifts, on the other hand, offer a fully encircled platform with 43.3-inch-tall railings and toeboards, which protect people below from falling tools and materials. When a scaffold needs to be moved, the worker needs to remove the deck and, in some cases, disassemble and reassemble the scaffolding at the new location. When a scaffold is on wheels, a user might try to "surf" an unsecured scaffold over to the new location by pulling on objects, such as overhead pipes and fixtures, around the work area.Safer with lifts. On self-propelled lifts, the user can focus more on the wheels' path to avoid obstacles and uneven work surfaces while driving to the next location. Push-around units have automatic locking mechanisms on the wheels to prevent the unsafe surfing practice. CLOSING THOUGHTThe first step to enhancing elevated worksite safety is awareness. Know where the risks lurk, understand why they are there, and then face them head on. Ladders and scaffolds pose some of the greatest risks for injuries on jobsites, but with low-level lifts, safety can easily be restored. about the authorJustin Kissinger is the marketing manager for Hy-Brid Lifts. He has been with the family-owned business since 1998, and during that time has gained knowledge from all areas of the company, including assembly, engineering, service, and sales. Hy-Brid Lifts is a brand of Custom Equipment LLC. Hy-Brid Lifts engineers and manufactures all-purpose lifts in electric self-propelled and push-around models. For more, visit www.hybridlifts.com.
Page 60
MARCH 2022 www.mcsmag.com52technology solutionTheft Recoverytracking for trailers and equipmentGALEO PROKeeping your equipment and trailers safe, whether on a construction jobsite or simply traveling from location to location, is easy with the right devices and technology. There are various options to achieve a "recovery" peace-of-mind should your assets be stolen. Below is a Q&A to learn more about one company and product making theft recovery a reality. Meet Galeo.What is Galeo? What products does the company offer?Galeo manufactures rugged theft alert and recovery devices containing the latest in motion sensing, GPS, and cellular technologies. The model Galeo Pro is a trailer-mounted device with a companion mobile application (iOS or Android). Galeo Pro can alert you when it senses motion, and its LTE and GPS module enables you to remotely track your trailer from your phone. How would general contractors benefit from the products offered?Trailer and equipment theft is a growing problem for contractors, and the loss can be detrimental to a business. Oftentimes, insurance policies won't fully cover the value of a trailer and its contents. With Galeo Pro, contractors can have peace of mind that equipment theft won't slow down their operation. What is Galeo Pro? Is the equipment easy to use? How is the unit attached to assets? Galeo Pro was purpose-built to withstand snow, dust, rain, and even pressure washing. It's the industry's most waterproof device, with the most extreme temperature range (-40 to 185 F). The battery operates in the most extreme temperatures and can last 3-5 years. The device comes with a SIM card so configuration is easy—it can all be managed in the app. Cellular data plans are: $1.99 monthly, $19.99 annually, or $49.99 for 3 years.The kit comes with two mounting options: hardware and heavy-duty VHB tape. Depending on the location where the device can get the best GPS signal, we've also seen customers use magnets, zip ties, or wire cables. What technologies are involved in Galeo Pro?Galeo Pro's built-in accelerometer sends an alert to your phone the moment it senses motion or vibration. So, if someone is tampering with your trailer or equipment, you'll know right away. The device's Verizon LTE-enabled GPS module enables you to track down your assets from any distance, so if it is lost or stolen, you can locate it using your phone.Engineered for innovation, let Galeo Pro locate your assets for peace of mind.
Page 61
www.mcsmag.com MARCH 202253What is GPS Timing?The technology we developed for the Galeo system was intentionally built to enable the device to "sleep" so that customers can enjoy a long battery life (3-5 years). When the device wakes every 11 minutes, it checks to see if anyone is searching for it. If there is no request, it goes back to sleep. If there is a request, it searches for its GPS location and then transmits the data to the app via cellular network. So, depending on where the device is in its wake-up cycle, the location could be sent to your app fairly quickly, or it might take up to 11 minutes. CLOSING THOUGHTGaleo products are the latest innovation in theft prevention and recovery, but we're not just another tech start-up. Galeo is part of Appareo, an electronics engineering company that has been developing game-changing products for agricultural, construction, and aerospace companies for more than 18 years. for more informationThe Galeo Group is a consumer electronics company leveraging emerging cellular technologies to solve previously unsolvable problems. Through the innovative application of these technologies, Galeo delivers fully integrated hardware and software offerings. The company is headquartered in Fargo, North Dakota. All products are designed, built, and supported in the USA. For more, visit findgaleo.com.The tracking device measures 5.25 x 3.25 x 1.6 inches and is easy to mount on a trailer or piece of equipment.
Page 62
MARCH 2022 www.mcsmag.com54maintenance solutionWork Truck UpkeepWork Truck Upkeep4 tips to make your fleet last longerBEST PRACTICESThe key to maximum productivity is an efficient, well-maintained work truck. To keep your business running at peak potential for as long as possible, consider these four tips to optimize your fleet and get the most out of your work truck's lifecycle. SERVICE EQUIPMENT REGULARLY Productivity is all about uptime. There is nothing worse than having a piece of equipment down when there is a job to be done. To maximize productivity, stick to the preventive maintenance and inspection schedules. Regular maintenance not only improves longevity, but it also ensures that your equipment is always running at peak performance. SWITCH FROM A STEEL BODY TO AN ALUMINUM BODYWhen choosing a body, consider the use of an aluminum body to reduce the weight of the truck. You can use the lower weight to reduce the wear and strain on a chassis. Alternatively, you can put those extra pounds to work for you by adding the tools and parts you need to get the job done. Along with careful payload management, a lighter body will limit the wear and strain on the truck. Aluminum is also a great option to reduce rust and corrosion. This will help your truck last longer whether you have harsh winter conditions, ocean-side climates, or work in a more corrosive environment. By Adam OppermannA well-maintained work truck meansmore uptime andmore money in your pockets.
Page 63
www.mcsmag.com MARCH 202255In addition to aluminum bodies, consider equipping your fleet with aluminum work truck accessories like aluminum lube skids and aluminum storage systems. Additional aluminum accessories will also assist in reducing weight and increasing the longevity of the truck. CONSIDER THE USE OF AN AUXILIARY POWER UNIT WITH INTEGRATED COMPRESSOR Anything an operator can do to make their truck more efficient—and ultimately more productive—is a good thing. Converting to an auxiliary power unit (APU) with an integrated compressor is a great way to check both those boxes. In addition to an integrated compressor, these APUs often have a welder and generator. Instead of running an individual air compressor, welder, and generator, consider upfitting your truck with an engine-driven, integrated solution. Not only are these systems more efficient than their modular counterparts, they can help on chassis maintenance and fuel savings as they don't require the truck to run, utilizing their own engine in place of the standard PTO-driven air compressor configurations found on most work trucks. Some of these APUs can even be used to run the crane, eliminating the need for a PTO and idling in the chassis to run equipment. ENHANCE EQUIPMENT WITH TECHNOLOGY Chassis have included telematics systems for quite some time, with new enhancements each year. Telematics help fleet managers monitor maintenance needs, equipment usage, and truck lifecycles themselves, increasing the potential savings due to less downtime and fewer equipment replacements. CLOSING THOUGHTWhether you're stepping up your maintenance game, switching to aluminum equipment for corrosion resistance, or just cutting weight to increase payload, always look to get the most out of your work truck. A well-maintained work truck means more uptime and more money in your pockets. about the authorAdam Oppermann is a product manager with Stellar Industries. Stellar was founded in 1990 in Garner, Iowa, and has since expanded operations to four U.S. locations. Stellar is an employee-owned and operated manufacturer of high-quality work trucks and trailers, in addition to service truck and van accessories. Through the innovative, growing product line and an expanding distribution network, the company has gained an international presence and become the number one productivity choice in many markets. For more, visit www.stellarindustries.com.
Page 64
MARCH 2022 www.mcsmag.com56featured productFor over half a century, Demco has used the phrase "Doing Our Best to Provide You the Best" to describe our commitment to customers, suppliers, coworkers, and management. Our commitment to the construction industry is no exception. Side dump and drop deck trailers have been a boon in the construction industry for decades, providing drivers, companies, and workers with an easy way to move heavy loads of materials wherever they need to go. Demco uses patented designs to take its side dump trailers a step further and build each one with innovative pivot mounts, additional outer structural support, and increased strength in the tub for long-lasting, efficient dumping and transport. Demco's FlexCorner design allows for flexibility to maintain the structural integrity of the tub and eliminates cracking. Demco Side Dump trailers have the lowest center of gravity in the industry. The bottom of the tub sits inside and below the top of the chassis frame rails. The lower tub increases stability when pulling and cornering and the tires stay grounded when dumping, getting you in and out of the jobsite quickly and safely. Besides being a sound design for heavier load purposes, Demco drop deck trailers feature patented designs that make hauling materials easier, faster, and safer. A big part of this is its all-steel built construction, which means you'll be getting a trailer built from sturdy steel that can handle 68,000 - 77,000 lbs of weight depending on the trailer you use. Demco offers a variety of trailer axles and types so you can pick which one is best for the work you need to do. This includes tandem and triple axles that range from 40 ft to 53 ft. To further customize your choices, you'll be able to choose the kind of suspension your trailer needs, whether that's closed suspension, spread suspension or triple-axle suspension.You can rely on high grade steel materials and conveniently crafted trailers that make transportation, construction, and business easier. Shop for exactly what you want online with the reassurance that you're getting quality equipment that can keep up with your business needs. For more, visit www.demco-products.com. DEMCO SIDE DUMP AND DROP DECK TRAILERSCommitment to Ongoing ExcellenceSmart designs and quality, reliable materials are what sets Demco equipment apart from other companies.
Page 65
www.mcsmag.com MARCH 202257modern construction productsFelling Trailers' continues to go "green" with its patent-pending Air Operated Bi-fold Ramps system. The Air Bi-Fold ramp system is part of Felling's Controlled Flow Air Ramp series, all air-powered, no batteries, no hydraulics. The new Air Bi-Fold system is a revolutionary system that is perfect for the paving and low clearance markets. A key feature of Felling's design is in the operation of the flip ramp. The flip ramp locks out fully when extending, preventing scraping or marring of the ground, which is undesirable, especially if it's a new surface of any kind. For more, visit www.felling.com. FELLING TRAILERSAir Bi-fold Ramp SystemBestway Products Company offers a full line of Spyral saw blades that enable the tight, intricate cuts that are virtually impossible with conventional flat saw blades. Designed with a single continuous cutting tooth that spirals 360° around the length of a hardened steel wire, the Spyral saw blades cut materials ranging from metals, plastics and ceramics to rubber, graphite, and wood to make them ideal for many building, machining, crafting, and fabrication applications. Custom designed and built in-house, the blades can be cut to specific lengths to meet individual needs. For more, visit www.spyralsaw.com. BESTWAY PRODUCTS Spyral Saw BladesMilwaukee Tool solves user frustrations with speed, accuracy, and capacity when filling tires with the introduction of the M18™ Inflator. As the fastest 18-volt cordless tire inflator on the market, the tool is driven to provide unmatched performance, versatility, and the durability to survive demanding transportation maintenance applications. The tool can top off 33" light truck tires in under a minute and is equipped with TRUEFILL™ Technology. The inflator is built with TRUEFILL™ Technology that includes an auto pressure check feature, and an automatic shut-off feature. The automatic shut-off feature stops at selected PSI to prevent overinflation. For more, visit www.milwaukeetool.com. MILWAUKEE TOOLM18 InflatorThe M255 is Kaeser's latest addition to its extensive Mobilair portable compressor line. The M255 has two pressure ranges: 848-935 cfm at 125-150 psig and 696-900 cfm at 125-203 psig. This powerful unit is perfect for a wide range of construction uses and is designed for maximum flexibility and reliability on site. The M255 is the first Mobilair to feature the new Sigma Control Mobil 2—offering intuitive touch screen control and real-time operational data. Kaeser's exclusive pV Control is standard and can adjust the unit pressure in 1 psi increments. For more, visit us.kaeser.com/mobilair. KAESERPortable CompressorKOBELCO Construction Machinery USA introduces the new SK45SRX-7 mini excavator model for North America. The next-generation SK45SRX-7 delivers increased performance and productivity. The new SK45SRX-7 weighs in at 10,030 lbs with canopy and 10,300 lbs with cab and has a 37 hp Yanmar Tier IV final diesel engine. Max digging height with the standard arm is 18'10", max reach at ground level is 18'8", max dig depth is 11'3" and working width 6'5". The new hydraulic system shortens the digging cycle time by up to 7%; this high performance can be maintained without reducing speed. For more, visit www.kobelco-usa.com. KOBELCO USA Mini ExcavatorThe BILCO Company introduces a thermally broken smoke vent. The smoke vent is designed with an element of low conductivity integrated between interior and exterior surfaces of the cover and frame to reduce temperature transfer. These same thermally broken components dampen vibration for improved acoustic performance against outside noise. The product features 3 inches of polyisocyanurate insulation with an R-value of 20+ in both the cover and curb for superior energy performance, and a special cover gasket to minimize air leakage. Suited for large expanses of unobstructed space. For more, visit www.bilco.com. THE BILCO COMPANY Smoke Vent
Page 66
MARCH 2022 www.mcsmag.com58featured productNo more relying on gas and all the disturbances that come along with it like fumes, noise, and outdoor only use. Hilti's made it easier to ditch gas with the Nuron battery-powered DSH 600-22 cut-off saw that offers the power and performance from a 22v battery previously only possible with gas, corded power, or higher-voltage platforms. Cut through concrete and masonry faster and smoother for longer with less noise and more flexibility from the heavy-duty tool. Users also experience lower-vibration cutting, built-in safety from the fast-acting blade brake, and more comfortable handling from a tool body that is nearly 10 pounds lighter than comparable cut-off saws. For more, visit Hilti.com/Nuron-MC. HILTI NURON BATTERY-POWERED DSH 600-22 CUT-OFF SAW Cut Faster, Smoother and Longer With longer runtimes, less maintenance, and more control, the DSH 600-22 is the easy choice for all-day cutting—wet or dry.
Page 67
www.mcsmag.com MARCH 202259modern construction productsCardo Crew, a division of Cardo Systems, unveils Comm-Set, a noise protection communication solution. Connecting anywhere from 2 to 15 users via wireless mesh technology within a 2-mile range, the hands-free Comm-Set provides situational aware-ness and is equipped with a plug to easily connect 2-way radios. It complies with the American ANSI standard. Eight different channels enable a seamless co-existence of multiple intercom net-works within the same terrain. Offering many options, users can connect their mobile phone via Bluetooth technology and use the dedicated mobile app, plus easily operate such features as built-in FM radio and music streaming. For more, visit www.cardocrew.com. CARDO CREW Comm-SetThunder Creek Equipment announces the launch of its all new Service and Lube Upfit Platform, or SLU. It can be configured to carry up to eight oils or maintenance fluids, plus diesel, Diesel Exhaust Fluid, grease and compressed air. The entire SLU pneumatic pumping system is powered by a built-in VMAC air compressor, which provides for more storage in the truck body. Fluid volumes are configurable in 115-, 55-, and 25-gallon tanks. Total capacity for the SLU is 690 gallons. All fluid main-tenance systems are plumbed into the truck's all new Utility Box. For more, visit www.thundercreek.com. THUNDER CREEKService and Lube UpfitYokohama Off-Highway Tires America, Inc., introduces an 875/65R29 size of its rugged Yokohama RT41 L-4 radial for front-end loaders, the popular 29-inch size to its RT41 lineup. The new size features the multi-layer belt pack-age with Yokohama's special, flexible OTR belt wires that add durability, stability, and puncture resistance to the RT41. The tire's buttressed sidewalls reduce snags and cuts, high turn-up carcass construction that minimizes sway, and a hexagonal bead to ensure powerful rim contact. The non-directional block tread of the new 875/65R29 features Yokohama cut-and-wear-resistant compound for long service life. For more, visit www.yokohama-oht.com. YOKOHAMA OFF-HIGHWAY TIRE 29-inch Size Loader Radialwww.sunflowerboatandbarge.com • 563-583-0556• Sectional Barges• Spud Barges from 75x32 to 195x70• Hydraulic Dredges• Truckable Tugboats from 300 – 600 hp• Traditional Tugboats• Support EquipmentAvailable for Lease:sunflowerboatandbarge.com563.583.0556STELLARCDTpro Stellar features a new and improved CDTpro™ control system with Range Finder™ technology that is ergonomical-ly correct. The lightweight, single-hand-ed controller delivers quick, smooth op-eration for load placement. The Range Finder feature allows the operator to create a lift plan without ever needing to unstow the crane. This world-first technology estimates distance and calculates crane capacities where the operator is holding the control system. With a full suite of feedback screens, the CDTpro includes current load of the crane, distance to maximum capacity, and sends vibratory alerts to inform the operator they are approaching maximum load capacity. For more, visit www.stellarindustries.com/cdtpro.
Page 68
MARCH 2022 www.mcsmag.com60coach's cornerTeam Buildingthree ways leaders develop other leaders JUST A THOUGHTBy Randy GorukREGISTER TO RECEIVE A TIP EACH WEEK FROM RANDY AT WWW.LEADERSEDGE360.COM.As a leader, you know one of your roles is to develop other leaders. In fact, leaders are measured on their ability to do this—with some succeeding and others not. So, in addressing the challenge of developing leaders, consider applying three key strategies. BE INCLUSIVEDo you remember when, as a child, someone older than you invited you to participate in a pickup game or fun activity with the other kids? Or do you remember the first time you helped your parents in the kitchen? Or the first time you joined them as they tinkered in the garage or worked in the yard? You likely didn't know what do to, but you can still recall how excited being included made you feel, and you gave it your best effort. The magic of being included is that it creates excitement, extra effort, good feelings, even loyalty and confidence.Look around your construction company and find people you can invite to do something they don't usually do. Choose those you aren't normally involved with, especially those with futures in your organization. Then have them participate in a project, meeting, conference call, customer meeting, trade show, industry conference, or special assignment. It doesn't matter what; give them a positive experience by including them. By doing this, you will have helped them learn, grow, and feel good about you, themselves, and the organization. This is exactly what exceptional leaders want. OVERCOME SELF-LIMITING BELIEFSHenry Ford once said, "There isn't a person anywhere who isn't capable of doing more than he thinks he can."As a leadership coach who specializes in employee engagement, I often meet people who don't buy into this truth. Their self-limiting beliefs hold them back. Yet a good leader can inspire them to achieve more—and to become more.What can you do? Seek team members who display self-limiting beliefs and offer your help. These suggestions will get you started:• Call out your employees' small victories and make a big deal of them.• Encourage their wins by giving positive comments.• Research and share inspiring videos, books, and articles.• Tell them relevant stories about your own little victories. • Guide them to set and apply SMART (specific, measurable, achievable, relevant, and time-bound) goals for their own development.As you encourage your employees to go for small victories and provide support along the way, ensure your actions relate 100% to those you're assisting. PAY ATTENTION TO THE WEAKEST LINKWhen considering the talents of your crew and team members, can you identify the weakest link—the one who, if you're forced to reduce your team by one, would be let go? By viewing that person as your weakest link, you can make an extra effort to help him or her take a personal improvement plan to a higher level. Over the next 2 or 3 weeks, schedule time with that team member and focus on areas where assistance is needed. If you can't do this yourself, find a peer in your organization who will work with your weakest link. about the coachAs a leadership development expert, Randy Goruk works with construction industry leaders to improve employee engagement and business growth. Contact Randy directly to learn how he can help you and your team: randy@LeadersEdge360.com.ONE LAST THOUGHT Experiment with these three strategies yourself to develop your team members into leaders. If you need assistance, then get your peers involved. Your success as a leader depends on it!
Page 69
Page 70