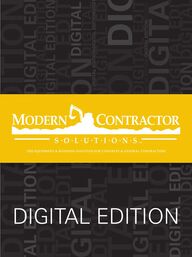 Return to flip book view
Modern Contractor Solutions January 2023
Page 1
Page 2
find out more at emarsinc.com
Page 3
JANUARY 2023 FUTURE OF THE INDUSTRY CONSTRUCTION OUTLOOK ECONOMIC CONDITIONS CURRENT CLIMATE REAL TIME DATA FORECASTING WWW MCSMAG COM TECH MINDSET OUTLOOK ROSY TECH INSPIRED EVOLUTION JOBSITE CONNECTIVITY
Page 4
Page 5
Page 6
Page 7
Page 8
JANUARY 2023 www.mcsmag.com4HOW TO USE CREDIT CARDS TO OPTIMIZE CONSTRUCTION SPENDING IN THE FIELDGuest Post by Matt ButlerOVERCOME THE LEARNING CURVE IN DIGITAL CONSTRUCTION TECHNOLOGYGuest Post by Emily Newton2023 BOOM TRUCK TRENDSGuest Post from The Manitowoc Company3644JANUARY 2023VOLUME 17 ISSUE 01Inside This Issue42special focusIN EVERY ISSUEIndustry News ............................ 08Modern Construction Products ... 58Punch List Punch List ................. 60technology solutionJobsite Connectivitythe tech-inspired evolutionlegal solutionCritical Provisionsconsequences of owner insolvencymanagement solutionGlobal Megatrends5 impacting factors 24industry outlooksoftware solutionsTech Mindsetfuture of the construction industry looks rosy ON THE BLOGRammer Hammer 9033Ebeing used on demolition project at the JFK International Airport by contractor Gramercy. Specialty Rentals is the Rammer dealer. The Rammer Hammers are being used to break up the footings and foundations. Gramercy utilizes Rammer Hammers for large, heavy wreaking. Photo courtesy of Rammer.www.rammer.com34management solutionForecasting Futureusing real-time data28management solutionCompetitive Edgeachieve more with tech
Page 9
Page 10
PROJECT PROFILESBoston Project........................................................... 14Belgard Pavers .......................................................... 16 EQUIPMENT SOLUTIONSOperator Assist Tech ................................................. 18Floor Expert ............................................................... 22 MANAGEMENT SOLUTIONSGlobal Megatrends .................................................... 24Competitive Edge ...................................................... 28Economic Conditions ................................................ 30Volvo's Stephen Roy................................................. 32Future of Forecasting ................................................ 34 SOFTWARE SOLUTIONTech Mindset ............................................................ 36 LEGAL SOLUTIONCritical Provisions ...................................................... 42TECHNOLOGY SOLUTIONSJobsite Connectivity .................................................. 44Transit Signals ........................................................... 48 SAFETY SOLUTIONTreads for Safety ....................................................... 52 MAINTENANCE SOLUTIONSGolden Screws .......................................................... 54Crack Repair .............................................................. 56 FEATURED PRODUCTStudson ..................................................................... 59SUBSCRIPTIONS For all changes, go to:MCSMAG.COMClick the SUBSCRIPTIONS button in the main menuwww.mcsmag.com 3100 Lorna Rd, Ste 101Birmingham, AL 35216DONNA CAMPBELL Editor in Chiefdonna@mcsmag.com MIKE BARKER Publishermike@mcsmag.com RANDY MOON Media Consultantrandym@mcsmag.com MICHAEL FISCHBACH Media Consultantmichael@mcsmag.com JOHN FRIEND Media Consultantjohn@mcsmag.com KEVIN MCCLARAN Media Consultantkevin@mcsmag.com LISA AVERY Art Directorlisa@mcsmag.com SETH SAUNDERS Digital Media Specialist seth@mcsmag.com INGRID BERKY Office Manageringrid@mcsmag.comTIM GARMONCEORUSSELL HADDOCKPresidentCHRIS GARMONCFODONNA CAMPBELLVice President, EditorialTONYA BROWNINGVice PresidentNo part of this publication may be reproduced or transmitted in any form or by any means, electronic or mechanical, including photocopy, recording, or any information storage-and-retrieval system without permission in writing from the publisher. The views expressed by those not on the staff of Modern Contractor Solutions, or who are not specifically employed by Highlands Publications are purely their own. All Industry News material has either been submitted by the subject company or pulled directly from its corporate website, which is assumed to be cleared for release. Comments and submissions are welcome, and can be submitted to donna@mcsmag.com.For reprint information, contact Chris Garmon at chris@mcsmag.com.Canada Post Publication Agreement #41578525. Undeliverables 355 Admiral Drive, Unit 4, Mississauga, ON L5T 2N1Modern Contractor Solutions Magazine@mcsmagModern Contractor SolutionsINDUSTRY OUTLOOKWelcome to January! This month's issue features the 2023 Construction Industry Outlook through a variety of articles and forecasts. First, check out the five factors impacting the construction market called Global Megatrends (pg 24). From knowing what to expect on a global level, check out how to achieve certainty in 2023 with technology (pg 28) and understand the economic conditions and how to address them (pg 30). We've heard the phrase "real-time data" over the last decade; it's now part of the process for forecasting (pg 34). So, what's the future of the construction industry's theme in 2023? It's having a tech mindset and from the vantage point of three experts interviewed … the future of the industry looks rosy (pg 36). To round out the January issue, the legal article covers the consequences of owner insolvency (pg 40) and how jobsite connectivity has been inspired by the evolution of technology (pg 44). New for 2023 is a new column called Punch List. This column will review one book a month that pertains to leadership for GCs and all those with supervisory responsibilities on and off the jobsite. At the end of 2023, you'll have a complete punch list of good reads for excellence in leadership.This year is off to a great start with upcoming trade shows in Las Vegas, World of Concrete and ConExpo. Modern Contractor Solutions team members will be at both these shows gathering information so we can continue to bring you the latest in innovations and resources for a profitable year. Cheers, Donna CampbellEditor in ChiefBe The Sun, Not The Saltpunch•list60
Page 11
Page 12
JANUARY 2023 www.mcsmag.com8industry newsCROSS UNDERGROUND DEVELOPMENT, LLC. CONVERTS FLEET TO FELLING TRAILERSCross Underground Development, LLC. is a Class A Specialty Contractor located in Chesapeake, Virginia, specializing in the natural gas distribution industry. "We are a complete construction service provider; pipeline construction, maintenance, repairs, facility modification, and new construction," says John Cross, president of Cross Underground. Like many others in the industry, Cross Underground's fleet consists of various equipment, from excavators, backhoes, and horizontal drills to the trucks and trailers that move them. "We currently run 20 to 25 trucks daily, depending on the day. With trailers, we are around 20 and a wide variety of equipment consisting of excavators, backhoes, vac, and horizontal directional drills," says Cross.Cross Underground acquired the first Felling trailers paired with horizontal directional drills. For Cross, like many others in the industry, the Felling HDD Series (horizontal directional drill) FT-20 I, and FT-24 I Drill Series (DS) trailers had what they needed; capacity, load-ability, safety, and reliability. The trailers are built drill kit ready with steel mounting strips under the deck for mounting (elevated tank above the fender, drill rod storage, etc.), ramps mounted to one side (full-width ramp rod), and multiple tie-downs with key placements for safe transport of drills. For more, visit www.felling.com. METSO OUTOTEC TO SUPPLY COPPER SOLVENT EXTRACTION AND ELECTROWINNING TECHNOLOGY TO NORTH AMERICAMetso Outotec has signed an agreement for the supply of copper solvent extraction and electrowinning technology to North America. The order value of approximately EUR 50 million has been booked in the Minerals' segment fourth-quarter orders received. Metso Outotec's scope of delivery includes basic engineering, a technology package for the VSF® solvent extraction and electrowinning plants, as well as advisory services for mechanical installation and commissioning, start-up, and spare parts. For more, visit www.mogroup.com.IGNITE ATTACHMENTS ANNOUNCES NEW SNOW PUSHERS Ignite Attachments, the newly launched brand of accessibly priced attachments and three point (3PT) implements for compact equipment in the agriculture, landscape, rental and construction industries, announces the addition of a Snow Pusher attachment to its product lineup. Available via a digital, direct-to-consumer storefront, the Snow Pusher is designed to clear parking lots, driveways, building sites and more with maximum efficiency. Like all other products from Ignite, it promises to be the right fit for the compact and utility
Page 13
Page 14
JANUARY 2023 www.mcsmag.com10industry newsequipment that buyers already own, offered at the right price and delivered right on time. The Ignite Snow Pusher attachment is built to last, featuring a corrosion-resistant finish that can stand up to harsh winter conditions and an 8-inch replaceable rubber cutting edge that offers long wear surface protection and excellent scraping ability. Amplifying its durability even more the Snow Pusher's skid shoes are replaceable, extending the longevity of the pusher, and reversible, doubling its lifespan and providing cost savings down the road. For more, visit igniteattachments.com.RYVIT TO ACCELERATE AND EXPAND TRIMBLE'S CONNECTED CONSTRUCTION WORKFLOWSTrimble has acquired Ryvit, an integration Platform-as-a-Service (iPaaS) provider for the construction industry. Launched in 2016, Ryvit builds connections between commonly used applications and data sources, enabling information sharing both within and across organizations so that project teams can use the right information to make the right decisions at the right time. Providing integrations that process millions of data records daily between different construction technology partners, Ryvit helps customers seamlessly integrate their data and coordinate their workflows for greater project visibility. All current Ryvit integrations are valuable components to an open, extensible ecosystem. These integrations will continue to be supported as part of Trimble Construction One, with the primary offerings from Ryvit undergoing a rebrand to Data Xchange and App Xchange. Data Xchange represents the contractor tools that allow end users to configure and manage their data flows between connected systems. App Xchange serves as the developer's command center for connecting systems, building pre-configured dataflows, and onboarding new customers. For more, visit ryvit.com, construction.trimble.com, or www.trimble.com.RIDGID CELEBRATES 100TH ANNIVERSARY WITH YEAR-LONG CELEBRATION RIDGID, a part of Emerson's professional tools portfolio, is celebrating a major milestone this year: 100 years of designing and building innovative tools trusted on jobsites around the world and handed down from generation to generation. To commemorate the occasion, RIDGID will spend the 2023 celebrating the trades, their impact on our world, and the brand's legacy. "A lot has changed over the past century, but one thing that has remained constant is the dedication of the skilled trades to build a stronger tomorrow. RIDGID is honored to be by their side every step of the way," says Heather McLin, vice-president of marketing, professional tools for Emerson. "From our iconic pipe wrench that started it all to our newest
Page 15
Page 16
JANUARY 2023 www.mcsmag.com12industry newstool solutions, every product we make is designed to help trade professionals get jobs done easier and more efficiently. That's a legacy that will never change. For more, visit RIDGID.com/100. REDTEAM AND ACUMATICA EMPOWER CONTRACTORS WITH INTEGRATION TO SUPPORT DATA-DRIVEN DECISION-MAKINGRedTeam Software, a leading construction management software provider, announces an integration partnership with Acumatica, the world's fastest-growing cloud ERP company, along with a title of Acumatica-Certified Application (ACA). Acumatica is a comprehensive, browser-based cloud ERP solution optimized for ease of use, adaptability, mobility, speed, and security. The ACA title highlights outstanding development partners whose applications have met the highest standards set for Acumatica integration and functionality. The RedTeam Flex and Acumatica integration's enterprise-wide workflows connect construction teams across a project, ensuring all stakeholders have real-time access to the critical financial and field information to support data-based decision-making and optimal operating efficiency. RedTeam Software's cloud-based solutions enable commercial construction teams to collaborate effectively during every stage of a project's life, from business development and pre-construction to closeout. RedTeam Flex complements Acumatica by extending workflows that facilitate broad situational awareness, informed real-time decision-making, and enhanced efficiency. Once linked, RedTeam Flex automatically imports new client, vendor, and project data to give teams essential real-time financial information. For more, visit RedTeam.com or Acumatica.com. EVERCAM'S NEW 4D VIEW, POWERED BY ITWIN, IMPROVES COLLABORATION WITH EASIER ACCESS TO REAL-TIME VIDEOS AND PROJECT DESIGN DATA Evercam announces the addition of Evercam 4D View to Bentley Systems' powered by iTwin program. Evercam 4D View helps project teams leverage engineering and design data to better understand the construction sequence and communicate project plans to all parties involved. The 4D View app combines real-time, high-quality video footage throughout the jobsite with a digital twin and allows users to switch between the model and reality to track changes and communicate progress. The app addresses the challenge of the volume of data available to project teams by connecting it with 4D planning, scheduling, and analysis capabilities. Evercam 4D View allows users to easily switch between real-time footage and BIM models to make collaboration easier. For more, visit www.evercam.io.
Page 17
Page 18
JANUARY 2023 www.mcsmag.com14project profileBoston ProjectBoston Projectoff-site construction expedites fireproofingHISTORIC PARCEL 12In 2020, construction began on Boston's historic Parcel 12 development. The project is building on air-rights over the Massachusetts Turnpike, covering the surrounding streets and utilities. An air-rights project hasn't been built in Boston since the Copley Place mall in 1984. The development is 450,000 square feet of commercial space, featuring two high-rise steel towers with a central plaza and retail space in between. The Parcel 12 centerpiece is the deck, consisting of 520 tons of steel across eight Turnpike lanes and the commuter rail.The $700-million project will knit together Boston's Back Bay and Fenway neighborhoods as well as connect the South End and the City of Cambridge. Parcel 12 is designed to address nearby public infrastructure needs, while also providing safe connections around one of the busiest transportation corridors in the city. Construction is scheduled to last through 2023.THE CHALLENGECities are building up instead of out, presenting new challenges for today's construction. As Parcel 12 is building on air-rights over one of the busiest stretches of highway in New England, construction is extremely complicated. It requires closing one highway lane in each direction in the area of construction as the steel beams and concrete slabs are erected to form a deck over the Turnpike.Rolling roadblocks on the Turnpike provided construction crews with a 15-minute window to place each beam into position and bolt it into place. These pockets of limited time presented a challenge for fireproofing of the steel beams and concrete slabs. When having to adhere to traffic closure schedules, traditional onsite application of fireproofing could have taken much longer to complete and would have presented a problem for the building owners and other stakeholders.THE SOLUTIONThe high profile Parcel 12 project selected GCP's innovative construction solution and product to accelerate the fireproofing of the deck's steel beams and concrete planks. A growing building technique, GCP has adopted the use of off-site construction to fireproof today's complex construction projects.Off-site application of fireproofing for commercial construction introduces some challenges, and has not been the standard method of construction in the Boston market. It is not a simple process, as there are risks when transporting these enormous beams and slabs hundreds of miles with a freshly applied Project Highlights Project: $700 Million Parcel 12 Development in Boston GCP solution: MONOKOTE® fireproofing Fireproofing Engineer: Eric Montplaisir, P.E., Principal at SLS Consulting, LLC Fireproofing Applicator: East Coast Fireproofing General Contractor: Suffolk Construction Boston ProjectBoston Projectoff-site construction expedites fireproofingHISTORIC PARCEL 12
Page 19
layer of fireproofing on them GCP city The fireproofing was completed in chain delays among other benefits The conducted extensive testing and a mock only 6 months a traditional application use of off site construction by GCP to up beam was sprayed and transported methodology would have taken much fireproof the Parcel 12 project addressed down to Boston to ensure their durable longer and extended the construction the critical challenge of the air rights MONOKOTE fireproofing product schedule Rather than being part of a project over the Turnpike limiting can be applied off site and withstand problem GCP offered a solution traffic disruption while completing transporting on major highways and rural New England roads GCP worked closely with the project s Ambitious projects bring significant engineering challenges and Parcel 12 is the fireproofing part of the project on schedule as ambitious as they come says Eric general contractor fire protection Montplaisir P E principal fire protection CLOSING THOUGHT engineers and application teams engineer Engineering the fireproofing With more than 70 years of proven throughout the entire process from system for the air rights portion of performance in the field GCP is years of pre construction planning to the project required consideration of applying its MONOKOTE fireproofing site visits to final installation GCP s the environment hazards and also to new construction innovations Now MONOKOTE Fireproofing was installed application restrictions We were able to Boston s massive Parcel 12 project will onto the steel beams in Canada and address the various challenges through be protected with the highest grade on the concrete planks in Vermont the use of Monokote Z 156T along of performance like other prominent The fireproofed members were then with innovative application techniques projects such as New York City s delivered to Boston and were carefully to minimize the traffic impacts to the Freedom Tower inspected by a team of engineers The residents of the city beams and slabs passed all inspections This efficient building technique is new with no need for repairs They were in Boston and not common for the United then erected over the Turnpike and States Off site construction provides inspected again with limited disruption significant time and cost savings as well of the flow of traffic into and out of the as waste reduction buffering of supply www mcsmag com for more information For more about GCP s MONOKOTE fireproofing visit www gcpat com JANUARY 2023 15
Page 20
Located in Southern California, Manhattan Village is just a short walk inland from Manhattan Beach. The property's owner, DWS, set out to expand the mall's offerings in a way that complemented the indoor-outdoor lifestyle that makes the Manhattan Beach community special. The project, completed in March 2021, provided additional parking, restaurants and retail spaces, as well as an open-air plaza for gathering and socializing. To maintain the sophisticated, beachy feel of the community, designers chose Belgard Moduline Series® (with certain sizes shifting to the Dimensions line in 2023) and Holland Stone pavers in various sizes and in Foundry, Graphite, Linen, and Almond colors.CENTRAL PLAZA DESIGNThe central plaza was designed to comprise an open space with two fountains, seating, and an artificial turf area. "On the north and south sides of this plaza are a restaurant and retail store with parking structures discreetly built into them," explains Garrett Rios, project manager with W.E. O'Neill Construction, the general contractor on the project. "On the west is a restaurant, California Pizza Kitchen, and to the east is a new pathway leading to the interior mall. The project maximized the original parking lot space to offer several new amenities and a whole new type of experience."Lifescapes International was the landscape architect on the project, responsible for the design of the main courtyard, the mall's pedestrian entryways, sidewalks connecting the parking garage to the courtyard, and pedestrian crossings of roadways. In choosing the materials for these surfaces, Lifescapes designers wanted to be sure they captured the essence of the "beachy sophistication" theme the client specified."A different project across the street had a more playful design that the owners liked, but they wanted to bring more sophistication to their plaza," explains Fernando Ortiz, designer and project manager with Lifescapes. "Belgard always has a warm, homey feel and quality so it was the most obvious choice." The newly designed Village had a linear architecture, bringing shoppers from the exterior to the interior of the mall. Pavers would be at mall entrances, the meandering plaza path and even in decorative crosswalks within the Village. Designers wanted to select patterns and colors that really popped when next to each other—but also wanted to be able to use different patterns in different areas of the hardscape. Ortiz's team specified Moduline ground face 3x12 pavers in Foundry color; Moduline 3x12 smooth face in Graphite; Holland 4x4 ground face in Graphite; Mirage Sundeck 12x48 Classic GF porcelain pavers; 12x12 truncated domes in Yellow to highlight handicap spaces; and 12x12 Linen ground face with shotblast finish for the fountain coping. In total, the project required more than 46,000 square feet of pavers.The interplay of colors and patterns created a lot of intricate parts to this project. "This was one of the first projects we'd done with the porcelain pavers, and the mortar setting of the 12x48 stones took a lot of craftsmanship and attention to detail. Ultimately, though, the Belgard were all great products to work with," says Jim Marx, president of Marx Brothers Pavestone.CLOSING THOUGHTOrtiz is also pleased with how his artistic vision came to life in Manhattan Village, noting "We're very happy with the results!" JANUARY 2023 www.mcsmag.com16project profileBelgard PaversBelgard Paverssophisticated design for central plazaMANHATTAN VILLAGEfor more informationBelgard offers the most versatile selection of paver systems available on the market with a wide array of colors, sizes, and shapes to use as an accent or border to create unique contemporary designs. For more, visit www.belgard.com.
Page 21
Page 22
JANUARY 2023 www.mcsmag.com18Operator Assist TechOperator Assist Techincrease dozing efficiency, performance, and productivityCAT D1, D2, AND D3 DOZERSCat® D1, D2, and D3 Next Generation Small Dozers now feature an improved suite of operator assist ease-of-use technologies geared to increasing machine performance, productivity and efficiency in the field. The technologies offered include Stable Blade Lift and Tilt, Blade Load Monitor, Slow Slip Traction Control, and AutoCarry™.Today's D1-D3 dozers also offer a Cat Command for dozing Remote Control (RC) ready option plus include added mounting features and wire harness routing paths to streamline installation of third-party Grade control systems. Simplifying training and operator transition from small to medium machines, small dozers now provide a common technology solution with Cat Command on medium dozer models.OPERATOR ASSIST TECHThe Cat operator assist ease-of use features expand on existing technologies: Traction Control, Stable Blade, and Slope Assist. Bundled with the Cat attachment ready option (ARO) with Assist and Grade 3D with Assist packages, new Stable Blade Lift and Tilt improves performance over Stable Blade. The feature combines accelerometers with an advanced control algorithm to automatically make minor blade raise, lower, and left/right tilt commands to compensate for machine movement, resulting in a smoother surface.New Blade Load Monitor, Low Slip Traction Control, and AutoCarry are integrated into Cat Grade 3D with Assist. Blade Load Monitor produces real-time feedback of current versus target machine load, assisting both novice and experienced operators to fully use machine capacity. Automatically compensating for ground conditions, this technology actively monitors both machine load and track slippage and provides feedback to the operator on current load compared to optimal pushing capacity.With its two operating modes—normal and low slip—Low Slip Traction Control automatically prevents excessive track slip to increase machine efficiency while reducing operator burden. The default normal mode setting automatically limits non-productive track slip when pushing heavy blade loads. Operator-selected low slip operation technology substantially limits track slip in applications sensitive to any minor track slip like material spreading on top of a liner.Working in unison with other operator assist features, AutoCarry automatically raises and lowers the dozer blade to maximize pushing capability and prevent excessive track slippage when pushing heavy loads. When activated by the operator, AutoCarry remains in standby mode until the blade is fully loaded and then automatically engages without the need for Slope Assist or Grade 3D automatics to activate the technology. FASTER INSTALLATIONCat D1-D3 dozers now offer a RC ready option that simplifies dealer installation of Cat Command for dozing. Cat Command allows the dozers to be remotely operated from a safe distance, eliminating safety risks from potentially dangerous applications. The technology helps increase machine productivity Cat D3 Small Dozer with Cat Command for dozing console, line-of-sight operation. ®equipment solution
Page 23
www.mcsmag.com JANUARY 202319and decrease downtime by allowing production to restart immediately following disruptive processes. By integrating with machine electronics, it allows users to retain the same control as they would operating inside the cab.Maintaining access to advanced machine features, Cat Command for dozing is available in two configurations—line-of-sight and non-line-of-sight control. The ergonomic control layout of the lightweight, over-the-shoulder Command console provides line-of-sight machine control from up to 400 m (1,312 ft) away, allowing for convenient remote operation. Ensuring the user maintains dozer control at all times, integrated Cat electronics activate multiple safety features to stop all machine movements under the following conditions: the all-stop switch is pressed; command stop is activated; wireless communication is lost; a severe fault is detected; or the Command console is tilted more than 45 degrees from normal operator position.The customized non-line-of-site Command station positions the user in a familiar and comfortable seated position, simulating traditional machine control. A single station allows users to control multiple Cat machines one at a time, and it is compatible with other Command offerings for Cat equipment. Station components include machine joystick and foot pedal controls plus a touchscreen mount for machine control. Universal screen mounts are included for dozer camera displays.CLOSING THOUGHTCat operator assist ease-of-use features are available on D1-D3 dozers. Dealer Command for dozing installation kits are now also available, and machines in the field can be retrofitted with the technology. for more informationFor more information on Cat D1, D2, D3 Next Generation Small Dozers, operator assist technology, and Command for dozing contact a Cat dealer or visit www.cat.com. The Command station for non-line-of-sight operation.
Page 24
Page 25
Page 26
JANUARY 2023 www.mcsmag.com22equipment solutionThe construction industry plays an important role in the USA's economy, with the industry contributing more than 4% of the annual gross domestic income (GDP) and employing 5% of the population. With this large GDP percentage and more than 16,250,000 people working in this industry across the USA, maintaining a competitive edge against other countries, like Germany, means businesses need to continue to produce high-quality results. This article discusses the importance of efficient surface preparation and its role in the growing American construction market.Many contractors think that there is a one size fits all solution to floor preparation, but this isn't the case. Each floor is laid down in a different way, using different materials to best suit the application. To create an even surface, contractors must properly clean and level the floor by removing any existing flooring and adhesive before adding the new flooring. Due to this variability, contractors need tailored surface preparation solutions to ensure they get the highest quality result in the most efficient way. PREPARATION CHALLENGES When speaking to contractors, we often find that many are still using traditional processes to remove flooring, such as a jackhammer. Preparing floors using this equipment can be time-consuming and operators can easily damage the floor and final look of the new flooring if equipment is not operated correctly. The safety of the operator is also at risk because of the strain of using heavy machinery on the body and the safety risks of being in close proximity to the drill bit. Floor scraping machinery removes these issues by making the process faster with more specialised tools and safer because the operator is riding the machine or behind it, far away from the tooling. Contractors can choose scrapers based on the job size, power requirements, and existing floor type. Contractors can also look at equipment features, such as hydraulic steering that makes it easy to manoeuvre in tight spaces and consistent torque that ensures higher removal rates and greater productivity.In the US, customers commonly use ride-on scrapers, as they often work on larger scale applications compared to European counterparts. Ride-on scrapers help operators maximise their productivity because the machine provides better removal rates compared to a walk-behind or manual process. Ride-on scrapers also cause less strain on the operators, especially if they need to remove large amounts of flooring, allowing them to remain efficient for longer periods of time. Ride-on scrapers can also be easily transported around site, allowing them to be easily sent throughout the site at any point. Floor ExpertFloor Expertthe role of surface preparation in US constructionNATIONAL FLOORING EQUIPMENTBy Jake Sinna
Page 27
GOING THE EXTRA STEPThe customer journey shouldn't stop with the purchase of a machine. Training and consultation are important to maintain a long-standing relationship between customers and manufacturers. Effective in-person or online training ensures operators have the knowledge on safely and effectively operating and maintaining machinery. The more operators know about their equipment, the easier it is to complete effective surface preparation, reduce costs for the business, and ultimately reduce time on site. Training also allows operators to understand the health impacts using the machinery and removing certain flooring can have on them. Consider this example, an operator is regularly cutting concrete, which releases silica dust into the air. Overtime the operator to develop bronchitis, which has a serious impact on their health and future career. If the operator had had sufficient training, they would have known how to reduce dust exposure by connecting machines to dust collectors and that they needed to wear specific personal protective equipment (PPE) to protect themselves further. According to Australian Bureau of Statistics, in America, small construction firms account for 65% of employment, but only 55% of productivity. Over half of the industry needs affordable machinery rental solutions to ensure that they can provide high quality and efficient results when they need it and compete against the larger businesses that can buy the technology outright. Ensuring smaller firms are as efficient as possible helps maintain a diverse range of choice for construction customers across America. Rental options are available from family owned and American-manufactured businesses, like National Flooring Equipment, who pride themselves on providing high quality American rental products to the market. CLOSING THOUGHTThe USA construction market is predicted to have a compound annual growth rate of 5% by 2026, so maintain high-quality machinery in the industry is key to maintaining a competitive edge. Taking the time to consult a floor preparation expert, like National Flooring Equipment, will allow businesses to find the most efficient solution for their applications and learn how to use it in the most effective way. www.mcsmag.com JANUARY 202323about the authorJake Sinna is president of National Flooring Equipment. If you're looking for the right equipment and advice on surface preparation for your next project, contact National Flooring Equipment by visiting www.nationalequipmentdirect.com.
Page 28
JANUARY 2023 www.mcsmag.com24management solutionGlobal MegatrendsGlobal Megatrends5 factors impacting the construction marketINDUSTRY OUTLOOKOver the past few years, the global construction industry has navigated unprecedented times with high highs and low lows brought on by the unanticipated pandemic. As a result, the dynamic on today's job site has changed, new megatrends have surfaced and businesses have had to reinvent themselves to be prepared for the future. When we look at what was impacting our industry pre-pandemic (2015-2020), we identified 5 key drivers: Global Marketplace, Productivity Imperative, Sharing Economy, Digital Future, and Urban World.Baked within these top 5 trends was urbanization, the phenomenon of more and more population moving to urban centers, which was driving demand for product electrification.When we think about the megatrends for the 5 years following the pandemic (2021-2025), we see new key influences emerging: Shifts in Growth and Trade, Stronger Societal Deal, Accelerating Disruption, Digitally Powered Customer, and New Ways of Working. Let's take a closer look at each of these. GROWTH & TRADE SHIFTSOver the last few years, the world has seen a tremendous shift in economic power. Before the pandemic, the construction industry had become largely dependent on suppliers from a few key countries, which ultimately exposed several long-term risks. Post-pandemic, it has begun moving towards region-for-region supply chains to create a more diversified supply base, including suppliers from mature, developing and emerging countries, a step toward the industry's long-term evolution. "We've learned that we need to become more geographically adaptive and agile, and as such, are exploring nearshoring opportunities to regionalize our supply chains and push towards a sustained recovery," says JLG's President Frank Nerenhausen in a recent interview about the State of the Rental Industry. "Regionalization of our supply chain is a positive economic move, as its additive and will result in localized business and job growth."Throughout the changing climate of the construction industry, manufacturing leaders like JLG have looked to new technologies and emerging trends to remain competitive. Nerenhausen says, "Our ultimate goal is to stabilize our supply chain without a compromise to product quality." Though Nerenhausen specifically references the changing industry in 2022, the message remains the same for this year and beyond: Adaptability is key. STRONGER SOCIETAL DEALSustainability has been at the forefront of product development for quite some time, with the world moving toward electric vehicles, clean energy, and reducing gas and noise emissions. While being more environmentally friendly By Sara Vincent
Page 29
could be considered the focal point of the movement, other initiatives such as increasing efficiencies and improving productivity are equally as important."Connected and sustainable technologies are two of the trends we have really seen take off in the last couple of years," says Nerenhausen in his 2022 State of the Rental Industry interview. "People are being asked to do more with less, in tighter spaces, under stringent time and budget demands in a manner that is minimally disruptive to the environment."To meet the demands of these geopolitical issues, the construction equipment industry has shifted its intentions and goals, focusing heavily on sustainability, with the aerial market expanding its own narrative. "Looking at sustainability from an aerial industry perspective, improving air quality by reducing machines' CO2 emissions will significantly contribute to protecting the environment," says Barrie Lindsay, JLG's director of engineering for the EMEAIR region in his "Operating Sustainably, Transforming Tomorrow" presentation to IPAF. According to Lindsay, utilizing sustainable resources as much as possible in the design, manufacture, and marketing of eco-friendly products will help customers who need more "green" solutions to meet new legislation and regulations on emission reductions. "How can we as a manufacturer respond to the growing pressure our customers are getting from local, regional, and country governments for more sustainable jobsites? By saying 'yes' to electrification," he adds. But, the journey to a more sustainable, eco-friendly world (and jobsite) will require a long-term commitment from OEMs, end-users, and everyone in between. ACCELERATING DISRUPTIONTechnology acceleration, creation, and utilization have all been at the forefront of the digital boom. However, while both technology and digitalization advance at an astounding pace, the heavy equipment industry has continued to lag, adopting trends in some instances 10+ years after they have been adopted in other industries. While the construction industry has been traditionally slower to adopt than adjacent industries, as we move into the post-pandemic era, companies and manufacturers are thinking about "what's next" and have begun focusing more on automating processes and technologies. One of the advancements changing construction today is augmented reality (AR), a technology that superimposes a computer-generated image on a user's view of the real world, thus providing a composite view. While AR can be used with tablets, helmets or glasses, construction professionals can utilize this technology right from their phones. The hunt for autonomous machines and technologies is not new. Over www.mcsmag.com JANUARY 202325
Page 30
JANUARY 2023 www.mcsmag.com26management solutionthe years, agricultural equipment manufacturers have been proactive in developing autonomous solutions; however, users have been slow to adopt them, showing a preference for partial "moments of autonomy" instead. In the construction industry, autonomy can aid in repetitive construction tasks that may result in an overuse injury. Now more than ever, manufacturers are searching for ways to boost safety and efficiency using automated solutions. "There is substantial observation happening at the jobsite level to identify the 'jobs-to-be-done' that semi-autonomous and eventually fully autonomous equipment will be the solution for," Rob Messina, JLG's senior vice president of product development and product management, says. "There's still a lot of work to be done in this area before we see mainstream use of fully autonomous solutions."Regardless, he finishes, advancements will continue to make their mark in the industry—one that is always looking for new ways to innovate and improve processes. DIGITALLY POWERED CUSTOMERIt's a common mission amongst construction fleet managers to find ways to make their business more productive. Whether that means getting work done faster, reducing equipment downtime, promoting jobsite safety, or eliminating tedious or repetitive tasks, the concerns of wasting time or money are real.These days, everything is connected to the internet including equipment and other construction-related devices. Because of this, all the associated data is moving to the cloud, making real-time data and information accessible anytime and anywhere. And technology isn't stopping, these tools are only continuing to grow in popularity. In fact, many consider the jobsite of the future to be about two-way, interactive communication. Two-way communication links equipment to operators, remote third parties, and other machines on the construction site to automate certain functionalities, speed [up] documentation, deliver information for crews to make faster, more accurate decisions, and enable technicians to access information that increases machine uptime. As the industry continues to take steps toward connected jobsites and data-driven businesses, new opportunities to interact and connect will offer exciting insights into the world of construction. NEW WAYS OF WORKINGConsequences of the pandemic have forced dramatic changes throughout the construction industry, like new safety protocols, a workforce shortage, and demand outpacing supply.As a result, businesses have had to reinvent themselves to be prepared for the future. That reinvention has led to a new influx of remote and hybrid work. In fact, with the ever-present labor shortage and skills gap affecting the industry, the rise in working remotely has caused an increase in the pool of qualified candidates, as well as shrunk it considerably as workers want more flexibility to look outside the industry. This has inspired many businesses to invest in technologies that inspire close connection and virtual meetings, as collaboration has proved to be key in remote work. Employees, regardless of age, need digital capabilities to help them thrive—opening the door for innovative new tools and technologies. "To stabilize the workforce and facilitate this type of work, look for an increase in autonomous and semi-autonomous robotic features that allow machines to be operated or monitored by a skilled tradesperson at a distance from the work area; perhaps even off-site," adds Nerenhausen. "Remote project managers and service technicians may also become more commonplace as new digital technologies and applications facilitate the sharing of real-time jobsite data and machine diagnostics."CLOSING THOUGHTAs these new megatrends continue to pave the way for the jobsite of the future, OEMs like JLG will be at the forefront of this transformation, pushing the boundaries of possibility and redefining what's possible. about the authorSara Vincent is the director of marketing for JLG Industries, Inc., an Oshkosh Corporation Company and a leading global manufacturer of mobile elevating work platforms (MEWPs) and telehandlers. For more, visit jlg.com.
Page 31
Page 32
JANUARY 2023 www.mcsmag.com28management solutionIn 2022, the construction industry experienced headwinds, backwinds, and crosswinds. The Inflation Reduction Act includes hundreds of billions for clean energy, transportation, and manufacturing. Contractors will be busy in Florida and South Carolina on the heels of damage done by Hurricane Ian, with early estimates of $50-75 billion in insured losses. However, as commercial construction companies jump into rigorous competition for contracts, they must also grapple with continuing high prices, supply chain challenges, and a labor shortage. Further, questions abound with regards to whether a rumored recession will materialize and how the Federal Reserve's rate hikes will impact industry growth. Having a clear view of financials allows contractors to be agile in moving forward with projects accordingly despite challenges. Harnessing the power of technology is the most practical action contractors and construction companies can make in 2023 to alleviate multiple pain points in an environment plagued with uncertainty. GET DIGITALLY TRANSFORMED It is safe to say that most contractors are already aware that digitization is not a matter of if but when. Moving away from manual, paper processes and using digital technology is a gamechanger as it transforms an uncertain environment fraught with complexity into a simpler environment with a greater sense of certainty. Contractors need to be able to appraise their financial situation on demand. Digital tools are available that can help a contractor have a clear and constantly updated view of financial statements, credit scores, bids history, and open bond liability. In the contract business, leaders need fingers on the pulse of their surety lines, work on hand, claims and standing—every day and in real-time. Construction executives already leveraging tech solutions to create more certainty may go next-level in 2023 by pursuing advanced data analytics solutions to create more predictability in their business operations.TECH FOR PRODUCTIVITYThe construction industry, which has been one of the most reticent to move toward digitization, has coincidentally shown only slim growth in productivity of about 1% in the last two decades. McKinsey & Co. suggested that digital transformation can result in cost reductions of 4% to 6%. Now a new breed of younger tech savvy construction professionals is looking at their businesses like a business, and not only at the direct costs associated with the brick-and-mortar, wood, and hammers. They're looking at their internal office structure and asking how they can be more productive. Supply chain delays can lead to a disrupted timeline, so construction executives are turning to project control and cost management software that can crunch the numbers in real time so leaders can eliminate surprises and make informed decisions. Additionally, the younger labor force, which the industry is struggling to acquire and retain, have a certain expectation that their employer is not steeped in obsolete, manual systems. SWITCHING TO DIGITAL The manual process to get bids and performance bonds involves a tedious process of sending the bid invitation letter, job specifications, and bid request forms to their insurance agency, which would get an offer from a surety bond company after credit and lengthy background checks. If the contractor wants to submit another, higher bid, the Competitive EdgeCompetitive Edgeopportunity to achieve certainty in 2023 with technologyINDUSTRY OUTLOOKBy Wayne Nunziata
Page 33
agent will request more information, resulting in an endless back and forth. The faster a contractor can get qualified and obtain a bid bond, adjust bids, update work in progress, obtain additional credit, and order performance and payment bonds, the better position they are in to win jobs. Technology platforms now make it possible for contractors to go online and swiftly and accurately acquire, control, and keep track of bid, performance, and payment bonds. Since most contractors operate on slim margins in a highly competitive marketplace, contractors must master the bidding process not only by submitting winning bids but also accurate bids in line with fluctuating costs. Incorrectly building future costs into bids can be potentially catastrophic. ISSUING THEIR OWN BONDS Digital technology enables contractors to be agile in executing a competitive bid in an atmosphere in which bids need to come in up to the 11th hour and razor-thin margins determine wins and losses. Previously, the insurance agent would have power of attorney, know what the bid is (and sometimes see competitors' bids too), and issue the bond. New software solutions allow insurance providers to grant power of attorney directly to contractors, enabling them to issue their own bid bonds and order performance and payment bonds instantly online. When you're online, nobody knows your bid except you and the company; there's no intermediary. Contractors with their own powers of attorney can move faster in getting bonds and seize more control of their own destinies instead of ceding power to middlemen who may be motivated by commission.CLOSING THOUGHTIn this era of exceeding complexity and competition in construction, technology is the key component to satisfy the urgent need for finding competitive edges, greater speed, and certainty. According to the Dodge Construction Network Q3 Report, commercial construction starts will fall in 2023. The passage of the CHIPS Act is a transformative piece of legislation aimed to re-shore our manufacturing capabilities and our supply chain of critical materials away from China, leading to more manufacturing facilities being built in the US. With this and other macro-forces like the Russia-Ukraine war and increasing sustainability expectations affecting the materials and energy supply chain, the construction industry faces even more uncertainty on the horizon. Technology is the most effective way to make informed decisions from so much disparate information. www.mcsmag.com JANUARY 202329about the authorWayne Nunziata has been the president of Colonial Surety Company since 1986. Colonial is a direct and digital insurance company rated "A Excellent" by A.M. Best. At Colonial, Nunziata leads a team that developed a simple online system to write surety, fidelity, and insurance products in all 50 states. For more, visit www.colonialsurety.com.
Page 34
JANUARY 2023 www.mcsmag.com30management solutionContinuing inflation and a looming recession remain of the utmost concern to chief financial officers. Recent research from IWG found that 91% of CFOs surveyed believe an economic crisis is inevitable, with more than a third (36%) predicting a recession this year. As a result, almost all (97%) have started implementing or plan to implement cost-cutting measures.And finance leaders at construction businesses—which face volatility in the most favorable macroeconomic conditions—are feeling this strain even more acutely than other industries. CONSTRAINTS, CHALLENGESBeyond labor shortages, the increasing cost of materials, and some existing supply chain issues, many construction companies are struggling with ongoing cash flow issues in an industry where cash is king. And if CFOs' recession predictions prove true, construction businesses may soon be staring down cash flows in the net negative as funding sources and revenues both shrink.Adding to that, historically low interest rates during COVID spurred a construction boom. Now, as the Fed raises interest rates in an attempt to tamp inflation, construction businesses are paying more on the debt they accumulated. Construction finance leaders who aren't able to evaluate these factors within the bigger financial picture and were not able to anticipate these challenges through "what if" scenario planning, may be facing stalling projects and upside down balance sheets. PLANNING, FORECASTINGSince the last U.S. recession in 2009, construction businesses have predominantly forecasted growth. Now, finance leaders need to be more strategic and have a focused effort to best determine where they will be in the coming months. To best prepare their businesses and bolster productivity during these periods of volatility and constrained cash flow, construction finance leaders have to plan at a detailed level, across various scenarios. In the past—and, in many cases, still today—financial planning in construction organizations was spreadsheet-driven. This limits the ability to project and nimbly make "what-if" assumptions, which is critically needed in a tumultuous economic environment. Spreadsheets or "pen and paper" planning doesn't allow the kind of flexibility needed today.It's essential that finance leaders not just create one plan but evaluate various future scenarios. Without this approach, if a wrench is thrown into the one plan, with no contingency options, there will be no ability to easily and effectively pivot and make data-driven decisions for the organization. With the right tools, finance leaders can seamlessly plan for multiple potential scenarios, even down to the individual job level, and not only be more prepared but also proactively guide their companies to remain in the black. CLOUD-BASED SOLUTIONSCloud-based financial planning & analysis (FP&A) tools allow construction finance leaders to provide their businesses with multiple scenarios to best prepare them for a successful outcome despite ongoing inflation and a possible recession. With the flexibility in planning afforded by these kinds of tools, finance executives can make adjustments and quick decisions on the fly based on sudden or potential shifts in the economy. For example, if the cost of goods increases by 10% due to inflation, these types of tools let construction finance leaders more effectively incorporate those costs and plan accordingly. Economic ConditionsEconomic Conditionshow to address persistent inflation and a possible recessionINDUSTRY OUTLOOKBy Daniel Fellows
Page 35
These solutions also empower finance executives to look back on the effectiveness of previous actions forecast more accurately, and further build the case to support decisions. By analyzing past jobs, finance pros can build in assumptions for current or future similar work based on that history and the current economic environment, e.g., a delay in materials and/or increased inflationary costs. This affords a nuanced combination of both logic and assumption-based planning.NEXT STEPS In these financially volatile times, construction companies are becoming more aware of where they are spending their money and evaluating that against growth opportunities for their business. In the past, organizations may have just bid on jobs they had the relevant capabilities to do. Now, they are taking a step back to try and determine if they should buckle down instead of pursuing new business. With FP&A tools, finance executives can make better informed decisions by understanding how a potential job may impact the organization more broadly—how it would affect the company's debt levels, how it would be financed, how it would be staffed, what was the P&L impact of a similar previous job, etc. With this knowledge, in many current cases, finance leaders are guiding their businesses to pay down their debt rather than invest in new ventures. This may amount to a productivity slowdown but will position the organization to better weather the economic storm.CLOSING THOUGHTAt the present time, construction businesses need to be keenly focused on the impact of their debt and overall cash flow—which falls squarely on finance executives' shoulders. With the right tools, finance leaders can create multiple scenarios and conduct real-time adjustments and analysis to best understand the overall financial impacts. These insights will empower them to advise their organizations on the best courses of action to help them emerge successfully from the current economic environment. www.mcsmag.com JANUARY 202331about the authorDaniel Fellows serves as solution marketing manager, construction & real estate, for Prophix, a global leader in mid-market CPM software. In his role, he works tirelessly to refine Prophix's industry-leading construction solution—which provides contractors with intelligent and timely analysis of their jobs with interactive reporting and real-time dashboards—to meet contractors' needs. Daniel started at Prophix in 2017 and previously held roles in consulting and solution design. In 2020, he was one of the founding members of Prophix's Construction Essentials offering, which has since been widely adopted across the construction industry. For more, visit www.prophix.com.
Page 36
JANUARY 2023 www.mcsmag.com32management solutionAs CONEXPO-CON/AGG draws near, Stephen Roy, president, Region North America, at AEM member company Volvo Construction Equipment, discusses his thoughts on the show and the direction of the construction equipment industry. It's been almost 3 years since the construction industry came together in Las Vegas for the show. What are you personally looking forward to most about the 2023 edition? ROY: For me, it's really being able to highlight where Volvo is and where we're at in our journey during a time that has been transformative in our industry. CONEXPO-CON/AGG offers us a chance to showcase what we have, gather feedback from our customers and engage our industry partners. To really make a show like CONEXPO-CON/AGG work, the face-to-face aspect of it is so important. I think that's why Las Vegas is the perfect venue for it. It attracts so many people, and with all the changes we're seeing in our industry, I think it'll be the perfect environment for people to find the latest and greatest innovations, as well as learn what will help their business succeed. What does it mean for Volvo to be a part of the largest trade show in North America? What should people expect to see from Volvo this coming year? ROY: At Volvo we consider ourselves a change agent in this industry. Our theme is actually "Change starts here. Be ready for it." So, for us at Volvo, we want to be at CONEXPO-CON/AGG to help illustrate where we see the industry going and how we are preparing our customers to be ready for it. We're not alone in this, but some of things we will showcase at the show will really highlight how Volvo is driving a focus on sustainable power and automation, and how we can help our customers be more productive, more efficient and more successful in their efforts to serve their own customers. We always say our goal is to make customers successful with their customers, so that's the approach we're taking. More specifically, we'll have a mix of existing product, product that's coming out soon and some forward-looking product that—like I mentioned before—will illustrate where the industry is going. That means a focus on sustainability, using electric machines and other sustainable power. We'll showcase small compact electric equipment, all the way to larger equipment that has a mix of electric and diesel. One thing that's extremely important for us, and an area of focus for Volvo, centers on solutions for our machines. There's no doubting the value and importance of the machines themselves. However, to maximize productivity and uptime, it takes the right solutions. So, at CONEXPO-CON/AGG 2023, we're going to showcase a lot of telematics platforms, a lot of productivity platforms, as well as machine controls—solutions, to increase productivity and uptime. There are still plenty of people who are considering attending CONEXPO-CON/AGG. What piece of advice would you offer? ROY: This show is once every 3 years. The technology shifts since the 2020 show are quite significant. And I think being there face-to-face helps secure a true sense of where the industry is going. Additionally, as an OEM, we want feedback from our customers, too. We want to hear what they struggle with and how can we support them as we continue to develop leading-edge machinery, but also solutions that will support their fleet and their job operations. Volvo's Stephen Roy Volvo's Stephen Roy where is the construction equipment industry headed CONEXPO FORWARD where is the construction equipment industry headed
Page 37
Why is it so important for companies to exhibit at this particular show? ROY: For me, I think it's a great time to see customers in one place, reconnect with customers, and talk about the business at hand, as well as how we can support them. But it's also for OEMs to reach new customers and new customer segments. The construction equipment industry is quite diverse. We're seeing customers and applications today that maybe we weren't talking to in the past—especially with the introduction of zero-emission and low-noise electric machines. What trends do you think are going to be on display or showcased at CONEXPO-CON/AGG 2023? ROY: First and foremost, I think our customers are looking to make sure they become more efficient, more sustainable, and how they can support their customers. I think that you'll see that when it comes to electrification, we'll have discussions around autonomous and teleoperations machines as labor continues to get tight. And we'll continue to focus on how to improve safety, productivity, and uptime for our machines. Those are things customers today say consistently are important and will be more important in the future. Closing thought? ROY: One thing we're very excited about is having our Gold Rush stars with us at CONEXPO-CON/AGG, and it's really exiting that we'll have an electric-powered rallycross car that's part of the FIA World Rallycross racing organization, right now in Europe, but making its way across the globe soon.And then, on behalf of my fellow colleagues at Volvo, I just want to say CONEXPO-CON/AGG is our time as an industry to show where the construction equipment is going and the changes that are coming, as well as an opportunity for equipment manufacturers who support to the show to be recognized for their efforts in driving transformational change within the construction industry. www.mcsmag.com JANUARY 202333for more informationCONEXPO-CON/AGG is the largest construction trade show in North America and the premier event that connects professionals from every major construction sector. Held every 3 years, CONEXPO-CON/AGG takes the construction industry to the next level by helping construction professionals elevate their industry expertise, experience the newest equipment and products through demonstrations and industry-leading education, make new professional connections, and grow their own marketability within the industry. CONEXPO-CON/AGG will be held March 14-18, 2023, in Las Vegas, Nevada. For more, visit www.conexpoconagg.com.
Page 38
management solutionForecasting is an essential part of the construction process. Not only does it set time and budget expectations for customers, but also potential profits for contractors. Accuracy is critical; however, historically, construction has missed the mark. According to a global construction survey by KPMG, only 31% of construction projects came within 10% of their budget over 3 years, and only 25% came within 10% of their original deadline. As construction projects grow increasingly larger and more complicated, the problem will only worsen. The construction technology space has the potential to address many of the industry's legacy issues, but the technology itself isn't enough. It needs data.NO DATA = BAD AIMWhile multiple factors go into construction's accuracy problem, one of the biggest culprits is a lack of quality data. In fact, poor data is estimated to have cost the construction Future of ForecastingFuture of Forecastingthe process lies in real-time dataINDUSTRY OUTLOOKBy Marcel Broekmaat
Page 39
industry $1.8 trillion in 2020. It's not that construction isn't collecting data, but most data collection methods are done via spreadsheets and pen-and-paper processes, making them rife with inaccuracy and errors. And a forecast is only as good as its data. Fortunately, with advances in construction technology, it is now possible to automatically collect and feed data straight from the jobsite to forecasting software and other construction management programs. Not only does this data improve the accuracy of forecasts, but it also improves the forecasting process as a whole. Here are three ways real-time data can improve the forecasting process throughout the construction lifecycle: GAIN INSIGHTSNot only can data improve forecast accuracy, but it can also provide contractors with actionable insights to improve production rates and reduce forecast rates. For example, if a contractor is continuously experiencing budget overruns and they incorporate site data into their forecasting software, they may notice the projected production rate of their crew is significantly lower than what they'd been using in bids. They discovered through the timesheet data that crews had been consistently working for a ninth hour to finish things. They can now apply this knowledge to the next job schedule, giving crews a longer time frame and reducing the need to hustle into overtime. NAVIGATE CHANGES WITH EASEThe only constant on a jobsite is that it's constantly changing. Between weather delays, change orders, sick workers, equipment breakdowns, and a mile-long list of other possible slowdowns, forecasts need to be updated frequently to provide the most accurate view of progress. When fed real-time data from a jobsite, forecasting adjustments can be made automatically instead of at the end of the day; this gives contractors more time to react and adjust operations. GETS BETTER WITH TIMEA long-term benefit of establishing feedback loops through data is that it improves forecasting accuracy over time. The more data to work from, the better the predictions will be. This can also help track fluctuations in production rates over time as crew members come and go, new equipment is added and so on. Additionally, this data can lead to more optimized operations and better decision-making when scheduling and bidding. CLOSING THOUGHTWith improved forecasting backed by real-time data, contractors can improve their profits, use their resources better, and keep a pulse on the productivity of their business as a whole. about the authorMarcel Broekmaat is chief product officer at Assignar, a cloud-based construction operations platform. For more, visit www.assignar.com.
Page 40
JANUARY 2023 www.mcsmag.com36software solutionCivil contractors are optimistic about the industry for 2023 and 2024, per the most recent Civil Quarterly from Dodge Construction Network. The report states that "there are no significant differences by contractor size for their 12–24 month outlooks. This demonstrates that the boom in work is impacting all types of civil contractors, and this is expected to do so for some time." HCSS, a construction management software provider, interviewed several of its customers about their outlook for the future in the industry. A summary of these discussions follows:INTERVIEW: PHILLIPPE FALKNERENGAGE EMPLOYEES MOREPhillippe Falkner is the safety director and business services specialist with Ed Bell Construction in Dallas, Texas. Ed Bell has been a heavy contractor in business since 1963. Phillippe discusses what the industry needs to engage employees more. Tech MindsetTech Mindsetfuture of the construction industry looks rosyINDUSTRY OUTLOOKBy David ReddMary TeichertPhillippe Falkner Mary Teichert Tim Zeglin
Page 41
www.mcsmag.com JANUARY 202337People's goals, desires, and reasons to be at work have changed so much over the past 24 months, and it's still changing dramatically and fast. The supply chain and technology have also changed. Every time executives get their heads wrapped around this change, employees have moved on. C-level executives and company owners need to engage more with their employees to understand why workers stay at the business.Employees must be engaged as equals—from the entire management team to operators and laborers. Employees should be asked, "Why are you here? Why do you stay here doing what you do?" Many in the industry think, "Well, they are here because they need a job." That is not true, as every one of our employees could be making a comparable wage at a big box retailer. We need to figure out why this person is a contractor and why they are here. Why are they doing this as opposed to doing something else? Why are they building roads?For some people, it's a family business. Others have a great curiosity about the engineering behind it. Still, some people have a passion for doing something that feels important to the community. For Phillippe, "the cool part is that I get to build something that wasn't there before. I help get people places." If your business can understand why people work there, owners and executives can keep the employees working there. It's all about how you communicate with each other. The military traditionally does a good job communicating with their troops. We can all learn this lesson—you must keep your people informed. The construction industry has issues keeping employees informed, not on what to do and when to do it, but why. Understanding why employees are working at your business can help to motivate them to get even more engaged. More importantly, these people have different reasons for getting up every day and coming to work. Six months from now, a third of them will have a different reason because they have life changes. Since life changes faster than many of us want to deal with, we must expend resources, time, and effort to engage with our people on a communicative level about why they are here. Employees are the most critical asset in the construction industry, and executives need to spend every day engaging with them. INTERVIEW: MARY TEICHERT ENVIRONMENTAL PRACTICESMary Teichert is the president of Teichert, Inc., a 135-year-old contractor regionally based out of California and Western Nevada. It was started by her great-great-grandfather, Adolf Teichert, a foreman for the man who invented expansion joints. Mary discusses the impact that environmental practices have on the industry. Teichert has an interesting contracting business because they own and operate
Page 42
materials plants—about 25 rock plants in California and Western Nevada. Because these are stationary facilities, Mary's company has built a depth of expertise in environmental management. These skills and awareness bleed over into the construction industry as they are stewards of the land they are working on. So as a steward of the land, Mary often questions what the company needs to do. They need to understand technical requirements, like emission regulations, testing stormwater runoff, and increasing government regulations. As a regional contractor, many people that work at the company live nearby, so the more the company can take care of the resources they care about, such as the air they breathe and the water they drink. This is important for future generations. It's a balancing act—managing and measuring the most critical things or understanding if something is worth the tradeoff in costs. We spend millions of dollars yearly on our capital program, and replacing and buying equipment is a non-trivial project. Our industry also cares about things like small and disadvantaged businesses. We can only say that we should be investing in more technology to keep the air cleaner if we have paid attention to what that means for someone with limited capital that may not have used up the life of their previous equipment. There is a balance that needs to be done between all the different goals that exist. Plus, we need to stay in the conversation about what stewardship means, how we will do it with the tools and technology we currently have, and how we can meet the requirements of the built environment that we are developing. Some people feel like cars and bad things because of too many emissions, so we should build fewer roads. While there is something to that, we have yet to have other alternatives to getting around. So, trying to figure out balancing reality with our goals is part of the ongoing challenge of the business. Other industries must deal with a little grayer reality where you can change things on the fly, revise your software, or change your spreadsheet assumptions. But construction is not like that. You get out there and dig a hole in the dirt—it is what it is. Having to deal with real tradeoffs with environmental management is a big deal. We will keep thinking about stewardship of the environment, caring for people, and thinking about how we can make investments so that our work creates a great place for future generations. INTERVIEW: TIM ZEGLINAUTOMATED EQUIPMENTTim Zeglin is the vice president of Frontier Environmental, a general contractor based in Jones Mills, Pennsylvania, that focuses on developing the landscape in Appalachia and is currently running crews in Ohio, West Virginia, and Pennsylvania. Tim discusses how automated equipment will change the industry. Automated equipment will change the industry from running a conventional best-managed practice in the field to an autonomous fleet that can run according to environmental characteristics. Automated equipment doesn't need to go home, cut the grass, or leave the jobsite for any reason. The measure we will use with automated equipment is project duration, as we already have safer, lower-cost fleets in practice. As a horizontal contractor in Appalachia, we are subject to more running water than any other spot in the US. When it rains, our projects are impacted. An autonomous fleet can help when soil conditions are sub-optimal. Autonomous equipment can continue planting, restoring right-of-ways, moving dirt, and excavating bulk materials. Often our jobs run 20 to 22 hours if soil conditions dictate you can remain on the project site. From an autonomous fleet perspective, the equipment is optimized to run in that set of parameters. You can look at the easiest parts of a project and let the autonomous equipment perform that work. Then employees can focus on the most delicate environmental practices, such as stream crossing. When crossing a stream, you need to focus on the flood plain and the impact on aquatic life that may require a bridge to be built there. With an autonomous fleet, we'll see massive changes because the fleet will run on the easiest parts of projects allowing employees to focus on the most challenging part of the project. This also means employees will no longer be able to run the machine beyond its capabilities. Autonomous machines know the parameters it needs to run under. This will help lower operating costs because we won't see the added expense related to excessive machine usage and out-of-parameter limits. An autonomous fleet that will run off a digital plan set will be more complete than what our project owners provide us today. We'll have a set of drawings that can be read or understood by a machine, which can give us a lower overall cost and complete the work faster. Together, the autonomous fleet and digital plans will create an opportunity to complete projects faster, as our current windows of opportunity are minimal. We can see all those things blossom with an autonomous fleet.CLOSING THOUGHTDespite supply chain issues and labor shortages, the construction industry has a rosy outlook as many contractors turn to technology to manage their business better and grow their revenues. JANUARY 2023 www.mcsmag.com38software solutionabout the authorDavid Redd is the content manager with HCSS, the trusted leader in construction software for estimating, field entry, project management, safety, digital plans, fleet management, and telematics. For more, visit www.hcss.com.
Page 43
Page 44
Page 45
Page 46
JANUARY 2023 www.mcsmag.com42legal solutionCritical ProvisionsCritical Provisionsknowing the consequences of owner insolvencyCONTRACT KNOWLEDGEPay-if-paid and pay-when-paid provisions and their legal effect can have critical consequences for contractors on construction projects when an owner becomes insolvent or fails to pay a general contractor. The way these provisions are interpreted and applied differently in some jurisdictions is discussed together with recent legislation prohibiting or limiting the effect of such provisions. PROVISION PAIN POINTSFew clauses in a construction contract create more ire for subcontractors and suppliers than the infamous pay-if-paid and pay-when-paid provisions. Often found in standard subcontracts or purchase orders, general contractors employ such provisions to limit liability to subcontractors and suppliers in the event an owner fails to pay the general contractor. These clauses provide an obvious benefit to general contractors, who may have a legitimate argument that they are not project financiers and should not bear the ultimate risk of owner non-payment. At the same time, the subcontractor or supplier may not be in an equal bargaining position to dispute such provisions, and therefore often reluctantly agree to a contract containing them. While such clauses are generally upheld, there appears to be a trend toward prohibiting or limiting the impact of such clauses—which may be a welcome relief to subcontractors and suppliers. Should this trend continue or should courts uphold such provisions in the spirit of freedom of contract? PAY-IF-PAID PROVISIONIn some states, such as Ohio, courts have generally upheld pay-if-paid provisions if they contain sufficient, explicit language evidencing the intent that payment by the owner is an express condition precedent to the contractor's duty to pay the subcontractor. See Transtar Elec., Inc. v. A.E.M. Elec. Servs. Corp., 2014-Ohio-3095, 140 Ohio St. 3d 193, 16 N.E.3d 645. A pay-if-paid provision may read: "The obligation of the General Contractor to make payment to Subcontractor under this Agreement is subject to the express condition precedent of payment therefore by the Owner." Such a provision, if upheld, shifts the risk of nonpayment by the owner from the general contractor to the subcontractor or supplier. Jurisdictions that enforce such provisions generally do so in recognition of the parties' right to freely contract. Nonetheless, there is typically a high level of scrutiny applied to these provisions, which must make it clear that there is a condition precedent to payment by the general contractor to the subcontractor or supplier.PAY-WHEN-PAID PROVISIONIf the provision is a pay-when-paid provision, the risk of loss generally does not pass to the subcontractor or supplier. See Chapman Excavating Co. v. Fortney & Weygandt, Inc., 8th Dist. Cuyahoga No. 84005, 2004-Ohio-3867. A pay-when-paid provision may read: "Contractor shall pay Subcontractor when Contractor receives payment from the Owner." Despite the literal language of such provisions, most courts interpret pay-when-paid provisions as creating an absolute obligation to pay, subject to a time limitation. Under a pay-when-paid provision, the general contractor is generally liable to the subcontractor or supplier after a reasonable period of time, even if the owner never pays the general contractor. Nonetheless, general contractors and subcontractors or suppliers often disagree on the meaning and effect of their specific contract when the owner becomes insolvent or otherwise fails to pay. The nuanced law on these provisions varies by state, so it is important for contractors to understand the law on these provisions in the states where they are working prior to agreeing to a contract containing these provisions. ENFORCEABLE OR NOTConditional payment provisions such as pay-if-paid and pay-when-paid provisions are generally upheld, and have been enforced in various states such as Ohio, Kentucky, West Virginia, and Pennsylvania. In Kentucky, for example, pay-if-paid clauses are generally enforceable if they are unambiguous. Like in other jurisdictions allowing such clauses, this requirement is typically met in Kentucky by making payment by the owner an express condition precedent to the contractor's obligation to pay the subcontractor. See Superior Steel, Inc. v. Ascent at Roebling's Bridge, LLC, 540 S.W.3d 770, 784 (Ky. 2017). In other states, pay-if-paid provisions may be unenforceable. In states such as New York and California, courts have refused to enforce pay-if-paid provisions on the basis By Andrew N. Schock, Patrick F. Estill, and Danielle M. Waltz
Page 47
that they violate public policy. See West-Fair Elec. Contractors v. Aetna Cas. & Sur. Co., 87 N.Y.2d 148, 661 N.E.2d 967 (1995). See also Wm. R. Clarke Corp. v. Safeco Ins. Co., 15 Cal. 4th 882, 938 P.2d 372, (1997). In other states, such as Virginia, North Carolina, and Wisconsin, the legislature has enacted laws prohibiting or limiting pay-if-paid provisions. The most recent example of this is in Virginia, where a law effective Jan. 1, 2023, (Virginia Code §§ 2.2-4354 and 11-4.6) prohibits pay-if-paid clauses and limits the lime for payment to a maximum of 60 days under pay-when-paid provisions. CLOSING THOUGHTParties on both sides of a subcontract should understand the effect of pay-if-paid and pay-when-paid provisions in their jurisdiction and assess the risk of any given contract prior to agreeing to its terms. The failure of a party to do so may result in the unintended consequence of that party—whether the GC or the subcontractor—becoming the de-facto financier of a project. www.mcsmag.com JANUARY 202343about the authorsAndrew N. Schock is a commercial and construction litigator in Jackson Kelly PLLC's Akron, Ohio, office, where he is a member. He represents construction clients in a variety of matters throughout northeast Ohio. He can be reached at anschock@jacksonkelly.com.Patrick F. Estill is a construction lawyer in Jackson Kelly PLLC's Lexington, Kentucky, office, where he is a member. He focuses on construction transactions; drafting and negotiating contracts and other project related documents for owners, contractors, and consultants; and advising on risk-allocation in projects. He can be reached at pestill@jacksonkelly.com. Danielle M. Waltz is a commercial and construction litigator and government relations specialist in Jackson Kelly PLLC's Charleston, West Virginia, office, where she is a member. She is a member of the International Association of Defense Counsel (IADC) and is active in its Construction Law and Litigation Committee. She can be reached at dwaltz@jacksonkelly.com.
Page 48
JANUARY 2023 www.mcsmag.com44technology solutionThe vision is there. Wouldn't it be great if the entire jobsite—the general contractor, subs, designers, owners, equipment vendors, and material suppliers—were all working in sync with the data that shifts with each condition change, progress report, change order, telematics warning, and machine inspection? That the right people got the right information at the right time to make informed decisions?ALL IN SYNCThis one-dashboard vision is much, much easier said than done. The journey of one equipment manager illuminates the roadblocks.Several years back, Langdon Mitchell, equipment division general manager for heavy civil contractor Morgan Corp., needed to have someone physically go machine-by-machine to update the software in his fleet.The next big hurdle: each OEM had its own proprietary telematics portal. Like most contractors, Morgan has a mixed fleet and getting a unified fleet view from all the disparate systems was clunky and time-consuming, Mitchell says.The Spartanburg, South Carolina, company is now using a third-party product that amalgamates the information from each brand in the company fleet in addition to its rental equipment. "It's become a single source of truth," Mitchell says. "Beyond the raw telematics data, it's allowing us to have tools to have actionable items."But more is needed, says Will Hipp, equipment data analyst with Morgan. "Our eventual goal is to have all the project managers on board so they can see the machines on other jobsites and identify any machines that have little utilization."That involves getting dynamic project schedules to match up with fleet needs so areas can be pinpointed where the company perhaps has too many or not enough machines. "That is one of the biggest tasks we have: making sure that machines are in the right place at the right time," Mitchell says.CONNECTIVITY IS COMPLEXThis is one example of the information needs of one division of one company. Multiply those needs company wide, and then by all the entities with which that one company does business. Now add the industry at large and you get the idea of complexities involved."It sounds pretty simple, but when you take a look at the disparate systems GCs, subs, developers and agencies use, everybody has different formats and protocols so it's extremely convoluted," says Brian Juroff, senior vice president of sales – positioning solutions at Topcon Positioning Group. "While jobsite connectivity is easy to define, executing it is a completely different matter. Every contractor has a different soup mix of software for office, modeling, scanning, etc. It becomes a huge hurdle.""There's an immense amount of data that's created throughout the course of a construction project," says Patrick Stevenson, vice president of product management and platform at Trimble. "Jobsite connectivity is making sure that information is transferring to the right individuals at the right moment in time so that they can more effectively do their job."What's needed is a connective tissue that integrates fully with all pieces of information, creating a living, adaptive body of data."It's providing a digital overview of what's happening on the site so everyone can easily make decisions," says Kenneth Veys, portfolio manager, uptime and connectivity at Volvo Construction Equipment.A BOOST TO CONNECTIVITYOverall technology infrastructure advancements like 5G networks, LiDAR scanning, GNSS, and edge computing is laying the foundation for jobsite connectivity.Jobsite ConnectivityJobsite Connectivitythe tech-inspired evolution TRENDINGBy Gregg Wartgow
Page 49
"I've been on jobsites in the past where at 2:30 in the afternoon you were going to lose connectivity based on satellite positioning," says Lonnie Fritz, senior market professional at Caterpillar. "You could set your watch to it. GNSS alone has really driven improvement in accuracy and reliability."One of the biggest shifts is open architecture software so that data from different sources can be more easily integrated. "That's allowing a lot of contractors to embrace the concept of automating their processes," Juroff says.While jobs in more remote areas still face connectivity issues, the amount of data that can now be transmitted has grown exponentially in the world at-large.And there's a wealth of data that's waiting to be mined in a connected way, from machine telematics to design data to labor apps, says Jason Anetsberger, Komatsu 's director of customer solutions. Connected machines can now receive updated design data, report back their productivity and the shape of the terrain as they create it.Severino Trucking of Candia, New Hampshire, went to a cloud-based model to reduce redundancy and disconnect, says Pat L'Heureux, project manager. "We have some crews that will take a project 80% of the way and then another group takes over. Everyone needs to have the same information."Going to the cloud has been a "huge time-saver," reports L'Heureux. "I can now troubleshoot an issue in 5 minutes, where sometimes in the past it could take me 3 hours because of travel time."And it's not just machines and production schedules that are part of the data mix. Trackers, specialized hardhats, and smart glasses are adding location, fall alerts, and biometrics information on construction workers, leading to increases in safety and labor management capabilities.ATTITUDES HAVE CHANGEDContractor attitudes have also shifted, says Trimble's McLachlan. "We've seen a big jump in adoption of connectivity solutions," she says, "especially now that we can push a design update out to a machine remotely instead of having to drive out to the jobsite.""Every year, the needle is definitely moving on the contractor technology adoption levels," Fritz says. "There's an increase in their belief of what technology can do to improve their operations."The combination of grade control data with telematics reporting was a significant step forward, says James Leibold, product manager – connectivity at John Deere: "You're not just having machines that report data, but you can remotely go into a machine and fix it."The ability to not physically have to download job model revisions is critical, says Lyle Ballou, GPS manager for DXI Construction in Churchville, Maryland. "We are managing 65 active jobs as we speak, and we have to manage the GPS info www.mcsmag.com JANUARY 202345
Page 50
JANUARY 2023 www.mcsmag.com46technology solutionas different crews move in and out of different jobs weekly, sometimes daily." DXI Construction juggles the workload for 51 different crews in three different states, which necessitates being able to instantly connect and "program" each crew for the work to be performed."The investment we have made has eliminated not being able to work, because we have to wait for stakeout, or wait for a program to be driven to a job and downloaded," Ballou adds.THE RIGHT SOLUTION?One barrier to jobsite connectivity is the sheer choice of tech options out there, says Jim Bretz, connectivity services support manager at Volvo Construction Equipment. "Customers don't know what to choose," he said. Fears about office and field data security are also valid."It's so fragmented right now there with the number of solutions," agrees Mitchell. "One company has a cool answer for one thing and another company has a cool answer for another thing. How do you now bring that information into the whole so you can make decisions?""The different solutions can be siloed, which makes it hard to have cross compatibility," adds L'Heureux. "If providers get too proprietary, it can hurt the end user."GETTING ATTENTION"I love the attention that the industry is now getting," says Anetsberger. "People are seeing that it's either ripe for digital disruption or that there must be an easier way."Mitchell agrees: "What is exciting in our industry right now is how technology is really, really ramping up."Contractors will be able to piggyback on what's happening in the broader technology space. In addition to jobsite connectivity, these efforts will also lay the groundwork for autonomous machines.But don't think jobsite connectivity will solve all problems, Bretz warns. "It's likely it will reveal more issues and create a whole new aspect of managing jobsites and machines because it opens up a lot of information that wasn't immediately available," he says.CLOSING THOUGHT"The connected jobsite concept is something I'm passionate about and I want to see grow," says L'Heureux. "It will help with the disconnect we see daily between companies, engineers, even internally. It will create more of community if we can share this data." about the authorGregg Wartgow is a contributing writer for the Association of Equipment Manufacturers (AEM), a North America-based international trade group representing off-road equipment manufacturers and suppliers with more than 1,000 companies and more than 200 product lines in the agriculture and construction-related industry sectors worldwide. The equipment manufacturing industry in the United States supports 2.8 million jobs and contributes roughly $288 billion to the economy every year. For more, visit www.aem.org.
Page 51
www.mcsmag.com JANUARY 202347
Page 52
JANUARY 2023 www.mcsmag.com48technology solutionThere's no doubt that we're getting back in our cars. Post-Covid studies have shown that we fled from public transit to the safety of our own cars to avoid COVID transmission, but haven't returned. Our sudden reliance on private vehicles coincides with our insatiable appetite for building new roads or widening existing ones. These two trends coinciding may not seem alarming at first, but many drivers may not be familiar with the effects of induced demand. If we build it, they will come, or, more lanes mean more traffic. THE ISSUEAmerica's largest 100 urban areas added 30,511 new lane-miles of roads between 1993 and 2017, according to a report by Transportation for America, a 42% increase during that time contrasted against a population growth of only 32%. In other words, we're needlessly building more roads than necessary for our level of population growth. And despite more roadways now created, traffic congestion (measured in hours per day) increased by 144% within that same period. And, never mind the fact that each lane-mile of roadway cost $4.2 and $15.4 million to build and an estimated $24,000 a year to maintain, with $500 billion spent expand roads between 1993 and 2017.It's an untenable situation and we can't keep building roads. Yet, we can't seem to persuade drivers to get back onto public transit, which would represent an easy way to quickly reduce traffic congestion.Is it possible there's a better, smarter, and more cost-effective way to ultimately tame our nation's traffic problems? The answer might be found in sophisticated, artificial intelligence-based technology that's designed to be embedded in our current, everyday traffic infrastructure.THE CHALLENGETransit riders want three things: faster and consistent travel times, frequent service, and a reliable transit system. Transit Signal Priority (TSP) is one of the easiest ways local transit agencies can provide all the three desires, but it requires that agencies adopt a holistic view of how to better serve their ridership and use the right kind of priority solution.Legacy TSP systems haven't evolved much from its introduction in the 1960's. Namely, being an expensive transmitter on buses that flash an infrared strobe light to a receiver installed on traffic signal mast arm, much like a TV remote control. The cost to install this hardware on both signals and buses are quite high and requires regular maintenance and calibration to guarantee consistent operation. Not to mention the fact that it's hard to tell if the system is actually working or audit its performance. THE SOLUTIONNext-gen TSP represent the silver bullet that transit agencies are looking for: predictive, ETA based green lights provided well in advance of the bus's arrival. These systems utilize the power of cloud-computing, artificial intelligence, and machine learning technologies to better read movement, roadways, and ridership patterns.By melding new technological advancements with proven strategies, transit agencies can reduce travel times by 20%, reduce fuel usage by 14%, and reduce bus emissions by 12%.CLOSING THOUGHTCommunities who invest in next-gen solutions, like TSP, can benefit from having smarter infrastructure that adapts to real-time traffic conditions instead of being stuck with statically programmed infrastructure that quickly becomes ill-suited to the dynamic nature of traffic. Transit SignalsTransit Signalsprioritization can reduce traffic TRENDINGBy Bobby Leeabout the authorBobby Lee is director of marketing for LYT, a leading provider of cloud-based smart traffic solutions. LYT makes traffic lights smart by enabling them to see and respond to traffic. For more information, visit lyt.ai.
Page 53
Page 54
JANUARY 2023 www.mcsmag.com50CUTTING EDGE IMPALEMENT PROTECTIONCARNIE CAP is the most effective way to cap exposed rebar while keeping your workers safe and on the job.National OSHA Compliant • CAL-OSHA ApprovedPatent #5826398, 6073415ORDER TODAY!(888) 743-7725 www.carniecap.comWORKS IN HORIZONTAL, VERTICAL & INCLINATIONAPPLICATIONS✓ ASSEMBLE WITH 2X4 OR 2X6 LUMBER ALREADY ON SITE✓ SAFELY DISTRIBUTES WEIGHT ACROSS ENTIRE SYSTEM✓ NO MORE CAPPING EVERYREBAR!✓
Page 55
Page 56
JANUARY 2023 www.mcsmag.com52safety solutionTreads for Safetypreventing slips and falls on high-traffic stairsCOMMERCIAL BUILDING In commercial buildings across the country, the most common technique for preventing slip and fall accidents on stairs is the application of non-skid adhesive tapes or epoxy coatings embedded with aggregate. The appeal of this approach is that untrained personnel can quickly and easily apply the protection. However, for high traffic stairways, tapes can peel off (creating a trip hazard) and coatings abrade away quickly, leading to frequent reapplication every few months to maintain safety standards.Now, a new category of durable high-tech epoxy is available as solution to effectively ensure superior stair tread footing, safety, and visibility for years without reapplication. This option dramatically reduces the need for maintenance and replacement even in heavily traveled areas and can be quickly and easily applied on stair treads by maintenance personnel.SLIP AND FALL EPIDEMICSlip and fall incidents are a leading cause of injury and a factor in many lawsuits and workers' compensation claims. "In general, falls and slips are responsible for 15% of all accidental deaths, the second leading cause behind motor vehicles and account for 25% of all reported injury claims," according to The National Institute for Occupational Safety and Health (NIOSH). "Injuries from falls of all types cause a variety of strains, sprains, fractures, contusions, concussions, back injuries, paralysis, as well as fatalities, particularly when the fall is from a height."The risk of a serious fall on stairs inevitably increases when people are inattentive, looking at their smartphones, talking with others, or carrying items. The slip and fall hazard—both in terms of physical injury and potential liability—only increases when the stairs damaged, wet and slippery, or the area is not well illuminated."It is important to improve stair safety in high traffic commercial buildings, particularly in New York state," says Gani Bajraktari, senior property manager at New York-based Bajraktari Realty Management Corp. "In [New York] state, the property owner is presumed responsible if anyone gets hurt on a property."To dramatically improve building safety, enhancing the traction, feel, and visibility of stair treads is the most effective means of reducing slip and fall incidents and injuries. LONG-TERM SOLUTIONEnhancing the traction of stair treads to improve safety is not a new concept. However, most options on the market are decidedly low-tech, such as applying non-skid adhesive tape or a coating with embedded aggregate to each tread. Another common solution at many commercial buildings is the application of a non-skid tape embedded with aggregate. However, if the adhesive does not adhere well to the surface, it can peel off and become a trip hazard within a few months. The aggregate in the tape is only lightly embedded on the surface as well, and in high-traffic areas can quickly wear away. In addition to reducing safety, poorly maintained stairs with worn coatings or peeling tape portray a shoddy, unprofessional image as well.Fortunately, Bajraktari discovered a more durable epoxy paste consisting of 100% solids that, once applied, can last for years in high-traffic areas. The patented product from Form-A-Tread Company provides an extremely Form-A-Tread is a new category of durable high-tech epoxy to effectively ensure superior stair tread footing, safety, and visibility for years.To dramatically improve building safety, enhancing the traction, feel, and visibility of stair treads is the most effective means of reducing slip and fall incidents and injuries.
Page 57
strong bond to a range of stair tread surfaces, with embedded aggregate to increase traction. The epoxy paste can be used indoors or outdoors as well as exposed to chemicals, weather, and temperature extremes. The bond is so strong that a chisel or angle grinder is required to remove the stair tread line, an advantage in high traffic areas.APPLICATION EASETo resolve the issue with the broken vinyl treads at his commercial property, he removed all of the treads, sanded the underlying concrete, and applied the product. The new treads improved safety and minimized the possibility of slip and fall incidents as well as potential liability.He adds, "As far as durability, I expect the stair treads to last for at least 10 years or more in indoor applications."The high-strength epoxy paste is designed to be easy to apply to stair treads by even untrained personnel. In a kit supplied by Form-A-Tread, there is a 400 ml cartridge of material that can produce 25 to 40 linear feet of one-inch-wide tread. A special tool is then used to dispense and mix the material at the time of application in the correct ratio—eliminating the risk of human error. The kit includes a patent-pending stencil system, so the one-inch-wide tread lines remain clean, neat, and parallel. In addition to straight line treads, instructions such as "Exit Here" or a corporate logo can be applied using the material and a stencil.For added safety, the 100% epoxy tread line does not shrink and so provides a superior tactile sensation that creates greater awareness of footing when climbing or descending stairs. The product is available in black and safety yellow to delineate the edge of each stair tread. To increase safety in potential indoor blackout situations, a patented IBC 2015 compliant (ASTM E 2072), glow-in-the dark formula is available for increased visibility on leading edges of stair nosings and landings in hi-rise buildings. According to Bajraktari, the epoxy product not only improved safety and eliminated the need for frequent reapplication, but also had a more aesthetic look over time due to the lack of visible wear. CLOSING THOUGHTCommercial property managers like Bajraktari have long sought to improve the safety of their facility. However, the traditional methods of adding traction and visibility to stair treads are short-lived and high maintenance. With advanced durable all-solid epoxy pastes that adhere to stair treads for many years, managers now have an easy-to-use tool that can improve safety for the long-term. www.mcsmag.com JANUARY 202353for more informationFor more about Form-A-Tread, visit form-a-tread.com.REPAIR SPALLS AND CRACKS IN 10 MINUTES!ROADWARE 10 MINUTE CONCRETE MENDER™It's thin, it gets in, and it won't pop out!See more at www.roadware.us or call 800-522-7623.Cartridge applied or bucket mixed, Roadware Concrete Repair Products will have your oors ready for trafc, coating, or polishing in about 10 minutes. Any size repair. Blend with sand and pigments to create unlimited colors. Permanent repair.800-522-7623ROADWARE INCORPORATED381 BRIDGEPOINT WAYSOUTH ST PAUL, MN 55075 www.roadware.us
Page 58
JANUARY 2023 www.mcsmag.com54maintenance solutionGolden ScrewsGolden Screwsstrategy to mitigate supply chain disruption AVOID DELAYSFor decades, the general wisdom in approaching manufacturing has been to rely on a "just in time" strategy to ensure component parts are available the moment they are needed rather than tying up capital to purchase and store inventory. However, with the recent supply chain disruptions that have been causing delays across industries, there is an argument to be made for holding "just in case" (JIC) inventory as well. This is especially important for "golden screws," the one or two critical components that are needed to finish production and start generating revenue. While the "just in time" philosophy has been effective for more than 30 years now, the recent disruptions that have been happening in the supply chain are unpredictable. In the past 6 years, these disruptions have been more severe and unanticipated, upsetting a relative stability that had existed for some time. Suddenly, parts are completely unavailable, a problem that has been increasingly troublesome over the last 18 months."When there is supply chain harmony, when everybody is delivering on time and there is plenty of inventory in distribution, 'just in time' works really well, but that is not the current reality and as COVID taught us, you can never anticipate the next event," says Mike Thomas, vice president and global general manager at Classic Components, a premier independent distributor based in Torrance, California. "This makes the 'just in case' inventory philosophy a crucial piece of the profitability puzzle moving forward." INVENTORY MANAGEMENTJIC is not a new concept, but it is a "now" concept given the instability in the past 6 years. It is an inventory management strategy where companies keep inventory on hand to anticipate and prepare for unpredictability of demand or the times. The strategy is typically employed in less industrialized countries where disruptions in the supply chain are more common and maintaining more inventory in case of emergency is critical to avoid production delays and other inefficiencies.Thomas believes in balancing "just in time" inventory, which helps businesses keep their inventory low and their capital high, with JIC, particularly of items that may be essential to the continued profitability of their business. A term that is gaining traction to describe such parts is the "golden screw," an item that at times is difficult to procure but is essential to doing business. "There are a lot of 'golden screws' now that companies just couldn't get their hands on and there were many products that couldn't even be shipped. So, now they are meeting and shifting their strategies to ensure they always have the golden screws in the future," Thomas notes. Combining these two inventory strategies gives organizations the best of both worlds—the low inventory and available capital of JIT with the security of JIC—and Classic Components can offer its partners this type of balance when it comes to electronic components."With companies like ours, we invest our own money to purchase items for customers ahead of time. We keep a certain amount in buffer stock, and we ship it out when needed and then we get paid by the customer. In doing so, the customers achieve their goal of having only what they need, when they need it, which is basically 'just in time' philosophy," explains Thomas. INVESTING CAPITALTo accomplish this, the company invests its own capital to secure "golden screw" items for customers and hold them in inventory until they are needed, however long that might take. This is a unique
Page 59
offering within the independent channel and only the largest, most financially stable distributors are willing or able to do so. However, customers need to be willing to shift their strategy to accommodate a JIC philosophy. Organizations must have the foresight and awareness to anticipate future orders not yet placed and be proactive about securing that inventory required to ensure there are no delays when the product is needed. Thomas adds that the items that have been difficult to find are not always complicated parts. OEMs require simple electronic components to make products in the same way nails and screws are required to construct an office building.The distributor can help secure these items for the OEM without asking for money up front and assist with the logistics of transporting the items when needed. They do this by being flexible in their approach and shipping material, whether upstream or downstream, including to contract manufacturers, sister companies, and subsidiaries. DISRUPTION TO SUPPLYNot many companies are offering this type of service during shortages, including traditional distributors. Although authorized distributors provide added value such as engineering support, contractual obligations dictate all materials must come directly from the factory. This makes sense when the supply chain is operating as expected, and there are no global pandemics or other supply chain constraints. The current disruptions, however, are creating lead times in the regular distribution space of up to 50 weeks for parts that used to be available in 8 to 18 weeks, a massive disruption that independent distributors can work around more easily. Regular authorized distributors may also struggle to get parts because the contractual agreement that these companies sign prevents them from sourcing products in the open market. Independent distributors like Classic Components can lock in prices and delivery dates using its vast network of supply chains and partners for many months at a time. This ensures that the inventory will be there when the customer needs it and not sold to someone else. CLOSING THOUGHT"It is a philosophical adjustment. Companies have to look in the mirror and say: we built our organization on 'just in time' and that is how our shareholders measure us, but we need to secure the 'golden screws' to protect against any possible future disruptions," says Thomas. www.mcsmag.com JANUARY 202355for more informationFor more about Classic Components Corp., visit www.classic-ic.com.
Page 60
JANUARY 2023 www.mcsmag.com56maintenance solutionCrack RepairCrack Repairspring is prime crack sealing timeBEST PRACTICESIn most areas of the country, contractors are left cooped up all winter and unable to get out on the pavement. As temperatures start to increase, so does the number of phone calls made to start repairing the damage winter left behind. And that's good because many contractors have spring fever when it comes to crack repair.Temperatures during spring are moderate and tend not to reach the extremes of winter and summer months. However, contractors must be sure crack repair operations are done only in dry conditions. Any moisture present in the pavement or crack will prevent adhesion of the material to the crack walls, increasing the likelihood of failure. Crack sealing is different from crack filling for several reasons. Asphalt pavement is referred to as a flexible pavement that moves horizontally due to changes in temperature and may move vertically because of traffic loads. Some cracks can open to 100% of original width as the pavement temperature changes from summer to winter extremes. So, asphalt pavement is always moving to some degree.Crack sealing uses specialized material that will adhere to the pavement and retain the seal as the pavement moves. Crack filling uses normal material that does not have high or low temperature properties to remain flexible at low temperatures and stable at high temperatures, and when pavement movement takes place, the seal is broken. This is one example why crack sealing prevents intrusion of water and crack filling reduces intrusion of water—sealing and filling are not the same.Here are five tips to successful crack repair, whether crack sealing or crack filling. CRACK ROUTINGRouting is important for two specific reasons: (a) routing cleans the crack and creates uniform and fresh edges to allow the sealant to adhere better with the pavement and this applies whether you only intend to clean the crack or separately if you decide to build a designed sealant reservoir, and (b) a designed routed reservoir filled with crack sealant has the amount of
Page 61
sealant to expand and contract with the seasonal movement of the pavement and the sealant is at the right depth below the surface of the pavement to protect it from traffic and snowplow contact if applicable. Routing requires an additional piece of equipment and while it adds costs to any crack sealing operation, research has shown that routed crack repairs are cost effective and last over twice as long as non-routed crack repairs. CRACK CLEANING AND DRYINGWhether routing or not, or whether crack sealing or filling, it is essential to provide a clean, dry crack channel and remove any loose material from the crack. Cracks that are damp, that contain debris or vegetation or loose aggregate or sand, will fail because the sealant won't stick to the crack walls. Cleaning consists of using a high-pressure dry, clean, compressed air, brushing, or vacuuming to remove debris. When there is moisture, clay, or vegetation you will want to use a hot air lance—caution not to burn the crack. MATERIAL PREPARATIONContractors should be sure to follow minimum placement temperatures, minimum and maximum material heating temperatures, application life (hours material is in melter), and recommended moisture conditions prior to application. MATERIAL PLACEMENTApply material when the pavement exceeds the minimum pavement application temperature, which is generally 40°F. The cracks must be dry and free from ice and other contaminants. Be sure the filling or sealing operation moves at a steady pace. The melter/applicator operator should monitor the temperature and quantity of material as over- or under-heating the material can delay the entire operation. BLOTTINGBlotting protects the uncured crack treatment from tracking under traffic and is used in areas where traffic needs to travel on the material before it cures. Cement powder, talcum powder, lime, sand, and limestone chips are common blotting materials. There are also proprietary detackifying products available that are designed specifically for blotting crack repair material.CLOSING THOUGHTIn cold temperatures, the pavement contracts, and cracks open to their widest. In hot temperatures, the pavement expands and closes the cracks. Therefore, spring is considered a good time for crack repair. www.mcsmag.com JANUARY 202357for more informationFor more, visit crafco.com.
Page 62
modern construction productsJANUARY 2023 www.mcsmag.com58Loftness updated its highly successful Battle Ax™ S Series mulching head with new features for enhanced durability and serviceability. Designed for skid steers and compact track loaders with 28 to 62.9 gpm hydraulic flow and 50 to 150 hydraulic hp, the S Series now includes a reversible secondary shear bar in the two-stage cutting chamber to always allow a fresh cutting edge. After all four edges of the shear bar have been exhausted, the bolt-on design allows it to be easily replaced. For more, visit www.loftness.com. LOFTNESS Battle Ax™ S Series Mulching Head The Demco Truck Mount Box Kit provides side dump capabilities for many different situations. The shorter size enables access to smaller areas and tighter jobsites. With the largest capacity per foot, the rounded vee dump body allows for larger loads and quicker unloading. The Side Dump Truck Boxes are fully functional side dumps that can be mounted to a tractor or a truck chassis. On standard tractors, bolt-on subframes allow for over 5th wheel mounting and multiple uses with the same frame. The FlexCorner design and large G-rail eliminates corner cracking and is lighter and stronger than two rail systems. The dump body and materials are built with the same proven reliability as our Demco Side Dump Trailers. Create a Side Dump from a Chassis you already have! For more, visit www.demco-products.com. DEMCO 24' Side Dump Truck Boxes
Page 63
www.mcsmag.com JANUARY 202359featured productThe STUDSON SHK-1 Type II industrial safety helmet is the first of its kind in North America. It was launched after noticing a massive gap in the industrial market for technologically advanced head protection, with little innovation since the hard hat was invented in 1919. In an industry where hundreds of thousands of workers risk their lives daily, STUDSON decided to reinvent head safety.The STUDSON SHK-1 Type II helmet protects from the front, side, and rear, providing 360-degree head protection whether working from heights with all the required fall protection, or primarily on the ground with ladders, lifts, or scaffolding. The SHK-1 helmet goes beyond the harness system found in hard hats, and utilizes cutting-edge head protection components used in gravity sports but never before used together in an industrial safety helmet.Our brains and head are the most critical tools on the jobsite, so STUDSON is making an effort to protect the most important asset, to ensure everyone can show up protected and healthy for the sake of the job, but even more importantly, the worker's livelihood. THE BASICS• ANSI Z89.1- 2014 | Meets European standard EN 12492:2012 • Certified Type II: Type II helmets can withstand impact from all sides, unlike traditional Type I hard hats• Class C & E• Venting: Designed to keep the rain out while providing greater impact protection and increased breathability perfect for those out in the field• Rear Dial: Located in the back to tighten and loosen helmet as needed• Utmost Comfort: Comfort is essential and our helmets are comfortable enough to wear through your entire work day THE INNOVATION• Koroyd® welded tubes: Crumple instantly on impact to absorb maximum force to protect your skull and brain from direct and angled impacts which may reduce the risk of suffering a life-altering injury.• Brainshield® by Shield-X®: Replaceable helmet pad system to significantly reduce the sharp twisting and compression of the brain during angled or oblique impacts – the primary cause of concussions. Plus, this makes it more comfortable to wear for long periods of time.• twICEme®: Should an incident occur, the helmet includes an integrated chip based on NFC technology that stores emergency contacts and critical medical information to allow first responders to access vital data when seconds matter.• Modular rear brim: The helmet comes with a slight rear brim designed for rain deflection. Comes with an additional flat rear option to achieve a cap-style look. • 4-point chin strap system: Fidlock® magnetic buckle enclosure with adjustable nylon 4-point strap, commonly found in inaction sports helmets, allowing for maximum adjustability and easy one-handed use with gloves.• Sleek Design: An innovative-looking helmet while blending elements from the traditional hard hat heritage• Add-on accessories available to attach to the SHK-1 helmet For more information, visit studson.com. STUDSON SHK-1 Industrial Safety Helmet
Page 64
JANUARY 2023 www.mcsmag.com60The first book on your punch•list is Be The Sun, Not The Salt. I had the opportunity to meet the author, Harry Cohen, and hear his session about his book at the Holman Drive22 event in Miami Beach. THE BOOKThe book, Be The Sun, Not the Salt, by author Dr. Harry D. Cohen, is rooted in the understanding of the Heliotropic Effect, the scientific understanding that all living systems are drawn towards life-sustaining energy. Just as a plant on the windowsill tilts towards the sun, we are attracted and drawn to people who express qualities that energize us. These people referred to as Positive Energizers. Instinctively, people tend to stay away from negativity as it draws energy away from us. Much like salt poured on the roots of a tree, the tree eventually dies. It's better to be the sun and not the salt. CHAPTER LESSONSThe book is a quick read. What's is the purpose of the book? Simply put, it helps people be better people. Granted, people need to read the book to get the benefits of the lessons. Each chapter is intended to help the reader engage in positive everyday actions. Take, for example, the interaction between two coworkers on a project. One coworker may be having a bad day and respond to the other person with a snarky remark, a salty parley, and (if they have read the book) will come back to the person they "salted" with negativity and apologize with a sincere demeaner and be a better person. We all have bad days, so give each other slack when communicating and do so with kindness and positivity. RADIATE THE SUNBe a beacon of kindness, do the right thing, respect people's feelings, be helpful, apologize well, know when to hold the salt and take the high road, make your words count in a conversation, keep your cool, smile and move one, and most of all, learn to be an Olympic listener.The book provides tips for living an authentic life and exuding gratitude to others and always doing the next right thing. Practice being the sun, leave the salt. BEING HELIOTROPICStart with simple acts of kindness. Hold the door open for someone. Give up your seat on the bus. Say hello to someone and smile. It takes little energy to make someone feel good. Don't complicate matters; keep it simple. The best line from the book that resonates with me is "Don't waste your time and energy arguing about stupid stuff." CLOSING THOUGHTThe book is not a magic pill that will suddenly change how you interact with people; changing to be more positive takes practice and it will benefit everyone in your circle of influence and beyond. Cheers,Be The Sun, Not The SaltDR. HARRY D. COHEN, AUTHORWelcome to punch•list, a new column for 2023. Each month I'll be providing a book review in an effort to add good reads to your punch list for the year. for more informationTo learn more about Harry and the idea behind the book, plus the opportunity to sign up for his newsletter, visit bethesunnotthesalt.com. P•Lpunch•list | 0123
Page 65
Page 66
Page 67