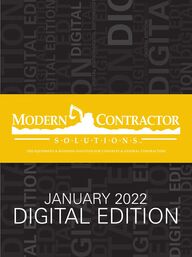 Return to flip book view
Modern Contractor Solutions January 2022
Page 1
JANUARY 2022DIGITAL EDITION
Page 2
find out more at emarsinc.com
Page 3
JANUARY 2022WWW.MCSMAG.COMVOLUMETRIC VOLUMETRIC MIXERSMIXERSCONTINUOUS POURSCONTINUOUS POURSDISTRIBUTED DISTRIBUTED WORKFORCE WORKFORCE EMPLOYEES MATTEREMPLOYEES MATTERHIGHER HIGHER EDUCATIONEDUCATIONSAFETY DEGREESSAFETY DEGREESINVESTING IN INVESTING IN AMERICAAMERICARECRUIT, TRAIN, MENTORRECRUIT, TRAIN, MENTORHILTI'S NURON TO HILTI'S NURON TO CHANGE THE INDUSTRYCHANGE THE INDUSTRYCOMPROMISE COMPROMISE ENDS NOWENDS NOW
Page 4
Page 5
Page 6
Page 7
Page 8
JANUARY 2022 www.mcsmag.com42838JANUARY 2022VOLUME 16 ISSUE 01Inside This Issue14special focusIN EVERY ISSUEIndustry News ............................ 08Coach's Corner ........................... 56legal solution Investing in America who's going to do the workproject profile Continuous Poursvolumetric concrete mixersmanagement solutionFresh Perspectivekeep employees engaged32industry outlookcover story One Cordless Platform For All a fully connected experience like never before5 STRATEGIES CONTRACTORS CAN USE TO SURVIVE WINTER CONSTRUCTION Guest Post by Jane MarshWinter might not be the prime season for construction, that doesn't mean everything needs to grind to a halt just because the temperature starts falling. Contractors can use strategies to survive and succeed during the winter months.ON THE BLOG4236Hilti introduces Nuron, an all-new 22v cordless platform with built-in connectivity. See the cover story on page 28.hilti.com/WOC-MCCover photo courtesy of Hilti.management solutionDistributed Workforceovercoming issuestechnology solutionBuild Smartinfrastructure opportunities
Page 9
Page 10
PROJECT PROFILESContinuous Pours ...................................................... 14Now Hear This ........................................................... 18Challenged Accepted ................................................ 20Cordova Stone ........................................................... 22EQUIPMENT SOLUTIONHeavy-Haul Trailers .................................................... 24COVER STORYOne Cordless Platform For All ................................... 28MANAGEMENT SOLUTIONSFresh Perspective ...................................................... 32Distributed Workforce: Part 1 of 2 ............................. 36LEGAL SOLUTIONSInvesting in America .................................................. 38Insurance Contract Terms .......................................... 40TECHNOLOGY SOLUTIONSBuild Smart ............................................................... 42Next-Gen Talent ......................................................... 44SAFETY SOLUTIONSSafety Degrees .......................................................... 48Access Control .......................................................... 50MAINTENANCE SOLUTIONCrack Sealing ............................................................ 52SUBSCRIPTIONS For all changes, go to:MCSMAG.COMClick the SUBSCRIPTIONS button in the main menuwww.mcsmag.com P.O. Box 660197 | Birmingham, AL 35266DONNA CAMPBELL Editor in Chiefdonna@mcsmag.comMIKE BARKER Publishermike@mcsmag.com RANDY MOON Media Consultantrandym@mcsmag.comMICHAEL FISCHBACH Media Consultantmichael@mcsmag.com JOHN FRIEND Media Consultantjohn@mcsmag.comKEVIN MCCLARAN Media Consultantkevin@mcsmag.comLISA AVERY Art Directorlisa@mcsmag.comSETH SAUNDERS Digital Media Specialist seth@mcsmag.comINGRID BERKY Office Manageringrid@mcsmag.comTIM GARMONCEORUSSELL HADDOCKPresidentCHRIS GARMONCFODONNA CAMPBELLVice President, EditorialTONYA BROWNINGVice PresidentNo part of this publication may be reproduced or transmitted in any form or by any means, electronic or mechanical, including photocopy, recording, or any information storage-and-retrieval system without permission in writing from the publisher. The views expressed by those not on the staff of Modern Contractor Solutions, or who are not specifically employed by Highlands Publications are purely their own. All Industry News material has either been submitted by the subject company or pulled directly from its corporate website, which is assumed to be cleared for release. Comments and submissions are welcome, and can be submitted to donna@mcsmag.com.For reprint information, contact Chris Garmon at chris@mcsmag.com.Canada Post Publication Agreement #41578525. Undeliverables 355 Admiral Drive, Unit 4, Mississauga, ON L5T 2N1Modern Contractor Solutions Magazine@mcsmagModern Contractor SolutionsDonna CampbellEditor in ChiefWHAT'S NEW IN 2022?Welcome to the January issue! This month's issue takes a glimpse into the construction industry outlook for 2022, whether it's employees, projects, recruitment of new laborers, or the infrastructure bill. We are still dealing with COVID variants and pending vaccination mandates. As I write this letter, the Supreme Court is set to hear arguments on federal vaccine mandates to determine if the President has overstepped his authority to force large, private sector employers to require workers to get vaccinated or face regular COVID tests and whether an all-out vaccine mandate for millions of healthcare workers is constitutional. All this as "Now Hiring" signs continue to dot the American landscape, not only in construction, but for most segments of our economy. There is a bright spot on the horizon. World of Concrete is set for this month in Vegas. I spoke with Zach McQuay of McQuay Construction and his fleet of Cemen Tech volumetric mixers. Should you attend WOC, check out Zach's Cemen Tech truck on display in the concourse. You can read about one of Zach's Oklahoma projects on page 14. In this issue you'll find articles on how to keep employees focused and engaged (pg 32), the definition of a distributed workforce (pg 36), insurance contract terms (pg 40), and technology to attract the next-gen talent (44).The infrastructure bill being signed into law will unfold and truly reveal itself this year. You can read my commentary along with attorney Ken Roberts of Venable LLP on page 38, and read about how to capitalize on the upcoming building opportunities on page 42. Infrastructure will continue to be a topic of conversation as the states begin using the allocated federal funds and compete for additional federal dollars for particular projects. Finally, January is a month of planning and goals, new starts and fresh inventory, and getting back to work after the holidays. From all of us at Highlands Publications and the crew of Modern Contractor Solutions, we hope you rang in the New Year with joy, peace, and health. It's time to get back to work.Cheers, 56COACH'S CORNER 3 mistakes to avoid for a successful company culture
Page 11
Page 12
JANUARY 2022 www.mcsmag.com8industry newsTRIMBLE ACQUIRES AGILEASSETS, EXPANDS ITS INFRASTRUCTURE SOFTWARE SOLUTIONS PORTFOLIOTrimble announces it has acquired AgileAssets, which provides organizations managing roads, bridges, airports and rail assets with SaaS solutions to better plan, operate and report on assets across the lifecycle. For example, using real-time inspection data and advanced analytics capabilities provides insight and intelligence to make more informed decisions on how to maintain or reconstruct vital infrastructure. To date, AgileAssets has helped infrastructure asset owners to maintain approximately 55% of state and highway roads (approximately 2.8 million lane miles) and 357,000 U.S. bridges.With the passage of the Infrastructure Investment and Jobs Act (IIJA) and other infrastructure legislation across the globe, owners are investing in digital transformation to better manage the full lifecycle of their assets from design to build to operation. The adoption of the Digital Twin—a virtual 3D model designed to accurately reflect a physical object—is transforming construction and asset operations. The addition of AgileAssets to Trimble's platform will add "as-designed" and "as-built" data to the 3D model for the maintenance and improvement phases. Availability of this data within the model creates a robust Digital Twin for owners throughout the asset lifecycle. This solution allows an owner to track the transportation asset through its full lifecycle, which provides greater predictability, sustainability, and lower lifetime asset costs. AgileAssets will be reported as part of Trimble's Buildings and Infrastructure segment. For more, visit www.agileassets.com or www.trimble.com.NOVA USA WOOD PRODUCTS CELEBRATES 15TH ANNIVERSARYNova USA Wood Products completed its 15th anniversary with a 100% increase in year-to-year sales revenues for its proprietary wood stain and fastening products. Launched in 2005 as a manufacturer and distributor of premium tropical hardwoods, the company has continually expanded its presence nationwide through the ongoing introduction of Real Wood Solutions like its proprietary line of ExoShield Wood Stains, ExoClad Rainscreen QuickClips, and ExoDek QuickClip Hidden Deck Fasteners. For more, visit www.novausawood.com.HITACHI SHIPS FIRST ZX210LC-6 UTILITY EXCAVATOR TO NORTH AMERICAHitachi Construction Machinery Americas Inc. announces the first medium-size Hitachi ZX210LC-6 utility hydraulic excavator, built for the North American market, shipped from Hitachi Construction Machinery Tsuchiura Works (Tsuchiura, Ibaraki Prefecture, Japan). The ZX210LC-6 excavator is the first of OSHA Compliant Guardrail andStair Rail SystemsSafety Boot® Guardrail SystemStringerShield® Stair Rail System1.800.804.4741safetyboot.com• Non-Penetrating Design• Rugged Steel Construction• Exceeds OSHA Regulations• Simple, Aordable & Reusable• Residential, Multi-Family & Commercial Applications• Unique Free Standing Design• Keep Post Attached For Reuse On Next Level Or ProjectFeatured on osha.gov website!
Page 13
Page 14
JANUARY 2022 www.mcsmag.com10industry newsmany Hitachi-built and branded machines soon to be available throughout North America and Latin America. With the joint venture dissolution between Hitachi Construction Machinery Group and Deere & Company, announced in 2021, HCMA is committed to independently developing and deploying the latest product advancements, technologies, and services throughout the region. Local sales for the latest Hitachi-built line of equipment will start in North America in March 2022. For more, visit hitachicm.us.INEIGHT'S DECEMBER 2021 INNOVATIONS FACILITATE CONSTRUCTION 4.0 CAPITAL PROJECTSInEight Inc. announced in December 2021 the next installment in a series of quarterly platform enhancements, the latest of which are designed to help minimize risk through price certainty, reduce operational costs with a digital twin, and enable customers to maximize use of daily tools for capital projects by leveraging a broad ecosystem of integration partners and data sets. The new integration with SiteSense® by Intelliwave Technologies sees InEight's open platform incorporate the construction industry's widely adopted solution for digital supply chain, materials management, and tracking of project materials and equipment to enable a holistic overview of project assets and create dynamic, data-driven capital project schedules and budgets. With rising material prices and shortages causing cost increases and delays to infrastructure projects, these innovations will enable smarter construction projects that proactively and predictively adjust everything from price to project schedule based on intelligent data. Additional integrated platform enhancements offer a complete view of construction projects by unifying data from the back office to the jobsite and across the project lifecycle with Microsoft Dynamics 365, provide real-time photos and video of projects for licensed EarthCam customers, and allow the exchange of data between InEight and Ryvit's Viewpoint Vista. For, visit www.ineight.com/innovations. CAT SELF-SERVICE OPTIONS FOR THOSE WHO PREFER TO DO THEIR OWN SERVICEWith new Cat Self-Service Options (SSO), Caterpillar simplifies the repair process for customers who prefer to complete their own routine maintenance and minor repairs on equipment in their fleet. The customizable SSO solutions include the parts, instructions, and recommended tooling for completing specific service work on hundreds of Cat Building & Construction Products (BCP) machines. The new solutions are designed for a range of common repairs for Cat equipment.
Page 15
Page 16
JANUARY 2022 www.mcsmag.com12industry newsSSOs can be ordered online at www.parts.cat.com or by calling or visiting the local Cat dealer. The Cat dealer completes the process by packaging the SSO on demand, complete with the required parts and tools as defined by the customer. It can be picked up from the local dealer or be delivered to the customer.Cat dealers provide guidance on selecting the right SSO for the repair and for customization. If the customer's service tech runs into a question while completing the repair, dealer technical representatives are available for support. If the repair turns into something the customer does not want to handle internally, the dealer will be available to complete it.SSOs have been developed for over 300 BCP models and Caterpillar plans to expand the offerings to additional models in 2022. The range of Cat machines the SSO covers include compact track, skid steer and multi-terrain loaders, compact wheel loaders, backhoe loaders, mini hydraulic excavators, small wheel loaders, small dozers, and telehandlers. The type of repairs covered include minor engine bolt-ons, service brakes for drivetrains, hydraulics and implement controls. As Cat machines are introduced, new Cat SSOs will be developed. For more information on new Cat Self-Service Options can be found by contacting the local Cat dealer or by visiting www.cat.com/selfservice.WINTER EQUIPMENT UTILIZES 3D PRINTING FOR CUSTOM APPLICATIONSWinter Equipment, an established name in the municipal snow and ice management industry, uses 3D printing to create custom product prototypes, as well as solve problems within the industry.Winter Equipment's 3D printing allows the company's engineering department to make modifications on parts in a timely manner. Winter Equipment creates a 3D version of the part and sends the "to-scale model" to the customer for approval. This allows the customer to be able to see, touch, and interact with the product prototype.Winter's 3D printer uses PLA resin and ABS resin to create the designs which are strong and cost effective for producing 3D printed products. "Our 3D printer allows us to be cost effective and save time and labor," says Kent Winter, founder and CEO of Winter Equipment. "What we can accomplish in 24 hours would take us up to 4 weeks if we didn't have a 3D printer." For more, visit www.winterequipment.com. www.rockwheelamericas.comInfo@rockwheelamericas.com+1-814-466-7134World of ConcreteBooth # W647
Page 17
Page 18
JANUARY 2022 www.mcsmag.com14project profileContinuous Poursvolumetric concrete mixers offer better control MCQUAY CONSTRUCTIONBy Donna CampbellThe Poteau Health & Wellness Center includes a 27,000 square foot medical building, 8,000 square foot cafeteria, and 120,000 square feet of concrete. Using the company's volumetric trucks, McQuay was able to set up onsite allowing for continuous pours and better control of his concrete.
Page 19
www.mcsmag.com JANUARY 202215In the musical Oklahoma!, the song Oklahoma! has a line that says, "Oklahoma, where the wind comes sweepin' down the plain." There is a new wind sweeping down the plain in Oklahoma and it's making continuous concrete pours. Meet Zach McQuay and his concrete business McQuay Construction. CONCRETE MINDSETZach is a third-generation concrete guy. His grandfather started the business and his dad took the reins in 1977. Zach took the business in 2007-2008. Although his tool and equipment arsenal were meager, his pursuit of innovative ways to grow the business and be successful at scheduling his time moved him forward to today. With the means of producing his own concrete, doing all of his own dirt work and GPS, Zach added to his fleet volumetric concrete mixers from Cemen Tech."I set out to get one volumetric concrete mixer, and after doing research, I found Cemen Tech had the best set up. If it's good for the U.S. military, it's good for me," says Zach McQuay, owner of McQuay Construction. "I thought one truck would do it; now I have three trucks and will have a fourth truck by the time World of Concrete in Vegas starts."The deciding factor Zach shares about the Cemen Tech volumetric concrete mixers is the proprietary productivity tools in ACCU-POUR™. This tool allows for connection to the office, dispatch, and fleet in real time. This one platform utilizes GPS fleet tracking, electronic scheduling, batch ticketing and on-the-spot reporting about completed jobs and material usage. "When you can pour anytime, it's easy to schedule projects and be nimble, allowing for multiple jobs in one day depending on the yardage needed for each project."OKLAHOMA PROJECTAt the project in Poteau, Oklahoma, fire hydrants were installed a few days before the work commenced. This was a time-saver since a water truck did not have to be on-site. The material stockpiles of rock, sand, and powder were placed for optimal project at a glancePROJECT: Poteau Health & Wellness CenterLOCATION: Poteau, Oklahoma YARDS POURED: 3500 yards START DATE/END DATE: March 2020–August 2021 *Project went into shutdown in May 2020 and wasn't back up until February 2021.
Page 20
JANUARY 2022 www.mcsmag.com16project profilereach prior to pour day. The equipment set up was maximized to be productive and move through the pours smoothly. "With ACCU-POUR, I can run my business from my iPad and stay on top of materials, timing, scheduling, ticketing, and even the location of my trucks," says Zach. "The innovation of the Cemen Tech truck and ACCU-POUR has benefitted my business and 2022 looks to be a good year with 12,000 yards already on the books in the first quarter."CLOSING THOUGHTIt's only fitting that Zach McQuay return to World of Concrete (WOC) with one of his trucks since this is where he was first introduced to Cemen Tech. On display at WOC in the Convention Center concourse will be Zach's Cemen Tech truck with a wrap on the hood featuring a photo of the Oklahoma project. for more informationCemen Tech, Inc. has 53 years manufacturing and engineering experience in the volumetric mixing industry. As the industry leader, the company strives to provide the highest quality concrete mixers to its customers. Cemen Tech currently operates in over 70 countries, services mixers across the globe, and supplies equipment to the United States military. For more, visit www.cementech.com. See Zach McQuay's Cemen Tech truck in the concourse on display at World of Concrete and check out the hood wrap.
Page 21
Page 22
JANUARY 2022 www.mcsmag.com18project profileThe Upper Arlington School District in central Ohio was overdue for a new high school. The first class to march out of the building in 1957 included legendary golfer Jack Nicklaus, but after 64 years of serving thousands of students the time had come for a new building.With a price tag of $115 million, the new structure, covering 395,000 square feet on three stories, is 100,000 square feet more than the previous school. A unique design element is "Golden Bear Boulevard" which replaces the cafeteria and includes furniture, study spaces, and more. "It's a flexible space that can be used for study hall or math labs when we're not using it for lunch,'' says Chris Potts, chief operating office for Upper Arlington Schools.FACILITY OVERHAULSchool construction is big business in the United States. According to a report from American School & University, public schools spent $51.3 billion on construction in 2018. There is cause for the extreme spending. A 2017 report on school infrastructure found 24% rated as being in fair or poor condition. In more than 30% of public schools, facilities, windows, plumbing, and HVAC systems were considered to be "fair" or "poor." The report said 53% of public schools need to make investments for repairs, renovations, or modernization to be considered in good condition.School officials and residents in the Ohio city of slightly more than 35,000 recognized the need to improve its school facilities. The high school was part of a comprehensive $230 million overhaul of the district's facilities, including five elementary schools. Besides age, growing enrollment forced the need to improve the infrastructure. The class of 2021 celebrated 475 graduates—more than double the total of the class that first graduated from the building. FLEXIBLE, COLLABORATIVE, GREENThe new school building in Upper Arlington is perhaps best described in three words: flexible, collaborative, and green."Our board and our community felt strongly about sustainability and sustainable practices within the systems,'' Potts says. "Efficient systems were essential, but we also want to create areas that promoted flexibility and cooperation. Our board continued to say we weren't going to build a brand new 1950s building. Our thought process was all about preparing kids for their future, not our past."The academic wing features four common areas that are surrounded by classrooms to allow students and staff to work by themselves or in groups. Offices for counselors and assistant principals are situated throughout the three-floor academic wing. The building includes a two-story library, gymnasium with a seating capacity for 2,000, fieldhouse, natatorium, and 6,000-square-foot fitness center. All of the rooms have occupancy sensors that adjust lighting, heating, and air conditioning when they are unoccupied, which will help save money on energy.DEDICATED TO THE ARTSMusic and performance are an essential part of the learning environment at Upper Arlington, and the district developed areas specifically for those students. The marching band has a dedicated room that allows members to march directly to Now Hear Thisacoustical smoke vents help curb noise NEW OHIO HIGH SCHOOLBy Thomas RennerPhotos courtesy of Snappy George PhotographyNow Hear Thisacoustical smoke vents help curb noise NEW OHIO HIGH SCHOOLBy Thomas RennerThe high school includes four acoustical smoke vents manufactured by The BILCO Company.
Page 23
www.mcsmag.com JANUARY 202219Photos courtesy of Snappy George Photographythe 50-yard line of the football stadium, and music rooms for the band, orchestra, and vocal musical departments. Students interested in theater will perform in a smaller black box theater and a 1,550-seat performing arts center that will be the envy of area schools."It was important to us to give them the type of facility that they deserved,'' Potts says. "There's a Broadway style orchestra pit for our amazing orchestra and sightlines in that facility are incredible. The technology package that went into that facility would rival many of the main performing theaters here in Columbus."Sitting atop the performing arts center are four acoustical smoke vents manufactured by The BILCO Company. Acoustical vents provide the security of automatic venting while also guarding against noise intrusion. BILCO's vents feature an industry-high STC-50 and OITC-46 sound ratings, and are found in many theaters and performing arts venues. Wolfrum Roofing & Exteriors handled the roofing and smoke vent installation for the general contractor, Ruscilli Construction. Engineered Systems procured the vents for Wolfrum. "The architects (Perkins&Will and Moody Nolan) had past experience with BILCO acoustical smoke vents and they performed well,'' says Gary Henry, superintendent for Wolfrum. "The theater is near the football stadium; the vents will help control noise from there."CLOSING THOUGHTUpper Arlington is ranked as one of the top districts in Ohio by several educational platforms. Its community is engaged in the education process, and supportive of their children and the district. Now, they have facilities that are modern and illustrative of the community's commitment to education."We're investing in our children's future and this building will serve students for the next 50, 60, and 70 years,'' Potts says.about the authorThomas Renner writes on building, construction, and other trade industry topics for publications throughout the United States and Canada.
Page 24
JANUARY 2022 www.mcsmag.com20project profileOwned and operated by Mick El-Massri, Lakeside Builders has grown with the city since its inception more than 25 years ago. As Charlotte evolved, so did Lakeside Builders. While the company originally did everything from start to finish—from site development to construction and property sales—Lakeside Builders now specializes in heavy land and site development, turn-key site solutions, sewer line construction, and single-family residential construction.DIVERSITY IN THE FIELDWith more than 32 years in the real estate development field, El-Massri knows the ins and outs of the business. Not only did he grow up in the industry, but his involvement included design, development, and construction since his start.As the son of a Lebanese immigrant, El-Massri understands the importance of diversity on the jobsite and beyond. This is reflected in Lakeside's crew, which includes laborers and operators from different backgrounds and cultures. "Mick is very attuned to equal and fair treatment for all and equal opportunity for everyone," says John Kucera, Lakeside Builders' business operations manager. "He absolutely refuses to allow any sort of discrimination or anything that may be typically associated in any industry. We've got a young, female operator who's been with us close to 2 years now and is able to operate every piece of equipment we have onsite and does a phenomenal job with it, too."Kucera believes that this diversity gives Lakeside Builders an edge as it also leads to open and encouraging communication throughout the jobsite."We're a small company but we've got greater diversity I would say than anyone out there," Kucera says. "We at Lakeside have benefitted from that because of what we are and what we have been able to do. It's really like a family. We may have differences of opinion and we may challenge each other, but we always push each other to do our best. At the end of the day, we're here for one another."CHALLENGE ACCEPTEDFor Lakeside Builders, there's rarely a project that's too difficult or unheard of for the crew to take on. In fact, El-Massri takes pride in accepting projects that others would try to avoid."A lot of the projects that people would shy away from, those are the ones that Mick gravitates toward," Kucera says. "If there's one thing everybody in the company will tell you, it's that he loves a challenge Challenge Acceptedcrew and equipment are primeMOVING FORWARDBy Amanda BertolozziAs one of the fastest growing and most highly desirable metropolitan areas in the United States, Charlotte, North Carolina, has seen a major construction boom in recent years. One company helping Charlotte develop is Lakeside Builders, LLC.By Amanda Bertolozzi
Page 25
www.mcsmag.com JANUARY 202221and loves challenging us to deliver on them. It gives us confidence to say we can take on those projects that others may pass on."To tackle those challenges, the team at Lakeside Builders turns to Hitachi—recently purchasing a ZX85USB-5 and ZX210LC-6. "Our two Hitachi machines fit the profile of where the company is headed," Kucera says. "They're specialized machines and they each do two very different type tasks, but they're able to work collectively and cooperatively very easily. The reception by the crew has been phenomenal. Our guys have been more than pleased with the performance and the power."That Hitachi excavator power has proven to be a game changer as the crew at Lakeside Builders uncovered a large amount of rock while working to set water and sewer lines in a new 40-50 home subdivision."We're going through anywhere from 3 to 15 feet of solid rock to set these water and sewer pipes," Kucera says. "With the Hitachis, we're seeing a greater ability to cut through the rock and move it quicker, better, and faster—saving time and money. We have a set of rock teeth sitting onsite here, but we haven't had to use them yet. The machines are performing phenomenally."Kucera also says that the crew is impressed by the Hitachis' ease of operation, safety, comfort, and maintenance, which came in handy during long days of digging and moving dirt. "All of those factors combine to pride in ownership and just an all-around great response from our crew, which is important to us," he says.OPPORTUNITIES FOR GROWTHWhen searching for the right machines for jobs, Lakeside Builders relies on its relationship with James River Equipment to help determine the right product line."We do a lot of research on our own, but when push comes to shove, dealers are the experts, so we rely on them," Kucera says. "With James River, the relationship has been very positive—we couldn't be happier with it at this point. We want to build a long-term partnership because we have every intent of growing."CLOSING THOUGHTAs Charlotte and Lakeside Builders both continue to grow, Kucera and El-Massri know they have a crew that's ready and willing to tackle nearly any job out there."Everybody knows that as soon as we finish a job, we're going to be doing something different next," Kucera says. "We're going to have another challenge, another opportunity. We're going to have the ability to learn something new and that's critical—just keep learning every day." for more informationFor more about Hitachi and its product lineup, visit www.hitachiconstruction.com.
Page 26
JANUARY 2022 www.mcsmag.com22project profileCordova Stonepreserving historic aesthetics INNOVATIVE FACILITIESTwo years ago, Capri Senior Communities set out to replace a beloved community church and adjacent unused buildings with a six-story, senior-care campus and adjoining church. St. Rita's Church in Milwaukee's Lower East Side was built in 1939 and was the heart of the Italian American community. The new St. Rita Square was designed to honor that history and sense of community in its design, including the relation of its worship space to residences. Echelon's Cordova Stone™ was chosen to tie into the Sicilian architecture that was identified as a precedent for the design of St. Rita Square.THE CHALLENGESt. Rita's school and convent were no longer used and were severely in disrepair. The church itself needed some maintenance but was also outdated in terms of accessibility. There were 14 exterior steps to traverse before entering the church, no air conditioning, no main floor bathrooms, and no elevator. THE VALUE OF STONEThe architect incorporated design influences from both St. Rita's and Our Lady of Pompeii Church, located in the Historic Third Ward before it was demolished in 1967. The design of an outdoor courtyard, or piazza, was a key programming component. "Italian piazzas are thought of as the heartbeat of Italian towns," explains Eric Harrmann, chief design officer at AG Architecture, who designed the project. "The piazza was created to be the heartbeat of this community, framed by the strong Sicilian feel of the masonry walls."The Cordova Stone was recommended by General Contractor Pepper Construction during the value engineering phase of the project. "The plans originally called for the building to be 100% stone, but that couldn't be supported by the budget," explains Ryan Eberly of Pepper Construction. Based in Chicago with offices in cities including Milwaukee, the company regularly works on large, complex projects such as St. Rita Square. "We recommended Cordova because it fit within the budget, matched the intent of the design, and has the kind of durability required to endure Milwaukee's four-season climate."Arteaga Construction, the masons on the project, also recommended Cordova when they were asked to find cost savings in material and labor. "Cordova Stone was the obvious choice," says Jamie Sadowske, field superintendent and project manager for this project for Arteaga. He also felt confident with Northfield as a supplier who, "knows how we operate and would be accountable throughout the scope of the job." CORDOVA FIT THE PROJECTOriginally, 12-inch by 18-inch Cordova was specified for the facing of all six stories of the building. "It takes two men to lift each large stone, however, and that was impacting both the workforce required and the budget. The architect instead chose to instead use the larger stone at eye level (the bottom three stories) and then moved to the smaller Cordova (8-inch by 18-inch) for the higher levels," says Eberly. "The reduced size stone also helped show the layering of the architecture, as the horizontal bands separated 'layers' of stone," explains Harrmann. "The light-colored Cordova Stone and the horizontal layering of material and banding in this way is influenced by the type of Sicilian architecture the client wanted to reflect in this project."THE PROJECTDemolition began in August of 2018 and Pepper Construction took over the site in October, starting with the rerouting of the alley and utilities. To reduce costs, the masonry from the old buildings that were preserving historic aesthetics
Page 27
www.mcsmag.com JANUARY 202223demolished on site was crushed and used as foundation backfill for the new buildings. "This saved the developer hundreds of thousands of dollars," says Eberly.Construction began going vertical in December that year and Pepper Construction was getting ready to finish in the spring of 2020 when COVID hit. "With the delays that caused, it worked best to turn over the building to the owners in stages. We delivered the church and Independent Living Tower in June of 2020 and the Assisted Living/Memory Care tower in August," says Eberly.At more than 182,000 square feet, the finished project includes a newly constructed St. Rita Church with 3,600 square feet on the first floor and a lower-level fellowship hall with a servicing kitchen. There are two apartment towers that make up a 118-unit, age-restricted senior living community that includes 72 independent living apartments and 46 community-based residential facility/memory support units. FINISHED BUILDThe new build incorporated 17 restored stained-glass windows from the original St. Rita's, the bronze bell from Our Lady of Pompeii, a bronze statue of the Angel Gabriel which was cast in Florence in 1904, and 10 statues of saints from both churches. Also, installed above the front entry of the new church at St. Rita is a new 6-foot-diameter signature rose window depicting the logo of the parish to which the church belongs, Three Holy Women. Additionally, all the stained glass and statuary from the old church were built into the new church and the piazza space. Stone works such as the original entablature stone and signage from the church were saved on the exterior wall as part of the cladding, built into the courses of Cordova Stone. CLOSING THOUGHTCapri Senior Communities sold the church portion of the property, which sits on about a quarter acre, back to the parish for $1. Capri owns the remaining acre of property and the St. Rita Square building. "Eric did a really good job of creating a building that will stand the test of time in downtown Milwaukee. It looks like such a classical building," says Schoenemann. She notes there has been a building renaissance in Milwaukee with many multifamily structures built with a modern, super-contemporary vibe. "Ours, with the senior community and relationship with St. Rita's, has a classic look that will forever be in style." for more informationAs the consolidated masonry brand for Oldcastle APG, a CRH Company, Echelon Masonry is North America's largest manufacturer of the highest-quality masonry products for the architectural and masonry industries. For more, visit www.echelonmasonry.com.
Page 28
Heavy-haul trailers have come miles since the introduction of their design. After all, they've had to keep up with the ever-changing needs of the industry, from larger equipment weight and dimensions to new road regulations. What once required time-consuming equipment teardowns, multiple trips to and from the jobsite, and serious risk of injury, have evolved into some of the most incredibly engineered, specialized trailers in history. And like most innovations, the effort to bring safety and productivity to the jobsite was spearheaded by a few who stepped up to meet these needs of contractors. One of those few was Austin Talbert. INDUSTRIAL NATION By the early 20th century, the United States' transformation into the industrial nation we know today was in full swing. The 1930s marked a busy decade for major construction work, which brought with it excavators, trenchers, cranes, and a variety of large, over dimensional, heavy equipment that needed to be hauled to and from jobsites. Naturally, the need for specialized heavy-haul trailers to safely move it all was in high demand. Few trailers at the time could handle the entire weight of heavier machines and none were particularly safe in terms of loading. Large excavators and cranes had to be dissembled just to get the parts and pieces onto multiple trailers, then reassembled once on site, which was incredibly time-consuming and costly. Even light equipment that could be hauled in one piece proved challenging. The task required several people per job using planks and blocks to hoist equipment up and over the tires and axles, before easing it back down onto the trailer bed. This was cumbersome, and the risk of potential injury and equipment damage was high. FOUNDER WITH SOLUTIONSAt the time, Austin Talbert, founder of Talbert Construction Equipment Co., known as Talbert Manufacturing today, was running his business hauling large equipment for local contractors. He was intimately familiar with and understood the challenges in the workplace. There had to be a safer way of doing things.Though Talbert lacked a formal education or engineering training, he made up for it with his ability to develop solutions to problems his customers were facing. Because loading and unloading was incredibly dangerous and resulted in numerous injuries, oftentimes fatal, each year, Talbert was motivated to find a safer and better solution to JANUARY 2022 www.mcsmag.com24equipment solutionHeavy-Haul TrailersHeavy-Haul Trailerswhere there's a need, there's a wayTALBERT MANUFACTURINGBy Troy GeislerAs equipment continued to grow larger and heavier, trailer manufacturers had to keep up. This prompted the launch of many industry firsts from Talbert, including the first hydraulically operated non-ground-bearing removable-arch gooseneck trailers, a whopping 500-ton heavy hauler, and the first beam deck trailer, which lowered the height of machines.Austin Talbert, founder of Talbert Construction Equipment Co., known as Talbert Manufacturing today, has developed numerous innovative trailer designs over the years.
Page 29
www.mcsmag.com JANUARY 202225load and unload equipment. This is how safety, as well as durability and resale value, became the company's foundation.ADDRESSING SAFETYIn 1938, Talbert enhanced safety by leaps and bounds with the first-ever 60-ton fixed gooseneck trailer with removable rear suspension. Users could remove the rear axles, set the trailer's back end on the ground, and maneuver equipment onto the deck of the trailer without having to hoist it over the tires and axles as with previous models. This set the wheels of heavy-haul trailer innovation in motion, which was critical for keeping up with the growing size of equipment. Trenchers were among the 1940s' largest machines—well over the capacity of the 60-ton fixed gooseneck. Contractors using this equipment were still forced to disassemble and reassemble the trenchers to get them to and from jobsites. In 1946, Talbert again responded to the market need with a 3-axle trailer engineered specifically for this application. The 3-axle design was unprecedented at the time. Its long, sloping tail made loading and unloading trenchers easier. It was the first and only trailer designed at the time that could haul these machines efficiently and safely. Military applications were also calling for larger equipment in 1946. Military equipment, such as bridge layers, prompted the release of a 7-axle heavy-haul trailer. The Talbert trailer allowed for safe loading and hauling of the some of the heaviest and unique equipment known at the time. In fact, the trailer legally grossed heavy loads virtually unheard of in many areas of the U.S., particularly in the Midwest where the first units were used. ESSENTIAL INNOVATIONHis innovative trailer designs have played a huge role in the safe transportation of over dimensional and heavy equipment, but perhaps the most revolutionary innovation has been, and remains to be, the removable gooseneck. While the design is more than 70 years old, it's still as relevant today as it was in 1947, at the time of its first patent. The removable gooseneck did something no other trailer had done before: eliminated the need to use wood block ramps to drive and lift equipment up and over the axles. This capability alone saved, and continues to save, users substantial time, hassle and cost, meaning contractors can be more productive and profitable. What used to take hours to load and offload can now be done in a matter of minutes with a removable gooseneck, an invention in line with Talbert's vision to provide a safer way to load and haul heavy machinery.KNOWN FOR INDUSTRY FIRSTSAs the years went by, Talbert continued to keep up with ever-changing demands and increasing equipment weights with many industry firsts, including the
Page 30
JANUARY 2022 www.mcsmag.com26equipment solutionfirst hydraulically operated non-ground-bearing removable-arch gooseneck trailers. This design prevented the trailer from sinking into the ground as equipment was loaded. In addition, a whopping 500-ton heavy hauler became the largest to date at its launch in 1967. He also designed several trailers to minimize equipment height while hauling. This included the first beam deck trailer that lowered the height of machines, and trailers with recessed rear bridge cross members for taller crane sticks to rest in. While it was clear that equipment sizes were only going to increase, that didn't mean trailer weight had to follow suit. In the early part of the 20th century, manufacturers were using high-carbon steel to build their trailers, which offered incredible durability, but with one drawback—weight. At a time when the Federal Highway Administration's enactment of the Interstate System Axle and Gross Weight limits took place, manufacturers faced a challenge: They had to adhere to each state's regulations yet develop trailers that could handle the increasing loads. The development of T1 steel helped solve the issue. It offered the durability and longevity of regular steel, yet weighed considerably less than its high-carbon predecessor. This meant heavy-haul trailers could be lighter yet hold more weight. In 1957, Talbert launched the first T1 trailer.While the Highway Administration's regulations served as a necessary benchmark for road safety and integrity, they also posed plenty of challenges to contractors, particularly during not-so-flourishing times. As many contractors looked to other states for work to keep their companies in the black, winning project bids was the easy part, getting their equipment to the sites was another thing. Many contractors used their existing heavy-haul trailer fleet to move equipment, which in some states required extra permitting and associated costs. Having versatile trailers that could handle multiple types of loads was imperative to minimizing overhead. Manufacturers responded with trailers designed with longer goosenecks and wider axle configurations in efforts of spreading equipment weight further over the span of the trailer, thus reducing the need for weight and, sometimes, over dimensional permits in many jurisdictions. Over time technology advanced and trailer deck lengths grew from 18 to 30-plus feet. Also, improvements have been made to support better weight distribution and axle loads via load positioning, enhancing trailer performance and efficiency. HISTORICAL LEGACYBesides making history with his inventions, Talbert's trailer legacy would take on a role in other historical events. They've been designed to haul sections of the first space shuttle's wings as well as move stealth bombers and attack boats during World War II. Many specialized trailers have even been used on more unusual projects, including supporting the Kuwait Oil Company's oilfield rebuild at the end of the Gulf War. Talbert designed, manufactured, and delivered two 250-ton trailers in 60 days to aid in the effort.CLOSING THOUGHTHeavy-haul trailers have huge responsibilities; they must safely haul large equipment, adhere to height and weight restrictions for their respective regions of travel, and allow for simple, fast, safe loading and unloading of some of the most awkward equipment. But no matter what the needs of the industry have been or continue to be, manufacturers and innovators like Austin Talbert have maintained resiliency and proven if there's a need, there's a solution. about the authorTroy Geisler is the vice president of sales and marketing for Talbert Manufacturing. He has more than 15 years of experience in trailer sales, including 5 years with Talbert. For more, visit www.talbertmfg.com.The heavy-haul industry was forever changed in 1938, when Talbert launched the first-ever 60-ton fixed gooseneck trailer with removable rear suspension. Users could remove the rear axles, set the trailer's back end on the ground, and maneuver equipment onto the deck of the trailer without having to hoist it over the tires and axles as with previous models. This had a huge impact on safety.Cranes were also becoming a challenge to transport. This led Talbert to launch heavy-haul trailers with recessed rear bridge cross members for taller crane sticks to rest in.
Page 31
Page 32
JANUARY 2022 www.mcsmag.com28cover storyOne Cordless Platform For Alla fully connected experience like never before HILTI DELIVERS NURON Running a business, managing jobsites, and maintaining tools and equipment are demanding enough, but it's become even more challenging with ongoing supply chain and labor shortages. Construction professionals, now more than ever, are looking for ways to maximize productivity and performance on jobsites, streamline equipment management and costs, and reduce downtime and delays. Hilti, a leading manufacturer and provider of construction tools, technology, and services, says its latest innovation will help commercial contractors, tradespeople, and management alike tackle those challenges. The company is charging into 2022 with the launch of Nuron, a new all-on-one 22v cordless platform. With its' connected battery interface, advanced safety technology, and an extensive portfolio of new and enhanced tools, Nuron is setting a new standard of performance, safety, and flexibility, impressing industry professionals. "What I love about the platform is that it's one battery for over 60 tools," says Eric Jopp, power tool expert and founder of Tools in Action. "You can run anything from something small to something big. This is going to help keep everything on the jobsite rolling." ALL ON ONE PLATFORMThe cornerstone of the Nuron platform is a set of interchangeable 22v batteries that power a new generation of high-performing cordless tools ranging from drill drivers and rotary hammers to cut-off saws and jackhammers. Operating off a single platform enables the streamlining of procurement while also moving away from expensive and hazardous gas and corded power systems for more efficient tool cribs and more productive crews.Nuron tools and batteries cover light-, medium-, and heavy-duty jobs and are designed to deliver more power, greater speed, and often double the runtime to cordless tools than like platforms on the market while also reducing costs and complexity. Meaning, it can help improve project turn time, streamline tool crib management, and increase profitability all without compromise. CLOUD CONNECTION Nuron's connected platform delivers more transparency to tools and aims to equip construction professionals with useful data for making more informed decisions, reducing unnecessary costs, and simplifying processes. The goal is to keep crews working without interruption, helping to boost jobsite and project performance and productivity. This is made possible with the intelligent 22v batteries that provide usage, performance, location, tool maintenance needs, and battery state of health. This innovative, built-in technology further supports tool crib optimization by identifying idle tools so they can be put back to work where they're needed most. Stay informed on tool health with proactive maintenance alerts and check battery health with onboard indicator lights and the press of a button. Nuron's advanced features help ensure crews are always working with high-performing
Page 33
www.mcsmag.com JANUARY 202229tools and avoiding unnecessary downtime and costly repairs. Combined with Hilti's world-class Tool Fleet Management and ON!Track tool and equipment tracking services, customers will experience even more features and benefits. Some of these benefits include access to the newest innovative tools at a fixed monthly cost and without the burden of a large upfront investment. Plus, Hilti tool theft protection goes beyond Hilti brand tools and tracks all jobsite tools and equipment as well as enabling digital management of safety certifications and tool maintenance, and; scheduling digital or on-site health and safety trainings. "We've seen an appetite from our customers to leverage digital technology, so we created a fully connected cordless ecosystem that puts collected data to work for them," says Erik Mikysa, senior vice president of marketing of Hilti North America. "This is a true step-change for businesses and it's going to equip them with insights that allow for making better, more informed decisions."NEW TECHNOLOGY All Nuron tools and batteries come with improved durability and more built-in safety features to withstand the toughest conditions, keep crews safer, and reduce risk, injuries, and accidents that contribute to unnecessary costs and delays. With the new portfolio, Hilti has increased the range of tools with its class-leading Active Torque Control (ATC), Active Vibration Reduction (AVR), and Dust Control Solutions (DRS). Hilti has also developed one of the safest angle grinders on the market with groundbreaking new safety features. The SensTech system detects when the operator's hand is removed and immediately engages the electric brake, e.g., when the tool is accidentally dropped, and the 3D ATC system switches off the tool and activates the disc brake when there is sudden, uncontrolled movement in any direction. All Nuron tools are tether-ready, and the tools and batteries have been designed for durability, impact protection, and the harshest jobsite conditions, protecting customers' investment and reducing costs and downtime due to breakage, repair, or replacementCLOSING THOUGHT Hilti delivers once again with Nuron, reinventing how construction professionals work daily on jobsites, tackle health and safety challenges, and manage businesses. Construction decision makers no longer have to make compromises to leverage cordless tools, driving their businesses further ahead today and well into the future. for more informationFor more about Hilti's Nuron, visit hilti.com/WOC-MC. CUTTING EDGE IMPALEMENT PROTECTIONCARNIE CAP is the most effective way to cap exposed rebar while keeping your workers safe and on the job.National OSHA Compliant • CAL-OSHA ApprovedPatent #5826398, 6073415ORDER TODAY!(888) 743-7725 www.carniecap.comWORKS IN HORIZONTAL, VERTICAL & INCLINATIONAPPLICATIONS✓ ASSEMBLE WITH 2X4 OR 2X6 LUMBER ALREADY ON SITE✓ SAFELY DISTRIBUTES WEIGHT ACROSS ENTIRE SYSTEM✓ NO MORE CAPPING EVERYREBAR!✓
Page 34
Page 35
Page 36
JANUARY 2022 www.mcsmag.com32management solutionOver the years, I have noticed that new employees are a lot like fresh bread, the day they start, they seem to be very flexible and forgiving. After they are around for a while, we notice that they are becoming stiff and maybe not quite as flexible as they were at the beginning. Why is that?I am happy to admit that I hit my best before date after being with one employer for 25 years. I hit a time when I was no longer as valuable as I was on the first day on the job. My employer also decided that I had hit my best before date. Just like that moldy bread, I had to be, for lack of a better word, composted. So, with loads of experience, I think my real-life example may help those looking at an "outdated" employee. The leadership starts to wonder how such a great product went bad before their best before date.PROVIDING REGULAR FEEDBACKI sincerely believe there are many causes; most are avoidable if you are strategic about keeping your team fresh. The first and most crucial leadership technique is to provide honest and regular feedback. Timing is critical; too often, we seem to lose the ability to even meet with them and give them any input. Some companies have adopted the annual or semi-annual employee review. For several years I was a big fan of this process. I thought that if my leader gave me some feedback on my performance, they would be forced to follow up on any required actions. Any parent will tell you that sitting down with your kids once or twice a year and giving them feedback does not work. When disciplinary needs arise, you must act on them at once. CREATING CAREER ROADMAPSAs leaders, we need to believe in our people and tell them regularly where they are going within the organization. We can't let them fall into an endless series of Wednesdays with their positions. I can still remember vividly every time my leader sent me to a training session. I would think he seems to care about me; he's investing in me. Invest in your people if you want them to stay fresh. We need to be continually investing in and growing our people, and they need to know where they are going. How many times have you jumped into your vehicle without a destination in mind? Everyone needs to know where they are going and when they are going to get there. We must keep reminding them that the journey is the reward and to enjoy the ride. I personally know what it's like to wake up one day and realize that there is no "there" when you get there. This growth plan needs to be agreed upon in a one-on-one meeting, and they must understand why they need to keep growing and how by becoming more valuable, they will be the ultimate winner. BATTLING COMPLACENCYComplacency has to be one of the biggest invisible threats there is to any team. What starts as an infection, Fresh PerspectiveFresh Perspectivehow to keep employees focused and engagedEMPLOYEES MATTERBy Mark Nesbitt
Page 37
www.mcsmag.com JANUARY 202233unfortunately, all too often ends with the disease. I like to call it the "I have arrived syndrome." Cruise control maybe be great when on a long drive, but it's a killer on the jobsite. The lack of a good crisis can cause complacency, things become too good, and just like gravity, there becomes that downward pull of even our best people; it happened to me.We need to constantly point at the scoreboard and show them the score of the game and the time on the clock. Crisis breeds creativity, and progress equals happiness. What can you do to keep them from getting complacent? I would suggest you first look in the mirror and make sure it hadn't caught up with you. When was the last time you asked anyone to bring an idea to your meeting that will help you either cut waste or become more efficient? People do as people see. If you are continually trying to improve how you operate, not only are you staying fresh, you are promoting freshness on the team.CLOSING THOUGHTYou don't have to look very far to see job postings of all kinds for skilled trades, equipment operators, and truck drivers. I, for one, think that the construction industry is a great industry to be in. After spending 30 plus years in the trenches, I have come to really appreciate the operations end of the job. To me, that's where the action is. We have never in the history of humankind had so many ways of communicating. However, at least one skills gap is almost everywhere, and it's the communication skills gap. We all need to learn to become better communicators. CONEXPO-CON/AGGHeld every 3 years, CONEXPO-CON/AGG is the must-attend event for construction industry professionals, featuring the latest equipment, products, services, and technologies, as well as industry-leading education. The next CONEXPO-CON/AGG will be held March 14-18, 2023, in Las Vegas, Nevada. For more, visit www.conexpoconagg.com.AEM AEM is the North America-based international trade group representing off-road equipment manufacturers and suppliers with more than 1,000 companies and more than 200 product lines in the agriculture and construction-related industry sectors worldwide. AEM is a co-owner and operator of CONEXPO-CON/AGG. For more, visit www.aem.org.about the authorMark Nesbitt is an independent certified coach, teacher, and speaker with The John Maxwell Team, the founder of Nesbitt Training and active member of the aggregate community. For more, visit nesbitttraining.ca.
Page 38
JANUARY 2022 www.mcsmag.com34REPAIR SPALLS AND CRACKS IN 10 MINUTES!ROADWARE 10 MINUTE CONCRETE MENDER™It's thin, it gets in, and it won't pop out!See more at www.roadware.us or call 800-522-7623.Cartridge applied or bucket mixed, Roadware Concrete Repair Products will have your oors ready for trafc, coating, or polishing in about 10 minutes. Any size repair. Blend with sand and pigments to create unlimited colors. Permanent repair.800-522-7623ROADWARE INCORPORATED381 BRIDGEPOINT WAYSOUTH ST PAUL, MN 55075 www.roadware.uswww.sunflowerboatandbarge.com • 563-583-0556• Sectional Barges• Spud Barges from 75x32 to 195x70• Hydraulic Dredges• Truckable Tugboats from 300 – 600 hp• Traditional Tugboats• Support EquipmentAvailable for Lease:
Page 39
Page 40
JANUARY 2022 www.mcsmag.com36management solutionDuring the early stages of the pandemic, there were a few world leaders who were criticized for suggesting that "we would have to live with it." The "it" being the COVID-19 virus. It sounded weird hearing that at the time, but as it turns out, that will likely end up being the case. After almost 2 years of various global mandates and shutdowns, COVID-19 and its variants are still around, and we've begun to adjust. We have seen the widespread adoption of the mobile work force and creation of remote schools. While most schools re-opened to being in-person this year, in many states, the workforce moving back to in-person is a mixed story. The mobile workforce was a valid response to a global pandemic and what could be done to keep businesses open. Like anything, there were plusses and minuses about working from home. News articles and studies suggested employee productivity was low and employees were struggling with mental health while working from home. While the claims may be true, generalizing that as the experience of the entire workforce would be incorrect. The purpose of the article is also not to explore those claims. Instead, this article will explore the uptick in the trend to make employees return to work and those that will continue with the remote work. FLEXIBLE WORKFORCELarge corporations were the first to call back their employees to the office. There are many reasons for this. The first is that management is more comfortable with the traditional way of having employees work with them at a single location. When everyone is in the same place, collaboration is much easier. If an employee needs help or clarification about a work process, a colleague or a supervisor is just a few feet away to help. Another factor is that an organization's physical space is either owned or leased for longer term. Early issues surrounding the pandemic including the need for frequent cleaning of facilities is now commonplace at most buildings.But what about small and medium businesses? As always, SMBs have been nimble in adjusting to the remote work setting. Companies that did not previously support a remote workforce had a learning curve and adjusted to remote and in-person workingBy Hari Vasudevan, Vamsi Alla, and Jesse GuzmanDistributed WorkforceDistributed WorkforceEMPLOYEES MATTERPART 1 OF 2
Page 41
www.mcsmag.com JANUARY 202237the new way of working. They had to acquire the tools and make collaboration happen. It was painful for some and easy for others, especially those companies that were technology- focused on their day-to-day operations. What SMBs learned in the early days of the pandemic was that technology is an imperative, not a good-to-have. With almost 2 years of working in this setting, the back to in-person trend is slower with this group of businesses.TECHNOLOGY WISEThe return to on premises is slower for SMBs not because they are slow to adapt to change. It is the opposite; these firms have adapted much better at managing their workforces and their work remotely. It is a testament to their adaptability that they learned to make this situation work and were able to grow their businesses despite the challenges of the pandemic. There was a time when salespeople had to fly hundreds, even thousands of miles to meet the decision-making stakeholders to make a pitch. Now they can make those pitches via video conference. These video conferencing tools matured during the pandemic and work seamlessly. REMOTE PRODUCTIVITYThe path to making a remote work force stable is not easy. Talent acquisition and retention, employee motivation, collaboration, and individual attention to employee needs are all approached differently when the office is in a person's home. There is no cookie cutter solution on how to support a remote workforce that can applied to all companies. Every company has a unique work culture, and it is likely the pandemic provided the catalyst for a change in how to respond to make productivity gains.Supporting a remote work force also gave companies a chance to get an overall view of the work that their employees were doing. Repetitive tasks or easy jobs were analyzed and automated where supervision and review of these tasks was minimal or fully removed. Technology played a huge part in this. SaaS-based solutions helped automate using no-code solutions, AI/data science and hyper automation. This will continue to gain momentum as more and more tasks will be identified for automation.CLOSING THOUGHTAs repetitive tasks are automated, the distributed workforce can focus on higher-level challenges. This might involve unique or additional expertise that the existing workforce may not have. Additional hiring with a matched skill set, augmenting the staff with temporary resources, or training the existing employees are likely next steps. Having good partners either in-house or otherwise is critical to execute on bringing the skill set of the company as a whole to the level needed. While doing all these, cyber threats are looming as a constant threat, always trying to find any holes at the endpoints as the surface area of the same is increasing; this and more will be covered in part two of this article in the next issue of MCS.about the authorsHari Vasudevan is the founder and CEO of Think Power Solutions. Vamsi Alla is the chief technology officer of Think Power Solutions. Jesse Guzman is the director of PMO at Think Power Solutions. Think Power Solutions is a leading tech-enabled infrastructure management solutions provider with highly skilled and dedicated consultants who clients entrust to manage their mission-critical infrastructure. Think Power Solutions was founded with the vision of providing exceptional client service influenced by modern technology to positively impact the utilities, telecom, and construction industries For more, visit thinkpowersolutions.com.www.sunflowerboatandbarge.com • 563-583-0556• Sectional Barges• Spud Barges from 75x32 to 195x70• Hydraulic Dredges• Truckable Tugboats from 300 – 600 hp• Traditional Tugboats• Support EquipmentAvailable for Lease:sunflowerboatandbarge.com563.583.0556
Page 42
JANUARY 2022 www.mcsmag.com38legal solutionFor more than a decade, I've covered the lack of skilled workers in the trades impacting productivity, profits, and projects across the nation. I've attended construction trade shows where the discussion took center stage. I've talked to general contractors and manufacturers of construction equipment about the need for attracting people, men and women, to the construction industry where good-paying jobs are available. I've seen a splattering of associations reach into the community to educate and inform children in middle school and high school about the opportunities that exist in construction. Even with attention on the need, and some efforting the cause, the construction industry still has a shortage of skilled workers. INFRASTRUCTURE BILLNow there's the infrastructure bill signed into law by Presidential Biden on November 15, 2021. What's in the bill for the construction industry? What are the long-term implications? Does the bill change the issues faced by general contractors?Let's take a closer look at these questions, starting the money allocated in the infrastructure bill. • Roads, bridges, major projects: $110 billion• Passenger and freight rail: $66 billion• Public transit: $39 billion• Airports: $25 billion• Port infrastructure: $17 billion• Transportation safety programs: $11 billion• Electric vehicles: $7.5 billion• Zero and low-emission buses and ferries: $7.5 billion• Revitalization of communities: $1 billion• Broadband: $65 billion• Power infrastructure: $73 billion• Clean drinking water: $55 billion• Resilience and Western water storage: $50 billion• Removal of pollution from water and soil: $21 billionA breakdown by state regarding the allocation of federal funding can be found at www.whitehouse.gov/briefing-room/statements-releases/2021/08/04/white-house-releases-state-fact-sheets-highlighting-the-impact-of-the-infrastructure-investment-and-jobs-act-nationwide/. Here's something to note according to the state's breakdown of federal funding: "States can compete for the $12.5 billion Bridge Investment Program for economically significant bridges and nearly $16 billion of national funding in the bill dedicated for major projects that will deliver substantial economic benefits to communities." And these fact sheets state these values are estimates and may change based on updated factor data each fiscal year. THE CONSTRUCTION WORKERCommercial construction projects will exist in the mix of the monies allotted for the various components of the infrastructure bill. The question we need to be concerned with centers on "who's going to do the work?"In speaking with my construction comrades across the U.S., the hiring process for some is adding superintendents and project managers, with a keen interest on finding and/or attracting construction workers that have the intent to show up for the job and be productive. Yes, the investment in our nation's infrastructure is long overdue. Another overdue investment exists in recruiting, training, and mentoring men and women in the construction industry, especially people needed in the trades. I had the pleasure of speaking with Ken Roberts, an attorney with the law firm Venable LLP, while the infrastructure bill was making its way out of the Senate. Ken is based out of the Chicago office and is chair of Venable's Construction Law Group. Ken concentrates his practice on construction law, project controls, and procurement contracts. Ken is consulted on a daily basis by procurement and risk management departments concerning every aspect of planned or ongoing construction projects. He engages in a range of services, including preparation and negotiation of contracts, project controls monitoring and advice during ongoing projects, negotiation of change orders and contract additions, alternate dispute resolution through mediation, arbitration, dispute review boards, and, when necessary, litigation. Ken and I agree the infrastructure bill is an essential component in the recovery and rebuilding of America and, more importantly, we agree on the shortage of skilled workers, and general laborers, for the construction industry. Investing in America Investing in America who's going to do the work INFRASTRUCTURE BILLBy Donna Campbell
Page 43
www.mcsmag.com JANUARY 202239According to Ken, with the infrastructure bill signed into law, it could take 12 to 18 months before actual jobs are created for a workforce that does not currently exist. Current skilled workers will go where the jobs pay well; call this crew A. Crew B will be left to compete for jobs within their geographic location and will have some good training. Then there's Crew C. A crew with unpolished skill sets, improper training from not having the tools to do the job, and they may or may not show up or be on time. A BUYER'S MARKETAnother factor to consider in conjunction with the infrastructure bill and the need for skilled workers and general laborers, is the owners of the projects. According to Ken, there are owners who want projects done "on the cheap" and don't have the best reputation of being the best to work for in the construction industry. These owners are not going to get the good contractors with the good workers. It will become a buyer's market where those with the skill to lead and the skill do the work will move to the projects with good owners. This may leave some projects without top quality crews and GCs to complete the projects that are created from the influx of federal funding to fix America's infrastructure. Poor quality work will make way for repeat work, and if workers are not trained properly to build their skill levels, the outcome from repeat work will be the same. THE AMERICAN WORKERWhen given the tools and motivation to learn, coupled with competition to get the projects that pay well, American workers will meet and exceed the challenges. There will be states with excellent GCs with skilled crews that will use the federal money well; some states may not fare as well. The goal as infrastructure projects present themselves in the coming months will be to rebrand the construction industry worker as the hero, earning a wage, working with their hands, to build upon the legacy set before them as America moved from horse and buggy, to road and highways, to skyscrapers and dams. It's a testament to the American worker to build with less rework, be closer to budget, and be more productive. CLOSING THOUGHTWhile the investment in our nation's infrastructure is a good start, I believe more will be needed. And, as Ken Roberts says, another infusion of capital would not be a surprise in the next 5 to 10 years. With skilled labor a factor for good stewardship of federal funds by the states, I'm eager to learn how the construction industry will adjust, and what companies and/or associations will step up to the plate to add more training, recruiting, and mentoring for people looking to earn a decent living wage. I see The Great Rebrand of the Construction Industry on the horizon; hopefully, we'll all join in the campaign.
Page 44
JANUARY 2022 www.mcsmag.com40legal solutionOne of the most important functions of a construction contract is to allocate risk between the parties. Among the key risk-shifting terms of any construction contract are the insurance provisions. Most contracts have an entire section devoted to insurance that describes the types and amounts of coverage both the contractor and the owner must maintain during the project. These provisions also require the parties to obtain insurance policies that include particular terms such as who is covered under the policy and which parties can sue each other for losses covered by insurance. Not obtaining the required insurance can be a breach of contract. This article examines the most common insurance terms, what they mean, and how to negotiate them. TIP: When negotiating a construction contract, consider consulting your insurance agent. The agent can tell you whether you already have the required types and levels of coverage, and, if not, what it will cost to obtain what you need. TYPES OF INSURANCEThe basic terms of the contract should list the types and levels of insurance coverage each party must maintain during the project. Three common types of insurance required in construction contracts include Commercial General Liability, Workers' Compensation, and Builder's Risk.TIP: Many contracts refer to insurance "limits." This can lead to confusion. The contracts establish the minimum amount of insurance a party must carry. The "limit" is a limit on the amount the insurance company could be required to pay under the policy, not the contractor's overall liability to the owner. To limit liability, contractors should negotiate other provisions that waive consequential damages or cap overall damages. Contracts almost always require contractors to maintain Commercial General Liability (CGL) and Worker's Compensation insurance. CGL coverage insures against losses from personal injury or property damage due to the contractor's negligence. In the current market, the typical amount of coverage required for a CGL policy is $1 million per "occurrence" (i.e., per single accident) and $2 million in the "aggregate" (i.e., total amount payable during the policy term, usually a year). The amount of Worker's Compensation coverage is usually dictated by state law. Contractors may also be required to carry automobile, pollution, environmental, property, and umbrella insurance. TIP: When negotiating insurance requirements, contractors should consider whether the required insurance is relevant to their scope of work. For instance, there may be no need to require a contractor building a parking deck to maintain environmental or pollution insurance if the work does not involve hazardous chemicals. Contracts usually require owners, for their part, to also carry CGL insurance. The parties will often negotiate whether the owner or the contractor will provide the Builder's Risk policy. Builder's Risk is property insurance that covers the building under construction plus materials and equipment on site. It provides critical protection to the project during construction because ordinary property insurance does not cover construction in progress. Builder's Risk insurance can either limit coverage to certain risks (e.g., vandalism, fire, etc.) or be written on a broad, "all-risks" basis. Both the owner and the contractor will benefit from an "all-risks" policy. Owners and contractors Insurance Contract TermsInsurance Contract Termswhat they mean and how to negotiate themA QUICK GUIDEBy Luke J. Farley and Dixie T. Wells
Page 45
www.mcsmag.com JANUARY 202241must take care to ensure that one of them obtains the Builder's Risk. TIP: Whichever party obtains the Builder's Risk policy will have more control over making a claim under the policy and receiving payment for a loss.Before starting work or getting paid, the contractor will often be required to prove it has the required insurance by providing the owner with certificates of insurance showing the proper type and level of coverage. ADDITIONAL INSUREDContracts frequently require the contractor to name the owner as an "additional insured" under the contractor's insurance policies. Naming the owner as an additional insured entitles the owner to make a claim under a policy of insurance as if the owner was the primary named insured. Owners like being an additional insured because it allows the owner to make a claim under someone else's policy and avoid the premium increase that would likely result from the claim. Adding an additional insured to a policy increases the insurance company's risk—another person can now make a claim—and so there is an added cost to the contractor. Adding the owner as an additional insured does not happen automatically simply because it is required by the contract; instead, the contractor must purchase an "endorsement" (i.e., amendment) to the insurance policy. CLOSING THOUGHTInsurance provisions read like technical legalese and can be an afterthought when negotiating the construction contract. But with a basic understanding of the contractual insurance provisions, contractors can be empowered to actively negotiate these key risk-shifting terms. about the authorsDixie T. Wells is a partner in the Greensboro, North Carolina, office of Ellis & Winters LLP. She represents clients in lawsuits involving engineering issues, higher education law,complex commercial transactions, and products liability. She is a member of theConstruction Law and Litigation Committee of the International Association of DefenseCounsel. She can be reached at dixie.wells@elliswinters.com. Luke J. Farley is a construction attorney and partner in the Raleigh, North Carolina, office of Ellis & Winters LLP. The majority of his practice is devoted to contract disputes, state and federal Miller Act claims, mechanics' liens, and OSHA citations. He also assists clients with contract negotiation and project-level advice. He can be reached at luke.farley@elliswinters.com.This article is not legal advice and does not create an attorney-client relationship.ON THE WEBLearn about the term "subrogation" in this article on mcsmag.com
Page 46
JANUARY 2022 www.mcsmag.com42technology solutionThe $1.2 trillion Bipartisan Infrastructure Framework is a boost for the construction industry and companies that win contracts and then repeat business will be those that complete projects on time and on target.Digital technologies will be key to success, and the construction industry has some catching up to do. Digitalization in construction is lower than in nearly any other industry and it costs—in the form of time and budget overruns that occur because of project surprises, complications, and unforeseen circumstances. But today, a new class of digital twin technologies is enabling savvy construction companies to avoid many of those construction hiccups, resulting in faster turnarounds; safer, more efficient jobsites; increased profits; and increased success all around. 3D DIGITIZATION DRIVES CHANGEDigital twins are a digital representation of something in the physical world. But not all digital twins are in 3D, nor are they all accurate reflections of what that physical space looks like at any given moment.Being in 3D and depicting real-time realities of a physical jobsite are game changers for the construction industry. 3D models done before construction starts are great, and tracking progress while construction occurs is a given. But keeping the 3D representation up to date regularly while construction occurs can often get lost. Quite often, on-site updating of BIM files is typically ignored or happens, at best, on a quarterly basis.With 3D digital twin technology, off-site experts have in-depth access to on-site views into the as-built specifics of a project. As-built 3D representations are continually updated to reflect what's going on with the actual construction site or facility, enabling builders to constantly track correct implementation of design intent as manifested by the BIM data. This makes it possible and easier to manage the multiple complexities inherent in projects and to identify and prevent problems before they occur.Also, 3D digital twin technology increases trust between project owners and contractors because owners can easily log into such systems and see what's going on with their projects.3D DIGITAL TWIN PLATFORMS3D digital twin platforms are gaining ground as a powerful, cost-effective tech investment for builders. Owners will increasingly expect contractors to have the latest technology. When considering a 3D digital twin platform, consider: • Functionality and flexibility. Many digital twin platforms are sophisticated and complicated, or they're really easy to set up, but don't provide much functionality to the enterprise. Contractors and owners need something that is both simple and powerful. User interfaces should be both intuitive and versatile in adapting to project specifications and jobsite constraints.Build SmartBuild Smartcapitalizing on infrastructure building opportunities 3D DIGITAL TOOLSBy Simon Bae
Page 47
www.mcsmag.com JANUARY 202243• Ease of deployment. Not all contractors have the same skill sets or level of technical expertise. The infrastructure bill will increase demand for workers at a time when there's already a shortage. Any 3D digital twin solution needs to be usable by people with little technical training, and still be robust enough to be useful to people with extensive experience—whether the project is a new, high-tech building, a road or bridge, or simple renovation project.• Data collection. All data matters on construction sites that are constantly changing. Data comes in from 360 cameras, drones, robots, scanners, and people. You want a unified platform that can use data from any source so you get the most complete view possible of conditions.• Data analysis. Having data is one thing, extracting insights from it is the next step. Construction jobsites change daily. With an intelligent system that can analyze data captured on site alongside BIM files, contractors will reduce deviations and site misses on a consistent basis.• Security and open collaboration. Granular authentication and access permissions are a vital part of any successful digital twin platform so people can see and control what they're supposed to—and unauthorized access is prevented. CHOOSE SMART TO BUILD SMARTThe goal of rebuilding U.S. infrastructure–given the technologies now available—is nothing less than a mandate to build smart and strengthen our infrastructure for decades to come. The keys to building smart lie in a new wave of digital tools including 3D digital twin technology. CLOSING THOUGHTHaving the right tool for the job has always been critical for success and today's tools are better than ever. Not only will infrastructure projects be more likely to come in on time and on budget, but contractors will boost their reputations as trustworthy partners and win repeat business from owners, as well. PROVIDING SAFETY PRODUCTS THAT ARE UNIQUE, TESTED AND PROVENwww.bedlocksafety.com ▲ 217-553-0963 TWO CHAINS ARE BETTER THAN ONETHE ORIGINAL PATENT#6905174NEW FOR 2022about the authorSimon Bae is CEO and founder of Cupix, a San Jose, California-based leader in 3D digital twin technology for general contractors, owners, and property managers. In a career spanning more than 25 years, Bae previously founded and served as chief executive of INUS Technology and VisPower, both later acquired by 3D Systems. For more, www.cupix.com.
Page 48
JANUARY 2022 www.mcsmag.com44technology solutionAs companies continue to utilize drones, automated vehicles, 3D printing, and other new technologies on jobsites, business leaders need to take note: The future of the construction industry centers on the integration of technology. Those holding firm to old habits risk losing jobs and being left behind while competitors grow their project portfolios and attract the next generation of talent. Fortunately, tech adoption doesn't just take the form of robots and drones. There are several easy-to-integrate technologies that can be a gateway to implementing other tech.Here are three ways such technology is currently being used to attract next-generation talent, make jobsites and offices more efficient, and keep teams in sync, whether they're out on jobsites, in a fixed office location, or working remotely. APPEALING TO THE NEXT GENERATION OF CONSTRUCTION WORKERS Pre-pandemic, the construction industry's workforce was thinning. The problem was further exacerbated by COVID-19. Today, some 92% of contractors report having moderate-to-high levels of difficulty finding workers, according to the latest U.S. Chamber of Commerce quarterly construction report. One solution? Hiring a younger, more diverse workforce. "We don't attract who we want, we attract who we are," says Dan Clark, founder and CEO of The Art of Significance. "When it comes to workforce development, we can't think we can recruit people into the building industries—we have to attract them."One way for companies to attract the next generation of workers is technology. In fact, 71% of millennial workers say the degree to which a company embraces technology plays a role in influencing whether they would work there, according to the Computing Technology Industry Association (CompTIA). An added benefit to companies is the reality that younger workers are already familiar with common and rising technologies, making them ideal candidates to learn and implement new construction tech at a much more rapid pace. PRIORITIZING CONSTRUCTION CLOUD TECHNOLOGY AND AUTOMATION Companies dragging their feet on implementing newer technologies risk losing money to inaccurate labor costs and project inefficiencies. At a time when projects are plentiful but labor resources are short, companies need all the help they can get in streamlining their operations. Next-Gen TalentNext-Gen Talentconstruction's future hinges on tech adoptionTECH TO ATTRACTBy Mike Merrill
Page 49
www.mcsmag.com JANUARY 202245Here's where tech comes into play once again.Increasing productivity can be achieved with advanced technologies like using automated heavy machinery to pave roads, robots to lay bricks, and 3D printers to build homes from the ground up. It can also simply come down to more mainstream tools, like using cloud technology to house all of a company's data in a centralized platform accessible to workers, no matter where they are at or what project they are working on. Even simple, everyday technology tools, such as smartphones and tablets, can increase worker efficiency and company productivity, ensuring entities can take on more work and fulfill expectations even during slim times. LEVERAGING INTEGRATED MOBILE WORKFORCE MANAGEMENT APPSSmartphones are the most used tool on a jobsite today. According to the 2020 JBKnowledge ConTech Report, 92% of responding contractors and workers use their smartphone every day at work. A number of those surveyed reported using construction-based apps for daily reporting; capturing and managing photos and videos; safety management; viewing files; and time management. The downside? Many of these apps don't integrate with one another, creating more work for employees and increased headaches for transferring and sharing data down the line. The good news is cloud-based mobile workforce apps can be fully integrated into a company's existing software and platforms and also handle a multitude of tasks, including employee time tracking, equipment and material management, project scheduling, audits and reporting, digital form collection, and safety training. Such tasks can be done in one app on any smartphone or tablet, increasing communication and collaboration across an entire company.CLOSING THOUGHTThe future of construction rides on the pro-active implementation of technology. Looking to 2022, companies at every corner of the industry will need to evaluate their current operations and technology stack to find out where they can implement new or better tech to streamline their processes, boost their productivity, and attract tech savvy workers. about the authorMike Merrill is co-founder and chief evangelist of WorkMax by AboutTime Technologies and host of The Mobile Workforce Podcast. Mike has been an entrepreneur and business owner in the construction and technology industry for nearly three decades. For more, visit workmax.com.
Page 50
Page 51
SEE US AT WOC BOOTH #W3521
Page 52
Safety Degreeswhat to expect for your construction careerHIGHER EDUCATIONJANUARY 2022 www.mcsmag.com48safety solutionSafety is a significant concern at construction sites around the world. According to the International Labor Organization, roughly 30% of all occupational fatal injuries occur on construction sites, and construction workers are three to four times more likely than other workers to die from accidents at work.Here in the United States, the construction industry is one of the biggest employers of occupational safety and health professionals. The Bureau of Labor Statistics reported that 12% of OSH specialists and technicians worked in construction in 2020; the BLS also reported that OSH specialists working in construction earned a median annual wage of $74,550 in May 2020, and OSH technicians earned a median salary of $58,370.If you're an aspiring safety professional considering a career in construction—or if you already work in construction and are hoping to earn a better position—a construction safety degree may be worthwhile. Education is an important factor in becoming a safety officer, and coursework focused on the construction industry can help you stand out compared to your peers.In this article, we outline an example of a construction safety degree, specifically the construction safety concentration for the Bachelor of Science in occupational safety and health at Columbia Southern University.DEGREE VS. CONCENTRATIONWhen researching schools, you may find that some institutions offer full degree programs in construction safety, while others offer concentrations. Pursuing a degree in occupational safety and health, and adding a concentration in construction safety, can offer the best of both worlds.At CSU, students interested in construction safety can enter the bachelor's degree program in OSH—which is board-approved through the Institute of Hazardous Materials Management—and select a construction safety concentration. These students complete 39 credit hours of classwork within the major and 12 credit hours focused on the construction safety concentration, in addition to their general education requirements.CSU's bachelor's degree program in OSH was also named a Qualified Academic Program by the Board of Certified Safety Professionals, which automatically allows graduates to become eligible for the BCSP's Graduate Safety Practitioner® designation and bypasses some of the requirements for the prestigious Certified Safety Professional®.CONSTRUCTION SAFETY CLASSESWhether you're in a full construction safety degree program or studying construction safety as a concentration, you'll likely be taking classes like the following:Looking to change up your construction career? Consider a degree in occupational safety and health with a concentration in construction safety.
Page 53
www.mcsmag.com JANUARY 202249Construction Safety and Health Management: In this comprehensive class, students may learn how to approach construction safety from an overall perspective, including topics like examining metrics and indicators that measure success, developing strategies for responding to employee injuries, understanding regulatory issues, and preparing for hazards inherent to the various phases on construction projects.Contractor Safety: In this course, students may learn about hazards unique to contract work, specific issues that are common at multi-employer worksites, best practices for vetting contractors, methods for ensuring contractor accountability, and more.Risk Management: The concept of risk management is important in many industries, and this course would cover risk management principles in the context of construction safety. Potential topics may include how individual risk perception contributes to risk-taking behaviors, applying risk reduction strategies, and creating workplace risk assessments.Special Topics in Construction Safety: In this class, students may learn about emerging issues in construction and how they may impact safety, including the applications of technology that may be useful for identifying and controlling hazards on jobsites.In academic programs in which construction safety is a concentration, the classes above would be in addition to foundational courses in occupational safety and health, such as:• Industrial Hygiene• Interactions of Hazardous Materials• Introduction to Workplace Safety• Legal Aspects of Safety and Health• OSHA StandardsWork with an advisor or seek guidance from a mentor regarding additional classes to create the degree and concentration that best fits your career moving forward.CLOSING THOUGHTIf you're interested in earning your construction safety degree online, Columbia Southern University has been offering distance learning options to safety professionals for more than 25 years. Columbia Southern University does not guarantee that students or those who pursue these careers will earn the specific salaries listed. for more informationTo learn more about online safety degree programs at the associate, bachelor's, and master's degree levels, visit columbiasouthern.edu.
Page 54
JANUARY 2022 www.mcsmag.com50safety solutionAccess control is an idea whose time has come. A growing number of fleet owners are recognizing that it's a wise investment because it helps them create a safer jobsite and ensures that their machines are being operated properly.This optional tool allows equipment owners to safeguard their machines and improve jobsite safety by preventing unauthorized personnel from accessing equipment. Using telematics, it enables remote management of users, machine lock-out, and access.In the process, it helps to bring order to the chaotic environment of the jobsite."The typical construction site is not a neat, well-organized, perfectly-orchestrated place," explains Ara Eckel, director of product management for JLG's connected solutions platform team. "Machines and workers are moving everywhere, often on surfaces that are not level. That's not an environment where you want untrained, unqualified operators utilizing aerial lifts."Most of the equipment on the jobsite is unsecured. If the keys are in it, anyone can use it. Untrained operators can not only put themselves and other workers in danger, but they also increase the odds of property or equipment damage. SAFETY IS JOB ONEAccess control restricts the operation of aerial lift equipment to qualified and properly trained people. This list of approved operators can be remotely managed from a centralized web portal, enabling one person to manage hundreds of machines on multiple jobsites. A list of authorized users is communicated to each machine in the field using telematics and is stored on its access control keypad. That means the system continues working, even if the machine is operating indoors or in areas with little or no cellular connectivity. Once it's back in range of a cell tower or satellite, its database of authorized users is automatically updated.IT'S IN THE CARDSMachine operators receive a unique ID number or RFID card that allows them to access only the equipment they are authorized to operate via a keypad on the machine. The RFID cards, produced by the International Powered Access Federation (IPAF) and certain aerial lift manufacturers (including JLG) contain operator data, a list of machine models they're qualified to operate and when each certification expires. Access control can be managed via a PIN code, the RFID card, or both. Without proper authentication, the machine cannot be started or moved."RFID cards transform access control from a list of operator numbers and PIN Access Controlsystems enhance operator safetyJOBSITE ENVIRONMENTBy Jennifer Stiansen
Page 55
www.mcsmag.com JANUARY 202251codes into a knowledge system," Eckel points out. JLG provides operator training and RFID cards loaded with the corresponding qualifications to its customers. That integrated approach helps fleet owners simplify operator administration. In addition, the RFID cards enable fleet owners to track certifications that need to be renewed regularly. For example, OSHA considers telehandlers to be powered industrial trucks. It mandates that operators of them must be recertified every 3 years.Other types of aerial lifts are governed by a voluntary set of ANSI standards, which specify that operators should be certified to operate them. Even though compliance isn't mandatory, Eckel says that savvy fleet owners are recognizing that it makes sense from a safety and liability standpoint to align themselves with it.EQUIPMENT UTILIZATIONAccess control, in combination with telematics data collected from machines in the field, gives fleet managers a more complete picture of who is using each machine and how. A web-based portal provides them with up-to-date data on hundreds of machines in dozens of locations, all within one centralized interface. This gives them a more complete picture of machine utilization."Without access control, the machine's telematics system reports when a machine is being used and where, along with basic condition data. But you can't see who is operating it." Eckel emphasizes. "Access control helps fleet managers to connect the dots by showing them who is operating each machine." That enables them to do a more effective job of managing machines and people—and ensuring jobsite safety in the process: "For example, if a daily inspection shows that an aerial lift was damaged, the access control system can tell you who the last person was who operated it," Eckel points out. "And if it's unsafe to operate, the fleet manager can send a lockout code to the machine that prevents anyone from using it until it's repaired."FUTURE OF ACCESS CONTROLTo communicate with machines in the field, access control systems rely on the communications backbone offered by equipment telematics systems. The volume of data that can be transmitted is currently limited by communications bandwidth and the capabilities of today's telematics hardware. As they evolve and improve in the coming years, they may enable many enhancements to access control."Currently, telematics systems report on basic equipment data; location, whether or not the machine is operating and a limited amount of conditional data, such as hour meter readings. Imagine if that could be expanded to include data on how a machine is being used," envisions Rick Smith, senior director of global product training at JLG.Soon, it may be possible to establish a profile of best operating practices and then compare that to the telematics data from each machine. That could provide key insights into the true level of proficiency of each operator."For example, are they attempting to move the machine without using the proper interlocks? Are they exceeding the machine's maximum slope capabilities? Is the machine generating alarms that indicate they're pushing the limits of the machine's capacity when performing lifts?"CLOSING THOUGHTSmith adds that in many cases, this data is being captured on electronic control systems on the machine. They aren't being reported by its telematics system—yet. But he's confident that they will be as the technology improves. Once this detailed operating data becomes available, it may ignite a revolution in operator training. about the authorJennifer Stiansen is director of marketing with JLG. For more about ClearSky™ Access Control, part of JLG's fleet management telematics solution, visit www.jlg.com.• Well Rehab Products• Manholes• Bentonite• Filter Sock• Inline Chemical Mixers• Sampling Bailers• Clear PVC Pipe• Locking CapsAtlantic Screen& Manufacturing, Inc.Manufacturers of slotted & perforated pipe ranging from ½" to 24" in diameter302-684-3197Fax 302-684-0643142 Broadkill Road ■ Milton, DE 19968www.atlantic-screen.com ■ atlantic@ce.net
Page 56
JANUARY 2022 www.mcsmag.com52maintenance solutionCrack Sealingmaintain the quality of pavementBEST PRACTICESFor many regions of the country, freezing winter temperatures keep sealcoating contractors and pavement maintenance professionals cooped up, unable to get out onto the pavement. As temperatures begin to rise, so do the number of calls seeking repair to the damage winter left behind. For sealcoating contractors waiting for the ideal weather conditions to begin sealcoat work, crack sealing work provides a great opportunity to be able to start bringing in income sooner to your business after the long winter.WEATHER'S EFFECT Asphalt, like nearly all materials, experience some measure of thermal stress as the material is either heated or cooled. During cold winter temperatures, asphalt pavement contracts and any cracks present, open to their widest. Conversely, during hot summer temperatures, asphalt pavement expands and any open cracks, close. The spring season offers more moderate temperatures that tend not to reach the extremes temperatures of winter and summer weather. Spring is a perfect time to seal cracks. The cracks are still open enough to apply the sealant into the crack before the warm summer weather comes and the cracks are narrowed.Cracks are inevitable. When cracks form, water seeps in and under the asphalt pavement, causing deterioration. No matter the season, contractors and pavement maintenance professionals must be certain crack repair operations are only performed in dry conditions. Any moisture present in the pavement or crack will prevent adhesion of the material to the walls of the crack, increasing the likelihood of failure.CRACK SEALING Sealing cracks in a timely manner is one of the most effective ways to maintain the quality of your pavement. According to a group study conducted by the National Center for Asphalt Technology (NCAT), "crack sealing and filling are cost-effective treatments that provide life-extending benefits when applied to pavements in good, fair, and poor conditions." The process of crack sealing is different from the process of crack filling for several reasons.Asphalt pavement is referred to as a flexible pavement that moves horizontally due to changes in temperature and may move vertically as a result of traffic loads. Some cracks can open to 100% of original width as the pavement temperature changes from summer to winter extremes. Crack sealing uses specialized material that will adhere to the pavement and retain the seal as the pavement moves. High quality sealants designed for specific climate in your area and good application practices assure the crack sealing will prevent the intrusion of water and prevent further deterioration of the pavement. HOT-APPLIED CRACK SEALING Warmer weather, longer days, and reduced rainfall— certainly spring is the optimum season for crack repair. But winter can also be a good time to crack seal.One advantage of sealing in the winter is that cracks are already open and can be sealed more easily. When most types of preventive maintenance and preservation techniques are unable to be performed due to water composition (emulsion-based), the availability of supplies or a material's inability to cure—crack sealing can still be performed with hot-applied crack sealant.Crack sealing can be performed in virtually any outside air temperature so long as the crack is dry and warmed to 40-degrees F, which is achieved with relative ease via a hot air lance. It might not be the ideal time to start sealcoating, but crack sealing done in the winter or spring allows sealcoat contractors the ability to start work earlier. CRACK SEALING TIPSCrack routing. Routing is important for two specific reasons: (a) routing cleans the crack and creates uniform and fresh edges to allow the sealant to adhere better with the pavement and (b) a designed routed reservoir filled with crack sealant has the amount of sealant to expand and contract with the seasonal movement of the pavement. In addition, the sealant is at the right depth below the surface of the pavement to protect
Page 57
www.mcsmag.com JANUARY 202253against traffic and snowplow contact. Routing requires an additional piece of equipment, and while it adds costs to any crack sealing operation, research has shown routed crack repairs are cost-effective and last over twice as long as non-routed crack repairs.Crack cleaning and drying. Whether a decision to rout is made or not, or a decision to seal or fill is made or not; it is essential to provide a clean, dry crack channel to remove any loose material from the crack. Cracks that are damp, contain debris, vegetation, or loose aggregate or sand, will fail because the sealant won't be able to adhere to the crack walls. Cleaning consists of using dry, clean, high-pressure compressed air, brushing, or vacuuming to remove debris. When there is moisture, clay, or vegetation you will want to use a hot air lance. Use caution not to burn the crack.Material preparation. Contractors and pavement maintenance professionals should be sure to follow minimum placement temperatures, minimum and maximum material heating temperatures, application life (hours material is in melter), and recommended moisture conditions prior to application.Material placement. Apply material when the pavement exceeds the minimum pavement application temperature, which is generally 40-degrees F. Cracks must be dry and free from ice and other contaminants. Be sure the sealing or filling operation moves at a steady pace. The melter/applicator should monitor the temperature and quantity of material as over or under heating the material can delay the entire application. Blotting. Blotting protects the uncured crack treatment from tacking under traffic and is used in areas where traffic needs to travel on the material before it cures. Cement powder, talcum powder, lime, sand, and limestone chips are common blotting materials. Proprietary detackifying products designed specifically for blotting crack repair material are also available.CLOSING THOUGHTCrack sealing is proven to be the lowest-cost, highest benefit preservation treatment, providing life-extending benefits when applied to pavements in good, fair, and poor conditions. It's also a way for sealcoating contractors to extend the work season and bring in income while they waiting for the sealcoating season to begin .for more informationFor more about Crafco's hot-applied sealants and equipment for crack sealing, visit crafco.com.
Page 58
JANUARY 2022 www.mcsmag.com54
Page 59
Page 60
JANUARY 2022 www.mcsmag.com56Shared values and practices of employees shape the culture of a company. Leaders have tremendous influence on those values and practices, and that influence comes from their actions, inactions, behaviors, and the words they say—or choose not to say. Their influence can be positive and constructive in forming their desired company culture. Or it can damage the culture they want to create. What mistakes do leaders make that might ruin a company's culture? Here are three: INCONSISTENT LEADERSHIP To overcome inconsistencies, senior leaders have to reinforce the culture they would like to create. For example, they might support a culture of safety by forming a safety committee, investing in PPE, establishing a safety awards program, providing safety training, and measuring safety performance. These actions say safety is important to the culture—if safety protocols are followed consistently.But what if leaders don't wear proper PPE at a jobsite, or fail to emphasize the value of safety at training, or never mention safety during an update to employees? Leaders who send mixed signals about company direction and decision-making can ruin any progress made toward establishing a desired culture. When their actions and words don't align with that culture, it has a ripple effect on the beliefs, values, and practices of employees throughout the company. Whether it's safety, accountability, innovation, trust, respect, or customer service, leaders can unknowingly create a culture of confusion and chaos by being inconsistent. TOLERATING, NOT TACKLING PROBLEMS Construction leaders have lots on their plates. As a result, little things get overlooked—until they become big things and alter the culture they're trying to create.For example, a leader might want to build a high-performance team culture but won't resolve squabbles between the purchasing and estimating departments—or address damaging office gossip—or deal with battles between office staff and field personnel. Tolerating little things instead of tackling them can result in silos being formed. What prevails? Cynicism and negativity leading to apathy and disengagement, not a culture of high-performance teams. FAILING TO DEVELOP LEADERS FROM WITHINLeaders who choose to hire other leaders from outside the company instead of developing their own run the risk of never creating the desired culture. New leaders come with various views on shaping a company's values and practices. As such, they likely won't align with the prevailing beliefs; hence, the culture changes in undesirable ways.Instead, it's best for owners and senior leaders to proactively develop leaders from within. Those with the right attributes and qualities are already in place to preserve the desired culture. They understand and believe in the company's values; their words, actions, and behaviors dovetail with the desired culture and serve as a foundation for their interactions with employees. Nurturing their own group of leaders allows the leaders' desired company culture to thrive due to their consistency and tackling (not tolerating) any problems that arise. about the coachAs a leadership development expert, Randy Goruk works with construction industry leaders to improve employee engagement and business growth. Contact Randy directly to learn how he can help you and your team: randy@LeadersEdge360.com.coach's cornerCompany Culturethree mistakes to avoidJUST A THOUGHTBy Randy GorukONE MORE THING Rarely do owners and senior leaders purposely undermine the desired company culture, but they can make mistakes that promote a different culture than originally intended. As a result, they can feel confused about why the desired culture is not fully developed. Worse, they believe the damaged culture is simply fine. REGISTER TO RECEIVE RANDY GORUK'S LEADERSHIP TIP OF THE WEEK AT WWW.LEADERSEDGE360.COM.
Page 61
You Need Leads We Have the Solution Our digital marketing campaigns can identify prospects interested specifically in your product and then tell you exactly who they are See what our customers are saying The reports are awesome Thank you If we can get that level of information from all of our suppliers we will be very happy We have already made one machine sale to a prospect from the eBlast and I am sure there will be more Paul Gazik Business Development International Sales for Call us today to get started at 205 795 0223 or email us at russell mcsmag com
Page 62
Page 63
Page 64