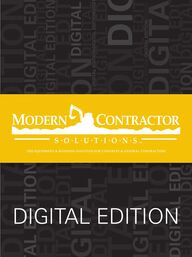 Return to flip book view
Modern Contractor Solutions February 2023
Page 1
Page 2
find out more at emarsinc.com
Page 3
FEBRUARY 2023 VOLUMETRIC CONCRETE MIXERS SAFETY IS KEY CORDLESS LIGHTING FOR SAFETY PLAN AHEAD PROTECTION FROM FALLS MOBILE WELDING FIELD FABRICATION WWW MCSMAG COM
Page 4
Page 5
Page 6
Page 7
Page 8
FEBRUARY 2023 www.mcsmag.com4HOW TO CHOOSE THE RIGHT FORKLIFT FOR THE JOBGuest Post by Emily NewtonESSENTIAL EQUIPMENT FOR ONSITE SAFETYGuest Post by Jane MarshA POWERFUL ANCHORING COMBINATIONGuest Post by Joe Haynes1828FEBRUARY 2023VOLUME 17 ISSUE 02Inside This Issue24special focusIN EVERY ISSUEIndustry News .............................. Modern Construction Products....... Punch List Punch List ................... management solutionExceptional Leaderssorting thoughts to gain claritymanagement solutionReducing Riskensuring safety is a company core valuesafety solutionFall Protectionplan to extract and replace52safetyequipment solutionSafety is Keyfor volumetric concrete mixers ON THE BLOGCEMEN TECH C60 VOLUMETRIC CONCRETE MIXERConcrete subcontractor Pavement Restorations, Inc.is pouring red-colored flowable fill over utility lines for a large project in downtown Nashville, Tennessee.Photo courtesy of Cemen Tech.cementech.com62maintenance solutionField Fabricationmobile welding business56safety solutionCordless Lightingbattery-operated options
Page 9
Page 10
PROJECT PROFILESlide Rail System ................................................. 16EQUIPMENT SOLUTIONSafety is Key ........................................................ 18MANAGEMENT SOLUTIONS2023 Expectations ............................................... 22Reducing Risk ..................................................... 24Exceptional Leaders ............................................. 28Commercial Space .............................................. 30Poettker Construction .......................................... 32SOFTWARE SOLUTIONData-Driven: Part 1 of 4 ........................................ 36LEGAL SOLUTIONSharing the Blame ............................................... 38TECHNOLOGY SOLUTIONSMachine Weight & Stress ...................................... 40Power Alternatives ............................................... 42SAFETY SOLUTIONSSafety Program .................................................... 46Stadium Builds .................................................... 48Fall Protection ..................................................... 52Construction Safety .............................................. 54Cordless Lighting ................................................. 56Fall Prevention..................................................... 58MAINTENANCE SOLUTIONField Fabrication .................................................. 62FEATURED PRODUCTHytera US Inc. ..................................................... 64SUBSCRIPTIONS For all changes, go to:MCSMAG.COMClick the SUBSCRIPTIONS button in the main menuwww.mcsmag.com 3100 Lorna Rd, Ste 101Birmingham, AL 35216DONNA CAMPBELL Editor in Chiefdonna@mcsmag.com MIKE BARKER Publishermike@mcsmag.com RANDY MOON Media Consultantrandym@mcsmag.com MICHAEL FISCHBACH Media Consultantmichael@mcsmag.com JOHN FRIEND Media Consultantjohn@mcsmag.com KEVIN MCCLARAN Media Consultantkevin@mcsmag.com LISA AVERY Art Directorlisa@mcsmag.com SETH SAUNDERS Digital Media Specialist seth@mcsmag.com INGRID BERKY Office Manageringrid@mcsmag.comTIM GARMONCEORUSSELL HADDOCKPresidentCHRIS GARMONCFODONNA CAMPBELLVice President, EditorialTONYA BROWNINGVice PresidentNo part of this publication may be reproduced or transmitted in any form or by any means, electronic or mechanical, including photocopy, recording, or any information storage-and-retrieval system without permission in writing from the publisher. The views expressed by those not on the sta of Modern Contractor Solutions, or who are not specifically employed by Highlands Publications are purely their own. All Industry News material has either been submitted by the subject company or pulled directly from its corporate website, which is assumed to be cleared for release. Comments and submissions are welcome, and can be submitted to donna@mcsmag.com.For reprint information, contact Chris Garmon at chris@mcsmag.com.Canada Post Publication Agreement #41578525. Undeliverables 355 Admiral Drive, Unit 4, Mississauga, ON L5T 2N1 Modern Contractor Solutions Magazine@mcsmagModern Contractor SolutionsESSENTIAL SAFETYThis month's issue features safety, an important component of construction. From using a shoring system during an excavation (pg 16) to safely operating a volumetric concrete mixer (pg 18), ensuring safety is a company core value helps reduce risk (pg 24). Part of being an exceptional leader (pg 28) means having a clear path forward to success. A leader sees the big picture and understands the nuances between departments, tasks, projects, and workers. Safety is knowing the equipment and understanding the difference between floor load capacity and machine ground bearing pressure; check out the article on page 40. Fall protection and fall prevention come down to the right PPE and having a safety program and protocol, and having a designated safety person that is qualified and competent. Accidents happen. Equipment and the ground underneath shift. The weather turns from a sunny day to a rainy mess with high winds. Interesting to note the article on building stadiums and having the right communication system installed for events needing security or medical personnel (pg 48). Enjoy the issue and add the next read to your punch list: Unstuck & Unstoppable by Jimn Kyles.Cheers,Donna CampbellEditor in ChiefSUPERBOWL FLYOVER During the 2023 Super Bowl National Anthem performance, three Navy tactical squadrons conducted a unified flyover. Lt. Suzelle Thomas, a native of Birmingham, Alabama, was one of the pilots in the flyover. The flyover formation included two F/A-18F Super Hornets from "Flying Eagles" of Strike Fighter Squadron (VFA) 122, a F-35C Lightning II from the "Warhawks" of (VFA) 97, and an EA-18G Growler from "Vikings" Electronic Attack Squadron (VAQ) 129. By Mass Communication Specialist 1st Class Bryan Niegel, Navy Office of Community OutreachUnstuck & Unstoppable68punch•list
Page 11
Page 12
FEBRUARY 2023 www.mcsmag.com8industry newsTHE NEW BKT WEBSITE TAKES US INTO THE FUTUREBKT's new website is now online after an in-depth restyling and redesign of the browsing experience. From interactive graphics to multi-specialized content, the new platform delivers a comfortable and user-friendly environment for users, with no lack of exclusive content, first-hand accounts and constantly updated information.An innovative and integrated hub where content is at the center; each product page is enriched with consistently detailed and useful information, including videos of products in action, data sheets, exclusive case studies, and insights that help users choose the best tires for their needs. The new site once again reflects how much BKT is willing to share its story with the entire online community, thus showing not only products, but also social missions and projects around the world. Check out the new BKT website: bkt-tires.com.HEIGHT SAFETY EXPERT GUARDIAN LAUNCHES INNOVATIVE TOOL AND STREAMLINED PROCESS FOR PRODUCT CUSTOMIZATION Global height safety specialist Guardian launches its new, industry-first, digital customization tool and streamlined order process. Designed to make it simpler than ever to tailor workers' full-body harnesses, the customization tool enables end users to choose from over ten elements, including webbing color, and D-ring configuration, as well as adding their company's logo for increased brand presence on the jobsite. Central to the new tool is the supporting hassle-free, streamlined request and fulfilment process. All online requests are followed up by a Guardian team member within 24 hours, and with all customization taking place at Guardian's Height Safety Center in Houston, the company can offer low MOQs of 25 units and impressively quick turnaround times. Guardian's customization program enables businesses to build brand pride, drive worker visibility, and even identify different worker teams on jobsites. Customized products help to enhance safety by making it easier for supervisors to quickly ensure workers are using current and compliant height safety equipment, while helping businesses manage and control inventory. For more, visit guardianfall.com/digital-resources/build-your-custom-harness.TRAVELERS INTRODUCES INNOVATION NETWORK FOR CONSTRUCTION INDUSTRYThe Travelers Companies, Inc. launches the Travelers Innovation Network for Construction, an online platform providing construction customers with access to industry insights, as well as a curated group of technology providers and solutions aimed at improving productivity and safety on jobsites. The Travelers Innovation Network for Construction allows construction customers to search for targeted technology solutions and guidance that can help them overcome work site, employee and
Page 13
Page 14
FEBRUARY 2023 www.mcsmag.com10industry newsbusiness risk exposures and challenges, including those related to water loss detection, ergonomics, site monitoring and equipment management. Eligible customers also can qualify for discounts on certain products or services presented on the platform. For more, visit travelers.com.SAFE SITE CHECK IN LAUNCHES JOBSITE OBSERVATIONS TO BOOST CONSTRUCTION SAFETY Safe Site Check In, a leader in construction management software for jobsite productivity, announces new features designed to make jobsites more productive and safer. Using the new Jobsite Observations feature, supervisors, workers, subcontractors, and visitors can include notes, photos, videos, and attachments to document jobsite conditions and progress. This provides contractors and project owners with accurate, real-time updates for project management, forecasting, and strategic planning.Additionally, Safe Site Check In's observations and automated daily log information can be easily added to construction project management platforms including Procore Daily Log Notes. This way, general contractors have a consistent and complete view of the progress of each job, saving supervisor's time, and realize cost savings of $2.50 per check in.Using the QR-code check in app, project managers always know who was on site, what they did, and when they signed in and out of the jobsite. Through the private check-in process, workers can also verify certifications and licenses, vaccinations, sign waivers, and document training. This information can be used to streamline admin, ensure compliance, and protect workers and general contractors in the event of an accident. Additionally, the daily check-in data can be used to automatically fill out the daily report. For more, visit safesitecheckin.com.CASE CONSTRUCTION EQUIPMENT SALES, SERVICE AND SUPPORT STRENGTHENED IN WESTERN U.S. WITH TITAN MACHINERY ACQUISITION OF PIONEER FARM EQUIPMENT CO. Construction and farm equipment heavyweight Titan Machinery has strengthened and unified the positions of CASE Construction Equipment throughout the upper Midwest and western United States with the acquisition of Pioneer Farm Equipment Co. The deal closed February 2, 2023, and includes five Pioneer locations throughout Idaho in Rexburg, Idaho Falls, Blackfoot, American Falls, and Rupert. Locations will offer the full line of CASE Construction Equipment and Case IH agriculture equipment, with the exception of the Rupert location which will operate only as a Case IH dealer. The move represents a strengthening of CASE Construction Equipment sales, parts, service and support throughout the entire network of Titan Machinery, which now spans even further into the western United States from its current stronghold in the upper
Page 15
Page 16
Page 17
Page 18
FEBRUARY 2023 www.mcsmag.com14industry newsMidwest. Titan Machinery will take full control of all operations at each location concurrent with the February 2nd closing date. To learn more about Titan Machinery and its work in the construction and agricultural communities in North America, visit titanmachinery.com. To learn more about CASE Construction Equipment and to keep up with all the ways the company is putting the entire construction industry on notice in 2023, visit casece.com.NEWEST ENHANCEMENTS TO INEIGHT'S CONSTRUCTION PROJECT MANAGEMENT PLATFORM InEight Inc., a global leader in construction capital project management software, announces its latest suite of software innovations, which are designed to increase forecasting accuracy, field productivity, and subcontractor management. These latest updates provide contractors with a higher level of forecasting accuracy based on up-to-date project progress, including subcontractor activity. This allows for quick reactions to financial and productivity challenges, providing greater confidence to project owners. In addition to out-of-the-box forecast methods, InEight users can now configure the best equations to automate forecast calculations for the different types of work through different stages of completion. The platform enhancements also drive increased productivity through more efficient collaboration between the office and the field. Scope and quantities, productivity goals, and more are easily communicated in daily digital plans to field crews and subcontractors. Controlled transparency allows teams to identify and troubleshoot challenges. This leads to a higher level of profitability potential.InEight made it easier to get full visibility into subcontractor costs. With line of sight to both committed and uncommitted costs, users can compare the variance between the planned cost and the actual costs. For more, visit ineight.com.WEILER ABRASIVES EXPANDS SPOT SAFETY TRAINING PROGRAMWeiler Abrasives, a leading provider of abrasives, power brushes and maintenance products for surface conditioning, expands its safety training program based on the SPOT (Speed & Size, Pressure, Orientation, Time) methodology. The program now includes a video series of six focused training modules for cutting wheels; grinding and combo wheels; cups, cones and plugs; coated abrasives; power brushes; and general abrasives and brushes. Videos are available in English with a Spanish version available in the first quarter of 2023. Weiler Abrasives representatives can conduct SPOT safety training onsite or virtually, and the program includes classroom training with optional hands-on training. Trainees will earn to identify potential hazards associated with abrasives use and implement safe work practices. They will receive a certificate of completion when done. For more, visit www.weilerabrasives.com.
Page 19
Page 20
project profileIn recent years, infrastructure upgrades in urban cities have been ongoing across the country. This is true for Grand Rapids, Michigan; the second largest city in the state. Directly in the historic section of the downtown area, veteran contractor Kamminga & Roodvoets, Inc. (K&R) has been undertaking the multi-year project of upgrading a primary trunk sewer that runs along the Grand River. They are redirecting a new 96-inch tie-in line 1,200 linear feet around the block along Market and Fulton Streets to make room for any utility requirements of future development.In such a dense area of the city, K&R knew they were going to have to contend with many existing utilizes as they excavated the new pipeline. "You never know what you are going to find when you take the pavement off the road," says project manager, Jeff Talsma. "Just in the intersection (of Market and Fulton Streets), we began digging and immediately started finding thing and we found a lot of them."PROJECT CHALLENGEThe biggest challenge for Talsma and his crew was installing a shoring system that could contend with the plethora of existing utilities. Fortunately, it wasn't a difficult decision for K&R. It so happened that several members of the installation crew, including Talsma, were veterans of installing member Efficiency Production's Slide Rail Shoring System. "We've had a lot of success with Efficiency's Slide Rail on other projects in the past—large projects—and we are right in the heart of Grand Rapids with a lot of old buildings," Talsma says. "Vibrating in tight sheeting just wasn't an option. There was just too much potential for failure."We've worked with Tim (Hurst) and the Efficiency team, probably since January 2021," Talsma continues. "We started with an original design for using Slide Rail, but when we came across more items of conflict; we changed that and came up with a workable solution, including Slide Rail Sheeting Frames with sheets, utility supports, and in some instances utility relocations."THE SOLUTIONEfficiency's modular Slide Rail is a component shoring system comprised of specialized steel posts and panels. The versatile system can go 32 feet deep in a variety of configurations, such as small four-sided pits; large unobstructed excavations as big as 60 x 60 feet or more in a ClearSpan™ configuration; or in a Multi-Bay™ configuration to install tanks and other structures or lengths of pipe more than 40 feet.Slide Rail SystemSlide Rail Systemveteran utility contractor upgrades historic downtown infrastructureEFFICIENCY PRODUCTIONBy James McRayFEBRUARY 2023 www.mcsmag.com16"Just in the intersection of Market and Fulton Streets, we began digging and immediately started finding thing and we found a lot of them," says project manager, Jeff Talsma.
Page 21
Slide Rail is installed simultaneously as the trench or pit is excavated by sliding the panels into integrated rails on the posts—an outside slotted rail first, then an open-face rail on the inside—then pushing the panels and posts incrementally down to grade as the pit is dug; a process commonly referred to as a "dig and push" system.Another cost saving aspect of Slide Rail is that the equipment can be utilized multiple times in several different excavation points, starting with the initial tie-in to the existing sewer line. K&R installed a 28 foot x 35 foot wide, and 24 feet deep Multi-Bay™ configuration of the Slide Rail System with Shore-Trak™ Panel Sheeting Guides to shore tightly around the existing 11.5 foot x 14 foot sanitary sewer culvert. K&R then caste-in-place a 11 foot x 14 foot manhole structure up against the existing sewer line. The crew then sawed into the existing culvert and redirecting the line through the new manhole.Once the manhole and diversion line were installed, the K&R crew backfilled the excavation and moved much of the same Slide Rail components to another spot right along Market Street, then installed a 24 foot x 26 foot wide, and 28 foot deep 4-sided Slide Rail System to shore another section of the 96-inch diameter reinforced concrete pipe on the new half-mile long sewer pipeline.After that, K&R used all the same Slide Rail equipment to shore four additional excavation points along the new tie-in line. "There's a hundred different things running through the intersection," Talsma adds. "With Efficiency's Slide Rail it provides a little more flexibility in installation, which helps with potential impact to the surrounding buildings and utilities; all of which really made it the right solution." CLOSING THOUGHTIn 1951, Roger Roodvoets and Elwin Kamminga started a local bulldozing company, working out of Roger's father's garage. From that beginning, the two friends established the foundation for what has become an industry leader in roadbuilding and underground utility construction. With offices in Grand Rapids, Michigan, and Tampa, Florida, K&R has grown into a successful and highly regarded contractor with more than 200 employees, building projects ranging in size from city street intersections to highway interchanges. about the authorJames McRay is director of marketing and media with Efficiency Production, an Arcosa Shoring Products company and founding member manufacturer. For more, visit www.efficiencyproduction.com. www.mcsmag.com FEBRUARY 202317
Page 22
FEBRUARY 2023 www.mcsmag.com18equipment solutionSafety around heavy equipment is always a top concern and the equipment itself should have features built in to keep workers and others who may be near the jobsite out of harm's way. For decades, Cemen Tech has approached engineering and manufacturing volumetric concrete mixers with safety in mind, while also focusing on making sure operators are fully trained to keep jobsites accident-free and construction businesses productive.OPERATOR TRAININGProper equipment training is essential to worker and jobsite safety. At Cemen Tech, we offer a combination of classroom instruction and on-site start up training by the most knowledgeable volumetric experts in the industry. Volumetric operators need to be trained on the proper way to load the cement powder, aggregates, water, admixtures, fiber, color, and so on to ensure they are producing quality concrete, but also that there is not any debris, blockages, or issues that could cause injury. The C Series, Cemen Tech's fully automated volumetric concrete mixer, has an OSHA-approved work platform with safety railing, including treated non-slip ladder rungs so workers can safely climb up to the cement bin level of the mixer. LIGHTS! CAMERA! ACTION!Volumetric concrete mixers are not limited to daytime work. For night road and bridge repair, starting before dawn or when pouring in emergency situations, the C Series has additional safety measures to protect the workers when the sun is not out. Night operating lights come as a standard feature, which are five LED lights located near the back end of the mixer to allow for proper lighting necessary for night work and other poor lighting conditions. Strobe lights around the exterior of the vehicle assist in the safety of road workers, making the unit highly visible to all nearby or oncoming traffic. A new option for the C Series is the camera package—a five-camera system that allows the driver a 360-degree field of vision around the truck, including an in-cab monitoring camera. Safety Is KeySafety Is Keyfor volumetric concrete mixersCEMEN TECHBy Jared EversEssential to worker and jobsite safety is comprehensive training by Cemen Tech volumetric concrete mixer experts with multiple classes each year held at our global headquarters in Indianola, Iowa. Hands-on training at Cemen Tech's global headquarters provides an excellent foundation for all volumetric operators.
Page 23
A live viewing monitor is mounted inside the chassis with the added ability of DVR recording.If the action at the jobsite needs to take the operator away from the control panel at the mixer, they can do this safely with the wireless remote-control option. A full function remote allows the operator to control the mixer securely and wirelessly from a better vantage point. The buttons of the remote are proportionally controlled to allow for finer movements of all mixer functions.OPERATING WITH CONFIDENCE The combination of operator training and equipment features gives contractors and jobsite managers the confidence needed to ensure jobsite safety, as well as producing quality concrete every time. CLOSING THOUGHTHaving volumetric mixers on the jobsite offers numerous advantages, from being able to mix and pour only the volume of concrete that is needed, to saving material costs and time that increases productivity. Most importantly, safety features on the equipment like those on the Cemen Tech C Series, help provide peace of mind and make the experience safe for those operating the mixer, as well as the workers around it. www.mcsmag.com FEBRUARY 202319about the authorJared Evers is a product manager with Cemen Tech, the world's largest manufacturer of volumetric technology. Its concrete mixers are used in more than 70 countries. For more, visit www.cementech.com.Safety Is KeySafety Is Keyfor volumetric concrete mixersCEMEN TECHBright lights around the exterior of the Cemen Tech C60 volumetric concrete mixer help concrete be safely poured at any time of day while making the unit visible to all nearby.
Page 24
Page 25
Page 26
FEBRUARY 2023 www.mcsmag.com22management solutionSmall businesses in the construction sector navigated a challenging 2022 by being nimble, creative, and disciplined. They will need each of these skills plus a little luck to succeed in what is likely to be a challenging 2023. THE FACTORSAs we enter a new year, employment remains high and wage growth strong, supporting the American consumer's ability to spend. However, cracks in demand are beginning to appear. Consumers are still spending but many have eaten into their savings and increased their credit card debt to do so. A weakening of the U.S. consumer generally has a negative effect on U.S. small businesses, as most small business revenue is derived from consumer spending. If consumer spending declines in 2023, we can expect small businesses to suffer. Rising interest rates will create challenging conditions for new construction broadly. Higher interest rates will depress commercial sales and will make financing considerably more expensive. As a result, we can expect a pause in some forms of commercial development. We expect 2023 to be a challenging year for many contractors as a cooling economy and higher interest rates slow demand, while inflation remains elevated. This means that builders may continue to struggle finding quality workers at affordable wages, while the cost of some materials remains high. Fortunately, we expect inflation to be lower in 2023 than it was in 2022, and we expect the actions of the Federal Reserve to reduce inflation further as the year progresses, limiting further demand destruction and inflationary trends.Many small businesses in the construction sector will also struggle to obtain the capital required to fund their daily operations. Banks are now facing increasing delinquency rates, higher borrowing costs, and deposit outflows as consumers burn through their savings and chase higher yields from non-bank investment opportunities. As a result, many banks are being forced to reduce lending to small businesses and raise prices. This means higher cost of capital and fewer options for growing small businesses.Fortunately, there are several strong non-bank small business lenders, such as Kapitus, that are working to fill the funding gap left as banks tighten. Kapitus has been providing growth capital to small businesses for the past 17 years. We expect 2023 to be a year in which our capital is especially valued. The following lays out our expectations for the small business economy in 2023 and how specific small business industries will be impacted.OTHER ECONOMIC FACTORS Inflation: Economic discussions in 2022 were dominated by the surge in inflation and the Federal Reserve's quest to bring it under control. Unemployment has remained low and job vacancies high throughout the Fed's tightening cycle, despite efforts to reduce demand. As a result, wage inflation remains high, and we expect the Federal Reserve to continue raising rates in 2023 until wage growth and job vacancies are brought in line with historical levels. We expect inflation to remain above the Fed's 2% target rate throughout 2023 with several more rate increases to come. However, we do expect the Fed's action to ultimately succeed in slowing the economy and reducing inflation rates, especially in the second half of the year. The Global Supply Chain: The global supply chain made a dramatic recovery in 2022 as the world opened-up from the pandemic and stimulus-driven excess demand subsided. 2023 Expectations2023 Expectationsimpact on small businesses in the construction sectorINDUSTRY OUTLOOKBy Ben Johnston
Page 27
Russia's invasion of Ukraine disrupted oil and grain markets causing spikes in energy and food prices, but the market has largely compensated for these disruptions, and we expect the normalization of supply chains that we experience in 2022 to continue into 2023. Potential wild cards disrupting this prediction would include an escalation of the war in Ukraine, or the introduction of another significant conflict such as the invasion of Taiwan. Also, while we believe that the worst of COVID is behind us, China continues to struggle with the virus and the potential for a new variant sweeping the world remains a possibility. Manufacturing: The trend toward the repatriation of manufacturing to the U.S. will continue in 2023 as long supply chains and geopolitical unrest drive businesses to seek more reliable alternatives. The Infrastructure Act of 2021 and the Inflation Reduction Act of 2022 each provide incentives to companies that build manufacturing capacity in the U.S. and source from US manufacturers. We expect these incentives to begin having a positive effect this year. In addition, new manufacturing technologies should allow new facilities to operate more efficiently, bringing down the labor cost differential between the U.S. and overseas markets. Continued cost reduction for U.S. manufacturers is critical as a strong dollar has hurt the competitiveness of U.S. manufacturing on the global stage and is slowing the overall repatriation trend. Unfortunately, the dollar is unlikely to reverse course until the Fed ends its tightening cycle.The Political Environment: With Republicans taking control of the House and Democrats holding the Senate and the White House, major economic legislation appears unlikely in 2023. We expect to see at least the credible threat of a government shutdown in 2023, leading to market volatility and a potential impact on interest and currency rates.CLOSING THOUGHTSmall businesses employ nearly 50% of the workforce and account for approximately 44% of the country's GDP, making them a critical force driving the U.S. economy. Small businesses owners are creative and resilient having managed through the pandemic, inflation, demand fluctuation, and supply chain disruptions. Despite the challenges they face today, small businesses will adapt to whatever changes 2023 brings and move to meet the market where consumers are. This is the strength of our capitalistic system and the backbone of the U.S. economy. www.mcsmag.com FEBRUARY 202323about the authorBen Johnston is the chief operating officer of Kapitus, one of the most reliable and respected names in small business financing, offering a number of loan products to small businesses, including SBA loans, revenue-based financing, equipment financing, cash-flow based factoring, revolving lines of credit, and invoice factoring. For more, visit kapitus.com.
Page 28
FEBRUARY 2023 www.mcsmag.com24management solutionReducing RiskReducing Riskensuring safety is a company core value OUTLOOKDuane Duhamel is the corporate health, safety and environmental (HSE) director at ISN, leading and overseeing the HSE RAVS® and Corporate HSE personnel. He has more than 22 years of Health, Safety, Environmental, Quality (HSEQ), Sustainability, and Contractor Management experience in the utility, chemical, manufacturing, aerospace, and energy industries. His roles provide expertise in the United States, Canada, and International HSE regulations. Duane holds a Master's in Business Administration, Master's Degree in Occupational Health and Safety, and is a Registered Safety Professional. Duane is a long-standing member of the American Society of Safety Professionals (ASSP) and National Safety Council (NSC). He also is an active member in the NSC's Campbell Institute and the Interstate Natural Gas Association of America (INGAA) Leading Indicators Workgroup. Below is a Q&A as Duane shares his insight into 2023 for the safety space in the commercial construction segment.MCS: What are your predictions for the safety space for commercial construction in 2023?DUHAMEL: In 2023, I foresee expansion of the traditional scope of health, safety, and environment (HSE) in the commercial construction industry. I anticipate the majority of organizations moving beyond traditional policies such as elevated work and control of hazardous energy, to include concepts such as diversity, equity, inclusion and belonging, human organizational performance, and psychological safety under the HSE umbrella. I also expect to see further transitions of organizations towards measuring leading indicators, and away from total recordable incident rate (TRIR) and similar lagging metrics. In 2023, event tracking will need to focus on potential outcomes, employee perceptions of safety and elevated risk, in addition to tracking OSHA case classification details. With fatality rates across industries remaining flat for several years, there is much room for improvement related to the identification, prevention, and predictability of serious injuries and fatalities (SIF's) and those events with SIF potential. Every organization today should be on the journey to a zero harm culture, and businesses must seek opportunities to enhance their safety precautions and reduce SIF exposures.MCS: How has the prevalence of hybrid work influenced safety in the industry?DUHAMEL: Over the past few years, many workplaces have had to adapt to hybrid work models. Moving forward, this change in the work environment will act as the catalyst for increased reliance on artificial intelligence and immersive technologies. Traditional practices of classroom-style training will also incorporate new methods, such as virtual reality (VR) and augmented reality training. Along with training opportunities, some companies are using VR to track at-risk behaviors and other safety concerns, such as innovating ways to perform hazardous jobs and tasks that tend to have higher incident rates and SIF potential.MCS: How will organizations prioritize individual worker safety amidst labor shortages?DUHAMEL: When the supply of construction workers fails to meet the high demand, it is more likely that the hiring process will be expedited and organizations may attempt to onboard new hires into their roles as quickly as possible. Despite the pressure to fill this labor gap, organizations need to prioritize the health and safety of
Page 29
their new employees with in-depth, rigorous safety training and ensure that they can prove worker comprehension of those training requirements. Placing a focus on individual level training and ensuring employee competency is essential. Every task required of workers onsite should be able to be tied back to a specific training they received or a policy their company has implemented. Labor shortages can also impact contractors, who may be feeling overworked. When workers feel comfortable to stop work and report near misses, this can significantly reduce the amount of injuries occurring onsite. Organizations should actively seek feedback on their safety cultures through employee and contractor perception surveys and make subsequent changes based on the takeaways in order to prioritize the safety of individuals at the worksite.MCS: What do employers risk if they don't strive to improve incident rates? DUHAMEL: Improving employee health and safety performance is critical to maintaining a safe environment for all individuals who enter a company's facilities or worksites. By failing to improve safety and health performance rates, employers also risk significant financial, legal and reputational consequences, in addition to the loss of workers and reduced productivity. CLOSING THOUGHTConversations and commitment around safety and risk management must make their way from higher-level stakeholders down to front-line contractors to improve overall business outcomes and reduce workplace injuries and illnesses. Taking this step often requires large investments from the C-suite and board members, but ensuring safety is a company core value will help improve profitability, efficiency, and worker attraction and retention. www.mcsmag.com FEBRUARY 202325for more informationFor more, visit www.isnetworld.com
Page 30
Page 31
Page 32
management solutionExceptional LeadersExceptional Leaderssorting thoughts to gain clarityIN THE KNOWBy Jill J. Johnson, MBAFEBRUARY 2023 www.mcsmag.com28Most leaders believe they make good decisions. They believe they already have clarity about their situation. Protecting the status quo is the norm. Then something significant happens: their financials show losses, revenues stall, clients leave, good employees take better jobs elsewhere. All executives and board of directors share a desire to resolve the situation when they are in the middle of a complicated or difficult situation. But exceptional leaders are unique. They demonstrate a willingness to gain real clarity about what is going on inside and outside their organization. They want a depth of information to understand the truth about what is right and wrong with the strategies they are implementing. They want to identify the factors impacting their ability to be successful. They take control by looking for ways to innovate their organizations to solve their problems, to meet the evolving needs of their customers and to improve their market position. They take the time to SORT their thoughts to gain the clarity they need for success. SKEWED VIEWPOINTMost leaders believe they are already doing the right things. They believe their products and services already meet valuable needs for their customers. What they don't realize is their view has been skewed by changes that have gone on around them. New competitors to the market may have significantly altered their historical market position, but they were so certain they were doing a good job they do not realize how much their market has changed. Exceptional leaders understand staying close to your market is crucial to long-term success. Markets change over time. They want to understand how their market is changing and why. They determine what they need to do to meet evolving market needs. They want to understand what they need to do to compete effectively with new competitors to retain or enhance their market position. They are constantly assessing customer expectations and if their needs may be shifting beyond what they now offer. Their focus is on the future and moving forward with true success. They move on. OVERCOMING OBSTACLESSometimes leaders freeze when confronted with the need to take real action. They are so paralyzed by the fear of making a mistake that they make no decision at all. They wait until the situation is dire and then react by putting out the inconsequential fires. By focusing on the wrong things, they ignore the main fire that rages all around them. Their inability to address the real issues before there is a complete crisis results in chaos. They blame others. Their people don't trust them. Their boards lose confidence. Leaders without clarity and they can do great harm to their organizations. Exceptional leaders expect their situations will change and they have the discipline to continually look forward and assess what changes may affect them. They are always on the lookout for ways to innovate and revitalize their products, services, and organizations. They look for new ways to grow, evolve, and succeed. They understand periodic strategic corrections are a necessity to overall long-term success.RIGHT INFORMATIONMost leaders believe they already have enough information. They apply the same set of assumptions to their decision making that have historically worked for them. They use the same data sources they have always used.
Page 33
They rely on the opinions of underperforming staff to explain the challenges they face rather than engage in the proper due diligence to find out the underlying causes for their organizational difficulties. They fail to understand the significance of how changes in external market forces can impact consumer expectations or their long-term survival.Exceptional leaders look for more than a superficial answer. They don't stop looking at the first 10 answers that pull up in their Google search. They look for the pearls of wisdom buried deep in the data and they are not afraid to find advisors who will help them find the truth and interpret it. Getting the right information for real decision-making is hard work. They know that it requires a significant effort to reconsider every current assumption and look for changes in the trends and patterns of the data. Doing that without a biased view is even harder. They are willing to invest the time and money to bring in a fresh and different point of view to discover the truth. THE TRUTHMost leaders believe they already have a complete understanding of what is going on. Yet the fundamental reason for a lack of clarity at the top is usually because no one tells them the whole truth. Employees tell their leaders what they think they "want" to hear. People are penalized for telling the truth. Cultural paradigms cause employees to withhold candid feedback because they don't want to displease another with bad news. Worse, some leaders are not able to listen to a divergent perspective. As a result, these leaders lose control of the situation and lose their ability to implement corrective actions before things go completely haywire. Exceptional leaders understand clarity begins with a real desire to see the truth of the situation. Truth gives information. Information gives insight. Insight gives clarity to set the right priorities and focus your people on the most critical activities designed to create success. These leaders find it refreshing to have someone around who will tell them what they don't necessarily want to hear, but that they already suspect is true. CLOSING THOUGHTGetting clarity can be frightening. It can be humbling to realize that critical strategies you previously implemented are now the cause of the problems now facing your organization. Yet when you have clarity, it becomes much easier to prioritize what needs to be done to resolve the issue or improve it. www.mcsmag.com FEBRUARY 202329about the authorJill J. Johnson, MBA, president and founder of Johnson Consulting Services, is a management consultant, accomplished speaker, award-winning author, and Business Hall of Fame inductee. She helps clients make critical business decisions and develop plans for turnarounds or growth. For more, visit www.jcs-usa.com.
Page 34
FEBRUARY 2023 www.mcsmag.com30management solutionCommercial SpaceCommercial SpaceQ&A with Brianna Goodwin, president and CEO of ContextureEXPERT INSIGHTVer-Tex Construction, and its recent acquisition Brambier's, rebranded as Contexture to reflect the company's evolving strategic direction on improving building environments, its expanded portfolio of window shades and acoustic systems, and its growing geographic footprint. Contexture, now the largest U.S. dealer of commercial window shade and acoustics systems, serves customers across 20 Eastern/South Eastern states.Brianna Goodwin joined her family owned business (formerly Ver-Tex Construction) in 2005 as a commercial sales estimator, working her way to the positions of vice president of sales and then executive vice president, before becoming president and CEO in 2017. She has led the dramatic transformation of the company in the last few years through organic growth.According to Brianna Goodwin, president and CEO of Boston-based Contexture, the company's vision/purpose is to optimize building environments to improve lives and help preserve the planet by providing building owners control over environmental factors of light, heat, and sound by designing, specifying, and installing shade, lighting, and acoustical systems that perform both for humans and for the global environment. MCS: How does your style of leadership influence the company's expected strong growth in 2023?GOODWIN: As a leader, I constantly push the envelope and challenge paradigms. Status quo has no place with me, and I've instilled that perspective into the fabric of our organization. We are committed to being the front-runner in our industry with the most customer-centric approach to running our business. With our recent rebranding from Ver-Tex to Contexture we are able to share this story more aggressively in the marketplace and are seeing the foundation that will deliver further growth. Our team members are the key to wowing our customers, which is why I'm focused on maintaining a work environment where every individual feels appreciated for what they contribute, challenged to continuously grow, and has their life-outside-of-work highly valued. We embrace everyone as a whole person and create our policies, practices, and benefits in support of their wellbeing.And finally, I'm equally passionate about doing our part to improve the planet by representing sustainable products and inspiring customers to install systems which reduce energy usage and the impact on our environment, while also improving occupant comfort and wellness. When these different dynamics work in harmony, we have done our jobs well.MCS: Looking back over 2022 and the rebranding of Contexture, what trends do you see continuing into 2023 with regards to commercial buildings and office space?GOODWIN: I see a growing trend towards sustainable and energy-efficient buildings; this trend is likely to continue in the coming years, particularly with the net zero emissions initiatives. Another trend will focus on amenities and wellness to create healthy working environments as more people return to the office. And, the use of technology is likely to continue to play a significant role in the design and operation of commercial buildings and office spaces. This could include the use of smart building systems, virtual reality, and other technologies to improve energy efficiency, reduce costs, and enhance the user experience.MCS: Why will reducing energy consumption be a critical part of the decision making for companies looking to create a commercial space in 2023?GOODWIN: With both rising energy costs and government net zero carbon emissions initiatives, building owner/operators will need to make every attempt to reduce costs by effectively managing the daylight emitted into the building and its impact on internal temperatures.
Page 35
• Cost savings: Energy-efficient buildings can significantly reduce energy costs, which can be a major expense for businesses. By reducing energy consumption, companies can save money on their utility bills and redirect those savings to other areas of their operations.• Environmental impact: As concerns about climate change and environmental sustainability continue to grow, companies are increasingly looking for ways to reduce their environmental impact. Energy-efficient buildings can significantly reduce greenhouse gas emissions and other environmental impacts, making them a more attractive option for companies looking to reduce their environmental footprint.• Brand reputation: Companies that prioritize sustainability and environmental responsibility may be perceived more favorably by customers, employees, and other stakeholders. By choosing energy-efficient buildings, companies can demonstrate their commitment to sustainability and enhance their reputation as a socially responsible business.• Government incentives: Many governments offer incentives, such as tax breaks and grants, to encourage the use of energy-efficient buildings. Companies that choose energy-efficient buildings may be able to take advantage of these incentives, which can help offset the upfront costs of these buildings.• Future-proofing: Energy costs are likely to continue to rise in the future, making energy-efficient buildings a more cost-effective option in the long term. By choosing an energy-efficient building, companies can mitigate the risk of future energy price increases and protect their bottom line.CLOSING THOUGHTThink about working in a comfortable building environment where the sunlight doesn't blind you, where the temperature is proactively managed, and continuous noises or people talking around you don't distract you from your work due to bad acoustics. Imagine how your productivity and feeling of wellness would improve. That's what Contexture helps make happen. www.mcsmag.com FEBRUARY 202331for more informationContexture is the largest U.S. company to design and install tailored window treatment and acoustic systems providing commercial building developers, architects, owner/operators, and general contractors control over factors such as daylight and lighting, acoustics, thermal, and aesthetics to create transformative energy-saving spaces, conducive to maximum occupant comfort, wellness, and productivity. Founded in 1985 and WBENC-certified since 2021, Contexture, Inc., is based in suburban Boston. For more, visit www.contextureUSA.com.
Page 36
FEBRUARY 2023 www.mcsmag.com32management solutionPoettker ConstructionPoettker Constructionachieves tremendous growth in 2022TOP CONTRACTORPoettker Construction, an award-winning family owned construction company, closed out the 2022 calendar year with tremendous employee, financial, industry, philanthropic and market sector growth across the company. "Over the past 18 months, our company has faced many challenges; from the unexpected death of Poettker's founder, my father Chuck, to the current supply chain and workforce challenges, Poettker has remained resilient," says Ryan Poettker, president of Poettker Construction. "I could not be prouder of our team's commitment to developing long-lasting relationships with our clients to bring the highest quality projects to the communities we live and serve." 2022 ACCOMPLISHMENTSTo kick off the year, Poettker was recognized for its efforts toward zero injuries in the workplace by becoming a certified contractor through the Coalition for Construction Safety (CCS). That track record continued in 2022 with the Poettker team performing more than 422,000 manhours with zero lost-time or recordable incidents in 2022. The company's ongoing commitment to safety and quality was also recognized with the President's Circle Risk Control Excellence award from General Contractors Insurance LTD. Additionally, Poettker achieved the Associated Builders and Contractors PLATINUM level designation through the ABC's STEP Safety Management System and was named an Accredited Quality Contractor for the first time.Poettker continues to be a Best Place to Work, national best in class business, and a top contractor in the Midwest and Southeast. The company enhanced its team and grew its employee base by 32% with new hires and promotions across every department and level.Poettker excelled in the Midwest and Southeast industrial markets with over 3.1 million square feet of distribution and warehouse space under construction in 2022. In the utility and infrastructure market, Poettker continued its multi-phased work on substations, transmission and distribution lines, restoration projects, and facility renovations throughout Illinois and Missouri. The company's federal team was awarded over $140 million in new contracts, including mission-critical headquarters complexes, hangars, dining facilities, and airfield pavements. Poettker also had a very strong year in the education and retail markets. The company completed a mixture of new construction, renovations, and additions for five schools; was selected as the Construction Manager for the Parkway School District's $265 million bond program; and enhanced online shopping, grocery pickup, and distribution services at over 60 facilities for multiple major retail chains. Invested in the communities where they live and work, Poettker supported over 50 non-profit organizations through philanthropic partnerships, advocacy, fundraising, and volunteering initiatives in 2022. This past year at its annual golf classic benefiting Big Brothers Big Sisters (BBBS), Poettker raised an astounding $52,000 in donations. Poettker also partnered with Junior Achievement, CEO entrepreneurship program, and area schools and colleges to expand educational opportunities in the local communities.Ryan Poettker, president of Poettker Construction, shares more about that past year and what awaits the company in 2023. MCS: Some construction companies are not able to overcome adversity. How would you describe your approach to 2022's challenges? Is this a reflection of your leadership style?POETTKER: There will always be adversity, but facing a problem or issue head on with a positive attitude, making a decision and moving forward is a priority for us. Once you get stuck on one issue is when you fall down. Poettker serves as the construction manager for a new elementary school in Litchfield, Illinois. Riverport Trade Center, new construction, in Maryland Heights, Missouri.
Page 37
We are human and will make mistakes, but as long as you are trying your best and use sound judgement, we support the decision made. MCS: What attributes led to 32% employee growth across every department and level? POETTKER: We are family owned and operated and every employee is treated like family. Some businesses say that, but we live it. Our employees are the ones selling our organization to potential employees by describing our culture and how we treat everyone. We also offer continuous training for our employees to help them to grow and continue advancing in their careers.MCS: How did your company achieve 422,000 manhours with zero lost-time or recordable incidents in 2022? POETTKER: We invest in educating and training our workforce so they understand the possible scenarios they may face in the trenches and can adapt to any changing conditions. We ask a lot from our safety team to ensure our co-workers have the necessary resources. They continue to lead our effort to safely complete our projects. MCS: How would you describe the company's safety policy? How is safety communicated and implemented?POETTKER: Safety is our number one value and engrained throughout our company culture and we have zero tolerance for unsafe practices. We keep our employees and partners safe by educating them on safe practices, providing them with the proper equipment, and adding additional safety oversight controls to ensure safe practices are being followed. CLOSING THOUGHT On the topic of 2023, Ryan Poettker shares, "We are optimistic on the construction market through 2023, but we must address the workforce shortage and supply chain issue if we as an industry are going to be successful." www.mcsmag.com FEBRUARY 202333for more informationEstablished in 1980, Poettker Construction is a second-generation, family owned business specializing in construction management, design/build, general contracting, and self-perform services with an emphasis to exceed the client's expectations. Poettker Construction is dedicated to providing safe, quality, sustainable, and technology solutions to clients in the Education, Distribution, Federal Government, Healthcare, Hospitality, Industrial, Multi-Family, Municipal, Recreation, Retail, and Utility industries. The company prides itself on building long-lasting relationships with their clients, business partners and the communities in which they work. For more, visit www.poettkerconstruction.com.Renovated WalMart in Festus, Missouri.
Page 38
FEBRUARY 2023 www.mcsmag.com34
Page 39
Page 40
FEBRUARY 2023 www.mcsmag.com36sotware solutionsIn 2023, architects and engineers can construct a building even before a shovel hits the ground.Building design and construction have come a long way from the days of paper blueprints. Computer-aided design (CAD) brought architecture into the digital age, offering an easier way to create, update, and distribute designs. Now, the field has a new technological frontier: Building Information Modeling (BIM). Incorporating extensive and multidisciplinary data with machine learning and artificial intelligence, BIM enables architects and engineers to visualize a project in 3D and evaluate key data points across its lifecycle. Additionally, using software like cove.tool's analysis.tool, for example, designers can assess and optimize factors like embodied carbon, energy use, and cost of materials. Suppose these metrics don't meet specific goals. In that case, they can quickly make adjustments, rerun the analysis and repeat that process until the whole team is satisfied without incurring additional costs.Buildings are investments, and usually sound ones. Incorporating BIM into a project only sweetens that deal for stakeholders. AEC teams can create new prototypes in minutes, identify and address issues like faulty HVAC design or excessive energy use long before construction begins, and rapidly share updates. Long story short, BIM can save firms a lot of money. There's more to the story, too. Embracing BIM can help AEC firms make necessary culture changes to improve transparency and appeal to tech-minded young professionals entering the field. BETTER DATA, STRONGER TEAMSOne thing many of us in the building design and construction industry are eager to change is the lack of transparency—a culture of gatekeeping information rather than sharing it. It may be profitable for some to keep data tightly guarded, but our projects suffer when others are kept out of the loop. As the onset of the COVID-19 pandemic proved, external factors can affect the building process in unpredictable ways, making usable data more critical than ever. Take an impacted supply chain cutting off access to an important material. When key players lack information about how that material will be used or how much it will cost, they're forced to make decisions blindly. That isn't cheap—one study from Autodesk and FMI estimated that inaccurate, inaccessible or untimely data cost the U.S. construction industry up to $1.8 billion in 2020.BIM can change that. Every team member can see the same thing at the same time and easily access specific parts of the project, helping them function cohesively and reducing the potential for error due to inefficient communication.Utilizing the latest technology is also critical for firms looking to ensure longevity and attract the next generation of AEC professionals. Younger architects and engineers are eagerly adopting BIM and welcoming the myriad benefits of a data-driven approach. BIM makes their jobs easier, allows them to better serve clients and saves time, money, and resources.CLOSING THOUGHTFor firms that want to be on the cutting edge of building design and construction, it's time to get down with data and embrace BIM. Data-DrivenData-Drivenfuture of building design and construction COVE.TOOLBy Patricia KusumadjajaPART 1 OF 4about the authorPatricia Kusumadjaja, CEP, Assoc. AIA, is the virtual design and construction director at cove.tool, a leading provider of building design and construction software. She has more than 8 years of experience working in the AEC industry, namely in architectural cost estimating, VDC, and project delivery. She strives to make a difference in the way owners, construction and architectural professionals view high-performance design, with the hope that sustainability and environmental consciousness becomes a non-negotiable priority in all future building design and construction.
Page 41
Page 42
FEBRUARY 2023 www.mcsmag.com38legal solutionOne theory of construction contract law is that a construction contract is less about spelling out in detail each party's specific rights and obligations and more about allocating risk in case something goes wrong. Under this theory, the particular safety rules a contractor must follow on a jobsite are less important than which party will bear the financial risk of a jobsite accident, and risk allocation is the key function of the contract. One of the most important tools for risk allocation is an indemnity clause. This article gives a brief overview of indemnity obligations in the construction industry.WHAT IS INDEMNITY?At its simplest, an indemnity is a promise to reimburse someone for the losses they suffer. Construction contracts commonly include the phrase "defend, indemnify, and hold harmless." While usually lumped together, these terms mean different things and should be considered separate obligations. A promise to "defend" means that the contractor must pay for a lawyer to defend the owner if the owner gets sued for any claims that fall within the scope of the indemnity clause. If you have ever caused a car accident and your insurance company hired a lawyer to defend you, you have gotten the benefit of a promise to defend—a lawyer was provided at no cost to you (except, of course, your insurance premiums). An obligation to "indemnify and hold harmless" is a step beyond paying for a lawyer to defend a lawsuit and obligates the contractor to reimburse the owner for any losses the owner suffers within the terms of the indemnity clause. So, as an example, if the contractor damaged a car parked near the jobsite and the owner of the car sued the owner of the project and won a judgement for $50,000, the contractor would be obligated to reimburse the owner for the $50,000 loss as part of the contractor's promise to "indemnify and hold harmless" the owner. In short, indemnity clauses shift the risk of certain losses (including the cost of a lawsuit) from one party to another, making those clauses key contractual terms for risk allocation. WHAT LOSSES DO INDEMNITY CLAUSES TYPICALLY COVER?Indemnity clauses can be broad or narrow. On the one hand, a contractor can agree to indemnify an owner for something narrowly focused, like "acts of negligence causing death, bodily injury, or property damage." Under that indemnity obligation, the contractor must indemnify the owner if the contractor's negligence hurts someone or damages property. On the other hand, a contractor can assume a much broader indemnity obligation, like a promise to indemnify the owner "for all acts or omissions of the Contractor arising out of or related in any way to the performance of the Work of the Contract." This type of indemnity obligation would go beyond just the contractor's negligence, and essentially include anything Sharing the BlameSharing the Blameconstruction indemnity agreementsBEST PRACTICESBy Luke J. Farley and Dixie T. Wells
Page 43
the contractor did related to performing the work which caused the owner a loss. Contractors should resist broad-form indemnity and seek to limit their obligations to negligence causing personal injury or property damage. Contractors should also seek to make indemnity obligations mutual. Owners will often seek to make indemnity a one-way street—the contractor must indemnify the owner but not the other way around. Contractors should push to revise indemnity clauses so that the owner must also indemnify the contractor for the owner's acts or omissions, especially failure to provide accurate or timely information about the project during construction. ARE THERE LEGAL LIMITS ON INDEMNITY OBLIGATIONS?Most states have laws limiting indemnity in some way. Because indemnity is such a powerful tool for risk allocation, it can be abused by owners. The most common abuse requires the contractor to indemnify the owner for the owner's own negligence—in other words, making the contractor pay for something the owner did wrong. As an example, consider a situation where the owner negligently fails to obtain required environmental approvals. The contractor begins work and the authority having jurisdiction issues fines to the owner for violating environmental regulations. Under a broad indemnity clause where the contractor must indemnify the owner for the owner's own negligence, the contractor would be required to reimburse the owner for the fines, even though the fines were the result of the owner's negligent failure to obtain the required permits. The unfairness is obvious. To address this problem, the majority of states have passed "anti-indemnity" laws. These laws limit or void contract provisions that require the contractor to indemnify the owner for the owner's negligence. The laws fall generally into two categories (and can be further divided into those that apply only to public or private projects). In states like Michigan, New Jersey, South Carolina, and Virginia, the anti-indemnity statute voids provisions which require the contractor to indemnify the owner for the owner's sole negligence. In other words, if the owner was the sole cause of the loss, the owner cannot be indemnified for that loss by the contractor. If, however, the owner and the contractor share responsibility in any degree, then the contractor can be obligated to indemnify the owner for the entire loss. In a larger group of states including California, Florida, New York, and Texas, the law is more stringent and prohibits a contractor from indemnifying an owner for any of the owner's negligence, whether sole or partial. Under these statutes, if the owner and the contractor share responsibility, the contractor can be required to indemnify the owner for the contractor's share of the loss, but not the share of the loss caused by the owner. CLOSING THOUGHTIndemnity clauses are one of the key ways parties can allocate risk in a construction contract. Contractors should seek to negotiate clauses that are narrowly tailored to address only the contractor's negligence. Narrow clauses can also benefit the owner, as they will ensure enforceable indemnity obligations that do not run afoul of any anti-indemnity laws. This article is not legal advice and does not create an attorney-client relationship.www.mcsmag.com FEBRUARY 202339about the authorsDixie T. Wells is a partner in the Greensboro, North Carolina, office of Ellis & Winters LLP. She represents clients in lawsuits involving engineering issues, higher education law, complex commercial transactions, and products liability. She is a member of the Construction Law and Litigation Committee of the International Association of Defense Counsel. She can be reached at dixie.wells@elliswinters.com.Luke J. Farley is a construction lawyer and partner in the Raleigh, North Carolina, office of Ellis & Winters LLP. His practice is devoted to contract disputes, mechanics' liens, bond claims, and OSHA citations. He also assists clients with contract negotiation and project-level advice. He can be reached at luke.farley@elliswinters.com.
Page 44
Page 45
Page 46
technology solution solution BEST PRACTICES Machine Weight Stress the difference between floor load capacity and machine ground bearing pressure M obile elevating work platforms MEWPs costly consequences So before work begins engineer to find a floor load capacity and telehandlers are often used on it is critical to know if the ground or surface specification Either of these professionals will ground conditions that can vary greatly can support a machine s weight during work be able to assess the project site and make the and travel necessary calculations needed to determine from site to site from undeveloped terrain one day to finished floors the next To best Also it s important to know that the this critically important measurement prepare on site crews for working on different floor s load capacity may change over time types of surfaces project planners need to pay depending on the materials its constructed GROUND BEARING PRESSURE attention to two specs 1 floor load capacity with its age and the environment For Ground bearing pressure is the amount and 2 machine ground bearing pressure example if a machine is working on a freshly of pressure exerted on the ground by a poured concrete slab that slab will have a machine s tires tracks and or outriggers Floor load capacity is measured in pounds per square foot psf Machine ground bearing lower floor load capacity than a fully cured pressure is measured in pounds per square inch slab Or if a machine is working on fully is working it is not just the machine s weight psi There is not a direct conversion between compacted earth like a site that s been that tests the floor s strength but also the floor load capacity and ground bearing pressure heavily graded for a new road or building amount of stress applied to the ground or construction that surface will have a higher surface by the machine during work and uncommon for crews to use the two terms capacity than softer looser dirt conditions travel Too much stress on a floor may start interchangeably but they are not the same like what would be found in someone s yard with small seemingly harmless cracks but Because these specs seem similar it is not Before operating it s important to always Why is it important Because as a machine over time it can contribute to failure leading FLOOR LOAD CAPACITY check the allowable capacity of the surfaces to collapses or cave ins which can lead to Floor load also referred to as floor pressure including floors bridges etc Also figure out hazardous situations for people and property is the total weight capacity that a floor can if the machine could potentially damage the sustain in a given area surface during operation such as leaving ruts will significantly influence this specification For Why is it important Because any machine The machine s contact area and orientation in the soil or scuffs on the concrete Whenever example increasing the size of the contact area used on a jobsite is only as strong as the possible operators should consult with a of the machine on the ground i e its footprint ground or surface the machine is working structural engineer or other qualified people to its weight will decrease the ground pressure on For example floors are engineered and to know as much as possible about jobsite Lower ground pressures are recommended constructed to only handle a certain amount surfaces where work will be done for working in fragile ecosystems such as of load If this load is exceeded there is an Where can you find information on a floor s extremely soft turf like sugar sand or on increased risk of compromising the structure load capacity Project managers should check extremely delicate flooring like ceramic tile and damaging the floor which comes with with the project s structural and or architectural Decreasing the ground pressure also increases 40 FEBRUARY 2023 www mcsmag com
Page 47
xxxxxxx www.xxx.com. the machine's flotation, which allows it to travel better over soft terrain.To be even more precise in knowing how much strain a machine is exerting on the floor, it is important to also become familiar with some other terminology, in addition to the ground-bearing pressure, such as:• Maximum Machine Weight: The machine's weight in its heaviest configuration, excluding accessories. • Maximum Platform Capacity (rated load): The maximum allowable weight in the platform, excluding accessories. • Maximum Load: The maximum load supported while the machine is in its working configuration, supporting its rated load. • Maximum Ground Bearing Pressure: The maximum pressure exerted while the machine is in its working configuration and supporting its rated load.Where can you find these specs for MEWPs and telehandlers? Project managers should reference OEM-approved equipment spec sheets for machine details, including ground bearing pressure, weight, rated load capacity and maximum load. BEFORE YOU BEGIN TO WORKIf knowing the floor's load capacity and the machine's ground bearing pressure is extremely important to successfully plan a project, then conducting a workplace inspection before project start-up is critically important to successfully execute a project. Precautions to avoid all hazards in the work area must be taken before and during the operation of any machine, including anomalies in a floor that aren't of the same capacity as the typical floor such as access panels, masked cavities under a surface, tunnels under sidewalks, septic tanks in yards, and so on. Workplace inspections can help identify these hazards by: • Checking the operating surfaces for holes, bumps, drop-offs, obstructions, debris, concealed holes, and other potential hazards.• Making sure that the ground conditions are adequate to support the maximum tire load (indicated on the tire load decals on the machine's chassis, adjacent to each wheel). It is important to not travel on unsupported surfaces.• Examining the work area for hazardous locations. The machine should not be operated in hazardous environments unless approved by the OEM for that purpose.CLOSING THOUGHTTo ensure equipment are operating safely, knowing the floor load capacity and ground bearing pressure is a best practice. for more informationContent provided by Provided by JLG Product Safety & Reliability. For more, visit jlg.com. CUTTING EDGE IMPALEMENT PROTECTIONCARNIE CAP is the most effective way to cap exposed rebar while keeping your workers safe and on the job.National OSHA Compliant • CAL-OSHA ApprovedPatent #5826398, 6073415ORDER TODAY!(888) 743-7725 www.carniecap.comWORKS IN HORIZONTAL, VERTICAL & INCLINATIONAPPLICATIONS✓ ASSEMBLE WITH 2X4 OR 2X6 LUMBER ALREADY ON SITE✓ SAFELY DISTRIBUTES WEIGHT ACROSS ENTIRE SYSTEM✓ NO MORE CAPPING EVERYREBAR!✓ www.mcsmag.com FEBRUARY 202341
Page 48
FEBRUARY 2023 www.mcsmag.com42technology solutionAt the center of any construction alternative power discussion is diesel. Diesel remains the go-to power on jobsites—according to the Diesel Technology Forum, 98% of construction's energy use in the United States comes from diesel.But with global initiatives underway to reduce carbon emissions to net zero by 2050, it's up to construction industry manufacturers to find ways to lessen diesel's carbon impact. A range of solutions is being considered:• Replacing the diesel engine altogether• Reconfiguring the engine to run on lower-carbon fuels• Making the diesel engine as efficient as possibleAll will be necessary. The challenges numerous. Unlike some sectors, construction doesn't rely on a core piece of equipment, but rather on a vast fleet that ranges from mini excavators to massive off-highway trucks. And a jobsite can be anywhere from midtown Manhattan to rural Wyoming. Which is why so many diesel alternatives are being offered, including electric, hydrogen, biodiesel, and other biofuels. And, over the next decade or so, one (or more) of these alternatives will establish themselves as having the greatest long-term potential. "What's coming? The answer is probably all of them," says Jeremy Harsin, construction market director at AEM member company Cummins. "The combination of duty cycle and available infrastructure is going to decide what wins out, but they're probably all going to have their place in the world."ELECTRIC HAS ARRIVED Zero emissions, low noise, instant response, fewer components to break down, all on a platform that delivers the same breakout force of a diesel-powered unit—electric power sounds like a major win. That's why much of the alternative power activity in construction has centered on electric, particularly in the compact equipment segment. "Battery power density is increasing all the time and we're seeing a number of different technologies that make better use of battery energy," says Ray Gallant, vice president of product management and productivity at AEM member company Volvo Construction Equipment."Electric is happening now as machines are starting to be commercially available," says Chris Sleight, managing director at AEM member Off-Highway Research. Although now quite expensive compared to their diesel counterparts, "at some point the economic argument will be there," Sleight adds.Electric options are certainly growing. Volvo, for example, started selling its electric compact excavators and wheel loaders into North America this year and recently expanded its offering to five machines.Electric has also made its way to mid-size and larger construction equipment. Electric machines, however, have some significant downsides. The ones most critical to contractors are limited run-time-per-charge and recharging time.Although the electric charging infrastructure is the most developed of all alternative powers in the United States, today's electric car owners still have range anxiety when they get into rural areas. Since many jobsites aren't even on the grid, many OEMs are selling chargers with their electric machines. Solar charging is also being examined.THE LIMITATIONSAnd electric's strong sustainability argument can break down when one gets to the batteries themselves. First, several minerals are extracted to create the batteries, including copper, lithium, and nickel.Second, proper end-of-life battery disposal is still in question, not to mention that battery materials have residual value. Cat, for one, said it is looking at repurposing batteries from high-power applications for a lower-power second life.Power AlternativesPower Alternativesexamining the options for diesel-run enginesFUTURE IS NOWCourtesy of AEM
Page 49
Electric machines will also require a reworking of the dealer parts and service offering and technician training. In addition, residual value is central to any equipment cost equation; the verdict is still uncertain whether the value of electric—or indeed any alternative-powered machine—will hold up in the resale market.RISE OF HYDROGENCurrent construction equipment prototypes use hydrogen in two ways: either as a fuel cell that charges a battery-electric machine or to fuel an internal combustion engine. In a hydrogen fuel cell, hydrogen and oxygen react to produce electricity, with water as its only by-product. In the second way, hydrogen is used as a direct engine fuel, much like diesel.While hydrogen must be compressed and transported at low temperatures, "it's a portable fuel so you can get it to where it's needed," Sleight says, But infrastructure challenges are also part of the hydrogen story. Construction equipment powered by hydrogen fuel cells and hydrogen-fueled engines are—at least at this point—in the prototype stage.LOW-CARBON FUELS Hydrogen-powered engines also illustrate another way to reduce engine emissions: modify a conventional engine to be able to burn cleaner fuels. According to proponents, this approach doesn't require wholesale changes of jobsite practices, machine componentry or fueling infrastructure.This approach offers scale, since the many of the components are similar. And it holds promise for off-highway engines since Cummins commonly adopts cross platform technologies, Harsin sats. DON'T OVERLOOK DIESELCurrent prices and world political stability issues aside, diesel remains the construction stalwart.Despite its "dirty diesel" perception, Cummins says it's worth a reminder that compared with Tier 1 engines, today's Tier 4 Final engines offer a 96% reduction of oxides of nitrogen and a 97% reduction in particulate matter.CLOSING THOUGHTThe U.S. is also likely to see Tier 5 emissions regulations by the end of the decade, Harsin says. California has already discussed enacting a Tier 5 regulation in 2024 with implementation to start in 2028. Another consideration is the gradual retirement of construction's aging fleet. Construction machines have a relatively long life; there are plenty of Tier 3 engine-powered machines still plugging away on jobsites. Cat, for example, estimated the average age of its field population to be 11.3 years. www.mcsmag.com FEBRUARY 202343for more information The Association of Equipment Manufacturers (AEM) is the North America-based international trade group representing off-road equipment manufacturers and suppliers with more than 1,000 companies and more than 200 product lines in the agriculture and construction-related industry sectors worldwide. The equipment manufacturing industry in the United States supports 2.8 million jobs and contributes roughly $288 billion to the economy every year. For more, visit www.aem.org.
Page 50
Page 51
Page 52
FEBRUARY 2023 www.mcsmag.com46safety solutionSafety ProgramSafety Programensuring fall protection equipment is up to the taskBEST PRACTICESIn the business of improving infrastructure, work occurs in high-risk environments where fall hazards are common. In fact, falls have been the leading cause of fatalities within the construction industry for the past decade. According to US Bureau of Labor Statistics, in 2020, more than 1 in 5 workplace deaths occurred in the construction industry, with falls accounting for more than one-third of those fatalities. While OSHA recognizes that falls are typically complex incidents involving various factors, one of the leading causes is faulty or improperly used safety equipment. MAKE SAFETY A KEY PILLARA robust safety program is critical for the health and wellbeing of crews on jobsites. It should include regular training to ensure personnel is up to date on the most current industry practices, a written safety plan that is accessible to all employees, an on-site communication system, and effective safety equipment that meets industry guidelines. For example, OSHA requires fall protection systems be provided at elevations of 6 feet and higher in all construction areas. But even the most effective safety measures and the best training can go awry if people fail to consistently follow-through with protocols. If workers haven't had issues before, it's easy to gain a sense of overconfidence and let guards down. And if safety equipment meets industry standards and has performed properly in the past, it's easy to fall into the trap of depending on it explicitly. So, while it's important to be confident in the measures at hand, it's imperative to remain diligent in safety practices and ensure all safety equipment is good to go.CHECK AND DOUBLE-CHECKJust as employees must keep up with industry certifications and training, all fall protection equipment should be rigorously inspected prior to each use. Check to ensure the equipment is set up appropriately and performing as it should be and be diligent in looking for any new wear and tear that could impair the equipment's efficacy. Incorporate these checks into your jobsite morning routine, so they are never overlooked. If issues arise or if inspection reveals that the equipment no longer serves its function due to damage or wear, the equipment should be taken out of service and replaced immediately. Additionally, with each review, an OSHA and ANSI checklist should be at hand to ensure that equipment is in peak condition and continues to meet industry standards.DON'T BE AFRAID TO INNOVATE When it comes to safety equipment, don't be afraid to make enhancements. The most By Josh MonroeAs part of the Colorado School of Mines engineering program's capstone project, GeoStabilization International worked with student teams to design a perimeter protection system for remote-site projects where fall hazards are common.
Page 53
effective safety equipment will not only meet industry standards and keep crews safe from workplace hazards, but also aid in productivity. And "what has always been done," should never be accepted as an answer for equipment reliance.For example, when GeoStabilization International was reevaluating its fall protection perimeter system, the team wanted to know if a better system was possible. Specifically, the team wanted to determine if they could further enhance safety for crew members while increasing jobsite efficiencies—partnering with the Colorado School of Mines to investigate. As part of the engineering program's capstone project, GeoStabilization tasked student teams to design a perimeter protection system to be used on future remote-site construction projects where fall hazards are common. The system needed to be lightweight, easy to install, durable, and meet OSHA, ANSI, and CSA standards. The goal was for the new system to improve performance in all four of these areas compared to the current system.Working closely with the GeoStabilization safety team, the student groups took the list of needs and wants and explored a multitude of outside-the-box options to understand the limitations and possibilities of the safety systems. The teams utilized cable lines, strap lines, cargo nets, and stand-alone steep gate systems in the designs presented to GeoStabilization. After a preliminary design review, GeoStabilization incorporated components from multiple concepts to create a final version. Next, they performed an engineering analysis of the system to ensure its reliability and safety factors. The project's final phase consisted of creating a 90 ft functional prototype and testing the system over 2 days. Testing is a critical component in determining the system's reliability, functionality, and safety. And in this instance, it determined that the new system met the company's goals and has since become the team's new perimeter system for providing fall protection in remote-site areas. The system is essential to keeping crews safe on jobsites.CLOSING THOUGHTWhile falls are currently the leading cause of injury and death in the construction industry, it doesn't have to be that way. Repairing critical infrastructure will always come with risks, but a robust safety program will significantly decrease safety incidents. The most successful crews will not only meet industry safety standards but also understand each jobsite's intricacies, stay up to date on current industry practices and regularly inspect all equipment. And when necessary, they'll invest in new and innovative safety systems. www.mcsmag.com FEBRUARY 202347about the authorJosh Monroe is the vice president of health, safety and risk management at GeoStabilization International. He leads the safety program for all activities throughout the United States and Canada. For more, visit www.geostabilization.com.
Page 54
FEBRUARY 2023 www.mcsmag.com48safety solutionAt stadiums across the country, first responders including police, fire, and Emergency Medical Services (EMS) depend on reliable two-way radio communication when lives and property are at risk. In-building radio signals are often blocked or attenuated by structures that are large and primarily constructed of metal and concrete and with below grade areas. When this occurs, weak or obstructed signals result in radio communication "dead zones" that can jeopardize emergency coordination among first responders."Stadiums often have one or two levels below grade, which is a major problem for emergency communication. Pre-cast walls, pipes, rebar or structural steel can also disrupt communication, which can be prevalent in areas such as stairwells or tunnels. Signal failure in any critical area will require installing an Emergency Responder Communication Enhancement Systems (ERCES)," says Deron Bone, president of RF DAS Systems, Inc., a national provider of emergency responder radio coverage systems for more than 30 years.MANDATED BY FIRE CODEERCES are mandated by fire code in most places for the construction of new stadiums and some existing stadiums. These advanced systems boost the signal within all areas of the stadium, providing clear, two-way radio communication without dead spots. State-of-the-art ERCES are available that amplify and accommodate all the necessary emergency signals required, even in the largest stadiums. The approach facilitates meeting all codes while reducing overall installation cost and complexity—helping to expedite tight project deadlines.A WORLD-CLASS STADIUMRecently, RF DAS Systems installed an ERCES at a new West Coast stadium with more than 30,000 seat capacity, that hosts both professional and collegiate sports as well as large festivals, concerts, and events. According to Bone, when RF DAS Systems initially conducted a pre-test on the stadium, there was no signal in much of the first floor and the entire lower level, so installing additional antennas was required in the ERCES system throughout these areas."Even though a radio transmission tower is close, there were a number of weak points in coverage that needed to be accommodated," says Bone.ERCES SYSTEMSERCES were first introduced in the 2009 International Building Code. The latest version requires all buildings to have an approved level of emergency communication coverage for first responders. ERCES systems function by connecting through an over-the-air link that the installer optimizes to the public safety radio communications tower network using a rooftop directional antenna. This antenna is then connected via coaxial cable to a bi-directional amplifier (BDA), which increases the signal level to provide sufficient coverage within a stadium based on life safety standards. The BDA is connected to a distributed antenna system (DAS), a network of relatively small antennas installed throughout the structure that serve as repeaters to improve the signal coverage in any isolated areas.In stadiums, multiple amplifiers are usually required to drive an adequate signal level across the system. Fire, police, and EMS frequencies vary across the country. To increase safety and compliance, the specific radio frequency used must be customized to the stadium configuration, the frequencies used by emergency services specifically in the area, and the geographic topography (nearby hills, mountains, etc.). The design usually involves tuning the ERCES to prevent signal interference with other frequencies and avoid Stadium BuildsStadium Buildskeep emergency comms out of the 'dead zone'STAY CONNECTEDStadium BuildsStadium Buildskeep emergency comms out of the 'dead zone'STAY CONNECTEDkeep emergency comms out of the 'dead zone'
Page 55
running afoul of the FCC, which can levy significant fines when violations occur. FCC-CERTIFIED SYSTEM To streamline the process, Bone selected the Fiplex by Honeywell BDA and fiber DAS system. The compliant, FCC-certified system was developed to reliably provide superior RF amplification and coverage without noise, enhancing two-way radio signal strength inside buildings including stadiums. The system is specifically designed to meet NFPA and IBC/IFC code compliance with the UL 2524 Second Edition listing.One vital aspect that sets the Fiplex ERCES apart is that Fiplex can "tune" the device to the channels used before shipping. The installer can further optimize the BDA's RF tuning onsite to achieve the precise frequency required with channel selective, software programmable or adjustable bandwidths. Bone points out another aspect that distinguishes Fiplex BDAs from other digital signal boosters: the availability of a dual-band option for dedicated UHF or VHF models. To meet tight deadlines, companies rely on OEMs to quickly deliver ERCES system components.STADIUM PROJECTFor the stadium project, RF DAS Systems relayed the specific fire, police, EMS and public service frequencies to Fiplex, which programmed the RF signal band. "With a BDA software upgrade, I can change the amplifier from a half-watt to a two-watt BDA. That flexibility is key because it allows easy adjustment, so I don't need to purchase and install another amplifier if a structure is denser than I thought," says Bone. Additionally, the compact size of the BDA eases installation. The inspection of the system went off without a hitch and the fire marshal signed off on the ERCES.For Bone, installing a reliable system that works as expected is the most important aspect of any project. "When there's an incident at a stadium, like an injured player who is taken off the field by ambulance, it is a communications frenzy with RF signals flying everywhere—which is tough on an ERCES system, but if you are installing a quality system, then everything is okay," says Bone.CLOSING THOUGHTTo avoid delays and technical challenges, stadium developers, architects, and engineering firms can benefit from an expert contractor's familiarity with ERCES requirements. With quick shipment of an advanced ERCES tuned by the manufacturer to the required RF channel, a skilled contractor can install and further optimize the device to the specific local band frequencies. The approach expedites the project and compliance, enhancing safety during an emergency. www.mcsmag.com FEBRUARY 202349for more informationFor more information, contact Megan McGovern, director of external communications at Honeywell Building Technologies: megan.mcgovern@honeywell.com or 404.216.6186.
Page 56
FEBRUARY 2023 www.mcsmag.com50
Page 57
Page 58
FEBRUARY 2023 www.mcsmag.com52The Watts Reservoir was built by the Pueblo Board of Waterworks just outside of Pueblo, Colorado, in 1931 as a cast-in-place tank that measured 188 x 224 feet and covered over 42,000 square feet. The reservoir holds up to 5 million gallons of potable drinking water, which feeds the surrounding community, much of which continues to be heavily focused on farming and agriculture. In the mid-1970's, a roof was added to protect the reservoir's use as a drinking source, which stood the test of time until 2021 when part of the roof collapsed into the reservoir. Held up by over 100 precast twin tees, corrosion caused the collapse, compromising the entire structure. Industrial Constructors/Managers, Inc. (ICM) was asked to evaluate the issue since the company specializes in industrial construction, including heavy moving and rigging. We soon realized that extracting and replacing the roof would be no easy feat given its size and the fact that no one would be able to get underneath the roof given the dangers involved. "Oddly, only one of the 100 precast tees failed, but that was enough to make the entire roof unsafe and capable of collapsing at any time," says Dave Montoya, safety director for ICM. "Given that, we had to immediately start brainstorming to determine not just how to extract the roof but also replace it during the time allotted, which was within just a few months' time so that the reservoir could be utilized in the summer months. Working with Printz Engineering Services, ICM was able to quickly develop a one-of-a-kind rigging system to extract the damaged portion of the roof. A distinct fall protection and arrest plan was also built to help replace the roof, which provided 100% tie off for a span of over 200 feet in width, which was longer than ICM had ever accounted for. "We're known for 'loving a challenge,' and this project definitely lived up to that based on the sheer size of the tank and the roof's unique dynamics," says Montoya. "After putting our heads together, we developed a fall protection system that anchored independently from the reservoir so that we could safely stabilize the men while they extracted and replaced the roof." COLLABORATIVE BRAINSTORMING Thankfully, ICM already had a freestanding fall protection system that had been designed in house for pre-engineered metal buildings, which served as a guidepost for developing the new system. Using this as their model, ICM turned to Printz Engineering Services to help brainstorm some new ideas and ensure that these ideas would work on paper and in the real world. "We went into the project with a few possibilities, which were checked by Printz Engineering to ensure they made sense," says Montoya. "This was critical given the inherent risks of the project and the fact that the roof would have to be extracted without an existing anchor in place to attach to."The resulting system consisted of two blocks of concrete that served as support anchors, which could be moved by a forklift as the project progressed. The blocks were tethered to a freestanding stanchion that was in the middle of the tank using a 200-foot cable that tied all three pieces together. Two employees could be tethered to the system at any point in time, fastened using self-retracting lanyards. ICM ended up creating two separate fall protection systems to enable four workers to be working at the same time, helping to speed up the timeline. "The system was designed so there was no swing fall exposure, and the maximum height anyone could free fall was 6 feet, with 2 feet being more likely," says Montoya. "It was also developed to meet all of the existing requirements for 100% fall protection, including being mobile and capable of withstanding 5,000 pounds per employee."After a few weeks of pre-planning, the roof membrane was removed and the damaged twin tee was rigged out. 116 total panels were removed in just 2 weeks despite a number of rain, sleet and snow delays. ICM completed Fall ProtectionFall ProtectionINNOVATIONBy Devyn NovakFall ProtectionFall Protectioncreating a plan to extract and replace a reservoir roofINNOVATIONBy Devyn Novaksafety solution
Page 59
the roof removal 2 weeks ahead of schedule, causing the next phase of the project to be paused until the new twin tee material arrived.FALL PROTECTION SYSTEMNot every project requires new thinking but should you run into a project that requires an outside-the-box fall protection solution, be sure to keep the following tips in mind: Fact-check your ideas with engineers. While brainstorming is critical for unearthing new ideas, it's important that ideas are grounded in reality, which requires testing them against calculations drafted by engineers. Use your engineers often and when any design change is made. Up the safety factor when developing new systems. Having a new system in place means not everyone will be as familiar with it, making safety training and safety diligence all the more critical. For ICM, this translated to providing fall protection training to every jobsite employee and starting each day with a daily briefing to discuss top-line safety issues and doing daily site and equipment inspections during all phases of work.Always be prepared for unexpected weather. The anchors were purposely built to sustain extremely high winds and wet conditions, which are common in Colorado in the winter and spring months. However, they would have been built the same way even if the project was undertaken in the summer given how unpredictable weather can be any time of year. CLOSING THOUGHTWhen a new challenge comes your way, be sure to brainstorm often, rely on your engineers, double down on safety and plan for the unexpected because it's a guarantee that not everything will go according to plan. Taking risks usually opens up new thinking and generates innovative ideas, helping further differentiate you from the competition while also advancing the industry forward. www.mcsmag.com FEBRUARY 202353about the authorDevyn Novak is a project manager at Industrial Contractors/Managers, Inc (ICM), a Colorado-based industrial contractor specializing in steel and concrete structures, heavy moving and rigging, machinery installation, modification and maintenance, and more. For more, visit www.icminc.net.REPAIR SPALLS AND CRACKS IN 10 MINUTES!ROADWARE 10 MINUTE CONCRETE MENDER™It's thin, it gets in, and it won't pop out!See more at www.roadware.us or call 800-522-7623.Cartridge applied or bucket mixed, Roadware Concrete Repair Products will have your oors ready for trafc, coating, or polishing in about 10 minutes. Any size repair. Blend with sand and pigments to create unlimited colors. Permanent repair.800-522-7623ROADWARE INCORPORATED381 BRIDGEPOINT WAYSOUTH ST PAUL, MN 55075 www.roadware.us
Page 60
safety solutionConstruction SafetyConstruction Safetyfrom dealing with weather to safety overallSAFETY ON ALL FRONTSKen Wengert, vice president of risk control for Travelers Construction, Energy and Marine Risk Control teams, shares about safety concerns in 2023 through an expert Q&A.MCS: What are some of the top safety concerns for contractors in 2023?WENGERT: A safe construction site starts with a strong safety culture that values planning, communication and the safety of the workforce. So, at the risk of sounding repetitive from previous years, worker and jobsite safety continue to be top concerns for contractors in 2023. As part of this, it's important to identify who might be at greatest risk for injury so proper steps can be taken. The Travelers 2022 Injury Impact Report, which was a review of our workers' compensation data over a 5-year period, showed almost half of all construction workers' compensation claims happened within the first year of a worker's time on the job. This research also showed that construction workers, on average, missed 98 days of work after an injury—the most workdays of any industry we analyzed. MCS: With construction spending projected to increase in parts of the U.S., we may see even more new workers entering the industry. What are some tips for contractors training new employees? Why is proper training so important?WENGERT: Safety training is an ongoing process, and it can begin before a worker arrives on a jobsite. Standard one-day orientation presentations can be expanded to provide site-specific training, such as training on the types and locations of hazards that may be encountered and guidelines on personal protective equipment that will be used. And, contractors can also pair new employees with a mentor, providing an opportunity for an experienced tradesperson to lead by example by reinforcing the importance of quality work and following established safety protocols. Also, proper training for new employees doesn't stop at preventive measures. Helping supervisors and workers understand what to do when an injury does occur is critical. Employees at any level in the organization who are afraid that they'll be met with negativity after being injured may be less likely to report incidents. This situation can lead to a
Page 61
decrease in productivity and potentially put other people on the job site at risk. Sharing information about how an injured worker will be supported in their recovery and return can remove this hesitancy and may also have a positive ripple effect since employees who feel supported and enthusiastic about their work can attract more talent. MCS: During winter months, some construction workers may face unique risks. What are some of the most common risks during winter months? How can contractors work to mitigate those risks?WENGERT: The Injury Impact Report I referenced found that slips, trips and falls are the most frequent type of injury that construction workers face. When temperatures dip, there's the potential for ice, which increases the risk of a fall. Cold weather challenges including freezing temperatures can also lead to frostbite, hypothermia and greater exposure risks for workers. This makes thinking ahead and creating a site-specific snow and ice removal plan important. Be sure that workers are dressed in breathable layers and that gloves and boots are durable and waterproof but don't restrict movement and equipment use. Keep in mind that sources of power or heat on the jobsite require proper ventilation and can be included in a snow removal plan to help ensure safe storage and easy access. CLOSING THOUGHTThere's also a wide range of technology solutions that can help contractors mitigate and manage risks, including wearables, robotics, sensors and augmented and virtual reality (AR/VR). Keep in mind that contractors don't have to go it alone when evaluating technology. They can tap into their peer network and speak with technology suppliers. They can also reach out to their insurance providers for input. In fact, we have the Travelers Innovation Network for Construction, which is an online platform with industry-specific solutions that are vetted by our team of construction specialists. Our goal is to help our customers make a more informed decision that will meet their productivity, safety and risk management needs. about the authorKen Wengert, vice president of risk control, leads the Travelers Construction, Energy and Marine Risk Control teams. He is a Board Certified Safety Professional, serves as Chapter President of the American Society of Safety Professionals and is celebrating his 10th year as a Military Mentor through American Corporate Partners.
Page 62
FEBRUARY 2023 www.mcsmag.com56safety solutionCordless LightingCordless Lightingsafety in battery-operated light optionsMILWAUKEE TOOLHistorically the lighting space had corded solutions that lacked the durability and versatility needed on the jobsite. Milwaukee Tool saw an opportunity in the lighting industry when researching jobsites and professional users to develop lighting solutions that would provide innovation that would disrupt the lighting market. In 2013, Milwaukee disturbed the site lighting category by launching their first lineup of battery-powered lighting solutions, adding safety by eliminating the trip hazard of corded equipment. Then in 2017, Milwaukee launched its personal lighting category. These solutions provide high output lighting while offering multi-functional features that add a new level of versatility that maximizes user productivity. When it comes to personal and task lighting, Milwaukee's lighting solutions are built to adapt, perform, and survive the jobsite. PERSONAL LIGHTING SOLUTIONSMilwaukee continues to be the industry's first line of trade-focused, high-performance personal lights. As the demands of the jobsite have evolved, so have the needs of those working on the jobsite. Milwaukee has added to its personal lighting solutions a new level of versatility to increase productivity and enhance safety for users' needs. Milwaukee Tools' new REDLITHIUM™ USB Hard Hat Headlamp is a rechargeable headlamp that delivers 600 lumens of TRUEVIEW™ High-Definition Output with five different output modes and up to 20 hours of runtime. Adapting to the user's needs, the headlamp is detachable for easy charging and quick task lighting. The REDLITHIUM USB Hard Hat Headlamp is powered by the REDLITHIUM USB 3.0AH Battery, providing all-day run-time, more recharges, and 3x faster charge time. TASK LIGHTING SOLUTIONSMilwaukee's task lights are built to provide multi-directional light in large jobsite spaces without compromising mobility and increasing productivity. Milwaukee's M12™ powered site lights are designed to maximize portability while offering high output lighting and the ability to withstand the toughest jobsite.The new M12 PACKOUT™ Flood Light w/USB Charging delivers users with maximum light output in a compact and mobile design that is top stack compatible with Milwaukee Tool M12™ PACKOUT™ Flood Light with USB ChargingMilwaukee Tool new REDLITHIUM™ USB Hard Hat Headlamp
Page 63
the PACKOUT Modular Storage System. The M12 PACKOUT Flood Light with USB Charging delivers 1,400 lumens of TRUEVIEW High-Definition Output and features three different modes, allowing users to manage the light output and run-time, depending on the needs of the job. When paired with an M12 XC 4.0 battery pack, the light provides up to 12 hours of runtime. The PACKOUT Light comes with a 2.1AMP USB-A and USB-C port to charge devices and features two storage compartments to organize small items inside. The light head can rotate 300 degrees horizontally and 180 degrees vertically, offering complete light head control.CLOSING THOUGHTMilwaukee Tool will continue to provide innovation with LED technology and cordless solutions to meet user demands. Milwaukee remains the most comprehensive provider of jobsite lighting in the industry, continuing to design and develop lighting solutions with the ability to adapt, perform, and survive the demands of professional use and deliver safety with innovation. www.mcsmag.com FEBRUARY 202357for more informationMilwaukee Tool, founded in 1924, is a global leader in delivering innovative solutions to the professional construction trades that offer increased productivity and unmatched durability. Whether it is through their world-leading M12™ and M18™ cordless systems, the ground-breaking performance of their M12 and M18 FUEL™ products, jobsite lighting, tool accessories, or innovative hand tool and storage products, Milwaukee is dedicated to delivering a steady stream of advanced, trade-specific solutions. Milwaukee Tool is a Brookfield, Wisconsin-based subsidiary of Techtronic Industries Co. Ltd. (TTI). For more, call 1.800.SAWDUST or visit www.milwaukeetool.com.SPECIALIZING INNew andRemanufacturedHydraulic Attachments
Page 64
FEBRUARY 2023 www.mcsmag.com58safety solutionFalls continue to be the number one cause of jobsite deaths in construction, accounting for 35% of total fatalities from 2011 to 2020, according to data from CPWR - The Center for Construction Research and Training. Put another way, during that period more than 3,300 workers died from a fall—such as from a ladder, scaffolding, or a roof. While the underlying causes of falls are many and varied, there are key actions employers can take to prevent them and to better protect workers if they occur. In a survey of more than 400 industry members CPWR conducted in 2020, respondents highlighted insufficient or ineffective planning as a significant contributor to falls. The odds of workers using fall protection were 71% lower for individuals whose employer or competent person did not implement a fall protection plan. CREATING A PLANFor those who may be new to fall prevention planning or want to improve existing plans, CPWR has developed many resources that are available for free at stopconstructionfalls.com. The site's Plan Provide Train section includes checklists and templates to help contractors begin planning to prevent falls before construction ever begins, including information on providing the right access equipment and PPE like fall harnesses, as well as Toolbox Talks, videos, and handouts to better train workers. Most of these resources are available in English and in Spanish. LEADERSHIP IS CRITICALIn addition to creating a plan, it's critical that people in leadership positions support and help implement it. Both upper management and frontline crew leaders must be invested in the plan and lead by example. The 2020 survey found that employee beliefs about their company's fall protection policy are strongly associated with the degree to which protective equipment is used on the jobsite. Respondents who believed their employer required fall protection were eight times more likely to use it than those who did not believe it was required. SAFETY CLIMATEPlanning and organizational commitment are central elements of jobsite safety climate. To help build a strong safety climate, CPWR developed the Foundations for Safety Leadership (FSL) course, which has now reached over one million construction workers. The highly interactive FSL training teaches crew leaders about the costs of ineffective, and the benefits of effective, safety leadership. The content covers six critical leadership skills they can use on the jobsite, including how to lead by example and communicate with crew members, to improve safety climate and safety outcomes. The just-released Foundations for Safety Leadership for Residential Construction (FSL4Res) training builds on the FSL but locates its scenarios on residential construction sites, focuses on fall protection, and can be presented in a single 2.5-hour session, like the FSL, or in five 30-minute sessions.Fall prevention should be a focus year-round, and the upcoming 10th annual National Safety Stand-Down, taking place May 1–5, Fall PreventionFall Preventionplanning and leadershipBEST PRACTICESJessica Bunting, Linda Goldenhar, and Bill Wright
Page 65
2023, provides companies with a great opportunity to pause work, conduct training, reevaluate fall prevention and rescue plans, and review policies with employees. The Stand-Down is the main event associated with the OSHA-NIOSH-CPWR National Campaign to Prevent Falls in Construction, which since 2014 has reached millions of workers each year in the U.S. and abroad. The One-Stop Stand-Down Shop section of the stopconstructionfalls.com has everything a company needs to conduct an effective and fun Stand-Down. This year, the free materials include a new Stand-Down Plan and more social media resources, to be posted closer to the event. Also, participants can order free hardhat stickers and pocket-sized hazard alert cards on a variety of fall-related topics.CLOSING THOUGHTConstruction falls ARE preventable. By planning, providing the right equipment, and properly training employees, you can be part of the solution. SOURCES:CPWR. [2022]. Focus Four Data Dashboard. www.cpwr.com⁄research⁄data−center⁄data−dashboards⁄construction−focus−four−dashboard⁄. CPWR. [2022]. Highlighted Findings from a CPWR Survey on Underlying Causes of Falls from Heights. www.cpwr.com⁄wp−content⁄uploads⁄RR−falls_experience_survey.pdf.www.mcsmag.com FEBRUARY 202359about the authorJessica Bunting is CPWR's research to practice director, focusing on accelerating the adoption of research findings and evidence-based solutions by employers and their employees to prevent occupational injuries and illnesses. Her work responds to hazards such as falls, musculoskeletal disorders, and struck-by incidents, including by leading development of resources such as Hazard Alert Cards, Toolbox Talks, and infographics. As director of research and evaluation, Dr. Linda M. Goldenhar leads CPWR's safety climate research, which includes creating the popular Foundations for Safety Leadership a training module for frontline supervisors; developing CPWR's valid and reliable climate assessment tools; and, most recently, creating the Safety Climate-Safety Management Information System. Bill Wright is CPWR's communications director.
Page 66
FEBRUARY 2023 www.mcsmag.com60SOLUTIONS FOR 80 YEARSBUILDING INNOVATIVE TRANSPORT TALBERTMFG.COM | 800-348-5232NOTHING BETTER BETWEEN THE LOAD AND THE ROAD!
Page 67
Page 68
FEBRUARY 2023 www.mcsmag.com62maintenance solutionMobile welding typically involves a wide variety of work—from heavy machinery repair one day to fabricating ornamental fences the next. Having the right equipment and capabilities on your truck is critical to achieving success in field fabrication. What are the most important factors in starting a mobile welding business, and what types of tools should you invest in? Learn more from three field fabrication professionals. PICK A FOCUS AREABefore launching a mobile welding business, it's important to know your region and the potential customer base. Are there any unmet welding needs? This can help create demand for your services. Heavy equipment or compact equipment repair are often a need in many communities and can provide steady work. Understanding the needs of your area and determining the work you'll focus on will help you choose tools and set your hourly rate. "Heavy equipment repair keeps me really busy. I work on bulldozers, large trenching machines, excavator booms, backhoes," says Isaac Carrion, owner of Welding Repair Services in Austin, Texas. "I'd say 90% or more of my work is in the field, but I also do small repairs or fabrication on aluminum or stainless steel in my shop." TAKE ADVANTAGE OF EXISTING CONTACTS In regions where demand is high for mobile welding services, word of mouth may be all that's needed to grow your business. But it's always helpful to use existing contacts to get started. If you have experience as a mechanic or in welding, construction or fabrication, those fields can provide fruitful ground to build a mobile welding business. Reach out to industry contacts along with companies and rental houses to let them know what services you offer. Building relationships is also important for gaining repeat business. BUILD IN EXTRA TIME Missing a projected quote is a fast lesson on estimating jobs. Going over the time you quoted means you're essentially working for free. It's often a good practice to build more time into a job than you think it will take. Repairs may be more involved than you first realized, or perhaps you don't have all the details from the customer before the project starts. "Typically, it's always going to take longer than you think," says Mike McAllister, fabricator for a fisheries and wildlife agency in West Virginia with a side business in welding and field fabrication. "Once you've missed your projected quote, it's a learning lesson and you try to adjust for it and learn how to reliably estimate jobs." MANAGE YOUR SCHEDULE CAREFULLY It's OK to say no to jobs. That may seem counterintuitive when you're building a new business. But if you get overloaded with too much work, the quality of what you're producing can suffer—and harm your relationships with customers. That's not Field fabricator Mike McAllister welds in the field. McAllister says jobs often take longer than expected, so he suggests building more time into work quotes. David DeMoise's mobile welding setup. He suggests that field fabricators invest in equipment to make them more efficient. Field FabricationField FabricationIN THE KNOWBy Brian Belliletips for starting a mobile welding business
Page 69
a good way to get repeat business or earn referrals. Learn how to politely say no when your schedule is booked or when it's a project that won't benefit your business. Some jobs take a few hours, while others can last a week or more. That can be tough on scheduling, so it's important to have flexibility in your schedule when jobs need to be adjusted. "As a beginner you want to do it all, and that drive is great, but you have to learn balance above all else," Carrion says. "Just like any business, my business opens and closes at a certain time and customers have learned to appreciate that." Setting aside time for office work is also key. You may want to be in the field all day every day, but staying on top of bills, receipts, and invoices is what keeps your business running. It may help to block off the same window each day or week to establish a routine for these tasks. DETERMINE A BUDGET AND STICK TO IT Proper budgeting is crucial to success for any small business. If you're unsure about the best way to do this, look for resources online or take a course at your local community college. Beyond the basics of budgeting for a business, you need to figure out your comfort zone for purchases. How much are you willing to extend yourself financially to purchase the equipment and tools you need to get started? Consider buying used tools and equipment, which can be an economical way to get started. But you also need to think about what equipment needs you'll have down the road as you grow. While it's often better to pace your purchases as you build the business, you also don't want to purchase equipment that you will immediately outgrow. CHOOSE EQUIPMENT WISELYThe equipment and tools you will need most depend on the type of jobs you expect to take on. You should also consider what welding processes you'll use most often and your budget for equipment investments. The most important capabilities for field fabrication are welding, power generation, and compressed air. Welding and carbon-arc gouging are processes most field fabricators use daily. Having one machine that provides all of those capabilities, like a welder/generator with a built-in air compressor, can save space on your truck and reduce the amount of equipment maintenance you must do. Having multi-process welding capabilities will make you more versatile and flexible to take on different jobs. Choosing a heavy-duty work truck versus a half-ton truck makes a big difference for equipment capacity. Plan ahead and choose a truck that provides the ability to grow as the business grows. You may need more space and weight capabilities to haul more tools and equipment later."Invest in things that make you more efficient. Start with a good, reliable truck and a good, reliable generator. A wire feeder is another great investment," says David DeMoise, owner of DeMoise Welding and Fabrication in Dallas. "All of these tools end up getting heavy fast, so if you have a truck that's barely adequate, you end up working it to death and will spend a lot of time on maintenance and repairs." GETTING STARTEDWhether field fabrication is a side gig while you're working another job or you go all-in to start a mobile welding business, the most important first step is having a solid business plan. This includes picking a focus area, building contacts, setting a budget and purchasing a truck and equipment. CLOSING THOUGHT"Starting a welding business can be tough initially. You're trying to build your customer base and you weld anything—you're doing lawnmower decks and your neighbor's fence," Carrion says. "It's very similar to jumping off a high diving board. You're scared to do it, but once you do it you realize the water's not that bad." www.mcsmag.com FEBRUARY 202363about the authorBrian Bellile is a product manager with Miller Electric Mfg. LLC. For more, visit www.millerwelds.com. Field fabricator Isaac Carrion stick welds a field repair. Carrion suggests that mobile welders pick a focus area. He says heavy equipment repair keeps him busy.
Page 70
FEBRUARY 2023 www.mcsmag.com64featured productHytera is an industry leader in bringing next generation radio technology to the market, including professional-grade Push-To-Talk over Cellular (PoC) radios that provide instant group calling, and fleet dispatching. Hytera PoC radios provide reliable and easy-to-use group communications to increase efficiencies coordinating workers and building materials, improve worker safety, reduce liability, and save money.How Hytera PoC Radios save contractors time and money:• Loud And Clear Audio: Industry leading audio quality with digital noise cancellation and powerful high-volume, front-facing speakers provide clear communication for loud jobsites and work vehicles. • Ruggedized and IP MIL-STD Rated: Hytera PoC radios are built tough to withstand dropping, impacts, dust, spraying water, and complete submersion. • Built-In Cameras: Share high-definition images and stream live video to provide supervisors accurate details for real-time decision making and problem solving.• Worker Safety: Emergency alarms can be sent to other radios and a dispatcher with the touch of a button to improve worker safety and reduce liability. • Safe In-Vehicle Use: Unlike cellphones, tablets, and handheld devices, the Hytera mobile radio is a legal and DOT compliant device for safe communications while driving.• Long Battery Life: Hytera PoC devices operate for up to 24 hours on a single charge for guaranteed operation over long shifts.• Nationwide Coverage: 4G/LTE cellular and Wi-Fi networks for unlimited range enables covering all jobsites with instant group or individual calling supporting data, voice, and video. Hytera provides a wide variety of PoC handheld radios, mobile radios, video bodycams, and mobile smart devices that also run construction business applications. These devices can be mixed and matched to meet your specific needs while providing a wide variety of features and come with critical accessories including belt holsters, charging options, and wired/wireless audio options. Hytera PoC devices are supported with the Hytera HALO Dispatch web-based communication and location tracking application. The dispatch application provides the most flexible calling available with instant group calling and individual calling. Dynamic groups can be quickly created with a simple list selection or geographically by selecting an area on the dispatch map. Track and coordinate remote worker or fleet locations with mapped travel routes, geofencing, and time stamps. Hytera offers both a low-cost annual subscription plan (HALO Nationwide) and an own your own system (HALO OnSite/OnSite Plus Systems). Both enable reliable and private communications which can be quickly deployed for a lower cost than traditional radio systems. Hytera PoC communications solutions save contractors, subcontractors, and building material suppliers time and money with radio systems that enable instant group calls, sharing images and video, and provides features to help keep workers safe and on the job. To learn more, visit www.hytera.us/poc-solutions. HYTERA US INC. Push-to-Talk over Cellular (PoC) Radios for ContractorsHytera US Inc. | sales@hytera.us 954.846.1011
Page 71
modern construction productsYOKOHAMA OFF-HIGHWAY TIRESGalaxy AT Grip Steel Skid Steer RadialThe new Galaxy AT Grip Steel from Yokohama Off-Highway Tires was designed from the ground up in close consultation with OTR tire dealers and skid steer operators. Radial construction improves traction, boosts puncture resistance by up to 400%, and reduces wear, while the reinforced sidewall adds stability and reduces bucking and bouncing. In field testing, the AT Grip Steel outlasted bias-ply alternatives by as much as 50%. The retreadable casing adds even longer service and lower total cost of ownership. For more, visit https://bit.ly/AT-gripsteel. www.mcsmag.com FEBRUARY 202365MILLER Custom Kindig-itWelding HelmetMiller Electric Mfg. LLC, a leading worldwide manufacturer of Miller® brand arc welding equipment, announces the debut of the Digital Infinity '22 Custom Kindig-it welding helmet: a design collaboration between Miller and Dave Kindig, American hot rod designer and owner of Kindig-it Designs. The helmet features Kindig's hand-drawn car renderings on a black helmet base, creating a remarkable and iconic helmet that will make a special addition to anyone's collection. For more, visit www.millerwelds.com/products/kindig-it-digital-infinity-helmet. NATIONAL FLOORING EQUIPMENT Walk-Behind ScraperWhen preparing any floor or surface, every job is different and will require the right combination of tools to complete. National Flooring Equipment's debuts its new walk-behind scraper, the Rogue. This latest addition to the company's catalogue is a game-changer. Fully electric with precision steering, the Rogue is capable of covering up to 150 ft per minute and has a fully adjustable blade angle at the touch of a button. For more, visit www.nationalequipmentdirect.com. MBW, INC.Power Pitch Trowel HandleMBW's Power Pitch handle is designed to create a convenient, user-friendly jobsite experience.Powered by M18™ REDLITHIUM™ Milwaukee battery, the Power Pitch trowel handle pitchesthe trowel blades electronically. With contractor safety in mind, this system allows the operatorto pitch the blades without taking his or her hands off of the handle. Any M18 REDLITHIUMMilwaukee battery can be used and will not affect the handle's performance. MBW's Power Pitchtrowel handle enhances safety and improves productivity. For more, visit www.mbw.com. BULLARDCEN10 Hard HatA century of head protection innovation defines the Bullard CEN10™ Helmet. Features include sleek, low-profile vented and non-vented models with quick adjusting FlexGenTM ratchet suspension. The impact-resistant helmet shell with an inner foam comfort liner has an integrated 3-point chinstrap. The hard hat sports the distinctive Bullard 3-Rib trademark design and meets ANSI/ISEA Z89.1 Type I, Class E and G requirements; vented model meets ANSI/ISEA Z89.1 Type I, Class C requirements. For more, visit www.bullard.com. BOSCH POWER TOOLSCut-Out Brushless Tool for DrywallBosch Power Tools announces the launch of a new tool category for Bosch, drywall, with the GCU18V-30 18V Brushless Cut-Out Tool. The tool includes the technology for precise performance in an ergonomic design for convenience and comfort. The GCU18V30 18V includes soft-start technology to reduce startup torque, brushless motor technology, and efficiency that brings the power of a corded product, without the cord. The tool also features a IP 5X-Rate Dust Resistant Switch to help prevent dust from getting into the switch. For more, visit www.boschtools.com.
Page 72
Call us today to get started at 205.795.0223 or email us at russell@mcsmag.com.Our digital marketing campaigns can identify prospects interested specifically in your product, and then tell you exactly who they are! See what our customers are saying:You Need Leads!You Need Leads!We Have the We Have the Solution!Solution!"The reports are awesome! Thank you. If we can get that level of information from all of our suppliers, we will be very happy! We have already made one machine sale to a prospect from the e-blast and I am sure there will be more. Paul Gazik,Business Development/International Salesfor
Page 73
Page 74
punch list 0223 Unstuck Unstoppable JIMN KYLES AUTHOR T he second book may feel stuck you are not or could help your team your operations on your punch stranded There is hope and your company When I read the list is Unstuck Author Jimn Kyles wants to words See the Potential Not the Unstoppable It s an easy come alongside you and Problems I knew the book would help read that makes you think help you get unstuck and with mindset to be positive and work about your place in existence become unstoppable through issues with solutions based on and how to move forward with purpose an understanding of where you are and TIME TESTED LIFE HACKS what you need to be doing for yourself The book provides actionable tools and for others and for your business THE AUTHOR practical tips to move on from past issues Jimn Kyles is the lead pastor of Anchor from your past and find the path you re CLOSING THOUGHT Bend Church He is also the author of the meant to travel Topics covered include The construction industry has a diverse book Unstuck Unstoppable Shake Off The Past Find Your Purpose Get On With Your Life which reached No 1 status on workforce Not all approaches to team How to live your life with purpose and passion to be successful works for everyone Amazon s list of new releases and he hosts How to discover your identity apart the podcast of the same name In addition from others beliefs or expectations he is a life coach leadership development expert and real estate investor building or moving forward as a company How to move forward with a clear vision for your future Knowing your identity and purpose will enable you to lead your team and craft a company vision and mission in your niche How to identify negative paradigms BOOK THEME Are you feeling burned out overwhelmed or frustrated Maybe you feel stuck You re not alone It s estimated that 80 of Americans feel stuck in life We all can find ourselves in what feels like a that are secretly sabotaging your life Cheers How to cultivate a healthy life giving paradigm How to forgive those who hurt you What are trauma triggers and how to defuse them hopeless situation whether it s a strained relationship financial hardship a failed THE TAKEAWAY career or an unhealthy lifestyle etc It For extra resources have your iPhone can feel like no matter how hard you try to handy to scan the QR codes dotted shake off the past find your purpose and get on change or turn the situation around nothing throughout the book Don t be afraid to with your life visit jimnkyles com you do seems to work Know this while you highlight or mark pages that speak to you 68 FEBRUARY 2023 P L for more information For more about Jimn Kyles and his book to help www mcsmag com
Page 75
Page 76
Page 77