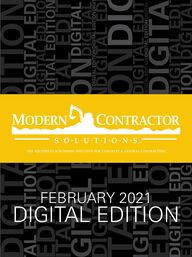 Return to flip book view
Modern Contractor Solutions February 2021
Page 1
FEBRUARY 2021DIGITAL EDITION
Page 2
FEBRUARY 2021 DIGITAL EDITION
Page 3
PERMEABLE PERMEABLE PAVERSPAVERSSTORMWATER STORMWATER RUNOFF SOLUTIONRUNOFF SOLUTIONEFFECTIVE EFFECTIVE STRATEGIESSTRATEGIESACCELERATE ACCELERATE THE JOB THE JOBTRAILER TRAILER MATTERSMATTERSKNOW TRUE KNOW TRUE CAPACITY CAPACITYOUTSIDE OUTSIDE THE BOXTHE BOXTILT-UP CONCRETE PANEL TILT-UP CONCRETE PANEL COMPLEXITYCOMPLEXITYFEBRUARY 2021WWW.MCSMAG.COM
Page 4
Page 5
Page 6
Page 7
Page 8
FEBRUARY 2021 www.mcsmag.com41856FEBRUARY 2021VOLUME 15 ISSUE 02Inside This IssueON THE COVERPhoto courtesy of Morooka USA. A Morooka MST-2200VDR gets loaded up during a stream reclamation job in New Kent, Virginia. The MST-2200VDR has the ability to rotate its upper structure 360° without moving the tracks, resulting in less wear and tear on the ground. www.morookacarriers.com48special focusIN EVERY ISSUEIndustry News ............................ 10Modern Construction Products ... 64Coach's Corner ........................... 66technology solution 3D Concrete Printinglobster-inspired patternlegal solution Droning Onincreased usagemanagement solutionInsurance Mattersexpert Q&A36safety solution Rail Projectworker safety priority58safetytechnology solutionSeated Jurytelematics offer hope52project profile Outside the Boxcomplexity of tilt-up concrete panels to achieve colorized concretePREVENTIVE MAINTENANCE CHECKLIST Guest Post by Bryan Christiansen, Limble CMMSMost Processes that require carefulness and precision would benefit from the extra care that a good checklist provides. Especially processes that occur on a regular basis yet require accuracy every single time. Read the blog to learn the 5 common mistakes to avoid.ON THE BLOG
Page 9
Page 10
www.mcsmag.com P.O. Box 660197 | Birmingham, AL 35266DONNA CAMPBELL Editor in Chiefdonna@mcsmag.comMIKE BARKER Publishermike@mcsmag.com RANDY MOON Media Consultantrandym@mcsmag.comMICHAEL FISCHBACH Media Consultantmichael@mcsmag.com JOHN FRIEND Media Consultantjohn@mcsmag.comKEVIN MCCLARAN Media Consultantkevin@mcsmag.comLISA AVERY Art Directorlisa@mcsmag.comCAMILLE BLACK Graphic Designercamille@mcsmag.com SETH SAUNDERS Digital Media Specialist seth@mcsmag.comINGRID BERKY Office Manageringrid@mcsmag.comTIM GARMONCEORUSSELL HADDOCKPresidentCHRIS GARMONCFODONNA CAMPBELLVice President, EditorialTONYA BROWNINGVice PresidentSUBSCRIPTION inquiries or changes:205.380.2048No part of this publication may be reproduced or transmitted in any form or by any means, electronic or mechanical, including photocopy, recording, or any information storage-and-retrieval system without permission in writing from the publisher. The views expressed by those not on the staff of Modern Contractor Solutions, or who are not specifically employed by Highlands Publications are purely their own. All Industry News material has either been submitted by the subject company or pulled directly from its corporate website, which is assumed to be cleared for release. Comments and submissions are welcome, and can be submitted to donna@mcsmag.com.For reprint information, contact Chris Garmon at chris@mcsmag.com.Canada Post Publication Agreement #41578525. Undeliverables 355 Admiral Drive, Unit 4, Mississauga, ON L5T 2N1Modern Contractor Solutions Magazine@mcsmagModern Contractor SolutionsPROJECT PROFILESOutside the Box ........................................................ 18Permeable Pavers ...................................................... 20EQUIPMENT SOLUTIONSDust Suppression ...................................................... 24The Right Trailer ........................................................ 26ENVIRONMENTAL SOLUTIONSBreaking Ground ....................................................... 3075 Years .................................................................... 32MANAGEMENT SOLUTIONS Insurance Matters ..................................................... 36Decision Making: Part 3 of 3 ..................................... 38Effective Strategies ................................................... 40 SOFTWARE SOLUTIONSecuring Materials .................................................... 44LEGAL SOLUTIONDroning On ................................................................ 48TECHNOLOGY SOLUTIONSJury May Be Seated .................................................. 523D Concrete Printing ................................................. 56SAFETY SOLUTIONRail Project ................................................................ 58 COACH'S CORNERCheck out what the coach says to Frustrated Fred in this month's column on page 66.Donna CampbellEditor in ChiefSAFETY FIRSTWhenever I think of "safety first," I'm reminded of the 1988 action movie where Bruce Willis (character John McClane) embarks on a treacherous rescue of his wife and others in Nakatomi Tower without socks and shoes on his tender feet. The glass shattering and McClane's feet leaving bloody footprints. If you haven't seen the movie, Die Hard, it's a classic. And, it's a Christmas movie … kinda.All this to say, the focus of MCS this month is safety. This issue features dust suppression (pg 24), knowing your trailer's true capacity (pg 26), answers to insurance matters (pg 36), securing financing for the build (pg 44), telematics for safety to avoid nuclear jury verdicts (pg 52), and worker safety taking priority on rail project (pg 58). Safety matters in construction for the structure, for the workers, and for the public.Take note of Coach's Corner with a question from Frustrated Fred and learn the art of empowering people (pg 66).Now for a little personal story tied to safety. Several years back, my neighbor thought it would be a great idea to burn his Christmas tree in his backyard, in city limits, with a "no burn" order. I arrived home, pulled into the driveway, and saw flames leaping 3 feet in the air over a 6-foot wooden fence. Ash debris was blowing between the two houses and I was not able to get to the backyard. I ran into my house, passed my husband on his chair, and yelled "fire" at him. I expected my hubby to be right behind me and grab the water hose or fire extinguisher. I opened my back door to see the fence on fire and the dried grass on fire in my yard. I called over the fence to see the neighbor was going to put the fire out. After it was taken care of, my husband shows up in the backyard. I told him he missed it. Hubby's response was that he needed to put on socks and shoes, "safety first." I told my husband that Bruce Willis would not have stopped to put shoes and socks on his feet. True story.Enjoy the issue and stay safe and well.Cheers,
Page 11
SUBSCRIPTION inquiries or changes:205.380.2048
Page 12
FEBRUARY 2021 DIGITAL EDITION
Page 13
Page 14
FEBRUARY 2021 www.mcsmag.com10industry newsTURNER CONSTRUCTION COMPANY SELECTS WELLNESS WORKDAYS Wellness Workdays, a leading provider of award-winning corporate wellness programs, announces it has been selected by Turner Construction Company to reimagine safety and well-being initiatives for the workers and employees on a large multi-year project in Boston, Massachusetts. Headquartered in New York City, Turner is a North American-based, international construction services company with a staff of 10,000 that completes 1,500 construction projects each year. Wellness Workdays "Wellness Trailer 2.0" program will focus on helping Turner's employees and Trade Partner workers adopt and maintain healthy lifestyles with an emphasis on both physical and behavioral well-being. A key component of the initiative is centered on redefining the role of the wellness trailer to ensure prevention and screenings are top priorities.Wellness Workdays will assist and support Turner Construction Company in creating a systematic approach to enhancing the lives of all workers at their jobsite. This will entail a prescribed population health management approach, including a health coaching program supported by software data management and analytics, which will bring a systematic approach to coaching and track outcomes. The onsite wellness trailers will include a trained coach/EMT who will fulfill the roles of EMT, health coach, care manager and health advocate, and act as an extension of the safety team. To create and implement a successful and engaging program, Wellness Workdays will develop an operational wellness plan that includes multi-level leadership involvement, culture alignment, relevant content and programming, communications, integration of union and partner resources, and a focus on outcomes. For more, visit www.wellnessworkdays.com.COMMAND ALKON OFFERS ENGINE DATA ANALYSIS, ALERTS FOR TRACKIT GPS & TELEMATICS USERSCommand Alkon offers TrackIt's Engine Data Alerts & Analysis (EDAA) feature. This module delivers real-time insights for fleet asset management that improve the health, safety, and performance of commercial vehicles. TrackIt's EDAA module enables preventive maintenance schedules, ensuring users can identify issues quickly and stay current on routine service tasks. The system has the ability to create automatic reports notifying the shop of what vehicles need to be worked on that day, what maintenance is coming due, and what is overdue and needs to be attended to immediately."Engine Data Analysis & Alerts also provides the fleet management staff with insight into what is going on with the vehicle directly from a mobile device, allowing employees SOLUTIONS FOR 80 YEARSBUILDING INNOVATIVE TRANSPORT TALBERTMFG.COM | 800-348-5232NOTHING BETTER BETWEEN THE LOAD AND THE ROAD!
Page 15
Page 16
FEBRUARY 2021 www.mcsmag.com12industry newsto analyze the issue and determine whether diagnostic testing is required," says John Boatman, operations manager at Command Alkon. "The ability to triage vehicles on the fly saves mechanics time and increases productivity by making sure focus is put on trucks that need servicing." For more, visit www.commandalkon.com/gettrackit. JOHN DEERE ROLLS OUT PERFORMANCE TIERING STRATEGY STARTING WITH UTILITY LOADERS Developed in response to evolving customer needs and expectations, John Deere launches its Performance Tiering Strategy, delivering a range of products at different levels of capability and user experience. Available first on the wheel loader lineup, the Performance Tiering Strategy supports customers by providing machine solutions built for various applications and jobs to enhance profitability and efficiency. Moving away from the traditional series letter designations, the Performance Tiering Strategy provides three tiers of machines—G tier, P tier, and X tier.The Performance Tiers are defined as: • Adding a premium edge, the X-tier models are built with the most innovative John Deere technology and features, delivering the highest levels of productivity, efficiency and customer experience.• P-tier models can be counted on to produce at high levels, day in and day out. Advanced features deliver exceptional performance, efficiency, comfort and service life in demanding, high-production applications.• The G-tier models are practically equipped and economical, providing proven capabilities with the reliability and ruggedness expected from John Deere. These machines are ideal for customers in need of a reliable machine to complete common light- to medium-duty tasks.The 444-724 P-tier machines reflect the performance capabilities and features that most customers expect from John Deere, such as those found on the current L-Series wheel loaders, including a redesigned cab, standard parallel lift Z-Bar loader linkage, high-lift plus option, electrohydraulic controls and dual return-to-dig settings. A highly productive and efficient 5-metric-ton wheel loader, the 644 X-tier features E-Drive technology, comprises a diesel-electric drivetrain and exemplifies the type of innovative features that distinguish the X tier.The 644 G-tier is the first model to be available in the lineup of G-tier Wheel Loaders. Leveraging proven components and technologies, the 644 G-tier is equipped with an all-new cab designed to boost operator comfort and productivity. Customers can customize the machine through a variety of base-level
Page 17
Page 18
FEBRUARY 2021 www.mcsmag.com14industry newspackages, including axles, tires, ride control, seats, radio and rear chassis work-light selections. The John Deere X and P machines are now available for purchase in the U.S. and Canada, and the 644 G machine is available in Canada and other global markets. Other product categories will follow the Performance Tiering Strategy over time. For more, visit www.johndeere.com/findyourfit.XL SPECIALIZED TRAILERS INTRODUCES NEW 5-3-1 WARRANTY POLICYXL Specialized Trailers introduces a new, industry-topping warranty policy. The new 5-3-1 policy features full 5-year structural coverage, full 3-year paint coverage, and full 1-year coverage on parts and components. The new warranty policy is an enhancement to the previous policy and is a testament to XL trailers' superior quality and durability. XL Specialized Trailers is built with premium products: 100k flanges and 80k webs. XL's trailers are manufactured in Manchester, Iowa, with state-of-the-art equipment, by skilled craftsmen. The 5-year structural warranty covers the trailer's structural beams as well as the pin connections between those beams and the crossmembers and outer rails of the load-bearing deck.XL Specialized Trailers' new paint warranty guarantees no peeling or delamination and cracking or checking of the paint for 3 years. XL's trailers are painted with a corrosion-resistant epoxy primer and urethane topcoat from an industry-leading paint supplier. The paint process is rigorously tested to meet strict adhesion and corrosion-resistant ASTM standards.Trailer components are critical to a good user-experience. The full parts and component warranty covers axles, suspension, landing gear and all manufactured components as well as air, electrical and hydraulic components for 1 year. XL's new policy is effective on all units invoiced January 1, 2021, and after, and starts at the time of retail sale or 6 months after the trailer is completed. For more, visit www.xlspecializedtrailer.com.CASE LAUNCHES CASE LIVECASE Construction Equipment is launching CASE LIVE—a new broadcast and engagement platform with live events and educational sessions delivering topics that include equipment fleet management, acquisition strategies, new technologies, operational tips, and new product launches. A list of planned events, and an archive of events and broadcasts held to date, can be found at casece.com/live. The first official event as CASE LIVE will be a new webcast on Wednesday, February 24 at 10 AM CST held with CNH Industrial Capital titled "Finance Solutions to Help Grow Your Business"—focusing on ways for equipment buyers to wisely invest in equipment and solutions for long-term growth. OSHA Compliant Guardrail andStair Rail SystemsSafety Boot® Guardrail SystemStringerShield® Stair Rail System1.800.804.4741safetyboot.com• Non-Penetrating Design• Rugged Steel Construction• Exceeds OSHA Regulations• Simple, Aordable & Reusable• Residential, Multi-Family & Commercial Applications• Unique Free Standing Design• Keep Post Attached For Reuse On Next Level Or ProjectFeatured on osha.gov website!
Page 19
Page 20
Page 21
Page 22
FEBRUARY 2021 www.mcsmag.com18project profileEnrique Esplain enjoys a challenge. He is a project manager for Sundt Construction, one of the largest contractors in the Southwestern United States. Sundt builds everything from commercial and industrial buildings to large-scale transportation infrastructure and renewable energy solutions everywhere from Dallas to San Diego. As the primary point of contact on the jobsite, Esplain manages a project's overall performance with respect to scheduling and financial control in conjunction with a superintendent who leads field execution."No two days are the same," says Esplain, of the diverse work and continual stream of puzzles big and small he has grown accustomed to. Esplain has been in high-stakes construction for 26 years, building everything from Higher Education and K-12 to jails, rec. centers, and natatoriums. "I love seeing the progress of change on a daily basis, trouble-shooting situations to come up with solutions is what makes the job fun for me."BEAST URBAN PARKEsplain's latest Sundt situation, The Beast Urban Park in El Paso, Texas, is nearing completion on Phase I of a 92-acre development. Featuring world-class aquatics amenities, The Beast Urban Park brings much needed public facilities to a residential community that grew faster than anticipated and greatly outpaced recreational resources. The new, three-part complex will include a state-of-the-art natatorium with a 50-meter competition swimming pool, a community center, and a vast outdoor waterpark highlighted by a wave simulator where soon, kids will be surfing in El Paso.PROJECT CHALLENGESAmong the project's many complexities, assembling the building form of the recreation center has been a puzzle of literal proportions. Constructed of concrete tilt-up panels, Sundt leveraged their knowledge of concrete, as the panels were constructed on-site and would be framed, reinforced, cast, and erected as the building's primary structure and exterior skin on-site."The challenge in these precast panels begins with their unusual shape," shares Esplain of the Z-shaped monolithic, exterior wall sections, which are 40 feet tall and 18 feet wide. "We are used to casting concrete panels this large, but the awkward angles made them hard to lift and hard to erect. Color is also an issue. There is an inconsistency received on the finish with site-cast concrete. This is based on placement, weather, casting techniques, timing, and application of curing compounds and bond breakers. The City didn't want grey concrete, so we needed to come up with something that feels very much like El Paso."ACHIEVING THE COLORColorized concrete can be achieved in many different ways including adding an integral color to the concrete mix before it is poured or applying any of many different types of dyes, paints, or stains to the concrete after it has cured. Outside the Boxcomplexity of tilt-up concrete panels to achieve colorized concrete CONCRETE'S DECORATIVE SIDE By Sean O'Keefe
Page 23
www.mcsmag.com FEBRUARY 202119Initially, in El Paso, the design called for using an integral color, which is one of the most common ways of adding color to concrete. By adding color pigment admixtures to the concrete before it is poured, contractors are generally able to create a layered sense of color that results in a multi-tonal appearance similar to natural stone. After developing two different 3 ft x 3 ft panel mock-ups using integral color mixes that didn't secure the City of El Paso's approval, the Sundt team recommended trying a stain instead.Like Esplain, Aaron Echaniz also enjoys a challenge. Echaniz is the President of Bomanite Artistic Concrete, the El Paso-based decorative concrete contractor that got the call from Sundt on The Beast Urban Park."We have been installing high-end decorative concrete solutions in west Texas and southern New Mexico for about 40 years," says Echaniz of the company he leads. "We do both commercial and residential work, inside and out, doing many different kinds of stamped, stained, polished, pervious, and exposed aggregate concrete systems."DEDICATED CRAFTSMENA native of El Paso, Echaniz grew up in the family business, learning decorative concrete and pool construction from the ground up, starting in the summers as a 13-year-old. He formally joined the company in 2003 as Sales Manager and then Director of Operations before taking on firm leadership in 2008. Today, as President, Aaron leads a dedicated team of craftsmen in the pursuit of exceptional solutions to concrete challenges of all sorts and scales."Sundt Construction approached us about doing an acid stain on the concrete panels for The Beast Urban Park and, of course, we were thrilled with the opportunity," says Echaniz of the chance to participate in such a dynamic public commission. The process of staining the panels began with clearly establishing the city's desired aesthetic, which was less than exact in the beginning. "The City wanted a treatment that made the panels fit in with the surrounding landscape but also complements the unique, very modern architecture. We did several different mock-ups before finally settling on a treatment that falls somewhere between deep rust and old leather."THE SOLUTIONThe chosen solution was Bomanite's Patène Artectura, a topically-applied coloration system that simulates a semi-weathered, antiquing effect. Because the acid-based stain was to be applied to the panels once they were tilted-up in their final place, the process for staining them had to be dialed in and approved before the work could begin. Using a compressor and an industrial sprayer, the acid-based Patène Artectura was sprayed on the vertical panels by hand working from the top down. Workers had to be very mindful of maintaining a consistent distance between the sprayer and the panels to eliminate unintended blotching while troweling away any drips."On the technical side, one thing that was really important was prepping each panel to receive the stain," says Enchaniz of the process's potential complications. Burs were carefully scraped off panels before each was thoroughly sandblasted to open the concrete's pores so that the stain could fully penetrate the surface. Once the stain was applied, an acrylic sealant was added to give the colorized panels a fade-free permanence that will last a lifetime in El Paso's arid climate.CLOSING THOUGHT"We are very proud to be a part of this magnificent project," finishes Enchaniz, of his firm's role in El Paso's newest park, which is expected to open to the public in 2021. "Craftsmanship is very important in our work and this community-enhancing project is going to bring a lot of joy to the people of El Paso for generations to come." about the authorSean O'Keefe has more than 20 years of experience articulating the complexities, challenges, and camaraderie of construction and design. He writes Built Environment stories for owners, architects, contractors, and product manufacturers. He can be reached at sean@sokpr.com.
Page 24
FEBRUARY 2021 www.mcsmag.com20project profilePermeable PaversPermeable Paversparking lot stormwater runoff solution FILTRATION MATTERSLocated in the expansive Novant Cotswold Medical district on Randolph Road in Charlotte, North Carolina, a new office building designed to support a variety of medical services had some special considerations for their new parking lot: stormwater runoff on a space-limited site. The design plan needed to comply with stormwater quality and storage regulations, with sensitivity to businesses on the lower side of the property, as well as a residential neighborhood behind the building.MPV Properties, the developer, met with the design engineers and contractors to find the best method to manage stormwater runoff with the least impact on surrounding properties and residents. THE CHALLENGEAccording to Kevin Caldwell, president of GeoScience Group, a 40-person engineering and design firm, the property layout did not have the space needed for a typical underground detention system. They initially looked at a subsurface sand filter and vault system, but there was little elevation difference between the parking surface and the outfall. The vault detention system could not go very deep and would therefore not only require a larger footprint but would also increase the heights of the retaining walls surrounding the parking lot incurring increased costs."We were looking for a more cost-effective solution that could work just as efficiently as a large underground detention system," says Caldwell. After conferring with Belgard's commercial engineering team, he found the best option was to use Permeable Interlocking Concrete Pavers (PICP), although the developer was not familiar with them and was concerned about structural capacity and suitability of the surface for people accessing a medical building. "After providing a number of examples of similar projects where permeable pavers had been used, we moved ahead with the Belgard team, relying on their design and engineering knowledge of PICP systems. Overall, we saved the developer over $200,000 by using a permeable paver system."THE SOLUTIONThe Cotswold district medical building was the first project for GeoScience engineers using a PICP system to meet both quantity and quality objectives for the City of Charlotte. Paul Cureton, P.E. of Belgard's commercial engineering team provided a permeable paver concept demonstrating how the system would meet the needs of the project, and several rounds of comments and suggestions on the design plans. The resulting project has 44,000 square feet of Belgard Aqualine 80 mm 4.5-inch by 9-inch permeable pavers mechanically installed in herringbone pattern by Unit Paving of Charlotte. The color chosen was Fossil. Cureton and his team provided valuable practical guidance on how to optimize the permeable pavement design.The Belgard permeable paver system meets the city and state's water quality treatment objectives and the combination of storage with an appropriately designed outlet control structure meets the city's peak flow release rate requirements. "It's also aesthetically nicer to have pavers as the driving surface."The system's ingenuity starts when water infiltrates through the paver surface. That's where the required water treatment occurs as it filters through the aggregate between the pavers meeting the requirements for a primary Stormwater Control Measure (SCM) in North Carolina. Storage is then provided in the void space in the open graded aggregate layers. The void space between the individual rocks and the thickness of the stone layer is the key to providing sufficient storage, slowing and protecting the downstream properties from increased peak flows. "Post-development release rates and pre-development have to equal out—the peak flows can't be increased," says Caldwell. "In fact, PICP systems' release rates may
Page 25
www.mcsmag.com FEBRUARY 202121even be even less than pre-development rates, with some soil infiltration." HOW IT WORKSThe storage element of the PICP system is also what Caldwell describes as a series of cells formed by subsurface flow dams or baffles made of strips of vertically oriented impermeable liner. The flow dams maximize the available storage in the open graded aggregate layers. The cell is multi-stage using a small hole (orifice) in the center of the baffle for low flows and the top of the baffle as a weir for larger flows. The cells act as separate storage units with water flowing downhill, one to the next, to manage the rate of flow. In a rare-event storm it will go over the top, however Caldwell designed it so that it has enough storage to drain slowly from one to the other, finally discharging what is stored.For permeable paver systems, the stormwater is filtered at the surface and sediment is removed and collected in the aggregate filled joints, which is why permeable paver systems are easy and inexpensive to maintain. The joint material can then be vacuumed out and replaced to restore the system. Conveyance of stormwater occurs through the voids in the stone eliminating the need for most of the piping associated with conventional stormwater systems. "There is no need for additional water treatment with PICP," says Caldwell. "A bonus of the paver system is a nicer look, with a more upscale aesthetic that holds up very well to harsh conditions." Once the excavation and PICP bedding layers and stone were installed for the parking lot by Unit Paving of Charlotte, the crew began to lay the 44,000 square feet of Belgard Aqualine pavers. Scott Michaud, owner, said his crew mechanically laid the pavers with a PaverMax machine and were there for 3 weeks start to finish." CLOSING THOUGHTAs the interior work and outer landscaping finished up, the building has been readied for the new tenants. The end result is a nicer looking parking lot that saved the developer significantly over a detention system in time, labor and costs. "We had 5 inches of rain and passed the infiltration tests with flying colors—there was nothing leaving the discharge pipe," says Caldwell. "This is the first permeable paver parking lot in the area and the developer is thrilled. He plans to use PICP for all future developed properties and parking lots." for more informationBelgard, part of Oldcastle APG, offers a complete collection of paver and wall products for outdoor living spaces, walkways, driveways, parking areas, and retaining walls. Available in a range of styles, premium Belgard products have been found in America's finest homes and award-winning commercial and retail properties since 1995. For more, visit belgard.com.
Page 26
ROME specializes in disc plows, earthmoving scrapers, land leveling scrapers, and haul roadmaintenance equipment for the construction industry.ROMEROME manufactures construction disc plows from 6' wide up to 20' wide that range from 400 pounds per blade to an industry leading 1100 pounds per blade. ROME offers disc blade sizes from 28" up to 42" in diameter ontheirconstruction plows. No matter what your application or power unit size ROME has you covered on your construction tillage needs.tillage needs.ROME manufactures earth moving scrapers in both pivot dump and ejector styles. The pivot dump line ranges from 9 yards to 21 yards. The ejector line ranges from 16 yards to 35 yards.ROME's haul road maintenance line is far and above the most diverse in the industry. Whether you need a simple bottomless scraper, ejector finishing scraper, or a roller box scraper ROME has you covered.For more information on our products or for the closest authorized ROME dealer please contact us.
Page 27
ROME specializes in disc plows, earthmoving scrapers, land leveling scrapers, and haul roadmaintenance equipment for the construction industry.ROMEROME manufactures construction disc plows from 6' wide up to 20' wide that range from 400 pounds per blade to an industry leading 1100 pounds per blade. ROME offers disc blade sizes from 28" up to 42" in diameter ontheirconstruction plows. No matter what your application or power unit size ROME has you covered on your construction tillage needs.tillage needs.ROME manufactures earth moving scrapers in both pivot dump and ejector styles. The pivot dump line ranges from 9 yards to 21 yards. The ejector line ranges from 16 yards to 35 yards.ROME's haul road maintenance line is far and above the most diverse in the industry. Whether you need a simple bottomless scraper, ejector finishing scraper, or a roller box scraper ROME has you covered.For more information on our products or for the closest authorized ROME dealer please contact us.
Page 28
FEBRUARY 2021 www.mcsmag.com24equipment solutionDust Suppressiondesign delivers exceptional mobility, versatility NEW COMPACT DESIGNAs effective dust control continues to gain priority across a wide range of industries, a new equipment design has been engineered to provide an unmatched level of mobility and performance, delivering effective particle suppression for new and existing applications. With a throw of 100 feet, the adjustable elevation angle and user-defined oscillation allow precise aiming of a powerful dust-capturing mist, which is comprised of millions of droplets per minute in the range of 50-200 microns—proven to be the most efficient size for most project needs. TRUE INNOVATIONThe DustBoss Atom™ from BossTek is a true innovation in mobile dust suppression, a fan-less, self-contained design that incorporates remote control and 4G LTE telematics technologies as standard equipment to deliver an unprecedented combination of suppression and monitoring. The compact, diesel-powered unit fits in the back of a pickup truck, so it can be quickly positioned and relocated to address dust-generating activity directly at the source. It also has fork lift pockets on the front and back. "After more than 15 years of designing purpose-built dust suppression equipment in a variety of sizes and styles, we found that some companies expressed a desired for a smaller, more maneuverable unit, with a lower price point," says BossTek vice president of sales Mike Lewis. "This machine is well suited to demolition projects, recycling operations, transfer stations, bulk material processing, ports/shipping applications, quarrying/crushing, biomass handling, concrete curing, and even indoor operations where significant air movement may be undesirable."INCREASE IN PERFORMANCEThe Atom features a Kohler KD440 power plant—a 9.1 hp air-cooled engine that meets Tier-IV Final emissions standards and complies with California CARB requirements. A unique air filtration system increases performance and lengthens service intervals, even in dusty environments. Its integrated fuel injection system and overhead cam design are coupled with a cast iron cylinder liner for consistent, reliable service. The engine and pump subassembly are secured by four isolation mounts that minimize vibration transfer to the frame. The high-impact stainless steel nozzle features a quick disconnect for easy replacement. "In addition to its compact size, what really sets this unit apart from other designs is the built-in communications features," Lewis continues. "The hand-held remote controls virtually every function, and the telematics provide a web-based platform to monitor status and streamline service and support. "The system tracks engine hours, operating temperature and average run time per day, and provides readouts of suggested maintenance," he adds. Dust Suppressiondesign delivers exceptional mobility, versatility NEW COMPACT DESIGNThe portable size and easy mobility make the Atom an excellent solution for demolition projects.
Page 29
FEBRUARY 2021 DIGITAL EDITION
Page 30
FEBRUARY 2021 www.mcsmag.com26equipment solutionThe Right Trailerknow your trailer's true capacityRETURN ON INVESTMENTA trailer is never just a trailer. It can be manufactured to many different specifications, but the end result should always be an ideal trailer for an operation's specific loads. To select a trailer that will require the least amount of maintenance, provide the greatest lifespan, and deliver the highest possible return on investment, it is vital to understand the trailer's true capacity.There are five contributors to capacity ratings, and each can be varied to meet a carrier's specifications. To select the right trailer, operators should consider these factors: LOAD CONCENTRATIONThere are no industry standards when it comes to determining capacity ratings. To ensure maximum utilization, operators need to pay special attention to load concentration, or the length of the deck that can handle the rated weight. Obviously, a 50-ton lowbed can haul 50 tons. But how much of the deck those 50 tons occupy is just as important as the weight itself. While one trailer might need the entire 26 feet to be rated at 50 tons, another can handle that same weight in half the deck length. Since loads are rarely 26 feet long, these ratings give a more realistic indication of the concentrated loads the trailer will be able to handle safely and without structural failure. LOAD DISTRIBUTIONHow a load is distributed over the deck and the number of required axles is also an important consideration when selecting the right trailer. Axle weight laws and regulations vary from state to state, so fleet managers and operators should work with manufacturers to define the best trailer for the cargo and the best axle configurations to maximize the load in their area of operation. There are many options for achieving the best possible weight distribution over the axles, depending on the specific state's regulations and the nature of the load. For example, carriers can vary gooseneck lengths in the front, alter the distances between axles and axle groups, move the load closer to one end or the other, or use a jeep dolly to add extra axles. However, these options must be included in the initial trailer design—simply adding them afterward risks the structural integrity of the trailer and the safety of operators and the public. SPEEDAnother capacity determinant is speed. While some manufacturers rate their trailers at 55 mph, others rate them at 65 mph. The slower a rig travels, the less added weight or stress is placed on the trailer. This is due to the fact that, while road dynamics such as potholes, railroad tracks and so on still come into play, the impact on the trailer decreases along with the speed. SAFETYA trailer's safety rating also comes into play when discussing capacity. A safety rating is an indicator of how much stress a trailer can safely handle. It encompasses factors such as the strength of the raw materials used in the trailer's construction and how the beams and cross members are configured.The widely accepted average magnification of payload weight on a trailer due to road dynamics is 1.8 to 1 ratio. However, on any given haul, By Troy Geisler To make an apples-to-apples comparison, consider one 50-ton lowbed alongside another 50-ton lowbed. Because, just as a trailer is never just a trailer, not all 50-ton lowbeds are created equal.
Page 31
stress on the trailer can go above that level multiple times. If no cushion is built in to handle those spikes in stress, there is potential for long-term, progressive structural damage. That's why some industry-leading manufacturers use a ratio of 2.5 to 1, which is considered an ample cushion for even the most extreme road dynamics a trailer might encounter.Not only does the safety rating tell a carrier how strong his trailer is, it's also a very good indicator of potential life. Typically, the greater the difference between the static design safety factor and the dynamic 1.8 average multiplier, the longer a trailer's useful life expectancy.MATERIALSSafety factors are strongly related to the quality of the components incorporated into the trailer, such as steel and the deck material.There are several options when choosing steel, but for the most capacity and smallest impact on the trailer weight, reputable manufacturers use a T1 material with 100,000 psi minimum yield. T1 has maximum strength versus ductility and equates to a lighter, stronger trailer frame.A trailer's decking is continually exposed to the elements, making durable decking with a long wear life crucial. Tightly woven and incredibly dense, apitong decking provides a tougher, longer lasting wood in comparison to other varieties, such as oak or pine. It's also less susceptible to chipping and cracking and provides some amount of traction in comparison to a smooth metal surface.CLOSING THOUGHTPurchasing the right trailer can be complicated, but there is help available. Many manufacturers have experienced staff who can help select a trailer with the optimal combination of load concentration, load distribution, speed and safety rating for specific applications and load types. Knowing a trailer's true capacity will help ensure an investment that leads to a long, smooth ride. www.mcsmag.com FEBRUARY 202127• Well Rehab Products• Manholes• Bentonite• Filter Sock• Inline Chemical Mixers• Sampling Bailers• Clear PVC Pipe• Locking CapsAtlantic Screen& Manufacturing, Inc.Manufacturers of slotted & perforated pipe ranging from ½" to 24" in diameter302-684-3197Fax 302-684-0643142 Broadkill Road ■ Milton, DE 19968www.atlantic-screen.com ■ atlantic@ce.netabout the authorTroy Geisler is the vice president of sales and marketing for Talbert Manufacturing. He has more than 15 years of experience in trailer sales, including more than 5 years with Talbert. Talbert has been building world-class heavy-haul and specialized trailers to rigorous customer specifications since 1938. The company offers complete lines of heavy-haul trailers and specialized transportation equipment for the commercial, industrial, military, and government sectors. For more, visit www.talbertmfg.com.For the most capacity and smallest impact on the trailer weight, some manufacturers use a T1 material with 100,000 psi minimum yield. T1 has maximum strength versus ductility, and equates to a lighter, stronger trailer frame over other materials.Apitong decking provides a tougher, longer lasting wood in comparison to other varieties, such as oak or pine. Tightly woven and incredibly dense, apitong is less susceptible to chipping and cracking and provides some amount of traction.
Page 32
Page 33
Page 34
FEBRUARY 2021 www.mcsmag.com30environmental solutionUnless you're working in a developed area, building a new business doesn't start with laying the foundation. It begins with clearing bushes, trees and other debris from the lot. Land clearing is an integral part of the construction industry, but it can be challenging or even impossible to complete without the right equipment. What do you need to know to choose the best land-clearing equipment for your project? Here are four items to consider: ASSESS THE LOCATIONThe first step toward choosing the best land-clearing equipment is appraising the location. Evaluate the lot's details, from the elevation and grade to the kind and size of trees and other brush that dot the landscape. A flat, relatively level stretch of land will need less modification than one covered in slopes and hills. In the same vein, a bare lot or one with small saplings and bushes growing throughout won't require the same equipment a heavily forested area might. Take the time to inspect the site before deciding on the type of equipment you might need. DETERMINE THE PROJECT NEEDSOnce you understand the kind of challenges you'll be facing when clearing a new jobsite, you need to determine what your project will require before you can decide about equipment. Creating an open stretch of land to build a standard foundation will require different tools than digging trenches and getting ready to install an underground pipe system for a geothermal heating and cooling system. It sounds simple enough, but you need to take a step back and determine your project's exact needs. CONSIDER THE ENVIRONMENTAL IMPACTOnce you've completed the first two steps, it can be tempting to dive in headfirst, but there is at least one more thing you'll need to assess before you can break ground for the first time. You need to consider the problem of habitat destruction. While some demolition is inevitable when creating space to work and build, it is possible, and in many cases, necessary to limit habitat loss to protect the surrounding ecosystems' delicate balance. There is another layer to preventing habitat destruction: considering the finished structure's impact. However, that doesn't play as significant a role in selecting heavy equipment for the beginning of a project.PICK THE RIGHT SIZE FOR THE JOBFinally, ensure you're selecting the correctly sized equipment for the job. It's impractical to assume you can cut down lots of large, old-growth trees with nothing more than a handheld chainsaw. While it is possible, it's a lot more work than it needs to be. Instead, while you're working your way through those first steps, figure out what size equipment you're going to need. At the same time, you don't want to bring in the largest piece of machinery in your fleet if it's too big for the job. You'll get the task done, but you'll also end up doing more damage to the surrounding environment than is strictly necessary because of the apparatus' sheer size. Find that happy middle ground and choose the right size for the job.CLOSING THOUGHTYou'll need to go through the steps outlined here each time you prepare to break ground on a new jobsite. Eventually, you'll develop a process to help streamline your decision-making, but ensure you're flexible and open to switching things up on the fly. Each new jobsite to clear may present various challenges, but if you have a fundamental idea of how to approach your equipment decision, these obstacles won't represent any difficulties. Breaking Groundchoosing the best land-clearing equipmentBEST PRACTICESBy Jane Marshabout the authorJane is an environmental and green technology writer who covers topics in sustainable construction and green building materials. She also works as the editor-in-chief of environment.co.
Page 35
Page 36
FEBRUARY 2021 www.mcsmag.com32environmental solutionCRESSET CHEMICAL75 Yearsof innovation and business successOhio in the mid-to-late 1940s was bustling, with USA metros growing as fast as the businesses on Main Street.It was in Weston, Ohio, 1946, when Dr. Joseph A. Baty, a chemist, his brother Carl E. Baty, and John Romig founded Cresset Chemical Company.The new enterprise was a family affair with Joe as president, Carl as vice president, and Joe's wife Ann as secretary and treasurer. They did all the manufacturing on Weston's Main Street, in the building where the Baty family lived. The firm had one product—an innovative industrial hand cleaner named Sol-Zol, that Joe and Carl took turns hitting the road to sell.THE EARLY YEARSIn the early 1950s, the team bought 10 acres of land with a house on the edge of town, and built one and then another concrete block building to handle the manufacturing and shipping operations. By the 1960s, Cresset was adding to its lineup of products with concrete release agents and concrete plasticizers.In 1968, George Baty, Joe's son, joined Cresset and a few years later was named president when Joe resigned to focus on product research. The transition to new management was smoothly accomplished and complete by the time Joe Baty died in 1974.The 1970s brought challenges. Petroleum product prices were increasing, and together with decreased availability, a serious threat was looming—petroleum products comprised 80 percent of the raw materials used by the company. The recession in the construction industry created more challenges; 90 percent of Cresset's customers were in that business segment.Despite these obstacles, Cresset Chemical Company flourished. Care was taken to not over-extend or over-promise. Unnecessary expenses were eliminated; unprofitable products were dropped. Marketing methods were improved. Office accounting procedures were reorganized. Plant and office personnel were coordinated into a smoothly running team.Following in the family tradition, George's son Mike Baty joined Cresset in 2000 after a successful career in the software industry. Working his way up, Mike held several positions in the organization from production to sales and marketing. In 2008, Mike was named president and CEO when George retired.With an increasing worldwide focus on sustainable materials and concerns over the effects of hydrocarbons on the environment, Cresset's product research department led the industry in the development of new "Green" technology. The team created environmentally friendly, effective release agents with reduced VOCs for a wide variety of applications, and continue development today. Under Mike's leadership, those innovative "Green" products have a global customer base; Cresset products ship to industry professionals worldwide.CRESSET CHEMICAL TODAYThere's nothing better than hearing from the people at the company directly. The following is a brief Q&A with Jim Renda, vice president, sales and marketing with Cresset.How is the company known today?Cresset is considered the most preferred brand of form release agents in the concrete industry. We sell to a wide range of customers throughout North America and around the world. Cresset makes products for all types of concrete production including precast, cast-in-place, tilt-up, cast stone, and ornamental.What products make up the company's portfolio of offerings?Joe Baty outside his company in the 1950s.
Page 37
www.mcsmag.com FEBRUARY 202133Cresset produces a wide range of architectural and structural form release agents, cure and seals, form and equipment treatments, sprayers, and hand cleaners.What are some of the most memorable construction projects where Cresset Chemical provided the solution of choice?The new Apple headquarters in Cupertino, California; the new One World Trade Center in New York; the Natchez Trace Bridge (first double arch precast bridge in North America) in Tennessee; the new SoFi NFL stadium in Los Angeles (site of Super Bowl LVI 2022); and many other NFL stadiums and high-profile concrete buildings and bridges.With Cresset Chemical celebrating 75 years in 2021, what business fundamentals have led to its success in the construction market and its dedication to the concrete industry?Joe Baty named the company Cresset because a "cresset" is a torch that cuts through the darkness to light the way. He wanted his company to be innovative and proactive. Cresset has followed that philosophy throughout its history with new product introductions that have advanced the concrete production industry.What innovations through the years have set Cresset Chemical apart from its competitors?In the 1950s, Cresset introduced the concept of chemically-active form release agents; a giant advancement over traditional form oils. At the time, the most common form oil was diesel fuel.Beginning in the 1970s, Cresset led the industry in introducing environmentally friendly construction chemicals made with 100 percent virgin ingredients that don't pollute the air or waterways. These include water-based and vegetable-based release agents with virtually no VOC content. Our bio-based release agent is USDA certified Bio-Preferred and all of our release agents are Prop 65 compliant; Prop 65 is a California law that prohibits the use of cancer-causing ingredients. Recently, we introduced one of the first non-petroleum, eco-friendly synthetic architectural release agents called 880 Platinum®.LOOKING BACK, LOOKING AHEADHere's a brief Q&A with Mike Baty, owner and president of Cresset Chemical, as he shares making the choice to work at the family business and how he sees Cresset Chemical today and beyond.Could you elaborate on your decision to join the company, plus any obstacle and solution that helped move the company forward?I thought hard about moving back to Ohio and working for the company that has been in my life since I could walk. I had a career in software engineering and was quite successful; I loved what I was doing. I decided it was important to continue the legacy of quality and innovation my grandfather and father worked so hard to achieve. As I began this career change, the bank stopped the loan process for the house I purchased with one question, "why such a large cut in pay." I told them I was going to work for the family business and that seemed to be good enough for them. Using the computer/networking skills I developed outside of the company, I updated all the computer systems and the network with the latest technology.How do you feel about celebrating 75 years in business?I am proud to be with a company with 75 years of experience in the concrete industry.What's your outlook for Cresset Chemical in 2021?Tackling the new environment and new technology by making adjustments and new products for the years to come.CLOSING THOUGHTIt was very important for my grandfather and father to create quality products without cutting corners and to create value for the customer. I have a passion to continue that same tradition. for more informationCongratulations to Cresset Chemical for celebrating 75 years of innovation and success in 2021. For more, visit www.cresset.com.
Page 38
Page 39
Page 40
FEBRUARY 2021 www.mcsmag.com36management solutionInsurance Mattersanswers courtesy of Gregg LyonEXPERT Q&AAll commercial general contractors have unique risks and exposures. Partnering with an insurance agent or broker and securing coverage from a sophisticated carrier can help protect commercial general contractors in a number of ways.What are the insurance needs of commercial general contractors?As most of your readers know, there are coverages that offer liability protection for businesses, such as general liability, workers' compensation, professional liability, and auto liability. Then there are coverages that help protect against physical risk, such as builders' risk and property insurance. Some might consider adding a cyber insurance policy to guard against a cyberattack. Others might purchase a commercial umbrella insurance policy, which provides coverage that exceeds the limits in a primary policy. A new product Travelers is offering is Project Loss Insurance (PLI), which helps mitigate catastrophic project loss because, as we know too well, one loss of this nature may be enough to severely affect a company financially, or even bankrupt it.Could you share the results of the Travelers review of construction surety claims? Every year we review our 10 largest contract surety losses to try to understand where these companies may have failed with their businesses—in essence, what missteps they took that put their businesses in jeopardy. There are some consistent themes that stand out, most notably that one bad job can cause a contractor to lose their entire business and that companies with poor internal controls have a much greater chance of failure. The insights we obtain allow us to deliver actionable advice to our clients, provide better overall service and, as we've done just recently, introduce a new product geared toward protecting the longevity of a contractor's business. What is the PLI product? How is the product designed to mitigate risk of a catastrophic project loss? From our surety loss study, we see too many times that one bad job can put even the best construction companies in a difficult financial position or, sadly, out of business. Projects can become problematic for a variety of reasons, such as a difficult owner, expansion issues, having the wrong team in place, subcontractors who don't perform, and even mistakes made on bid day. To address what previously had largely been uninsurable risks, we created our PLI product, which provides financial protection when a large loss does take place.How effectively companies manage the problems that arise day to day is how they sustain and differentiate themselves.
Page 41
How does the PLI product help contractors emerge from a loss rather than succumb to it? Could you give a real-world construction company example?PLI is designed to offer enterprise protection for construction companies and the people who own those businesses. If a contractor sustains a significant financial loss on a project, it can greatly impair or even threaten the viability of the company. If PLI is in place, the company will still absorb a portion of the loss, but it will reduce the financial impact of that project while providing proceeds from the policy when it is needed most. One claim we received involved a contractor who started a successful business more than 20 years ago. The firm took on a relatively modest-size job for $5.5 million, and due to several factors, including a bad superintendent and a challenging owner, the contractor ended up losing more than $3 million. The firm's equity dropped significantly, and it was left with no liquidity to run the business. In addition, because the company had to devote so many resources to get the job finished, the remainder of its backlog was negatively impacted. If PLI had been in place at limits consistent with a company of that size, the contractor's loss would have been approximately $1.3 million. This would have had a much smaller impact on the balance sheet, putting the company in a better position to continue to execute its business plan. How does a commercial general contractor add this product to their company's insurance needs?It's quite easy. Connect with an insurance agent or broker and ask for the PLI product from Travelers. CLOSING THOUGHTContractors take on significant risk every day. There are so many facets of running a construction business, all of which need to work together for a company to prosper long term. How effectively companies manage the problems that arise day to day is how they sustain and differentiate themselves. PLI is a vehicle that can help a business deal with the unforeseen potholes that contractors encounter as part of their normal business operations. In addition, since many business owners have a high concentration of personal investment in their companies, PLI is there to help ensure those owners protect the nest egg they have spent a lifetime growing. www.mcsmag.com FEBRUARY 202137about the authorAnswers courtesy of Gregg Lyon, chief strategy officer for Bond Construction Services, Strategic Initiatives, and Product Management at Travelers. For more, visit www.travelers.com.
Page 42
FEBRUARY 2021 www.mcsmag.com38I truly believe our lives are the result of our decision making. We are either recipients of good outcomes for proper decisions or victims of bad decisions. The product of our lives has less to do with luck, chance, serendipity, destiny, Acts of God, and more to do with our choices. So, why are some folks not as good at decision-making than others? Let's face it—some people are better at making decisions than others. Here's my go-to for making major decisions: the decision matrix.DECISION MATRIXESFor many years, I have used decision matrixes to assist with major decisions like hiring, selecting a house, buying a vehicle, investments, etc. When the risks are high, I chose to use a sequential method of weighted categorical comparisons. I gather facts and data to narrow my choices and then finish up with a simple Pro versus Con comparison coupled with gut-level intuition. I may also couple it with soliciting advice. To help illustrate this, I will use a recent example. My wife and I have lived in Raleigh NC for 27 years. As I approach retirement, we have decided that the rapid expansion and growth of Raleigh has escalated housing costs, taxes (recent announcement of a 20% increase), traffic, crime and other factors that made it less attractive for us to retire in. Therefore, we wanted a quieter place to retire. Having spent a few weeks examining Florida as an option, we decided North Carolina appealed more to our needs. We did consider two towns in South Carolina.I created a decision matrix to help with the process. The first thing I had to do was to determine our objectives or criteria for the decisions. We wanted smaller towns versus larger cities, so we set a population ceiling of 10,000. We wanted a low crime rate, especially compared to Raleigh. We wanted the housing cost to be lower or equal to Raleigh. We also sought a larger percentage of the population near our age for social purposes. We looked at the availability of healthcare. Another consideration was the distance from Raleigh as we have grandchildren and a business there that I will be transitioning out. AARP provides ratings for each town based on numerous factors, which we also considered as important. Another important consideration was how much my annual retirement income in Raleigh would compare as far as buying power in a town. We weighted each criterion or objective relative to the others based on its level of importance. For instance, crime had a weight of "2" compared to Cuteness Factor which was "1." Because the AARP rating was already an index or combined rating, I weighted it a heavy "3," making it the highest factor to consider. Each cell was colored to show if it was out of range, close to range or in range (red, yellow, or green). I then researched towns that were recommended as Best Small Towns in North Carolina on the internet. I used Sperling's Best Places, FBI Alert Notifications, and AARPs Livability Index for the actual ratings. I had no interest in fighting ice and snow, so I eliminated the recommended mountain ones like Blowing Rock, Banner Elk, and Boone. The rating scale or score for each was 100 points, so I had to create a relative scale. It was easy when it was percentage ratings, but sometimes I had to get creative to assign points for each category or criteria. At the end, I reviewed my ratings with my wife and she agreed with the management solutionDecision-makingusing a matrix to improve success rateBEST PRACTICESBy Preston IngallsPART 3 OF 3
Page 43
www.mcsmag.com FEBRUARY 202139top three. We will now visit each and interview locale people for their opinions (advice) on living there. We will do a Pro and Con list and finally rely on our "gut" or intuition for the final choice. The Australian philosopher Peter Singer once said, "Human decision making is complex. On our own, our tendency to yield to short-term temptations, and even to addictions, may be too strong for our rational, long-term planning." CLOSING THOUGHTCombine a systematic method with empirical and advisory but in the end, it will need to be intuitive. Taking the time to make the right choices is a choice itself. By the way, we now live 2 miles from Sunset Beach, North Carolina, near Carolina Shores. We love it. about the authorPreston Ingalls is president and CEO of TBR Strategies, LLC, a Raleigh, North Carolina-based maintenance and reliability firm specializing in the construction and oil and gas industries. Preston can be reached at pingalls@tbr-strategies.com.
Page 44
FEBRUARY 2021 www.mcsmag.com40management solutionDelays are a common occurrence in the construction industry. From weather to inadequate supply of workers, construction projects are prone to disruptions. In 2020, construction project delays were magnified due to the pandemic. Projects across the globe paused to adhere to government shutdown orders and then when allowed to proceed, dealt with supply chain disruptions and other constraints as they follow social distancing rules and other new safety measures that lower productivity.Despite normal delays and even under current unprecedented conditions, there are ways to mitigate the impact to the project schedule. The following are actions to take to alleviate delays. These are alternative and effective ways to stay on schedule: EXAMINE PERMITSConsider the potential permits you'll need when choosing construction methods. Additional permits may add costs and delays to your project. For example, waterproofing on decks has often been done using open flames (aka hot applied approach), and this requires additional permitting in some regions. That's why many waterproofing applicators have switched from hot applied products to cold-applied liquid waterproofing such as the SILCOR® liquid waterproofing membrane. In addition to its safety benefits, cold-applied membranes offer cost savings related to labor, materials, and equipment rentals. And, they ultimately represent a more durable, safer solution. USE PRODUCTS THAT ELIMINATE STEPSLook for construction products that effectively cut out application steps. When examining building envelope products, choose primerless air barrier products to eliminate the use of primer. For instance, PERM-A-BARRIER® VPS 30 membrane can reduce installation time up to 35 percent compared to membranes requiring primer, which is significant in today's fast paced world. When conducting floor installation, choose a floor moisture barrier that eliminates traditional installation steps. The KOVARA® AB 300 moisture barrier saves flooring contractors and building owners time and money with a quick and easy application process. Shot blasting is not required, and a self-leveling underlayment is only needed if the concrete subfloor is not flat. Once the KOVARA AB 300 floor moisture barrier is applied, there is no waiting for cure time. It is ready to receive adhesive and finished flooring right away. USE PRODUCTS THAT STAND UP TO EXTREME CLIMATE CONDITIONSChoose products that are unlikely to cause weather delays. A solution in bridge construction is the Eliminator Bridge Deck Waterproofing, which is highly moisture resistant, so it can be applied in virtually any climate conditions. In addition, it allows temporary trafficking before paving with an aggregate broadcast into the waterproofing membrane. This helps to accelerate bridge construction—which is critical to keep traffic moving during refurbishment and new construction projects. EXAMINE APPLICATION METHODSLook at application methods and speed when choosing new products. The process of waterproofing is an area that offers many solutions to cut down on application time. PREPRUFE® Plus Waterproofing Membranes reduce the time and cost involved with installation. The system is immediately trafficable upon installation, so rebar can be installed the same day. Self-adhesive ZIPLAP™ watertight laps make it easy to tightly adhere membrane panels together, without the need for heat, power, or special equipment. In addition, complex details can be tightly sealed by using PREPRUFE tape and BITUTHENE® Liquid Membrane, providing an end-to-end watertight solution. It's not just about selecting the membrane, but also how complementary products can seamlessly work together. STAY ON SCHEDULEEffective Strategies6 ways to accelerate constructionBy Lynn Connors
Page 45
www.mcsmag.com FEBRUARY 202141 LOOK FOR PERFORMANCE & SUPPORT BEHIND THE PRODUCTSWhen examining a product be sure to look at how the product manufacturer will support you. Will they offer technical service? Do they have a team of experts that will visit the building site to examine their products and guide the contractor on how to install them properly? And, what is the track record of their products? Most products have warranties, it is most important to look at the track record of the manufacturer and the proven performance of their products versus what their material warranty says. Have they been in business for a long time? Have their products performed well over many years? Do they have project profiles to prove performance? These are all more important considerations that will save time in the long run. LEVERAGE TECHNOLOGYTen years ago, when you walked onto a construction jobsite, there was little, if any, technology in use. Today, every project manager has a tablet and uses multiple tech products to manage a project. Contractors need to look at all of these offerings and decide which ones will have the most impact on their business day-to-day to work more efficiently. The use of apps and product innovations can propel a construction project forward. One example is the VERIFI® in-transit concrete management system, which provides automated process monitoring and control during transit from the ready mix concrete plant to the jobsite by using sensors installed on concrete mixer trucks to monitor, measure, and manage concrete properties in transit. The automation reduces rejected loads, increases jobsite efficiency, and minimizes costly project delays. CLOSING THOUGHTNow more than ever there is demand to complete construction projects on time. Bringing projects back to business faster and with limited disruption is essential. Every decision made in any given phase of construction plays a pivotal role that then drives the overall productivity of the project. It is critical to examine each phase to see how you can accelerate it without compromise. Today, there are many high-performance product solutions that save time as well as automation technologies that fast forward traditional processes. By taking advantage of these time-saving solutions and stepping outside of routine procedures, a construction project can be accelerated to meet deadlines. about the authorLynn Connors is a global marketing manager at GCP Applied Technologies, a leading global provider of construction products technologies that include additives for cement and concrete, the VERIFI® in-transit concrete management system, high-performance waterproofing products, and specialty systems. GCP products have been used to build some of the world's most renowned structures. For more, visit gcpat.com.
Page 46
Page 47
Page 48
FEBRUARY 2021 www.mcsmag.com44software solutionMost contractors can obtain bank lines at attractive rates, but banks typically require blanket liens on assets that become cumbersome to secure additional financing for down the road (bank terms often require "permission" for the company to take on additional debt as a condition). Factoring is always an option but has such a negative connotation that if the general contractor or supplier discovers a contractor is factoring, they assess the business to be in financial distress. Billd was founded to solve this problem and removes the challenges contractors face purchasing construction material by partnering with suppliers to offer an integrated payment solution with flexible terms for the contractor. Suppliers get paid how they want, when they want, while providing their customers a financing solution to purchase today, and pay over time. Christopher Doyle, president and CEO of Billd, provides more insight into why he started his business, the benefits to contractors, and his outlook for 2021 in the following Q&A. How did you get your start in the construction industry? What inspired your career path?I started framing residential houses when I was 16 years old. I always joke that it's a great job because you get to be outside and get a nice tan while lifting a lot of lumber, so you get a great workout, and it pays cash every week. It's a great high school and summer job. When I graduated, I wasn't sure what to do next. So, I thought, "What do I know?" Well, I knew construction. So that inspired my next career moves.What did working in the construction industry teach you about being an entrepreneur? How did Billd come to fruition?Working in construction taught me that there are a lot of challenges when starting a new business. When you work for a company, it looks so easy sometimes. You might look at the company founders and say hey, I could do that—you're inspired to be an entrepreneur.However, you can't expect to know everything when you're 24 years old. You have to get some good experience and find the right people to work under who can teach you a lot. I also learned that when you go out on your own, a lot of things will go wrong—but that's ok. Starting a new business is risky. But seeing others do it gave me the courage to do it, too—especially once I had a plan in place.Billd came to fruition because I've been in construction for 20 years, and it's a well-known problem that the construction supply chain is dysfunctional and subcontractors feel this problem the most. There are a lot of players that are trying to solve this problem from the top down (property owner to GC), but no one is trying to solve it from the bottom up (supplier and subcontractor)—to actually help the folks who are bearing the brunt of the burden. That's where Billd comes in. I spent 20-plus years working with small businesses in the construction space from residential to commercial, renewable energy, and government contracting. This is a space I know extremely well and can relate to their challenges, outside of just cash flow. What is Billd and what does the company provide for general contractors?Billd is a new payment solution for both contractors and suppliers in the construction industry. For commercial contractors, Billd offers terms that align with existing construction payment cycles by paying their supplier upfront and extending them 120-day terms. Contractors typically aren't paid for their work for at least 90 days, resulting in a wide gap from when they need to buy materials to when they're paid. Material financing offers a pay when paid solution, helping contractors drastically improve Securing Materialsfinancial security for the buildEXPERT Q&AAnswers courtesy of Christopher Doyle
Page 49
www.mcsmag.com FEBRUARY 202145cash flow, so they can focus on building and growing their business. For suppliers, Billd pays upfront, reducing their credit risk and allowing them to widen their customer base, as well as sell more to existing customers. Why can Billd offer products to contractors with fewer other options?Billd is in a unique position to support construction businesses, who typically have few limited credit options, because of our deep domain expertise in the construction industry and knowing their specific pain points. Our understanding of construction payment cycles, relationships involved in construction, mechanic's lien rights, and the intricacies of the construction projects allows us to view these businesses through a much different lens than traditional credit providers. How Billd is supporting its customers during COVID-19?During this unprecedented time, many developers and property owners have slowed down new commercial construction starts as well as halted projects that were in-progress. Billd has been supporting customers during COVID-19 in many ways, primarily through our understanding of construction project delays throughout the country and our flexibility in offering extended terms on material purchases. Also, many traditional lenders and suppliers have tightened available terms—but we've made the choice to go even further to support our customers during this time. What is your outlook for 2021?Billd is excited for 2021, even after the turbulent year of 2020. We're becoming a household name in the construction industry with more and more subcontractors as well as suppliers and general contractors becoming aware of the benefits of material financing. We have some new, innovative products in the works to help our customers solve their cashflow pain points and improve their ability to take on more challenging and more profitable commercial projects. CLOSING THOUGHTBilld is 100-percent committed to its customers and solving many of the challenges and pain points around supply chain finance and the dysfunctional payment cycle in the $1.3 trillion construction industry. about the authorChristopher Doyle is the president and CEO of Billd (billd.com), a construction finance company that partners with regional and national suppliers across the U.S. to offer project-based financing to contractors. The short-term financing solutions facilitate immediate payment to suppliers while providing contractors the flexibility to pay back material purchases over time.
Page 50
Page 51
Page 52
FEBRUARY 2021 www.mcsmag.com48legal solutionUnmanned Aircraft Systems (UAS)—more commonly referred to as drones—have seen rapid growth in use across a variety of sectors, from aerial photography and security surveillance to fast food delivery. The Federal Aviation Administration (FAA) estimates that UAS in use in the United States increased from approximately 2.5 million in 2016 to more than 7 million in 2020, which is approximately 10 times the number of manned aircraft registered in the United States. Of these registered UAS currently in operation, a significant portion of UAS is utilized in the construction industry. As with many other industries, this rapid increase in use will continue to impact the construction industry in a variety of significant ways.BENEFITS OF UAS Generally speaking, UAS offer a number of advantages to project participants, including the potential for substantial increases in efficiency, coordination, and safety. More specifically, UAS are used primarily for data collection. Armed with a variety of increasingly small, lightweight, and inexpensive sensors, UAS can collect and transmit data regarding light, images, sounds, magnetic fields, heat, and chemical molecules.This versatility at data collection has broad application in the construction industry. On site at a project, UAS can perform surveys and inspections, provide security surveillance and progress reports, identify safety issues, orient new employees, augment reality, and otherwise aid in coordinating, managing, and monitoring site activities and logistics. UAS also can improve safety by performing tasks that would expose a human worker to risk of harm. In addition, UAS can aid in both pre- and post-construction activities such as design, engineering, planning, and marketing. Furthermore, UAS use can significantly reduce labor costs. One estimate values the labor and services exposed to replacement by UAS at $127.3 billion worldwide, one third of which comes from the construction and infrastructure industries. (See Daniel S. Brennan, The Internet of Things in Construction: Opportunity, Risk and Insurance Considerations, 13 No. 2 ACCLJ 3 (Summer 2019))POTENTIAL RISKS, LIABILITIES While the benefits are potentially limitless, the increased use of UAS also introduces the possibility for new risks and exposure to liabilities which current risk management regimes may not adequately address in their current form. There are three particular areas of potential risk and liability with respect to UAS: (1) compliance with government regulation, (2) operational risks, and (3) insurance coverage issues. COMPLIANCE WITH GOVERNMENT REGULATIONSThe primary federal regulations governing the use of UAS is 14 C.F.R. § 107, which applies to commercial UAS under 55 lbs Section 107 requires that commercial UAS operators obtain a Remote Pilot Certificate. Notably, obtaining a Remote Pilot Certificate does not require any experience operating UAS. Rather, the applicant must: (a) be at least 16 years old; (b) speak and write English; (c) possess the physical and mental fitness to safely operate UAS; (d) pass an aeronautical knowledge test; and (e) pass vetting by the Transportation Safety Administration (TSA).In addition to requiring a Remote Pilot Certificate for operators, Section 107 imposes several restrictions on UAS use, including: (a) maintaining visual-line-of-sight (VLOS) with the UAS at all times; (b) operating at speeds no greater than 100 mph; (c) operating at altitudes no greater than 400 feet or farther than 400 feet from a structure; (d) operating only during daylight hours; (e) not operating in controlled airspace without prior air traffic control approval; (f) yielding the right-of-way to manned aircraft; (g) not operating from a moving vehicle or aircraft; (h) not operating under the influence of alcohol or drugs; (i) not operating multiple UAS simultaneously; and (j) not flying over the Droning Onthe increased use of unmanned aircraft systems ADDRESSING THE RISKSBy Christopher S. Drewry and Jeffrey M. Kraft
Page 53
www.mcsmag.com FEBRUARY 202149general public. Operators may apply with the FAA for waiver of many of these restrictions. However, waivers may come with a new set of restrictions. For example, to obtain waiver of the daylight-operations restriction, applicants must demonstrate how they will: (a) maintain VLOS with the UAS; (b) avoid other aircraft, structures, people, and other obstacles; (c) continually determine the altitude, attitude, and movement of the UAS; (d) ensure all participants can recognize and overcome visual illusions and physiological conditions that may degrade night vision; and, (e) enable the UAS to be seen at a distance of 3 miles, unless another system is already in place for avoiding all non-participating aircraft.Failure to comply with these regulations presents a substantial risk to operators. The FAA has broad authority to enforce these regulations with warning notices, letters of correction, and civil penalties. This latter option can be costly to violators; companies may be fined up to $34,777 per violation, per day, while individuals may be fined up to $1,527. In addition, the FAA may impose criminal sanctions for purposeful and significant violations. OPERATIONAL RISKSAs one might expect from a 55-lb flying object with spinning metal blades, UAS present a significant risk for personal injury and/or property damage through malfunction or operator error. This risk is magnified when operating in the context of a busy construction site filled with ever-moving, ever-changing people, machines, and other obstacles. The risk is increased further by the minimal requirements for obtaining a Remote Pilot Certificate, which allows for commercial UAS operation by largely inexperienced pilots. Construction industry members may be advised to set (and insurers may require) additional safety requirements for UAS operation, such as minimum flight hours for operators or mandatory recovery parachutes. In addition, UAS operation could be vulnerable to cyberattack. INSURANCE COVERAGE ISSUESAlthough currently not required by law, UAS insurance coverage may be required by specific clients or projects, and most credible commercial operators carry UAS liability insurance coverage. Significantly, because commercial general liability insurance policies usually contain aviation exclusions, they generally do not cover liability arising out of UAS operation. Construction industry members wishing to employ UAS will want to pursue either adding UAS coverage to their existing policies or purchasing separate commercial UAS insurance, which typically will cover aircraft operations (including non-pilot, on-ground crew), manufacturer product liability, third-party legal liability, premises liability, medical payments, fire, independent contractor's liability, personal injury, advertising liability, contractual liability, and fellow employee coverage. In exchange, insurers typically require commercial UAS operators to adhere to additional safety measures (such as minimum operator experience levels) beyond the FAA requirements.CLOSING THOUGHTCleary the usage of UAS within the context of the construction industry offers great potential for use and application on projects, including substantial increases in efficiency, coordination, and safety. However, they also introduce new risks and liabilities that current risk management structures may not adequately address. Members of the construction industry, and their counsel, need to be aware of, understand, and address these risks in adopting and implementing such new technologies. about the authorsChristopher S. Drewry is a partner with the law firm of Drewry Simmons Vornehm, LLP, in Indiana (www.dsvlaw.com), where he focuses his practice on construction law and litigation, as well as labor and employment law and litigation. Chris is currently the Chair of the Construction Law and Litigation Committee of the International Association of Defense Counsel, and he can be reached at cdrewry@dsvlaw.com. Jeffrey M. Kraft is an associate at Drewry Simmons Vornehm, LLP, where he focuses his practice on general litigation, including construction law. He can be reached at jkraft@dsvlaw.com.
Page 54
Page 55
Page 56
FEBRUARY 2021 www.mcsmag.com52technology solutionFatal accidents are a tragic occurrence for all parties involved. The transportation industry—including telematics providers—should make preventing these tragedies its highest priority. With the use of telematics, the latest in video technology, and connected vehicles, many of these incidents can be prevented through consistent—and proactive—vehicle maintenance and continuous driver monitoring, coaching, and evidence-based accountability, saving countless dollars across the industry and, more importantly, many lives.For better or worse, the proliferation of civil cases with jury verdicts totaling more than $10 million, known as "nuclear verdicts," has significantly altered the business of fleet management. For instance, insurance premiums have doubled every several years while general inflation marches at a much smaller pace, according to The Wall Street Journal. When a nuclear verdict hits a mid-size trucking company, it often triggers a ripple effect throughout the industry. While the company that faces the judgment could be bankrupted, others that have nothing to do with it could see their insurance premiums spike as well. PAYOUT FALLOUTThis economic fall-out comes from the financial needs insurance providers have to keep cash reserves available for massive verdict-induced payouts. With more nuclear verdicts in the industry, the more cash is needed. With every verdict, each fleet client is seen as a riskier and riskier business—even if nothing has changed within a particular fleet. In order to collect so much money, insurance companies have been increasing premiums on a regular basis and those growing costs have cut deep into the profits of fleet managers. The only way to reverse it is through serious investments in safety, especially telematics solutions. With fewer accidents comes fewer civil complaints and, ultimately, a rebalancing of the risk equation from an actuarial standpoint, which benefits everyone. The potential to protect drivers and pedestrians cannot be understated. Telematics solutions when implemented with driver safety education, accountability, and disciplinary action for negligent drivers will prevent the tragic loss of life more effectively than even the harshest nuclear verdicts because they are based on proactive and predictive analytics—not a reactive civil procedure that only begins after the tragedy has occurred. Currently, juries have been triggering huge pay-outs, and much has been made about their validity. Some legislators have called for capping nuclear verdicts to stabilize the economics within the sector, while others have called for steeper burdens of proof. But whether you are for reforming liability laws or just think the system is unfair, we should acknowledge that nuclear verdicts do in fact serve a very important purpose FLEET MANAGEMENTJury May Be Seatedtelematics offers hope in the nuclear (verdict) eraBy Marco Encinas
Page 57
www.mcsmag.com FEBRUARY 202153in the transportation industry: they hold fleet businesses to a higher accident accountability standard, given the weight and potential danger of the size of their vehicles.This is not to say that the current system is perfect. The routine enormous payouts and trickle-down effect they have on the industry as a whole will inevitably have unintended consequences and could harm those who've done everything right. However, even those who are against compensatory damages as a practice are still motivated to reduce the number of fatal accidents just from a moral standpoint.THE TELEMATICS DÉTENTEOne of the best ways to reduce a fleet's accident rate and nuclear verdict exposure is to utilize telematics. According to the Federal Motor Carrier Safety Administration, vehicles equipped with telematics software have been linked to safer driving patterns as well as better fuel economy and fewer emissions.Due to advancements in sensor technology, data processing and the internet of things (IoT), vehicles are "connected" to the point where fleet managers and compliance officers can see into a driver's cabin, out the windshield or through an overhead virtual "drone view" to spot dangerous situations in real time. Other features from advanced telematics platforms can calculate tire pressure, balance, speed, altitude, and general wear and tear on a vehicle. All of this functionality goes a long way towards preventing accidents.Getting the data is the easy part. The key is analyzing all of it properly and taking action before something bad happens. Since the amount of data to be attained by an advanced telematics platform is nearly infinite, the best way to make sense of it all is to apply an equally impressive filter powered by artificial intelligence (AI).
Page 58
FEBRUARY 2021 www.mcsmag.com54technology solutionDashboard cameras that focus and move based on machine-learning algorithms can pick up threats on the road at a rate that is far superior to what a driver or back-office compliance officer can do. Inside the vehicle, AI-powered video cameras can pick up on driver fatigue behaviors, which could be a precursor to an accident. If this is starting to sound like something out of a Tom Cruise movie, just know that there's likely a happy ending at the end of each route with our heroes returning home safely.Safety analytics also are crucial for providing proactive maintenance on fleets so that parts don't malfunction while vehicles are in service. Even if a driver is performing as carefully as possible with a fully optimized analytics platform, there is still a risk that the vehicle could have a problem that leads to an accident. Often these mechanical failures can be addressed ahead of time, which would prevent critical injury or loss of life. On the road, the stakes are too high to ignore such measures now that the technology is widely available.Global positioning systems (GPS) inform fleet managers and drivers—and possibly customers—where the vehicle is on its route and compares its progress to other relevant data sets such as traffic patterns and nearby hazards. This information is useful not just in managing vendor relationships and fleet efficiencies, but also in helping drivers avoid dangerous areas or accident hotspots. Any action to avoid tragedy, no matter how small, is worth it once you consider the magnitude of how tragic and costly an accident can be. The ultimate safety precaution, though, is not the computer, the data analyst, or even the juror in a negligence case; It's the drivers, themselves. They are the ones who are responsible for the safety of the vehicle while it is in service. The telematics and continuous video monitoring capabilities are merely tools to help drivers perform at the best of their abilities. To incentivize this, fleet managers can use telematics and video footage to coach drivers, reward them, and maintain scorecards detailing their progress and/or specific areas that need improvement. Additionally, fleet and safety managers need to be highly disciplined in the back offices to follow through on the coaching and training on a regular basis to ensure better techniques are being adopted and followed consistently by the drivers.CLOSING THOUGHTThrough the right software investments, fleet companies can correct poor driving patterns and prevent many accidents. Broad adoption of these technologies will only make the roads safer and lessen the occurrence—warranted or not—of nuclear verdicts. The solution to our safety problem is not only a legal one. The trucking industry needs to evolve, innovate, and thrive with or without nuclear verdicts. Accidents can happen—some with tragic consequences—but most can be avoided entirely with better driving behaviors, time management, and vehicle upkeep. Today, more than ever, we have the ability to enable safer driving behaviors through the latest in telematics and video monitoring technology. about the authorMarco Encinas, senior product manager at Teletrac Navman, plans the product strategy and roadmap releases globally for all of Teletrac Navman's software platforms. He gains industry insights from customers, integration partners, and R&D to improve current Teletrac Navman product features and tools, and drive development of new product requirements.Whether the decision to invest in protecting your fleet—and the general public—with this technology is moral, economic, or both; it is still the right thing to do.
Page 59
Page 60
FEBRUARY 2021 www.mcsmag.com56technology solutionDigital manufacturing technologies like 3D concrete printing (3DCP) have immense potential to save time, effort, and material in construction. They also promise to push the boundaries of architectural innovation, yet technical challenges remain in making 3D printed concrete strong enough for use in more free-form structures. In a new experimental study, researchers at RMIT University looked to the natural strength of lobster shells to design special 3D printing patterns. The bio-mimicking spiral patterns improved the overall durability of the 3D printed concrete, as well as enabling the strength to be precisely directed for structural support where needed. When the team combined the twisting patterns with a specialized concrete mix enhanced with steel fibers, the resulting material was stronger than traditionally-made concrete. Lead researcher Dr Jonathan Tran says 3D printing and additive manufacturing opens up opportunities in construction for boosting both efficiency and creativity. "3D concrete printing technology has real potential to revolutionise the construction industry, and our aim is to bring that transformation closer," says Tran, a senior lecturer in structured materials and design at RMIT. "Our study explores how different printing patterns affect the structural integrity of 3D printed concrete, and for the first time reveals the benefits of a bio-inspired approach in 3DCP. "We know that natural materials like lobster exoskeletons have evolved into high-performance structures over millions of years, so by mimicking their key advantages we can follow where nature has already innovated." 3D CONSTRUCTION The automation of concrete construction is set to transform how we build, with construction the next frontier in the automation and data-driven revolution known as Industry 4.0. Researchers at RMIT University looked to the natural strength of lobster shells to design special 3D printing patterns, with the goal of improving the durability of concrete strength.Lobster exoskeletons are naturally strong and naturally curved.3D Concrete Printinglobster-inspired pattern improves overall strength INDUSTRY 4.0From RMIT University3D Concrete Printinglobster-inspired pattern improves overall strength INDUSTRY 4.0
Page 61
www.mcsmag.com FEBRUARY 202157A 3D concrete printer builds houses or makes structural components by depositing the material layer-by-layer, unlike the traditional approach of casting concrete in a mold. With the latest technology, a house can be 3D printed in just 24 hours for about half the cost, while construction on the world's first 3D printed community began in 2019 in Mexico. The emerging industry is already supporting architectural and engineering innovation, such as a 3D printed office building in Dubai, a nature-mimicking concrete bridge in Madrid and The Netherlands' sail-shaped "Europe Building." The research team in RMIT's School of Engineering focuses on 3D printing concrete, exploring ways to enhance the finished product through different combinations of printing pattern design, material choices, modeling, design optimization, and reinforcement options. PATTERNS FOR PRINTING The most conventional pattern used in 3D printing is unidirectional, where layers are laid down on top of each other in parallel lines. The new study published in a special issue of 3D Printing and Additive Manufacturing investigated the effect of different printing patterns on the strength of steel fiber-enhanced concrete. Previous research by the RMIT team found that including 1-2 percent steel fibers in the concrete mix reduces defects and porosity, increasing strength. The fibers also help the concrete harden early without deformation, enabling higher structures to be built. The team tested the impact of printing the concrete in helicoidal patterns (inspired by the internal structure of lobster shells), cross-ply and quasi-isotropic patterns (similar to those used for laminated composite structures and layer-by-layer deposited composites) and standard unidirectional patterns. COMPLEX STRUCTURES The results showed strength improvement from each of the patterns, compared with unidirectional printing, but Tran says the spiral patterns hold the most promise for supporting complex 3D printed concrete structures. "As lobster shells are naturally strong and naturally curved, we know this could help us deliver stronger concrete shapes like arches and flowing or twisted structures," he says. "This work is in early stages so we need further research to test how the concrete performs on a wider range of parameters, but our initial experimental results show we are on the right track." Further studies will be supported through a new large-scale mobile concrete 3D printer recently acquired by RMIT—making it the first research institution in the southern hemisphere to commission a machine of this kind. The 5×5m robotic printer will be used by the team to research the 3D printing of houses, buildings, and large structural components. CLOSING THOUGHTThe RMIT team will also use the machine to explore the potential for 3D printing with concrete made with recycled waste materials such as soft plastic aggregate. The work is connected to a new project with industry partners Replas and SR Engineering, focusing on sound-dampening walls made from post-consumer recycled soft plastics and concrete, which was recently supported with an Australian Government Innovations Connections grant. for more informationInfluences of printing pattern on mechanical performance of 3D printed fibre-reinforced concrete, with collaborators Luong Pham (first author and RMIT PhD researcher) and Professor Guoxing Lu (Swinburne University), published in 3D Printing and Additive Manufacturing (DOI:10.1089/3dp.2020.0172). For more, visit www.rmit.edu.au.INDUSTRY 4.0INDUSTRY 4.0
Page 62
FEBRUARY 2021 www.mcsmag.com58safety solutionWorkers are exposed to dangerous tasks in every construction job. It is part of the job, workers accept it, and do their best to mitigate risk. Most jobs, however, do not have the level of risk that workers encountered in a long-term railroad project in London.Crossrail, also known as the Elizabeth Line, is expected to become fully operational in 2021. Construction started in 2009, and it includes a 73-mile rail line with new electric trains that will run up to 24 trains per hour in various directions. The trains will carry about 200 million passengers per year, and will help ease the city's traffic woes. Nearly 1.3 million trips are made each day in the city, which has the dubious distinction of having Europe's worst traffic congestion.THE CHALLENGEThe idea of a rail line rolling through London for miles in many directions had been bandied about for decades. It was not until 2008 when the project finally received royal assent, and construction began in 2009. The scope was extensive. It included boring railway tunnels, track installation, new platforms, powering through new overhead lines, and 41 stations, including 10 new ones. New platforms needed to be constructed, and time for scheduling and testing needed to be allotted. Approximately 10,000 workers were on the job at various times throughout the project, which included more than 40 worksites and 35 million work hours. Throughout the entire process, worker safety was one of the priorities. "We believe that everybody should go home safely and in good health at the end of a working day," Martin Brown, health and safety director for Crossrail, says in an interview with Global Railway Review. "Nothing is more important than that. We began by making safety our number one core value, rather than a priority. Crossrail has five central values, but safety was a fundamental concept that ran through everything."SAFETY ISSUESDespite the focus on safety, there were issues during the lengthy construction process. In 2014, a Crossrail worker was killed by a falling piece of concrete. In 2019, workers demanded an investigation after people working at one of the stations said five colleagues died in their sleep in one 6-month period. Workers believed dust and oxygen levels in the underground construction site led to the deaths.Also, in 2019, City A.M. reported Crossrail workers were involved in 50 incidents that were categorized as "high potential near misses." The rate of near misses rose to a record high of 0.37 per 100,000 hours worked in July and August, nearly double the rate of just one year earlier."Statistics show that Crossrail is performing better than the average for the UK construction industry, but our aspirations are for world-class performance, and there is clearly more to do," Crossrail says on its website. PROTECTING CREWSAmong the safety measures workers installed to help protect train crew members and engineers are LadderUp® Safety Posts from BILCO. Workers installed 350 of the BILCO posts to provide easier, safer access to maintenance walkways. They were specified by Crossrail's systemwide contractor, Alstom TSO Costain Joint Venture (ATC Systemwide). The specification process, managed by Construction & Rail Contractors McNealy Brown, focused on the requirement for durable yet functional access solutions that would consistently provide a safe and direct step-through on to the walkway, without impacting surrounding electrical services. "When we first began researching potential access solutions for the Crossrail project's central section, it became clear quite quickly that the BILCO LadderUp Safety Post was the only product available on the UK market that would fulfill our extensive list of requirements," says Clive Burfoot, contract manager at McNealy Brown. BILCO's safety posts are frequently used to provide easier, safer ladder worker safety prioritized in construction of new 73-mile linePLAYING IT SAFERail ProjectBy Thomas RennerCourtesy of Crossrail. A new rail line in London, Crossrail, will help ease transit system congestion and will carry 200 million passengers a year. It is expected to become operational in 2021.
Page 63
www.mcsmag.com FEBRUARY 202159access through roof hatches, floor access doors, and manholes. Posts include a telescoping post that permanently mounts to the top two rungs of any fixed ladder. The solution enables users to enter or exit an opening in an upright and balanced position."The LadderUp Safety Posts will play an essential role in ensuring the central section of the Elizabeth Line continues to run at the highest standard, so it was crucial we specified access solutions that would facilitate the continued maintenance of the line, safely and efficiently," says Vimesshen Ravindran, senior mechanical engineer at ATC Systemwide, the contractor that managed the installation process.CONSTRUCTION DELAYSThrough the early stages of the project, the construction timeline stayed relatively close to projections. Through the first half of 2018, tunnels had been established, track had been laid and power lines installed. A target to open in December 2018 seemed realistic.In August 2018, however, construction slowed and it has never regained full steam. Various explanations were offered, and a lot of finger-pointing followed. In the past year, the COVID-19 pandemic has exacerbated the delays. In March 2020, all work was temporarily suspended on the project, and limited construction has occurred in the past year.The cost of the project has swollen to €18.7 billion, nearly €4 billion more than initial estimates. Riders, and government officials, believe the project will be worth the wait. Testing and trial runs are now underway, and some of the new trains are even in operation.CLOSING THOUGHT"This is an incredibly important milestone for Crossrail to reach and puts us firmly on the journey to unlocking Trial Running in 2021," says Mark Wild, chief executive for Crossrail. "We are doing everything possible to deliver the Elizabeth Line as safely and as quickly as we can, and we know that Londoners are relying on the capacity and connectivity the Elizabeth Line will bring." about the authorThomas Renner writes on building, construction, engineering, and other trade industry topics for publications throughout the United States.Photo by BILCO. More than 350 Ladder Up® Safety Posts from BILCO are used along the 73-mile underground railway, helping provide engineers with unobstructed access to walkways to conduct maintenance.
Page 64
FEBRUARY 2021 www.mcsmag.com60www.sunflowerboatandbarge.com • 563-583-0556• Sectional Barges• Spud Barges from 75x32 to 195x70• Hydraulic Dredges• Truckable Tugboats from 300 – 600 hp• Traditional Tugboats• Support EquipmentAvailable for Lease:
Page 65
Page 66
Page 67
Page 68
FEBRUARY 2021 www.mcsmag.com64modern construction productsmodern construction productsSTAY UPDATED:@modern contractor solutions@mcsmagWerner introduces the lightweight Aluminum LEANSAFE X3 that packs the functionality of three useful ladders into one OSHA-compliant package. One ladder can easily adapt into three different setups: a step ladder, straight ladder, or leaning ladder. At 6 ft tall, it is simple to store and transport, with maximum reach height of about 13 ft. Non-marring rubber feet and leaning pads ensure that using this three-in-one ladder does not dam-age floors or walls; while the compact rear rails fit between standard framing studs. The Aluminum LEANSAFE X3 can support 300 lbs. Now available national-ly at a retailer near you. For more, visit wernerco.com/leansafe. WERNERAluminum LEANSAFE X3Teletrac Navman releases its AI Dual Dashboard Camera, a powerful AI-enabled smart dashcam with forward- and driver-facing cameras that integrate fully with the company's TN360 platform. The AI Dual Dashboard Camera is an advanced vision-based fleet safety platform developed and manufactured by Netradyne that combines both AI and Edge Computing to capture and analyze data in real time. The AI Dual camera is equipped high definition 1080P video with both forward and driver-facing visibility, a 9-axis Gyro and Magento accelerometer, real-time audible driver alerts, and 4G LTE connectivity. For more, visit www.teletracnavman.com. TELETRAC NAVMAN AI Dual Dashboard Camera Lincoln Electric introduces the latest addition to the Vantage line of diesel engine driven welder/generators with the new Vantage 441X. Equipped with a 41 hp, turbocharged Perkins® diesel engine, the Vantage 441X welder/generator provides true IEC rated 400-amp, 100% duty cycle DC welding output. This fuel-efficient, Tier 4 Final engine packs all the necessary power for running heavier electrodes and arc gouge carbons with excellent cold weather and high-altitude operation. The Vantage 441X is available to order as a standalone machine, or in Ready-Pak® options that come assembled on heavy-duty trailers directly from the factory. For more, visit www.lincolnelectric.com. LINCOLN ELECTRIC Vantage® 441X Brass Knuckle® SmartCut™ BKCR303 gloves succeed on three fronts by providing dexterity, grip, and ANSI cut level A2 pro-tection. This triple threat is accom-plished with a glass fiber and ultra-high-mo-lecular-weight polyethylene (UHMWPE) shell—a composite yarn that has a strength-to-weight ratio eight to 15 times greater than steel—and poly-urethane coating. The thinner, 13-gauge material delivers deftness without trading away its inherent cut-resistance. The non-sticky polyurethane coating on the palm and fingers features excellent grip, and the glove's uncoated back and wrist improves ventilation. Color-coded cuffs easily indicate glove size. For more, visit www.brassknuckleprotection.com. BRASS KNUCKLE SmartCut™ BKCR303
Page 69
www.mcsmag.com FEBRUARY 202165
Page 70
FEBRUARY 2021 www.mcsmag.com66Dear Frustrated Fred,You may think they lack the initiative to handle things on their own, but I suggest taking a serious look at whether they feel empowered to handle situations without you. Empowerment is about giving someone the authority or power to do something. Do this well, and your frustrations will disappear because three things happen: ✖ DECISIONS ARE MADE FASTERYour employees don't have to come looking for you to make a decision. Rather, they decide themselves because you've taught, trained, and empowered them to do so without you. ✖ HIGHER LEVELS OF ENGAGEMENT ARE ACHIEVEDEmployees become more engaged when feel they are empowered. They also feel you have confidence in their ability, which creates engagement in itself. If you give them the power to make a decision or take an action without having to check back with you (assuming they know how to do handle the situation), then they get fully engaged. ✖ PROFESSIONAL DEVELOPMENT OF FUTURE LEADERS TAKES PLACEYour team gains experience and confidence with good decision-making. And they will share their experiences with others in the organization and helping the business grow. However, improperly empowering employees could cause you a higher level of frustration and potentially greater problems than you bargained for. Consider these three areas of concern.Types of decisions needed: There will be some decisions you will want to empower your team with and others you will need to get involved in. As an example, you likely don't want jobsite crew leaders negotiating scope changes, but you do want them to decide how to handle problems with subcontractors. Think carefully about who can make certain operational, tactical, and strategic decisions, then communicate them consistently. Person's capabilities: Make sure the person(s) you're empowering has been thoroughly trained on decision-making and managing the issues you want them to handle. For example, your jobsite crew leaders face a problem dealing with a subcontractor. The most effective way to prepare them is role playing the conversation as you'd like it to happen. To do this effectively, create a realistic scenario so you can observe how they would handle the conversation. Be sure they clearly understand your expectations. What can they do? What can't they do? How do you want them to behave (e.g., be respectful, listen, don't argue)? After the role playing, acknowledge what they did well and provide feedback on what they could have done better. Practice again. Outcomes expected: It's wise to clearly explain the outcome(s) you're looking for in specific areas (e.g., quality, work ethic, jobsite cleanliness, safety, etc.). For example, your entire team should feel empowered to stop an unsafe practice without looking for you to get involved. CLOSING THOUGHTYou will always face frustrations of some kind in construction. They can, however, be minimized when you effectively empower your team to make the right decisions and handle situations without you. about the coachAs a leadership development expert, Randy Goruk works with construction industry leaders to improve employee engagement and business growth. Register to receive his Leadership Tip of the Week at www.LeadersEdge360.com, or contact him directly to learn how he can help you and your team: randy@LeadersEdge360.com.HEY COACH, I'm having trouble getting some people on our team to take the initiative on making decisions. Instead of just handling a problem or deciding what to do in a situation, they wait for me to get involved. I find this frustrating because I've got plenty of other things to do.
Page 71
Page 72