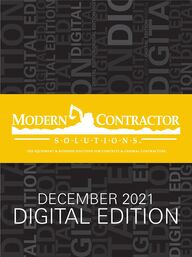 Return to flip book view
Modern Contractor Solutions December 2021
Page 1
DECEMBER 2021 DIGITAL EDITION
Page 2
Page 3
DECEMBER 2021WWW.MCSMAG.COMSTRATEGIC STRATEGIC ASSUMPTIONSASSUMPTIONSREASSESS FOR SUCCESSREASSESS FOR SUCCESSCOP26 COP26 BRINGING BRINGING GLOBAL CHANGEGLOBAL CHANGEFIELDFIELD DATA DATAREDUCINGREDUCING RISK RISKPROJECTPROJECT FORWARD FORWARDOVERCOMING ISSUESOVERCOMING ISSUESYEAR-IN-REVIEW YEAR-IN-REVIEW COMMENTARYCOMMENTARYSTATE OF STATE OF THE INDUSTRYTHE INDUSTRYType in keywords to searchCLICK THE LOOKING GLASS MCSMAG.COM
Page 4
Page 5
Page 6
Page 7
Page 8
DECEMBER 2021 www.mcsmag.com41836DECEMBER 2021VOLUME 15 ISSUE 12Inside This Issue30special focusIN EVERY ISSUEIndustry News ............................ 08Modern Construction Products ... 59Coach's Corner ........................... 60management solution Cognitive Biases sustain flexible thinkingequipment solution PINK Next Gen Fiberglas exceeds expectationsenvironmental solutionSustainability Concernsmaking a difference32year in reviewproject profile BT Excavating Wisconsin contractor keeps ahead of schedule and the competitionWHAT ADVANCED CONSTRUCTION ROBOTICS MADE THE BIGGEST IMPACT IN CONSTRUCTION IN 2021? Guest Post by Emily NewtonConstruction companies need modern solutions to meet these challenges and they're coming in the form of cutting-edge construction robots.ON THE BLOGmanagement solutionStrategic Assumptionsreassess for success38management solutionProject Forwardovercoming issues34A Ligchine SCREEDSAVER ELITE screeding concrete inside an underground cold storage facility in western Missouri. See Ligchine's full-page ad on page 57.www.ligchine.comPhoto courtesy of Ligchine.
Page 9
Page 10
STATE OF THE INDUSTRYYear-in-Review Commentary ...................................... 14PROJECT PROFILESBT Excavating ............................................................ 18Full STEAM Ahead ..................................................... 22EQUIPMENT SOLUTIONSSpraying Haul Roads ................................................. 26Genie Lifts ................................................................. 28PINK Next Gen Fiberglas ........................................... 30ENVIRONMENTAL SOLUTIONSustainability Concerns ............................................. 32MANAGEMENT SOLUTIONS Project Forward ......................................................... 34Cognitive Biases ........................................................ 36 Strategic Assumptions .............................................. 38SOFTWARE SOLUTIONS Contextual Cybersecurity........................................... 42Project Savings.......................................................... 44LEGAL SOLUTION Promising Tech ......................................................... 46TECHNOLOGY SOLUTIONSBidding/Estimating Tool ............................................. 50COVID Vaccine .......................................................... 52Live Field Data ........................................................... 54MAINTENANCE SOLUTIONSPort Tires ................................................................... 56SUBSCRIPTIONS For all changes, go to:MCSMAG.COMClick the SUBSCRIPTIONS button in the main menuwww.mcsmag.com P.O. Box 660197 | Birmingham, AL 35266DONNA CAMPBELL Editor in Chiefdonna@mcsmag.comMIKE BARKER Publishermike@mcsmag.com RANDY MOON Media Consultantrandym@mcsmag.comMICHAEL FISCHBACH Media Consultantmichael@mcsmag.com JOHN FRIEND Media Consultantjohn@mcsmag.comKEVIN MCCLARAN Media Consultantkevin@mcsmag.comLISA AVERY Art Directorlisa@mcsmag.comSETH SAUNDERS Digital Media Specialist seth@mcsmag.comINGRID BERKY Office Manageringrid@mcsmag.comTIM GARMONCEORUSSELL HADDOCKPresidentCHRIS GARMONCFODONNA CAMPBELLVice President, EditorialTONYA BROWNINGVice PresidentNo part of this publication may be reproduced or transmitted in any form or by any means, electronic or mechanical, including photocopy, recording, or any information storage-and-retrieval system without permission in writing from the publisher. The views expressed by those not on the staff of Modern Contractor Solutions, or who are not specifically employed by Highlands Publications are purely their own. All Industry News material has either been submitted by the subject company or pulled directly from its corporate website, which is assumed to be cleared for release. Comments and submissions are welcome, and can be submitted to donna@mcsmag.com.For reprint information, contact Chris Garmon at chris@mcsmag.com.Canada Post Publication Agreement #41578525. Undeliverables 355 Admiral Drive, Unit 4, Mississauga, ON L5T 2N1Modern Contractor Solutions Magazine@mcsmagModern Contractor SolutionsDonna CampbellEditor in Chief2021 COMES TO A CLOSEWelcome to the December issue! This month's focus is a look back at a most interesting year and taking note of issues and opportunities for 2022. The Top Story of 2021 encompasses the new and advanced technologies that made their mark in 2021 and are lining up to be game-changers in 2022. Check out the legal article on page 46 as promising technology is discussed. For commentary on the State of the Industry from various manufacturers, see pages 14–16. These year-in-review remarks set the stage for opportunities in 2022. This issue contains useful information to help wrap up your year and plan for the year ahead. It's about goals, and the Coach's Corner column this month provides tips for success in making goals. To start 2022 on the right foot, register to receive Randy Goruk's Leadership Tip of the Week at www.leadersedge360.com.Finally, December is a month of reflection and get-togethers, wrapping up year-end projects and gifts, and taking inventory of where the year ended and what's in place to start the new year. From all of us at Highlands Publications and the crew of Modern Contractor Solutions, we're grateful for you and will continue to bring you industry solutions in 2022 … Happy Holidays!Cheers,COACH'S CORNERCheck out what the coach says to Goals for Gord in this month's column on page 60.TOP STORY: PROMISING TECH (pg 46)In its 2022 Engineering and Construction Industry Outlook, Deloitte notes "several factors positioning the industry for strong growth amid headwinds." The Associated Builders and Contractors' Construction Confidence Index has recovered from 38.1 at the beginning of the pandemic to well above 60 by mid-2021. Order backlogs (albeit a two-edged sword) is up significantly. According to a Deloitte survey, 91% of E&C respondents characterize the business outlook as somewhat or very positive, and they note the expected strong performance in both residential and non-residential sectors due to the Infrastructure Investment and Jobs Act. Nonresidential areas of focus will be related to data centers, warehousing, healthcare facilities, and, of course, roads, bridges, airports and other "infrastructure."
Page 11
Page 12
DECEMBER 2021 www.mcsmag.com8industry newsIROCK CRUSHERS ANNOUNCES NEW BEST IN CLASS WARRANTYIROCK Crushers announces the launch of a new "Best In Class" Warranty on its entire line of material processing equipment. IROCK's new program increases the period of the current warranty and adds new features that enhance the warranty on major components of IROCK equipment, giving peace of mind to all of our users.The development of this new program was initiated after many conversations with IROCK customers and dealers. There was consistent feedback from the field that customers were placing increased emphasis on value-added features when making their buying decisions. With increased focus on support and service over the past 2 years, the final supplementary piece needed was to upgrade the IROCK warranty program. With this new program in place, IROCK now gives customers even more confidence in its products as they continue to meet the rigorous demands expected of equipment in the marketplace. For more, visit irockcrushers.com/resources/warranty/. EXTRACKER ANNOUNCES REAL-TIME CHANGE ORDER REVIEW, PDF ANNOTATION FEATURESExtracker, the construction industry's only change order communication platform, which supercharges manual workflow and connects companies outside of their internal facing financial software, is introducing brand new features that will give users the ability to annotate change order request PDF documents sent between companies further facilitating collaboration and speeding up review time. With this new feature, users can add markups, highlight text, and add virtual sticky notes to the PDFs from inside the app, which will allow for content-specific feedback on their documents without ever leaving the application. This furthers Extracker's mission to help the commercial construction industry process and close change order requests faster to reduce risk for all parties. For general contractors, the new features are a game changing tool for completing the review process in a clear and organized platform. For subcontractors, the system gives them clear feedback on CORs and changes that need to be made while also giving them an instrument to add additional details and draw attention to specific parts of a COR document. For more, visit www.extracker.com. SOIL CONNECT ADDS TIME TRACKING CAPABILITIES TO E-TICKETING PLATFORMSoil Connect—a digital marketplace connecting those who have soil, aggregates, and other building materials with those who PROVIDING SAFETY PRODUCTS THAT ARE UNIQUE, TESTED AND PROVENwww.bedlocksafety.com ▲ 217-553-0963 KEEP SERVICE PERSONNEL SAFEwith the innovative Bedlock Dump Truck Safety Device System!THE ORIGINAL PATENT#6905174
Page 13
Page 14
DECEMBER 2021 www.mcsmag.com10industry newsneed it—has added Time Tracking to its growing e-ticketing platform, eTickets. The new time tracking feature has been seamlessly integrated into the Soil Connect eTickets platform, and allows users to easily reduce timesheet errors and make accurate and timely payments to haulers. An automatically geo-tagged punch-in and punch-out function enables users to analyze route efficiencies and provides a clear picture of the route, along with the complete data set provided by the platform.eTickets is a contactless, easy-to-use e-ticketing platform designed to eliminate the use of paper tickets and allow users to easily capture customer information, type of truck, destination, pictures, eSignatures, type of material, load count, and more. eTickets provides a better ticket management solution for any industry that hauls and manages loads. Eliminating the human error associated with traditional paper tickets and ultimately helping contractors get paid faster. For more, visit www.soilconnect.com. CONTINENTAL LAUNCHES NEW NORTH AMERICA AUTOMOTIVE AFTERMARKET WEBSITE Continental, a leading global supplier of systems, components, and tires to automobile, truck, and agriculture/construction equipment manufacturers, and a trusted provider of OE-engineered aftermarket replacement parts, has just launched a new website encompasing all of Continental's OE-quality aftermarket replacement parts, diagnostic equipment, and innovative solutions for specialty vehicles.The new website serves as a central location for all product information, cataloging, training, news, and more. It allows easy access to all of Continental's brands including ATE Brake Systems, REDI-Sensor™ Multi-Application TPMS Sensors, Autodiagnos™ Automotive Diagnostic Tools, ClearContact™ Premium Beam Wiper Blades, and Continental Special Vehicle Solutions.A major component of the new website is the Continental Online Parts Catalog, that offers an easy and simple-to-use year/make/model look-up along with a VIN search, cross reference, Buyer's guide, a where-to-buy feature, and links to product information and specifications, how-to videos, and technical document downloads. For more, visit continentalaftermarket.com.B2W SOFTWARE WILL HOST IN-PERSON 2022 USER CONFERENCE IN FEBRUARYB2W Software, a leading provider of software for heavy construction, announces the agenda for Make Work Flow, the company's 2022 User Conference. Following a highly successful online program in 2021, this 21st annual event will return to its www.rockwheelamericas.comInfo@rockwheelamericas.com+1-814-466-7134World of ConcreteBooth # W647
Page 15
Page 16
DECEMBER 2021 www.mcsmag.com12industry newstraditional in-person format February 6-8 at La Quinta Resort & Club near Palm Springs, California. The B2W User Conference provides intensive training across the company's ONE Platform of applications for estimating, scheduling and dispatching, field tracking, and equipment maintenance. The 2022 program will include the popular "Estimator University" track, a new track covering equipment maintenance topics, and executive roundtable sessions on emerging industry issues such as labor, supply chain, and technology adoption challenges. Formal and informal collaboration among hundreds of users throughout North America and the B2W team will remain a hallmark of the event. Robyn Benincasa, a world champion endurance athlete and a member of America's first all-female firefighter crew, will present a keynote address at the User Conference. 1BUILD INTEGRATES REAL-TIME COST DATA WITH PROJECT ESTIMATES 1build, the only real-time data platform for construction estimating, announces new features for its all-in-one construction and cost estimation platform—now with real-time pricing data for labor and materials in every US county built right in. The result is the only solution in the industry that combines best-in-class estimating technology with live, local cost data—equipping contractors with an all-in-one solution to estimate efficiently, boost margins, and win more bids. For more, visit www.1build.com.HONDA TESTS PROTOTYPE AUTONOMOUS WORK VEHICLE AT SOLAR CONSTRUCTION SITE WITH BLACK & VEATCH Honda and Black & Veatch have successfully tested the prototype Honda Autonomous Work Vehicle (AWV) at a Black & Veatch construction site in New Mexico. During the month-long field test, the second-generation prototype of the fully-electric Honda AWV performed a range of functions at a large-scale solar energy construction project, including towing activities and transporting construction materials, water, and other supplies to pre-set destinations within the worksite. Watch a video of the Honda AWV at honda.us/AWV.
Page 17
Page 18
DECEMBER 2021 www.mcsmag.com14state of the industryAs the globe begins to move past the health care crises of the COVID-19 pandemic, the aftershock effects are long-lasting and far reaching. Supply chain issues leave manufacturers struggling to get parts and other needed components, and some customers face enormous lead times as they scramble to acquire equipment to finish end of year projects before winter sets in. Aquajet, like other manufacturers, faced supply issues in 2021. However, proper planning and a tight tracking of inventory helped us maintain the products we needed to fulfill almost all customer orders. As we roll into 2022, we're adjusting our approach to stocking to be ready to assist our customers, but they too must be thinking ahead and ordering equipment well in advance of the projects. According to the American Road & Transportation Builders Association, $348 billion of the Infrastructure Investment & Jobs Act is going toward highways and bridges, which means the competition for quality equipment solutions will be high. We're recommending that customers place orders for spring by December 2021. Keith Armishaw North American Sales Managerwww.aquajet.seIn 2021, we saw technology evolve with more manufacturers introducing electric and battery-powered equipment to reduce emissions and improve sustainability. This could be a pivotal point for the industry with pressure increasing for more focus on the environment and safety while still maximizing efficiency. While others have been trying to get on the electric bandwagon to meet increasing pressures, Brokk has been in that arena for 45 years and understands both the technology and how to maximize power and performance in electric machines. With the industry trending toward automation, Brokk technology continues to adapt to be ready for the next steps. A Brokk robot provides a solution with the ability to be controlled with just one operator. Utilizing this technology allows contractors to get more done with small a crew and delegate more tasks without having to use the entire team in one area. As technology evolves, continuing to mechanize certain tasks and finding ways to work smarter will help contractors maximize safety, productivity, and ROI. Jeff Keeling VicePresident of Sales & Marketingwww.brokk.comAs a leading manufacturer of construction products, we have a responsibility to make this process more sustainable. At GCP, we are currently driving sustainability in two key segments: specialty building materials and specialty construction chemicals. One example of this is the development of our CLARENA® RC admixture, which has the potential to keep millions of cubic yards of concrete out of landfills. We have developed and continue to develop Environmental Product Declarations (EPD) programs and transparency certifications that are aligned with industry standards that further sustainable construction practices. Our specialty construction chemicals segment includes our VERIFI® in-transit concrete management system which optimizes mix design and reduces water and fuel consumption. These are just a few examples of how GCP is fostering more environmentally conscious construction. Diego Granell Director of Product Management, North Americagcpat.com/en/about/sustainabilityAs the demand for concrete and concrete applications grows, supply chains struggle to deliver and labor shortages exist in every sector of the economy. The realities of the post-pandemic economy demand solutions that maximize efficiency and productivity while navigating the ever-changing status of equipment and parts backlogs. And, with inflation at a 30-year all-time high, contractors are searching for the smartest equipment investment. Concrete contractors in particular struggle with logistical limitations including limits on yardage and weeks-long lead times for concrete delivery. And, labor shortages leave crews with fewer workers who also struggle with a lack of experience and application knowledge. Roller screeds and walk-behind curbing machines are easy to learn and capable of producing consistent, high-quality results, even with less experienced crews. Our signature Curb Roller reduces labor needs by up to 75% when completing curb and gutter work. For flatwork, roller screeds offer an efficient solution that can create quality results with less dependence on the operator's skill level. Seth Ulmer Sales Managerwww.curbroller.com
Page 19
www.mcsmag.com DECEMBER 202115www.jeffreymachine.comJeffrey Machine experienced continued growth and success in 2021. We finished construction on a bran-new inventory warehouse at our headquarters in Birmingham, Alabama. Completed in August, the new warehouse adds 14,000 square feet to our property and houses stock tools and parts ready to ship to our customers. This warehouse is particularly beneficial to us due to the launch of our new jeffreymachine.com e-commerce site on which customers can now access our full catalog and place orders for Jeffrey Machine products. A return to travel meant a return to trade shows, and we were excited to attend IFCEE in May in Dallas, Texas. We also attended the Utility Expo in September in Louisville, Kentucky. Trade shows are one of our favorite ways to meet new customers, reconnect with industry friends, and feature new Jeffrey Machine products. This year saw the debut of our new JeffCut .990 Machined Round Dragon Holder, designed to be tougher and show less wear over time compared to other standard holders. Next year also marks our 45th year in business and we plan to celebrate that milestone all year long. Jeffrey Sager Presidentwww.jlg.comAt the beginning of 2021, JLG predicted a slow and steady increase in demand for MEWPs and telehandlers during the second half of the year. That increase came earlier and faster than anticipated. Pent up demand, combined with supply chain constraints and a skilled labor shortage, are the strongest headwinds we faced.However, the year was also marked with significant product advancements. JLG introduced two transformational innovations. In January, we launched the industry's first all-electric scissor lift, the AE1932 DaVinci®. This 19-ft, best-in-class platform capacity lift features zero hydraulics and is powered by a single, 10-year rated Lithium-ion battery. These two features alone effectively eliminate leaks and the need to replace batteries.The second innovation is our game changing 670SJ self-leveling boom lift. This best-in-class, 67-ft platform height lift self-levels when traversing uneven terrain up to 10-degrees at full height. JLG will its mission to provide people with a safer, more productive way to work at height.Frank Nerehanusen Presidentwww.mecalac.comMaking predictions is generally a fool's game, but there is one thing we all know for certain: 2022 will continue to see the (over)use of the words "unprecedented," "supply chain issues," and "labor shortages." Mecalac is not alone in facing the challenges of navigating through dangerously bi-polar market conditions. Still, despite everything, 2022 is likely to be the most successful in the company's history, though getting there will be a test of skill, creativity, and resolve. Ironically, the ongoing market disruptions have offered up real opportunities to companies, like ours, that are gaining a foothold in North America after decades of success in Europe and elsewhere. The supply shortfalls affecting many equipment dealers have led them to seek alternative vendors, and we are happy to step into the void with our unique offering of compact, innovative construction equipment. We are likely to see another overused expression in 2022: "inflationary pressures." Doing business in 2022 won't be for the faint of heart.Peter Bigwood General Manager The 2021 market was tough. Not only for manufacturers but for end-users in the transportation and heavy-haul industries. Like many businesses in the trailer market, Talbert Manufacturing experienced a drastic increase in product demand. Unfortunately, this pushed businesses to their limits in order to meet customer needs, while also facing the significant pandemic-related challenges along the way—from limited product availability and increased production cost to far-reaching labor shortages.Although this year has brought more than its fair share of roadblocks, we've come out smarter and more efficient than ever before. It has given us the opportunity to better understand the strengths of our team to pool our resources and streamline processes to best support our customers. We could not have finished this year without our dedicated teams at Talbert and long-standing partners from our suppliers, dealers, and end-users who have worked tirelessly to assist and work around our industry-wide and beyond issues.Troy Geisler Vice President of Sales & Marketingwww.talbertmfg.com
Page 20
DECEMBER 2021 www.mcsmag.com16state of the industryIn 2021, fuel costs soared, with the price of diesel steadily increasing more than 50% according to the U.S. Energy Information Administration. The rising costs have caused contractors to look for methods and tools to better manage fuel efficiency and control fuel costs. One option that many have turned to for controlling costs is maintaining their own onsite fuel storage. Onsite fuel storage enables contractors to experience the security and freedom of controlling their own fuel supply along with the opportunity to purchase at a bulk rate. The TransCube Global from Western Global puts fuel control in the hands of the contractor with easily moveable tanks that can be transported around the jobsite or from job to job while completely full of fuel. With a range of size, the TransCube can offer fuel storage for whatever size fits your site needs. The tanks can be transported in the back of a truck, on a trailer, or with a forklift or crane. With inflation at a 30-year high, there appears to be no immediate end in sight to the rising costs. On-site fuel storage offers a strategy that helps maintain efficiency and profitability.Our organization has gone through significant changes recently. Yanmar Compact Equipment North America launched in 2020 following Yanmar's acquisition of ASV in 2019. The new organization is supported by two distinct brands—ASV and Yanmar Compact Equipment—dealer channels and product lines to offer a more complete compact equipment package. Currently, the biggest challenge we face is the combination of the most rapid economic growth period since the mid-1960's and component supply and logistics constraints. While machines are sitting in port for months and logistics costs are as much as 6x what they were 12 months ago, we believe that the pent-up demand from 2021 will carry into 2022, but we're cautious about predictions beyond that. Supply chain disruptions have impacted the entire compact construction equipment market by constraining the rate at which the industry can manufacture and deliver machines. However, we continue to be optimistic in the growth we have planned. Ken Steury Director of Regional SalesTate Johnson Presidentwestern-global.com www.yanmar.comREPAIR SPALLS AND CRACKS IN 10 MINUTES!ROADWARE 10 MINUTE CONCRETE MENDER™It's thin, it gets in, and it won't pop out!See more at www.roadware.us or call 800-522-7623.Cartridge applied or bucket mixed, Roadware Concrete Repair Products will have your oors ready for trafc, coating, or polishing in about 10 minutes. Any size repair. Blend with sand and pigments to create unlimited colors. Permanent repair.800-522-7623ROADWARE INCORPORATED381 BRIDGEPOINT WAYSOUTH ST PAUL, MN 55075 www.roadware.usOSHA Compliant Guardrail andStair Rail SystemsSafety Boot® Guardrail SystemStringerShield® Stair Rail System1.800.804.4741safetyboot.com• Non-Penetrating Design• Rugged Steel Construction• Exceeds OSHA Regulations• Simple, Aordable & Reusable• Residential, Multi-Family & Commercial Applications• Unique Free Standing Design• Keep Post Attached For Reuse On Next Level Or ProjectFeatured on osha.gov website!
Page 21
Page 22
DECEMBER 2021 www.mcsmag.com18project profile
Page 23
www.mcsmag.com DECEMBER 202119BT ExcavatingBT ExcavatingWisconsin contractor keeps ahead of schedule and the competition2D MACHINE CONTROL SYSTEM Brent Tauschek of New Franken, Wisconsin, grew up around heavy equipment. In the excavating and sitework business for more than 25 years, Tauschek started his own company, BT Excavating, in 2019. He now serves the Green Bay area with both residential and agricultural sitework—offering a complete set of site excavation and prep services.A recent residential construction boom in the Green Bay area has kept BT Excavating busy, but it has also made the sitework landscape more competitive. "There's a lot of people getting into it, so the margins are getting tighter and tougher."THE RIGHT COMBOStaying competitive in a market like this is critical, and the right combination of machine and technology can help contractors like Tauschek do that. He leads his way with a CASE CX160D excavator matched up with a 2D machine control system for excavators from Leica Geosystems.When Tauschek started out, grading was done the old-fashioned way with a transit and grade pole. While he didn't deploy some of the earlier machine control solutions available for excavators, he believes that technology, price, and ease-of-use is now at a place where it makes sense for many contractors. He's able to save considerable time and labor on each jobsite."Now, with this grade control, I have a screen that correlates with the machine angles and so forth, the bucket angle, and I can see exactly where I am at all times," he explains. "So, when I do start getting close, I can slow down. It makes each job so much faster and so much more responsive.""There's not as much downtime. That is the great part about it. And actually, I have a guy that helps me out—he can help get me started with grade on a basement or footings and make sure that I'm digging at the right grade. And then after that, I can send him off to a different job, versus him standing watching me dig a basement or dig footings [to keep checking grade].""The advantages of labor are pretty big because I don't have to pay a guy to stay there and watch me dig. This [system] shows up to work every day. You don't have to worry about it calling in sick, 'It's too cold, too warm, too rainy.' That's a huge advantage right there."ADVICE FOR OTHERSFor business owners that may still be hesitant to adopt machine control technology, Tauschek offers some advice as it relates to those labor savings. The time savings on site are obvious, but he looks at it as a comparison between the cost of the system and if he was paying an employee just to be a grade guy: "For the amount of money that was spent on that [system], I couldn't pay a guy for a whole year to stand there and hold a grade pole."And while machine control still represents a new technology for many, Tauschek confirms that it wasn't that hard to learn."I think it actually only took me one full day to completely understand the system," he concludes. "And after that, it's been really easy. It's just a matter of Brent Tauschek, owner of BT Excavating
Page 24
DECEMBER 2021 www.mcsmag.com20project profileunderstanding the couple of key features that are in it. Once you get them down, it's actually a very simple system."Tauschek equipped the system on a CASE CX160D excavator, a full-sized machine that's perfectly sized for basement digging and other site development projects, and at 38,400 pounds is relatively easy to transport to sites of all sizes."Through the years I've dug with various sized machines, dug with a bigger class, I've dug with smaller classes," he explains. "I just feel that this [CASE CX160D] is a great all-around size machine. It's not too big to get into certain areas and then it's not too small. It has great reach for digging and it also performs real well speed-wise, power-wise. I've been very happy with the machine for all around performance."FUEL EFFICIENCY MATTERSOne of the stand-out features has been the machine's fuel efficiency."Being a small company and a one-man operation, you don't have to run for fuel all the time, you're not constantly fueling machines at the end of the day. I can go two days for sure with fuel and—I don't have to have a fuel truck on the jobsite every day. That is huge in that aspect.""It also has an Auto Idle button as well, which is great. And the one feature that I like as well is it also has an auto shut-off after so many minutes of idling, so that if I jump on out of the machine, to go do something, it will shut down by itself at a reasonable time so that I don't burn up engine hours for maintenance and oil changes."CASE D Series excavators are designed to provide smooth, efficient operation through the CASE Intelligent Hydraulic System, an electronically controlled pump, a larger control valve and advanced sensors—making the most of the machine's hydraulic power and momentum. This helps achieve extreme control responsiveness, faster cycle times and improved fuel efficiency. "Through the machines that I've ran in the past, I can honestly say this CASE is probably one of the smoother-operating machines that I've ran. The ability to fine-control, fine-tune around utilities, power, gas—it's very good."Further assisting in fuel efficiency are three working modes: Speed Priority, Heavy, and Automatic, that are designed to match machine performance to the intensity of the work."I usually operate in the SP (Speed Priority) mode," he says. "It's the one I feel most comfortable with. It feels like it performs the best for me."Tauschek also enjoys the serviceability of the CX160D. "All the compartments are nice and big," he says. "You can get at them, you can open them, you can visually see in there. Checking the oils, checking the fluid levels and everything is actually very operator friendly."CASE PROCAREAll CASE D Series excavators come standard with CASE ProCare—a 3-year Advanced CASE SiteWatch™ telematics subscription, a 3-year/3,000-hour full-machine factory warranty, and a 3-year/2,000-hour planned maintenance contract. "With purchasing this machine, I also got the ProCare package with it, which was a big selling point. I figured out what it would cost to change the oil every 250 hours, 300, versus them having to come out. And the downtime of me bringing the machine back to my shop or doing it in a field was a big selling point for me as well. For the next 2000 hours, I don't have to do anything but put oil in it, grease it, and add DEF."For Tauschek, the ProCare package means more uptime and less time hauling the machine back to the shop for service work.CLOSING THOUGHTTauschek has had a relationship with local CASE dealer Miller-Bradford & Risberg for more than 20 years. He worked with them to spec his machine, and they handle all of his maintenance and service needs. "They've been a great company to work with for that duration. It's good to know that they have your back when there are issues or concerns." for more informationFor more information about the CASE CX160D excavator and ProCare, visit www.casece.com/northamerica/en-us.
Page 25
SEE US AT WOC BOOTH #W3521
Page 26
DECEMBER 2021 www.mcsmag.com22project profileFirst built in 1911, the Pacific Gas and Electric Co. Power Station B on the banks of the Sacramento River just north of downtown Sacramento was designed in the Beaux Arts Classic Revival style by prominent San Francisco architect Willis Polk. The building is listed on the National Register of Historic Places, the California Register of Historic Places, and the Sacramento Register of Historic & Cultural Resources. Originally an auxiliary power plant, it was upgraded a decade later to become, at the time, the largest steam turbine power plant in Northern California, and it generated power for the region for another 30 years before it was decommissioned in 1954. STRUCTURE CONVERSIONThe building then sat vacant, gradually deteriorating over the next 50 years, which made converting the structure into the cornerstone of the new SMUD Museum of Science and Curiosity (MOSAC) a serious undertaking. The $52 million facility (opened in November 2021) is envisioned to be the premier institution for informal science education in the region, with hands-on interactive exhibits that will explore the wonders of science, technology, engineering, art, and math (STEAM). Otto Construction began working with the public-private partnership that will operate the new museum in 2008 as part of a collaborative design-build effort with Dreyfuss and Blackford Architects, Buehler Structural Engineers, and the city of Sacramento, which owns the property. It went through many design iterations and value engineering exercises over the next decade, and of course the project required lengthy review and approvals from numerous federal, state, and local agencies. Environmental challenges included relocating an elderberry bush that is the habitat for a threatened beetle, along with other habitat issues concerning Swainson's hawks and bats. During the team's inspection, several structural deficiencies were found that put the historic building at risk of collapse. The roof leaked and there were concerns about the strength of the concrete and possible corrosion of the rebar within the walls. Ultimately, the team decided to remove the concrete roof and the east wall due to their low compressive strengths. Otto also removed all the concrete over the existing steel structure so the support system could be evaluated. As it turned out, only a few columns in the old boiler room required partial replacement. Before demolition could begin in 2018, massive concrete footings were placed around the building to support a $2.5 million temporary steel bracing system along the building's exterior, which took about three months to install. ROOF DEMOLITIONPerhaps the most challenging part of the project was the roof demolition. The roof was not safe to walk on, so demolition had to be performed with a Brokk remote-controlled demolition robot that was bought specifically for this project. It was the only machine of its kind west of the Mississippi. The Brokk was hoisted over the roof by a crane and controlled by two workers in a lift elevated to roof level. Besides the new roof, a second floor for exhibit spaces was added inside the powerhouse, and the historic steel windows were replicated with added structural support to meet current code requirements for wind load and energy efficiency. Full STEAM Aheadhistoric power plant on Sacramento River converted to new useRENOVATION MATTERSBy Allison Otto
Page 27
www.mcsmag.com DECEMBER 202123NOTES FROM THE PASTOne thing about the old building that a lot of people don't realize: When the powerhouse was built, the river was the highway, so the building was constructed with its main entrance facing the river. Ships or barges pumped bunker oil into tanks located on the building's south side that ran the boilers and produced steam to move the turbines and produce power. In front of the west historical window, there was a large cartouche statuary that couldn't be restored due to the poor condition of the concrete. Otto digitally scanned the artifact before it was removed so that a new glass fiber reinforced concrete (GFRC) statuary could be replicated. Stephanie Taylor, a local artist, carved the two human figures from foam so a mold could be created and installed on the original location. The monumental main doors have also been replicated by Burnett & Sons, a local mill and lumber company, and covered in aluminum cladding by Capital Sheet Metal. OLD BECOMES NEWThe 22,800-square-foot addition that houses the state-of-the-art planetarium, classrooms, offices, and a café presented its own set of unique requirements. Because of the sandy soil on the riverbank, Otto had to drill over 90 displacement piles 85 feet deep, with grade beams and pile caps connecting them all together. Otto also cast and cured 24 tilt-up wall panels on site—three the largest of which weighed 54 tons. Each panel was lifted by a crane and walked into position and all the panels were installed in just 2½ days. The steel ring that serves as the planetarium's base had to be positioned exactly at a 5-degree tilt and 5-degree rotation. The exterior dome consists of structural steel, double light gauge metal framing walls, a layer of dens deck and two layers of plywood that are covered with zinc panels. The interior dome has been insulated and has two layers of dens deck and an acoustical spray for sound. CLOSING THOUGHTThis project has been a great undertaking, revitalizing a historical landmark that will positively impact Sacramento and visitors from other communities where kids will have the unique opportunity to learn about science, technology, engineering, art, and math which may motivate many of them into a future career path in STEAM. about the authorAllison Otto is president & CEO of Otto Construction and is the third generation of the family to lead the company, overseeing the strategic direction of the company, including client outreach and negotiation, identifying and acquiring new clients, maintaining relationships with current and past clients, and overseeing projects from an executive standpoint.
Page 28
Page 29
Page 30
DECEMBER 2021 www.mcsmag.com26equipment solutionSite safety and efficiency are two of the main reasons why spraying haul roads is common practice. Yet ironically, the equipment many operations use to wet the roads is neither the safest nor most efficient option. The secret to finding the ideal solution lies within the water tank's design and spraying system. DON'T CUT CORNERSSquare tanks haul about 20% more water than rounded tanks with the same basic exterior dimensions. They also improve safety by creating a lower center of gravity. Curved sides raise the water's center of gravity, reducing stability. Rounded sides also contribute to water churning since there aren't corners to slow the water's momentum. This sloshing can shift the center of gravity, making the truck unstable and unsafe. Drivers who can feel water surging often mitigate the problem by not filling the tank completely, in turn, wasting time and fuel on unnecessary trips to refill. And, at the end of the day, each truck covers far less ground. SPRAY SMARTERProviding drivers with precise control of the tank's water output increases efficiency. Individually controlled spray heads make it easier for drivers to optimize water use while reducing the Spraying Haul Roadstips for water tank safety and efficiency KNOW YOUR EQUIPMENTBy Josh SwankPhotos courtesy of Philippi-Hagenbuch Inc.PHIL water tanks have baffling from floor to ceiling, as well as along the complete length and width of the tank, resulting in full compartmentalization of the water and less surging. The box-shaped structure of some water tanks increases capacity by about 20% and lowers the load's overall center of gravity, enhancing stability and safety.
Page 31
www.mcsmag.com DECEMBER 202127risk of oversaturating roads. Operators can turn on the individual spray heads and, with some systems, program a spraying interval to cover a greater surface area without making the roads too slick. Water-metering controls also increase driver safety by allowing him or her to focus more on the surroundings and less on water output. Remote controls can further improve safety by keeping drivers out of harm's way—especially when battling fires. Traditional systems require the operator to use a joystick and monitor in the cab, but some remote-control systems allow control of a water cannon from as far as half a mile away. BAFFLINGLY SAFEA tank's baffling system affects both safety and efficiency as it prevents water from surging side-to-side and front-to-back. Almost all water tanks feature baffles, but some designs are more effective than others. Many baffles have large holes for maintenance personnel to access individual compartments through which water can also move freely, resulting in surging. While baffles require holes for water to flow throughout the tank, they should be small enough to prevent surging. Additionally, some tanks feature baffling from floor to ceiling, as well as along the complete length and width of the tank, for more complete compartmentalization. Others take it even further with side-surge stabilizers along interior walls to prevent water from churning within individual sections. These added measures go a long way toward improving tank stability and overall safety. CLOSING THOUGHTAnytime safety and efficiency are the main objectives, using equipment that falls short in either category doesn't add up. When evaluating future tank purchases, take a close look at how its design lends itself to accomplishing these goals. Our digital marketing campaigns can identify prospects interested specifically in your product, and then tell you exactly who they are! See what our customers are saying:The reports are awesome! Thank you. If we can get that level of information from all of our suppliers, we will be very happy! We have already made one machine sale to a prospect from the eBlast and I am sure there will be more. Paul Gazik,Business Development/International Salesfor Call us today to get started at 205.795.0223 or email us at russell@mcsmag.comYou Need Leads!You Need Leads!We Have the We Have the Solution!Solution!about the authorJosh Swank, vice president of sales and marketing for Philippi-Hagenbuch, oversees their global sales team and has been with the company for more than 20 years. Engineering innovative haul-truck solutions for over 50 years, Philippi-Hagenbuch Inc. is located in Peoria, Illinois, and has been building equipment for off-highway haul trucks since 1969. During this time, PHIL has become the global leader in off-highway truck customization. In addition to their innovative tailgates, push blocks, rear-eject bodies and trailers, Philippi-Hagenbuch designs and builds end-dump bodies, trailers, sideboards, load ejectors and water tanks for nearly every make and model of articulated and rigid frame off-highway truck available. For more, visit www.philsystems.com.Photos courtesy of Philippi-Hagenbuch Inc.
Page 32
DECEMBER 2021 www.mcsmag.com28equipment solutionGenie Liftstakes on Phoenix arena renovationFM STEEL CONSTRUCTION In early 2020, work started on a $230 million renovation for the Footprint Center, home to the NBA's Phoenix Suns and the WNBA's Phoenix Mercury. As part of this modernization project, an additional 125 tons of steel had to be added into the existing structure to support new equipment, including a new, 3,500 square foot, HD center-hung video scoreboard that is six times larger than the previous display board, and LED ribbon boards around the arena.To support this larger video scoreboard, a major component of the renovation, local company FM Steel Construction was hired to perform the structural steel work. FM Steel Construction, in turn, relied on a variety of equipment, including Genie® "Super Booms" to get the job done."We had to reinforce all the roof trusses to enable them to support more weight for new display equipment and audio equipment," explains Michael Mulsow, director of operations for FM Steel Construction, which received a Steel Erectors Association of America (SEAA) "Project of the Year" award for their work on the arena renovations. "The main equipment we used were the 180-foot and 150-foot lifts, but we also utilized all kinds of other machines like scissor lifts, Z®-booms, forklifts, and more throughout the process."HIGHEST-REACHING BOOMS Among the equipment used by FM Steel were Genie SX™-180 and SX-150 telescopic boom lifts. The SX-180, the highest-reaching model in the Genie boom lineup, boasts a max working height of 186 feet, a horizontal reach up to 80 feet while the SX-150 features a vertical reach of 152 feet and a horizontal reach of 80 feet. With a 10- foot rotating jib, both the SX-180 and SX-150 offer uncompromising productivity and are well-suited for even the most extreme jobs such as the steel work at the Footprint Center. "For this project, the reach was important as there are not a lot of
Page 33
machines that will take you that high," Muslow says. "The best part of these lifts is the fact that you can actually drive them while you're in the air, which saved us even more time."He adds: "The Genie lifts we used were a big part of the project's success. If we had to access this work from the steel, it would have taken triple the cost and time as well. We would've needed to use hanging scaffolding or actual rope climbing equipment, which is extremely costly." www.mcsmag.com DECEMBER 202129for more informationSince 1966, Genie has been the leading name in the aerials industry. With offices, team members and manufacturing facilities around the globe, Genie lifts and telehandlers can be found enhancing safety and improving productivity on jobsites worldwide. Genie's ongoing leadership in aerial lifts and material handlers is built on our ability to consistently deliver superior quality for our customers. At Genie, we achieve this quality not by chance, but by design. For more, visit www.genielift.com.Terex Corporation is a global manufacturer of aerial work platforms and materials processing machinery. The Company designs, builds, and supports products used in construction, maintenance, manufacturing, energy, minerals, and materials management applications. The Company's products are manufactured in North and South America, Europe, Australia, and Asia, and sold worldwide. The Company engages with customers through all stages of the product lifecycle, from initial specification and financing to parts and service support. For more, www.terex.com.The steel erector used Genie® lifts to get the height needed to add 125 tons of steel to the arena, including the framework for a new video screen and other lighting and sound upgrades as part of a major renovation project.
Page 34
DECEMBER 2021 www.mcsmag.com30equipment solutionPINK Next Gen Fiberglasexceeds expectations on commercial jobs OWENS CORNINGWith five locations throughout the Spokane Valley and Washington State, Dean Moody of Intermountain West Insulation – IBP, remained optimistic about the prospects for his business and community despite the economic hardships imposed by the recent pandemic. The year began with Spokane Valley homebuilders going full steam ahead while barely meeting market demand. And, Moody's Tri-Cities area of Kennewick, Pasco, and Richland expects a 40% increase in job growth over the next 10 years. IWI was acquired by IBP - Installed Building Products in 2021 as part of their 175-location network, with Moody staying on."Whether it's commercial or residential, we are seeking to provide customers with the best products, service and workers on every project."Before joining forces with IBP, Moody was an Owens Corning® Certified Energy Expert® (CEE) member and served on the program's CEE Advisory Board. Owens Corning® Certified Energy Expert® Professionals, as trained energy performance consultants, work with builders and homeowners to help make buildings and homes quiet, comfortable and energy smart. Certified by Owens Corning, the elite group of insulation contractors are backed by a limited lifetime warranty and industry-exclusive lifetime workmanship warranty on installation. "It's the best contractor program in the market," says Moody. As part of the program, Moody became one of the first professional contractors in the country to field test Owens Corning's new PINK Next Gen™ Fiberglas™ insulation, featuring an advanced fiber technology that sets a new standard for safety, precision, comfort, and sustainability. The new insulation installs up to 23% faster installation than before and helps pass inspection with a visibly superior texture and smooth uniform surface. COMMERCIAL PROJECTSThese factors came into play for two recent commercial insulation projects for Dean and his crew with the typical tight timeframes. The Pasco School District required insulation for its latest phase of a mission to upgrade its aging school system was the demolition and rebuilding of the Stevens Middle School in Richland, Washington. Expected to open in Fall 2022, the $40 million, 106,478-square-foot school was built on 24.5 acres to accommodate 1,000 students with 41 classrooms in the two-story structure. The PINK Next Gen R-21x16 was installed unfaced in metal studs. Moody says, "The material was installed to full fill and looks nice and clean." Just few miles away in Washington's Tri-cities region, Dean and IBP also took on Washington State's Department of Social and Health Services building, a new 21,000-square-foot office complex to better serve staff and client needs. Along with a need to be a model of energy efficiency with reliable R-Values, the modern structure features solar panels, electric car charging stations, and energy-efficient lighting and exterior glazing. The crew used PINK Next Gen Fiberglas R-21x15 batts over unfaced wood studs. For all of his recent commercial jobs, Moody and his workers experienced no delays due to COVID, following all guidelines. "These jobs are all go and get them done," he says.PINK NEXT GEN BENEFITSWith a feel as soft as cotton and a visibly superior texture, PINK Next Gen Fiberglas represents the advancement of a proven, tested material that recovers instantly and fits perfectly in the cavity without fluffing or compressing. With R-Values ranging from R-11 to R-38, other benefits include comfortable handling with the ability to split and cut cleanly and fill crevices completely with time-saving results.
Page 35
www.mcsmag.com DECEMBER 202131 "We typically install R-21," says Moody, and PINK Next Gen is the only one we use. We immediately noticed how well it holds in place, recovers and literally pops to life right out of the package. Plus, every bundle right off the truck was uniform and easy to stack, which saved our warehouse guys a lot of time. There was no need to shake or reshape it and the corners stay firm." As far as workability, Moody and his workers were also impressed with the way their knife blades sliced right through the material, making it easier to cut, shape and easily fit into the stud bays. "With current labor constraints, PINK Next Gen is so easy to use that it makes new hires look like they have 5 years of insulation experience," says Moody. "The batt makes up the difference by providing a Grade 1 install every time." Another PINK Next Gen benefit, according to Moody, is its ability to reduce waste and ultimately cut costs. "Every penny counts on any job," adds Moody. "Installers will also often toss the bad pieces they can't use. Given the new insulation's quality, there's likely to be less unusable pieces, which means more cost savings on every application and the disposal of far less waste."GREENGUARD CERTIFIEDWith virtually every commercial job these days having sustainability implications, Moody says PINK Next Gen will prove increasingly crucial among the growing number of chemical-sensitive homeowners and professional contractors looking for safer, more sustainable products. GREENGUARD Certified for low-VOCs, the insulation complies with indoor air quality standards, produces less dust, and installs without the need to mix harsh chemicals onsite like other methods. This also prevents the need to evacuate other workers involved with the job."Owens Corning certainly has a knack for building the better mousetrap," says Moody. "With PINK Next Gen, you receive the true R-Value throughout the entire batt. Edges and corners seldom get beat up and seamless, pillow-like aesthetics often replaces the creases that accompany many jobs after its application." He notes that aesthetics can actually help jobs sail through inspections.CLOSING THOUGHT"We've had inspectors walk into the job, see how good the product looks and then sign off before we're even done. It's just another reason why we now only use PINK Next Gen on all of our jobs. The difference is like night and day with other products." for more informationPINK Next Gen™ Fiberglas™ insulation is available at building supply and home centers nationwide. For more, visit www.pinknextgen.com.
Page 36
Page 37
Page 38
DECEMBER 2021 www.mcsmag.com32environmental solutionSustainability Concernshow can businesses make a differenceGLOBAL CHANGEThe 2021 United Nations Climate Change Conference, more commonly referred to as COP26, was the 26th United Nations Climate Change conference, held at the SEC Centre in Glasgow, Scotland, United Kingdom, in October and November of 2021.According to Cindy Jaudon, president of IFS North America, "We needed a COP26. By its very being, COP26 is raising awareness on a global stage of the ways organizations, leaders, and nations can play their part in helping create a sustainable planet. Being aware that change is needed is the first step to creating that change."At IFS, we are on track to reach our goal to be a carbon neutral company by 2025. From mid-2019 to date, IFS has reduced the square meterage of its global real estate by 9.5 percent and its car fleet is 86% smaller than what it was in 2019."Having been in the enterprise software field for more than 25 years, technology has consistently played a key role in driving business change; there's no better time and place than now for technology to take center stage and drive sustainable change."When we talk about sustainability and technology, all roads point to the circular economy. The circular economy is a business model encompassing a 'reduce-reuse-recycle' premise, that quite frankly, is impossible to integrate without technology. To shift from a 'throwaway economy' to a circular economy, organizations will need to utilize technology to apply solutions for eliminating waste, circulating resources, and regenerating nature." COP26 IS BRINGING SUSTAINABILITY AND CARBON EMISSIONS UNDER THE GLOBAL MICROSCOPEJaudon continues, "Tech doesn't just play a key role when it comes to the circular economy. As societies race to hit global emission targets, the reliance on disruptive technologies to provide answers and change the way we operate rises. Organizations are turning to the Internet of Things (IoT) to collect data, Application Programming Interfaces (APIs) to reduce development time, and Software as a Service (SaaS) to optimize the use of energy resources, through advanced reporting, expertise, and managed services. These solutions provide the capabilities to disrupt traditionally environmentally unfriendly industries." TECHNOLOGY IS PUSHING SUSTAINABLE CHANGE AND THE BENEFITS ARE ALREADY BEING SEENJaudon notes, "Competitive advantage and brand reputation are clear benefits that we reap from technology, but so is the environmental impact. Advancements in Artificial Intelligence (AI), digital platforms, and cloud-based solutions have enhanced traceability and product workflow. Additionally, these solutions have enabled organizations to place their focus on waste management and their accountability for sustainable practices." WHAT CAN BUSINESSES DO TO MAKE A DIFFERENCE?Jaudon shares, "The goals of COP26 are easier to understand than to put into practice. The push for sustainability is critical and that is why it really is all hands-on-deck. In April 2021, IFS announced a multi-year sustainability strategy, designed to create a positive impact for the business and our customers through industry-wide action. A report from KPMG in 2020 found that 96% of the world's largest companies are now reporting on their sustainability performance. To make sustainability tracking easier for our customers, we have announced the IFS Cloud Sustainability Hub, which is now available and integrated inside Microsoft Teams. The Sustainability Hub is helping businesses collect the data needed to demonstrate their compliance. Beyond compliance measures, businesses can analyze the data to see how they can continue improving their performance
Page 39
www.mcsmag.com DECEMBER 202133to meet and exceed sustainability standards. As part of our corporate commitment, IFS will donate a share of the license revenue generated by the module to sustainability causes."This is where software and disruptive technologies can make a difference to how organizations approach their sustainability practices. We can see this with IFS Cloud, which makes best use of the latest technologies to enable efficient on premise or cloud deployment for its customers. This makes IFS Cloud 52-79% more energy efficient than compute equivalents in traditional data centers." IFS LEADING BY EXAMPLEJaudon say, "It's not just in the technology we deploy, it's in encouraging businesses to be proactive when it comes to sustainability. Ahead of COP26, we launched the IFS microservice sustainability site and the IFS Change for Good Sustainability Awards. IFS customers that have been making significant progress with their ESG practices were carefully reviewed by our sustainability judges. The awards, which will take place annually, are aimed to showcase the incredible work companies around the world are not only doing for their own business, but in empowering their customers to follow in their footsteps. The 2021 roster of winners are IFS customers that span across core IFS industries. The winners are invited to attend COP26, where they will be able to network with their like-minded peers and have the privilege of meeting and discussing issues with other leaders in sustainability." CLOSING THOUGHTJaudon concludes, "COP26 is shining the global spotlight on to the need for global change. The UN Global Compact is also encouraging more sustainable practices. The world's largest corporate sustainability initiative is calling on companies around the world to align their operations and strategies with its 10 core principles. IFS has been quick in taking initiative by identifying several areas such as education, carbon emissions, and philanthropy where focus will be increased for greater impact. We are committed to incorporating these into IFS operations as they align well with the IFS Foundation, a group of charitable organizations helping fight poverty in Sri Lanka. The Foundation is investing in a series of projects with local communities in remote and rural areas to renovate schools and hospitals, improve access to fresh water, and create employment opportunities." for more informationCindy Jaudon is president of IFS North America. For more, visit ww.ifs.com.
Page 40
DECEMBER 2021 www.mcsmag.com34management solutionProject ForwardProject Forwardovercoming material price increases and supply chain issuesTHE FAST TRACKIt's no secret that contractors are dealing with major material price increases and supply chain bottlenecks that range from skyrocketing pricing to lead times taking 2-3 times what they normally would to procure materials. For example, structural steel, which used to cost 48 cents a pound now costs closer to $1 a pound, while lumber prices continue to remain above average since peaking last spring. The volatility of the market has understandably spooked many contractors into pausing or canceling projects under the assumption that things will improve in 6-12 months' time. However, if we've learned anything over the past year, it's that the future simply can't be predicted, particularly given continuing issues associated with the coronavirus variants and the infrastructure bill. That being said, as a contractor who has worked on a wide variety of industrial projects since the start of the pandemic, there are a number of ways to keep a project moving forward so long as you're willing to be flexible and innovative. Below are a few key considerations to help fast track your project in today's ever-changing business environment: BRAINSTORM WITH CONTRACTORSThe most important tip to get any project off the ground is to brainstorm with your general and subcontractors. We've been dealing with many of these issues for well over a year and a half and have tips we can suggest, in addition to being able to evaluate where savings can be gained. This is best done at the beginning of a project since it's much easier to make changes before plans have been solidified and materials have been ordered. But even if you're midway through a project, it can still be helpful to bring us in to problem solve as there are usually options available that just haven't been put to use yet. ASK QUESTIONS AND SIMPLIFYOnce contractors are brought in, one of the first things we do is ask questions about whether a project can be scaled back or simplified as many projects are over designed from the outset. Taking a step back can help determine whether a design simplification is possible, which can lead to reduced materials, costs and lead time, which can also help the timeline. We recently simplified the design of a platform and changed out the materials on a hydro project, which enabled us to gain significant savings in both cost and time—all from simply asking the right questions at the right time. MODIFY THE BUILD SEQUENCEIn addition to simplifying, it's also worth evaluating whether the build sequence can be changed, particularly if it was set to be phased anyway. Doing so can enable you to build using the materials you do have while you wait for additional and/or new materials to arrive. This can also buy you time to evaluate where other savings might be gained, particularly when it comes to design simplification or material swaps. By Jamie Hodges
Page 41
www.mcsmag.com DECEMBER 202135GET CREATIVE Swapping out materials is one of the most important changes a contractor can make, particularly given the astronomical prices of many materials today. For example, we've been recommending swapping concrete out for structural steel since it's less expensive and more readily available. This can be done for structural projects all the way down to stairs and handrails. In this same vein, it's also important to choose less in-demand shapes and sizes for materials as many sizes are not readily available. This can be as simple as choosing beams instead of steel joists if the project can accommodate that or choosing an 8x15 beam instead of an 8x10 beam, which are difficult to find given their popularity in home design.DON'T WAIT TO BUY Once materials have been determined, it's vital to order them as soon as possible, ideally once the design stage is complete and you have an estimate on the quantity you'll need. With lead times taking 2-3 times their normal rate, this is a critical step towards ensuring you get what you need when you need it. While this may not completely resolve all your issues, ordering well ahead of time can help speed up the timeline, particularly for materials that are increasingly difficult to procure. PREFAB, MODULARIZE While the popularity of prefabrication was already on the rise, it's increased during the pandemic given the many additional benefits it brings to a project, including its ability to offer cost and time savings since it can be done more efficiently. Unlike at a jobsite where there are a number of uncontrollable variables, prefabrication allows for a portion of a project to be built offsite in a quiet, weather-resistant, controlled environment. This provides for less distractions and less unknowns, helping to keep projects on track.CLOSING THOUGHTRegardless of how you approach a project, there are alternatives out there for both project owners and contractors to help ensure that projects start or stay on track. Given the uncertainty of the future, we recommend that stakeholders look at all of the options they have now given the unknowns that may lay ahead, which may be even more challenging than what is currently at play. about the authorJamie Hodges is executive vice president of Industrial Constructors/Managers, Inc. (ICM), a Colorado-based industrial contractor specializing in steel and concrete structures, heavy moving and rigging, machinery installation, modification and maintenance, and more. For more, visit www.icminc.net.
Page 42
DECEMBER 2021 www.mcsmag.com36management solutionTo survive the pandemic, companies were forced to adapt very quickly to radically new circumstances. Even large organizations—where it's typically difficult to shift directions quickly—managed to accomplish it. Leaders discovered that, when required, their organization could act much more quickly and nimbly than they normally do.So, the obvious questions are 1) What was different? And 2) How can you "hardwire" this flexibility into your organization so it continues to be stronger in the future?WHAT WAS DIFFERENT?All humans have a set of cognitive biases, which are mental shortcuts that are used for problem solving and decision making. To be clear, cognitive biases are NOT individual or personal biases. They are a neuroscience phenomenon that all humans share. It's also important to understand that they operate subconsciously; They affect your thinking in ways that you don't realize.You have two different thinking systems, commonly known as System 1 and System 2, sometimes referred to as thinking fast (1) and thinking slow (2). System 1 is the "intuitive", quick, and easy thinking that we do most of the time. In fact, it accounts for about 98% of our thinking. It doesn't require a lot of mental effort; we do it easily, quickly, and without having to think about that fact that we're thinking. System 2 thinking is deeper thinking; the kind that's required for complex problem solving and decision making. This deeper thinking requires more effort and energy; it literally uses more calories. Since it's less energy efficient, our brain automatically and subconsciously defaults to the easier System 1 thinking whenever it can, to save effort. Cognitive biases result when our brain tries to stay in System 1 thinking, when perhaps it should be in System 2. The outcome is often sub-optimal solutions and/or poor decision making. But we don't realize that we have sub-optimized because all of this has happened subconsciously.In typical circumstances, several of these cognitive biases conspire to make us perceive that continuing as we are—with only slower, incremental changes—seems like the best decision. It feels familiar, it feels lower risk, in sum—it feels smarter. Choosing to do nothing different is—very often—simply the default. It frequently doesn't even feel like we made a decision; instead, it feels like we were really smart for NOT making a potentially risky decision.But during the pandemic, changing nothing, or changing very slowly, were simply not options. This particular situation was so unique that our brains didn't have the choice to stay in short-cut System 1 thinking. System 2 thinking was required. Since we consciously realized we MUST change—quickly, our brains started literally working harder—in System 2—and the normal cognitive biases weren't a factor. CONTINUE TO BE NIMBLE The key to maintaining flexible thinking and nimble behavior is to not allow our brains to fall into the trap of cognitive biases. Obviously, since these are intuitive and subconscious responses, this is not easy task. But there are proven ways that we can better manage our brains. Here are a few ways to start.Knock out the negativity bias. Negativity Bias is the phenomenon that negative experiences have a greater impact on your thoughts, feelings, and behaviors than positive experiences. So, you are much more highly motivated to avoid negative than we are to seek out positive. The way this manifests in your daily work is that we are much more prone to reject new ideas than to accept them, because rejecting ideas feels like we're avoiding potential negative.Cognitive BiasesCognitive Biaseshow to sustain flexible thinking and nimble actionLEADERSHIP MATTERSBy Susan Robertson
Page 43
www.mcsmag.com DECEMBER 202137Respond to "yes but…" with "what if…?" This requires a dedicated and conscious mental effort, by everyone on the team, to monitor their own and the team's response to new ideas. Every time "yes, but…" is uttered, the response needs to be "What if we could solve for that?" This reframing of the problem into a question will trigger our brains to look for solutions, instead of instantly rejecting the idea.Short circuit the status quo bias. The Status Quo bias is a subconscious preference for the current state of affairs. We use "current" as a mental reference point, and any change from that is perceived as a loss. As a result, we frequently overestimate the risk of a change, and dramatically underestimate the risk of "business as usual." When weighing a choice of possible actions, be sure to overly list "do nothing" as one of the choices, so you are forced to acknowledge it is a choice. Also include "risk" as one of the evaluation criteria and force the team to list all the possible risks. Then comes the difficult part—remind the team that their subconscious brain is making them perceive the risks of doing nothing to be lower than the reality, so they should multiply the possibility of each of those risks.Curtail the curse of knowledge. In any subject where we have some expertise, we also have many subconscious assumptions about that subject. Under normal circumstance, this Curse of Knowledge (these latent assumptions) limits our thinking and suppresses our ability to come up with radically new ideas. Rely on advisors who don't have the same Curse of Knowledge. In other words, seek out advice from people outside of your industry. When evaluating ideas or actions, these outsiders won't have the same blinders that you have, so they will likely have a more clear-eyed view of the benefits and risks.CLOSING THOUGHTThe bad news is that cognitive biases are always going to be a factor in our problem-solving and decision making; they're hard-wired into us. The good news is that, with some dedicated and continuous mental effort, we can mitigate them and become nimbler in the face of change. about the authorSusan Robertson empowers individuals, teams, and organizations to more nimbly adapt to change, by transforming thinking from "why we can't" to "how might we?" She is a creative thinking expert with more than 20 years of experience coaching Fortune 500 companies. As an instructor on applied creativity at Harvard, Susan brings a scientific foundation to enhancing human creativity. For more, visit www.susanrobertson.co. CUTTING EDGE IMPALEMENT PROTECTIONCARNIE CAP is the most effective way to cap exposed rebar while keeping your workers safe and on the job.National OSHA Compliant • CAL-OSHA ApprovedPatent #5826398, 6073415ORDER TODAY!(888) 743-7725 www.carniecap.comWORKS IN HORIZONTAL, VERTICAL & INCLINATIONAPPLICATIONS✓ ASSEMBLE WITH 2X4 OR 2X6 LUMBER ALREADY ON SITE✓ SAFELY DISTRIBUTES WEIGHT ACROSS ENTIRE SYSTEM✓ NO MORE CAPPING EVERYREBAR!✓
Page 44
DECEMBER 2021 www.mcsmag.com38management solutionToday's business climate is exceptionally volatile and complex. In this type of uncertain environment, it is essential to reassess all of the strategic assumptions that have been the foundation of your planning efforts. We no longer have the luxury of being able to take for granted that shifting trends will be easy to see or that customer needs will be stable. As so many external forces influence the on-going value of your enterprise, it has become more essential to challenge the assumptions you use for your strategic planning purposes. Going forward, success requires detailed scrutiny to determine how much risk you really face. This scrutiny will also help you to better anticipate the changing needs of your customers. ASSUMPTION FLAWSWhen assessing the assumptions that you use for your decision making, there are several critical flaws that you must avoid. These assumption flaws include internal beliefs based on incorrect information or errors in how the assumptions have been developed.Most leaders believe that they already know the most critical assumptions that impact their organization. Typically, if you have been working in your industry for a long time, it is likely that you have a strong point of view about how things should be done and your own expectation of what your customers need. Yet all too often, it becomes easy to get locked into a belief paradigm that causes you to stop paying attention to what is really happening in the evolving world around you. Customer expectations change. Budgets and priorities shift. Competitors make aggressive moves. Tactics that previously worked well are no longer getting the same response from your customers. If this sounds like your situation, then it is the time to reassess your assumptions. REVIEW STRATEGIC ASSUMPTIONSSet aside time to fully reassess all of the assumptions you use. This will help you develop strategies that leverage new opportunities offered by changing trends impacting your industry. It will also provide you with new insight to help you better anticipate the potential impact of these changes and others you may need to consider. Stepping back to determine if the critical strategic assumptions you are using for your decision criteria will also afford you with an opportunity to identify changes that need to be made before these new or emerging trends will wreak havoc on your enterprise's future financial stability or long-term viability. The prism used for how you view the external world creates a bias in how you interpret the information you receive and how you perceive the potential impact of this information. As a result, it becomes easy to minimize the impact of changing external forces. This is especially challenging when you are busy dealing with many the pressures of the responsibilities of your day job. It is easy to lose sight of the external environment around you. You assume that everything is staying the same or will be going back to normal. But yet, after coming through the intensity of a period of economic volatility, it is essential to consider the true impact of those market changes on your business or organization. Make sure you have more than just a superficial understanding of the issues at hand. Review your strategic assumptions from outside your own paradigm of perspective so you better can navigate the complex variables impacting your customers and their decision-making processes. Ensuring that your team also has a comprehensive understanding of the potential impact of complex external forces that affect your enterprise will help them be better stewards of your organization's future. GAIN DEEPER UNDERSTANDINGWhen you are operating in a complex economic environment, a deeper understanding is required of the complexity of issues that affect your decision making. Reassessing your assumptions encourages you to ask the hard questions about the market forces influencing your enterprise. It also reexamines your assumptions about your customers in terms of both their decision criteria and what triggers their purchasing behavior. Strategic Assumptionsit's time to reassess for successPLANNING EFFORTSBy Jill J. Johnson
Page 45
www.mcsmag.com DECEMBER 202139Reviewing your assumptions also ensures that the most critical questions about your future are discussed well in advance of them impacting your bottom line. This requires your ability to realistically assess the influence of how these other factors impact your situation. This effort provides opportunities to deepen your value to your current and prospective customers. It is imperative to consider how the assumptions you are currently using may be distorting your situation and undermining your ability to make better long-range decisions. Reevaluating your assumptions with an objective perspective will help you identify the shifts you need to make and in turn, the insight you need to obtain to move your decision making forward in the most effective manner.DEVELOP BETTER ASSUMPTIONS Good assumptions are based on accurate information and this information needs to be continually updated. The most critical factor that determines how rapidly you can get clarity is grounded in the quality of the assumptions that you use to evaluate your decision options.We must become even more observant to stay on top of evolving trends. Those shifts and changes can fundamentally alter the viability of our assumptions. As a result, we need to continually update our understanding of what is impacting the decisions we make. Good business decision makers are always willing to assess how changing assumptions can benefit their bottom line or create new revenue streams. You have to monitor data to shake out the evolving changes that are not obvious on a macro view. This takes discipline and effort.CLOSING THOUGHTReassessing your assumptions about the future will make you a better strategic thinker and give you deeper insight into how your marketplace needs are likely to change. Encourage your trusted advisors and key employees to help you challenge the assumptions you currently use in your organization for decision-making. Be on the lookout for emerging trends and how they may affect your enterprise. Those emerging concerns or challenges that are on the horizon might affect your decision-making approaches. It is always safe to assume that something is going to change. about the authorJill J. Johnson, MBA, president and founder of Johnson Consulting Services, is a management consultant, accomplished speaker, award-winning author, and Business Hall of Fame inductee. She helps clients make critical business decisions. She has a proven track record of dealing with complex business issues and getting results. For more, visit www.jcs-usa.com.
Page 46
Page 47
Page 48
DECEMBER 2021 www.mcsmag.com42software solutionFrom fraudulent text messages and emails targeted at employees to lost or stolen mobile devices, more organizations are suffering from debilitating hacks and security breaches than ever before. But commercial contractors that manage the use of mobile devices as part of workplace safety programs may be uniquely positioned to enhance their defenses against attackers. AN INCREASING THREATThe repercussions of a major data breach or cybertheft can destroy brands, customer relationships, and even entire businesses. More than half of cyberattacks strike small-to-midsize businesses, according to researcher Cybersecurity Ventures, and 60% of those attacked go out of business within 6 months of a hack or data breach. Commercial contractors may be at particular risk to criminals who access data and networks through lost or stolen smartphones, tablets, or laptop computers at busy jobsites, in unattended vehicles, or even from office headquarters. In fact, mobile devices are a dominant source of cyber risk. A report by security solutions provider RSA Security found that more than 70% of fraudulent transactions originated in the mobile channel. And, while it's clear that lost or stolen mobile devices result in a financial loss for both the user and the organization, the damage can be catastrophic when sensitive data is exposed.STANDARD SAFEGUARDSContractors deal in sensitive information daily. It is imperative that they deploy firewalls and cybersecurity software to protect their business operating software, customer account information, bid calculations, schematics, and other vital data. Unfortunately, a dedicated security solution alone, while essential, may not provide sufficient protection. In fact, three of the 10 largest data breaches in the first half of 2021 occurred at technology companies with what had seemed to be impregnable safeguards in place. Many enterprises have begun implementing adaptive device management tools in addition to standard security safeguards to protect vulnerable data and customer information. Commercial contractors that use a contextual mobility management (CMM) system have the means to introduce an additional layer of security over their data.CONTEXTUAL DEFENSEIn recent years, progressive contractor firms have come to embrace the enhanced productivity and fluidity of the mobile worker. Mobile technology has accelerated communications and the dispatching of crews, helped transform paper blueprints into data-rich digital designs, and given supervisors and workers in the field access to all the data and software that was once only available at a desktop back in the office. However, with the benefits of workplace mobility comes heightened risks. A solution? Contractors benefiting from the advanced functionality of mobile-capable workers have had to refine their mobile device policies and augment existing security measures to protect against hacks and data breaches resulting from lost or stolen mobile devices. Many are accomplishing this with CMM technology that considers where the device is, who is using it, how it's being used and what's happening around the user at the time—the context.Having a solution that immediately triggers safety protocols, such as allowing or prohibiting access to sensitive data, upon a change in context, without the need for IT intervention, provides a stronger barrier. Passwords can be hacked. There can be precious time delays between noticing when a device is missing and when IT can put the device in lost mode or even wipe it. As a worker's environment changes through the course of their day and activities, so do their device permissions—automatically and in real time. CMM can handle it as soon as the context changes. It's important to note that CMM doesn't replace a dedicated security solution but enhances it in the same way it enhances an Enterprise Mobility Management (EMM) solution. Two Contextual Cybersecuritymobility management enhancing data protectionSECURITY MATTERSBy Joe Breaux
Page 49
www.mcsmag.com DECEMBER 202143approaches that make this work are fixed perimeter and dynamic adaptation.Fixed perimeter security is best suited to businesses with employees that gather at the same place every shift, such as a factory or hospital. If a team member who normally leaves their tablet at work inadvertently takes it with them when they leave, the contextual mobile management solution can automatically detect that the device has exited the secure workplace perimeter and lock its functions until it is returned to the premises. If the device is lost or stolen, the same automatic locking response occurs in real time, and functionality is immediately restored if the device is recovered and returned.Dynamic adaptation works for businesses with employees in the field, which is often the case for contractors. This CMM arrangement manages functionality when an individual's movements and locations fluctuate. A construction safety officer may be able to access company systems and data from their mobile device while at a jobsite or at the office, for example, but when they leave the designated areas—or if their device is misplaced or even stolen—the CMM tool will remove the device's access to work-related apps and databases.Whether as a fixed perimeter or dynamic adaptation, contextual management is an added layer that supplements traditional security measures and tools, giving each user access to only what they need to get the job done and nothing they don't. Their permissions change along with their situation, such as when they are around certain equipment or leave the jobsite. The security side of that coin is that access to sensitive data or applications can adjust based on the user's whereabouts, without expecting IT or the employee to decide what device usage is safe and appropriate. Those functions and information are also inaccessible to anyone who finds or steals the device, because lockdown occurs the moment the device moves outside the place or time designated for its use, regardless of whether its absence has been noticed or reported.CLOSING THOUGHTEffective cybersecurity requires a multifaceted approach that includes regularly updated software and employee training. But by including a contextual mobile management solution in security processes, companies can drastically reduce opportunities for data breaches and social engineering attacks on their employees. about the authorJoe Breaux is CTO of TRUCE Software, which offers the only mobile management platform to provide flexible, contextual enforcement of your mobile device policy, allowing companies to enable or temporarily suspend mobile apps based on the work being performed, the work location or even the user or work group. Their patented technology operates on both iOS and Android platforms, supporting more than 140,000 subscribers and some of the largest brands worldwide. For more, visit trucesoftware.com.Contractor's #1 Choice for Flat FloorsA great power screed using straight flat screed bars. The❝Black Beauty❞GET FLAT FLOORS!Screed bars are available in lengths up to 20 feet.▼ Equilateral screed bars stay straight through years of use.▼ Now available with "T" handle (shown) or "Bicycle" handle.▼LOCATE A DEALER AT advancedconcretescreeds.com OR CALL US AT 800-648-0542.
Page 50
DECEMBER 2021 www.mcsmag.com44software solutionLet's do the math with some numbers that originate from real-life users of Compliant Client by eMars. But first, let's go over a quick explanation of Compliant Client by eMars.COMPLIANT CLIENT BY EMARS Compliant Client by eMars offers a worry-free time and money saving system that keeps your payroll compliant with the Davis Bacon Act. The system requires no installation or maintenance. It provides immediate, concurrent, real-time visibility of all payroll records of the sub, prime, plus, the owner agency has complete visibility. Every submitted payroll is audited, online and in real time, against the wage determination and all 30 causes that are in support of Davis-Bacon and related Acts.Can you save real documented money on your next construction project? PREPARING A PAYROLL The usual time to manually prepare a certified payroll without computer screening is about 45 minutes. The time to prepare a payroll using eMars is 2-5 minutes. REVIEWING A PAYROLLThe time it takes a prime to review a subcontractor's payroll is at least 30 minutes. Most prime contractors have approximately 15 to 20 subcontractors on each project. 30 minutes x 18 subcontractors = 540 minutes; 540 minutes of expensive time! Using eMars requires zero time since eMars has already conducted an audit for all potential errors.ERRORS When an audit is prepared manually, most potential errors are overlooked and not even considered. Errors, when found by the government inspectors, cost, time, money, and sometimes jail time. Documented evidence shows that about 20% of all human prepared payroll audits have at least 1 error. Can you put a value on time spent in jail? Would you like to spend profits on mistakes that could have been easily avoided? PRIME CONTRACTOR RESPONSIBLEA prime contractor is both legally and financially responsible for all subcontractors on a project. If an audit is performed by DOL and significant errors are found, the results could be fines, debarment, or even jail time. As a prime contractor, the mistakes of your subcontracts are your mistakes. Costly mistakes. Ignorance or "I didn't know" are unacceptable excuses to be offered to the government authorities. PAPER IS EXPENSIVE When electronic payroll system like Compliant Client eMars is not used, a paper copy submission must be submitted to the owner for all subcontractors. This requires a manual task of collecting the payrolls and mailing weekly payrolls to the owner. With eMars, all payrolls are automatically available for viewing of the owner/auditor by simply logging into the system. With an estimate of 45 minutes for each subcontractor times 18 subcontractors, the weekly sum is 810 minutes. 810 minutes is a lot of time and money. Preparing a payroll is only step one in the effort to comply with the Davis Bacon Act. JOURNEYMAN TO APPRENTICE RATIOSFrequently, statistics proving journeyman to apprentice ratios need to be satisfied. This report is automatically prepared by Compliant Client on a day-by-day basis. USACE requires an RMS report, which is prepared automatically in Compliant Client. If a contractor uses an apprentice, they must have an approved apprentice program. With Compliant Client, an approved program is immediately identified—no need for a costly manual file review with Compliant Client.WORKSITE RESTRICTIONSWorksites have restrictions regarding a variety of issues. Fingerprints identifying felons, or a requirement that all workers have proof of a vaccination are just two of those possible restrictions. eMars immediately identifies the violations. There is no need to research HR files and discover a violation.CLOSING THOUGHTBased on the benefits, you can save money and time on your next construction project using Compliant Client by eMars. for more informationFor more about Compliant Client by eMars, call 480.595.0466 or visit emarsinc.com.Project Savingshow a construction company saves cost on a project COMPLIANT CLIENT BY EMARShow a construction company saves cost on a project
Page 51
Page 52
DECEMBER 2021 www.mcsmag.com46legal solutionChallenging times can also be opportunities, but only if one knows where to look and has the drive—and capital—for it. Challenging times also highlight the need to anticipate and embrace new technologies—those who fail to, ultimately fail; those who do, benefit. This is true not only from the standpoint of competitiveness and profitability, but also to fulfill obligations to owners and clients, comply with regulations, provide an efficient and safe workplace for employees, and ultimately manage risk and successful projects. Much has been written about the challenges presented by the pandemic and the all-too-well-known supply disruptions and labor shortages. While there has been some stabilization, the challenges remain substantial and in some respects daunting. Demand for materials is significantly higher as pent-up demand continues, while disruptions in the movement of materials due to congestion and delays in outbound ports in China and elsewhere and in inbound ports in the United States continue. This and the increased demand have also resulted in a substantial increase in freight costs. All of this leads to lack of materials, delays, and increased costs at a greater rate than seen in decades, and the further squeezing of margins for construction firms. And that is before getting to the challenges of the lack of labor, let alone qualified and experienced labor.INDUSTRY OUTLOOKIn its 2022 Engineering and Construction Industry Outlook, however, Deloitte notes "several factors positioning industry for strong growth amid headwinds." The Associated Builders and Contractors' Construction Confidence Index has recovered from 38.1 at the beginning of the pandemic to well above 60 by mid-2021. Order backlogs (albeit a two-edged sword) is up significantly. According to a Deloitte survey, 91% of E&C respondents characterize the business outlook as somewhat or very positive, and they note the expected strong performance in both residential and non-residential sectors due to the Infrastructure Investment and Jobs Act. This is particularly encouraging for the non-residential sector as it had not had the successes of the residential sector in the past nearly 2 years. Nonresidential areas of focus will be related to data centers, warehousing, healthcare facilities, and, of course, roads, bridges, airports and other "infrastructure."At the same time, owners and project managers are looking for efficiencies and flexibilities in their facilities so that management and maintenance therefor can be anticipated and handled well and economically, and cities are moving to be "smart" cities and requiring eco-friendly technologies, pedestrian or vehicle sensing technologies, sustainability, smart roads, waste management or Internet-of-Things (IoT). PROMISING TECHNOLOGIESTo address these current challenges as well as anticipate future developments, and to find ways to stabilize and expand profitability, the industry must turn to, embrace and help develop new technologies. Some examples of promising or even compelling technologies are:Digital supply networks. These allow for better visibility, control, and planning for supply availability and movement of materials, through analytics on real-time information allowing for better decision-making for scheduling, costing, strategic sourcing, alternative sourcing, bidding, and projections.Smart project management systems. These help coordinate not only the supplier issues above, but contract management, labor staffing management, progress reports, progressing billing, and anticipation of speed bumps. They help increase productivity, speed access to current data, decrease downtime and disruptions, manage risk, and allow participants to be working across platforms and what otherwise might be disjointed data points in a coordinated and efficient manner.BIM systems and Artificial Intelligence (AI). In addition to that described above, the use of AI will increase and assist greatly in predictive or collaborative building design and project planning.Digital twins. Particularly combined with AI, these allow office or remote personnel effective "presence" on a jobsite to monitor activities and developments or coordinate and collaborate with on-site personnel.New or modified materials. Such as engineered cementitious composite, engineered timber, and recycled materials, etc.Promising TechPromising Techchallenges bring opportunities, but …TOP STORYBy Christopher Scott D'Angelo
Page 53
www.mcsmag.com DECEMBER 202147Prefabrication, 3D printing and modular construction. 3D printing is expanding greatly. No longer is it that little plastic toy novelty, but is now a sophisticated technology that can create, effectively and efficiently, many products, building components or models, and spare parts for on-site repair of construction equipment, out of a myriad of materials. Robotics, autonomous vehicles or drones. Robotics are being used for many activities, especially for repetitive works such as bricklaying, fasteners setting, painting, loading, drywall installation, etc., or for dangerous activities such as demolition or explosive setting. Autonomous construction vehicles are in the works, and drones have increased in use dramatically.Wearable sensors embedded in clothing or protective gear. These monitor worker safety or condition, providing for increased safety and decreased risk such as from exhaustion or environmental conditions.Cloud technologies. By moving to and relying on the cloud, a firm's data is coordinated, real-time and available for the whole team for the sake of consistency and coordination.Labor and management. Other areas requiring creative thinking and investment are both labor and management. To be sure, there is a very challenging labor shortage at present, but many think that this is not a temporary issue. The industry needs to find new or expanded ways to attract—and more important—train and retain qualified personnel. This is not only for the workers. As the industry creates and relies on roles that are digitally oriented or technology based, the workers and especially those tasked with the digital or tech activities will need greater and new skills. The competition from other industries for such candidates is strong and alluring.CLOSING THOUGHTGranted, these challenges and opportunities require a great deal of intellectual, creative, and financial capital. The reality is, however, that such investments are required to fulfill legal, professional, and contract obligations and to move successfully into the next era of the construction industry. about the authorChristopher Scott D'Angelo is a partner and chair of both the Business Disputes & Products Liability Practice and International Practice at Montgomery McCracken Walker & Rhoads LLP, based in Philadelphia and New York City. His practice involves business, products liability, construction, class action, and insurance counseling and litigation, including his role as national counsel for several major U.S. clients and his representation of foreign concerns in the United States and U.S. concerns abroad. He is a member of the Construction Law and Litigation Committee of the International Association of Defense Counsel. He can be reached at cdangelo@mmwr.com.
Page 54
You Need Leads We Have the Solution Our digital marketing campaigns can identify prospects interested specifically in your product and then tell you exactly who they are See what our customers are saying The reports are awesome Thank you If we can get that level of information from all of our suppliers we will be very happy We have already made one machine sale to a prospect from the eBlast and I am sure there will be more Paul Gazik Business Development International Sales for Call us today to get started at 205 795 0223 or email us at russell mcsmag com
Page 55
TECHNOLOGY • MANAGEMENTTECHNOLOGY • MANAGEMENTMANAGEMENT • ENVIRONMENTALMANAGEMENT • ENVIRONMENTALEQUIPMENT • SAFETYEQUIPMENT • SAFETYSAFETY • TECHNOLOGYSAFETY • TECHNOLOGYENVIRONMENT • EQUIPMENTENVIRONMENT • EQUIPMENTSOLUTIONSSOLUTIONSSOLUTIONSSOLUTIONSSOLUTIONSSOLUTIONSSOLUTIONSSOLUTIONSSOLUTIONSSOLUTIONSTECHNOLOGY • MANAGEMENTTECHNOLOGY • MANAGEMENTMANAGEMENT • ENVIRONMENTALMANAGEMENT • ENVIRONMENTALEQUIPMENT • SAFETYEQUIPMENT • SAFETYSAFETY • TECHNOLOGYSAFETY • TECHNOLOGYENVIRONMENT • EQUIPMENTENVIRONMENT • EQUIPMENTSOLUTIONSSOLUTIONSSOLUTIONSSOLUTIONSSOLUTIONSSOLUTIONSSOLUTIONSSOLUTIONSSOLUTIONSSOLUTIONSGo to mcsmag.com for solution-based articles with insight from industry experts.LET MCS BE YOUR RESOURCE.LET MCS BE YOUR RESOURCE.SEEKING A SOLUTION? SEEKING A SOLUTION?
Page 56
DECEMBER 2021 www.mcsmag.com50technology solutionBidding/Estimating ToolBidding/Estimating Toolsupercharge your business and gain a competitive advantageALLOY MECHANICAL Alloy Mechanical, a mechanical contractor based in Lansing, Illinois, prides themselves on being a single-source industrial contractor for all their client's design-build and mechanical needs. Following the core beliefs of safety, problem-solving, leadership, teamwork, performance, quality, and integrity, the Alloy team strives to be proactive and productive in both the internal work environment and client service. With a reputation for delivering complex projects on time and budget, Alloy's design-build solutions offer clients diverse expertise and the simplicity of dealing with a single point of contact. When Brian Kidder, business development manager with Alloy Mechanical, began vocalizing his frustration with various aspects of their current laser scanner, operations manager Scott Twiddy knew it was time for a change. "Our goal has always been to grow our capabilities in such a way that we can be of increasing help to both our existing clients and new clients," says Twiddy. "The 3D laser scanner we were using brought frustration, required targets for registration, and was impeding our ability to complete the job properly; if we are to continue to be more efficient both internally and for our clients, we needed scanning technology that could get the job done." SCAN CHALLENGE To gain more presence in assisting clients with their scanning and modeling needs, the technology tool's weak spot had to be eradicated and fixed permanently. In addition to general scanning needs, the issue of stainless steel moved to the forefront: buried within petrochemical terminals frequently scanned by Alloy are stainless steel panel boxes that must be accounted for, measured, and noted. In more than one instance, their previous scanners did not accurately pick up the geometry of those stainless boxes, resulting in a negatively affected install and outcome. Overall, about 90% of the structures scanned by Alloy contain stainless steel cabinets and complex pipelines, so this element of the challenge moved the process of finding new technology to the forefront. U.S. CAD STEPS IN After seeing a video on LinkedIn posted by U.S. CAD's reality capture expert, Ted Moberg, Twiddy's interest was piqued, and he reached out. U.S CAD is a leader in AEC technology solutions providing consulting, training and education, and BIM production services, helping guide clients through technology decisions and adoption. "U.S. CAD has been phenomenal in understanding what Alloy needs," comments Twiddy. "They worked with us to establish a complete solution to meet our goals; I like to say they didn't come in to change our workflow; they came in to enhance it." After gaining a thorough understanding of Alloy Mechanical's current and future needs, U.S. CAD recommended the Leica RTC360, as it provides the most bang for the buck in the exact way that Alloy needed it to perform. LEICA GEOSYSTEMS RTC360 The Leica RTC360 3D reality capture solution empowers users to document and capture their environments in 3D, improving efficiency and productivity in the field and the office through fast, simple-to-use, accurate, and portable hardware and software. SWITCHING FOR SUCCESSAlloy Mechanical switched from their former brand to Leica in the spring of 2021 and immediately noticed improved results. By Troy Dahlin
Page 57
www.mcsmag.com DECEMBER 202151"The resolution and accuracy, especially with density, is far better," reports Kidder. "We don't need targets to get registration anymore, which is a huge factor in our success. The reduced scan time is significant, allowing us to be instantly more efficient internally and for our clients."What was once an entire day of scanning for a particular client was accomplished in 2.5 hours with the RTC360. As a result of the time saved, the Alloy client asked, on the spot, for additional areas to be scanned. When that was accomplished in record time, the client returned to Alloy again with more jobs.Two other bid walks with clients to create estimates resulted in the same increased level of success: Kidder asked if he could scan the project simultaneously with their walk; the client agreed. Because the RTC360 was so fast and effective, Kidder shared the entire point cloud of the site, allowing their estimate to be even more accurate and complete. The Alloy team is planning to integrate scanning into their bid walks for future clients (where allowed) for an instant boost in productivity and results. "This will position us way ahead of the competition in what we can offer and accomplish," says Kidder. EASE OF USE"Using the RTC360 is incredibly easy," says Kidder. "I was playing with it when we first got it and was able to have it up and running pre-training." Kidder admits to purposefully trying to make the unit not work to help him understand how to fix it if needed, but he was unsuccessful: "I couldn't make it not work! The simplicity was really neat to see. Even when you think you made a mistake, you didn't!" Kidder also appreciates the ease of the backpack format: with everything in one place, he's out the door in record time. Since he works all over the country, the efficient transportation of the RTC360 translates to not having to check it into the baggage compartment on planes (and worry about it being damaged), and he can now accomplish day trips with increasing ease. Of special note: The Leica RTC360 hasn't missed scanning one stainless steel unit to date. FUTURE IS BRIGHT Twiddy recognizes the deeper benefits of making the switch to Leica: "When modeling facilities and creating red lines, with the time it takes to scan, we can create a model that's accurate to within 1/16 of an inch. This allows us to better service our clients; the combination of scanning during bid walks is game-changing. This tool is going to make us a better company." about the authorTroy Dahlin is vice president, heavy construction segment, US/CAN of Leica Geosystems, part of Hexagon. For more, visit www.leica-geosystems.com.
Page 58
DECEMBER 2021 www.mcsmag.com52technology solutionNOTE: After at least 34 lawsuits were filed nationwide seeking to permanently stay or rule unconstitutional the Emergency Temporary Standard (ETS) announced by OSHA, which would have required that employers with 100 or more employees ensure their workers are fully vaccinated or test at least weekly for COVID-19, OSHA announced November 18, 2021, that it would stay enforcement of the ETS pending court review. The Sixth Circuit Court of Appeals was drawn in a lottery to hear and resolve all matters related to these now-consolidated challenges to the ETS. Until it's known how this matter will be resolved, plan to be prepared.Everybody in the construction industry is talking about OSHA's emergency temporary standard that requires employers with 100 or more employees to institute a COVID-19 vaccination requirement or offer an alternative option of weekly testing. The magic number of 100 employees includes full-time and part-time workers, but not contractors. However, as many GCs know, certain clients have long required everybody on the jobsite be vaccinated. With a deadline of January 4, 2022 looming, safety officers, project managers, and HR professionals are huddling to figure out the best way to manage the process. For OSHA reporting, they'll quickly need to know who has been vaccinated, who is opting for weekly COVID-19 testing, and the best way to easily manage and safely document worker status and meet the OSHA record keeping requirements. Forward-looking, GCs are also including subcontractors' vaccination status. For them, it's just easier to account for everybody on the jobsite. And when it comes to rehiring subcontractors, they're an upside to already clearing the vaccination hurdle.As GCs try to figure out the best logistical way to manage the vaccination verification process, many are applying the lessons learned from early in the pandemic. You probably recall how the paper-based check in process and health screenings were replaced by digital check-in apps that offer social distancing, privacy of worker data, and private contact tracing. DIGITAL TECHNOLOGYThe contractors that adopted digital technology at the time are now reporting that they're saving hours each day previously spent having workers and subcontractors sign in, meet with a supervisor, and get their daily assignment. Digital check in technology has evolved beyond health screenings to streamline a lot of admin on the jobsite. Depending on the size of the project, the savings can be the equivalent of one or two full-time employees.In anticipation of the January 2022 OSHA mandate, digital check-in continues to evolve. It now allows workers to answer the vaccination status question and upload a picture of their CDC card for further proof. The office can easily and privately access the records and produce reports based on data captured from the field that's in compliance with OSHA guidelines.COVID Vaccinehow digital technology streamlines OSHA's deadlineJOB OR JABBy David Ward
Page 59
www.mcsmag.com DECEMBER 202153DIGITAL CHECK-INAmpirical Solutions is one example of a company that uses digital check in technology to navigate and streamline what could have been a cumbersome process of determining who has been vaccinated. As background, the company provides electrical infrastructure engineering, design and construction for investor-owned utilities, municipalities, rural cooperatives, and industrial clients throughout the U.S. Its range of services span Arkansas, California, Florida, Georgia, Louisiana, Mississippi, North Carolina, Pennsylvania, and Texas.Ampirical first started using digital check in for COVID-19 health screenings and private contact tracing. As their digital app, Safe Site Check In evolved, Ampirical saw additional benefits. This includes an easier way to manage the daily log and download weekly reports to identify potential productivity or profitability issues well in advance of their impact on the project's success.Recently, Ampirical decided to use Safe Site Check In to manage the COVID-19 vaccination status of workers and subcontractors in anticipation of OSHA requirements. With Safe Site Check In, workers can verify their vaccination status as they sign in and upload a picture of the vaccination card. Along with being prepared for OSHA, this helps with project and employee management.According to Ampirical's Rod Courtney, heath, safety and environmental (HSE) manager, "It's not about politics or foisting an employer's beliefs on employees. Rather, it's about the logistical process of verifying and documenting that every employee and subcontractor working onsite has been vaccinated, or that negative test results are current, without disrupting the work to be done." CLOSING THOUGHTAs contractors prepare for the January 2022 deadline, now is the time to take the necessary steps and institute processes that will make it easy to document who has been vaccinated and who is being tested for COVID-19 on a weekly basis.Digital check-ins offer a streamlined way to do this without adding additional, time-consuming admin tasks to the workload of project managers, HR, and other staff. The key is to capture the information once and have it easily accessible through the cloud. Otherwise, critical time may be wasted trying to track down field and office workers, manage the weekly testing process, and have records ready for OSHA. about the authorDavid Ward is the CEO of Safe Site Check In. For more, visit www.safesitecheckin.com. For more about Ampirical, visit www.ampirical.com. www.sunflowerboatandbarge.com • 563-583-0556• Sectional Barges• Spud Barges from 75x32 to 195x70• Hydraulic Dredges• Truckable Tugboats from 300 – 600 hp• Traditional Tugboats• Support EquipmentAvailable for Lease:
Page 60
DECEMBER 2021 www.mcsmag.com54technology solutionTo be successful in the construction business, there are certain strengths a contractor must have. On-the-job experience, building knowledge, and organization are critical, as well as solid communication and management skills. But if there's one essential thing that can't be overlooked, it's the ability to mitigate risk. Mitigating risk requires contractors to understand where things can go wrong and eliminating problems before they start. These efforts help protect employees from jobsite injuries, ensure projects stay on schedule, and make sure budgets don't end up in the red. In today's competitive environment, contractors can't rely on intuition or hunches to know if something is off––there's too much at stake for that to cut it. Fortunately, contractors and construction companies can turn to modern tech solutions to support mitigating risk and, in turn, protecting their bottom line. Read on for the three main pillars of risk management—scheduling, safety, and staffing—and to find out how technology helps construction leaders mitigate risk. SCHEDULINGThe overall progress of any given project can be tracked in real time through live data submitted by workers and shift supervisors using a data collection solution. This type of technology can be downloaded as an app on your employees' phones. Every time they clock in for work, they can be prompted to select which task they will be working on. As they move to a new task, or clock out, they will be asked about their progress. That task data can then be compared against the job costs on the projected budget so companies get a bird's eye view of where things truly stand. Here are the key Schedule risk mitigators: Real-time capture: Live field data removes the guesswork from start and stop times of a shift as well as the work that is accomplished during the shift for each worker. Time is marked with GPS data: Supervisors can manage multiple sites at the same time with GPS and geofence tracking and management. Biometric face recognition with time records: For companies that only manage their projects by man hours, time theft and buddy punching can have a big impact on your schedule. Face recognition tied to their time records eliminates time theft and buddy punching by alerting you that their clock in or out photos don't match their employee profile photos. SAFETY Safety is the most obvious form of risk on the jobsite. Any construction worker can tell you that you can feel the risk when you are up off the floor working, operating a piece of machinery, or carrying a heavy load. Although danger can never be entirely eliminated on the jobsite, the opportunity for injury can be significantly reduced. Most safety situations that could have been avoided come from a lack of information to supervisors in a timely and usable manner. Fortunately, data collection solutions enable safety information to be gathered on easy-to-use forms at clock in/out and while transitioning to new tasks. Safety forms collected with live field data gives supervisors and management immediate insight into any safety issues or trends that are happening across all projects and tasks. Workers can share safety concerns with clarity by using photos with any necessary markups; these photos can be easily shared across the company. By collecting safety data from individual employees, over time, construction managers can help teams avoid unnecessary injuries and avoid any compliance fines. Here are the critical safety risk mitigators:Instantaneous reporting and prompts reduce unseen safety risks: Instant communication between management and the boots on the ground allows construction companies to respond to any situation as quickly as possible, limiting the jobsite's exposure to risk, problems, or errors. Requiring safety forms at clock in or out increases safety reporting: Live field data platforms with integrated workflows trigger relevant safety screening forms to pop up when employees clock in on their mobile apps. Remote safety training with videos creates the most educated workforce: Live Field DataLive Field Datasupporting the three pillars of risk mitigationBEST PRACTICESBy Mike Merrill
Page 61
www.mcsmag.com DECEMBER 202155Live field data solutions provide an agile platform to quickly deploy new toolbox talks, effectively training their employees on new safety procedures and other safety training information without requiring large coordinated meetings. STAFFINGWhen it comes to staffing issues, the productivity insights live field data provides can be used in different ways to improve the bottom line. For example, data can show current and historical demands for labor from different tasks and projects. Step one is integrating the ERP with the mobile workforce platform collecting live field data for time and completed work pulling the project cost structure from the ERP into the mobile workforce platform. This allows contractors to easily compare actual labor hours and quantities and know if they need to increase or decrease productivity to stay on schedule and within budget. Using live field data allows contractors to identify where they have underperforming crews and allows them to make adjustments to keep the productivity in alignment with the budget and schedule. Accurate labor hours and productivity in real time mitigate staffing risks: People in the field and the office know if they are ahead or behind on completed work and labor hours when they track productivity in real time. They can confidently move employees from one project to another project because they have accurate productivity captured from the field. Real-time earned value calculations: When you integrate your EPR or accounting system with a mobile workforce platform with live field data, you can keep your budget in alignment with the progress on a project. The percent complete will be accurate based on what's happening in the field in real time and as a result, the earned value can be evaluated in real time.CLOSING THOUGHTRisk will always exist on the jobsite and will always put the bottom line in jeopardy. But technology is here to mitigate some of the most prominent risks that have plagued the construction industry. Ensure that you are collecting live field data—it gives construction leaders the ability to protect their crews and businesses from unforeseen, but now avoidable, risks. about the authorMike Merrill is co-founder and chief evangelist of WorkMax by AboutTime Technologies and host of The Mobile Workforce Podcast. Mike has been an entrepreneur and business owner in the construction and technology industry for nearly three decades. For more, visit workmax.com.
Page 62
DECEMBER 2021 www.mcsmag.com56maintenance solutionPort Tireskeeping equipment running smoothlyBKT EXPERIENCEPort terminals are gateways for both domestic and international trade. The U.S. ports handle over 99% of the country's overseas cargo by volume and 65% by value, according to The American Association of Port Authorities.Shipping and transportation issues have been a major focus in recent news. There have been major disruptions in all aspects of the supply chain, from container shortages, port congestions, truck availability, and staffing. The cargo ship bottleneck is creating major delays which have led to spikes in logistics costs that are hurting thousands of businesses. Therefore, it is important for terminal professionals working around ports, harbors, and other industrial sites to overcome the challenges faced in their work environment. They need to be able to quickly, safely, and effectively load and unload ships, relocate cargo, and stack both unloaded and fully loaded containers. KEEP EQUIPMENT RUNNINGWithin the last few weeks, port operations have begun running 24 hours per day to try to address the supply chain crisis. Because the equipment is being used for long periods of time, it must be properly maintained in order to run smoothly to ensure maximum productivity.Tires are one of the largest expenditures in the maintenance of port equipment, making them a crucial part of the budget and bottom line of a company's operation. When selecting tires, professionals need to consider many factors to minimize damage and increase tire life. Container handlers and straddle carriers require tires to carry heavy loads, while reach stackers, cranes, and forklifts need exceptional stability for high reach situations. Certain tread designs and special compounds can also improve performance.PORT TIRES DELIVERBKT understands the complexities of ports and the diverse equipment required to keep operations moving efficiently. They offer a complete line of port tires designed with both bias and radial ply tires for all port equipment and applications from rough environments to hard, cemented surfaces. BKT tires are designed with many various tread designs, special compounds, and reinforced sidewalls to withstand heavy loads and provide greater stability.The PORTMAX PM 90 for reach stackers and PORTMAX PM 93 Plus for straddle carriers are radial tires with antistatic tread compounds to ensure heat resistance. Both provide great stability and durability and reduce rolling resistance that improves fuel economy.The SM 54 (L-4S), SM 54 M (L-4S), and SM 55 (L-5S) (IND-5) are all smooth tread bias tires for container handlers and reach stackers with special abrasion resistant compounds for hard, concrete or asphalt surfaces. They each provide high stability in lift modes with excellent cut resistance to ensure and extended tire life.CLOSING THOUGHTAlong with many other quality port products, BKT has an experienced technical service team available to provide site evaluations and maintenance programs to ensure the correct tires are selected to perform the best and last the longest. for more informationFor more about BKT and its port tire lineup, visit www.bkt-tires.com.
Page 63
Page 64
DECEMBER 2021 www.mcsmag.com58
Page 65
www.mcsmag.com DECEMBER 202159modern construction productsFecon introduces a new, wider model mulcher for standard flow skid steers up to 75 hp. The RK6015 has a working width of 60-inches and includes a split-ring design to limit the bite and maintain productive rpm. It easily chews up materials up to 5-inches in diameter, allowing those with standard flow skid steers to expand into mulching without a large capital outlay. The RK6015 is ideal for farmers, ranchers, land owners, landscapers, parks & recreation departments, municipalities, and anyone wishing to tackle brush shredding. For more, visit www.fecon.com. FECONNew, Wider Model MulcherCrescent introduces 18 new industrial pliers: eight VDE insulated pliers, four mini pliers, three plastic-cutting pliers, two long-nose pliers, and a wire stripper. The new VDE Insulated Pliers include lineman's (available in 6-, 7-, and 8-inch options), long-nose (6- and 8-inch options), diagonal (6- and 7-inch options), and a 7-inch insulated wire stripper. Each is designed for use in high-voltage areas with protection up to 1,000 volts, VDE certified and built to meet IEC/EN standards. Laser-hardened cutting edges provide precise cutting capability. The ergonomic anti-slip handles make for increased grip strength. For more, visit www.crescenttool.com. CRESCENT TOOLSIndustrial Pliers Brass Knuckle Red Warrior SmartFlex (BK504) gloves provide excellent, spongelike slip resistance with a proprietary polyurethane foam coating process. Plus, they're 20% thinner than comparable 15-gauge coated gloves, yet thick on comfort and flexibility. The seamless and stretchable full knit wrist provides a snug fit and prevents dirt, debris, and cold from getting inside the glove. These gloves deliver excellent grip without being sticky. Polyurethane coatings improve slip resistance particularly in wet applications. For more, visit www.brassknuckleprotection.com. BRASS KNUCKLE Red Warrior SmartFlex GlovesMilwaukee Tool announces another innovative, dedicated concrete finishing equipment solution for the concrete contractor. Part of the MX FUEL™ Equipment System, the MX FUEL™ Vibratory Screed is critical to the concrete leveling process, ensuring the slab is flat and meets grade. Delivering the power to pull a 16-foot bar, eliminating gas headaches, and offering 2 hours of run-time per charge with a 12-foot bar, the new vibratory screed reduces user frustrations while meeting power requirements and exceeding runtime needs. Seven screed bars are available separately, ranging from 4-feet to 16-feet in length. For more, visit www.milwaukeetool.com. MILWAUKEE TOOLMX FUEL Vibratory ScreedSTAY UPDATED:@modern contractor solutions@mcsmag
Page 66
DECEMBER 2021 www.mcsmag.com60Dear Goals for Gord,I'm pleased to hear you do a good job with your project goals. I'm also pleased that your supervisor is paying attention to your well-being. It's great you're being encouraged to pursue goals in your personal life. If more supervisors did that with their teams, they would experience less turnover and more satisfaction. Consider the following advice and tips:BE SPECIFIC First, think about the categories of goals that are important to you personally. Examples might be a professional development goal, a career advancement goal, a financial goal, a dream vacation goal, or even a major purchase goal such as a new truck or a bigger home. Next, select the category that is most important to you, then be both realistic and specific in establishing your goal or goals. The clearer you can state them, the more achievable they become. By being specific, you will be able to take the actions necessary to accomplish them. TIPS FOR SUCCESS ✖ Be serious: I find most people don't have goals. Many of them want goals, but they don't know how to create meaningful ones, so they just don't bother. Others don't see the value in them. Think about the opportunities being missed because of misplaced, unmeasured, or undefined goals. Always state your goals in writing to ensure you've thought them through and they have substance. ✖ Be focused: Keep your goals visible to serve as a constant reminder of what you've set out to accomplish. Eliminate distractions. Everyone has a different set of distractions and only you know what distracts you. Be diligent in identifying what they are and make necessary changes to achieve that discipline of focus.✖ Be committed: Ensure your calendar is in alignment with achieving your goals. That means most of your time should be spent on activities that contribute toward completing them. Do not confuse action with busy work. It's good to be busy but always on the right things!✖ Evaluate: Do not allow complacency to creep into what it takes to achieve your goals. Regularly track your progress toward meeting them; adjust if necessary. If you get behind, create a plan for getting back on track. Once you're on track, find a way to celebrate the win.CLOSING THOUGHT Always remember; the importance of enjoying your work and enjoying your life. Especially given the hectic pace of busy construction work, don't let either get out of balance. Goals can help you maintain the delicate balance. HEY COACH, I think I do a pretty good job of setting and achieving project goals, but I admit I'm not good with goals for myself. I tend to focus on work and don't take time to make personal goals. My supervisor has been encouraging me to make a greater effort. How can I set up and enjoy success with my personal goals? about the coachAs a leadership development expert, Randy Goruk works with construction industry leaders to improve employee engagement and business growth. Register to receive his Leadership Tip of the Week at www.LeadersEdge360.com, or contact him directly to learn how he can help you and your team: randy@LeadersEdge360.com.
Page 67
Page 68