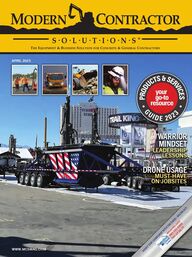 Return to flip book view
Modern Contractor Solutions April 2023
Page 1
WWW.MCSMAG.COMWARRIOR WARRIOR MINDSET MINDSET LEADERSHIP LEADERSHIP LESSONS LESSONSDRONE USAGE DRONE USAGE MUST-HAVE MUST-HAVE ON JOBSITESON JOBSITESAPRIL 2023GUIDE2023
Page 2
Page 3
Page 4
Page 5
Page 6
APRIL 2023 www.mcsmag.com45 WAYS IoT DEVICES IMPROVE WORKER SAFETY ON THE JOBSITEGuest Post by Emily Newton REDUCING ONSITE RISKTAKING BEHAVIORGuest Post by Jane Marsh 8 QUESTIONS TO ASK WHEN CHOOSING THE RIGHT VoIP PROVIDERGuest Post by Phillip Sontag1430APRIL 2023VOLUME 17 ISSUE 04Inside This Issue28special focusIN EVERY ISSUEIndustry News .............................. Punch List ................................... technology solutionAI Analyticsreduce risk and carbon emissionslegal solutionDrone Usagenow a must for construction projectsmanagement solutionMovie: Moneyballlessons from baseball22leadershipproject profileBoston Theater$ million renovation on nearly century−old structureON THE BLOGTRAIL KING INDUSTRIES, INC. Trail King released an update to the Bottom Dump trailer at the ConExpo trade show in March 2023. Designed for performance, this trailer is now lighter than ever before, allowing customers to haul more payloads.Photo courtesy of Trail King Industries.www.trailking.com26management solutionWarrior Mindsetleadership from the trenches24management solutionInsurance Needsworkers' comp provider
Page 7
Page 8
PROJECT PROFILEBoston Theater .................................................... 14EQUIPMENT SOLUTIONSEquipment Data ................................................... 16Machine ROI ........................................................ 18ENVIRONMENTAL SOLUTIONSustainability Matters ........................................... 20MANAGEMENT SOLUTIONSMovie: Moneyball ................................................. 22Insurance Needs .................................................. 24Warrior Mindset ................................................... 26LEGAL SOLUTIONDrone Usage ........................................................ 28TECHNOLOGY SOLUTIONSAI Analytics ......................................................... 30Lifecycle Data: Part 3 of 4 ..................................... 32SAFETY SOLUTIONVIZZ Headlamps .................................................. 34MAINTENANCE SOLUTIONCrafco Synergy .................................................... 36SUBSCRIPTIONS For all changes, go to:MCSMAG.COMClick the SUBSCRIPTIONS button in the main menuwww.mcsmag.com 3100 Lorna Rd, Ste 101Birmingham, AL 35216DONNA CAMPBELL Editor in Chiefdonna@mcsmag.com MIKE BARKER Publishermike@mcsmag.com RANDY MOON Media Consultantrandym@mcsmag.com MICHAEL FISCHBACH Media Consultantmichael@mcsmag.com JOHN FRIEND Media Consultantjohn@mcsmag.com KEVIN MCCLARAN Media Consultantkevin@mcsmag.com LISA AVERY Art Directorlisa@mcsmag.com SETH SAUNDERS Digital Media Specialist seth@mcsmag.com INGRID BERKY Office Manageringrid@mcsmag.comTIM GARMONCEORUSSELL HADDOCKPresidentCHRIS GARMONCFODONNA CAMPBELLVice President, EditorialTONYA BROWNINGVice PresidentNo part of this publication may be reproduced or transmitted in any form or by any means, electronic or mechanical, including photocopy, recording, or any information storage-and-retrieval system without permission in writing from the publisher. The views expressed by those not on the sta of Modern Contractor Solutions, or who are not specifically employed by Highlands Publications are purely their own. All Industry News material has either been submitted by the subject company or pulled directly from its corporate website, which is assumed to be cleared for release. Comments and submissions are welcome, and can be submitted to donna@mcsmag.com.For reprint information, contact Chris Garmon at chris@mcsmag.com.Canada Post Publication Agreement #41578525. Undeliverables 355 Admiral Drive, Unit 4, Mississauga, ON L5T 2N1 Modern Contractor Solutions Magazine@mcsmagModern Contractor SolutionsLEADERSHIP INFUSIONThis month's issue focuses on leadership: having the right workers' compensation provider for insurance needs, seeking the warrior mindset for advancement in leadership skills, and realizing the AI-based solutions via AI analytics for reducing risk and carbon emissions with water management. It's an infusion of leadership content to inspire, motivate, and inform. Leading your team means having the insight and vision to move projects along and secure projects on the horizon. This issue also features the Products & Services Guide with the latest from manufacturers and service providers, keeping you "in the know" on the latest innovations for operational success. Let this special issue be a resource. So, enjoy the issue and add the next read to your punch list: At First Light by Walt Larimore and Mike Yorkey.Cheers, Donna CampbellEditor in ChiefSAN DIEGO (April 14, 2023) Aircrew Survival Equipmentman 3rd Class Aaliyah Looney, assigned to USS Boxer (LHD 4) and a native of Birmingham, Alabama, clears trash from the side of the road outside of Naval Base San Diego during a cleanup to foster community relations between the Sailors and the San Diego community. Boxer is a Wasp-class amphibious assault ship homeported in San Diego. U.S. Navy photo by Mass Communication Specialist 1st Class Kelsey J. EadesAt First Lightpunch•list68GUIDE2023page ................ 
Page 9
Page 10
APRIL 2023 www.mcsmag.com8industry newsTAKEUCHI CELEBRATES 1000TH MACHINE ASSEMBLED IN THE U.S.Takeuchi-US celebrated a significant milestone in April when the 1000th compact track loader—a TL12R2 model—rolled off the assembly line at the manufacturer's facility in Moore, South Carolina. This 156,000-square-foot production facility, Takeuchi's first in North America, officially began assembling compact track loaders on September 22, 2022. Takeuchi announced its acquisition of the Moore, South Carolina, plant just one year ago in April 2022. The company previously produced track loaders at one of its factories in the Nagano province of Japan. However, upon observing the North American market's growing demand for Takeuchi compact track loaders over time, Takeuchi chose to begin assembling these machines in the U.S. This decision has eliminated the need to ship track loaders from an overseas facility to North American dealers and customers. As Takeuchi's global markets expand, the company expects to export some machines from the U.S. to other countries. The plan is to assemble all Takeuchi CTL models in Moore by the end of 2023. For more, visit www.takeuchi-us.com. BOMAG AMERICAS SUPPORTS CONSTRUCTION ANGELS CHARITY WITH PROMOTIONAL CAMPAIGN BOMAG Americas raised over $6,400 during the CONEXPO/CON-AGG 2023 show in Las Vegas, Nevada, to support Construction Angels, a 501(C)3 non-profit organization. Construction Angels was founded by Kristi Gibbs and its mission is to provide immediate financial assistance and grief counseling to the children and spouse left behind when a construction worker has a fatality on the jobsite. Construction Angels offers construction scholarship opportunities to qualified applicants, and additional scholarships to surviving children of fallen workers. The organization also focuses on promoting jobsite safety awareness. To support Construction Angels, BOMAG Americas dedicated a portion of their CONEXPO 2023 booth space to run a t-shirt campaign. BOMAG asked attendees to give a minimum $5 donation in exchange for a BOMAG-branded t-shirt. There were five different t-shirt styles available, and they all featured the outline of a BOMAG machine or service icon on the front and a fun product- or service-related saying on the back. Some of the sayings were "I Eat Asphalt for Lunch" (Mills), "Keep Rollin' Rollin' Rollin'" (Asphalt Rollers) and "Who Needs a Manual?" (Service). To learn more about the Construction Angels cause, visit www.constructionangels.us.CHATGPT ENTERS THE CONSTRUCTION INDUSTRY ChatGPT is making its entrance in the construction industry. For the first time ever, people in construction can talk to their plans and their plans will talk back to them—thanks to artificial intelligence and ChatGPT.Togal.AI is officially launching OpenAI ChatGPT to enhance document management—so construction professionals can use semantic search
Page 11
Page 12
APRIL 2023 www.mcsmag.com10industry newsfunctionality to find relevant information across thousands of pages of plans, contracts, specification books, schedules, and budgets in seconds.Togal.AI is an award-winning cloud-based platform that uses custom computer vision AI models to automate takeoffs in construction. It can automatically detect, measure, compare and label project spaces and features on architectural drawings with 97% accuracy. It also allows estimators and users to collaborate and share their takeoffs with team members and clients. For more, visit www.togal.ai. HCSS PARTNERS WITH CLUE INSIGHTS TO GIVE CONSTRUCTION COMPANIES A SINGLE VIEW OF ITS ENTIRE OPERATION AND ASSETSHCSS, a leading provider of innovative software that helps heavy civil businesses streamline their operations, announces integration with Clue. This innovative platform connects all company assets—yellow irons, on-road, rentals, and crew into a single system. Clue integrates with HCSS HeavyJob, Telematics, and Equipment360, providing an integrated platform for all systems where users get a single pane of glass view of their entire operation. For more, visit hcss.com. CUPIX ADDS CUPIXWORKS TO BENTLEY'S POWERED BY ITWIN PROGRAMCupix™, a global spatial digital twin platform that provides visualization and analytics for owners and builders across the entire built-world lifecycle, announces the addition of its leading product, CupixWorks, to Bentley Systems' powered by iTwin program.CupixWorks is a state-of-the-art 3D digital twin platform that enables decision-making and collaboration through all stages of a building's life cycle. Project managers, general contractors, architects, and owners can remotely view, track, and manage on-site progress via 3D spatial contexts and life-like 3D navigation. By leveraging the Bentley iTwin Platform, CupixWorks can synchronize and visualize 3D, 360° capture data—along with BIM models plus customized data—and use georeferencing to place the capture in the site's physical location. For more, visit www.cupix.com.COMMAND ALKON'S CUSTOMER PORTAL DELIVERS TRANSPARENCY INTO ORDER INFORMATION TO CUSTOMERS FROM A SIMPLE MOBILE APPLICATIONCommand Alkon, the leading software and solutions provider bringing together technology and people for the heavy building industry, is now offering its customers a Customer Portal solution. Designed for both Android and IOS, Customer Portal can elevate your customer experience by streamlining order management and providing visibility to delivery statuses. "Customer Portal enables your customers to create, manage, and track their orders 24 hours a day while dramatically reducing unnecessary phone calls," says Ranjeev Teelock, chief product officer
Page 13
Page 14
APRIL 2023 www.mcsmag.com12industry newsat Command Alkon. "Customers gain real-time visibility into their orders and deliveries through a cloud-based mobile application; helping you, to help your customers."Users can place orders directly to dispatch from a phone or tablet and have insight into when the truck leaves the plant and truck location throughout the delivery process to improve planning and utilization while reducing customer friction. Customer experience is elevated through instant, reliable data sharing and transparency, while phone calls and two-way online messaging volume is dramatically reduced. Soon, users will have the ability to expedite payment collection with integrated invoicing, reconciliation, and credit card processing. For more, visit www.commandalkon.com.STELLAR LAUNCHES NEW WEBSITE AND DEALER PORTAL Stellar, an employee-owned and operated manufacturer of high-quality mechanic trucks and cranes, tire service trucks, hooklifts, trailers, and service truck and van accessories, launches its new website and dealer portal at stellarindustries.com. The new site offers streamlined navigation, allowing visitors to search for products by either product category or by market. Additional features include a distributor locator, the latest company news, and resources such as product manuals, graphics, and videos. Stellar also rolled out its new dealer portal, dealer.stellarindustries.com. In addition to all the resources of the current distributor site, this new portal adds an exciting e-commerce solution that allows distributors to order replacement parts online 24/7, 365 days a year. For added convenience, users can simply review a drawing of the equipment to identify the parts they need, then click on the identified part to order. Parts orders can also be placed on an automated order schedule to accommodate business needs. Along with parts ordering, distributors can use the portal to look up their order history, check on completion dates and tracking information, and access the latest announcements, price sheets, and various other sales resources. BOOMNATION LAUNCHES NEW TECHNOLOGYBoomNation is further improving the skilled-worker journey with the launch of its newest, engaging technology, WorkOn. WorkOn focuses on project-based solutions that are easily accessed and utilized to build project culture and improve worker retention.The new technology allows employers the ability to create company cards providing skilled workers with vital information about their jobs. That information includes GPS directions, contacts, site-specific information, emergency contacts, PPE requirements, orientation videos, texts and links, real-time updates, and so much more. BoomNation also recently launched its new podcast series, "Long Live The Trades." Listen on Apple Podcasts and Spotify and go to TheTrench.com and subscribe for more skilled stories. For more, visit boomnation.com. 1-877-350-5584
Page 15
Page 16
APRIL 2023 www.mcsmag.com14project profileMany metropolitan communities celebrate and acknowledge their history, but few do so with the fervency of Boston. From the Boston Tea Party in 1773, the first Boston Marathon in 1897, or any other historical milepost that has shaped its history, Boston's residents embrace the institutions that make the city an American treasure. The Huntington Theatre, which opened in 1925, is one of the iconic facilities in Boston's vibrant cultural landscape. The theater opened in 1925 as the first tax-exempt theater in the nation. Time, however, had not been kind. "We were holding it together with chewing gum at the end,'' managing director Michael Maso says in an interview with The Boston Globe.Beset by a complete shutdown in the wake of a worldwide pandemic and aging infrastructure, the theater closed in the spring of 2020. In October 2022, doors swung open for the first time in nearly 2.5 years after a $55 million renovation covering 75,000 square feet breathed new life into the venerable facility. The key word in project is balance. While modernizing the facility, Bruner/Cott Architects and theater management—in keeping with Beantown's cuddling of the past—emphasized acknowledgements to the structure's grand history."The project restores and revitalizes key architectural features of the historic building, highlighting the beauty of the original theater while providing modern comforts and amenities both in public areas and behind the scenes,'' says Nurit Zuker, an associate at Bruner/Cott Architects.MAJOR OVERHAULOn a contractor's renovation scale of 1-10, the Huntington Theatre project might register as a 29. This was not a paint job, a few new electrical outlets, and a bathroom retrofit. "This major renovation addresses sorely needed maintenance and updating of the almost century-old building, providing critical upgrades of all mechanical systems from HVAC to the electrical wiring, making the facility accessible to all, and bringing the building into the 21st century,'' Zuker says. The existing building presented a challenge with different floor-to-floor heights in various areas of the building. The theatre box and the production wing did not connect on any floor except the stage. The plan needed to fix that flaw, but also needed to revitalize key architectural features that highlighted the beauty of the original building while providing modern comforts and amenities in public areas and behind the scenes. "This balance is achieved by reclaiming the special character of the original façade, drawing attention to it with new signage and architectural lighting, embracing the unique character of the original auditorium, and providing new architecture and interiors that enable modern day social experiences and first-rate physical and technical support,'' Zuker says.IMPROVED EXPERIENCEThe other primary objective for the project aimed at improving the patron experience. Everything from seats to restrooms to public spaces were improved as the theater now conveys a concept of "radical hospitality.""The design focused on refreshing public spaces, improving circulation and accessibility, and elevating the patron experience,'' Zuker says.Visitors enter the building via a new ramp that "ceremoniously bring them to a series of lobbies and to their seats,'' according to Zuker. Creating an entrance that could be used by all, regardless of physical ability, was important from the very early design stages when the team identified the challenge of different floor-to-floor heights between the various buildings that needed to connect. The primary public toilet rooms are designed to be all-gender spaces with floor-to-ceiling stalls for maximum privacy. In the renovated theatre, larger, more comfortable seats in a new configuration improve sightlines to the stage."There's not a bad seat in the house,'' Zuker says. "The renovated theatre is now more welcoming, fully operational, and completely accessible and visible. It offers new capacity for creativity, innovation, and outreach and helps elevate the identity and contribution of the Huntington Theatre to Boston's Avenue of the Arts."Boston TheaterBoston Theater$55 million renovation on nearly century-old structureFRESH LOOKBy Thomas RennerThe configuration of the theater has 739 new seats. The number of seats was reduced from 890, but the new design has increased legroom to make it easier for patrons to move within the aisles. The Huntington Theatre in Boston. Photo by Nile Hawver.
Page 17
UNUSUAL INSTALLATIONSome buildings designed in the early and mid-20th century included an unusual installation of smoke vents. That was the case for the theater. "The existing ventilation structure was ineffective, and the theatre relied on manual operation of smoke vents,'' Zuker says. "The location and condition of the existing ventilation structure on the roof was positioned vertically, but at an angle, which meant it could not be replaced with a modern unit."Rather than attempt to replace the vertically positioned vents, the team abandoned the existing structure and looked for other options to ventilate the stage. Architects selected five smoke vents from BILCO, the manufacturer of specialty access products. "The BILCO smoke vents were specified as a solution as they were ready to install, could be integrated with the fire alarm, and were large enough to ventilate the entire stage appropriately,'' Zuker says. The project included four 6-ft x 6-ft double-leaf smoke vents and a single-leaf smoke vent, 4-ft x 4-ft. The latter is a thermally broken vent and is the first to be used in a commercial application. The thermally broken properties greatly improve energy efficiency. Smoke vents protect property and assist firefighters in bringing a fire under control by removing smoke, heat, and gases from a burning building.CLOSING THOUGHTArchitects take pride in all their projects, but especially cultural institutions in communities in which they are based. Contributing to the cultural experience for their neighbors and all others who visit the building is rewarding. That's especially so in a city such as Boston, where history oozes around every street corner. "The project blends two areas where our practice thrives—the preservation and renovation of significant historic structures in urban environments and designing for cultural institutions,'' Zuker says. "We are grateful to the Huntington Theatre Company for selecting us as their partner and trusting us with this significant undertaking." www.mcsmag.com APRIL 202315about the authorThomas Renner writes on building, construction, engineering, and other trade industry topics for publications throughout the United States.The project included five smoke vents from The BILCO Company.
Page 18
APRIL 2023 www.mcsmag.com16equipment solutionIn a connected world, and on a connected jobsite, data is the key to working smarter. Telematics data in particular is critical for optimizing fleet strategies and working toward sustainability goals. Here are four ways that telematics solutions can improve productivity and safety on the jobsite: IMPROVE EQUIPMENT UPTIMETelematics provides a rich set of diagnostic information, including critical fluid, fuel and battery levels, meter hours, and other operating parameters. This information can ensure that equipment is ready for daily use, and can also be used to manage longer-cycle performance requirements, including regular preventive maintenance schedules, to keep equipment operating at peak performance. Real-time alerts such as emergency stop events, power load, and diesel exhaust fluid levels help supervisors identify and respond to potential issues quickly, reducing downtime and keeping projects on track. OPTIMIZE EQUIPMENT UTILIZATIONTracking utilization of equipment on a jobsite is critical to ensuring that availability is properly balanced with overall project costs. Telematics technology can alert management if a machine is sitting idle for an extended period and incurring needless costs, while visibility into highly utilized assets can help keep workers productive by ensuring equipment is available for use when needed. Benchmarking reports can also provide visibility into how equipment efficiency compares to peers. By aggregating this information on easy-to-use desktop and mobile platforms, telematics provides access to these insights in the office or on the jobsite. MPROVE WORKSITE SAFETY AND SECURITYOn large and complex jobsites, telematics data is also essential for emerging safety and security technologies. The data can be used to manage access to equipment through Total Control®. Equipment access can be limited to authorized operators that have the required certifications and training. Location data, coupled with geofence technology and alerts, can help locate equipment quickly to lessen downtime and limit lost or stolen assets. ADVANCE SUSTAINABILITY STRATEGIESTelematics-enabled equipment generates data on engine usage, fuel type, and more. This data can be used by worksite management software to evaluate the environmental footprint of equipment. The insights can inform decision-making, helping management determine the optimal fleet and utilization tradeoffs to decrease overall equipment emissions, advancing sustainability efforts.CLOSING THOUGHT"Businesses face ever-increasing pressure to improve productivity and safety on jobsites. If they don't have visibility to equipment operating on their sites, they could face cost or schedule overruns, as well as safety risks," says Tony Leopold, senior vice president, Strategy and Digital at United Rentals. "Telematics technology generates valuable insights for our customers into the condition, utilization, location and performance of their rented and owned fleets. Our long-standing commitment to using data to improve the customer experience has led to this new milestone of 335,000 telematics-equipped fleet units, enhancing the value delivered by our rental offerings." Equipment Data Equipment Data telematics helps build a smarter jobsiteUNITED RENTALS for more informationUnited Rentals, Inc. is the largest equipment rental company in the world with an integrated network of 1,462 rental locations in North America, 13 in Europe, 27 in Australia, and 19 in New Zealand. United Rentals Total Control is a cloud-based worksite management solution that provides customers with holistic visibility into both rented and owned telematics-enabled equipment, ensuring equipment availability when and where it is needed. For more, visit unitedrentals.com.
Page 19
www.mcsmag.com APRIL 202317
Page 20
APRIL 2023 www.mcsmag.com18equipment solutionMachine ROIMachine ROIget the most from your purchaseFLOOR PREP EQUIPMENTConstruction is one of the largest economies in the world. When you think of this sector, you may picture huge corporations on large-scale developments, but new NAHB research shows that construction workers are more than twice as likely to be self-employed than the economy-wide workforce. Competing for jobs requires these contractors to offer the best service at the best price, so every purchase they make must provide return on investment (ROI). Before knowing how to get a good ROI, contractors must first choose how they will invest. In floor preparation, to gain access to the best equipment for the application, contractors will typically choose to either rent or purchase. Both options provide a range of benefits, so which gives contractors the most for their money?WHAT'S THE JOB?Effective floor preparation requires the right combination of tools—a mechanic wouldn't turn up to a job with one wrench, so contractors should not expect every job to require the same equipment. Before starting a new job, contractors should visit the site, understand customers' expectations, look at existing flooring and determine the budget and job deadline to select the right machinery. For example, a smaller space on an upper floor with soft coverings, such as carpet, requires different machinery to a large, industrial space that needs polished concrete.If the next job requires a machine that isn't already in the contractor's arsenal, they must purchase or rent machinery to take on the project. When deciding which option is best, contractors should consider how often this application may occur for them in the future, whether the machine will increase their capabilities and if they are confident operating it.For example, if a company that normally works on small projects has the opportunity to work on a one-off, large-scale application that requires a larger floor scraper, renting will probably be the better option. If, in the future, that same contractor wants to bid for larger jobs, investing in the equipment shows potential customers that they have the equipment to do the work effectively. EFFICIENT OPERATIONSOnce on site, maintaining uptime is vital to staying within budgets and timelines and reducing any unplanned costs for the contractor. Having the right tools on site, such as blades for scrapers or diamond tooling for grinders, reduces machine downtime. If contractors aren't aware of the best tools for the application, having a few options available means they can quickly find the right combination to do the job effectively.By Tom Dunn
Page 21
When scraping floors, blades will dull over time—having spares is important but there are also ways to make blades last longer. Some blades, such as National Flooring Equipment's flat blades, are designed to be used on both sides so they can be used for as long as possible. EXTRA COSTSEquipment won't be in use all the time, so contractors must consider anything else involved with total cost of ownership (TCO). This includes factors such as transportation, equipment storage, and maintenance. A distributor often takes responsibility for transportation and storage, so renting could reduce costs. However, because the equipment is available to any of the distributor's customers, there is no guarantee that it'll always be available. Proactive maintenance, whether renting or buying, can also extend the lifespan of the machine. Regular cleaning, checking core components and seeking the advice of the distributor or manufacturer when issues occur will ensure the machine lasts.CLOSING THOUGHTWhen operating a small business, every penny counts. Having the right equipment on hand is vital to helping smaller contracting companies bid for different floor preparation projects. By understanding when it's best to purchase or rent and ensuring efficiency when on and off site, contractors can get the most value from their surface preparation equipment. www.mcsmag.com APRIL 202319about the authorTom Dunn is director of sales at surface preparation expert National Flooring Equipment. For advice on choosing the right floor preparation equipment for your next job and to find out how you can get return on your investment, visit www.nationalequipmentdirect.com.
Page 22
APRIL 2023 www.mcsmag.com20environmental solutionAccording to the UN's World Meteorological Organization, which monitors and reports on weather, climate, and water resources, there is a 50% chance the average global temperature will reach 1.5 degrees Celsius above pre-industrial baseline temperatures in the next 5 years. That figure marks the difference between a livable planet and devastation. Whether or not you believe an increased global temperature is to blame for the recent rise in natural disasters, the loss of lives, and potentially harmful economic impacts, the changes cannot be denied. As a result, companies across all industries are working to become more sustainable and environmentally friendly. This goal is especially pressing in the construction industry, where we work every day to build for the future.At a time when infrastructure projects look to rebuild economies, create jobs, and improve quality of life, how the construction industry builds is a crucial element of what we build. Preventing continuous increases in carbon emissions is a good practice that will require evolution from every industry at every stage of their asset lifecycles.Traditionally, the construction industry has not been viewed as a pioneer of sustainability measures. In 2021, global management consulting firm McKinsey estimated that construction accounted for almost 40% of global emissions, 28% of which came from raw-material manufacturing. Left unchecked, carbon output from construction could grow over the next 30 years because of the demands made by an expanding population.The good news? The industry is evolving. The European Union has pledged to reach carbon neutrality by 2050, meaning organizations across the continent are setting their own targets to meet corporate, national, continental, and global goals. Committed to building more resilient infrastructure and durable, low-carbon assets, companies are working to minimize landfill waste, cut water and materials consumption, and build out their "green" transportation fleets.To effectively drive green infrastructure construction, a whole-lifecycle framework will be required that may include new policies and regulations. On its Global Infrastructure Trends blog, professional services firm PwC says "multilateral development banks (MDBs) are prioritizing inclusive, resilient, and sustainable technology-driven infrastructure."TECH TO REDUCE CARBON Predicting natural disasters or other effects climate change could have on assets is a difficult task and could pose a challenge for investors. However, smart construction platforms purpose-built for the industry can improve decisions, provide predictive insights through the use of AI, and help mitigate risks and assist in lowering carbon emissions. For example, digital documents, drawings, and 3D models help reduce paper. Even more helpful, though, smart construction platforms can also help reduce waste and costly rework by visualizing the end result before starting to build.In the US, the number of LEED-certified projects surpassed 100,000 in 2019, up from just 296 certifications in 2006 to more than 67,000 certifications in 2018, according to the U .S. Green Building Council. Construction companies have constantly been looking for ways to get onboard with this shift toward sustainability in construction, and data analysis can be part of the solution. Data analytics can change how everything is constructed, from individual buildings to major public infrastructure projects and even entire cities. Data can help teams measure the sustainability of current construction methods and leverage those insights to show sustainability throughout the entire construction lifecycle's plan, build, and operate phases. When employed correctly, data can help propel the built-asset industries toward long-term sustainable development methods.Smart cities are a fantastic proof point for how data analytics can enable sustainable building practices. As the way cities are developed continues to evolve, construction will rely on data analysis to provide insights into efficiencies, emissions, and even how Sustainability MattersSustainability Mattersworking to build for the future THINKING GREENBy Brian Wienke
Page 23
citizens are utilizing areas of the city Those CLOSING THOUGHT TNB Genco turned to construction insights can then generate future best technology solutions that streamlined Moving forward it is certain that more global practices to make buildings and cities even project management planning and sustainability pledges and mandates will more sustainable scheduling operations as well as handled be implemented across the country and all collaboration between the company s the world These goals and mandates will THE RIGHT TECH documents supply chain work and tracking continue to directly impact future building One way the engineering and construction of all the necessary documentation As projects such as what materials should be industry can continue to progress toward a result they were able to cope with the used for new buildings or what technologies its global sustainability goals is to ensure post pandemic challenges addressing their should be incorporated the latest technology is in the hands of the digitalization needs and elevating their quality individuals and companies that can best of service As these mandates and pledges continue to be enacted it is important for engineering deploy them to help the planet and construction organizations to always look PLEDGES AND MANDATES to the future to ensure their buildings and TNB Genco the largest electricity utility in At the state level the California Energy projects can help not hurt the global push to Malaysia provides clean consistent reliable Commission has adopted a mandate that limit the impact of climate change power to more than nine million customers requires new residential homes to be In 2020 the company s commitment to built with solar panel technology Since becoming a top power generation provider of 2007 the state of Colorado has required clean energy ran headlong into the COVID 19 third party green building certification for pandemic In order for project management state construction projects The state of teams to continue to provide clean energy to Virginia meanwhile has passed legislation its millions of customers on time and within that establishes environmental goals budget they found it imperative to automate including decreasing carbon emissions For more visit www oracle com industries operations to improve efficiency and replace as well as constructing new renewable construction engineering manual paper based systems energy facilities For example Tenaga Nasional Berhad about the author Brian Wienke is a product marketing director with Oracle Construction and Engineering CUTTING EDGE IMPALEMENT PROTECTION CARNIE CAP is the most effective way to cap exposed rebar while keeping your workers safe and on the job Patent 5826398 6073415 National OSHA Compliant CAL OSHA Approved ORDER TODAY 888 743 7725 www carniecap com WORKS IN HORIZONTAL VERTICAL INCLINATION APPLICATIONS www mcsmag com SAFELY DISTRIBUTES WEIGHT ACROSS ENTIRE SYSTEM ASSEMBLE WITH 2X4 OR 2X6 LUMBER ALREADY ON SITE NO MORE CAPPING EVERY REBAR APRIL 2023 21
Page 24
APRIL 2023 www.mcsmag.com22management solutionI had the pleasure of attending and exhibiting at the first-ever Project Controls Expo in the United States last October. While I was sitting in the expo area at the Washington Nationals Stadium, on a stage with a panel of esteemed industry professionals, I was asked to provide a definition of "project controls." I responded, in the broadest terms, that project controls are "the data gathering, management, and analysis used to positively influence the success of a construction project as it relates to cost, schedule, and quality." This is what I believe as I sat in a front-row seat watching how data is changing the landscape of the construction industry for the better via stronger, more automated project controls processes geared towards leveraging good data to influence project outcomes. Though it was several months ago, the Expo inspired me in more ways than one—and continues to do so. First, I may need to spend a little more time at batting practice. Second, there are more parallels between baseball and construction project controls than you might think. For fellow baseball fans like me, the 2011 movie Moneyball, based on the Oakland A's 2002 season, may have come to mind. For others of you, NBC Sports recently wrote about how Oakland A's 2002 season brought about the baseball analytics revolution—and I could not agree more. THE MONEYBALL CONNECTIONThe film is based on Michael Lewis's 2003 book Moneyball: The Art of Winning an Unfair Game. It follows Oakland A's general manager Billy Beane who used data analytics—specifically Sabermetrics—to transform one of the most underfunded teams in major league baseball into a competitive powerhouse. According to Brittanica, the term Sabermetrics was first coined in 1980 by Bill James, a baseball historian and statistician, to refer to the "mathematical and statistical analysis of baseball records." It works by evaluating player performance based on objective statistical measurements rather than well-established statistics such as Runs-Batted-In (RBI). Using James's method, Beane was able to lead the A's to win the AL West title. The A's finished the season with 103 wins, breaking the American League record with 20 wins in a row. I believe a similar method is achieving the same goal within construction. After all, automating data analytics through project controls specifically for the construction industry is what I have spent most of my career working on, which leads me to the first lesson I learned from this story. LESSON #1: DATA TELLS A STORY"I think [the data] gives you a sense of context and a sense of where this belongs in history, and I think that adds a story to tell. It doesn't detract. It's part of the whole story." – Baseball Analytics Writer Eno Sarris Just as Eno Sarris points out, data tells a story in Moneyball. But how can data tell you a story about building something, you may ask? It's told through the schedule. Most construction projects these days require that a schedule be created and updated regularly throughout the project. Traditionally, project analysis has been calculated by analyzing cost, a lagging indicator that is broken into typically siloed cost codes. Switching to an analysis of schedule data instead opens up a whole new world of opportunities for project analysis. So, why is schedule data better than cost data? Because the construction schedule is the only data set that connects all parts, pieces, and responsibilities of a construction project into one systematic whole. It continuously highlights the logical connection of all activities, in one place, from notice-to-proceed (NTP) to project completion. Furthermore, schedule data shows how all parts and pieces are interrelated to transform a pile of dirt into a state-of-the-art project deliverable. This, in turn, enables one to see how cost escalations are related to specific events across all cost silos. In other words, schedule data shows the why and the how of overruns and delays, instead of just the result represented in terms of cost. So, just as data gave rise to one of the best stories of all time about baseball, construction schedule data tells you everything you need to know about what is really going on at your construction site. LESSON #2: THE IMPORTANCE OF HISTORICAL DATA"What we assume that teams should know, but never seem to get, is that you're paying for the future, not the past… The data available today has made it better and easier to forecast the future." – Abraham (Adi) WynerAbraham (Adi) Wyner, Wharton statistics professor and host of the Wharton Moneyball program, speaks about data analytics in baseball, and I believe his view showcases exactly how data analytics should be viewed in Movie: Movie: MoneyballMoneyball3 lessons baseball teaches about project controlsKNOW THE DATABy Michael Pink
Page 25
construction as well. Before Sabermetrics and the rise of data analytics in baseball, teams would sign long-term contracts for players with "good statistics," but this method was not an accurate measure of how a player actually performed. Using the Moneyball theory, Beane decided a more accurate measure of performance would be a player's slugging percentage and on-base percentage. In doing so, Beane was able to predict future performance using accurate historical data. Sound similar? Well, if you are familiar with schedule forecasting, it might. Schedule forecasting is a project control that uses historical performance data to predict future project conditions. By analyzing and/or adjusting the schedule based on historical performance, project teams can get better, more accurate metrics for project delivery. This allows them to react to what challenges lie ahead before they happen, based on what they have learned to date in real-time. The result? Data-driven decision-making that elevates organizational performance overall. LESSON #3: HAVING ANALYTICS IN YOUR DNA"Just as they misunderstand Moneyball, many executives misunderstand the key to transforming their organizations into analytics-driven ones … An understanding of analytics must become part of the repertoire of all leaders and managers, and ultimately part of the DNA of the organization." – ForbesIn order for the 2002 Oakland A's to go from being one of the most underdog teams in major league baseball to winning their division, they had to make analytics a part of their DNA. And, as Forbes argues, it is not the data that made Beane so successful. Rather, it was the courage he had to use what the data told him to drive the way he led the team to victory. As challenging or intimidating as copious amounts of data and KPIs may seem, gaining an understanding of accurate metrics for performance is critical for success—and not only in baseball. In fact, automated project controls take all the hassles out of drilling down into thousands of data points, making analytics easily available to construction teams. CLOSING THOUGHTThe only way to see the forest for the trees on a construction project is through data. History repeats itself and every project should be understood thoroughly using as much data as is obtainable. By seeing what impacts your work the most—and responding in ways geared towards improving in those places—construction companies can also continuously improve their overall organization. And you simply can't get there without the data that tells you all you need to know—the schedule data. www.mcsmag.com APRIL 202323about the authorMichael Pink is the CEO of SmartPM Technologies, an Atlanta-based company whose cloud-based software leverages schedule data, giving construction executives and site teams insightful analytics they can use to ensure maximum profit margins and optimal project outcomes. For more, visit smartpmtech.com.
Page 26
APRIL 2023 www.mcsmag.com24management solutionInsurance NeedsInsurance Needs5 characteristics to look for in a workers' compensation providerBEST PRACTICESTo be successful, construction companies need to be prepared and protected for any potential work-related injuries. One of the most critical components of this protection is selecting the right workers' compensation insurance provider for their business.For builders, workers' compensation coverage protects what's most important in your business: your employees. In a high-risk environment like construction, workers' comp ensures the cost of medical treatment for a work-related injury is covered and helps employees return to the job safely. Plus, it protects the business from paying out of pocket for these expenses. Most commercial insurance is sold through brokers, who assist their clients in finding the best insurance policies for their businesses, but even with these experts at your side, it pays to be informed. Choosing the right workers' comp insurance provider is a critical decision, and companies should consider a variety of factors when making their selection. Here are five of the top characteristics that construction companies should look for in a workers' comp insurance provider. CONSTRUCTION INDUSTRY EXPERTISEThe first thing to consider when selecting a workers' compensation policy is the provider's knowledge of the industry. The construction industry involves specific risks and challenges that other industries do not face, and the ideal workers' comp insurance provider should understand these industry nuances. They should be familiar with the various types of construction work, such as commercial, residential, and industrial, and be able to tailor their policies to meet the specific needs of each construction company. STRONG FINANCIAL BACKING AND REPUTATIONThe second thing to consider is the provider's financial backing and overall reputation. The construction industry is volatile, and providers must have the resources and track record of paying claims and providing their policyholders with high-quality service in the event of an accident or an injury, even during times of economic downturn or market fluctuations. The simplest way to check a workers' comp provider's financial strength is inquiring about its "paper rating." An organization called AM Best rates insurance providers with a grade that represents an insurer's ability to meet its claims obligations. The rating scale includes six "Secure" ratings: A++, A+ (Superior) A, A− (Excellent), and B++ and B+ (Very Good). The rating scale also includes six "Vulnerable" rating grades. Some construction clients, like governments, require that their contractors' workers' comp providers have a certain grade or better of paper. CUSTOMIZED RISK MANAGEMENT SOLUTIONS TO PREVENT CLAIMSThe third characteristic that construction companies should look for in a workers' comp insurance provider is a customized approach to risk management solutions. An ideal provider should offer resources and tools that help companies identify trends and risks that would otherwise lead to injuries on their jobsite, preventing accidents and injuries from occurring in the first place. Risk management solutions can include custom safety training programs, workplace inspections, guidance on best practices for jobsite safety, and even technology used by workers in the field. For example, Foresight Commercial Insurance provides a proprietary safety phone or tablet app through which customized safety plans are deployed in the field. Customized solutions like these can help construction companies reduce their overall risk and potentially lower their insurance premiums. CLAIMS MANAGEMENT SUPPORTAnother valuable characteristic for construction companies when it comes to workers' comp insurance is claims management support. Look for a provider that has a streamlined process for reporting and
Page 27
managing claims in the event of a workplace accident or injury, including:• Experienced claims adjusters who will thoroughly investigate claims, own communication with the injured employee, and work with medical professionals to ensure appropriate care is given to the employee.• Continuous support throughout the entire claims process, from initial reporting to final resolution. This includes providing regular updates on claim status, paperwork and documentation assistance, and dispute resolution.• Programs and resources to help the injured employee return to work as quickly and safely as possible. COMPETITIVE PRICING FOR COMPREHENSIVE COVERAGEFinally, construction companies should ensure they are provided with comprehensive coverage for all potential risks and hazards that their employees may face on the jobsite, at a competitive price. The ideal workers' comp provider should offer coverage for a range of work-related injuries and illnesses, including accidents that occur on the jobsite, repetitive motion injuries, and occupational diseases. The provider should also offer coverage for medical expenses, lost wages, rehabilitation, and death benefits. Comprehensive workers' comp coverage pricing can vary dramatically depending on the provider, the location, and the company size, and companies should compare quotes from multiple providers to ensure they are getting the best value for their money. CLOSING THOUGHTSelecting the right workers' compensation insurance provider is critical for construction companies to protect their employees and business operations. While industry expertise, strong financial backing, and reputation are essential factors to consider, construction companies should also look for a provider that offers personalized risk management solutions, claims management support, and competitive pricing. In choosing a provider with these characteristics, companies can streamline their workers' comp processes, reduce administrative costs, improve communication and accessibility, and provide their employees with the resources they need to recover from injuries and return to work safely. www.mcsmag.com APRIL 202325for more informationForesight is a workers' compensation insurance provider that is on a mission to make workplace injuries a thing of the past. As the insurer of the future, Foresight prevents workplace accidents and reduces claims through best-in-class workers' compensation insurance, powered by Safesite, the company's data-driven safety engagement app and virtual consulting program. Foresight works hard to protect businesses in core industries and their skilled laborers who are the backbone of the American economy. For more, visit www.getforesight.com.
Page 28
APRIL 2023 www.mcsmag.com26management solutionWarrior MindsetWarrior Mindsetleadership is learned in the trenchesEXPERT Q&AIn November 2022, I introduced Zachary Green and his book, Warrior Entrepreneur: Lessons from the Battleground to the Boardroom. Zachary's insight into business can be applied to anyone seeking the right path to be successful, all while tackling obstacles and learning the ropes. Below is a Q&A with Zachary Green and how to achieve the warrior mindset.MCS: What are your top lessons learned from the battlefield and military training? How do these lessons resonate in the boardroom?GREEN: Every U.S. Army recruit swears to The Soldier's Creed and Warrior Ethos when they enter the military. This includes vowing to "place the mission first," remain mentally tough no matter the challenge and to never accept defeat, quit, or leave a fallen comrade—all in "the service of the people of the United States."No matter the branch, this also often includes the adoption of a warrior spirit that thrives on dedication, teamwork, purpose, adaptability, grit, and sacrifice.As a result, there are more than 1.3 active-duty military personnel and nearly 10 million working veterans that have not only adopted these beliefs, sentiments and ideals, but also inserted them into every aspect of their lives. Warriors, no matter the job, battle through attacks, fight adversity, and accept challenges. For instance, the drive to overcome adversity is commonly found in warriors, who then use to it to inspire growth and transformation. Courage is another key attribute that embodies the will to face fear head on, while fighting through difficult times. To succeed on both the battlefield and within business, warriors embody the strength to embrace adversity and the courage to grow and learn with each new outcome. And this takes the time that only experience can bring. The more you sweat in training, the less you bleed in battle and it is through the challenge of hardship that most people grow and thrive in new situations. MCS: To combat stress, having team support is essential. Could you elaborate on the support a team provides? GREEN: Unfortunately, very few master everything they do. That's why the division of labor, delegation of chores, and diversity of thought and skills are so critical to the growth of organizations.However, it's also important to know that teamwork alone isn't enough. Warriors succeed through their collaboration with and trust in high-performing, supportive, and diverse groups of individuals willing to dedicate themselves to a common cause.Always hire people who are better, smarter, and more talented than you. The statistical term "regression to the mean" aptly refers to every business facet. Organizations thrive when they are filled with solutions-minded people who are not only driven to succeed, but are also committed to helping others reach their potential and fulfill their goals. This includes the ability to tackle problems from differing perspectives based on their knowledge, professional backgrounds, and experience. Conversely, selfish, single-minded individuals will eventually bring a team down, no matter the initial success. So, never forget the true objective of teamwork which is meant to lift others, make everyone feel that they are integral to the process, and never be in position that lets down fellow coworkers. MCS: In your experience, what would team support look like on a commercial construction jobsite?GREEN: Never forget to honor and reward the individuals that regularly give their best and most to the organization. This will set the standard for success since just about everyone enjoys being recognized for their efforts, accomplishments, and achievements. Depending on the organization and workforce's makeup, these incentives and motivational devices could even include
Page 29
enhanced training, more upward mobility, better working environments, and additional vacation and personal time for jobs well done. Other basics can include anything from regular award ceremonies and bonuses to employee of the month honors.Plus, there's no need to guess. Great leaders take the time to learn what incentivizes their staff and personnel. If you give them the opportunity, they will let you know what they value most and the ways to best earn their loyalty, trust, and strongest efforts.MCS: What is your best advice to overcome and adapt to a challenging workforce (shortage of skilled labor), changing jobsites (new skills to be learned with advances in technology), and the current economic environment (inflation, higher cost of living)?GREEN: Focus on the "why." If you compete for money, there will always be another contractor that's willing to do more for less. If you're in business solely for personal gain, why would anyone sacrifice their best interests for your bottom line? Why should they invest their training, skill, and knowledge into the success of an organization that cares little, if at all, about their personal welfare, growth, and success? No one will work longer or consistently deliver their best efforts if the rewards are continually one-sided. Get a first-hand knowledge of your people and who they are. Recognize them as individuals and not just employees. Honor achievement, success, and above and beyond efforts at every turn. And remember that most people see through phonies and will likely abandon failing organizations as soon as they see the better opportunity elsewhere.Teamwork, success, and loyalty are all interlinked. Be the leader who fights for his or employees and you will most likely garner the respect that helps organizations overcome obstacles, fight adversity, and thrive when others fail. MCS: If given the opportunity to speak in front of general contractors, knowing the struggles with labor, supply chain, inflation, slowing of construction starts, what words could motivate this group to continue the mission versus calling it quits?GREEN: Discipline, purpose, tenacity, adaptability, grit and sacrifice are all parts of the process that generally includes lots of failures. But then, if everything was easy, then every venture would be a success. And we certainly know that's not true. Just look at all the open spaces in nearly any strip mall.The other hard truth is that life is filled with pitfalls, detours and disappointment. But these are the elements that essential for growth. It's nearly impossible to recognize the paths forward without experiencing and overcoming the road bumps along the way.What differentiates a warrior from all others is the drive to never give up. No matter the odds or the negative thoughts or advice of others, true warriors will always place the success of the mission and troop welfare above everything else. That said, there will always be a choice. The option to fight or surrender will always be there. But the only way to truly guarantee a loss is to quit. The warrior mindset encourages business leaders to achieve peak potentials by looking beyond personal limitations. Take well-calculated risks, solve problems and become the organization that never gives up. This is the business that customers and employees alike will look upon with respect, trust and loyalty. CLOSING THOUGHTFranklin Roosevelt once said, "When you find yourself at the end of your rope, tie a knot and hang on." And then there was the great Carthaginian General Hannibal, who shouted "AUT VIAM INVENIUM AUT FACIAM" or "I WILL FIND A WAY OR I WILL MAKE A WAY!" when confronted with seemingly insurmountable odds. www.mcsmag.com APRIL 202327for more informationZachary Green is a US Marine Corps veteran, former firefighter, and founder of MN8 Foxfire-LumAware. His recent book Warrior Entrepreneur: Lessons From The Battlefield To The Boardroom is an international best seller about how to use Warrior attributes to be successful in business and life. Zachary can be reached at www.warriorleader.us and zgreen@warriorleader.us.
Page 30
APRIL 2023 www.mcsmag.com28legal solutionWhile historically the construction industry has generally been slow to adopt new technologies, of late it has shown an increasing—and necessary—acceptance of the use of drones. In fact, it appears that the construction industry is the leading sector in using drones. Drones provide effective and efficient capabilities for inspections, surveys, designs, monitoring, progress reports, site management and safety, as-builts, etc., or in troubleshooting or responding to warranty or other issues, or in addressing claims—and with good reason. More and more firms are recognizing the importance of this tool, especially as technology and user-friendliness has advanced and more personnel have become accustomed to and proficient in the use of drones. In this article, we update our earlier article on the use of drones.Drones have improved dramatically and continue to do so almost daily. Airframes are better, flight capabilities are better, cameras have higher and impressive resolutions, and more cameras and sensors can be deployed. Artificial intelligence and laser scanning are being used to eliminate unwanted data and improve accuracy and reliability, to make a more usable and accurate model.Of course, as we noted in our January 2019 article published in Modern Contractor Solutions, "Beneficial on projects—but they're not toys," drones are not toys but sophisticated pieces of equipment subject to regulations under the Federal Aviation Administration (FAA) and Occupation Health & Safety Administration, as well as possibly under state and local regulations. A discussion of FAA requirements and references to state and local requirements is included in that article. See also www.faa.gov/uas. As an aside, the Association for Uncrewed Vehicle Systems International has launched a multi-state initiative, called Drone Prepared, to help federal and state lawmakers embrace drones for uses such as infrastructure inspections, package delivery, wireless internet, agricultural surveying, search and rescue, firefighting, etc.Likewise, the use of drones involves risks and so must be managed and used by competent, trained (and licensed) personnel. Being reasonably new technologies and activities, it is also important to investigate insurance issues to be sure that you have coverage of the activity and are not later surprised should there be an incident or claim.DRONES ARE MULTICAPABLEDrones are no longer only cameras in the sky—that alone is an enormous benefit—but also can have infrared sensors, geo-location sensors, lasers, and LiDAR systems capabilities. These capabilities provide crucial data collection and allow for 3D modeling and renderings of a construction site to identify challenges and drive considerations to address and overcome them. They further allow for monitoring the developments of the site preparations and construction continuously and in real time, and also allow the data and details to be relayed directly to computers, again in real time, that can create accurate 3D models and renderings giving the managers, engineers, and architects crucial details of the project and its progress. The collection and accuracy of data is greatly enhanced by newer artificial intelligence or augmented reality capabilities. Drones can feed into augmented reality systems, allowing for 3D visualization of sites and proposed buildings, automated measurements, analysis and presentation of design changes, and efficient decisions. Drones can also tie into orthographic imagery whereby the computer corrects distortions, again enhancing precision, usability and reliability: www.dronegenuity.com/orthomosaic-maps-explained.MANAGING COMPLIANCE, RISKSCombining the inputs from the drones and artificial intelligence adds the benefit of not only ongoing monitoring but also anticipating issues and giving alerts to issues as well as potential solutions that the managers, engineers, and architects can study, and making informed decisions in real time. Having this data, videos and photographs, and the modeling capabilities, accessible in real time and in virtual format increases the collaboration among the engineers, design teams, managers, and owners.The use of drones also provides enhanced safety, accident avoidance, compliance with applicable regulations, and risk management, as well as reduces the potential for accidents, liability or government citations.Safety and security on the site are greatly enhanced by the use of drones. Employee training is crucial to safety and can be enhanced by using simulations of the conditions in the field or up on the girders. Likewise, dangerous situations can be TECH HELPERDrone UsageDrone Usagenow a must for construction projectsBy Christopher Scott D'Angelo
Page 31
discovered in advance and accidents avoided, and the security of the site can be monitored as well. Drones can access areas that are otherwise inaccessible or in unsafe areas.Even equipment inspections and safety can be enhanced. For example, most jurisdictions and insurance companies require regular inspections of cranes and towers. The drone, with its enhanced capabilities discussed above, can be used to conduct those inspections. It saves time and personnel, and is most likely more accurate. Hopefully the enhanced inspections will avoid an accident, but in the event of an incident, the drone fed data and imagery (assuming that they are saved as they should be) will be helpful in determining what happened and why, and in the defense of any claim.Drones can be more than an eye in the sky. Drones can now be used to transport and deliver materials and equipment, improving efficiencies and accelerating deliveries and availability of such items. It is not far off that drones, like vehicles, will have autonomous capability. INSURANCE, DOCUMENTATONObviously, there are risks associated with using drones and it is imperative to be sure that your operators are qualified and that you have the appropriate insurance in place (be very careful about exclusions often found in general commercial policies). Likewise, contracts must be reviewed and updated to address these and all concerns arising from the use of drones, such as controlling the use of drones, maintenance of required records, who bears the responsibility for compliance with laws and regulation, what oversight will be in place, liability and indemnification issues, insurance, and the intellectual property and privacy issues mentioned above. Plans and procedures should also be addressed and put in place for responding to and reporting an accident, including for providing required notices to the FAA. And consideration should be given to appropriate signage and perhaps consent forms for notice to employees and visitors.CLOSING THOUGHTDrones provide tremendous benefits to the construction industry, which yields happier owners and reduces the risk of misadventure or claims. www.mcsmag.com APRIL 202329about the authorChristopher Scott D'Angelo is a partner and chair of both the Business Disputes & Products Liability Practice and International Practice at Montgomery McCracken Walker & Rhoads LLP, based in Philadelphia and New York City. His practice involves business, products liability, construction, class action, and insurance counseling and litigation, including his role as national counsel for several major U.S. clients and his representation of foreign concerns in the United States and U.S. concerns abroad. He is a member of the Construction Law and Litigation Committee of the International Association of Defense Counsel. He can be reached at cdangelo@mmwr.com.
Page 32
APRIL 2023 www.mcsmag.com30technology solutionWater damage and waste are significant risks for commercial construction projects. Leaks and inefficiencies can have enormous impact on operations and productivity. The possibilities range from small, unnoticed leaks that over time create massive, expensive damage to catastrophic water line failures. Depending on the size of the building or system, those costs can reach millions of dollars on a single project. The fact that water is an almost entirely unmanaged resource on construction sites is key to its risk. Water in buildings and jobsites is a totally un-monitored. As a result, approximately 25% of the water in the built environment is simply wasted through inefficiency, equipment malfunction or failure, or human error.While that number reflects the massive challenge for building operators, the situation also presents an unprecedented opportunity for proactive and forward-thinking organizations to cut costs, prevent damage, and protect the environment using innovative AI-powered water management solutions. WATER DAMAGE COSTSWater leak damage, waste, inefficiency, and energy consumption are related to a range of business costs for contractors. Unmanaged water leads to property damage, repair and remediation costs, project delays, customer inconvenience, and increased insurance rates. Water in construction projects is a source of two types of risk. The first is the actual damage to the project and equipment. The second is project delays. For GCs, time is money. One water leak, left unattended, can end up delaying a construction project for weeks or months and cost millions in damages and rework. Water is a scarce resource, with large parts of the US and Europe suffering from severe droughts. Waste is also a major source of carbon emissions, with the built environment accounting for an outsized percentage of water-related energy output. Data-powered water management solutions offer a way for companies to proactively optimize water usage. The powerful results of effective leak detection and water management technology solutions demonstrate that such solutions can be an integral part of a successful strategy for today's contractors. The best water management systems serve a building throughout its lifecycle, providing value to stakeholders from construction through operation. AI-BASED SOLUTIONSIn an increasingly competitive market, companies must address the costs of significant waste and damage from leaks. Next-generation systems such as WINT help organizations mitigate water risk in a wide range of commercial applications, from construction to multifamily residential, office, retail, higher education, and others. WINT's powerful AI analytics provide organizations a highly effective solution to these challenges. Commercial, residential, education, and other large facilities can now monitor and manage water, cut waste, prevent damage, and reduce emissions so they can meet financial and sustainability goals into the future.WINT equips contractors' teams with a cutting-edge solution for managing water on the jobsite, fighting water loss and damage, and reducing the environmental impact of an increasingly scarce resource. WINT includes advanced capabilities such as: • Automated leak mitigation with real-time detection and auto shutoff. • Unparalleled anomaly detection and analytics powered by advanced AI algorithms.• Enterprise-grade management for operation in large and mid-size facilities. • Backup power to ensure uninterrupted water management and valve activation even during power outages. • Autonomous operation in case of communication failures. AI AnalyticsAI Analyticsreduce risk and carbon emissions with AI-based IoT solutionsWATER MANAGEMENTBy Yaron Dycian
Page 33
• Ability to monitor and detect anomalies on all types of water systems in the facility, including main feeds, domestic cold water, irrigation, cooling towers, sprinklers, and HVAC.These solutions have a proven record of success: One GC started using WINT after years of accumulated water damage claims and the risk of rising insurance premiums. Since installation, the company has not experienced a single water leak claim. At this point they have issued a CEO mandate to deploy WINT on all projects, from day one. And beyond the damage prevention benefits, they've also reduced project overhead and water consumption.Advanced water management tools such as WINT deliver remarkable results that reflect the construction industry's commitment to innovative solutions that reduce the cost, risk, and climate impact associated with leaks and water waste in the built environment. Efforts to reduce emissions and waste are increasingly important to stakeholders and regulators. The emergence of effective water management systems empowers the industry to leverage efficiency and reduce its environmental footprint. By delivering immediate, meaningful results, WINT improves the productivity of businesses and drives sustainable construction and building operations.CLOSING THOUGHTArtificial intelligence and machine learning are capable of transforming how construction, building operations, and property and facilities management professionals deal with water waste. www.mcsmag.com APRIL 202331about the authorYaron Dycian is chief product and strategy officer for WINT, a groundbreaking software company that produces artificial intelligence-powered leak detection and water management solutions. WINT serves some of the world's largest organizations including technology, construction, and real estate businesses. For more, visit wint.ai. Our digital marketing campaigns can identify prospects interested specifically in your product, and then tell you exactly who they are! See what our customers are saying:The reports are awesome! Thank you. If we can get that level of information from all of our suppliers, we will be very happy! We have already made one machine sale to a prospect from the eBlast and I am sure there will be more. Paul Gazik,Business Development/International Salesfor Call us today to get started at 205.795.0223 or email us at russell@mcsmag.comYou Need Leads!You Need Leads!We Have the We Have the Solution!Solution!
Page 34
APRIL 2023 www.mcsmag.com32technology solutionThe typical building lifecycle is long, with most modern buildings being constructed to last at least 100 years. That's a long time for building designers, engineers, owners or operators to continually assess building performance. With today's technology, AEC professionals can make these assessments long before a shovel hits the ground. Using Building Information Modeling (BIM) software, architects and engineers can simulate how variations in room volume, window size, number of occupants and more will influence outcomes like embodied carbon, operational costs and thermal comfort.How do we see the impact of data reflected across a building's lifecycle? It starts with design.DATA-DRIVEN DECISIONS The design stage often begins with a feasibility study, with owners and investors setting project targets for important considerations such as programmatic needs of future occupants, community enrichment and ROI. Stakeholders may also consider performance targets, such as carbon impact and energy efficiency. Here, architects and engineers can utilize BIM to run simulations to determine which design solution may be the best fit to meet these goals. As architects design the building, they continue to use data to inform decision-making. To a lay person, whether a room should have one large window, or two smaller ones may seem like an innocuous decision. AEC professionals know even these small distinctions—multiplied across hundreds of rooms in a building—could have a real impact on factors like sunlight, electricity use, thermal comfort, and so on. Utilizing data-driven simulations helps designers address all variables to determine the best way to meet performance targets and produce a healthy building.MAINTAINING WITH DATA As a project enters the occupancy and maintenance stages, factors like energy efficiency and operational costs come to the forefront. Ideally, project designers will have preemptively run energy modeling and other virtual simulations to determine the best course of action. Still, it's virtually impossible to account for everything that might happen as the structure is actually built. But with a data-driven BIM practice, your team can simply update simulations with what you've learned on-site and adjust from there.Once the building is erected, it will, hopefully, last for a while. But, across its lifecycle, better appliances and technology will inevitably be invented, forcing you to ask if the building should be updated.Again, the way to find out is through data. Operators can revisit simulations to assess whether new technology would improve the building and reduce costs over time. THE POWER OF DATAI saw the value of data in understanding a building's potential performance firsthand when I worked on Georgia Tech's Kendeda Building. It would become Georgia's first building to be Living Building Challenge certified, the built environment's most rigorous and ambitious performance standard. Publicity was buzzing around the project—there was little room for error, and every decision we made would be scrutinized.So, we turned to data. We gathered all the information we could and ran simulation after simulation. We tested different facades, wood planks for flooring, solar panels and so on to determine which materials would hold up the longest, minimize carbon emissions, and maximize value.CLOSING THOUGHTThe result? The Kendeda Building earned its Living Building Challenge certification and stands today on Georgia Tech's campus as a testament to the power of sustainable architecture, BIM, and accessible data. Because of the simulations we ran, it will hopefully continue to run efficiently for years to come, and, as it eventually needs repairs or updates, building operators will return to data to make the best decisions. Lifecycle DataLifecycle Dataunlocking building performance insights BEST PRACTICESBy Patricia KusumadjajaPART 3 OF 4about the authorPatricia Kusumadjaja, CEP, Assoc. AIA, is the virtual design and construction director at cove.tool, a leading provider of building design and construction software. She has more than 8 years of experience working in the AEC industry, namely in architectural cost estimating, VDC, and project delivery. She strives to make a difference in the way owners, construction and architectural professionals view high-performance design, with the hope that sustainability and environmental consciousness becomes a non-negotiable priority in all future building design and construction.
Page 35
Page 36
APRIL 2023 www.mcsmag.com34safety solutionVIZZ HeadlampsVIZZ Headlampsmaximize safety and reliability with illuminationINDUSTRIAL-GRADE For professional trades like utilities, facility maintenance, and construction, Princeton Tec's industrial-grade VIZZ series headlamps are designed to provide powerful, lasting, reliable, hands-free illumination to increase operator safety and productivity in the many low-light work conditions that require it. Whether the job starts before the sun rises or ends after it sets, or operators are working in small or large dark spaces, they need a light that is going to work as hard as they do in whatever conditions that are thrown their way.Princeton Tec designs and manufactures its headlamps in the U.S. with durable thermoplastic material engineered to withstand drops and rough handling. An IPX7 waterproof rating means the headlamps are thoroughly protected from moisture, providing waterproof integrity down to 1 meter for up to 30 minutes. The U.S. military, and numerous utilities, use these products, which offer a lifetime warranty.LIGHTING THE WAYLightweight 3.2oz VIZZ series headlamps flexibly light up the workspace with two separate modes that the operator can easily switch between at the push of a button: flood which widely illuminates the surroundings, and spot which focuses a bright beam on the task at hand. The operator can dim and adjust the light level to their personal preference in both modes by holding down the pushbutton to the desired setting. The dimming capability also extends battery life. The raised button provides ease of use when the operator is wearing gloves.Since battery life is an important consideration for technicians working 8-to-12-hour shifts, VIZZ series headlamps offers consistent regulated LED illumination. Traditional lights are very bright initially, but immediately begin to dim and continue to dim until the batteries are drained.These headlamps come with an industrial headlamp kit with a nylon head strap, a rubber hard hat strap, and double-sided Velcro to affix the light to a helmet, if preferred. Three AAA batteries are included.The VIZZ series is offered in two distinctive headlamp models, the VIZZ II and VIZZ IND. Both appear in POP packaging for facility Princeton Tec's VIZZ series headlamps increase operator safety and productivity in the many low-light work conditions that require it.
Page 37
managers that want to display the products in their vending machines as all specifications are clearly listed.THE VIZZ II For trades that work in potentially hazardous environments, the intrinsically safe VIZZ II headlamp meets essentially all safety requirements whether for OSHA, Zone 0, or state standards (Classes I, II, III; Divisions 1,2; and Groups A-G). So, there is nothing from the light that could spark a potential fire or explosion in a work environment that could have flammable gases, vapors, materials, or dusts present.One Maxbright LED creates a powerful 200 lumen spot beam for long-throw illumination, while 4 Ultrabright LEDs deliver a dimmable flood beam. At close range, the wide beams simulate normal daylight conditions, allowing technicians to use their peripheral vision, while focused narrow beams provide distance illumination. The smooth, white, wide-beam light emitted by Ultrabright LEDs is ideal for close to mid-range tasks. Ultrabright LEDs are usually grouped together to offer a more powerful light source. The headlamp offers a burn time of 102 hours.VIZZ INDThe VIZZ IND headlamp is like the VIZZ II but provides even brighter illumination with a 550-lumen spot beam. However, it is not safety-rated for hazardous environments. The headlamp offers a burn time of 100 hours.Although professional industrial-grade headlamps cost a little more up front, the overall cost of ownership is often lower because the batteries typically last 5-6 times longer and do not need to be replaced constantly during work shifts. CLOSING THOUGHTSince the rugged headlamps are designed to last for many years in harsh conditions, frequent replacement also is not necessary the way it is with more fragile consumer-grade units. www.mcsmag.com APRIL 202335for more informationFor more, visit princetontec.com.Princeton Tec's industrial-grade VIZZ series headlamps provide powerful, lasting, reliable, hands-free illumination.
Page 38
APRIL 2023 www.mcsmag.com36maintenance solutionCrafco SynergyCrafco Synergyequipped to handle everythingPAVEMENT PRESERVATIONFrom its humble beginnings in 1976, Crafco has grown into the world's most recognized and trusted materials and equipment manufacturer for pavement preservation products. Its sealants can be found in use across the United States and around the world performing in all climatic conditions. Contractors and agencies globally rely on Crafco's equipment to provide dependable and reliable performance for applying crack sealants.Crafco manufactures both hot-applied crack sealants and the specialized equipment for applying sealants into pavement cracks. Creating this synergy is a distinct benefit that only Crafco provides its customers. Designed to work together, Crafco's sealants and equipment provide consistency for optimal results.THE RIGHT MELTERSelecting a melter is an important element of the crack sealing process. The right melter can help your crew work faster and more efficiently. Having the correct safety features can also help avoid costly mistakes and accidents. When selecting a melter these are important factors to consider in addition to how it will accommodate your productivity level now and allow for growth in the future. Also consider the experience level of your crack sealing crew.Crafco customers choose our melter machines because they are extremely reliable, can withstand heavy workloads over years of use, and they require minimal repairs and maintenance. One paving owner from Oklahoma states about his Crafco melter, "It's just reliable, and it's meant to last a long time."All Crafco's equipment is manufactured to meticulous quality and usability standards and is backed by the best warranty in the industry. In addition to being durable and reliable, Crafco melters are also extremely intuitive. The Super Shot features automated functionality to simplify the crack sealing process for work crews. So, if you have a new crew, the Super Shot takes all the guesswork out of the crack sealing operation.SIMPLIFYING THE PROCESSCrafco's flagship melter is the Super Shot, available in 60 gallon, 125 gallon, and 250 gallon tank capacities. Launched in 1996, the Super Shot's unique advantage is a patented, true on-demand pumping system. The pump is mounted inside the melter, eliminating material recirculation and any external plumbing. This innovative on-demand pump and its sealant-dispensing systems work seamlessly together to make the crack sealing process run smoothly for maintenance crews.One owner from a pavement company in Oklahoma states, "Probably the best thing that I know is the pump. I've never had to tear into a pump. But using a competitor's machine, you tend to get the pump locked up a lot more, from my experience."The Super Shot series comes in a variety of configurations to meet your needs (Super Shot 250 pictured)
Page 39
www.mcsmag.com APRIL 202337Optimized with easy-to-use controls and automated functions, the Super Shot is engineered to be the easiest to use in the industry. A highway division manager from Utah states, "Super Shot 250 is quick to heat up and very user friendly." Just start the engine, set the temperature, and the control system takes over to properly run the melter. The engine, heating, agitation, and application systems are all integrated and run by a control box that monitors every aspect of the process. DESIGNED FOR SAFETY Safety is a priority for any agency or contractor to ensure the security of their employees and reduce any preventable injuries during a crack seal project. A project manager from a Utah paving company comments, "Eliminating or reducing the risk to the workers is a huge point that we want to make sure is there." That's why Crafco developed best-in-class safety features on its Super Shot melters, to protect both the operator and the public. Controls are located at the back of the machine to keep the operator away from traffic on both sides of the unit. The burner system is easily accessible and has built-in safety features. The loading height for material is designed for efficiency, ergonomics, and enhanced operator safety. The applicator wand on the Super Shot is equipped with an automatic shut-off feature to stop the flow of sealant when the handle is released or dropped. This increases operator safety, reduces fatigue, and saves material. The Super Shot's hose is supported by a new 6-foot Flex Boom that rotates horizontally and flexes up and down. This eliminates hose failures due to wear and tear from the boom hanger and keeps the hose from dragging on the ground during operation. It also makes the wand feel lighter in the operator's hand.Designed and built for ease of use, safety, reliability, and productivity, the Crafco Super Shot melter/applicator series helps crack sealing crews get more done.CUSTOMER SUCCESSSuccess starts with great service and information about Crafco products. Crafco takes pride in its ongoing training programs, one-on-one exchange of information, and efforts to help the company's customers achieve success using Crafco products.A general superintendent from Oklahoma states, "The reputation of their products and their tools led us to them. Working in central Oklahoma, they are one of the oldest and have the best reputation of joint suppliers in this area. Over the last 20 years, I've made the decision to stick with their products."CLOSING THOUGHTCrafco is positioned to service customers from around the world and is always looking toward the future. With the ever-increasing challenge of pavement preservation, Crafco is secure with the knowledge that it can depend on its people and its experience to meet these challenges. We will continue working hard to bring innovation to an industry needing effective, long-lasting pavement preservation materials and equipment. Integrated operator control system.The Super Shot series comes in a variety of configurations to meet your needs (Super Shot 250 pictured)for more informationFor more, visit crafco.com.
Page 40
Page 41
Page 42
APRIL 2023 www.mcsmag.com40products and servicesDouble Coin OTR tires are built to work in demanding environments, move earth, and carry heavy loads in rocky, sandy, and muddy terrains. Double Coin tires deliver superior traction, proven performance, and an overall lower cost of ownership. With more than 80 radial OTR SKUs available, Double Coin has the tire to help your operation maximize performance and reduce operating costs. Double Coin OTR tires are backed by an expansive warranty and exceptional customer service.The REM-2 (E-3/L-3) radial OTR is built with an aggressive self-cleaning, non-directional tread design that makes it ideal in a wide range of OTR applications. It is engineered to deliver a smooth ride and superior traction in rocky, muddy, and sandy terrains. The REM-2 is an OEM Certified tire with an advanced casing design that delivers superior tire life and overall satisfaction.Double Coin's REM-3 radial Skid Steer (SS) tire is engineered for rugged and demanding environments. Its unique unidirectional tread design delivers maximum traction, optimum performance, and superior handling on all types of surfaces. It can be counted on to deliver a low cost per hour and driver satisfaction.Our REM-9 (E-4) radial OTR is engineered with cut/chip resistant compounds that deliver more durability and traction in all types of applications and surfaces. Its unique non-directional deep tread pattern also provides enhanced off-the-road traction in tougher conditions. To find a dealer new you, visit doublecointires.com or call 888.226.5250.Double CoinDouble CoinOTR Tires
Page 43
Page 44
Gorman-Rupp has been revolutionizing the pumping industry since 1933. Many of the innovations introduced by Gorman-Rupp over the past ninety years have become industry standards.We continue to update our machinery, processes, research and development, and engineering to ensure that our pumps and systems are among the most reliable and efficient on the market. With nearly one million square feet under roof, our facilities house some of the most modern manufacturing, testing, and warehousing facilities in the world. Our experienced engineers take advantage of the latest technologies and innovations to custom-design, manufacture, and assemble our products.With over one million Gorman-Rupp pumps installed to date, we have the knowledge and experience understand your specific application. We provide solids- and clean-fluid handling pumping solutions for municipalities, industrial plants, construction and rental businesses, refineries and petroleum plants, mining sites, agricultural operations, and a variety of original equipment manufacturers. One of our most successful and innovative lines of pumps has been our self-priming models. Gorman-Rupp also manufactures complete lines of submersible, priming-assisted (dry-prime), standard centrifugal, horizontal end suction centrifugal, and rotary gear products built for the most aggressive pumping applications. In addition, our ReliaSource® pump packages that incorporate these products are designed, manufactured, and tested and include pumps, motors, piping, and controls to ensure superior operation and easy installation.We perform rigorous testing based on Hydraulic Institute Standards and test to customers' actual operating conditions in our one-of-a-kind testing facility guaranteeing innovative, superior-quality products that are ready to tackle your toughest jobs. To ensure you get the right equipment for your requirements, Gorman-Rupp partners with a worldwide network of distribution and provides them with the most extensive training. Gorman-Rupp distributors will work hand-in-hand with you to recommend, customize, and specify equipment. And Gorman-Rupp is always available should you ever require any assistance.PHILOSOPHYGorman-Rupp stands behind the quality of our pumps to ensure they meet your requirements for the long haul. To maintain industry-leading client satisfaction well beyond product installation, we offer a variety of services to meet your needs, including world-class training, service, and industry-leading warranty.INDUSTRY-LEADING SUPPORT AND WARRANTYGorman-Rupp stands behind the quality of our pumps to ensure they meet your requirements for the long haul. To maintain industry-leading client satisfaction well beyond product installation, we offer a variety of services to meet your needs, including:INDUSTRIALIf your application deals with abrasive, corrosive fluids, or liquids containing large solids, we have the right pump for the job. Gorman-Rupp pumps are constructed in a variety of materials to move fluids in steel mills, paper mills, underground mines, food processing, automotive and chemical plants, canneries, power plants, tanneries, glue and resin plants, and any other facility where dependability and ease of service are essential.MUNICIPALWhen you choose Gorman-Rupp, you benefit from one of the largest and highest quality lines of municipal pumps, engine-driven pumps, sewage lift stations and water booster/reuse stations available on the market. Our ReliaSource® packaged lift and booster stations ship complete from the factory with pumps, motors, and controls and are 100 percent tested before they leave the facility to ensure product efficiency and operation. GORMAN-RUPP PUMPSP.O. Box 1217Mansfield, Ohio 44901Gorman-Rupp PumpsGorman-Rupp PumpsAPRIL 2023 www.mcsmag.com42products and services
Page 45
Page 46
APRIL 2023 www.mcsmag.com44products and servicesIsuzu is known for reliable, eco-friendly, durable, and technologically advanced engines that power agricultural, construction, industrial, medical, and rental markets in the Americas. All with quiet, fuel efficient products for customer specific applications. PRE-VALIDATED RELIABLE POWERIsuzu Open GenSet Ready Power Units now come in three sizes: 4J, 4H, and 6H. As delivered, all are at least 90% pre-validated. Our 4J-Series is equipped as a 3.0L, 4 Cylinder, 71 kW (95 hp) constant speed @1800 RPM Diesel engine. The 4H-Series is equipped with a 5.2L, 4 Cylinder, 127.4 kW (171 hp) constant speed @1800 RPM and the 6H-Series 7.8L, 6 Cylinder, 194 kW (260 hp) @1800 RPM. These are all Tier 4 Final Certified and branded under Isuzu REDTech™ (Reliable, Eco-Friendly, Durable, and Technologically Advanced Diesel Technology). Isuzu Open GenSet Ready Power Units are built using all components and features necessary to successfully meet all installation testing criteria associated with long engine life while also maintaining optimized performance—Isuzu REDTech™ Power Units have been engineered for use with several different generator manufacturers' products. These Engines carry one of the best warranties in the industry, 5 years/5000 hours, and its Power Unit Components offer a 2 year/2000 hour limited warranty.DURABLE AND ECO-FRIENDLY GENSET POWERThe standard power unit packages are engineered to include an air intake system with dual element air cleaner, exhaust gas after-treatment system, a complete cooling package, vibration isolators (engine and cooling package), and all engine filters. The power unit engine control module and wiring harness incorporates oil pressure, coolant temperature, intake air pressure, and temperature and engine speed sensors and shutdowns. These complete power units can also be assembled to a customer supplied design of pre-validated skid base/generator combination, resulting in a 100% pre-validated Open GenSet Power Unit. PRE-TESTED DURABLE POWER—SAVING ENGINEERING RESOURCES, TIME, AND MONEY WHILE MINIMIZING INVENTORYAll models of Isuzu REDTech™ Open GenSet Power Units have also been designed with a generator ready skid base that has been 100% validated for one or more selected generator model/frame lines. If you use one of these complete (GenSet Ready) Isuzu REDTech™ designs (power unit with cross member, mounting/isolators and optional controller) with a pre-validated generator it is possible for immediate turnarounds on inventory. In addition, various cross members for mounting as many as seven different common generator brands/models to the power unit have been pre-engineered. When combined with a pre-validated 4J, 4H, or 6H Isuzu REDTech™ Open GenSet Power Unit, all that remains is a few days of vibration testing. This could also help reduce inventory by using pre-validated Isuzu REDTech™ Open GenSet-Ready Power Units that have been pre-engineered for several generator manufacturers' products. TOOLS AND TRAINING RESOURCESIsuzu offers a Diagnostic Service Tool, the IDST for diagnostic trouble codes and automatic Engine Identification which can read and clear ECM DCTs or read only DCU DTCs and perform a forced SCR purge. These tools are available through Isuzu Distributors and are very effective to trouble shooting specific engine related concerns that may not need major work or expensive downtime. In an effort to support customer service requests, Isuzu is now offering Training programs through some of its Distributors, in certain parts of the country. This addresses a need for more hands-on training related to general maintenance or trouble shooting with turbo chargers, SCRs, and fuel injectors. All to better serve customer needs through our qualified distributors using their expertise and Isuzu Genuine Parts. IsuzuIsuzuThe Power behind it all.4JJ1X Series - 71 kW (95 hp) Tier 4 FinalIsuzu Diagnostic Service Tool (IDST)
Page 47
Page 48
products and servicesIsuzu Commercial Truck of America, Inc., is the distributor of Isuzu commercial vehicles in the United States—the best-selling low cab forward trucks in America every year since 1986. There's a simple reason why these trucks have gained such popularity: Isuzu has the right truck for all your business needs.EXTENSIVE LINE-UPIsuzu offers the widest range of low cab forward trucks available:Class 3-5 Isuzu N-Series V-8 gas trucks, driven by a powerplant with an engineered design life of 200,000 miles. These are the only low cab forward gasoline-powered trucks with GVWRs ranging from 12,000 to 19,500 lbs. Accommodating up to 20-foot bodies, Isuzu N-Series gas trucks are available in both Standard and Crew Cab configurations. Class 3 and 4 gas trucks available now; Class 5 gas models will be available in mid-2023.Class 4 and 5 Isuzu N-Series diesel-powered trucks, equipped with the legendary Isuzu 4HK1-TC engine that boasts a B-10 durability rating of 375,000 miles. The trucks that made Isuzu famous are available in Standard Cab with three-across seating or a Crew Cab that will handle up to seven, and with wheelbases from 109 to 212 inches in length.Class 6 and the all-new class 7 Isuzu F-Series trucks, featuring the most powerful Efficiency Series variant of the proven Cummins B6.7 diesel engine for the optimum in performance and economy. Isuzu F-Series trucks are available in both Class 6 and new Class 7 models with GVWRs from 25,950 to a whopping 33,000 lbs. With eight wheelbase choices, Isuzu F-Series trucks can handle bodies up to 30 feet in length. And coming in early 2024: the Class 5 NRR EV, the all-new model that's everything you want in an electric truck and everything you expect from Isuzu. With a 19,500-lb. GVWR and the ability to travel (up to) an estimated 235 miles between charges, the NRR EV will change the game—and change your mind about electric trucks! INCREASED PRODUCTIVITYYou can reach more tough-to-navigate locations and make more stops thanks to Isuzu trucks': Maneuverability: Curb-to-curb or wall-to-wall, Isuzu trucks' cab-over-engine design gives them a turning circle dramatically tighter than any conventional cab.Visibility: Between their low cab forward design and wide expanses of glass, these trucks allow drivers to see objects as close as eight feet ahead—far better visibility than you'd find in a conventional cab. Economy: Fewer stops for fuel means more time moving your business forward. LOW COST OF OWNERSHIPIsuzu trucks are famous for their low cost of ownership, thanks to their efficiency and dependability, plus:• Outstanding basic limited warranty protection for a minimum of 36 months, with extended warranties available for as much as 5 years/250,000 miles• 24/7 roadside assistance for the length of your warranty or extended warranty• Isuzu's Priority Service Maintenance Program, which allows you to lock in today's maintenance service prices for up to 6 years—and the cost can be included in your Isuzu Finance of America finance or lease contract• Isuzu FleetValue parts, priced to compete with aftermarket parts but engineered to meet Isuzu's stringent specifications, in addition to Genuine Isuzu OEM parts • Vehicle Health Reports produced by every Isuzu N-Series diesel truck, that show you idle time, speed history, acceleration frequency and more, so you can optimize your truck's efficiency by monitoring and making adjustments to driving habitsNATIONWIDE SALES AND SERVICEIsuzu trucks are sold and serviced in all 50 U.S. states, which means there is probably an Isuzu dealer near you wherever you are—or wherever your truck takes you. Isuzu Commercial Truck of America invites you to visit www.isuzucv.com or contact your nearest Isuzu dealership to discover for yourself all the reasons an Isuzu truck is the right truck for you. Isuzu Commercial Truck Isuzu Commercial Truck of America, Inc.of America, Inc.
Page 49
Page 50
APRIL 2023 www.mcsmag.com48products and servicesAt Leading Edge Safety, we make fall protection attainable. As the inventor of the original Raptor Cart in 2006, we are evolving our mobile fall protection line to ensure our products are user friendly while ensuring construction workers are protected while working near the leading edge. We take the first step so you don't take your last.Through our national network of roofers and distributors, we take customer feedback into account when designing our products. All of our products are in line with the latest OSHA compliance standards. Our mobile fall protection line leads the industry with over 10,000 units manufactured and ZERO failures. For the 2023 roofing season, we're proud to introduce two new mobile fall carts to our legendary line: The Saber™ and The X-Calibur™. INTRODUCING THE SABER Fall protection shouldn't have to be complicated or difficult to use. We work closely with commercial roofers, ensuring our products are user friendly. The Stinger™ has long been a contractor favorite for its portability and ease of use. We've taken its best features and integrated them into an all new cart. Featuring increased worker capacity with a reduced weight of 640 lbs, the Saber is just as mobile as the original Stinger. Gone is the original dolly moving system—the Saber has an integrated axle for increased maneuverability. When the handle is lowered, the axle also lowers, thus lifting the Saber and allowing the unit to be easily transported. The integrated axles create a smaller footprint with a better turning radius. The Saber supports two workers on fall arrest and one worker on fall restraint. INTRODUCING THE X-CALIBUR Designed for finished roof surfaces, the X-Calibur allows for up to one worker to be tied-off for fall arrest. The X-Calibur is ideal for maintenance crews, HVAC professionals and building managers. At only 527lbs, the X-Calibur is lightweight and maneuverable. The handle locking mechanism aids in moving the X-Calibur as needed.Both of our new mobile fall carts feature counterweights which remove easily to reduce weight while moving. The Saber and The X-Calibur are available to ship on April 1, 2023, and for a limited time, we are offering special introductory pricing.COMPLETE SOLUTIONLeading Edge Safety is your complete solution for fall protection. Whether you need permanent, temporary, or mobile fall protection, Leading Edge Safety has the answers for you, with an array of options designed to keep you safe on the job. Unlike our competitors, Leading Edge Safety combines two successful names in the fall protection industry with proven history.AES Raptor and Premier Rail Systems have joined forces to offer a full service fall protection solution. We offer temporary, permanent, and mobile fall protection solutions from one great provider. Our combined expertise, customer service, and American-made products provide an unmatched selection of products and services. We have solutions for your fall protection requirements that exceed current codes and regulations. Leading Edge Safety has the knowledge, expertise, and inventory to help you choose the correct product for your specific needs. If your requirements do not fit a standard product, our design team will develop and engineer a specific product per your specifications with the required codes and regulations. Leading EdgeLeading EdgeThe Evolution Continues …For more information, visit leadingedgesafety.net.
Page 51
Page 52
APRIL 2023 www.mcsmag.com50products and servicesAn advanced, user-friendly diagnostic tool is an essential investment for organizations looking to maximize vehicle and equipment uptime. It is vital you purchase reliable tools that provide the latest features and coverage so you stay on track with a repair job and avoid unnecessary downtime due to faulty or dated diagnostic equipment. Consider the following tips when evaluating a diagnostic tool.TRUST YOUR HARDWAREEven the best diagnostic and repair software will fail to meet its potential when loaded on a device with specifications that fall below the software's requirements. Reputable software will include a list of required specs, so check those against the intended hardware before purchasing. It is highly recommended to consider kits that include new hardware instead of refurbished models. Factory refurbished devices are typically pre-owned or pre-used machines that the manufacturer or retailer resets to its factory settings, though intermittent issues in the hardware often remain unnoticed. Due to how quickly computer hardware becomes obsolete, purchasing a refurbished model typically puts you a few years behind before the device ever reaches the field.Noregon is one of the few Panasonic® Authorized Service Centers in the United States. Because of this rare distinction, the company offers a 3-year warranty on the new Panasonic Toughbooks included in their diagnostic kits.PURCHASE REPUTABLE SOFTWAREFirst, you must select a diagnostic application that allows you to work on equipment made by various manufacturers. Using a single application for most of your equipment simplifies training methods and empowers technicians to confidently diagnose your assets with one software application. Purchase a solution with broad coverage, quick connection times, an easy-to-use interface, and built-in educational tips that make your technicians more efficient. It is essential for your application to help manage everything from triage to completed repair, so built-in troubleshooting assistance is a vital resource.Once you select the tool that fits your needs, purchase it from a reputable dealer. You may find companies or individuals selling pirated software as a legitimate option; avoid these opportunities. Not only is it illegal, but pirated software is typically a few versions behind, does not include free updates, and will not feature support options, such as Noregon's free access to US-based product specialists available to JPRO subscribers.Purchasing from an untrustworthy source also increases your susceptibility to cybersecurity threats. Whether installed maliciously or unknowingly, your software may contain backdoor access making your device a threat vector for cyber-attacks.CONDUCT RESEARCHUnfortunately, buyer's remorse is common after purchasing specific diagnostic solutions. With the best tool, you will feel like you made an investment; with the worst tool, you will feel like you wasted your business's hard-earned money. The correct tool will expedite the diagnostic process while educating technicians to improve efficiency. The wrong tool will promise all the features and coverage but fail to deliver when it comes time to use the newly purchased tool.You are making a significant investment that is supposed to drive profits for your business, so we highly recommend performing research before you make a purchasing decision. Evaluate the different options available to you and request a free trial or demo. We also recommend speaking to colleagues in the industry to discuss which options have worked for their needs. NoregonNoregonTips for Purchasing a Diagnostic Tool
Page 53
Page 54
APRIL 2023 www.mcsmag.com52products and servicesBottom DumpSide DumpTrail King releases updates to two of its bestselling material hauling trailers, taking the best features of these products and making them better. The NEW & IMPROVED Steel Side Dump and the Bottom Dump were both showcased at the CONEXPO 2023 trade show. The patriotic theme of the booth drew much attention to these trailers with each of them wrapped in an American flag design.TRAIL KING STEEL SIDE DUMPTrail King's Steel Side Dump has been updated with an additional center tub pivot to provide a smoother dumping process and increased stability. This prevents wheel hop at the end of the dump cycle while maintaining a dump angle of 41 degrees. The new tub geometry drastically increases tub-to-truck clearance when dumping, improves cycle stability, and provides better rear-view visibility and component protection. The abrasion-resistant two-pieced rolled tub is constructed of 6mm Hardox 450 for strength. The round bottom delivers a fast-unloading process that eliminates carry back. Fewer weld seams minimize the likelihood of cracking. This tub design results in additional weight savings, allowing drivers to haul more payloads. Maintenance is easier with the standard removable drop-in kingpin, greaseless bushings, remote cylinder grease lines, and bolt-on parts that can be quickly replaced in the case of damage.Rugged, flexible, impact-resistant plastic rounded fenders (front and rear) shed falling debris to protect both the trailer and wheels. The improved tarp and truck fender clearance increases durability. Main frame I-beams, constructed of one-piece web and flange material, result in a trailer with the rugged strength and durability to stand up to tough loads. TRAIL KING BOTTOM DUMPDesigned for performance, Trail King's Bottom Dump is now lighter than ever, yet still rugged and strong. Its lightweight cross-bracing and gusset design minimizes the twisting and flexing in critical stress areas while delivering maximum weight savings. The new heavy-duty gate stop increases productivity and provides greater output with fast cycle times and the recently modified easy to use gate limit setting. It is conveniently positioned with 6 adjustable locations. The addition of a 60-gallon air reservoir allows faster operation and more capacity for the gate.This trailer ensures superior cleanout with a one-piece unitized hopper and frame design. The sloped top rail allows material to shed, reducing areas of buildup and less corrosion. Additionally, the continuous hopper slopes with a 54"x99" hopper opening deliver complete dumping. The large 11'6" clam with overlapping knife edge ensures full closure of the gate.Trailer stress is reduced, and service life of the tractor and frame is extended with a spherical full oscillating 5th wheel plate with chrome bushed design. Newly added bolt-on parts including the windrow deflector, fender backets, and light boxes are designed to be easily removed, repaired, or replaced if damaged. Trail KingTrail KingMaterial Hauling Trailers
Page 55
Page 56
APRIL 2023 www.mcsmag.com54products and servicesWhen you don't have the right equipment for the job, downtime is sure to follow.And if projects go sideways, you'll need to re-spec everything—costing you revenue and pushing back timelines. All because you didn't have what you needed to get the job done. Since 1952, Venco Venturo® has been a leader in developing a line of made in the USA service cranes, hoists, truck bodies, and accessories. The Cincinnati-based company prides itself on its history of providing durable equipment to handle any job—with excellent customer service and the fastest lead times in the industry. A commitment to understanding customers' needs and then getting them the equipment to match the application has helped Venturo maintain its pioneering position.When construction and maintenance companies don't get the right components for their fleets, they're forced to spend, re-measure and respend. Understanding this trap, Venturo is dedicated to two principles:1.Deliver only what is needed.2.Provide unmatched customer support and service."We understand what goes into finding work-ready truck and crane equipment," director of marketing and west coast sales manager at Venco Venturo Ian Lahmer says. "If you don't get what you need, you'll have to re-measure everything and swap features as you go. That's why we work directly with each customer to install the equipment they need so they can get back to the job. Simple as that."A HIGH-PERFORMING,MIDSIZE SERVICE CRANEVenturo also provides application-specific components with custom options. A prime example is the HT45KX service crane. This fully hydraulic crane has less weight for added versatility and more crane capacity with a lighter payload. It is designed to work with all service body manufacturers and includes the following:• Hexagonal boom structure and crane housing• 7,800-lb lifting capacity• 45,600 ft/lb rating• 30-ft reachThe highlight of the crane is the Venturo Logic Controls (VLC™) management system.VLC™ contains a wireless, pistol-grip remote. It gives operators ease of use (and peace of mind) with safety alerts and statuses on the LCD screen. The crane itself contains its own safety feature with alert lights on the underside of the boom, which go from green to yellow to red to indicate different safety warnings.VTEC CENTER FOR TRUCK &CRANE CUSTOMIZATIONIn addition to standard product lines, Venturo's equipment services round out a complete customer experience. For installations, modifications or custom builds, Venturo has it covered. These capabilities have been keeping operations in several industries running smoothly for decades. In effect, Venturo either has it—or will build it.Venturo's VTEC Center is a custom upfit shop staffed by factory-trained technicians. They can build and install cranes and hoists on existing fleets or perform a range of custom work for a complete, work-ready package. "We're happy to do custom builds. That's where the VTEC Center comes in. Whether you need a new crane, a full work truck, or even if you aren't sure where to begin, it doesn't matter. We'll customize the truck package for any job," Lahmer says.To ensure the right components, Venturo put a user-friendly system in place."We designed a simple checklist," Lahmer says. "All a customer needs to do is fill out the crane and truck specs they need: size, weight, operational requirements, and the accessories they want. Then we'll handle the rest."Venturo equipment is purpose-built to help operators improve productivity and safety at any jobsite. From basic upfits to complete packages, Venturo's made in the USA, light and heavy-duty cranes, hoists and truck bodies are ready to handle whatever the job demands. Learn more atvwww.venturo.com.The Tools for Any TradeThe Tools for Any TradeVENTURO DELIVERS 70 YEARS OF WORK-READY RELIABILITY
Page 57
Page 58
APRIL 2023 www.mcsmag.com56products and servicesB2W SotwareB2W SotwareIndividual Employee App for Performance TrackingB2W Software has expanded its unified platform with a mobile application for reporting labor hours, productivity, equipment utilization, and other data for individual employees working independently.The B2W Employee App is an easy-to-use solution for recording this information on individual work logs. Data from work logs can be combined with similar data for crew-based employees collected with B2W Track electronic field logs. The unified approach gives contractors comprehensive reporting on project status as work is being performed and it streamlines data transfer for payroll processing.The app addresses the challenge of tracking equipment operators, truck drivers and other employees that work independent of crews and supervisors on jobsites. New features added in 2023 for faster, more accurate recording of employee hours and equipment meter readings include clock-in-clock-out functionality and GPS confirmation of location.Individuals use the B2W Employee App on iOS or Android mobile devices to record hours along with the associated projects and tracking accounts. Employees can also enter hours for equipment used and production quantities for work performed. Notes can be added to the work logs, and configurable fields can be created to meet business-specific requirements like recording weather conditions, safety compliance, or other information.The B2W Employee App includes a built-in workflow for electronic employee sign-off, submittal, and validation. Employees can use the app in a real-time, online mode. They can also create and modify work logs offline and send them to a server when a connection is established.Individual employees can create work logs using the new app, or the logs can be created by administrators. Previous work logs can also be copied to save time in initiating new logs. For more information, visit www.b2wsoftware.com.
Page 59
www.mcsmag.com APRIL 202357products and servicesBKTBKTEarthmax Line of Radial TiresMining and construction are some of the toughest sectors on Earth. BKT's Earthmax line of radial tires are built just for that. Perfect for all types of earthmoving equipment, like dumpers, wheel loaders, dozers, graders, and multipurpose vehicles, Earthmax is your solution to the difficult conditions you face on the jobsite. The Earthmax SR 30 is one of the most popular tires in the Earthmax line, and it's easy to see why. The Earthmax SR 30 is an extremely versatile tire that is suitable for articulated dump truck, wheel loader, and bulldozer applications. It excels in loading operations, transporting material, and leveling the ground.The radial, all steel structure features excellent casing stability, allows optimal load distribution on the ground, and makes the tires puncture resistant against foreign objects. The multi-ply steel belts and its rigid block design ensure excellent traction, stability, and durability. The special cut resistant compound helps to quickly dissipate heat generated during operations, making the Earthmax SR 30 tire the ideal solution for all operating conditions.For more than 30 years, BKT has led the way in the creation and manufacture of safe, innovative, and high-performing tires for several specialist sectors, including the construction, earthmoving, port, mining, and agricultural industries. For more information, visit www.bkt-tires.com/ww/us.
Page 60
APRIL 2023 www.mcsmag.com58products and servicesSince the Eberspächer Hydronic is integrated in the cooling water circuit, it heats not only the passenger compartment but can also pre-heat the engine of suitable vehicles at standstill. This allows it to combine maximum comfort with stable heating performance and low fuel consumption. Even in the depths of winter, you enter a pleasantly warm vehicle and benefit from ice-free windows. On vehicle models with pre-heatable engines, starting is gentler on the engine, reducing the burden on the battery while consuming less fuel and reducing emissions.The heater's CAN/switching plus version of the Hydronic S3 Economy is the direct successor to the previous CAN/LIN version and is compatible with the Eberspächer EasyStart CAN-bus-compatible control unit family that will be available. The new switching plus input also ensures compatibility with all other control units that output an S+ switch-on signal. The new Hydronic S3 Commercial rounds off the product family with a 24-volt version for commercial applications. It will also be available in a 5.6 kW Power version for commercial applications for the first time, making it unrivaled on the market. Advantages: • Interfaces: CAN and S++ • Economy: service life 3,000 h • Commercial: service life 5,000 h • Utilization of residual heat through heating circuit run-on control Additional features: • Economy: gasoline (also E10) and diesel (also B30) • Commercial: diesel (also B30) • Diagnostic display via EasyStart TP 7.1 control units, and via EasyStart CAN-based control units • Economy: suitable for altitudes up to 1,500 m above sea level; altitude adjustment can be activated manually above 1,500 m with EasyStart Pro • Commercial: automatic altitude adjustment up to 3,000 m above sea level • Connection diameters: water 20 mm, exhaust gas 24 mm, combustion air 20 mm • ADR compatible with EasyStart Pro (with "Commercial" version) EberspaecherEberspaecherHydronic S3 Economy
Page 61
www.mcsmag.com APRIL 202359products and servicesInSite Elevation Pro helps businesses of all sizes spend less time bidding, increase accuracy, and confidently win more bids. Elevation Pro allows contractors to calculate cut and fill, stripping, strata quantities, paving and concrete materials, topsoil respread, areas, lengths, trench excavation, and backfill and build GPS machine control models.WORK ACROSS MULTIPLE DOCSThe software allows multiple PDF, CAD, Drone, Data Collector, Google Earth, etc. files to be open simultaneously with a coordinated cursor across all. This exclusive feature overlays takeoff data from one document across all others, preventing missed items and duplication. PROVE YOUR RESULTSElevation Pro provides definitive graphics and precise reports for all takeoff items with no chance of dispute, providing the proof required to get paid. CREATE GPS MACHINE CONTROLOnce the bid is won, Elevation Pro gives you the tools to create GPS machine control models for CAT, Komatsu, Trimble, Topcon, Leica, etc., without needing a complex CAD program. IMPROVE COMMUNICATION KMZ files provide location-based data to Google Earth and other geo-browsers to anyone on your staff with a GPS-equipped smart device with no special app required. Clearly see cut & fill, delivery, stockpile locations, haul routes, building locations, and utilities. 7 days a week technical support and included training ensures your team meets tight bidding deadlines. Visit us at www.insitesoftware.com/demo, email sales@insitesoftware.com, or call 877.746.7483 to request a live demo. Let us show you how InSite Elevation Pro gives you the tools to bid with confidence. InSite SotwareInSite Sotware
Page 62
APRIL 2023 www.mcsmag.com60products and servicesWhether it's a general contracting or large construction project, contractors want everything to run smoothly—as smooth as the hum of a Mi-T-M inverter generator. Emission standards are more prominent in the construction industry than ever before. These have influenced the development of Mi-T-M's portable generator line equipped with carbon monoxide (CO) detection and auto shutdown. Designed and built to be quiet and powerful, the Mi-T-M inverters range from 2000 to 7300 watts and are powered by Mi-T-M OHV engines. They feature inverter technology and provide clean commercial AC power for sensitive electronic equipment. These inverters are great for charging battery packs and power a variety of tools and equipment on any jobsite. The hand-carry 2000 and 2500-watt inverters are compact, making them easy to move where power is needed. The 3500-watt inverter features a unique open frame design and takes accessibility to the next level. It only weighs 66 pounds and can easily fit in a service truck compartment, when it's not being used. The Mi-T-M 4000-watt inverter is extremely quiet with a 56 decibel rating. It features all universal outlets as well as dual USB ports. And the 7300-watt inverter is equipped with gripped handles, durable tires and a 5.5 gallon fuel tank to run for more than nine hours at half load. Built to perform and built to last, the Mi-T-M inverter generators come with 1-year alternator and 3-year engine warranties. For more information, visit www.mitm.com or call 800.553.9053.Mi-T-MMi-T-M
Page 63
www.mcsmag.com APRIL 202361products and servicesNational Construction Rentals understands the relationships we build are just as important as the quality of work we put into each project. It's with this principle in mind that has made us become the largest supplier of Rent-A-Fence, barricades, portable toilets, hand wash stations, luxury restrooms, and mobile storage containers in the nation.For more than 60 years, National Construction Rentals has worked with every leading construction company, supplying temporary site service solutions to Bechtel, Flour, Kiewit, Turner, PCL Construction, The Shaw Group, Skanska USA, Clark Group, Jacobs, Foster Wheeler AG, The Walsh Group, Balfour Beatty, Whiting-Turner, Tutor Perini Corp., CB&I, Gilbane, Hansel Phelps, Mortenson Construction, McCarthy Construction, and countless others.From commercial and residential construction, to government projects, public works, and emergency response, National's team of experienced professionals dedicate themselves to each project until each customer is satisfied with the results. This was our goal when we started in 1962. This is what continues to define who we are today. For unparalleled service and superior customer support, contact us today at 800.352.5675 for the best in chain link fence, pedestrian barricades, portable toilets, hand wash stations, luxury restrooms, and mobile storage containers. www.rentnational.com.National Construction Rentals National Construction Rentals
Page 64
APRIL 2023 www.mcsmag.com62products and servicesPoseidon Barge, Ltd specializes in manufacturing Sectional Barges used in the heavy construction industry to float equipment, men, or materials. Their Sectional Barges are manufactured in Berne, Indiana, and are transported via truck. They are used primarily on inland waterways where traditional deck barges cannot travel.HULL SIZES TO FIT YOUR NEEDS Poseidon manufactures barges with hull sizes of 4, 5, 7, and 10 ft tall. The Poseidon P10 is the largest Sectional Barge available that can be transported over the road. Measuring 44 ft long x 11 ft wide and 10 ft tall, the P10 has floated some of the largest cranes available. All Poseidon Barges have patented roll form decks that are rated for 20,000 lb/ft2 of concentrated load. PRODUCT LINE ACCESSORIES Accessories for each specific product line are also available. Spuds, spud wells, deck cleats, rake sections, hydraulic double drum winches, Sea Bee Thruster units, and Push Boats are all part of the product line available for rent or purchase.Poseidon Barge, Ltd has a full engineer staff led by an in-house certified Naval Architect. Layouts and Basic Stability Analysis are available for each project based on the information provided by the client.Poseidon has in-house steel grit blasting and liquid spray-painting booths to better serve its customers with a premier product finish. Large enough to accommodate the P10 barge, they are some of the largest booths in the Midwestern United States. Each booth is equipped with a 25-ton crane for easy product handling.DESIGN SERVICES AVAILABLE Poseidon performs contract manufacturing and finishing for markets outside of the marine industry. We also can offer design services through our engineering department.FOCUS ON QUALITY Poseidon Barge, Ltd is an ISO 9001:2015 certified company. High quality, repeatability, and striving towards continual improvement are the hallmarks of this certification. The Poseidon Barge team has a strong desire for the customer to be assured that each and every barge section was built with the attention focused on these core values. Visit www.poseidonbarge.com, or call 866.992.2743. Visit our social media outlets as well: Facebook, LinkedIn, and YouTube.Poseidon Barge, LtdPoseidon Barge, Ltd
Page 65
www.mcsmag.com APRIL 202363products and servicesFor more than 65 years, Reef Industries has been manufacturing and fabricating reinforced film laminates and composites. Reef Industries specializes in custom plastic laminates that safeguard and prolong the service life of customers' investments. Products range from covers that protect equipment during outdoor storage to underground marking tape that ensures buried utilities are protected from accidental dig-ins. Reef Industries provides customers with dependable and proven high-quality materials for long-term performance.Each year, countless building owners suffer the problems associated with material and systems failures due to moisture. Reef Industries' Griffolyn® vapor barriers and vapor retarders can prevent water vapor from causing poor insulation performance, structural damage, and other moisture-related problems. Also, our Transguard® concrete slab floor protection sheets temporarily protect slabs from latent damage during construction and remediation projects. Damage to newly poured concrete or decorative colored floors caused by construction traffic can be extremely costly. The Griffolyn® polyethylene vapor retarder system and Transguard® slab floor protection offers the complete building solution. For more information, visit reefindustries.com.Reef IndustriesReef Industries
Page 66
APRIL 2023 www.mcsmag.com64products and servicesSalem Hydraulics has been serving the Hydraulic and Pneumatic, Mobile Construction, and Industrial Industries since 1978. Located within the Beautiful Shenandoah Valley in Salem Virginia, Salem Hydraulics has well over 100+ years combined experience and specializes in the sales, remanufacturing, and repair of many hydraulic Components such as Hydraulic Attachments, (Hammers, Breakers, Crushers, Sheers, Grapples, Compactors, etc.) Hydraulic Pumps & Motors, Hydraulic Valves, and Hydraulic & Pneumatic Cylinders for all major brands of equipment. Whether you need a piston pump in North America, or a custom design & built power unit system half way around the world, we are ready to serve you. We pride ourselves in supplying the highest quality … Attachments, Components, Parts, Service, and Systems available. All at competitive pricing. We hope to have the opportunity to serve you soon!Please feel free to contact us at any time via phone, fax, or email as we look forward to hearing from you. Our staff is eagerly awaiting your call or email with readiness to assist you. Phone: 540.387.1318 or 800.727.7938. Fax: 540.389.4478. Email: sales@salemhydraulics.com. For more information, visit www.salemhydraulics.com.Salem HydraulicsSalem Hydraulics
Page 67
www.mcsmag.com APRIL 202365products and servicesThe Studson SHK-1 is the first-of-a-kind Type II safety helmet designed to prevent traumatic brain injuries (TBIs) on construction and industrial sites, featuring embedded technologies to absorb impacts from fall-related injuries. In the U.S. construction industry, 68% of TBIs are caused by work-related falls, but traditional hard hat systems are only designed to protect against falling objects. To fill that gap, Studson launched the SHK-1 which is compliant with ANSI Z89.1 Type I and Type II safety standards, meaning the helmet is designed to reduce the force of impacts that occur on the front, back, sides, and top of the head. Studson's SHK-1 helmet is a step up from the traditional hard hat features a unique combination of cutting-edge head protection components that is a first in the industrial safety helmet market.• Koroyd® welded tubes: Crumple instantly on impact to absorb maximum force to protect your skull and brain from direct and angled impacts which may reduce the risk of suffering a life-changing injury or life-threatening injury.• twICEme®: Should an incident occur, the helmet includes an integrated chip based on NFC technology that stores emergency contacts and critical medical information to allow first responders to access vital data when seconds matter.• Brainshield® by Shield-X®: Replaceable helmet pad system to significantly reduce the sharp twisting and compression of the brain during angled or oblique impacts—the primary cause of concussions. Plus, this makes it more comfortable to wear for long periods of time.• Modular rear brim: Our helmet comes with a slight rear brim designed for rain deflection. • 4-point chin strap system: Fidlock® magnetic buckle enclosure with adjustable nylon 4-point strap, commonly found in action sports helmets, allowing for maximum adjustability and easy one-handed use with gloves.• Sleek Design: An innovative-looking helmet while blending elements from the traditional hard hat heritage.• Add-on accessories available to attach to the SHK-1 helmet (studson.com/collections/accessories). studson.comStudsonStudson
Page 68
APRIL 2023 www.mcsmag.com66products and servicesXL Specialized Trailers, introduces the XL Guardian 110 HDG trailer, a standardized construction trailer that is readily available at dealer locations. Each aspect of this low-profile, hydraulic detachable gooseneck lowboy was designed with the user in mind, and it's made to simplify the process of hauling construction equipment.BUILT FOR LONGEVITYBuilt to last, users can be confident in the Guardian's longevity as they haul load after load. The Guardian trailer is 53 ft long and has a capacity rating of 110,000 lbs in 12 ft concentrated.The low-profile gooseneck design provides weight savings and versatility, allowing scrapers to load over the top. It features a relief cutout, giving truck fenders plenty of clearance, and two removable kingpin settings which add flexibility across various truck setups. On the neck, a rotating work light illuminates the area for added safety and visibility when loading.The gooseneck uses hydraulics to detach for loading and unloading efficiently—and easily reconnects after. The main bed offers a 22-inch loaded deck height. Operators can adjust the height of the deck for diverse loads with a 5-position variable ride height in the neck and manual ride height in the rear.BUILT TO LASTThe trailer's 26-ft-long, 8-ft-6-inch-wide main deck is constructed with a fully welded I-beam design, using 100K flanges and 80K webs, as well as upper-flange reinforcement. Heavy-duty swing-out outriggers add 12 inches of deck width on each side for flexibility in the size of loads. The outriggers swing to the middle of the deck, making a strong double-outrigger point in the center of the deck, where it is needed most. A heavy-duty front pull-out outrigger eliminates the need to stow and carry loose outriggers.In the rear of the main deck, the recessed cross-members make a bucket well. Combined with the open boom trough design in the wheel area, this design provides a solution for transporting excavators low and safe. With D-rings placed throughout the rear of the deck, securement is easier and more efficient than ever.This trailer offers great versatility with its range of axle options. The Guardian is a 3-axle trailer that can be run by itself or with an added flip axle, a spreader bar and flip, a single-axle power booster or a hydraulic flip axle. XL Specialized Trailers XL Specialized Trailers
Page 69
www.mcsmag.com APRIL 202367products and servicesCRSICRSIBecome a member of one of the Nation's oldest trade associations and benefit from nearly 100 years of technical expertise! CRSI members have priority access to our team of experienced engineering professionals. CRSI's Region Managers' purpose is to promote the use of reinforced concrete and be a resource for our members.Industry and Associate members can participate in CRSI's technical committees. We are an ANSI-accredited Standards Developer that produces documents impacting your business. As a member of CRSI, you can help to develop industry standards, publications, and provide input on industry and association issues.Network with current and potential customers. CRSI's conferences, seminars, educational programs, and social events provide opportunities to build meaningful relationships nationally and locally.And, of course, there are Member discounts! CRSI members receive discounts on all CRSI field publications, design guides, and more. All members can receive discounted custom quotes on multi-license options (over 3 users) for digital versions of CRSI flagship publications. For additional information on joining the Institute, visit www.crsi.org or call 847.517.1200.The Dual Dozer from HitchDoc is designed to keep your costs down by saving you time and money. High capacity front and rear boxes combined with rear mounted wheels allow operators to grab more material from the pile and spread it more efficiently. Because the blade sits in front of the wheels, you can move material closer to edges and prevent false corrections. Level the material to finish grade as normal and then make a final pass in reverse to leave a smooth finish with no wheel tracks.The Dual Dozer works with all industry-leading machine controls at the highest levels, including laser receivers, slope and sonic tracers, GPS, and 3D mapping. For skid steer applications, hydraulic connections use standard quick couplers. In-cab monitors and fingertip controls allow easy operation. Choose the 3 point attachment option for applications where a tractor is more appropriate.HitchDoc works with a trusted dealer network to provide the highest level of customer service. Make the grade with a Dual Dozer from HitchDoc.For more information on the Dual Dozer or to become a trusted dealer, visit www.hitchdoc.com⁄dual−dozer.php. HitchDocHitchDoc
Page 70
APRIL 2023 www.mcsmag.com68products and servicesLind Equipment Lind Equipment Lind Equipment is a well-established and trusted manufacturer of portable LED lighting, hazardous location and industrial work lighting, portable power, static grounding, and GFCI products. The company has been providing its products to industrial and hazardous locations for more than 70 years, earning a reputation for high-quality and reliable products.Lind Equipment's products are designed to meet the unique challenges of some of the toughest jobsites in the world, including construction sites, oil refineries, mining companies, and the general industry. The company's expertise and robust design make it the supplier of choice for various militaries and industries around the world.Lind's extensive line of portable electrical products includes everything from LED lights and floodlights to static grounding reels and GFCI outlets. The company's products are known for their durability, performance, and safety features, making them ideal for use in hazardous locations.Lind Equipment's commitment to customer service and innovation has helped the company maintain its position as a leader in the industry. Customers can easily view and purchase products through Lind's website at www.lindequipment.net. With its extensive range of high-quality products, Lind Equipment is well-equipped to meet the needs of customers in a variety of industries. Rockwheel AmericasRockwheel AmericasRockwheel Americas will help you win the rock game with Rockwheel rock & concrete grinders, Rockcrusher and Rockscreener attachments for material reduction and sorting. We stock and support the most innovative attachments for rock removal, material crushing, reduction, and screening.For more than 50 years, Alpine, Rockwheel America's original name, has been a trusted supplier of equipment for the construction, underground, and environmental sectors. We are specialists in hydraulic drum cutter attachments with our premier Rockwheel product line, allowing for rapid and precise removal of rock and concrete, while filling the niche between bucket excavation and heavy hammers. These robust tools are extremely versatile and are used in trenching, demolition, tunneling, mining, rock or concrete profiling, and for quarry production work. Nothing cuts rock or concrete with the precision of a Rockwheel. They are also suitable for underwater use. Rockwheel Americas/Alpine's experienced team will always strive to identify the optimum solution for your project, and is always available for technical support, service, and parts. All attachments are available on a rental basis with purchase option. Reach out to us at 814.466.7134 or at info@rockwheelamericas.com. www.rockwheelamericas.com
Page 71
www.mcsmag.com APRIL 202369REPAIR SPALLS AND CRACKS IN 10 MINUTES!ROADWARE 10 MINUTE CONCRETE MENDER™It's thin, it gets in, and it won't pop out!See more at www.roadware.us or call 800-522-7623.Cartridge applied or bucket mixed, Roadware Concrete Repair Products will have your oors ready for trafc, coating, or polishing in about 10 minutes. Any size repair. Blend with sand and pigments to create unlimited colors. Permanent repair.800-522-7623ROADWARE INCORPORATED381 BRIDGEPOINT WAYSOUTH ST PAUL, MN 55075 www.roadware.us
Page 72
The fourth book on your punch list is At First Light. Achieving leadership through the trials and tribulations of WWII, the pages follow the life of Phil Larimore on and off the battlefield, his love for horses, and one special horse that changed his life. BOOK THEMEWalt Larimore would listen to the stories his dad, Phil, would share about his time spent in WWII, fighting, liberating, and surviving. When Walt's dad passed away, a foot locker was found in the attic that contained about 450 letters that Phil has written home to family and friends as well as several history books including the 30th Infantry Regiment and 3rd Infantry Division. Walt looked over all the material, began a journey to travel to the countries to do more research, and began typing up the content that became the book.PERSEVERANCE & HARDSHIPDuring the Southern Front offensive, Phil and his comrades would work at night on the battlefield, bringing food and supplies, defusing bombs, and setting mines. Wires were placed sometimes 10 to 15 feet from the enemy—so close that talking could be heard. At first light, Phil and his buddies would evacuate the battlefield. Phil believed in freedom and liberty. Walt shared in a recent interview, "True heroes are the ones who are buried; the ones that gave all of their tomorrows so that we can even have a day."WHO WAS PHIL?Phil was an only child that grew up in Memphis, Tennessee. He didn't do well in school. Joined the Boy Scouts and learned how to shoot and ride horses. He was sent to military school in Mississippi. He displayed a love of servant leadership. Pearl Harbor happened when he was in his senior year of military school; he later graduated with honors. He was chosen to attend officer candidate school in Fort Benning at the age of 17. He was the youngest-ever graduate of the officer candidate school. His service in WWII was courageous and brave. He was known as a master horseman and was on the Operation Cowboy team to save the Lipizzaner horses along with German soldiers near the end of the war as the Red Army was advancing. The horses were at risk of being slaughtered, eaten, or used for hard labor. The horses were walked out about 120 miles to safety. The U.S. received eight of the Lipizzaners as a thank you. Phil lost his leg to the war. He learned to ride on a horse that bonded with him. THE TAKEAWAYAt First Light is a good read to capture the essence of true leadership. Being a leader in construction, no matter what segment, is best honed from learning from those that have served before you. Learn the traits and characteristics that successful leaders have shown to be effective and true. This book brings to light leadership under adverse conditions and shares the hopes of better days ahead.CLOSING THOUGHTAccording to Walt, the common thread in the book is this: Each of us, in small ways, can do great things if we choose to put all of our heart into it." APRIL 2023 www.mcsmag.com70At First LightWALT LARIMORE AND MIKE YORKEY, AUTHORSWelcome to punch•list, a new column for 2023. Each month I'll be providing a book review in an effort to add good reads to your punch list for the year. for more informationFor more, visit drwalt.com. At First Time is available wherever books or audio books are sold. P•Lpunch•list | 0423
Page 73
Page 74
Page 75