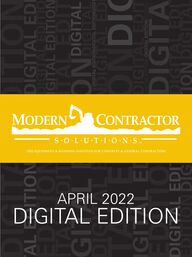 Return to flip book view
Modern Contractor Solutions April 2022
Page 1
APRIL 2022DIGITAL EDITION
Page 2
Explore our Self-Dumping Binsby BoscaroTalk to an Expertbigfootcrane.com• 11 sizes in stock to choose from• Designed for hands-free unloading• Meets or exceeds ASME Standards• Durable powder-coated finish• 100% Welded steel construction• Larger units equipped w/ dual pick points
Page 3
APRIL 2022WWW.MCSMAG.COMGUIDE2022COMPETENT COMPETENT PERSON PERSON OSHA'S DEFINITIONOSHA'S DEFINITIONCONSTRUCTIONCONSTRUCTION SCHEDULING SCHEDULINGTIPS TO IMPROVETIPS TO IMPROVEJOBSITE JOBSITE METRICSMETRICSWEARABLES WORKWEARABLES WORK
Page 4
Page 5
Page 6
Page 7
Page 8
APRIL 2022VOLUME 16 ISSUE 04Inside This IssueInside This IssueIN EVERY ISSUEIndustry News .................................08Coach's Corner ................................8034legal solution Clause Orderorder of clause in contract matters42safety solution Crane Qualifiedevaluation docs must be in ordermanagement solution Competent PersonOSHA's definition22leadershipspecial issue 2022 Products & Services Guidecheck out the companies that are delivering solutions to the construction industryTHE 6 MOST UNUSUAL TOOLS CONTRACTORS WISH THEY HAD Guest Post by Emily NewtonMost contractors keep a few essential tools on hand, however; sometimes the unusual is needed. These are six of the most unusual tools that come in handy for contractors. You won't find them in every contractor's toolkit but they can be extremely valuable in the right circumstances.ON THE BLOGsafety solution WearablesImproving jobsite metrics40management solution Workforce Managementtips to improve scheduling24POSEIDON BARGEChicago Steel floated a Manitowoc MLC 300 Crane on the Poseidon Barge P10-10 ft tall barge sections for the foundation construction of the Bank Of America Building, 110 N Wacker Dr, Chicago, Illinois.Photo courtesy of Poseidon Barge.www.poseidonbarge.com47special focus
Page 9
Page 10
PROJECT PROFILESBuddy Holly Center ............................................................14Hallowed Ground ...............................................................16EQUIPMENT SOLUTIONCresset Chemical ...............................................................20 MANAGEMENT SOLUTIONSCompetent Person .............................................................22Workforce Management: Part 2 of 4 .................................24Stop Work Authority ...........................................................26Family First .........................................................................28Workforce Issues ...............................................................30LEGAL SOLUTIONClause Order ......................................................... 34SOFTWARE SOLUTIONSTo Buy or Rent? ..................................................................36Artificial Intelligence ...........................................................38SAFETY SOLUTIONSWearables ..........................................................................40Crane Qualified...................................................................42MAINTENANCE SOLUTIONProper Technique ...............................................................44PRODUCTS & SERVICES GUIDE ........ 47SUBSCRIPTIONS For all changes, go to:MCSMAG.COMClick the SUBSCRIPTIONS button in the main menuwww.mcsmag.com P.O. Box 660197 | Birmingham, AL 35266DONNA CAMPBELL Editor in Chiefdonna@mcsmag.comMIKE BARKER Publishermike@mcsmag.com RANDY MOON Media Consultantrandym@mcsmag.comMICHAEL FISCHBACH Media Consultantmichael@mcsmag.com JOHN FRIEND Media Consultantjohn@mcsmag.comKEVIN MCCLARAN Media Consultantkevin@mcsmag.comLISA AVERY Art Directorlisa@mcsmag.comSETH SAUNDERS Digital Media Specialist seth@mcsmag.comINGRID BERKY Office Manageringrid@mcsmag.comTIM GARMONCEORUSSELL HADDOCKPresidentCHRIS GARMONCFODONNA CAMPBELLVice President, EditorialTONYA BROWNINGVice PresidentNo part of this publication may be reproduced or transmitted in any form or by any means, electronic or mechanical, including photocopy, recording, or any information storage-and-retrieval system without permission in writing from the publisher. The views expressed by those not on the staff of Modern Contractor Solutions, or who are not specifically employed by Highlands Publications are purely their own. All Industry News material has either been submitted by the subject company or pulled directly from its corporate website, which is assumed to be cleared for release. Comments and submissions are welcome, and can be submitted to donna@mcsmag.com.For reprint information, contact Chris Garmon at chris@mcsmag.com.Canada Post Publication Agreement #41578525. Undeliverables 355 Admiral Drive, Unit 4, Mississauga, ON L5T 2N1Modern Contractor Solutions Magazine@mcsmagModern Contractor SolutionsDonna CampbellEditor in ChiefTRAINING MATTERSWelcome to April! This month features solutions for training and certifications, plus ways to strengthen your leadership skills and understand the legal implications regarding the order of clauses in a construction contract. For importantly, this month's special issue contains the annual Products & Services Guide, a resource for GCs to use throughout the year. From software to building materials to equipment and tools, the Guide includes some of the best companies supporting the construction industry. Being a leader in construction isn't reserved only for those in management. Everyone can play a role in the success of a project, whether in the office or in the field. Recognizing the leaders on your project teams is vital to the overall health of your company. Are you monitoring your team's mental health? Are you providing a safe environment for working and expressing questions, comments, and concerns? I encourage you to add to your weekly intake of leadership insight by reading good books, following influencers in your field on social media, and taking inventory of your strengths and areas for improvement. Make it a habit to learn something new every day, even something small. DO THIS TODAY: If you have not signed up to receive a weekly Leadership Tip from Randy Goruk, leadership development expert, go to his website and register: www.leadersedge360.com. Randy's tips arrive in your inbox once a week and contain valuable information for leadership growth.Enjoy the Products & Services Guide. Cheers, 80COACH'S CORNER Employee Engagement a leader's top priority
Page 11
Page 12
APRIL 2022 www.mcsmag.com8industry newsHYTERA LAUNCHES NEW BD612I DMR RADIO Hytera, a leading global provider of innovative radio communications solutions, launches the BD612i Digital Mobile Radio (DMR) as a replacement for the TC610 analog radio. The TC610 has a large market share in the construction and manufacturing industries due to its reliability, performance, and low cost. The digital BD612i radio is the next generation of TC610 with improved audio quality, longer battery life, improved ruggedness, extended range, and increased channel capacity. For more, visit www.hytera.us. B2W EMPLOYEE APP COMPLEMENTS B2W TRACK B2W Software, a leading provider of software for heavy construction, has expanded its ONE Platform with a new mobile application for reporting labor hours, productivity, equipment utilization, and other data for individual employees working independently. The B2W Employee App is an easy-to-use solution for recording this information on individual work logs. The data from work logs can be combined with similar data for crew-based employees collected with B2W Track electronic field logs. The unified approach gives contractors comprehensive reporting on project status as work is being performed and it streamlines data transfer for payroll processing. Individuals use the B2W Employee App on iOS or Android mobile devices to record hours along with the associated projects and tracking accounts. Employees can also enter hours for equipment used and production quantities for work performed. Notes can be added to the work logs, and configurable fields can be created to meet business-specific requirements like recording weather conditions, safety compliance or other information. For more, visit www.b2wsoftware.com.JLG EXPANDS MANUFACTURING FOOTPRINT INTO TENNESSEEJLG Industries, Inc., an Oshkosh Corporation company and a leading global manufacturer of mobile elevating work platforms (MEWPs) and telehandlers, announces an expansion of its manufacturing footprint into Jefferson City, Tennessee. This new 60,000-sq-ft space, which is being leased from the Oshkosh Defense segment, along with the addition of new lines at the company's Bedford and McConnellsburg, Pennsylvania-based plants, and its Leon, Mexico manufacturing facility, will support the increased production of boom lifts and scissor lifts, as well as both JLG® and SkyTrak® telehandlers. Heading into 2022 with a record $3.6 billion in backlog, combined with unprecedented inflationary pressures, labor OSHA Compliant Guardrail andStair Rail SystemsSafety Boot® Guardrail SystemStringerShield® Stair Rail System1.800.804.4741safetyboot.com• Non-Penetrating Design• Rugged Steel Construction• Exceeds OSHA Regulations• Simple, Aordable & Reusable• Residential, Multi-Family & Commercial Applications• Unique Free Standing Design• Keep Post Attached For Reuse On Next Level Or ProjectFeatured on osha.gov website!
Page 13
Page 14
industry news constraints and supply chain disruptions required JLG to think customers CO2 emissions by an estimated 23 million tons differently about its manufacturing facilities and processes equivalent to taking seven million cars off the road every day Expanding and integrating new state of the art technologies GCP s products align with the GCCA 2050 Cement and Concrete into our plants will allow us to optimize operational capacity to Industry Roadmap for Net Zero Concrete playing a key role in better absorb peaks in demand while improving worker safety reducing CO2 and operational costs in addition to extending and flow management Nerenhausen continues We are the life of concrete structures The company s sustainability investing in the connected and autonomous solutions that will goal is to further enable cement and concrete producers to save make it easier to do business with us 500 million tons of CO2 per year therefore reducing over 1 of JLG s new Tennessee facility and the additional manufacturing man made CO2 emissions For more visit www gcpat com lines in Pennsylvania and Mexico are operational and in the process of ramping up to full capacity For more visit jlg com HCSS HELPS CONTRACTORS DO MORE WITH LESS HCSS a leading provider of innovative software that helps heavy GCP PRODUCTS ADDRESS 60 OF CONCRETE CEMENT ACTIONS FOR NET ZERO FUTURE civil businesses streamline their operations announces HCSS GCP a leading global provider of construction products reveals have to hire as many people When contractors deploy digital product solutions that address more than 60 of actions transformation solutions they become leaders in their space outlined by the Global Cement and Concrete Association GCCA with greater efficiencies and the ability to hire more easily to commit to producing carbon neutral concrete by 2050 With cement accounting for 8 of global man made CO2 solutions can help contractors be more efficient so they don t The 2022 Construction Hiring and Business Outlook Survey from AGC of over 1 000 firms across the U S showed emissions it is paramount to source solutions to improve contractors were optimistic about the market for highway and sustainability GCP recognizes that options must also be cost bridge construction federal construction projects warehouse efficient and offers products that not only reduce carbon construction and healthcare facilities 74 percent of throughout the lifecycle of concrete but reduce costs In 2021 respondents reported their firms would expand headcount GCP s cement additives and concrete admixtures reduced their in 2022 SAPS SAFETY ANCHOR POST SYSTEM SAPS INBOUND SAP42D SAPS inbound SAP42D is Intertek Certified to meet ASIZ359 182017 safety requirements ANCHORAGE CONNECTOR FOR ACTIVE FALL PROTECTION Worker with Fall Arrest Harness Handrail 5000 lbs D Ring 360 Rotation Concrete Overhang Call today for an estimate safetyanchorpost com 800 377 1632 10 APRIL 2022 www mcsmag com
Page 15
Solaris Attachments was established to put you, the equipment & attachment dealer, at the center of what matters to us: Exceptional customer service. With decades in combined experience in manufacturing & distributing innovative, quality attachments, spare parts, engineering services, machining, and custom design, you can expect to speak with an expert about any of our products or services. We will be there for you far beyond the purchase to help you and your customers with all your attachment needs.We offer US-made excavator buckets, grapples, rakes & thumbs at great prices and great lead-times, while maintaining top quality manufacturing & production, backed by a 1-year warranty. HIGH-QUALITY EXCAVATOR BUCKETS, GRAPPLES, RAKES & THUMBS 100% MADE IN THE USA WITH US STEELSeattle • Bellingham • Nashville • Boston(888) 754-3609sales@solarisattachments.comVisit our YouTube channel for helpful & informative videos of our product line.© 2018-2022 Solaris Marketing NW, LLCsolarisattachments.comSolaris Buckets Catalog.indd 2Solaris Buckets Catalog.indd 2 3/11/22 2:01 PM3/11/22 2:01 PMONLY 3-4 WEEKS LEAD TIME ON MOST ITEMS
Page 16
APRIL 2022 www.mcsmag.com12industry newsAccording to the report, "Contractors are taking steps to cope with these challenges. They are adopting new technologies designed to bring efficiencies into their operations." HCSS software helps businesses meet these labor shortages by automating processes that double or triple the productivity of the current workforce. HCSS helps contractors bid more work with HCSS HeavyBid and double the productivity of project managers and foremen with HCSS HeavyJob. For more, visit hcss.com. BUILD YOUR FUTURE LAUNCHES CONSTRUCTION CAREER TOOLNCCER announces the expansion of its Build Your Future (BYF) initiative by launching CareerStarter. This new national program leads individuals beyond career exploration to direct connections with local training programs and entry-level jobs. This will get them started on a construction career pathway that fits their interests. NCCER worked with Futures, Inc. to bring their Pipeline™ technology platform to the construction industry. By utilizing their experience in building talent pipelines for the U.S. military and state-wide organizations, CareerStarter is the first comprehensive program specifically designed to take individuals from curiosity to career in the industry. Many of those considering a career in construction are unsure of where to start. BYF's CareerStarter provides the solution and guides them through the entire process from understanding their options, to finding training and ultimately obtaining their first job in the industry. "Individuals know how to get into college and where to go to apply for jobs online, but they don't know how to get into construction, where to get the necessary training and how to get their first job in the industry," says Jennifer Wilkerson, NCCER vice president of innovation and advancement. "We are proud to provide a program that guides and supports individuals through each step of the process while also helping to build our industry and ultimately our country."This program is completely free of charge to individuals, schools, training programs, and employers thanks to the generosity and commitment to the construction industry by forward-thinking companies like Stanley Black & Decker, a trusted distributor of high-quality industry tools, and Procore Technologies, a leading global provider of construction management software. CareerStarter has launched in Texas and North Carolina and will be available nationwide in the coming months. To check out the platform, visit careerstarter.byf.org. To keep up with which states are next, sign up at www.byf.org/signup.
Page 17
Page 18
APRIL 2022 www.mcsmag.com14project profileBuddy Holly Centerreimagining the High Plains of Texas INTERIOR BUILDING MATERIALSRecognized as "The Hub" of the South Plains, Lubbock, Texas, has stood at the center of the state's economic, agricultural, and technological development for more than 100 years. Already home to Texas Tech University and a thriving healthcare industry, Lubbock entered its next growth phase in the mid-1990s when it unveiled an ambitious redevelopment program to expand the region's quality of life through capital investment and the creation of high-quality jobs.VENUE ADDS TO GROWTHThe next step of this aggressive plan was realized in January 2021 with the grand opening of The Buddy Holly Hall of Performing Arts and Sciences, a world-class, $158 million performing arts theater in the heart of downtown Lubbock's thriving arts district. Named for legendary singer-songwriter Buddy Holly and completely privately funded by LEPPA, the performing arts campus is now the home to a 2,200-seat main theater, 420-seat studio theater, 6,000-square-foot multi-purpose room, bistro café, Ballet Lubbock, and the Lubbock Independent School District's (LISD) fine arts program. "The City of Lubbock wanted a premier venue that attracted great acts and talent," said Amber Richardson, head of interiors at MWM Architects, Inc. in Lubbock. "Five hours from Dallas, Lubbock's goal is to become the region's premier venue for spectacular entertainment, while revitalizing the district with new business and bolstering the area's shops, restaurants and professional offices."Located within the High Plains of Texas, Buddy Holly Hall was inspired by the region's finely-textured sand terrain, short-native grass areas, mesquite shrubs, yucca, and herbs. "The facility's design was directly influenced by the magnificent landscape that surrounds the Llano Estacado," explains Richardson. "The Hall includes bright, open spaces offering extensive views of the neighboring vistas. All of our colors mirror the terrain's rich pastel colors and deep earth tones to recreate the beautiful strata of earth that typify the High Plains. Creamy bands of white, red, blue, and purple permeate the entire theater to literally recreate the area's scenic splendor."PARTITIONS BLEND PERFECTLYThe area's look and feel then extended from the Hall's studios, theaters and lobbies to each of the center's 25 restrooms, where Scranton Products' Hiny Hiders® Partitions blended perfectly with the light-colored tile, flooring and countertops. In fact, the orange peel texture and linen-colored HDPE partitions were used in 100 stalls throughout the facility. "Other partitions were considered, but everyone ultimately decided on the Hiny Hiders Partitions due to their resilient HDPE design," adds John
Page 19
www.mcsmag.com APRIL 202215Crumpler, president of Sterling Building Materials in Lubbock. "We've supplied the construction industry in West Texas with architectural building specialties since 1958. And over the years, the community has continually moved away from metal partitions due to their propensity to rust and dent—problems that the Hiny Hiders Partitions simply don't have."A leading provider of unique and attractive restroom partitions for the past 30 years, Scranton Products offers a variety of HDPE products in a wide range of colors and textures. With a new world view of health and safety, Scranton Products' Hiny Hiders Partitions are also naturally germ-resistant and easy to clean. Unlike metal partitions which are subject to rust and can harbor germs, Hiny Hiders Partitions offer superior resistance to impact, graffiti, corrosion, mildew, and moisture. BENEFIT FOR INTERIOR SPACESSince their introduction, Hiny Hiders Partitions have also become increasingly popular in the institutional marketplace due to their ability to create unique, attractive interior spaces in floor mounted overhead-braced, ceiling-hung or floor-to-ceiling configurations. Another benefit of their HDPE design is the ability to reduce regular maintenance and long-term replacement costs given that general soiling can be easily removed with mild cleaner and water. "The Lubbock community has dreamed of a performing arts center for more than 30 years," says Michelle Stephens, marketing director of the Lubbock Entertainment/ Performing Arts Association (LEPPA) in ConstructionEquipmentGuide.com. "It will change the face of entertainment and visual and performing arts education across the South Plains. Having a world-class theatre in Lubbock will allow Buddy Holly Hall to bring in top Broadway shows, entertainers and performers, comedians and musicians from all over the world."CLOSING THOUGHT"Hiny Hiders Partitions were the perfect complement to our designs," says Richardson. "We chose them for their durability and timeless, classic look. We expect they'll be a major part of the Buddy Holly Hall for years to come." for more informationWith more than 30 years of experience, Scranton Products is the industry leader in plastic bathroom partitions and lockers. Endless design options and an array of designer colors and textures provide confidence and elegant style in every project, creating a lasting impression. Proudly made in the USA and constructed from premium-grade solid plastic, Scranton Products Partitions offer unmatched durability, while withstanding impact, corrosion, graffiti, and mildew. Backed by sustainable technologies and industry-leading warranties, you are investing in peace of mind. For more, visit www.scrantonproducts.com or call 800.445.5148.
Page 20
APRIL 2022 www.mcsmag.com16project profileArchitecture is an experience, one of time and place, purpose, and point of view. At the United States Air Force Academy, just outside of Colorado Springs, Colorado, the architectural experience is one of exceptional order as the fundamental footfall on a path to excellence. Perhaps the finest collection of Mid-Century Modern architecture anywhere in America, the Air Force Academy exudes a full-bodied presence of place derived from a signature aesthetic. Designed by Walter Netsch of famed architectural practice Skidmore, Owings, & Merrill, the Academy's aesthetic takes root in Netsch's Field Theory. Using 7-foot increments and multiples thereof, the Academy is laid out on a 28-foot grid, which organizes every aspect of campus life from the building forms to the plazas and everything in between.ARCHITECTURAL LEGACY"Netsch and the team at SOM approached the Academy's design with a holistic sense of perspective that wasn't just about the architecture or the site planning, but the landscape, the interiors, and the furnishings," says Duane Boyle, the Air Force Academy's campus architect. Since 1983, when the Academy hired him to manage the realization of SOM's updated campus master plan, Boyle has devoted his entire career to preserving and protecting the campus' architectural legacy. The most hallowed ground on the campus is the 27-acre Cadet Area, home to the iconic cadet chapel and the equally magnificent, though less well-known, Air Garden."Renowned landscape architect, Dan Kiley, designed the Air Garden as a horizontal counterpart to the soaring spires of the chapel," continues Boyle. Intended to be experienced as much from the air as from the ground, Kiley's Hallowed Groundintegrity first, service before self, excellence in all we doAIR GARDENBy Sean O'KeefePhoto credit Air Force Academy FoundationPhoto credit Colorado Hardscapes
Page 21
www.mcsmag.com APRIL 202217composition for the Air Garden sought to reveal a sense of movement on the land, while embracing the organic order and balance in concert with the site's vertical elements. Made of two fountain pools and thirteen interconnected concrete basins, the Air Garden was an essential part of the site's organizational order and central to the campus experience from 1954 until the early 1970s.The Air Garden originally consisted of two large fountains connected by an orderly grid of 13 pools and 20 bridges stretching across the site. The interconnected pools were all filtered by a single chorine-based unit, which meant that when maintenance was needed, all 600,000 gallons of water had to be drained. The structure was plagued by the constraints of concrete construction at the time it was built and while operational, the Air Garden underwent many ad hoc rehabilitations of random piping, plumbing, and band-aid fixes."Unfortunately, though the Air Garden was a visually spectacular element on campus, from a maintenance standpoint, it was troublesome for the Academy," continues Boyle. "Eventually, the decision was made to decommission the pools and fill them in with soil and grass."RETURN TO GLORYThough the concrete rims of the pools remained visibly distinct, for the better part of 50 years, the elegant Air Garden's fluid purpose was obscured in the campus experience. In 2018, as part of a larger campus restoration plan, the Academy decided to unearth the long-entombed Air Garden and return it to glory. Under the purview of general contractor GE Johnson Construction Company, the architectural concrete expertise of Colorado Hardscapes was engaged to excavate and rehabilitate the Air Garden in a design-build delivery of many unknowable complexities."Working on the Air Garden was an incredible experience for everyone involved," says Torrey DeMasters, president of Colorado Hardscapes. "Part architecture and part puzzle, the challenges of this site and building solution were immense."The first step in solution building was to reconfigure the Air Garden from a single body of water to 15 individually filtrated pools. The entire mechanical system was redesigned, and the below-grade vaults were expanded to create a storage system for filtered water. The original cast-iron piping and drains were abandoned, leaving only the fountain and pool shells salvageable. The second step in solution building was redesigning the concrete walkway surrounding the pools. "The original 1950s design called for the walkways to be a white marble but that proved to be cost-prohibitive," explains Boyle. Instead, using a blend of Wisconsin sand, Texas aggregate, and Utah glass,
Page 22
APRIL 2022 www.mcsmag.com18project profileColorado Hardscapes mocked up a sparkling white, exposed concrete finish. The improved concrete construction practices resulted in a much higher psi than the original concrete and now promises a long, low-maintenance lifespan going forward.LAYERS OF SECURITYAdding to the complexity, the Air Force Academy is surrounded by several layers of security, with rigid entrance inspections potentially delaying concrete trucks beyond the mix-to-discharge limit of 90 minutes. Colorado Hardscapes worked with the Academy to establish a special inspection line for concrete trucks and added a hydrational stabilizer to the concrete to delay the set process and extend mix time. Additionally, using the white mix as a surface application allowed Colorado Hardscapes to batch-mix the topping materials to eliminate the risk of losing any of the relatively expensive, specialized concrete to security delays.Product innovations led to application innovations, compelling Colorado Hardscapes to devise a special system to efficiently mix and apply the topping slab across the complex configuration of pools and walkways."We combined a tow-behind mortar mixer and a fork-lift attachment to create a tool that mixes the materials away from the work," says DeMasters. "This allowed us to boom the product out over the pools to be poured directly from above."In addition to setting the topping slab on the 700-foot-long Air Garden's horizontal surfaces, the topping product also had to be vertically applied to 6,500 linear feet of edge facing ranging from 6 inches to 18 inches tall along the up-right surfaces of every pool, bridge, and sunken landscape area. Facing these slow-setting surfaces required developing new techniques of both edge forming and topping placement.CLOSING THOUGHTFunded by donations made by the USAFA classes of 1972, 1975, and 1976, the Air Garden's return to glory is an essential step in realizing the grand vision of the campus as intended. Modern materials, methodologies, and technologies were matched by artisanal craftsmanship in concrete pouring and finishing to reinvigorate this elaborate water feature as a vital touchstone of cadet life. After improving the structural integrity, realigning the layout, and reducing future maintenance requirements, the Air Garden has finally been restored as the inspirational landscape it was meant to be. about the authorSean O'Keefe is an architecture and construction writer (www.sokpr.com) who crafts stories and content based on 20 years of experience and a keen interest in the people who make projects happen. You can reach him at sean@sokpr.com. Photo credit Colorado HardscapesPhoto credit Air Force Academy Foundation
Page 23
Page 24
Page 25
Page 26
APRIL 2022 www.mcsmag.com20equipment solution©Steven Cukrov | Dreamstime.com ©Philippilosian | Dreamstime.comequipmemt solutionManaging cost and supply challenges while producing a quality product is especially difficult today for the concrete industry. Cresset Chemical Company has a solution in its newest innovation for concrete forming and casting—Platinum® 727, a versatile, low-cost synthetic release agent suitable for all types of form and formliner materials used in site cast and precast projects from high-end architectural to infrastructure, above and below ground.PLATINUM LINE Powered by Cresset's proprietary, economical and eco-friendly Platinum technology, this line of low-odor synthetic release agents delivers superior concrete surfaces, holding even fine detail. Cresset's Platinum line of release agents complies with the EPA and OSHA guidelines and rules for low VOC use and worker exposure including California's strict South Coast Air Quality Management District (SCAQMD) requirements. All of Cresset's release agents are SCAQMD and Prop 65 compliant; Prop 65 is a California law that prohibits the use of cancer-causing ingredients. As a custom-engineered synthetic product, Cresset Platinum can be applied at a lower volume than oil-based products for a lower cost with better control and better results. It is formulated to perform well in temperature extremes, and for use with all mixes including UHPC, superplasticizer, and self-consolidating concrete (SCC) mixes. WORLD-CLASS RESULTSCresset Platinum 880-VOC was selected as the release agent used in the construction of the new SoFi Stadium in Inglewood, California, site of Super Bowl LVI and home to the NFL Los Angeles Rams and Los Angeles Chargers football teams, along with the annual NCAA LA Bowl college football game.SOFI Stadium is an engineering marvel. The steel and concrete bowl structure uses 37 earthquake-resistant blade columns rising as high as 100 feet from grade. These hold up the 13-acre stadium roof, which is open on three sides. Every column has two anchors that overlap each other to form a giant concrete web supporting the one-million-square-foot roof that weighs more than 5 million pounds. 3,300 slabs of concrete form the stadium stands. The stadium has won a number of industry awards for its design, including "Outstanding Architectural Engineering Project" of 2021 by the American Society of Civil Engineers and "Stadium of the Year" in StadiumDB's Jury Award—the first time in history that a stadium from the USA has been named "Stadium of the Year".Cresset products have been used in the construction of Apple Headquarters, Cupertino, California; One World Trade Center, New York; Natchez Trace Bridge (first double arch precast bridge in North America), Tennessee; and many other high-profile projects.75+ YEAR HISTORY Innovation was at the start of Cresset Chemical Company in 1946. The founders chose the name "cresset" to represent their new company. As a cresset is a torch that lights the way, the founders wanted the firm to lead with quality and provide value for customers, to be innovative and proactive.The new company launched with a pH-neutral hand cleaner developed by co-founder Dr. Joseph A. Baty, a chemist who saw laborers' hands ravaged by working with concrete. It is still sold and known today as Sol-Zol®. Cresset's first product continues to clean and soothe work-sore hands. This was the start of Cresset manufacturing a range of specific purpose products Cresset ChemicalCresset Chemicaladvancing concrete construction INNOVATIVE SOLUTIONS
Page 27
www.mcsmag.com APRIL 202221CUTTING EDGE IMPALEMENT PROTECTIONCARNIE CAP is the most effective way to cap exposed rebar while keeping your workers safe and on the job.National OSHA Compliant • CAL-OSHA ApprovedPatent #5826398, 6073415ORDER TODAY!(888) 743-7725 www.carniecap.comWORKS IN HORIZONTAL, VERTICAL & INCLINATIONAPPLICATIONS✓ ASSEMBLE WITH 2X4 OR 2X6 LUMBER ALREADY ON SITE✓ SAFELY DISTRIBUTES WEIGHT ACROSS ENTIRE SYSTEM✓ NO MORE CAPPING EVERYREBAR!✓ developed for the unique needs of the concrete industry.The first Earth Day on April 22, 1970, marked a turning point for environmentalism. Cresset used that decade to formulate construction chemicals made with 100% virgin ingredients that didn't pollute air or waterways.COMMITTED TO TOMORROWThat commitment to a sustainable future continues today. Cresset manufactures and delivers a range of specific purpose products including release agents, form treatments, cures, seals, and application equipment developed to meet the demand for supreme surface finishes, while using environmentally friendly products and processes to meet escalating regulations.In addition to the Platinum synthetic release agents, Cresset offers water-based and vegetable-based release agents with virtually no VOC content. Crete-Lease® Bio-Tru® All Xtra is an architectural quality bio-based release agent certified Bio-Preferred by USDA.Spatter-Cote®, another essential product in Cresset's offerings for concrete construction, protects all the tools, equipment, and vehicles used on a jobsite from concrete spatter and makes cleanup easy. A thin layer of Spatter-Cote sprayed on any clean surface before the job allows an easy hose-off of any residual concrete afterward. Spatter-Cote can save hours of cleanup time.Cresset is a member of PCI, NPCA, APA, ACI, CPCI, and CSI, working with concrete producers, planners, and distribution partners in providing consultation and progressive solutions for their concrete construction projects.Cresset Chemical formulations and equipment are available from a wide range of authorized distributors in North America. Cresset provides a range of support options for its chemical products and application equipment ranging from training, in-plant technical support, phone support, and its CCS (Cresset Concrete Standards) booklet—a photographic guide to a preferred visual impact of concrete surfaces. This guide is helpful in getting key stakeholders (owner, architect/engineer, contractor) to understand and agree on the desired surface result.CLOSING THOUGHTProfessionals in the concrete industry can work on continuing education and professional training requirements by taking the Cresset Chemical course available at no charge at Hanley Wood University. On YouTube, free training videos in English and Spanish are on the Cresset Chemical channel. for more informationFor more information about Cresset Platinum® 727 and the Platinum® release agent line, visit www.cresset.com, or call 800.367.2020 (USA & Canada).
Page 28
APRIL 2022 www.mcsmag.com22management solutionOne somewhat confusing term that frequently shows up in OSHA regulations is that of the "competent person." Although competent person requirements show up in quite a few industry-sector specific OSHA standards, it tends to receive a lot of attention in the construction industry. This is likely due to the sheer size and prevalence of the construction industry in the United States and the attention the industry receives from OSHA. Also, much of the conversation regarding the term "competent person" is tied to its definition within the OSHA standards, and whether the individuals they have designated as competent persons would meet OSHA's expectations. THE MEANING OF COMPETENTAccording to OSHA's construction standard 29 CFR 1926.32(f), a "competent person" means "one who is capable of identifying existing and predictable hazards in the surroundings or working conditions which are unsanitary, hazardous, or dangerous to employees, and who has authorization to take prompt corrective measures to eliminate them." Based on this definition, it is not clear whether this person would require a great deal of specialized training or education for many construction scenarios. It would seem that having a supervisor who has years of experience working on a jobsite, for instance, might be sufficient to ensure this requirement was met. In many cases, this would be a reasonable assumption; however, even basic construction site operations can be complex when it comes to identifying hazards that could lead to a jobsite injury or illness. It is the employer's responsibility to exercise a degree of reasonable diligence to ensure the competent person is up to the task. UNDERSTANDING THE ROLEAnother aspect of OSHA's competent person requirement is understanding the role of the individual who is given this designation. According to OSHA's construction standard 29 CFR 1926.20, employers are required to "initiate and maintain" programs to prevent jobsite accidents, and to implement accident-prevention programs. These programs are required to "provide for frequent and regular inspections of the jobsites, materials, and equipment to be made by competent persons designated by the employers." This basically means that a primary job of the individual at the worksite who is designated to be the competent person is to keep an eye on the worksite to ensure any hazards identified by this highly experienced and trained individual are promptly addressed. A key aspect of this function that is not explicitly stated is that this individual should be able to recognize those hazards that could be reasonably anticipated to exist through reasonable diligence. Another way of stating this is that the competent person needs to know what he or she is doing as it relates to identifying worksite hazards and they need to exercise diligence in inspecting the worksite at a frequency appropriate to address changing worksite conditions. REAL-WORLD EXAMPLESWhile working as an OSHA compliance officer, I came across a lot of unexpected contributing causes to serious accidents. In one case, an asphalt roller started to roll down a fairly steep hill and the breaking mechanism did not engage properly, causing it to roll at an uncontrolled speed into a culvert. Inspection of the braking mechanism indicated the brakes should have worked properly; however, there was a can of starter fluid in the cab of vehicle that was unrestrained, and it was suspected the can may have rolled behind the brake pedal. In yet another example, pilings were being driven for a highway bridge construction project and the vibration from the pile driver shook loose a large clod of soil from between old pilings from the pre-existing bridge that were going to be reused for the new bridge. This large clod of soil struck one of the site employees causing serious injuries. Competent Persona closer look at OSHA's definition EDUCATION MATTERSBy Dan Corcoran
Page 29
www.mcsmag.com APRIL 202223These scenarios demonstrate how difficult it can be to identify and predict potential contributing causes to serious accidents. One has to wonder if even the most highly trained and experienced individual would be able to spot less obvious hazards such as those described above in order to eliminate them. That is to say, how can an employer ensure their designated competent person has the background and education necessary to succeed at his or her function? REASONABLE DILIGENCEThe answer to this question goes back to the concept of the exercise of reasonable diligence on the part of the employer. It is important that the employer is confident that the competent person is familiar with the hazards inherent in the jobs performed at the worksite. This familiarity might come from a combination of experience, training, and education. Individuals who hold the competent person designation frequently have a great deal of construction experience. There are also training opportunities for employers to pursue, such as continuing education provided by OSHA Training Institute (OTI) education centers which provide courses on construction-related OSHA standards in general, and also provide more specific courses that focus in on particular construction-related operations and hazards such as scaffold erection, trenching and excavation, and fall protection. Taking this a step further, employers could consider assisting their employees who have an interest in construction safety pursue formal educational goals. In fact, there are affordable, online degree programs offered by universities such as Columbia Southern University in the field of occupational safety and health. CSU's Bachelor of Science in occupational safety and health even has a construction safety concentration. CLOSING THOUGHTThe experience and educational background of those designated to be competent persons at construction sites may vary greatly from site to site. There is no set formula for any given employer to follow to ensure their designated person is worthy of the designation. All an employer can really do is select someone who is capable and experienced in the work being performed and to provide that individual with the training and know-how to fulfill that role. about the authorDan Corcoran, Ph.D., CIH, CSP®, is the academic program director for Columbia Southern University's occupational safety and health and environmental management programs. Prior to working at CSU, Corcoran worked for the Occupational Safety and Health Administration (OSHA) for approximately 15 years.
Page 30
APRIL 2022 www.mcsmag.com24management solutionThere is no such thing as the perfect schedule in construction. Unless you can see into the future and predict everything from sick days to the weather, there will always be some guesswork to scheduling jobs and worksite crews. But that doesn't mean your schedules can't get better. There is always room for improvement. While we can't give you future vision, we can give you a few tips on making better scheduling decisions.VISIBILITY IS KEYYou can't complete a puzzle if you don't have all the pieces. The same can be said of scheduling. You can't build an accurate schedule if you don't know the statuses of your workers, equipment, and materials. Without this information, you can easily double-book heavy equipment, overestimate labor needs, or stall a jobsite altogether. Knowing when assets are available, how many there are and the amount needed are key to setting up a reasonable schedule. This is where efficient workforce and equipment documentation comes into play.STAY FLEXIBLEChanges are going to happen; it's how you react that makes the difference. The ability to adapt is crucial to mitigating delays and budget increases when something unexpected occurs. Weather is a prime example. A sudden downpour may mean certain tasks can't be completed safely, but that doesn't mean other tasks can't be done. Sure, there will still be work to make up for, but some progress is better than none. Recording adjustments like this is just as important as making them. As we all know, even a slight delay can lead to bigger problems further down the line. If a task was not completed on time, the office needs to be made aware immediately to weave it back into the schedule with as little disruption as possible. Additionally, having documentation on hand to demonstrate to project owners what happened and what was done to mitigate damage is critical—especially if a project faces serious complications. It illustrates transparency and thoroughness, which go a long way in building client relationships.ZOOM OUTMost construction companies have more than one active jobsite at a time, which needs to be accounted for when scheduling. You need to take a company-wide view to make the best use of all your resources. Look for peaks and lulls in job activity to maximize worker and equipment use. When you have the full scope of how much work needs to be done and how much availability you have within your company, you can better estimate when to reach out to subcontractors or pull in additional resources.TECHNOLOGY CAN HELPMany moving pieces go into scheduling, and it's one of the most difficult aspects of any job. But the right construction management software makes it easier in several ways:• Centralizes data in one location, including worker certifications, equipment manifests, maintenance reports, and other pertinent data.• Visualizes complex data to give a clearer picture of what assets are available, allowing more accurate workload estimates.• Mobile compatibility allows for instant schedule confirmation and keeps workers up to date in real time. CLOSING THOUGHTYou may not be able to predict all of the changes on a worksite, but you can be better prepared for them by having greater visibility into your assets, taking a whole-company view of your jobsite needs and reallocating tasks when plans are disrupted. management solutionWorkforce Managementtips to improve construction scheduling DO WHAT MATTERSBy Fred HaynesPART 2 OF 4about the authorFred Haynes is a solutions engineer at Assignar. For more, visit www.assignar.com.
Page 31
Page 32
APRIL 2022 www.mcsmag.com26management solutionWe hear from clients that they have given employees stop work authority. If they see something unsafe or are unsure about something they see as dangerous, they can stop work. But will employees actually stop the work? Our professional observations say no, they won't. Using the stop work authority means disagreeing with leadership and their peers, which is risky and could be embarrassing.DOES WORK STOP?Whether people use the stop work authority or disagree with leadership is largely based on corporate and jobsite culture. The actions of leadership at all levels determines the culture. To reach zero incidents, those actions need to model a safer culture, not just physically but also mentally.For people to step up and stop work, they need to believe two things: 1) they won't lose their job, and 2) no one will shame them. The following interactive experiment we frequently use demonstrates how a company's culture affects employee response to disagreeing with leadership. It's also a great example of a leader using the moment to begin to create change.Martin, the CEO of a large multi-national construction company, asked us to do leadership training for 50 supervisors and managers. But first, he wanted us to spend time with the 12-person executive team.Before beginning, we asked Martin to pick half the executives, give them these instructions, and swear them to secrecy."At some point in the session, we'll show a slide with four vertical bars. There will be three bars on the right, labeled A, B, and C. Each bar will be a different height. On the left will be the fourth bar marked Target, and it will clearly be the same height as B.When we ask which bar the target matches, your answer is A. No matter what we say, no matter what we do, your answer is A. Do NOT tell anyone else about this."We started with Martin, who answered, "A." One by one, we chose the people in on the secret. Each responded A. As the exercise unfolded, the body language of those not in on the secret was telling—they seemed confused. While many of them likely disagreed with the answer, and some may have been wondering whether their leaders had completely lost their minds, each of them answered "A" when asked for their opinion. Why? Because the leaders said it was A. Leaders are leaders because they are always right. So, if the smartest, most powerful people in the room were saying the correct answer is A, then it must be. Even if it isn't.OVERCOMING FEAR We got to the eleventh team member, Chris. He'd been sweating, shifting in his seat, and even snapped his pencil in half. Chris stammered, "I might get fired for saying this, but I disagree with you. The answer is not A. You almost had me believing it is. But it is not A. It is B."The group relaxed when we let them in on the experiment. We repeated the exercise the next day with the rest of the managers and supervisors, 63 people total. This time the entire executive team was to answer 'A' as we called on them. The slide went up on the screen. We asked which bar matched the target. Martin answered, "A," and then the next executive answered "A" in turn. After they finished, we opened the question up to the room. People were staring at the slide in disbelief. They didn't look at the leadership, and they didn't look at their co-workers. They looked at us with eyes that asked, "Are you freaking kidding me right now?"Stop Work AuthorityStop Work Authorityempowerment has its challengesEMPLOYEE MATTERSBy Bart Gragg and Mary Lee Shalvoy
Page 33
www.mcsmag.com APRIL 202227REPAIR SPALLS AND CRACKS IN 10 MINUTES!ROADWARE 10 MINUTE CONCRETE MENDER™It's thin, it gets in, and it won't pop out!See more at www.roadware.us or call 800-522-7623.Cartridge applied or bucket mixed, Roadware Concrete Repair Products will have your oors ready for trafc, coating, or polishing in about 10 minutes. Any size repair. Blend with sand and pigments to create unlimited colors. Permanent repair.800-522-7623ROADWARE INCORPORATED381 BRIDGEPOINT WAYSOUTH ST PAUL, MN 55075 www.roadware.usThey stared at the slide, willing it to tell the truth. No one spoke up, so we chose people at random. All agreed that 'A' was the correct answer. Somewhere around 6 minutes into this, a young woman slowly raised her hand.She raised her chin, stood up, squared her shoulders, and said, "I might get fired for saying this, but I disagree with you. The answer is B."At that moment Martin, the CEO, stands up and says, "You're right! It is not A. It is B!" Then change began to happen. He says, "The point of this exercise is that even when leadership agrees on something, we can all be wrong. We need you to step up and disagree with us if you see something we don't!"The key point is that people were afraid of losing their jobs even when the topic was nothing important. All we were talking about was the length of four bars on a slide, not something that could affect safety, productivity, or the bottom line.EMPOWERING WORKERS In another example of how culture affects safety, Brody was a newly certified crane operator. He was lifting a worker in a personnel basket to attach a piece of equipment to an oil wellhead. The superintendent wanted him to move more quickly. Brody refused because it was not the safe thing to do.Afterwards the superintendent acknowledged that Brody did the right thing. However, in a safety culture that had been nurtured to truly empower workers, the superintendent would not have questioned the pace of work in the first place.CLOSING THOUGHTTeaching safety culture is not something that is accomplished in a Toolbox Talk. Neither can the concept of stop work authority be fully accepted unless the corporate and jobsite culture supports it. In successful cultures, this mentality is integral to how teams approach each job and is supported and modeled by leadership from the top down. about the authorsBart Gragg is president of Blue Collar University® and a senior advisor on leadership to TradeUp. He works with business leaders, managers, and supervisors to plan and work more effectively with each other. Bart is an advisor, trainer, barrel racer, and photographer. He is the author of the book "They're Managers - Now What?" and speaks to audiences at all levels about leadership and safety. For more on engaging Bart as a speaker or advisor, visit www.bluecollaru.com, or call 925.354.0277. Mary Lee Shalvoy, managing partner with Okos Partners LLC, is a business, training, and marketing consultant. She also acts as senior advisor for TradeUp, a skilled trades workforce development program. For more, visit okospartners.com or tradeupworks.com.
Page 34
APRIL 2022 www.mcsmag.com28management solutionAnyone who has founded a construction business knows that success is often a slow climb, involving years of relationship-building and developing a reputation for high-quality work.Transferring a family business to the next generation also isn't the kind of thing owners should be rushing through—at least if they care about the future of what they've built. And yet, many delay the process of establishing a succession plan until they're almost ready to retire. A recent survey of construction owners revealed that about half of the respondents didn't have a plan to transfer their businesses. With the youngest baby boomers soon to reach retirement age, time is running out for many to put a plan in place so they can retire on time.While many owners do understand this urgency, they don't always know what their first step should be, or how to properly organize the succession process. If you're among this group, here's a general overview of where to start with building a plan to transfer ownership of your business.A FAMILY CONVERSATIONIt's the dream of many parents to have an adult child or children take over the family business. But the transition to a second generation can be a rocky one, and historically, only about 30% of those businesses end up surviving. As the first step of building a succession plan, owners should consider that reality and decide whether passing their business down to a son, daughter, or other family member is truly the best thing for everyone.Talk candidly with your children and make sure that you all want the same thing for the business. If your kids have other ambitions in life, they shouldn't feel pressured to take over what you've started. If they want to pursue other career goals, there are other options that can be explored for your business, such as a sale to your employees or an outside buyer.IRON OUT SQUABBLESAnother possible scenario is that several family members want to run the business but have incompatible long-term visions for it. Don't write off these differences of opinion as ordinary family squabbles. It can be stressful to run a business, and if a family member is nursing a grudge or feels that their concerns aren't being heard, it can lead to serious family dysfunction both on and off the job.To alleviate this issue, it helps for family members to set some ground rules for working together, often called a family pact. This pact isn't a legally binding document, but it does lay out some general guidelines of decorum and conflict resolution that everyone agrees to adhere to. Taking the time to work out these details can make a big difference in maintaining a harmonious workplace while preserving cherished family relationships.TO SELL OR GIFT?Once you've gauged your family members' interest and explored the realities of working together, the next step is to figure out the practical details of transferring your business. Namely, do you want to sell it or give it as a gift? Many owners opt to sell simply because they need the money to retire. But in contrast to a third-party sale, younger family members often don't have the means to buy a business outright or the credit history needed to acquire a loan. One possible solution is to structure the payments as a monthly series, which provides a stream of ongoing income for the seller while being more manageable for the buyer.However, depending on the circumstances, gifting a business to a family member might be a more sensible choice. If a business is in debt, for instance, a gift might provide a way for the owner to step away from that responsibility and let the next generation handle it. (Naturally, it's important to be transparent with family members about what they'll be taking on.)Once you decide on the structure of the ownership transfer, you'll want to formalize it with a business ownership agreement. The main benefit of doing this is that it will set a roadmap and timetable for handing over various Family Firsttransferring your business to the next generationSUCCESSION MATTERSBy Frank Williamson
Page 35
www.mcsmag.com APRIL 202229management responsibilities. This can help alleviate confusion and hard feelings while gradually giving your successors an increased level of autonomy over major business decisions. It can also be helpful on an emotional level to see a full transition plan laid out, so you can begin preparing to step away.TRAIN YOUR SUCCESSORS The most time-consuming part of an intergenerational transition is preparing your successors to take over the job. As the founder of your construction business, you might wear several hats, from being the public face of the company to managing the daily work on individual projects. Depending on the personalities of your family members, some might be better suited for some roles than others. Once you've sorted out who will be doing what in the new management structure, take a close look at any knowledge or experience gaps and start tackling them systematically.Construction companies are a little different than other types of companies in that their income tends to be less predictable and more project-driven. A company's profitability grows along with its reputation as it builds a large base of client relationships, but individually, those relationships usually result in infrequent work. In a generational transfer, it's crucial to keep those relationships strong by involving your successors as early as possible in client interactions. Doing this will go a long way toward smoothing the transition when you eventually exit the company.INVOLVING PROFESSIONALSThe complexity of a business transfer, whether to another family member or an outside buyer, usually necessitates the help of an objective expert who can ensure that key details aren't glossed over. Depending on your business's legal structure, there might also be specific requirements or paperwork that an experienced professional will also be able to assist with.CLOSING THOUGHTBusiness owners should remember that succession planning is not a 100-yard dash; it's a marathon. The more time you have to contemplate and execute a plan, the less stressful the experience is likely to be. Don't delay getting the ball rolling by having initial conversations with your family members. Years from now, when you watch your business continue successfully into a new generation, you'll be glad you did. about the authorFrank Williamson is the CEO of Tennessee-based Oaklyn Consulting, a consulting firm that helps closely held businesses and nonprofits with mergers, acquisitions, capital-raising, investor relations, succession, and other strategic corporate finance decisions.
Page 36
APRIL 2022 www.mcsmag.com30management solutionWorkforce IssuesWorkforce Issuesthoughts on labor and infrastructure planEXPERT Q&AMatt Fairhurst is the cofounder and CEO of Skedulo, a leading mobile workforce management platform. Matt's background is in user experience and user interface design, and, from this, he has a passion for building great products. He spends his time working between the global headquarters in San Francisco and the engineering/product development headquarters in Brisbane, Australia.When Biden signed the infrastructure bill into law, questions remained about the current state of construction industry, including the labor shortage. In this Q&A with Matt, some of those questions are answered.How is the labor shortage impacting the manufacturing and construction industry?FAIRHURST: During the pandemic, the power has shifted from consumers and businesses to employees. As a result, construction and manufacturing employees have more options today than ever had before. They're likely making more money, and have multiple opportunities to change employers or up-level roles altogether. While this is great for workers, it has wreaked havoc on businesses. The shift in power has ultimately made businesses reevaluate the importance of their laborers. What challenges do industries with a high volume of deskless workers, including the construction and manufacturing industry, face? How have those challenges been exacerbated by the ongoing shortage of skilled labor? FAIRHURST: Some of the biggest challenges deskless workers face because they don't sit in a traditional office setting include aging technology, a lack of autonomy, and inefficiencies that plague their workday. Simply put, being remote and on the go each day is hard. The challenges have become even harder during the pandemic as remote workers have faced security and health concerns. One advantage of the pandemic and the great resignation is how companies have been FORCED to change and transform their operations. Digital transformation projects once stuck in skunkworks labs have been prioritized and accelerated, and the breakthrough of these projects have been a silver lining.How will President Biden's passed infrastructure bill impact construction and manufacturing workforces? What will deskless workforces need in order to make the most of the massive spending plan? FAIRHURST: The infrastructure bill will add hundreds of new projects in every major city and region nationwide. Labor is at the center of every infrastructure effort, and getting the work done will require the coordination of thousands of deskless workers in the field. Projects large and small will inevitably need help given the labor shortage. A common adage is that the success of any project comes down to people, process, and technology. Ensuring deskless workers complete infrastructure projects successfully is no different. A key priority will be ensuring the right information is available to deskless workers whenever they need it, in the
Page 37
www.mcsmag.com APRIL 202231palm of their hand. Having a reliable, flexible application that can adapt the unique requirements of individual workers is key.How can construction and manufacturing companies ensure they are making the most of their workers? How can manufacturing and construction companies best operate and manage their deskless workforce to get these projects complete? FAIRHURST: Empowerment and autonomy are very popular themes in today's field service and remote worker companies. To compete, companies are prioritizing the needs of their workers, from flex time and benefits to wellness programs and time off. The best companies put employees at the center of the business, ensuring their needs are met and responding to their evolving needs. The days of an unlimited supply of workers has ended.What role can technology play in boosting productivity, efficiency and employee wellness? How can technology be part of the solution to the workforce shortage? FAIRHURST: Deployed effectively, technology can allow organizations to do more with less. Many companies can see a 20-50% increase in productivity with the right tools. Optimizing driving routes or digitizing payments in the field can allow businesses to book more appointments and realize revenues faster. Technology also provides the promise of immediacy. For example, caring for employees and responding to their needs can be nearly instantaneous. Either way, the promise of technology can help companies make money or save money.CLOSING THOUGHTAs the construction industry edges closer to embracing technology, centrally managing your mobile workforce may be the solution to handling business now and growing in the future. for more informationFounded in 2013, Skedulo is headquartered in San Francisco with offices in Australia, Vietnam, and the United Kingdom. Skedulo's leading Deskless Productivity Cloud solution powered by AI and machine learning empowers organizations to manage, engage, and analyze their deskless workforce, supporting the 80% of global workers who don't work in a traditional office setting. Skedulo's platform helps enterprises intelligently manage, schedule, dispatch, and support deskless workers on the go, whether they are in fixed location facilities or mobile field workers on the frontline. Skedulo has enabled hundreds of organizations, including The American Red Cross, DHL and Sunrun, to seamlessly schedule and service over 35 million appointments worldwide. For more, visit www.skedulo.com.• Well Rehab Products• Manholes• Bentonite• Filter Sock• Inline Chemical Mixers• Sampling Bailers• Clear PVC Pipe• Locking CapsAtlantic Screen& Manufacturing, Inc.Manufacturers of slotted & perforated pipe ranging from ½" to 24" in diameter302-684-3197Fax 302-684-0643142 Broadkill Road ■ Milton, DE 19968www.atlantic-screen.com ■ atlantic@ce.net
Page 38
Page 39
Page 40
APRIL 2022 www.mcsmag.com34legal solutionThe complexity of construction projects has increased over time—with a corresponding expansion of the contract documents utilized to build the job. With this expansion comes an increased risk of conflict and/or ambiguity within the contract documents themselves. Since a flawless project manual may be as elusive as a surprise-free job, the contractor is often left with a dilemma as to what specification controls.PRECEDENCE CLAUSEMost times the issue can be resolved at the project level. But what if the size or scope of the ambiguity proves too impactful to resolve in this informal manner? What controls? The answer can be provided by an order of precedence clause, which identifies the order in which the various contract documents are prioritized when resolving a conflict or ambiguity by and between the requirements of those contract documents. The goal of a precedence clause is to create certainty in the resolution of a conflict or ambiguity in the contract documents. In theory, there is a contractual "tie break" so to speak, thus, never leaving the matter unsettled. Of course, sometimes that certainty comes at the cost of the equitable resolution. One of the challenges in deciding whether to include an order of precedence clause and how to prioritize the contract documents within that clause is the difficulty of determining how that priority will affect the outcome of a dispute.REAL-WORLD EXAMPLEImagine a set of drawings that depicts the design of a distribution center. The civil drawings identify 50 engine block heaters installed throughout the site to warm truck engines during the winter months. The electrical site drawings identify 40 engine block heaters. The electrical site drawings are much more specific regarding the number and location of the engine block heaters, even identifying each circuit within the electrical panels that serve the 40 engine block heaters. The project owner—a developer—demands the general contractor install an additional 10 engine block heaters as shown on the civil drawings. The owner points to the order of precedence clause in the contract that gives precedence to larger scale drawings over smaller scale drawings. It just so happens the civil drawings are drawn on a larger scale than the electrical site drawings. The general contractor, on the other hand, argues that the more specific, detailed drawing should control over the more general drawing as to the issue of the engine block heaters. Who wins? Basic deductive reasoning suggests the intent of the design is for 40 engine block heaters to be installed, but should the order of precedence clause be applied anyway? After all, the order of precedence clause typically does not require any analysis or interpretation; rather, it provides the roadmap for reaching the contractually determined conclusion. In so doing, the precedence clause eliminates any subjectivity in determining the outcome.The question for judges, arbitrators, and even initial decision makers, is when the order of precedence clause should be invoked. Should it be the first authority consulted any time there is a difference between or among the contract documents? Or is there a preliminary analysis which must take place using rules of contract interpretation, which have developed over decades of case law and provide the framework for the contract analysis in the absence of an order of precedence clause? While many construction professionals, such as the developer in the example above, will immediately look to the order of precedence clause as the controlling authority, courts will often attempt to interpret the terms of the contract prior to (or at least in conjunction with) applying the order of precedence clause.Clause OrderClause Orderthe order of the clause in the contract mattersINTERPRETATIONBy Christopher S. Drewry
Page 41
www.mcsmag.com APRIL 202235CONTRACT INTERPRETATION One of the primary rules of contract interpretation is the court attempts to determine the intent of the parties from the four corners of the contract. If the joint intent of the parties can be ascertained from the actual contractual language, then that language controls. In other words, if the contract can be applied to avoid inconsistencies between clauses, there is no need to refer to the "Order of Precedence" clause. Courts will seek interpretations that harmonize provisions, rather than those that require you to read out or ignore conflicting terms. Additionally, when in conflict, specific language or terms control over more general language. A common term in construction contracts reinforces this process. Most sophisticated construction contracts contain a term which requires the contract documents be read together in conjunction with one another to determine the extent of the contractor's obligations. "The drawings and specifications are complementary. If work is shown only on one but not on the other, constructor shall perform the work as though fully described on both." § 14.2.1, ConsensusDocs 200© 2011, Revised June 2019. "The Contract Documents are complementary, and what is required by one shall be as binding as if required by all; performance by the Contractor shall be required only to the extent consistent with the Contract Documents and reasonably inferable from them as being necessary to produce the indicated results." § 1.2.1, AIA A201 – 2017. Given these clauses and the applicable case law, the decision maker (whether a court, arbitrator, architect, or other initial decision maker) should attempt to resolve any internal conflicts using traditional contract interpretation rules first before invoking the order of precedence clause.Interestingly, of the two primary standard form contracts used in building construction, ConsensusDocs and American Institute of Architects (AIA), only ConsensusDocs contains an order of precedence clause. AIA, quite famously, recommends against incorporating an order of precedence clause in the contract documents. Their reasoning is that it is the architect's responsibility to interpret the contract documents and an artificial hierarchy would interfere with the proper criteria for the architect's interpretation. ConsensusDocs, on the other hand, desires the certainty created by the inclusion of an order of precedence clause. §§ 14.2.2, 14.2.3 ConsensusDocs 200. CLOSING THOUGHTThe two approaches are quite different and are both good examples of how one may choose to address order of precedence clauses in construction contracts. If you choose to include an order of precedence clause or must negotiate the specific language of an order of precedence clause, consider whether to include language requiring the decision maker to first undertake an analysis using traditional contract interpretation techniques in an effort to determine the intent of the parties as a precursor to invoking the order of precedence clause. While doing so may interject some measure of subjectivity into an otherwise mechanical interpretation, it may also avoid unequitable results (and unnecessary disputes). about the authorChristopher S. Drewry is a partner with the law firm of Drewry Simmons Vornehm, LLP, in Indiana (www.dsvlaw.com), where he focuses his practice on construction law and litigation, as well as labor and employment law and litigation. Chris is currently the chair of the Construction Law and Litigation Committee of the International Association of Defense Counsel. He can be reached at cdrewry@dsvlaw.com.
Page 42
APRIL 2022 www.mcsmag.com36software solutionMoving away from long-term, uncertain investments, the popularity of industrial field equipment and machinery rental continues to grow yearly. According to the American Rental Association's (ARA), 2022 revenue is now expected to grow at a 9.9% pace and reach $52.4 billion. Should that happen, ARA says the mark would be a record for the equipment rental industry and surpass the $50.9 billion recorded in 2019. As a result, total visibility into the availability, location, and maintenance of assets is mission-critical to ensure maximum efficiency and cost-effectiveness for all parties involved. This continued growth in equipment rental has emphasized the need for field operation technology as it centralizes data and provides a single source of truth for all rental assets. EQUIPMENT RENTAL BENEFITSWhy are equipment rentals on the rise? Because heavy machinery and equipment are the backbones of any industrial operation or oil and gas company, but sometimes the upfront investment level associated with purchase can be prohibitive. With on-site industrial equipment such as large excavators running up to $500,000, many smaller companies are unable to afford such high prices on the front end and see few long-term benefits to ownership. This equipment requires constant upkeep to remain in optimal condition, thus excessive maintenance may be a financial detriment to these companies. In addition to costly repairs, there is collateral damage that can include jobsite disruptions that leave production stalled or the wait time associated with delivery of new equipment while workers sit idle. This loss of time and productivity can often have a greater financial impact than the repair or replacement of the equipment itself. Erasing jobsite disruptions and prolonged downtime are among the many benefits of equipment rental that keep jobs on track and ensure profitability. Companies that rent versus own also have the flexibility to utilize the latest equipment and technology without becoming saddled with outdated assets. Not to mention, owned equipment still needs to be maintained and updated, and a lack of trained technicians available to make specific updates is always a possibility. However, while there are considerable benefits to renting, to make it all work, there needs to be a consolidated view for all rental assets using consumable data throughout the rental lifecycle.MAXIMIZING RENTAL PROCESSCentralized data is essential when maximizing the equipment rental process. Because there are so many elements to and personas involved in the rental process, it is necessary to have every piece of data accessible to ensure a single source of truth for all assets. Field operations technology creates a seamless experience from the warehouse to the field to the back office.Let's look at field operations technology and essential elements for maximizing the equipment rental process. Providing job resources is a great place to start. At the beginning of the rental lifecycle, workers can track requested To Buy or Rent?maximize the industrial equipment rental processFIELD OPERATIONS TECHNOLOGYBy Matt Danna
Page 43
www.mcsmag.com APRIL 202237items throughout a job, such as picked quantity. This includes the quantity of equipment to be picked, number of rentals already picked from a warehouse, reserve quantity, current fulfillment, and quantity delivered, among other details. Along with equipment and machinery rentals come pick sheets, which are essential for day-to-day functions and can be dramatically enhanced by field operations technology. Building pick sheets allows those on jobsites to select the necessary equipment for a job and send the information straight to the warehouse or plan for future jobs by reserving equipment multiple weeks out. Pick sheets provide the warehouse with the required equipment or machinery to fulfill each order within a specific date range and include all item types (rental, service, etc.), making it a dynamic report for both the warehouse and those on jobsites.Equipment billing and reporting are also essential functions of field operations technology and maximizing the equipment rental process. Automated equipment billing allows for updating the status of each asset, whether it be on rent, off rent, or on standby, and provides a real-time synopsis for those in the field. In short, aggregating data with field operations technology allows the data to become actionable. Utilized by those in the back office, reports looking at profit margin, utilization, upcoming deliveries, assets on location, returns, and pending outstanding orders can be created at a moment's notice. These reports help companies run more strategically as they can also be segmented by job, region, and even globally.CLOSING THOUGHTAs the percentage of equipment rental income continues to rise for the foreseeable future, companies utilizing industrial operation technology will continue to see the benefits of centralized data, creating greater financial gain and maximizing the industrial rental process. Avoiding significant investment levels and long-term upkeep of industrial equipment is one of the most beneficial ways for businesses to remain flexible and productive. Field service management companies that fold rental management into their solutions can capitalize on growing equipment rental revenue and expand their customer base as ownership becomes more and more prohibitive. about the authorMatt Danna is the senior director of product strategy at LiquidFrameworks, a ServiceMax company, and has been with the company for 15 years. Matt has been working in software for over 25 years, with a depth of knowledge in software engineering, sales engineering, and product management. His primary function is to work with customers, key stakeholders, implementation managers, account executives, and developers to ensure alignment across all parties to build a product the customer wants.
Page 44
APRIL 2022 www.mcsmag.com38software solutionA project manager wants a healthy project, yet few construction projects are delivered on time, on budget, with proper quality, and customer satisfaction. It sounds like a great way to apply Artificial Intelligence (AI), right? Track, monitor, and predict a Project's Health automatically—in real time—for thousands of projects simultaneously? Despite that AI is taking every industry by storm, why is it not so for the construction industry as well?WHAT IS A HEALTHY PROJECT?Construction projects can be defined as a sequence of unique activities, having one goal or purpose that must be completed by a specific time, within budget, and according to specification.Project performance is judged mainly on four performance metrics: cost, schedule, quality, and satisfaction. (Of course, safety is always first!) A good project manager will use experience and historical data to identify obstacles and warning signs in an ongoing project. They will take corrective actions or even proactively mitigate risks when starting or planning the project.Construction software company, Fonn, surveyed hundreds of project managers (who use Fonn software) to define the "healthiness" of thousands of completed projects. Fonn also collected millions of datapoints from tens of thousands of projects to reference and analyze, for the purpose of predicting project outcomes.Using Artificial Intelligence, data can be compared between the completed projects, the survey, and the ongoing projects to provide real-time predictions on the health of active projects.ALL PROJECTS ARE DIFFERENTConstruction projects differ in size, complexity, contractors, subs, clients, locations, and many other tangible and intangible aspects. Based on user input and characteristics of each project, Fonn found a unique way of grouping and vectorizing projects to be able to compare current and completed projects for predictive analysis.REPRESENTING PROJECT DATAEach project in Fonn is represented with a dot or point in a graph. The closer each of the points are, the more similar the projects are. However, how can very large and complex construction projects be represented as a single dot on a graph? There are a few steps. First, domain expertise and artificial intelligence is needed to identify distinctive features of construction projects. Then, algorithms are applied to quantitatively represent them for use in machine learning. Finally, we interpret what similarity and dissimilarity means for each feature separately, as well as for the whole project. This process in AI or machine learning is called "representation Artificial Intelligenceusing data for healthy projectsPRACTICAL APPLICATIONBy Jan Tore GrindheimDocument Activity Checklist maintenance activityIssue activityDiscussion activityTask activity% OF PROJECT'S DURATION40206080100400350300250200150100500Document Activity Checklist maintenance activityIssue activityDiscussion activityTask activity% OF PROJECT'S DURATION40206080100400350300250200150100500Figure 1 Figure 2
Page 45
www.mcsmag.com APRIL 202239learning and clustering." We use this data to compare characteristics of similar projects.MONITORING THE "HEARTRATE" By enabling the use of data to evaluate and compare similar or different characteristics of projects, Fonn uses "Project Heartrate" as an intuitive tool for understanding a project's "Health."So, how does a Project Heartrate work? It visualizes all the events happening within a project such as updates, deletes, discussions, schedules, tasks, issues, etc.; and tracks them across the project. As we see in Figure 1, these communications are occurring regularly within the project and are actively being documented. The results are an active, bright red "heartrate" indicator and subsequently a "healthy" project. That is—workers are actively addressing issues, collaborating on solutions, documenting changes, and remaining productive.Alternatively, if project activity is reflected with a pale, anemically pink heartrate indicator (Figure 2), it can be identified as "unhealthy" (lack of communication, not documenting issues, incomplete tasks, etc.). It serves as a guide for project managers to take measures to "defibrillate" and get the project back on track. These "missing heartbeats" in the project are reflected in the documentation activity, checklists, issues, tasks, and lack of discussions. Perhaps subcontractors are not actively reading new revisions of drawings, or maybe documents are not even being revised and updated throughout the duration of the project. The algorithm will highlight these deviations to let the project manager know which measures need to be taken to get the project back on track.IMPROVE YOUR PROJECTSWe have identified small steps your organization can easily implement to improve the "heartrate" and "health" of your projects:Keep your project well documented. This is vital for a healthy project. Upload, revise, and share documents with all participants in your project to increase probability of it being successful.Schedule your project. Either tailored to your project or use an existing template. Report percentage completion and document completeness of your project to increase Quality.Keep your conversations open and online. No emails, phone calls, or simple messaging systems. Enrich discussions with the use of images. These are two small steps that increase Project Satisfaction and Quality.Be pro-active! Projects where push-notifications have been deactivated, are notoriously unhealthier than ones that use these notifications to keep the team up to date and informed.Personnel Changes. Sometimes unavoidable, but changes of personnel and teams in projects seem equal in reducing Satisfaction.CLOSING THOUGHTStart actively using a cloud-based, user-friendly project management tool to have healthier projects in the future. Project management features (issues, tasks, schedules, document management) should be used throughout the duration of the project. Ensuring team members and contractors are not ignoring notifications and updates, as well as tracking crews through a site check-in feature is proven to have a positive impact on a project's Health. Also, upload, revise, and share documents and drawings within the system. It enables you to propagate all changes and ensure that all members have the latest versions of documents. about the authorJan Tore Grindheim is founder and CEO of Fonn, a construction software solution that brings people, processes, and jobsites onto one platform; making everyone, and everything work more efficiently. Software technology from Fonn helps you reduce errors, increase productivity, improve communication, and gain greater visibility into your operations. For more, visit fonn.com.
Page 46
Everything you need for your office workflow in one place.From Quoting to Scheduling to Dispatching to InvoicingDrag & Drop Dispatching • Mobile AppPaperless Workflow • Simple Certified Payroll Safety Plans • Inventory • Time KeepingFor more information, call or visit today.801.478.6822 Option 1cenpoint.com
Page 47
Page 48
APRIL 2022 www.mcsmag.com40safety solutionWearables have become a very fashionable topic in the construction industry, but it's not all window dressing, every day, wearables are promoting health, safety, connectivity, productivity, and accuracy on construction sites.FOR EVERY OCCASION A number of employee monitoring systems have been introduced to the construction industry with the aim of making employees safer.Dash cams are being installed into truck cabs—but not to record traffic—to record the activities of the driver. Truck companies want to make sure drivers are checking their mirrors and especially aren't using their phones when behind the wheel.The Spot-R fall alert and emergency evacuation system from Triax Technologies monitors employees' movements to alert safety personnel if the device changes elevation quickly, indicating a fall. And it alerts workers of an emergency evacuation.The Scan-Link RFID tags monitor employees' locations and alerts equipment operators of employees who are located behind the machine.Some smart watches detect vibration; that technology is used to monitor the ramifications to the body from using power equipment for a long time. Alerts tell the end-user when power tool use exceeds what the body can safety perform, and this is to prevent hand-arm vibration syndrome (HAVS).Smart helmets monitor several health elements, such as fatigue, heart rate and stress, so workers and management can modify worker's activities in ways that promote employee health and jobsite safety and productivity.PREDICTIVE ANALYTICSA lot of times, this monitoring can lead to policy changes and coaching opportunities."One customer who uses our Scan-Link RFID technology reported to me the following story," says Jonathan Fava, president, Scan-Link Technologies, a CONEXPO-CON/AGG exhibitor. "'We were looking at the number of times equipment operators were alerted to the presence of a nearby worker, and we noticed one person was causing a lot of alerts, so we pulled that individual aside and asked him why. He explained that he's the flagger so, when operators load the machine onto a float, he gets up on the float to aid the operator place the machine. We advised him that behavior is unsafe; he could get struck by the machine or fall of the float. So, we told him a safer way to perform his job and wrote down new safety protocols into our guidelines and training."Using historical data to learn how things happen is the first step to promoting safety on the jobsite. "It's not enough just to learn how accidents have happened," says Fava. "The next step is to analyze data in order to prevent accidents from happening.With all of the employee detections picked up by the Scan-Link system, managers can identify "hot spots"—spots where machines detect people the most frequently."Using this data, customers can identify areas where a struck-by incident is most likely to occur. Then, customers can make decisions that will decrease the risk of an accident from happening by moving the location of materials, so workers don't have to walk in a machine's workspace or by putting up signage warning employees of high-risk areas," says Fava.CONNECTS PHYSICAL WORLDSWearables are also instrumental in merging realities, which is bringing connectivity, productivity, and accuracy to jobsites.Exoskeleton and assisted reality headset manufacturer Real Wear just released the second version of their assisted reality headset, called the RealWear Navigator 500.It is sleeker, lighter, and more ergonomic than the previous model (the HMT100) for all-day comfort yet is rugged and durable for use on construction sites and in industrial settings.It features a modular design, a 48-megapixel camera sensor with enhanced zoom capability, incredible low-light performance, and is compatible with more than 200 optimized apps. A hot-swappable battery allows for continuous use the whole day."With the Navigator 500, we wanted to provide scale enterprise solutions as part of the digital transformation movement. Today, we see the acceleration of digital transformation on the future of work, especially since the pandemic," says Andrew Chrostowski, chairman and CEO, WearablesWearablesimproving jobsite metricsMORE THAN FASHIONBy CONEXPO-CON/AGG
Page 49
www.mcsmag.com APRIL 202241RealWear Technologies. "Our device is hands free and keeps you present. You don't want your head stuck in the meta verse when you're working around heavy equipment."The device allows the user to take photo and video at six different zoom levels, as well as call someone. The device takes audio commands for all features; you say the words "take a picture" or "zoom" or "call Herald" and it does it, so you can keep your hands on what you're doing.With it, users can aid in remote inspections and diagnostics. By equipping someone at the jobsite with the Navigator 500, they can act as the eyes for inspectors and technicians, so inspections and troubleshooting equipment can be done remotely, saving time and travel costs.AUGMENTED REALITY EXPANDS The Trimble XR10 with Microsoft HoloLens brings a different kind of connectivity and reality. The technology connects virtual reality to physical reality to provide mixed reality.HoloLens users can see both the physical world and the virtual world; the digital image is overlaid onto the physical world.This technology is especially handy to trades; now, they no longer need to look at paper designs for what they are installing and then try to map out where that is in the physical world by establishing a frame of reference and taking out the measuring tape; they can simply see, for example, the virtual pipes and their detailed measurements, and install the pipes with high accuracy. They can also see what is being installed nearby, so they can identify potential complications.Trimble, a featured exhibitor at CONEXPO-CON/AGG, recently expanded the potential for BIM (business information modeling) users to deploy augmented reality on the jobsite by introducing the Trimble Connect AR app, which is compatible with Trimble Connect. The app is downloaded to a phone or tablet and allows users an augmented reality experience by pushing BIM data to their phone and overlaying it onto images of the real world on the device's screen. "This eliminates what can be a costly financial barrier to some customers," says Martin Holmgren, general manager of building field solutions at Trimble. "And users can interact with Trimble Connect AR users in the digital space. For example, I can leave a message in the digital space with my Trimble XR10 and someone with the Trimble Connect AR app on their phone can detect the message, even weeks later as they walk by the location where it was left and read it. This greatly enhances communications and streamlines workflows."CLOSING THOUGHTTrimble expects people who don't need to be fully hands-free, such as supervisors, managers, inspectors, and building owners will use it to perform tasks, such as QA/QC, updating punch lists, and measuring construction progress. for more informationHeld every 3 years, CONEXPO-CON/AGG is the must-attend event for construction industry professionals. The show features the latest equipment, products, services, and technologies for the construction industry, as well as industry-leading education. The next CONEXPO-CON/AGG will be held March 14–18, 2023, in Las Vegas, Nevada. For more, visit www.conexpoconagg.com.
Page 50
APRIL 2022 www.mcsmag.com42safety solutionCrane Qualifiedoperator evaluation docs must be in orderEMPLOYER'S RESPONSIBILITYThe requirement for employers to evaluate their operators was first introduced in the 2010 Cranes and Derricks in Construction rule, and was set to expire when the certification requirement came into effect in 2014. However, OSHA decided to extend the requirement, making it permanent in the 2018 revised rule, Cranes and Derricks in Construction: Operator training, certification, and evaluation. For the first time, crane operator qualification was identified as a three-step process. Operators must be 1) trained, 2) certified, and 3) evaluated in order to be qualified to operate equipment. Certification provides an independent assessment of the baseline knowledge and skills of an operator, and acknowledges the individual's ability to operate general types of cranes. Evaluations, however, are necessary to ensure that the operator is competent, and can safely operate a specific piece of equipment. In the Preamble of the 2018 Final Rule, OSHA states that the reason behind this decision was because crane operator certification alone does not guarantee that an operator has acceptable knowledge and skill to safely use all equipment in a variety of circumstances. CONDUCTING EVALUATIONSEvaluations can be done by a third-party company or by the employer. If the evaluations are done in-house, the evaluator is required to be an employee or agent of the employer. However, the evaluation is conducted, it must be done by someone who has the "knowledge, training, and experience necessary" to assess equipment operators. Many crane operators are hired as subcontractors and frequently transition from jobsite to jobsite. That does not allow employers to use evaluations from previous employers. Because weather conditions, crane type, and the type of work being performed changes from jobsite to jobsite, it is critical that employers ensure new operators are evaluated. Operators need to have the ability to perform tasks that are unique to the worksite.When conducting evaluations, it is the evaluator's responsibility to ensure the operator has the necessary skills and knowledge needed for the crane they plan to operate, its safety devices and operator aids, the type of work the crane is able to perform, and that the operator is able to recognize and avert risk. Mot importantly, the evaluation must take into account the type and IT IS THE EMPLOYER'S RESPONSIBILITY TO DETERMINE THE QUALIFICATION OF A CRANE OPERATOR BEFORE ASSIGNING A TASK.
Page 51
www.mcsmag.com APRIL 202243configuration of the crane that will be used, including the work the operator needs to perform. The evaluation must also cover the operator's ability to perform the hoisting activities required for the work they are assigned, such as blind lifts, personnel hoisting, and multi-crane lifts.Once an operator is successfully evaluated an employer may allow the operator to run other equipment that does not require a substantially different skillset. That call is the responsibility of the employer.RECORDKEEPINGIt is important to note that a new evaluation must be done and documented when the operation of a crane requires a level of operating skills, knowledge, or abilities that is significantly different from the crane that operator was originally evaluated on.The 2018 rule also included additional documentation requirement for evaluations. Employers must maintain evaluation documents on-site for the entire duration the operator is employed. While there is no official template for evaluation documents that an employer must use, there is standard information it must contain. The employer's evaluation documentation must include, at a minimum:• Operator's name• Evaluator's name and signature• Date of evaluation• Make, model, and configuration of equipment used in the evaluationCLOSING THOUGHTIn early drafts of the 2018 revision, OSHA explored the need for operators to be re-evaluated every year. However, the language was revised in the Final Rule. Under OSHA 1926.1427 (f)(7), employers are required to re-evaluate an operator whenever the employer is required to retrain the operator. 1926.1427 (b)(5) outlines a few scenarios that would trigger the need for retraining. This section includes, but is not limited to, feedback from an onsite supervisor or safety manager, contractor, or other person that the operator was operating equipment unsafely, OSHA citations, a crane near miss, or other incidents that indicate unsafe operation of the crane. In these instances, the employer must retrain and re-evaluate the operator. The re-evaluation must include the lack of skills, knowledge, or ability to recognize and avert the risk that triggered the retraining. for more informationCrane Industry Services, LLC provides safety and operation training, inspections and consulting. For more, visit centeredonsafety.com.Our digital marketing campaigns can identify prospects interested specifically in your product, and then tell you exactly who they are! See what our customers are saying:The reports are awesome! Thank you. If we can get that level of information from all of our suppliers, we will be very happy! We have already made one machine sale to a prospect from the eBlast and I am sure there will be more. Paul Gazik,Business Development/International Salesfor You Need Leads!You Need Leads!We Have the We Have the Solution!Solution!Call us today to get started at 205.795.0223 or email us at russell@mcsmag.com.
Page 52
APRIL 2022 www.mcsmag.com44maintenance solutionSelf-shielded flux-cored arc welding (FCAW-S) offers numerous benefits, including good weldability, high deposition rates, and excellent chemical and mechanical properties. These make the process a common choice for many applications, such as structural steel erection, bridge construction, and heavy equipment repair. But like any welding process, it is not without its challenges.There are a few simple tips and best practices that can help address these challenges. Using this knowledge—with a bit of practice—can save time, money and frustration, and help achieve high weld quality. SLAG INCLUSIONSSlag inclusions—the result of molten flux from inside the welding wire becoming trapped inside the weld—can commonly occur in out-of-position and multi-pass FCAW-S applications. Preventing this issue depends on following key best practices and utilizing proper welding techniques. These include:• Maintain correct travel speed and angle. When welding in the vertical-up position, use a drag angle of between 5 and 15 degrees for the gun. Use a drag angle of 15 to 45 degrees when welding in the flat or horizontal positions. Increase this angle as necessary if the problem persists. Also maintain a steady travel speed, as moving too slowly can cause the weld puddle to get ahead of the arc and create slag inclusions. • Maintain proper heat input by always using the filler metal manufacturer's recommended voltage for the specific wire diameter. Too little heat input can result in slag inclusions. • Clean the material thoroughly between weld passes to remove slag. • Be sure to correctly place the weld bead. Allow enough space in the weld joint—especially during root passes and wide groove openings—for the weld metal to fill it.POROSITY, WORMTRACKING Porosity is a common weld defect that occurs when gas is trapped in the weld. Cleaning the base material thoroughly prior to welding is the main way to prevent this problem. Remove all dirt, rust, grease, oil, paint, moisture, and other contaminants from the full length of the weld joint. While welding, be sure to maintain wire stick-out of no more than 1.25 inches beyond the contact tip. In addition, using filler metals containing added deoxidizers can help prevent porosity and allow for welding through light contaminants. However, these wires are not a replacement for proper cleaning. Another defect, wormtracking, refers to marks on the surface of the weld bead caused by gas that the flux inside the wire creates. Take care to avoid excessive voltage for the wire feed setting to help prevent this problem. In situations where wormtracking occurs, reduce the voltage in increments of 1/2 volt until the problem stops. UNDERCUTTING, LACK OF FUSIONTwo additional defects affecting weld quality are lack of fusion and undercutting. Preventing these issues can help save time and money in rework and downtime. Lack of fusion occurs when the weld metal does not properly fuse with the Proper Techniquesuccess in self-shielded flux-cored weldingBEST PRACTICESBy Jerome Parker
Page 53
www.mcsmag.com APRIL 202245base material or with the preceding weld bead during multi-pass welding. Using an improper gun angle is the main cause of this problem. Maintain heat input and correct work angle of the gun to help prevent lack of fusion. Use a gun angle drag of 15 to 45 degrees, and keep the arc on the trailing edge of the welding puddle. When using a weaving technique, hold the arc on the groove's sidewall.A dirty work surface is another common cause of lack of fusion. Proper and thorough cleaning of the surface before welding and in between passes is recommended. Undercutting causes a weaker area at the toe of the weld by allowing a groove to melt in the base metal that is not filled in by the weld metal. This defect can often lead to cracking. To prevent undercutting, follow welding parameters for the appropriate welding current and voltage. Gun angle also plays a key role in this issue. In addition, be sure to maintain a travel speed that allows the weld metal to fill the melted-out areas of the base material completely. PROBLEMS WITH PENETRATION When it comes to weld joint penetration, too much and too little are both problematic. Good joint penetration is critical to completing high-quality welds, so it's important to pay attention to how much weld metal is going into the joint. When weld metal melts through the base metal and hangs underneath the weld, this is excessive penetration. It is most often caused by too much heat. Avoid this problem by maintaining proper heat input for the application. Lower the voltage range, reduce wire feed speed and increase travel speed. When the problem is a lack of penetration—or a shallow fusion between the weld and base metals—taking the opposite steps will help: increase the voltage range and wire feed speed, while reducing travel speed. Joint preparation also plays a role in proper penetration. To maintain the right wire extension and obtain necessary arc characteristics for good weld quality, it is imperative to access the bottom of the groove. CLOSING THOUGHTAs with any welding process, FCAW-S can present some challenges. By utilizing proper welding technique and taking steps to address the issues, it will be easier to identify and solve problems quickly—or even prevent them from occurring—in order to reap the productivity and quality benefits the process offers. about the authorJerome Parker is a product manager with Bernard. For more, visit www.bernardwelds.com.
Page 54
Page 55
PRODUCTS AND SERVICES GUIDEPRODUCTS AND SERVICES GUIDE
Page 56
APRIL 2022 www.mcsmag.com48products and servicesThe BILCO Company's Thermally Broken Roof Hatch sets a new standard for energy efficient rooftop access. The product features an innovate frame and cover design that minimizes heat transfer between interior and exterior surfaces to resist harmful condensation and aluminum construction for corrosion resistance. Thermally Broken Roof Hatches are designed with 3" of polyisocyanurate insulation for superior energy efficiency and an industry high R-value of 20.3, which is in line with modern roofing systems. A special cover and curb mounted EPDM gasket system minimizes air infiltration for optimum wind resistance. Products are available in a number of standard sizes to meet any access requirement.COMPANY NOTABLESThe BILCO Company has served the building industry since 1926. During these years it has built a reputation among architects, engineers, specifiers, and the construction trades for dependability and for products that are unequaled in design and workmanship. BILCO, a wholly owned subsidiary of AmesburyTruth, which is a division of Tyman PLC, has been a pioneer in the development of specialty access products for commercial and residential construction markets. SPECIALTY ACCESS PRODUCTSThe BILCO Company continues to be the industry leader in the design and manufacture of specialty access products. In order to better serve its customers, BILCO has added manufacturing facilities and strategic distribution throughout the world, along with establishing an extensive international network of factory-trained representatives. These representatives, combined with BILCO's highly skilled and dedicated personnel, ensure a level of customer service that is unequaled in the industry. As the leader in design innovation, many of BILCO's products incorporate features for which numerous U.S. and international patents have been issued. Years of engineering experience, coupled with manufacturing facilities utilizing the most modern equipment available, allows BILCO to design and fabricate access products for virtually every application.The BILCO Company is committed to producing access products that are unequaled in quality, design, and workmanship. BILCO products are fabricated to consistently high-quality standards to ensure complete customer satisfaction. As part of its commitment, BILCO has implemented a LEAN manufacturing quality and continuous improvement system that has achieved ISO 9001 certification. For more information, call 800.366.6530, or visit www.bilco.com.The BILCO CompanyThe BILCO CompanyThermally Broken Roof HatchTHE BILCO COMPANY HAS SERVED THE BUILDING INDUSTRY SINCE 1926, BEING A PIONEER IN THE DEVELOPMENT OF SPECIALTY ACCESS PRODUCTS FOR COMMERCIAL AND RESIDENTIAL CONSTRUCTION MARKETS.
Page 57
Page 58
APRIL 2022 www.mcsmag.com50products and servicesStriving to supply Quality Products Engineered with Intelligence and Imagination, BN Products-USA™ has developed complete product lines to outfit the professional concrete contractor. With our end-to-end catalog of tools to bend, cut, and secure rebar, we support the needs of the construction pro with numerous innovative tools and supplies for the jobsite. In addition, BN Products-USA is committed to helping our distributors and their customers grow their bottom line by providing high-quality tools at competitive prices, based on our strong values of integrity and superior customer service.BN Products-USA, LLC has served the construction wholesale market for more than four decades, with a primary focus on concrete construction products and equipment.Our product lines have also grown to include portable jobsite generators—both conventional gas-powered and inverter units, award-winning safety tools for building and tearing down concrete forms, power mixers and mixing stations, pneumatic nail guns, concrete anchors, and drywall sanders. These product lines supplement the combination of manual and power tools designed to provide contractors with the best options available for cutting, bending and tying rebar. REBAR CUTTING & BENDING TOOLSElectric-hydraulic rebar shears have proven to be the most cost-effective and efficient tools for safely and quickly cutting almost all rebar sizes. The DC-20WH is the most popular rebar cutter sold in the USA, due to continuous enhancement since its debut in 1972, leading to more power, lighter weight, and extreme durability. Our product line includes nine unique, portable hydraulic cutting tools, each optimized for cutting different rebar sizes ranging from #5 (16mm) to #10 (32mm) Grade 60 rebar. Additionally, our cutters include both corded and battery-powered models for almost any application.Some contractors prefer the innovative Cutting Edge Saw™, available in cordless and corded models to cut rebar up to size #8 (25mm), featuring a protective blade shroud and adjustable handles that allow for cutting in tight spaces and flush surface-cutting. The cuts are so clean using this cold-cutting saw, that this tool is commonly used to cut threaded rod because you'll be able to freely spin a nut over the cut end of the rod.Bending rebar requires specialized equipment in shops and on the jobsite; BN Products-USA offers an array of quality, heavy-duty electro-mechanical bending machines. The engineering of each of our rebar bender models are uniquely designed for varying rebar capacities. Options include bending multiple rods simultaneously, and some models are equipped with pre-set angle locks and foot-pedal controls. Moreover, we provide professional tools at a low price—expanding the market for smaller contractors at a price point to afford the best tools for the job. We also offer the venerable MBC-16B1 manual cutter/bender combination tool—a best seller that quickly completes smaller jobs.REBAR TYING TOOLSBN Products released its next-gen BNT-X Series rebar tiers in 2019, after success with the original BNT Series tiers. This series offers professional-quality tying with three sizes to choose from, at an affordable price that beats our competition, matching quality and durability. A full set of accessories are available—from extension arms for tying floor mats to holsters, with replacement wire options designed for our machines, including poly-coated and Made-in-USA wire products. Visit www.bnproducts.com to view our complete product line, or scan the code in our ad to view the BN Products-USA™ 2022 Construction Tools Catalog. BN Products-USABN Products-USA
Page 59
Page 60
APRIL 2022 www.mcsmag.com52products and servicesExpress Blower, Inc. leads the pneumatic blower truck market with innovation, state-of-the-art systems, and practical experience, resulting in a greater number of large-size machines working in the field today than any other manufacturer. The mantra, "We are selling a business, not just a piece of equipment," is ingrained in Express Blower's culture and is reflected in the equipment and customer service provided to its customers.PRODUCTIVITY AND EFFICIENCY CONTRIBUTE TO THE BOTTOM LINEWith Express Blower machines, reduce the number of workers required for labor intensive, lower margin jobs such as mulching. The rest of the crew is now available to do more profitable work, such as irrigation or landscape construction. EB equipment also helps take the seasonal nature out of many businesses' workflow. While spring may be the busy season for landscape mulching, erosion control projects may pick up in autumn with work sometimes continuing throughout winter. Then there is year-round green roof material installation and playground safety surface "refreshing" before and throughout the school year. Because of the machine's production capabilities, you can naturally increase the number of jobs completed in a day while increasing your opportunity for repeat business by delivering a quick, consistent, professional service. THE EB-60HO HIGH OUTPUT MODELDid we mention innovation? The newest member of the EB equipment family is the High Output (HO) model designed around the tried-and-true EB-60 model. The EB-60HO is similar in blowing capabilities to our MD models and is the most powerful of our PTO configured machines. Lighter weight than any MD model and with greater capacity than a TM-45MD, the EB-60HO gives you better payload which means more money in your pocket! This machine also has better ground clearance than the standard EB-60, has no auxiliary engine for easier maintenance, and is available with our new 250-gallon water system. THE DISTINCTIVE TR-HDThe model TR-HD is a compact trailered unit with all the power of the Express Blower full-size TM-45HD and TM-70HD models. Aggregates and rooftop soil mixes can be blown vertically 20 stories or more depending upon product and project parameters. The TR-HD's relatively small footprint makes it easy to maneuver in congested areas; perfect for urban green roofs or any project where there are continuous onsite loading capabilities. THE TR-HD: COMPACT. HEAVY DUTY. ROCK SOLID. See www.expressblower.com/products for a complete listing of all available models. DYNAMIC USED EQUIPMENT MARKETExpress Blower machines are built to last, and this longevity has resulted in a vigorous used equipment market. Recognizing that building new machines plus refurbishing used machines could strain factory and personnel capacity, EB partnered with Conveyor Application Systems, LLC (CAS) to assist in the refurbishment and sale of used EB machines. CAS is a Rexius Forest By-Products company which is the inventor of EB machines and the creator of Express Blower, Inc. Their knowledge and experience are a great asset for this market. While customers speak directly with the EB sales team when purchasing new or used equipment, CAS is responsible for securing the used equipment inventory and refurbishing the machines to get them in sellable condition. See www.usedblowertrucks.com for current inventory. Express Blower, Inc.Express Blower, Inc.The Inventor. The Innovator. The Standard.Performance may vary depending on type and quality of material used, operator proficiency, and jobsite setup, requirements, and specifications. Express Blower, Terraseeding, and the Express Blower design logo are trademarks of Express Blower, Inc.
Page 61
Page 62
APRIL 2022 www.mcsmag.com54products and servicesDo you need more power and payload to maximize your trucks' productivity? But you need excellent maneuverability and visibility for navigating tight urban spaces? And you need it all with a low cost of ownership? There is no need to compromise. Isuzu introduced its new F-Series trucks, now available in both Class 6 and, new for 2022, Class 7 models. All models:• Available in eight wheelbases, from 152 to 248 inches, accommodating bodies from 14 to 30 ft in length• Can be equipped with air suspension • Offer a 50- or 100-gallon fuel tank• Come in a Standard Cab configuration with three-across seatingAll F-Series trucks feature the Isuzu low cab forward (LCF) design perfected over more than 60 years. The LCF design's longer cab-to-axle (CA) dimension provides Isuzu F-Series trucks with more cargo capacity versus conventional cab competitors with a comparable wheelbase. This gives you more flexibility in body application choices to accommodate heavier or bulkier cargo loads. SMOOTH POWER Every 2022 Isuzu F-Series model is equipped with the most powerful version of the Cummins B6.7 Efficiency Series engine. Under constant improvement for nearly 40 years, well over 12 million Cummins B-series engines have been sold. This legendary 6.7-L, inline six-cylinder diesel powerplant produces 260 hp and 660 lb-ft of torque. The Cummins B6.7 is mated to a smooth-shifting automatic 6-speed Allison Rugged Duty Series transmission (2550 Series with park pawl for FTR, 2500 Series with no park pawl for FVR). Allison RDS transmissions are noted for their seamless transfer of power from the engine to the asphalt. Together, the robust Cummins/Allison powertrain provides an optimum blend of power, fuel economy, and reliability. DESIGNED FOR PRODUCTIVITYAs with all Isuzu trucks, the FTR and FVR offer superb maneuverability, visibility, and comfort. Drivers will appreciate the 50-degree inner wheel cut that gives the Isuzu F-Series class-leading turning diameters between 43.7 ft (for 152-inch wheelbase models) and 65 ft (for models with the 248-inch wheelbase). The Isuzu low cab forward design allows you to see objects much closer to the front of the truck than any conventional cab. With new standard LED headlamps, 2022 Isuzu F-Series trucks give you greater visibility than ever. With the driver-friendly Isuzu Hexapod cab with its multiple storage spaces, work surfaces, and standard amenities, Isuzu F-Series trucks allow you to be as comfortable as you are productive.THE ISUZU DIFFERENCELike all Isuzu trucks, the new F-Series range offers such peace-of-mind features as:• Outstanding basic limited warranty protection • 24/7 roadside assistance for the length of your warranty • Genuine Isuzu OEM parts, and also Isuzu FleetValue parts, priced to compete with aftermarket parts but engineered to meet Isuzu's stringent specifications GET MORE INFOIsuzu F-Series trucks are sold and serviced by Isuzu's network of nearly 300 dealerships across all 50 states. Isuzu Commercial Truck of America invites you to visit www.isuzucv.com or contact your nearest Isuzu dealership to discover for yourself why the new Isuzu F-Series trucks—with three models in two classes—are the one smart choice for you. For more information, visit www.isuzucv.com.THREE MODELS IN TWO CLASSESClass 6 FTR 25,950-lb GVWR and 19,000-lb rear GAWRClass 6 FVR Derate 25,950-lb GVWR and 21,000-lb rear GAWRwClass 7 FVR 33,000-lb GVWR and 21,000-lb rear GAWRIsuzu F-SeriesIsuzu F-SeriesThree Models, Two Classes, One Smart Choice
Page 63
www.mcsmag.com APRIL 202255products and services
Page 64
APRIL 2022 www.mcsmag.com56products and servicesIn a world of uncertainty, Isuzu is here to support your North American power requirements, from agricultural, industrial, medical and construction, by providing environmentally responsible and critical power products for your specific applications. Isuzu's newest available power when needed, has become even more important today, with unpredictable hurricanes, tornadoes, and storms in all parts of the United States. Isuzu Open GenSet Power Units can help put standby power solutions into your customers hands faster for multiple generator applications. These Tier 4 Certified, 4J Series 3.0L, 4 Cylinder, 70.8 kW (95 HP) @ 1800 RPM and 4H Series 5.2L, 4 Cylinder, 127.5 kW (171 HP) @ 1800 RPM open GenSet Power Units provide pre-tested and over 90% validated ready power. This can save time, money, and resources, for generator- and alternator-end manufactures. Isuzu's designs are versatile with an SCR over-the-flywheel and built with common components for multiple configuration options. Including adjustable skid base cross members for bolt-on flexibility. Plus, these units offer a 5 year/5000 hour Warranty to keep you running longer.ALTERNATIVE FUEL POWER UNITS AND DUAL-FUEL POWER UNITS In a world of clean fuel requirements, the Isuzu Alternative Fuel Engines and Power Units use natural gas or propane and can be equipped with a Dual-Fuel System to simply reconfigure the fuel source and eliminate downtime. These Dual-Fuel Power Units are being recognized as industry leading for their innovative ability to change from one fuel to another, while on location, without shutting down an entire job site to change an available fuel source. For example, in Louisiana where higher levels of hurricanes occur and natural gas gets interrupted. These Dual-Fuel Power Units can be switched off and restarted with a flip of a switch to easily change to a readily available propane tank to keep your project or emergency power running with a clean available fuel source. ISUZU POWER PRODUCTS, BUILT TO LASTIsuzu has proven its power solutions to be Reliable, Eco-friendly, Durable, and Technologically Advanced. With Tier 4 and Stage V Engines and Power Units, branded under Isuzu REDTech™, provide quiet, low maintenance and fuel efficient power for existing and new applications. From 6.7kW to 397kW, these Engines and Power Units use the latest after treatment DOC or DOC+SCR, with vertical or horizontal SCR for design flexibility. Every Isuzu Engine or Power Unit is precision tuned for its highest efficiency, while reducing oil and fuel consumption. A long-lasting and robust fuel injection system incorporates excellent fuel economy and extended service life. Stringent criteria to lower NVH (noise, vibration, harshness) are engineered into every Isuzu product. Each application is designed to meet customer specifications and is engineering validated for each environment. Isuzu REDTech™ Engines and Power Units with reliable performance, durability, and high thermal efficiency help reduce downtime. All of Isuzu products are supported by Genuine Isuzu Parts, a Distributor and Dealer network, along with dedicated professionals disciplined in engineering, manufacturing, and management to ensure the right customer power solutions for their applications. Isuzu DieselIsuzu DieselCaring People Providing The Power Behind It All4J Series 3.0L, 4 Cylinder, 70.8 kW (95 HP)4H Series 5.2L, 4 Cylinder, 127.5 kW (171 HP)
Page 65
Page 66
APRIL 2022 www.mcsmag.com58products and servicesNo matter if it's a general contract job or a large construction project, contractors want everything to run smoothly—as smooth as the hum of a Mi-T-M generator. TRENDS INSPIRE INNOVATIONNoise restrictions and emission standards are more prominent in the construction industry than ever before. These trends have influenced the development of Mi-T-M's portable generator line and have led to the recent launch of the Mi-T-M inverter and ChoreMaster generators equipped with carbon monoxide (CO) detectors and auto shutdown. Designed to be quiet and powerful, the new Mi-T-M inverters range from 2000 up to 80000 watts and are powered by Mi-T-M OHV engines. They provide commercial AC power for sensitive electronic equipment and are perfect for charging and powering equipment on jobsites. A parallel port box accessory allows contractors to connect two inverters together to utilize the power of both units at once, improving a job's efficiency—a priority when completing time sensitive contracts. The hand-carry 2000 and 2500-watt inverters are lightweight and feature GFCI protected receptacles. The 3500-watt model has an open frame design and takes accessibility to the next level while providing clean power. The 4000 and 8000-watt inverters include electric start, as well as handles and wheels for portability. Their lighted digital displays show voltage, hertz, run hours, and total hours. All models include 1-year alternator and 3-year Mi-T-M engine warranties. Mi-T-M engines have an overhead valve design and feature low oil shutdown, easy start, and are backed by Mi-T-M replacement parts. These powerful engines are also featured in the new ChoreMaster Series of generators. The ChoreMaster generators range from 4000 to 10000-watts and are engineered to provide maximum power not only for contractors but for commercial businesses and anyone who needs a dependable power source. Each comes with a built-in CO detector system with auto shutdown if CO levels become unsafe. They offer multiple voltage capabilities, include idle control, USDA/USFS-approved spark arrestors, and handles and wheels for portability. The wraparound powder coated steel frames stand up to tough jobsite environments and each model includes 1-year alternator and 3-year engine warranties. BUILT TO PERFORMTime is money and contractors look for equipment that can help complete projects quickly and efficiently. Mi-T-M portable generators are designed with contractors in mind, provide consistent and reliable power for a multitude of tools and can be moved from one job to the next effortlessly. They're built to perform and built to last. Mi-T-M Corporation is an employee owned company located in Peosta, Iowa. For more than 50 years, Mi-T-M has manufactured high quality and dependable industrial equipment. For more information, visit www.mitm.com or call 800.553.9053.Mi-T-MMi-T-MNew Series of Generators Designed for Maximum PowerMi-T-M 8000-watt inverterMi-T-M 3500-watt inverterMi-T-M 6500-watt ChoreMaster Generator
Page 67
Page 68
APRIL 2022 www.mcsmag.com60products and services888.754.3609 www.solarisaachments.comONLY 3-4 WEEKS LEAD TIME ON MOST ITEMSAt Solaris Attachments, we offer you 100% US-Made Buckets, made with North American Steel. Our buckets are made with pride and care in North Carolina. We offer buckets for the smallest excavator, up to the largest excavators on the planet.We offer three categories of digging buckets:• Standard Duty• Heavy Duty• Extreme DutyThere are hundreds of excavator bucket manufacturers around the world, each advertising that they have the best excavator bucket to offer you. So, how do you make the right choice for an excavator bucket? In short—you get what you pay for. We offer you top quality at a reasonable price. We back up our buckets with a 1-year warranty and the best customer service on the planet.The questions you need to ask yourself before you call us are:• What do you need to accomplish with your excavator bucket?• Does your excavator offer the breakout force necessary for the size bucket you want and the load it will carry?• Do you need a digging bucket, ditching bucket or grading bucket? • What job does it need to perform?• What is your budget for an excavator bucket?With excavators, one can get a whole lot more creative as far as buckets, grapples and other attachments are concerned, that's why we offer a large variety of different buckets and attachments for all size excavators, including grading buckets, cable buckets, screening buckets, trapezoidal buckets, and the list goes on…It's important to remember that each bucket and grapple can be coupled with a quick coupler, a tiltrotator or anything else to add more functionality and efficiency to your existing bucket or grapple. If you're not sure what is right for you, visit our Solution Center and let us know what problems you are confronting on your project, and we will offer you the right solution! Don't forget about our financing options whether you are looking for purchase financing or leasing equipment, we can take care of you!Due to a well-staffed production line and expert management, we offer reasonable lead times. Among the many buckets we carry, we offer:• Digging (Tooth) Buckets• Cleanout (Ditching) Buckets• Grading Buckets• V-Buckets (Trapezoid)• Cribbing Buckets (trenching)• Skeleton Buckets• Power-Tilt Buckets (hydraulic tilt) For more information, visit www.solarisattachments.comor call 888.754.3609.Solaris AttachmentsSolaris AttachmentsWhy you should add Solaris to your bucket listContractors and dealers should also keep in mind that excavator attachments often take longer to prepare and deliver than skid steer attachments. While a skid steer offers a universal quick-attach plate, every make and model of excavator has a different configuration at the end of the stick or boom. Therefore, it takes time to prepare a hook up on an excavator attachment that will fit your configuration just right. We will usually ask you what type of quick coupler your excavator may have. If you have a pin-grabber instead of a quick-coupler on your excavator, we will ask you for measurements of your pin diameters, distance between your pins, and a couple of other measurements. So, please make sure to allow for extra time when ordering an excavator attachment.We have the attachments to get the job done right!Our premium Excavator and Backhoe buckets are specically engineered to handle clay, gravel, compacted soil, and loose rock applications.• Buckets available in standard duty, heavy duty and extreme duty versions• Available for ALL makes and models of backhoes and excavators• Standard Widths from 9" to 72"• Constructed of wear-resistant steel• Customized buckets built to your specications• Reasonable lead times!• Made in the U.S.A.!PREMIUM EXCAVATOR BUCKETSDITCHING/CLE ANOUT & GRADING BUCKETSSKELETON BUCKETSSolaris Buckets Catalog.indd 4Solaris Buckets Catalog.indd 4 3/11/22 2:01 PM3/11/22 2:01 PMWe have the attachments to get the job done right!Our premium Excavator and Backhoe buckets are specically engineered to handle clay, gravel, compacted soil, and loose rock applications.• Buckets available in standard duty, heavy duty and extreme duty versions• Available for ALL makes and models of backhoes and excavators• Standard Widths from 9" to 72"• Constructed of wear-resistant steel• Customized buckets built to your specications• Reasonable lead times!• Made in the U.S.A.!PREMIUM EXCAVATOR BUCKETSDITCHING/CLE ANO UT & GRADING BUCKETSSKELETON BUCKETSSolaris Buckets Catalog.indd 4Solaris Buckets Catalog.indd 4 3/11/22 2:01 PM3/11/22 2:01 PMWe have the attachments to get the job done right!MANUAL & HYDRAULIC THUMBSRAKES & GRAPPLESTILT BUCKETS, V-BUCKETS, SCANDI, SHALLOW PROFILE BUCKETS, CRIBBING BUCKETS & OTHER SPECIALTY BUCKETSSolaris Buckets Catalog.indd 5Solaris Buckets Catalog.indd 5 3/11/22 2:01 PM3/11/22 2:01 PMPremium excavator bucketsSpecialty buckets
Page 69
888.754.3609 www.solarisaachments.comONLY 3-4 WEEKS LEAD TIME ON MOST ITEMS
Page 70
APRIL 2022 www.mcsmag.com62products and servicesSuper Products LLC, an Alamo Group Company, is a prominent manufacturer of vacuum trucks. Super Products is at the cutting edge of vacuum truck development featuring advanced technology and customized solutions driven by customer needs. Additionally, the company has a broad nationwide network with representatives supporting contractors, dealers supporting municipalities and eight rental facilities supporting short- and long-term rentals, parts, and service.EFFICIENT AND PROGRESSIVEInnovation is at the forefront of everything Super Products does. All units are engineered for a variety of applications and designed with the operator in mind while being recognized for high quality, durability, and ease of operation. Super Products gives you access to the industry's most efficient and progressive vacuum excavators, combination sewer cleaners, industrial vacuum loaders, truck-mounted jetters, and liquid vacuum trucks on the market today. Mud Dog® Vacuum Excavators are designed to meet the challenges of compact, urban projects to large-scale excavation. In North America, a utility line is hit every 6 minutes causing power and utility disruption, injuries, or death. Digging safer and smarter means utilizing vacuum excavation. Due to the precision and non-destructive nature of using compressed air or pressurized water, underground utilities can be uncovered safely.Camel® Max Series Combination Sewer Cleaners are the most versatile combo units in the industry allowing operators to tackle a variety of applications with jetting, vacuuming, and excavating. Whether addressing emergency situations or performing maintenance, municipalities and contractors depend on reliable and efficient equipment to get the job done.Supersucker® Industrial Vacuum Loaders offer an ideal and safe solution for waste removal and bulk material recovery. Using high-power airflow to suck up debris, the Supersucker will leave your jobsite spotless.SuperJet® Truck Mounted Jetters blast debris to clear blockages and maintain sewer lines with the industry's strongest and smoothest single piston water pump when vacuuming extraction is not required. Durasucker® Liquid Vacuum Trucks are DOT certified to collect and transport hazardous and nonhazardous liquid and semi liquid waste. For hazardous waste or oil spills, liquid vacuum trucks are essential to collect and store materials quickly to prevent contamination or entrance to local waterways. DOWNTIME IS NOT AN OPTIONSuper Products' staff is available around the clock to support your parts and service needs. Parts are stocked at each rental facility, as well as its Wisconsin distribution center, and can be shipped anywhere in the country for next-day delivery. Additionally, service centers at each rental facility are capable of maintenance, repairs, and full refurbishments on all makes and models of heavy-duty vacuum trucks, not just Super Products equipment. Whether it is a small job or a complex repair, Super Products is there to minimize downtime and get your truck back up and running. PARTNER WITH SUPER PRODUCTSWhen it comes to vacuum trucks, Super Products has the support network and products to keep your team running strong. Contact Super Products today for any of your vacuum truck needs. www.superproducts.comSuper Products LLC Super Products LLC Vacuum Trucks
Page 71
Page 72
APRIL 202264products and servicesIn 1973, Trinity manufactured and sold its first piece of galvanized guardrail. Since then, Trinity Highway has become the preeminent manufacturer of guardrail, cable and steel longitudinal barriers, crash cushions, truck and trailer mounted attenuators, water-filled barricades, sign supports, flexible delineators, and other roadway products. The acquisitions of industry leading brands including Energy Absorption, Safe-Hit®, and Yodock® enable Trinity Highway to offer a broad range of products tested to and eligible for reimbursement under established federal crash test standards. Our products are sold throughout the U.S., Canada, Mexico, and to more than 100 international markets.SETTING THE STANDARDTrinity Highway has set the standard in delivering roadway solutions for almost 50 years. Our unparalleled reputation for innovative highway products is achieved with manufacturing facilities strategically located across the United States and the ability to custom manufacture products or quickly adapt to changes in the industry. k Wall Company, one of several Trinity brands, pioneered the water-filled barricade industry nearly 30 years ago. Trinity Highway continues to offer Yodock branded traffic control products that are made in the USA, and tested to FHWA requirements. The water-filled barricades can be accessorized to meet a variety of traffic control applications including vertical construction, airports, crowd control at events or recreational facilities, and perimeter security or emergency response for military and government agencies. Yodock products are offered for sale or rent through Trinity Highway Rentals. For more informationon the Trinity Highway family of products, visit www.trinityhighway.com.Trinity HighwayDelivering Roadway Solutions for Almost 50 yearsTRINITY HIGHWAY IS COMMITTED TO PROVIDING SUPERIOR CUSTOMER SERVICE AND DELIVERING QUALITY PRODUCTS.
Page 73
Page 74
APRIL 2022 www.mcsmag.com66products and servicesFor more than 50 years, Alpine has been a trusted supplier of equipment for the construction, underground, and environmental sectors. Alpine specializes in hydraulic drum cutter attachments with its premier ROCKWHEEL product line, allowing for rapid and precise removal of rock and concrete, and filling the niche between bucket excavation and heavy hammers. These robust tools are extremely versatile. Use them for trenching, demolition, tunneling, mining, rock or concrete profiling, and for quarry production work. Nothing cuts rock or concrete with the precision of a Rockwheel. They are also suitable for underwater use. The Rockwheel is available for excavators and carriers of all sizes. No case drain line required! Alpine Rockwheels have special motor protection valves not offered by others on the market.MATERIAL PROCESSINGComplement the ROCKWHEEL tools with the ROCKCRUSHER and ROCKSCREENER buckets, formerly branded Hartl, for on-site material processing. The jaw plates on our Rockcrusher crusher bucket uses the unique Quattro Movement to create cubical shaped material for optimum compaction. The Reverse function allows the operator to efficiently remove jammed material without getting out of the cab. Output sizes range from 0.5 to 5.0 inches. The Rockcrusher is available with optional Water Spray Bars for dust control and Magnet attachments for sorting crushed material. SOIL MIXINGAlpine also offers the most comprehensive line of excavator mounted SOIL MIXING attachments for soil remediation, stabilization, and solidification activities. Save time and money with in-situ remediation. Equipment options such as extension booms, injection piping, and depth control are available and customizable for your project.SOLUTION PROVIDERAlpine's experienced team will always strive to identify the optimum solution for your project, and is always available for technical support, service, and parts. All Alpine products are available on a rental basis with purchase option. Reach out to us at 814.466.7134 or at info@alpinecutters.com. AlpineAlpine
Page 75
www.mcsmag.com APRIL 202267products and servicesB2W Software has expanded its ONE Platform with a new mobile application for reporting labor hours, productivity, equipment utilization, and other data for individual employees working independently.B2W EMPLOYEE APPThe B2W Employee App is an easy-to-use solution for recording this information on individual work logs. The data from work logs can be combined with similar data for crew-based employees collected with B2W Track electronic field logs. The unified approach gives contractors comprehensive reporting on project status as work is being performed and it streamlines data transfer for payroll processing."A lot of contractors have approached us about the challenge of tracking equipment operators, truck drivers, and other employees that work independent of crews and supervisors on jobsites," explains B2W Software founder and CEO Paul McKeon. "We responded with a mobile solution."Individuals use the B2W Employee App on iOS or Android mobile devices to record hours along with the associated projects and tracking accounts. Employees can also enter hours for equipment used and production quantities for work performed. Notes can be added to the work logs and configurable fields can be created to meet business-specific requirements like recording weather conditions, safety compliance, or other information.BUILT-IN WORKFLOWThe B2W Employee App includes a built-in workflow for electronic employee sign-off, submittal, and validation. Employees can use the app in a real-time, online mode. They can also create and modify work logs offline and send them to a server when a connection is established. For more information, visit www.b2wsoftware.com.B2W SoftwareB2W SoftwareNew Employee App
Page 76
APRIL 2022 www.mcsmag.com68products and servicesEstablished February 1998, family owned and operated Dominion Equipment Parts, LLC has been in business for more than 20 years. In just two decades, Dominion has become the OEM provider for Yanmar and Morooka equipment parts, developed its own brand of high-quality rubber track replacements, and is one of the nation's leading track importers, supplying rubber tracks for 38 crawler equipment brands. Dominion is also a distributor of undercarriage parts for top brand names including Bobcat, Caterpillar, Gehl, Kubota, Takeuchi, and Mustang, providing sprockets, rollers, and idlers. It is the solely authorized North American distributor of specialized, compact dumpers and concrete trucks manufactured by Fiori. Its geographic range includes the 48 contiguous United States, Canada, Mexico, and South and Central America. Dominion initially shipped nationwide from Richmond, Virginia, its original base of operations. To improve delivery times, Dominion established distribution hubs in Dallas and Cincinnati, then added Jacksonville, Sacramento, Albany, and Portland. In 2015, it added a Canadian hub in Leduc, Alberta. Each was chosen for its logistical efficiency to give the region's customers same-day shipping with next-day delivery. Customers who choose to can also pick up their tracks or parts right from a regional warehouse, since each distribution hub also has a dedicated sales staff.One of Dominion's greatest assets is a strong dealer network offering Dominion Rubber Tracks and associated parts, including Yanmar and Morooka. The network includes United Rentals, the largest rental agency on the continent with more than 960 locations.Going forward, Dominion is focusing on improving its inventory and distribution capabilities even further, as well as supporting the Fiori Group machines it introduced in 2016. The compact, user-friendly vehicles increase productivity, flexibility, and operator safety in confined spaces such as narrow lanes, alleys, and tunnels. They are ideal for working in crowded city centers or in environmentally sensitive habitats and valued landscapes with restricted access. Dominion Equipment PartsDominion Equipment Parts
Page 77
www.mcsmag.com APRIL 202269products and servicesInSite Elevation Pro is an easy-to-use earthwork take-off and GPS modeling solution for busy earthwork estimators. We help businesses of all sizes save time and earn more on commercial, residential, and landscaping projects. Quickly and accurately calculate cut and fill, stripping, strata quantities, paving and concrete materials, topsoil re-spread, areas, lengths, trench excavation, and backfill. High quality graphics and easy-to-read reports provide hard graphic evidence of all calculations. InSite also gives you to the tools to create GPS machine control and staking files without the complexity of a CAD program. The built in CAD viewer allows for easy import and export of CAD files.Whether you need to value engineer a jobsite, provide detail reports, or provide 3D graphic images, we've got you've covered.We understand you're busy and don't have time to waste. We provide 1:1 onboard training with purchase to get you up and running quickly. Support is 7 days a week, so you never miss a deadline. "You have 'knocked it out of the park' with InSite Elevation Pro. I cannot say enough good things about the software. The speed in which the contours, subgrades, etc. can be entered saves a major amount of time." – Jim, Hammond Estimating & Consulting, LLCVisit us online at www.insitesoftware.com/demo, email sales@insitesoftware.com, or call 877.746.7483 to request a live demo. InSite SoftwareInSite SoftwareInSite Elevation Pro is like pushing the 'easy' button for your earthwork projects.
Page 78
APRIL 2022 www.mcsmag.com70products and servicesJeffrey Machine is one of the world's leading manufacturers of foundation and utility drilling tools. Founded in 1977 in Birmingham, Alabama, by brothers Frank and Hugh "Boodle" Sager, the company continues to operate under its founding philosophy, exceptional customer service, and superior quality products. Today, Jeffrey Machine delivers expertly engineered and dependable augers, flighting, and tools throughout North America and the surrounding regions. BUILDING & REPAIRINGJeffrey Sager began working with augers in 1984, first repairing them and later rebuilding them. In addition to their tool and die projects, local contractors began to seek out Jeffrey Machine's services to repair augers and other equipment. This shift marked the beginning of Jeffrey Machine as we know it today. "Our customers and employees are the key to our success," says Jeffrey. "We would not have experienced the growth and longevity over these last 45 years if it weren't for the long-lasting relationships we have developed with our customers, and the amazing team here at the shop."EXPANSIONJeffrey Machine is one of the world's largest independently owned auger manufacturers. The company continued to expand its footprint as demand for their products and services grew. This includes a 20,000 square foot expansion in 2001, a second expansion in 2007, and a brand-new inventory/shipping facility in 2021. The Jeffrey Machine Headquarters is now over 150,000 square feet. Also, a satellite location was added in Euless, Texas, in 2017 to better serve the US West Coast.In 2019, Gabby Sager officially came on board as the third generation of the Sager family to work at Jeffrey Machine. 45-YEAR MILESTONEAs they celebrate a 45-year milestone, Jeffrey Machine is focused on the future while holding on to the philosophy- excellent service, excellent employees, and excellent products. www.jeffreymachine.comJeffrey Machine Inc.Jeffrey Machine Inc.
Page 79
www.mcsmag.com APRIL 202271products and servicesLind Equipment is a world leading manufacturer of portable LED lighting, hazardous location and industrial work lighting, portable power, static grounding, UV-C light, and GFCI products. With more than 70 years of experience providing products for industrial and hazardous locations, Lind Equipment is trusted on some of the toughest jobsites in the world. BEACON LED TOWERThe 7-time award-winning Beacon LED Tower light has been pivotal in the world of temporary portable LED lighting. Lind Equipment launched the original Beacon LED Tower in 2017 and since then, they have created a 3-in-1 asset allowing this tower to work as a full-brightness generator powered tower, a full-brightness electric powered tower and as a no-glare diffused light tower. This innovation in light towers has never been seen before, an ideal unit suited for virtually any application. Along side we have the heavy-duty, maintenance-free, Beacon978 LED Light Cart that is the most competitive light cart on the market today. Each LED light head boasts 22,500 lumens of bright white light while only drawing 150W of power. These light heads were derived from the 7-time award-winning Beacon LED Tower light and constructed with the same cast aluminum housing and polycarbonate lenses. The LED lights themselves instantly start-up at full output and are rated for 50,000 hours of 24/7 use while also cool to the touch.LIND APOLLO UV-C LED LIGHT During the global pandemic, Lind Equipment became aware of the dire need for a virus and bacteria disinfecting solution. As an innovation award-winning company, they did what they do best, create and innovate. Lind produced a brand-new decontamination product within the first months of the COVID-19 pandemic, the Lind Apollo UV-C LED light. This affordable and easy-to-use solution had a high need in the market and it soon became a much sought-after solution. The Lind Apollo light has since won 2 awards for its outstanding achievement during this unprecedented time. www.lindequipment.netLind EquipmentLind Equipment
Page 80
APRIL 2022 www.mcsmag.com72products and servicesMorooka USA, the exclusive distributor of Morooka rubber track carriers in the U.S. and Canada, has announced that the MST-4000VDR, its largest dump carrier with a rotating upper structure, will be available later this year. Many attendees of the 2020 CONEXPO will remember that the prototype of this rotator-type rubber track carrier was on display in the Morooka booth. However, supply chain problems delayed the introduction of the MST-4000VDR to the North American market until this year. Morooka also recently launched the MST-3000VDR-LC rotator-type rubber track carrierThe MST-4000VDR combines the utility of North America's top-selling rubber track carrier model with an upper structure that rotates a full 360 degrees, allowing the operator to deliver a load and return without spinning the undercarriage. This feature makes possible easy-in/easy-out maneuvering in tight spaces even when carrying a maximum load. It also provides on-target side-dump accuracy, allowing an operator to deposit spoil exactly where it is needed.David Byrd, Morooka USA vice president of marketing, says that the company debuted the new MST-3000VDR-LC rubber track carrier in 2021. This rotator-type carrier has an additional set of rollers for improved stability while dumping. "The long carrier was built for customers who may be working on slopes or uneven terrain," says Byrd. "The extra set of rollers ensure the machine doesn't budge while dumping, no matter the angle." Morooka USA is the exclusive distributor of Morooka rubber track carriers for North and South America, and manufactures several models in their Ashland, Virginia, USA facility. Morooka USA distributes Morooka rubber track carriers through a network of local dealers. To find your dealer, go to www.morookacarriers.com, or call 877.667.6652.Morooka USA Morooka USA Rotating Dump Carriers
Page 81
www.mcsmag.com APRIL 202273products and servicesNational Construction Rentals understands the relationships we build are just as important as the quality of work we put into each project. It's with this principle in mind that has made us become the largest supplier of Rent-A-Fence, barricades, portable toilets, hand wash stations, luxury restrooms, mobile storage containers, and temporary power in the nation.For 60 years, National Construction Rentals has worked with every leading construction company, supplying temporary site service solutions to: Bechtel, Flour, Kiewit, Turner, PCL Construction, The Shaw Group, Skanska USA, Clark Group, Jacobs, Foster Wheeler AG, The Walsh Group, Balfour Beatty, Whiting-Turner, Tutor Perini Corp., CB&I, Gilbane, Hansel Phelps, Mortenson Construction, McCarthy Construction, and countless others.From commercial and residential construction, to government projects, public works, and emergency response, National's team of experienced professionals dedicate themselves to each project until each customer is satisfied with the results. This was our goal when we started in 1962. This is what continues to define who we are today. For unparalleled service and superior customer support, contact us today at 800.352.5675 for the best in chain link fence, pedestrian barricades, portable toilets, hand wash stations, luxury restrooms, mobile storage containers, and temporary power solutions. For more information, visit rentnational.com.National Construction Rentals National Construction Rentals RENTALS MADE EASY.™
Page 82
APRIL 2022 www.mcsmag.com74products and servicesPoseidon Barge, LTDPoseidon Barge, LTDPoseidon Barge, LTD specializes in manufacturing Sectional Barges used in the heavy construction industry to float equipment, men, or materials. Their Sectional Barges are manufactured in Berne, Indiana, and are transported via truck. They are used primarily on inland waterways where traditional deck barges cannot travel.HULL SIZES TO FIT YOUR NEEDS Poseidon manufactures barges with hull sizes of 4, 5, 7, and 10 ft tall. The Poseidon P10 is the largest Sectional Barge available that can be transported over the road. Measuring 44 ft long x 11 ft wide and 10 ft tall, the P10 has floated some of the largest cranes available. All Poseidon Barges have patented roll form decks that are rated for 20,000 lb/ft2 of point load. That is four times the strength of traditional ¼-inch deck plate.PRODUCT LINE ACCESSORIES Accessories for each specific product line are also available. Spuds, spud wells, deck cleats, rake sections, hydraulic double drum winches, Sea Bee Thruster units, and Push Boats are all part of the product line available for rent or purchase.Poseidon Barge, LTD has a full engineer staff led by an in-house certified Naval Architect. Layouts and Basic Stability Analysis are available for each project based on the information provided by the client.Poseidon has recently added in-house steel grit blasting and liquid spray-painting booths to better serve its customers with a premier product finish. Large enough to accommodate the P10 barge, they are some of the largest booths in the Midwestern United States. Each booth is equipped with a 25-ton crane for easy product handling.DESIGN SERVICES AVAILABLE Poseidon performs contract manufacturing and finishing for markets outside of the marine industry. We also can offer design services through our engineering department.Poseidon Barge, LTD is the onlySectional Barge Manufacturer that hasreceived their ISO 9001:2015 certification. High quality, repeatability, and focused on continual improvement seperates Poseidon Barge, LTD from other manufacturers. Poseidon Barge prides itself on the principle that the customer is assured that each and every barge section was built with the attention focused on these core values. Visit www.poseidonbarge.com or call 866.992.2743. Visit us on Facebook, LinkedIn, and YouTube. WITH A FOCUS ON QUALITY, INNOVATION, AND EXCELLENT CUSTOMER SERVICE, POSEIDON BARGE CONTINUES TO SET THE BAR HIGH FOR SUPERIOR PERFORMING SECTIONAL BARGES.
Page 83
www.mcsmag.com APRIL 202275products and servicesSalem Hydraulics has been serving the Hydraulic and Pneumatic, Mobile Construction, and Industrial Industries since 1978. Located within the Beautiful Shenandoah Valley in Salem Virginia, Salem Hydraulics has well over 100+ years combined experience and specializes in the sales, remanufacturing, and repair of many hydraulic Components such as Hydraulic Attachments, (Hammers, Breakers, Crushers, Sheers, Grapples, Compactors, etc.) Hydraulic Pumps & Motors, Hydraulic Valves, and Hydraulic & Pneumatic Cylinders for all major brands of equipment. Whether you need a piston pump in North America, or a custom design & built power unit system half way around the world, we are ready to serve you. We pride ourselves in supplying the highest quality … Attachments, Components, Parts, Service, and Systems available. All at competitive pricing. We hope to have the opportunity to serve you soon!Please feel free to contact us at any time via phone, fax, or email as we look forward to hearing from you. Our staff is eagerly awaiting your call or email with readiness to assist you.Ph# (540)387-1318 Ph# (800)727-7938 Fx# (540)389-4478Email: Sales@SalemHydraulics.com Salem HydraulicsSalem HydraulicsAt Salem Hydraulics, we take pride in being a world leading supplier of very high quality components, repairs as well as spare parts to keep your projects and companies running smoothly.
Page 84
APRIL 2022 www.mcsmag.com76products and servicesSunflower Enterprises is the mid-west's provider of marine construction equipment. Located in the tri-state region, Sunflower has a robust inventory of:• Truckable Sectional Barges• Crane and Spud Barges• Truckable Tugboats• Traditional Tugboats• Dredges• Two Drydocks Sunflower Enterprises offers full service marine rentals to support:• Drilling and Dredging• Bridge Repairs• Riprap Operations Sunflower Enterprises drydocks routinely accommodate USCG and USACE tugboats and barges for repair work. Sunflower has repowered four vessels in the last 2 years on its drydocks and supported over a dozen drilling jobs.We can support your drilling jobs with sectional barges of the following draft: 3 ft, 4 ft, 5 ft, and 7 ft. Shallow water or heavy loads is not a problem; a drilling platform of five 5 ft barges can support 150,000 lbs and draft only 2.3 ft. We have several truckable tugboats in stock with horsepower ranging from 300 hp to 600 hp. We offer support staff for drilling operations. Our experienced crew will mob/demob, assemble the equipment, and run the tugboat for you. For more information, questions, or to discuss your upcoming projects, you can reach Sunflower Boat & Barge at 563.583.0556, or visit www.sunflowerboatandbarge.com.Sunflower Boat & BargeSunflower Boat & Bargewww.sunflowerboatandbarge.com • 563-583-0556• Sectional Barges• Spud Barges from 75x32 to 195x70• Hydraulic Dredges• Truckable Tugboats from 300 – 600 hp• Traditional Tugboats• Support EquipmentAvailable for Lease:SUNFLOWER'S BARGES CAN BE ASSEMBLED INTO ANY PLATFORM SHAPE TO SUPPORT CRANE OR EXCAVATOR WORK.
Page 85
www.mcsmag.com APRIL 202277products and servicesYokohama Off-Highway Tires manufactures Yokohama OTR, Alliance, Galaxy and Primex tires, providing today's contractors with one of the largest lineups of construction tires in the world. Now, more than ever, those choices are vital to profitability."In today's construction industry, where labor is tight, costs are climbing, and every minute counts, the right tire can make a major contribution to the bottom line," says Bruce Besancon, vice president—marketing for Yokohama Off-Highway Tires America, Inc.ALL-STAR TEAM"We pride ourselves on the versatility and durability of our tires, and we also encourage contractors to zero in on specific features that can really increase their productivity," Besancon notes. Yokohama Off-Highway Tires is rooted in a century of leadership in tire technology."In tires, we help customers look at the environments they're working in to help find the tread pattern and compound that will help them get the best performance and longest life," Besancon explains. "We also look at how much distance a piece of machinery covers. Is a backhoe loader turning around from a pile of gravel to load a dump truck a few yards away, or is it running down the road from site to site during a shift? Travel distance can make a huge difference when it comes to heat buildup, which is extremely destructive to tires."Spending some time thinking about the conditions your tires face and talking to your tire dealer about the compounds, tire construction, and design technologies that are available now can turn your tires into a great investment," he adds.COST PER HOUR The right tire can boost equipment performance by transmitting more horsepower to the ground, minimizing slip, reducing wear and tear on the machine, and increasing speed. A smooth-riding tire can also improve operator comfort, which has been demonstrated to increase productivity.Just as important, a tire with long service life and a reasonable purchase cost can directly improve a construction company's profitability, Besancon points out. Yokohama Yokohama Off-Highway TiresOff-Highway TiresThe Right Tool For Any Challenge
Page 86
products and services BedLock Safety Products LLC BedLock Safety Products LLC announces a positive NEW FOR 2022 TWO CHAINS ARE BETTER THAN ONE improvement to the already tested and proven BedLock safety support system Its effective and successful chain and keyslot attachment system as proven by the thousands of pairs in use today is now even more versatile We are thrilled to THE ORIGINAL PATENT 6905174 announce that our safety support system will now be sold with two hooked chains per brace offering you maximum versatility in securing the BedLock braces to the truck frame Our patented system and method of use is secured twice BedLock Safety Products LLC in keeping with our commitment to offer only the finest and safest products to the truck repair industry is proud to reintroduce the BedLock safety support system with two hooked chains per brace and new double key slot retention plate This will be the standard offering on all sizes of our BedLock safety device systems We appreciate your support and look forward to making the truck repair industry a safer place to work For more information visit bedlocksafety com PROVIDING SAFETY PRODUCTS THAT ARE UNIQUE TESTED AND PROVEN www bedlocksafety com 217 553 0963 CRSI Join one of the Nation s oldest trade associations and benefit from CRSI s technical expertise CRSI members have priority access to our team of experienced engineering professionals CRSI s Region Managers purpose is to promote the use of reinforced concrete and be a resource for our members Participate in CRSI s technical committees We are an ANSI accredited Standards Developer that produces documents impacting your business As a member of CRSI you can help to develop industry standards publications and provide input on industry and association issues Network with current and potential customers CRSI s conferences seminars educational programs and social events provide opportunities to build meaningful relationships nationally and locally And of course there are Member discounts CRSI members receive discounts on all CRSI field publications design guides and more Associate Members Contractors can receive discounted custom quotes on multi license options over 10 users for digital versions of CRSI flagship publications For additional benefits and information on joining the Institute contact CRSI at 847 517 1200 78 APRIL 2022 www mcsmag com
Page 87
www.mcsmag.com APRIL 202279products and servicesHitchDocThe Sandpiper and Dual Dozer from HitchDoc help you get more done, faster. SANDPIPERThe Sandpiper's self-loading, cutting edge lets you scoop sand or other granular material directly into the hopper and spread it quickly and easily. DUAL DOZERThe Dual Dozer features a dual-sided cutting edge and rear-mounted wheels for finish grading in any direction, near corners, and around pillars. Each attachment is manufactured from American steel in the Midwest and can be easily controlled from inside the skid steer. HitchDoc sells through a trusted dealer network and dealer opportunities are available. For more information, visit www.hitchdoc.com.DESIGNED WITH THE CONTRACTOR IN MIND. Get rid of messy asphalt buildup on your equipment or at the jobsite safely, easily, and effectively. Franmar's BEAN•e•doo® 300RE Asphalt Remover breaks down tough asphalts, polymers, top coats, dressings and sealers on tools, trucks, and a variety of other surfaces. Just spray on, let buildup soften, and remove with a pressured hose or power washer. Pre-apply BEAN•e•doo to clean metal surfaces as a protectant and make cleanup even simpler. No need for harsh, petroleum-based products when you can use our low-odor, low-VOC formula made with soybeans. Soy-based solvents are an affordable, superior alternative because they can easily penetrate asphalt, coatings, grease, and more, without noxious odors or side effects. FranmarBEAN•E•DOO MAKES EASY WORK OF TOUGH JOBS, WHILE BEING BETTER FOR PEOPLE AND THE PLANET!
Page 88
APRIL 2022 www.mcsmag.com80coach's cornerEmployee Engagementa leader's top priorityJUST A THOUGHTBy Randy GorukREGISTER TO RECEIVE A TIP EACH WEEK FROM RANDY AT WWW.LEADERSEDGE360.COM.Leaders of construction companies want an organization that runs smoothly and efficiently—an objective that's readily achieved when their employees are fully engaged. Engaged employees feel passionate about their jobs, stay committed to the organization, and put discretionary effort into their work. By comparison, disengaged employees cause unexpected costs and unwelcome turmoil. As a leader, do you know:• The difference between employee satisfaction and engagement? • What causes employee disengagement and what problems it creates?• What drives the kind of engagement that leads to exceptional performance? Employee satisfaction is the extent to which employees are content with their jobs and work environment. This sounds ideal; however, striving to develop satisfied employees requires caution. A "satisfied" employee could be overpaid, have minimal supervision, and might not be held accountable for performance. Life is good for this person but not for the company.By comparison, employee engagement is the extent to which employees feel passionate about their jobs, commit to their organization, and put discretionary effort into their work. Engaged employees are also satisfied employees.When employees are disengaged, though, serious problems and increased costs rise while productivity levels and workmanship can drop. Falling short of acceptable quality standards might cause expensive callbacks. And concerns emerge when disengaged employees fail to pay attention to safety—their own or others on their team.What are frequent causes of disengagement and how can they be addressed?Ineffective communication. To avoid or overcome communication challenges, leaders listen more, ask for and provide constructive feedback, and be clear, thorough, and consistent when providing direction.Lack of opportunities for growth or advancement. Because most people want to expand their skills and advance within their organization, leaders must create a plan that allows team members to develop the skills that take them on a desired career path. No connection to the organization's vision or purpose. When employees have no sense of connection to their work's meaning or the company's vision, they disengage. Developing connections requires articulating the specific value each person contributes to achieving the organization's short- and long-term objectives. To develop engagement in the workforce, leaders have to understand these three common drivers and explore ways to achieve them:Respect for employees. Leaders cannot fail to consistently show genuine appreciation for their employees' efforts. Trust. To earn trust. Leaders must do what they say, use strong communication, and be genuinely transparent in their words and actions. Teamwork. Employees will feel engaged when they see an abundance of cooperation in their environment. Without teamwork, chaos, confusion, and conflict results—and employees disengage. about the coachAs a leadership development expert, Randy Goruk works with construction industry leaders to improve employee engagement and business growth. Contact Randy directly to learn how he can help you and your team: randy@LeadersEdge360.com.ONE LAST THOUGHT Making employee engagement an intentional strategy should be top priority. Turning well-thought-out actions into a measurable plan is the goal. Implemented well, this plan can minimize turnover, improve productivity, and achieve greater financial performance in the long run.
Page 89
Page 90