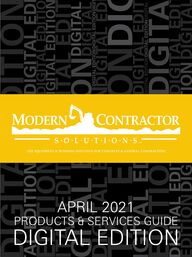 Return to flip book view
Modern Contractor Solutions April 2021
Page 1
APRIL 2021PRODUCTS & SERVICES GUIDEDIGITAL EDITION
Page 2
Emarsinc.com Emarsinc.com 44,000+ eMars clients44,000+ eMars clients have never had a Compliance Issue have never had a Compliance Issue with the Davis Bacon act of 1931. with the Davis Bacon act of 1931. Not One Ever! Not One Ever!Call: 480-595-0466480-595-0466480-595-0466Emarsinc.com Emarsinc.com
Page 3
APRIL 2021WWW.MCSMAG.COMTAXABILITYTAXABILITYSTATE TAX LAWSSTATE TAX LAWSWORKFORCEWORKFORCEMOTIVATIONMOTIVATIONLEADERSHIPLEADERSHIPPURPOSE-DRIVENPURPOSE-DRIVENFOR SUCCESSFOR SUCCESSWWW.MCSMAG.COM
Page 4
Page 5
Page 6
Page 7
Page 8
special issue Products and Services Guideyour go-to resourcemanagement solution On Trackleading with purposemanagement solution Customer Servicetraining is key32APRIL 2021VOLUME 15 ISSUE 04Inside This IssueON THE COVERAlpine-Rockwheel twin drum cutter excavating hard sandstone for house foundation in Heber City, Utah. This tool, available for any size carrier, gives the excavator the capability of a continuous miner allowing for rapid and precise rock removal with reusable cuttings. Photo courtesy of Alpine-Rockwheel. www.alpinecutters.com24special focusIN THIS ISSUEIndustry News .................................08Products & Services Guide .............. 41Coach's Corner ................................88legal solution Know Your Contractsno damages for delay clausesmanagement solution Survive to Thrivepush through this difficult time18management solution Millennial Workforcemanaging younger workers22Leadership20management solution Return on Experienceuncover new opportunitiesON THE WEBON THE BLOGThe Pandemic's Impact: What To ExpectGuest Post by Roger Duncan and Michael E. Webber3741
Page 9
Page 10
EQUIPMENT SOLUTIONThree-reel Rack ..................................................................14MANAGEMENT SOLUTIONSOn Track ............................................................... 18Customer Success .............................................................20Millennial Workforce ..........................................................22Survive to Thrive .................................................................24Motivation ..........................................................................28MEWPs ...............................................................................30Sales Taxability ...................................................................32LEGAL SOLUTIONKnow Your Contracts..........................................................36FEATURED PRODUCTMi-T-M Corporation: AGW Series .......................................40LEADERSHIP MATTERSWelcome to the April special issue Product and Services Guide! This go-to resource for commercial general and concrete contractors comes at a time when projects are kicking into high gear for spring. This issue also marks one year since the pandemic shattered the "normal" in the way of doing business and living our lives. I'm happy to report MCS survived and thrived during this time and the future of the construction industry and MCS looks bright!During difficult times, leadership matters. Whether it's on the jobsite, in the back office, or at home, having a plan and working the plan makes the difference between success and failure. I've heard many stories from GCs on how they adapted as they went and simply "made it work."To get a full dose of leadership best practices, check out the Management Section in this issue … there's something for everyone. First up is an article on instilling purpose, leading with purpose, to gain success (pg 18). Training is also key to learning and moving forward, check out the article on page 20. Showcasing the construction industry as an avenue for career growth is paramount to building a workforce and that starts with managing millennials (pg 22). Motivating your crew to keep going is addressed in the article on page 28. And, check out Coach's Corner as Retiring Robert learns about succession planning on page 88. Enjoy the issue!Cheers, Donna CampbellEditor in ChiefFrom the Editor@mcsmagModern Contractor Solutions MagazineModern Contractor SolutionsPRODUCTS AND SERVICES GUIDE41Check out the products and services from manufacturers ready to serve you and your projects. LET THIS ISSUE BE YOUR GUIDE.STRONGER AND THRIVINGOne year ago, all of us were facing some unprecedented changes to our business and personal lives. In the message I wrote to our loyal readers and manufacturing partners, I stated that America would find a way and come through this even stronger. America has done just that—we have adapted and, in some cases, even streamlined the way we do things and developed new technology to solve new problems. That is what makes America great … the ability to bounce back and overcome any obstacle. The outlook for construction is bright and while we still have challenges to address, our industry and many others have not only survived, we are stronger for it as I believed we would be. The road ahead certainly looks better than it did sitting here one year ago, but there are still hurdles to overcome and Modern Contractor Solutions will be here every step of the way to help the contractors and manufacturers that are so vital to the success of this nation. You can count on us to continue being here for you.Russell HaddockPresidentSUBSCRIPTIONS For all changes, go to:MCSMAG.COMClick the SUBSCRIPTIONS button in the main menuwww.mcsmag.com P.O. Box 660197 | Birmingham, AL 35266DONNA CAMPBELL Editor in Chiefdonna@mcsmag.comMIKE BARKER Publishermike@mcsmag.com RANDY MOON Media Consultantrandym@mcsmag.comMICHAEL FISCHBACH Media Consultantmichael@mcsmag.com JOHN FRIEND Media Consultantjohn@mcsmag.comKEVIN MCCLARAN Media Consultantkevin@mcsmag.comLISA AVERY Art Directorlisa@mcsmag.comCAMILLE BLACK Graphic Designercamille@mcsmag.com SETH SAUNDERS Digital Media Specialist seth@mcsmag.comINGRID BERKY Office Manageringrid@mcsmag.comTIM GARMONCEORUSSELL HADDOCKPresidentCHRIS GARMONCFODONNA CAMPBELLVice President, EditorialTONYA BROWNINGVice PresidentNo part of this publication may be reproduced or transmitted in any form or by any means, electronic or mechanical, including photocopy, recording, or any information storage-and-retrieval system without permission in writing from the publisher. The views expressed by those not on the staff of Modern Contractor Solutions, or who are not specifically employed by Highlands Publications are purely their own. All Industry News material has either been submitted by the subject company or pulled directly from its corporate website, which is assumed to be cleared for release. Comments and submissions are welcome, and can be submitted to donna@mcsmag.com.For reprint information, contact Chris Garmon at chris@mcsmag.com.Canada Post Publication Agreement #41578525. Undeliverables 355 Admiral Drive, Unit 4, Mississauga, ON L5T 2N1
Page 11
ROME specializes in disc plows, earthmoving scrapers, land leveling scrapers, and haul roadmaintenance equipment for the construction industry.ROMEROME manufactures construction disc plows from 6' wide up to 20' wide that range from 400 pounds per blade to an industry leading 1100 pounds per blade. ROME offers disc blade sizes from 28" up to 42" in diameter ontheirconstruction plows. No matter what your application or power unit size ROME has you covered on your construction tillage needs.tillage needs.ROME manufactures earth moving scrapers in both pivot dump and ejector styles. The pivot dump line ranges from 9 yards to 21 yards. The ejector line ranges from 16 yards to 35 yards.ROME's haul road maintenance line is far and above the most diverse in the industry. Whether you need a simple bottomless scraper, ejector finishing scraper, or a roller box scraper ROME has you covered.For more information on our products or for the closest authorized ROME dealer please contact us.
Page 12
APRIL 2021 www.mcsmag.com8industry newsEXTRACKER ANNOUNCES EFFICIENCY-BOOSTING PROCORE INTEGRATIONExtracker, a cloud-based change order communication platform that helps general contractors and subcontractors create, track, and share change orders and time and material tags, announces an integration with Procore, a leading provider of construction management software."Many contractors still use outdated tools like email, spreadsheets or even pencil and paper to manage change order communication," says Cameron Page, founder and CEO of Extracker. "Our solution automates the change order communication process so general contractors, subcontractors, and owners can stay on the same page in real time and keep project costs from creeping. Combining Extracker's streamlined change order communication technology with Procore's powerful project management software gives more contractors the opportunity to take full advantage of the best tools available for minimizing risk on projects." With the integration, Procore and Extracker customers can organize and manage change order communication through Extracker's collaborative Change Order Log and effortlessly sync Procore Change Events with Extracker COR information. This ensures forecasting in Procore is complete and accurate and keeps Subcontractors, General Contractors, and Owners all on the same page. For more, visit www.procore.com or www.extracker.com. NEW SOLID GALAXY TRACTION TIRE FROM YOKOHAMA OFF-HIGHWAY TIRES With deep shoulder grooves connected across the tread face by S-lug channels and rugged chip-and-chunk-resistant compound, the new Galaxy LHD 510 SDS (Severe Duty Solid) released by Yokohama Off-Highway Tires is built for long service delivering traction indoors and out.The Galaxy LHD 510 SDS is a true traction tire, designed to provide substantially more grip in varying conditions than smooth tires can deliver. The deep grooves on the shoulder define massive tread blocks that bite through water or mud, while continuous S-lug channels create a horizontal pattern across the entire tread surface to ensure maximum traction, preventing the tire from spinning on wet surfaces. A unique zig-zag pattern on either side of the centerline channels water away from the contact patch to ensure good rubber-to-ground contact. And inch after inch of solid, extra-durable compound deliver long service life."The tread pattern was designed to provide maximum traction, with input from tire dealers and end users who constantly complained that the smooth center on the other solid traction tires
Page 13
Page 14
APRIL 2021 www.mcsmag.com10industry newsin the market provided insufficient grip in wet conditions," adds Ryan Lopes, national product manager—material handling and solid tires for Yokohama Off-Highway Tires America, Inc. "The other feature that really sets the Galaxy LHD 510 SDS apart is the top-quality chip-and-chunk resistant compound, which allows the tread patten to do its job while holding up in the toughest conditions."The tread design is eye-catching, but what you don't see in the LHD 510 SDS is just as important, Lopes adds. The Galaxy LHD 510 SDS is available in the 20.5-25, 23.5-25, 26.5-25, and 29.5-29 sizes that are most common on wheel loaders. All are designed with apertures for heat dissipation and cushion against external shocks, and are backed by a 5-year warranty. For more, visit www.yokohama-oht.com.PETERBILT UNVEILS NEW CLASS OF MEDIUM DUTY Peterbilt Motors Company unveils the all-new medium duty Model 535 and Model 536, designed for the Class 5/6 non-CDL lease and rental markets. Working from a clean sheet of paper, Peterbilt designers and engineers have developed a high-quality truck designed for maximum efficiency and versatility. The 5-year project involved talking directly to customers to fully understand their needs. The all-new Model 535 and Model 536 deliver the highest level of quality customers have come to expect from Peterbilt.The trucks feature a robotically-assembled aluminum cab with a width of 2.1m, a floor height of 40.5 inches and a roof height of 74 inches. The cab is 8 inches wider than the previous generation cab and has room for three adults to seat comfortably. Ingress and egress are improved with a 3-inch lower cab height, stair-style steps, and knurled grab handles. The all-new, self-closing doors feature larger windows for increased driver visibility, three opening positions and a new triple seal for enhanced NVH. Options available on the Model 535 and Model 536 include two hood lengths, two roof heights, composite and steel bumpers, as well as multiple options of fuel and DEF tanks. The cab interior has best-in-class fit and finish with high or low-back seats in cloth or vinyl. Storage space is also best in class with three cup holders and 4.6 cu ft of overhead and door storage space. The dash layout of the Model 535 and Model 536 is fully customizable for any application with available space for optional gauges, switches, and ram mounts. The new Model 535 and Model 536 are available for order starting today with deliveries starting in July. For more, visit www.peterbilt.com. TAKEUCHI OFFICIALLY OPENS NEW TRAINING CENTER Takeuchi-US hosted a ribbon cutting ceremony and open house at its new 37,000-square-foot Training Center in Pendergrass, Georgia, in March. Located next door to the company's OSHA Compliant Guardrail andStair Rail SystemsSafety Boot® Guardrail SystemStringerShield® Stair Rail System1.800.804.4741safetyboot.com• Non-Penetrating Design• Rugged Steel Construction• Exceeds OSHA Regulations• Simple, Aordable & Reusable• Residential, Multi-Family & Commercial Applications• Unique Free Standing Design• Keep Post Attached For Reuse On Next Level Or ProjectFeatured on osha.gov website!
Page 15
Page 16
APRIL 2021 www.mcsmag.com12industry newsContractor's #1 Choice for Flat FloorsA great power screed using straight flat screed bars. The❝Black Beauty❞GET FLAT FLOORS!Screed bars are available in lengths up to 20 feet.▼ Equilateral screed bars stay straight through years of use.▼ Now available with "T" handle (shown) or "Bicycle" handle.▼LOCATE A DEALER AT advancedconcretescreeds.com OR CALL US AT 800-648-0542.headquarters, the Takeuchi Training Center will now be the site of sales and technical instruction for the company's salespeople, dealer principals, dealer technicians, and corporate dealer trainers. The facility's larger classrooms and additional staff will give Takeuchi the ability to increase class capacity and add more service training classes over the coming months. Courses that will be offered at the Takeuchi Training Center include instructor-led, intermediate-level technical trainings for both compact track loaders and compact excavators with simultaneous classes starting in May 2021. These classes will cover general machine layout, electrical and hydraulic component location and function, general engine controls, and exhaust after-treatment systems on all products. Soon, Takeuchi will also offer quarterly sales training for dealers as well as advanced technical training. Beginner-level courses will be offered online via Takeuchi's Learning Management System. For more, visit www.takeuchi-us.com. ISUZU NORTH AMERICA CORPORATION AND GATIK FORM STRATEGIC COLLABORATION TO DEVELOP AND EVALUATE FULLY AUTONOMOUS MEDIUM DUTY TRUCKSIsuzu North America Corporation and Gatik agreed to collaborate on a project to develop and evaluate fully autonomous medium-duty trucks. Isuzu is a market leader in Low Cab Forward (LCF) trucks in the U.S. and Canadian markets. Gatik is the industry leader in automating on-road transportation networks for B2B middle-mile logistics. This collaboration is an industry first in the medium-duty category and will accelerate the commercialization of autonomous delivery fleets while contributing to a safer and more sustainable logistics community in the future.The collaboration will integrate Gatik's autonomous driving technology into several Isuzu medium-duty N-Series trucks to produce SAE Level 4 delivery vehicles with redundant systems. The first vehicles will be deployed this year thanks to the cooperative efforts of Gatik's and Isuzu's engineering teams.Rapidly increasing e-commerce sales and a well-documented driver shortage have caused businesses to struggle to meet the expectations of on-demand goods movement. This effort will combine Gatik's autonomous driving software and operational expertise with Isuzu's award-winning truck platform to address these critical industry pain points, ensuring retailers can maintain capacity, lower operating costs, and keep delivery times short. For more, visit www.isuzu.com. PRODUCTS AND SERVICES GUIDECheck out the products and services from manufacturers ready to serve you and your projects. 41
Page 17
Page 18
APRIL 2021 www.mcsmag.com14equipment solutionRecently, a national heavy equipment rental company and longtime customer of Felling Trailers was faced with a dilemma. One of their national accounts, a renewable energy contractor, was working on a solar project that spanned several locations in their coverage area. They needed several heavy-duty triple reel trailers capable of hauling three 97-inch diameter x 77-inch x 10,000 lbs wide reels for medium voltage (MV) underground cable. ALL ABOUT TIMELead-time was of the utmost importance. With the solar projects in progress, the trailers were needed inside of a 4-week time frame. Standard build time for a reel trailer needing to carry three reels weighing 10,000 lbs each would be 10-weeks or longer when starting with a new build—that kind of timeline was not acceptable.Felling Trailers stocks millions of dollars of trailer inventory in various configurations/builds. The national rental company had utilized Felling Trailers' stock inventory in the past and knew they could assist this time around, too. When the rental company spoke to their Felling Trailers' account representative, he put them in touch with Mark Rapp, Felling Trailers' utility and telecom product specialist. After learning the project's details, Rapp suggested the FT-30-2 LP (low profile) a 15-ton tag trailer. The FT-30-2 LP is a Felling Trailers model that is a standard inventoried trailer and would be a perfect model to convert to a heavy three-reel hauler.THREE-REEL RACKThe FT-30-2 LPs were mounted with a one-piece, three-reel rack assembly bolted directly to the flat deck surface. The reel rack assembly was manufactured with 3-inch x 3-inch heavy wall steel tubing. The assembly was equipped with a 2.88-inch diameter reel bar that spins on a 660 SAE continuous cast bronze bushing saddles. The reel bars were fitted with a cross arm to tie the reel spool to the reel bar and a Three-reel Racksolar project solution for rental company's contractor FELLING TRAILERS
Page 19
www.mcsmag.com APRIL 202115locking collar to keep the reels centered. Both the cross arm and locking collar are equipped with lifting hooks to safely aid in loading/unloading reels onto the rack assembly. The renewable energy contractor uses the triple reel FT-30-2 LP units to bring the power from the solar fields. The rental company has ordered eight of these trailers that have gone directly to the jobsites and are presently ordering the reel rack/trailer package for their rental inventory. Along with the FT-30-2's, the rental company recently added a set of FT-24-2 LP triple reels with smaller and lighter reels for the contractor's task of providing conductor for the substations the main feeds are brought to or the solar project. CLOSING THOUGHTCross-functionality, a removable reel rack on an equipment trailer ensures the trailer will remain utilized throughout its life. Too many times, a dedicated reel trailer is purchased for a specific application or project. When that job is complete, the reel trailer sits. This package allows the reel rack to be easily removed, and the trailer can then be used to haul equipment, materials, etc. When the need again arises, the reel rack assembly is easily placed back on the trailer and mounted to the trailer deck. for more informationFelling Trailers is a family-owned and operated full line trailer manufacturer located in Central Minnesota, providing high-quality products that are distributed across North America and internationally. For more, visit www.felling.com. The FT-30-2 LP Triple Reel on one of the solar project sites.
Page 20
Page 21
Page 22
APRIL 2021 www.mcsmag.com18management solutionGreat companies persevere despite adversity because they have a sense of purpose that guides their way. It's a sense of purpose embraced by everyone from the top on down. But losing a sense of purpose is a lot easier than keeping it strong, especially when there are things like business challenges and quarterly earnings involved. But if you're looking to build a strong, enduring company, purpose should be front and center of your strategy. And, if you feel like your company has lost its sense of purpose, now may be the right time to help get things back on track. Here are three things you can do. BE CLEAR IN YOUR COMMUNICATIONSSometimes we think our message is getting through to people, but do we know for sure? A valuable step to take is to get feedback from your employees. See if they understand their roles and how it aligns with the company's objectives. If it seems like they don't see things the way you do, then maybe it's time to reevaluate how you communicate to them. It could be your delivery methods are resonating or your messaging is cluttered with too much information for people to grasp. Finding ways to improve the clarity of your messaging can go a long way in helping your employees feel connected to the company and the greater purpose. ESTABLISH A CLEAR MISSION STATEMENTLots of companies have mission statements. But sometimes they're vague or don't actually align with the day-to-day goals of the organization. Spend some time creating a mission statement that accurately reflects your company. If you already have one but your company has changed and evolved since it was created, now could be a great time to revisit your mission statement and branding to revitalize your company and infuse that sense of purpose once again. EMPOWER YOUR PEOPLEYour people are the core of your company. They make the magic happen. But to keep that magic alive they need to feel valued. That's why it's important to invest in your people, give them opportunities to share their ideas, and make them feel aligned with your organization's purpose. You won't be surprised then when you notice an improved bottom line, lower turnover rates, and people wanting to join your company. CLOSING THOUGHTBuilding a purpose-driven organization is about more than sharing motivational messages. It's about being clear and honest about what your company aims to achieve and how each individual's role is critical to achieving those goals. When you do that, you'll find that your company will have the strength to overcome any obstacle and achieve any goal. for more informationAs the principal subsidiary of Valley National Bancorp, Valley National Bank is a regional bank with approximately $41 billion in assets. Valley is committed to giving people and businesses the power to succeed. Valley operates many convenient branch locations across New Jersey, New York, Florida, and Alabama, and is committed to providing the most convenient service, the latest innovations, and an experienced and knowledgeable team dedicated to meeting customer needs. Helping communities grow and prosper is the heart of Valley's corporate citizenship philosophy. For more, visit www.valley.com or call our Customer Care Center at 800.522.4100.On TrackOn Trackleaders who instill purpose build lasting companiesBEST PRACTICESBy Theresa Ball, Vice President, Valley Bank
Page 23
www.mcsmag.com APRIL 202119TECHNOLOGY • MANAGEMENTTECHNOLOGY • MANAGEMENTMANAGEMENT • ENVIRONMENTALEQUIPMENT • SAFETYSAFETY • TECHNOLOGYENVIRONMENT • EQUIPMENTSOLUTIONSSOLUTIONSSOLUTIONSSOLUTIONSSOLUTIONSTECHNOLOGY • MANAGEMENTMANAGEMENT • ENVIRONMENTALEQUIPMENT • SAFETYSAFETY • TECHNOLOGYENVIRONMENT • EQUIPMENTSOLUTIONSSOLUTIONSSOLUTIONSSOLUTIONSSOLUTIONSLET MCS BE YOUR RESOURCE.LET MCS BE YOUR RESOURCE.SEEKING A SOLUTION? SEEKING A SOLUTION? Go to mcsmag.com for solution-based articles withinsight from industry experts.
Page 24
APRIL 2021 www.mcsmag.com20Customer SuccessCustomer Successtraining is the keyBEST PRACTICESKeeping a well-trained workforce can be challenging. Every week, new technologies and new methodologies are changing how construction is performed. Keeping abreast of all the changes is already difficult enough, never mind training staff on these new technologies and tools. From project management to BIM to remote surveillance and control, digital solutions offer significant benefits to companies in the construction industry, assuming the right people on your team have been trained to use them effectively. If staff are not adequately trained, you end up with just a fancy, expensive gadget no one uses. Furthermore, adopting technology without providing adequate training can have adverse effects on your business. Staff will take longer to complete tasks, will make more mistakes, will get confused and frustrated, and will eventually stop using the technology. TRAINING IS AN INVESTMENTTraining employees contributes to better-quality work, less mistakes, a more efficient and knowledgeable staff, and employee retention, so why do so many companies not train their employees better? The answer is, in part, the positive effects of training aren't easy to calculate. If an employee, due to their training, avoids making a mistake that would have cost your company thousands of dollars, does that get calculated? Does it even get recorded? It doesn't, because companies would be comparing an actual against a hypothetical. However, training fees plus wages plus travel costs are very easy to calculate. So, companies end up comparing a known to an unknown and, often to their detriment, forego the training and hope for the best. When companies overlook training employees on digital solutions designed for construction, it can have negative effects. For example, when using a take-off software, mistakes made when inputting data or calculating quantities, will make your bid less accurate. If the mistake translates into a high bid, you will probably lose the contract; if it translates into a low bid, you risk losing money. Also, starting a job with incorrect quantities will negatively influence how much you order. You could end up with too much or too little of a building material. This could negatively impact costs, if you ordered too much, and it can negatively impact schedules if you find out last minute that you have ordered too little and now you have to wait for a second shipment. Mistakes can have a trickle-down effect and small mistakes can snowball into large consequences. Your employees are there to make you money, so it's best to train your employees to the best of their abilities.SOFTWARE AS A SERVICESoftware today is primarily sold as a service. A service acknowledges the relationship between the end-user and the software provider will last only if the company continues to use the software. When purchasing new software, companies don't have the product knowledge to train employees and need to take full advantage of any training opportunities provided by the software provider. When comparing software solution providers, find one with a robust onboarding program, continuous training opportunities and great support.management solution
Page 25
www.mcsmag.com APRIL 202121A customer-centric training and support program helps customers better understand the technology, gain greater confidence in tackling tasks, and earn higher customer success rates. Happy customers renew their licenses and tell others of their positive experiences. Adversely, when a software company provides inadequate training and support, the customer does not realize the full benefits of the technology. They may potentially stop using the software or shop for a competitive product and tell others about their bad experience.TRAINING IS SUPPORT Insite Software, providers of earthwork takeoff and GPS model building software, triumphs in training because they realize the positive benefits of training and support and the immediate correlation to customer success. "Our company goal is customer success; the most successful customers are the ones who know how to use the software, and we give them the tools they need to succeed," says Steve Warfle, president, Insite Software. Insite Software starts by vetting potential customers to make sure the customer understands the software's purpose before closing the sale. "If the technology is not going to serve the customer's needs, we try to find that out before even selling them the product. Customers don't renew their license if they feel that the technology doesn't line up with what they wanted to do," says Warfle. "Overselling your product is not good business."When Insite Software sells a license, the company initiates an onboarding program that includes 75 minutes of personalized instruction using voice and screen sharing technology. A series of videos and documentation continue the learning process. CLOSING THOUGHTIt's in the interest of both the provider and the customer for the provider to provide training and for the customer to take advantage of the training. This cuts down the number of technical supports calls in the future and creates a more productive user. The creation of video tutorials can save thousands of hours in customer support."Training has never played a more important part in customer success; it is at the core of our company and is what distinguishes us from our competition," says Warfle. We know that we can only be successful if our customers are successful. Our sales growth is heavily influenced by taking a proactive approach to training our customers." for more informationInsite Software, based out of Rochester, New York, is the industry leader in earthwork takeoff and GPS modeling tools. Our software solutions give estimators the tools required to be competitive, accurate, and profitable. We are recognized for our software innovations and continue to expand our product offerings to meet the growing productivity needs of our customers. For more, visit www.insitesoftware.com.
Page 26
APRIL 2021 www.mcsmag.com22management solutionThere is a major misconception that millennials are lazy and entitled employees, looking for employer handouts and that they are willing to self-motivate and put in the work necessary to succeed in the workforce. In reality, approximately 84% of this generation say they care more about making a difference at their jobs rather than their own individual success, showing they are incredibly impact-motivated, passionate, and driven employees. Millennials now represent half of the U.S. workforce, with many entering the contracting industry specifically in the coming years. These employees will be coming in looking to make a positive impact across the industry, something that is desperately needed for many businesses due to various setbacks from the COVID-19 pandemic. As the workforce continues to evolve, employers must learn to adapt their management styles to further appeal to the next generation of workers. Millennial workers prioritize company culture and effective leadership from their companies. In fact, 44% of millennials would be more likely to increase their work engagement if their managers met with them more frequently. Regardless of the industry or workforce generation, happy and engaged employees typically perform at higher levels and are overall more satisfied with their careers, which translates to improved overall success of the company.Below are a few principles contracting employers can implement to effectively manage their millennial employees for a happier work environment and higher ROI, all of which can make a tremendous difference in a company's future success. CREATE A STRONG SENSE OF PURPOSE Millennials yearn for impactful opportunities within their careers, which can drastically affect where they choose to work and who to work for. Once they're hired, however, how can employers keep them motivated and satisfied? One way is to give them a sense of purpose regardless of the type or size of a project. Millennials desire that what they do is worthwhile and meaningful, beyond simply making money for themselves or for their company. It can be challenging at times for millennials in this industry to feel like they're making a meaningful difference, as skilled trade positions have been dubbed as inferior to other industries. In reality, a skilled trade career can be one of the better fields to enter due to a variety of reasons, including the chance to make major impacts on everyday people, something that should be continually emphasized to each new employee. Whether it be building and reconstructing homes for families to live and grow in, or commercial projects that impact an entire community, the work of contractors can be bigger than one small project, which can be incredibly appealing and fulfilling to millennial workers. PROMOTE COLLABORATION AMONGST EMPLOYEESMillennials thrive on the opportunity to make a difference and be a part of something bigger than themselves. Therefore, it's not surprising that millennials look for opportunities to work within a team setting in which they can engage and build relationships with their colleagues, even though this generation tends to struggle with face-to-face communication. This is in large part due to the technologically-driven world in which they grew up in, spending a majority of their time interacting with others via technology rather than in person. Business owners can help millennial employees gain valuable communication skills by presenting more opportunities for team members to interact with each other and build comradery. While this can be a tricky time for in-person interactions due the COVID-19 pa ndemic, virtual team Millennial WorkforceMillennial Workforcehow to effectively manage younger workersBEST PRACTICESBy Josh White
Page 27
www.mcsmag.com APRIL 202123building and team events are a great way to bring employees together when human interaction has now become scarce.Employers should challenge millennial employees and give them more opportunities outside of what is expected, which can also help in promoting collaboration, and helping teams form connections that extend far beyond the job site. Not only can businesses benefit from the results of a close-knit team, employees will grow as individuals as well by building confidence and comfortability, something the millennial generations are said to struggle with. PROVIDE FEEDBACK Like many individuals who are looking to build upon their strengths and diminish their weaknesses while climbing the industry ladder, receiving feedback from leaders and mentors is paramount in this process of self-improvement. In order to make the large impacts desired, millennials need to recognize they must continually improve and sharpen their skills. One of the main ways this is done is through receiving consistent and helpful feedback from supervisors. Employers must set up quarterly meetings with their contractors, review their skills, and share constructive comments to help them improve in their future projects. Too many times employers worry about hurting their employees' feelings and avoid constructive criticism, when in reality, clear and honest feedback can be the only way to jumpstart improvement. Giving frequent feedback also builds trust between employers and their workers, showing employees their supervisors truly care about their growth while also giving them clarity on where they can improve. Employees can then take this feedback and set clear objectives and goals for improvement, keeping them feeling challenged and inspired to continually improve. CLOSING THOUGHTThe millennial generation will change the workforce indefinitely as more enter the professional realm each and every year. It's on leaders throughout the contracting industry to prioritize investing in millennial employees—not just as workers, but as people—both professionally and personally. By following these three steps, millennial employees will have the tools they need to greatly impact the future of the contracting industry, the clients they serve and their overall community. about the authorJosh White has served as the president of Hoosier Contractors since 2013. Hoosier Contractors is a locally owned and operated residential and commercial contracting business serving the greater Indianapolis area. Using a customer-first approach to build business, Hoosier Contractors' services include roof repair and replacement, gutters, siding, painting, home construction, and more. Hoosier Contractors is part of the National Roofing Contractor Association and accredited by the Better Business Bureau. For more, visit hoosierroof.com.
Page 28
APRIL 2021 www.mcsmag.com24management solutionMore than one year has passed and the effects of the coronavirus still continue to impact businesses of all industries and sizes across the country and throughout the globe. Last February, indicators economically seemed stable with positive business and consumer sentiment. The entire world was then hit with a pandemic that changed the way everyone, including construction companies, did business. IMPACT OF COVID-19The COVID-19 pandemic has placed many general contractors in the construction industry into one of the most challenging times in their company's history. For many construction companies, COVID-19 has meant higher material costs, material delays, and supply shortages. Inevitably, this has negatively impacted a contractor's ability to maintain an existing schedule or stay within budget, and has resulted in slower project completions. The pandemic has also meant that financing has dried up for new jobs and owners have had table current projects until the pandemic completely passes—or the uncertainty becomes clearer. Construction companies across the world and in the U.S. have had to consider how they will react to an outbreak near one of their jobsites or offices. Positive cases and outbreaks have led to stopping work and projects temporarily and even complete terminations of projects because the area where the work was being done was deemed too risky for other employees. All these challenges have led many construction firms to make the tough decisions of laying off their workers or furloughing its employees. What lies ahead for general construction contractors remains unclear. No matter the situation the industry and business is in, below are steps contractors can take to help their business survive throughout the pandemic. ENSURE THAT THE COMPANY'S LOAN IS CURRENTIf the company has a business loan, it is essential that it is kept current. Keeping the company's loan current may end up making an important difference for general contractors applying for access to relief lending programs. UNDERSTAND THE ORGANIZATION'S CASH FLOWNow, more than ever, it's important to understand the company's cash flow. Analyze what lines of credit and lending options the organization has available as well as what opportunities the company has to take advantage of applicable business insurance. PRIORITIZE EXECUTION AND PLANNINGContractors must continue focusing on execution and planning. The first priority needs to be successfully operating the business over the next several months. Also, focus on implementing business continuity plans to safeguard the company's employees and stakeholders. Do everything that needs to be done to ensure there is limited disruption to the business operations. REFORECASTING BUDGETSAnalyzing short-term budgets and long-term financial plans takes precedence now. Instead of reforecasting these budgets every so often, look at these regularly, maybe even as often as weekly. When looking through these budgets, understand any possible liquidity constraints that the business may have moving forward. Take any necessary measures to tighten up financing in the event that this pandemic leads to an even more drawn-out economic downturn. CYBER SECURITY IS KEY IN THESE TIMESWhen employees are not in the field, they may be working at an exclusive management solutionSurvive to ThriveSurvive to Thrivehow companies can push through this difficult timeBEST PRACTICESBy Nick Francia
Page 29
www.mcsmag.com APRIL 202125remote working environment. With this working situation, it's important that every employee remembers items like cyber and data security, including the actions of employees' spouses and children if they have access to the company's network. Threats to cyber security should be taken seriously. LEVERAGE TECHNOLOGY, SMARTLYWith the proper safeguards in place, contractors should use technology to their advantage. Given the new realities this pandemic has created, business owners should throw out old patterns and use assets that can be helpful to them and their employees moving forward. CONSIDER UTILIZING AN EMPLOYEE STOCK OWNERSHIP PLAN (ESOP)Construction companies are well-positioned for employee ownership, and ESOPs are particularly popular in this industry. If you're looking for a way to diversify your net worth, extract liquidity from the business, and reward your employees, a partial ESOP could serve as a powerful tool. By selling a minority stake of your company to an ESOP, you can achieve these goals while also enjoying significant tax benefits. CLOSING THOUGHTThe appropriate course of action for each construction company is complex, but your team will be measured on how you navigate this chaotic environment. For years to come, potential investors will be evaluating operational and financial performance of businesses during this period in order to measure the cyclicality and overall resilience/risk profile of a business. The management team will also be measured on how you navigate this environment. If possible, it is encouraged that you track any coronavirus related impacts on your business, like contract delays, overtime costs, sick leave, supply disruptions, increased transportation costs, etc. about the authorAs managing director for The Capital ESOP Group at UBS Financial Services, Nick Francia has more than 10 years of experience as a wealth management advisor and works with business owners in developing tax-efficient exit strategies, including employee stock ownership plans. He can be reached at Nick.Francia@ubs.com. This article was written and provided by UBS Financial Services Inc. for use by its Financial Advisors. UBS Financial Services Inc. and its affiliates do not provide legal or tax advice. Clients should consult with their legal and tax advisors regarding their personal circumstances.
Page 30
Page 31
Page 32
APRIL 2021 www.mcsmag.com28management solutionWhen Mary started with the company, she was enthusiastic, energetic, and consistently the top sales person on the team. She got along well her co-workers and was known for her superior customer service skills. Over time something changed. Mary began starting work late, leaving early, and taking long lunches. The brief interactions with her coworkers usually turned into complaint sessions. She ignored phone calls and didn't respond to emails. John, Mary's manager, was at his wits end. He wanted Mary to get back to the level of work he knew she was capable of. First, he tried money, then disciplinary action. Both resulted in short-term improvements.WHAT TO LOOK FORDoes this situation sound familiar? If so, don't give up too soon. There are six other ways to motivate employees that have longer lasting results than money or disciplinary action. The challenge is determining what motivates employees. Act like an investigator and look for the clues so you can identify the motivational factors of each individual. Here are six common motivational factors and the clues to look for: BELONGINGPeople who are motivated by a sense of belonging get energized by being part of a group. You might notice them coming up with creative ideas for celebrations or suggesting get-togethers. "When's the last time we went out for Happy Hour?" they might say. Listen for what they do outside of work. Do they spend a lot of their free time with friends and family? Do they participate in group events like book clubs or sports teams? Keep this employee motivated by asking them for ideas, designating them as the celebration coordinator, and including them in projects. INFLUENCEA formal leadership title isn't needed to have influence. Many people are happy with an informal leadership role where they can influence others. You can identify them by their willingness to speak for the group. They are the "go-to" person when others need answers or reassurance. They are the person the team looks to for direction and advice. Keep this employee motivated by asking them for their opinion on matters that affect the group. "How do you think the team is going to react to this change?" is a simple, yet very effective way to let this person know that their position within the group is clear. APPRECIATIONA simple sincere thank you is what motivates employees who have this motivational factor. They just want acknowledgement for their efforts. Employees who are motivated by appreciation talk a lot about their accomplishments. They might come to their one-on-one with a list of what they've done. Managers who don't understand what clues to look for may mistakenly assume the person is full of themselves or is just bragging. That usually isn't the case. These employees are looking for some appreciation. Keep these employees motivated by giving sincere, specific, and timely appreciation for their efforts. Catch them in the act of doing something right and comment on it immediately. ACHIEVEMENTPeople who are motivated by achievement are always looking to outdo themselves. While they enjoy friendly competition, MotivationMotivationdon't give up too soon on the un-motivatedWORKFORCE ISSUESBy Liz Uram
Page 33
www.mcsmag.com APRIL 202129they are more interested in pushing themselves to be better than they were the day before. They are usually self-starters who take an interest in their productivity. They tend to set goals both professionally and personally. They love the feeling of accomplishment when they can check off a goal and then they are on to the next one. Keep them motivated by communicating key performance measures, encouraging them to set bigger goals, and sharing their progress with them on a regular basis. SECURITYPeople with this motivational factor have a high need for job or financial security. Anything that threatens their sense of security can demotivate them. They might obsessively worry about their performance. They ask a lot of questions. They are excessively concerned about change. Some managers assume the person is needy. In a way they are. They need security, reassurance, and confidence in their abilities. A manager can help this employee by taking the time to answer questions, communicating changes early and often, and boosting their confidence by giving them opportunities to prove they are capable.GROWTHThese employees aren't satisfied with the status quo. They have career goals and they want opportunities to advance. One of the most obvious clues is that they ask about career advancement when they interview for a job. They're willing to take on extra responsibility in order to prepare themselves for their next step. Keep them happy and motivated by talking to them about what they are interested in doing next and creating a career path for them that clearly outlines a plan for advancement. Delegating projects is a way to provide growth opportunities if a promotion isn't an option.AND NOW MARYOnce John took the time to look for the clues, he realized that what Mary really wanted was appreciation. John wasn't known for giving out verbal praise but he was willing to give it a try. Instead of waiting until Mary told him about her accomplishments, he looked for opportunities to praise her. Before long, John saw improvements in Mary's attitude, energy, and enthusiasm. CLOSING THOUGHTBefore you give up on an unmotivated employee, challenge yourself to search for clues about how to motivate them. You might be surprised at what a big change can come from a small adjustment to handling motivation issues. about the authorLiz Uram is a nationally-recognized speaker, trainer, consultant, and author. For more, visit www.lizuram.com.PLAY VIDEO
Page 34
Construction site safety should always be top of mind and should be made a priority each and every day. Training is one of the best ways to promote safety on your job site. But, many people—and companies—do not understand the training requirements or each individual's responsibilities for MEWPs (Mobile Elevating Work Platforms) outlined in the most current ANSI A92 and CSA B354 standards. So, how do you know what type of training (if any) that you need?There isn't a one-size-fits-all answer to this question. The industry standards impact both end users and dealers, and the reality is that the type of training you need will depend on what you are doing on (and around) a jobsite. And, if you have more than one role on site, it is likely you will need more than one type of training. Below is an outline of the type of training mandated by the access industry for different roles and responsibilities.EQUIPMENT OPERATORSA MEWP can only be operated by persons who have been trained, familiarized, and authorized to use the specific machine, before they use it. And, MEWP operators must also be able to prove that they are physically and mentally capable of operating the machine safely. Also, all operators must be able to prove that the training they receive meets the most current published standards. What does all of this mean? It means that if you are a MEWP operator, you are responsible for completing training that delivers the skills you need to properly operate the equipment. Proper MEWP operator training is comprised of two components: Theory Training (can be done online or in-person in a classroom setting) and Practical Training (hands-on training and evaluation), per the guidelines stated in the A92.24 Training Standard. It is important to know that both components must be completed in order to fulfill industry training requirements.There are many reputable industry organizations, as well as equipment manufacturers like JLG, that offer industry-certified training programs to help you meet these obligations. For instance, JLG offers several different, easily-accessible training options for you to take advantage of, including classes through JLG University, the company's training center and proving grounds and AccessReady. Once you complete an industry-complaint training course with a JLG qualified training provider, you will receive a certificate of completion. You also have the option to purchase an operator card that becomes your proof of training from the training entity.OTHERS TO BE TRAINEDIn addition to mandated operator training, the updated ANSI and CSA standards also now require training for anyone who comes in contact with a MEWP on the jobsite, including Supervisors, Occupants, and Maintenance & Repair Personnel. There are also specific training guidelines outlined for Equipment Dealers.These roles are defined as:• Supervisors: People who directly supervise MEWP operators (ANSI only)• Occupants: People in the MEWP platform who are not considered operators (ANSI & CSA)• Maintenance & Repair Personnel: People servicing MEWPs (CSA only)• Equipment Dealers: Includes rental companies (ANSI & CSA)SUPERVISORS (ANSI ONLY)The updated ANSI A92 standards for the access industry state that anyone who directly supervises MEWP operators is considered a "Supervisor" and is required to complete supervisor-specific compliance training. Supervisor training can be completed online or in-person. OCCUPANTS (ANSI & CSA)It is specifically noted in the current aerial industry standards that MEWP APRIL 2021 www.mcsmag.com30management solutionMEWPsBEST PRACTICESBy Rick Smithknowing the type of training you need
Page 35
www.mcsmag.com APRIL 202131operators must provide instructions and/or make sure all occupants in the machine have a basic level of knowledge to work safely on the MEWP. The standards also state that at least one occupant must be taught how to operate the MEWP controls in case of an emergency where the operator becomes incapacitated. This is important to understand as the standards only give the occupant the authority to operate the MEWP in an emergency. Occupant training should be conducted on site, in person, by the operator prior to machine use.MAINTENANCE & REPAIR PERSONNEL (CSA ONLY)According to current industry standards, only a qualified person should inspect and maintain Mobile Elevating Work Platforms (MEWPs) in accordance with the manufacturer's recommendations. This means that to effectively work on, repair and maintain MEWPs, service technicians and other maintenance and repair personnel working on a jobsite need to have a deep understanding of the construction, operation, and maintenance of this type of equipment—especially as it relates to the new machine design standards. EQUIPMENT DEALERSUnder the updated ANSI A92 and CSA B354 standards, dealers (which includes rental companies) are now required to offer training and familiarization to anyone who rents, leases, or buys equipment. If requested, as an equipment dealer, you must provide training or advise the renter on where to get operator training, as well as offer familiarization to the person designated to receive the MEWP. You must also ensure that your maintenance technicians, as well as your customers' service techs, are all trained on new features and marking standards for proper MEWP servicing. CLOSING THOUGHTAs you can see, there is a significant level of importance associated with training in the current aerial industry standards. This is because proper training significantly reduces jobsite hazards related to accidents or incompetence. If your jobsite regularly uses MEWPs, it is crucial that you make the investment in training—not only to be in compliance but also to take advantage of having access to all of the knowledge and expertise available through proven MEWP training, like that offered through JLG. about the authorRick Smith is a senior director of global training with JLG. For more information about training requirements in the ANSI A92 and CSA B354 standards, visit www.jlg.com/en/destination/ansi/training.
Page 36
APRIL 2021 www.mcsmag.com32management solutionDid you know that construction contracts, specifically the type of construction contract, can determine the sales taxability of a project? Not only will sales tax vary by type of contract, but it will also vary by state. Regardless of the type of contract, a contract should include details as to the scope of work, the price, and who is responsible for the tax. As a contractor, if the tax is to be passed on to the customer, be sure to include and communicate this in your bids and quotes and final contract. Be aware that there may be some circumstances where credits or exemptions could apply.TIME AND MATERIALS CONTRACTSA time and materials contract is a contract in which the agreed-upon contract price is separately stated for materials and labor. Generally, under this type of contract, the contractor is considered a retailer or seller of the materials to the customer and must assess and collect sales tax. In addition, some contractors may keep an inventory of items held for resale to customers. To do so, any items that they purchase for resale can be purchased tax-free by providing a resale certificate to suppliers. Note, the contractor must have a sales tax license to be able to issue a resale certificate. The contractor will then assess sales tax on the sale of goods sold to the customer. States will differ on how sales tax is applied to this type of contract. Some states will require the contractor to pay sales tax on the purchases of equipment, and other items, as well as any taxable services. LUMP-SUM CONTRACTSIn general, a lump-sum contract is a construction contract in which the contractor agrees to complete a project for one lump-sum price. The contractor will not bid on specific items such as materials, labor, etc. Charges for materials are included in the job and are not separated from labor charges. When engaging in a lump-sum contract, the contractor is considered the user or consumer of the goods used in the project. That means the contractor will owe tax when they purchase materials, equipment, and other supplies as well as any taxable services. The contractor will not collect any tax from a customer. Again, every state treats these types of contracts differently and state rules must be considered for accurate compliance. COST-PLUS CONTRACTSA cost-plus contract is a contract that is used when a contractor gets paid for allowed expenses, plus additional payments to allow for a profit. With a cost-plus contract, the state may determine a sale to the customer to be part property and subject to sales tax, and part service, which may be tax-exempt. Note, this type of contract is not a standard method of contracting. Although, some believe this is a more cost-effective method. Customers may also purchase items for projects. When these customers purchase and hire a contractor to install the items, the customer is generally responsible for the sales tax on the item.Sales Taxabilityunderstanding the nuances between state tax lawsCONSTRUCTION CONTRACTSBy Karen J. Poist, CPA, and Kimberley D. Tarnakow, CPA
Page 37
www.mcsmag.com APRIL 202133SALES TAX EXEMPTIONSWhile many states may exempt materials from sales tax that are purchased for use in a contract with a governmental agency or other tax-exempt entity, the steps to take advantage of these exemptions will be different in each state. Just because your customer is tax-exempt does not mean that your purchases will automatically be tax-free. One possible step is to have the exempt entity (customer) make the purchases directly for the project. Another is having the governmental agency provide an exemption certificate based on the specific project. Or, if the governmental agency has its own exemption, then the contractor may be able to use the exemption when purchasing materials. Also, there are some states that require the contractor to obtain a "Purchasing Agency Agreement," in order for the materials to be tax-exempt. This allows the contractor to purchase goods tax-free for the project, and the exempt-entity directly billed for payment. Exemptions may also apply if a contractor is purchasing materials to be used in another jurisdiction (state). They may be able to utilize a state specific exemption to purchase materials tax-free in the state of purchase if it is known they will be consuming or using them out of state. However, use tax will be due to the state in which the materials are being consumed or used. (Refer to our MCS March 2021 article for a discussion on taxing equipment and materials across state lines.) State rules are different for every state and should be considered early in the process to be able to obtain any applicable exemptions before a job begins.CLOSING THOUGHTSUnderstanding your contracts and the various nuances between the state tax laws is critical to the success of your projects and in keeping in compliance with state tax laws. Sales tax is a transaction-based tax that is very specific to the details of each transaction. Sometimes the most innocuous difference can completely change the taxability of the transaction. Before entering a contract, take time to understand the sales tax rules of the specific state in which the contract work will be performed. Determine if any sales tax exemptions may apply and what steps are necessary to obtain the exemption certificates. Sales tax is a key component of the construction industry. Understanding it and managing it … that's the challenge. for more informationKaren J. Poist, CPA, is SALT director with Stambaugh Ness. She can be reached atkpoist@stambaughness.com. Kimberley D. Tarnakow, CPA, is senior manager with Stambaugh Ness. She can be reached at ktarnakow@stambaughness.com.
Page 38
Page 39
Page 40
APRIL 2021 www.mcsmag.com36legal solutionConstruction is a battlefield, and in construction projects, two things are inevitable: uncertainty and delay. Although construction contracts are considered "advanced contracts" in the legal community, the reality is that it is a mere blueprint of what the parties think they want and how they think they will get there. The parties cannot predict weather, manufacturing issues, delivery times, or even world events such as tariffs or a global pandemic. Schedules change. Suppliers become insolvent. While the multiple parties to a construction project cannot remove uncertainty from looming over a construction project, the parties can control how those uncertainties are treated when they lead to delays through contract provisions. In construction, practitioners pay special attention to the clauses governing the treatment of delays as agreed to by the parties. Some construction contracts simply call for monetary damages for delays, often off-set by liquidated damages. However, some contracts—an increasing trend—contain a provision that construction professionals need to be aware of: the "no damages for delay" clause (NDFD clauses). NDFD clauses are usually imposed on contractors and subcontractors by project owners. Commonly, such a clause will state that in the event of a delay, the only remedy is an extension of time. NDFD clauses, as it follows, also logically remove the liquidated damages offset that some contractors rely upon at the conclusion of a project. The age-old, common law principle of "freedom of contract" affords the parties flexibility to contract to whatever terms they see fit to govern the relationship. The parties have the freedom to negotiate terms of their choosing, but often times, the project owner has the natural leverage in determining the terms of the contract. Negotiating away from a NDFD clause is difficult and more often than not, contractors have to live with and work around NDFD clauses. However, NDFD clauses can be overcome in a court of law through certain exceptions that every contractor, owner, project manager, and project executive should be aware of. DELAYS RESULTING BAD FAITHCourts have invalidated NDFD clauses when the delay is caused by overt bad faith (an intention act) or gross negligence (an unintentional act) on the part of the party enforcing the clause. Because NDFD generally favor the project owner, the project owner is usually the party enforcing the clause. Courts may look to the behavior of the project owner and its employees to see if intention or unintentional acts create a reason to invalidate a NDFD clause. DELAY IS OUTSIDE OF CLAUSENDFD clauses can be broad or specific. The broad clauses usually contain language with catch-all phrases such as "without exception" or "for any cause not contemplated by the agreement." Broad clauses can be unbreakable. On the other hand, narrow clauses may afford relief. NDFD clauses are not necessarily absolute if the language is specific. For example, an NDFD clause may be specifically directed at one precise facet of delay such as manufacturing delays. In this instance, a project owner does not want to take monetary accountability for mechanisms outside of its control such as manufacturing delays, but there may be a different delay clause relative to acts or omissions by the owner within the same contract allowing for monetary recovery. Know Your ContractsKnow Your Contractsno damages for delay clausesNDFD CLAUSESBy Danielle Waltz and Alexis Hailpern"Except in the middle of a battleeld, nowhere must men coordinate the movement of other men and all materials in the midst of such chaos and with such limited certainty of present facts and future occurrences as in a huge construction project … Even the most painstaking planning frequently turns out to be mere conjecture, and accommodation to changes must necessarily be of the rough, quick and hoc sort, analogous to ever changing commands on the battleeld." ~ Blake Constr.Co. v. C.J. Coakley Co., 431 A.2d 569 (D.C. App. 1981).
Page 41
www.mcsmag.com APRIL 202137Know Your ContractsKnow Your Contractsno damages for delay clausesNDFD CLAUSESUNREASONABLE DELAY Courts have held that NDFD clauses are unenforceable when the delay is "unreasonable." Courts, in invalidating NDFD clauses, have found that unreasonable delays are not contemplated by the parties. This is especially true when the contract contains a "time is of the essence" clause and/or when a contract contains a specific schedule or completion date. While this exception can appear as a "slam dunk," the court's discretion to decide what is reasonable or not leaves this exception as the least predictable. What is deemed unreasonable in one court may be different than what is considered unreasonable in another court. There is no predictability. ABANDONMENT OF CONTRACTAlong with unreasonable delays leading to lack of contemplation, as asserted by some courts, unreasonable delay can also lead to invalidation of NDFD clauses based on the principle of abandonment of contract. Courts have held, in certain circumstances, that long delays are an effective abandonment. Contract abandonment occurs when parties to a contract behave or engage in dealings that are either in conflict with a contract or the purpose of the contract becomes frustrated. Absent an abandonment clause in a construction contract, a contractor may have cause for a breach of contract suit against the abandoning party to the contract.LACK OF TIME EXTENSION When a contract contains a NDFD clause with a sole remedy of time extensions for delay, courts have held that failing to afford time extensions, when warranted, can invalidate the clause in totality. In this situation, a court may find that a project owner's failure to uphold the entirety of the contract waives the clause in totality. LEGISLATIONBeyond exceptions granted by the courts, as noted above, some states enacted NDFD legislation as a matter of public policy. Naturally, legislation will differ from state to state. Overall, two types of legislation are common in those states where this issue is written into the law. First, many states disallow for NDFD clauses where the project is a public project or where the project is government-initiated. The second major category of legislation seeks to eliminate bad-faith by project owners and project executives. While "freedom of contract" does exist, legislation in conflict with a contract or contract provisions will be victorious. Arizona, California, Colorado, Missouri, and North Carolina enacted statutes limiting and/or abolishing time extensions as the sole remedy for delay—effectively prohibiting blanket NDFD clauses in public projects. Ohio and Washington, among others, enacted legislation to protect contractors and subcontractors against bad-faith on the part of owners relative to NDFD clauses. CLOSING THOUGHTAlthough certain exceptions exist to overcome no damages for delay clauses, construction professionals should absolutely understand a contract before signing it and before beginning a project. While delays were always typical in a construction project, delay issues and delay litigation are evermore present in today's world due to complexities—both across the construction industry and outside of the industry. Mitigation or avoidance of delay litigation can be accomplished through contract negotiation, understanding one's contract and acting in compliance with the rules governing the relationship. about the authorsDanielle Waltz is a commercial and construction litigator and government relations specialist in Jackson Kelly PLLC's Charleston, West Virginia, office, where she is a member. She represents a variety of construction clients. She is a member of the International Association of Defense Counsel (IADC) and is active in its Construction Law and Litigation Group. She can be reached at dwaltz@jacksonkelly.com. Alexis Hailpern is a commercial attorney in Jackson Kelly's Denver Office focusing the majority of her practice on commercial transactions, including drafting and negotiating construction contracts. She can be reached at alexis.hailpern@jacksonkelly.com.
Page 42
Page 43
Page 44
APRIL 2021 www.mcsmag.com40featured productToday when cost efficiency and time management is at the top of everyone's mind, many companies are engineering products to better suit their customer's needs and Mi-T-M Corporation is among them. Mi-T-M introduced a line of equipment giving contractors more options when they are in the market to purchase big ticket items. The Mi-T-M AGW Series (compressor/generator/welder combination) offers three machines in one, making it the complete on-site workshop for construction, structural steel, and equipment repair professionals. Now a job that once required the need for three machines can be done more efficiently and therefore, faster because of this tool. "Customers no longer need to clutter their work vehicle or maintain three separate machines," says Dana Schrack, vice president. "This product not only saves time, it saves money."Available in three models, this combination series is another trend setter in the industry. Customers can choose from a 420cc Mi-T-M engine or 408cc Vanguard engine to power both a 30-gallon tank and base model that features a cast iron two-stage compressor with a venting system to reduce the crankcase temperature. The generator on these models produces 5000 watts of power, and the 150 amp arc welder offers adjustable amperage. A 688cc Honda OHV, with electric start, powers the third model with a 20-gallon tank. It features a splash lubricated two-stage compressor, a 5000 watt generator and a 220 amp arc welder. Since 1971 Mi-T-M has built a reputation for building mighty, damn good equipment and providing exceptional support. A leading industrial equipment manufacturer employs over 450 dedicated workers who build hundreds of products every day in the state-of-the-art manufacturing facility located in Peosta, Iowa. Professionals and do-it-yourselfers who use Mi-T-M equipment appreciate high quality and reliability and Mi-T-M delivers. The mighty company stands behind its promise—to deliver unmatched performance, from the quality of products to the dedication of each employee who does what's right for the customer, every time.Over the last 50 years, Mi-T-M has expanded their product line to include pressure washers, air compressors, generators, combination units, wet/dry vacuums, jobsite boxes, heaters, water pumps and water treatment systems.Located in the heart of the Midwest, the Mi-T-M campus spans nearly 1-million square feet and includes complete fabrication, assembly and distribution facilities. Mi-T-M is a certified testing facility and is qualified to apply the CSA mark of safety assurance to all Mi-T-M equipment. Mi-T-M knows the importance of dependable equipment, so every machine, accessory, and component are carefully engineered and rigorously tested before shipping to a customer. Call 800.553.9053 or visit www.mitm.com to find a dealer near you.Mi-T-M CORPORATION AGW Series (compressor/generator/welder combination)Tough and dependable, the AGW Series offers the versatility of either tank models, designed to mount into standard service bodies, or a base-mount model. Both allow the user easy access to controls.
Page 45
PRODUCTS AND SERVICES GUIDEPRODUCTS AND SERVICES GUIDE
Page 46
APRIL 2021 www.mcsmag.com42products and servicesBigfoot Crane Company Inc. is a value-driven organization. We strive to be a leader in the high-angle materials handling industry by providing the best in industrial cranes, hoists, underhook accessories, services, and solutions. With nearly 30 years of experience, we understand the challenges our customers face. We have developed our team, service, and product selection accordingly to ensure we can deliver meticulous quality and excellence every time. Bigfoot has been operating out of Abbotsford, BC since the early 2000's and a distribution warehouse in Virginia since 2015. As a growing company we pride ourselves on our culture, our customer service, and our reputation. Our goal is to provide products and services that are industry leading and will keep clients coming back.Our company moto is: Legendary Service and this moto lives in how each Bigfoot employee approaches their work and customer service. One of our key strategies is to provide our customers with a turn-key and inclusive vertical material handling experience including but not limited to: • Tower crane rentals, sales & services• Construction hoist rentals, sales & services• Under hook crane accessories rentals, sales & service o Self dumping bins o Concrete buckets o Auto leveling pallet forks o Man-baskets o Spreader bars and related rigging • Wind safety systems sales & service• Zone control rentals, sales & service• Complete shop services to support all products we rent and sell• Certified Crane & Hoist operator training facility covering all classes of cranes and hoists• In-house engineering and project supportOur product and service lineup is focused on giving each of our customers a single go-to partner that they can trust and depend on for their entire project. We literally can provide with one phone call the solution our customers need without the need to talk to multiple suppliers. For more, call 844.948.1876, or visit www.bigfootcrane.com.Bigfoot Crane Company Inc.Bigfoot Crane Company Inc.
Page 47
Page 48
APRIL 2021 www.mcsmag.com44products and servicesBILCO offers Building Information Modeling (BIM) objects for the company's complete line of specialty access products. Family models allow you to select the material, size, and options for each product type to output a model that meets your product requirements. The objects are in Revit format and available for Roof Hatches, Automatic Smoke Vents, and Floor Access Doors in both single and double leaf design configurations. COMPANY NOTABLES:The BILCO Company has served the building industry since 1926. During these years it has built a reputation among architects, engineers, specifiers, and the construction trades for dependability and for products that are unequaled in design and workmanship. BILCO, a wholly owned subsidiary of AmesburyTruth, which is a division of Tyman PLC, has been a pioneer in the development of specialty access products for commercial and residential construction markets.The BILCO Company continues to be the industry leader in the design and manufacture of specialty access products. In order to better serve its customers, BILCO has added manufacturing facilities and strategic distribution throughout the world, along with establishing an extensive international network of factory-trained representatives. These representatives, combined with BILCO's highly skilled and dedicated personnel, ensure a level of customer service that is unequaled in the industry. As the leader in design innovation, many of BILCO's products incorporate features for which numerous U.S. and international patents have been issued. Years of engineering experience, coupled with manufacturing facilities utilizing the most modern equipment available, allows BILCO to design and fabricate access products for virtually every application.The BILCO Company is committed to producing access products that are unequaled in quality, design, and workmanship. BILCO products are fabricated to consistently high-quality standards to ensure complete customer satisfaction. As part of its commitment, BILCO has implemented a LEAN manufacturing quality and continuous improvement system that has achieved ISO 9001 certification. The BILCO CompanyThe BILCO CompanyFor more, call 800.366.6530, or visit www.bilco.com.
Page 49
Page 50
APRIL 2021 www.mcsmag.com46products and servicesDouble Coin's radial OTR tires first entered the North American market in 1992. Over the years, Double Coin continued to make steady advances in technology, while also improving their manufacturing processes and capabilities. In 2017, Double Coin opened one of the world's most advanced manufacturing facilities. This 3.6 million sq ft facility has the capacity to manufacture 1.8 million TBR tires and more than 50,000 OTR tires per year.Today, Double Coin is a trusted OTR tire brand, and a growing number of contractors have chosen Double Coin OTR tires based on their superior performance and lower cost of ownership. What we promised years ago remains true today: The Smart Money is on Double Coin. Headquartered in Monrovia, California, Double Coin radial OTR tires are manufactured and marketed by CMA, LLC, and they are an OEM fitment at major North American construction-equipment manufacturers. Double Coin has three warehouses strategically located across the U.S. to give you the assurance that the OTR tires you need can get to you quickly. A MATTER OF EXCELLENCEWe have a simple mission at Double Coin: excellence. In everything we do, in every aspect of our business, we work tirelessly to provide the highest level of customer satisfaction. That's our Mission Excellence promise, and it drives us to innovate and integrate the latest tire technologies into every radial OTR tire. Our OTR tires are built to work, move earth, and carry heavy loads in rocky, sandy and muddy terrains. Our tires deliver superior traction, proven performance, long-term retreadability, and an overall lower cost of ownership. The REM-2 (E-3/L-3) radial OTR, for example, is built with an aggressive self-cleaning, non-directional tread design that makes it ideal in a wide range of OTR applications. It is engineered to deliver a smooth ride and superior traction in rocky, muddy and sandy terrains. The REM-2 is an OEM Certified OTR with an advanced casing design that delivers superior tire life and long-term retreadability.Double Coin's REM-3 Skid Steer (SS) radial OTR tire is engineered for rugged and demanding environments. Its unique uni-directional tread design delivers maximum traction, optimum performance, and superior off-the-road handling, and can be counted on to deliver a low cost per hour. CUSTOMER FIRSTMission Excellence is about a family of values that puts you the customer first. It means quality OTR products that deliver superior performance anywhere, anytime, in any off-road condition. It also means product availability, access to experienced representatives with intelligent solutions, and a Dealer Network that offers competitive pricing. Mission Excellence means more value.With over 80 radial OTR SKUs available, Double Coin has the OTR tire to help your construction operation maximize performance and reduce operating costs. We're proud of our continued growth and industry acceptance. Our promise is to continue to help our customers and OEMs improve profitability by manufacturing OTR tire products of uncompromising quality, and by designing solutions that deliver ongoing value. To find out more about the REM-2 and REM-3 OTRs, or other quality OTR and TBR products, as well as our Mission Excellence promise, visit www.doublecointires.com or call 888.226.5250.Double Coin TiresDouble Coin TiresExcellence Available Coast to Coast
Page 51
Page 52
APRIL 2021 www.mcsmag.com48products and servicesExpress Blower, Inc. leads the pneumatic blower truck market with innovation, state-of-the-art systems, and practical experience, resulting in a greater number of large-size machines working in the field today than any other manufacturer. The mantra, "We are selling a business, not just a piece of equipment," is ingrained in Express Blower's culture and is reflected in the equipment and customer service provided to its customers.PRODUCTIVITY AND EFFICIENCY CONTRIBUTE TO THE BOTTOM LINEWith Express Blower machines, reduce the number of workers required for labor intensive, lower profit jobs such as mulching. The rest of the crew is now available to do more profitable work, such as irrigation or landscape construction. EB equipment also helps take the seasonal nature out of many businesses' workflow. While spring may be the busy season for landscape mulching, erosion control projects may pick up in autumn with work sometimes continuing throughout winter. Then there is year-round green roof material installation and playground safety surface "refreshing" before and throughout the school year. Because of the machine's production capabilities, you can naturally increase the number of jobs completed in a day while increasing your opportunity for repeat business by delivering a quick, consistent, professional service. INTRODUCING THE EB-60HODid we mention innovation? The newest member of the EB equipment family is the High Output (HO) model designed around the tried-and-true EB-60 model. The EB-60HO is similar in blowing capabilities to our MD models and is the most powerful of our PTO configured machines. Lighter weight than any MD model and with greater capacity than a TM-45MD, the EB-60HO gives you better payload which means more money in your pocket! This machine also has better ground clearance than the standard EB-60, has no auxiliary engine for easier maintenance, and is available with our new 250-gallon water system. NEW WEBSITE LAUNCHEDA completely new website was recently launched, reflecting the growth in both our company and the industry. It includes more videos and photos, expanded machine and application data, simplified menus for a better user experience, and we made it much easier to reach out to us. Be sure to check it out at www.expressblower.com. DYNAMIC USED EQUIPMENT MARKETExpress Blower machines are built to last, and this longevity has resulted in a vigorous used equipment market. Recognizing that building new machines plus refurbishing used machines could strain factory and personnel capacity, EB partnered with Conveyor Application Systems, LLC (CAS) to assist in the refurbishment and sale of used EB machines. CAS is a Rexius Forest By-Products company which was the inventor of EB machines and the creator of Express Blower, Inc. Their knowledge and experience are a great asset. While customers speak directly with the EB sales team when purchasing new or used equipment, CAS is responsible for securing the used equipment inventory and refurbishing the machines to get them in sellable condition.CUSTOMERS FIRSTExpress Blower claims the industry's most experienced and knowledgeable people in both sales and aftermarket product support and takes great pride in its superior customer service. Onsite training with equipment purchase, exclusive owner's conference, expert technical support, extensive parts inventory to maximize uptime and productivity, plus exceptional warranty coverage, are just a few of the reasons that EB continues to expand its customer base. Express Blower, Inc.Express Blower, Inc.The Inventor. The Innovator. The Standard.Performance may vary depending on type and quality of material used, operator proficiency, and jobsite setup, requirements, and specifications. Express Blower, Express Mulcher, Terraseeding, and the Express Blower design logo are trademarks of Express Blower, Inc.
Page 53
www.mcsmag.com APRIL 202149products and services
Page 54
APRIL 2021 www.mcsmag.com50products and servicesGas Clip Technologies believes that quality & affordability go hand-in-hand, which is why they manufacture top-of-the-line gas detectors and accessories that meet every budget. Each product meets the highest standard of reliability and longevity to ensure that every user's safety remains uncompromised. Gas Clip's multi gas detectors are perfect examples.MULTI GAS DETECTORSThe Multi Gas Clip was Gas Clip's first multi gas detector, and it was also the first portable gas detector in the industry to utilize infrared technology to detect combustible gases (LEL). The continuous run time of the Multi Gas Clip is 2 months. However, its sisters—the MGC Simple and the MGC Simple Plus—have continuous run times of 2 years and 3 years, respectively. Additionally, after being charged and calibrated during manufacturing, neither the MGC Simple nor the MGC Simple Plus require recharging or routine calibration, although bump testing prior to every use is advised. Also, all three of these detectors are designed to identify the presence and level of hydrogen sulfide (H2S), carbon monoxide (CO), oxygen (O2) and combustible gases (LEL).SINGLE GAS DETECTORSIn turn, on the days that require a single gas detector, Gas Clip Technologies has two to choose from—the Single Gas Clip (SGC) and the Single Gas Clip (SGC) Plus. Both include superior sensor reliability along with adjustable alarm set points, a programmable six-digit detector ID code and a 2-year battery life. However, the SGC Plus also includes a built in "hibernate" mode that allows users to place it in a rested state when not in use. It is available in two models—SGC Plus H2S for detecting hydrogen sulfide and SGC Plus CO for detecting carbon monoxide. The Single Gas Clip, on the other hand, comes in three different versions—SGC O2 for testing oxygen levels, SGC H2S for testing hydrogen sulfide levels and SGC CO for testing carbon monoxide levels. THE EXTERNAL PUMPNevertheless, whether a worker uses a multi gas detector or a single gas detector, simplicity and longevity are guaranteed as is compatibility with the newest addition to Gas Clip Technologies' collection of gas detection solutions—the External Pump. This accessory is a motorized sampling pump that allows any Gas Clip diffusion detector—single gas and multi gas—the ability to take remote samples from up to 75 feet away, drawing air at 2 feet per second. Those who use the External Pump can also perform a manual block test before taking samples in order to ensure a clean and proper draw. Audio and visual alerts will inform the user of possible errors including blockages and a low battery charge. The battery itself is rechargeable using the specialized wall charger included with the External Pump. Additionally, the sleek, ergonomic design of the pump allows it to sit comfortably in the user's hand, which helps prevent potential drops. However, an alligator clip allows the user to firmly attach the pump to their belt, jumpsuit, etc. as needed. Either way, if the device takes a tumble, the durable casing can withstand the fall as well as other harsh treatment. The External Pump comes with a 2-year warranty and will be available for pre-order in May. COMING SOON: the External Pump! Allows any Gas Clip diffusion detector to take remote samples from 75 feet away.Available for pre-order in May. Gas Clip TechnologiesGas Clip TechnologiesUser Safety UncompromisedFor more information, visit www.gascliptech.com or call 972.775.7577.All of Gas Clip Technologies' products are available through distributors worldwide. Each Gas Clip product meets the highest standard of reliability and longevity to ensure that every user's safety remains uncompromised.
Page 55
Page 56
APRIL 2021 www.mcsmag.com52products and servicesSince 1996, Go Power! has been a trusted leader in the solar and inverter markets. With 25 years of experience, this means we only offer quality, dependable, and affordable products. Pairing these values with a commitment to great customer support has made Go Power! an industry leader in mobile solar power. Using quality components like solar panels, batteries, and pure sine wave power inverters, Go Power! offers multiple turnkey, one-stop solar solutions for fleets of all sizes, including: Heavy Duty Trucking, Construction, & Excavation: Improve company revenues and eliminate downtime due to dead batteries. Go Power! Heavy Duty kits offer low-maintenance, job site tested kits made with the highest quality components to keep your equipment charged and ready to work. Easy to install and maintenance-free, these solar kits can be sized to fit any machine and application. Work, Utility & Service Trucks: Go Power! solar solutions are designed to run equipment without the need for generators or truck idling. These solutions pair solar with heavy-duty power inverters to supply pure AC power, ideal for sensitive electronics. For any fleet of trucks or service vehicles, we offer simple, customizable power systems that are easy to install and provide a great return on investment. Add compact, portable AC power inverters for tools and electronics and low-profile solar panels to charge your battery.Liftgates & Electric Pallet Jacks: Dead batteries on liftgates and pallet jacks are a thing of the past with the smart 12/24-volt dual charging kit. Ideal for delivery and straight trucks, the low-profile solar panels allow this kit to charge the batteries anytime the light is out: whether you are driving or parked. Save your company time and reduce fuel costs by making deliveries more efficient.Long Haul Trucking: For any fleet of long-haul trucks, Go Power! offers simple, customizable power systems that are easy to install and offer a 5-year warranty. Using low-profile panels, these systems generate power while unloading, at rest, or on the go. Stay compliant with idling regulations and be good to the planet. Extend the life of your APU, alternator, and batteries by adding solar. SOLAR BENEFITS FOR FLEETSGo Power! customers across North America have already begun seeing the benefits of adding solar to their team. But how can adding solar benefit your business? Eliminate Downtime: Say goodbye to dead batteries and power-related service calls. Keep your trucks on the road and moving freight reliably and efficiently. Our purpose-built mobile power solutions help you avoid costly battery replacements, jump-starts, and tows.Fast ROI: Get more from your money. Go Power! Solar customers report a 6 to 12-month return on their investments. Many installations see the return on their solar installation after avoiding a single service call.Extend Battery Life: Increase the longevity and add years of life to your batteries by topping them up with solar. By adding solar to your fleet, you can triple the life of your batteries. Go Power!Go Power!Fleet Solar & Mobile Power SolutionsSee if your fleet qualifies for a free trial at www.gopowerfleet.com/mcs.
Page 57
Page 58
APRIL 2021 www.mcsmag.com54products and servicesIn September 2020, Hurricane Ditcher Company, Inc. acquired Maddock Corporation, which manufactures roadside maintenance equipment for the construction industries and state and county governments. With the acquisition of the Maddock product line, Hurricane Ditcher positioned itself as a leader in the water management and road construction industries.Both companies began in the mid 1980's and serve a variety of customers in 35 states and 14 countries, offering more than 20 different models to help solve a variety of water management and road maintenance issues for their customers.THE MADDOCK LINEThe Maddock line offers backhoe and excavator mills, roadside ditchers, an asphalt recycler, berm cutter, and rotograder. The backhoe and excavator mills are designed to cut up to 8 inches in depth in ½-inch increments. They are an effective tool for asphalt, or concrete cuts and the grinding of shelf rock, or outcroppings, in construction work.Maddock roadside ditchers are excellent for forming a v-sided, flat bottom ditch 16 inches wide at the base, and 27 inches deep in one pass. The RD160 can cut to a maximum depth of 60 inches below the road base, and has a maximum right-side out-reach of 84 inches.The asphalt recycler is excellent for optimum performance for the partial-depth, cold, in-place recycling method of road rehabilitation. The gradation of the milled material is the single most important factor for consistent quality in the recycling process.The berm cutter is a pull type, engine-driven machine designed to pulverize and discharge a high berm at the road's edge. It can average 3 to 5 miles per day, with one man and one machine, in a variety of weather conditions.The rotograder does a superior job surface milling, pulverizing gravel roads, performing surface milling of high joints on rough or grooved asphalt, and cutting and pulverizing road shoulders. This multi-surface, self-powered milling attachment is designed to attach to a motor grade.THE HURRICANE LINEThe Hurricane line offers eleven models of equipment for reshaping waterways and terraces, cleaning roadside ditches, and constructing surface drainage ditches, using your own farm tractor. These include pull type machines, sidearm, and 3-point hitch machines, all designed for farm or roadside drainage. The 3-point hitch machines create and clean out drainage ditches. Some units go straight behind the tractor and some are offset behind the tractor tire.The pull type machine is excellent as an economical way to make surface drainage ditches, reshape waterways, and rebuilt terraces using your own farm tractor.The model 24 moves over 1,000 cubic yards of dirt per hour with 150 hp tractor.The side arm units work beautifully for cleaning and maintaining roadside ditches and other ditches that cannot be safely straddled with other ditching equipment. The sidearm units at average clearing 1 mile of ditch every hour. Let Hurricane/Maddock solve your needs with ditchers, road recyclers, berm cutters, or backhoes and excavator mills. Contact us today at 812.886.9663 for more information or to schedule a demonstration with one of our more than 200 dealers across the United States or Canada.sales@hurricane-ditcher.com www.hurricane-ditcher.com www.maddockcorp.comHurricane Ditcher Company, Inc.Hurricane Ditcher Company, Inc.Now Offering Maddock Line Whatever your needs are for drainage, road recycling, or milling equipment Hurricane Ditcher can supply your needs. Their management team has the knowledge and expertise to help you with any of your concerns or issues.
Page 59
BACKHOE MILLAvailable in 12, 18, & 24 cutting widthsThe Backhoe Mill is a useful addition to the attachment lineup for your machine. It is an effective tool for asphalt , or concrete cuts and the grinding of shelf rock, or outcroppings, in construction work. The depth gauge allows the operator to pre-select the cutting depth from flush to max depth, in 1/2" increments. Connected to the backhoes remote hydraulic system, the backhoe mill allows for a maximum cutting depth of 8 inches. MODEL 48E BERM CUTTERe Model 48E Berm Cutter is a tow-type, engine driven machine designed to pulverize and discharge a high berm at the road's edge. It can average 3 to 5 miles per day, with one man, and one machine, in a variety of weather. e shoulder vegetation is pulverized by the horizontal cutter, then discharged to the right into the eld. When congured for le-hand discharge, the material is deposited onto the roadway in a window for loading, or broadcast across the roadway on the gravel roads to recover the stone.EXCAVATOR MILLAvailable in 36 & 48 inch cutting widthse Excavator mill is a milling attachment designed for hydraulic excavators up to a 35 ton rating. When connected to the excavator's remote hydraulic system, the excavator mill becomes a versatile tool for asphalt repair, conrete cuts, and grinding of shelf rock or outcroppings. e depth gauge allows the operator to pre-select the cutting depth from ush to max depth , in ½'' increments. In addition, the machine allows for a maximum cutting depth on 8 inches, is unmatched in cutting depth capabilities for milling attachments, and is one of the few milling attachments that can cut above grade ( useful on steep slopes ).sales@hurricane-ditcher.comwww.hurricane-ditcher.com www.maddockcorp.com
Page 60
APRIL 2021 www.mcsmag.com56products and servicesIsuzu recently announced its 2022 Isuzu F-Series lineup, and it has a lot to offer the construction industry. The new lineup will have two models: the Class 6 FTR (25,950 GVWR) and the Class 7 FVR (33,000 GVWR). You can also get a de-rated Class 6 version of the FVR with a 25,950 GVWR. And, while payload capacity is key in construction, that isn't the whole story!CUMMINS B6.7Isuzu has added the most popular engine ever built by Cummins. The Cummins B6.7 has been in production for nearly 40 years with billions of miles driven. This kind of legacy is a testament to the engine's power and durability in the medium-duty segment.The B6.7 is a 6.7-liter turbocharged inline 6-cylinder diesel engine. With 260-hp, 660 lb.-ft. of torque and an Allison 2000-series transmission (includes a PTO), it will easily move heavier payloads through urban environments and over the road.#1 SELLING LCF TRUCK SINCE 1986!Let's not forget, a great truck is not defined by the powertrain alone. Its ease to drive, the quality, the comfort, the uptime, and, most important, the cost of ownership are all factors that make the Isuzu F-Series a cut above the rest. Drivers have always loved Isuzu's maneuverability and quality, and this new Isuzu F-Series will only add to that legacy.Isuzu has been the #1 selling LCF truck in America since 1986. That's 35 years! That kind of accomplishment is not by coincidence. Isuzu has a great nationwide dealer network, and its customers are loyal to the brand. That means they have bought multiple trucks over the years, and that kind of success means you too can be assured this new line-up Isuzu F-Series trucks will be among the best trucks available. Production starts this fall, so get in touch with your Isuzu dealer and get your Isuzu truck ordered today. This is going to be one hot truck!Isuzu Commercial Truck of America, Inc.Isuzu Commercial Truck of America, Inc.The 2022 Isuzu F-Series: More Power. More Class.FTR FVR (De-rate) FVRClass 6 6 6GVWR 25,950 lbs. 25,950 lbs. 33,000 lbs.GCWR 30,000 lbs. 30,000 lbs. 33,000 lbs.Front GAWR 12,000 lbs. 12,000 lbs. 12,000 lbs.Rear GAWR 19,000 lbs. 21,000 lbs. 21,000 lbs.EngineCummins B6.7 Turbocharged Inline 6-Cylinder (6.7L - Diesel) 260 HP @ 2400 RPM/660 lb.-ft. Torque @ 1600 RPMTransmission Allison 2550 RDSAllison 2500 RDS (no park pawl)Allison 2500 RDS (no park pawl)Final Ratio5.574.88 (low pro)5.57(N/A low pro)5.57(N/A low pro)Alternator 160-ampAir Compressor 17 CFMExhaust Cummins Single Module After-treatment 10-Gallon DEF TankBrakes Air - S-Cam DrumTires11R22.5(low pro available)11R22.5(no low pro)11R22.5(no low pro)Wheelbases 8 8 8
Page 61
Page 62
APRIL 2021 www.mcsmag.com58products and servicesToday, with everyone experiencing worldwide uncertainty with pandemic proportions, we are here to support your North American power requirements, from agricultural, industrial, medical, and construction, by providing environmentally responsible and critical power products for your specific applications. We are always available to understand your needs as they relate to your business and that of your customers. We know these are difficult times but, our problem solving and product support can make a difference in your business challenges.GLOBAL LEADER OF INNOVATIVE POWERThere are more than 28,000,000 Isuzu engines spanning over 100 countries. Not only does Isuzu Diesel validate specific off-road application usage, we develop Power Units for unlimited applications. We have built and maintained a professional organization and back our products with warranties that go up to 5 years/5,000 hours providing power solutions that work.Isuzu Diesel ensures the most advanced performance and services, with a goal to become the new international standard of excellence in product development, quality, and customer support.NEW GENSET READY, ALTERNATIVE FUEL AND DUAL-FUEL POWER UNITS Our newest Power Units are pre-tested, validated, and GenSet ready. Equipped with adjustable bolt-on mountings for ease of installation for multiple generator applications. These GenSet ready power units save customers time, money, and resources. Our Alternative Fuel Engines and Power Units use natural gas or propane and can be equipped with a Dual-Fuel System to simply reconfigure the fuel source and eliminate downtime. These Dual-Fuel Power Units are being recognized as industry leading for their innovative ability to change from one fuel to another, while on location, without shutting down an entire jobsite to change an available fuel source. For example, in Louisiana where higher levels of hurricanes occur and natural gas gets interrupted. These Dual-Fuel Power Units can be switched off and restarted with a flip of a switch to easily change to a readily available propane tank. ISUZU PRODUCTS, BUILT TO LASTIsuzu has proven to be Reliable, Eco-friendly, Durable, and Technologically Advanced. Our Tier 4 and Stage V Engines and Power Units, branded under Isuzu REDTech™, provide quiet, low maintenance and fuel-efficient solutions for existing and new applications. From 6.7kW to 397kW these Engines and Power Units use the latest after treatment DOC or DOC+SCR, with vertical or horizontal SCR for design flexibility. Every Isuzu Engine or Power Unit is precision tuned for its highest efficiency, while reducing oil and fuel consumption. A long-lasting and robust fuel injection system incorporates excellent fuel economy and extended service life. Stringent criteria to lower NVH (noise, vibration, harshness) are engineered into every Isuzu product. Each application is designed to meet customer specifications and is engineering validated for each environment. Isuzu REDTech™ Engines and Power Units with reliable performance, durability, and high thermal efficiency help reduce downtime. All Isuzu Diesel products are supported by Genuine Isuzu Parts, a Distributor and Dealer network, along with dedicated professionals to ensure power solutions that are reliable, eco-friendly, durable, and technologically advanced. www.IsuzuEngines.comwww. IsuzuREDTech.comIsuzu Motors America LLCIsuzu Motors America LLCIsuzu. Caring people providing The Power behind it all. Isuzu 4JJ1X Genset Power Unit
Page 63
www.mcsmag.com APRIL 202159products and services
Page 64
APRIL 2021 www.mcsmag.com60products and servicesIntroducing the SkyTrak® 3013 ultra-compact telehandler from JLG. This ultra-compact telehandler lifts 2,700-lb and, weighing in at only 5,280-lb, can easily fit on a standard tow-behind trailer pulled by a pickup truck. The SkyTrak 3013 telehandler is designed to meet the needs of landscapers, hardscapers, and contractors on urban and residential construction sites where space is limited. Boasting a greater lift height, increased up-and-over reach and enhanced terrainability, with this telehandler, you can enjoy a machine that masters multitasking—as well as you do.REPLACE SKID STEERSThe SkyTrak 3013 is built to be the best solution for handling and transporting materials in small spaces. When compared to skid steers, the new ultracompact machine will offer better reach into truck beds, trailers and over obstacles, in addition to better lift height for single story houses and dump trucks. The 3013 boasts more ground clearance than a skid steer, resulting in better terrainability over uneven surfaces. Pair that with an oscillating rear axle and both you and your load are in for a smoother ride. The cab design is spacious, and the placement of the boom gives operators a 360-degree view. Plus, thanks to the 3013's rear wheel steering you can enjoy less surface disturbance than you would with the skid steer's counter-rotating steering.FEATURES AND OPTIONSThe SkyTrak 3013 is available with a variety of options, including open and fully enclosed cabs, a cold weather package, work lights, universal hydraulic skid steer coupler, and a variety of tires. The new model also comes standard with features such as 4-wheel drive, rear pivot steering, a hydrostatic drive system and longitudinal stability indication (LSI), all supported by a Kubota V-1505 diesel engine with 24.8 hp.PRICED TO WORKSimple design and practical technology deliver value-based costs that focus on getting the job done. Overall, when it comes to keeping you safer and maximizing productivity, the SkyTrak 3013 telehandler delivers a value that goes beyond cost. MINIMAL SERVICEPractical design and durability give the SkyTrak 3013 telehandler the capability to maintain peak functionality on the toughest work sites. Easy-to-access components and a single lift and compensation cylinder allow for maximum serviceability. The build and capacity of this telehandler ensure it can go where it needs to go and get what needs doing done to keep you working efficiently and on schedule mile after mile. JLGJLGBig Productivity That Goes Where You GoSized to move. Built to work. The SkyTrak 3013 gets it done.
Page 65
www.mcsmag.com APRIL 202161products and services
Page 66
APRIL 2021 www.mcsmag.com62products and servicesSafety first, always. Workers on a roof need to be tied off, 100% of the time. The "safety first" approach creates unique challenges. No two roofs are the same—many roofs do not have tie off anchors and lifelines can create additional safety hazards. In 2006, there wasn't a straight forward solution. AES Raptor started brainstorming and the mobile anchor point concept was formed. From a simple sketch, AES Raptor engineered, manufactured, and rigorously tested the original mobile fall protection cart. The personal fall arrest system was granted a patent in 2006. The Raptor Trirex™ has evolved utilizing technology developed from this first United States Patent issued for a mobile fall protection anchor. In the event of a fall, a powerful engagement penetrates the roof membrane using the downforce of the fall. The system is unique because it does not require heavy counterweights. 15 years later, the TriRex™ continues to be the most recognized product in the roofing safety industry, not only for looks, but for its flawless safety record. The TriRex™ has never been recalled, has never failed, and has saved countless lives. Even if a fall occurs, the TriRex™ is reusable after the brass bushings have been replaced. Companies throughout North America and Europe have used the TriRex™. The flagship mobile fall protection unit has stood the test of time.The TriRex™ is built for efficiency. Featuring three tie-off points for personal fall arrest and an additional two locations for fall restraint, the TriRex™ accommodates a team of five workers. The base model features a large lockable job box and a platform that can be used for carrying materials. The TriRex™ has a weight carry capacity at 2000lb (gross weight rating). Additional models are available depending on your jobsite needs. The TriRex™ has several useful configurations. A popular best seller is the I.C.E. platform. The platform features dedicated space for everything your team needs In the Event of an Emergency including fire extinguishers—a must-have for modified bitumen systems. An additional necessity and requirement of a PFAS system is a prompt rescue plan in the event of a fall. The TriRex™ accommodates the RaptorRescue™ system with included extendable rescue pole and 5:1 gear reduction wench system.AES Raptor became Safety in 2015. In addition to mobile fall protection, Leading Edge Safety features a broad range of fall protection for both temporary and permanent applications. Leading Edge Safety has a solution for your fall protection requirements that exceeds current codes and regulations. Leading Edge Safety has the knowledge, expertise, and inventory to help you choose the correct product for your specific needs. If your requirements do not fit a standard product, our design team will develop and engineer a specific product per your specifications with the required codes and regulations. Leading Edge Safety has built a brand that sets the bar for safety compliance. Born out of necessity, we are fueled by a passion for safety because no worker should have to choose between safety and livelihood. We take the first step so you don't take your last. Leading Edge SafetyLeading Edge Safety
Page 67
Page 68
APRIL 2021 www.mcsmag.com64products and servicesLigchine is a global leader in innovative laser-guided and 3D GPS/LPS-guided concrete screeds. Since its founding in 2007, the company has rapidly expanded its position in the market and now offers a full line of automated concrete screeding machines that service flatwork companies from small owner-operated companies to large global concrete contractors. The company's headquarters, engineering and manufacturing are located in the United States, and in addition to a direct sales force in the US, the company has an extensive network of international dealers and partners to serve customers anywhere in the world.WHAT WE DOWe design and manufacture reliable and cost-effective concrete leveling machines known as "laser-guided screeds." We are also a leader in innovative, lightweight drive-in systems for upper deck concrete and slab-on-grade screeding applications.Our screeds are production machines specifically developed for commercial flatwork and can dramatically reduce dependence on labor, which is often in short supply, while yielding a higher-quality end product.OUR EQUIPMENTLigchine recently introduced the SCREEDSAVER ELITE™, the most complete, mid-priced boom screed developed by the manufacturer. This new and innovative machine introduces all new key features including: • The game-changing, SIDE-SHIFT SCREED HEAD makes it easier to screed around stick-ups in the slab with pinpoint accuracy. • ALL-WHEEL DRIVE for unmatched mobility and power.• HEAVY-DUTY BOOM sections reaching out to 18 feet for greater stability and accuracy.• NARROWER CHASSIS for easy access through restricted entries.• New, more ergonomically friendly REMOTE CONTROL.• 360° ZERO-TURN CAPABILITY and EASE OF TRANSPORT with a ¾ ton pickup truck are signature features of all Ligchine boom screeds.The SCREEDSAVER ELITE™ is the most innovative laser-guided screed machine to join Ligchine's SCREEDSAVER family of machines.In 2019, Ligchine introduced the SPIDERSCREED™ – a compact, and maneuverable drive-in system designed for upper deck concrete and slab-on-grade screeding applications. The drive-in SPIDERSCREED™ machine was designed to be lightweight and powerful, featuring a 100% TIG welded tubular cage design that keeps overall weight down to approximately 1,280 lbs. Its patent-pending Versa-Drive system, independent zero-turn drive, up to 90° horizontal drive, and lateral drive make it a unique drive-in screed. The SPIDERSCREED™ features Ligchine's patented machine leveling system to ensure flatter floors and greater compaction than simple screed head only leveling systems.Ligchine introduced the SCREEDSAVER II™ machine in 2008 as the world's most competitively priced boom-operated screed ever offered to the industry. SCREEDSAVER II™ includes a zero-turn drive system, making it the perfect companion for cut-up jobsites and spaces that no other boom screed would attempt to complete. The wireless remote-controlled SCREEDSAVER II™ achieves world class FF/FL numbers that only a stationary boom operated screed can reliably produce.Ligchine developed the "large line" sized boom screed in 2012. The SCREEDSAVER MAX™ 200 is the workhorse of the Ligchine fleet. SCREEDSAVER MAX™ 200 integrates the technologies of the standard SCREEDSAVER II™ with the added features of front wheel drive and rear wheel steering, a 90° manual pivoting drive frame, and Kubota's 25 hp D902 diesel motor. Like all Ligchine screeds, the MAX 200 is a wireless remote-controlled screed.Introduced in 2017, SCREEDSAVER PRO™ 220 offers the best of all worlds. The PRO 220 combines the accuracy and durability of our standard MAX 200. Unique to the PRO 220 is the inclusion of our patented zero-turn drive system that allows BOTH the upper boom frame AND the lower drive frame to independently spin 360°. It also features our automated concrete additive spray bar system integrated into the screed head. Start saving dollars on your labor today and increase your profitability tomorrow with a SCREEDSAVER machine.LIGCHINELIGCHINELaser-guided ScreedsLigchine screeds are production machines specifically developed for commercial flatwork and can dramatically reduce dependence on labor, which is often in short supply.
Page 69
www.mcsmag.com APRIL 202165products and services
Page 70
Call 1-888-SOCK-911IRESOCKS, INC.IRESOCKS, INC.AerialShields®Order Online!TireSocks® SafetyPads®DripDiapers® CasterSocks®®We've Got You Covered!*Patent PendingAPRIL 2021 www.mcsmag.com66products and servicesMost people associate construction equipment with dirt and grime, but TireSocks Inc. set out to change that mindset. With a range of products including TireSocks, DripDiapers, AerialShields, AerialJackets, SafetyPads, and more, TireSocks Inc. provides products designed to keep indoor surfaces clean and to improve machine longevity through protection from the elements and typical construction wear and tear.Surface and equipment protection are key to keeping jobsites and machines running smoothly. Being prepared from the start of a project inevitably saves time and money.Whether you own your machines or rent them, equipment is a substantial investment for any contractor and worth protecting. AerialJackets and AerialShields provide solutions to avoid budget overages due to equipment damage, downtime and cleaning costs. AERIALJACKETS®AerialJackets protect scissor lifts, control boxes and boom baskets from indoor and outdoor contaminants such as dust, grime, water, snow, ice, sun, and wind. All of these elements threaten the equipment contractors depend on. If even one piece of equipment is damaged or out of service, it can significantly impact a project. As a contractor, it is important to keep the equipment that is on your jobsite, as well as equipment not currently in use, protected. AerialJackets are constructed of heavy-duty, water-resistant material, are easy to install and include a retractable lock to prevent unwanted use and theft. The design allows easy access to controls and charging ports without removing the cover. In addition to the protective applications, AerialJackets are a great option to keep machines that must be stored on a jobsite from becoming an eyesore. This downtime can be utilized as a marketing opportunity by adding your full color logo to the product.AERIALSHIELDS®Dirty equipment can be attributed to many sources, but when it comes to interior construction, certain trades tend to be the biggest offenders. TireSocks created its newest product, AerialShields, to provide a cost-effective solution to combat clean-up costs for the messiest of trades. AerialShields are ideal for painting and drywall projects. They guard equipment from overspray, spills and splatters without sacrificing functionality and warning label visibility. This product is lightweight and easy to install. AerialShields feature a hook & loop seal surrounding the machine's entry along with a removable door. These two features make entry and exit possible without removing the shield. A bungee base secures the AerialShield to the bottom of the platform. The product's design also allows coverage for platform extensions.AerialJackets and AerialShields are available to fit most boom & scissor lifts. TireSocks Inc.TireSocks Inc.Surface & Equipment Protection At A Higher LevelAerialJackets®Scissor Lift AerialJacketsControl Box AerialJacketsAerialJackets are constructed to allow easy access to controls and charging ports.
Page 71
Call 1-888-SOCK-911IRESOCKS, INC.IRESOCKS, INC.AerialShields®Order Online!TireSocks® SafetyPads®DripDiapers® CasterSocks®®We've Got You Covered!*Patent Pending
Page 72
APRIL 2021 www.mcsmag.com68products and servicesReady to meet any heavy load handling job in any industry with a specific height and weight requirement is the Merlo P65.14HM telehandler. Compact and high performing, the P65.14HM telehandler has a maximum operating capacity of 14,400 lbs with a maximum lift height of 45 ft, 7 inches. Load capacity at the maximum lift is 8,800 lbs. The maximum reach of 29 ft, 5 inches easily supports up to 3,500 lbs.This high-capacity telehandler packs a lot of power and versatility into its compact (19'4" x 8'3" x 9'4") size. The Iveco 4 cyl. diesel delivers 170 hp. The P65.14HM travels quite well at 25 mph thanks to its CVtronic hydrostatic transmission. The 4WD with three steering modes ensure nimble maneuverability on every jobsite.This enclosed FOPS and ROPS cab is mounted on isolation pads to reduce noise and vibration. The wide, split-door leads into a spacious first-class operation center with heat and AC. Ergonomic seating is standard. The dashboard, with its automotive look and feel, is engineered for quick fingertip access to all the controls. The electronic joystick is comfortably easy to use. The machine shuttle is located on the joystick and the steering column. The low pivot boom coupled with over 42 sq ft of glass ensures the operator has a continuous (360°) view of the machine, the surroundings, and the load at all times. Three windshield wipers—front, back, and roof—are standard.The automatic frame leveling ensures a perfect vertical lift even on a slope. Boom side-shift enables an operator to precisely move the boom to the left and the right for safe load placement at height. The MCDC (Merlo Dynamic Load Control) synchs up with a large 10.1-inch color display that shows, in real time, attachment recognition, the machine's geometric configuration, boom extension, angle, and other working parameters. Plus, the no flex, ground engaging boom's Tac-lock system is safely controlled from the cab for quick, safe connection of a wide array of attachments such as buckets, jibs, hooks, winches, and platforms. Merlo telehandlers are available through local dealers. AMS-Merlo the distributor of Merlo telehandlers has two locations to serve you: Rock Hill, South Carolina and Olathe, Kansas. AMS-MerloAMS-MerloAPPLIED MACHINERY SALES
Page 73
www.mcsmag.com APRIL 202169products and servicesOff-the-Road (OTR) heavy industrial and commercial vehicles are only as good as the performance of the tires they're riding on. Any piece of essential equipment that's vital to the construction space—be it a bulldozer, telehandler, or skid steer loader—depends on the reliability of safe, durable tires that won't go flat on the job. An unexpected tire flat on any one of these vital workhorse machines can disrupt productivity and throw a project manager's timeline—and budget—quickly off the rails. Afterall, transportation and earthmoving equipment plays an absolutely integral role in keeping production rolling on any flourishing construction site. No operator wants the day's agenda to grind to a halt due to a tire-related mishap. That's a situation that—depending on the size and weight of the large equipment involved—can be costly, cumbersome, and even dangerous to remedy in the field. Solid aperture tires are impervious to tire flats, but are expensive, difficult to maneuver on steeper inclines, and deliver a bumpy ride that's fatiguing to drivers. Pneumatic tires offer a cushioned ride but are highly vulnerable to punctures. Polyurethane tire—or "foam"—fill technology delivers a viable technology alternative that's affordable, safe, and logistically feasible for OTR equipment operators. Polyurethane-filled pneumatics literally glide over typical worksite debris such as sharp rocks, nails, broken glass, and rebar. They offer a 100% flatproof solution that keeps OTR tires protected no matter how rigorous the jobsite is. Carlisle TyrFil, the leading flatproofing technology brand, first launched in 1971. Through its pioneering use of urethanes to create an impenetrable, sustainable elastomer core for OTR tires, it has helped to evolutionize the industry. Celebrating its 50th Anniversary this year, TyrFil has enabled thousands of construction managers and contractors to glean better performance from the transportation systems that are integral to a streamlined, productive worksite. Carlisle TyrFilCarlisle TyrFilTyrFil™ Celebrates Five Decades in the OTR Tire Industry
Page 74
APRIL 2021 www.mcsmag.com70products and servicesCarnie Cap offers the cutting edge in impalement protection combined with ease of installation, versatility, and cost savings compared with other rebar protective devices. Carnie Caps are national OSHA compliant, CA OSHA, and ME approved. Carnie Caps are designed to hold 2x4 or 2x6 pieces of lumber (double the thickness in CA) suspended above the exposed rebar. When a fall occurs, the force of the impact is distributed over the entire length and width of the lumber rather than the usual 16 square inches offered by other compliant rebar caps, making these caps extremely effective in preventing impalement.The Carnie Caps are cost effective in several ways:• The Caps hold the lumber in place using only 2 Caps per 8 ft of rebar (3 caps/8 ft CA). This eliminates having to use one cap per each piece of rebar.• These caps are rarely knocked off, so neither money nor precious time will be wasted searching your jobsite for lost caps.• These caps are reusable for up to 2 years.As for versatility:• The Carnie Cap system can be used in horizontal, vertical, or incline positions.• The company offers two sizes of caps. The 2x4 size works with rebar from size 4 through size 9 and the 2x6 size caps works with rebar from size 8 through 16. Carnie Caps are made in the USA and ship in boxes of 100 from Moline, Illinois, Monday through Friday. Ask about quantity specials. You can also access the website for additional information, such as local distributors in your area, installation instructions, and safety articles. Be sure to check out the company mission statement and policies. Around Carnie Cap, the new motto is "We are proudly preventing human shish-kebob!" For more information, visit www.carniecap.comCarnie Cap, Inc.Carnie Cap, Inc.CUTTING EDGE IMPALEMENT PROTECTIONCARNIE CAP is the most effective way to cap exposed rebar while keeping your workers safe and on the job.National OSHA Compliant • CAL-OSHA ApprovedPatent #5826398, 6073415ORDER TODAY!(888) 743-7725 www.carniecap.comWORKS IN HORIZONTAL, VERTICAL & INCLINATIONAPPLICATIONS✓ ASSEMBLE WITH 2X4 OR 2X6 LUMBER ALREADY ON SITE✓ SAFELY DISTRIBUTES WEIGHT ACROSS ENTIRE SYSTEM✓ NO MORE CAPPING EVERYREBAR!✓ Innovative RebarImpalement Protection
Page 75
www.mcsmag.com APRIL 202171products and servicesFor construction fleets operating in conditions that require extra grip and traction, the Cooper Tire WORK Series™ All Weather Drive (AWD) features an aggressive tread pattern to maximize traction in all weather conditions. The Cooper® WORK Series™ AWD has an open shoulder design with tightly packed center tread blocks that are highly siped. The full-depth 3D sipes enhance traction, while interlocking to maintain tread stability while cornering.The tire is SmartWay verified and blends excellent fuel efficiency with long miles to removal due to 26/32nds of tread depth and a wide footprint. The Cooper® WORK Series™ has wide snow groves separating the three inner tread blocks with the outside ribs. This allows snow to pack in the tire, enhancing traction. The tread blocks are staggered and zig-zag to promote optimum traction in all weather conditions, while shoulder pockets provide additional traction "bite" in tough driving conditions.To ward off irregular wear and enhance performance, the new tire features shoulder tie bars to provide stability to the shoulder ribs, allowing for a good balance of traction and irregular wear resistance. Stone ejectors, located between the tread blocks, help resist stone drilling while helping to maintain casing integrity.Built around a four steel-belt casing, the Cooper® WORK Series™ AWD tire is highly retreadable and features an industry-leading full replacement value warranty for the first 50 percent of treadwear. The tire is available in three sizes: 295/75R22.5 LR G, 11R22.5 LR H, and 11R24.5 LR H. For more, visit coopertrucktires.com. Cooper Tire & Rubber CompanyCooper Tire & Rubber CompanyHigh Traction Cooper Tire WORK SERIES™ AWD Tire
Page 76
APRIL 2021 www.mcsmag.com72products and servicesEstablished February 1998, family owned and operated Dominion Equipment Parts, LLC has been in business for more than 20 years. In just two decades, Dominion has become the OEM provider for Yanmar and Morooka equipment parts, developed its own brand of high-quality rubber track replacements, and is one of the nation's leading track importers, supplying rubber tracks for 38 crawler equipment brands. Dominion is also a distributor of undercarriage parts for top brand names including Bobcat, Caterpillar, Gehl, Kubota, Takeuchi, and Mustang, providing sprockets, rollers, and idlers. It is the solely authorized North American distributor of specialized, compact dumpers and concrete trucks manufactured by Fiori. Its geographic range includes the 48 contiguous United States, Canada, Mexico, and South and Central America. Dominion initially shipped nationwide from Richmond, Virginia, its original base of operations. To improve delivery times, Dominion established distribution hubs in Dallas and Cincinnati, then added Jacksonville, Sacramento, Albany, and Portland. In 2015, it added a Canadian hub in Leduc, Alberta. Each was chosen for its logistical efficiency to give the region's customers same-day shipping with next-day delivery. Customers who choose to can also pick up their tracks or parts right from a regional warehouse, since each distribution hub also has a dedicated sales staff.One of Dominion's greatest assets is a strong dealer network offering Dominion Rubber Tracks and associated parts, including Yanmar and Morooka. The network includes United Rentals, the largest rental agency on the continent with more than 960 locations.Going forward, Dominion is focusing on improving its inventory and distribution capabilities even further, as well as supporting the Fiori Group machines it introduced in 2016. The compact, user-friendly vehicles increase productivity, flexibility, and operator safety in confined spaces such as narrow lanes, alleys, and tunnels. They are ideal for working in crowded city centers or in environmentally sensitive habitats and valued landscapes with restricted access. Dominion Equipment PartsDominion Equipment Parts
Page 77
www.mcsmag.com APRIL 202173products and servicesDUCTILCRETE® engineered systems help overcome the high maintenance issues that occur in traditional concrete slabs and concrete paving systems. Traditional concrete slabs in industrial settings suffer from tremendous wear and tear. These slabs are prone to chips and cracks at control joints, even under normal use of material handling vehicle traffic. The drying of the slab's surface during concrete placement can cause slabs to curl at the edges, resulting in maintenance issues that can be extremely costly and disruptive to operations.Typically, these floors require extensive control joints to minimize cracking and curling. However, these control joints can disrupt the flow of the space and restrict rack and equipment placement. DUCTILCRETE® extended joint spacing slab technology differentiates your space, giving warehouses, distribution centers, manufacturing facilities, and data center tenants greater flexibility of their floor space—with lower maintenance costs by reducing the amount of joints in the slab by up to 75%. These systems feature a patented, specially formulated combination of concrete admixture and fibers placed via a layered installation system, using a precise method of floor design. Perfected over 15+ years, the systems yield floors that are typically thinner than conventional concrete slabs while allowing for increased loading capacity. These slabs are also more curl and crack-resistant than conventionally designed concrete slabs. The result is a floor with far fewer joints, thus reducing the opportunity for joint damage, wear and tear on machinery and personnel, and joint maintenance and costs. The reduction in joints also allows for a significant increase in usable space. For more, visit www.gcpat.com.GCP Applied TechnologiesGCP Applied TechnologiesIncrease space flexibility with DUCTILCRETE® extended joint spacing slab technology.
Page 78
APRIL 2021 www.mcsmag.com74products and servicesInSite Elevation is a PDF and CAD cut and fill takeoff and GPS modeling software solution for earthwork estimators who need to save time and money.Quickly and accurately calculate cut and fill, stripping, strata quantities, paving and concrete materials, topsoil re-spread, areas, lengths, trench excavation, and backfill. Precision tools such as the Snap feature and Offset tool help keep quantities tight and as competitive as possible. Verification is easy. InSite Elevation generates reports that can be exported to spreadsheets, PDF files, and most bid applications. 3Ds, cross section, and plan view cut and fill graphics provide hard evidence of all calculations. The software supports GPS and drone data for grade verification, production, and as-built calculations. Value engineering can be accomplished with the built-in Dynamic Site Balancer.Create GPS Machine Control Models. The software also creates machine control and staking files without the complexity and necessity of a CAD program. The data can be downloaded to any data collector for use with conventional survey equipment.Training and support. The company offers live on-board training and exceptional technical support, giving you piece-of-mind when you have a question. Continuous new feature development ensures your software is always up to date. InSite Elevation Lite is an option for earthwork estimators who require basic take-off features. Quickly and accurately calculate, cut and fill, stripping, paving and concrete materials, topsoil re-spread, and areas and lengths. The software is incredibly user-friendly with intuitive operations that can give estimators a competitive edge. Insite SoftwareInsite SoftwareReady to Grow Your Business? Schedule A Live Demo Today.insitesoftware.com/demo | 877.746.7483 | sales@insitesoftware
Page 79
www.mcsmag.com APRIL 202175products and servicesRebar safety needed a better solution. This is it! OSHA statistics show that a high percentage of construction accidents are due to impalement from rebar. OSHA regulation 1926.701 states that "All protruding reinforcing steel, onto and into which employees could fall, shall be guarded to eliminate the hazard of impalement." Despite the regulation, thousands of people are injured and even killed due to inadequate protection around rebar each year.EASY TO INSTALL, REMOVE, STORE & RE-USESimply place the JP Safety Channel on exposed rebar dowels and you are protected from being impaled. The product works in vertical, incline and horizontal applications. The JP Safety Channel is light and stackable, making it easy to store for repeated use. To remove, simply lift the Safety Channel from the rebar dowels. It has holes strategically placed along the bottom edge of the channel to allow them to be secured to the rebar in the event of them falling off or windy conditions.DRASTICALLY REDUCE LABOR & MATERIAL COSTSIt only takes minutes to cover dangerous exposed rebar. As there is no preparation required, labor costs are minimal and material costs are nonexistent. The JP Safety Channel can be re-used on worksites, providing a long-term return-on-investment.As the JP Safety Channel securely sits on exposed rebar, workers will not need to spend time re-installing safety channels that accidently get knocked off.WHY JP SAFETY CHANNEL?• Protects 360-degrees and guards against serious injury due to a fall and abrasion on exposed rebar • Simple, safe, light, and easy to install• Reusable and stacks for minimal storage space• OSHA Compliant passing the 250lb drop test from 10 ft. For more information, visit www.jpsafetychannel.com.JP Safety ChannelJP Safety Channel
Page 80
APRIL 2021 www.mcsmag.com76MAX USA Corp.MAX USA Corp.The patented and safety equipped TWINTIER® platform of MAX rebar tying tools, are the safest and fastest solutions for tying #3 x #3 all the way up to #9 x #10 rebar combinations. MAX TWINTIER tools replace the repetitive motion used in the process of manually tying rebar and replaces it with a mechanical injury preventive tying solution. Compared to hand tying these tools can significantly reduce the risk of musculoskeletal injuries. TWINTIER technology allows the tools to tie 4,000 ties per charge, while delivering just the right amount of wire for greater productivity and cost savings. The proprietary TWINTIER technology comprises 3 key mechanisms that make the TWINTIER platform one of a kind. First, a Dual Wire Feeding mechanism, doubles the tying speed to increase jobsite productivity. Secondly, a Wire Bending mechanism produces a shorter tie height. This mechanism not only reduces wire consumption, but less concrete is now needed to fully cover each tie. Finally, a Wire Pull-Back mechanism conserves wire by dispensing just the right amount to form a wire tie relative to the size of rebar being tied. MAX manufactures three models:The TWINTIER RB441T is the fastest solution on the market for tying #3 x #3 to #7 on #7 rebar combinations. This tool, as well as the other TWINTIER models, features a slim arm that fits easily into tight spaces and an enclosed magazine which protects tie wire and internal mechanisms from jobsite debris, providing durability.The TWINTIER RB611T is the largest capacity battery powered rebar tying tool on the market, having the ability to tie #5 x #5 to #9 x #10 rebar combinations. The Stand-up TWINTIER RB401T-E is the world's first and only battery powered stand-up solution for tying #3 x #3 to #6 on #6 rebar combinations. This tool is an ergonomic solution for backbreaking slab work. Its triggerless technology (Pat. Pending) allows it to instantly tie when the contact switch is engaged.TWINTIER tools use MAX TW1061T 19 gauge tie wire, which is available in black steel, poly-coated steel, electro-galvanized steel, BUY AMERICAN steel, and stainless-steel finishes. www.twintier.global.com/us-en/products and services
Page 81
www.mcsmag.com APRIL 202177products and servicesNational Construction Rentals understands the relationships we build are just as important as the quality of work we put into each project. It's with this principle in mind that has made us become the largest supplier of temporary fencing, portable toilets, hand wash stations, luxury restroom trailers, mobile storage containers, and temporary power in the nation.For nearly 60 years, National Construction Rentals has worked with every leading construction company, supplying temporary site service solutions to: Bechtel, Flour, Kiewit, Turner, PCL Construction, The Shaw Group, Skanska USA, Clark Group, Jacobs, Foster Wheeler AG, The Walsh Group, Balfour Beatty, Whiting-Turner, Tutor Perini Corp., CB&I, Gilbane, Hansel Phelps, Mortenson Construction, McCarthy Construction, and countless others.From commercial and residential construction, to government projects, public works, and emergency response, National's team of experienced professionals dedicate themselves to each project until each customer is satisfied with the results. This was our goal when we started in 1962. This is what continues to define who we are today.For unparalleled service and superior customer support, contact us today at 800.352.5675 for the best in chain link fence, portable toilets, hand wash stations, luxury restroom trailers, mobile storage containers, and temporary power solutions. For more information, visitwww.rentnational.comNational Construction RentalsNational Construction RentalsRentals Made Easy.™
Page 82
APRIL 2021 www.mcsmag.com78products and servicesNorseman is the largest manufacturer and supplier of industrial fabric, foam, and film protective solutions in North America. We provide customers with sustainable and durable protective solutions designed to improve operating productivity in the most challenging conditions. Since 1921, Norseman has strived to be a company that customers can rely on. Our design and manufacturing teams work alongside customers to understand their projects and working environments and to develop protective solutions that help our customers outwork, outperform, and overachieve. MANUFACTURING EXCELLENCE Norseman operates more than 100,000 square feet of quality-controlled manufacturing facilities across North America. We can meet tight delivery requirements and supply gear year-round. Our long-term relationships with suppliers across the globe allow us to source superior materials to manufacture our high-performing protective gear. COAST-TO-COAST ACCESS Each of our branches and distribution locations has its own unique design capabilities, experts in engineering and manufacturing, and staff with extensive knowledge of superior industrial fabrics, foams, and films. This expertise is complemented by our sales and customer-support presence across Canada and the US, ensuring that every customer has direct access and support from our team. GEAR2PERFORM We make high-performing protective gear for people, products, and environments. Our jobsite gear includes:• Concrete Curing Blankets: Our blankets are manufactured true to size with woven polyethylene that encapsulates superior closed-cell layered foam for maximum insulation. Polypropylene foam fills each blanket all the way to the outer edges, reducing heat loss at the extremities. • Snow Shield: Lay down a Snow Shield before a snowfall, then with a crane, lift the Snow Shield by all four corners, clearing away thousands of pounds of snow in minutes. This cost-effective tool saves companies both time and money. NorsemanNorsemanOUR FIERCELY RELIABLE™ COMMITMENT
Page 83
www.mcsmag.com APRIL 202179products and servicesPoseidon Barge, LTD continues to set the standard for high quality, customer service, and developing products that are in demand. The Poseidon P-10 is a glowing example of what an idea, determination, and hard work can turn out to be.MEET ANY CHALLENGEThe P-10 comes in two sizes: 44 ft x 11 ft x 10 ft and 22 ft x 11 ft x 10 ft. They are the largest sectional barge on the market that is capable of over the road transportation. This gives Poseidon Barge the ability to meet any challenge anywhere in the world, especially on inland water ways that require the largest cranes performing monster lifts.Poseidon P-10's are equipped with the same Patented Roll Form Decks that Poseidon is known for. These Roll Form decks offer Deck Point Load Capacity of 20,000 per sq ft point load vs the 5,000 lbs per sq ft that traditional deck plate is rated for. This helps minimize damage and allows for heavier equipment to be placed on the deck.The P-10 is no stranger to the spotlight having been used in many high-profile projects: multiple projects in downtown Chicago, the new Tappan Zee Bridge (New York) and the I-74 Bridge (Iowa) just to name a few. Each time, the world's largest cranes were placed on the P-10's and they met the challenge.BUILT IN INDIANAP-10's are manufactured in Berne, Indiana, the site of Poseidon Barge, LTD's Corporate Headquarters. With more than 130,000 square feet of manufacturing space, Poseidon Barge is equipped to handle not only the size of the P-10 Sectional Barge, but the volume associated with all their other products. Poseidon Barge offers Sectionals ranging from 4 ft hull depth, 5 ft hull depth, 7 ft hull depth, and of course, 10 ft hull depth. A full line of accessories and hydraulics are available for purchase and rent as well.In 2020, Poseidon Barge, LTD became the only Sectional Barge manufacturer in North America to be ISO 9001:2015 Certified further recognizing the commitment to quality, continual improvement, and customer satisfaction. Poseidon Barge, LTD is a manufacturer of sectional barges and accessories for rent or purchase. Please call 866.992.2743 or visit www.poseidonbarge.com for additional information.Poseidon Barge, LTD Poseidon Barge, LTD Poseidon Barge Makes it Big with The P-10
Page 84
APRIL 2021 www.mcsmag.com80products and servicesSunflower Boat & Barge of Dubuque, Iowa, is a one-stop-shop for contractors working over the water. Sunflower maintains an extensive fleet of marine construction equipment and related accessories available for lease. Sunflower expanded its fleet by adding another new construction crane barge and multiple 600 hp truckable tugboats, with similar additions planned for the immediate future.Sunflower Boat & Barge's existing fleet includes numerous inland river crane barges, material barges, and deck/spud barges of various sizes. Sunflower also leases portable sectional barges, available in four different sizes (3 ft, 4 ft, 5 ft, and 7 ft hull depths), allowing for configuration of a work platform that fits each customer's unique needs and also allowing access to nearly every inland water. Sectional barge platforms can be designed to support projects ranging from floating plant operations for painting and drilling jobs all the way up to configurations designed to handle heavy cranes. In addition to barges, Sunflower has traditional tugboats ranging in size from 300 hp to 1,800 hp, as well as truckable tugboats from 300 hp to 600 hp. Hydraulic dredges? Yep, they have them too, again, in a range of sizes to fit the requirements of your project. Dredges vary from 8 inches up to a new in 2015 Ellicott 1270. Crawler cranes ranging from 45 ton to 450 ton are also available for lease and can be loaded to barges from their facility in Dubuque, Iowa. Additional equipment available includes spuds, spudwells, and spud winches, as well as long reach excavators, dredge pipe, and heavy rigging and lifting gear. Sunflower Boat & Barge expands marine equipment rental fleet.For more information, questions, or to discuss your upcoming project, you can reach Sunflower Boat & Barge at 563.583.0556, or visit www.sunflowerboatandbarge.com.Sunflower Boat & BargeSunflower Boat & Bargewww.sunflowerboatandbarge.com • 563-583-0556• Sectional Barges• Spud Barges from 75x32 to 195x70• Hydraulic Dredges• Truckable Tugboats from 300 – 600 hp• Traditional Tugboats• Support EquipmentAvailable for Lease:
Page 85
www.mcsmag.com APRIL 202181products and servicesWhen it comes to selecting tires for Reliable Paving's wheeled skid steers—a mix of more than a dozen Caterpillar 262Ds and Bobcats—shop and equipment manager Ryan Young says buying on price can be short-sighted. When Young joined Reliable Paving 3 years ago, cheaper tires were failing in droves at th e company's paving, repair, and construction sites all over the Dallas-Fort Worth area."It seemed like we were just calling in for tires left and right, all the time, on those skid steers," he says.He immediately implemented a new approach."For us, it's usually, 'what's the most reliable?' and we're willing to pay for that because in the long run we get more durability and more life out of that more expensive tire," Young explains.NEW MIGHTY TRAC NDReliable Paving's tire dealer, Brian Edwards of Star Tire in Dallas, Texas, knew Young would appreciate the new Galaxy Mighty Trac ND. "The Mighty Trac has got a ton of rubber on it—just one 32nd less than the Galaxy Hulk—and the cost per hour is very low," Edwards says. "I have a couple of customers using them, primarily on skid steers they're doing paving work with, and they're performing really well."The Galaxy Mighty Trac ND has a rubber-to-void ratio of 52:48, notes Ryan Lopes, national product manager for Yokohama Off-Highway Tires America, Inc. The tread blocks are placed more densely in the center of the tread to reduce wear, which opens up the sides for better self-cleaning, he explains. "The tread blocks of the Mighty Trac also feature sipes, which improve their flexibility and traction as well as their ability to dissipate heat," Lopes adds.SIDE BY SIDEA side-by-side comparison left no doubts at Reliable Paving."We had two machines and Star Tire put the Galaxy on one and we had this other cheap, knock-off brand on the other," Young recalls. "You could just see how fast the other ones had worn out compared to the Galaxys—the cheaper tires already had a lot of chunks and were showing a lot more aggressive signs of wear. At that point, I made a decision to go with the Mighty Trac as much as I can." Yokohama OHTYokohama OHTGalaxy Mighty Trac ND durability shines on Texas skid steersPLAY VIDEO
Page 86
APRIL 2021 www.mcsmag.com82products and servicesMBW, Inc. has been manufacturing one of the construction industry's most interesting lines of small compaction and concrete equipment. Located in Slinger, Wisconsin, production began more than 50 years ago with its introduction of a lower maintenance vibratory plate compactor. MBW does not simply duplicate designs developed by others. MBW begins each new engineering project with the assumption that significant progress can be made in terms of improved productivity, reduced maintenance, longer life, enhanced user safety, and lower long-term cost of ownership. MBW backs its products with a 1-year warranty. Today, the company's product line encompasses a variety of soil compaction products including single direction vibratory plates, small and large reversible vibratory plates, gas and air rammers, skid steer roller attachments, and small and large excavator wheel attachments. The concrete side includes a vibratory wet screed with bar sizes from 4 ft to 24 ft, truss screed, three sizes of walk-behind power trowels and three sizes of ride-on power trowels, concrete power buggy's, mortar mixers, and concrete sprayers. www.mbw.comMBW, Inc.Rockwheel Americas of the Alpine Group has expanded its product line beyond its industry leading Rockwheel drum cutters. Enter the RockCrusher and RockScreener attachments. Acquired from Hartl Crushers, these work tools have been proven over many years to be the most robust and productive crushing and screening buckets on the market. The focus here is the RockCrusher, which is available for excavators from 15 to 50+ tons. Several advantages distinguish this crusher bucket from its competitors. These include a unique Quattro movement with up-thrust that produces consistent cubical shaped material, minimizes fines, and maximizes throughput. The reverse function makes it easy to clear jams and the RockCrusher has a massive crushing plate surface area that is up to 40% greater than other units on the market. Applications include: demolition, excavation, quarries, recycling, natural stone processing, and trenching and pipeline construction. Crush, reuse, and recycle material on-site using an attachment rather than mobilizing expensive crushing plants. Accessories include dust suppression system, central greasing, magnet, and remote cameras. Do more with your excavator! Dealer inquiries welcome. 814.466.7134 | www.alpinecutters.comAlpine Rockwheel
Page 87
www.mcsmag.com APRIL 202183• Well Rehab Products• Manholes• Bentonite• Filter Sock• Inline Chemical Mixers• Sampling Bailers• Clear PVC Pipe• Locking CapsAtlantic Screen& Manufacturing, Inc.Manufacturers of slotted & perforated pipe ranging from ½" to 24" in diameter302-684-3197Fax 302-684-0643142 Broadkill Road ■ Milton, DE 19968www.atlantic-screen.com ■ atlantic@ce.net
Page 88
APRIL 2021 www.mcsmag.com84SEEKING A SOLUTION? SEEKING A SOLUTION? LET MCS BE YOUR RESOURCE.LET MCS BE YOUR RESOURCE.
Page 89
Page 90
Page 91
Page 92
APRIL 2021 www.mcsmag.com88Dear Retiring Robert,To your first question, succession planning is a process that strategically aligns the needs of the business with human capital; therefore, it is never too early to create a succession plan. When properly executed, a succession plan ensures the right highly qualified and capable people are in position to achieve operational and cultural continuity. Many companies put a succession plan in place for reasons other than key people retiring. For example, the plan can position the organization for unexpected changes and support strategic and operational growth objectives. To your second question, you want to avoid these top five pitfalls:✖THE PLAN IS NOT A PLANFor many organizations, their plans are not formalized with a structure in place. Instead, they tend to be loose—more of an idea or a general direction. Make sure your plan is formal with well-thought-out strategies, objectives, actions, and timelines. ✖LATE TO CREATE Succession planning is constantly on the minds of exceptional leaders because they think proactively about the future. Preparing the next generation of leaders takes time as does knowledge transfer. Make sure your plan addresses these and goes as deep into the organization as is practical.✖"WHAT WE HAVE IS WHATWE NEED" MINDSETPlanning for the type of personnel you have today versus the type you'll need in the future. Exceptional leaders know business needs shift over time. As those needs change, the capabilities of future leaders must align with them. Make sure you take the emotion out of the plan creation and have the foresight to craft what you will need, not simply replace what you have.✖AN INEFFECTIVEDEVELOPMENT PLANBe sure to identify specific needs for improvement and provide future leaders with proper training, coaching, or mentoring for each one's development. This often begins with assessments to ensure the training and development is targeted for each individual, then determining if they're effective. Does the training and development process succeed in transforming those leaders to fit into the roles you will need? ✖NOT MEASURING PROGRESSLike a construction project, success with plan execution requires regularly measuring progress and making adjustments to the plan as appropriate. Make sure you build check-in points and milestones into your plan. You want to avoid reaching the day of your retirement, only to conclude that the leader replacing you isn't ready.CLOSING THOUGHTLife often comes at you fast. That's why you want to get prepared by doing succession planning now. And if that process is uncomfortable to deal with, get outside expertise—it's that important. about the coachAs a leadership development expert, Randy Goruk works with construction industry leaders to improve employee engagement and business growth. Register to receive his Leadership Tip of the Week at www.LeadersEdge360.com, or contact him directly to learn how he can help you and your team: randy@LeadersEdge360.com.HEY COACH, Three of our senior leaders and I are thinking of retiring in the next 2 or 3 years. Our business is solid, but I'm concerned that, as we look ahead, those leaders coming behind us may not be ready to take it over. A couple of questions: 1) Is it too early to start a succession plan? 2) What are typical mistakes construction companies make in their succession planning? Retiring Robert
Page 93
Page 94
WE BUILD STUFF, TOO.Like better business practices and stronger bottom lines.
Page 95
WE BUILD STUFF, TOO.Like better business practices and stronger bottom lines.
Page 96
Page 97
Page 98