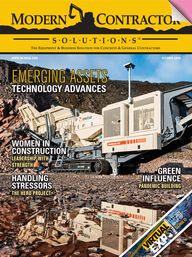 Return to flip book view
Modern Construction Solutions October 2020
Page 1
WWW MCSMAG COM OCTOBER 2020 EMERGING ASSETS TECHNOLOGY ADVANCES WOMEN IN CONSTRUCTION LEADERSHIP WITH STRENGTH HANDLING STRESSORS THE HERO PROJECT GREEN INFLUENCE PANDEMIC BUILDING
Page 2
Page 3
WWW MCSMAG COM OCTOBER 2020 EMERGING ASSETS TECHNOLOGY ADVANCES WOMEN IN CONSTRUCTION LEADERSHIP WITH STRENGTH HANDLING STRESSORS THE HERO PROJECT GREEN INFLUENCE PANDEMIC BUILDING
Page 4
Page 5
Page 6
INDUSTRY NEWSFixed-wing Drone TechnologyPROJECT PROFILEMaking Heavy Hauls Look EasyEQUIPMENT SOLUTION55-Ton Traveling Axle TrailerSAFETY SOLUTIONCommunication for WorksitesMANAGEMENT SOLUTIONCrushing the Old Method2046OCTOBER 2020VOLUME 14 ISSUE 10Inside This IssueON THE COVERCover photo courtesy of Metso Outotec. The Nordtrack™ J127, a wide jaw solution and one of the new Metso Nordtrack™ products, is designed for general contractor operations. The full range of mobile crushers, screens, and conveyors makes it easy to get your operations up and running, on time, and within budget. See the ad on page 7. metso.com/nordtrack42special focusIN EVERY ISSUEIndustry News ............................ 10Modern Construction Products ... 59 What's Trending ......................... 60technology solutions Emerging Assetstechnology to move aheadlegal solution What About Taxes?2 tax issues during this pandemicmanagement solutions Wise WordsDanette Swank, president, PHIL34safety solution Safe Kitwoman on a mission52WOMEN IN CONSTRUCTIONmanagement solution A Wo(Man)'s World, Tooovercoming obstacles36project profile Clifftop Demolitionbuilder finds robotic solution for historic project
Page 7
INDUSTRY NEWSFixed-wing Drone TechnologyPROJECT PROFILEMaking Heavy Hauls Look EasyEQUIPMENT SOLUTION55-Ton Traveling Axle TrailerSAFETY SOLUTIONCommunication for WorksitesMANAGEMENT SOLUTIONCrushing the Old Method
Page 8
PROJECT PROFILESSetting the Stage....................................................... 18Clifftop Demolition .................................................... 20EQUIPMENT SOLUTIONSullair Delivers .......................................................... 24ENVIRONMENTAL SOLUTIONInfluence of Green ..................................................... 28MANAGEMENT SOLUTIONS 2021 Trends .............................................................. 32Wise Words ............................................................... 34Digital Shift ............................................................... 35It's a Wo(Man)'s World, Too ...................................... 36LEGAL SOLUTIONSWhat About Taxes? .................................................... 42Evaluation Disputes ................................................... 44TECHNOLOGY SOLUTIONSEmerging Assets ....................................................... 46Augmented Reality .................................................... 50SAFETY SOLUTIONSSafe Kit...................................................................... 52 Start, Stop & Continue ............................................... 54MAINTENANCE SOLUTIONEngine Maintenance .................................................. 56FEATURED PRODUCTDiablo Drill Bits ......................................................... 58Donna CampbellEditor in ChiefHOW DO YOU ADD VALUE TO YOUR COMPANY? HIRE A WOMAN.This month's issue focuses on women in construction. There are many fabulous women in various sectors of construction: the back office, in the field, or executive suite. I'd like to say, "Look how far we've come!" Yet … I say, "Look at where we are." Gender bias is alive and well, and it doesn't matter how much experience or expertise you've achieved. And, it's not only men that fuel the flames of discord … women sabotage other women every day. And, if you're a woman in construction, chances are, at some point, you've questioned your self-worth, dignity, and the talents you bring to the table. So, I say to you, that strong woman with leadership skills … do not be afraid. To the men reading this: Take note and strive to work in tandem versus against the women on your team.For words of wisdom, check out the Q&A with Danette Swank, president of PHIL, (pg 34); IFS' Sarah Nicastor, evangelist, shares the digital shift for women (pg 35); three women in leadership share the obstacles women face in the workplace (pg 36); Safe Kit CEO Euricka Alugas' dedication to service has always been the driving force behind her vision, read more (pg 52). The stats on women losing ground in the workforce is eye-opening (60). Bringing his life coach experience to those dealing with stress, read about Adam Jablin (pg 54).MCS is hosting its Fall Virtual Expo in mid-November, another connection for readers and manufacturers in construction. See the promo on page 45 and register to attend.Stay well; be strong, my friends.www.mcsmag.com P.O. Box 660197 | Birmingham, AL 35266DONNA CAMPBELL Editor in Chiefdonna@mcsmag.comMIKE BARKER Publishermike@mcsmag.com RANDY MOON Media Consultantrandym@mcsmag.comMICHAEL FISCHBACH Media Consultantmichael@mcsmag.com JOHN FRIEND Media Consultantjohn@mcsmag.comKEVIN MCCLARAN Media Consultantkevin@mcsmag.comLISA AVERY Art Directorlisa@mcsmag.comCRISTELA TSCHUMY Graphic Designercristela@mcsmag.com SETH SAUNDERS Digital Media Specialist seth@mcsmag.comINGRID BERKY Office Manageringrid@mcsmag.comTIM GARMONCEORUSSELL HADDOCKPresidentCHRIS GARMONCFODONNA CAMPBELLVice President, EditorialTONYA BROWNINGVice PresidentSUBSCRIPTION inquiries or changes:205.380.2048No part of this publication may be reproduced or transmitted in any form or by any means, electronic or mechanical, including photocopy, recording, or any information storage-and-retrieval system without permission in writing from the publisher. The views expressed by those not on the staff of Modern Contractor Solutions, or who are not specifically employed by Highlands Publications are purely their own. All Industry News material has either been submitted by the subject company or pulled directly from its corporate website, which is assumed to be cleared for release. Comments and submissions are welcome, and can be submitted to donna@mcsmag.com.For reprint information, contact Chris Garmon at chris@mcsmag.com.Canada Post Publication Agreement #41578525. Undeliverables 355 Admiral Drive, Unit 4, Mississauga, ON L5T 2N1@mcsmagModern Contractor Solutions MagazineModern Contractor SolutionsTIPS FOR FINDING ALTERNATIVE BUILDING MATERIALS FOR PROJECTSGuest Post by Holly WellesON THE BLOGShe Built ThatFrom Hardship to High Heels The daughter of a single mother with five brothers and sisters, Euricka Alugas moved around a lot, finally settled down, and became a YAYA student (www.yayainc.org). As a child, she was always trying new things. When Hurricane Katrina hit New Orleans, she was stuck on her roof for a week until help came. It was in this pivotal moment that Euricka decided she would not let herself, or anyone else, experience something so terrifying. She created Safe Kit, and as its CEO, Euricka continues to help those on the frontline. Read her bio on her company website for more: www.safekitonline.com.
Page 9
SUBSCRIPTION inquiries or changes:205.380.2048
Page 10
Page 11
WWW MCSMAG COM OCTOBER 2020 EMERGING ASSETS TECHNOLOGY ADVANCES WOMEN IN CONSTRUCTION LEADERSHIP WITH STRENGTH HANDLING STRESSORS THE HERO PROJECT GREEN INFLUENCE PANDEMIC BUILDING
Page 12
OCTOBER 2020 www.mcsmag.com10industry newsWORLD OF CONCRETE 2021 PLANNED FOR JUNE After discussions with key stakeholders and feedback from industry-leading concrete & masonry associations, World of Concrete made the proactive decision to reschedule WOC 2021 from January to June. The decision to move the dates back several months was not easily reached; however, they felt it was the right choice for all involved. WOC will now take place June 8–10, 2021, educational offerings June 7–10, 2021, at the Las Vegas Convention Center.World of Concrete will adapt the Informa AllSecure Plan at our June 2021 event. AllSecure is Informa's approach to ensuring the highest standards of safety, hygiene, cleanliness, and quality for operating events for all our exhibitors, attendees, speakers, and press. For more, visit informa.com/about-us/allsecure.In addition to the safety protocols in place for WOC 2021, The Las Vegas Convention Center (LVCC) has been awarded the Global Biorisk Advisory Council (GBAC) STAR facility accreditation by ISSA, the Worldwide Cleaning Industry Association. The GBAC program is considered the gold standard for safe facilities, and was designed to control the risks associated with infectious agents, including COVID-19. World of Concrete is also one of the first large-scale events to occupy The Las Vegas Convention Center's $980 million West Hall expansion in June, which will add 1.4 million square feet of space to the existing 3.2 million square foot campus. In addition to the exhibit hall, the expansion will feature a striking outdoor plaza, a grand atrium, and state-of-the-art design and technology. Registration for WOC 2021 will open online in early 2021. For more, visit www.worldofconcrete.com. CONSTRUCTION EQUIPMENT ATTACHMENT MARKET TO EXPAND 1.3X BY 2030According to Fact.MR's website, demand for construction equipment will increase over the coming years as government spending on infrastructure development projects in developed and developing countries is rising, which is expected to drive the growth of the global construction equipment attachment market. In addition, government initiatives to build bridges, dams, railways, and highways as part of the creation of smart cities in areas of energy, mobility and government will increase demand for building equipment, further boosting demand for construction equipment attachments.The global construction equipment attachment market is poised to expand at a value CAGR of 2.4%, and is expected to create an absolute dollar opportunity of US$ 1.4 Bn over the forecast duration of 2020–2030. For more, visit www.factmr.com/report/5134/construction-equipment-attachment-market.Contractor's #1 Choice for Flat FloorsA great power screed using straight flat screed bars. The❝Black Beauty❞GET FLAT FLOORS!Screed bars are available in lengths up to 20 feet.▼ Equilateral screed bars stay straight through years of use.▼ Now available with "T" handle (shown) or "Bicycle" handle.▼LOCATE A DEALER AT advancedconcretescreeds.com OR CALL US AT 800-648-0542.
Page 13
Page 14
OCTOBER 2020 www.mcsmag.com12industry newsNEW METSO OUTOTEC NORDTRACKTM MOBILE EQUIPMENT RANGE SELLS 100 UNITSThe new mobile crushing and screening range from Metso Outotec, NordtrackTM, passes the milestone of 100 units sold worldwide. The volume sales of the range started during 1Q2020."This is a remarkable achievement for a new product range, especially considering how the pandemic has impacted the construction industry around the world," says Vesa Tuloisela, director, Nordtrack offering at Metso Outotec. "It strengthens our expectation that the potential Nordtrack customers appreciate the reliability and support of a premium brand. We believe that the demand for aggregate recycling equipment is on a steady path."Sales and deliveries have started globally and the biggest demand so far is coming from North America and Europe. Customers have ordered Nordtrack crushers for C&D (concrete and demolition) waste sites and aggregate quarries, and Nordtrack screens for aggregate screening and industrial applications, such as mulch screening and top-soil pre-screening. Mobile conveyors are used as auxiliary equipment to complete the crushing and screening plants. "It is a range which meets the needs of the small- and medium-size contractors who are looking to expand their business in aggregates, whether it is recycling or small-scale virgin aggregate production," Tuloisela describes. "The features and options of the range have been selected in a way that the equipment is easy to use and to move between worksites. We have plans to announce new features and range extensions in the near future." For more, visit www.metso.com/products/nordtrack-equipment.COMMAND ALKON TO ACQUIRE TRIMBLE'S CONSTRUCTION LOGISTICS BUSINESSTrimble and Command Alkon announce Command Alkon has entered into a definitive agreement to acquire Trimble's construction logistics business. The transaction is expected to close in the fourth quarter of 2020. The acquisition will combine the best of Trimble construction logistics telematics solutions with Command Alkon's leading fleet and workforce management offerings for the heavy work community. For more, visit commandalkon.com or www.trimble.com. FELLING TRAILERS CAUSE AUCTION BENEFITS LYMPHOMA RESEARCH FOUNDATIONFelling Trailers, Inc. conductes its 8th annual online auction of an FT-3 drop deck utility trailer to benefit a non-profit organization, the Lymphoma Research Foundation (LRF). A winning bid of $4,650 won the online auction that ended at noon on World
Page 15
Page 16
OCTOBER 2020 www.mcsmag.com14industry newsVIRTUAL11.17.2020 | 10a—4p_CST XPMODERN CONTRACTOR SOLUTIONS VIRTUAL FALL EXPO 2020FALL 2020Lymphoma Awareness Day, Tuesday, September 15, 2020. The bid winner was Adam Seifert of Springfield, Minnesota. For more, visit www.felling.com. JOHN DEERE BRINGS BACK OFFER FOR COMPACT CONSTRUCTION EQUIPMENTAs of October, customers can take advantage of the popular John Deere "No Payments, No Interest" offer for new compact construction equipment purchases. Through the offer, customers can defer payments for up to 90 days on new skid steers, compact excavators, compact wheel loaders, and compact track loaders. Additionally, the offer can be stacked with the John Deere "Own It" payment program through October 31, 2020, providing customers with even more value. Exclusions apply in the United States and Canada, and a local dealer should be contacted for more information. For more, visit your local John Deere dealer or www.johndeere.com/NPNI. CONTINENTAL LAUNCHES MOBILE APP FOR COMMERCIAL TIRE DEALERS AND FLEETSContinental, one of the largest tire and automotive technology suppliers in the world, released a new mobile app called ContiTireDrive, which serves as a one-stop-shop for commercial truck and bus tire information. The ContiTireDrive app makes it easy to get information about Continental products. The tire and retread selector tool help users choose the right tire based on fleet vocation, tire size, and other factors. The dealer locator provides directions and contact information for nearby Continental dealers, ideal when drivers are on the road and need immediate service. The newsfeed keeps users up-to-date with the latest company news and new product launches. The library feature gives users offline access to product data sheets after initial download, ensuring information is accessible even when cell phone service isn't reliable. The app also has special features for Continental customers, after logging in with their Continental account number.The app can be downloaded from the Google Play or Apple App Store, and is compatible with Android and iOS devices, including phones and tablets. Android version 8.0 or above is required. Download now at www.contitiredrive.com. FREE TO ATTEND! To register visit highlandspublications.com/virtual-expo-register
Page 17
Page 18
Page 19
WWW MCSMAG COM OCTOBER 2020 EMERGING ASSETS TECHNOLOGY ADVANCES WOMEN IN CONSTRUCTION LEADERSHIP WITH STRENGTH HANDLING STRESSORS THE HERO PROJECT GREEN INFLUENCE PANDEMIC BUILDING
Page 20
OCTOBER 2020 www.mcsmag.com18project profileThe COVID-19 pandemic gripped every sector of the United States, shaking the nation to its economic underpinnings. No sector, however, has suffered quite the economic impact of the stage and theater industry.Shows were canceled mid-March, and many of them have yet to re-open. Actors, already hanging by a tenuous financial thread, found themselves without jobs and no opportunity to audition. Major U.S. cities, which bore the brunt of the pandemic's devastation in financial and human terms, faced the hard choice to pull the plug on theaters or risk close contact among theatergoers—there is little room for social distancing in aisles crammed with patrons—and the likelihood of more even cases of the virus. All of which puts the New Brunswick Performing Arts Center in a precarious position. The New Jersey facility opened in September 2019—it was one of the last theaters and performance venues to open before the pandemic hit—and 6 months later, the facility closed. No shows, no guests, and no end in sight. The $172 million high-rise will eventually re-open. For now, however, the New Brunswick Development Corporation, which spearheaded the project, can do little except wait for the green light to swing open the center's doors."We have a lot of opportunities to create social separation," says Christopher Paladino, president of the NBDC. "But given that patrons are routinely older, how are they going to feel about going back to these spaces? A lot will depend on when a vaccine comes and how effective it is. We will eventually get back to our routine. But it is not like throwing a switch back on. It's something we can't control."DUAL-PURPOSE STRUCTUREThe center opened to great fanfare last fall, culminating a decade-long pursuit to put the pieces in place for a large and complicated jigsaw puzzle. "For years, I've had this dream," David Saint, artistic director of the George Street Playhouse, says to njmonthly.com at the center's grand opening. "Today, it's finally coming true."Elkus Manfredi Architects designed the structure, which unites two theaters, three rehearsal spaces, a bar, lobby, and 207 upscale apartments into one 23-story building. Construction started in 2017 and Paladino estimates the facility will create about $20 million for the local economy. The center sits about 40 miles south of Manhattan, and hosts an assortment of performances. "The state-of-the-art center," NBPAC says on Facebook, "will immediately take its rightful place as one of the Northeast's premier venues for musical, dance, and theatrical performances."The stars of the show are the performance venues. The main stage is Setting the Stagenew performing arts center opened for assortment of cultural eventsPRE-COVID EVENTBy Thomas Renner
Page 21
www.mcsmag.com OCTOBER 202019the Elizabeth Ross Johnson Theater, a 463-seat proscenium theater designed to accommodate musical theater, dance, opera, and dramatic theater. The Arthur Laurents Theater can seat up to 252 patrons for dramatic theater, dance, lectures, and community and musical events. The theaters give off different vibes—one more grandiose, the other more intimate—but both are appealing to audiences.The 5,400-square-foot lobby adds an area where guests can mingle before shows, and includes a bar that visitors can enjoy before and after shows. Three rehearsal rooms that replicate the stages of the two theaters add a unique element and give incoming productions a space where they can practice and move on quickly to the main stage. The spaces can also be used for general classes, workshops, and small public performances.The apartments include studio, 1-bed, 1-bath, and 2-bed, 2-bath units. The apartments come with appliances, panoramic views of New Brunswick, and a bushel of amenities. A rooftop pool, fitness center, demonstration kitchen, karaoke room, residents lounge, and co-working and private meeting rooms are among the features."We weren't breaking new ground," Paladino says about including residences over the theaters. He cited residences at The Museum of Modern Art in New York and even Carnegie Hall, which also had resident apartments at one time. "Residential units ended up making the most sense from a design standpoint, because we built the tower over the lobby and the rehearsal spaces."CONSTRUCTION CHALLENGESThe residences and theater spaces are different entities and separately owned, but share infrastructure. That created an unusual challenge for architects to unite the building while separating the needs of theatergoers and residents.Andrew Goetze, AIA, the project manager for Elkus Manfredi, says the structural model required creative approaches. "DeSimone Engineering, the structural engineer on the project, designed transfer girders and thickened slabs in the concrete structure that redirected the tower loads," Goetze says. "They also designed large transfer trusses for the steel structure to keep the audience spaces in the theaters column-free."The air conditioning system for the theaters required a displacement ventilation system (designed by Barone Engineering, the HVAC engineer on the project) in which diffusers in the theater floors let conditioned air out, but the return duct work is high above the audience. "The equipment is much smaller and air is delivered at a lower velocity," Goetze says. Theater design also challenged architects, as the wish list was lengthy. The Elizabeth Ross Johnson Theater includes state-of-the-art theatrical systems, and the capability to allow for future expansion and evolving technology. The theater includes an 86-foot stage, 75-foot flyer tower, and a trap system for moving props. An orchestra pit can accommodate up to 70 musicians.CRITICAL VENTILATIONArchitects also specified eight acoustical smoke vents, manufactured by The BILCO Company, to keep exterior noise from penetrating into the structure. The vents—2 were 5-feet x 10-feet, the others were 5 feet, 6-inches by 12-feet—guard against noise intrusion while providing the security of automatic smoke venting. "We were familiar with the manufacturer from previous projects and they offered the most advantageous sizes," Goetze says. "The fire code stipulates a certain percentage of the stage area needs to be properly vented and BILCO had sizes that fit the bill."Smoke vents allow for the escape of smoke, heat, and gases in a burning building. The vents include a positive hold/release mechanism that ensures reliable operation when a fire occurs. It also automatically releases vent covers upon the melting of a 165 F (74 C) fusible link.CLOSING THOUGHTWhile dark now, there is no doubt the show will eventually go on in New Brunswick. And when it does, Paladino promises patrons will enjoy shows in a splendid setting. "The experienced theatergoers will see that the level of comfort, the sound, and the sightlines create an experience that is second to none," Paladino says. "The excitement the architecture creates on the street starts the experience. It is not unusual to walk past the building and see somebody rehearsing for a show. There's a genuine excitement to create a memorable experience."about the authorThomas Renner writes on building, construction, and other trade industry topics for publications throughout the United States.Photos courtesy Elkus Manfredi Architects
Page 22
OCTOBER 2020 www.mcsmag.com20project profileClifftop Demolitionbuilder finds robotic solution for historic projectLAVA HOUSE With sweeping views of San Francisco Bay and the iconic Golden Gate Bridge, it's no wonder teenagers, thrill seekers and, more recently, Instagram users have been sneaking onto the grounds of Belvedere's Lava House for decades. Trespassing on the four waterfront lots has become somewhat of a rite of passage for local youth. But deterioration of the concrete and lava structures and limited site access for emergency responders led to increased concerns for public safety in recent years. So, in 2018, the property's trustees decided to work with Belvedere officials to remove the crumbling construction.Demolishing the abandoned structures and stabilizing the landslide-prone cliff face would require a creative contractor, though. Steep terrain and a narrow site ruled out the use of large excavators. Handheld equipment was an option, but a time-consuming, dangerous, and expensive one. Jamba Construction, a company with a reputation for unique and complicated projects, was tasked with finding a safe, efficient solution. Excited for the challenge, Jamba turned to a revolutionary process gaining traction in the construction industry—robotic demolition. The innovative machine provided the hitting power they needed with a much smaller footprint than traditional excavators, and its remote operation kept workers out of harm's way. ABANDONED LEGACYThe history of the Lava House has as many twists and turns as the tunnels, passageways and rotting stairs that remained after a landslide halted construction in 1982. Jerry Ganz, a Midwestern entrepreneur who found fame as the original mass-marketer of automobile seat belts, bought four adjoining waterfront lots with terrific views of the Bay Area on the exclusive Belvedere Island. The city refused permit requests for Ganz's original 30,000-square-foot mansion, so construction began on a smaller 16,000-square-foot home. Ganz imported more than a thousand cubic yards of lava rock from Hawaii to create intricate gardens and design features. The material inspired the structure's unique name. After 10 years of steady construction, however, severe flooding and site instability caused Ganz to abandon the project.Starting in the early 1980s, a series of fences were erected to keep trespassers off the deteriorating structures—with limited success. Ganz remained involved with the property for several decades before stepping back and leaving the ruins of the Lava House to a trust overseen by family members and associates. To the relief of neighbors and first responders, Ganz and the trustees opted to work with city officials to remove the crumbling structures.UP FOR THE CHALLENGEJamba Construction arrived to begin demolition in early 2019. The award-winning local company has 14 years
Page 23
www.mcsmag.com OCTOBER 202021of experience in high-end home construction. Over the years, it built a solid reputation for problem solving, working on some of the most unique and challenging buildings in the area."We gravitate toward projects that require us to be innovative and to try new things," says Mark Swanson, owner and president of Jamba Construction. "Over the years, that has resulted in a team of creative problem solvers and a whole host of service offerings I never would have expected. Small-scale demolition has been part of the initial phase of several projects, but the Lava House presented us with something we'd never done before—a complex, large-scale demolition on inhospitable terrain with practically no access. It required a brand-new approach."AT THE CLIFF'S EDGEJamba's first challenge was finding equipment that had the power to demolish reinforced concrete and lava but was small enough to maneuver on the site's steep terrain. "Access to the site was our biggest hurdle," Swanson says. "The property makes for an amazing view, but a bit of a logistical nightmare when you need to arrange for equipment. We had two choices—by land or by sea—and neither one of them would be easy. Everything was just too steep to bring in any type of heavy equipment." Removing an estimated 1,000 cubic yards of debris was the easy part. Jamba contracted a landing craft to deliver a track loader with a grapple attachment and a ten wheel dump truck to the beach area of the site. Materials and debris were then removed over the water and across San Francisco Bay. The actual demolition would be bit more difficult, though. The landing craft was not large enough for the cranes or bigger excavators Jamba needed. Even if the company could land larger equipment, there was no way to traverse the steep terrain and gain access to the demolition site. The narrow waterfront and difficult currents would make it nearly impossible to moor a barge or platform, as well.Getting equipment to the site from land presented Jamba with another set of challenges that limited its equipment choices. Due to landslides and deterioration, there was no driveway or clear path to access the site preventing Jamba from simply driving in equipment. A narrow, two-lane road running across the top of the four lots created almost 400 linear feet of road access, but a low rock wall fronted the property along most of that length. Additionally, a 60-degree incline just off the shoulder restricted access for larger equipment. In the end, Jamba could only identify one 8-foot section with the access and tie-off points necessary to safely lower equipment 150 feet to the jobsite below. Everything else, including personal vehicles, had to be parked at the top of the cliff.Doing the whole job using handheld pneumatic devices was also rejected by Swanson and his team. With more than 2,000 yards of material to be demolished, Jamba estimated it would take an additional 3 months and $150,000 to complete the job with hand tools alone. There was also the human cost to consider. Jamba couldn't discount the risk to its workers that the difficult site conditions and long hours with handheld breakers could cause. "We knew there had to be a solution out there," Swanson says. "We were looking at mini excavators in late 2018 when we came across Brokk on the World of Concrete website. It was perfect. Almost too good to be true." When he contacted Brokk's regional sales team, Swanson was happy to find the Brokk 160 remote-controlled demolition machine could provide as much hitting power as a 4.5-ton excavator but only weighed 1.76 tons. The demolition robot's compact design was perfect for tackling the Lava House's narrow passages and complex architecture. Jamba partnered with a third party to operate a single Brokk 160 at the Lava House jobsite—the first phase of the 10-month project. OVER THE EDGEThe demolition of the Lava House had been relatively under the radar of the Belvedere community until February 2019 when Jamba closed off one of the island's major roads to lower the Brokk 160 to the jobsite. Working in tandem with a 25-ton tow truck parked on the road, it took about 2 hours to maneuver the Brokk machine down the hillside. The remote-controlled demolition machine was attached to the truck's powerful winch to keep it from tumbling down the steep incline. Standing safely on the road, the Brokk operator used the remote control to clear the machine's path as it descended."The maneuverability of the Brokk machine really made the descent easier," Swanson says. "The articulation in the
Page 24
OCTOBER 2020 www.mcsmag.com22project profilearm allowed the operator to put the breaker tip down and stabilize the machine if it was getting a little off balance on the slope. He was also able to break up any obstacles like roots, stumps or rocks that could cause it to tip. As we watched it move down the hill, we realized even if we had found a mini excavator with enough power, the Brokk gave us more flexibility."With the path cleared, Jamba was able to lower additional equipment down to the jobsite—including a Kubota SVL-75 high flow track loader with MB-L140 crusher bucket and Kubota KX040 9000lb mini excavator with demolition hammer. While Jamba's crew worked to clear paths and backfill areas of the landslide-prone site to stabilize it, the Brokk operator hammered away at the main structures. The Brokk machine was able to produce 600-foot pounds of hitting power at up to 1,400 blows per minute using a SB202 breaker. The Brokk operator started demolition on the roof of the garage and steadily worked his way down, creating paths out of debris for the robot to maneuver to the next demolition area.In a month, the Brokk machine demolished 1,200 cubic yards of concrete and lava, completing 60 percent of the overall demolition. Using the Kubota track loader and MB-L140 crusher bucket, Jamba crushed 1,000 cubic yards of concrete and lava for backfill to stabilize the site. An additional 1,000 cubic yards—along with 200 cubic yards of steel, wood and other materials—were removed by barge and trucks to recycling facilities in the Bay Area. With the completion of phase one, the Brokk 160 was demobilized from the site and winched back up the slope. While they waited for cooler fall temperatures to start the landscaping phase of the project, Jamba completed demolition and debris removal with supplementary equipment. CLOSING THOUGHTThe Lava House's iconic structures might be gone, but the million-dollar views remain. In less than a year, Jamba Construction demolished over 1,500 cubic yards of concrete, lava, steel, wood and debris. And, in true California fashion, most of it was recycled. "This project presented us with some exciting challenges," Swanson said. "It also gave us a chance try out new technologies. We're looking forward to more opportunities like this one." for more informationJamba Construction is an award-winning general building and engineering contractor experienced in the construction of fine custom homes, estates and other innovative construction projects. The company also specializes in complex drilling, demolition and site engineering projects. Jamba has cultivated a reputation for completing projects that require "out of the box" innovation and planning. For more, visit www.jambaconstruction.com. Brokk has been the world's leading manufacturer of remote-controlled demolition machines and attachments for more than 40 years. For more, visit www.brokk.com.
Page 25
www.mcsmag.com OCTOBER 202023OSHA Compliant Guardrail andStair Rail SystemsSafety Boot® Guardrail SystemStringerShield® Stair Rail System1.800.804.4741safetyboot.com• Non-Penetrating Design• Rugged Steel Construction• Exceeds OSHA Regulations• Simple, Aordable & Reusable• Residential, Multi-Family & Commercial Applications• Unique Free Standing Design• Keep Post Attached For Reuse On Next Level Or ProjectFeatured on osha.gov website!
Page 26
OCTOBER 2020 www.mcsmag.com24equipment solutionOCTOBER 2020 www.mcsmag.com24Sullair Deliversportable diesel air compressors handle demanding applicationsMUST-HAVE MACHINEYou would be hard-pressed to visit a construction site and not find a contractor using a portable diesel air compressor for applications such as abrasive blasting, irrigation blowouts, utilities, fiber optics, pipeline work, and more—a portable diesel air compressor is a must-have machine.After determining the right type and size of air compressor, contractors need to select a brand that will help them get the job done. Many contractors around the world opt for Sullair portable diesel air compressors based on three important benefits: RUGGED DURABILITYWhile price is often a factor in many purchasing decisions, durability is an important factor for contractors. By making an investment upfront, you can have a more reliable and durable compressor for years to come.Durability is one of the pillars that drive the quality of Sullair air compressors. For customers, this means Sullair compressors are in it for the long haul, driven by the design of the legendary air end. At demanding jobsites all over the world, you can find Sullair air compressors that have stood the test of time, running consistently today like they did on day one.You can't put a price on dependable, worry-free performance from your portable air compressor—a machine you rely on day in and day out. EASE OF SERVICEABILITYAnother primary influence on a contractor's purchasing decision is ease of serviceability. Sullair is doing more to increase accessibility to decrease downtime. Serviceability is now a primary driver in how Sullair designs its air compressors. For instance, the Sullair 375 Series now includes access (doors) on all four sides of the compressor. This allows a technician to get their arms in the machine and quickly and easily access every component. On large compressors, such as 1600 cfm, Sullair has eliminated the traditional center post between the service doors and has moved to a nesting, push-to-close door design. This is a necessary upgrade from both a service and operator standpoint. Service technicians now have significantly greater access to the engine compartment. For machine operators, the design helps prevent unexpected or unintentional door closures or pinches.
Page 27
www.mcsmag.com OCTOBER 202025Ensuring the safety of the operator and longevity of the machine also play a key role in our design of compressors. For instance, on Sullair compressors, the fuel and DEF tanks are placed on the curbside, so machine operators and technicians don't have to step into traffic when the machine is on roadside applications. The compressors also include a battery disconnect to help ensure that battery drain does not occur when the machine is in between jobs or not in use. Some compressors like the Sullair 185 cfm include a padlockable steel door over the control panel that protects the machine from vandalism and keeps random passersby from turning on the compressor and needlessly burning fuel. Ease of serviceability is a key design feature and should be a primary focus when adding new portable diesel air compressors to your fleet. INCREASED FLEXIBILITYCost of ownership is a key concern for contractors—and that was the case even before a global pandemic hit. Fortunately, gone are the days when contractors needed to buy three separate portable air compressors to cover three different applications. It wasn't long ago when one compressor was needed for pneumatic tools, another for abrasive blasting applications, and yet another air compressor for pipe testing.Sullair portable air compressors are designed to produce a range of flow and pressure and cover a range of applications with a single unit. This flexibility helps contractors keep a consolidated fleet.For instance, the Sullair 375 Series compressors can shift from low pressure around 100 psi to high pressure at 200 psi by easily flipping a switch. This creates additional opportunities for utilization because the same machine can be used for both low-pressure applications, such as construction or sprinkler blowout, and high-pressure applications, such as media blasting or dry ice blasting.Sullair continues to evaluate and expand its product line to ensure contractors are provided ultimate flexibility for their investment.CLOSING THOUGHTFrom small air to big air, Sullair portable air compressors are ready to get to work. Sullair portable air compressors are available with a range of engine options, pressures, and flows from 185–1600 cfm and 100–500 psi. • Well Rehab Products• Manholes• Bentonite• Filter Sock• Inline Chemical Mixers• Sampling Bailers• Clear PVC Pipe• Locking CapsAtlantic Screen& Manufacturing, Inc.Manufacturers of slotted & perforated pipe ranging from ½" to 24" in diameter302-684-3197Fax 302-684-0643142 Broadkill Road ■ Milton, DE 19968www.atlantic-screen.com ■ atlantic@ce.netfor more informationFor more about Sullair portable air compressors, visit www.sullair.com.
Page 28
Page 29
VIRTUAL11.17.2020 | 10a—4p_CST XPMODERN CONTRACTOR SOLUTIONS VIRTUAL FALL EXPO 2020FALL 2020Visit our booth at the MCS Virtual Fall Expo on November 17th from 10a–4p CST
Page 30
OCTOBER 2020 www.mcsmag.com28environmental solutionInfluence of GreenInfluence of Greenconversation with Tommy Linstroth of Green BadgerBUILDING A SUSTAINABLE FUTUREWith more than 40 percent of construction projects expected to go green through 2021, the influence of the green construction industry continues to grow. But how has the COVID-19 pandemic affected green construction practices? Tommy Linstroth, CEO of Green Badger, a provider of cloud-based LEED documentation management services, shares some insight. Has the pandemic changed anything this year for green building? LINSTROTH: The green building and construction industry has faced the same challenges as everyone else. The pandemic has a definite impact on construction in general and further enhanced the importance of green building. During shutdowns, teams begin to rethink how to optimize indoor air quality of buildings to reduce the possibility of transition of airborne diseases. While it was always important, never has it been more top of mind. This has resulted in many green building certifications (LEED, WELL) to develop new pilot credits for both HVAC design and maintenance to cleaning protocols, which will impact the industry for years. Can you speak to the increase of green building demands for contractors? LINSTROTH: Health is top of mind—both for buildings and occupants, but the teams constructing the buildings as well. Contractors will see both new designs and technologies related to healthy buildings becoming more prevalent, as well as continue to adopt to the new normal of social distancing and personal protective equipment while still trying to manage schedule and budget. What are your thoughts on the USGBC's reactions to the pandemic? LINSTROTH: USGBC, AIA, and WELL all took positive steps to look at what healthier buildings may look like moving forward. Balancing energy efficiency with increased calls for ventilation will always be an issue, but encouraging the use of better filtration, air treatment, and better maintenance practices will hopefully have positive results in short order. Have any unique sustainable building challenges for contractors developed this year? LINSTROTH: Contractors are facing the same challenges we all are—maintaining personal safety while continuing to work in the new normal work environment. There have been supply chain disruptions, work interruptions—all things that are impacting GCs ability to get the job done, green building or no green building. How is LEED addressing livability concerns? LINSTROTH: The USGBC is serious about address livability issues during the COVID-19 era. It has issued special pilot credits that cover four areas that impact health: managing indoor air quality, building water system recommissioning, cleaning and disinfecting the space,
Page 31
www.mcsmag.com OCTOBER 202029and reentering the workspace. These guidelines are only the start of efforts to deal with the ongoing health concerns facing any commercial facility. What are the obstacles to implementing the sustainability and health solutions that LEED offers? LINSTROTH: One of the biggest sticking points comes with balancing energy efficiency with ventilation. Which is more important—the short-term human health factor or longer-term climate change risks? Balancing the two, and finding new ways to ensure healthy indoor environments, will be an interesting challenge moving forward. Can technology help overcome those obstacles? LINSTROTH: Technological solutions can help—do we need more fresh air if we can treat all the air inside already? Ionization technologies, UVC light, and other solutions will help solve that issue, but this is still all so new, it will be continuously evaluated to see what the best approach is. As we've seen with new concrete solutions, the pandemic seems to be driving an increase in sustainable materials innovation. With new products added to the overall LEED "catalog," documentation will increase. How do we keep the increasing number of products and solutions available from becoming a problem for contractors to manage? LINSTROTH: Making these products and their information readily available is step one. There are questions that need to be answered. How can we educate the design teams about them? How does that transfer to the subcontractors and the general contractors? How can they streamline this process with all the added challenges that this virus is placing on them? CLOSING THOUGHTWhere does green construction need to be in 2021? According to Linstroth, green construction needs to see more wide-spread adoption, and for that to happen, it has to be an easier to implement and cost-effective solution. One shouldn't have to choose between combating climate change and health and well-being—both are important, and more green buildings are needed to help all of us down that path. for more informationTommy Linstroth is founder and CEO of Green Badger, a cloud-based solution for equipping project teams of all levels of experience with the tools they need to document LEED as efficiently as possible. With decades of experience and a LEED Fellow, Linstroth wanted to make life easier for all of those working on (or slogging through) LEED projects. For more, visit www.getgreenbadger.com.
Page 32
Page 33
Page 34
OCTOBER 2020 www.mcsmag.com32management solution2021 Trends2021 Trendswhat will be trending in the new yearLOOKING FORWARDWith decades of experience in the construction industry, I've picked up a thing or two about the industry and a keen sense of what's around the corner. My firm has been weathering the pandemic and as I write this article, I'm looking at day-to-day operations and how best to keep my employees at their best. My hope is that 2021 will be vastly different from this year. So, with that in mind, I offer 10 areas of insight into what will be trending in 2021. MODULAR or pre-fabricated products will become important in the future years to come. Modular construction is more efficient and faster. The time savings from modular to conventional construction will create 30 to 40 percent savings in time alone and another 20 to 25 percent savings on materials as well. The industry is currently suffering with the lack of labor and mechanics available. Modular will create a much more efficient way of building and the quality will be better also. Having lumber cut on a jig with precise measurements will be the way of the future for most new developments. DRONES will become part of our daily work force. The newer way to observe, monitor, and even take photos will come through drones. The neat little flying cameras will help with overviews of properties or sending a camera into spaces we sometimes can't get to. We now have an additional set of eyes from above! EQUIPMENT COMMUNICATION is being put into play more each day. The tech giants are struggling to put automated machines on the road. Companies working on construction equipment are having much success and indeed, future construction sites and road work projects will see these types of equipment soon. These types of equipment will eventually help with less manual labor and more equipment, working with the help of humans operating via some type of program thru computer or smartphone. ARTIFICIAL INTELLIGENCE is projected to be used more frequently, mainly because of its ability to reduce construction costs. It can also assist with forecast models which allow project managers or construction supers and team members to determine whether their time frame is realistic. Additionally, using artificial intelligence in construction software solutions can provide safety. This is possible by running scenarios and stress testing. AI is also being explored as a powerful tool to reduce construction site injuries and deaths, which adds to business and human cost in the industry. LOWER PROFITS are already being experienced in the United States. These lower profits are due to the fierce competition from Asian counterparts, complexities of projects, and supplies chain disruption, especially during this pandemic. Maybe it's time to go back to basics and fundamentals in the industry. Strict schedules and proper management can reduce the losses, and also completing a project in a timely fashion will help bring in the profit percentages we need to survive. SHORTAGE OF CRAFTMEN/CRAFTWOMEN has become very visible in today's market. Companies are having a difficult time ensuring enough labor to fill in hourly positions. Apart from that, there are almost 250,000 positions that need to be filled. Due to the lack of workforce, firms have turned to pre-fabricated and modular materials and items.By Michael A. Bordes Michael A. Bordes, President of AA Jedson Company LLC
Page 35
www.mcsmag.com OCTOBER 202033We're managing resources in real time to keep jobs running smoothly.B2W ScheduleBreak new ground, win more work and complete it more profitably with the unified ONE Platform for heavy construction estimating, operational workflows and business insight. HEAR GREG'S SUCCESS STORY AND MORE AT B2WSOFTWARE.COM/GREGGREG BALAMUTA – BRUBACHER EXCAVATING COVID REGULATIONS, rules, and laws are becoming an added expense and will most likely remain this way well into the future. This can eventually add from .050 to .060 percent of a project's overall cost. It will be better to purchase these items in bulk to have additional savings. CONSTRUCTION CLOUD COLLABORATION moving forward will be important. The cloud will make such collaboration easy by providing the tools that can be accessed at any time. This collaboration will enable commercial builders the opportunities of reducing costs and preparing efficient project schedules and timelines. The cloud is also secure, responsive, and portable. The cloud can share information safely thru your internal office and field personnel. The clouds is becoming the latest trend moving forward into the future. DEDICATED ESTIMATOR in-house will be one of the smartest investments, if you can afford one. Over time, you will start to see the benefits of an in-house estimator by time and experience. The time they spend on your model will help them get honed in for future projects. The new estimator will learn the nuances of your business and get better and better at quoting numbers for your exclusive business. SAFETY has already become a trend. It is so important to practice safety from all jobs to all positions. The cost of fines from OSHA or DOL can be expensive along with the possibilities of having your project shut down. Delays are costly and stop work orders are also painful, plus you risk the embarrassment from your client. Safety saves lives and helps us be more aware to prevent injuries. Always practice safe measures.CLOSING THOUGHTMoving forward, for my business, we need to start abiding by the new rules and regulations mandated by NYS and all local and city DOB agencies. For all of us, we are nearing the most critical time in our lives when we must be very clear on how we represent ourselves and also how we have our employees model our company. With strong patience and understanding, we will all get through this tumultuous time, as long as we all, collectively, work together. about the authorMichael A. Bordes, President of AA Jedson Company LLC, has decades of experience in construction management. Bordes' expertise, combined with exceptional directorial and organizational skills, has presented him with bigger and broader opportunities and a plethora of satisfied clients. Spearheaded by Bordes, AA Jedson Company, LLC, is driven by a team of experienced construction managers, skilled craftsman, field and support staff who recognize the importance of commitment, responsibility, attentiveness, and partnership. For more, visit www.aajedsoncompanyllc.com.
Page 36
OCTOBER 2020 www.mcsmag.com34management solutionWise WordsWise Wordsa conversation with Danette Swank, president, Philippi-Hagenbuch Inc.WOMEN IN CONSTRUCTIONEvery October, MCS honors the remarkable women in construction and their words of wisdom to other women seeking a career in the male-dominated industry. Meet Danette Swank, president of Philippi-Hagenbuch, Inc. She has worked at PHIL for 23 years (since 1997) and the company has been in business for 51 years (since 1969). In a brief Q&A, Danette shares her beginning in the industry and how she views construction as a career for women.What led you to a career in construction? SWANK: My father and mother's father started Philippi-Hagenbuch in 1969; therefore, I've been a part of it and the construction industry my entire life. After college, I wanted to come back to work with my family and be a part of the construction industry. Our nation has an amazing transportation infrastructure that constantly needs to be maintained. To remain the global leader in transportation infrastructure, equipment is needed to do the work safely and efficiently. PHIL gave me the opportunity to be a part of this community.What does the construction industry need to do to attract more women? SWANK: I have had the benefit of meeting, networking with, and building relationships with many women within the construction industry over the past three decades. It is made up of strong, smart, resilient women that really enjoy their careers. As leaders, we need to communicate the options available in the construction industry to women—it is not an industry just for men. Women need to know that they can hold high-paying, exciting careers where there is no ceiling on opportunities available. You can make a difference in a positive way and that is not always visible from the outside looking in.What's the "one thing" you would share with the younger generation (young women) about construction as a career choice? SWANK: When you see a woman working in construction, go up and talk with her. Ask questions and learn. Take what you learn to craft your own journey. You have the power to chart your own course in this industry!CLOSING THOUGHTDanette's strength and leadership are a beacon for other women to follow. She is respected in her field, and after three decades, she has wisdom ready to share. Here's her closing thought: SWANK: There is something for everyone within the construction industry. If you're an introvert, driving a haul truck can provide solitude in an exciting position, whereas if you're outgoing and analytical, a project management role could suit your personality. Don't let this traditionally "man's" profession intimidate you; there is room and there are opportunities for everyone within construction. for more informationEngineering innovative haul-truck solutions for over 50 years, Philippi-Hagenbuch Inc. is located in Peoria, Illinois, and has been building equipment for off-highway haul trucks since 1969. During this time PHIL has become the global leader in off-highway truck customization. In addition to their innovative tailgates, push blocks, rear-eject bodies and trailers, Philippi-Hagenbuch designs and builds end-dump bodies, sideboards, load ejectors and water tanks for nearly every make and model of articulated and rigid frame off-highway truck available. For more, visit www.philsystems.com.Danette Swank
Page 37
WWW MCSMAG COM OCTOBER 2020 EMERGING ASSETS TECHNOLOGY ADVANCES WOMEN IN CONSTRUCTION LEADERSHIP WITH STRENGTH HANDLING STRESSORS THE HERO PROJECT GREEN INFLUENCE PANDEMIC BUILDING
Page 38
OCTOBER 2020 www.mcsmag.com36management solutionNow, 100 years after women gained voting rights in the U.S., women are participating in the workforce at nearly the highest level ever, making them even more economically crucial as workers and consumers. There is still a long way to go in terms of hiring discrimination, gender pay gap, and lack of advancement opportunities. Industries typically dominated by men can present even more barriers that women must overcome.The latest U.S. statistics show that 9.9 percent of workers are females, while the rest are male, with 90.1 percent. Even so, women are shattering the glass ceiling every day and exploring their passions in this "man's world."When I think about prominent female leaders in this industry, I am reminded of three very influential women that I've had the privilege of working with in the past: Anne Ellis, Julie Garbini, and Tammy Presswood. Anne Ellis is a structural engineer by background. She started her career in a four-person engineering office and worked her way to executive-level positions in a Fortune 500, fully-integrated infrastructure company. Today, Anne has her own consulting business. Julie Garbini has nearly 30 years of experience in the concrete and construction industries, first with Associated Builders and Contractors, later with the National Ready Mixed Concrete Association, where her final position was senior vice president. Julie then moved over to run the Ready Mixed Concrete (RMC) Research and Education Foundation, which funds research and education initiatives for the concrete industry.Tammy Presswood began her career with Harper Industries in 2004 and has served in various capacities. She accepted her current position in 2016 as the President of Federal Materials Company, a ready-mix supplier servicing western Kentucky.I had the opportunity to work with these incredible women on a webinar that addressed many of these challenges that I listed above. Many of the statistics that molded the issues discussed in the webinar were based on research collected in January of 2018 from Randstad, a human resource consulting firm.GENDER BIAS Despite women painting major strokes on the leadership front, 73 percent of women feel they have been passed over for promotions or projects because of their gender, not their skills. Unconscious bias is a significant factor in this.Gender bias is often completely unintentional, and both men and women are guilty of it. Tammy has a background in human resources, and although she is a woman, she has been biased towards applicants for certain positions."Even with a 15-year H.R. background, I've had biased opinions when recruiting," says Tammy. "Years ago, I initially eliminated female applicants for a multi-division safety manager position. When I made a second pass at those resumes, that oversight was glaring to me. Unconsciously, I thought of that position as a 'male' position, only because in the years that I had been in the H.R. field, only males had held it."After reconsidering those resumes and conducting interviews with other managers (who were not aware of Tammy's original passes), they found the strongest candidate to be a woman. Tammy states that if you catch yourself feeling biased, try and take a step back and look at the bigger picture. Just because someone who fits a specific mold has previously done well in the role doesn't mean that someone with a It's a Wo(Man)'s World, TooIt's a Wo(Man)'s World, Toostrong women overcoming workforce obstaclesDIVERSITY IN THE WORKPLACEBy Karli Langner Research shows that women will only apply to a job if they meet 100 percent of the criteria ... employers need to ensure job description languages are written so that they do not dissuade women from applying for these roles."~ TAMMY PRESSWOOD"
Page 39
www.mcsmag.com OCTOBER 202037different background can't bring the same or even more to that position. Tammy says that other perspectives should always be welcomed when searching for new talent, and steps need to be taken to ensure that women do not write off their call to fill a position."Research shows that women will only apply to a job if they meet 100 percent of the criteria, while men will usually apply if they meet just 60 percent of the listed requirements. Employers need to ensure job description languages are written so that they do not dissuade women from applying for these roles."GENDER PAY GAPWe know the gender pay gap is narrowing; in 1979, females were only making 62 percent of what males were. However, the construction industry has an opportunity to bridge the gap further with many job descriptions and essential job functions being the same for females as males.Anne has served in many leadership positions in which she had men who directly reported to her. She says that serving in these capacities, she learns that men and women approach their compensation extraordinarily differently."It has been my experience that men are very aggressive," says Anne. "They are very clear about their expectations of how much money they want to make and are aggressive about initiating the conversation. I found that no sooner had we gone through the annual raise process, they were back in my door advocating for the next year, regardless of how well they had done. I found that women are much more passive."Discussing salary is always difficult as an employee, and typically even harder for women. Anne's advice to women to help close this gender pay gap is to not be afraid to advocate for yourself and the compensation you believe you deserve based on your performance. If you indicate gender pay gap variances, don't be afraid to continue asking up the chain of command, because that is the only way it will improve.GENDER DISCRIMINATIONUnfortunately, 60 percent of gender discrimination victims in the workplace are women. There are many reasons, but one that resonates with many women across the industry is the balance of career and family. According to the AGC (The Associated General Contractors of America), it's expected that by 2020, women will make up 25 percent of the construction industry. If this comes to fruition, there will inevitably be more moms who will struggle with this balance.Julie says that while she was pregnant, she was asked if she intended to return to work, and whether she would still be able to perform her duties, such as frequent travel, after having a child. We live in a society where women—even women who have incredibly demanding careers—are considered the primary caregiver for children. The unfortunate reality is that women who want to continue their careers must prove themselves to their colleagues and supervisors.Anne EllisJulie GarbiniTammy PresswoodIt has been my experience that men ... are very clear about their expectations of how much money they want to make and are aggressive about initiating the conversation. Women are much more passive."~ANNE ELLIS"
Page 40
OCTOBER 2020 www.mcsmag.com38management solution"While I don't feel it was intentional gender bias or discrimination, the unfortunate truth is that women continue to get asked these questions, while men generally do not. I think a way that you can handle this is to be proactive about it before people even raise the question," says Julie. "You can talk about your intention to move forward and your vision for the future of your role in the organization, as well as make suggestions for how your duties can be managed while you are on leave immediately after having or adopting a child. Being clear about your commitment to the success of the organization can go a long way."Another issue is that women who desire to start families often are not offered maternity leave. Most organizations require women to take half disability, only receiving 60 percent of their pay. Only bringing home a little more than half of your regular income is extremely daunting."I think if we're going to compete with all the other industries out there and attract a diverse workforce, flexible work schedules and benefits like family leave are something that companies should strongly consider. For both women and men, it is has become an important recruitment and retention tool and can generate a huge return on investment in terms of that employee's level of commitment," says Julie.CHANGE IS CRUCIALOne big takeaway from the webinar is that this industry and others need both men and women to enhance performance and decision-making."A simplistic, but vital part of effective communication with any diverse group is understanding our own biases and how our experience and values shape our views," says Tammy. "We should not and cannot assume others think like us. It's a fact—it's not stereotypical—that men and women communicate differently. Understanding those differences helps us build relationships that foster a high-performing workforce."CLOSING THOUGHTThe construction industry ranks lowest in terms of improvement and productivity over the last 50 years when you look at other major industries. From a worker shortage standpoint and an innovation standpoint, it's critically important that we attract a more diverse workforce by adapting and accommodating their needs. Not only will this create a competitive advantage for individual companies, but it is also crucial for our industry going forward. about the authorKarli Langner has been with Command Alkon, the provider of the Leading Supplier Collaboration Platform for Heavy Work, for 3 years. She currently serves as the content specialist on their corporate marketing team. In her role, Karli focuses on media relations, content creation, and media buying. She graduated from Jacksonville State University, where she received her bachelor's degree in communications with a focus in public relations. Command Alkon is headquartered in Birmingham, Alabama, and has offices in locations around the globe. For more, visit commandalkon.com.If interested in watching the full webinar mentioned in this article, visit mastery.commandalkon.com/people-in-command/wic-webinar....if we're going to compete with all the other industries out there and attract a diverse workforce, flexible work schedules and benefits like family leave are something that companies should strongly consider."~JULIE GARBINI"The unfortunate reality is that women who want to continue their careers must prove themselves to their colleagues and supervisors.
Page 41
Page 42
OCTOBER 2020 www.mcsmag.com40SOLUTIONS FOR 80 YEARSBUILDING INNOVATIVE TRANSPORT TALBERTMFG.COM | 800-348-5232NOTHING BETTER BETWEEN THE LOAD AND THE ROAD!
Page 43
Page 44
OCTOBER 2020 www.mcsmag.com42legal solutionIn the July 2020 article, I focused on contractor responsibilities for operations and worksite safety relating to COVID-19 and the pandemic and government requirements or recommendations as construction projects opened up and returned to work. As noted there, the understanding in the medical and public health communities as to how the coronavirus spreads and the best way to combat such spread is continually evolving and how it is crucial for contractors to be vigilant about keeping current with such developments. To that end, some resources were provided.In this article, I concentrate on two issues on which contractors need to focus. The first is the payroll taxes holiday; the second deals with Paycheck Protection Program (PPP) forgiveness-related taxes.PAYROLL TAXES HOLIDAYContractors—like all employers—are responsible for withholding federal and—where applicable—state and local income taxes from employees' paychecks, as well as the employees' contribution to payroll taxes (Social Security, Medicare, etc.), and to timely submit such withholdings to the relevant taxing authority. There are civil and criminal penalties for failing to do so timely and correctly, but the details therefor are beyond this article. Here the focus is on the "pandemic holiday" on certain federal payroll taxes adopted by the federal government.On August 8, 2020, the president directed the secretary of the treasury to defer the withholding, deposit, and payment of certain payroll tax obligations. Accordingly, the secretary determined that employers that are required to withhold and pay the employee share of Social Security tax are deemed "affected by the COVID-19 emergency for purposes of the relief described in the Presidential Memorandum and this notice" and directs employers who participate in the program to not withhold the 6.2 percent employee contribution to Social Security taxes. The benefit is available for employees earning less than $4,000 bi-weekly (or the equivalent threshold amount with respect to other pay periods). The determination of "applicable wages" is made on a pay period-by-pay period basis, i.e., eligibility is determined for each pay period irrespective of the amount of wages or compensation paid to the employee for other pay periods.The theory is that this would put more money in employees' hands to help during the pandemic's restrictions and to help get the economy moving again, assuming that they spend it rather than wisely saving it. After all, despite what has been written in some channels or bandied about over beers at the virtual bar, this is not a reduction or forgiveness of such payroll taxes, but merely a deferral. And there's the rub.The participating employer's obligation to withhold and pay the taxes is merely postponed until the period beginning on January 1, 2021, and ending on April 30, 2021. The employer must withhold and pay the total "Applicable Taxes that the Affected Taxpayer deferred under this notice"—translation, what the employer otherwise would have been required to withhold during that September to December period—ratably from wages and compensation paid between January 1, 2021, and April 30, 2021, or interest, penalties, and additions to tax will begin to accrue on May 1, 2021, with respect to any unpaid "Applicable Taxes." "If necessary, the [participating employer] may make arrangements to otherwise collect the total [deferred taxes] from the employee."There has not been any guidance issued as yet on how to implement the program, though the treasury secretary has stated that it is optional for non-government employers. So, if you have not yet, should you do it?No.As noted above, it is not an elimination of the tax liability, but merely a deferral, and it is fraught with administrative headaches. First, as to the administrative headaches, the employer will need to What About Taxes?What About Taxes?2 tax issues to focus on during the pandemicFINANCIAL RESPONSIBILITYBy Christopher Scott D'Angelo
Page 45
www.mcsmag.com OCTOBER 202043make adjustments to its payroll systems now and in the 2021 catch-up period (and back after that), or if some employees want to do so and others do not, or they change their minds during the period, or their pay and therefore their eligibility fluctuates during these months. Second, and more important, the employee who happily pockets the extra money today will need to pay it back in equal installments in the first few months after the new year. Will the employee be happy about receiving a paycheck that is not only reduced back to what it had been previously—and that he or she had been used to—but reduced yet further to recoup that 6.2 percent not paid in the affected 2020 pay periods. The employer will have to field any grumbling at that point. Memories are short and pointing at the government is a weak deflection.According to the IRS, for employees who leave during the deferral period (Sept. 1 to Dec. 31, 2020), employers may combine all of missed withholdings into the departing employees' last paychecks. But that of course would substantially cut into employees' take-home pay for that last period. Happy Holidays. This could affect many employees in the construction industry given the cyclical or temporary nature of such employment.And what happens when that employee is no longer working for the same employer in 2021? Or that last paycheck is not sufficient to cover current and deferred withholding? Will the employer get stuck holding the bag? Silly question—of course it will.PPP FORGIVENESS AND TAXESThe PPP loan program has been helpful for a number of employers. And the fact that forgiveness of the PPP loan does not result in taxable income for federal income taxes makes it even more so. At least for most.However, so far at least, expenses paid with the PPP loan being forgiven will not be deductible on the business' federal income tax returns. For those who considered this in their business and financial planning in deciding to obtain or how they are using the loan proceeds, there is no issue. Others who did not or who failed to truly appreciate the net result of these factors will want to visit the issue currently, now well before the end of the year to plan accordingly.The IRS's position is that, based on existing tax law intended to prevent such "double-dipping"—that is, otherwise deductible business expenses that are paid with forgiven PPP funds will be disallowed as tax deductions in computing the recipient's taxable income. The nondeductible treatment applies to expenses paid with PPP monies to the extent of the loan forgiveness. Additional information is available in the IRS notice: www.irs.gov/pub/irs-drop/n-20-32.pdf.This does mean that some businesses may have higher taxable income in 2020 due to not being able to write off as many expenses. Of course, it will have the PPP monies which were not included in taxable income or subject to tax. However, it would be prudent to plan for now and anticipate the potential for higher taxes and the need for the cash to pay it.Likewise, it would be prudent for businesses to work with their tax accountants and lawyers presently to be sure that any allocation or use of the funds to be forgiven do not affect—or maybe even take advantage of possibly better treatment under—other provisions of the federal tax code. CLOSING THOUGHTLast for now, it must be remembered that the non-taxable nature of the PPP loan forgiveness is at the federal level. Businesses should investigate and plan for the treatment at the state level. Even states that conform to the Internal Revenue Code may still treat the forgiveness as taxable income since the CARES Act (the federal act that addresses this point) did not amend the federal tax code. about the authorChristopher Scott D'Angelo is a partner and chair of both the Business Disputes & Products Liability Practice and International Practice at Montgomery McCracken Walker & Rhoads LLP, based in Philadelphia and New York City. His practice involves business, products liability, construction, class action, and insurance counseling and litigation, including his role as national counsel for several major U.S. clients and his representation of foreign concerns in the United States and U.S. concerns abroad. He is a member of the Construction Law and Litigation Committee of the International Association of Defense Counsel. He can be reached at cdangelo@mmwr.com.
Page 46
WWW MCSMAG COM OCTOBER 2020 EMERGING ASSETS TECHNOLOGY ADVANCES WOMEN IN CONSTRUCTION LEADERSHIP WITH STRENGTH HANDLING STRESSORS THE HERO PROJECT GREEN INFLUENCE PANDEMIC BUILDING
Page 47
www.mcsmag.com OCTOBER 202045performance evaluation: (1) Agency Initial Evaluation, (2) Contractor Comments, (3) Final Evaluation.The entire evaluation process should not take more than 120 days following the end of the period of performance.The contractor has 60 days after receipt of the evaluation to submit comments. That said, contractors should seek to finalize comments in the CPAR System within 14 days to guarantee that all versions of the evaluation released on the System include the contractor's comments. Contractor comments should be as detailed and specific as possible—addressing the agency's stated concerns point-for-point. The objective is to show that the agency's narrative is factually incorrect and that the corresponding negative ratings lack a rational basis in light of the contractor's actual performance. Following the comment period, the agency finalizes the evaluation in the CPAR System—for better or worse.PRACTICAL RESOLUTION STRATEGIES Now we come to the critical juncture. Your company commendably performed a government contract and participated in the comment period, but the agency's negative performance evaluation still includes errors, false statements, and negative ratings. What now?Assuming the agency does not change its position on a negative evaluation during the comment period, the contractor should take advantage of the claim process. The risk of an erroneous performance evaluation living unchallenged in the CPAR System is simply too great to ignore. The first step is to submit a conforming CDA claim with the contracting officer. The contracting officer (or agency counsel) has the authority to resolve the claim without need for litigation before the COFC or Board of Contract Appeals. If the contracting officer denies the claim, the contractor must appeal the decision to appropriate Board of Contract Appeals within 90 days or to the COFC within 12 months. Typically, Board appeals are less formal and move faster, while proceedings at the COFC are more akin to traditional litigation. Selecting the correct forum will ultimately depend on a number of factors, including whether there are other issues in dispute.Regardless of forum, a contractor facing litigation against the agency must focus on highlighting specific evaluation errors and the resulting prejudice. To prevail, the contractor must prove that the agency's evaluation is arbitrary, capricious, or an abuse of discretion. The Court or Board will determine whether the agency's evaluation violates the law and, if necessary, remand the matter to the agency to produce a fair and accurate evaluation.As a final note, recent developments in the law suggest the possibility of recovering monetary damages through performance evaluation claims. Specifically, the door is open for contractors to claim administrative and legal costs associated with erroneous performance evaluations that remain in the CPAR System while the contractor bids for new work. CLOSING THOUGHTCPARS performance evaluations serve a critical function in government contracting. Federal contractors must participate in the CPAR System's comment process and, in the event of an unfair evaluation, follow the steps outlined in this article to ensure that the agency corrects its errors. about the authorNicholas T. Solosky is a partner in the Federal Government Contracts & Procurement Group at Fox Rothschild LLP. His practice concentrates on national government contracts and construction-related matters with an emphasis on federal procurement issues, including a wide-range of risk management and dispute resolution matters. He can be reached at nsolosky@foxrothschild.com. MCS is bringing the construction industry together again with its Virtual Fall Expo! FREE VIRTUAL EVENTLIVE CHAT OR VIDEO WITH EXHIBITORSDOWNLOAD LITERATURE/BROCHURESSEE PRODUCT VIDEOS/DEMOS Attend safely from your home or office on your smartphone or laptop.REGISTER T O DAY! highlandspublications.com/virtual-expo-register/VIRTUAL XPMODERN CONTRACTOR SOLUTIONS VIRTUAL FALL EXPO 2020FALL 202011.17.2020 | 10a—4p_CST
Page 48
OCTOBER 2020 www.mcsmag.com46technology solutionConstruction and technology aren't exactly synonymous. It's an industry known for its ruggedness and continued grasp on a perceptively "old-fashioned" labor landscape. In fact, the development of truly exceptional technologies for the construction industry rests entirely on equipment, and even then, the construction industry is slow to pick up. Productivity boosting, efficiency optimizing, and cost-reducing technologies are more of a recent development.Truly business altering construction technologies have really only emerged in the last 5 years, but the pace of their adaptation and diversification is rapid. Tools like telematics, apps, drones, 3D printing, live view asset trackers, and geofencing may have seemed like technology of the future a decade ago, but they're emerging assets in the construction industry today. Below are some of the most accessible, scalable, and adaptive technologies that the construction industry should be (and in some cases already are) taking advantage of.FLEET TECHNOLOGY One of the most dramatic changes to every industry across the board is the development of IoT technologies. IoT, or the Internet of Things, allows you to connect to, control, collect data from, and send data to, separate devices or machinery from a remote location. The simplest way to image it is by picturing Alexa or other smart home devices, which now allow you to turn on your coffee maker, change the temperature in your home, etc., just by voicing the command to a single device. This may seem more like a modern convenience for consumers, but it's just as altering (if not more so) for the construction industry. You'll see this more clearly as we discuss the technologies below.GEOFENCINGGeofencing is the placement of a virtual perimeter—drawn remotely—around a physical location. Geofencing has a lot of applications. Marketers use this to send push notifications when you enter the perimeter of a store. Smart cities use it to gain insight into its city's roads, such as how many and which trucks cross a certain bridge with unlawful weight, causing structural damage. And, construction fleets use it to evaluate jobsites. Geofencing technology allows fleets to monitor a jobsite and the productivity of workers in several ways. First, it will alert you to deliveries as they arrive, so your team is prepared to offload equipment, tools, etc. right away. You'll also receive alerts when equipment, tools, or personnel leave or enter the perimeter, which is beneficial for the prevention of theft and misuse of equipment. If your geofencing tool is integrated with a telematics system, it will also prove instrumental in evaluating the utilization of your equipment. In other words, it will show you the patterns of use, times and duration of use, and whether or not the job could be done more efficiently with another piece of equipment. Geofencing is a complex tool with many uses, and one a general contractor should not be without. ASSET TRACKERSTraditional asset trackers utilize barcodes (RFID codes) and scanners to account for inventory. When you scan, it provides details on the product, such as weight, catalog number, etc. This system, while valuable for manufacturers, doesn't transition well across industries. Recent developments in asset tracking change this.Asset trackers for construction take around a hundred steps beyond the Emerging Assetstaking advantage of technology to move aheadTECH FOR THE TRADEBy Sarah Colley
Page 49
www.mcsmag.com OCTOBER 202047technology of traditional methods of tracking like barcodes. Instead of data embedded in an image, modern asset trackers provide live updates on assets. Consider the amount of equipment you leave on a jobsite at any given time, or even items like road signs or generators deployed for 6 months or more. Asset trackers allow you to see where those assets are at any given time. Some even allow you to see when they're turned on/off and how they're utilized. This not only helps you boost productivity by ensuring your assets are used properly, they also ensure you're using the right assets in the right places. Essentially, you'll have eyes on all of your assets at once, across jobsites, and be able to calculate that each jobsite has what it needs. Another added benefit is that your equipment becomes less susceptible to theft when you're constantly aware of where those assets are. And, in the case of theft, recovery of those assets is far more likely. In other words, if you're not tracking your assets, you're losing money. TELEMATICSEarlier we discussed IoT technologies, and how they allow you to send and receive data to various devices from a single, remote point. IoT technologies utilize the cloud, which is why they integrate so well with fleet management software. When you're using the right software, with the right integrations, you're able to update devices all at once, automatically, create optimized schedules that take into account all of your assets, employees, equipment maintenance needs, and more. Fleet management solutions allow employees to create timecards through apps, keep track of their hours, receive rewards, and score their performance. It allows you to monitor jobsites from a remote location when integrated with communication apps, geofencing, and other tools. The right software can even use algorithms to plan better routes, create more efficient dispatching, create reports, and show trends for everything from maintenance and fuel costs to productivity and utilization. CLOSING THOUGHTImplementing new technologies is something general contractors often neglect because they're thinking work on a jobsite is rather cut and dry. However, there's a way to increase productivity, communication, and visibility … and these emerging assets fit the bill. about the authorSarah Colley is a freelance copywriter for hire, who specializes in sales pages, website copy, landing pages, and blogging for construction and home improvement companies. Connect with her on LinkedIn @sarahcolleypr.VIRTUAL11.17.2020 | 10a—4p_CST XPMODERN CONTRACTOR SOLUTIONS VIRTUAL FALL EXPO 2020FALL 2020Visit our booth at the MCS Nov 17th at 10AM Central
Page 50
WWW MCSMAG COM OCTOBER 2020 EMERGING ASSETS TECHNOLOGY ADVANCES WOMEN IN CONSTRUCTION LEADERSHIP WITH STRENGTH HANDLING STRESSORS THE HERO PROJECT GREEN INFLUENCE PANDEMIC BUILDING
Page 51
www.mcsmag.com OCTOBER 202049❱ EASY ADJUSTMENT ❱ 65% Improved durability ❱ Fork spacing from 2" to 260" ❱ Direct pin & quick attach bracket mounts ❱ Fits any make or model ❱ SUBSTANTIALLY INCREASED BLADE LIFEADJUSTABLE FORKS & CARRIAGES FOR WHEEL LOADERSONE SET OF FORKS TO HANDLE ALL YOUR NEEDSEASTERN SALES INQUIRIESContact: Cameron Waugh P: 704-450-4731 F: 920-845-2309E: cameron@sasforks.comWESTERN SALES INQUIRIESContact: Holger Ihm P: 803-320-0981 F: 920-845-2309E: holger@sasforks.comS.A.S. of Luxemburg, LLC.133 Center Drive Hwy 54, PO Box 260Luxemburg, WI 54217-0260 P: 920-845-2198 F: 920-845-2309www.sasforks.com
Page 52
OCTOBER 2020 www.mcsmag.com50technology solutionAugmented reality (AR) is one of the most exciting and compelling technologies for service organizations because it is easy to visualize the problems it can solve—its value proposition is clear. Take bridging the talent gap as an example, and you can immediately see how AR can help organizations train more quickly and efficiently and support limited staff resources. Think about the value of remote resolution, and how AR can be used either internally or with customers to reduce the need for truck rolls in many cases, or at least ensure better preparation for when technicians arrive on site. It can also enhance knowledge management—the ability to capture the information exchange in AR sessions and catalog that as shared knowledge is hugely valuable.RESILIENCE IN WAKE OF CRISISAR has played a key role for service organizations during the pandemic. In field service we've seen AR tech significantly reduce the need for on-site, in-person visits and to better enable remote repair and resolution. This has proved vital to ensure business continuity and to enable employees to keep working—and keep their jobs. The lockdown and subsequent reliance on technologies such as AR has in fact triggered many leading service organizations to accelerate their digital transformation plans—and has changed the mindset of laggards that have turned to digital strategies as a means to survive. We've seen these organizations transition away from a "doing things the way we've always done" approach to embracing digital transformation and breaking down barriers that have long been in place. Many service leaders are enjoying the operational benefits of AR, but in order to achieve ROI and reap the full rewards of the technology there are still hurdles to overcome. Here I outline the four common challenges service organizations need to be aware of and prepare for as they implement AR: CHANGE MANAGEMENT FOR THE CHANGE RESISTANTThe emergence of any new tool or technology is often met with skepticism and hesitance by employees with set ways of working who are resistant to change. A tool such as AR has a particular buzz about it which can exacerbate these emotions for members of the older workforce, and this presents significant challenges in terms of getting these employees on board with using the technology. Overcoming this resistance comes down to three factors—implementing a proactive change management strategy, encouraging an open dialogue with these workers as they become familiar with the tool, and ensuring you have measures in place to hold your workers accountable for using AR. Augmented Reality4 challenges service organizations must addressREALIZING ROIBy Sarah Nicastro
Page 53
www.mcsmag.com OCTOBER 202051In fact, once these workers are onboarded, the potential to take their vast knowledge to less experienced colleagues is a huge value-add from augmented reality. If a field technician is encountering an issue they have not met before, a "one to many" knowledge transfer from an experienced colleague back at base may be the difference between a first-time-fix or a second visit. CAUTION AROUND CONNECTIVITYA recurring pain point for those who have adopted AR is maintaining a strong connection throughout AR sessions. This is a challenge which needs to be addressed by those providing AR technology. Connectivity problems range from not being able to initiate sessions to sessions being interrupted, meaning it can quickly become a very frustrating experience for employees—and indeed customers—and plays some part in the adoption issues discussed above. Service organizations should test and continue to test connectivity during trial and pilot periods to ensure that the solution works and meets their expectations. I cannot stress how important it is to get this done before integrating AR with their systems and potentially rolling it out at scale. Rolling out shouldn't be part of the testing!The good thing about AR and remote assistance is that thorough testing time can be recouped by speedy and quickly scaled rollouts. IFS customer and global leader in energy-efficient and sustainable air treatment solutions, Munters, was able to roll out remote assistance tech to 200 employees across multiple geographies in 2 weeks when COVID-19 first hit. AR SOLUTIONS NEED AN "ALWAYS ON" APPROACHSometimes AR is used for very short troubleshooting chats between 3 to 5 minutes, but other users require the technology for longer periods such as support calls which can last up to almost half an hour. It is however a common problem that those who need AR for longer durations find more lengthy sessions drain the battery life of their mobile devices. This presents varying complications depending on how many opportunities a technician might have to charge their device throughout the day. Service organizations should test their requirements and make sure their AR providers have this covered when researching and considering to deploy AR tech.The future looks bright for extending battery life, even much-maligned smart glasses have come a long way since Google Glass. Some of the new options on the market can now comfortably last for 3 to 4 hours in constant use and mobile battery capability continues to advance at a rapid pace for industrial-grade hardware. WEARABLES ON THE HORIZON It's the wearables sector that remains the final frontier for AR support. Most service organizations are using smartphones or tablets for sessions, yet many are interested in or are considering moving to wearable devices. Until recently, we'd often hear that while interest in wearables existed, pilots determined that for field service the hardware wasn't quite ready. However, we seemed to have turned a corner and have begun to see the incorporation of smart glasses into the field. Most software providers realize that wearables are the next step for AR support, so watch for more developers making sure their technology can sync with helpful wearable devices such as smart watches and glasses going forward. UNDERSTANDING BOTH SIDES OF THE COIN IS FUNDAMENTAL FOR AR SUCCESSThe value AR provides is well documented. It offers great benefits for a stretched workforce, who may not want to be out in the field day-to-day servicing equipment and can instead use AR in the back office to interact with newer technicians in the field and provide virtual hands-on training and support. If you can also capture interactions in your augmented reality solution, service organizations can keep tribal knowledge on record and build a knowledge library for upcoming technicians which is invaluable. As with any emerging technology, however, it is essential to understand its advantages and potential disadvantages. It is easy for organizations to get carried away with the benefits of tools such as AR and devices including wearables, as well as bandying about terms like digital transformation to show they are progressive even if there is little or no truth behind statements. It is these organizations that make the mistake of losing sight of possible stumbling blocks and pay the price of a bumpy journey when deploying a tool such as AR. CLOSING THOUGHTThe key for service organizations is to ensure they don't fall into the trap of investing in AR tech without properly addressing infrastructure challenges. This way they will reap the full ROI potential of AR—rather than it being one of those good ideas that sits uselessly on the shelf. about the authorSarah Nicastro, field service evangelist, brings to IFS (www.ifs.com) over a decade of experience covering the trends, technologies, and business drivers that most impact end users of field service solutions from her tenure as editor-in-chief at Field Technologies Online. During her time at FTO, Sarah's mission has been to help field service customers tell their stories. In her new role, Sarah will apply her expertise to translate how IFS solutions can address the challenges and pain points of savvy field service companies. Connect with her on LinkedIn @sarahhowland.
Page 54
OCTOBER 2020 www.mcsmag.com52safety solutionSafe KitSafe Kitfounder gives company's mission new purpose during pandemic WOMEN IN CONSTRUCTIONSafe Kit CEO Euricka Alugas' dedication to service has always been the driving force behind her vision. She founded Safe Kit, a 100-percent woman-owned safety staffing and training company to support the rapidly growing infrastructure in her native New Orleans. In the aftermath of Hurricane Katrina, Alugas invented the Safe Kit "to enlighten educate, prepare, and equip residents with the essential techniques needed to survive natural disaster occurrences." Safe Kit's offerings encompass several areas of safety precaution and work processes, with topics including but not limited to: CPR Training, OSHA 10-30 Bilingual Training, on-site drug testing, contractor safety program revisions, and more. Safe Kit is now working with major companies and corporations to combat any type of emergency. The company's highly licensed and certified safety professionals impact millions, helping them return back to work and school. They work tirelessly to execute innovative ways to reach frontline workers, employers, and municipalities to bring them quality safety products and training. Alugas cares deeply about the safety of her clients. Through her personal mantra of "safety first," she believes in helping both workers and contractors improve safety conditions on the job and in emergency situations. In a brief Q&A, Alugas explains the mission for her company and what it means during this pandemic.
Page 55
www.mcsmag.com OCTOBER 202053What is Safe Kit?ALUGAS: Safe Kit is an emergency safety supply distributor, safety staffing, and training specialist provider. We are committed and qualified to help construction companies reduce occupational injuries, illnesses, and emergencies to keep the workplace as safe as possible. What led you to create the company? ALUGAS: Living through Hurricane Katrina in my hometown of New Orleans in 2005, I witnessed firsthand how difficult it was for businesses to stay safe during cleanup and recovery from the disaster. This alone concerned me, and I wanted to do something to help and make a difference. Why is safety a priority for you?ALUGAS: This pandemic has forced all businesses to rethink their safety policies and performance. I believe that our new normal, and priority, is safety. Furthermore, if companies would implement safety practices by offering employees safety training as an important part of their day-to-day business operations, employees will benefit from reduced injuries and feeling more comfortable and safer at work.With COVID-19 and construction jobsites, what safety measures do you recommend?ALUGAS: Safety has always been my priority. Here are some tips that I use to keep my clients, contractors, and employees safe on the construction jobsite:• When possible, screen all visitors on your construction project in advance of their arrival on the job site for signs and symptoms of COVID-19.• Adopt staggered work schedules or provide alternating workdays or extra shifts to reduce the total number of workers at your job site to ensure physical distancing.• Identify congested areas where workers are forced to stand together, such as hallways, hoists and elevators, ingress and egress points, break areas, and buses, and implement policies to maintain social distancing.• In elevators and personnel hoists, ensure 6 feet distance between passengers in all directions and equip operators with appropriate respiratory protection and other necessary PPE.• Maintain an ultra-careful housekeeping program to reduce dust levels on the job site.• Reduce in-person time for toolbox talks and safety meetings. Keep them as short as possible, minimize the number of workers in attendance and use social distancing practices. Consider hold the meetings remotely or virtually.• Ensure clean toilet and handwashing facilities. Clean and disinfect portable job site toilets regularly. Fill hand sanitizer dispensers regularly. Disinfect frequently touched items regularly.What other safety trends do you see for the remainder of 2020 and into 2021 for construction?ALUGAS: As it concerns 2020-21, the safety trends I see are practicing safe distance and routinely cleaning all frequently touched surfaces such as work stations, countertops, handrails, and doorknobs. What is the "one thing" you want commercial general contractors to know about safety during this pandemic?ALUGAS: The one thing I'd like them to understand is that if they intend for their business to remain profitable through this pandemic and beyond, they will have to make permanent changes to the way they do business in the future.What does it take to be a woman-owned company in the construction market? What message do you have for other women who dream of having their own company?ALUGAS: My story is simple. It's truly about determination and a willingness to succeed in an all-male industry.CLOSING THOUGHTIn her own words: "Remember that safety is for everyone. No one is exempt from practicing safety in the workplace." for more informationFor more, visit safekitonline.com.
Page 56
OCTOBER 2020 www.mcsmag.com54safety solutionStop, Start & ContinueStop, Start & Continuehealthy ways of dealing with stressBEST PRACTICESHow do you overcome the overwhelm and stress of dealing with the pandemic and the unfolding uncertainty as 2020 sprints towards December end and 2021 is around the corner? Have you experienced supply chain disruption playing havoc on your project completion or bidding? Are you finding yourself exhausted and not able to lead your team as you would like? It's okay to admit you need help. Getting back on track may simply require a mindset reset or the assistance of a life coach to help you help your company.Meet Adam Jablin, life coach and author of "Lotsaholic." The book details Jablin's's total transformation from being a "functioning" alcoholic and addict to going to rehab becoming a spiritual leader inside and outside the company. As this relates to the construction industry, Jablin can offer insight into dealing with on-the-job stress, how workers in the field can combat anxiety and stress without turning substances for support, and how loved ones can help those who might need help. Jablin takes his personal experience and expertise to be a mentor for those needing a boost.Below is a brief Q&A about stress in construction and how to deal with life in a healthy way. According to the Substance Abuse and Mental Health Services Administration, construction workers have the second-highest rate of substance abuse of all U.S. professions with an abuse rate of 17.3%. In your opinion, as a life coach, what contributes to this rate of abuse for the construction industry? JABLIN: The demands of the job of the job in the construction injury are much higher than most. The attention to detail is much greater. Without good coping mechanisms and strong spiritual beliefs, it's easy to use substances to relax, calm down, get loose, go to sleep, and even be more alert. Often amphetamines and uppers are used on the job and at home to be able give everybody more attention. The increase in barbiturates and alcohol is due to enjoying the effect—a sensation of relaxation. But it's hard to see when it becomes injurious, and one craves more. What are healthy ways of dealing with job stresses?JABLIN: Handling stress in a healthy way starts with sharing and asking for help. Share with at least one person what's really going and how you are feeling. Even write it down. Sharing helps cut the problem in half. A 2011 University of Chicago study, "Writing About Testing Worries Boosts Exam Performance in the Classroom," proved that students who talked or wrote about their worries immediately before taking an exam performed significantly better on that exam than did those who didn't unload their anxieties. The same is true in life. Remember to ask for help. Now's the time. If you have a dependance on a substance—ask for help. If you're late on credit card payment, call them and—ask for help. If your kids are struggling—ask for help. Nobody knows that your suffering if you don't ask for help.As it relates to construction, whether its workers or management, what can be done to combat anxiety and stress without turning to substances for support?JABLIN: Tackling stress is a combination of exercise, reading positive material, and acts of kindness. Jobs are demanding, but we still all need to exercise. Exercise reduces the levels of the body's stress hormones, such as adrenaline and cortisol. Plus, it stimulates the production of endorphins, chemicals in the brain that are the body's NATURAL painkillers and mood elevators. Read something uplifting and positive! And, simple things
Page 57
www.mcsmag.com OCTOBER 202055like complimenting a loved one goes a long way. Maybe reach out to old friend and see how they are doing during this stressful time. It's not all about us. We are not the center of the universe. We are all going through this together. Realize that. This is a human experience.What can commercial general contractors do as a preventive for their workers and back office personnel? JABLIN: When I ran my factory—the #1 lace manufacturing business in the world, we would have weekly check-up meetings to see where everyone was at emotionally and talk about the demands of the job and what was going on in our personal lives. I also got a group rate at local gym's for employees looking to decompress in a healthy way. I ended every meeting with explaining that our company's insurance could help rehabs and detoxes, and all they had to do was talk to me privately, and I'd make sure they received the proper help. Taking a caring approach to your employees now and always is best practices for employee engagement.Could you share about your book "Lotsaholic" and how those in construction may benefit from its insight?My book, "Lotsaholic," could really help anybody in construction because they would identify with me. You see me trying to keep it together running one of the biggest production factories in the world. Here's an excerpt from my book…CLOSING THOUGHTThese are difficult times. We are all going through this pandemic together. If you ever need my help, please reach out to me on my website: www.adamjablin.com. You can also email me at adamjabln@gmail.com. I answer every single email. I'm here to help. May God Bless you all. for more informationWant more from Adam Jablin? He's offering a program to help you even more. Go to his website and read about THE HERO PROJECT. The Hero Project is his full 90 Day Transformation One on One Coaching Program. It focuses on the full person—mental, physical, emotional, spiritual, and financial.
Page 58
OCTOBER 2020 www.mcsmag.com56maintenance solutionEngine MaintenanceEngine Maintenanceinterval checks for maximum uptimeBEST PRACTICESWhere would we be without reminders? For machinery, it's those pesky lights, that show up on the dashboard, and occasional warning sounds that remind us we need to do something soon if not right now, or we won't be doing anything, now or in the near future. Many times, those reminders are about machine maintenance.Machine maintenance that includes preventive actions as a part of your DAILY routine ensures your machine will be up and performing for many, many hours. And, keep those pesky reminders away. THE SERVICE MANUALIt may be big and bulky. It may have lots of pages segmented in confusing ways. It may be in small type. Never forget though, the service manual is your friend. Take the time to find the maintenance schedule for your machine, its particular engine, and its recommendations. Read through the pertinent sections on machine and engine maintenance. Hour requirements may differ a little bit from model to model; overall the information is similar enough that in any engine service manual look for the following:• New machine break in (hours 10-100). After the first 100 hours, just like your car, some machines will signal maintenance with a light on your dash. (Pay attention, please.)• Routine maintenance (500 hours, 1,000 hours, 1500 hours+). These are good benchmarks for average environmental conditions. If your machine is operating in particularly adverse or heavy conditions, maintenance should be carried out in shorter intervals. You decide. Suggestion: Err on the side of caution. Taking a few minutes today can save you hours of downtime tomorrow (and the days after that).With Merlo's service manuals, there is usually a page or more dedicated to suggested maintenance intervals starting at 10 hours up to 1500 hours. Look for the section that visually shows each warning light and its meaning. If you have a used machine and the manuals are missing, contact your machine manufacturer or distributor to obtain a copy of the manual or, at a minimum, the schedules. Copy those pages showing the maintenance intervals and the dash lights explanation. Put them somewhere where you can see it as a DAILY reminder as to what needs to be done when. Plug the interval information into your cell phone calendar. Merlo recommends a particular action occur at EVERY benchmark to ensure your machine, and its engine, are running in top performance. Pay attention to that EVERY day. The following are good reminders about keeping your engine running smoothly.Heavy equipment engine maintenance is all about consistency. Keep in stock in the shop: oils, coolants, greases, filters and the manuals. Our techs suggest having at least one full set of oil and air filters in stock all the time. Your machine will thank you by performing well. The daily walk around (start the practice with new machines, too!) Exterior of your machine. ✔ Look for leaks ✔ Check the hydraulic oil level gauge ✔ Ensure caps are tight ✔ Check your tire pressure and that tire bolts are secure Pop the hood. ✔ Look for leaks, belt conditions, debris blocking air filters ✔ Check the engine exhaust duct for blockage and or damage ✔ Check all fluid levels-engine coolant, brake, hydrostatic transmission, (include the windshield wiper fluid—this is not water—if applicable); top off as necessary ✔ Check the antifreeze quality and level in the radiator; look for radiator debris blockage ✔ Check the battery, its electrolyte level, and terminals condition✔ Use the oil dipsticks dailyBy Brian Hatch and Susan Doyle
Page 59
WWW MCSMAG COM OCTOBER 2020 EMERGING ASSETS TECHNOLOGY ADVANCES WOMEN IN CONSTRUCTION LEADERSHIP WITH STRENGTH HANDLING STRESSORS THE HERO PROJECT GREEN INFLUENCE PANDEMIC BUILDING
Page 60
OCTOBER 2020 www.mcsmag.com58featured productDiablo, a solution-oriented range of best-in-the-world and best-for-our-world products for the professional user, introduces a new full-range of SDS-Plus and SDS-Max Rebar Demon™ 4-cutter full carbide head hammer drill bits for concrete and reinforced concrete applications. Designed with innovative technology to meet the user's needs, this new range answers the growing issues of life, durability, strength, and speed.Concrete building trends continue to grow at a fast pace, driven by both the robust economy and building codes for commercial and residential sectors. The building materials industry is creating higher-strength concrete and rebar forcing power tool manufacturers to develop stronger, more powerful drills. However, current drilling solutions in the marketplace have not kept up with these growing trends: the ability to handle high-heat, tough to drill applications such as rebar, or being fast enough to minimize labor costs.For years, Diablo has received end-user feedback requesting state-of-the-art products to address durability, strength, speed, and labor costs, all of which are not currently offered. Diablo's first-ever complete range of Rebar Demon™ 4-cutter full carbide head hammer drill bits is the ultimate solution for drilling fast, precise holes without the need of changing to a rebar cutter to drill reinforced concrete, delivering extreme savings in time and money.Diablo's revolutionary range of SDS-Plus and SDS-Max Rebar Demon™ 4-cutter full-carbide head hammer drill bits are the only bits designed to be the most durable, fastest, and coolest solutions on the market. The Rebar Demon bits feature up to 2X more Dura-Carbide to withstand up to 1800°F of intense heat whereas standard bits fail at 800°F. Diablo's impact resistant 4-cutter full-carbide head withstands the stress of high-powered hammer drills and the impact of rebar by taking small bites of rebar to deliver controlled carbide wear, reduced vibration and up to 7X longer life. Produced with Tri-Metal Fusion Welding, the full-carbide head resists heat and prevents breakage in extreme impact situations. Precision Tip delivers the stability and accuracy required to produce fast, precise holes in reinforced concrete for anchor setting. Rebar Demon™ SDS-Plus & SDS-Max 4-Cutter Full Carbide Head Hammer Drill Bits Diablo's Rebar Demon™ range includes (75) hammer bits, covering a range of sizes:• SDS-Plus range: 5/32 to 1-1/8 in. • SDS-Max range: 3/8 to 2 in.For more, visit www.diablotools.com/takestheheat.
Page 61
www.mcsmag.com OCTOBER 202059John Deere introduces the new E-II Articulated Dump Trucks (ADTs). The models, including the 410E-II and 460E-II, incorporate customer-driven features, resulting in greater operator comfort, reduced fuel burn, increased uptime and lowered daily operating costs. With a redesigned dump body, updated operator station, and new drive and transmission retarder modes, the John Deere-designed and -built E-II models deliver ultimate productivity on the job. The E-II models offer improved fuel consumption, reducing fuel burn by up to 7% when operating in Normal mode compared to the existing E-Series line. Fuel consumption is further enhanced in Eco mode, which reduces fuel burn by up to 12% compared to the E-II Normal mode. A key feature on the E-II machines is the redesigned dump body, which is wider and has a lowered and leveled rail height to improve material retention. For more, visit www.johndeere.com.JOHN DEERE E-II Articulated Dump TrucksFumoto announces its revolutionary nipple cap, the NC-10, made to fit perfectly on ⅜-inch Fumoto valve nipples, preventing dust and dirt from entering the valve while the vehicle is on the road. The NC-10 is made of sturdy plastic and comes with a small built in handle that allows the product to be easily removed. The small hole on the handle allows users to attach the nipple cap to the valve with a piece of string. This added feature can prevent the cap from accidentally getting lost in any situation. This product is lightweight and available in a sleek, black color. For more, visit www.fumotousa.com. FUMOTO Nipple CapIntroducing the Morooka MST-3000VDR rubber track carrier, with enhanced hydraulics and a larger bed. Morooka's VDR models all feature an upper structure that can rotate 360° in either direction independently from the undercarriage and tracks. This helps users reduce surface damage that occurs when turning the machine, as well as aiding users that have limited operating space. The new MST-3000VDR is powered by a 300 hp Caterpillar C7.1 engine and can handle a maximum load of 36,000 lbs. Even so, it has a top speed of 8 mph and yet only exerts a ground pressure of 3.6-8.0 psi. The MST-3000VDR is currently available by special order only. For more, visit www.morookacarriers.com. MOROOKA Rubber Track CarrierFelling Trailers, Inc. adds the Low Pro Limited to its deck-over tag model line. The Low Pro Limited series currently consists of two models; the FT-45-2 LP Limited, a tandem axle 22-1/2 ton, and the FT-50-3 LP Limited, a triple-axle 25 ton. The available deck lengths for the tandem axle are 20 ft, 22 ft, and 24 ft. The available deck lengths for the triple-axle are 24 ft and 26 ft. The Low Pro Limited (LPL) series is constructed with an 8-inch channel side rail, flange in, with 4-inch Jr. I-beam crossmembers pierced through the heavy-duty, engineered, and fabricated 16-inch mainframe with 1-3/8-inch apitong decking. Apitong decking is an extremely durable wood, making it ideal for construction equipment applications. The LPL's are standard with a 6 ft long double incline beavertail providing 12-degree and 6-degree load angles, respectively. The double incline feature eliminates the sharp break-over point, which helps substantially for loading and unloading tracked equipment safely. For more, visit www.felling.com. FELLING TRAILERS, INC. Low Pro Limited Tags After decades of transportation experience, Tool Rig designed and patented a pickup truck toolbox focused on safety. It doesn't occupy the truck's valuable cargo/bed space allowing for more cargo with the tailgate safely closed without jeopardizing the driver's view of the rear-view mirror. All gear within the toolbox is retrieved from the sides instead of employees having to climb into the bed area of the vehicle. This reduces costly slips and falls. The toolbox also protects the cab/driver from moving or shifting cargo. For more, visit www.toolrig.com. TOOL RIG Toolboxmodern construction products
Page 62
OCTOBER 2020 www.mcsmag.com60THE STATSBuilding design, construction, and operations have been male-dominated fields and like many industries gender equity gains over the years are now being threatened by the pandemic. USGBC's Women in the Workplace survey revealed that respondents are primarily being impacted by family (67%) and professional (61%) pressures. For self-employed women, COVID-19 has added an entirely new set of challenges from lack of work, to lack of time finding new business due to caretaking demands. 86% did note employers have made efforts to be supportive of employees juggling remote work and childcare, but survey respondents indicate its women who primarily shoulder the burden when children cannot go to school. The added responsibilities are pushing women to feel as if they must sacrifice their career.Training leaders to be empathizers and ensuring underrepresented employees feel seen and heard will be critical as corporate leaders and their employees continue to adjust to the disruptions the from pandemic. PANDEMIC NARRATIVEA Bureau of Labor Statistics report showed that since February 2020, women account for 55% of all jobs lost. For those who are self-employed or own their own business, the pandemic has created an additional layer of challenges. An independent architect commented that business has halted and "additionally, I have had to take care of all the housework, so the hours dedicated to [find] new projects are each day more limited."Greater flexibility, eliminating commutes and the opportunity to spend more time with family are some of the silver linings of remote work that have emerged. The vast majority of respondents also credit employers with being supportive of their circumstance and obligations. Employers and colleagues have become accepting of toddler drop-ins during video calls and tardiness to meetings. Many responses also indicate their company leadership is regularly communicating with employees and sharing workplace policies and benefits available to support social and emotional well-being. Some employers have also provided additional paid sick leave and stipends for childcare to help alleviate pressures.CLOSING THOUGHTUSGBC is working to elevate female voices in the green building field, but there is still more to be done. Women in the green building industry are facing historic financial, familial, and professional challenges as a result of COVID-19, according to a new survey from the U.S. Green Building Council (USGBC). Of nearly 500 women surveyed, 62% of respondents agree that the pandemic is negatively impacting workplace equality. WOMEN IN GREEN BUILDING Workplace Equality women losing ground due to COVID-19for more informationThe U.S. Green Building Council (USGBC) is committed to a prosperous and sustainable future through cost-efficient and energy-saving green buildings. For more, visit usgbc.org.
Page 63
Page 64