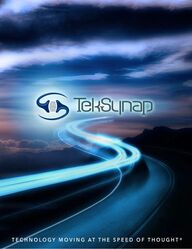 Return to flip book view
Capabilities_Deck_10-11-21_03.pd
Page 1
Page 2
Mission-Minded, Nimble, Proven On-Target Solutions Zeroing in on Your Mission Requirements TekSynap understands the technical and strategic challenges our Federal, Defense, Civilian, and Intelligence clients encounter daily. That depth of knowledge allows us to deliver services and technology applications tailored to your specic needs. We provide thought leadership and technological innovation, providing on-target solutions that keep you one step ahead. Maximizing your return on investment is core to our business approach. We optimize processes that enable you to achieve greater eciencies while containing costs.Passionate about PerformanceAt TekSynap, we value our people and take pride in their achievements. That's why we ensure they possess the industry's best technical, managerial, and leadership skills – the kind of expertise that gives you, our clients, the cognitive edge.Agility, experience, energy: these are the values we live by, the values that propel us to surpass your expectations in solving your most pressing business and mission challenges.
Page 3
Mission-Minded, Nimble, Proven 44+ Federal Contracts90% Prime Contracts800+Cleared PersonnelMission-MindedYour mission is our mandate. We go all-out in support of your objectives.NimbleWe view challenges as an opportunity, not an obstacle. At TekSynap, we respond rapidly and intelligently to clients' dynamic requirements by capturing metrics and continuously improving systems integration.ProvenTekSynap has extensive experience developing high-caliber compliant solutions. It is precisely our tried and tested approach that has allowed us to grow our business and our team while remaining consistently forward-thinking and fully responsive to our clients.
Page 4
A Can-Do Attitude to Service Delivery At TekSynap, we are driven by an ethic of hard work, a spirit of determination, and a commitment to delivery. You can count on TekSynap to do what it takes to achieve your goals, no matter how ambitious. Our ServicesTekSynap is a full spectrum systems integrator. We deploy industry-leading solutions to create intelligent and productive computing and communication environments. We supply IT professionals with management know-how and technical expertise to ensure that projects and programs are completed on time and within budget. Enterprise, Mission Plans, Programs, & OperationsEnterprise IT and Cloud IntegrationSystems Integration and Software EngineeringCybersecurity
Page 5
Keeping America SafeDTRA ITSS - Defense Threat Reduction Agency TekSynap supports the critical mission of the Defense Threat Reduction Agency (DTRA) under the Information Technology Support Systems (ITSS) contract, a $435M single award enterprise support eort. DTRA enables the Department of Defense (DoD), the U.S. Government, and International Partners to counter and deter Weapons of Mass Destruction (WMD) and Emerging Threats. DTRA's trans-regional focus and strong partnerships protect U.S. National Security interests in a rapidly evolving, globalized threat environment. TekSynap facilitates DTRA's mission by providing comprehensive expert support for the agency's infrastructure, security, mission, and test environments. Our specialized team is dedicated to round-the-clock monitoring of all four of DTRA's simultaneously active cybersecurity environments, and we oversee the following cybersecurity processes: CSSP (Cybersecurity Service Provider) Detect, Response, Protect, Sustain, and Incident Response/Cyber Hunt. through comprehensive support of DTRA's infrastructure, security, and comprehensive test environments.
Page 6
Honoring Our Veterans VA - Department of Veterans Aairs From our inception, TekSynap has made modernized and secure healthcare environments a reality for our veterans nationwide. We understand the debt of a grateful nation to our veteran community. We support the Department of Veterans Aairs (VA) mission to honor our veterans by providing them with the care they deserve. We are committed to maximizing patient care by implementing state-of-the-art design solutions that interface with the VA's health mission systems.We assist the VA by designing, provisioning, and supporting mission-focused, location-aware wireless networks. These mission services are deployed across VA hospitals, clinics, and administrative spaces nationwide. TekSynap has executed wireless site survey designs at over 176 VA Hospitals, representing over 3,500 buildings and 8,200 floors across the country. Our expert wireless site survey engineers have deployed more than 159,000 access points and logged over 175 million square feet of government offices, defense campuses, and medical facilities across the country. We also help veterans and their families stay connected through our enterprise guest network capability. This service leverages available infrastructure to provide robust connectivity to secure online systems.
Page 7
Supporting Our Military Across the Globe DLA JETS - Defense Logistics Agency DLA is an enabling force that allows our military to execute global missions while maintaining a strategic advantage through advanced maintenance and parts sparing strategies for complex systems. Under the Defense Logistics Agency (DLA) J6 Enterprise Technology Services (JETS) contract, TekSynap supports a broad range of IT and mission-enabling global supply chains for the Army, Marine Corps, Navy, Air Force, Space Force, Coast Guard, 11 combatant commands, other federal agencies, and allied nations. We provide a wide array of services to the Defense Logistics Agency, including Network and systems infrastructure, enterprise application development and sustainment, cybersecurity, and agency-wide service desk delivery. With 54 Task Orders awarded on the JETS contract, TekSynap continues to prove why it remains the organization's go-to trusted partner for IT services.
Page 8
Enabling Safe, Clean Energy NRC GLINDA - Nuclear Regulatory CommissionUnder the Nuclear Regulatory Commission's (NRC's) Global Infrastructure and Development Acquisition (GLINDA) program, TekSynap supports the Commission's infrastructure and critical business systems. We facilitate the NRC's mission to regulate commercial nuclear power plants and other uses of nuclear materials, such as nuclear medicine, and oversee the disposal of radioactive waste and safeguarding nuclear materials. TekSynap is proud to partner with NRC to support its mission to provide safe civilian applications of radioactive materials while promoting the common defense and protecting public health and safety.safety, promoting the common defense and security, and protecting the environment.
Page 9
EmpoweringTekSynap's Prime Contracts -Army ITES-3SDTRA ITSSNOAA NMITSNRC GLINDAArmy TEIS-IVDLA JETSDIA SITE IIINIH CIO SP3DISA SETIWe ensure your projects are powered by experts equipped with the right tools, training, and authority to implement leading-edge solutions.
Page 10
Corporate Timeline20082009201020142015201620112012201720182013201920212020IMPROVEMENTSSaaS BPOS - Office 365My Active Op Tracker PortalIMPROVEMENTSIntegrated Collaboration Suite (SharePoint, Office 365, MS Skype for Business, One Drive for Business)AWARDSTekSynap Wins 2014 Washington Technology Fast 50TekSynap Wins 2014 Mid Tier Advocacy Bridge AwardACHIEVEMENTSAchieves ISO:9001:2008ACHIEVEMENTSSBA 8(a)IMPROVEMENTSUnanet Time and Expense ConversionACHIEVEMENTSCMMI L3 DEVVirginia ValueVeterans V3EmployerCertificationHire Heroes USASilver BadgeAWARDSVMware Solution Providers CIO Review Magazine names TekSynap One of 20 Most Promising CompaniesTekSynap Wins 2015 Washington Technology Fast 50ACHIEVEMENTSISO 20000:2018TekSynap grows to 500 employees (April 2020)Achieves Microsoft Cloud Platform Gold CompetencyAchieves Microsoft Security Silver CompetencyCONTRACTSDHS CISAVA National Guest WiFiNRC Mission Systems (MAS)SYNAPTEK FOUNDEDACHIEVEMENTSTop Secret Facility Clearance GrantedCONTRACTSAwarded First ContractAWARDSTekSynap Wins 2017 Washington TechnologyFast 50CONTRACTSGSA 8(a) STARS II NRC GLINDA BPAIMPROVEMENTSAECOM & TekSynap createAESY LLC Joint VentureMS Cloud Solutions ProviderMicrosoft PaaS Silver CompetencyCONTRACTSDefense Threat Reduction Agency IDIQ PrimeIMPROVEMENTSUnanet GL ConversionAWARDSGov CIO OutlookCONTRACTSNIH CIO SP3ARMY DENIXArmy HR Transformation (ITES 3S – leading tasking order awardee)DIA SITE III AwardeeAWARDSVirginia Chamber of Commerce Fanstastic50 / Vanguard AwardRanked INC 5000CONTRACTSDLA JETSNOAALinkIMPROVEMENTSDCAA Approved Accounting SystemIMPROVEMENTSMentor ProtégéJV GenceTekTekXLerator LabAWARDSTekSynap awarded one of the most promising defense technology solution providers for 2018HIRE Vets Gold Medallion AwardCONTRACTSDTRAITES - 3SNRC GLINDA SNCCSeaPort NxGVA WiFi NxG 2035IMPROVEMENTSTekSynap RebrandingMigration to ADP WorkForceNowAWARDSCIO Magazine awards TekSynap as One of the Most Promising Audio Visual Solution Providers for 2020Federal Information Technology Acquisition Reform Act Awards WinnerWashington Technology Fast 50Washington Business Journal Top 75HIRE Vets Platinum Medallion AwardCONTRACTSDISA SETIGSA MASNIH CIO-SP3 Small BusinessNOAA NMITSIMPROVEMENTSTransition to iCIMS Talent Acquisition Software20000:201827001:20139001:201520000:20119001:20088(a) Certified
Page 11
TekSynap consolidates the process maturity, resources, and capabilities needed to adeptly address requirements on an enterprise-scale — while maintaining the agility and responsiveness so valued by our clients. Our engaged management style means that we are there for you as partners, shouldering the challenges, surmounting the obstacles, and celebrating the successes.Ultimately, service companies are the sum of their people. TekSynap is proud of the dedication and drive of our team. We match that enthusiasm with a corporate commitment to support our employees in ways that big businesses often neglect today – with world-class benets, ongoing rewards and recognition, outstanding career opportunities, and a work environment that encourages them to continue growing and learning. The TekSynap culture is built on hard work and zeal for results. Our tagline, Technology Moving at the Speed of Thought, speaks to our deep understanding of the nature and pace of change in data systems that support our military services, federal civilian agencies, and intelligence community. We are a technologically advanced and forward-looking rm that delivers secure, reliable, ecient, and above all relevant solutions crafted to suit your unique requirements. You have our personal commitment to your success. Your mission is our mission.Kamran JinnahCEO, TekSynapDavid GauldfeldtPresident, TekSynapLeadership's Message
Page 12
TEKSYNAP | 833.780.5900 | BUSINESS@TEKSYNAP.COM1900 ORACLE WAY, SUITE 800, RESTON, VA 20190 | TEKSYNAP.COM