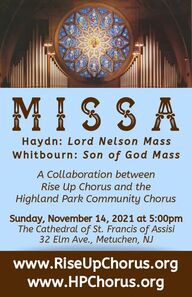 Return to flip book view
MISSA Program
Page 1
H a y d n : L o r d N e l s o n M a s sW h i t b o u r n : S o n o f G o d M a s sA Collaboration betweenRise Up Chorus and theHighland Park Community ChorusSunday, November 14, 2021 at 5:00pmThe Cathedral of St. Francis of Assisi32 Elm Ave., Metuchen, NJwww.RiseUpChorus.orgwww.HPChorus.org
Page 2
Grant funding has been provided by theMiddlesex County Board of County CommissionersThrough a grant award from theMiddlesex County Cultural and Arts Trust Fund. Made possible by funds from Middlesex County,a partner of the New Jersey State Council on the Arts.For an interactive programexperience, including performerbios and scalable fonts, visitwww.RiseUpChorus.org/programor scan the QR code to the left.Interactive Concert Program
Page 3
Eighteen months.Nearly eighteen months ago, this very concert was scheduled to be performed on abeautiful spring day - May 31, 2020. That seems to be an entire lifetime ago. In the lastyear-and-a-half, our entire lives have changed. Some of our members have moved away,some became sick, and others have even lost loved ones. However, something elsehappened -- something beautiful and special: we've grown closer together as a Communityeven though we were forced apart.Singing together may be the most powerful force in our entire world, and there is nothingthat can bring people together to sing the way that being in a chorus does. Many of youreading this will know exactly what we mean. For those who have never before sung in achorus, it's hard to fully appreciate the power of a choral community until you take theleap and experience singing with a chorus for yourself. There is a moment in any rehearsalwhere the conductor looks at the chorus, extends their arms, and gestures for the entireensemble to take a first breath together. That very breath is the moment when an entireroom full of people with a common goal, a common love, and a common passion commit tothe same intention at the same time, all through a single breath - an action that sustainsthe very life in us. From that moment, a team is united. Friendships are built. A Communityis established.In that spirit, we are so excited to present this evening's performance to you, aCollaboration between two great Organizations - the Highland Park Community Chorusand Rise Up Chorus. Each member of both choruses brings a spirit, a force of energy to theperformance that makes what you will hear tonight truly special and unique. Thesededicated singers have given of themselves through countless hours of rehearsal and at-home practice in order to bring our music alive in this beautiful Cathedral venue.We are so glad to be joined by several incredible guest musicians, including Nicholas Gatto,our fabulous organist, our quartet of very talented vocal soloists who will perform the LordNelson Mass, and Jordan Smith who will amaze you with the soprano saxophonethroughout the Son of God Mass.We hope that, after tonight, you will consider joining one of these two fabulous chorusorganizations so that you can experience the life-changing power of choral singing foryourself. If you're unable to commit to regular, weekly rehearsals, then be sure to come toall of our future performances. We promise that you won't regret it.Best regards,Matthew J. LaPine and Benjamin T. BermanFrom our Artistic Directors
Page 4
Page 5
Page 6
Page 7
Page 8
Page 9
Page 10
Page 11
Page 12
On behalf of the Rise Up Chorus Board of Directors, I wish you a Good Afternoonand Welcome you to the first performance of our Fifth season.Our Chorus Members and the Highland Park Community Chorus have been workingdiligently since early 2020 to bring this concert to this peaceful space. As we workthrough the pandemic, it seems appropriate that music selected would includeHaydn's Missa in Angustiis (Mass for troubled times). The efforts of many people have gotten us to this day and we are so grateful. Theboard extends our thanks to the St. Francis Cathedral concert committee, FatherChristy and the priests of the Cathedral for working with us to provide a beautifuland welcoming setting for our concert. The board also extends our thanks to Fr.Zelley and the staff of St. Luke's Episcopal Church for our much-appreciatedrehearsal space. Thank you to our Artistic Director Matthew LaPine, our YouthChorus Director Helen Kernizan, and our new collaborative musicians JamesLubrano and Florence Simons for their selfless contributions of artistic and technicaltalents. Also, heartfelt gratitude to both Highland Park Community Chorusmembers and Rise Up Chorus members for their talent, time and effort.Special thanks to our Donors for your generous financial support. Without thisneeded support, we would be unable to continue our mission and keep participationin our choruses tuition-free. You are essential to our ability to bring ourOrganization forward over the years. Rise Up Chorus would simply not existwithout the contributions, dedication and efforts of all those mentioned. May wecontinue our mission of: Inspiring good. Changing lives. Making music.Thank you for coming today and we hope the beautiful works of Joseph Haydn andJames Whitbourn, among others, fill you with peace and harmony.Terry KohlPresidentRise Up Chorusw w w . R i s e U p C h o r u s . o r gA word from our president.....
Page 13
Rise Up Chorus is a tuition-free organization. Our programming is made possible bythe generosity of the following donors:Terry KohlMaryann & Tom McGuireThe Morace Family FoundationBarbara & Robert SandermanIrma AbramsDillan AlenClaudia AsmuthCarol BaldiPatricia BenningMachiko & Stephen CaputoPaula DevanskyTheresa PetnerJo Ann & William PollTara PostigoMichelina SeppiEric SchwarzMary TarrantAnne WrightHelene DiazElly FadenPatricia GlaveDeborah & Wolfgang HeimerlLinda LaPineJoan MastLinda NicoArleen Callahan OrlandoUp to $100Up to $250Joanne BackhusKaren KeithlerOver $1,000 Up to $1,000Up to $500Isabel BadilloMaria BalboaDennis BlackNathan Bishop Martha ParkesGrace RichShirley SmoyakKathy StaegerDonations to Rise Up Chorus can be madethrough our website www.riseupchorus.org or by mail to: Rise Up ChorusPO Box 4335Metuchen, NJ 08840 Rise Up Chorus is a registered 501(c)(3) non-profit organization w w w . R i s e U p C h o r u s . o r gJennifer JenkinsSusan & Jonathan KingsleyKaren LeonGregory PuchalskiNancy BernheimerSuzanne & Chris BishopJill EisnerSarah GeigerJeannine BurtonNancy ConroyThomas DeLessioJessica & Matthew LaPineMichelle Murphy
Page 14
Extends special appreciation to ourBenefactors ($100 or more)Jean Baum and John BrennanDonald Beetham and Mary DenverHelen and Stan BurdSteve and Amanda DeckerGwen and Michael GreenbergLynne and George PitcherCecilia RowedderGeza G. SchenkAllan and Joanne WilliamsAnonymous (1)Patrons ($50 to $99)Maria BalboaCullinan FamilyStanley and Donna MesserBetty Turock and Gustav FriedrichConnie and John WebsterRichard and Valeri WeidmannAnonymous (6)Friends ($25 to $49)Bohdan KalembkaMary Ann StraussAnonymous (1) w w w . H P C h o r u s . o r g
Page 15
Page 16
Rise Up Chorus Adult Chorus and Highland Park Community ChorusNicholas Gatto, organErin Schwab, sopranoColleen Martin, altoShane Brown, tenorGrant Mech, bassBenjamin T. Berman, conductorMissa in Angustiis (Lord Nelson Mass) Franz Joseph HaydnI. KyrieII. GloriaIII. Credo- Gloria in excelsis Deo- Qui Tollis- Quoniam tu solusIV. SanctusV. BenedictusVI. Agnus Dei- Credo in unum Deum- Et incarnatus- Et ressurexit- Agnus Dei- Dona NobisINTERMISSIONRise Up Chorus Youth ChorusHelen Vassallo Kernizan, directorFlorence Simons, collaborative musicianGloria Deo!Under Winter MoonJoshua Fit the Battle of Jericho Victor C. JohnsonAndy BeckB.E. BoykinSon of God Mass James WhitbournRise Up Chorus Adult Chorus and Highland Park Community ChorusNicholas Gatto, organJordan P. Smith, soprano saxophoneMatthew J. LaPine, conductorI. IntroitII. KyrieIII. Kyrie MeditationVII. Pax DominiVIII. Agnus DeiIX. AmenIV. GloriaV. Lava MeVI. Sanctus and Benedictus
Page 17
Program NotesToday's concert brings together two Masses, both written in the traditional Latin of theRoman Catholic Church, by composers born more than 200 years apart.(Franz) Joseph Haydn (1732-1809) was one of the three great composers of the Vienneseclassical school, the others being Mozart and Beethoven, both of whom Haydn mentored,according to The Great Composers: Their Lives and Times, a 1987 encyclopedia.Haydn spent much of his career as a court musician and later, music director, for theEsterházys, a Hungarian noble family. Over the course of 52 years Haydn wrote no fewerthan 14 settings of the Catholic Mass, including the one we are performing today, number 11,which he titled "Missa in Angustiis" (which translates to Mass for Troubled Times).In a 1994 preview of a performance of the Missa in Angustiis, journalist Phil Greenfield wrotethat Haydn's "final six [Masses], taken as a group, constitute one of the most stunningvaledictory addresses in the history of music. Composed from 1796 to 1802, they aredramatic, consummately crafted, extravagantly tuneful works that cap a lifetime ofgenius." Haydn's homeland of Austria was in chaos in 1798, the year he wrote the Missa in Angustiis.Napoleon had won four major battles against Austria in less than a year and had invadedEgypt to destroy Britain's trade routes to the East. Unbeknown to the composer, thatsummer Napoleon had suffered a stunning defeat in the Battle of the Nile by British forcesled by Lord Admiral Horatio Nelson. Klaus Burmeister, who wrote the notes for the published score of the music we are singingtoday, is skeptical that Haydn himself came up with the nickname "Lord Nelson Mass,"though other sources disagree. "Nonetheless, it is entirely conceivable that the nicknamemet with [Haydn's] approval," Burmeister wrote. A map of the Battle of the Nile was foundin Haydn's estate, which suggests that the composer took a special interest in it.A web article from Classic FM posits that "it is very probable that the Mass was performedto honor Nelson" during Nelson's 1800 visit to the Esterházy court, along with a briefcantata, Lines from the Battle of the Nile, which Haydn composed for Lady Hamilton,Nelson's mistress. "Nelson and Haydn reportedly became friends; some accounts say thatthe heroic Admiral gave Haydn a gold watch in exchange for the pen that he had used tocompose Lady Hamilton's cantata."Haydn, however, maintained Napoleon's admiration. "In 1809 when the French armiesattacked and occupied Vienna, Napoleon ordered that a guard of honor should be placed atHaydn's door to protect the enfeebled composer from disturbance," according to the Haydnentry in The Great Composers.James Whitbourn (born in 1963) is an internationally renowned composer recognized by TheObserver as "a truly original communicator in modern British choral music." A graduate ofMagdalen College, University of Oxford, he began his music career at the BBC, where he hasworked as composer, conductor, producer, and presenter. His compositional output is
Page 18
admired for its direct connection with performers and audiences worldwide and for itsability to "expand the experience of classical music beyond the edges of the traditionalmap of classical styles" (Tom Manoff, NPR).Whitbourn is also "Britain's go-to composer for commemorative music," according to a2016 article from The Advertiser, an Australian newspaper. Whitbourn has been commissioned to compose the music to mark several national andinternational events, including music for the broadcast of the funeral of Queen Elizabeththe Queen Mother and music for the national commemoration of 9/11 at WestminsterAbbey, subsequently performed in New York on the first anniversary of the attacks. His largest composition is the concert-length choral work Annelies, which sets words fromAnne Frank's The Diary of a Young Girl.He is popular on both sides of the Atlantic as a choral advisor and also enjoys a profile asa conductor and producer, with four Grammy nominations to his name (including BestChoral Performance for Annelies, 2014) among many other international awards.Whitbourn is a senior research fellow at St. Stephen's House, Oxford, a member of theFaculty of Music at the University of Oxford, and Director of Music at St. Edmund Hall,Oxford.Whitbourn adapted Son of God Mass from his score for BBC-TV's three-hour documentarySon of God (April 2001, aired in the United States as Jesus: The Complete Story).Whitbourn has written that the documentary's "sweeping vistas and astonishinglandscapes of the Holy Land" inspired him to compose the Son of God Mass, which had itspremiere on June 2, 2001, at St. Mary's Church, Kippington, in Sevenoaks, Kent, England.Whitbourn called the adapted music "a modern-day parody Mass," after the methodwhich flourished during the Renaissance. A "parody Mass" is a large-scale Mass settingwhich uses pre-existing musical material as part of its compositional material.The main choral movements, which set the Ordinary of the Mass (Kyrie, Gloria in Excelsis,Sanctus and Benedictus, Agnus Dei), can stand alone as a liturgical "missa brevis," scoredfor choir and organ. The other movements turn the work into a devotional concert pieceand introduce the evocative sound of the soprano saxophone, often playing over a choraldrone.In a 2012 review of Whitbourn's album "Choral Works," which included the Son of GodMass, critic William J. Gatens, writing in the American Record Guide, called Whitbourn'smusic "direct, somewhat repetitive, and above all accessible."Whitbourn wrote: "The use of the soprano saxophone stems from a vigil service for war-torn Bosnia, held a few years earlier, for which I had written some short, mantra-likephrases, sung first by the choir and then by the whole congregation, over which thesaxophonist John Harle improvised. I returned to this sound world when writing Son ofGod Mass."Program Notes by Eric Schwarz
Page 19
Terry Kohl, Board PresidentMatthew J. LaPine, Founder & Artistic DirectorKaren Keithler, TreasurerShirley Smoyak, SecretaryAngela Dohl, Events ManagerRise Up Chorus Board of DirectorsRise Up Chorus Artistic TeamMatthew J. LaPine, Adult Chorus DirectorJames Lubrano, Adult Chorus Collaborative MusicianMaddie Meier, Adult Chorus InternHelen Vassallo Kernizan, Youth Chorus DirectorFlorence Simons, Youth Chorus Collaborative MusicianMoriah Kam, Youth Chorus Intern Rise Up Chorus Adult Chorus Members Gregory PuchalskiJessica RoweEric SchwarzKaren SiegelVanessa SilvaShirley SmoyakKathy StaegerStefeny Stofa-KrombholzTom ThomasDonna TiuRomeo TiuDoris YounkenAnton YudinSkip Zipf Susan KingsleyTerry KohlJakob KrombholzLuke KrombholzSabina KunzeLinda LaPineChristina LeslieJoseph MansonetMaryann McGuireMaddie MeierBeth MoroneyKathy MuranoSanyogita PadhyeIsabel BadilloMaria BalboaCarol BaldiNancy BernheimerJeannine BurtonSue CeaNancy ConroyAngela DohlSarah GeigerCarol Hodapp-PuchalskiBrianna JacksonBarkha JainJennifer JenkinsKaren KeithlerRise Up Chorus Youth Chorus MembersLia OgatiMichelle PalankerinaJack RettagliataAdriana RiveraEthan De La GarzaJake JonesDaniel LaPineNikul MalooKrish OgatiDillan AlenAnoushka BhallaAnvesha BhallaSimran BhasinMaryann McGuire, Director of DevelopmentSarah Geiger, Director of CommunicationsSusan Kingsley, Director of OutreachIsabel Badillo, Librarian & Membership ChairKaren Leon, Youth Chorus Liaison Rise Up Chorus' next session begins Friday, December 3, 2021All are welcome, no auditions necessary!Everyone must pre-register online at w w w . R i s e U p C h o r u s . o r gCOME AND SING WITH US!
Page 20
SopranoMaria BalboaKatie CullinanSamantha FortunatoBarbara HellerEri KatadaGigi KsiazakLia MacirowskiAnnette MulhollandCecilia RowedderIoanna TsakalakosAmy VamesMegan Van DornAltoTrish BenningAnita BrinkerDoris BrossardSarah GeigerGwen GreenbergRebecca JohnsonEileen O'DonnellSherry Santos PerniceKamara RussoGražina Strolia Joanne WilliamsTenorDaniel CohenSteve DeckerGian GraciaJason HuiMarcia OlanderJoseph StahleyDavid TullochRichard WeidmannBassThomas AndersenPaul ConradDaniel GollandJames NicholsMichael RogersKevin St. MartinWill Vining In loving memory of John Beetham, longtimeHPCC tenor and birder extraordinaireMusic Director:Pianist:Benjamin T. BermanPaul ConradE-mail: hpcchor@aol.comWeb: www.hpchorus.orgwww.facebook.com/TheHighlandParkCommunityChorusPresident:Vice-President:Vice-President:Treasurer:Secretary/Librarian:Joanne WilliamsSteve DeckerAmy VamesKatie CullinanGražina Strolia
Page 21
Page 22
Page 23
Page 24
Page 25
Page 26
Page 27
Page 28
Page 29
Page 30
Page 31
Page 32