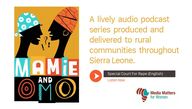 Return to flip book view
Mamie and Omo
Page 1
A lively audio podcast series produced and delivered to rural communities throughout Sierra Leone.Special Court For Rape (English)Listen Now
Page 2
What is Mamie and Omo?An audio podcast series portraying two fictional female friends debating the issues of the day.Two local journalists narratethe lives of Mamie and Omoto help women shareinformation, learn from eachother, hear crucial messagesand join in a movement thatbegins in their village andextends across their region.
Page 3
Our missionWe connect women and girls, those beyond the reach of traditional media, with information and inspiration that enables them to be healthy, live safely, and fully enjoy their rights.
Page 4
Our history Shortlisted for the BBC "One World Media Award."Went off-air with CTN radio.Revived by Media Matters for Women with the originalactresses and production team.All episodes are available on our archive:www.SoundCloud.com/mediamattersforwomen
2010201120182019-2021

Page 5
Our original contentOur listeners learn about:Human trafficking Rape Teenage pregnancySexually transmitted diseasesChild labor and exploitation Maternal and child mortalitySexual abuseAccess to educationFamily relationshipsClimate changeCovid-19Domestic violence FGMChild marriage..............
Page 6
DistributionOur learning shows that multiple channels work best:Peer-to-peer Bluetooth exchangesWhatsApp sharingMMW Listening CentersYouth AdvocatesTown CriersNational and community radio......
Page 7
Our assumptionsWe have learned that:Access to information drives changeIlliteracy remains stubbornly high in SierraLeone, audio podcasts are bestHigh-quality audio podcasts can now beproduced without studiosMobile phones + solar = broadcast reach to allcommunities, even during pandemics....
Page 8
Our metricsAudience appreciationOur listeners give us powerful examples ofhow our drama series has positively shapedtheir choices.Broadcast reachDuring Covid-19 we reach 50,000 direct listeners a month, not including radio, and 40% of our listeners are male.
Page 9
Our conceptGeorge BennettFormer Head of the BBC African Service and creator of "Mamie and Omo""Listeners eavesdrop on two feisty Salone women discussing the issues of the day. The professional journalists who portray Mamie and Omo don't need scripts because the themes are relevant to themselves - and to every woman in their country. This snappy formula of debate, argument and humour carries important messages simply and it's cost-effective."
Page 10
Top selling points"Mamie and Omo" offersimportant branding opportunitiesNow covering all 5 provinces of Sierra LeoneSignificant uptake by community leadersTrusted by listenersEffective in improving livesInforms and influencesTop female journalistsTrained teamCost-effective"Last mile" reachScalable..........
Page 11
A lively audio podcast series produced and delivered to rural communities throughout Sierra Leone Special Court For Rape English Listen Now