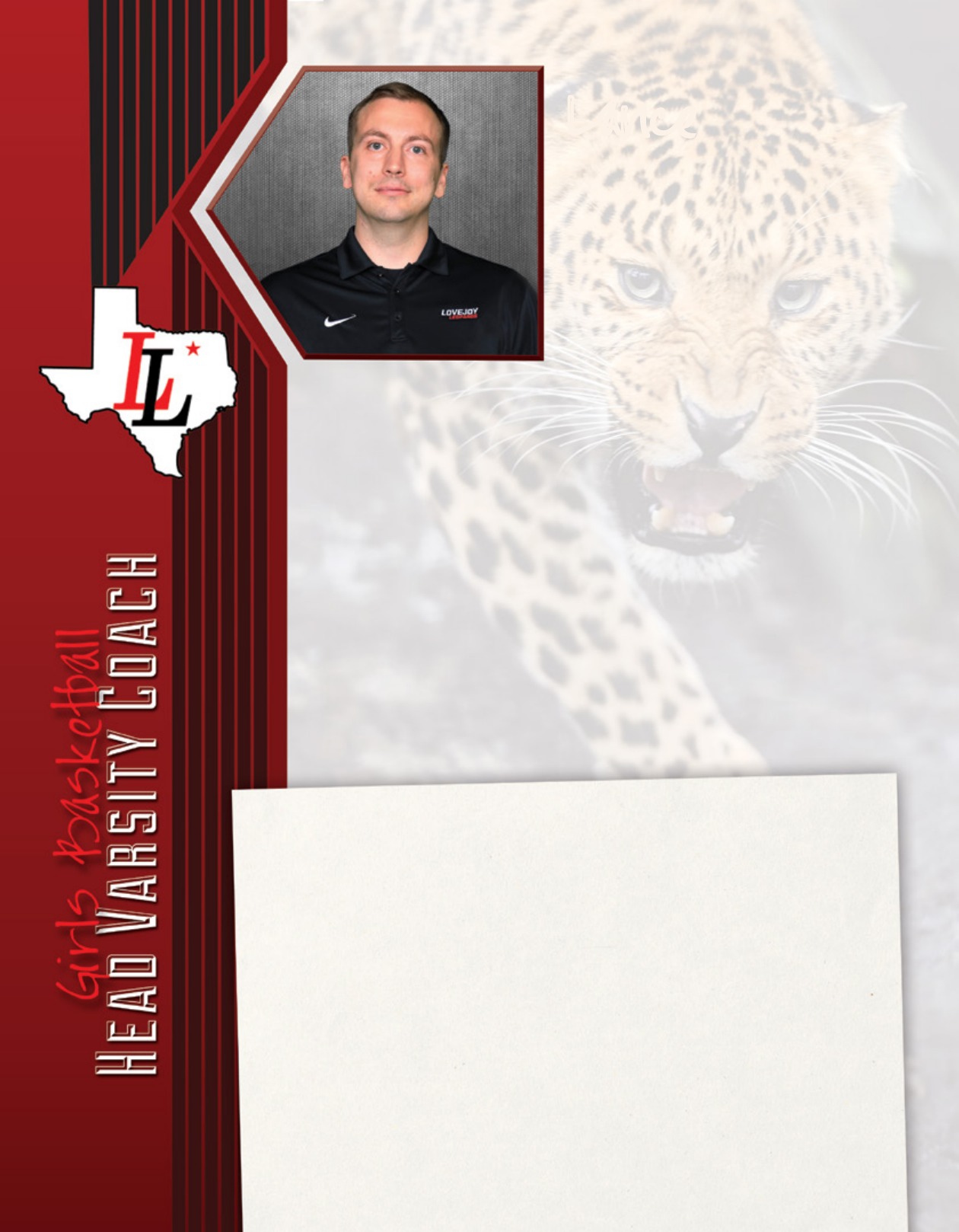 BOXELL
Family Members:
Nardeen and Nash
High School:
Ponder
College Attended:
Lubbock Christian
Career:
Krum- 6 years, Coached basketball,
track, cross country
Coppell- 2 years, Coached basketball
Lovejoy- 3rd year, Coach Basketball
Favorite College or o Team:
College- Duke
Pro- Mavs
Favorite Basketball Player:
Currently- Dirk
All time- Steve Nash
Hobbies & Interests:
Playing Xbox with Nash
Watching Sports on TV
at do you love about
coaching at Lovejoy?
I love working with our players each day.
All of our players work hard and are very
coachable. This makes coaching very enjoyable.
I am really looking forward to the season this year!
Favorite Quote:
"Communication does not always occur naturally,
even among a tight-knit group of individuals.
Communication must be taught and practiced
in order to bring everyone together as one." - Coach K
LanceLance
I'd like to welcome you to the 2016-2017 season of Lady Leopard Basketball!
This year's motto for our program is "Together As One", which is an integral part of what we believe is
important as a basketball team. Leopard basketball takes all of us: parents, administrators, coaches,
players, managers, and fans to unite as one for a common goal.
District 15-5A looks to be a competitive district with the likes of Highland Park, Royse City, Forney, North
Forney, Mesquite Poteet, Wylie East, and West Mesquite. With only one senior player and nine returning
Varsity Letterman, we are looking to make our mark on a new district that will undoubtedly prove to be very
competitive. Our experience, continued growth from last year, and our bond as a team will surely prove to
be invaluable throughout the grind of a district schedule. With only one Senior player, program numbers will
continue to rise, right along with excitement for Lady Leopard Basketball.
To the three seniors in our program, I have enjoyed being your coach for the past three seasons. While you
are a small in numbers, your impact has been immeasurable. You have led this group of girls to an amazing
start and your leadership is something that is very valuable to our program. I hope your senior year is the
best year yet. Good luck in the future!
Thank you for your continued support. Go Leopards!
Lance Boxell, Head Basketball Coach
6