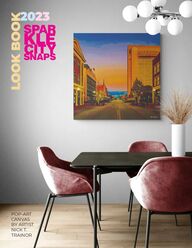 Return to flip book view
LOOK BOOK SAMPLER 2023
Page 1
LOOK BOOK2023POP-ARTCANVASBY ARTISTNICK T.TRAINOR
Page 2
Main Street Rain, Spartanburg, SC.from the Sparkle City Snaps Collection.FRONT COVER:Downtown Glow,Spartanburg, SC. See In Store See In Store
Page 3
POP-ART PHOTOGRAPHY PRINTS BY NICK T. TRAINOR www.SparkleCitySnaps.com | insta: @SparkleCitySnapsART PRINTS2022theNick65 CollectionVintage travel collection curated from my personal photography and curated images, from San Francisco, to Boston, New York City and beyond.Sparkle City Snaps CollectionFeaturing Images from Spartanburg "Sparkle City" South Carolina!
Page 4
Main Street Bike, Spartanburg, SC.Sparkle City Snaps Collection. See In Store
Page 5
Walker & Amos Sunset, Spartanburg, SC. See In Store
Page 6
Morgan In Blue Spartanburg SC See In Store
Page 7
Cherry Blossom Clock Tower Spartanburg SC Product Removed
This product is no longer available.
Page 8
Heinitsh Walker Neon Sign, Spartanburg, SC. See In Store
Page 9
Donut Shop Technicolor, Spartanburg, SC. See In Store
Page 10
Clock Tower Pink, Citizens & Southern,East Main Street South Side and Wall Street Night, Spartanburg, SC. See In Store See In Store See In Store See In Store
Page 11
East Main Street at Denny s Construction Spartanburg SC See In Store
Page 12
Sunset Brick, Spartanburg, SC. See In Store
Page 13
Clock Tower Pink, Citizens & Southern,East Main Street South Side and Wall Street Night, Spartanburg, SC.. See In Store
Page 14
East Main Street, Spartanburg, SC. See In Store
Page 15
Pete's Restaurant Vintage, Spartanburg, SC. See In Store
Page 16
See In Store See In Store
Page 17
COLLECTION www theNick65 com Vintage collection curated from my personal photography and my curated collection
Page 18
Hydra Harbour Hydra Island Greece See In Store
Page 19
Vibrant South Beach, Miami, FL. See In Store
Page 20
Village Transport NYC New York City NY See In Store
Page 21
Page 22
Village Transport NYC New York City NY See In Store
Page 23
Page 24
Startex Water Tower in Blue Startex Water Tower in Yellow and Startex Water Tower in Pink Startex SC See In Store See In Store
Page 25
Startex Water Tower in Yellow Startex SC See In Store
Page 26
Copley Square, Boston, MA. See In Store
Page 27
Bowen's Reection, Inman, SC. See In Store
Page 28
Edisto Marsh Edisto Island SC See In Store
Page 29
Sporty Bus San Francisco CA See In Store
Page 30
The Margaret Hunt Hill Bridge, Dallas, TX. See In Store
Page 31
Old Bar, Chattanooga, TN. See In Store
Page 32
HA RA Tenderloin San Francisco CA See In Store
Page 33
Thunderbird 1957, Unknown Location - From The Curated Collection. See In Store
Page 34
The Fireside Mill Valley CA See In Store
Page 35
Southwestern Garden, Dallas, TX. See In Store
Page 36
Brian's Roadside, New Prospect, SC. See In Store
Page 37
Boston Common Winter, Boston, MA. See In Store
Page 38
Swap Shop Dallas, TX. See In Store
Page 39
Pittsburgh Union Trust Building, Pittsburgh, PA. See In Store
Page 40
Orchard Street Corner Store, New York, NY. See In Store
Page 41
POP-ART CANVAS PRINTS BY NICK T. TRAINOR SparkleCitySnaps.cominsta: @SparkleCitySnaps