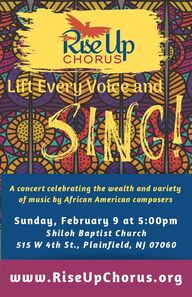 Return to flip book view
Lift Every Voice and Sing!
Page 1
Lift Every Voice andwww.RiseUpChorus.orgSunday, February 9 at 5:00pmShiloh Baptist Church515 W 4th St., Plainfield, NJ 07060A concert celebrating the wealth and varietyof music by African American composers
Page 2
From theArtistic DirectorIf you're anything like me, you can remember "snapshots" of memories past. Youmight remember a special birthday party when you were young, or the time youfinally rode a bicycle without training wheels. I can pinpoint a couple of moments inmy life when I first fell in love with music. The earliest memory I have was fromwhen I was two years old (yes, I vividly remember this!) and I was watching anepisode of Sesame Street. In the episode, Telly was playing the tuba, and ItzhakPerlman, the great violinist, came in and joined Telly in a beautiful duet. Anothermoment took place when I was a little older, possibly eight, and my grandmotherbought me a cassette tape of classical music. I thought it had beautiful artwork onthe cover, but little did I know that the piece of music on the cassette tape, Brahms'4th Symphony, would become one of my favorite pieces of music to this day.Unlike these moments -- these snapshots in time, I don't remember a "snapshot"moment where I "fell in love" with Gospel music, hymns, or Spirituals. I grew up inthe city of Springfield, Massachusetts which had a very diverse population, and I wasprivileged to live in a neighborhood which was very racially diverse. Culturallyspeaking, it was a blessing. I found aspects of traditions from homes other than myown that were appealing to me. I smelled aromas coming from the windows ofhomes on my street of foods that I didn't necessarily have in my own home. It is awonderful memory! One thing that particularly stuck with me, however, was themusical traditions of some of my friends' families who happened to be AfricanAmerican.I remember seeing Gospel choirs on TV and being intrigued with the power yetsubtlety of their sound, being mesmerized by their intensity, and falling in love withtheir passion. Fast forward to my first choir experience in high school, where I wasintroduced to some of the great arrangements by William Dawson. I rememberknowing that they told an important story, and I couldn't help but feel a personalconnection to the story that they told.My first introduction to the Spiritual arrangements of Moses Hogan was in aMassachusetts All State choir; it was his arrangement of "The Battle of Jericho." I hadnever heard anything like that, and I wanted to know if more of these arrangementsexisted. Of course, there is a treasure trove of these arrangements! (Little did I knowthat I would have the experience of working with Moses Hogan, himself, only a fewyears later…)When I was a freshman student at Westminster Choir College, a friend of mine wasin Westminster's Jubilee Singers – an ensemble which specialized in sacred musicfrom the African American tradition – and he thought that I would enjoy it, so Iauditioned and joined in my second semester. It was an awakening like no other!Not only did I rekindle a passion for the music that we performed, but I also learnedso much about the music and why the music existed in the way that it did. It wasthere that I met Professor Dumpson who became a mentor and role model for me.
Page 3
Under his tutelage, I was pushed to always better myself, to never take things forgranted, and to work hard to understand the meaning, both explicit and implicit,behind every piece of music I am to perform. Thanks to Mr. Dumpson (now Dr.Dumpson!), I've been inspired to share what I've learned with my choruses eversince.A couple of years ago, I had the opportunity to sit in a lecture by Dr. Marques L.A.Garrett at the ACDA Eastern Division Conference in Pittsburgh, PA. His presentationwas about something that he called "non-idiomatic music" by Black Americancomposers. What he was referencing was that, when people think of AfricanAmerican composers, they often first think of Spirituals, Gospel music, andhymnody. What they fail to recognize are the contributions of African Americansto the classical repertoire.That insight from Dr. Garrett was the impetus for this particular concert. Althoughwe have been sure to program music in the expected Spiritual and Gospel idioms,we worked hard to ensure that we brought a wider array of music to you,including classical choral compositions by contemporary African Americancomposers. We want this to be as much of a learning experience for you, theaudience, as it is an inspirational one.Finally, I'm honored that the Adult Chorus had the opportunity to work with mymentor, Dr. J. Donald Dumpson, and I'm thrilled that he is joining us tonight inthis performance. Dr. Dumpson holds a very special place in my heart, and I knowhe'll find a place in yours.Thank you for being part of our Rise Up Chorus community. You're alwayswelcome to spend time with us, whether as an audience member or as a memberof one of our choruses! Anyone can sing with Rise Up Chorus, no matter what. Noauditions or experience are necessary. You can always email me atmlapine@riseupchorus.org with any questions you may have. I hope to see youagain soon!Best regards,COME AND SING WITH US!Rise Up Chorus' next session begins Friday, February 21, 2020All are welcome, no auditions necessary!For information and to sign up email or call: mlapine@riseupchorus.org  732-662-4469
Page 4
Page 5
Page 6
Page 7
Page 8
A word from our president.....Much effort by many people has been required to get us to this day, and thereare so many to thank for bringing this event to fruition. On the occasion of thisconcert, our eighth full production since our first performance in 2017, weextend our heartfelt gratitude…To Shiloh Baptist Church in the City of Plainfield for working with us to providesuch a beautiful and welcoming setting for our concert to honor the beautifuland inspiring music of these African American composers. Special thanks go toWendell Woods for his help in planning for this event. Collectively, the guidanceand assistance on the development of today's program from those at Shiloh BaptistChurch have helped us share these notable works.To Father Zelley and the staff of St. Luke's Episcopal Church in Metuchen forallowing us continued access to sorely needed and much appreciated rehearsal andstorage space. Their belief in our mission and trust in us has laid a firmfoundation for a brilliant and hopefully long-lasting collaboration among theirfaith community and the surrounding communities of Central NJ.To our Chorus Members for your time in practicing and presenting the music wewill share today. Whether with Rise Up Chorus since the beginning or newlyjoining this session, your efforts are acknowledged and very much appreciated.Special thanks go as well to those Chorus Members who also volunteer additionaltime and effort for fundraising and administration in support of the entireorganization. What you do helps keep costs for running Rise Up Chorus down inorder to remain true to its mission of remaining tuition-free, so that all mayparticipate.To our Donors for your generous financial support towards this third season forRise Up Chorus. It is difficult to adequately express how much we appreciate yourcreative approaches and personal sacrifices towards funding all that we do. Thesecontributions, and those that we hope will come following your example, areessential to the communities we serve.To my fellow Board Members for the support they volunteered for Rise Up Chorusfrom their time and talents for these many prior months of planning, refining andfund-raising for the organization. Special thanks to Angela Dohl for her creativityand hard work in preparing this program booklet. Without all these talentedindividuals, we would have been unable to bring this organization forward for thebenefit of its members, the community, and those we will serve over the comingyears.To our Founders and Music Professionals for their vision, and selflesscontributions of artistic and technical talent. Matthew LaPine, Jessica LaPine, andThomas DeLessio called this organization together from their vision of all that ispossible through music. Our gratitude extends as well to Mary McGuire who leadsour Youth Chorus which expands and augments the Rise Up Chorus experience,and special thanks to Dr. J. Donald Dumpson for his insights, instruction andcoaching towards the performance of the musical selections we will performtoday.
Page 9
Rise Up Chorus would simply not exist without the contributions, dedication andtrust of all those mentioned. We are so very grateful that we are on this journeytogether with you!With sincere appreciation to all,Chris M. BishopPresident, Board of DirectorsProgram Notes"You cannot imagine American music without its African influences. It justdoesn't exist."—Benjamin Harbert, an assistant professor of music atGeorgetown University (quoted by Mac Dressman and Yewande Ilawole in a2017 article from the Georgetown student newspaper, The Hoya).African-American music is often defined in terms of genres. A 1987 book forchildren by Clive Griffin,Afro-American Music, broadly defines "blackmusic in the U.S.A." under the genres of gospel, the blues, soul, and jazz.Author Kalamu ya Salaam, writing in theAfrican American Reviewin 1995,defines four major genres of what he calls Great Black Music: "Gospel, orreligious music; Blues; Jazz; and Black Pop or R&B, which includeseverything from Jump Blues, Doo-Wop, Soul, and Funk to New Jack Swingand, arguably, Rap (as an extension of R&B)."Another scholar, Marques Garrett, an assistant professor of music at theUniversity of Nebraska-Lincoln, identifies spirituals, gospels, and jazz asthe traditional (idiomatic) representations of African-American music thatare often sung for celebrations of Black History Month."Black music adds a layer of diversity to the American identity andconstantly responds to the black American experience," Dressman andIlawole write. "The daily struggles, triumphs, hopes and failures ofgenerations of black Americans are carefully and methodically recordednot only in the pages of history textbooks but also by the music and lyricsof the era."On the Choralosophy Podcast, Garrett says: "Unfortunately, if you don't seepeople who look like you doing something, you might think that it issomething you can't do. Which is why when we teach this music, it'simportant that people know what these composers look like."The history of spirituals is inextricably linked with that ofslavery.According to Dressman and Ilawole: "When slaves were brought toAmerica, their music and culture came with them. Slave owners forced
Page 10
their slaves to convert to Christianity, and, out of this blending of EuropeanChristianity and African music tradition, the Negro spiritual wasborn."Spirituals not only served as an expression of sorrow but also as acode to orchestrate escapes and rebellions. Music was not just a luxury to beenjoyed in free time but also a necessity to spiritual and physical survival.Although the commercial popularity of the spiritual died down after theCivil War, they experienced a resurgence during the Civil RightsMovements. "In conjunction with gospel music, spirituals were used to express theoppression that still plagued blacks 100 years after emancipation. Often,music historians consider Negro spirituals to be folk music, which, bynature, must tell a story — a clear legacy of African oral tradition."Salaam argues that Great Black Music (GBM) "speaks to people worldwide"and is the "most identifiable and most developed cultural expression" ofAfrican-Americans."First of all, GBM retains not only the African pulse of life, a rhythmicsensibility/spirituality (the 'drum connection') which all peoples relate to,but also, and more importantly, GBM retains the African principle ofinclusion and adaptability. Essentially this means that there is room foreveryone to be included on their own terms and that everyone can adaptthe music to their own purposes."Second, GBM expressly advocatesfreedom and democracy, individual expressiveness and collectiveparticipation.""GBM stresses a connection to tradition even as it transcendstradition; it offers a musical manifestation of the African philosophicalprinciple of accommodation and adaptation. I call it embracement becauseit creates something new while celebrating something old," Salaamwrites.GBM emphasizes "participatory democracy (i.e., communal musicmaking which encourages each individual to contribute creatively)," he alsowrites."Participatory democracy encourages, even demands, open-endedcontributions from all present (be they musicians or 'audience members').... GBM … has afforded African Americans a way to elevate both thecollective and the individual at the same time, in an open-endedembracement, without diminishing either.""Black music adds a layer ofdiversity to the American identity and constantly responds to the blackAmerican experience," Dressman and Ilawole write. "The daily struggles,triumphs, hopes and failures of generations of black Americans arecarefully and methodically recorded not only in the pages of historytextbooks but also by the music and lyrics of the era."Program Notes by Eric Schwarz
Page 11
J. DonaldDumpson, Ph.D., is President& CEO of Diverse Arts Solutions,Minister of Arts at the Arch StreetPresbyterian Church in Philadelphia,PA., founding Artistic Director of thePhiladelphia Heritage Chorale, Inc., theNew Jersey Symphony OrchestraCommunity Chorus (NJSOCC) and theWestminster Choir College JubileeSingers. He has taught at CheyneyUniversity and the Philadelphia HighSchool for the Creative and Performing Arts.Dr. Dumpson debuted at Carnegie Hallin2001 with the Westminster ChoirCollege Jubilee Singers performingGershwin's"Porgy and Bess"underthe baton of the late maestroSkitch Henderson. He hasprepared choruses for Maestros Willian Curry, Leslie Dunner, CharlesDutoit, Zdenek Macal, Bobby McFerrin, YannickNézet-Séguin, Julius Rudel, Andre Raphael Smith, Jason Tramm andJulius P. Williams.Dr.Dumpson, committed to building bridges of creative culturalexchanges through arts education and ministry, has served as co-producer of the "Lou Rawls An Evening of Stars" benefitting the UnitedNegro College Fund, chorus master for"Breaking the Rules; An EveningwithDenyceGraves"; Kathleen Battle's stellar concert, "TheUnderground Railroad"; curator of regional singers for the WorldMeeting of Families "Festival of Families Celebration" performancefeaturing the late Aretha Franklin, Andrea Bocelli the PhiladelphiaOrchestra, and the Philadelphia Heritage Chorale and conductor forOpera Philadelphia's development workshop of"We Shall Not BeMoved", composed by Daniel Romaine and directed by Bill T. Jones, andis the artistic and music director of Kimmel Center Presents' annualconcert "A Soulful Christmas.".About Dr. J. Donald Dumpson
Page 12
With Special Guests Dr. J. Donald DumpsonCrystal CharlesHubbard Middle School Choir, Jessica LaPine - DirectorMembers of Shiloh Baptist Church Music MinistryMatthew J. LaPine - Adult Chorus DirectorMary McGuire - Youth Chorus DirectorThomas DeLessio - AccompanistChris M. Bishop -Board PresidentThomas DeLessio - AdvisorAngela Dohl - Events ManagerSusan Kingsley - Communications ManagerTerry Kohl - Community Relations LiaisonJessica LaPine - AdvisorMatthewJ. LaPine - Founder & Artistic DirectorDanielle Miyagishima - TreasurerShirley Smoyak - SecretaryLift Every Voice and Sing!Rise Up Chorus Board of TrusteesDonations to Rise Up Chorus can be madethrough our website www.riseupchorus.org or by mail to: Rise Up ChorusPO Box 4335Metuchen, NJ 08840 Rise Up Chorus is a registered 501(c)(3) non-profit organization
Page 13
I Sing Because I'm HappyTotal PraiseGlory, GloryPraise His Holy NameContributions to Pop MusicRise UpAndra DayContributions to Gospel Musicadapted by Rollo Dilworth Richard Smallwood Traditional Gospel from the oral/aural traditionarr. J. Donald Dumpson Keith HamptonLift Every Voice and Sing!Victor C. Johnson Victor C. Johnson Moses Hogan Duke Ellington Andre J. Thomas Victor C. Johnson Irving Berlin, arr. J. Donald Dumpson Rollo DilworthUbi CaritasA Jubilant SongLike a Mighty StreamIt Don't Mean a Thing if it Ain't Got That SwingI Dream A WorldRain MusicGod Bless AmericaJusticeCrystal Charles - SoloistContributions to Classic, Jazz, and Choral IdiomsJ. Rosamond Johnson, arr. Roland Carter Traditional Spiritual, arr. Jester Hairston African American Spiritual, arr. J. Donald Dumpson Traditional Spiritual, arr. L. L. Fleming Traditional Spiritual, arr. Rollo DilworthLift Every Voice and SingElijah RockFix Me JesusRide On, King JesusClimbing up the Mountain, ChildrenCreation of African American SpiritualsCrystal Charles - SoloistJoseph Pacillo and Christina Leslie - Soloists
Page 14
Youth Chorus MembersDillan AlenAnoushka BhallaSimran BhasinSophia DimayugaDaniel LaPineAnna LeonNikul Maloo Mildred OgariSarah OgariKanisha ShivAnika ValluruAdult Chorus MembersIsabel BadilloMaria BalboaCarol BaldiNancy BelfordNancy BernheimerSharon BirnbaumChris BishopJeannine BurtonBruce BussellMachiko CaputoStephen CaputoSue CeaAlison ChaplinChris DamociSherri DamociAnita DaughertyKenneth DengLynne Deng Shauna EvansFord FosterNanette FrancisSarah GeigerPatricia GlaveCarol GoddardJeremy GroveMichael GuidoDanica IglopasKaren KeithlerSusan KingsleyTerry KohlChristina Leslie Diane MansmannJoan MastMary McGuireMaryann McGuireBeth MoroneyJoseph PacilioEric SchwarzMichelina SeppiKaren SiegelShirley SmoyakFran SobonKathy StaegerDonna TiuRomeo TiuDoris YounkenAnton Yudin
Page 15
Rise Up Chorus is made possible bythe generosity of the following donors:Suzanne & Chris BishopKenneth & Lynn DengBarbara & Robert SandermanShirley SmoyakDavid Derex Art and PhotographyMiddlesex County Arts & History GrantThrivent CaresMonika BagleBass Section of RUCNancy BelfordNancy BernheimerJane & Robert BerryMelanie BissonDennis BlackAlison Seiner BrownAmy and Keith BuninGina & Bruce BussellYolande CallenderMillie CamachoBruce CamireAlison ChaplinMary Jane ConnollyNancy & Michael ConroyCorinna Crafton Alai Anne CullinanaKathy & Chris DaltonDottie DargisDorothy & Jim DeGeorgeBecton Dickinson Clifford ParrishLisa ParrisJosephine PedalinoWeng PinedaEmily PresutoLuann Reed-SiegelSandy ReedyWilliam SchnellerKaren SiegelKathleen SpadafinoJessica StanislawczykAziz ThomasDoris YounkenAmerican Museum of Natural HistoryAT&TE & E FlowersNew York JetsOptique UniqueRVCC PlanetariumPlayhouse 22Tre BellaWood StackWendy DiLeonardoElly FadenRick FortuneJennifer GarrShari GarretsonMichael GuidoSusan HamiltonSarah HannahAnn HergenrotherKaren KeithlerDeborah KilmerDavid KirpanBeth LebelAnne LynchJulie MacriMary T. & Mike McGuirePaul McGuireDebbie McGuireJackie & Tom McGuireJennifer & Tommy MichaelsDoland MoloneyLinda & Alexis MonacoUp to $100Up to $250Anita DaughertySarah GeigerStanislav JaraczSusan & Jonathan KingsleyTerry KohlJessica & Matthew LaPineNorthlandzThe Stress FactoryAmy Jane Agnew & Noble AvellinoJoanne BackhusBruce BushMary McGuire & Ford FosterLinda LaPineDiane MansmannLou Ann & Bill McGuireMaryann & Thomas McGuireBridge MarinaColgate-PalmoliveFiddler on the Roof ManagementOver $1000Up to $1000Up to $500Alto Section of RUCIsabel BadilloMaria BalboaTom BishJeannine BurtonMachiko & Stephen CaputoHelene DiazKaren & Benito LeonBeth MoroneyJoan MastDonn & John McGuireJean MeyersAngela & Walter SchoepfMickey SeppiLisa SmoyakFran SobonKathy StaegerEntertainment CruisesFujifilmNew York PhilharmonicNJ SymphonyOrchestraSomerset Patriots BaseballThe State TheaterUOA Sport Performance & Wellness
Page 16
Page 17
Page 18
Page 19
Page 20
Page 21
Page 22
Page 23
Page 24