Bring Your Shopify, 3dcart, and Etsy Products To Where Your Customers Hang Out
Shopify, 3dcart, and Etsy are incredibly easy platforms to set up and sell your products. But they all suffer from the same problem all destination sites do on the web. How do you get people to find your store in the first place. You've got this beautiful looking online store full of amazing products, but it's like your store is sitting at the end of a long road. Customers just aren't showing up.
This is because the web has fundamentally changed in the way people discover and interact with products and services. Customers only visit a few spots on the web with any regularity; their social feeds, Google to look something up, email and messaging for notifications, and a few destination sites and blogs for trusted content. So how do you meet them in these locations instead of waiting for them to find you? It's time to pack up the best of your store and take it to where your customer hang's out. Let's go attract some customers.
Go To Your Customers
What if you could "virtually" go door to door and present potential customers your products and services? Take a few products, make an engaging presentation of their value, and give your customer the ability to buy right there.
Show off a product or two.
Create a more dynamic emotional response in your customer about your product.
Reaches visitors in multiple digital channels (social, email, website).
This isn't about overwhelming them with everything you have, but inserting yourself in their daily routines with a couple of relevant products.
Creating Your Popup Store
First things first, you need to select a few products from your store that you want to promote. For example, maybe you want to promote some jewelry for graduation celebrations, or some sunglasses for skiers, or a few nutritional supplements for hikers.
This is about highlighting one to two products that would be relevant to an event, a promotion, or some subject matter. A product or two that you sell that you have a particular passion for, and know it would be a great solution in a specific situation. Your store has many more products than just these, but by targeting your customer with relevant, hand-picked products, instead of overwhelming them with everything you offer, your chances are much higher that you'll see a sale.
So now that you've identified one or a few products, you'll want to put together your popup store microsite.
Effective Popup Stores Have These Features
Remember, your popup store is similar to a brochure or flyer presentation, focused on presenting a product in the most effective manner. Your product gets to take center stage on this webpage and hold your customers attention.
Some approaches you want to take are:
Images Influence
All products pull at the emotions of a customer before they buy. Your goal is to make sure you associate your product with the emotions you want to be associated with. You want to mix photos of your products with the experience and emotions they evoke. This doesn't mean you need action shots of your product. Photos of someone skiing on a great day are enough to fill your customer with a sense of joy and how your sunglasses can enhance that experience.
Authentic Content
They know when you are talking over them, not to them. You've got a great product, don't jam it down their throats. Give them insight into why you created the product, why you chose to sell it, why you think it's worth the money. Selling sunglasses? Explain why you don't like the chemicals in plastic frames leaching into your face. Talk about the features that make it your ideal solution.
Why you love this product.
Why is this product relevant in this situation.
Why now is the right time to buy it.
Keep It Short
No one has time anymore. There is just so much content bombarding us that it's hard to stay interested in one subject for a long time. Avoid multiple paragraphs with lots of description. Keep your messaging on point. If you've made 10 pages, can you shorten it to 6 pages?
Large, bold text is very effective, especially when combined with photos. Make the transition between pages of your brochure microsite compliment what you are presenting: card flips are great for creating anticipation while a double page layout can be more immersive.
Customize your Microsite Presentation To Compliment your Content

One of the really powerful aspects of simplebooklet is how much you can customize the page your brochure is presented upon. Make sure to add a background that nicely compliments your page content. Use the support menus to add contact points for your customer. These are laid out to enhance your presentation and provide a professional experience.
Your logo is a very powerful brand reinforcer. Make sure you add it to your microsite to build trust with your customer.
Go To Your Customers
You've got an amazing new brochure microsite that really sells the benefits of your products. That's terrific, but now you have to get it to your customers where they hang out. This is where simplebooklet shines. You'll be sharing your products across multiple digital channels in ways that really engage with your customers.
Post it to Facebook
You've probably got a facebook fanpage for your store and one for yourself. You'll want to post your brochure microsite to each of these locations. Simplebooklet automatically formats it to look good and be engaging.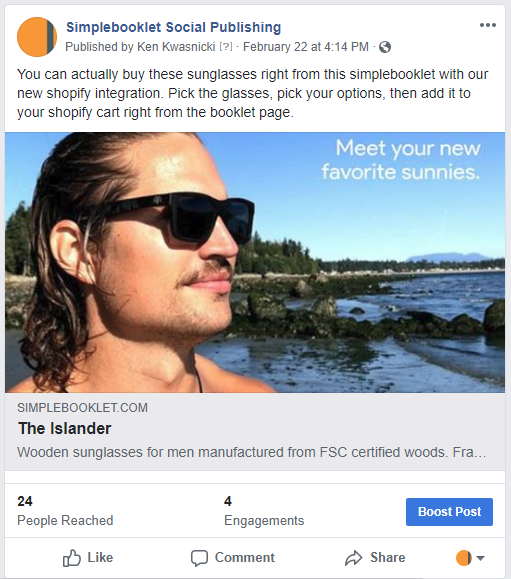 Using the animated image or the video is a great way to catch a facebook customer's attention as they scroll through their feeds. Tapping on the facebook post image launches your brochure microsite immediately.
Email and Subscriber List
Email is still a huge part of everyone's life. Don't be afraid to use it to communicate with your customers. Simplebooklet builds dynamic, rich html emails that work across all modern email clients. They look great and show you know how to professionally communicate online. It's a much more trustworthy way to communicate with a potential customer than attaching a pdf or powerpoint and hoping they can download your large file.
If you use a tool like mailchimp, you'll also be able to add your microsite to your templates, making it easier to share to your subscriber list.
Email Signature
Adding your brochure microsite to your email signature means that every time someone gets an email from you gives them instant access to your product of the month. Switching up the signature on a monthly schedule with a new product microsite will drive interest and highlight what you care about.
Pinterest
Pinterest is often an overlooked platform for promoting your product. It shouldn't be. The unique way pinterest allows people to collect around a specific subject is extremely valuable to keeping your product associated with complimentary concepts and ideas.
For example, a pinboard filled with surfing photos, with your product displayed as one of those pins as a valued product to this community, helps bring trust and authenticity to what you are selling.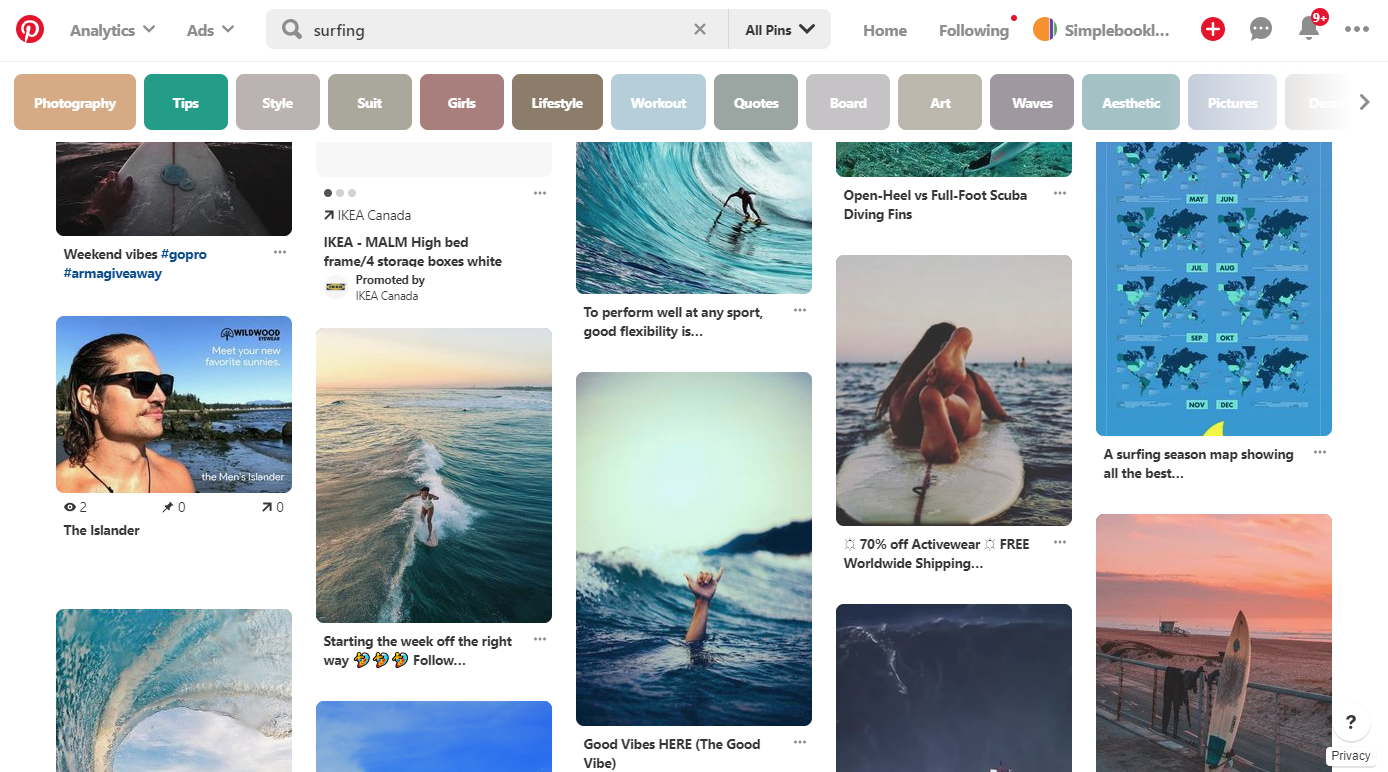 Pinterest is also unique in that your content stays around longer. Unlike instagram, twitter, or facebook, where your product will appear for a few hours or less, Pinterest keeps your content on boards forever. Your odds of being resurfaced in searches and browsed pinboards is much higher than other social networks.
Blogs
Your brochure microsite can be embedded right on the pages of other websites. If you've got a blog or some blogs that you are friendly with, this is a great way to get your products presented effectively to the blog readership. If you're not convinced of the power of blogging, take a look at this infographic. https://www.quicksprout.com/corporate-blogging/
Use your QR code
Every simplebooklet microsite has a QR code. Place this on all your print collateral or other marketing ideas to create easy ways to open your product sheet on a mobile device.
Driving traffic is all about connecting the dots between your brand and your buyers in a world of ever-growing possibilities. That's partly what makes marketing so overwhelming - the fact that there are just so many opportunities out there.
It Doesn't Need To Be Just About Selling
Brochure microsites don't need to just be for selling a product either. You can create effective marketing and customer support collateral with a simplebooklet. Many shops create product guides, spec sheets, and even after sales support material. Even just an about you brochure or an expert posting are good at driving your authenticity in the eyes of a customer.
Care and Maintenance of your Product
After market servicing parts brochure
Why you do what you do brochure
Guide book to getting the most from your product
These after sale support collateral pieces can also be useful for selling add on products or replacement parts.
Experiment
The great thing about building microsites is that they are disposable. Create one or two, see how they work, then create a few more and remove the ones that don't work. They are a great way to explore and get feedback from your customers on what they like about your products and the value you are providing.
There's no one-size-fits-all approach to this. Exploring, trying, failing and improving is the only way to find out what works for you. So get your store out there, because it's the only way to grow.
Some example shops promoting on simplebooklet