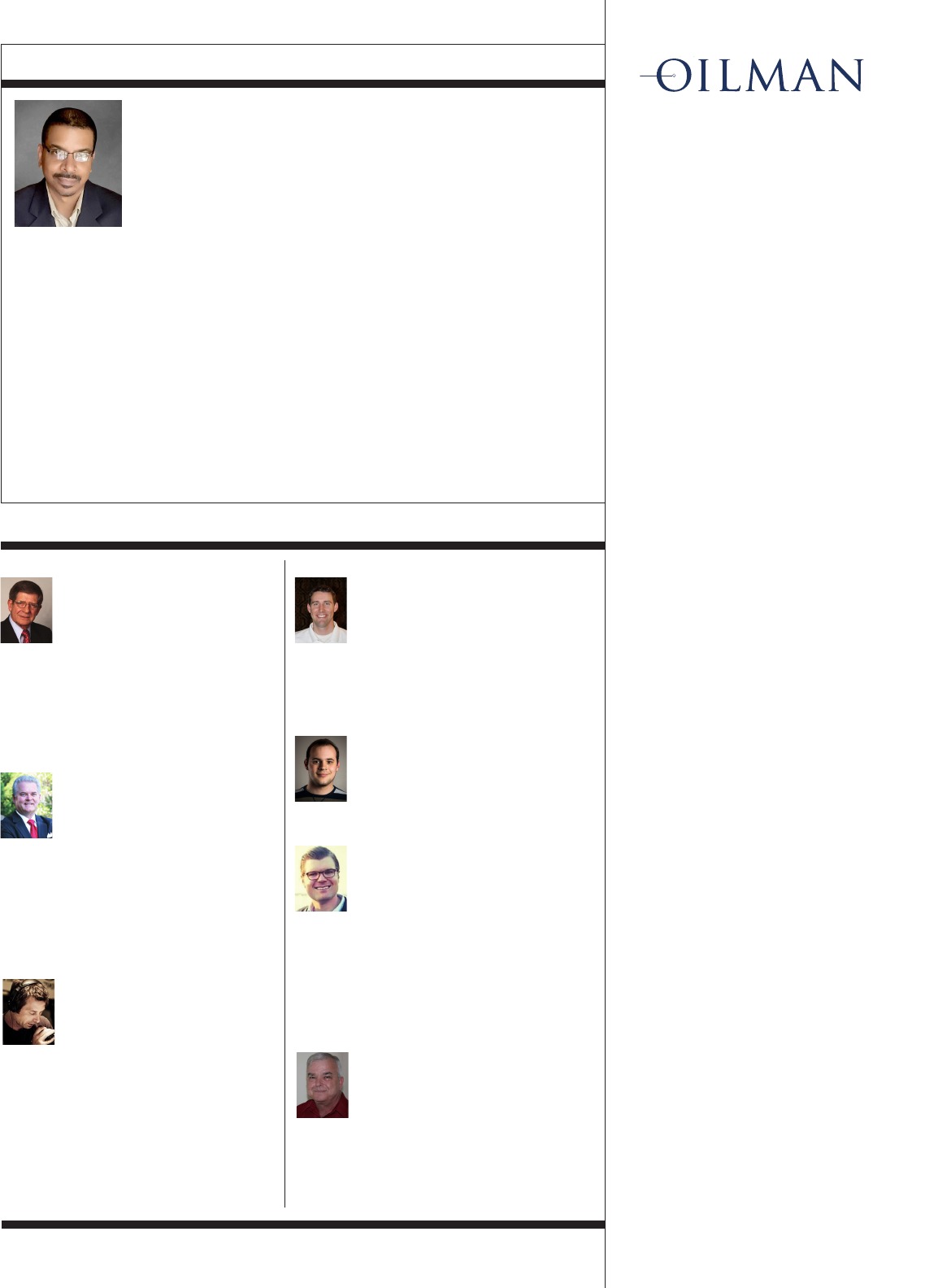 During the oil and gas slowdown the last two years, employees across many
sectors of
the industry were laid off, wage increases were limited, and many
were denied promotions. The brighter side to that unfortunate slowdown was
many employees took that as an opportunity to improve their skills by attending
seminars, streaming webinars, and brushing up on knowledge that would propel
them for better opportunities as the industry turned around. A wise decision for
those that are still employed, as well as for the unemployed seeking a marketing
advantage over the next candidate.
Our feature in this edition takes a look at education and training technology the oil and gas industry
will need for the future. It's difcult to know what specic niche skills will be in demand ten years
from now; however, starting from the basics of
what we know today, either through a bachelor's
degree, a trade program, such as welding technology, and even a graduate degree to learn advanced
techniques, is the best approach for a successful career.
Learning the latest skills and knowledge is often found in continuing education and advanced
certication programs. It is proven that on-the-job training and real-world practice is the best way
to learn a skill and gain knowledge. But once you've reached your profession's standard body of
knowledge through higher education or on-the-job training, over time standard practices change, ways
of
doing tasks become obsolete, and new techniques and knowledge are introduced to the eld, as
the oil and gas industry advances. Some have even found that attending trade shows provide valuable
knowledge they can use at work.
There is no doubt that completing continuing education courses, learning an in-demand industry
skill, earning a degree, or joining a professional organization, is the best investment you can make in
yourself for an industry that is in constant change.
PUBLISHED BY
Oilman Magazine, LLC
Houston, TX 77215
(800) 562-2340
OilmanMagazine.com
PUBLISHER
Emmanuel Sullivan
publisher@OilmanMagazine.com
(800) 562-2340 Ex. 5
EDITOR
Jennifer Delony
DIGITAL CONTENT MANAGER
Tim McNally
GRAPHIC DESIGNER
Kim Fischer
CONTRIBUTORS
Don Briggs— LOGA President.......
Mark Stansberry— Chairman of
The GTD
Group.......
Joseph DeWoody— President of
Clear Fork Royalty, an
oil & gas royalty investment company located in
Fort Worth, Texas.......
Steve Burnett— CrudeOilCalendars.com....
Story Sloane III— The Sloane Gallery in Houston,
Texas (281) 496-2212).......
Paul Flessland— Photographic Artist,
PaulFlesslandPhoto.com.......
Jason Spiess
Joshua Robbins
SUBSCRIPTIONS
OilmanMagazine.com/subscribe
ADVERTISING
(800) 562-2340 Ex. 1
advertising@OilmanMagazine.com
OilmanAdvertising.com
© Copyright 2017 by Oilman Magazine, LLC. All rights reserved.
Reproduction without permission is prohibited. All information in
this publication is gathered from sources considered to be reliable,
but the accuracy of the information cannot be guaranteed.
Image credits — The Sloane Gallery, Houston, TX; 123rf.com..........
LETTER FROM THE PUBLISHER
CONTRIBUTORS — Biographies
Don Briggs
Don Briggs is the President of the Louisiana
Oil and Gas Association. The Louisiana Oil
& Gas Association (known before 2006 as
LIOGA) was organized in 1992 to represent the
Independent and service sectors of
the oil and
gas industry in Louisiana; this representation
includes exploration, production and oileld services. Our
primary goal is to provide our industry with a working
environment that will enhance the industry. LOGA services
its membership by creating incentives for Louisiana's oil &
gas industry, warding off
tax increases, changing existing
burdensome regulations, and educating the public and
government of
the importance of
the oil and gas industry in
Mark A. Stansberry
Mark A. Stansberry, Chairman of The GTD
Group, is an award-winning author, columnist,
lm producer, radio talk show host and 2009
Western Oklahoma Hall of
Fame inductee.
He has been involved in the oil and gas
industry for over 39 years. He is currently
serving as Chairman of
the Board of
the Gaylord-Pickens
Museum/Oklahoma Hall of
Fame, Vice Chairman of
the
Board of
Regents of
the Regional University System of
Oklahoma, Board of
Directors of
OKC Port Authority,
Board of
Governors of
the Recording Academy/Grammys
Texas Chapter, Lifetime Trustee of
Oklahoma Christian
University and Board Emeritus of the Oklahoma Governor's
International Team. He has served on several private and
public corporate boards.
Jason Spiess
Jason Spiess is an award winning journalist, talk
show host, publisher and executive producer.
Spiess has worked in both the radio and print
industry for over 20 years. All but three years of
his professional experience, Spiess was involved
in the overall operations of the business
as a principal partner. Spiess is a North Dakota native,
Fargo North Alumni and graduate of
North Dakota State
University. Spiess moved to the oil patch in 2012 living and
operating a food truck in the parking lot of
Macís Hardware.
In addition to running a food truck, Spiess hosted a daily
energy lifestyle radio show from the Rolling Stove food truck.
The show was one-of-a-kind in the Bakken oil elds with
diverse guest ranging from U.S. Senator Mike Enzi (WY) to
the traveling roadside merchant selling ags to the local high
school football coach talking about this week's big game.
Joshua Robbins
At Beachwood Marketing Group, our mission is to
market oil and natural gas properties in the most
cost effective and efcient way. We strive to provide
excellent leadership and unparalleled service for
each of our clients. Josh has been instrumental in
dening Beachwood's market leading solutions and
has overseen the company's expediential growth. Josh is also an
accomplished writer on the acquisition and divestment market
and a speaker and presenter at conferences. He continues to keep
his focus on the strategic direction of
Beachwood Marketing
Group and its expansion into new markets.
Paul Flessland
Paul Flessland is an editorial, event and portrait
photographer based in Fargo, North Dakota.
Featured in over fteen regional and national
publications, Flessland is passionate about visually
telling the story of
the Bakken's impact on
North Dakota and the nation. Visit his website at
paulesslandphoto.com
Joseph DeWoody
Joseph P. DeWoody (@jpdewoody) is the president
of
Clear Fork Royalty, an oil and gas royalty
investment company located in Fort Worth, Texas.
Clear Fork Royalty works with accredited investors,
trusts and family ofces to provide portfolio access
to oil and gas mineral rights and royalties to hold
for long term investment through various direct investment
vehicles. Joseph was selected by Oil and Gas Investor Magazine
as a winner of
the Top 20 under 40 Award, and by TIPRO and
Texas Monthly Magazine as a Texas Top Producer. Joseph is a
member of
the Young Presidents' Organization (YPO). He was
appointed by Texas Governor Rick Perry to a six year term on
the Texas Board of
Professional Geoscientists. He serves on the
Board of
Directors for the National Stripper Well Association
and the Texas Alliance of
Energy Producers.
Steve Burnett
I was raised in a small West Texas town where
the school mascot is a roughneck. Growing up
with a roughneck as the town symbol, how could
I not spend most of
my adult life working in
the petroleum industry? I started working in the
oilelds age 16. In Texas you had to be 17 with a
signed minors release from your parents, but my parents were
glad to keep me working. I had been working since my rst job
working on a commercial elephant garlic farm at age 12. By
the time I reached 16, I had enough work experience to prove
I knew how to hold my own on a work crew. Anybody whose
parents survived the great depression can attest to the fact that
their children learn the value of a solid work ethic.
Oilman Magazine / January-February 2017 / OilmanMagazine.com
2
Emmanuel Sullivan, Publisher,
OILMAN Magazine