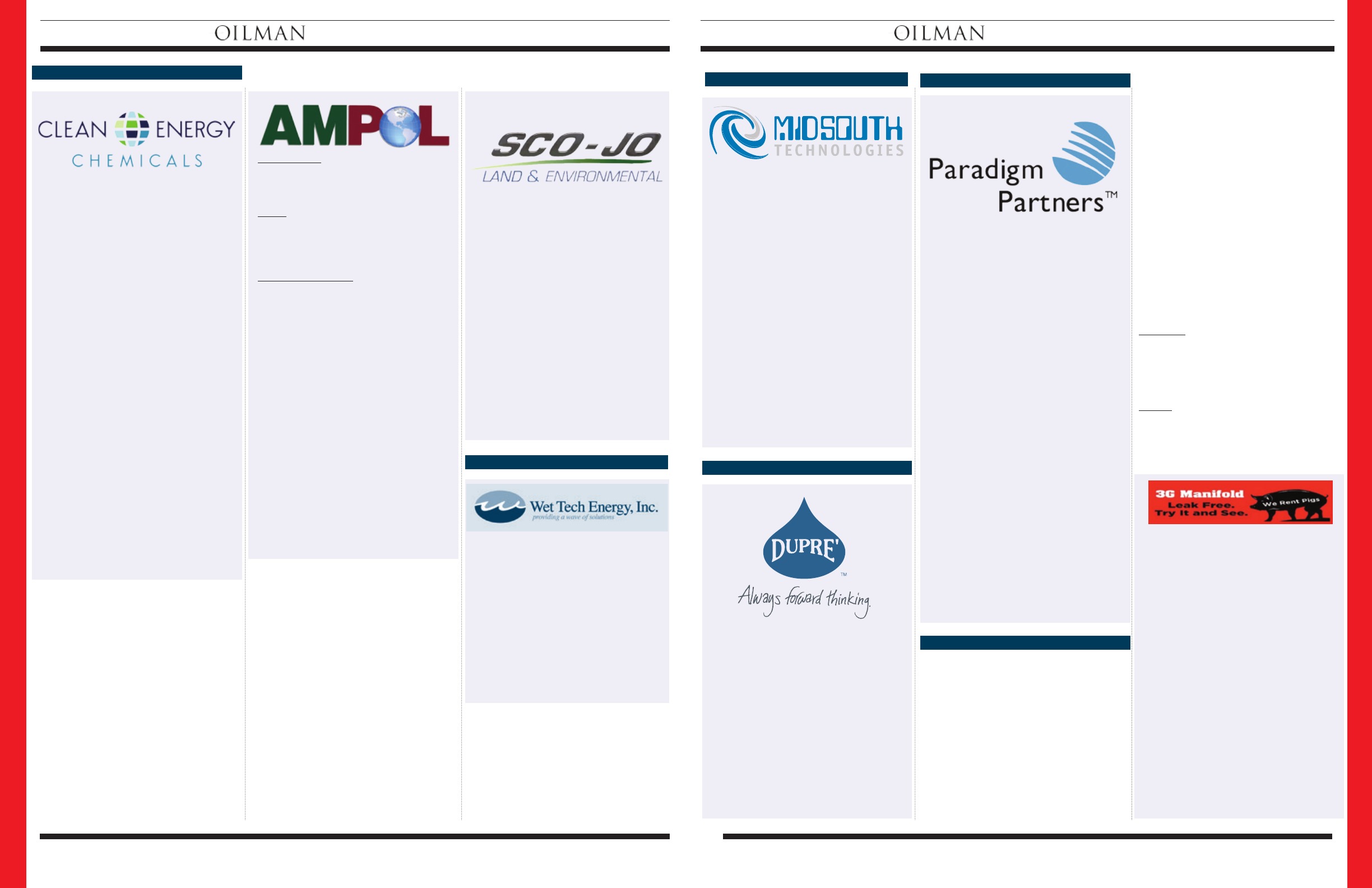 Oilman Magazine / January-February 2015 / OilmanMagazine.com
Oilman Magazine / January-February 2015 / OilmanMagazine.com
ENVIRONMENTAL & SAFETY
TECHNOLOGY
TECHNOLOGY
Oilman Marketplace...........
For advertising information call 800-562-2340 ex. 1, 8am-5pm CST OR EMAIL ADVERTISING@OILMANMAGAZINE.COM
Oilman Marketplace...........
For advertising information call 800-562-2340 ex. 1, 8am-5pm CST OR EMAIL ADVERTISING@OILMANMAGAZINE.COM
PIPELINE CLEANING/OIL REMEDIATION
PIPELINE CLEANING | FRACTURING | BIO-REMEDIATION
3190 Highway 30 W, Box # 8758
Huntsville, TX 77340
Ph: 936-439-4319
Website: www.cleanenergychemicals.com
Email: info@cleanenergychemicals.com
Twier: @CleanEnergyChem
CEC is an environmentally conscience global supplier
of hydraulic fracturing and Biodegradable oil
remediaon products. We service the Oil, Gas and
Marime Industries by delivering our opmal green,
nontoxic, biodegradable and low- toxicity products.
We aim to contribuon to the preservaon of our
environment, as protecng people, wildlife and the
environment is our top priority here at CEC! Our
focus is to connually improve industry processes
and products, making performance in the eld more
eecve, ecient and safe. Our Chemists develop
innovave proprietary technology that improves the
health and safety for workers, service organizaons,
wildlife and the environment. Our products are used
worldwide in many dierent scenarios.
You will be amazed at the results of our Glut Free
Biocide, NASA Award winning PRP for hydrocarbon
spills on water/land and our Biodegradable Rig Wash,
BLAST IT just to name a few.
We look forward to reducing your risk and operang
costs while increasing your protability!
Please contact Jessica N. Byrd if you would like a
tesng sample or informaon on any of our products.
Let's work together in the eld to make a dierence
for many future generaons to come!
Safety Management Systems
2916 N. University Ave.
Lafayee, LA 70507
Ph. (337) 521-3400
(800) 252-5522 (24/7)
Website: www.SafetyMS.com
facebook.com/SafetyMS
twier.com/SafetyMS
At Safety Management Systems, our main goal is
protecng lives and changing cultures. We provide
companies in the oil & gas industry with safety
management and consulng services to promote
and maintain an ethical workplace atmosphere that
equally values health, safety, and environmental
responsibility. A safe work environment is not only
ethical, but essenal for a company's success. Our
Health, Safety, and Environmental (HSE) consultants
and specialists are equipped and available to address
your company's relevant challenges and concerns,
while also providing educaon and awareness to
achieve an accident-free environment on the job.
New Iberia Oce
401 West Admiral Doyle
New Iberia, LA 70560
Ph: 337-365-7847
Oil Stop
Harvey Oce
1208 Peters Road
Harvey, LA 70058
Ph: 504-361-4321
Ampol Norm Remediaon
Bayou Vista Oce
575 Highway 182
Bayou Vista, LA 70380
Ph: 985-395-2020
www.ampol.net
facebook.com/AmericanPolluonControl
24 Hour Emergency Response: (800) 482-6765
American Polluon Control Corp. (AMPOL) is a full-
service environmental remediaon company and
contractor that specializes in inland, near-shore, and
oshore emergency response and hazardous waste
remediaon. Serving oil and gas companies, industrial
companies and government agencies, AMPOL
provides emergency and non-emergency toxic and
hazardous materials containment, collecon and
assistance with transport and disposal. Safety is top
priority with AMPOL. Safety is planned into all of
our acvies and is equal to the expectaons of our
clients for quality and eciency. AMPOL has been
recognized by the US Department of Labor and the
Louisiana Workmen's Compensaon Corporaon for
its excellent safety record.
ENVIRONMENTAL COMPLIANCE AND
LEASE BROKERAGE
Edmond, OK Oce:
3027 Willowood Rd.
Edmond, OK 73034
Phone: 405-340-5499
Midland, TX Oce:
4305 N. Gareld St. – Suite 229
Midland, TX 79705
Phone: 432-695-6020
Web address: sco-jooilandgas.com
Sco-Jo Land and Environmental is the naon's leading
environmental compliance and land brokerage rm,
with 35 years of combined experience in the oil and
gas industry. Our environmental team specializes in
EPA audits, SPCC Plans, Annual Inspecons, Tier II
reports, air emissions, containment systems, and all
environmental needs. Our brokerage rm specializes
in lease and ROW Acquision, mineral and HBP
ownership reports, BLM, BIA, State leasing, pooling
applicaons, full curave measures, and due diligence
with a CPL Accreditaon.
Fire & Safety Specialists
7701 Johnston Street
PO Box 60639
Lafayee LA 70596
Phone: 337.993.9377
Fax: 337.216.9721
Email: customerservice@TeamFSS.com
www.TeamFSS.com
Fire & Safety Specialists Inc. (FSS) is commied
to providing re suppression systems and other
safety measures to beer protect your company.
Our industry experts' experience is unmatched
in the re and safety industry. Unprecedented
service, an honest approach to business, superior
distributor relaonships and a commitment to
geng the job done right sets our company apart
from the compeon. Safety and training are
key components to the success of FSS. We take
immense pride in our ability to professionally
protect our customers' assets and lives. Training
for all personnel is an ongoing and integral part of
our organizaon, and allows us to connue doing
what we do best – which is to save lives.
Wet Tech Energy, Inc.
4598 Woodlawn Road
Maurice, LA 70555
Ph: (337) 893-9992
www.WetTechEnergy.com
facebook.com/WetTechEnergy
Wet Tech Energy is a family owned and operated
company that has evolved into a diverse and unique
blend of service and supply. As one of the leading
buoy manufacturers in the country, what sets Wet
Tech Energy apart are our service capabilies; being
able to provide oshore installaon services with an
Anchor Handling Vessel and specialty crews.
TRANSPORTATION & LOGISTICS
Dupré Logiscs, LLC
201 Energy Parkway
Lafayee, LA 70508
Sales/Markeng: 855-686-5478
Corporate Informaon: 855-686-5478
Website: www.DupreLogiscs.com
Email: forwardthinking@duprelogiscs.com
youtube.com/dupremedia
Over the past 10 years, we have seen huge changes in
the Logiscs outsourcing business model. Third Party
Logiscs (3PLs) have long led the way in logiscs
outsourcing using their core business-forwarding,
trucking and warehousing. However, today this
oering has become a commodity service and does
not provide any compeve advantage. Customers,
anxious to increase their compeveness, need
improved and more integrated value proposions.
QTEC
Aberdeen, Houston, Louisiana
Ph: 855-364-5650
Email: info@qtec-global.com www.qtec-global.com
Established in 1992, QTEC has gained a strong track-
record by providing objecve, unbiased technical
recommendaons to oil and gas operators and
drilling contractors worldwide.
DRILLING & EQUIPMENT
Haggard ID Wiper, Inc.
Houston, TX
281-330-6016
Website: www.haggard-muddog.com
Email: muddogid@airmail.net
Operators world-wide have saved rig me, drilling
mud, improved rig eciency and safety with the
Haggard MUD DOG ID WIPER - the only patented ID
wiper tool. The MUD DOG wiper will do your dirty
work for you while tripping drill pipe, keeping the mud
in the well bore instead of the rig oor and racking
area. (Messy stu to work in!) Time spent cleaning the
rig oor and racking area equals BIG BUCKS. Let the
MUD DOG wiper do it for you.
Winn Rock LLC
Highway 84 West
Winneld, LA 71483
4 Miles West of Winneld
Oce: (318) 628-3523
Website: www.WinnRock.com
We at Winn Rock are proud of the history that
surrounds us. Just four miles west of Winneld,
Louisiana's mber capital, there have been aggregate
removal operaons in place at our locaon for over
a century. First, limestone was produced, which was
used for roads crisscrossing the state during and aer
Huey Long's involvement in transportaon. In 1952,
when the limestone ran out, mining switched to
gypsum, which was used as a retardant to control the
curing me in cement. Eventually digging reached
massive reserves of anhydrite, which has proven to
make the best and longest lasng roads in the state.
Parish Truck Sales
New Orleans
10459 Airline
St. Rose, LA70087
(I-130 Exit 2-Kenner)
MAIN: 504-467-9630
WATTS: 800-969-6225
Lafayee
1101 Doyle Melacon Ext
Breaux Bridge, LA 70517
(I-10 East Exit 109 South)
MAIN: 337-442-1600
WATTS: 877-237-0448
3G Manifold L.L.C.
Elk City, Ok 73644
Website: www.3gmanifold.com
Allen Young
Cell: 580.799.5479
E-mail: Allen@3gmanifold.com
Joe White
Cell: 580.799.5475
E-mail: Joe@3gmanifold.com
Dean Fitzgerald
Cell: 580.243.8526
E-mail: skipperdean68@yahoo.com
3G Manifold L.L.C. is bringing something new to the
oileld and frac'ing industry. We have developed
a system that signicantly reduces the possibility
of leaks where the joints of manifold are secured
together. The use of 150 series raised face anges
combined with a rubber gasket allows us to prevent
the spillage of uid on well locaons. We provide 12
inch sucon manifold that will allow you to pump
uids at rates above 100 bbl/min on oil and gas wells.
We are based out of Elk City, Oklahoma; which allows
us to service the Eastern Texas Panhandle and the
state of Oklahoma. 3G Manifold is able to go almost
anywhere you need our services.
MidSouth Technologies
1219 Crescent Ave. Lockport, LA 70374
Contact Name: Jamie Guidry
Ph. 985.242.5100
Fax: 985.242.5150
Email: sales@mst.us.com
Website: hp://www.mst.us.com
Facebook: hps://www.facebook.com/
MidSouthTechnologies
Twier: hps://twier.com/MstUs
YouTube: hps://www.youtube.com/channel/
UCE6oeEN6Y-NksYCPnbWio-A
For more than 11 years, MidSouth Technologies has
provided technology services to businesses around
the world. Its team is trained and cered to manage
the complexity of any system, with experience in
VSAT Communicaons, An-Piracy & Security, Vessel
Tracking (AIS), IT Infrastructure aboard vessels & port
facilies, Satellite TV (DIRECTV), CCTV & DVR, and Port
Security. MidSouth's broad knowledge base allows it
to integrate exisng systems with new and emerging
ones. With a clear understanding of the needs and
possibilies of the marime and oil & gas industry,
they have the soluons for you. Located in Lockport,
La, MidSouth is "Solving Problems, Exceeding
Expectaons".
OIL & GAS TAX CREDITS & INCENTIVES
Paradigm Partners
1500 S. Dairy Ashford, Suite 240
Houston, Texas 77077
Website: www.ParadigmLP.com
Craig LaGrappe, Sales Director
Ph. (281) 558-7100 x102
Email: CLaGrappe@ParadigmLP.com
Mike McCorkle, Account Manager
Ph. (281) 558-7100 x120
Email: MMcCorkle@ParadigmLP.com
Paradigm Partners is an internaonal consulng
rm specializing in complex federal and state tax
and funding incenves, for both public and private
enes, across a host of industries. Paradigm
Partners has disnguished itself amongst its peers
by adopng a low cost, high return service model
that employs a tailored two-phase approach; the
Company's business development and professional
teams work hand in hand to provide accurate
analyses, establish eecve client dialogues, and
guarantee rapid turnaround mes.
The Company's core consulng porolio includes
Global R&D Tax Credits Analyses, Hiring and
Locaon- Based Incenves, Unemployment Claims
Management, IC-DISC, Domesc Producon Acvies
Deducon, Grant and Non-diluve Funding Advisory,
Cost Segregaon Studies, Tax Controversy, Patent and
Audit Defense Services.