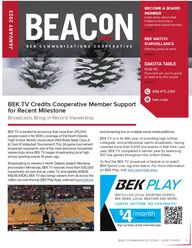 Return to flip book view
2023 January Beacon
Page 1
BEK COMMUNICATIONS | BEK.COOP1BEK TV is excited to announce that more than 215,000 people tuned in for BEK's coverage of the North Dakota High School Athletic Association (NDHSAA) State Class A & Class B Volleyball Tournament! This 24-game tournament broadcast represents one of the most extensive household viewerships since BEK TV began broadcasting local high school sporting events 16 years ago.Broadcasting to viewers in North Dakota, eastern Montana, and western Minnesota, BEK TV reaches more than 430,000 households via over-the-air, cable TV, and satellite (KNDB, KNDM, KRDK). BEK TV also brings viewers from all across the nation via over-the-top (BEK Play App), webcast (www.bek.tv), and streaming live on multiple social media platforms.BEK TV is in its 16th year of providing high school, collegiate, and professional sports broadcasts, having covered more than 5,000 live events in that time. Last year, BEK TV completed a banner year by televising 407 live games throughout the United States. To find the BEK TV broadcast schedule or to watch BEK Sports Live, log onto bek.tv. For more information on BEK Play, visit bek.news/bek-play.BEK TV Credits Cooperative Member Support for Recent MilestoneBroadcasts Bring in Record ViewershipBEK COMMUNICATIONS COOPERATIVE JANUARY 2023BECOME A BOARD MEMBER Learn more about what it takes to become a cooperative board member.PAGE 2BEK WATCH SURVEILLANCEOering peace of mind.PAGE 6DAKOTA TABLEPEAR PIE If you love pie, you're going to need to try this recipe!PAGE 5888.475.2361bek.coop/monthCANCEL ANYTIME! Sign up today at bek.news/bek-playWATCH LIVE LOCAL SPORTING EVENTS, BEK NEWS, LOCAL WEATHER AND MORE!CANCEL ANYTIME, NO CONTRACTS!
Page 2
BEK COMMUNICATIONS | BEK.COOP2DERRICK BULAWA Chief Executive Ocer Member Engagement Keeps Cooperative StrongWhat it takes to be a Director of the BoardFROM THE CEOThanks to our members, BEK Communications Cooperative has been connecting and serving North Dakota communities for 70 years. Members aren't just customers of our service, they're owners of the Cooperative. Members also serve as Board of Directors, giving their time and talents to guide the Cooperative's steady growth and progress.The members of the BEK Board of Directors serve a very important role; they establish accountability for the Cooperative. Board members provide a strategic vision and influence national policy to ensure that rural North Dakota always has aordable access to the newest telecom services. The Board keeps the Cooperative strong by ensuring the continuity of services, economic responsibility, and strategic guidance.So, what makes a good Board Member? BEK would greatly benefit from the leadership of someone who: has served on other boards, is involved in the community, manages a business, has technical skills, and has experience providing customer service.There are two ways a member can become a Director on the Board. They can be nominated by a committee, or they can be nominated by petition. The Board is comprised of eight directors. They serve four districts and meet monthly.As we approach our Annual Meeting, I encourage you to consider if you have the skills and experiences to be a great leader of BEK Communications Cooperative. Visit bek.coop/coop/board/ to learn more.The BEK Beacon is a bimonthly newsletter published by BEK Communications, © 2022. It is distributed without charge to all customers.BEK COMMUNICATIONS COOPERATIVEwas founded in 1952 as a local telecommunications cooperative serving Burleigh, Emmons and Kidder Counties. Since then, we've invested in state-of-the-art infrastructure, developed new products and services, and expanded to also serve Morton, Oliver, McLean, Logan, McIntosh, Barnes, Griggs, Cass, and Steele counties. BEK has changed quite a bit in 70 years, but we're still a small-town cooperative at heart.BEK COMMUNICATIONS COOPERATIVE 888-475-2361P.O. Box 230 200 East BroadwaySteele, ND 58482220 4th Street NortheastValley City, ND 58072923 East Interstate AvenueBismarck, ND 58503BOARD OF DIRECTORSDISTRICT IShane MorrisReganSanford WilliamsWingDISTRICT IIBob SubartRobinsonPresident Brett StrohTappenDISTRICT IIISecretary/Treasurer Kevin BernhardtLintonHolly WillHazeltonDISTRICT IVVice President William (Bill) BeckerWishekGerald BurlackWishekJANUARY 2023If you're a BEK Fiber customer with WholeHome Wi-Fi download the BEK Freedom app today!bek.coop701.475.2361
Page 3
BEK COMMUNICATIONS | BEK.COOP3Nominations Committee ChosenThe BEK Board of Directors has chosen six cooperative members to serve on the 2023 Nominating Committee.Incumbent Directors for Districts I, II, and III are:DISTRICT I: Sanford Williams - WingDISTRICT II: Robert Subart - RobinsonDISTRICT III: Kevin Bernhardt - LintonDISTRICT IV: No ElectionMembers of the 2023 Nominating Committee are:DISTRICT I: Burnell Paul - (Wing) 943-2475 Luanne Schonert - (Wilton) 286-6214DISTRICT II: Randy Kapp - (Medina) 327-4403 Tim DeKrey - (Steele) 475-2349DISTRICT III: Sandy Baumgartner - (Hazelton) 782-4358 Elaine Mittleider - (Hazelton) 320-2164BEK Cooperative members will cast their district vote during BEK's annual meeting on June 8, 2023. If you are interested in serving on the BEK Communications Cooperative Board of Directors, please contact your Nominating Committee representative prior to February 28, 2023.CHURCH SERVICES ON BEKAt BEK, we believe in the American flag, freedom, and faith. That's why we bring you daily and uncensored news content that promotes freedom of speech. It's also why we broadcast a full lineup of Christian services each Sunday.You can watch these services statewide on BEK TV, or anywhere as a subscriber of BEK Play on the EPIC IPTV streaming app.For more information on BEK Play, visit bek.news/bek-play. SUNDAY SERVICES BROADCAST SCHEDULE8:00 AM CATHEDRAL OF THE HOLY SPIRIT BISMARCK, ND | BEK TV9:00 AM SUNNE LUTHERAN CHURCH WILTON, ND | BEK eXtra*10:00 AM ST. ANTHONY CATHOLIC CHURCH LINTON, ND | BEK eXtra2*10:45 AM EVANGEL BISMARCK, ND | BEK TV1:00 PM GOOD SHEPHERD LUTHERAN CHURCH BISMARCK, ND | BEK TV6:00 PM TAPPEN LUTHERAN CHURCH TAPPEN, ND | BEK eXtra*11:00 PM JOURNEY CHURCH MINOT, ND | BEK TV*BEK eXtra available to EPIC IPTV customers or BEK Play Subscribers. KNDB CH. 26BISMARCK/MANDAN/DICKINSONKNDM CH. 24MINOT/WILLISTONKRDK CH. 4FARGO/GRAND FORKS
Page 4
BEK COMMUNICATIONS | BEK.COOP4Scholarship Opportunities'Skitter TV' to Become Known as 'Absolute Cable TV'BEK acknowledges that students are a big part of the communities we serve. That's why we've been providing scholarships for college-bound students for more than 25 years. If you are a BEK customer receiving BEK Fiber-based services or if you are a dependent of a BEK customer receiving BEK Fiber-based services, you may apply for one of the following scholarships:Foundation of Rural Service (FRS) | $1,500 - $7,000 Deadline: February 08, 2023 For rural students entering their first year of college or vocational-technical school.BEK Scholarship | $500 Deadline: March 10, 2023 For 2023 graduating seniors entering their first year of college or vocational-technical school.University of Mary | $1,250 Deadline: March 1, 2023 Current or new students pursuing a Mass Communications, Computer Information Systems or Cyber Security (or similar) degreeValley City State University | $1,250 - $2,500 Deadline: February 14, 2023 Current or new student pursuing a Communications/Digital Media Management Concentration, Computer Information Systems, Cyber Security or Software Engineering, or Technology Education (or similar) degree.To learn more, or to apply, visit bek.coop/coop/resourcesThe company that provides the content on EPIC IPTV will be changing its name.What do I need to know?Skitter Cable TV, Inc. has renamed their company to Absolute Cable TV. Absolute Cable TV provides television content services across the country, primarily serving customers in rural areas and smaller towns and communities. If you are a BEK Fiber customer, Absolute Cable TV delivers their television content over BEK Fiber through the EPIC IPTV application.How will this aect me?The only change you may encounter in the future will be if you're asked on your device to select your content provider (ie: when using Watch TV Everywhere). The new content provider name will be "Absolute Cable TV" instead of "Skitter TV". BEK Fiber will continue to deliver this content through EPIC IPTV. Also, as part of this rebranding phase, Skitter TV will rename the Restart TV feature to "TimeWarp", a feature that allows you to watch any program in the guide up to 72 hours after its original air time. You're no longer at the mercy of the channel guide!These changes are expected to be implemented by the end of January. You will be receiving more information on the changes.
Page 5
BEK COMMUNICATIONS | BEK.COOP5Pear PieSUBMITTED BY: DENISE BROWN FROM BALDWIN, NDINGREDIENTS:1/4 c. butter1/4 c. flour3/4 c. sugar1 tsp. vanilla1 tsp. lemon juice1 egg5 c. fresh sliced pears1 single or double pie crustDIRECTIONS:1. Preheat oven to 425 degrees. Slice fresh pears. Lay bottom layer of crust in a pie pan.2. In a sauce pan, brown butter over medium-high heat. Once browned, leave to cool.3. Once butter is cooled, add the flour, sugar, vanilla, lemon juice and beaten egg to butter.4. Pour mixture over sliced pears and coat thoroughly. Then pour everything into the crust.5. If you're doing a double crust, lay top layer of the crust over the filling and pinch the crust edges.6. Bake for 10 minutes on 425 degrees and then 35 minutes on 350 degrees.Submit your favorite recipe to Dakota Table by mailing it to: PO Box 230, Steele, ND 58482 or email bekcomm@bektel.comRecipes will be randomly drawn for a chance to be published in the Beacon.In almost every culture in the world, food is the communal and binding factor when friends and family come together. We launch this new segment of our Beacon publication to help inspire the cooks in all of us! Submit a recipe to Dakota Table and if we publish your recipe we will mail you some kitchen goodies!
Page 6
BEK COMMUNICATIONS | BEK.COOP6E-Rate Discount ProgramBEK Watch Surveillance Oers Peace of MindThe E-Rate Program helps ensure aordable high-speed internet access for schools and libraries. To get started, first find out if you qualify for discounted internet service. Go to www.usac.org/e-rate/get-started and see if you qualify for the program definition of a school or library. If you are unsure of your status, you may need to contact a local administrative agency, such as the State Department of Education. Additionally, the USAC website leads you through the process of selecting service providers, applying for discounts, and starting services. For support, log into your account on the website and use the Contact Us link to create a Customer Service Case. This time of year, in North Dakota, many people flee to warmer weather. Whether on vacation or gone for an extended period of time, BEK Watch oers 24/7 surveillance of your property.BEK Watch cameras are an excellent tool for home protection, working both as a deterrent and a recovery tool. Just having BEK Watch on your property tells a potential trespasser to go away. However, if someone still decides to wander too close to home, BEK Watch cameras can be used to trace their steps.BEK Watch is a customized security system for residential, farm, and shop properties, businesses, or anywhere else you want to protect. Check and operate your cameras over the internet through a secure connection anytime, anywhere.To learn more about BEK Watch, visit bek.coop/residential/surveillance.NEW PHONE LISTINGSNAME PHONE CITY Dagley, Jaidra & Jonathan 516-6693 New SalemEnyart, David 734-2127 WiltonGrenz, Rodney 254-5144 LintonLettenmaier, David 646-6562 SanbornMad Moves Rink 475-2111 SteeleMendoza, Santiago 490-3328 Valley CityMiller, Tom 475-4909 SteeleTown Café 867-2500 TuttleWagner, Sheila 336-7500 StrasburgAFFORDABLE, SECURE 360° VIEW OF YOUR PROPERTY888.475.2361 | bek.coopHOME AND BUSINESS SURVEILLANCEWATCHOur Axis P3717-PLE Network Camera gives you 24/7 surveillance of your building or yard.View live video, and surveillance history, from anywhere using a secure mobile app.
Page 7
BEK COMMUNICATIONS | BEK.COOP7Game & FishWatch: Sundays at 6:30pmOTA Channels 4 or 26, EPIC Channel 64Attention outdoor enthusiasts! BEK TV is proud to present, "North Dakota Game and Fish Weekly". The half-hour program is hosted by Mike Anderson of the ND Game and Fish Department and features people who have dedicated their lives to the outdoors. "North Dakota Game and Fish Weekly" discusses topics from fishing and hunting to boating and conservation.Watch the program on BEK TV, EPIC Channel 64 or over-the-air on Channels 4 or 26.If your home or business loses power, you may also be without phone service. You cannot connect to family and friends during poor weather. You may not be able to call 911 for an emergency.Backup power for your corded phones gives you peace of mind that your family and emergency help are always available. BEK Communications can install and maintain a voice service battery backup for your home.The standard battery oered by BEK lasts up to eight hours on standby power. You may also choose a longer-lasting option that gives up to 24 hours of standby power.What a Battery Backup Can and Can't Do for You:The battery backup is for corded voice services only. Security systems, medical monitoring devices, internet services, wireless access points, cordless phones, and other equipment and services will not run on this home battery backup.Please note that the 8-hour and 24-hour standby times describe the length of time your phone line is available for use. Making a phone call during a power outage depletes the battery faster and may shorten the standby time.Battery Care and TestingTo maximize the function and lifespan of your battery, please follow the instructions included with your battery backup equipment and pay special attention to the temperature requirements. We recommend you store your battery above 41 degrees and below 104 degrees. Failure to follow the instructions may shorten the useful life of your battery.These batteries are rechargeable but do not last forever. You should periodically test your battery, as described in the instructions included with the battery backup equipment, to verify both the operation of the battery backup and its condition.Service Costs and Details:Our eight-hour battery backup service is available for only $2.99 per month, and our 24-hour solution for only $4.99 per month. The monthly subscription includes installation and testing, warranty coverage, and battery replacement every four years. If you have any questions or wish to purchase the service, please call 1-888-475-2361 at any time.KEEPING PHONE SERVICE DURING A POWER OUTAGE
Page 8
BEK COMMUNICATIONS COOPERATIVE200 East Broadway, PO Box 230, Steele, ND 58482ECRWSS LOCAL POSTAL CUSTOMER123TRIVIA ENTRYENTRIES MUST BE RECEIVED BY FEBRUARY 9, 2023Name: ______________________________________________________________________Phone Number: ___________________________________________________________Town: _______________________________________________________________________Clip and send to BEK at:PO Box 230, Steele, ND 58482 You can also email answers to bekcomm@bektel.com. We will be drawing for twenty $5.00 credits to be applied to the winners' bill.CONGRATS! TO OUR BEACON NOV/DEC WINNERSBEACON TRIVIADiane Boyle | AliceDanika Owen | BaldwinBrad Sether | BismarckJoyce Pfeifer | HagueConnie Eslinger | HannafordHolly Bender | HazeltonNancy Kainz | HopeCecelia Baumstarck | LintonRita Mosset | LintonJim Fleck | MandanCarlene Bahm | MandanEunice Nelson | NapoleonTami Albert | PageEric Wilson | SterlingLeona Huber | StrasburgMichael Krous | TappenEvalynne Hall | Valley CityLewis Legge | Valley CityJesse & Cheryl McCormack | WiltonBill & Adeline Lea | WishekHow many sports productions has BEK Sports broadcast since it began?Who can benefit from the E-Rate Discount Program?What is the name of the BEK service that provides 24/7 surveillance of your property?