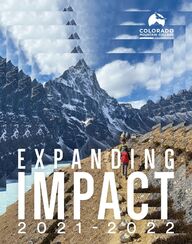 Return to flip book view
IMPACT Report 2022
Page 1
Page 2
On the cover: Colorado Mountain College Study Abroad students not only expanded their minds during the 2021-2022 academic year, they expanded their horizons in Nepal, hiking Cho La Pass on the way to the Gokyo Region, with Cholatse in the distance. Because of donors like you, the Colorado Mountain College Foundation was able to provide CMC with over $5.4 million in total revenue in the 2021-2022 academic year. This includes gifting over $1.3 million in scholarship support.In the 2021-2022 academic year, nearly 15,000 students enrolled at Colorado Mountain College. Out of all credit students, 28% were high school students earning concurrent enrollment credits at CMC. These high school students took 16,823 credit hours FREE last year, a value of $1,514,070.Talk about IMPACT for students… THANK YOU!
Page 3
Dear friends of Colorado Mountain College LETTER FROM LEADERSHIP The 2021 2022 academic year was remarkable for Colorado Mountain College for both the students and the communities we serve In the pages that follow please enjoy stories that illustrate the IMPACT of your support Alongside the tireless efforts of our faculty and staff YOU have expanded opportunities for students across our region In the summer of 2021 the US Department of Education officially named CMC a Hispanic Serving Institution a federal designation assigned to colleges and universities that successfully support a student population that is at least 25 Hispanic CMC has increased its Latino student population from 13 in 2013 to nearly 30 in 2021 CMC also received both Healthy Minds and Hunger Free campus designations from the Colorado Department of Higher Education demonstrating the college s commitment to mental health support and food security The CMC Foundation successfully concluded The Promise of Spring Valley capital campaign with the naming of the Paul Shirley Bushong Student Center The foundation is now completing the Rural Nursing Success Fund campaign which supports three new high fidelity Nursing Simulation Labs Labs are now available to students at CMC s Steamboat Springs and Spring Valley campuses and a third is currently under construction at the Breckenridge campus These two capital campaigns when completed next year will represent nearly 9 million in private donations for these transformational projects In June 2021 the CMC Board of Trustees approved 40 million in housing projects where we had land to leverage and started construction on apartment style housing for students at the college s Breckenridge Vail Valley Spring Valley at Glenwood Springs and Steamboat Springs campuses Eagle County has partnered with CMC to double the number of units on the Edwards campus The Aspen campus thanks to a 1 million donation from the Morgridge Family Foundation will soon feature a culinary lab and teaching kitchen that will support the hospitality sector across the Roaring Fork Valley CMC students are enrolling in several new academic programs including bachelor s degree programs in Ecosystem Science Stewardship as well as Human Services Both of these bachelor s degrees address critical needs in our mountain communities preserving fragile natural environments and addressing the need for healthcare providers particularly in mental health fields Together with your support CMC is creating a thriving region with well educated highly skilled and engaged community members Join us at any one of our eleven locations We d love to show you around and introduce you to the students who inspire us each and every day In partnership Dr Carrie Besnette Hauser Kristin Heath Colon Peg Portscheller Elaine Kelton CMC President CEO CMC Vice President for Advancement Foundation CEO CMC Board of Trustees Board President CMC Foundation Board Chair 1
Page 4
vCMC Spring Valley's new solar array is currently the largest of its kind in Colorado, and is the result of a partnership between CMC, Holy Cross Energy and Ameresco. The 4.5AC-megawatt grid with 5 megawatts of battery storage offsets 100% of the electricity use of CMC campuses at Aspen, Spring Valley and Vail Valley. This investment supports CMC's commitment to becoming carbon neutral by 2050 and provides emergency battery storage for the community. EXPANDING IMPACT2New high-fidelity Nursing Simulation Labs at Steamboat Springs and Spring Valley campuses have opened for student use.Wrap-around services for students are at the heart of the newly renovated Rifle campus lobby.
Page 5
vBUILDING FOR TODAY'S GREATEST NEEDS3New Nursing Simulation and Outdoor Skills Lab has broken ground at the Breckenridge campus.The CMC Board of Trustees invested $40 million in new housing projects at the Vail Valley, Breckenridge, Steamboat Springs and Spring Valley campuses.
Page 6
ASPEN + CARBONDALE EXPANDING CULINARY WORKFORCE TRAINING IN ASPENThanks to a recent $1 million gift from the Morgridge Family Foundation, construction of a culinary lab and teaching kitchen is underway at the CMC Aspen campus. This new teaching kitchen is designed to expand the region's culinary workforce training and provide an educational gathering space for the community.4INTERSECTION OF EDUCATION & TECHNOLOGY Walter Isaacson, author, journalist, Tulane professor and former CEO of the Aspen Institute, continues to be an avid supporter of CMC and the Isaacson School of Communication, Arts & Media, which bears his name. Walter recently joined CMC Isaacson School students and new Isaacson School Dean Jess Guarnero at an event hosted by Susan and Lee McIntire in Aspen to help advance the visibility of the college. Walter was joined by Eric Schmidt, the former CEO of Google, and jointly treated the audience to a deep discussion about the intersection of education and technology.
Page 7
BEHIND THE SCENES OF HOLLYWOOD'S TOP MOVIES AT CMC ASPENEmmy winner and academy-nominated lmmaker Bill Gerber (who produced "A Star is Born" and "Gran Torino") lectured at the Aspen campus to a packed house of community members and students. The producer has spent over 30 years in Hollywood and shared an in-depth look at the lm industry, past and present.COOKING UP SUPPORTCMC Culinary Arts program once again participated in The Food & Wine Classic in Aspen, with a table in the Grand Tasting Tent and prep work for cooking demonstrations. The Aspen Chamber Resort Association, John Boos & Co and GE Monogram have all become new supporters of the growing CMC Culinary Arts program in the Roaring Fork Valley.5FIRE SCIENCE TRAINING COMES TO THE ROARING FORK VALLEYIn partnership with the Carbondale Fire Department, CMC leveraged a $250,000 Perkins Innovation Fund grant from the US Department of Higher Education to start the rst CMC Fire Academy in the Roaring Fork Valley. Classes began in Fall 2022 at CMC Carbondale. With more live-re days than any other program in the state, CMC's Fire Academy, which is also oered at the Leadville campus, is widely recognized for its comprehensive hands-on instruction.
Page 8
BRECKENRIDGE + DILLONSTUDENTS' DELICACIES DELIGHT DINERSOne of CMC's most coveted ticketed events — the Keystone Culinary Dinner, a partnership with Vail Resorts and EpicPromise — was back in person for its 19th year. CMC Culinary Arts students and alumni chefs treated guests to an exquisite evening of culinary delights. The evening raised $50,000 — enough to fully fund the program's fourth endowed scholarship.ALUMNA PROFILE: GABBY FUENTESGabby Fuentes was able to successfully complete her degree in just three years at CMC Breckenridge, due to the college credits she earned while in high school. "My greatest accomplishment is being the rst in my family to graduate with a bachelor's degree," Gabby said. In the 2021-2022 academic year, there were 402 high school students in Summit County concurrently enrolled in college classes at CMC. 6
Page 9
EXPANDING HANDSON TRAINING FOR WILDERNESS EMT & NURSINGCMC is responding to the growing need for trained health care providers in our mountain region by constructing three new high-delity Nursing Simulation Labs that will double the number of nursing students accepted into the program annually. The CMC Foundation is currently seeking donors interested in supporting the new $7.5 million Nursing Simulation Lab at CMC Breckenridege, which also includes an Outdoor Skills Lab that trains Emergency Medical Technicians (EMT), Outdoor Emergency Technicians and Wilderness Emergency Medical Service professionals, with a two-story rappelling wall that emulates emergency care situations. WHY I GIVE: DR. JOYCE MOSHER"As a faculty member I have contributed to each annual fund drive since the CMC Foundation's inception. Now retired, I plan to continue to contribute because my family and I believe in supporting student success in our mountain community." – Dr. Joyce Mosher, CMC English and Communications Professor from 1975-20227
Page 10
LEADVILLEFELIZ DIA! HAPPY DAY!In May 2022, dozens of students at the Leadville campus celebrated a rite of passage. They donned cap and gown — and their Hispanic heritage stoles — and walked at graduation to collect their high school diplomas after passing their GED (General Educational Development) test. With the help of low-cost class fees and Spanish language support, students can prepare for their GED test during a three-month course at one of nine locations throughout the CMC region or online. WHY I GIVE: ALUMNUS TY HALL"I found my passion in the Ski Area Operations program at CMC Leadville. The knowledge and experience I gained from great instructors set me up perfectly to successfully own and operate my business. Being in the snow sports industry is exactly where I wanted to be and I am thankful that CMC gave me the motivation and skills to fulll my dream. I probably wouldn't have nished college if it weren't for CMC, and because of my positive experience at this college, I am happy to give back to help inspire today's students to nd their passion and complete an education." – Ty Hall, CMC Class of 1991, Tennessee Mountain Pass Nordic Center owner8
Page 11
WHY I GIVE: JOHN T. MCDONOUGHJohn McDonough, a retired mining engineer, believes deeply in the power of education and the opportunities it opens up for students. His neighbors in Leadville, Evelyn and Richard Boggs, made it their life's work to educate students: Evelyn was an instructor at CMC Leadville and Richard was a longtime teacher at Lake County High School. John decided to create a new endowment for CMC students in tribute to Evelyn and Richard and their many years of teaching and the curiosity that they inspired in hundreds of students. The Evelyn & Richard Boggs Tribute Scholarship will support students from our mountain communities who are pursuing a degree in the sciences at CMC.ALUMNUS SPOTLIGHT: AUTRY REDHAIRMAHO LOMAHONGVAAutry Redhair-Maho Lomahongva — artist, athlete and top 2022 CMC Leadville graduate — chose CMC to study Outdoor Recreation Leadership and to run for the Eagles' cross-country team. Autry is passionate about bringing diversity, equity and inclusion to the outdoor industry and to inspire others to get outside and explore. He's now putting his Outdoor Recreation degree to use with an all-indigenous guiding company in Arizona."Being able to receive funding from a CMC Foundation scholarship felt as if an enormous amount of stress had been taken o of my shoulders," he said. "I was able to get one step closer to my dream of pursuing a career in the outdoor industry."9
Page 12
RIFLEGENEVIEVE CLOUGH'S LASTING IMPACT: NOW AN $11.6 MILLION ENDOWMENTStudents and their families gathered in May at the Clough Auditorium at CMC Rie to celebrate the 14th class of Clough Fellows. The annual ice cream social was originally conceived by Rie resident and Davenport Society Legacy Donor (and the college's largest donor to date) Genevieve Clough. Her vision was to create a welcoming environment so families could share in their students' success. Genevieve's granddaughter, Stormy Anderson, carries on the tradition of the ice cream social and personally hands out scholarship awards in memory of her beloved grandmother and mentor. LEAVING A LEGACY: HAROLD AND LIZ MORSEHarold and Liz Morse both felt deeply impacted by the scholarships and support they received when they attended college. Harold served as an adjunct faculty member at CMC Rie in the '80s. Impressed with the campus, they left instructions through their estate plans with their daughter, Carolyn, to ensure ongoing support. CMC Rie is honored to celebrate the newly created Harold A. & Elizabeth V. Morse Endowed Memorial Scholarship for rst-generation, degree-seeking students at the Rie campus. 10
Page 13
STORIES FROM THE WILD SIDE SHARED WITH COMMUNITY AND COLLEGE THROUGH CMC'S COMMON READERCraig Childs' stories of wild animal encounters told through his book "Animal Dialogues" delighted the CMC community. As CMC's Common Reader book for 2021-2022, it helped usher in excitement about the new bachelor's degree in Ecosystem Science & Stewardship.SHARED SIBLING SUCCESSSilt siblings Nancy Espinosa and Jonathan Espinoza spell their last names dierently but shared a graduation ceremony together in May 2022, each receiving bachelor's degrees in Business Administration. Both praised CMC Rie's sta and faculty as well as their family in reaching their milestone accomplishments. "My brother and I both found our calling in business and got to support one another," Nancy said, "and CMC oered tutoring and seminars that also helped me." Jonathan felt the support of the campus as well. "The teachers are all brilliant educators that made learning fun," he said. They "were always quick to help anytime I was struggling." Congratulations to the Espinos(z)as! 11
Page 14
SPRING VALLEYPAUL & SHIRLEY BUSHONG STUDENT CENTER  A CENTER FOR BELONGINGCarbondale resident Paul Bushong, a passionate supporter of CMC, fondly remembers "the old days" when, as a college student himself, he would gather with classmates in the "student union" for a chance to study or play a game of pool. Wanting to ensure that students at the CMC Spring Valley campus had that same sense of community that he cherished, and in paying tribute to his late wife, Paul's lead gift inspired the Paul & Shirley Bushong Student Center. The Bushong Student Center also hosts Spring Valley's new 4,000-square-foot high-delity Nursing Simulation Lab. Joining him to celebrate the opening of the student center were his son Craig Bushong, daughter-in-law Mary Lyn Bondlow, CMC leadership, trustees and foundation board members. This building dedication also represented the successful completion of The Promise of Spring Valley capital campaign. 12WHY I GIVE: ALUMNA KAREN KERN"I am so thrilled that CMC is here and doing so much for our local community. I give because I know it means that students don't have to go into debt to get a wonderful education. I received my degree when I was 49, and it changed my whole life. I want to pay it forward and allow others to experience that very same thing." – Karen Kern, CMC Class of 1989, holding a photo of herentire graduating class of six students
Page 15
+ GLENWOOD SPRINGSNEW SCHOLARSHIP SPOTLIGHT: HOTEL COLORADOLeft, Hotel Colorado President Christian Henny, and right, Hotel Colorado Managing Member Norm Bacheldor attend a recent scholarship luncheon with Monica Vetter, center, the hotel's rst scholarship recipient. 13READY TO RIDEThanks to generous donations from the Catena Foundation and the FOX Factory Trail Trust grant program, in spring 2022, three miles of new trails joined an existing trail network at CMC Spring Valley. The expanded trail system is already being put to good use, as the campus hosted more than 800 racers for the 2022 Colorado State High School Mountain Bike Championship. At the championship banquet, CMC President Carrie Hauser announced that the college will be adding a mountain bike club team that will compete in the Rocky Mountain Collegiate Cycling Conference.
Page 16
SALIDACRANKING OUT A NEW STYLE OF LEARNING"Even though I've been my own bike mechanic for quite a while, I decided to take this course because I really wanted to dial in my skills and get knowledge from a true professional. I've learned so many things and have been able to directly apply the knowledge I've gained. From working on old cruiser bike hubs to bleeding modern day mountain bike brakes, I can now successfully work on rental bikes at Subculture Cyclery, as well as prepare for a busy summer at the bike shop." – Eli Smith, a concurrent enrollment student at Salida High School CONSTRUCTION TRADES PROGRAMGabe Gentile graduated from the CMC Construction Trades program in Salida where he fell in love with all aspects of building right out of high school. Since nishing school, Gabe founded his own construction company and reached out to CMC to hire intern Jaden Tidwll, a student currently in CMC's program. Business is booming: they are working on a new subdivision in Salida and have several projects already in the pipeline. 14
Page 17
CMC ALUMNI ASSOCIATIONAlumni! We want to connect you to other CMC Alumni, invite you to events and keep you informed about the exciting things happening in the CMC community.  Join the FREE CMC Alumni Association at coloradomtn.edu/alumni/ Follow CMC's Facebook Alumni page at facebook.com/cmcalumni Or contact the CMC Foundation office at 970-947-8378 or cmcfoundation@coloradomtn.edu foradditional information about alumni opportunities, resources and upcoming events.TAKE ME OUT TO THE BALLGAMEThe inaugural CMC Day at the Rockies, sponsored by Alpine Bank, brought together CMC alumni, students, employees, friends and family. A great time was had by all. Stay in touch so you can join us next year!SCAN HERE TO REGISTER FOR THE FREE CMC ALUMNI ASSOCIATION!ALUMNI ASSOCIATION15
Page 18
S T E A M B O AT S P R I N G S NURSING SIM LAB DEBUTS AT CMC STEAMBOAT SPRINGS Thanks to support from the Craig Scheckman Family Foundation Leslie and Bruce Allbright UCHealth Yampa Valley Medical Center and other donors CMC Steamboat Springs high fidelity Nursing Simulation Lab opened for clinical experience in time for the fall 2021 semester Students need 760 hours of clinical experience for an Associate of Nursing degree in Colorado 50 of which can be done in a simulated environment The new high fidelity labs at CMC offer students the opportunity to complete this experience on campus now saving them vast amounts of time and money and propelling them to graduation sooner The Nursing Simulation Lab at CMC Steamboat Springs is an incredible asset for nursing students giving them the opportunity to learn and practice complex scenarios that are not routinely seen in rural clinical areas The lab is real to life and helps prepare nursing students for future clinical practice Jamie Carbone CMC Steamboat Springs Assistant Professor of Nursing WHY WE GIVE THE CRAIGSCHECKMAN FAMILY FOUNDATION We are honored to join many other CMC Steamboat Springs supporters in the belief that each and every student should have access to the resources they need to reach their genuine potential This opportunity for the Craig Scheckman Family Foundation to partner with CMC allows us to provide under resourced students with support to improve their academic physical mental and spiritual health needs 16
Page 19
COMMUNITY HONORS A BELOVED FACULTY MEMBERFred Hampel was a distinguished member of the business faculty in Steamboat Springs and a favorite among students. He was also instrumental in the eort to bring the rst bachelor's degrees to CMC. After his passing, Fred's wife Leslee, and her dear friend Sharon Muenchow, embarked on the "Just Live – Don't Get Bored" adventure to run/hike 500 miles of the Colorado Trail and create a memorial endowment. Supported by sponsors (Honey Stinger, Big Agnes, Smeeny Beany Knits and Top Fox Marketing) as well as a host of private donors, the Fred Hampel Memorial Scholarship Endowment will soon provide funding for a deserving CMC student each year in perpetuity.DONATIONS IN MEMORY OF FRED HAMPEL GIFTS MADE JULY 1, 2021  JUNE 30, 2022Charlie and Tina AllenRyan AllenCaitlin AndersonAnonymousMara Bailey-OlsonElaine BaxterSara BehlingClu and Rob BorlandJim BrownMaureen CahillBeth CarioMichael CraineAlec CreightonBen CreightonChristie CreightonBev Diclementi-BrownDee and David DillonHeather DillonTracy and Je DillonTina DisorbioLisa DonovanCarol and Rick DowdenRosemary SmithSusanna SpauldingMaureen and Michael SteppAmy SternEric StoutRich StraubTeresa TallantKristine TothChristopher TroegerSusan Mizen and Je TroegerNancy and Ray VailJohn VickeryAudrey WalkerRobert WangWarren TechStephen WeimanMartha and Joseph WilsonMichael WilsonNatalie ZaunClaire Ziller Kyla NowkaSue and Dick OltmanSusan OrrJoe ParcellElizabeth and David ParkerJoyce Schroeder PeirceRosemary PetersonAaron PinkertonJulie Hampel PinkertonPaula and Duke PrentupHeidi and Stephen PrentupValerie PurlRory RalstonSam RushJessica RussellSally SavoyCarol and Daniel ScharickEmily and Mark SchenkJoyce SchreinerTed SchroederEileen SeeligerRita and Nalie SeteraTera KoentgesKim KreissigKimberly LangmaidAnders LjungbergGeji LoetherJenica LoetherShaun LoetherTom LotzCarol LoweAnn MahlerJodee ManfredAshley MartinezJe MasonTimothy McGinnessKellee MengMarna MesserTom Miller-FreutelKerry MuenchowRachel MullenEllen NelsonMary Ann and Perry NingerJonathan NorlingJennifer EmmettAnn EvansTodd FogelSusan and Paul FontanaPatti FrenchMona GibsonLaurie HaarbergJudy and Tom HampelLeslee HampelHampel OilMichele HaneyKevin Hillmer-PegramKaren HockinsBetty HollingMichelle and Brian HozaKristen HydeDanielle JencksEron JohnsonLila and Floyd JonesBridget JunkalaHeather KeetonJe Kelman17
Page 20
VAIL VALLEY AT EDWARDSEXPANDING HORIZONSCMC oers multiple Study Abroad opportunities every year, focusing on culturally diverse experiences with programs such as Geography and the Environment, International Business and Spanish Immersion, taking place on ve dierent continents."I have participated in two Study Abroad programs through CMC as a non-traditional student, most recently to Rwanda. Studying abroad as an adult is a hidden treasure for continuing education and purposeful life experiences. I never want to stop growing and understanding this crazy, beautiful world." – Michelle Dover, 2022 Rwanda CMC Study Abroad participantLIVING THE DREAM Diana Gabriela "Gaby" Loera immigrated from Aguascalientes, Mexico and dreamed of becoming a teacher. She knew her journey would be challenging, but CMC's small class sizes helped her immensely. "I thrive in intimate settings," Gaby explained. "When a professor knows each student as an individual, it's so much easier to succeed. CMC provided me with the academic, emotional and nancial help I needed to achieve my dream," she said. Gaby graduated in May 2022 from CMC with a bachelor's degree in education and is qualified to apply for four endorsements: elementary education, culturally and linguistically diverse education, Spanish K-12 and bilingual education specialist. She is now a bilingual kindergarten teacher at Edwards Elementary School, where over 50% of her students are native Spanish speakers.18
Page 21
BLENDING PARTNERSHIPS WITH SUCCESS With grant funding from the United Way, CMC Vail Valley and the Eagle Valley Community Foundation embarked on a new journey this past year by oering "Simple, Healthy Cooking 101." The free course oered bilingual recipes and cooking classes via an online video with local chef Tracy Miller, while The Community Market boxed up all the ingredients needed for each week's meal out of their pantry. Over 240 participants beneted from the class, and many more continue to access the free online archives.WHY WE GIVE: SUE AND MIKE RUSHMORE"We choose to support CMC's Early Childhood Education programs because of the multi-generational impact our gift makes. When early childhood educators deepen their knowledge and apply it in their classrooms, those kids – and their families – feel the ripple eects. We're incredibly honored to be part of that." 19
Page 22
CMC: ONE BIG PROUD FAMILYLAST YEAR, THE AVERAGE DONATION FROM CMC EMPLOYEES WAS $338!20
Page 23
Colorado Mountain College attracts the nation's nest faculty and sta. With 475 full-time employees, 309 part-time employees, 121 full-time faculty members, and 1,053 adjunct faculty, the college is one of the region's largest employers. Dedicated to doing everything possible to help our students succeed, it's no surprise to nd that our employees are also some of our most loyal donors. Team Fund, CMC's employee giving campaign with matching gift support from Alpine Bank, consistently nds that more than half of CMC employees choose to be annual donors to the CMC Foundation. The 2021 Team Fund campaign raised more than $100,000 from CMC employees, with an average donation of $338 per employee! LAST YEAR, THE AVERAGE DONATION FROM CMC EMPLOYEES WAS $338!21
Page 24
LASTING LEGACIES22FIRST BANK ENDOWS NEW SCHOLARSHIPFirstBank has always had a high regard for community investment, demonstrated by their ongoing support of Colorado Mountain College. The FirstBank First in Family Scholarship has beneted CMC students pursuing either an associate or bachelor's degree since 2012. New in 2021, FirstBank's $100,000 endowment ensures that the FirstBank and CMC Foundation partnership is here to stay.The pathway from a college degree to a FirstBank career is repeated many times over within CMC's region. This group of CMC alumni, who now all work at FirstBank, represent just a sampling of the CMC/FirstBank connection. From left, Marco Marcelo-Aguilar earned an associate degree in 2012 followed by a bachelor's degree in 2021; Kylie Congdon started her associate degree in New Hampshire and nished at CMC; Jenny Alvurez has an associate degree from CMC; Alex Latz graduated in 2022 with both associate and bachelor's degrees; and Jorge Rojas-Lopez earned his associate and bachelor's degrees in 2014. THE HUNTS: LIFELONG LEARNERS, QUIET AND LASTING IMPACTShirley and Dick Hunt of Carbondale passed away less than six months from one another after 70 years of marriage. Their estate plans, including a $530,000 gift to the CMC Foundation, made clear that supporting education was vitally important to this generous couple. "They were children of the Depression," said the Hunts' eldest daughter, Val Lankford. "They didn't have much, and yes, education was important.""My parents valued education," their younger daughter, Sue Atkinson said. "They were self-made and self-educated. They believed in learning, whether it was reading a book, watching a program on TV or taking courses at CMC."
Page 25
DONOR ROLLSDAVENPORT LEGACY SOCIETYThe Davenport Legacy Society – named in honor of Dr. Joe Davenport, Colorado Mountain College's rst president – recognizes those alumni and friends who have made future provisions for the CMC Foundation in their estate plans, in any form or amount.If you would like to make a lasting impact on CMC, its students and communities, there are several gift arrangements to choose from. Whether you would like to put your donation to work today or benet Colorado Mountain College after your lifetime, you can nd a charitable plan that lets you provide for your family and support the causes you care about. Thanks to our Davenport Legacy Society Members for the honor of your membership (Through June 30, 2022) (+estate gift realized)David Allen+Anonymous (x3)Arthur E. Anderson+Elvin Ray ArranceMichelle Balcomb+Paul D. Bushong Jr.Connie and James+ CalawayGenevieve Clough+Doris Dewton+Christopher P. Dionigi and Jane Ann MallonWesley Duran+Marge and Jerry GavendaApril and Ryan GiesekeFrances Ginsburg and Bob OlsonHolly and Rich GlasierElizabeth GremillionValerie and Noel HarrisCarrie Besnette HauserBlanche "Christy" Hill+Jayne and Ed HillShirley and Richard Hunt+Lee Chong Hurley+Linda and Peter JeschofnigLisa MattisJana and Dan MontgomeryLaurie and Tom MullenLisa and David PeaseSharon and Robert PenningtonBetsy RappJoe ReiningMartha+ and Ken RobinsonDonna and Gino RossettiNancy Smith+Terry and Dan SmithNatanee and Matt SpencerLa Verne "Bubbles" Starbuck+Hjalmar SundinPatty and Robin TheobaldMarkee TravisBarbara TuchlinskyRosamond Perry Turnbull+Michael Anthony Wadyko+Patricia Harding Walker and Starwnes WalkerConnie and Jon WarnickDiane and Lester WellsAlexandra YajkoJoyce and Joe YobJ. Robert Young23
Page 26
*Hjalmar Sundin*Vail Valley Cares / Thrifty ShopsValley View HospitalThe Winmax FoundationCOLLEGIATE PEAKS$14,000 - $24,999*Bonnie and Dave Askeland*Blanche C. Hill FoundationBloomberg PhilanthropiesClough Family FoundationColo. Dept. of Human Services*Kirsten Fink-Cantele and Giorgio CanteleLinda and Marc CrawfordRuth and Ted Edmonds*Marge and Jerry Gavenda*Cathy and Walter Isaacson*Kelton Family Foundation*Segal Family FoundationThe Rockefeller Foundation*The Rotary Club of Summit CountyMAROON BELLS$10,000 - $13,999Kayce and Clark Anderson*AnonymousSue and Howard CarverNick Cherney and Trish EaglingLinda and Robert CutterFirstBankKatrina and Kent Fredrickson*Gareld County Board of County CommissionersFrances Ginsburg and Bob Olson*Holly and Rich GlasierHampel Oil*Sandy JacksonJayn and Jerry KarlJohn McDonoughLinda and Rich Morris*Heidi Palmer and Nicholas Fickling*Barbara and Nicholas PayneCarrie Walton Penner and Greg PennerMatthew QuigleySteve and Trish Shapiro Family Foundation*Carol H. and Kevin W. Sharer Education FoundationTemple Hoyne Buell FoundationUnited Way of Eagle River Valley, Inc*Vail Resorts EpicPromiseMT. ELBERT$5,000 - $9,999*Alpine Bank, BreckenridgeAlpine Bank, FriscoAnonymous (x2)Catriona and Michael BurnsSally and Kevin ClairClub Rotario Roaring ForkJim ColomboPRESIDENTIAL PEAKS $25,000 and above*Leslie and Bruce Allbright*Alpine Bank, Glenwood SpringsAspen Valley Hospital*Borgen Family FoundationSally Brands and John Savage*Doe Browning and Jack Hunn*Paul D. Bushong Jr.Jim and Connie Calaway TrustCatena FoundationCraig-Scheckman Family Foundation*Doris Dewton EstateStanley Dodson*Bob Follett*Jessica and John FullertonGates Family Foundation*Susie and Rick GrossmanHunt Family Trust*J. Robert Young FoundationLumina Foundation for Education*Morgridge Family FoundationCarolyn MorseBarbara Neal and Greg BoeckerRocky Mountain Health Foundation*State of Colorado Department of EducationSue C. Rushmore Trust*Summit Foundation24The 14'er Society The 14'er Society, a moniker given in honor of the twenty-two 14,000-foot-peaks located in CMC's service area, celebrates the generosity of CMC's alumni, parents, faculty, sta and friends at varying levels of support. The CMC Foundation places the utmost importance on the accuracy of this listing. We sincerely regret any omissions or errors and welcome your feedback.Donor RollImpact's 2021-2022 report represents gifts made between July 1, 2021 – June 30, 2022*Represents ve or more consecutive years of givingON BEHALF OF CMC'S NEARLY 15,000 STUDENTS, THE CMC FOUNDATION SENDS ITS DEEPEST THANKS AND APPRECIATION TO ALL CONTRIBUTORS.
Page 27
*Stephanie and Matthew GianneschiMargaret GilmonPat Hammon*Carrie Besnette Hauser and Je Hauser*Josie and Rollie Heath*Robert Jankovsky*Barbara Kessler and Dick SobleKim KreissigMichael A. KrupkaPeter KurtzKimberly LangmaidLord of the Mountains Lutheran Church*Merilee MaupinSteven T. McCauleyLaurie and Thomas MullenObermeyer Wood Investment Counsel LLLPPeak One Financial Services LLCHensley and James PetersonRA Nelson LLCHelen and Charles Schwab*Deborah ShanerKaren Silverman*Slifer Smith & Frampton FoundationSharon Sullivan and Thomas SnitzerSteamboat Springs Young Professionals Network*Summit County GovernmentMarc Swanson*Theobald FamilyIvan UnkovskyVail Valley FoundationWendy and Jon Wade*Western Eagle Valley Rotary ClubNancy and Bud WilliamsYampa Valley BankJoyce and Joe YobCAPITOL PEAK$1,000 - $2,499*AnonymousMarianne and John Ackerman*Sharon Aguiar and Scott Porter*Karen and Enis AlldredgeNancy and Norman BacheldorAnn and Robert Ball*Kathy and Bjorn Erik Borgen*Mary Boyd*Ed CarlsonEmil CimaKelly and James Cleaver*Kristin Heath Colon*Lauren and Mark Cornish*Bobbi CoxCrawford Properties, LLCAlec CreightonNikken CullmanDonna and Lee DaleJamie DicksCarol and Rick DowdenJanie EnrightJayne and Bob GilsonMatthew GoodsteinGould Construction*Ursula GrossGuardian Scholars Inc*Gypsum Chamber of CommerceDeborah HageColorado Grand IncTracy and Je DillonDee and David Dillon*Donna DuhadwayKaren and Paul GerhardtColleen Hannon and Jon MorrisseySandra HenryHotel Colorado*Ann KorologosRob LeVineLife Time FitnessRobyn Clark Liotta and Tito LiottaKori McClurg and Barry ShermanMoniker FoundationJeanne and Dale MosierQuinton-Fildes-McManamy Family FundMarilee and Gregg RippyKenneth RobinsonSusan and Ken Robinson*Roy A. Hunt FoundationStephen SmithSteamboat Ski and Resort CorpUS Bank Foundation*Connie and Jon WarnickSusan and Kyle WelchMT. MASSIVE$2,500 - $4,99910th Mountain Division Hut AssociationPhillips M. Armstrong Jr.Aspen Elks Lodge #224*Kathy and Carter BargerEvelyn and Richard Boggs*Breckenridge Grand Vacations *Virginia BrowningCampbell Family Foundation IncCity of Aspen*Lisa McLain and Jim DavenportEducation Foundation of Eagle County*Everett and Doris Bernardo Family Foundation*Heather ExbyForster Family Giving Fund25
Page 28
MT. HOLY CROSS$500 - $999*AnonymousAlbert Family Charitable FundAngry James BreweryChristie BarnesKathleen and Richard BeckerErin and Jay Beckerman*Linda and Frank BesnetteClu and Rob BorlandJanis Broman*Thomas BueschMary Lyn Bondlow and Craig BushongMarchita Butler*Katherine and Mark Cesark*City Market Community RewardsJackie CohenMolly and Rob CohenColorado Women FlyshersErica and Mike CordaroMark CowanLuella Chavez D'Angelo*Sharon Andersen and Alex De La GarzaLisa DonovanMandie DoveyRegina Lutz and Charlie EckstromJohn FielderNancy and William FloodCass and Barry Gassman*Lisa and Richard GonzalesAlison GrinJudy HampelKay and Robert Hartzell*Carrie and Roger Hennefeld*Rebecca Arrington Jones and Richard JonesMelrose and Robert Kuusinen*Amy and Shane LarsonJoseph Lentz*Dori and Robert LibsonBonnie and Taylor LiebmannGeji LoetherLouise and George ThortonKristine Macaluso*Michael Anthony Wadyko EstateSusan Mizen and Je Troeger*Joyce and Allyn Mosher*Devin and James NeMargaret Nelson and David Krischeron*Sean NesbittMarie Orlin*Sharon and Robert PenningtonAmy PoppiePeg PortschellerJennifer and Michael PotterStephen PrentupShelly and Patric RaichartJoe ReiningBarb and James Ross*Donna and Bruce SchmeiserSheri ScrubySharon and Robert SmartKatherine and Bruce SmithJanis and Rodrick Taylor*Brian Tinker*Sarah VaineJason Vargas*Jennifer and Bart VictorDebbie Welle-Powell and Robert PowellLaDonna and Gary WicklundRoxanne and Tyson HallEron JohnsonTamela and Tom KenningSusan and Ronald KrallDan KurtanichMonica and Chris Latkiewicz*Ann and William LieLance MarrJoan and Pete MartinezKrista Miller*Allison and Frank Navarro*Donna and Bere NeasDonna NemanicTakeru NomuraRobin Pavel*PEO Sisterhood Int'l Chapter FU-COCarolyn PrinsterDonna and Gino RossettiSue and Mike RushmoreSarah Seggerman and Ira Freedman*Jette and Rick SchuhBeth and Rod SliferTheresa and Chris SorensenTracy and Donald Stroh*The Arches FoundationThe DuBose Family FoundationThe Grand FoundationCarlton ThornburyW. Ernestine Goodnough and Tony Scheer*Town of Breckenridge*Town of FriscoVail Valley Art GuildVFW Post 10721 Minturn*Giovanna and Jeremy Voge*Warren TechWest Vail Liquor MartMichael WilsonAlexandra YajkoDoug YeakelLeslie Champ and Mark Zander26
Page 29
Julie Hampel PinkertonElizabeth PoulosPaula PrentupBruce Lawrence PriceKen Ransford*Kathryn Regjo*Stephen RozanskiCarol and Daniel Scharick*Beez Schell*Diana and Matt ScherrJoyce SchreinerRob SimpsonRosemary SmithNatanee and Matt SpencerCathleen StarkeyEric StoutCharles SvobodaMaryellen Thoren*Sandra and Thomas Thwing*Lisa TuthillMonica Verploeg*Marianne Virgili*Laura Van Deusen and Robert Von AchenAmanda WardAmy and PJ WhartonJune WhelanFRIENDS OF CMCGifts up to $249Anonymous (x13)Jamie AbbottEsgar AcostaRyan AllenTina and Charlie Allen*Amazon Smile FoundationCollin ApplebyMara Bailey-OlsonKenneth BarberiJen BarchersBrian BarkerRhoda BarrLinda and Dick BatemanElaine BaxterBrandy Baze-BallardNancy BeckwithSara BehlingSusan BevingtonChris Alleman and Joshua BlanchardBrian BlankenmeisterBrodie BoilardJoan and Henry BornsteinNicky BourgeoisBernadette and Carter Boyd*Kristine and Robert Brands*Julia BrazellJennifer and Benjamin BrennanTeresa Booth Brown and Timothy BrownJim Brown*Darren BrungardtKim Buchanan*Wendy and Paul BurkeCynthia and Don ButtereldThe Call FamilyBeth CarioKimberly CarmitchelJames Carr*Brooke CarsonAndrea CarusoGeorgia Chamberlain and John FoulkrodElbert ChilsonJoan and Peter Chovanec*Gabriel Tamaska and Ed Chusid*Carrie ClickWill ComerfordChristine CookPhyllis and William CoxSara CoxMichael CraineDebra Crawford Arensman and Russ ArensmanBen CreightonChristie Creighton*Linda CrockettGloria CuevaEllen CummingsMikayla CurtisAngela and Michael DahlenPYRAMID PEAK$250 - $499Adler-Nordell Family TrustErin AllamanCaitlin AndersonAnonymousAllen Bacher*Susy and Gary BaumClaire and Charles BlauerBoettcher FoundationKayla and Lee Boyles*Marc BrennanMaureen CahillBen CairnsRichard Campbell*Carol Carlson*Dee and Rapid CartelliCeramics Club of AspenPat and Ken Chlouber*Karleen and Thomas Clark*Claire and Kevin ClarkeBernice Davie*Nicole and Stewart FazandeSheree FlemingRosemary and Peter GebhardtLeslee HampelKarla HardestyRichard HirschJudith and Nick Huston*Stephanie and Ken Keister*Jean KramlichSandra Lettunich*Theodore LongTom Maldari*Carrie and Cooper MallozziBenita MartinezMark MathisCarol Murphy and Michael MillerSteven O'BrienRobyn and Lambert OrtonMichael PalumboRosemary PetersonMichael Picore27
Page 30
Joseph GambleLeslie GamezJohanna and Dan GibbsMona GibsonLorraine GillJoAnn GillilandLaurie Gish-SolidayKristy Lee Gogolen*Jeanne Golay*Katia GoncalvesSarah and Logan GrantColleen Gray*Kathi GrayPaula GregoryJessica and Pete Guarnero*Leslie GumbrechtEva and Irving GurinLaurie HaarbergHolly HagenBuddy HallRick HallDan HammonTom HampelMelissa Hampton and Dave LambethMichele HaneyJulie HansonAnn and Anthony HarrisMonia Haselhorst*Paula Hauswirth-CummingsNicole HeidenCarol HessSue and Bob HessDavid HickelKevin Hillmer-PegramKaren HockinsDwenna HoldenBetty HollingEdith HornikMichelle and Brian HozaTerry HunterKristopher HussongKristen HydeLaura JacobMelinda JamesBenedicte JeansonDanielle Jencks*Greg and Sean Jeung*Evelyn and Stanley JohnDerek Johnston*John JonesLila and Floyd JonesBridget Junkala*Nancy KahnRebecca KanalyThomas KannLaura and Daniel KapustkaHeather KeetonJe KelmanAimee KimmeyScott KimmeyTera KoentgesLuba Kohn BrochierAbraham Korah*Becky and Charlie KramerAmy KrauseJohn Kriss*Jamie KruisRenee Kuharski*Heidi KunzekMaria Largaespada*Brooke Larson*Geo LautzenhiserKathleen LawMarjorie LearClare LehmanAri LewisHolly and John DavenportSuzanne and Jim Davis*Amy DennisKathy and William DesPortesEileen and Chris Diamond*Elizabeth Diamond and Peter MorelliKirk DiceBev Diclementi-BrownHeather DillonKathy and Peter DiltzTina DisorbioLisa and Richard Doak*Tinker Duclo*Debra and Larry DutmerCynthia and James Eardly*Rebecca and Daniel Edmiston*Laura EggerJennifer EmmettLinda and Jim EnglishAnn Evans*Tina Evans and Dennis LumLyan Faina SanchezMartina and Richard Ferris*Adrian FielderBarbara and Anthony FlitcraftTodd FogelStuart FoxPatti FrenchGay Friedmann*Debra FroehlichLinda Froning28
Page 31
Rachel MullenDavid NegreteEllen NelsonShari NeurothNancy Newkirk*Mary Ann and Perry NingerLeslie Nissen*Jonathan Norling*Debbie NovakKyla NowkaSue O'ConnorNatuza OlenOlszewski, Massih & Maurer P.C.Sue and Dick OltmanSusan OrrMargaret and John PalmerLin PalmerJoe ParcellElizabeth and David Parker*Gina PedrickAnne PetersenNancy PetersonSandra PetersonAaron Pinkerton*Kristie Poll*Justin Pollack*Jesse Porter*Donna PulkrabekValarie Purl*Andrew PyrcRory Ralston*Jennifer and Michael RhoadesRachel RichardsMaureen and Tye Richardson*Sandi and Jimmy RickertDanyelle L. RigliDenise RoachDaniela Rodriguez*Stacey and Chris RomerPablo RosasKathi RothnerSam RushJessica RussellSally SavoyEmily SchenkTed SchroederJoyce Schroeder PeirceEvan SchulteRena ScottEileen SeeligerDara SeidlOliver SempleRita and Nalie SeteraJonathan ShawRoseanne SheppartSteven Sherman-BoemkerLynn Sherrod*Ming ShiaoLaura J. ShrinerBob SidesLinda SiegristJune and Tom Silva*Yesenia Silva EstradaDiana SimonSteve SkadronAmy SmallwoodChristie SmithKaty and Sasho SorliSusanna SpauldingBarb and Jim SpikerBarbara Lewis*Patti LindquistAnders LjungbergJenica LoetherShaun LoetherTom LotzCarol LoweSherry and Herb LuhmanChris MacDonald*Anne and Archie MacleanAnn MahlerMichelle and Brian MaloneyJodee Manfred*Paula Stepp and Frank Martin*Amanda and Rob MartinApril MartinezAshley MartinezMonica Martinez RamirezJe MasonKaren MasonMonika Mayer*Leona MayoJacob McCoolaPaul McCuddenTimothy McGinnessJackie McKenneySharon and Brit McLinIan McMullenKellee MengMarna MesserMelissa MetzgerSusan MetzgerJennifer Mewes*Andrew MikitaElizabeth Miller*Lisa Jaye Miller and James Sweeney IIITom Miller-Freutel*Christina and Eric MontemayorNancy MontfordBradford Moore*Ian MorrisDrew MorseMarka MoserKerry Muenchow29
Page 32
Diane Van OsVirginia Belle van 't HoJody and Scott VargoLois VeltusJohn VickeryKeri VignaleTrevor WagnerAndrea WalkerAudrey WalkerGina and Peter WallerRobert WangDonna Miller Ward and R. Thomas WardAlexander Watson*Kristin WeberStephen Weiman*Tracy White and Ken Headrick*Tim WidmerKevin WilliamsKendra and Dane WilsonMartha and Joseph WilsonEvan WittRon WolLinda and Dean WolzEllen Woods*Angela and Barry Wurtsmith*Lilian WymerJoanne Yantz*Jean and Robert YoungquistBetsy Younkins and William WieandNatalie ZaunPatti and Tom ZehnerClaire ZillerGIFTS IN KINDBall BrewingSusan and Lee CahillElizabeth and John CordaroMary HertertAndreas FischbacherSusan and Paul FontanaHoney StingerGretchen StichJulie KupeczTheodore LongMawa McQueenL.S. Butch MazzucaOn RunningChristopher RybakThe Orvis Company IncLisa TuthillRonald WackowskiTRIBUTESIn honor of Kathryn AndersonKathryn RegjoIn honor of Coach Darren BrungardtLeslie GamezKelli McCallIn honor of Evan Weatherbie and Mary PeplinSandi and Jimmy RickertIn memory of David AllenPaul AllenIn memory of Roy AltmanAdrian FielderIn memory of Hector AlvaradoGloria CuevaIn memory of Kay BacherAllen BacherIn memory of Linda CarlsonEd CarlsonSteven SquierCol and Mrs. John Steele USAF Ret Diana and Joshua Stepanek*Maureen and Michael SteppSterling Associates Groups LLCAmy SternKelly StevensSteven StewartStephanie Stocking*Jaime and Brian StoessRenee and Norm StollerThe Stone FamilyEric StoutRich StraubBenjamin Suddendorf*Jane SzucsTeresa TallantElia TankersleyMegan TewsRichard ThomasJessica Thompson and Evan BialostozkyJason ThrasherMarian TollesAmy TomaselloKristine TothChristopher TroegerMichael TrujilloThomas Tunner*Debbie and Harold TyberNancy and Ray Vail30
Page 33
In memory of Doris Dewton and Richard GretzAdler-Nordell Family TrustKenneth BarberiLinda and Dick BatemanClaire and Charles BlauerJoan and Henry BornsteinNicky BourgeoisBernadette and Carter BoydJanis BromanErica and Mike CordaroGeorgia Chamberlain and John FoulkroudPhyllis and William CoxBernice DavieDoris Dewton TrustGay FriedmannCass and Barry GassmanColleen GrayEvan and Irving GurinSherry and Herb LuhmanMichelle and Brian MaloneyStacey and Chris RomerDiana and Matt ScherrSarah Seggerman and Ira FreedmanBarb and Jim SpikerColonel and Mrs. John Steele, USAF RetTheobold FamilyJessica Thompson and Evan BialostozkyJune WhelanLaDonna and Gary WicklundBetsy Younkins and William WieandLinda and Dean WolzIn memory of Stanley DodsonDodson Engineered Products, IncIn memory of Mylissa EckdahlPat HammonDonna NemanicIn memory of Ray EnrightJanie EnrightIn memory of Barbara Newman FazandeNicole and Stewart FazandeIn memory of Marty O'ConnorSusan O'ConnorIn memory of Zeke PierceNikken CullmanMichael TrujilloIn memory of Jack RealAnonymousElbert ChilsonIn memory of Leonard Steel RhynusKatherine and Mark CesarkIn memory of Lori Rink and Amelia Elizabeth BradleyRobin PavelIn memory of Anna and David RozenbergAlexandra YajkoIn memory of Thomas G. SchellBeez SchellIn memory of Mike "Sully" SullivanSteven Sherman-BoemkerIn memory of William M. Swentzell IVJean and Robert YoungquistIn memory of Carol Barben TaylorJanis and Rodrick TaylorMegan TewsIn memory of Gilbert TinkerBrian TinkerIn memory of George TollesKathy and Peter DiltzMatthew QuigleyIn memory of Eulalio TorresGloria CuevaIn memory of Mike WadykoElbert ChilsonMichael Anthony Wadyko EstateIn memory of Karen WilliamsColorado Women Flyshers, IncPaula GregoryApril MartinezLinda SiegristIn memory of Bob FranksDan KurtanichIn honor of Helen and Roy FreseCleo PerkinsIn memory of Michael Robert GebhardtRosemary and Peter GebhardtIn memory of Melissa JankovskyRobert JankovskyIn honor of Jana JerabkovaMonika MayerIn memory of Matthew MartinezWendy and Paul BurkeEllen CummingsTom MaldariJoan and Pete MartinezIn memory of Debi Martinez-BrunBenita MartinezYesenia Silva EstradaIn memory of Mary Jane McClaskeyPat HammonIn memory of Tyler MooreMelissa MetzgerSusan MetzgerNancy MontfordLeslie NissenLynn SherrodIn memory of Dorothy MorleyAnonymousIn memory of Maureen NuckolsNancy and William FloodIn memory of Adam Palmer, Seth Bossung and Andy Jessen PBJKimberly LangmaidDiana and Matt ScherrIn memory of Jason PenningtonSharon and Robert PenningtonIn memory of Ellen QuigleyMarianne and John Ackerman31
Page 34
BOARD OF TRUSTEESPeg Portscheller, Chair, West Garfield CountyMarkey Butler, Pitkin CountyBob Hartzell, Lake and Chaffee CountiesBob Kuusinen, Routt County Chris Romer, Treasurer, Eagle CountyPatricia Theobold, Summit CountyMarianne Virgili, East Garfield CountyDave Armstrong, Salida Liaison (non-voting)P R E S I D E N T ' S ADVISORY COUNCIL32Jon Warnick – Has supported CMC through a variety of roles including serving as the current Chair of the President's Advisory Council and as a former Chair of the CMC Foundation.Bruce AllbrightEnis Alldredge Jr.Amy Margerum BergKatherine Sharp BorgenPaul D. Bushong Jr.Connie CalawayTerrance D. CarrollElaine Kelton, ChairKathy Barger, Vice ChairNorm Bacheldor, TreasurerRob LeVine, SecretaryEsgar AcostaPhillips (Phill) ArmstrongSally BrandsLuella Chavez D'Angelo(new member as of July 2022)Lauren CornishElizabeth (Lib) DiamondPat ChlouberCharles CunniffeGlenn DavisRussell GeorgeScott GilbertMark C. GouldWalter Isaacson (Honorary)Ursula GrossRoger HennefeldHeather Lindh(new member as of July 2022)Ferdinand (Tito) J. LiottaMerilee MaupinKeith MoffettTrish ShapiroSarah Vaine Doug YeakelAnn KorologosCristal LoganJames MejiaTyler MoebiusCarrie MorgridgeGino RossettiCarole SegalMarian SmithJon Warnick (Chair)Erik WeihenmayerJoseph A. YobJ. Robert Young (Emeritus)2021-2022 FOUNDATION BOARDFOUNDATION BOARD EXOFFICIOKristin Heath Colon, CMC Vice President for Advancement & Foundation CEOCarrie Besnette Hauser, CMC President & CEOMarianne Virgili, Trustee Co-LiaisonPatricia Theobold, Trustee Co-LiaisonBere Neas, Former Foundation Board ChairJoe Yob, Former Foundation Board Chair
Page 35
CMC FOUNDATION FINANCIALS FY 2021-2022Other $814,746Capital & Other Pledges ($1,697,528)Investment Returns on Endowments ($2,492,297)¹ Of the $1,365,291 disbursed for student support/scholarships, a total of $259,158 was disbursed from endowed scholarships. Per the Cash & Investment Policy, funds invested long-term as endowment corpus or possibly net investment earnings thereon, the maximum allowable spending amount is 4.5% of the average fair market value for such funds calculated over a rolling twelve quarter period ending the December 31st immediately preceding the fiscal year end of June 30th. Net Loss of ($3,375,079) is comprised of the following: ($2,492,297) investment returns in current year due to market ucuations ($1,697,528) capital pledges recorded in prior scal year that were received and passed through to the college in current scal year $814,746 current scal year contributions reserved for future scholarship and other disbursementsNET LOSS / DEFERRED PAYMENTS & DISTRIBUTIONS $3,375,079EXPENSESREVENUESTOTAL$2,590,769 $5,965,848$1,269,602 Operations $1,355,301$575,165 Capital Expansion & Improvements $2,272,693$1,513,937Academic Programs, Faculty Support and Cultural & Community Enrichment$972,563$1,724,362 Student Support $1,365,291¹($2,492,297) Investment Returns on EndowmentsN/A
Page 36
THANK YOU FOR SUPPORTING COLORADO MOUNTAIN COLLEGE'S VISION + MISSIONCOLORADO MOUNTAIN COLLEGE'S VISION STATEMENTWe aspire to be the most inclusive and innovative student-centered college in the nation, elevating the economic, social, cultural and environmental vitality of our beautiful Rocky Mountain communities.COLORADO MOUNTAIN COLLEGE FOUNDATION'S MISSION STATEMENTThe Colorado Mountain College Foundation builds sustainable community support for the needs and strategic priorities of Colorado Mountain College and its students.TO LEARN MORE AND TO SUPPORT CMC STUDENTS & PROGRAMS, PLEASE CONTACT:Kristin Heath ColonVice President for Advancement & Foundation CEOkhcolon@coloradomtn.edu / 970.947.8378 / 802 Grand Avenue, Glenwood Springs, CO 81601