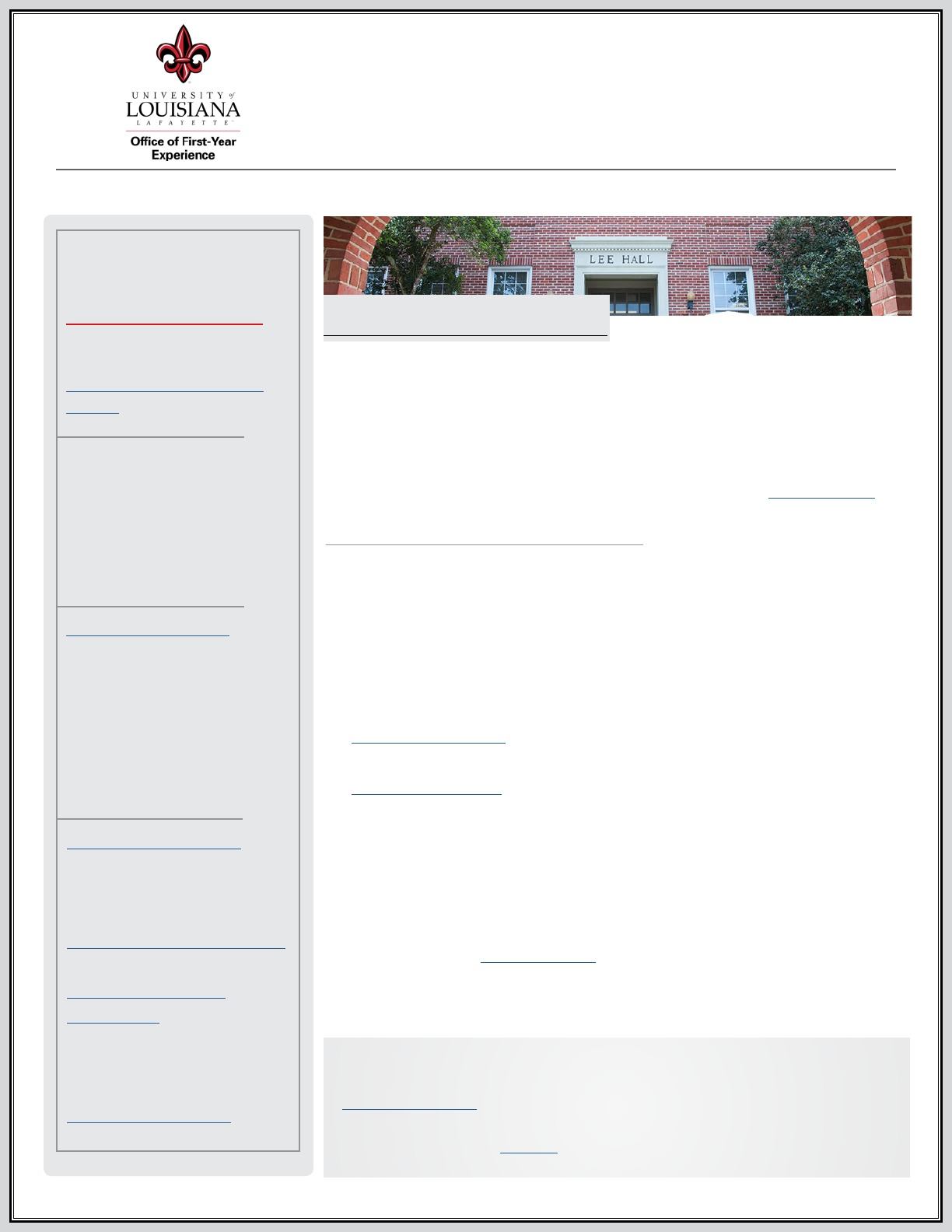 LEE HALL
A RESOURCE FOR PARENTS OF RAGIN' CAJUN
®
FRESHMEN
June 19, 2019
Not sure where to go with
your questions?
Send them to us:
parents@louisiana.edu
Join our Facebook Group:
UL Lafayette Parents &
Family
Oce of Orientation
Buchanan Hall, 3rd oor
111 Boucher St.
337-482-1391
orientation@louisiana.edu
Oce of First-Year
Experience
106 Lee Hall
230 Hebrard Blvd.
337-482-6599
ofye@louisiana.edu
FIRST DAY
For Fall 2019 Freshmen:
Cajun Connection &
New Student Convocation
August 22, 2019
FAMILY WEEKEND:
September 14, 2019
Ragin' Cajuns
vs.
Texas Southern
OFYE IS ALSO HERE TO SERVE OUR PARENTS
OFYE partners with the Oce of Orientation to generate the monthly
parent newsletter
. Find updates on University deadlines, campus social
life, parental involvement on campus, and tips to best support your
students.
Sign up

for the parent newsletter today.
Lee Hall, conveniently located in the UL Lafayette Quad, is a campus
building completely devoted to student support services. If Lee Hall
does not oer the services your student needs, the sta here knows
exactly where to send them. Lee Hall is a very important location that
your student should be familiar with throughout their time at UL. Lee
Hall is located in sections C6, D6 on the University's
campus map
.
Oce of First-Year Experience
OFYE is the one oce on campus that is solely dedicated to assisting
the University's freshman class. We direct the transition into UL with
UNIV 100, a three credit-hour course designed to help rst-year UL
students successfully transition from high school to University life
and academic work.
UNIV 100 course components:
1.
Cajun Connection

: a one-day, extended introduction to UL, the
campus community, and University-level work.
2.
First-Year Seminar

: een weeks during a scheduled class time
OFYE will be hosting Freshman Week from August 18-25 to help make
your student's rst week on campus fun, educational, and welcoming.
Freshman Week events include movie nights, informational sessions,
mixers, and more! In the Spring, OFYE puts on the Freshman Finale to
help your student celebrate the end of a successful rst year at UL.
OFYE also houses
The Big Event

, a community service organization
that has organized over 12,500 student volunteers to help the
Lafayette community since its creation in 2013.