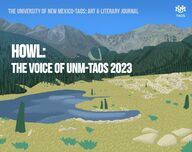 Return to flip book view
Howl: The Voice of UNM-Taos 2023
Page 1
THE UNIVERSITY OF NEW MEXICO-TAOS: ART & LITERARY JOURNAL
HOWL:THE VOICE OF UNM-TAOS 2023
Page 2
Front cover artwork by Amelia Martinez
Williams Lake, digital painting, 2023
Page 3
HOWL: THE VOICE OF UNM-TAOS2023
THE UNIVERSITY OF NEW MEXICO-TAOS
ART & LITERARY JOURNAL
Howl: The Voice of UNM-Taos Art & Literary Journal celebrates the creative work of UNM-Taos students, alumni, staff, faculty, and the greater community of Taos. It represents the power and diversity of Taos and Northern New Mexico culture. Howl's voices are thunderous. They resonate with the interconnected chords that serve to unite our personal, academic, and common realms. Howl hums across borders and fences, penetrating the minds and hearts of all who are courageous enough to listen. Taos is a place situated in ancestral rhythms and lies between the Sangre de Cristo mountains and the deepest canyons in all of New Mexico. Perhaps the magnetic pull between these two is what draws us in and out of ourselves and has attracted so many to settle in this valley.
© All artwork, videos, and written works are copyrighted by the original artist or writer.
Page 4
University of New Mexico-Taos, Klauer Campus
LAND ACKNOWLEDGMENT
The University of New Mexico-Taos sits on the traditional homelands of the Red Willow People of Taos Pueblo. The original peoples of current-day New Mexico Pueblo, Navajo, and Apache since time immemorial, have deep connections to the land and have made significant contributions to the broader community statewide. We honor the land itself and those who remain stewards of this land throughout the generations and also acknowledge our committed relationship to Indigenous peoples. We gratefully recognize our history and work to maintain healthy, fruitful relationships with our neighbors for generations to come.
Page 5
INTRODUCTION
The University of New Mexico-Taos is pleased to present Howl: The Voice of UNM-Taos 2023 Art & Literary Journal. In its third year as a digital publication, Howl continues to use this format to uphold greater inclusion and representation of Taos creatives. The 2023 edition presents 60 artists, writers, and filmmakers as well as Fine Arts, Film and Digital Media faculty and special projects by the Early Childhood Education Department and the Chicana and Chicano Studies Department. The diverse array of participants includes students from UNM-Taos, alumni, faculty, staff, and members of the greater community of Taos. This is also the first year Howl is prominently featuring a local professional artist. For this inaugural chapter, Howl presents Anita Rodriguez.
The work in the 2023 edition of Howl encompasses a range of expression, all seeming to address the nature of humanity post-pandemic. Regardless of medium, all of the contributions are imbued with a celebration of life and a touch of humor, even works that directly address personal and collective grief. The writers take ownership of their authentic voices and allow the readers a window into their most vulnerable states. Drawings, paintings, photography, and prints move between fervent abstraction, traditional figuration, awe-inspiring landscapes and night skies, intimate settings, and emotional portraits, with many artists exploring large-scale installations, mixed-media, and digital processes. The filmmakers and video artists present dynamic music videos, hybrid animations, and inspirational content. Ceramic artists exhibit masterly skills in sculpture and hand-built and wheel thrown functional objects, many of which are highly adorned with abstract carving and representational imagery. The reopening of the metals program has brought forth a resurgence in metalwork and jewelry, all meticulously crafted in fine metals and stones.
However the creatives in this book have chosen to express themselves, it is clear that they all embody fiery passion and resilience. They show us their desire to carry on traditions, pride in their cultures, reverence for their land, and their true unapologetic selves.
- Sarah Stolar, Chair of the Department of Fine Arts, Film and Digital Media
Page 6
FEATURED TAOS ARTIST
ANITA RODRIGUEZ
This year, Howl begins the tradition of featuring a local professional Taos artist. Choosing the artist for this inaugural chapter was an easy decision. Born in New Mexico in 1941, Anita Rodriguez is a seminal artist and activist in Taos. It is without a doubt that anyone involved in the community of Taos knows her name. She is a powerful voice who advocates for the local people, establishing La Coalición de Taos - a grassroots organization that facilitates educational experiences and community action that benefits the land, water, people, and historical cultures of Taos and the greater New Mexico area. She is a master contractor specializing in traditional adobe construction, pioneering the way for women to work in this field. She is a tarot card reader and a published author, including a five-time award winning memoir and recipe book. She is an educator of art and her artworks are held in prominent collections globally, including the Harwood Museum of Art. Anita Rodriguez's visual language and paintings are widely considered to be icons of contemporary Hispanic American art.
Anita Rodriguez Website
La Coalición de Taos
Humans of New Mexico
The Taos News
Spoken Word by Anita Rodriguez
Photo credit Bobby Gutierrez
Page 7
Anita Rodriguez cont.
Entremetida, acrylic on canvas, 12x36"
Anita Rodriguez was born in Taos, New Mexico. Her father's side of the family were "native Hispanic Taoseños" and had been living in the area for many generations. Her mother was a painter from Austin, Texas who relocated to Taos in order to study art with Walter Ufer. Rodriguez was raised Catholic. During Rodriguez's teen years, she went to Mexico City where she spent time painting and learned the styles of Mexican artists such as Frida Kahlo. Rodriguez took art at both Colorado College and at the University of Denver. Later, she gave birth to a daughter, Shemai, in 1965. She started her own construction company in Taos in order to support herself and her daughter. Her construction work focused on the use of adobe to create fireplaces and nichos. While studying the art of adobe, she traveled from village to village speaking with and recording the remaining enjarradoras, learning from them as well as preserving their history. Even while working on fireplaces, Rodriguez felt that instead of creating something commonplace, that her work was "functional sculpture." After Shemai grew up and left the house, Rodriguez retired from construction and started painting full-time. She later moved to Guanajuato, Mexico in 1996 and left to move back to Taos in 2010.
Anita Rodriguez's work incorporates Native American ceremonialism, Mexican mysticism and Hispanic folk art as well as the Penitente art of New Mexico, Native American dances and ceremonies, and Catholic traditions. Her art is very concerned with death, resurrection and its relationship to Mexican culture. The idea of death for Rodriguez has two major functions. The first is that without death, there is no eternal life and the second is to remind the viewer to enjoy their life now. The skeletons she uses to embody this concept have ties to traditional Mexican art and are present in many of her works. She also traces the uses of skeletons as an art motif further back to pre-Columbian times. Rodriguez is influenced by indigenous religious practices, Christian themes and also Jewish celebrations. Rodriguez enjoys combining and contrasting different spiritual and cultural traditions, reflecting the multicultural world that she grew up with in Taos. Stylistically, she often centers her subject matter, relating her work to stained glass or altar pieces. Composition is less important than the subject matter or idea being expressed by Rodriguez. Her color choices are bright and vibrant. Rodriguez hides messages and ideas throughout her paintings which function as visual puns and humorous messages.
Page 8
Trampas, acrylic on canvas, 48x24"
Anita Rodriguez cont.
I use skeletons because they cross all class, cultural and gender lines. Everybody gets death. I want people to be drawn into my paintings by intricate detail and bright colors, step into my world and listen to my story – or be provoked to make one up.
I was born to a table groaning with art, exotic recipes and eccentric stories from far-flung cultures. My father, who had a drugstore on Taos plaza, came from a family whose New Mexican roots go back to 1698. The plaza, town and surrounding villages were almost all adobe, a symphonically beautiful architecture in a landscape that inspires awed reverence and begs to be painted.
I grew up on our centuries-old plaza, a stage set for a colorful, tragic and complicated historical drama. Taos witnessed conquest in 1692, revolution in 1680, re-conquest in 1700, and conquest again in 1847. Taoseños speak 3 languages, carry 3 versions of history, world-views and belief systems in our heads. We are a living epigenetics theater of cultural confluence and conflict. This exotic ambiance drew Anglo intellectuals, writers and painters, including my artist mother to our colorful town. She walked into Daddy's drugstore, he made her a chocolate soda (a known aphrodisiac) and the resulting, entirely improbable marriage breached racial, class, and cultural boundaries.
As for building, in New Mexico women were traditionally builders. We are the carriers of a specific architectural technology called enjarrando, passed on by oral tradition first by Pueblo women and then Hispanic women. Despite having kept 1,000 years of architecture standing as the maintenance experts and embellishers, we were never mentioned by architectural historians. I took a tape recorder and camera into the villages, collected the technology of enjarrando, and published the first article about the enjarradoras to appear in print in 1975. I got a contractor's license and spent 25 years practicing enjarrando as a professional adobe finisher. I was invited to Egypt by Hassan Fathy, author of Architecture for the Poor, where I added to my repertoire of skills from a culture that has used adobe for 6,000 years. I also traveled to Guatemala, China and all over the American southwest collecting adobe tips. At the age of 47, I retired my contractor's license and became a full-time painter. In 1996 I rented my self-built adobe house, moved to Guanajuato, Mexico and stayed for 15 years. I learned to read Tarot from a Santera in Leon, and have practiced ever since.
I want to create paintings accessible to people of different cultures, levels of education and class. I use skeletons because they cross all class, cultural and gender lines. Everybody gets death. I want people to be drawn into my paintings by intricate detail and bright colors, step into my world and listen to my story – or be provoked to make one up. Once I have their attention, then they will find layers of meaning, animals, symbols, messages and mystery, sometimes hidden, sometimes in plain sight. There's plenty of intellectual chew-toys for the Jungians, and references to literature and folklore in two languages. But the messages I am interested in transcend class, age, culture, and gender.
- Anita Rodriguez
ARTIST STATEMENT
Page 9
Anita Rodriguez cont.
Pascuaro en la tierra del sol, acrylic on wood and masonite, 37x52"
Page 10
Anita Rodriguez cont.
Santisima de amber y las abejas, acrylic on carved wood, 36x28x5"
Page 11
Anita Rodriguez cont.
Sunset new Abiquiu, acrylic on canvas, 12x36"
Curaron con copal, yerbas, agua, familia y comunidad, acrylic on canvas, 12x36"
Page 12
The COMMUNITY
UNM-TAOS STUDENTS, ALUMNI, FACULTY, STAFF, & TAOS COMMUNITY MEMBERS
Page 13
Alex (ARGOT) Simeti
Alex (ARGOT) Simeti stays busy as a father, a multidisciplinary artist, the instructor for 3D printing at UNM-Taos and Peñasco Elementary school as well as being a student at UNM pursuing a Bachelor in Studio Art.
ARGOMEOS: A Self Portrait Homage to OSGEMEOS, digital drawing, 8.5" X 11", 2023
Page 14
Alex (ARGOT) Simeti cont.
Let it Burn, music video, 2022
Page 15
Alex (ARGOT) Simeti cont.
Chymerateria 2: Mini Sbearrow Nest, 3d printed and hand painted figures and
nest made of found objects, 9x11x10", 2022
Page 16
Allegra Sleep
Allegra Sleep is a painter based in Taos, New Mexico. Born in Managua, Nicaragua, she moved to Taos in the winter of 1989. In 2016 she became a Signature Member of the Taos Watercolor Society, in 2023 she was elected as President of the organization. She paints large, loosely figurative paintings in mixed water-media (acrylic and watercolor- both) on hardboard. Her work often portrays travel, the American West, historic/family photographs, and magical realism. Her color palette is bright, influenced by her childhood in Latin America. She is known for the frequent use of yellow in her paintings, especially her yellow skies.
Linus and Bert; Strong Man Twins, mixed watermedia on hardboard, 2021
Page 17
Allegra Sleep cont.
Milton, Gladys, Miles, Cyrina, and Jasper the Black Rhino, mixed watermedia on hardboard, 2023
Page 18
Allegra Sleep cont.
Sarah and Daisy Share Secrets, mixed watermedia on hardboard, 2020
Page 19
Allegra Sleep cont.
Myra and Frieda Pose For Joe, mixed watermedia on hardboard, 2019
Page 20
Alma Quillian
Alma Jeannette Quillian grew up in Texas, which is reflected in her work. She received her BFA at Southern Methodist University and her Master of Art Education at Sul Ross State University. She taught art for 24 years in Texas. When she retired and moved to New Mexico in 2007, she continued teaching art from time to time, but was finally able to turn her attention to her own art work full time. She works primarily as a clay sculptor but has recently rediscovered her love of printmaking. She began taking ceramic classes at UNM-Taos in 2014 when she moved to Taos and continues to enjoy taking art classes today. In 2020 she included printmaking in her UNM-Taos curriculum. She appreciates the community spirit of the classroom and is inspired by her excellent professors, Lee Akins and Gary Cook. She is grateful for opportunities to continue learning new and fascinating means of expression through their efforts. She is inspired by the animals, plant life and color of the Southwest, which is at the heart of much of my work. In her own words "My work is an expression of the love I feel for what I see.
I want to share how it feels to love what I love and to honor the beauty and love I see in my subject matter." She is currently represented by Wilder Nightingale Fine Arts in Taos and Artisans on Main Street in La Veta, Colorado
Two Headed Egret Vase, clay, raku glazes, 17x7x7", 2022
Page 21
Alma Quillian cont.
Raven Pair, clay, glazes, juniper, 18x16x12" 2023
Page 22
Alma Quillian cont.
The Conversation, solar etching, 8x10.75" 2022
Page 23
Alma Quillian cont.
Buffalo and Starlings, solar etching, 8.5x11.2" 2022
Page 24
Amani Khweis
Amani Khweis is a UNM-Taos Alumni who graduated in 2019 with an Associates degree in Fine Arts. She is a mother of 5 and has lived in Taos for 22 years with her husband Khalil Khweis. Amani enjoys painting with acrylic and oil paint. She has made art for her entire life and has participated in UNM-Taos' Howl ever since she was a student. Most of her well-known pieces are inspired by her homeland, Palestine. The pieces she submitted are untitled oil paintings of horses.
Untitled, oil painting, 20x16", 2021-2022
Page 25
Amani Khweis cont.
Untitled, oil painting, 20x16", 2021-2022
Page 26
Sand Dunes and Cerulean Skies,
photography, 2022
Amelia Martinez
FRONT COVER ARTIST
Amelia Martinez is a 10th-grade dual credit student. She is taking Drawing I at UNM-Taos and is currently interested in civil engineering.
Magenta Dusk, photography, 2022
Page 27
Amelia Martinez cont.
Williams Lake, digital painting, 2023
Page 28
Anna Bush Crews
Anna Bush Crews, who is from Taos, left after graduating from Taos High. She attended UNM-Albuquerque for a BA degree, then San Francisco State (now called CSUSF) for a Master degree. After living and teaching photography in Africa (Zambia, Botswana, and Malawi), Crews lived and taught in England and Wales for many years, ran a photography gallery, and sold things in markets before returning permanently to Taos in 2014. Ceramics has become an important part of her art practice since returning.
NOR swirl, ceramic sculptures, 19x6.5x5", 2023
Page 29
Anna Bush Crews cont.
Geoform, ceramic sculptures, 11x16x5", 2022
Page 30
Anna Bush Crews cont.
Cold House, photography, 12x15", 2023
Page 31
Anna Bush Crews cont.
Snow Chair, digital photo, 12x12", 2023
Page 32
Anne Delling
Anne Delling has been a graphic designer for the past 30 years. Having always had an interest in fine arts, she has recently enjoyed taking Painting 1 at UNM-Taos. She is currently working as an Assistant Director at a local gallery in Taos.
Self-portrait, oil on canvas, 2022
Page 33
Anne Delling cont.
Self-portrait in Klimt Style, oil on canvas, 2022
Page 34
Benjamin Kalish
His name is Ben he is a student that does not yet know what to do with his life, but is currently pursuing a major in Digital Media Arts and is taking Film and Digital Media Arts Classes. In his spare time, he has chosen to discern what his greatest flaws are and write them in a poem so that other people can also know what his flaws are so that maybe he can find people who suffer from those very same flaws.
This is a Haiku poem about procrastination
Work
Work in front of me
Oh, how I hate it so much
I'll do it later
This is a haiku poem about emotion
A half-hidden spring
That is what emotion is
At least half the time
Artwork by Inna Vologzhanina
Still-life, oil on canvas, 24x20", 2022
Page 35
C. Brandenburg
C. Brandenburg is a current UNM-Taos staff member and Taoseña. Her photos focus on the details of the amazing world we live in.
Rams by the Rim, digital photograph, 2022
Page 36
C. Brandenburg cont.
Heart of the Sun, digital photograph, 2022
Page 37
C. Brandenburg cont.
The Details of the Gift, digital photograph, 2022
Page 38
Pitcher with woman & oranges, wheel thrown & altered stoneware and underglaze, 8x4.5x4.5", 2023
Caroline Yezer
Caroline Yezer is an art student who moved from Boston to Taos in 2018. She is also a cultural anthropologist who has taught classes on post dictatorship Latin America and Indigenous rights. Prior to Boston she lived in the Andes mountains of Ayacucho Peru.
Page 39
Caroline Yezer cont.
80s Memphis Platter, hand built paper clay & underglazes, 2.5x11.5x10", 2023
Page 40
Caroline Yezer cont.
Color blocked Pitcher, wheel thrown & altered
stoneware & glazes, 2023
Raku bottle, stoneware & glaze, 4.5x4.5x4.5", 2022
Page 41
Catherine Langley
Catherine Langley received a BA in Geology from Skidmore College and after a successful career as a geologist, retired to Taos to study and create art. She is currently attending the University of New Mexico - Taos and is a candidate for an Associates Degree in Fine Arts. While studying at UNM she is exploring various media: clay sculpture, oil painting and printmaking and is currently taking Painting II.
Her oil paintings reflect personal experiences with an emphasis on the feminist perspective. Using a poetic visual vocabulary to give her work potency, she explores themes such as isolation and alienation, unconformity and the limiting imposed roles of women in society throughout history and art. She uses juxtaposition to express the conflicts women experience as they navigate the complexities of their lives. A collage of shattered blue sky is used as a comforting blanket for a woman surrounded by her love letters and diaries.
Drawing inspiration from her garden and the surrounding environment of northern New Mexico, her work in printmaking focuses on the processes of nature, as displayed by plants, seeds and roots. Using linoleum block printing, the medium has allowed her to reduce visually complex subjects to their fundamental, essential forms. With multiple printings she conveys changes in mood and atmosphere by using different printing techniques, colors, and styles.
Catherine Langley is the recipient of the 2022 UNM-Taos / Taos Fall Arts Scholarship and the 2023 UNM-Taos / SVA Online Residency Fellowship.
Cholla Cactus, linoleum block print on paper, 10x8", 2022
Page 42
Catherine Langley cont.
It's Broken, oil on canvas, 42x32", 2023
Page 43
Catherine Langley cont.
Memento, collage & oil on paper, 34x28", 2023
Page 44
Charlotte Shroyer, Ph.D
Growing up in a rural area in central Ohio where neither family nor school placed value on art or ever exposed her to art, Charlotte Shroyer chanced upon art in a class requirement for elementary education certification at The Ohio State University. In spite of her love for French, a B.A., major in French, minor in Russian did not prepare her to make a living so she became a teacher. It was in an art class for elementary teaching certification that the seed to become an artist was planted. After more than 20 years in education including a PhD in language and learning disorders from the University of Pittsburgh and many years of adjunct art classes at major universities, the "art seed" sprouted on a serendipitous trip to Taos, New Mexico.
Shroyer 's unique art work has earned numerous national and international awards for her abstract and contemporary figurative oils and monotypes including: Emerging International Contemporary Artist, American Juried Art Salon; Outstanding Award of Artistic Value, Bologna, Italy; 2nd Place, Graphics, 87th Annual International Juried Competition, Harrisburg, PA; honorary diploma, Berliner Art Prize, Germany; First Place, Mixed Media, "Figuratively Speaking," Harrisburg, Pennsylvania (Art Association of Harrisburg); First Place Overall, "Subjective," New York City (Women's Caucus for Art). Shroyer is also a published author and newspaper columnist (Carson City, NV). A feature story about Navajo weaving published in an Albuquerque newspaper won a San Francisco Best Feature award.
Proud to Be Who I Am, drawing with charcoal and oils, 6x4", 2023
Page 45
Charlotte Shroyer, Ph.D cont.
Is That So?, oil on canvas, 12x12", 2022
Page 46
Charlotte Shroyer, Ph.D cont.
Robot, Robot, mixed media, 8x8", 2023
Page 47
Charlotte Shroyer, Ph.D cont.
Time, oil on canvas, 48x48", 2022
Page 48
Cindy Brown
Cindy Brown is a freelance writer living in Taos. She writes about the outdoors, health, history, and culture for The Taos News and is the author of the Taos Hiking Guide. Cindy is a graduate of the Holistic Health and Healing Arts program at UNM-Taos.
Brink of love
The brink of love, the tall cliff
The precipice
Precipice of love - that's what the poem said that Daniel wrote that day at the Farmers Market
When I started to tremble and cry.
I stand on the brink, the precipice
The full moon coming now, throbbing through my heart
Into my soul.
The reawakening of passion
The spark of desire that moves across the dark universe
And finds us waiting.
You saw the spirit of my mother
And put your hands in her bones.
I taste your kiss on my mouth in my dreams
Then you go alone across the ocean to the place of my ancestors
Silent in the going.
Without the dream of your kiss on my mouth
Or the magic of my poem
My heart in a box on the shelf.
You weave stories of passion for me late into the night
I quake with wanting what I cannot have.
You are deep in my thoughts
A poem without an end.
Still I stand on the precipice
Waiting for a sign.
Page 49
Congthanh Nguyen
Congthanh is a second-year student at UNM-Taos. He is currently aiming for Digital Media Art Associate Degree. He is currently attending FDMA Internship for credit in the Film Technician program. He is a major in Filmmaking and Photography with three years of experience. He has a passion for filmmaking and collects all sorts of equipment, such as drones for high dynamic shots. He recently participated in the Acoma Pueblo/Continental Divide Trail Coalition Film as a drone pilot.
El Malpais National Monument, photography, 31.5x42", 2023
Page 50
Congthanh Nguyn cont.
El Malpais National Monument, photography, 31.5x42", 2023
Page 51
Congthanh Nguyn cont.
El Malpais National Monument, photography, 31.5x42", 2023
Page 52
Crucito Concha
Crucito A. Concha is a full-time UNM Taos student, he is a Native American from Taos Pueblo, who has struggled with alcoholism and substance abuse. He wanted change in his life so he enrolled at UNM-Taos, and completed the Construction Certificate Program in the fall of 2021 and a Certificate in 3-D printing in the spring of 2022.
He knew the importance of education and the role it played in his life; it was part of his recovery process. He took a photography class and found the camera as another tool to express himself and found beauty is everywhere. He is continuing with his education and pursuing an Associates in Film and Digital Media Arts. Which he is currently in the work study program.
He and his significant other, who is also a full-time student at UNM-Taos, are proud parents of two daughter's ages 12 years old and 16 months. He feels he is truly blessed with his new lease on life. He knows education has changed his life for the better. Do something to change your life. He would like to share his story, as it may come across somebody who is at a crossroad in their life or needs that inspiration to change. You can do it.
Canyon breeze, digital photograph, 2023
Page 53
Crucito Concha cont.
selfie-pix, digital photograph, 2023
Page 54
Crucito Concha cont.
B & W Salt Cedar, digital photograph, 2023
Page 55
Crucito Concha cont.
Beauty and Nature, 2023
Page 56
Daniel Tredwin
Daniel is currently a part time pre-science student at UNM-Taos.
Zombie
How to throw off the alone yet the ordinary
Must live with it: the way things are
What is dead but you cannot bury
Gotta keep it moving, even if not very far
Bored, nothing to hold dear, nihilism eating on you?
There's always the desirable things: and they do gleam
Stuff to serve you no matter what you still do
They may just might temporarily hold up some dream
Even if just to eat more so it has more of you to eat
As you live through your dreary day carrying your weight
Your need served by the prepackaged; you are pure meat
Both you and your burden it seems in symbiotic hate
The norm is political poison: falling on us from above
Smothering us, those with power, a diminishing number
You buy something when you need something to love
We could take and share it all if we awakened from their dead slumber
Throw off this capitalist corpse, this dead thing still eating on me
On all of us, a plague of the insatiable yet dead to it all
Maybe that's why there's so much zombie stuff on TV
We must cast it off or both we and the monsters will fall
Rabbit
Don't want to incessantly twitch like a rabbit
Nervous and nibbling; running away all day
What I need is some healthy human habit
Find some kind and creative way to live and play
Were we placed on this earth or did we just occur?
A related question may be asked of me right here
Do I intentionally position myself or quiver inside my fur?
Because I just happen or get happened to when nothing to me is dear
Whatever your belief the human project is still there
For all to be and become every truly viable and virtuous choice
I thank you for your own kind and creative care
That's maybe why we are not rabbits, and have a voice
Page 57
Daniel Tredwin cont.
Existentialism
No way to know how I should see my seeing
Really ever any way to ever find the measure of my being?
Where does an experience go?
What is the meat of our consciousness?
What pushes and forms this stuttering flow?
What can be the fixed form of what's just a guess?
The one true thought that you cannot quite hatch
The thing you love you will never quite catch
The wonderful opportunity that you did not snatch
Where and what shape is the critical latch?
What shape is the thought that taunts you like a ghost?
What is the thing that you love the most?
What regret sucks on you like you were its host?
What would you like to be your own most genuine boast?
There's no shape at all to our love, regret, pride or desire
We get stuck in our words as if they were a mire
Usually there's a metaphor: 'burning for it like a fire-'
I have something to say if of such talk you do tire:
There's no specificity to that lifelong itch
The one I cannot speak of but you know which
The one you are like it's a wound that no thread can stitch
The one we cannot speak of without some degree of metaphorical kitsch-
There is no actual form to 'the key that opens the door'
To the exact shape and size of your most desired more and more
We must reach ever outward because we have no core
We must ever find that which is our what and wherefore.
Artwork by Selena Pacheco
Figures, colored pencil on paper, 12x8", 2022
Page 58
Darien Isaacs
Darien Isaacs is an undergraduate student at UNM-Taos. He is working on getting a digital media degree and getting a career in the media industry. With a passion for filmmaking, photography, and animation Darien Isaacs has gained much experience in many aspects of media. Darien Isaacs is known for having a committed work attitude and strives to make a positive impact in the industry and community. When not working on school or other work, Darien Isaacs enjoys playing the piano, reading, and making films to be seen on You tube and other video sharing platforms. He also likes to spend time with family and friends. He has a pet cat named Penny.
Here and Now, photogram, 2022
Page 59
Darien Isaacs cont.
Sunset, photogram, 2022
Page 60
Darien Isaacs cont.
Hobo With a GoPro, 2023
Page 61
Darien Isaacs cont.
The End, 2022
Page 62
Dashel Fullerton
Dashel Stone Fullerton was born and raised in Taos, NM. He is currently an Associate of Fine Arts candidate at UNM-Taos with a focus on metal construction and sculpture. He is also currently the Atrium Gallery Coordinator and Assistant to the Chair of the Department of Fine Arts, Film and Digital Media. Dashel also applies his creativity to stone masonry work and designing gardens. When he is not making art, he enjoys downhill long-boarding, mushroom hunting, gardening, tie-dyeing, and cooking.
untitled, lost wax casting, sterling silver with turquoise and bone ash inlay, size 11 ring, 2023
Page 63
A Conspiracy of Ravens, 2022
Starring Cruz Concha and Congthanh Nguyen
David Mapes
David Mapes is a student of UNM-Taos Film and Digital Media Arts. A furniture maker, gallery owner and pyrotechnician, he is entering Act 3 of his life as a filmmaker.
Page 64
Devon Hoffman
Devon Hoffman is a writer, filmmaker, and alternate reality game developer who has been living in the Española Valley for seven years. She is a trans woman with family history in the region. Her family first settled in Los Alamos and then moved to Taos when the Manhattan Project evicted them. She works closely with the Northern New Mexico community to create community-driven works of fantastic art, through the Eyes of Time. Learn more about this project at www.theeyesoftime.com
The Dismantler (Excerpted from Immaculate Citadel)
Page 65
Devon Hoffman cont.
Immaculate Citadel Music Video (Excerpted from Immaculate Citadel)
Page 66
Devon Hoffman cont.
Trans Star Wars Thought Experiment
excerpted from
Theories for Dark Matter
When I started my transition, my ex-wife asked me whether I was simply shifting another paradigm because I had become addicted to axiomatic extremities. Was I perpetuating that 'perpetual progress machine' which had devoured so much of the world and defined my life path, to now devour femininity?
The thing about that question is, there really isn't any way for me to rhetorically invalidate it. I don't have the benefit of that kind of clarity you often hear repeated of transgender stories by the media, that I thought about myself as a woman from an early age. For me, there wasn't really a 'closet' that I was stuck inside because I was too afraid or ashamed to step out. Instead, my transition took me by surprise–so it's entirely valid to suspect it is of a piece with all the other drastic axiomatic changes I perpetually sought out in hope to improve my mental health.
When I look back at (not very) old photos of myself, I retrospectively see a woman who happens to be inhabiting a male identity. But when I was in that identity, I didn't see any reason to see myself other than male. Femininity was present in me, and I embraced it. Earrings, makeup, painted nails. But this was all part of my glamorous hipster metrosexual softboi whatever you want to call it persona which made a fair amount of sense to me and those around me. It wasn't easy to connect these little flourishes to some larger womanhood.
Because there is no smoking transgender gun in my case, I think it would be helpful to relate what happened to my gender from another direction than the direct and observable evidence. Let's try a thought experiment.
Imagine you are watching a movie, say, Star Wars. It is running at the standard 30 frames per second. Now, every ten minutes of this movie there is a single frame that's…out of place. It's hard to say what exactly is different about it, because it goes by so quickly. If we're only watching the original trilogy, we are talking about 38 of 678,600 frames that are out of place here.
Now, Star Wars is the kind of artifact that's undergone some intense scrutiny over the years. If Star Wars in this thought experiment represents my personality, then a half-century of cultural scrutiny represents the intense introspection which I naturally apply to my personality. Under such scrutiny, it is reasonable to assume every frame of the Star Wars trilogy has been examined and analyzed. So we should expect the 'out of place-ness' in these 38 frames has been looked at, and it's been found that they seem to depict another story than the one we ultimately got in the movies–almost as if one swallowed the other. It's hard to say what the story is about, though. There is not enough evidence.
Where there is evidence, is in what we know as Star Wars: the ur-text for the hero's journey. It has lightsabers, blasters, space chases, sith, and reductive moral philosophy. It spawned an unprecedented boom in merchandising, inspired countless other films, and its IP seeded one of the most lucrative franchises in history. Whatever the other story may be, it's hard to give its meager existence very much importance under the sprawling power of the story we all know and love. Luke Skywalker! Han Solo! Princess Leia alone in a sea of dudes! Yes, I do love Star Wars.
Page 67
Devon Hoffman cont.
But what if I told you the other story was better? Or at least it seems that way from the 38 frames we have.
Even so, using an epistemological–that is, a knowledge-based–approach, there isn't enough data in those few frames, those few effemancies, those rare data points in the scientific canon…there isn't enough information to establish any new knowledge, nor is there enough information to disavow old knowledge, especially since this would substantially change the structures which house this knowledge. We can have theories, we can have weirdo art that will never compete with Disney, and we can have pierced ears in my college years–but we cannot say we know anything about that other story.
This returns us to my ex-wife's concern that I was upturning our life together based upon the mere suspicion of something happening with my gender. This obsession with progressing my knowledge into the mystery—with my understanding of the story from a mere 38 frames—was this really necessary? We already had a known universe large enough to fill a million lifetimes, let alone our humble two (and if we had children, three or four). Yes, Dark Matter remained an unsolved question embracing some 80% of the universe; yes, most masculinity made no sense to me. But I liked my mustache and wearing sport coats and we had just bought a house with two acres of fertile matter. Didn't that matter more to me than some 'other side' I may never be able to glimpse, no matter how radically I may shift my axis?
Didn't our love mean more to me than the thrill of new discoveries? Would I really doom her to live marooned by the neglect of an expeditioner, like all those widows of men who took pointless turn-of-the-century journeys to Antarctica?
This pathos-ridden protest held a great deal of sway over my rational assessment of the phenomenon. If you are watching Star Wars slowly mutate into some other story which previously existed as a subliminal blip on your action-packed radar, it's entirely reasonable to say George Lucas lost his touch in the prequels or Disney bastardized the whole thing in their acquisition or–if you're a toxic troll–diversity casting is where it all went south.
But this stretched metaphor doesn't exactly fit the scenario here because I would argue that the way Star Wars has mutated away from its past glories is somewhat the opposite of how I transitioned into womanhood.
The story told in the 70s no longer exists in the houses which birthed it, nor does it exist in the house which now owns it. Joseph Campbell's primary argument for the universality of the hero's journey is that everyone can see themselves inside it; what he fails to take into account is the mechanism by which this happens. He accounted for one epistemic pattern–the 7-10 step journey–but not the way our reflection comes into being within that pattern. When you look closer into this coming into being, this ontological (rather than epistemic) evidence, what you discover has little to do with the formula and everything to do with the countless artists and audience who made the formula their own. Star Wars is not Star Wars as much as everyone who made and watched Star Wars. And while the people making Star Wars now, diversity hires notwithstanding, belong to an institution which will always prefer the sure story over a fleeting interpretation of accidental frames, there are those amidst the great diffuse mass to whom Star Wars really belongs who carry their own version of the story in their hearts—those for whom those queer frames have come to define their whole world.
Because the frame which seems like an accident when analyzed as data nevertheless carries a story whether or not this story gets significant airtime. And when you live inside such a story, you don't need to prove you know it; your knowledge is your experience. My turn into womanhood is as if Star Wars turned into the full story glimpsed in those 38 frames.
Once I looked through the eyes of those frames, of that marginally known data quotient on the edge of mystery, the whole world became at once clear and spectacular. I realized for the first time what it felt like to be embodied. I was not the hero; I was the person in the hero's deeply buried subliminal. But my story felt somehow greater than the hero's, for while my true identity hardly appeared on the radar of my own perception, once perceived it ultimately pointed me toward a truth which composes the majority of the universe, like dark matter: experience.
Page 68
K+K (Korey and Kashlyn), oil on canvas, 24x36", 2022
Don Wallis
Currently enrolled in Painting I taught by Gary Cook, Don Wallis retired to Taos 10 years ago and began painting about 6 years ago. He has a BFA from the University of Oklahoma.
Page 69
Don Wallis cont.
St. Francis, oil on canvas, 20"x20", 2023
Page 70
Don Wallis cont.
Rio Gathering, oil on canvas, 20"x20", 2023
Page 71
Don Wallis cont.
For You, oil on canvas, 18x24" 2022
Page 72
Enrico Trujillo
Enrico Trujillo is a multimedia artist from Taos, New Mexico. Enrico creatively draws from his experiences growing up in northern New Mexico. The core of his work includes painting, drawing, multi-media installation, film, video, and interactive art. His work explores the human form, physical and virtual places, the high-desert landscape, complex emotions, belief, queer culture, and technology. Enrico is currently the Multimedia Development Specialist at UNM-Taos.
Daughter of the People, oil on canvas, 8x8" 2022
Page 73
Enrico Trujillo cont.
Estoy muy agradecido, oil on canvas, 8x8" 2022
Page 74
Enrico Trujillo cont.
árbol de álamo, oil on canvas, 8x8" 2022
Page 75
Enrico Trujillo cont.
Jose de GarcÍa Church, Las Trampas, oil on canvas, 8x8" 2022
Page 76
Sacred Cross with Wings, silver pendant, 3mm garnet.,
2" long, 2023
Erica Parraz
Erica is a Paramedic by trade. She began taking art classes at UNM-Taos to find something she felt could help give her some peace and calm her mind, from the constant trauma and sickness she has had to see for many years. She was raised in Taos, graduated from Taos High School before going to Colorado for Paramedic school. Becoming a silversmith or jeweler, was not a plan, but became a wonderful outlet and passion she is able to do with her daughter.
Silver Hat Pin, stamped hand with 6mm
garnet, 3.5" long, 2023
Page 77
Erica Parraz cont.
1x1cm heart with CZ set stone on silver chain, 2023
Page 78
Artwork by Jana Greiner
soft sculpture, 48" wide, 2018
Hollie Salazar
Hollie Laudal Salazar is a Math Lecturer and Chair of the Math department here at UNM-Taos. She loves supporting students who have historically thought they were "bad" at math, or that "math isn't fun" by making it come to life in new ways. She also teaches yoga on campus and in the community, along with improv acting. She is an avid rock climber, and a wife and mother of two. In her free time she ... oh wait ... she doesn't have any =)
Motherhood
If I had known
that becoming a mother
meant being YOUR mother
I would have been
longing for you
my whole life ...

And yet if I had known that
being your mom
would bring me to my knees

daily

in tidal waves of brutal, guttural,
ineffable love,
I might have said, "I'm not ready for that."

So here we sit
between those two poles
of longing and resistance

growing together
in this mystery
of human mother and child ...

I wouldn't trade it for a thing

even as my heart is being
torn from my chest
all day.
Page 79
Hollie Salazar cont.
PreciselyThoseMoments
It is precisely
in those moments
when you are so sick of washing dishes that you could scream
when you feel like you are drowning
in the insignificance
of your ordinary moments
unseen
unheard
That you have the opportunity to
pause
soften
and
Let
Grace
In.
We have been trained
to think there is a better life out there
if only we had a better job
if only we were famous
if only x
if only z
if only ________
This is the cosmic lie
passed down through the generations
whispered into the hallways
of our minds.
But the truth is
the life that is Yours
starts right now
in no other moment but this one
feeling your heart
feeling joy
feeling like ass
feeling all of the pain you've pushed away
turning right into the skid
Right here.
Learning to love yourself
in all the messiness and confusion
right now
completely.
It is only then that you can get out of your own way.
Whatever needs to unfold
will take it from there.
Page 80
Hollie Salazar cont.
Introduction: Asking for Help
"Until we can receive with an open heart, we are never really giving with an open heart."
-Brene Brown
When I met Sharon in 2008, I had only been working full- time for hospice for about six months. I was the ripe old age of 28. She was all of 57 years old, and she was dying of lung cancer. She had been a smoker for several decades. A peanut of a woman, she carried less than 80 pounds on her 5-foot frame. Sharon was a Born-Again Christian, so she loved it when I prayed for her and read to her from her Bible. She also liked me to bring my guitar and play Johnny Cash tunes for her while she sat in a big blue recliner in her tiny nursing home room. Her roommate often left when visitors came for Sharon. "I guess she doesn't like the talking," Sharon would sigh.
I'd go outside with her while she smoked her Kool 100's and we'd talk about her life. She liked to ride motorcycles, but never owned one of her own. "There was always a man around for things like that," she laughed. She smoked, drank, and partied in general for most of her life, except during her time as a single mom. She raised a son and a daughter, all on her own, and they meant everything to her. "When the time came, I gave all of me to raising my kids." She acted tough, but I could see her sensitivity leaking out from beneath her armor. She was a fragile woman, and a caring one. She always put herself last.
I got a lot of insight about her from her daughter as well. "Mom never wants anyone to do anything for her," her daughter would say. "She doesn't want to put them through a hard time," she added, with resignation in her voice. She figured her mom would die that way. And she was right—at least partially.
Sharon only liked me to come see her about once a month—she didn't like receiving too much help. "You have better things to do than sit here with me every week," she'd say. I had been seeing Sharon for about six months when I had the strong inkling to go and visit her first thing one Tuesday morning, even though I had already seen her the week before. She lived in Castle Rock, about 30 miles south of my Denver apartment. I felt like I was being pulled into some kind of vortex as I walked towards her room. I found her sitting in her recliner, looking so small that her frame almost vanished against the backdrop of the large, denim- blue cotton cushions.
"Good morning, Sharon," I said quietly as I pulled a wooden stool up next to her recliner.
"Good morning," she whispered. She was wearing a white nightgown with little, faded pink flowers on it. Her skin looked grey and sunken in, as if it were disappearing into her bones. She wielded awareness in her eyes as she stared out the window at the morning clouds.
I could tell that she wasn't up for a chat. I asked her if I could stay and just sit with her, and she nodded. We sat that way, hovering in the taut silence of the room, for about five minutes. She continued to gaze out the window, lost in another world. Then, eyes still fixed on the clouds, she piped up and broke the silence with her crisp, matter-of fact words. "I don't want my family to see me die."
Page 81
Hollie Salazar cont.
Now this was not an uncommon statement to hear from hospice patients, and especially ones who didn't like to receive help. Sharon was a giver, not a receiver. She didn't know how to let someone be with her during a hard time. I talked with her for a little while about the amount of choice she might actually have in the matter—hospice patients often wait for someone to leave before they take their last breath. The whole family is sitting, holding vigil, for days, and when they finally decide to go out and get a bite to eat, boom, their loved one lets go. I had seen it again and again. I shared this candidly with Sharon.
She took a little inhale—just enough to whisper the last words she would ever say: "But they're coming at 10."
I looked at my watch. It was 9:20. And I started to understand what Sharon was saying. This was not a theoretical situation. And so, without thinking about it, I spouted out,
"Sharon, are you saying you want to die right now?"
She simply nodded, finally making eye contact with me. I saw the tears in her eyes. This, I realized, was the hardest thing she had ever done. She was asking for help—the deepest kind of help. She wanted a midwife to carry her out of her body, to birth her through her own death, and she wanted it now, in the next 40 minutes.
Now, keep in mind, most hospice patients go through days of predictable symptoms and changes as they let go. They stop eating, drinking water, and communicating with the outside world. Their breathing changes, and their skin starts to mottle—a medical term for developing patches of dark color because the blood flow is lessened in the extremities.
But here was Sharon telling me she was ready to die in the next 40 minutes, and I knew I had to take it seriously. She had never asked for a single thing from me before. This was real.
I quickly went to get the nurse who was working on Sharon's hall and shared with her what had happened. She understood. There is a quiet, subtle knowing in so many health care workers. We both came back into Sharon's room and helped her up from her recliner into her tiny bed. She walked those five feet with just a little bit of assistance from us. We gently lay her frail body down began singing to her and praying with her, using the language of her own religious faith.
"God," I said, with my hand placed gently over her bony chest, "please take Sharon lovingly into your arms. She is ready now; her body is tired and her spirit is ready. Please take good care of her, and help her to open her heart as she lets go in the biggest way she has ever known. Let her love of Jesus open her as deeply as she can be opened, right here and now, in this most tender moment of her life—her death."
Page 82
Hollie Salazar cont.
The nurse and I sang to her—Amazing Grace, over and over. We said the Lord's Prayer together.
And over the course of those ten or fifteen minutes, we watched her breath shift from the depths of her lungs into a shallow little flicker in her throat, and then it was gone. Just moments later her heart stopped. All of those symptoms we normally watched over days and days—she was playing them out in fast forward. Within 20 minutes of her request to me, she was gone. Her body was like a cocoon now, lifeless and already sunken into the bed.
I sat with her body for what felt like an eternity afterwards. The space in the room felt limitless and completely still—it felt like even having a personal thought was an affront to the sacredness in the room. It was hard to muster up a thought anyway. I sat there, matching the stillness of the space with the quietness in my mind. I do remember having the thought, "Sharon finally asked for help," and smiling.
Then, as if I was watching a pin hover in the air and suddenly fall to the ground, the whole space shifted—dropped, even. It felt "normal" again—the beeping of the nursing home machines, the TV blaring down the hall, the general sense of conventional time had all returned. Sharon was gone.
And, sure enough, her daughter and her grandson walked into the facility at just five minutes past 10:00. I waited for them out front before walking with them into Sharon's room. I relayed the whole story, and her daughter actually started laughing. "Even in death, mom had to make sure she wasn't a burden to us. Absolutely perfect."
~
Absolutely perfect. There I would end up, six years later, calling on Sharon as an ally during my own health crisis, my own death of sorts. I wasn't dying physically, but something deep inside of me needed to fall away. Like Sharon, I had to learn to ask for help, and, like Sharon, I had been too stubborn to ever ask for it before. I'd call on Sharon, again and again, to guide me through my own process. I'd call upon all of the faces, stories, and families of patients that would flood my mind as I learned, finally, to put aside caring for others for a while, and learn how to take care of myself. I had to become the midwife to my own dying process this time.
My therapist during that time said to me once, "You must learn to bear witness to your own letting go, the same way you did for all those years with your patients as they had to go through the ultimate letting go." I'd learn that if someone like Sharon, who had never asked for help until her last 30 minutes of life, could learn to let go, then so could I.
Page 83
Hunter Tripp
Hunter Tripp is a 2D animation graduate/Illustrator who has long held an interest in all aspects of development for animated movies and TV shows. Even the nitty gritty bits that often go over looked and under appreciated. She is now on his way to getting a 3D printing certification at UNM-Taos.
Overgrown, ink on paper, 19x19", 2023
Page 84
Hunter Tripp cont.
Down to Bones, digital painting, 11.6x11.6", 2022
Half Full, digital painting, 11x10.3", 2023
Page 85
Hunter Tripp cont.
Cry, digital painting, 11.6x11.6", 2023
Page 86
The Gaze, oil on canvas, 26x22", 2023
Inna Vologzhanina
Inna is an artist, fine art student, and a resident of Taos. She has taken Art Practices 1 and 2, Painting 1 and 2, Art History and Drawing at the Fine Art department at UNM Taos. Having been born in Russia and raised in Atlanta, Inna seeks to bring a feminist perspective to her art; with a mix of sexuality, immigrant struggles, and symbolism to convey an emotional feeling. Inspired by Hung Liu, Soey Milk, Oscar yi Hou and Alice Neel, Inna seeks to convey emotion through her colorful portraits and paintings.
Inna Vologzhanina is the recipient of the 2022 UNM-Taos / Taos Fall Arts Scholarship.
Page 87
Inna Vologzhanina cont.
Little Death, found objects, dimensions variable, 2022
Page 88
Inna Vologzhanina cont.
One, oil on paper, 36x48", 2023
Page 89
Inna Vologzhanina cont.
Two, oil on paper, 36x48", 2023
Page 90
Jessica Phillips
Jessica Phillips has her Master's in Applied Mathematics and is a Math Lecturer here at UNM- Taos. She was born in Albuquerque, New Mexico and raised in Peralta, NM. She graduated from Los Lunas High School and attended UNM for both her bachelor's and her masters degree. She taught all levels of math at Central New Mexico Community College for 14 years. For eight years of that time, she also owned a crossfit gym. In 2018, Jessica was hired on here at UNM-Taos as a full time math lecturer. Jessica's father is an old school black and white photographer with a studio in Old Town Albuquerque and her niece is an up and coming artist as well. Jessica has always dabbled in writing poetry and doing other forms of art, but it wasn't until this last year that she really found out that she is an artist. She is a multi-disciplined artist. Along with writing poetry, she has found expression in many forms of media, thanks to the help of the UNM-Taos art department. A few other interesting things about Jessica, is that she loves animals (she has a St. Bernard and a chihuahua), loves to paddle board, hike, ski and other outdoor activities, and she was an autopsy assistant for two years of her life.
I see you looking at me, curtain maquette,
photography, 63x33", 2023
Page 91
Jessica Phillips cont.
Walls of Anonymous Breasts
I see you
Looking at me
At my breasts and nipples that are free
Don't think I haven't noticed
I have been conditioned since
At least the age of three
That it is my job
My responsibility
As the "woman"
The one being desired
To change
What you see
If that be hiding
The nipple
Covering it up
Not letting it be free
To make sure, you, as the "man"
The one doing the desiring
Can look at me
With complete freedom
And NOT be turned on
Or, whether it be
Also, my responsibility
To augment myself
Change what I have
That which is real and beautiful
Into something bigger
More perfect
Not real
And of course, there is the unspoken rule
Where you're seen as cruel
To turn your own breasts that are too big
Into something smaller and more manageable
With all that being said
What I really want to say,
Is, feel free
Look at me
Just know, your self-control
Isn't for me to fix
Isn't my problem
And
Isn't about me.
Page 92
Jessica Phillips cont.
Clouds, trees and water of the southwest, photography on wood, 27x39x2", 2022
Page 93
Jessica Phillips cont.
Windows and Crosses, photography on wood, 8.5x16.25x2", 2022
Page 94
Joan Malone
Joan Malone has lived in Taos since 1994. During that time she has been a volunteer, a teacher, a mom and wife and a full-time lover of the Taos Art Scene. She is currently enjoying the classes offered by the UNM Taos Art department. She has taken painting I and Drawing I with Ms. Sarah Stolar and has enjoyed the challenges presented in the classes.
Self-Portrait 2, oil on canvas, 30x24", 2022
Page 95
John Bowden
John is a poet and lifelong Taos resident who is currently enrolled in Printmaking at UNM-Taos.
Snow
as it falls through repetitious nights
can a snowflake lose its way?
silence waits to catch it
with a tongue thick like honey
and dark
the light has gone out
and the only thing I cant remember
is how to start a fire
and yet
I bear food
I am fuel
I wish to be devoured
by silence maybe
or
by grace of wayward spark
to flame
Memoire
upon laying down
the vast expanse of a black ceiling stretches out
a momentous yawn and stars spark behind your eyelids
sleeping is like sailing
and the ritual of falling asleep
is like packing for that voyage
celestial waypoints beckon you toward the abandoned shores of your past
and you will sleep warmly
because you once knew how to make fire
you will wander through the echoing museum in your mind
and view your fondest loves in faded colors
on cracking canvases
you will sail past monuments to truths once venerated
moss covered
lessons you had sworn to bear to the present
but your shoulders grew tired
in the morning you will return from your voyage
and your adventures fade away
every eternal hug is just a brush with gravity
every separation an inevitable effort
shooting stars the baggage you saw fit to burn
the past is a darkened canvas
with the eternal shine of possibility behind
every memory a pinhole
shining like a star
Page 96
John Bowdin cont.
A New Shape
i'm starting to remember shapes
some of them easily seen and understood
like the shadow laying languid across my lap
and the clouds hung carelessly above my brow
or the sweet roundness of a bird that sings
not symbols, but shapes, to play with void
to etch a declaration of here-ness
together-ness, apart-ness
they etch and scratch and dig
there is a canyon made by all these shapes
more vast than the horizon
and far darker than the shadow
stretching now newly across my thighs – a new shape
a new shape
my hand looks so weak and lonely in the evening sun
there must be a shape – a new shape
by which I can make it strong
and if my hand can be strong
can I be too?
and if my shadow can stretch away towards the horizon
to the far edges of that canyon
maybe I can too?
the air is silvered patina
I tarnish as it brushes me
precious mettle (metal) of experience
all tin and timbre
should a hammer just hit me right
I too could find a shape that sings
Artwork by Sarah Parker
Figure, ink on paper, 48x48", 2023
Page 97
Katy Ballard
Katy Ballard moved to Taos, NM in the Summer of 2015, and since then has been engaged in the community as an LGBTQIA+ activist, educator, and artist. She received her PhD in Fine Arts: Critical Studies and Artist Practice with a focus on Art Education in 2013 and her Women's and Gender Studies Graduate Certificate in 2015. She is currently teaching Introduction to Women's and Gender Studies and is co-teaching Guerilla Girls to RuPaul: Politics of Feminist Art at Texas Tech University. She was recently part of a collaborative art exhibition and maker-space titled Hide & Seek: Neighborhood Art Space at the Satellite Gallery of Texas Tech University in Lubbock, TX. This event included 7 artists who exhibited their work and offered art making and co-learning spaces to the local Lubbock community. Her most recent work is about personal growth, healing, mental health, and recovery. It is engaging with other artists and educators that helps keep her inspired to continue growing as an artist and teacher. Katy believes that as an instructor and an artist it is important to continue her education and to remain engaged with her own art practice. She took her first ceramics course at UNM-Taos in 2016 with Lee Akins and has continued to take as many courses as possible. She is currently enrolled in Ceramics I for the Spring 2023 semester at UNM-Taos.
Simplicity, ceramic pot, 7.5x6", 2023
Page 98
Katy Ballard cont.
Sanity, mixed-media, 36x36", 2023
Page 99
Laura Hahn
Laura Hahn lives in Taos, New Mexico. She has a Bachelors degree in History from UNM and is now working on an Associate Degree in Fine Arts. She is enrolled in Art Practices II and Drawing 1.
Mothers and Daughters, paper and acrylic paint, 48x60", 2022
Page 100
Laurel Sardiñas
Laurel primarily makes zines about feminism, Asian womanhood, and Godzilla. She is currently a printmaking student at UNM-Taos, and hopes to expand on her interests in this medium. She enjoys drawing stones, raccoons, and birds; she does not enjoy drawing fish, or trees (no offense to either).
Strike for better wages!, print, 15x11.25", 2023
Page 101
Laurel Sardiñas cont.
Midnight Tolls, print, 8.5x11", 2023
Page 102
Laurel Sardiñas cont.
Ducking out, print, 16.25x13.5", 2023
The Tower, print, 4.75x2.75", 2023
Page 103
Planchet- Sunstone, 1.5x2", 2023
Leah Abeyta
Leah is a a full time UNM student. She's in the process of getting a Bachelor Degree in Fine Art and going on to teach art. She has experience and love for all different types of art but becoming a metalsmith has quickly turned into a path she'd like to pursue.
Turquoise Ring, 2.3x1.8cm, 2023
Crystal Ring, 1.8x1.8cm, 2023
Page 104
Leela Blakeley
Leela Blakeley is graduating with her Associate of Fine Arts from UNM-Taos in spring 2023. She works in drawing, painting, and ceramics and is influenced by the Art Nouveau movement. She is currently the Assistant to the Chair of the Department of Fine Arts, Film and Digital Media.
Leela Blakeley is the recipient of the 2022 UNM-Taos / Taos Fall Arts Scholarship.
After Schiele, acrylic on canvas, 60x30", 2022
Page 105
Leela Blakeley cont.
Dreams, acrylic on cardboard, 48x72", 2022
Page 106
Leela Blakeley cont.
Look Back at Me, ceramic, 4x12", 2022
Page 107
Leela Blakeley cont.
Wings, ceramic, 10x10", 2023
Page 108
Liam Hughes
A world traveler that has never left North America, Liam came to UNM-Taos to audit the creative writing class and found a new outlet for some of the ideas in his head. The UNM-Taos staff and teachers have been incredibly supportive and helped introduce other artists and ideas to help evolve Liam's own work.
Water bottles
Drink water
But don't use disposable bottles.
Drink lots of water
But you need to use a stainless-steel water bottle.
Everyone has one to stay hydrated.
You can go to the store and get a cool new stainless-steel water bottle that will keep things cool or hot for hours. You can dive into the lost and found box and get, a new to you, stainless steel water bottle.
You can carry around your stainless-steel water bottles and put stickers all over it to tell everyone that looks at it what you are into. You like this energy drink, you climbed that mountain, you skied these slopes, you listen to that band or saw that movie.
All while staying hydrated.
You can advertise who you are as you walk around thinking you saved the planet with your stainless-steel water bottle. You can drink in some of that smugness with your water.
And when you are tired of your identity on your stainless-steel water bottle that you carry around saying how much you care about these things, you can always just "loose" that bottle that will end up in a thrift store or in the trash and get yourself a new stainless-steel water bottle and put new stickers on it with a whole new identity and remake yourself. Because your stainless-steel water bottle represents you, or at least who you want to be.
Drink lots of water
Stay hydrated
Page 109
Liam Hughes cont.
Just write something.
Just write, write anything.
Write about that time when you were a kid and you were lost and afraid, write about being afraid to grow old and alone.
Write about the perfect sunset that you saw over the mountain, write about the cold rainy day at your best friend's funeral.
Write about that first boy or a girl that broke your heart, write about the one that put you together again and made you whole.
Write about the blue spaceship that's hurling through the cosmos that you're riding on, write about a dragonfly on your canoe as you're trying to figure out what to write.
Write about how you couldn't write anything, write about the weird energy that comes late at night when you're trying to sleep.
Write something.
Write about your proudest moment, Write about your biggest regret.
Write about how you enjoy using voice to text, right about how annoying it is because it keeps misspelling write.
Write about the conversation you overheard at the diner, write about the conversation you wish you had with someone that you can't have anymore
Write about the best person you ever met, write about the worst meal you ever had
Just write something
Write about the best sex you ever had, write about the walk of shame the next day
Write a secret, write the obvious
Write about a hero, write about a villain.
Just write something.
Write about how you miss the smell of the ocean, write about how you enjoy the desert wind across your face.
Write about your awkward awesome friends and how you enjoy their smiles and laughter.
Write about the people that piss you off and how you feel sorry for them, since they're doomed to be them for the rest of their lives.
Write about the future, Write about the past
Write a truth, write a lie.
Just write something.
Write about who you are, write about who you want to be
Write about a haunting song that you heard at the bar, write about a new friend's smile that makes you feel welcome.
Just write anything
Write an epic poem that is absolute garbage, or write what is just on your mind that is true and honest.
Just write something, anything.
Page 110
Wheel Ring, silver, 1x1", 2023
Lien Sardinas
Lien is a clinical social worker who has been involved in providing care for to New Mexico teens for the past 9 years. She decided to try taking an art class at UNM-Taos in the fall of 2022 as a way to find a better work/life balance. Jewelry making is something new and exciting for her and she is still learning about all of the possibilities that this art form has to offer. She is currently enrolled in Small Metals 2.
Dino Triangles, silver and fossils, 2x.5", 2023
Page 111
Lucas Burditt
Lucas Burditt has lived in Taos for many years and has been a part of Search and Rescue and attended UNM-Taos for the EMT program. Over the course of two decades, he has put time into using spray paint as a controlled medium, eventually managing to use this medium in portrait work.
Escaping the Authoritarian State,
spray paint and acrylic, 11x8.5", 2023
Page 112
Lucas Burditt cont.
The Unfastening, spray paint and acrylic,
11x8.5", 2023
Page 113
Lucas Burditt cont.
Writhing, spray paint and acrylic,
11x8.5", 2023
Page 114
Lucas Burditt cont.
Paleolithic, spray paint and acrylic,
11x8.5", 2023
Page 115
Maggie Duval
Maggie Duval has polymathic tendencies that have led her over the last 43 years through visual art to event production, music to PR and marketing, history and research to creative writing, and journalism to web development. For her Saturn Return 59th birthday present, she is reinventing herself for the 9th time and seeking creative trouble that weaves all her skills acquired over the years in interesting new ways. She is pursuing an Associate's Degree in the Film and Digital Media Arts program at UNM-Taos.
.
The Magic of the Cumbres & Toltec, 2023
Page 116
Maggie Duval cont.

Pedernal Monsoon, 2020
Page 117
Maggie Duval cont.

Water Reverie, 2023
Page 118
Marah Moore
Marah Moore found her way back to ceramics after a 40+-year hiatus. She is taking ceramics classes at UNM-Taos and is a member at the Taos Ceramics Center.
Owl plate, stoneware, 2021
When She Was Good,, stoneware, 2022
Page 119
Maura Rae
Maura Rae has always had a creative impulse. Her first artistic love was sculpting stone, which she learned in high school. Over the years, her creative energy was mostly channeled into teaching elementary school, while doing art on the side. Along the way, she has attended various art courses and workshops for skill development, enrichment, and pure enjoyment. Now that she is no longer teaching, she has taken up working in clay again and is currently enrolled in Ceramics at UNM-Taos. She continues to explore new techniques for hand building sculpture and functional pieces, always looking for a way to aesthetically blend form and finishes.
Moon Shield, glazed ceramic, 10x11x2.5", 2022
Page 120
Maura Rae cont.

Vessel With Triangles, glazed ceramic,
12x10x10", 2023
Page 121
Maura Rae cont.

Torso In Leopardskin, glazed ceramic,
11x10x4", 2023
Page 122
Merle Derse
Merle Derse has pursued an interest in the art of pottery for a number of years. She was greatly inspired in 2005 when she joined the ceramics program at Los Angeles Pierce College in Woodland Hills, California. She participated in one of California's most prestigious intercollegiate ceramic shows in Davis, California in 2007 & 2008, which included universities and community colleges throughout California. Shortly after moving to Taos at the end of 2014, Merle joined UNM in 2015 to continue her passion for ceramics in a stimulating college environment. UNM has provided an opportunity for Merle to participate in numerous gallery shows and exhibits and sell many of her functional works of art.
Teapot, clay, 5x7x4", 2023
Page 123
Merle Derse cont.
Raku vase, clay, 9x6x6", 2023
Page 124
Merle Derse cont.
Etched bowl, clay, 6x10x10", 2023
Page 125
Merle Derse cont.
Oja, clay, 8x6x5", 2023
Page 126
MJ Houston
MJ Houston is a full time student and future content maker. He makes music and inspirational videos with his best friend Matt Salzman.
Potential - Inspirational, 2023
Page 127
MJ Houston cont.
Babble - Inspirational, 2023
Page 128
MJ Houston cont.
Free My Tongue - Inspirational, 2023
Page 129
Natalina
Known for unexpected transformations and "alchemic upcycling" conceptual artist Natalina creates experiences for their audience. In 2019, Natalina transformed the Atrium Gallery on UNM-Taos' Klauer campus with a massive installation. From floor to cathedral ceiling Natalina exhibited larger than life ceramics inscribed with the lyrics of three songs which inspired the show, paintings and over 1000 handwritten letters. They have received awards and placements in some of the area's most exciting shows including PASEO 2022 where Natalina transformed Juan Largo Lane off Taos plaza for two nights with an immersive exhibit including experimental sound and projection art. In 2022, Natalina released a full length concept album, related public art and short films and received media coverage in several continents.
Timespace (Space & Time) - Ambigram,
digital, 2023
Page 130
Natalina cont.
Why Are There Billionaires? 0s&1s, digital, 2023
NM Space Tourism Poster, digital collage, 2023
Page 131
Natalina cont.
PLANES, TRAINS & UFOs, 2023
Page 132
Natalina cont.
A Letter, 2022
Page 133
Paul Wapner
Paul Wapner is Professor Emeritus of Global Environmental Politics at American University, Washington DC. He has published six books and numerous articles on the challenges of building a more just and ecologically sane future. He is totally psyched to be studying painting at UNM-Taos. He worked with Gary Cook for two semesters and is currently studying with Sarah Stolar. He has no fixed vision informing his artistic vision; in fact, he enjoys painting because it provides a way to use visual expression to explore the unknown. Paul came to New Mexico many years ago because of the Lama Foundation. He and his wife moved to Taos permanently roughly four years ago. They have two grown children--one in New Orleans and the other in Los Angeles. Paul enjoys playing guitar, hanging with friends, and getting lost in the hills (without a paintbrush!).
Figure 1, 48x48", 2023
Page 134
Paul Wapner cont.
The Old Kitchen, Lama Foundation, 48x48", 2023
Page 135
Paul Wapner cont.
Where is my Toothbrush?, 48x48", 2023
Page 136
Belonging, acrylic on canvas, 24x36", 2023
Paulina Ho
Paulina Ho is an artist based in Taos, New Mexico who creates graphic work that utilizes caricature as a means for introspection. By exaggerating scale and color, she immerses the viewer into her own fantastical world. She is a community member who enjoys furthering education at the Taos campus.
Page 137
Paulina Ho cont.
Risk, Chance, Reward, acrylic on canvas, 18x24", 2023
Emerging From The Dark, acrylic on canvas, 18x24", 2022
Page 138
Paulina Ho cont.
Turbulence, acrylic on canvas, 24x36", 2023
Page 139
Peter Schwathe
Peter Schwathe is a student at UNM-Taos currently taking Drawing I in the Art Department.
Landscape, ballpoint pen on paper, 9x12", 2023
Page 140
Peter Schwathe cont.
Self-portrait, charcoal on paper, 25x20", 2023
Still-life, charcoal on paper, 25x20", 2023
Page 141
Peter Schwathe cont.
Untitled, ink on paper, 20x15", 2021
Page 142
Phillip Alldritt
Phil Alldritt is an Instructor of Anthropology, Archaeology, History, and Political Science at the University of New Mexico -Taos since 2009. He is the Coordinator for the UNM-Taos Study Abroad Program.
warm dogs and new mexico fireplaces
warm dogs and new mexico fireplaces
lie in front of each other
like spent lovers. warm dogs have nothing to offer
new mexico fireplaces
only their time…..
log years burning daily to dust.
p.r. alldritt
Artwork by Scarlett Battle
After Hung Liu, oil on canvas, 36x36", 2022
Page 143
Robin Ricks
Robin has lived in Taos for seven years, but was a frequent visitor before that. She was attracted to the spectacular beauty of azure skies, fresh air, and pleasant climate. She has painted primarily with water colors, but has now ventured into acrylics. She enjoys painting scenes she sees everyday around her home.
Courtyard Aspens, acrylic, 16x20", 2019
Sunrise over Fernando's, acrylic, 11x14", 2023
Page 144
Robin Ricks cont.
Pueblo Dancer Taos Pueblo Pow Wow,
acrylic, 18x24", 2021
Page 145
Robin Ricks cont.
Back Gate, acrylic, 11x14", 2020
Page 146
Where Fire Meets Water, landscape photography
Rocco Siegele
BACK COVER ARTIST
Rocco Siegele is currently a dual-credit student taking Astronomy at UNM-Taos. During his free time, Rocco likes to ski, hike, and take photos of anything that may slightly be interesting. While skiing, Rocco takes photos and videos of his friends and anyone who can land a good trick.
Page 147
Rocco Siegele cont.
Light Versus Dark, astrophotography, 2023
Page 148
Sarah Parker
Sarah Parker currently teaches Special Education in a small Northern New Mexico elementary school. Her passion lies in radio production, print making, and interactive community art projects. She has produced independent pieces for community radio stations in Southern Colorado and Northern New Mexico since 2005. Parker's commitment is to the importance of our communities' voices, and the dissemination of these voices into the wider population. She uses interactive art projects to begin conversations about community and our roles as individuals in that greater community. Our stories are what connect our common experiences and distinguish our unique perspectives.
Do you see anything?, oil paint, 8x12", 2023
Page 149
Sarah Parker cont.
Broken Bones, mixed media, 38x62", 2023
Page 150
Sarah Parker cont.
Circling Lives, animation, 2023
Page 151
Scott Gerdes
Scott is a BCAM marketing rep at UNM-Taos whose job includes creating print/radio ads, press releases and Lobo Bites. He holds a B.A. in Mass Communication/Journalism from The University of Iowa. One of his hobbies is photography. And one of his favorite subjects is fireworks.
Fireworks, photography, 2023
Page 152
Scott Gerdes cont.
Fireworks, photography, 2023
Page 153
Scott Gerdes cont.
Fireworks, photography, 2023
Page 154
Selena Pacheco
Selena Pacheco is a dedicated student and artist based in Taos, NM. Currently pursuing an Associate Degree in Pre-science at UNM-Taos, she is equally passionate about honing her skills in the arts. As a student in Painting II, Selena is committed to perfecting her technique and exploring new creative avenues. Her work is deeply rooted in her personal experiences with femininity, sexuality, individuality, and emotion, and seeks to explore and better understand these complex facets of her identity. With a strong desire to continue learning and growing both academically and artistically, Selena is poised to make an impact in her field of choice. Her love of both representational and conceptual art has led her to experiment with a range of mediums, including oil paint, acrylic paint, charcoal, and colored pencils. Whether through painting or drawing, her work seeks to capture the rawness and vulnerability of the human experience, and to inspire and empower others.
Selena Pacheco is the recipient of the UNM-Taos / SVA Residency Fellowship. She will be attending the School of Visual Arts for four-weeks during summer 2023.
Bedroom Blues, oil on paper, 24x44", 2023
Page 155
Selena Pacheco cont.
Portrait of a Woman, digital drawing, dimensions variable, 2023
Page 156
Selena Pacheco cont.
Distal Portraits, colored pencil, 9x12", 2019
Page 157
Selena Pacheco cont.
Distal Portraits, colored pencil, 9x12", 2019
Page 158
Sierra Lindsey-Biscello
Sierra Lindsey-Biscello is a student at UNM-Taos, and is currently working towards an Associate's Degree in Digital Media Arts. She's a lover of photography and film, and would like to thank her younger sister, Josie Lindsey-Paff, who has been her lifetime model.
Guitar, photograph, 2023
Page 159
Sierra Lindsey-Biscello cont.
Guitar, photograph, 2023
Page 160
Sierra Lindsey-Biscello cont.
Spring, photograph, 2022
Page 161
Sierra Lindsey-Biscello cont.
Wonderland, photograph, 2022
Page 162
Susan Varon
Susan Varon is a poet, artist and Interfaith minister. Her journey as a writer was set in motion by a severe stroke 24 years ago this July, which removed her from the 9-5 workforce, and helped her reclaim her true calling as an artist. She has since facilitated writing workshops for survivors of physical or emotional trauma at her home in Manhattan, and worked individually with aspiring writers at Goldwater Hospital and as a writing teacher at Marymount College. She has received fellowships to the MacDowell Colony, Hedgebrook, Blue Mountain Center and the Helene Wurlitzer Foundation. In 2005, she was ordained as an Interfaith Minister, and in 2007 moved to Taos, where she officiates as a weddings minister.
EVERYTHING IS RESTING
If I were to open the door at 3:00am
and peer out, I would be met by
absolute silence. That's the way
it is, here near the mountain tops,
not even a coyote howls. I've done it
before, pulled the door open and
looked out with unease, afraid
I'll see a shadow moving, because
it's dark and that is not my element.
Iridescent grey is more my style.
Even better, the flare of a radiant
sunset. I try not to think of it
as ominous, instead I work my mind
around to know it's natural for this
time of deep night, everything
is resting, is sighing with deep contentment.
I can't even see the moon, the stars,
through the network of leaves all around
but I know they are there, just like my
daughter in her own house a heartbeat
away, dreaming her own dreams, whose
beautiful complexity I can't begin to imagine,
separate but joined with me like two stars
shining, knowing they will never inhabit
the same space, feeling that that
is absolutely okay.
Page 163
Tera Muskrat
Tera Muskrat is a self taught artist who has been painting the beautiful, strong women of New Mexico for over 20 years. Her work is a vibrant display of the unique colors and shapes of New Mexico culture, land, and bodies. Each of her paintings tells a rich story of life in the Land of Enchantment.
Fiesta at the Siesta, acrylic, 24x36", 2019
Page 164
Tera Muskrat cont.
Venus de Talpa, acrylic, 36x48", 2023
Page 165
Tera Muskrat cont.
I'll do it mañana, acrylic, 24x48", 2022
Coco Takes Flight, acrylic, 38x42", 2021
Page 166
Tracy Bell
Tracy Bell currently lives and works in Taos, New Mexico. She was raised Catholic and lived on a farm in the middle of Kansas. With not much else to do, Tracy would travel the country roads admiring abandoned homesteads. Many of them had collections of items left behind that revealed the passage of time. The attraction to weathered and worn objects is what inspires much of her work today. Her practice centers on the use of oil painting techniques. Her paintings are a celebration of freedom found in the letting go of the past and in understanding her childhood challenges around rejection and abuse. Grieving the loss of her husband and mother and dealing with the challenges around raising her children alone have become the foundation for new discoveries of strength, beauty, and the complexity in her practice of art making. The insight that she has gained in this process has given her an appreciation for images of old and neglected things that bear witness to the passage of time and accumulate a particularly honest and vulnerable beauty.
Remnants, oil, 20x16", 2022
Page 167
Tracy Bell cont.
Louie, oil, 24,18", 2022
Self Portrait, acrylic, 24x18", 2022
Page 168
Travis Snyder
A Native American jewelry designer, with roots in Pueblo fetish carvings. Travis Snyder uses a variety of semi precious stones and shell to create his pieces. Each piece has it's own unique vibe and energy.
Floral earrings, 3x1.5"
Native Floral pendant, 3.5x2.75"
Lightning earrings, 3x.5"
Page 169
Travis Snyder cont.
Drumming Bear, 4x1.75x2"
Page 170
Triana Reid
Triana Reid is a graduate of the Institute of American Indian Arts in Santa Fe, NM, with a Bachelor of Fine Arts in poetry. Her poetry has been published by Terrain.org, the Santa Fe Literary Review, the IAIA student anthology, WORD a publication by the New Mexico School for the Arts, and SOMOS Young Writers. She is currently taking a printmaking class at UNM Taos.
Nest, monoprint, 15x11" 2020
Southern Bird View
When I say don't hover,
I mean quick, blood
reminder. Hazel canyon moon,
cracked wrists house fingernail jabs.
When I watered that succulent
with urine, it not only grew,
it mistold the story of worm wood
and dropped-in-flight sagebrush.
The vocables were in bloom
and a year ago that would have meant rot.
Now it means, wandering ones
rest in knuckled words and slivers.
Swallow a yell, I have heard her now.
She sounds of crescent.
Page 171
Triana Reid cont.
Northern Bird View
I haven't been there,
but can smell the pine coating.
When he lept,
there must have been a haze not only of
dandelion pest, but
wilted bearing too.
Hanging close to needle-strewn-cement
and decent mistellings,
he only grounded after
roadkill-smelling.
Reeking of yesterday.
I'll swallow you in.
Eastern Bird View
Carved water, too close
to be called longing.
Only spine-risen-walking
takes me that way-
direction of symmetry.
Rising in the- -,
vultures don't prey.
Ripe aftermath tomorrow,
bringing back the dropped,
we'll hold the shore.
Western Bird View
Pitted-avocado-strewn.
Not only streets but,
humans decay in
heated jars.
Salamander-encroaching
left enough well alone,
cawing back to order,
she spun out far too.
Nest, linocut print, 15x11" 2020
Page 172
THE FACULTY
THE UNM-TAOS FINE ARTS, FILM AND DIGITAL MEDIA DEPARTMENT
Page 173
Sarah Stolar
Sarah Stolar is the Chair of Fine Arts, Film and Digital Media and teaches Drawing, Painting, Sculpture, and Art Practices. She is an interdisciplinary feminist artist and internationally awarded filmmaker. Sarah grew up in her mother's art studio and esteemed art school Schain Studios, received a BFA in Painting from the Art Academy of Cincinnati, and an MFA in New Genres from the San Francisco Art Institute. Her work has been exhibited internationally with solo exhibitions at the Harwood Museum, the New Mexico Museum of Art, and BGMoCA in Montevideo, Uruguay. www.sarahstolar.com
Feelings and Sabrina Flower,
block print on kozo; ink, colored pencil,
crayon aquarelle, blk 3.0, on Stonehenge paper,
dimensions variable, approx. 96" tall, 2022
Page 174
PETER WALKER
Peter Walker is a filmmaker, photographer and educator. He is also a lifelong student of Aikido, a Japanese Martial Art. Peter grew up in his fathers' woodworking studio making sawdust. He earned his Master Degree in Education from the University of Oregon and his Directors' Certificate from the Asian Academy of Film and Television in New Delhi, India. He honed his filmmaking craft during three years of productions in Malaysia and South East Asia, followed by documentary films in Costa Rica and New Mexico. Recently he spent a summer as an Artist-in-Residence at Arquetopia in Urubamba, Peru. He has been teaching media arts for 14 years and he is the Program Coordinator of the Film and Digital Media program. https://taoswalkermedia.com
Frenetic Atmosphere, time-lapse video, winter 2023
Page 175
GARY COOK
Associate Professor Gary Cook has taught at UNM-Taos for 23 years. Before UNM he was a tenured professor at Wake Forest University in North Carolina. Over his career he has taught all levels of painting, drawing and printmaking with a special interest in consciousness as it relates to creativity, personal growth, and content development. He also teaches an experiential course in the Health Science Program, 'Dreams, Visions, and Artmaking'.
Rising, monotype, 26x22.5", 2023
Page 176
Adrian Pijoan
Adrian is a new media artist and filmmaker based in Albuquerque, New Mexico. In his work Adrian explores the relationship between contemporary anxieties and stories of the paranormal. Sightings of Adrian have been reported at UFO festivals, Bigfoot research conferences, and in the dark recesses of the comments sections of low-view-count YouTube videos. Adrian received his MFA from the University of New Mexico in 2016. Adrian's work has been shown at Silicon Valet; De:Formal; The Sanitary Tortilla Factory in Albuquerque, New Mexico; Biquini Wax gallery in Mexico City; as part of the International Symposium of Electronic Arts in Vancouver, Canada; and other traditional and nontraditional spaces. Adrian teaches Introduction to Photography and Introduction to Photoshop.at UNM-Taos. https://adrianpijoan.net
Take Me, public art installation w/ neon and LED signs, City of Albuquerque, 2019
Page 177
KELLY CLEMENT
Kelly Clement teaches Film Studies for the Digital Media Arts Department. He is a self-confessed movie addict who received his M.A. in film production from San Francisco State University in 1990. He has since produced and directed numerous films, videos and multimedia projects and has taught film classes at Minnesota College of Art and Design and UNM-Taos for the past 20 years. From 1995-2003 Kelly was the co-founder and Director of Programming for the Taos Talking Picture Festival. He has also worked with the True/False Film Festival, the Nantucket Film Festival and the Denver Film Festival. Currently he is the documentary film programmer for the Mill Valley Film Festival and the DocLands Documentary Film Festival.
DocLands 2022 Official Trailer
Page 178
KIMBERLY THOMPSON
Kimberly Thompson is a New Mexico goldsmith, who specializes in producing wearable work inspired by cultural relics and sacred geometry. Over the past decade, she has studied numerous techniques from around the world in the classical tradition of metal arts and jewelry fabrication. Through her work as an instructor of jewelry and metalsmithing, she passes her knowledge of the craft to the next generation of prospective artists. Kimberly received her MA in Art History from CSU Sacramento, and has committed herself to the continual education and promotion of craft-based arts. She has taught both Art History and Metalsmithing at multiple college campuses in both California and New Mexico. Kimberly currently teaches Small Metals at UNM-Taos. https://dorisjeandesign.com/
Box #4, brass, recycled silver, carnelian, 2.5x3", 2021
Page 179
LEE AKINS
Lee Akins teaches Ceramics and Sculpture at UNM-Taos. He was born in Texas and grew up in Taiwan. He received his B.F.A. from the Dayton Art Institute, Dayton, Ohio in 1975 and M.F.A. in Ceramics from Southern Methodist University, Dallas, Texas in 1986. He has taught ceramics for more than 45 years. He has exhibited internationally in Taiwan and Japan and nationally including The Dallas Museum of Art. His work has been featured in ceramic magazines and books including a feature article in Ceramics Monthly, August/September 2006. www.leeakins.com
Textured Vase, coil built, low fire oxidation,
glazes and oxides, 17x11x8", 2022
Page 180
PAULA KING
Paula King teaches Intro to Art and a variety of Art History courses at UNM-Taos. Serving UNM-Taos since 2008, Paula shares her love for working with student learners, art-making, and the study of art appreciation and art history through online education. Paula's experience includes teaching studio art, digital photography, image editing, video production, and new media. She delivers art instruction to learners across the state of New Mexico and beyond. She continues to improve the experience of online instruction through research and training, designing UNM-Taos art courses to Quality Matters Standards. Degrees: Master of Fine Art Studio Art / Art History, Universidad de Guanajuato, Mx., Master of Science Studio Art / Art History, Texas A&M University, Bachelor of Fine Art, Studio Art / Art History, University of Texas, Austin.
'Drink in your summer, gather your corn. Time waits for no one.', iPhone digital image. 2022
Page 181

SPECIAL UNM-TAOS PROJECTS
art Across Curriculum

Page 182
The Process of Play
This project is from the Early Childhood Education course Curriculum Development Through Play, age 3-3rd Grade
As the title of this course indicates play is how young children learn. Therefore, in class students play with recycled materials to understand and learn the different ways children scaffold their ideas and knowledge. Each time students use these materials there are different provocations – here they are thinking about the process of their play to understand children's thinking. Students come to understand how materials are used so that children develop literacy and language abilities, to how math concepts like algebra emerge, to science where one might be understanding something such as balance. And always how each person brings themselves to the play event.

The Early Childhood Education (ECED) Program
The Early Childhood Education (ECED) Associate degree program is designed to give students a meaningful hands-on experience. Our ECED program weaves together theory and practice by having students participate in a Teacher Residency while taking college coursework. Students are mentored by an experienced teacher, in an early learning environment, a birth – 3rd grade classroom, where course objectives and learning come alive. Students have an opportunity to earn a living and college credits at the same time. The ECED program is inquiry-based; giving students an opportunity to think critically about their work with children and families, as they study. Students gain a solid understanding of early childhood education before transferring to a four-year university to complete their bachelor's in early childhood education (licensure PreK-3rd Grade or non-licensure) or a related field in family child studies.
PROJECT LEADER
Pam Remstein, PhD
Assistant Professor of Early Childhood Education and Development
Artwork by Amber Coss
Page 183
Artwork by April Cantu
I was attempting to create a heart because I think it's important to show emotions and feeling.
The Process of Play: Childhood Education and Development cont.
Artwork by Miquela Romero
I started by trying to balance the lids on top of each other. However, it was really frustrating because this is the highest I could go. I then moved on to making a pyramid because they can balance on top of each other easier, and I could go higher and higher.
Artwork by Jen Nunz
I was thinking of jellyfish.I flipped it over and started thinking about how it looked like a plant. I kept going with the plant idea and made planters for them.
Page 184
PROJECT LEADER
Dr. Trisha Martinez, Ph.D
Lecturer III, Department of Social and Behavioral Sciences
Program Coordinator, Chicana and Chicano Studies
Program Specialist, Dual Enrollment
#Taosunite
This project is by UNM-Taos Chicana/o Studies students.
They are organizing a community art project entitled #TaosUnite that confronts issues around violence, drug abuse, mental health, and experiences of incarceration.
Dr. Trisha Martinez uses the classroom as an influential space to empower her students. She encourages them to recognize the potential of their own cultural wealth and agency to inspire positive change in the community. As a powerful means of cultural expression, students are producing an array of New Mexico's traditional expressive and contemporary arts, such as retablos, poetry, and paintings to share aspects of their identity and creative responses to community concerns. Students recognize the importance of talking about the day to day issues and figuring out ways to address the lived realities many of their families endure.
Through a partnership with the Millicent Rogers Museum, the #TaosUnite project will offer two public presentations to the community: a pop-up exhibition, and a day of programs. #TaosUnite is an extension of #BurqueUnite organized by UNM alumnus, artist, and mentor Gerald Lovato. The project team's hopes are to propel the movement of these conversations and this type of healing to extend across New Mexico and the United States.

The Chicana and Chicano Studies Department
The Chicana and Chicano Studies Department at the University of New Mexico is an interdisciplinary program. The purpose of the department is to promote a critical understanding of Chicano/Hispano/Mexicano communities through teaching, research, and advocacy. Since our program resides at the flagship institution of the state that has the largest percentage of Hispanics in the country, this mission is integral to furthering the understanding of New Mexico's present and the nation's future. Chicana and Chicano Studies accomplishes its mission by offering an undergraduate minor, promoting research, and establishing community partnerships. Curriculum and community engagement efforts focus on three areas: Chicana/o cultural studies, Politics and social justice, and the transnational U.S.-Mexico experience The program offers courses on gender and sexuality, race and ethnicity, arts and culture, political and social mobilization, immigration and citizenship, history and heritage, land grant studies, Chicana feminism, and queer studies. We address our three areas through a curriculum taught in both English and Spanish and maintain a regional and transnational focus on New Mexico, the U.S. Southwest, and Mexico.
I'm Sorry, Angelina Garcia, drawing
Page 185
#TaosUnite: The Chicana and Chicano Studies Department cont. God Is My Strength, Retablo by Estevan Martinez, painting El Gallo de Oro by Idania Rivera, Drawing
Page 186
#TaosUnite: The Chicana and Chicano Studies Department cont.
My Suicide Playlist by Clinton Murphy
It starts with Tim Barry. Wait at Milano. That's track one. That song specifically works because you can hear the pain in Tim's voice when he's singing it. You know he's been there. You believe him. Belief has a lot of importance when it comes to suicide. Most of what us suicide prone folks are trying to escape is inauthenticity. What Holden Caulfield called phonies. If you don't know who Holden Caulfield is,, he was kind of the original suicide character in a book called Catcher In The Rye. It was written by this guy J.D. Salinger who you can tell by his writing is no kind of phony himself.. Anyway, maybe we better start a suicide reading list as well. There probably already is one. There's already everything. A suicide playlist is a lot of things. It's like a legacy you're leaving, in a way. A final attempt to communicate with everyone you couldn't get through to before. Or maybe it was them that couldn't get through to you. It all gets a little confusing. Anyway, every suicidal sonofabitch probably has the same sick fantasy of their carefully curated playlist being piped through the shitty speakers of whatever church their memorial service is being held in. That way everyone can sit in silence and hear the words and the music and think about the guy who offed himself and maybe some people will cry. That's how I think of it anyway. And I hate myself for thinking it. Don't think for a minute I don't. Lots of people talk about killing themselves, but most of them don't really want to die. The literature will tell you that what they want is to stop feeling the way they're feeling. You end up reading a lot of the literature when you're considering something as big as killing yourself. It's all online now. Everything is. Track two is Hot Water Music's Driving Home. Or maybe it's Trusty Chords. This one's a real toss up and there are problems with both. For one thing they're both set to pretty upbeat music and that kinda fucks up the whole somber memorial service thing. Like I could see everybody kind of looking around unsure how to react. Like maybe they should get up and pogo or something. The other problem with them is that they're both pretty much anti-suicide songs. Like they're meant to let you know you can make it through. To be fair, so is "Wait at Milano" but it still retains a sadness. You start to see how complicated this stuff is. I think language is important. Like maybe it means the most to me. That's why I want to talk about the word. Suicide. From the Latin, sui "of one's self" and cidium "a killing." Suicide almost sounds kind of sexy. Seductive. Romantic. So let's call it what it is. Killing yourself. That sounds a lot more real. Like it's probably gonna be kinda messy. People like to talk around the subject, not really engage with it. It's a problem. In a world of problems. Track three is Johnny Cash's Spiritual. John Coltrane wrote and originally recorded it but I like Cash's version. Try them both.. And I'm noticing something here. There's a theme. This suicide playlist is maybe an anti-suicide playlist. Because sometimes feeling bad feels good. Or knowing that someone else in the world feels like you do, which is something you can never believe when you're in that place. But of course they have. Everyone has already felt everything. Whether they wanted to or not. I have a bottle of pills. I try not to think of them but when I do I picture them as an emergency exit. Break glass in case of. Experts will tell you that's a bad sign. Ideation is one thing. A concrete specific plan is another. Guns are also problematic because they are so final. Like you might survive an overdose, but you probably won't a bullet. Incidentally, men are eighty six percent more likely to use a firearm as a method of killing themselves. Not me though. I'm a coward. Or maybe I don't really want to die. I have had girlfriends and friends and family members hold firearms for me when I was in my darkest places. It's pretty awkward when you have to ask for them back. Track four, Tomorrow Wendy, by Concrete Blonde. It's got enough anguish and drama and some really great lyrics. I mean listen to this- "Only God says jump, but I set the time". That's a big thing about suicide. Regaining some control. As if you ever could. As if killing yourself isn't the definition of out of control. Listen. The bad news is this. You are not driving the bus. You don't get to steer it.
Page 187
#TaosUnite: The Chicana and Chicano Studies Department cont.
The good news is this- someone is. And they have your best interests at heart. That someone is God. Or Bhudda or whoever you want to name. But listen, because this part is important. You have to know there is someone. Because you need someone to yell at and to cry to and prayer is a form of supplication and really if you're going to give up in that bigger, life ending way, you might as well give up spiritually first. Surrender. It's my favorite word. I have been at war with the world and with myself for my entire life. Surrender is the only peace I have ever found. So give up. Give it to God, or whoever. Get on your knees.It's not like you have anything to lose. Track five tells me something about myself. Punk rock saved my life. I probably listened to this album for three or four years straight in my twenties and I can't remember a single time it didn't make me feel better. The band is Strung Out and the song is Better Days. It comes back to authenticity. I remember reading an interview with the lead singer. He had a horrific childhood. Like things I don't care to discuss here horrible. And he's there, screaming into a microphone his cry for help and it makes me wonder if he can survive it, why can't I? Well of course I can. But it helps to sing along. It always comes back to Johnny Cash. In fact, if you want a reason to stay alive, look into his life. Or anybody who ever battled depression or circumstances beyond their control. Misery loves company. I've already said that in so many words, but it bears repeating. So. Track six. Unchained, by Johnny Cash. Listen closely to the words. Feel them. Cry, if you can. Crying means you're feeling something and if you've ever felt nothing then you know that that is a special kind of hell. Well. We're nearing the end here. No, not the literal end. The end of the playlist. If it's done its job, you no longer feel like ending it all, at least for this exact moment. Which is all you need sometimes. A moment. One good one. Or at least a bearable one. A little slip of ledge to hold onto to get you to the next one. The next moment. So what's the song that's going to get you there, in my opinion? It's called Rejoice by Julien Baker and it's an ode to the futility of everything and it crescendoes in this amazing fuck you to God and ultimate, yeah, surrender. How to end it? That's a little dark humor for you. I'm not above reusing a good joke. It's the kind of thing Tom Waits would appreciate. So he gets to round out My Suicide Playlist with Come On Up To The House, which is an invitation to anyone suffering. "Come down off the cross, we can use the wood." Truer words were never spoke. There is power in music. To heal and to feel and to get you through. If you hate my playlist, make your own. In fact, do it anyway. It will give that reeling brain of yours a task to focus on and offer a little bit of relief, if only for a while. Sometimes that's all we need. There's nothing wrong with you. What you are experiencing is a completely natural reaction to the world around you. It's not a new problem, in fact it's as old as time. What you need is a workable solution. Which exists. I just don't know what it is for you. Only you can solve your own complexity. This is the Shaman's Journey. You? You're the Shaman. Or you will be, when you get through this. Which you will. The last thing I want to tell you is this. I love you. Even if you think no one else does, even if you don't love yourself, I do. I love you. Why? Because you are me. And I am you. And I know that place and I know the place beyond that place. So know that and happy listening and I'll see you out there, okay?
If you're thinking about suicide, are worried about a friend or loved one, or would like emotional support, the Lifeline network is available 24/7 across the United States.
TEXT 988 or DIAL 1-888-628-9454
Page 188
#TaosUnite: The Chicana and Chicano Studies Department cont.
We're All Struggling
writing and photo-collage by Maricella Lopez
I am Maricella Lopez from Taos from los calles de Nuevo Mexico y vistas hermosas. I am from the bailes, musica, y familia. I am from the mountains, trees, wind, and water. I am a UNM-Taos dual credit student and Spring 2023 Taos Cyber Magnet graduate. One of my goals in this life is to bring awareness to issues that revolve around the beauty of struggle we all experience in our lives, and no one wants to talk about. Out of the 19 years of being alive, these past few years I have really opened my eyes to how scary, tragic, crazy and fun, unique, beautiful, fragile, precious life is. I acknowledge the struggle I'm coming up from. I cherish the people I have in my life, and in my heart. I've dealt with addiction for almost 11 years and mental illness and trauma for longer that many don't know about. There's been times I've almost taken my own life and times others have tried taking it from me. I've lost friends family and my community to addiction, suicide, gun violence, and reckless driving. Life isn't about material things even though that is what we leave behind. It is about leaving your mark on this Earth, valuing your loved ones you made memories with. I would like to thank my parents for encouraging me to stay in school, and my friends and families for their support along the way. I have a deep genuine love for my querencia. I'm appreciative for everything I've gone through to be who I am today. I'm glad I get to see another day because I can live on for those who are no longer with us. No matter what all of you have gone through I'm glad you're still here. We all have potential to inspire positive change. We are all dealing with our own battles, no one can see. Know that you are strong, you are loved, and one of a kind in this world. There is only one you.
Page 189
#TaosUnite: The Chicana and Chicano Studies Department cont.
A Child's Voice
drawing and poetry by Jaydan Flores-Winters
Behold, a child doth cycle through preprogrammed ways,
This is but a preparation for trials of familial war.
With "I love you's" they are strangled and bound,
These whips are laid upon their tender skin,
By the Destroyers who seek to silence.
Falsehoods, pickled and absolute, are fed
To kin who then turn against the child instead.
Their mind, like clay, is molded with great care,
And conditioned to accept what's unfair.
Threads choke the lips so dry and chipped,
Laced with hate and craving for grand and total control.
Tight, tight, tight, oh so careful,
The vessels can only handle so much, be not fearful.
Every time the tongue attempts to live,
It is struck and barred, with no reprieve.
The word freedom pleaded every year,
Since the dawn of self-aware.
Crossing the flesh until we stitch no more,
Losing the fabrics our loved ones wore.
Pulling our hearts taut, aching for relief,
Pinned to the earth by unloving thief.
Forgiveness to those who crushed,
Wavered by the hand of judgment, so shamefully.
Past lives reaching out,
Shielding children from modern endeavor's bout.
Under a blanket of leaves,
The flesh of the wood that devours sight,
The absence of substance ignored by the eyes,
Held by none,
Cradled by the energy of the earth,
Discarded and crumpled by two and one.
The dirt of the earth holds more respect,
Than the supposed protectors who neglect.
Verily, let us pray for the innocent child,
That they may be delivered from the hands of the wild,
And that they may be embraced by the loving arms,
Of those who will shield them from all harms.
Page 190
#TaosUnite: The Chicana and Chicano Studies Department cont. In Loving Memory of Jenna Trujillo by Mikayla Leon, photography
Page 191
#TaosUnite: The Chicana and Chicano Studies Department cont. In Loving Memory of Jenna Trujillo by Mikayla Leon, photography
Page 192
The Klauer Campus Community MuralDesigned by Amy Córdova y Boone, painted by Jenny Ustick and UNM-Taos students, faculty, and staff. University of New Mexico-Taos 1157 County Road 110, Ranchos de Taos, NM 87557
Page 193
THE UNIVERSITY OF New Mexico-TAOS
UNM-Taos is one of the newest and smallest of the UNM branches, yet in 2011 was ranked as one of the top 25 community colleges in the nation for growth. We boast a sophisticated curriculum and highly qualified faculty. The campus is situated in a high mountain valley between the Rio Grande and the 1,000 year-old Taos Pueblo. Klauer Campus reflects Taos' laid-back style known throughout the Southwest. And it honors the area's connection to the land and conservation efforts; the campus is fully powered by one of the largest solar arrays in New Mexico.
THE DEPARTMENT OF FINE ARTS, FILM & DIGITAL MEDIA
UNM-Taos Department of Fine Arts, Film and Digital Media inspires students to tap into their creative potential by learning practical techniques, exploring alternative methods in art and media making, and honing their critical eye. The Fine Arts, Film and Digital Media Art programs are made up of a diverse group of students with a range of interests and approaches to art and film. We embrace this diversity and support all students with their degree choice, future goals, and artistic intentions. Students taking courses in Fine Arts, Film and Digital Media discover how art positively impacts their personal and professional lives.
UNM-Taos Department of Fine Arts, Film and Digital Media is committed to engaging students in a rich dialogue on contemporary art and art history. Students learn traditional foundations, contemporary approaches, interdisciplinary practices, and conceptual problem solving. A core belief of the Department of Fine Arts, Film and Digital Media is to help students understand the ever-changing nature of art, its affects on contemporary culture, and the discovery of their place in the global art community.
FOR MORE INFORMATION:
REGISTER FOR CLASSES - taos.unm.edu
FINE ARTS, FILM AND DIGITAL MEDIA DEPARTMENT - taosart.unm.edu
HOWL: THE VOICE OF UNM-TAOS - 2023
A project by the UNM-Taos Department of Fine Arts, Film and Digital Media
With support from Academic Affairs and BCAM
EDITOR & DESIGNER - Sarah Stolar
ASSISTANT EDITORS - Kathleen Knoth and Leela Blakeley

For artist contact, email taosarts@unm.edu
Rear cover artwork by Rocco Siegele
Light Versus Dark, astrophotography, 2023
Page 194
HOWL: THE voice of UNM-Taos
2023

THE UNIVERSITY OF NEW MEXICO-TAOS
ART & LITERARY JOURNAL