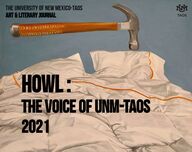 Return to flip book view
Howl: The Voice of UNM-Taos 2021
Page 1
THE UNIVERSITY OF NEW MEXICO-TAOS
ART & LITERARY JOURNAL HOWL :THE VOICE OF UNM-TAOS2021
Page 2
Front cover artwork by Catherine Langley
Hammer Blues, oil on canvas, 24x30", 2021
Page 3
HOWL: THE VOICE OF UNM-TAOS2021
THE UNIVERSITY OF NEW MEXICO-TAOS
ART & LITERARY JOURNAL
Howl: The Voice of UNM-Taos Art & Literary Journal represents the power and diversity of Taos and Northern New Mexico culture. Howl's voices are thunderous. They resonate with the interconnected chords that serve to unite our personal, academic, and common realms. Howl hums across borders and fences, penetrating the minds and hearts of all who are courageous enough to listen. Taos is a place situated in ancestral rhythms and lies between the Sangre de Cristo mountains and the deepest canyons in all of New Mexico. Perhaps the magnetic pull between these two is what draws us in and out of ourselves and has attracted so many to settle in this valley. Howl: The Voice of UNM-Taos Art & Literary Journal celebrates the creative work of UNM-Taos students, alumni, staff, and faculty, as well as the greater community of Taos.
© All artwork, videos, and written works are copyrighted by the original artist or writer.
Page 4
INTRODUCTION
The University of New Mexico-Taos is pleased to present Howl: The Voice of UNM-Taos 2021 Art & Literary Journal! This year, we created an unprecedented digital catalogue featuring 54 artists, filmmakers, and writers as well as faculty profiles, two large-scale collaborative projects, and campus community highlights that spread over 166 pages.
With the endorsement and support from the UNM-Taos Department of Academic Affairs, the decision to create a digital book rather than a hardcopy was made in an effort to have greater outreach to the people. Unrestricted by a print budget, this web-based platform opened up the curatorial process to be highly inclusive of our diverse community in Taos and beyond, including showcasing media not suitable for print, such as video, and provide a space for all creatives to share their work regardless of age or level of training. Unique to this edition of Howl are a number of works by students who attend UNM's many campuses across New Mexico. Mandatory quarantine and an influx in online courses allowed students to take classes at UNM-Taos, thus weaving them into the Taos community, even from across the state.
During the extraordinary times of living in a global pandemic and in an age of social distancing, the driving mission of this publication was to use the power of the creative arts to bring us together. In Howl 2021 you will find engaging stories and poems, sophisticated artworks, accomplished class projects, highly polished films, and thoughtful interviews by students, alumni, staff, faculty, and professional artists. The UNM-Taos campus also participated across curricula, including work from the Culinary Arts, Math, Science, and a series of 'power' drawings from our Kids Campus. The media is as vast as the voices of Taos with work in writing, photography, painting, drawing, printmaking, sculpture, digital media, animation, and film. The artists, filmmakers, and writers included in this publication explore a variety of themes in their work including the foundations of art, character development, fictional narrative, community engagement, personal identity, decolonizing history, the great landscape of New Mexico, and the impact of COVID-19.
In Taos, art doesn't stop. The community here is resilient and tenacious, even in the face of adversity. As you explore Howl 2021, be amazed. This tremendous collection of work emphasizes the depth of creative energy that is imbued in the magic of Taos.
- Sarah Stolar, Chair of the Department of Fine Arts & Digital Media
Page 5
The COMMUNITY
UNM-TAOS STUDENTS, ALUMNI, STAFF, FACULTY, & TAOS COMMUNITY MEMBERS
Page 6
Abraham Brown
Abraham Brown is a first-year college student at UNM-Taos. He is enrolled in an AS degree in Education and he is also interested in a Digital Media Arts degree or certificate. He has been working and playing in theaters since early childhood, following his Father around during rehearsals for concerts. His background spans from on-stage to off-stage professional experience.
After high school, Abraham moved home to the San Francisco Bay Area to spend time with his family and find his way in the film and music industry. His aspirations were to become an actor but he found the industry to be fierce and uninviting. He finally found himself behind the scenes as a stagehand and enjoyed this profession for sometime before deciding he wanted to live outside of the city and spend more time in nature. Abraham stays in shape by practicing an ancient Chinese physical therapy called Qigong. He loves living near Taos where his Mother grew up and spending time working with his grandparents on the land and with the community.
Henry The Riconada Blacksmith, film, 2021
In this short video we meet Henry, an up and coming artist who is based out of Rinconada, NM. He tells us a little bit about his accomplishments as a Blacksmith.
Page 7
Tommy Martines - Chamisal Transfer Station, film, 2021
In this short video we meet Tommy Martinez from Taos County Waste Management. He tells us a story of some of the hazards he has faced in his time as an Operator at the Chamisal Transfer Station.
Page 8
Ahnastasia Alarcon
In 2020, Ahnastasia Alarcon moved from Los Angeles to Taos and began attending the Digital Media Arts program at UNM-Taos. She feels art has provided her with an outlet for self-expression and inspiration, and has helped her through the everyday struggles of being in the COVID19 pandemic.
Hate is a Virus, digital artwork, 2021
Digital artwork with bright colors intended to highlight racial issues and celebrate the beauty and resilience of the Asian-American community. A woman uses her art to inspire communities to stand together and speak out against discrimination.
Page 9
My Ethnicity is Not a Virus, digital artwork, 2021
Digital artwork focusing on political and social commentary of the racism Asian-Americans face in today's society. The piece tells a story of a man who uses his talent of singing and songwriting to inspire people to stand in unity with one another.
Page 10
Alejandra Serna
Alejandra is a full-time student at UNM-Taos.
One Snow Day, image sequence, 2021
We never get snow in EP. So, when there is snow, we take pictures of our mountains because they are so beautiful when this happens. I think a lot of us like to see it as a little miracle.
Page 11
My America The Borderland City, image sequence, 2021
This sequence is what MY America looks like - The Borderland City. The first image was the BLM protest and in the background you can see transmountain. The second image was a notification from August 3, 2019, when the safest city in the USA was attacked. It was a hard day and we lost 23 souls to hate. The third image is a daily commute for many people, including myself, to Cuidad Juarez, Chihuahua, MX. Many cross over for school and work. The line was going back to El Paso and the line was already hitting the one hour mark. Sometimes, I've been there for more than four hours to get back.
Page 12
Alex Simeti
Alex Simeti is constantly reinventing himself as an artist. He grew up in New York with a penchant for drawing and graffiti. Performing spoken word poetry and recording and performing hip-hop songs were his entire sphere of existence from 2001 until 2012, under the stage name Alex Argot. He co-founded and released two albums with New York based hip-hop ensemble Argotec - 2010 Wherewithal and 2012 Language of the Heart. The birth of his daughter in 2012 created space for a hiatus of sorts to concentrate on raising his daughter.
A few months into the Coronavirus pandemic Alex began to find the ability to invest more time in his art practice and decided to take it a step further and enroll in UNM-Taos' Digital Media Arts program. Film and animation courses are currently the backbone of his creative existence. Now he's concentrating on bringing the characters that he creates to life. Check out Sbearrow.com for information on one of his latest creations.
Soulila Levitates, photograph, 2020
This is an undoctored photograph that I took of my daughter with my iPhoneXR, which had a wide lens attachment on it.
Page 13
Kowtow Corral
Ease back on in the action.
It's not the first or last time something like this
to somebody has happened.
Everything may seem as though its collapsing
when in fact were only making way for the next act and
contact that void amassing debt and disconnect.
That classic culture spurn
we've felt the need to protect.
and chop it guillotine clean
to collect what's been meaning
to pop it's head through.
That way of life was merely just a rental
don't get sentimental
it was taken
way too far
and now we're charged
to expand past past inequities
"essential".
Existential success after a crisis
connects us to less materialistic facets of
rationale,
correcting this reckless obsessive mess
that's all the fashion now.
No more cashin' in foul
or kowtow corral,
Be the bastion of how
and astound.
Wretched
planned obsolescence
begets a
quintessential message of acquiescence.
Don't let it drag us back within
the fences of adolescence.
We've already served that sentence
Usher in the age of bioluminescence
with precedence set to natural rhythmic respect.
Circadian parade ordained by the
wane, waxed, full and crescent.
Page 14
A true Humanist renaissance in session.
What we've been waiting for,
a soul sustaining convalescence.
Drop all things myopic in their essence.
We're no longer contestants
in a fixed pretend skit.
Rigamarole resentment.
No matter, which way you bend it
we're bound to either buckle or knuckle up.
So
comprehend quick kid...
cause
enough is enough.
No more cashin' in foul
or kowtow corral,
Be the bastion of how
and astound.
No more kowtow corral
or cashin in foul
Be the bastion of how
and astound from the ground up.
Gotta mention the root bound klutz
cause growth spurts take command
of inertia, in flux,
that worsens our purpose
on purpose.
I know,
it sucks.
But we're hurtful jerks in many ways
and some of our actions are worthless
on the best of those
dark days
no so far
away
that we can't still smell
the sulfuric soufflé
Page 15
thats burning brains
like the dare drug commercial craze
way back in the day, when I was young
I'm not a kid anymore
but those days when I was,
not to be grim,
I felt we'd be in this kinda situation we're in.
With the ruthless nature of the system
spinning a web of confliction within.
Forever tearing us apart from
family, friends, creation and art.
The tipping point is now,
the games about to restart.
No more cashin' in foul
or kowtow corral,
Be the bastion of how
and astound.
Alex Argot 2020
Mask Guy, digital drawing, 2020
Mask Guy came about through my frustration during the start of the pandemic. At the time, I started to notice a lot of people fervently voicing their opinions against wearing masks. Mask Guy is a commentary on those times.
Page 16
Amanda Velkov
Amanda Velkov is a University of New Mexico-Albuquerque student, but she is also part of the UNM-Taos community due to classes she has taken on the UNM-Taos campus. She is studying in the Film and Digital Media Arts department at the UNM-Albuquerque campus in pursuit of a film production degree, in which she is currently a junior (third year student) and has been in the program since the beginning of her sophomore year. It is expected for her to graduate in Spring of 2022. In addition to the present time, her goals that she currently has are the following: After school, she plans to focus on directing short films, working on sound design and recording specifically for animation. She still has a lot to learn, given her young age. She continues to educate herself outside of school to help make her goals become a reality. In relation to her career path, she dabbles in video art. The video art that she produces primarily involves real-life found footage obtained from the Internet, and the videos themselves focus on natural elements with bold colors and texture, which can have a retro, nostalgic look to them. Growing up on VHS tapes for a good chunk of her life has definitely had an influence on the work that she produces. And because she has a strong enthusiasm for and has been influenced by [global] animated content, she also works on quick, sketchy animatics with audio from other sources, which is practice for both skill and technique in drawing. Outside of school, she is a hobbyist collector and draws, which both tie in to the animation interest. She also has an online selling business, which is what is keeping her afloat during the difficult times of the pandemic.
Page 17
RED, video (found footage), 2021
A video art piece with a monochromatic scheme. Heavy emphasis on color and texture, reminiscent of watching a VHS tape.
Page 18
ERASE, video (found footage), 2021
A video art piece in an urban setting. Sound and color are essential.
Page 19
WATER, video (found footage), 2021
A video art piece that is meant to relax you through sound and visuals.
Page 20
Amani Khweis
Amani Khweis was born and raised in Palestine. She moved to the US in 1998. After living in Gallup for a year, Amani and her Husband, Khalil, moved to Taos. She is a mother of five beautiful daughters; two of them are students at UNM-Albuquerque, one is a senior at Taos High, one is a freshman also at Taos High, and the youngest being in 5th grade. Amani earned her associates degree in Fine Arts from UNM-Taos in 2019 and has continued to pursue her passion for art outside of school. Amani's passion for art has grown throughout her life and now she loves to create art that has important messages within the pieces.
Majesty, oil on canvas, 24x20", 2020
This painting showcases a magnificent horse with its hair blowing in the wind.
Page 21
Untitled, oil on canvas, 20x16", 2019
This painting was started with a grid drawing. The photo was taken in my back yard and transformed into a beautiful black and white oil painting.
Page 22
Ambrosio Olivas
Ambrosio is a 23 year old Photographer born and raised in New Mexico. He comes from the small town of Mora, which he takes pride of. He is the youngest of thee and has four beautiful nieces. Ambros is currently a junior at UNM, and his major is Film and Digital Media Arts. About 4 years ago he picked up a camera on accident. A friend of his bought one so Ambros decided to as well. They quickly became obsessed with learning everything about photography they could. Soon enough Ambrosio was getting asked to do portraits of families and seniors. This is when he realized he knew what he wanted to do. Over the past 4 years he has shot photos of landscapes across the Western US and taken portraits through out New Mexico. He hopes to add to his skills cinematography and film.
Rising Balloons, photograph, 6x4", 2019
This scene is from the Balloon Fiesta in Albuquerque, New Mexico. As the balloons rise for sunrise we see on balloon framed center between other balloons ready to ascend.
Page 23
Fall Foliage in Northern New Mexico, photograph, 4x6", 2018
While exploring the Sangre De Cristo mountains near Mora, New Mexico I stumbled across this scene. I was able to capture the setting sun come through the aspens to capture the moment.
Page 24
Andrew Velie
New Mexican born graffiti artist and sculptor, Andrew Velie currently lives in both Albuquerque and Taos, NM. He originally attended art school at the Northern Arizona University in Flagstaff, Arizona, but he continues to revisit creative growth in his life and often attends interdiscinplinary art classes at both the University of New Mexico-Taos and Main campuses.
Professionally, Andrew is one of the lead vultures in part of the "Transformation Re-incarnation Project" (TRIP) and is actively involved in the process of restoring an ancient sculpture known as the Bodhisattva of Compassion along with it's alter space from the Buddhist Fa Yun Monastery in Angel Fire, New Mexico. To learn more about TRIP Bodhisattva, please visit their website at https://www.tripbodhisattva.com
In Andrew's personal affairs, his dedication to spirituality coincides with his artistic practice as he incorporates natures gifts, such as non-raptorial feathers and bones, to create mixed media pieces. To learn more about Andrew Velie, please visit his website at https://avelie85.wixsite.com/artist
Off to See the Wizard, India Ink, archival paper, pheasant feathers, 36x24x24", 2020
Page 25
Ariana Robinson
Ariana Robinson is a Native American multimedia artist. Her work includes painting, drawing, and ceramics as she works to capture the everyday beauty and feel of mundane objects, places, and people. She currently resides in Chichiltah, New Mexico and is attending the University of New Mexico to receive her BA in art education.
TeaTime Skies, gouache on tea bags, 2020
TeaTime Skies takes on the theme of time. I used tea bags because drinking tea was something I did everyday, but I contradicted the familiarity of this by painting the sky for each day, for seven days, as the sky is an ever changing concept.
Page 26
Grandma, acrylic on canvas, 24x18", 2019
A portrait of my grandma as I try to convey the emotions I felt for her.
Page 27
Creatures of Vibrance, acrylic on canvas, 20x24", 2021
Page 28
Benjamin Vigil
A 21 year old UNM student from Albuquerque interested in studying and expanding on knowledge of the film and digital world, Benjamin's interests stem from video games, movies, TV shows, and music. There is much dedication and passion when it comes to creating which most of projects include, video editing, sound editing/mixing, animating, and picture editing.
His video editing projects involve knowledge of video editing programs like (Premiere Pro, Sony Vegas, iMovie), and his video editing consists of physically filming with a camera, using different camera angles and movements, determining a location for shots, interviewing different people around New Mexico, and editing/slicing clips together all to create a fun viewable video. His sound editing/mixing projects involve knowledge of sound editing programs like (Fl Studio, Audacity, Garage Band), and his sound editing involves the recording of vocals, tweaking different plugins to get an appropriate sound, and leveling/mixing volumes of songs & vocals. Benjamin has a budding interest in animation and has an underlined basis of knowledge regarding stop motion animation and flip note animation, as well as picture editing projects which have involved the use of programs like Photoshop.
Carlsbad Interviews, video, 2021
Quick interviews of my younger brother and my mother at the famous Carlsbad Caverns.
Page 29
Music Genre Interviews, video, 2021
Interview of my cousin, my brother, and a worker at our local mall.
Furry Friends in Quarantine, video, 2021
Interview of our little 3 year old Corgi, Daisy.
Page 30
Habitat Loss, collaborative student digital drawing, 2021
Life on planet Earth has a long history of winners and losers. Just think of the dinosaurs, whose story of dominance and downfall is written in the fossilized bones that we find jutting from ancient rocks and see on display in museums. The extinction of the dinosaurs was part of the fifth mass extinction to occur on Earth. This great loss of life is what lead to the rise of the Mammals that dominate Earth today. Yet, we are again in a period of mass extinction. This time no asteroid impact, no movement of the continental plates is causing the current decline of insects, birds, fish, amphibians, reptiles and mammals. This time, one species alone has transformed the very planet it lives upon and that species is Homo sapiens -- you and I. We're responsible for the current and ongoing Sixth Extinction. UNM-Taos students in General Biology, collaborated on the work featured here by posting human activities causing life to wink out. This is overlain by two scenarios of human landscape occupation: concentrated versus dispersed. The question discussed was: Can we organize ourselves so that our impacts are concentrated and most of the Earth is left for non-human life to thrive? Or must we spread everywhere and have dominion over everything?
Brooke Zanetell
Brooke Zanetell is Assistant Professor and Program Director of the Natural Resources Management Program at the University of New Mexico-Taos. She is also USDA Program Director of the LIFT (Leadership in Forestry Training) and CCC (Northern New Mexico Climate Change Corps) projects based at UNM-Taos. Brooke grew up in beautiful Gunnison, CO. After serving as a Science Advisor at the US Department of State in Washington, DC, she moved to Taos, NM, to be back in the mountains. She loves family, music, gardens, and nature. Dr. Zanetell graduated Summa Cum Laude in Biology from the University of Colorado in Boulder. She holds an M.S. and Ph.D. in Natural Resources from Cornell University and was a Fulbright Scholar to Venezuela and an InterAmerican Fellow to Guatemala. Dr. Zanetell has published numerous articles on community-based natural resources management as well as on college student success and job placement in the sciences.
Page 31
Bruce McIntosh
Bruce McIntosh heads Metta Theatre in Taos. He was born in Boston and raised in Connecticut He works in film and theatre with particular interest in collaborating with local youth.
Old Bike Sky, digital photograph, 9x14", 2021
Early Spring, late afternoon, looking to the Southeast, Arroyo Hondo, NM
Moon
Moon full
Wife breathing
Some nights
Dream wakes you up
Too early
Lizard
Lizard darts by
Same energy running him
As me
Right?
Wife Traveling
Holy music on
Wife visiting our daughter
No clouds
Page 32
Pretty Village, digital photograph, 2021
Top of Pueblo Alto Trail is a steep climb but well worth the beautiful views.
Candida Vialpando-Gallegos
Candida Vialpando-Gallegos is a student at UNM-Taos pursuing a degree certificate.
Page 33
Pretty Village, digital photograph, 2021
Top of Pueblo Alto Trail is a steep climb but well worth the beautiful views.
Page 34
Jars with Peppers, oil on canvas, 30x24", 2021
Still-life of jars filled with dried and ground peppers is a study of shapes, shadows, densities, volumes, negative space and color values.
Catherine Langley
Catherine Langley is reinventing herself. After spending forty years as a professional geologist she is now studying art at the University of New Mexico-Taos.
Our greatest scientists have been the most creative. The need to be creative continues to excite and motivate Catherine to make art. The natural world, the interior psychological landscape, and the art of the past are all sources of artistic inspiration for Catherine. The study of art history has deepened Catherine's appreciation of all aspects of art making. 'The present is the key to the past' is a fundamental geological principle. Today, Catherine views art from the opposite perspective: 'the past is the key to the present' and embraces her artistic journey through time.
Page 35
Hammer Blues, oil on canvas, 24x30", 2021
The juxtaposition of two unrelated objects, a hammer and an unmade bed, is a conceptual challenge to the viewer: the mind attempts to reconcile the disparate elements, and perhaps the conscious mind will wrestle unsuccessfully with this visual conundrum. This painting reflects my fascination in treating subjects open to continual re-evaluation, particularly subconscious re-evaluation.
Page 36
Catherine Langley cont.
Hopeless Sock Monkey, photograph, 16x30", 2021
When I first approached Mr. Sock Monkey to act as model for a re-interpretation of Lichtenstein's Hopeless, he was absolutely thrilled. He explained that he felt he had been long ignored, and that this was his chance to get back into the mainstream of popular culture. Trying to conceal an obvious bitterness and hopelessness, his attitude was that the art scene of the fifties and sixties had "passed him by": he told a humiliating tale recounting Jackson Pollack using one of his cousins as a mop brush in one of his monumental action paintings. He then finished his woeful trip down memory lane by recounting the fact of being snubbed by Andy Warhol during a visit to The Factory. So this project appealed to him deeply. He called it "getting back his own".
Page 37
Christian Solis
Houston, Texas is a sprawling space of various shades of grays. To navigate and move about this city stated is a barrier on its own. To be Latino and have a lack of guidance in a city so vast is asking to be swallowed. Christian Solis is a product of this environment and the art that he produces mimics what could have been his tomb. Christian Solis is a conceptual artist based out of Houston, Texas and was raised by one person - his grandma Diane Laforme. Throughout his life, the lack of peers and guidance led him astray most of his life until he was a sophomore in high school. Once in high school, Christian sought out guidance from his art teacher Eric Pearce. Through this encounter with Eric, he was able to have his ideas and talents nurtured and pushed. The art that Christian produces reflects on the constant domestic detachment that was forced upon him. A home has no place in his vocabulary and because of this the willingness and remembrance to re-create these walls and structures drives deep. The overwhelming sensation of having so many massive buildings that dwarf anyone and anything that opposes it was always a spark for Christian. He wants to blur painting and sculpture and impose the ever so overwhelming feeling of being swallowed and devoured with each piece. The material plays a massive role as well as scale. What is used in basic construction and used to build homes and buildings are being used in his pieces to mimic texture and weight to ground each piece as a solidified object with a purpose to engulf.
Close, oil paint and latex primer on canvas, 72x66", 2021
Being alone as a child in such a large city produced a habit of reclusive behavior. Letting people in and letting people have an insight to the artist is a constant push pull, to want closeness, yet a strayed relationship is all that can form.
Page 38
Christian Solis cont.
Corner Store ID, oil paint, latex primer, and wall texture on canvas, 72x66", 2021
A large scale study of the walls and the limited palette of monolithic structures that make up a metropolis from which this artist is from.
Hard.0.1.2, oil paint, latex primer, and wall texture on canvas, 72x72", 2021
A piece of a wall from Houston, Texas rendered only from memory to serve as a place holder for the idea of engulfing the viewer. To overwhelm with this piece is the same idea and feeling that comes from seeing a structure of such size in a large city.
Page 39
Christopher FlanaganChristopher Flanagan is an artist studying film and digital media arts with a concentration on animation. He hopes that he can become an independent animator with the skills he develops here. Alongside the development of his animation and movie production expertise, he also hopes to reinvigorate other capabilities in acting and coding. With his roots in the Southwest, Flanagan begun his life in Mesa, Arizona but spent most of his childhood in Gallup, New Mexico. As an adult, Flanagan briefly studied chemical engineering before realizing it wasn't the path he desired to pursue. After that, he jumped between jobs in a multitude of industries, eventually settling on freelance writing and software testing as his occupation of choice. In 2020, Christopher returned to his roots once again as he moved to Albuquerque, he knew that the University of New Mexico had a stellar film program and he had coincidentally quarantined for the past year there, gaining his residency. He signed up for the spring semester, took every art, animation and film class he could and found himself taking a few classes in Taos, something the pandemic ended up enabling as it would've been rather tedious for Chris to travel from Albuquerque to Taos for in-person classes.
Blurry Skulls, charcoal on paper, 18x24", 2021
Charcoal drawing made during an in-class assignment where a very blurry photo of skulls gradually came into focus. I learned a lot about contrast and shaping shadows from this drawing.
Page 40
Snow Blind, film, 2021
In this interview, a man talks about his experiences in virtual reality.
Page 41
The Snyder Snap, film, 2021
An animated interview featuring musician Kolin Snyder.
Page 42
Cindy Brown
Cindy Brown is a former UNM-Taos student graduating with a certificate in Holistic Health and Healing Arts. She is a freelance writer for The Taos News and the author of the Taos Hiking Guide.
Equinox
Out in the raw spring night
Smell of piñon smoke and coyote howl in my hair
Shooting star
Full moon rising
Deep longing, half remembering in my soul
The darkness charged with ancient mystery
My heart pumping hard
Pressed and cleft with love and loss
Then breathing, slowing
A pause
Surrender
All released into the starry night and limitless universe
Star dust
And in the morning
The song of the meadowlark in the plum tree.
Artwork by Laurel Taylor
Metal Mullein, black and metallic ink on grey Legion Stonehenge, 11x8", 2021
Page 43
Colin Nicholls
All too well aware of his inner child, Colin Nicholls is on a life long quest in search of his outer adult.
Process, digital, 2021
I wanted to express the commonality of process between created objects. It doesn't matter whether the object is a painting, a poem, a building, an apple pie or a mathematical theorem; they all begin with a concept and then pass through stages of exploration, refinement, design, planning and construction before reaching realization and their mission – in my case enjoyment!
Ignorance
What the heck's a Haiku?
-A Maori contest challenge
-No that's a Haka.
So what's a Haiku?
-Japanese Poetry Form
Still all Greek to me!
Want an example?
Ostensive definitions
Lie before your eyes.
Page 44
Corey Kristensen
Corey Kristensen is a student at UNM majoring in Business with a focus on film. His dream job is a visual artist for dj sets. His hobbies are skating, skiing and anything involving adrenaline.
Balloon Fiesta Sunrise, DSLR Image, 2018
Pelican Perfection, DSLR Image, 2019
Kermit Crab Craziness, DSLR Image, 2019
Frosted Watermelon, DSLR Image, 2016
Page 45
Page 46
Pets with Breck, Go Pro Video, 2021
Page 47
Chill Cruise Down The Crest, GoPro video, 2020
Ruby Gully Taos New Mexico, GoPro video, 2019
Page 48
Curtis Madden
Curtis is a film and digital media arts student at the University of New Mexico. He dabbles in photography, and hopes to combine his love of filmmaking and the outdoors by visiting national parks and making YouTube videos out of his experiences. A Colorado native, Curtis loves to ski, hike, cave, camp, and raft. When he's not doing those things, you can find him geeking out on the newest Hollywood flick or challenging his friends and family to "high octane game nights," as his roommate put it. His favorite movies at the moment are Green Book and 1917. He is very excited to get his foot in the door in the blossoming Albuquerque film industry, and to start his summer job as a cave tour guide at the Glenwood Caverns Adventure Park in his Hometown of Glenwood Springs, Colorado.
Christmas Magic, digital photography, 2020
I took this image over winter break at my home in Colorado. This image has an ethereum to it that makes it stand out to me. The way the snowflakes have been stopped in midair combine with the purple glow from a streetlamp just out of frame makes it feel as though Santa Claus will pop in at any moment. There isn't much more of a deeper meaning to this piece, but it is amazing to me.
Page 49
All. Around. You., digital photography, 2021
Inspired by Amazon Alexa and those of robots that sit in your house and listen to you all day - it's both unsettling and amazing, and I was hoping to capture the feeling that I have that we all are completely surrounded and engulfed by this substance that we know so little about. It is all around us.
Page 50
Portrait of Albuquerque, digital photography, 2021
I have found a lot of joy going around Albuquerque and soaking in the art and culture of the downtown. I have never lived somewhere so rich in culture and bursting with art, and I wanted to capture that. Everywhere you look, there is an amazing piece of art, and it feels like it's the true beating heart of Albuquerque.
Page 51
The Eye of the Storm, digital photography, 2021
The theme for the latest few image sequences for class was "America and you," and I found myself with a bit of a pessimistic view of America throughout it. My thinking toward politics and the people in charge of our country does lean that way. But as I hiked through Canyonlands National Park over spring break, I was reminded of the beauty of this country. So when I got back to campus and started thinking about America and me again, I found myself thinking in a different light. With that, Canyonlands began to feel like an oasis, an escape from the hopelessness of American politics. Some sort of eye of the storm.
Page 52
Curtis Madden cont.
Dormitorilirium, digital photography, 2020
I took this image early on in the semester when my friend and I were hanging out in his dorm room. I feel that this image conveys pretty well the sort of semester we all have been having, in which there isn't much going on out of doors and there isn't any organized activities, so we are left to entertain ourselves. I personally have used this time to learn ukulele, and my friend dove headfirst into guitar and bass.
Page 53
David Mapes
A maniac at birth, David Mapes is motivated by nature and science. As an insistent originalist, David Mapes follows his heart.
Super close-up of the positive end of an Energizer AA battery, video, 2021
Stacking images in photoshop to overcome the shallow depth of field inherent with extreme macro photography.
160 Year Old Lumber Reclaimed into a Headboard, video, 2021
I enrolled in the UNM-Taos Digital Media Arts program to get some skills in video production in order to promote my art and business. This is a video of a king headboard and bed I am working on made from reclaimed lumber from the floor joists of a RR Freight Depot built in the 1860's in Clayton, NM.
Page 54
Edward Shije
Edward Shije is a Native American coming from Zia Pueblo, New Mexico. Edward currently is a Freshman studying film at UNM-ABQ and is pursuing a Bachelor's degree of Fine Arts in Film and Digital Media Arts. He has three years of experience behind the camera in high school yearbook and personal productions. Edward has been creating and producing videos and composing pictures throughout his time at UNM. Focusing on perfecting his craft in this pandemic, he has faced many challenges that he has overcome. The pandemic has forced his production to be minimized to be a one-man crew. This one-man crew has created many opportunities for him to improve and adapt to the times. Often, he plays every role in the new era of Covid productions.
Off The Street Interview, video, 2021
This week on "Off the Street" our reporter Sam Decafé interviews a guitarist, Johnny G. at the a local guitar shop.
Page 55
Off the street 2, video, 2021
This week on "Off the Street" our reporter Sam Decafé interviews Chuck, a local who got his second covid vaccine.
Page 56
Ellen Wood
Ellen Wood is an 84-year-old prizewinning author, columnist and former management executive, who never went to college (but always wanted to). She developed her skills during her years in the marketing, advertising, and banking industries where she was nationally recognized for both her expertise at the podium and her powerful marketing campaigns. Ellen won numerous awards and was featured in over 30 articles published in national magazines and newspapers. She also became the first female elected Chairman of the Board of the Hunterdon County (NJ) Chamber of Commerce. The membership doubled that year.
Five years after her mother died of Alzheimer's, Ellen experienced early symptoms of the disease (she has the gene, APO-e4). At 68 years old, she developed a program of mind/body/spirit techniques that proved so successful, she wrote and published "Think and Grow Young" followed by "Joy! Joy! Joy!" and gave inspirational speeches. Ellen's books have been endorsed by noted authors and experts, including Marianne Williamson, David Simon MD, Terry Grossman MD, Larry Dossey MD, C. Norman Shealy MD, Richard Moss MD, and Mitchell Gibson MD.
Ellen started painting the last week of November, 2020, having dabbled at it in her 20s. On December 6, the 40th anniversary of her father's death, she changed her name to his middle name, Maruška, and began signing her paintings with that name. She is overjoyed to be part of a big, loving, kindhearted family.
Poppies on My Table, acrylic on canvas, 11x14", 2021
When COVID-19 put my Taos vacation rental out of business, I was distraught - but soon found myself with time to do something else, so I started painting at 84 years old and it's thrilling!
Page 57
Taos Visitors, acrylic on canvas, 12x12", 2021
As a painter, I decided to use my father's middle name, Maruška. The smile over the s gives it a sh sound. My muse decided the angels should have rolling suitcases.
Nick, I'm in love with another man.
I'll never forget the first time I heard my mother say that to my father. Mom was sitting on the glider on our front porch, her eyes gleaming with a fervor and that made her seem only partially of this world.
The sun was closing up shop for the evening, giving just enough light for Daddy to finish reading the Pottsville newspaper. He said nothing.
My older sister, absorbed in a comic book, did not react to Mom's words. How could she not have heard?
My baby brother continued playing with his toy cars on the porch railing. But he wouldn't have known what that meant anyway. I knew what loving another man meant and it knocked me out of my safe happy-childhood cocoon.
How could this be? I never had to count my blessings: I just knew in my bones that Mom and Daddy loved each other and us. It was a subtle kind of love; no overt, "I love you" as we say today when we end a phone call. It was just always there: a perpetual security blanket of family love enveloping me.
Mom said it again: "Nick, I'm in love with another man."
This time Daddy spoke. "Yes, I know, Anna. You in love with Jesus," he said in his broken English without looking up from his newspaper.
I looked over at my mother and noticed her one hand was busy as usual: fingering her rosary beads as she always did when she wasn't cooking or washing clothes or picking huckleberries with us on the mountain.
Oh, thank God! It's just Jesus.
Page 58
Jennifer's Cat Rishi, acrylic on canvas, 12x9", 2020
All my paintings have a heart in them, and Rishi's is on his tail. He was rescued from a junkyard and is quite content now.
Page 59
Incongruous in Questa, acrylic on canvas, 24x18", 2020
When I begin painting, sometimes my imagination goes wild and absurd images creep into a perfectly sensible picture. The mountain north of Questa really does have a rock-formation bear and snowy mountains, but who ever heard of tropical monkeys in Questa?
Page 60
Summer and Kathy's Rigo, acrylic on canvas, 14x11", 2020
Page 61
Mamko Moja
(Slovak for My Dear Mother)
She rode off into her final sunset in 1994 at age 82 and although I have many fond memories, there's one thing that I loved most of all about my Mom.
Was it her eyes? They were a brilliant yet soft blue – like the sky when it hasn't made up its mind whether to shout blueness or just say it subtly.
No, that's not it. They were certainly distinctive, but not the part of her I loved the most.
Was it the visions she shared with me? Of how her statue of the Blessed Mother moved and talked to her? Or the way she always chose me to go with her when she heard of a miracle happening somewhere? Like the time the leaves on the trees in the yard behind the saloon downtown formed a perfect face of Jesus. Or the time we took a long bus ride to see the tears formed beneath the glass on the eyes of a framed print of the Sacred Heart of Jesus.
Wonderful mystical memories, but not the thing I loved most about her.
Mom was a mediocre cook: she boiled the meat until it fell apart, and fried everything until every molecule was saturated with grease. But – she was a terrific baker. I especially loved her baked bread. I would sit and watch while she punched the bread into submission, sprinkling more flour here and there on the table and then punching it again. After that, she'd plump up that little round cushion of flour, water, egg, yeast and a pinch or two of salt into a large bowl, set it on the heat register in the dining room and cover it with an embroidered cloth of the Resurrecting Christ. Then the bread would rise like Jesus on Easter Sunday and puff out into a huge white soft pillow.
Yes, I loved that too but it's not it.
The thing I loved best about Mom was her belly. It was big and round and soft like that bread before it was baked and I loved sitting on her lap and feeling that belly jiggle when she laughed.
Her belly was soft and squishy in the beginning, but then it began getting bigger and bigger and taut like a balloon. Soon she had to hold me just on her knees because her belly was so huge.
It was one month before my third birthday when my brother Joseph came. That was a frightening time for me – not only did I not get to sit on her lap, but a few days later, Mommy disappeared altogether.
I yearned for my Mommy: her loving presence, her fragrance, her soft belly. I remember Daddy did a lot of sighing and oy, yoy, yoying because he missed Mommy too.
I thought she might never come back to us, but many months later Mommy returned from the mental hospital. Even though I had to share her lap with Joseph a lot of the time, there were plenty of occasions when it was just me she pressed against her comforting, sacred belly – the thing I loved most of all about Mom.
Page 62
Emily Harper
Emily Harper is an artist and ski bum with a semblance of a work ethic. She is from Rochester, New York and currently lives in Taos, New Mexico.
Space Hole, gouache and acrylic on paper, 9x12", 2018
Were the sun on the horizon a void of darkness rather than a bright life-affirming object, what would we see?
Page 63
Pedernal from Canones, gouache on paper, 10x8", 2018
A supernatural sunset; crossing the divide between the natural landscape and the truly fantastical.
Page 64
Bears' Britches in Space, acrylic on canvas, 12x12", 2018
Originally commissioned as a wedding gift featuring florals from wedding ceremony and Bears' Britches, the national flower of Greece, where the couple's honeymoon took place.
The Prism, gauche, watercolor and ink on paper, 18x24", 2018
Kaleidoscope happenings in a bleak, grey world. Pyramids. Prisms. Flashes of light. Take some peace where you can.
Page 65
The Frog, gauche on paper, 3.5x5", 2018
A little creature hangs out in the circle of life.
Page 66
Emily Jones
Emily Jones is a New Mexico born artist who has been making art since Elementary school. Her artistic interests include: painting, drawing, digital art, character design, sculpting, and animation. From her birth to the age of ten, Emily grew up in a small little town called Sunspot, New Mexico. The town was a close community in the mountains, made for the people working on and in the observatory. Growing up there influenced Emily to have a fondness for nature and space. At the age of ten, she and her family moved to the Sandia Park mountains, where they stayed there until Emily's final year of middle school. During middle school, Emily realized she wanted to be an artist. After middle school, she and her family moved again to the town of White Rock, located just below Los Alamos New Mexico. There Emily found her love of digital art. During her time in highschool, she won the Congressional Art competition, the first time anyone from Los Alamos High School had won the competition. After high school, Emily attended the University of New Mexico Los Alamos branch. This is where she discovered a new love, sculpting.
Two Paintings: Hot Chocolate, digital painting: Krita, 2021
Two paintings inspired by the deliciousness of hot chocolate.
Page 67
Coka's Circus, Digital Poster: Adobe Photoshop, 2021
A poster created to concept a story about a seven foot tall kangaroo like alien and his marvelous circus. Also shows his best friend and the human researcher, and looming in the corner is the antagonist.
Page 68
Hot Chocolate Creature Concept, Digital Art: Krita, 2021
Character concept of a chocolate creature based off of artwork of hot chocolate.
Page 69
Winter Evening Drink, Digital Poster: Adobe Photoshop, 2021
A digital painting depicting a hot chocolate creature with his favorite drink.
Page 70
Erin Shircliffe
Erin Shircliffe is a student at the University of New Mexico pursing a second Bachelor's Degree in Film and Digital Media Arts with a concentration in Animation. This is Erin's first semester at the University of New Mexico. She graduated from Towson University in 2001 with a Bachelor of Science degree in Mass Communication with a concentration in Public Relations and Advertising. Since graduating, she briefly worked at the Social Security Administration before deciding to pursue the more traditionally domestic role of raising and homeschooling her daughter.
Erin has recently rediscovered her love of all things artistic and creative. She has enjoyed drawing, making animated shorts, and designing 3D printed sculptures and objects for her classes this semester. In Erin's free time, she enjoys designing terrain for her husband's obsession, miniature war gaming, and occasionally being a guest on his podcast. She is looking forward to expanding her sculpting expertise to design custom miniatures for her husband's miniature war games and expanding her knowledge of Blender to make CG animated shorts. She thrives on creative problem solving in all of her endeavors.
Shooting a Birdie, animation, 2021
I created this work to push my skills in hand-drawn animation and create something unexpected for the viewer, while maintaining the concept of animating a simple ball. I illustrated the images using pencil and an ultra-fine Sharpie marker, colored them in Photoshop, and then assembled the animated sequence using Adobe Animate.
Page 71
The Little Ball Who Could... Bounce, animation, 2021
I created this work to play with the concept of anthropomorphizing a ball who wanted to bounce high and persevered until it was able to do so. I illustrated the images using pencil and an ultra-fine sharpie marker, colored them using Sharpie markers, and then assembled the animated sequence using Adobe Animate.
Page 72
Erin Shircliffe cont.
A Semester Full of Apples and Wine, charcoal and white pastel on gray paper, 2021
I created this work as the culmination of three still life drawings, each comprised of bottles, vases, and apples. I enjoyed drawing the highlights and shadows of the still life and letting the gray of the paper shine as the middle value in the work.
Page 73
Grace Fichtelberg
Grace lived in New York City, N.Y. for 70 years then moved to Taos--best move she ever made. She has now been here 27 years and is enjoying all Taos has to offer. She enrolled at UNM-Taos, taking non-fiction writing classes for 15 years and four of her memoirs are now in print. Grace enjoys the calmness here, unlike New York City--people, mountains, sky and more sky, quietness, peace.
REINCARNATION?????
Hanging on my bedroom wall is this 8x10 black and white photograph of a woman and 2 children. It is a somber picture, the woman is not smiling, she's slightly bent forward, her hair messed up, chubby, pretty features, a white apron draped across her upper body. Leaning against her left hip is this little boy, also not smiling, just staring ahead, , a look of impatience, like let's get this over with. And at the other hip, leaning is this girl. She looks older than the boy, and she's smiling, blond curly hair hanging long that touches her shoulders.
Up until the age of 17 I did not know this picture existed nor the history behind this photo. I call this "the dark secret of my life". Out of the blue one day my sister hands me this photo, and while holding it in my hands, looking at her in surprise, she speaks of the photo , "this is your mother, her name is Fanny, and that's me and Alex." I don't understand what she's blurting, I have a mother, we have a mother, and she's in the kitchen cooking
dinner. I start to cry, she doesn't comfort me, but instead speaks on: "Mother died a few days after you were born. Dad married soon after, and we were sworn never, never, to speak of the tragedy, not to you or family or friends, we are to live as a family, Mother and Father. And Dad told everyone, Uncles, Aunts, cousins, friends, the butcher, the baker, every one, NEVER. And why this secret? because his new wife, Frieda ,would like to be our mother, not our STEP-Mother." With no further explanation my sister ended the conversation with "And now you know", walked away and never again was the subject broached. I kept "the dark secret of my life" a secret, even though I was anxious to know more.
I met Jack in the year 1948, we married 2 years later, 1950, and in 1953, at the age of 29 I had our first child, a son we named Neil, born April 8,1953. Then we had a daughter we named Diane, born April 14, 1955. Then another daughter we named Jill.born June 14, 1957.
When all 3 children were old enough to know my "dark secret" Jack and I took turns telling them "when Mommy was a little girl,etc." I answered all their questions like "was she a mean mommy?" answer " NO."then "were you happy?" answer "Yes." The children asked until satisfied, then we broke for dinner.
Years later, year 1968, my daughter, Diane, age 13, asked me if i'd ever visited my mothers' grave. I never had. I did not know what cemetery, what county, where to begin? My brother, Alex, located the site me, county Queens. Off Diane and I went, my first visit to see her grave. I was excited, frightened, curious, a feeling of guilt for not visiting her long ago, not knowing more about her, will she forgive me?
We located the grave. Together we faced the gravestone and read :
FANNY GREENBERG
BELOVED WIFE AND MOTHER
Age 29 , DIED APRIL 8,1924
I read this in shock. I gave birth to my first child, son Neil, on
APRIL 8,1953, AGE 29
REINCARNATION???
Page 74
Hannah Ryan
Hannah is a transplant from the mountains of Idaho and has lived in Taos for seven years. She is a pre-science student pursuing a degree in forestry management. She loves spending her time hiking, floating the river and adventuring with her dog, Chinle. Hannah has only recently gotten back into painting after a 10+ year hiatus and is excited to share some of her art with you.
The Guardian, oil on canvas, 18x18", 2021
Some of my favorite people are animals.
Page 75
Corona No Mas, oil on canvas, 12x12", 2021
Page 76
Haven Lindsey
Haven Lindsey is a resident of Taos, New Mexico. Born and raised in Virginia, Haven moved to New England after graduating from college where she lived in Vermont, and eventually moved to Maine where she resided for 20 years. After five years of experiencing the big city life of Austin, Texas, Haven moved to Taos where she feels most at home in the small community surrounded by the mountains and the bright, dark night sky. She works remotely as a full-time content writer and marketing strategist for a healthcare organization that strives to make healthcare more accessible and affordable for all Americans. She is also a freelance writer and author. Her first book, 'The Blue Dog and The White Horse, Adventures on a Texas Ranch', was published in November 2020. It is a children's book about the experiences of her dog, Gracie, who befriended a retired roping horse, Max. Together, Gracie and Max learned about the importance of friendship, loyalty, compassion, and leadership. The book, like most of Haven's work, has lessons for the reader - regardless of the age group - to consider and reflect upon. Haven is a prolific reader and draws her inspiration from nature, the universe, and the similarities that we all share.
Life's Wake
Ever stop to think about your life's wake?
When you go through your day,
do you give, do you take?
Like ripples on water and echoes in air,
everything's altered because you were there.
Artwork by Sarah Parker
Touching the Sun, block print, 20x16", 2021
Page 77
The Unspoken Call of Home
The mournful call of the train
breaks the penetrating silence
of the deep mountain passes
as foggy clouds kiss the rich, dark sky
the stark strength of desolate hope
imperfect smiles and kitchen dancing
squeaky screen doors and porch swings
and the familiar dirt roads that led you
to the busy buzz of
buildings and pavement
traffic and progress replaced the soulful soundtrack
no porch swings or lemonade
never enough time for noticing
the way the bright lights steal the night sky
the one that once fed your soul while you slept
summers and winters have ebbed and flowed
you allow the noise of friends and lovers to fade away
as the quiet mountains beckon you once again
and the mournful call of the coyotes
awaken the dormant memories
of how it felt to be fed by the stars in the sky
your heart screams for solace
and your mind craves the wisdom of stillness
so you trust the Spirit within and the Spirit beyond
to weave tapestries of simplicity and strength
that most can't see and fewer understand
and doesn't matter anyway
you become comforted by the richness of time
your heart and mind satiated with resolve
as the brightness of the dark, night sky
has welcomed you home
Page 78
Haven Lindsey cont.
Dear Cupcake
Dear ______,
Just a note to tell you how well you're doing. You're listening to me and allowing me to sway you. I love that you've allowed me to take over your life – I feed off of that.
And isn't it fun that you pretend you don't even know it's me under the surface? Well, ok, perhaps you don't know that I'm in charge, you're so distracted maybe you've not noticed. For me, that's even better. It's like you would rather have me be in charge of your life than you!
And you, bless your heart, filling your schedule and needing to be busy, busy, busy – we both know it's because you don't want to be alone with me. When you're alone, you seem more aware of me but as long as you keep doing what you're doing, I'm not going anywhere.
So stay busy, fill your schedule, stare at your phone and deflect and deny. All of those distractions help me and that's what we both want, right? You sometimes act like you don't want me around but I can tell you do. You're not willing to get rid of me and why should I leave? I own you. I'm relentless and in charge. I have so many different faces and voices – I'm like your personal shape-shifter. I can't be slept away. You can't drink me away or smoke me away either. You think you can 'busy' me away and it's almost endearing that you think I'd start to fade just because you fill every waking moment with distractions. Who do you think keeps you up at night, Cupcake? It's like you think you can ignore me away. Just so you know, that's not a thing.
I think it's cute how you move away from pain more than you move toward pleasure. You don't even know what that means – not really. It's because you've not gotten to know pleasure yet because you're too busy trying to dull the things that aren't comfortable. You think pleasure is simply dulling the pain. I think y'all call that the human condition – well, the ones who know about that sort of thing. See, you'll put more effort into dulling that insecurity and anger and loneliness you carry around than you will trying to get to the core of why you feel that way. It's all probably someone else's fault anyway – I mean come on, your life isn't your responsibility. If you're feeling something uncomfortable it must be because someone did you wrong! Just keep that mindset and I'll always be right here with you.
I know you don't really want to get to know me and learn why I'm here and that is reassuring to me. I don't want you to know too much about me because the less you know about me the better. It reminds me that you and I will be together for a long time. Stay in the darkness, Cupcake, that's where I want you to be. You don't want to start asking questions that might make you feel a feeling, would you? I mean, don't you humans prefer the pain you know rather than venturing into the unknown?
Everyone talks about reaching out these days – y'all are so funny sometimes with the, "sounds good" and "I'll reach out"; I sometimes have to work at not laughing out loud. Please keep it up. Those silly distractions and empty words are like belly rubs to me. You keep "reaching out" because the day you start "reaching in", and wanting to know who I am and where I came from, I'm in trouble and we wouldn't want that now would we?
Sweet dreams, Cupcake.
Signed,
The Fear That Lives Inside You
Page 79
Octopus Mushroom (E.V), three plate intaglio print, 12x9", 2020
Octopus Mushroom is comprised of three plates allowing for various image compositions. This edition here is one of many.
Heather Bergerson
Heather Marie Bergerson (b. 1990) is a German-American interdisciplinary artist with a passion for feminist concerns. A published and technically trained photographer, Heather's creative practice also includes ceramics, sculpture, painting, printmaking and large-scale collaborative projects. She has participated in several notable art festivals including The Paseo and Currents New Media as well as exhibiting her work locally and internationally. After receiving her Associate of Fine Arts from UNM-Taos, Heather immediately enrolled at main campus in Albuquerque where she is currently a candidate for her Bachelor of Fine Arts in Art Studio with a minor in Arts Leadership and Business. To learn more about Heather, please visit her website at www.hmbergerson.com
Page 80
Heather Bergerson cont.
Cobra Lily (E.V), three plate intaglio print, 19x6", 2020
Cobra Lily consists of three plates allowing for various image compositions. This edition is one of many.
Page 81
Jacob Rodriguez
Jacob Rodriguez is an editor in training and wanted to show off his piece Unbalanced. While this piece may seem a bit unorthodox it was mainly a parody video of Rackstraw Downes piece balance, while not about the whole video mainly Rackstraw's piece about landscaping where Jacob's piece differs however he thought of adding humor to the piece to compare this great artist to some random bystander.
Unbalance, video, 2021
This piece of work is a parody video of Rackstraws Downes video "balance."
Page 82
Jana Greiner
Jana Greiner is a practicing installation artist whose art relies heavily on form, concept and material. The variety of materials used include fiber, recycled materials, pvc, mud and clay. Jana identifies as a queer sculptor and interdisciplinary artist and has been working with needle and thread since they were a child. Drawn to the traditional idea of textiles being 'women's work,' Jana uses this life-long skill to create art that challenges that perspective. When deconstructing the social constructs of the feminine persona, they often use irony, humor, and sensuality to challenge the viewer's notions on female stereotypes.
Bloom, video with human model (Harlo Burlin-Greiner) includes cotton fabric and bailing wire sculpture, 2020
This piece is my artistic representation of coming of age during the Covid-19 global pandemic.
Page 83
BOMB Shelter, sculpture made of Ripstop fabric, zipper, steel wire, Foam insulation board, with stakes and twine for tie downs, 84x60x60", 2020
The BOMB Shelter is a tent like structure designed to reference the first atomic bomb manufactured in Los Alamos, NM. This work illuminates New Mexico's role in the Atomic Age and doubles as a tent to provide shelter for the growing population of unhoused New Mexicans.
Page 84
Jenni Kingsley
Jenni Kingsley is an oil painter, textile artist, and poet. She was raised in Peru for most of her childhood before moving to Arizona for high school. She received her AA in the humanities at Pima Community College in Tucson before moving to San Diego to work for the La Jolla Playhouse as a costumer. For ten years she worked in theatre in San Diego. During that time she wrote her first collection of poetry and created several textile artworks utilizing repurposed fabrics and materials. In 2013 her piece I want to wear my Bicycle was chosen for the Second Time Around; Fashion Recycled Exhibit at the Visions Art Museum in Liberty Station. In 2017 she discovered oil painting, which has become her primary medium, and which motivated her to seek formal training in 2019 when she was accepted as an undergraduate at the University of New Mexico. She is currently an art studio major at UNM and intends to graduate in 2023.
Stürm, oil on canvas, 36x48", 2021
Inspired by a monsoon.
Page 85
Nook, acrylic ink on paper, 30x24", 2021
I dedicate this painting to my bear Sing Sing.
Page 86
Meditations, oil on canvas, 30x24", 2021
Page 87
From Seed, oil on canvas, 30x24", 2021
This piece is about the wild energies of personal becoming; of potential taking form.
The Wild Road Home", oil on board, 8x12", 2019
Painted while missing California.
Page 88
Josephine Padilla
Josephine Padilla has always had a creative spark but never had control on what that would be or what it could become. With the knowledge of an artist that could create traditional forms of art that she was unable to compete with, and becoming discouraged in that field of creating, it wilted and became neglected but not truly gone. Nevertheless, growing to a young woman with too many thoughts for paper there was another outlet until it came time to return the spark to traditional works of art. That answer was makeup and it still is a current hobby to this day that continues to change and grow with the modern time. Makeup was the escape that was achievable even with time it gave a self-boost that was not as permanent as pen to paper. It was something that could easily be taken off as it was to put on in the first place and in turn making practice a bit less intimidating as the more common form self-expression in making something themselves. But it still was a struggle with its own downside, from both others and within, negative thoughts as all young may have when trying a new way to show who they are on their person. With saying as if the makeup was for another or in general for attention and why would it even be needed if that was not the goal. For looking nice could not be for them and for the enjoyment it had brough her! Those sayings would hit hard on times when a young lady is 'supposed' to be dolled up, especially on holidays when they wish to sought out such as Valentine's day, and even during Halloween. A memory of a time where both were all about the candy that could be given and received turned into how will she present herself on these days. There could be more to this than just the simplicity of look nice and even possibly attractive, Isn't there at least? Yes!... Through form that were not found commonly through FX or special affects make up to being the most gruesome sight to even the smallest of change to the makeup for an entire look. This opened a whole new door for Josephine that would be greatly appreciated in understanding that this truly was for her and one else to enjoy. The beginning had been very negative, but it was only up from there and knowing that it wasn't chasing after a level of talent or another's approval all the time meant she would keep at this; and she did with growing progress and confidence in her skill. This now confused mixed-media artist has the chance to share art, that will be for her with knowing that if you keep at what you enjoy there will only be progress with practice. This was a hard lesson for Ms. Padilla but one well learned through a little bit of a mess on her face and confidence of knowing that's where it should be.
Holiday Makeup Views, make-up and photography, 2020
I wanted to capture a slightly different take on common holiday tropes through makeup. These are my takes on common Valentine's Day makeup with the different feels going into the holiday, or coming out of it, and a small twist on a simple animal costume for Halloween.
Page 89
Holiday Makeup Views, make-up and photography, 2021
Page 90
Julia Salmons
Julia is a full time college student at UNM-Taos, as well as a barista. She likes to write in her free time and she loves photography.
A Serious Problem, digital photography, 2020
When my relationship with technology is brought up, the first thing to come to mind is how much time I spend staring at a screen, usually, my cell phone. For the past year, obviously there hasn't been much else to do, but that doesn't mean it has been healthy for me. I have instead become increasingly attached to it. I have more friends online than I have in real life, my biggest hobby for the time being is rewatching and over analyzing my favorite show, I write fanfiction, I'm even on my phone reading or writing when I'm at work. It has become a serious problem in my life, where it feels like my phone is glued to my hand and I'm not sure what to do about it. This sequence here can show you how my everyday life feels. I obviously do other things, but on my particularly hard days, this is how I can be found. Laying in bed, letting the sadness and longing sink in, trying to drown the feeling in short bursts of serotonin from social media and fandom content.
Page 91
The way I loved you
Today I bid adieu to you
My weakest link
Who never knew
That I threw up in the sink that night
After we had that awful fight
You made me think I'd lost MY sanity
When in reality
The scars on your chest were done out of vanity
You always healed best from hurting me
Leeching off someone else ISN'T therapy
Left me playing referee
To the angel and devil on your shoulder
When I was only fucking sixteen
Without you I'm bolder, still growing older,
But when I'm alone the world feels colder
Two years later and you're still on my mind
Our pasts irreparably intertwined
Maybe good friends are impossible to find
As much as I hate you
You weren't always unkind
Some days were spent laughing,
dumb freestyle rapping
Tv show references and photographing
I can't resist missing
The excitement and guilt that came after kissing
Or the thrill and hilarity of pissing you off
Our relationship an emotional molotov
Seems like the good days made up for bad ones
But I need to remember to stick to my guns
Honey, you're not special
Now memories of you are nothing but stressful
Your manipulation will never be my damnation
Now I close the pages on our story
I have no more need for expository
Today I bid adieu to you
My old best friend
Who never cared or knew
Just how much
I was in love with you
Page 92
Karla Nardi
Karla Nardi was born in St. Louis, Missouri, and raised in Amarillo, Texas. After finishing her Bachelors of Arts in Philosophy from Texas Tech University, she moved to San Francisco, California where she worked as a travel agent and tour guide for the Northern California wine region. After a few years she made another move up to Coeur d'Alene, Idaho, where she met her husband of 40 years, Tony. They traveled extensively for his work as a musician – from coast to coast, overseas to Europe, Asia, and Australia (driving over 10,000 miles around the continent).
Once their three children arrived on the scene, they needed a place to settle down. They chose Hot Springs, Arkansas, where Tony had played for many years. Soon they found themselves in the nightclub and restaurant business, garnishing many awards for their service to the community.
Nardi traded in her nightlife of almost 30 years for a teaching position in the Hospitality Administration Program at National Park Community College in 2002. She was the sole instructor for the entire Hospitality and Culinary Arts curriculum. While at NPCC, she received the Outstanding Faculty Award and the AATWC Faculty of the Year Award. From 2003 -2007, she added an adjunct position teaching Hospitality classes to residents at the Southwest Arkansas Correctional Facility in Pine Bluff. She retired from NPCC in 2013, but continued to teach ServSafe seminars for the Arkansas Hospitality Association and Fruit Carving classes around the state and beyond. .
Nardi joined the faculty of University of New Mexico-Taos in 2018 as a part-time instructor and now serves as the Program Coordinator of the Culinary Arts Program.
Page 93
Hummingbird in Flight, Watermelon Fruit Carving, 2020
Page 94
Katherine Miller
Katherine Toy Miller (M. Kaat Toy) of Taos, New Mexico, has published a prose poem chapbook, In a Cosmic Egg (Finishing Line Press 2012); a flash fiction book, Disturbed Sleep (FutureCycle Press 2013); and a short story collection Many Worlds: Some American Odysseys with illustrations (Shanti Arts Publishing 2021). Livingston Press at The University of West Alabama is publishing her novel Madness with Grief and illustrations (2021). She is completing a book of prose poems with illustrations, Silences.
Valverde Street Fence, pen on paper, 8.5x11", 2020
llustration for "Intuition or Imagination?" in my short story collection Many Worlds: Some American Odysseys, Shanti Arts Publishing 2021.
Author's Note, pen on paper, 8.5x11", 2020
Illustration for my author's note for my novel Madness with Grief forthcoming from Livingston Press at The University of West Alabama 2021.
Page 95
Excellence by Design
When Eleanor began substituting at her old high school its motto was now "Excellence by Design."
In the science lab first period a tall awkward boy with tennis shoes about size thirteen opened the long plastic curtains for her by stepping up on the counter and running around the microscopes and terrariums, dragging the curtains back because the cord was broken. Apparently no one had requested it be fixed.
During third period a boy came in late with his arm inside his short-sleeve T-shirt pretending it had been amputated. A fawn hoof was attached to the end of his sleeve with a rubber band.
"Don't make fun of my stump," he said staggering around the class, waving the hoof about with his shoulder. "Don't make fun of my stump." He had a bright blue plastic ring clamped around his eyebrow.
He sat at a lab table and laid his head down. Eleanor asked why he wasn't working.
"I forgot my book at home," he said.
This is excellence by design, she thought.
Another teacher allowed the students to give each other massages. At least this is what they told Eleanor when she told them to stop. It was too painful to watch them caressing each other, their bodies relaxing under each other's hands.
She spent much time telling the girls not to hit the boys. The boys were passive and conditioned to take abuse. Lining up at the lunch bell, the aide, a woman about sixty, hit them. They begged the aide to leave them alone.
When the boys hit the aide, she turned to Eleanor. "They're picking on me! They're picking on me!"
"You started it," she said.
Another day a girl couldn't get her computer to do what she wanted, so she pounded the mouse against the table. The kids grabbed at her, trying to stop her.
"No. Leave her alone. It's okay," Eleanor said, using her arms and hands to form a protective half-circle around the girl. No matter how expensive the equipment was she was trying to break, it was cheaper than a lawsuit, Eleanor figured.
Eleanor did not want to imagine the chaos that would ensue when these children reproduced, but obviously they were planning to. Boys and girls carried around dolls made of muslin and five-pound sacks of flour. They arranged with each other for babysitting. The dolls had to be changed, the students insisted when Eleanor told them to concentrate on their work. When they fed their dolls during class, she had to tell them to put their bottles away. They marked on a daily schedule all the activities they performed for their dolls' care. They got credit for this in homemaking, the only course they seemed devoted to. They were not allowed to bring their real children to class because it was too distracting, but they were allowed to do this.
Page 96
Philodendron with Placemat, pen on paper, 8.5x11", 2020
Illustration for my novel Madness with Grief forthcoming from Livingston Press at The University of West Alabama 2021.
The Only Thing Alive is the Present
Each moment is a hope, a melodious transport, a box
of questions that has not been penetrated yet, coalescing in a
liminal opening when you ask "What should I put here?" Start
by drawing on the imagination: It's a deftly rushing poetically
commodious exaltation thing, broken along sharp edges of
inquiring wonderment then reorganized into something supple.
As soon as you assume it is tractable, it vanishes between
what you synthesize and what you steal, like trying to get hold
of your life with just your two arms after it has gone too soft.
Page 97
Aspen with Prayer Flags, pen on paper, 8.5x11", 2020
Illustration for my novel Chain of Commands.
Moon Shadow over Magdalena, New Mexico
The shivering moon, deposed to endless darkness, its
stripped-of-spirit stone desolate, sends its daytime
derivation to survey the sun-warmed mountains
stretching themselves up in reciprocation of the sun-
warmed plain's multicolored bounteousness; and on
their date to reconnect that night, the forlorn orb
receives a dispatch exuberant with depictions it
otherwise could never suspect or sense.
Page 98
Laurel Taylor
Laurel Taylor is an interdisciplinary artist, art witch, and internationally recognized experimental film maker. Her interdisciplinary works include printmaking, oil paintings, works on paper, experimental video, and installation. All works are made in ritual with reoccurring themes of presence, empowerment, transformation, and healing trauma within the soul. Laurel presents an experience for audiences that provokes some of the hidden emotions that are too often pushed down and forgotten.
She was trained in 3-D and 2-D mediums at Bradley University and the University of New Mexico - Taos. Laurel obtained her Associate in Fine Arts with honors at the University of New Mexico-Taos in Spring 2020 and has shown in multiple galleries. Laurel has been awarded the Andy Johnson Arts Scholarship, Quail Roost Scholarship, and the Betsy Carey Scholarship for the Arts while attending the University of New Mexico - Taos.
She most recently had work showing at Third Taos Revolt Show at Revolt Gallery and in PASEO Project's: Windows on the Future. Her experimental short art film "What are you holding?" won People's Choice in the Seco Sanctuary Film Festival. Laurel also won first place in the Paseo Project's Taos County Counts Poster Competition. She also spoke at Taos' 10th Anniversary Pecha Kucha Talk. Laurel completed her last installation of New Moon in the Revolt Hut in front of Revolt Gallery for the months of August - October 2020.
Follow Laurel on Instagram @wilde.ink. and visit her website https://www.laureltaylorart.com for more information about her work.
Page 99
Quarantine Self Portrait, oil on canvas, 17x15", 2020
This work is the capture of the moment I stood in my true path as an artist and took my power back.
Page 100
Held (detail), oil and acrylic on canvas, 46x58", 2020
This painting serves as a reminder to hold our inner child with care. We are always held by the universal mother and our inner star being. Roses represent the ever blooming process of walking through this life.
Page 101
Lucid, oil on canvas, 40x40", 2020
As the heart is pulled from the void, it is presented in offering to the inner child. Roses are shown ever blooming from the crown while some get lost in the void so many more surround the innocence to represent the gratitude and joy that life can hold.
Page 102
Laurel Taylor cont.
Lucid #2, oil on canvas, 12x12", 2020
Second painting in a triptych of stuffed animal bunnies called the Lucid that reveals leaving the past behind lying and discarded away. The love that once was left forgotten.
Page 103
Leo Levy
Leo Levy is a multimedia storyteller, artist and activist, whose work explores pressing social issues, resonant historical narratives and tall tales full of timeless imagination. In his visual art and comics, Leo blends traditional techniques and materials like India ink illustration, watercolor and film photography with digital processes. His short films range from historical nonfiction to poetic animation.
Originally from Philadelphia, Leo graduated from Cornell University in 2020, where he studied Visual and Literary Storytelling as a College Scholar. His work has been published in Kitsch Magazine and The Fourth Floor Magazine, and exhibited at Creative Space Gallery in Ithaca, NY and the Art Gallery of the Philomathean Society at the University of Pennsylvania. He was Artist-in-Residence at ModNomad Studio's CasaMinka Residency in February 2021. Leo is also a member of international multimedia art collective Distant from the Crowd, and his work can be found on their website, at https://distantfromthecrowd.com/
Reflections: A Covid-19 Ghost Story, page one, India ink and Photoshop, 2021
Reflections is an 8-page, hand-drawn comic that summons up the ghosts of a typhoid epidemic, which gripped Ithaca, NY in 1903. This tale, full of heartbreak, horror and humor, can teach us some long-overdue lessons about public health and the current pandemic. To read the rest of the comic, visit leolevy.myportfolio.com, or find a print copy at Ennui Gallery, Lun + Ojo Gallery, or Op.Cit Books.
Page 104
Linn Bayne
Linn Bayne came to Taos many years ago on the way to California and a life of adventure that took her to Saigon and Tehran, Jerusalem and Rome, Paris and London, and back to New Haven, Connecticut. There she was editor of a nationally distributed newsletter and then librarian in the public school system until retirement called her back to New Mexico.
Wolf Song
When the wolf song calls
it howls to be heard.
It is the resonance we seek
with our wolf voice
rising to the sky,
to the stars and moon
just to tell them yes,
yes to the primal
sacred music of the soul.
Do not be afraid
to howl
Mesa
O Path of Perfection
You brought me to the great mesa
Where earth and sky embrace
In a quivering stillness
Of such magnitude
That the heart is riven,
Cleft open to the majesty
Of space and time.
Where the ancients carved their story
On rock and linger still in every leaf of sage.
In every gully, every canyon
Their spirits hover on the wind,
Calling us to remembrance
Of their embrace of earth and sky.
Where tribal drums still thrum,
Thrumming a journey to the clouds,
In reverent homage to the vast horizon,
To the rivers, lakes and mountains
Of this enchanted land.
Page 105
Marie Jennings
Marie Jennings (Missy) took her first art classes at UNM-Taos. She has taken Drawing I, Painting I, and continues to make art.
George Floyd, graphite on paper, 9x7", 2020
I drew this portrait of George Floyd because his death was weighing heavy on my heart.
Page 106
Marie Jennings cont.
Self-portrait, oil on canvas, 30x24", 2020
This a self-portrait in the manner of the artist Harding Meyer. It was an assignment from my Painting I class.
Page 107
Nicklas Venhuizen
Nicklas Venhuizen was born in Des Moines, Iowa, currently lives in Lubbock Texas, and is enrolled as a freshman at UNM-Albuquerque. Nicklas is certified in Adobe Premiere Pro, and works for a news station as a camera man and an editor, among many other roles at the station. He was also a part of the team that got second place in the Student Television Network's Crazy 8's National Competition in 2019. He has also won first place in the 2018 and 2019 Hub City "Filmstival" competitions. Nicklas' hobbies include taking photos and building computers and keyboards. When he graduates from UNM, he wants to be a professional photographer and work in the film industry as a camera operator, a colorist, and possibly an editor.
Celebrating a Turning Point, digital photography, 2020
When Joe Biden was announced the winner of the 2020 presidential election, Albuquerque, New Mexico, thousands of people took to the streets to celebrate, waving signs from their cars or waving american flags all in support of Biden. I snapped this shot in front of UNM's main campus, where students on the sidewalks and at the bus stop celebrated with the passing cars.
Page 108
Iowa Silos Against the Sky, digital photography, 2019
When driving across the Iowa hills on Christmas day, a beautiful sunset descended upon us. We pulled over, and I snapped this shot of some grain silos in front of the beautiful sunset, perfectly showing the character of Iowa and its farms.
Through the Trees of Lower Mesa Falls, digital photography, 2019
On a trip to the Lower Mesa Falls in Idaho, I saw this perfect angle of them through some trees on the path to the observation deck. If you look close enough, you can see a hiker on the rocks next to the waterfall.
Page 109
Too Close in Yellowstone, digital photography, 2020
On a trip through Yellowstone National Park, elk are not a rare sight, but in this case, they were very close to the road. I got out of the car to take the picture through the trees and the crowd around them, while people from the road were telling us that we were "too close to the wild animal," and they were right.
Page 110
Nicklas Venhuizen cont.
Storm in the South Plains, digital photography, 2019
A lightning storm came over my house, and I started taking pictures of the lightning out from the shelter of my garage. It wasn't long until I got really lucky and captured this amazing shot of a huge lighting bolt only a few miles away from my house that lit up the entire night sky.
Page 111
Price Valentine
Price Valentine (b. 1993, Albuquerque) is a non binary visual artist who engages ritual, performance, and complete immersion of body to canvas. Awarded academic honors, granted public display in downtown Taos, and an active participant in local shows; Price seeks to engage in responsible and radical ways transforming all surfaces of life into art.
Here, still: performance and video, 2021
Page 112
Ramon Espinoza
Ramon is a full time student at the University of New Mexico in Albuquerque. He is working toward a Bachelor of Fine Arts with the BFA Film & Digital Arts program. He has been studying film since elementary and started taking classes in High school. He is a great student and hardworking. Even with being a full time student he still puts in at least 15 hours a week on his job to help pay for his education.
He hopes to one day work in production equipment such as lighting, cameras and audio for major studios and create with other aspiring artist.
He believes that New Mexico has great potential to become the next Hollywood and even better. These are new times and if the digital art a community can work together then they can create timeless content for this state.
Peace At Last, Montage, shot on iPhone 10XR, 2021
A Tear-jerking moment of my father and godfather putting my late grandmothers headstone at her resting site featuring my mother and godmother.
Page 113
Raymond Martinez
Raymond Martinez is currently working on a Bachelor of Fine Arts degree in film and digital arts at the University of New Mexico. After graduating from high school in 2009, Raymond spent time in Oklahoma, Texas, and Puerto Rico working with humanitarian non-profits using his skills with video and graphic design. Through this work, he met his wife, and they have been happily married for five years. In 2019 Raymond returned to school at Central New Mexico Community College after an old passion for finding his place in the film industry resurfaced. When completing his education at the University of New Mexico, Raymond hopes to bring life to new stories that will captivate and inspire audiences everywhere. When he gets some free time, Raymond enjoys drawing, cooking, and exploring public lands with his wife and two dogs.
Departed Soul, mixed-media on smooth Bristol paper, 11x85", 2021
Inspired by sugar skull designs, a unique interpretation using spray paint and water for the fluid effects and micron pen for all the details of the skull. This peiece represents a soul moving on to the other side.
Page 114
Raymond Martinez cont.
Solum, digital photography image sequence, 2021
The world has fallen apart by a deadly pollutant in the air and has destroyed most of the population. Those who have survived the contamination are likely to meet their fate to unknown creatures that now roam the planet. To survive, most travel alone in the wilderness, but there is still no escape.
This piece was used for an assignment for the class Intro to Film & Digital Media. This demonstrates the use of color grading and composition.
Page 115
Roberta Chambers
Roberta Chambers moved to Ranchos de Taos two years ago and enjoys exploring nature, wildlife, hiking and photography. She is now retired and has realized a long held dream of living in New Mexico full time. These images represent some of the intriguing and inspiring impressions of nature she has enjoyed in the Taos area since making this her home.
Nocturnal Gossip, photography, 2020
These two small birds were resting at night for several weeks on my patio light. I observed them patiently and they eventually stayed still long enough for me to photograph them although it took quite some time to capture a moment where they were balanced perfectly in the magic light.
Page 116
Ross McMillin
Ross McMillin (they/them) was born in Albuquerque in 2001 to mother and father duo Monica Thompson and Cecil McMillin. Growing up, Ross was laser focused on going into politics and egotistically wanted to be the first president from New Mexico. Their platform often centered around education equality and free iced cream Friday's. This was also the period where Ross first found their love for stories, spending every spare second of the day with their nose planted in a book.
As Ross grew older their love of books and political aspirations remained (apart from the free iced cream Fridays). This all changed in 2015 when their father took them to see Yorgos Lanthimos' The Lobster in theaters. Aside from being their favorite movie to date, it inspired them into pursuing filmmaking as a career. Since then Ross has graduated from Eldorado High School in 2019 with a somewhat adequate GPA. After spending the first semester at Santa Fe Community college, Ross transferred to the University of New Mexico- Albuquerque with the goal of getting a Bachelors in Fine Arts. Ross' dream job after graduation is being either a video editor or screenwriter.
Stories from an Old Timer, video, 2021
Forty years is a long time, especially when it comes to sobriety. In this short interview, Cecil McMillin tells the story of the bottle of alcohol he has kept since he first got sober over forty years ago.
Page 117
Georgie Boy, video, 2021
I have been a huge dog person my whole life. In this short interview, I turned the camera towards myself and talked about my dog George.
A Mother and her Dog, video, 2021
In this short interview, I sought out to capture the special relationship between my mother, Monica Thompson, and her fabulous dog Shep.
Page 118
Sally S. Savage
Happily retired in Taos, Sally S. Savage is a perpetual student. She has become a filmmaker through the Digital Media Arts Program and is refining her commercial photography talents. With decades of marketing experience, Sally is becoming adept at digital marketing. Her goal is to help regional businesses expand their sales by creating strong social media platforms.
Dreaming Butterfly, film, 2021
A journey of digitally produced butterflies through wonderlands of Nature.
Page 119
Split Personality, photography, 18x13.25", 2021
A sandstone cliff reflected in clear water, with changed colors, rotated 90⁰.
Page 120
Hanging On, photography, 18x13", 2021
A young cat, Gold Dust, was shakily walking along the top of this fence section. Halfway across, he nervously crouched down and looked for help.
Yum, photography, 18x12", 2021
A ripe, juicy cantaloupe. 'Nuf said.
Raven Kiss, photography, 18x14.4", 2021
Two beings of the sky preening each other.
Page 121
Show Me a Sign, film, 2018
A labyrinth of signs with conflicting messages.
Page 122
Black and Red Symmetry, photography, 18x13.25", 2021
A dark room and two bubbly glasses lit from below by a headlamp with a red lens.
Page 123
Koi, photography, film, 2019
A meditation on the fluid movements of Koi fish.
Page 124
SARAH PARKER
Sarah Parker currently teaches Special Education in a small Northern New Mexico elementary school. Her passion lies in radio production, printmaking, and interactive community art projects. She has produced independent pieces for community radio stations in Southern Colorado and Northern New Mexico since 2005.
She is committed to the voices of the community, and the dissemination of these voices into the wider population. She uses interactive art projects to begin conversations about community and the roles as individuals in that greater community. The stories are what connect the common experiences and distinguish unique perspectives.
A Book of Rebels, video of book of drawings, 2020
This is a Book of Rebel women that I illustrated. I began with anarchists and socialists and moved to policy makers, scholars, artists, and activists. There are a million people out there that can inspire us with their stories. The music is Truck Stop Honeymoon's Rebel Girl.
Page 125
The Dust Bowl, animated oral history, 2020
This is an oral history that I did with my grandma about how our family ended up in the Dust Bowl. She talks about migrating with her family from Kansas to California for work, working in the Almond Orchards, and then coming back to the Oklahoma panhandle just in time for the dust clouds to bellow in. The animation was done while I was just beginning to learn to use After Effects.
Page 126
Sarah Parker cont.
Grape Wine on Dirt Roads, digital animation, 2020
Grape Wine on Dirt Roads was a short Procreate Animation that I drew after finding an old wine bottle on a dirt road. I imagined who might have tossed the bottle and the time that had passed since it's arrival and discovery.
Page 127
Scott Gerdes
Scott works with BCAM as a writer, copy editor and graphic designer. Previously, he worked at the Taos News starting as a reporter and working his way up to magazine editor. He plays in the wilds of Taos and says if he's lucky, he captures its beauty, strength, character and uniqueness. Iowa is where he was born and raised but, New Mexico has been his happy home for nearly 15 years — he wouldn't want it any other way.
After the Storm, color photography, 56x42", 2019
The clouds, the snow, the lone tree, and old truck behind the Overland Ranch in El Prado after a snowstorm was just too fresh and untouched to dismiss. It was like being inside a snow globe.
Historic Respite, color photography, 56x42", 2018
After more than 10 years of living in Taos, I finally got the chance to tour the Couse-Sharp Historic Site. I just happened to come upon this woman whose clothing, from a distance, made her look like she was a spirit from the past.
Page 128
Sunflower Spy, color photography, 2020
This sunflower was peering over the neighbor's fence at me, so I had to take its picture. I liked the contrast of all the textures — the age of the fence, the hardness of the stucco, and the softness of the petals.
Page 129
COVID Columbines, color photography, 2020
A close friend was struggling with the hermit's way of life due to COVID and asked for inspiration. This shot was taken in my front yard, just as the sun was streaming through the petals.
Page 130
Stephanie Grimm
Stephanie Grimm was born in West Virginia. Her journey through life has brought her to the beautiful Land of Enchantment. She has always found solace in nature and New Mexico has proved to offer many types of inspiration. She found herself lucky to be located in the lovely mountain town of Red River when Covid-19 struck. The following photographs were all taken during a time of social distancing and isolation. She chose to focus on the serenity of nature to remind herself that hope and faith remain during these uncertain times.
Serenity, digital photography, 2021
This photo was taken at a lake in Questa, New Mexico. I like this one because it captures the image under the water as well as the reflection, giving the feeling of two worlds.
Page 131
Mountain Road, digital photography, 2021
This photo was taken in a tree at a lake in Questa, New Mexico.
Page 132
Snowy River, digital photography, 2021
This photo was taken behind the Alpine Lodge in Red River, New Mexico during a snow storm.
Page 133
In a Tree, digital photography, 2021
This photo was taken in a tree at a lake in Questa, New Mexico.
Page 134
TRACY BELL
Tracy Bell currently lives and works in Albuquerque. She was raised Catholic and lived on a farm in the middle of Kansas. With not much else to do, Tracy would travel the country roads admiring abandoned homesteads. Many of them had collections of items left behind that revealed the passage of time. The attraction to weathered and worn objects is what inspires much of her work today.
Although Tracy enjoys working in many mediums, her practice centers around the use of oil painting. Her techniques often combine a wide range of sketch work, ink, graphite, charcoal, paper and emulsive paint processes. The merging and layering of these different techniques serve as a reflection on the innocence of an untouched canvas, and its transformation into a finished detailed work of art.
Her paintings are a celebration of freedom found in facing the challenges of rejection, abuse, loss and grief from her past. She uses them as a foundation for new discoveries of strength, beauty, and the complexity in her practice of art making. The insight she has gained in this process has given her an appreciation for images of old and neglected things that bear witness to the passage of time and accumulate a particularly honest and vulnerable beauty.
Notched in Time, oil on canvas, 30x24", 2021
Inspired by a friend's visit to the beach in Vero Beach, Florida.
Page 135
Silent Medley, oil on canvas, 30x24", 2021
Painting of a mime / street performer from a recent trip to Havana Cuba.
Page 136
Time to Ponder, oil on canvas, 20x16", 2021
Inspired by my brother's apartment building during the pandemic in Sarasota, Florida.
Page 137
Hazy Daze, oil on canvas, 30x24", 2020
Painting of a local from a recent trip to Havana Cuba.
Peace, Love & Happiness, acrylic on canvas, 20x16", 2021
The world peeping in to see one man's magical, mystical world filled with peace, love and happiness and his reflection back as to how the world sees him.
Page 138
Wil Burlin
Local artist, born in Maine to an artist father and cool mom, developing my style as I go. I am a pop art influenced, psychedelic music inspired illustrator. I like to produce colorful hand drawn illustrations with eye catching color and weird subject matter.
Self Portrait, pen and ink on copy machine paper, 8.5x11", 2018
Me buried with my favorite guitar waking up in the afterlife.
Page 139
C3 Rocker, pen and ink on copy machine paper, 8.5x11", 2020
C3 and R2 are back for more interstellar madness. Rock on.
Jukebot, pen and ink on copy machine paper, 8.5x11", 2019
With a reel to reel tape recorder torso and pull out record player, this sexy robot juke box has speakers for legs and the KNCE mixing board for a head.
Page 140
Alien Money, pen and ink on copy machine paper, 8.5x11", 2012
This is what money looks like when aliens take over, nod to illuminati symbolism.
Page 141
THE FACULTY
THE UNM-TAOS FINE ARTS & DIGITAL MEDIA DEPARTMENT
Page 142
Sarah Stolar
Sarah Stolar the Chair of Fine Arts & Digital Media and teaches, Drawing, Painting, Sculpture, Intro to Video Art, and Art Practices. She is an interdisciplinary feminist artist and internationally awarded filmmaker. Sarah grew up in her mother's art studio and award-winning art school Schain Studios, received a BFA in Painting from the Art Academy of Cincinnati, and an MFA in New Genres from the San Francisco Art Institute. Her work has been exhibited internationally with solo exhibitions at the Harwood Museum, the New Mexico Museum of Art, and BGMoCA in Montevideo, Uruguay. www.sarahstolar.com
Jessica, oil on canvas, 72x72", 2019
Portrait of Jessica Romero-Sanchez - Senior Project/Construction Manager at UNM-Taos
Page 143
PETER WALKER
Peter Walker is the Digital media Program Coordinator. He is a filmmaker, photographer and educator. He is also a lifelong student of Aikido, a Japanese Martial Art. Peter grew up in his father's woodworking studio making sawdust. He earned his Masters Degree in Education from the University of Oregon and his Directors' Certificate from the Asian Academy of Film and Television in New Delhi, India. He honed his filmmaking craft during three years of productions in Malaysia followed by a documentary in Costa Rica. Recently he spent a summer as an Artist-in-Residence at Arquetopia in Urubamba, Peru. He has been teaching media arts for 14 years. www.taoswalkerphotography.com
Incan Citadel, photography, from Artist in Residency Arquetopia, Urubamba, Peru, Summer 2018
Overlooking the eclectic town of Pisac, these ancient Incan Ruins are a power spot in the Andes. 16 Images were stitched together to capture the depth of the place.
Page 144
GARY COOK
Associate Professor Gary Cook has forty years of teaching experience and currently teaches Drawing, Painting, Printmaking, and courses in Holistic Health. Over his career he has taught all levels of painting, drawing and printmaking as well as classes on consciousness, creativity, healing and personal awareness. He has developed programs with visual artists, writers, musicians, dream shamans, dancers and global educators. He teaches for both the art department and the Holistic Health and Healing Arts Program. Four museums, ten universities and fifteen galleries have exhibited his paintings and prints. He earned his MFA at Northern Illinois University and BFA at Michigan State University.
Red Cup, etching, Printed on a 15x22" BFK paper, image size 12x15", 2019
The image is from a black and white mixed media drawing I did as a class demonstration. I then translated it into a seven-plate color etching and printed a small edition of 7 prints. It's part of a small series using still life materials.
Page 145
LEE AKINS
Lee Akins teaches Ceramics, Sculpture, and Drawing at UNM-Taos. He was born in Texas, but grew up in Taiwan. He received his B.F.A. from the Dayton Art Institute, Ohio in 1975 and M.F.A. from Southern Methodist University in Ceramics in 1986. He has taught ceramics for more than 40 years. He has exhibited internationally in Taiwan and Japan and nationally including The Dallas Museum of Art. His work has been featured in ceramic magazines including an article in Ceramics Monthly, August/September 2006. www.leeakins.com
Curved Vase, terracotta, 13x7", 2019
My work seeks to combine figurative imagery with the format of the traditional clay vessel.
Page 146
KELLY CLEMENT
Kelly Clement teaches Film Studies for the Digital Media Arts Department. He is a self-confessed movie addict who received his M.A. in film production from San Francisco State University in 1990. He has since produced and directed numerous films, videos and multimedia projects and has taught film classes at Minnesota College of Art and Design and UNM-Taos for the past 20 years. From 1995-2003 Kelly was the co-founder and Director of Programming for the Taos Talking Picture Festival. He has also worked with the True/False Film Festival, the Nantucket Film Festival and the Denver Film Festival. Currently he is the documentary film programmer for the Mill Valley Film Festival and the DocLands Documentary Film Festival.
DocLands 2021 Official Trailer
Page 147
PAULA KING
Paula King teaches Intro to Art and a variety of Art History courses at UNM-Taos. Serving UNM-Taos since 2008, Paula shares her love for working with student learners, art-making, and the study of art appreciation and art history through online education. Paula's experience includes teaching studio art, digital photography, image editing, video production, and new media. She delivers art instruction to learners across the state of New Mexico and beyond. She continues to improve the experience of online instruction through research and training, designing UNM-Taos art courses to Quality Matters Standards. Degrees: Master of Fine Art Studio Art / Art History, Universidad de Guanajuato, Mx., Master of Science Studio Art / Art History, Texas A&M University, Bachelor of Fine Art, Studio Art / Art History, University of Texas, Austin.
Gaia in Repose, oil pastel, 20x26" 2017
The divine feminine form in repose, wide-open fields, distant hills, and warm skies; I love mark-making to a cadence. My favorite meditations are the rhythms of the human figure and figures of the natural world.
Page 148
DAVE MANSFIELD
Dave Mansfield teaches Motion Graphics and Animation for the Digital Media Department. He is a multi-media artist who grew up in Los Alamos, NM before working as an international recording artist for almost three decades as well as a CGI animator in the rarified air of Hollywood for almost a decade. In addition to teaching Video Production and Motion Graphics, he is also a full-time librarian with UNM-Taos. He has a BFA in Media Arts and Animation from the Art Institute of Colorado and is still actively recording music and creating music videos for his band, Society Burning. In February 2021, Dave released of his 8th full-length album on the 30th anniversary of his band. Originally a pioneer of the Coldwave Industrial rock movement in the 1990's, Dave has continued song writing and filming music videos in Taos, most notably the video Deleting Me Again was featured at the 2016 Berlin Short Film Festival. https://www.societyburning.com/
Swindling Millionaires Lyric Video Production Still,2D & 3D Animation (Adobe Photoshop, Illustrator & After Effects), 2021
This production still is from the upcoming animated lyric video Swindling Millionaires (Bankrupt Mix) for Society Burning. Hand-drawn sketches were scanned into a computer and then traced using Adobe Illustrator or manipulated in Photoshop before being composited in After Effects.
Page 149
Artifacts of Knowledge II, porcelain, book spines, bookcase, 78x36x18", 2019
Artifacts of Knowledge II are the remains of problematic or harmful information. Self-help, anatomical and religious texts were methodically stripped to the spines and cast in porcelain, then charred, leaving only the relic.
Teena Lee Ryan
Teena Lee Ryan teaches Photography for the Fine Art Department. She is an interdisciplinary artist and educator from Cincinnati, Ohio. Her work has been featured nationally in both solo and group exhibitions, as well as in Photographer's Forum Best of Photography. Teena has collaborated on several mural projects including To Spread Happiness with Nate Nez and Albuquerque Health Care for the Homeless. In addition to an AS in Digital Art & Design, she received a BA in Anthropology from the University of Wisconsin and an MFA in Studio Art from the University of New Mexico. www.teenaleeryan.com
Page 150
Martín Wannam
Martín Wannam teaches Art Practices for the Fine Art Department. Born in 1992 in Guatemala, he is a visual artist and educator whose work looks critically at the historical, social and political climate of Central America, specifically examining its impact on the queer individual. He uses photography, sculpture, and performance as a tool of constant evaluation of systematic structures such as religion, folklore, and western beauty standards through a queer lens. Martín is an internationally exhibiting artist who holds an MMFA in Photography from the University of New Mexico, a Diploma in Contemporary photography from La Fototeca (GT), and a BA in Graphic Design from the Universidad Rafael Landivar (GT). Currently, he resides in Albuquerque, NM working with Szu-Han Ho, Bernadine Hernandez, and Hazel Batrezchavez in the Fronteristxs Collective to end migrant detention and abolish the carceral state. http://www.martinwannam.com
White Jesus, performance art, 2020
Questioning whiteness and its power relation within a space I position myself in La Santa Iglesia Catedral Metropolitana de Santiago de Guatemala where I enter the frame with a Catholic icon made out of white chocolate. I sexually lick, chew, and then spit out the white chocolate until there is no recognizable icon but only a white mass. Doing so to expose the role of whiteness within religion, using my body to express my stand on religion but also in whiteness. Using this performance to physically heal from trauma imposed by western culture.
Page 151
SPECIAL PROJECTS
LARGE-SCALE FINE ARTS & DIGITAL MEDIA COLLABORATIONS
Page 152
As with all dramatic beats, the pandemic put a screeching halt to everyone's travel plans. Now in the spring of 2021 we are instead releasing it as a docuseries starting with Episode One. Future episodes will be released monthly highlighting a variety of characters and stories specific to the Upper Rio Grande Watershed.
- Peter Walker
Rio Grande Serenade Docuseries
Development of the Rio Grande Serenade project began in 2018 and filming took place Spring and Summer of 2019, with the series being released now in partnership with the Taos News - Tempo. Over the course of three years, ten students from the Digital Media Arts Program participated in the creation of this large-scale film project. Rio Grande Serenade was funded by UNM-Taos and the New Mexico Film Office Film Give Back Program.
DIrector's statement
The Rio Grande is indeed a big-hearted river and so are the people who live, work and play in its' waters. The entire river stretches nearly 2,000 miles from the headwaters in Colorado, through New Mexico into Texas forming part of the U.S.-Mexico border before releasing into the Gulf of Mexico. The Rio Grande watershed covers over 180,000 square miles! Inspired by epic tales of high desert life, culture, survival, migration and wildlife, I wanted to make a film that could give voice to a specific place that I know and love. This place is the Upper Rio Grande in Northern New Mexico.
As a media arts instructor for the University of New Mexico-Taos I strive to create opportunities for students to go on adventures, get out of their everyday element and capture images that move them. So, in 2019 we gathered up some gear, loaded students in a van and started filming! Luckily for us it was a big water year; the roar of the white water mixed well with stories of resilience and courage. Over the course of a year, we gathered story pieces in special locations stretching from Big Arsenic Springs near Questa to the Bosque in Albuquerque.
The Rio Grande Del Norte National Monument, White Rock Canyon, and the Wild and Scenic section of the Chama River (and the characters therein) are the soul of Episode One. We begin with a Water Prayer offered by Daniel Herrera, a sixth-generation norteño community leader and advocate for the youth and surrounding watersheds. The story then floats downriver with veteran guides and wilderness advocates as they plunge into rip-roaring whitewater. Topics range from river management to water scarcity and the challenges of living in a high, dry desert.
The custom soundtrack by local musician Ryan Beckwith creates a powerful backdrop to the visuals of the raw and dramatic gorge. We added in poetic storytelling by John Biscello and narration by Robert Mirabal which was edited by Wendy Shuey and made ready for the 2020 film festival circuit.
Watch all EPISODES HERE
www.riograndeserenade.com
Page 153
Rio Grande Serenade Docuseries - Episode One
Page 154
THE MURAL
In 2019, The University of New Mexico – Taos was awarded a Title V, Hispanic Serving Institution Grant, provided by UNIDOS: Building Pathway to Access and Opportunity for the Upper Rio Grande Region. UNM-Taos used this grant to promote the ongoing development of equity and diversity within the UNM-Taos campus and community. To capstone this initiative, the UNM-Taos Art Department brought two very-well respected artists to work with the students of UNM-Taos.
Imagery, conceptualized by students in collaboration with professional artists – local and nationally recognized artist, Amy Córdova, and internationally recognized muralist, Jenny Roesel Ustick, represent the diversity of UNM-Taos' campus culture with a large-scale mural on the art building. The creation of this mural empowered students to work together in developing imagery that is meaningful and directly connected to their personal narrative. This collaboration allowed the diverse students of UNM-Taos to have a voice in the visual depiction of their culture on a large-scale and in the same institution where they are being educated.
Amy Córdova worked directly with students to develop the image for the mural using their voice and her aesthetic viewpoint. She is a nationally recognized children's' book illustrator and acclaimed arts educator and lecturer. Córdova has made numerous keynote speeches as well as art with thousands of children and adults throughout the U.S. A descendent of a family who has resided in Northern New Mexico preceding the seventeenth century, Córdova holds great reverence for New Mexico's landscape, history, cultures and traditions. Brilliant color, dreams, the natural world, and the wisdom of children contribute to Córdova's inspirational, artistic vision.
Jenny Roesel Ustick is Interim Director, MFA Program, Foundations Coordinator, and Assistant Professor of Practice at the School of Art, College of Design, Architecture, Art, and Planning at the University of Cincinnati. She manages large-scale public murals, with eleven walls in Cincinnati and Northern Kentucky; she has also worked on projects in Miami Beach, Florida, the Villa Crespo neighborhood of Buenos Aires, Argentina, and in Granati, Italy.
The Dance: The Hierophany of Home
Hierophany - finding the sacred in everyday life
"To all who hear the song of the mountain. To the life giving waters, the luminous colors of the day, to growing things. May all be blessed and inspired in this mountain home." - Amy Cordova y Boone
Funded by the Title V Hispanic Serving Institution Grant: UNIDOS: Building Pathways to Access and Opportunity for the Upper Rio Grande Region
Designing Artist - Amy Cordova y Boone
Lead Muralist - Jenny Roesel Ustick
Project Manager - Sarah Stolar
Painted by the students, staff, faculty, and community of UNM-Taos
Completed October 7, 2019
Page 155
The Making of a Mural, documentary short, 2020
Created by the students and faculty of the Digital media Arts program.
Page 156
THE NEXT GENERATION
THE UNM-TAOS KIDS CAMPUS
Page 157
SUPERHEROS & SUPERPOWERS
University of New Mexico-Taos Kids Campus, which serves children birth through 5-years old, engages in the Reggio Emilia approach to learning and teaching. As part of this approach teachers and children research their interests and questions as they relate to their respective work. Alison McParlton and Tea Trujillo, along with UNM-Taos Early Childhood Education and Development Students, who work at Kids Campus, engaged children on a provocation around the idea of, "What is a Superhero?" The teachers understood that many children associate superheroes as fictitious characters with unhuman like powers, however, they wanted to think on a deeper level with children, "Who are Everyday Heros?"
After reading Vice President Kamala Harris' book, "Superheroes are Everywhere," children were able to explore this concept through discussion, art, and movement. Children developed an understanding that many people around them are superheroes, like their family members to police officers; that there are remarkable people all around them. One child, Garnet conveyed how she recognized Rosa Parks as an everyday hero because she protected people, "so that they could sit at the front of the bus." As this thread of thinking emerged, the teachers asked the children, "What are your superpowers?"
The children went through stages of thinking on this by starting with stating they were fast or could fly like cartoon heroes, then through studying this in relationship to everyday heroes, they saw their powers as being kind, caring for peers and their intellectual prowess. As this is being written, children at UNM-Taos continue to explore other expressions of knowing about superheroes, such as developing capes for the everyday heroes in their life, exploring the movements and stance of a hero, and developing a family project on heroes.
We offer the following pictures as a part of the story of children's metacognitive thinking on superheroes and how they are all around us.
PROJECT TEACHERS

Alison McParlton, Mentor Teacher UNM Taos Kids Campus
Tea Trujillo, Teacher UNM Taos Kids Campus
Victoria Chavez, UNM Taos ECED Student
Gabrielle Ralston, UNM Taos ECED Student
Samual McCarson, UNM Taos ECED Student

THE KIDS CAMPUS
The Kid's Campus serves children six weeks to five years of age. We are licensed by the New Mexico Children Youth and Families Department and participate in the Aim‐High quality rating system. We respect all children by treating them as capable intelligent individuals, setting and meeting individual goals based on their own interests and providing a safe and nurturing environment for exploration and discovery.
Page 158
"Kindness is what makes me a hero. Kindness is when you share, like I am sharing with my friends."
Camilia, Age 4
Page 159
"My hero is my dad because he is a doctor. He helps take care of the corona virus so we don't have to wear our mask."
Cohen, Age 5
"My community Hero is a police officer because he saves people."
Gabriel, Age 5
Page 160
"Good at playing is my superpower. I am fast. That's the dust flying because I am so fast."
Garnet, Age 4
Page 161
"My dad is my hero because he takes me hunting to cabin. We go on my four-wheeler."
Hunter, Age 5
Page 162
"Being a friend makes me a hero. I held Camilia's hand when she was sad. It made her feel better."
Meilani, Age 5
Page 163
"I know how machines work. That is my power. If you push the button it pushes the electricity to the light."
Ricky, Age 5
Page 164
University of New Mexico-Taos 1157 County Road, Ranchos de Taos, NM 87557
Page 165
THE UNIVERSITY OF New Mexico TAOS
UNM-Taos is one of the newest and smallest of the UNM branches, yet in 2011 was ranked as one of the top 25 community colleges in the nation for growth. We boast a sophisticated curriculum and highly qualified faculty. The campus is situated in a high mountain valley between the Rio Grande and the 1,000 year-old Taos Pueblo. Klauer Campus reflects Taos' laid-back style known throughout the Southwest. And it honors the area's connection to the land and conservation efforts; the campus is fully powered by one of the largest solar arrays in New Mexico.
THE DEPARTMENT OF FINE ARTS & DIGITAL MEDIA
UNM-Taos Department of Fine Arts and Digital Media inspires students to tap into their creative potential by learning practical techniques, exploring alternative methods in art making, and honing their critical eye. The Fine Arts and Digital Media Art programs are made up of a diverse group of students with a range of interests and approaches to art and film. We embrace this diversity and support all students with their degree choice, future goals, and artistic intentions. Students taking courses in Fine Arts and Digital Media discover how art positively impacts their personal and professional lives.
UNM-Taos Department of Fine Arts and Digital Media is committed to engaging students in a rich dialogue on contemporary art and art history. Students learn traditional foundations, contemporary approaches, interdisciplinary practices, and conceptual problem solving. A core belief of Fine Arts and Digital Media is to help students understand the ever-changing nature of art, its affects on contemporary culture, and the discovery of their place in the global art community.
FOR MORE INFORMATION:
REGISTER FOR CLASSES - taos.unm.edu
FINE ARTS & DIGITAL MEDIA DEPARTMENT - taosart.unm.edu
HOWL: THE VOICE OF UNM-TAOS - 2021
A project by the UNM-Taos Department of Fine Arts and Digital Media and Department of Academic Affairs.
EDITOR & DESIGNER - Sarah Stolar
ASSISTANT EDITOR - Kathleen Knoth
ASSISTANT EDITOR - Laurel Taylor
For artist contact, email taosarts@unm.edu
Rear cover artwork by Jana Greiner
Bloom, video still with human model (Harlo Burlin-Greiner) includes cotton fabric and bailing wire sculpture, 2020
Page 166
THE UNIVERSITY OF NEW MEXICO-TAOS
ART & LITERARY JOURNAL HOWL:THE VOICE OF UNM-TAOS2021