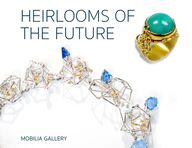 Return to flip book view
Heirlooms of the Future
Page 1
Page 2
Cover Images:
Asagi Maeda
Many Thanks, Much Love
pg. 12
Gerda Flöckinger CBE
Ring #406
pg. 26
Page 3
HEIRLOOMS OF THE FUTURE
Mobilia Gallery presents Heirlooms of the Future, a group exhibition of over 20 studio artists using ancient techniques as well as contemporary innovations to create exquisite works of art -- superb jewelry pieces, remarkable vessels, and sculptural objects worthy of treasuring for generations.
Page 4
Between Space and Matter
2021
Necklace. Material 925 silver, ceramic coating.
21.5" l x 1" d x 1" w
$3200
This piece received an Encouragement Award at the 2022 Japan Jewelry Exhibition.
ANDO YASUHIRO
Page 5
The concept of these series is "ambiguity of existence". I am attracted to lattice doors. The lattice door in view is both a substance that separates space and the space on the other side of the frame. It is a mixture of what exists and what does not. The material contours of these series are ambiguous. The purpose of wearing these jewelry pieces is to express that we humans are also beings in time, where matter and space intersect. We humans also appear in time and space, perceive the world, and then disappear in about 100 years. It seems empty and sad, but it is also salvation and healing. This idea is influenced by the Buddhist concept of samsara. All matter and space, including human beings, intersect and are connected in time. Therefore, we should cherish everything and be cherished by all. I find happiness and beauty there. And I am deeply grateful.
Page 6
Page 7
Transparent Bangle II
2022
Bangle. Sterling silver, rhodium plated
2 3/4" inner dia (8 1/4" l) x 3 3/8" outer dia x 1 1/4" w
$2300
Page 8
Transparent Bangle I
2022
Bangle. Sterling silver, gold plated
2 6/8" outer dia (8 1/2" l) x 3 1/2" outer dia x 1 3/4" w
$3300
Page 9
Page 10
ARATA FUCHI
Multipolarity
2022
Brooch. Oxidized sterling silver, pure gold,
23k yellow gold, Shibuichi (pin). Keum-Boo.
1.5" dia x 3/16" d
$1,450
Page 11
Page 12
Many Thanks, Much Love
2022
Sterling silver(rhodium plated), k18, Dumortierite in quartz, Aquamarine, Southsea pearl, Akoya Pearls, Fresh water pearls, yellow and pink sapphires, CZ
2" x .5" x 19.25"
$8,400
ASAGI MAEDA
Page 13
Many Thanks, Much Love, 2022
I made this necklace for memories with my father who passed away this year. When I think of him, I feel much love and I am thankful for his existence. I wanted to leave the memories with him and this thankful loving feeling I have now by creating a work about him. I have tons of memories about him. They are now all precious and beautiful. I was trying to think of how to express them in my work and felt that the memories are like flowers swinging in my mind. I feel that I have a flower field of memories in my mind where many different, beautiful memories are blooming. I go there, and pick some flowers of memories and make a flower-lei. It' s the theme of this necklace.
There are 11 precious memories featured in the necklace (clockwise): My father holding me as a baby, My father and I visiting a batting center on the weekends, a favorite photo of my father and I exercising when i was a little girl, my father and I visiting the planetarium and looking at the stars when I was 8, my clumsy father accidentally releasing my balloon into the sky at a festival, a family portrait with my parents, husband, son and cat, my father playing the guitar in public for the first and last time at my wedding, my father with my son- they had a special relationship and were very close, a trip on Shinkansen with my father, my father with his many books, and my father in his garden.
Page 14
Dive into the Water to Find a Shiny Stone
2022
Ring. Sterling silver, k18, Bolder Opal,
Aquamarine, topaz
Size 6.25, top stone: 1 1/8" w
$1,360
Page 15
Page 16
BENJAMIN DORY Purple Tension Ring
Monel, stainless, crystal
1.5" x .675" x .5"
Size 7
$600
Blue Tension Ring
Monel, stainless, crystal
1.5" x .675" x .5"
Size 8
$600
Page 17
These rings explore an ongoing fascination: how to combine traditional stone setting with the unique methods allowed through stainless granulation. Each stone is securely captured with tension created in the arc of the monel top piece. Granules then embellish and reinforce the setting. While the heat of welding each granule does not affect the stone, care must be taken in the order of operations so that the tension is not lost.
Page 18
Page 19
Little Owl
2022
Brooch/Pendant. Polymer clay micromosaic,
hand-fabricated sterling silver bezel (Nancy Bonnema).
2 1/2" w x 2 1/8" h x 1/8" d
$2,200
Page 20
ERIK & MARTIN DEMAINE
Erik Demaine and Martin Demaine are a father-son math-art team. Martin founded the first private hot glass studio in Canada and has been called "the father of Canadian glass.awarded Eric received a B.S. at age 14 and a Ph.D. and MIT professorship at age 20, making him the youngest professor ever hired by MIT. Since 2005, Martin Demaine has been an artist in residence at MIT, joining Erik, an MIT professor in computer science. Martin received a MacArthur Fellowship in 2003. Father and son work together in paper, glass, and other materials. They use their exploration in sculpture to help visualize and understand unsolved problems in science, and they use their scientific abilities to inspire new art forms. Their artistic work includes curved origami sculptures that are held in the permanent collections of MoMA in New York City and in the Renwick Gallery at the Smithsonian in Washington DC. Their scientific work includes over sixty published joint papers, several of which combine mathematics and art. In 2013 they won a Guggenheim Fellowship to explore the folding of materials such as hot glass.
Page 21
Copper Tower
2021
Copper Stardream paper,
7" × 11" × 15" high
$6,500
Page 22
EUNSEOK HAN
The Last Leaf
2022
Brooch. Recycled cans, copper
4.25" x 3.5" x 2"
$1,000
Wind in Mind
2022
Brooch. Recycled cans, copper
5" x 3.5" x 1.25"
$1,000
Page 23
In Full Bloom
2022
Necklace.
recycled cans, lapis-lazuli, sterling silver
17" long. Pendant 5" w x 1" d x 4" h
$2,400
Page 24
Page 25
As One
2022
Necklace.
recycled cans, mother-of-pearl, turquoise, wood.
30" long. Pendant 6.5" x 4" x 2.25"
$2,400
Page 26
GERDA FLÖCKINGER CBE
Ring #406
1975
18k gold, turquoise half-globe.
Size 7
Price on request
Included in Flöckinger's Victoria & Albert Museum exhibition
in 1986. Pictured on page 5 of the accompanying catalogue.
Page 27
Cover of the catalogue accompanying Flöckinger's exhibition at the Victoria & Albert Museum in 1986.
Page 28
Gerda Flöckinger CBE
by Julian Nieman
archival digital print, 1968
The National Portrait Gallery
London, U.K.
"Gerda Flöckinger is one of the key pioneers of the revival of jewellery making in this country. without her imagination, innovation and inspiration as an example much of what has followed may never have happened. She blazed a trail for the distinguished women jewellers who followed. With her we light the blue touch paper of a renaissance."
Sir Roy Strong Former Director of The National Portrait Gallery, London, England (1967-1973) Former Director of The Victoria & Albert Museum, London, England (1974-1987). Knighted in 1982.
"Flöckinger's pioneering work, exhibited at the ICA from as early as 1954, effectively opened the debate on the recognition of jewellery as a serious art form. Her experimental course at Hornsey College of Art, established in 1962, marked a watershed in the regeneration of British jewellery design with its groundbreaking focus on the interplay between design and technique. This innovative approach fundamentally influenced the subsequent direction of jewellery. In the mid-1960s her work developed an intensely individual character which has been meticulously refined over the years. Her signature controlled fusion of gold and silver, a daring tour de force, is a unique contribution to the development of new techniques. Flöckinger's jewellery glories in lavishly encrusted surfaces embellished with sinuous wires, scatters of granules, exuberant pendant drops. Stones glint in tiny molten landscapes; pale matt metal heightens the iridescent gleam of pearls. Meticulous control and an intense emotional involvement with the work enable an impossibly fine balance between line, texture, metal and stone; yet the result appears stunningly effortless. Sensual, fluid, tactile, her jewellery gives immense pleasure to both wearer and viewer. Instinctive artist, consummate creator, she is passionately individual in all aspects of her creativity."
Dr. Elisabeth Goring, Contemporary Jewelry Specialist, Former Curator of Modern Jewelry and Curator of Mediterranean Archaeology at the National Museum of Scotland, Edinburgh, U.K. (1983-2008).
Page 29
Ring #970
1994
18k gold, pink tourmaline, one pink diamond and one brown diamond.
Size 6.5
Price on request


Made for an exhibition at Goldsmith's Hall in 1998.
Page 30
Page 31
Ring #991
1999/2000
18k gold, yellow diamonds
Size 6.5
Price on Request
Page 32
HANNE BEHRENS
Torque Necklace
2021
Maori weaving, 18k gold and sterling silver.
$2,800
An example of classic Danish design and simplicity. It is a wearable, timeless piece that can be passed on for generations.
Page 33
Hanne Behrens, the remarkable Danish metalsmith, has been a studio jeweler since 1985. Working exclusively in textile techniques with gold and silver wire, she is inspired by Indian braiding, Maori weaving, Danish pre-historic and viking period metal work, as well as lace making. She is known for her exquisite craftsmanship and the pure, clean lines of her designs. She studied under Arline Fisch and Mary Hu and is a master of textiles techniques. In 2000 she was commissioned to make a brooch as a gift to Queen Margrethe of Denmark on her 60th birthday. Behrens has received many grants and awards including Bronze and Silver medals from the best in Danish Craft and Design exhibition, and has exhibited in galleries and museums throughout Europe.
"My work changes because of new techniques, inspirations and ideas. I tend to work best creating small series of related works, using the same technique with different metal combinations, structures, shapes, and surface treatments." - Hanne Behrens
Page 34
Bracelet.
18k gold, Oxidized sterling
silver. Woven.
2 ⅜" dia. × ¾" w.
$7,500


Bracelet.
Sterling silver. Woven.
1" w × 2 ⅜" dia.
$3,200



Waves Bracelet.
Sterling silver. Woven.
3" dia. × 1 ⅜" w
Private Collection
Page 35
Page 36
Brooch
1998
Tombak Gold-Plated
3.35" x 2.35"
Price on Request
Featured on page 14 of his book. Cover shown bottom right.
HERMANN JÜNGER
Page 37
Page 38
Brooch
1999
Gold and Silver
2.5" x 2.25"
Price on Request
Page 39
Page 40
Brooch1970Star ruby, sapphire, ruby, pearl
2.4" x 1.6"
Price on Request
Page 41
Page 42
Renowned Hermann Jünger (1928-2005), was one of the premier goldsmiths in Germany. As pioneer, artist and mentor, his Bauhaus influenced jewelry, and inspired teaching had a powerful impact on the development of contemporary jewelry, not only in Germany but throughout Europe and the United States.Jünger's work began with his watercolor and line drawings. "His drawings were used to find new ideas and capture a sense of spontaneity which would be hard to get if all of the experimentation was done by making the jewellery." The end result of his wearable works of art, were expressive simple designs often containing freer, more playful sculptural elements.
Original drawings by Jünger are available upon request.
Page 43
Page 44
HIROMI SUTER
United Together
2022
Neckpiece. Copper, sterling silver,
23k &24k gold leaf, foil
16 1/2 x 14" x 2"
$5,000
Page 45
Each individual butterfly is etched onto copper and hand-pierced with a jeweler's saw. Then follows a lengthy process of patination, gilding, foiling and sealing.
Blue represents hope, calm and sacredness; the color is a constant and calming influence in our world. Deeper blues are consciously omitted to avoid negative connotations of sadness and depression that explains our current situations. Adding light blue which is associated with healing, understanding and tranquility transcends the negativeness.
Contrasting the blue, I made the remaining butterflies in gold but with fewer numbers. Gold is brighter than yellow which represents sun, wealth and success. I tried to avoid overwhelming the "canvas" by the strong color, thus they unite together without too much flashiness. Lastly, I added small amount of green on the gold for harmony.
This piece expresses thoughtfulness, kindness and cooperation in an uncertain world.
Page 46
JOSE MARIN
Rootleaves - Green
2022
Earrings. Titanium, 925 Silver,
Green Amethyst and Multicolored Tourmalines. French clips.
2 3/4" l x 1 6/8" w x 1/8" d
$4200
Page 47
Musas's Garden.
I'm still in my world.
These are the imaginary gardens where I walk and create jewelry.
It may be that there are people who do not understand the bond that is created with your dog, but the loss of my dearest companion for 14 years has left me with a deep void, now my days in the workshop are more monotonous and sad, she made me a lot company, at times she made me laugh and at others she made me stop to hold her in my arms and go into a moment of relaxation, now my days are more monotonous and sad.
I was making this collection in bitter days, seeing that she was losing it and could not do anything to avoid it, finally she left and left this collection in my hands.
Jose Marin
Page 48
Rootleaves - Cupido
2022
Earrings. Titanium, 925 Silver, Multicolored
Tourmalines and orange Sapphires. French clips.
2 1/2" l x 1 5/8" w x 1/4" d
$3400
Page 49
Page 50
Passiflora
2022
Earrings. Titanium, Sterling Silver
and yellow Sapphires. French clips.
2" dia x 1/2" d
$3000
Page 51
Page 52
Rootleaves - Spiral
2022
Earrings. Titanium, Sterling Silver and
Multicolored Tourmalines. French clips.
2 3/4" l x 1 3/4" w x 1/8" d
$4200
Page 53
Page 54
KAZ ROBERTSON
Bubbles
2022
Brooch. Resin, silver, and rubber.
3 3/4" dia x 1" d
$525
Page 55
Page 56
KEE-HO YUEN
Tranquil and Unique
2022
Brooch.
Hollow-cast anodized aluminum, dye, and brass.
3.4" x 1.3" x 1.9"
$1,600
Page 57
It All Started Here
2022
Brooch.
CNC milled Plexiglass, laser printer ink
on anodized aluminum, brass, Maple wood,
power coat paint, rock, straw, and ceramics.
3.75" x 4.75" x 1"
$2,000
Page 58
KIM NOGUEIRA
A Luminous Object
2022
Bangle bracelet. Silver, copper, 24k, vitreous enamel.
2 x 2.75 x 2.75
$1,500
Page 59
"My boat struck something deep.
Nothing happened…
Nothing happened?
Or perhaps, everything happened
And I'm sitting in the middle of my new life."
– Juan Ramon Jimenez
Within each of us is a High Self, an Oversoul, a wise and protective voice, that constantly communicates deep and profound love, guidance, support and wisdom to us 24 hours of the day using the body and the environment to convey messages. This intelligence, always rooted in love, may show up as a "gut feeling", a knowing or an unusual synchronicity.
alternate views of A Luminous Object
Page 60
I Myself Create
2022
earrings. silver, 24k, copper, vitreous enamel,
spinel, tourmaline, sapphire
2.5" x 1.5"
$1,200
Front shown above, Back shown right.
Page 61
"The correct response to uncertainty is mythmaking. It always was. Not punditry, allegory, or mandate, but mythmaking. The creation of stories. We are tuned to do so, right down to our bones. The bewilderment, vivacity and downright slog of life requires it. And such emerging art forms are not to cure or even resolve uncertainty but to deepen into it. There's no solving uncertainty. Mythmaking is an imaginative labor not a frantic attempt to shift the mood to steadier ground. There isn't any." -Martin Shaw
Page 62
I Am the Prisoner, the Jailor and the Key
2022
1 of a set of 3 brooches/pendants. Silver, copper, steel, vitreous enamel,
tsavorite garnet, citrine, vintage lenticular.
3" x 2.5" x 1"
$4,500
Page 63
"Who has not sat before his own hearts' curtain? It lifts and the scenery falls apart…"
Rainer Maria Rilke
We incarnate on this strange and extraordinary planet, our evolving Mother Earth, to learn and grow through the navigational system of our emotions and the manifesting power of our intention. It is not an easy path but we have spectacular help from the natural world and invisible realms to keep our heart from rusting. It may not be clear to you at the moment, but if you are here right now, you are the bravest of the brave in all dimensions and universes.
Page 64
returning hOMe
2022
1 of a set of 3 brooches/pendants. Silver, copper, steel, vitreous enamel, fossilized mammoth tooth (carved by native craftsmen), diamond, tourmaline, aquamarine, vintage lenticular
2.75" x 3.5" x 1"
$4,500
Page 65
"Nothing's ever the same as they said it was. It's what I've never seen before that I recognize."
-Diane Arbus
Closing out the cacophony of the outside world and getting to know the interior realms of our very own self is challenging with so many distractions, distortions and diversions vying for our attention and intention. Yet it's as easy as closing our eyes for a moment and focusing on the eons-in-the-making miracle of our breath. Water has always been a metaphor for the unconscious, the world of dreams, the womb of thought, realms especially accessible when we eliminate the illusory sense of sight.
Viewing this sacred pulmonic exchange through the lens of water, which is recognized by many indigenous peoples, shamans and mystics to have its own consciousness, we gain insight into our marvelously nuanced communicative capabilities. As independent water researcher Veda Austin explains, "The water vapour in the air of your out-breath expands and broadcasts your intention. The water vapour in the air of your in-breath receives aligned possibilities like an antenna." This confirms my speculation that we have more "invisible" agency and support within our environment than is generally understood.
Page 66
The Eternal Question
2022
1 of a set of 3 brooches/pendants. Silver, 24k, copper, steel,
vitreous enamel, multi-color Madagascar sapphire
3" x 2.25" x 1"
$4,500
Page 67
"No one sees me changing. But who sees me? I am my own hiding place."
-Joë Bousquet
I've witnessed some astoundments as a deep trance hypnosis student that indicate to me that the universe is a very strange and beautiful mirror and that we are all reflections of a much greater something that interlinks and supports us more profoundly and lovingly than we can conceive, no matter where or what we try to hide or run away to or from. We are an organic and energetic network of biotic holograms in an invisible geometric array of love.
Page 68
As the Suntaleia unravels and unriddles the innumerable unworkable systems we've entrenched ourselves in for millennia, the marvelously nuanced and magical technology of our embodied selves becomes too conspicuous to ignore, and unfettered, we evolve to become what some shamans refer to as homo luminous. The miracles that have always been woven into the fabric of our reality can now be seen around us and in us and they become riotously quotidien. "The flower is always in the almond." (Henri Bosco) so I am nearly blinded by your light as I offer you this mnemonic box of arcanum arcanorum to help you remember what you will always know.
A Mesmerist's Decoder Kit of Oneiric Devices
2022
Kit composed of 3 brooch/pendants in a magic box.
Silver, 24k, copper, steel, vitreous enamel, tsavorite garnet, citrine, vintage lenticular, fossilized mammoth tooth (carved by native craftsmen), diamond, tourmaline, aquamarine, multi-color Madagascar sapphire, paper, book board
approx. 13 x 6 x 2 inches
$11,111
Page 69
Page 70
LINDA DOLACK
Froot Loops
2022
Beaded sculpture. Glass beads,
paperboard box, mixed materials.
11.5" x 7.5" x 2.75"
$9,600
Page 71
"For almost 30 years, my work has focused on applying tiny glass beads, akin to a stained glass mosaic, onto a variety of junk or processed foods. My aim is to celebrate as well as to show reverence to these, our most favorite comfort foods. Commonly with little or no nutritional value, these foods highlight our communal desire to find comfort in what we eat, and in response, to continue to choose and consume our personal favorites.
Sugar laced cereals are an edible form of modern day pop culture and as such they're a mainstay of my work. Big and flashy, Froot Loops (clearly not 'fruit') is one of the cheeriest of cereals. With its happy-go-lucky box of delight marketed largely to children, it's a pop culture icon. Singling it out and encrusting it with beads is my attempt at showcasing the divine excess of Froot Loops as one of many most loved American pop culture foods.
Our most familiar food brands have formed the bedrock of our food legacy as American consumers and highlighting this aspect of 21st century pop culture consumerism is my focus. 'Nutritional content' is always obliterated."
-Linda Dolack
Page 72
LYNNE SAUSELE
"I decided to make a necklace of stones and that meant starting by making the stones themselves because they needed to be light enough to handle the weight of the many seed beads that would cover them. They are made of a lightweight clay which I formed one by one in differing shapes. When dry, I color them with a matching paint to the beads that will cover them. Then one by one the beads are applied to the stone. It is a long and tedious process. As far as I know this is the only necklace of this kind, a totally unique process that creates a new approach in using seed beads and what is creatively possible."
Embellished Stone Necklace
2022
Necklace. Seed beads, semi-precious faceted and smooth cabochon stones: Moonstone, ruby, sapphire, citrine, druzy quartz and green and pink tourmaline.
25" L x 1 1/2" W
$6000
Page 73
Page 74
MAKIKO ODA
4-Side Leaf Necklace (Short)
2022
Necklace. Wood (white sycamore maple),
24k gold leaf, gold thread, 18k gold clasp.
20" Long
$2,400
Page 75
Shown on top of boxes made by
the artist to accompany her work.
Page 76
Page 77
Wallpaper Teapot
2022
Copper, brass, wood, gesso, colored pencil
7" h x 11" w x 2" d
$7,500
MARILYN DA SILVA
Page 78
Choker #78
1991
18k & 22k 30 gauge gold wire.
Twined, tessellated, hammered.
Hand fabricated clasp.
6 3/8" x 8 7/8" x 1 1/2"
Price on Request
Proceeds from the sale of Choker #78 will go toward a Research Fellowship Fund for Jewelry and Metalsmiths which Mary Hu has established.
MARY LEE HU
Page 79
Earrings #126
1998
18k & 22k gold. Twined and hammered.
1 3/8 " x 1 1/4" x 1/2"
Price on Request
Proceeds from the sale of Earrings #126 will go toward a Research Fellowship Fund for Jewelry and Metalsmiths which Mary Hu has established.
Page 80
"Mary Hu has affirmed her distinctive voice in the world of jewelry with her elegant and voluptuous creations. Using wire the way hands weavers use threads, Hu has blazed a trail both as artist and innovator, exploring the nexus between metal smithing and textile techniques, often through the recovery of precedents from the near and ancient past throughout the world, and following her innate aspiration to perfection and her stubborn curiosity in pursuing aesthetic challenge."
-From "Knitted, Knotted, Twisted and Twined" by Stefano Catalani, Director of Arts, Crafts, and Design at the Bellevue Arts Museum
Bracelet #18
1982
Fine and sterling silver, 24k gold
3 1/4" x 3 1/4" x 5/8"
Price on Request
Bracelet #18 was featured in the ground breaking exhibition, Jewelry USA organized by the Museum of Art and Design in 1984 and traveled extensively to various museums.
Page 81
Page 82
POLLY SUTTON
Glacier Bear
2020
Basket. Cedar bark, cane,
coated copper wire.
13" x 11" x 8"
$4,200
Page 83
"Working with cedar bark is a tactile experience that connects my mind with the essence of the natural material. It has a versatility like no other plant fiber.
My process begins with gathering the cedar in the spring when I have permission to go into logging areas. The tree is the essence of my work. Once a functional art, basketry to me is a way to sculpt and form new shapes that evolve out of the flexible western red cedar.
There is no preconceived notion of a shape when I begin a piece as I allow the materials to take form where they will. My hands use the age-old traditional techniques of twining and weaving."
-Polly Sutton
Dale
Basket. cedar bark,
cane, coated copper wire.
12.5" h x 12.5" l x 7.5" w
$4,200
Page 84
ROBIN LEVIN
Flight of Fancy
2022
Necklace. Sterling silver,
handmade glass murrine.
44" Long. Can be worn doubled.
1" (widest element) x 1/4" d
$2,000
Page 85
Flight of Fancy includes fused and hot formed pieces of highly colored and delightfully unusual murrine that are paired with hand hammered silver bezels and chains. The products are playful and well-crafted nods to both traditions; encouraging detailed examination and bold expression of joy in their wearing. Such is the delight felt by their maker in the wide palate of color options and light transmissibility of murrine and the slightly more restrained elegance of the silver – a beautiful harmony that elevates both materials. This body of work, Flights of Fancy, so named for imaginative narratives that can be woven by the materials, is offered for your enjoyment.
Page 86
SO YOUNG PARK
Cuff Bracelet
2022
Sterling silver and Oxidized sterling silver.
1" w x 7" l, 1" opening
$1,900
Page 87
Cuff Bracelet
2022
18k yellow gold, oxidized silver, brown0 diamonds, Kum-Boo (24k gold foil)
1" w x 6 1/4" l, 1" opening
$2,700
Page 88
YURI TOZUKA
Pipe Ring - Blue
2022
Ring. Sterling silver, Blue sapphires.
1 1/8" h x 1"w, band 1/2" w.
Size 6-6.5
$1,020
Page 89
Page 90
Pipe Ring - Gray
2022
Ring. Sterling silver, sapphire.
1" h x 1" w, band 1/4" w.
Size 7.5-8
$720
Page 91
Page 92
Pipe Ring - Yellow
2022
Ring. Sterling silver, yellow sapphires.
6/8" h, band 1/4"-1/2" w
Size 7-7.5
$860
Page 93
Page 94
Closeup of 4-Side Leaf Necklace
by Makiko Oda (pg. 67)
For any inquiries or to make a purchase,
please email mobiliagallery@gmail.com,
or call 617.429.5600 and a member of team
Mobilia will happily assist you.
See more work by participating artists
on our website or The Design Store.
Thank you!